Lately, I've been fascinated by the future. We are on the cusp of a super computer breakthrough. They say that in the future, you'll either tell a computer what to do, or be told what to do by a computer. Silicone Valley is so confident that 10-20 years in the future, robots will do so many of our jobs they are campaigning for a universal basic income. I find all these issues fascinating and one of my current hobbies is to read about what's going on in this area.
In addition to this, I've worked in social housing for 8 years. I'm very aware of the issue that the 'ageing population' brings to housing. Issues like a huge number of people dealing with dementia, elderly people with houses much too big for them and needing adaptations. Meanwhile there is a shortage of family homes. I'm intrigued by how the possibilities of modern tech can bring potential solutions to some of the issues in the current housing crisis.
I'm a history graduate, and make no mistake, just like the industrial revolution was a key turning point in the past, we are currently in the middle of a technological revolution and we have no idea what the imminent future holds. In 20 years time the world will look radically different.
Naturally, the Future Homes Exhibition, showcasing what cutting edge technology can do for future housing had me intrigued!
I was somewhat hesitant about taking a 3 and 6 year old to the Future Homes exhibition as it seemed like it would be more suited to older families but I was wrong, we all had a fantastic time. The exhibition is free so if you are still looking for activities the whole family can enjoy this summer then read on to find out about our visit.
What is it?
The Future Homes project will develop new homes on the Newcastle Helix site that shows people a vision of how we might live – a blueprint that challenges the status quo and provides a housing model fit for the future.
The exhibit, part of Great Exhibition of the North provides a glimpse into what the 48 flagship houses site will do. The exhibition takes visitors on a virtual reality journey, with augmented reality model of homes that allow the user to identify key design features of future homes using iPads.
Rose Gilroy, Future Homes Founder commented:
"What if internal walls could move to make space for a growing family and high-tech additions could be simply bolted on to make life easier when ones physical and societal needs change?
"These are the questions that excite me and help me to develop the Future Homes project and having sponsorship from a leading financial advice provider like the Newcastle Building Society is superb.
"Not only will Future Homes provide dwellings suited to all- no matter of age, back ground or lifestyle – but also offer a model of living that can be replicated on a regional and ultimately a national scale."
The exhibition is free and there will also be a series of free talks open to all in the Urban Science Building Café on Thursday evenings exploring digital innovation; ageing; water; waste, urban agriculture and energy.
Sponsored by Newcastle Building Society, Future Homes is part of the GET North Innovation Trail. Stuart Miller, Customer Director at Newcastle Building Society commented:
"We believe in the power of communities, and the part we can play. Sponsoring and working with the Future Homes Alliance where exhibition visitors can imagine a home that alters as you age and is a blue print for new housing fit for the future; is hugely exciting for us."
The whole Newcastle Helix site is fitted with sensors that are receiving data about air quality, noise pollution, humidity etc. Within the houses, residents will also be able to see their data about temperature, energy use, humidity, water used etc.
The homes will explore multi-generational kitchens where the units can be lowered or raised easily. They will have moving internal walls, lots of good natural lighting and sufficient storage space. The bathrooms will have risers on both sides so you can change the position of the bathroom in the home.
Basically, they will be the smartest and most progressive of homes and the Future Homes Exhibition gives you a sneak peak at what they are going to be like via innovative augmented and virtual reality technology.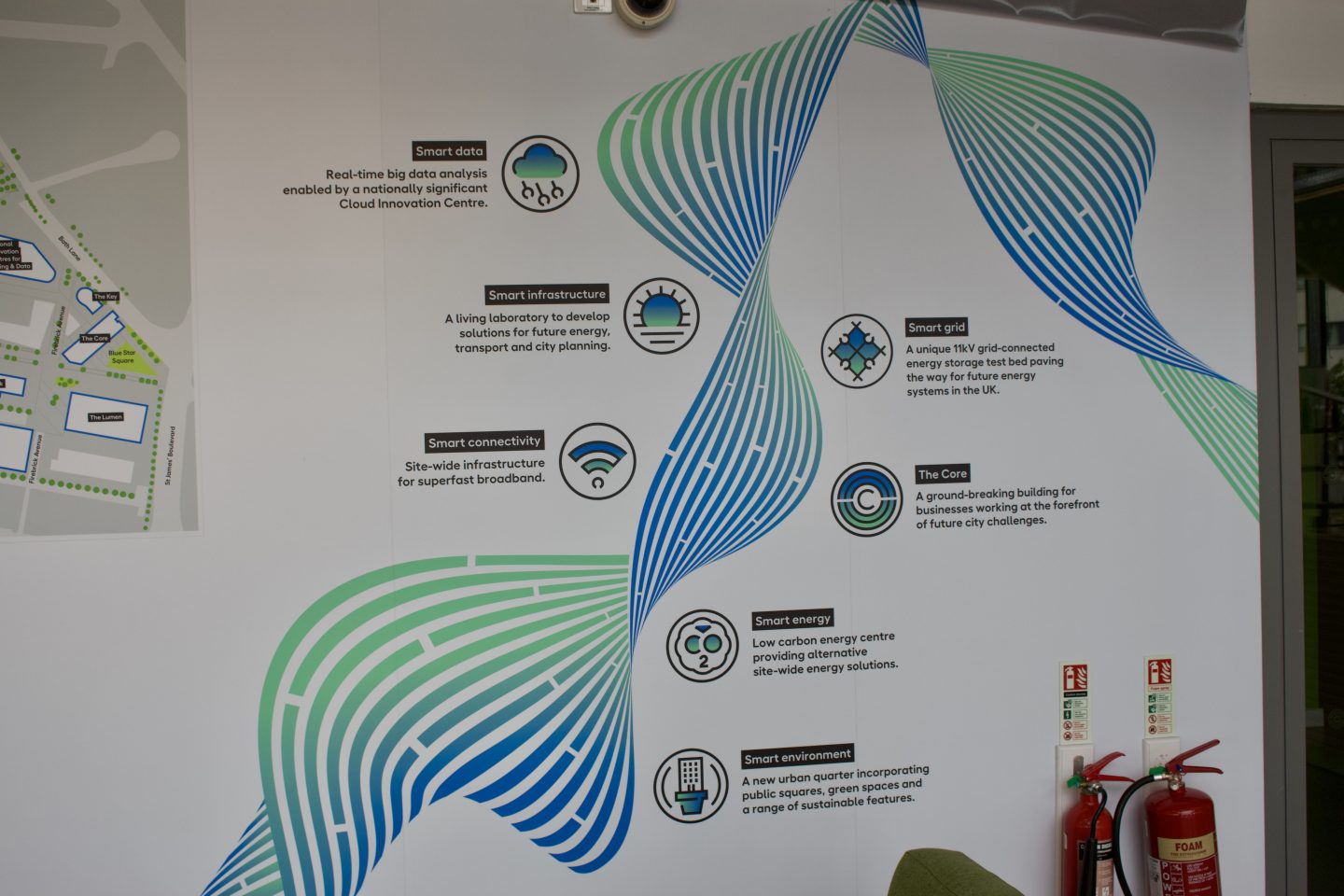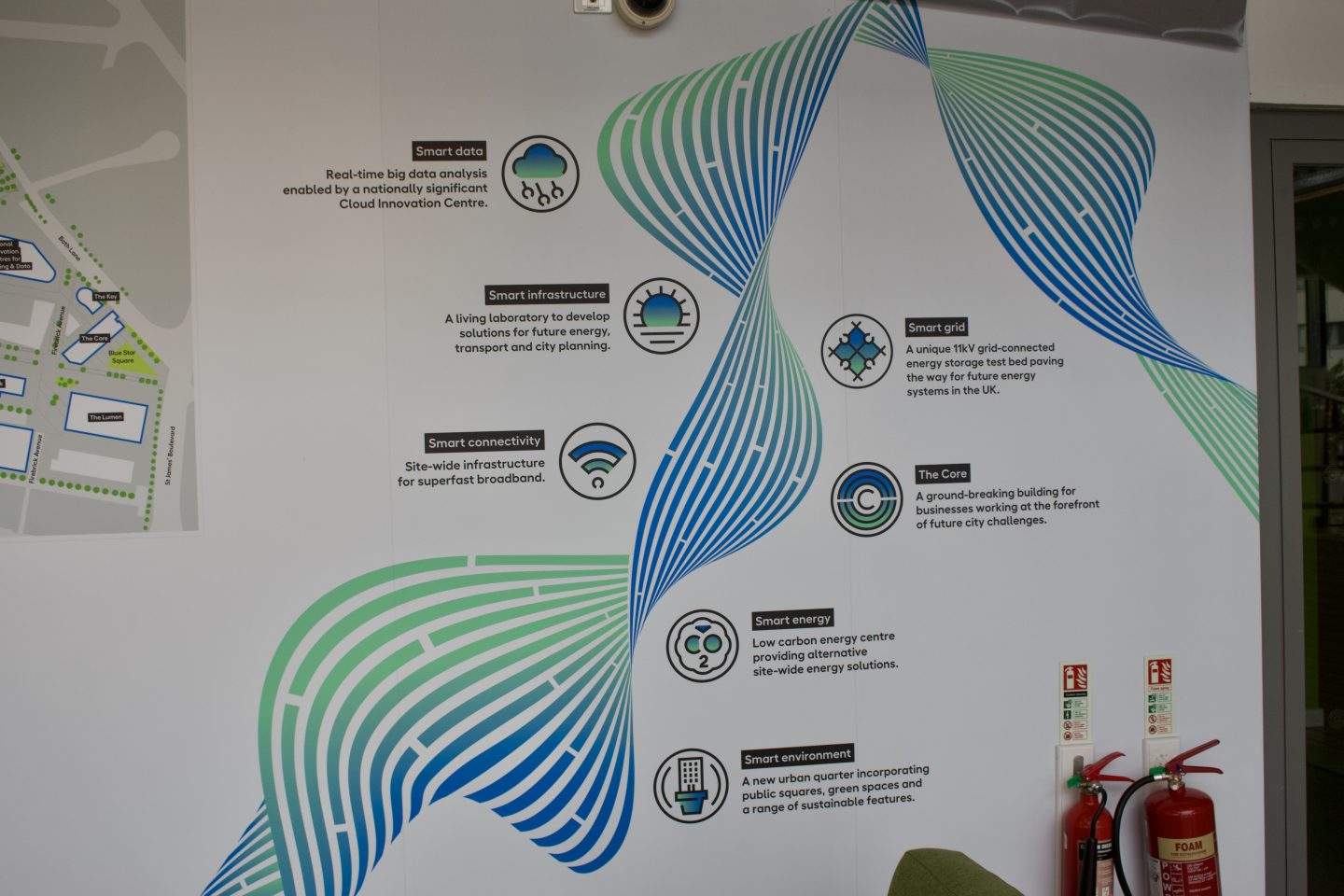 Where is it?
The Future Homes Exhibition is held at the Core, Newcastle Helix (formerly Science Central) Newcastle Helix, Firebrick Avenues, NE4 5TF, near St. James in Newcastle City Centre.
It's pretty much a straight walk past Next near Monument on your left, past China town, over the traffic lights and going in the direction of the Discovery Museum and Dance City. It's adjacent to the People's Kitchen.  We found it easy to get to from public transport.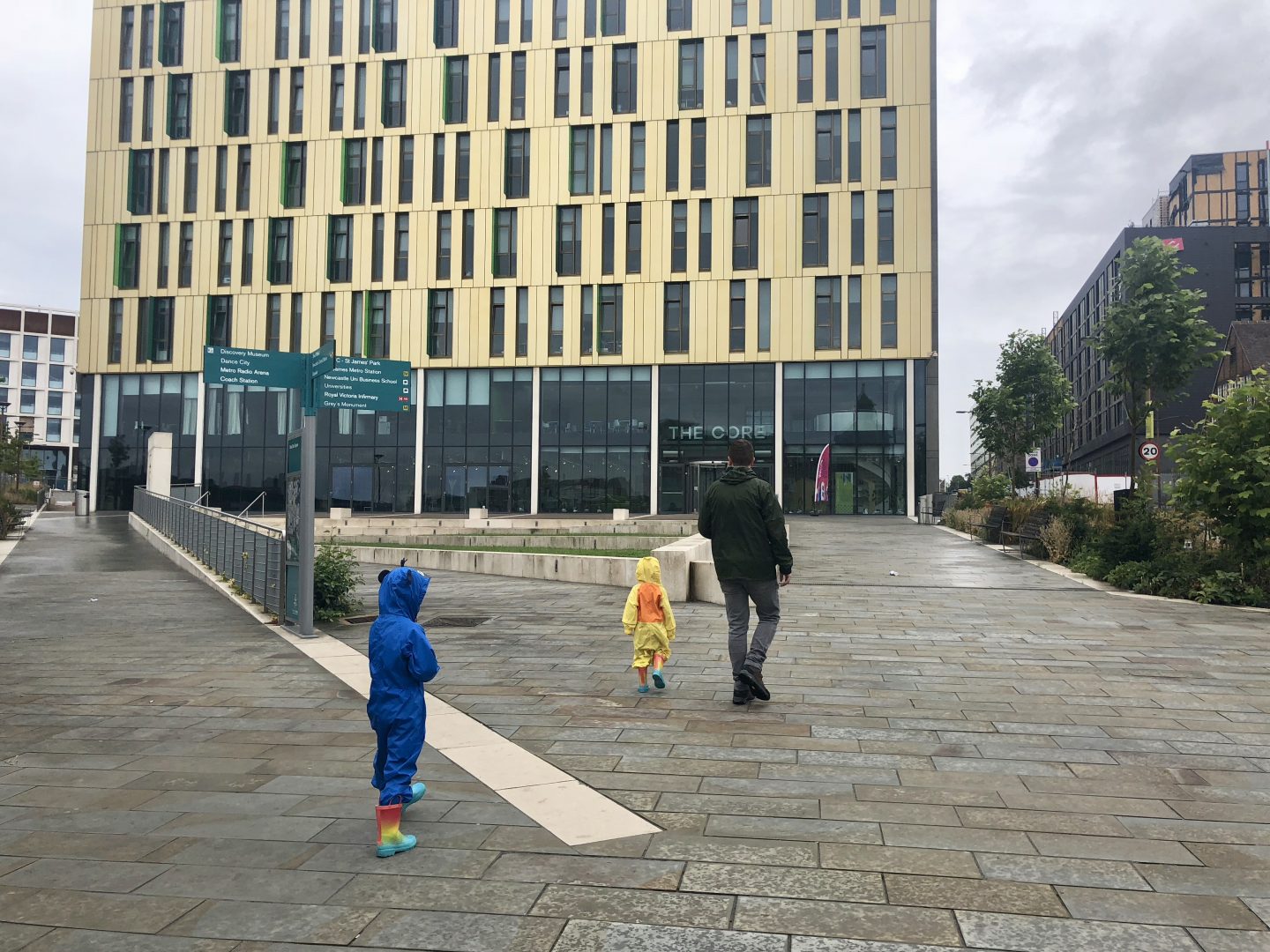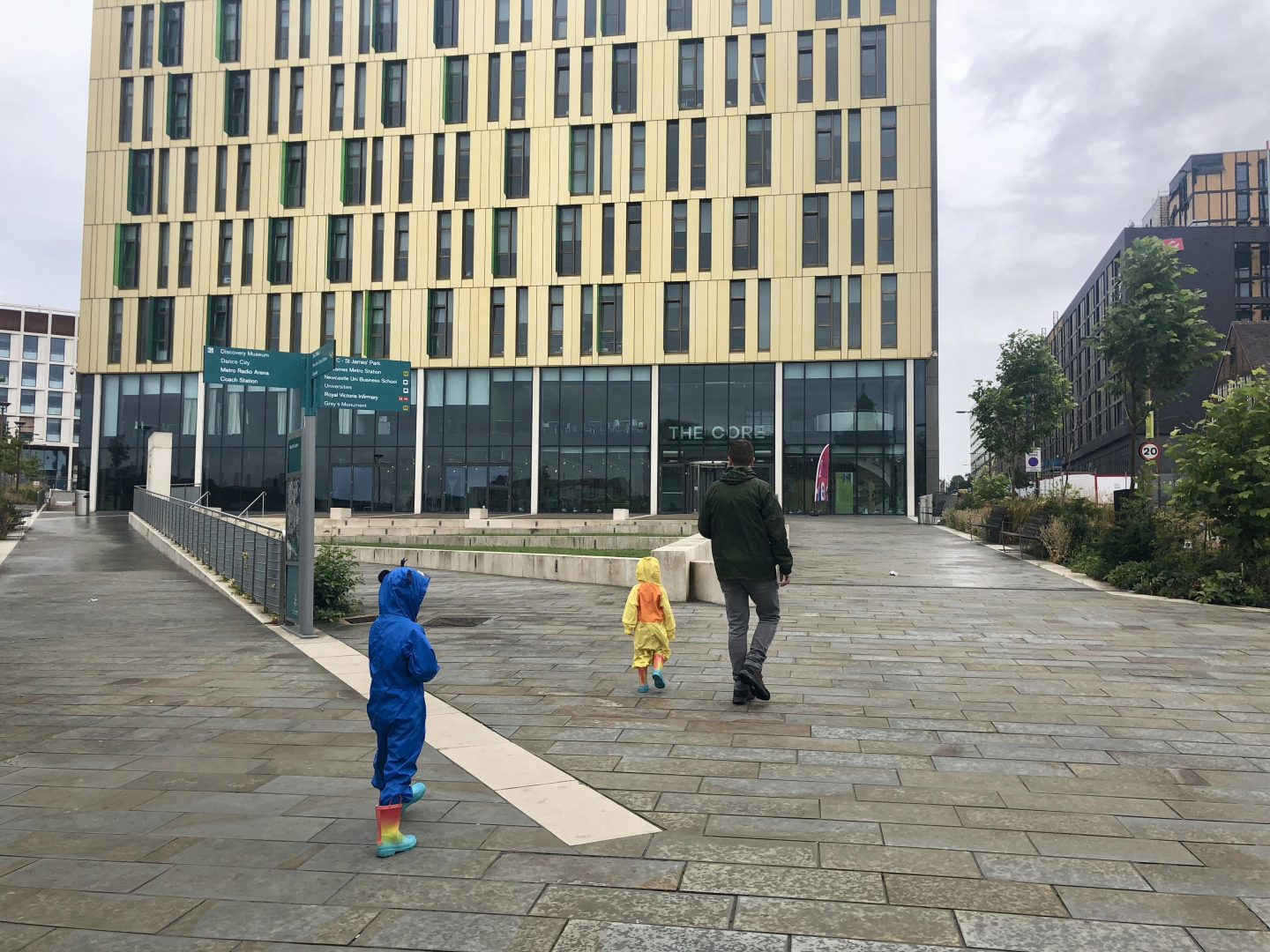 Activities for kids
As soon as we got to the exhibition, we were greeted by some of the helpers who asked the children if they would like to make their own hydroponic jam jar. They took the children over to a table full of materials and colouring pens and showed them what to do. Then they were helped by two fantastic assistants and made two little plant pots. One hydroponic plant and one seed in compost with a newspaper pot that they made. They looked really cute and then the kids get to take them home and continue to grow them. They now have pride of place on my kitchen windowsill.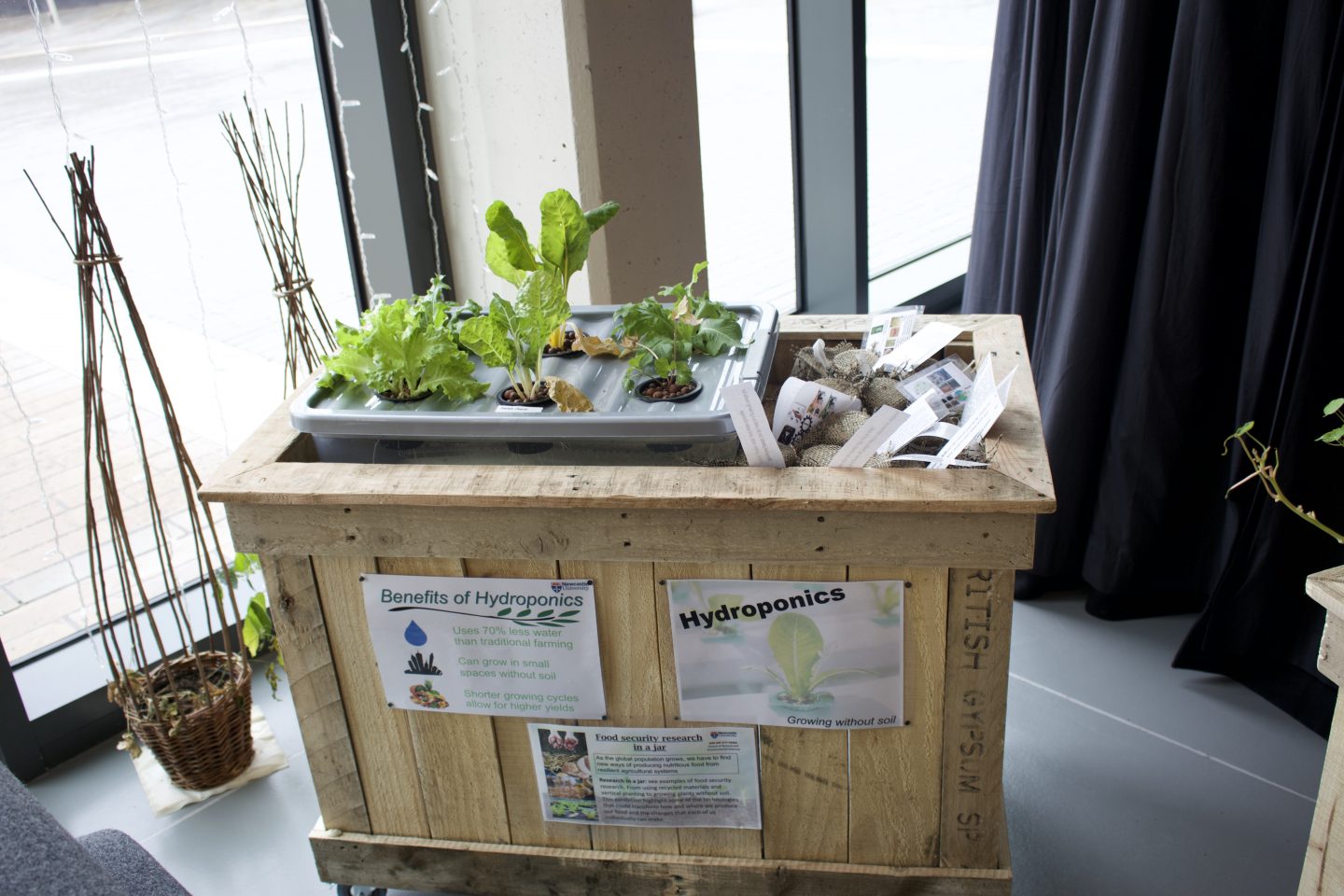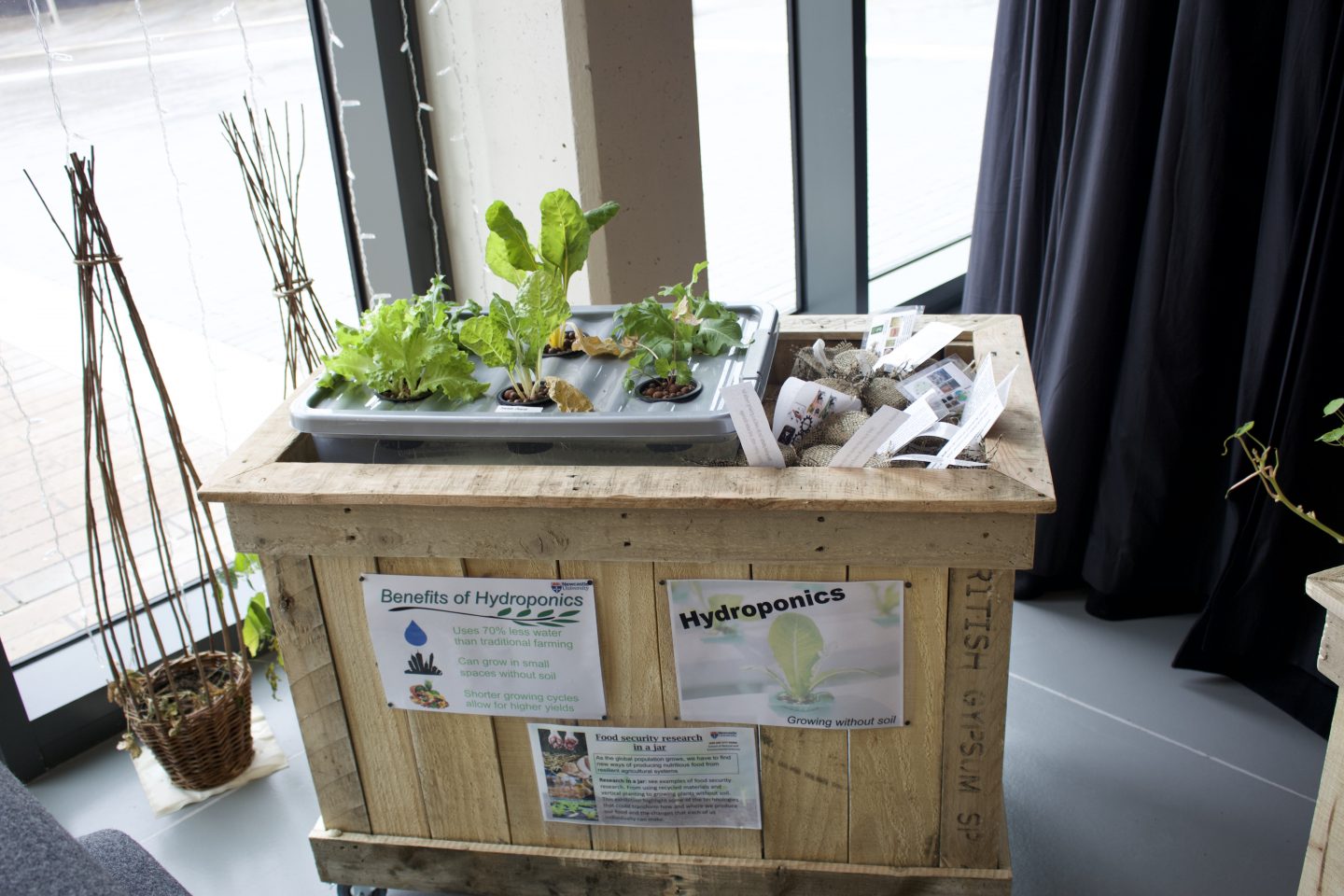 The kids loved making them and the exhibition was quiet so we were able to let the helpers help them while we had a look at the exhibition. This was great as I was able to actually take it in for a change, rather than feeling like I was herding cats. I've since been told by my friend Sam who also popped along to review on a weekday that this activity is only on at the weekend. I think that's a real shame as it was a highlight for my kids.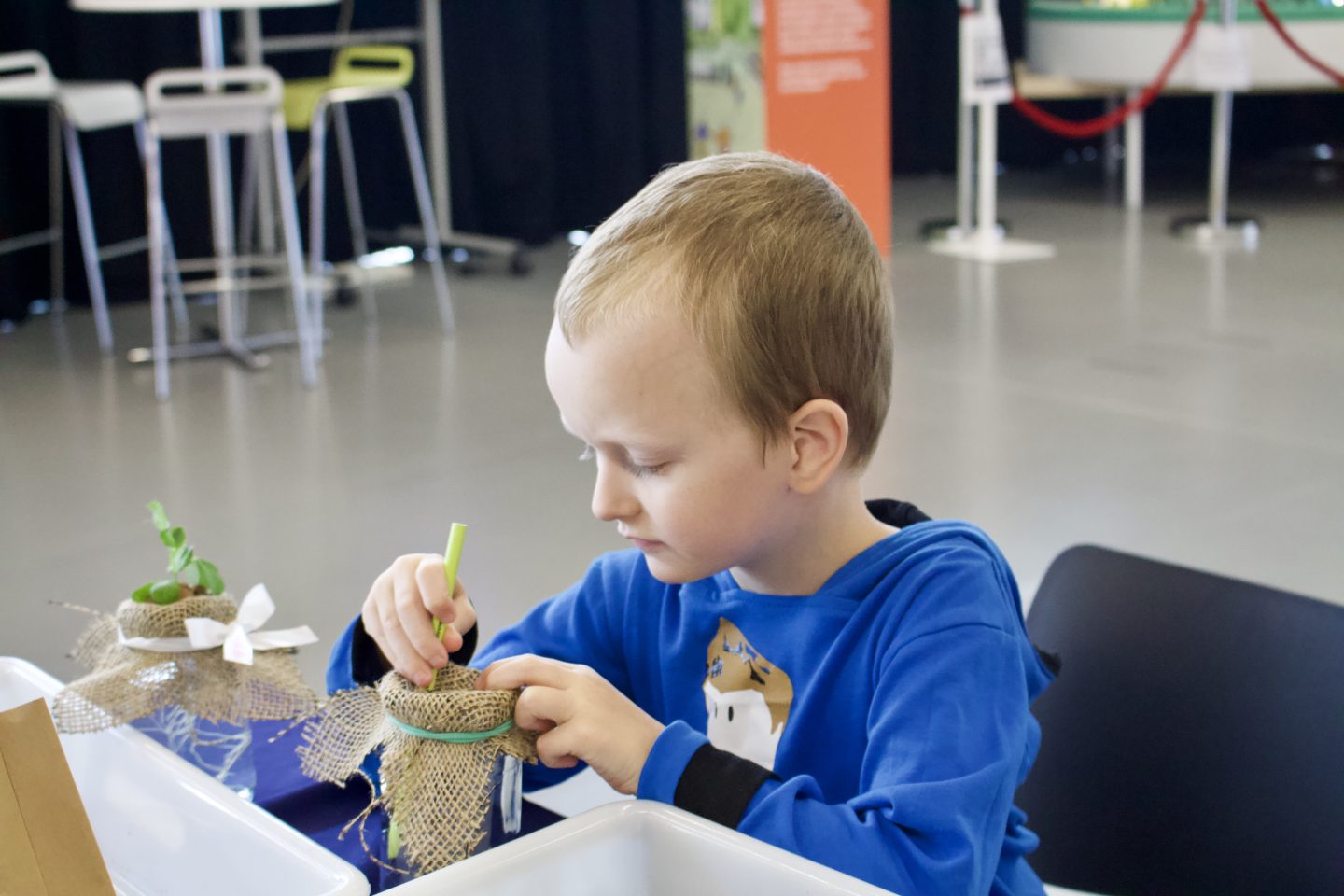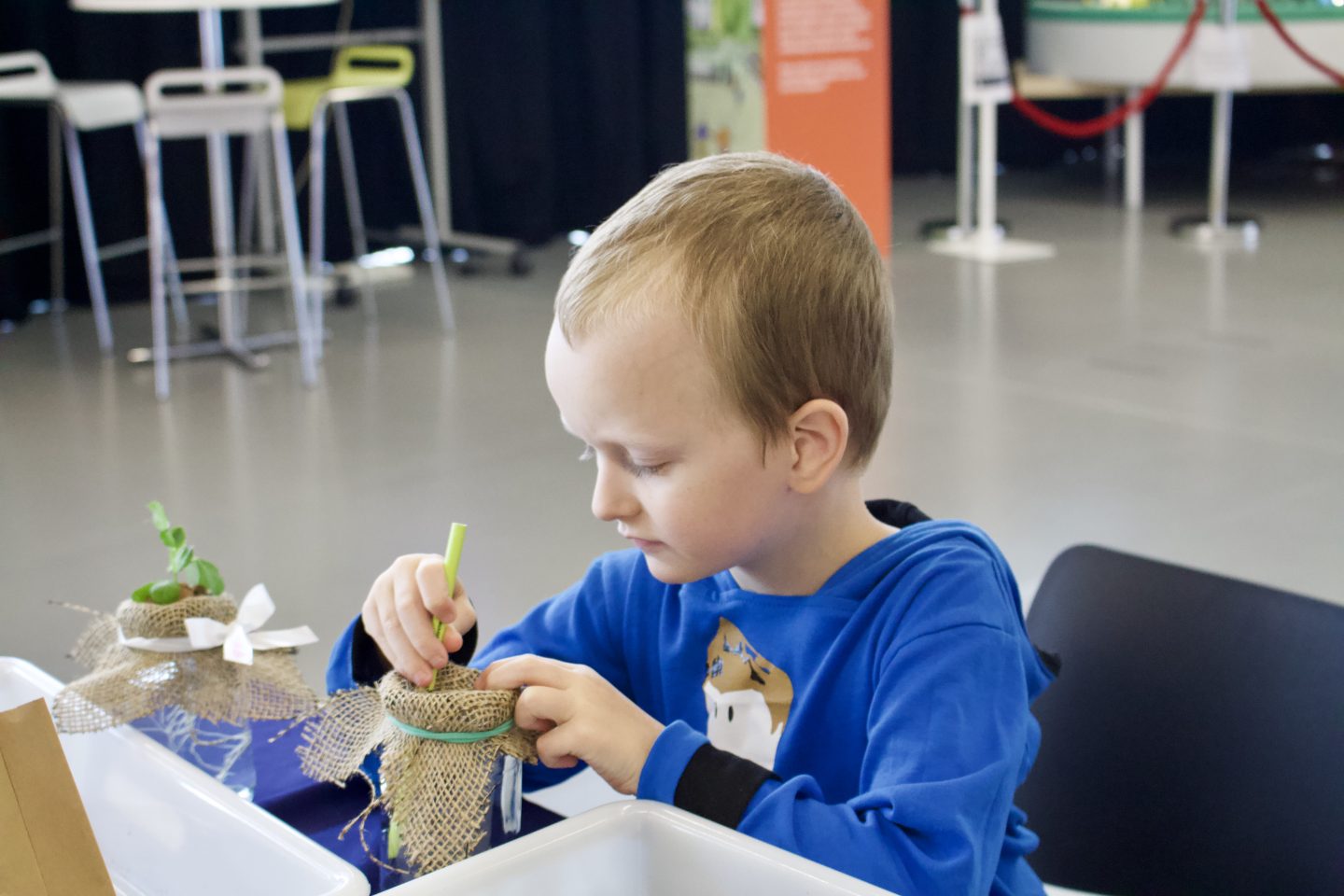 They also had two drawers of new Lego sets so the kids could have a go at making their own future homes. Despite having tonnes of Lego in the house the kids loved doing this and I struggled to get them to leave when it was time to go. Arlo has asked if we can go back again soon.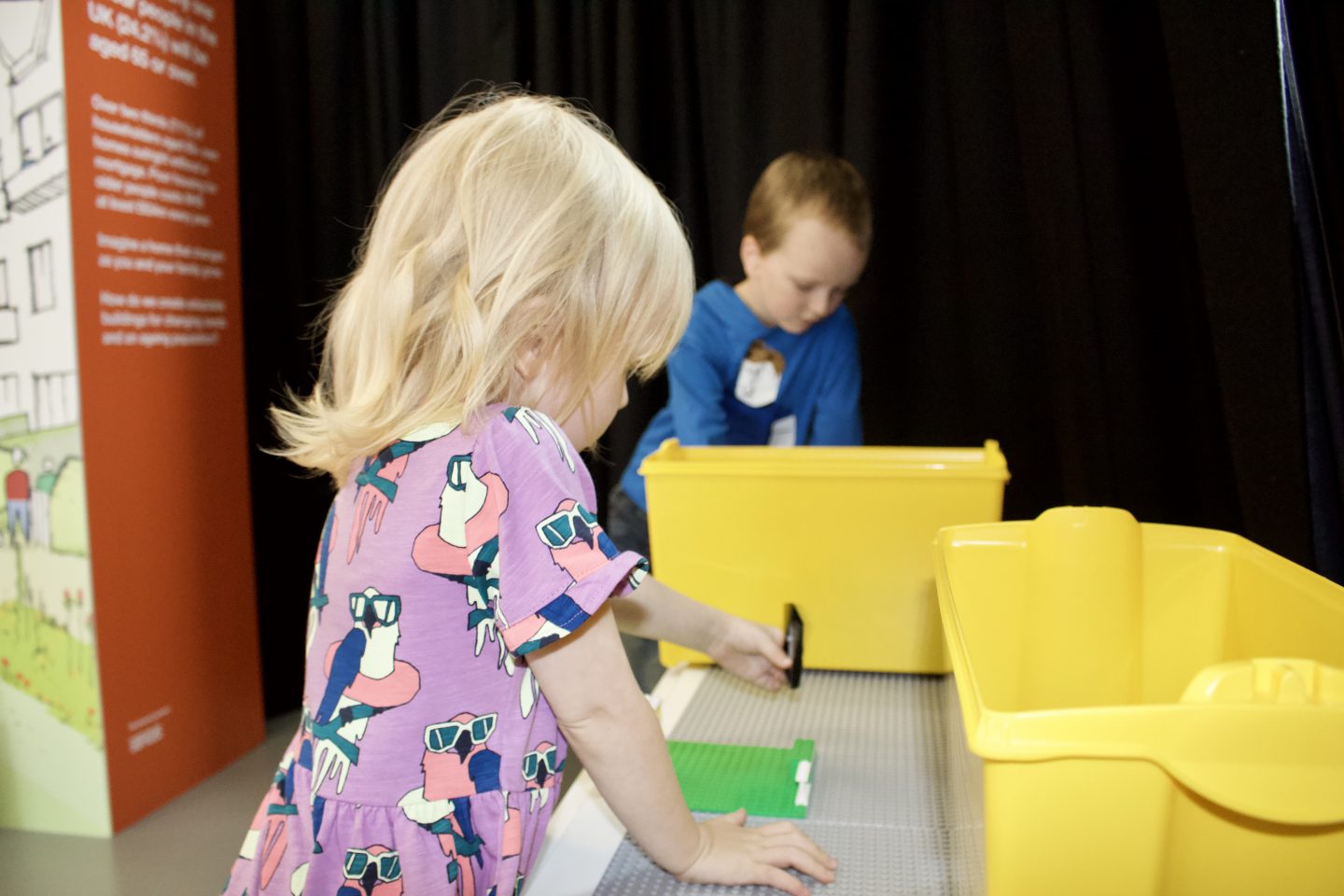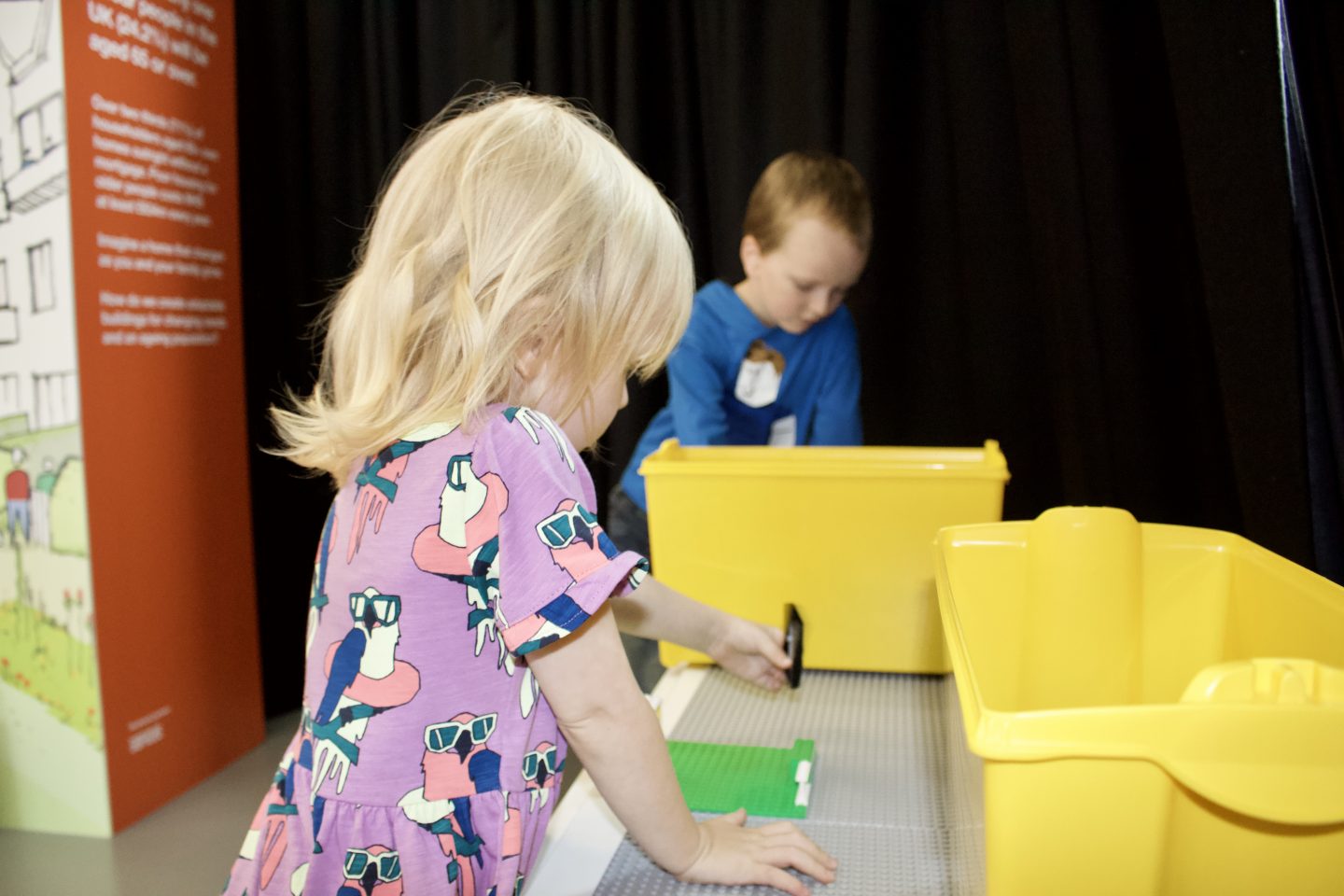 Innovative technologies
There were several interesting 'stations' at the exhibition. Two virtual/augmented reality stations showing you around the Future Homes themselves. There was a station that showed you what a future city could look like. It had a lake in the middle with wind turbines powering a train going around the outside and green space with solar panels. Then another virtual reality station where you got to experience a simulation of being on a wind turbine.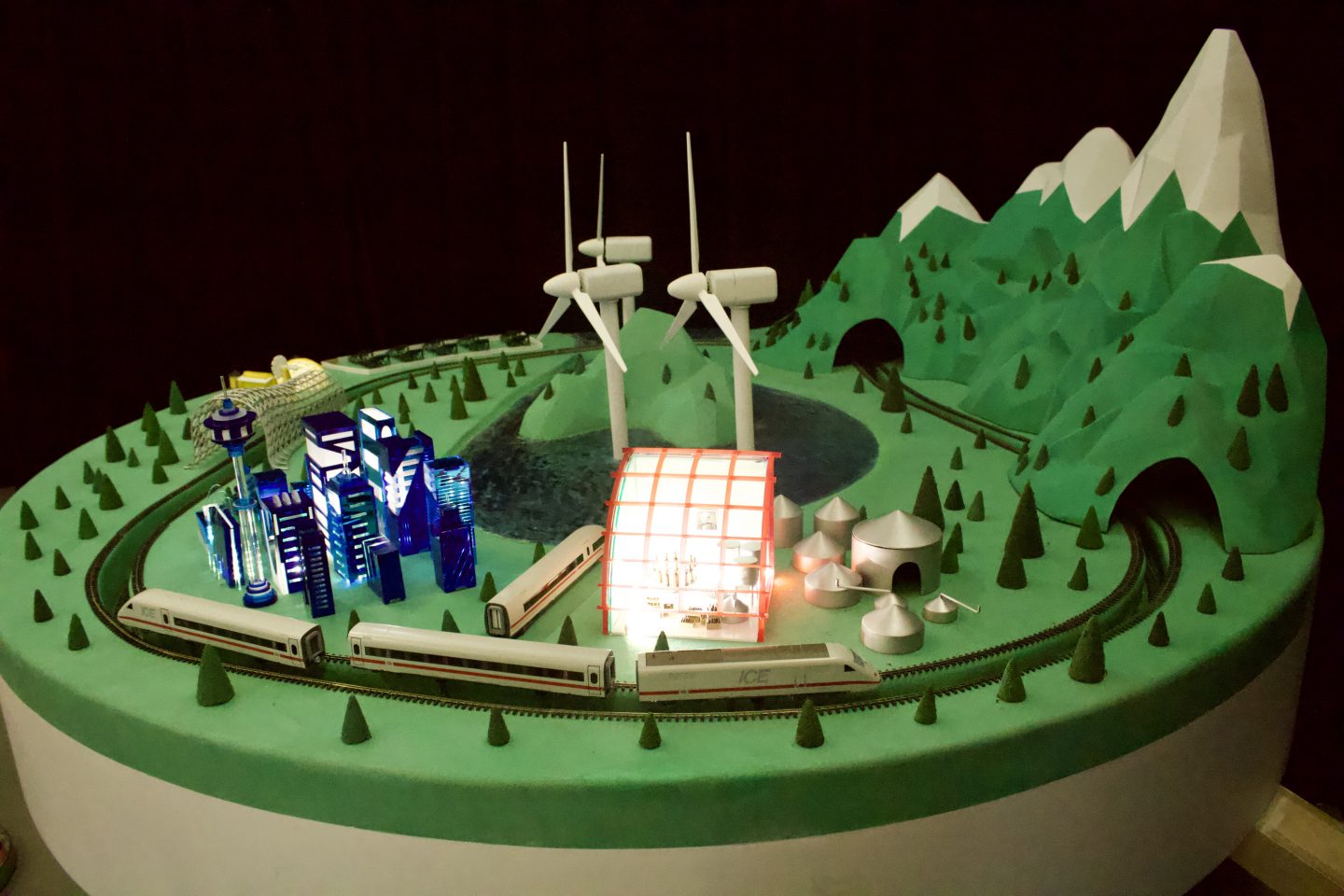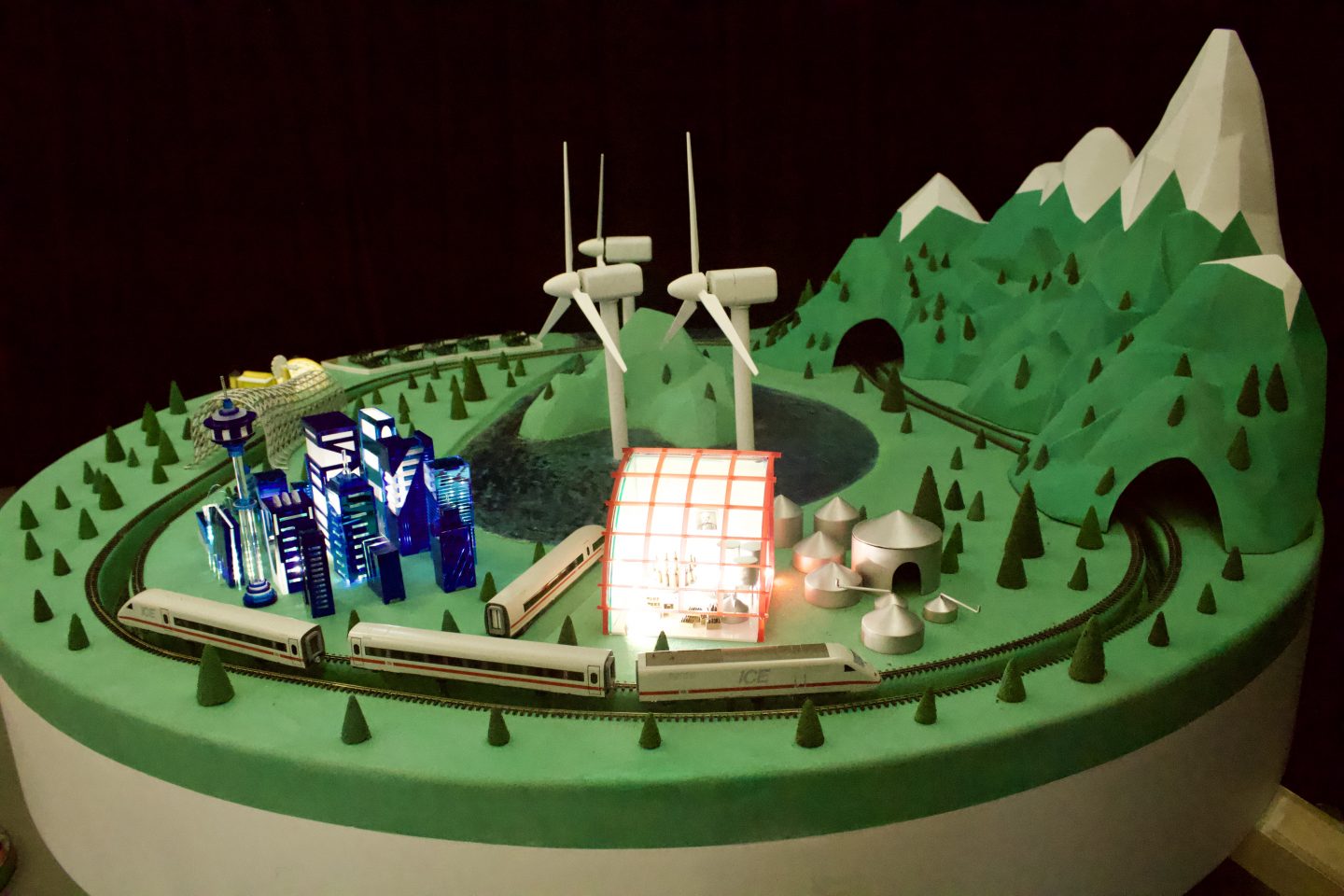 Augmented/virtual reality
My favourite pieces were the stations where you got to look around the houses and find out what they could do. We used an Ipad to see a 3D version of the rooms and move around the house and see the rooms from different angles and explore their innovative features.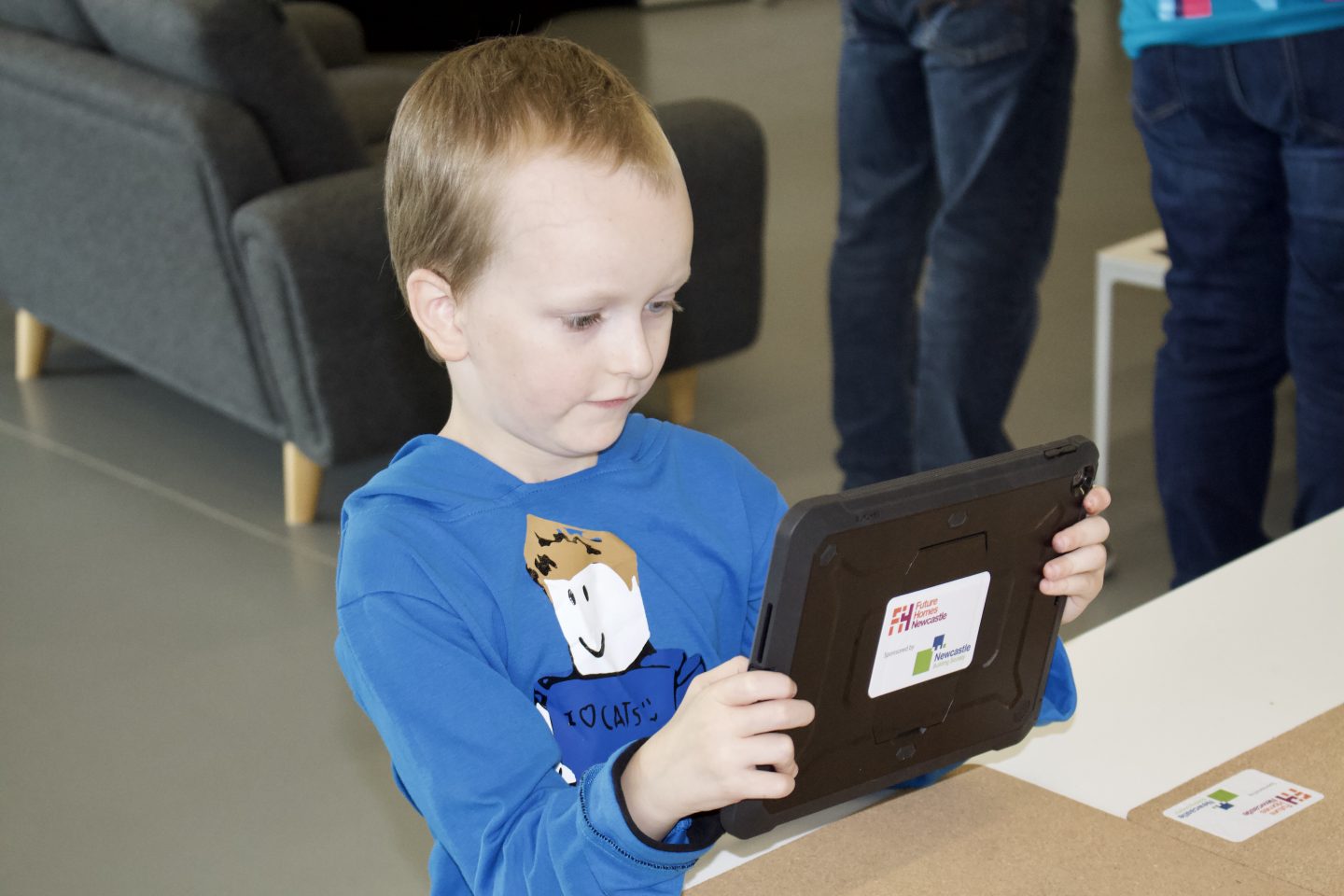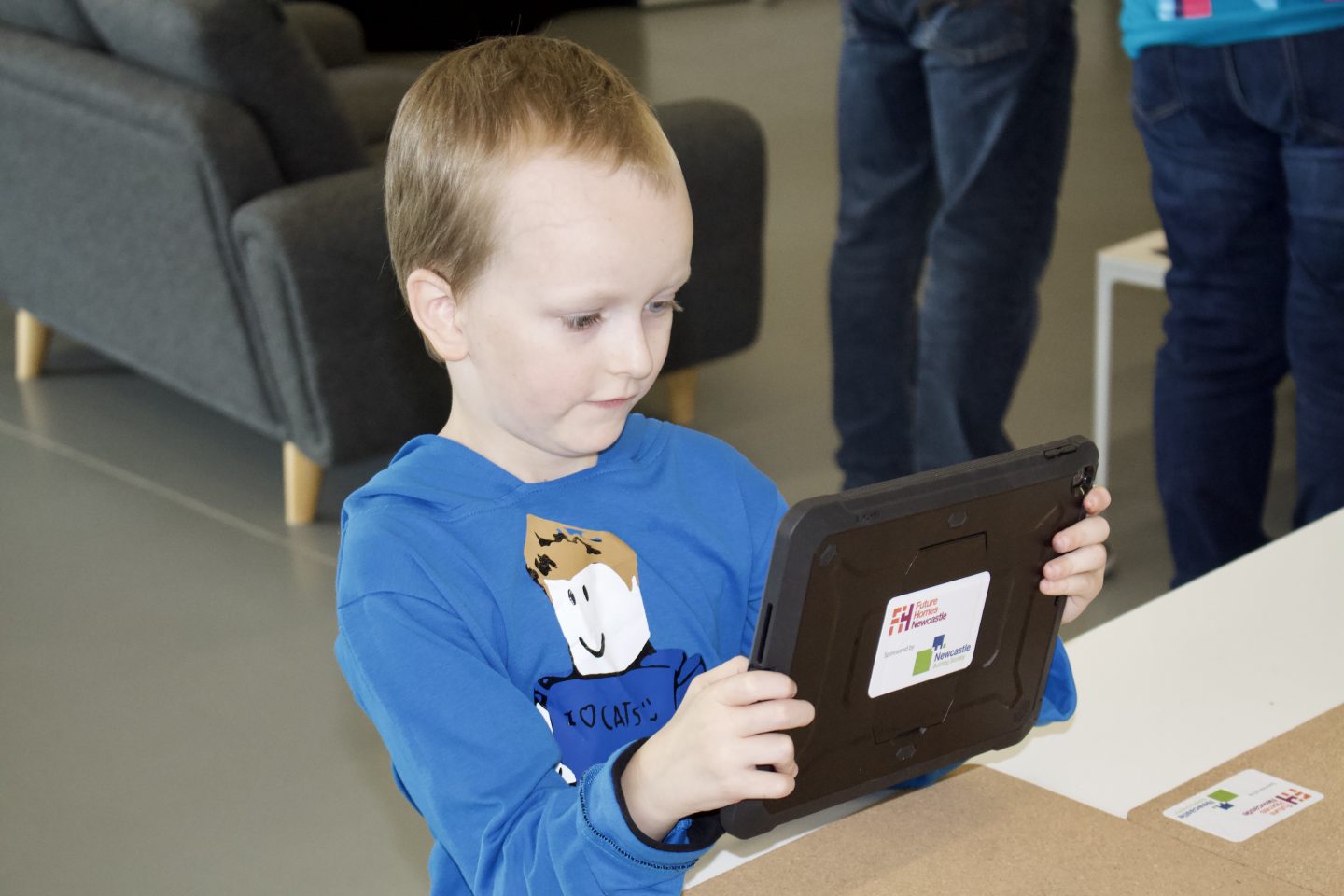 I was particularly impressed that all the internal walls in the house could move to make the rooms smaller or larger. I loved that the roof collected rain water for use in the bathrooms and kitchen. The house had solar panels and a way for unused energy from an electric car to be put back through the house. The roof also had micro allotments and vertical veg to encourage community building.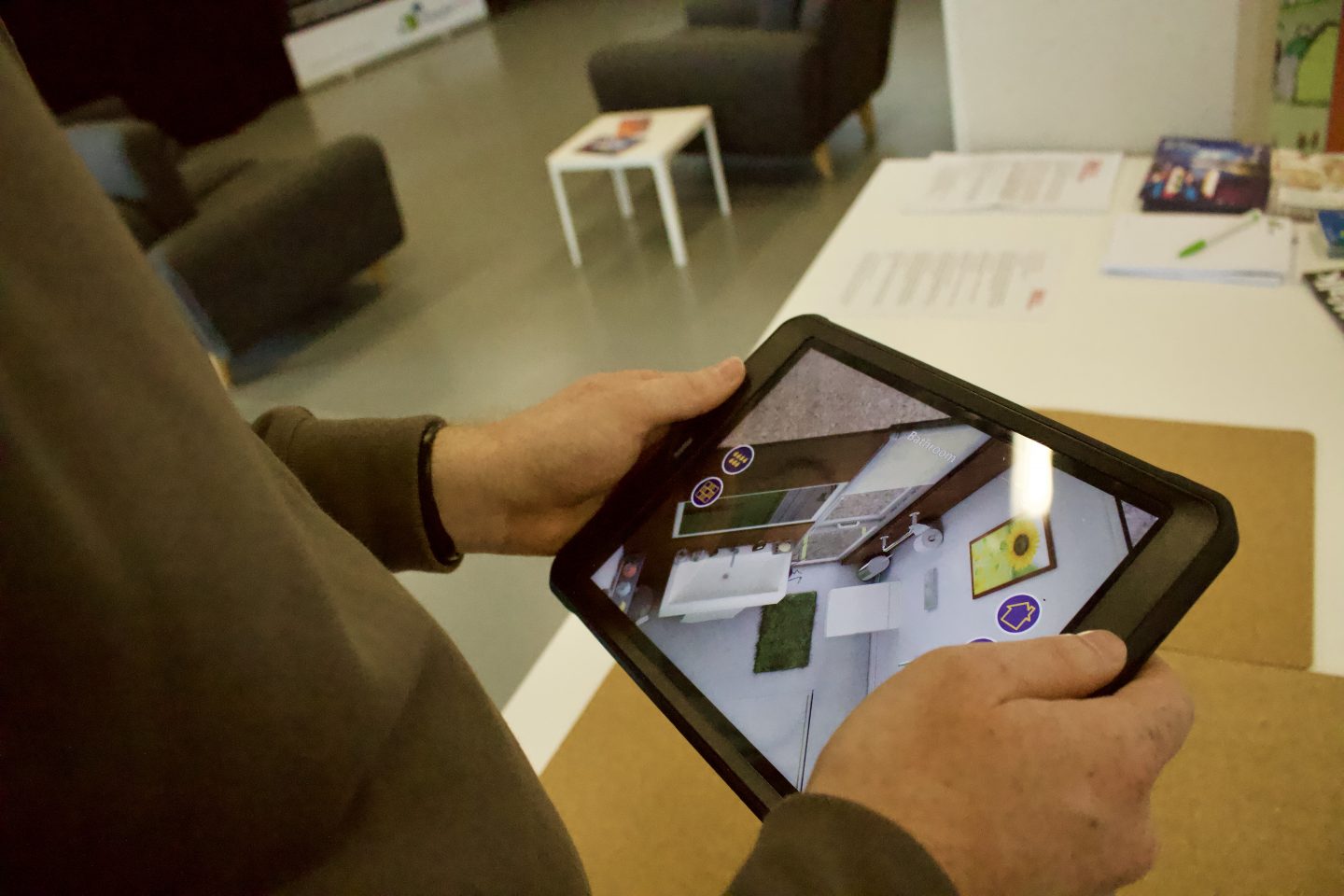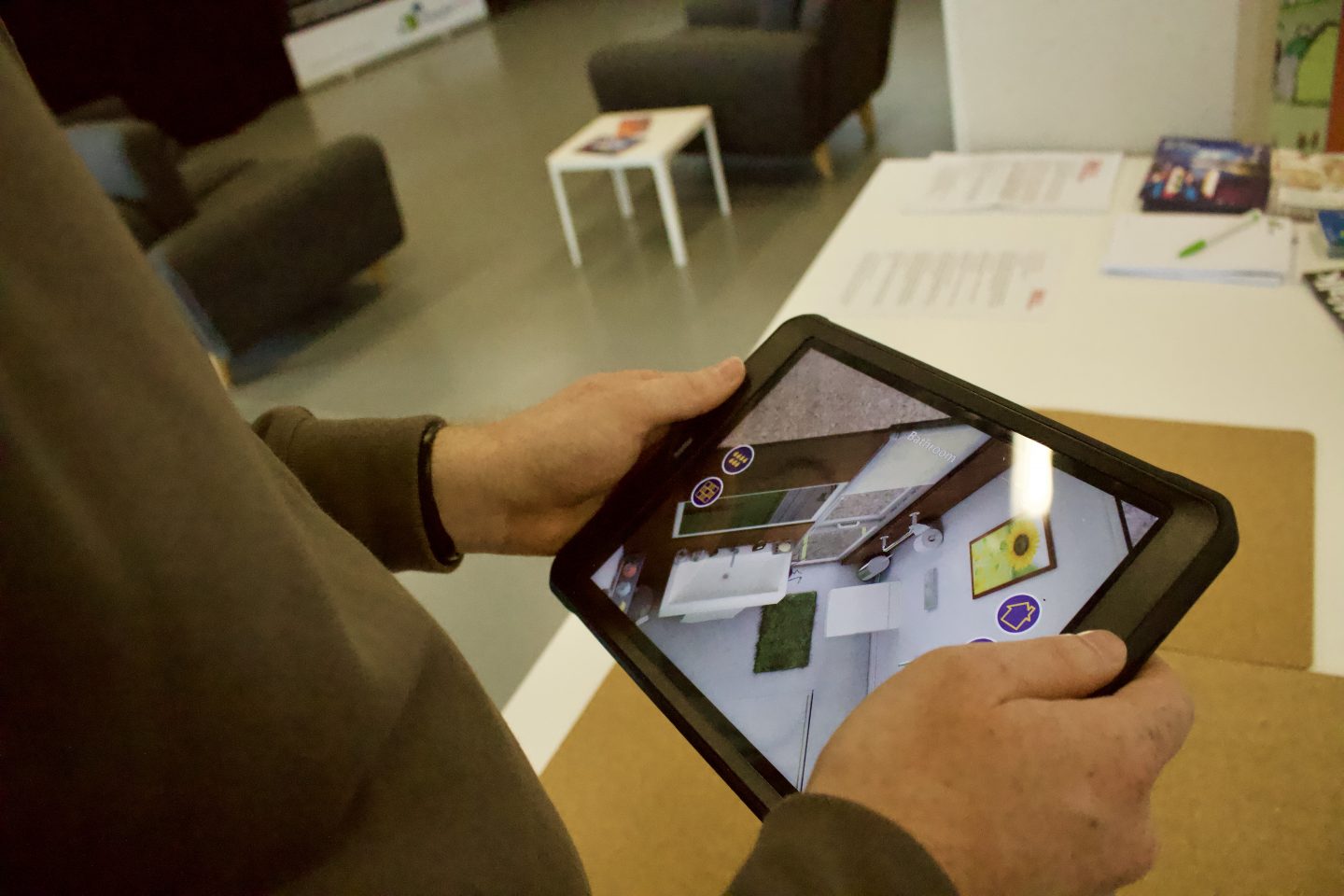 At the next station I explore the homes further using a VR headset where I could move around inside and outside the houses. We were able to sit on a desk chair that spun around so we could turn around the virtual development easily. It was great and my 6 year old loved it. He also figured out the VR set and how to use it remarkably quickly.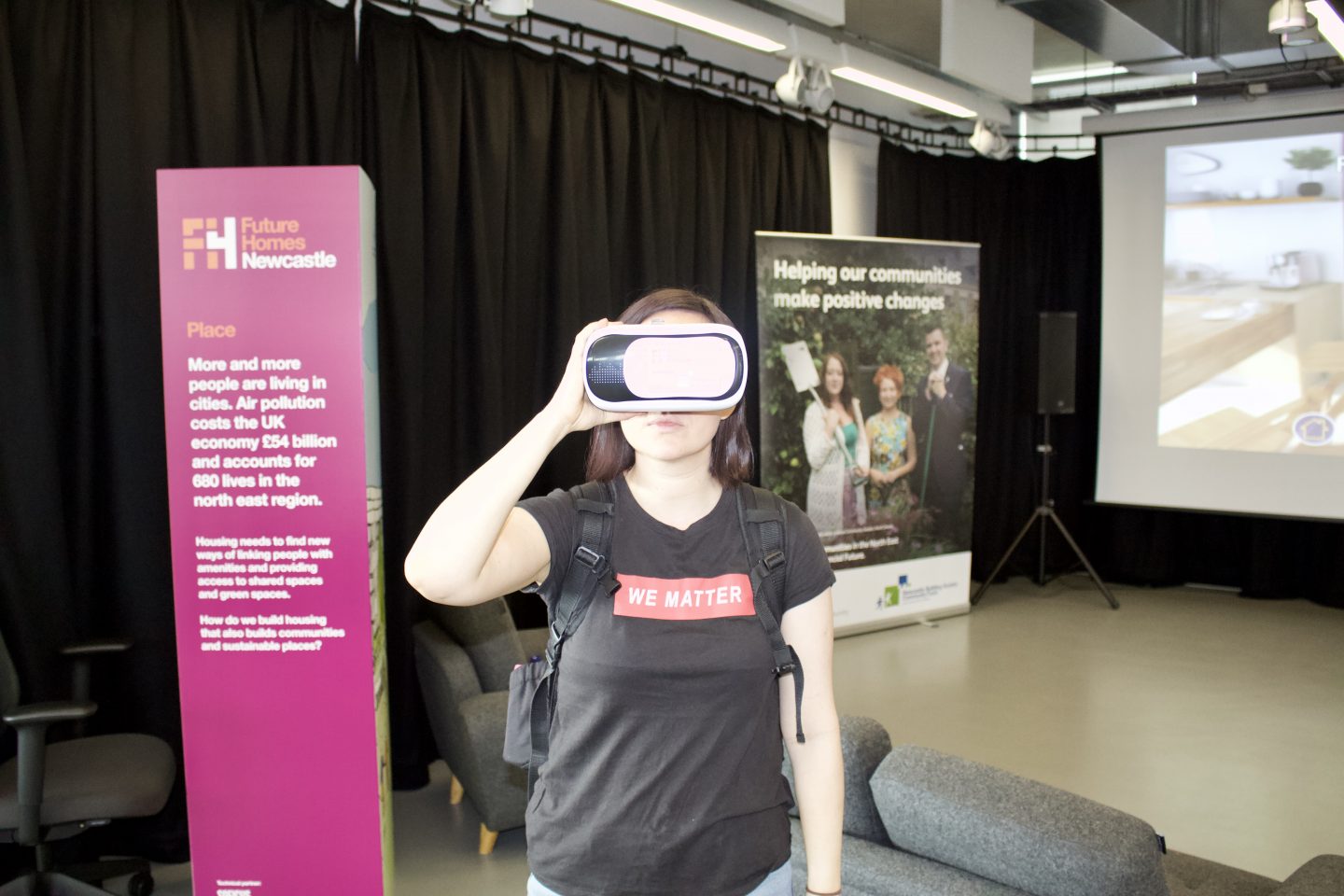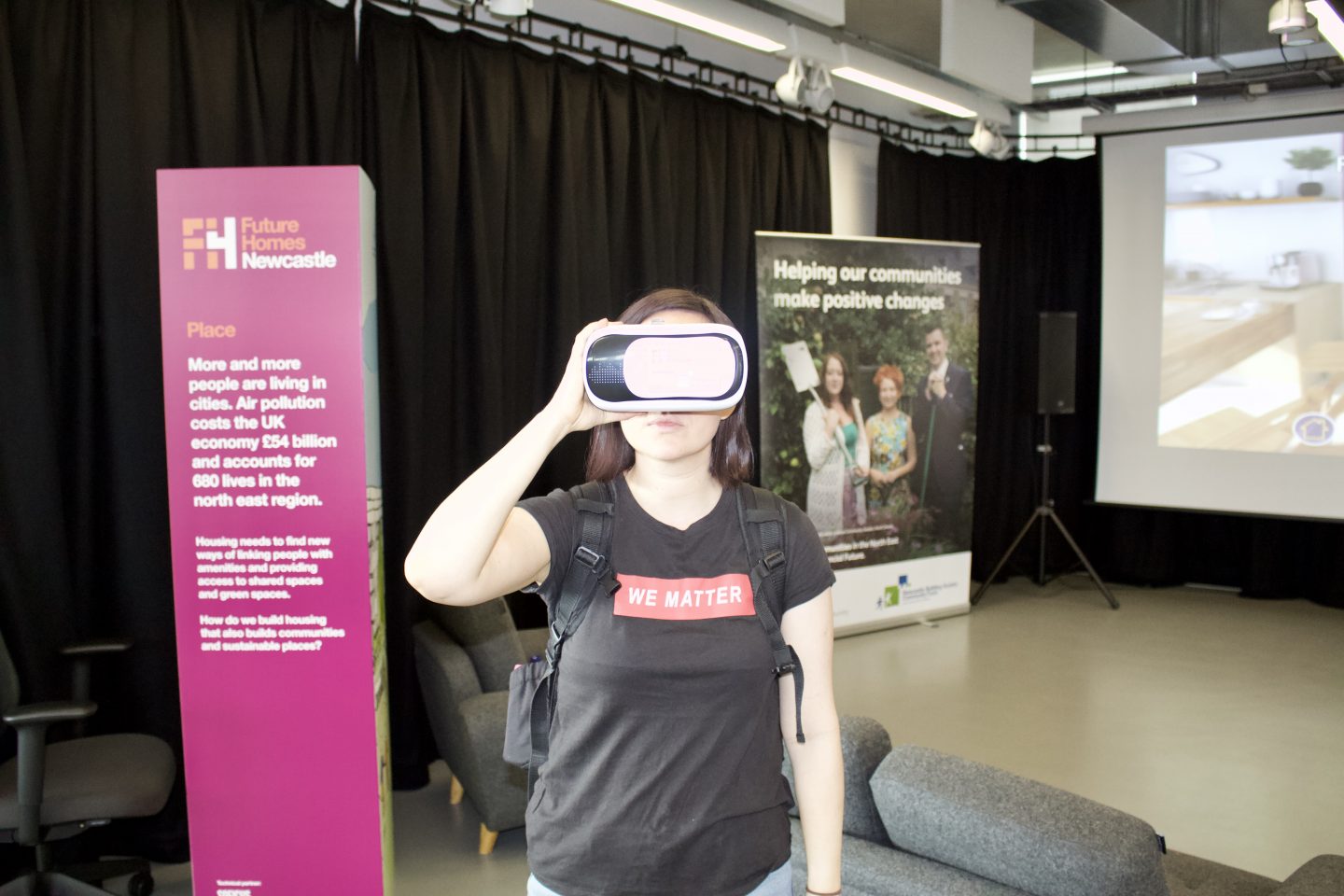 Hybrid Reality offshore wind turbine
The final VR station was an immersive hybrid reality (iHR) offshore wind turbine where you get to enter the world of working on an offshore wind turbine. It is a direct animation of ORE Catapult's 7MW Demonstration Turbine, located in Fife, Scotland. This blew my mind a bit! It was up a height – 110m on top of an offshore wind turbine nacelle. I genuinely felt a little wary even though I knew I was safe. I had to step over something at one point and I almost couldn't do it. My body didn't trust what my mind was telling it! You get to play a game where it takes you through a realistic training scenario where you have to find faults with the wind turbine and carry out corrective action. It was really interesting to explore. The iHR system will be transferred to Newcastle College's Energy Academy after its use during the Great Exhibition of the North. As one of the most advanced systems of its kind in the world, the iHR will add a truly dynamic facility to the Academy for the next generation of offshore engineers from the North East of England and beyond.
Summary
All in all, we spent about an hour at the exhibition. It was unique, fun and I feel like we all learned something new. It's very much worth popping into with or without kids! I would highly recommend it. I can't wait to hear more about the Future Homes when they are built in 2019. The future is so exciting!
The Future Homes exhibition ends of September 9th so you only have 11 more days to get down to see it. Don't miss out, pop down any day 10-17.30 to see it for yourself.
If you liked this post you might also like The Grainger Market Newcastle – why you should go and Newcastle upon Tyne walking tour.
Disclaimer: This is a sponsored post. These are my honest opinions. For more details about my disclosure policy, please see my about page.