Earlier this summer I wrote about how the Fantastic for Families website is an excellent tool for finding cultural activities for families. You simply pop on the site and search via a postcode to bring up loads of upcoming arts and culture family activities in the area. I really want to raise my kids to be creative, mindful and interested in arts and culture. Plus, selfishly, I find these kind of days out much more interesting personally than having to endure the latest neon giant kids character mascot sing a garish song. My kids love that stuff too but I need to balance it – for my own sanity if nothing else.
What to do in Ouseburn Newcastle with kids
Seven Stories
On our return from having an amazing time at Just So festival with Fantastic for Families we were feeling inspired and hungry for more family arts and culture. For the recent August bank holiday we popped on the website to bring up what would be happening locally. We saw one of our favourites Seven Stories had some events on that were suitable. Seven Stories is the national centre for children's books based in Newcastle's cultural quarter, the Ouseburn Valley. Ouseburn just happens to be one of my favourite part of Newcastle so we planned a whole day out there.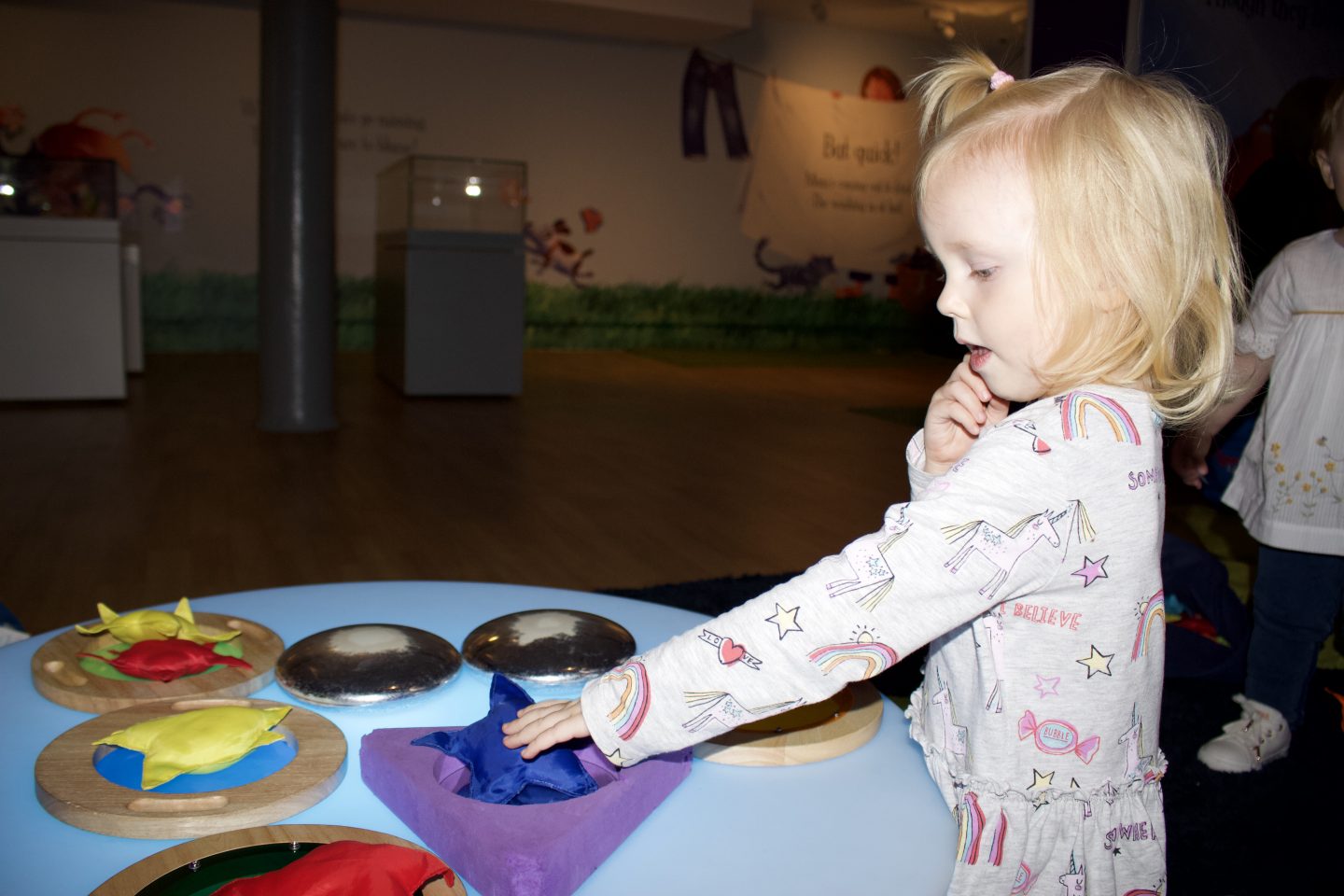 It wasn't until our first visit to Seven Stories a while ago that I realised its name plays on the fact that its set over seven floors. As such, there is lots for kids of all ages to do there. My 3 year old loved the play room where she got to play with train sets and toys.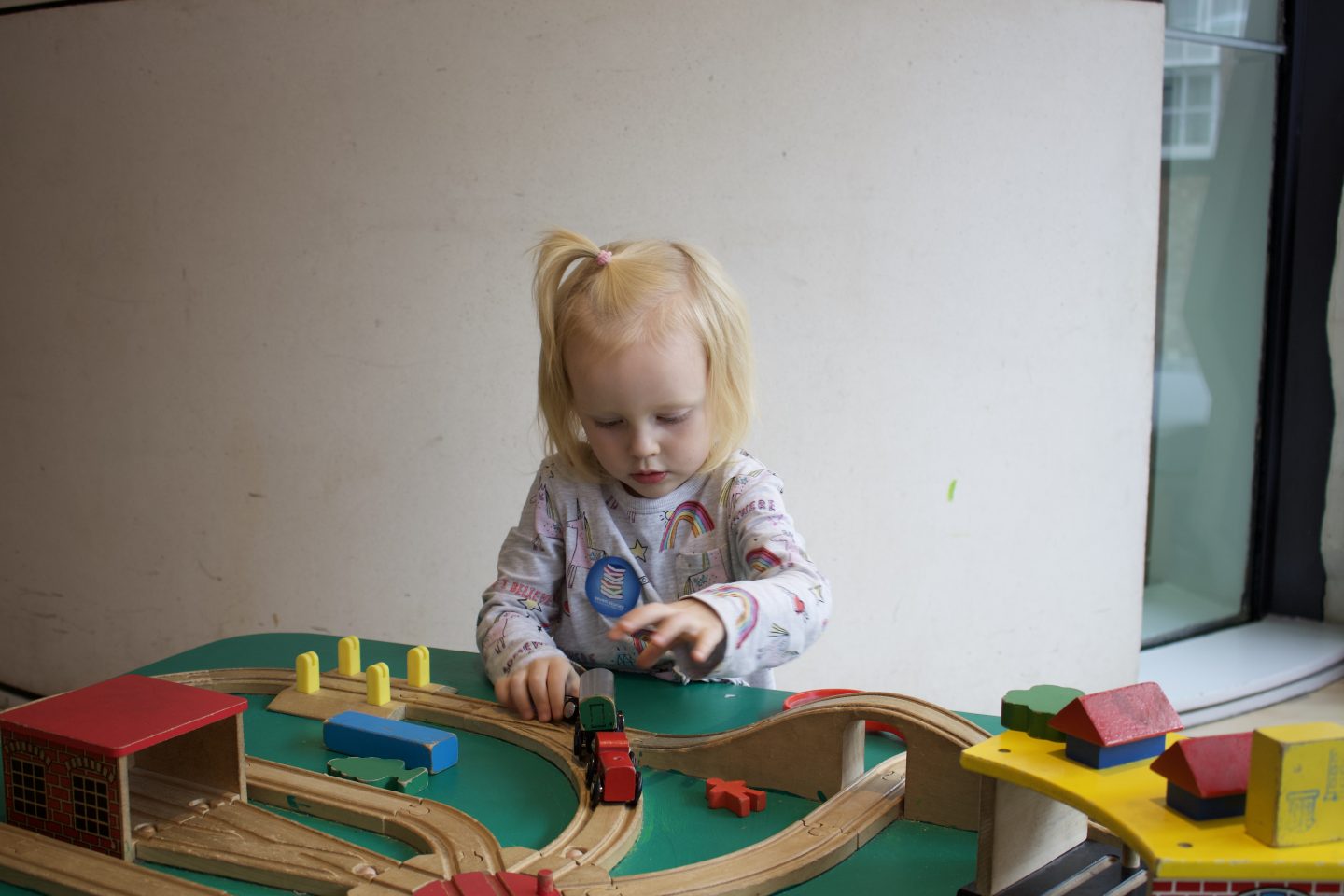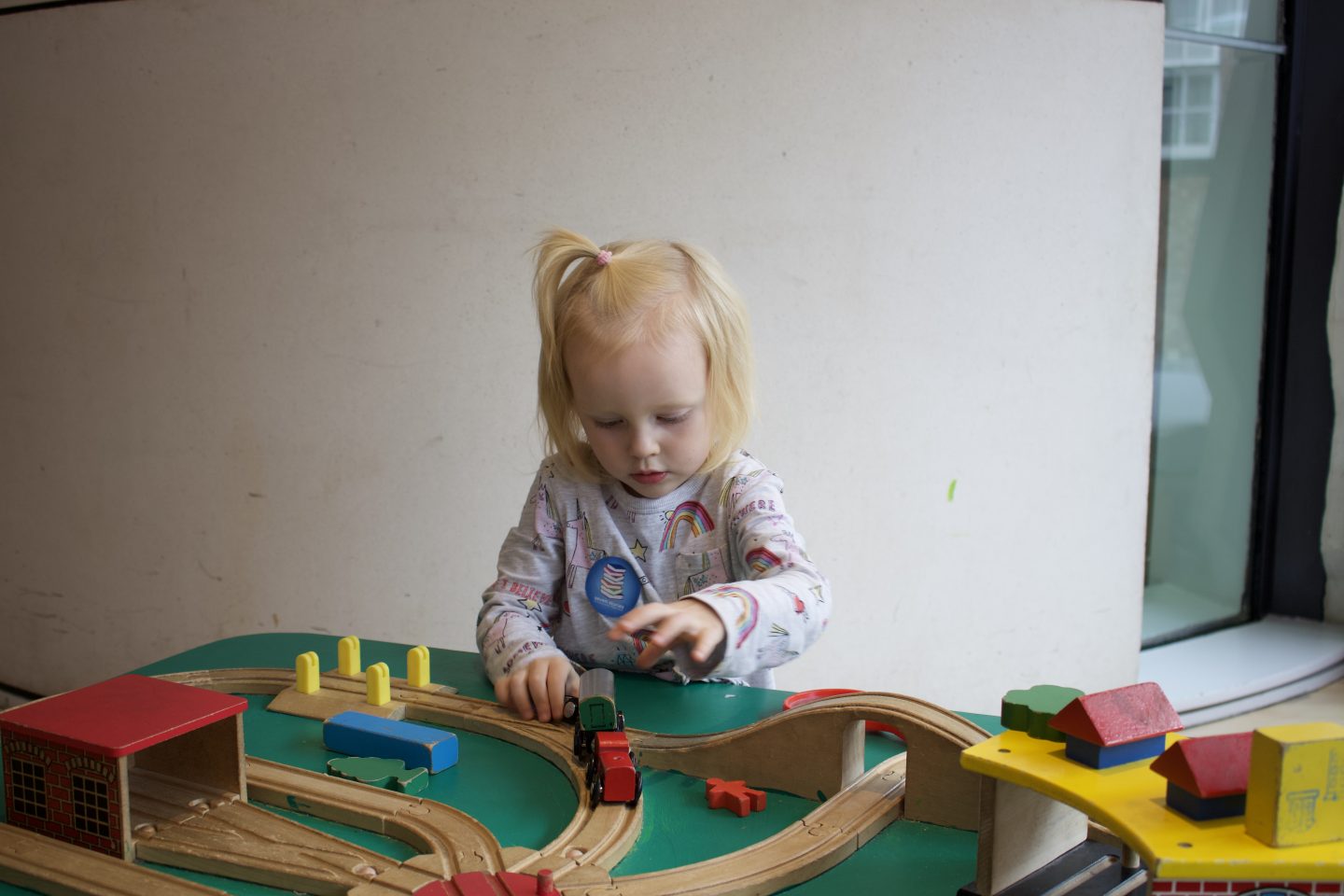 My 6 year old loves the 'Aliens love Underpants' room. But there is plenty for kids of all ages to see and do. It also has a lovely little book shop and café. We are so lucky to have this national treasure right on our doorstep.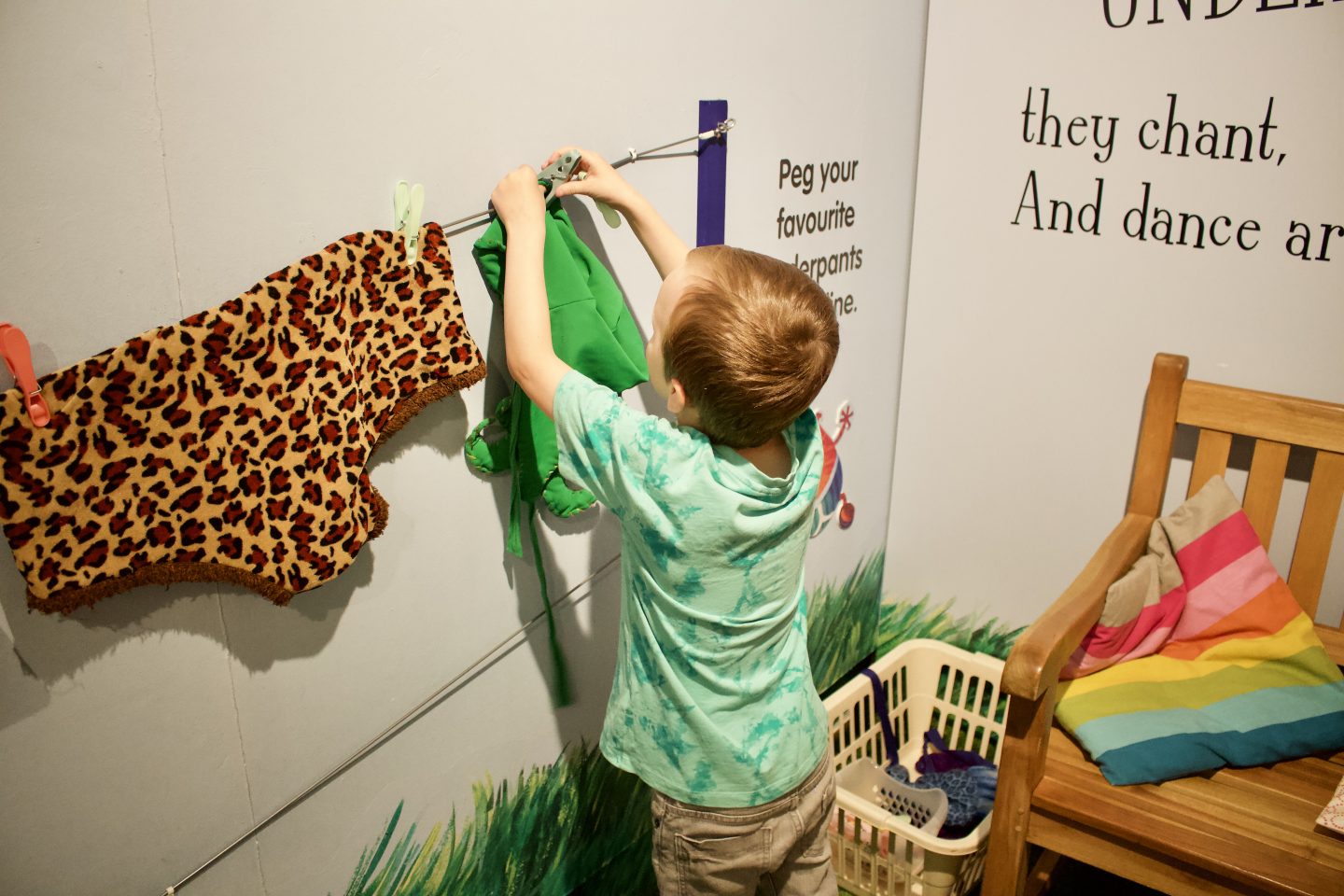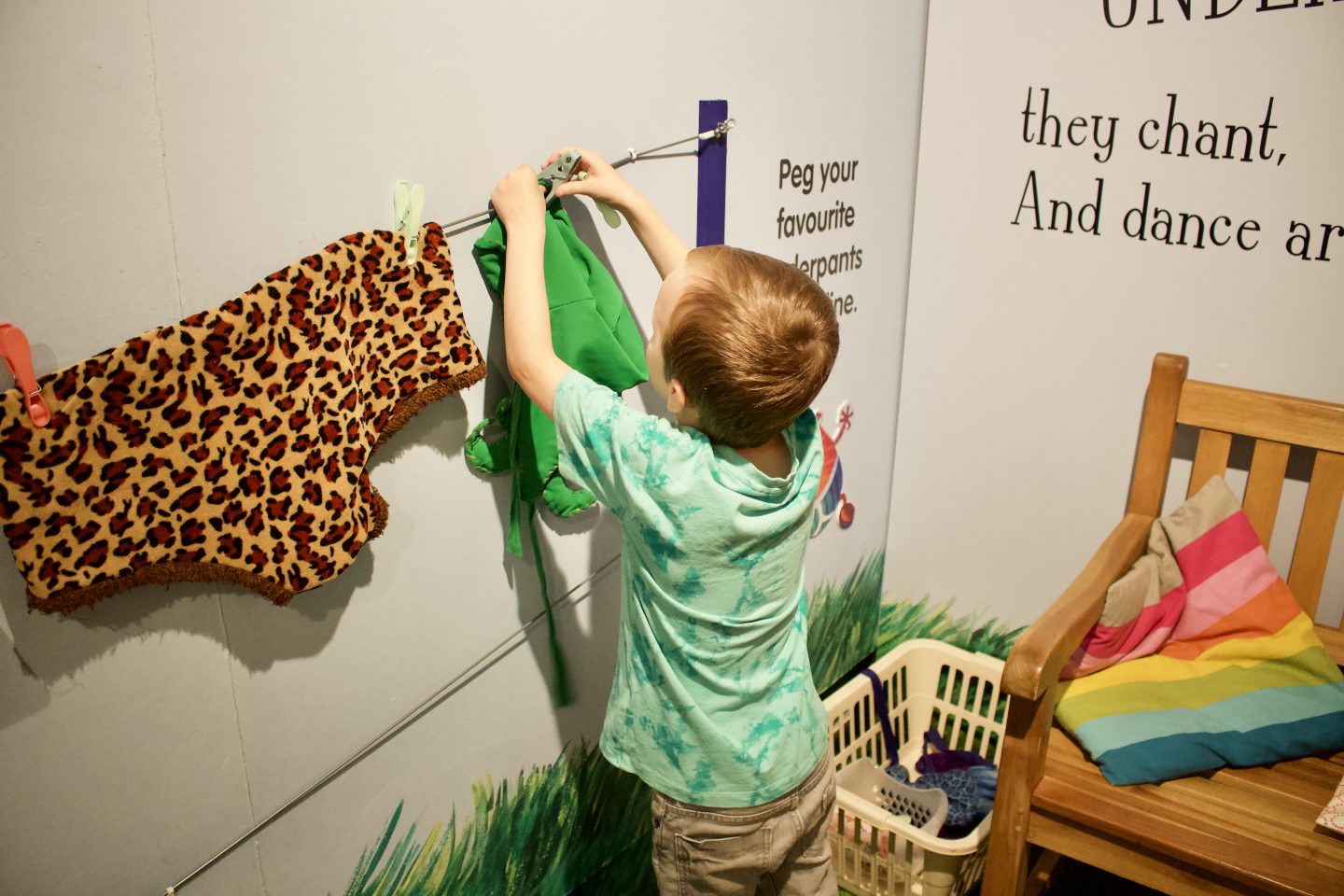 We arrived early for our event so we spent a bit of time exploring Seven Stories itself. The kids enjoyed a story time session where an enthusiastic staff member read three books to a gaggle of gathered children in a cosy darkened room. We explored some of the permanent exhibitions, chose some books from the bookshop and played in the toddler playroom.
Step into the Wild Woods with Chris Riddell
We went to Seven Stories to attend a reading by Chris Riddell of his new picture book 'Once Upon a Wild Wood' (affiliate link), a stunning book that interweaves lots of classic fairy tale characters throughout its tale. We got to listen to Chris speak about it in the Seven Stories attic, which is a gorgeous, thick wooden beamed room with fairy lights, decorated as Diagon Alley.
Chris was set up with a screen behind him and a camera above him and as he spoke he sketched drawings which was marvellous to witness, he's so fast. He even sketched a child in the audience who was lucky enough to take the sketch home to keep.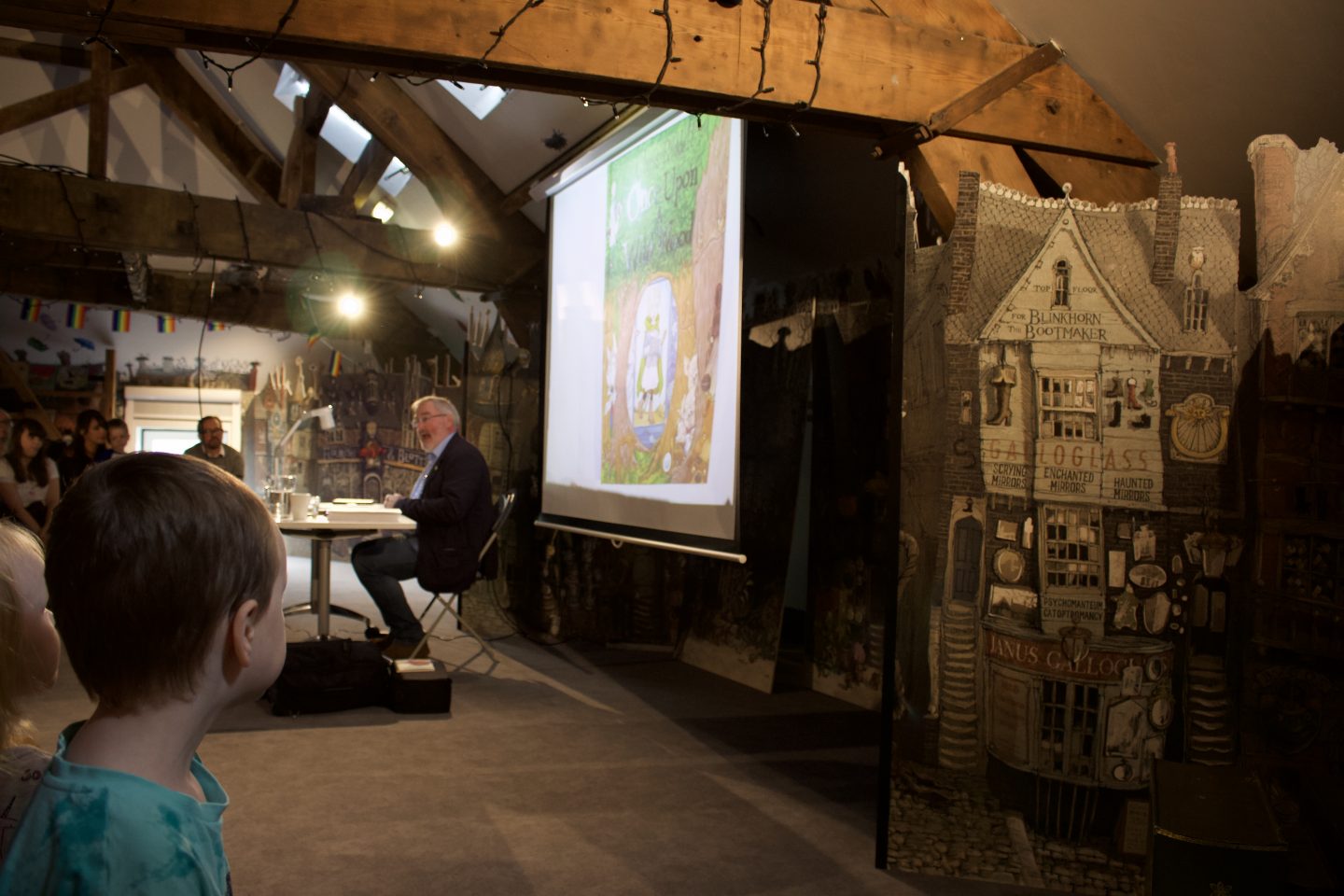 Chris was charismatic, quick witted and funny. He often went off on an entertaining tangent full of humour. It was a privilege to hear him speak about his work and explain his process. He told a great story about when he worked as a cartoonist at the Economist in 1993 and took the same train as Nick Cave, Bobby Gillespie and Norman cook.
He also made a cracking Theresa may joke about how he had made the wicked witch in the story look like her and made her 'very short sighted' but he editor said it was too scary. I think my kids were a little too young for the session at 3 and 6 as they lost interest later on but the older kids in the audience were thoroughly engaged.
After the reading you were able to buy one of Chris' books in the bookshop and get it signed by Chris which we did. The Once upon a Wild Wood is a beautiful book, with the front cover having a decorative hole in the middle through to the front page illustration. It's a lovely little book and both my 3 and 6 year old were captivated by it. You can buy it on Amazon here (affiliate link).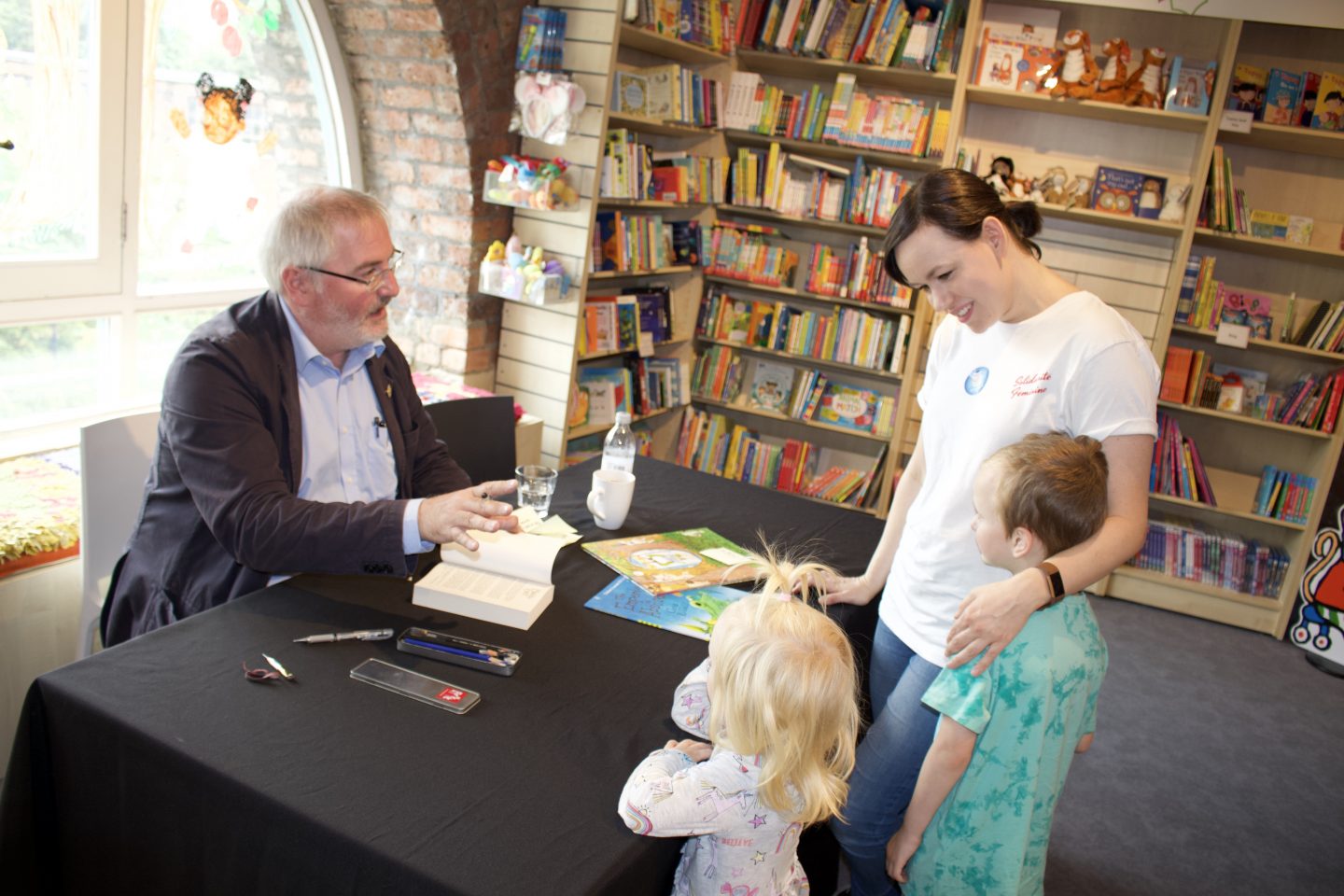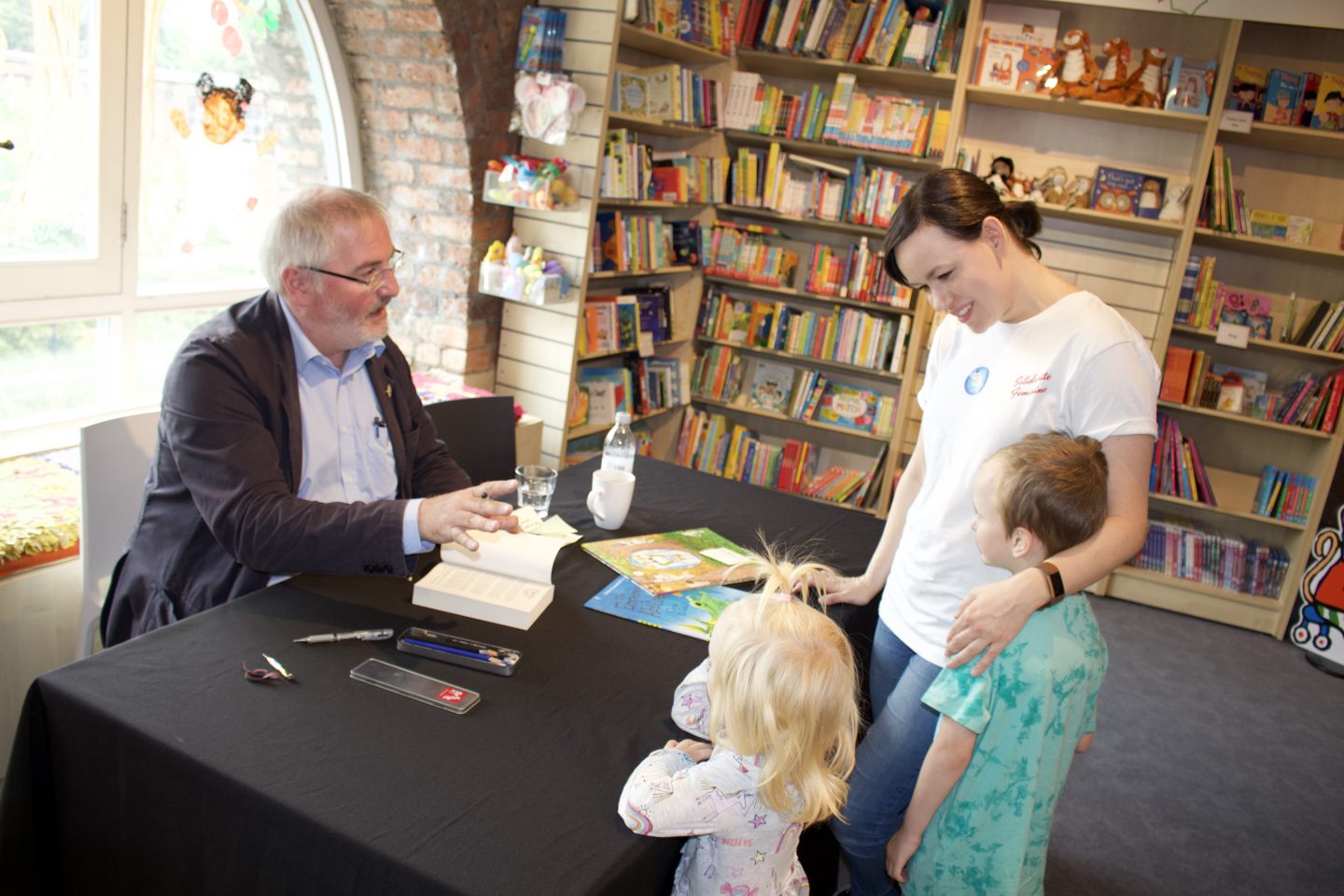 Lunch at the Cluny
The Cluny has long been one of my favourite pubs in Newcastle. I lived in Sandyford and Heaton for 4 years and used to go there almost daily but now we live further out in South Tyneside it's a rarer treat for us. If you've tried the Cluny burger or their amazing home-made chips you will know why we love to eat there.
They play great music and have a fantastic selection of drinks. We even had Lena's 3rd birthday lunch there back in February. Arlo got sausages and chips, Lena and Papa Ginge got mac and cheese and I got a greek salad. We were excited to see a few vegan options on the desert menu for our son who has a dairy allergy so ordered the kids some vegan ice cream while we finished our beers. As always, the Cluny didn't disappoint.
Winged Tales of the North trail
Part of the Great Exhibition of the North, Winged Tales of the North trail is a free street art trail through the Ouseburn presented by Seven Stories, curated by artist Kate Drummond and inspired by the writings of David Almond. After an indulgent lunch we wanted to get some exercise and set out on the art trail with the free map we picked up from Seven Stories (you can also download the map here).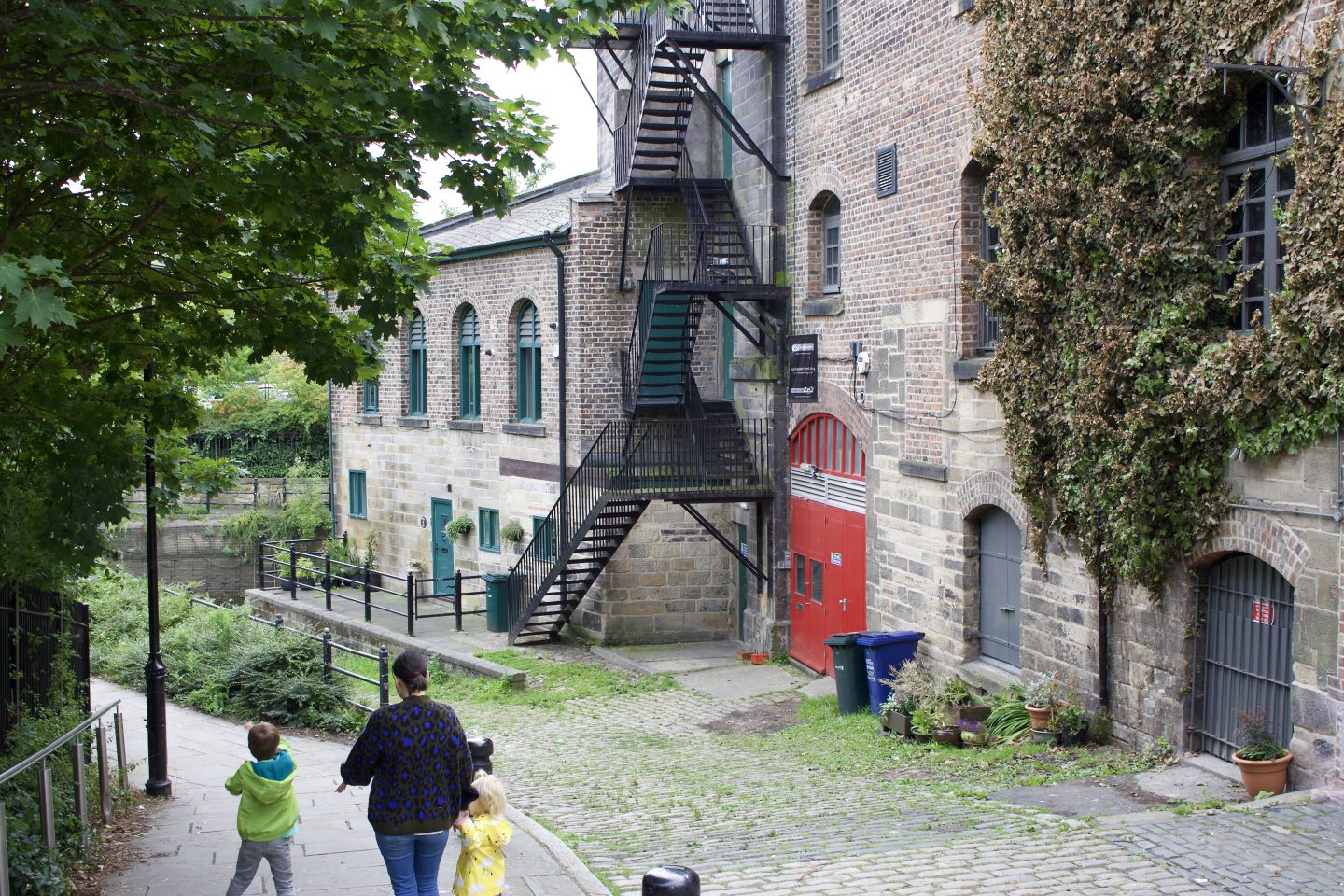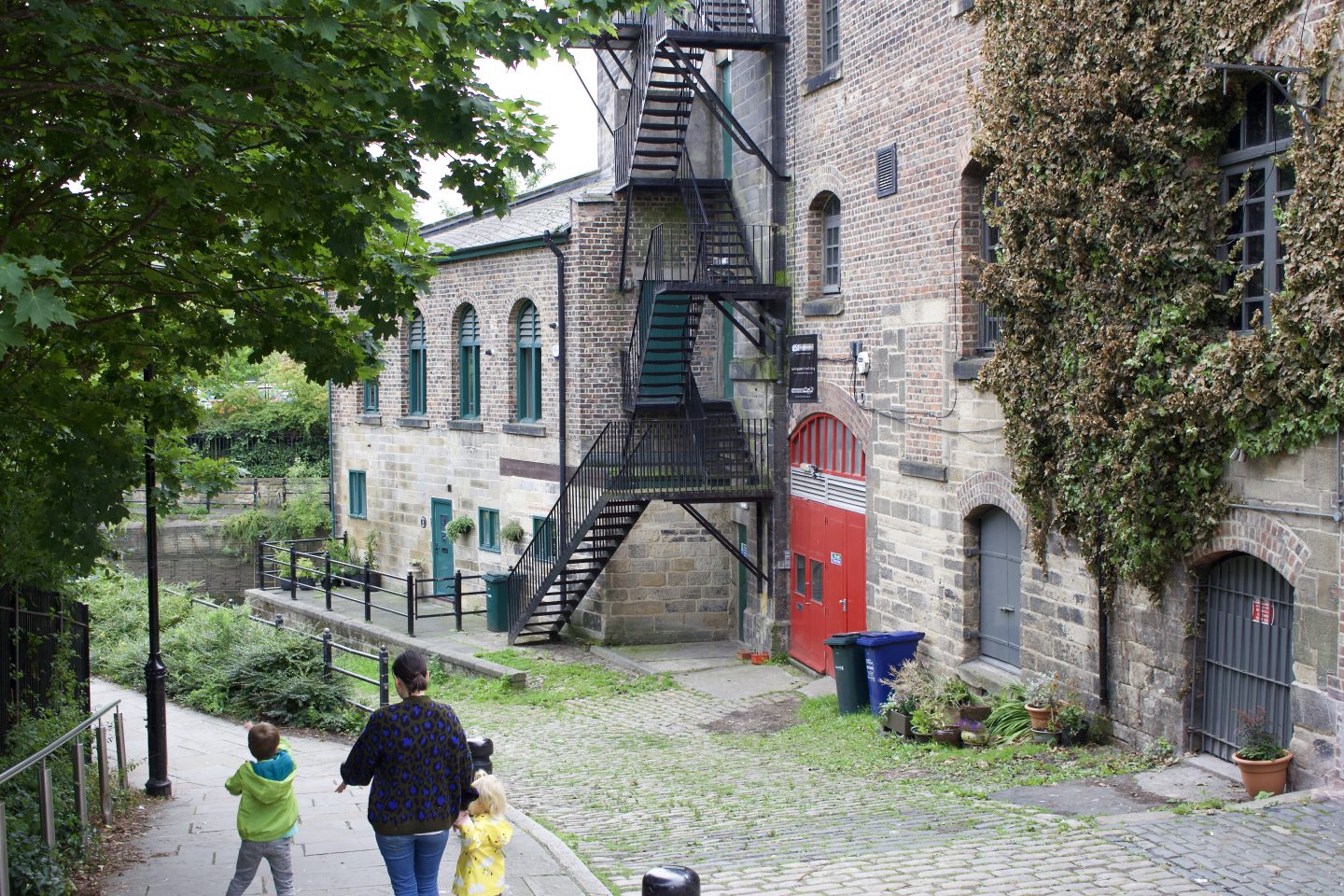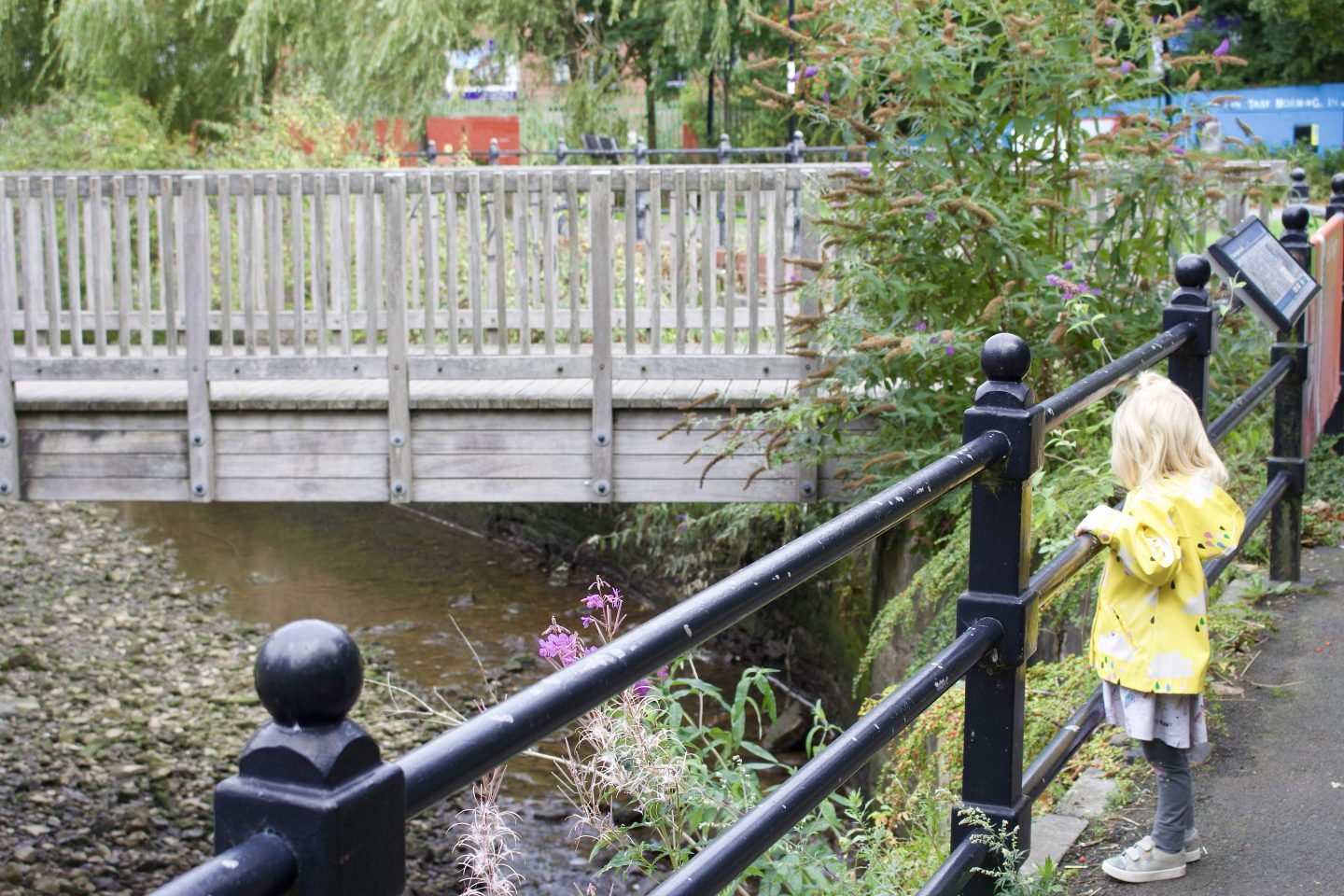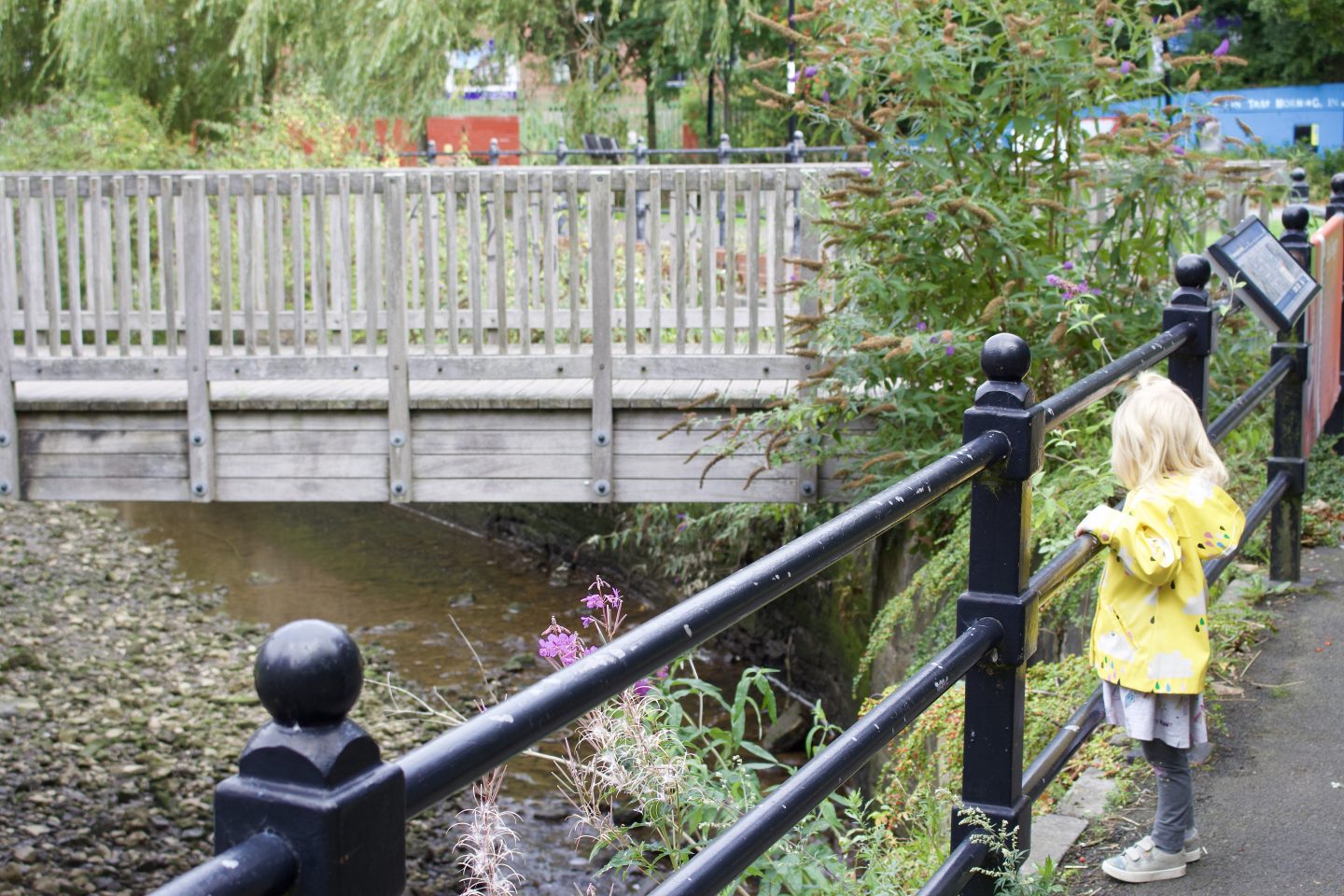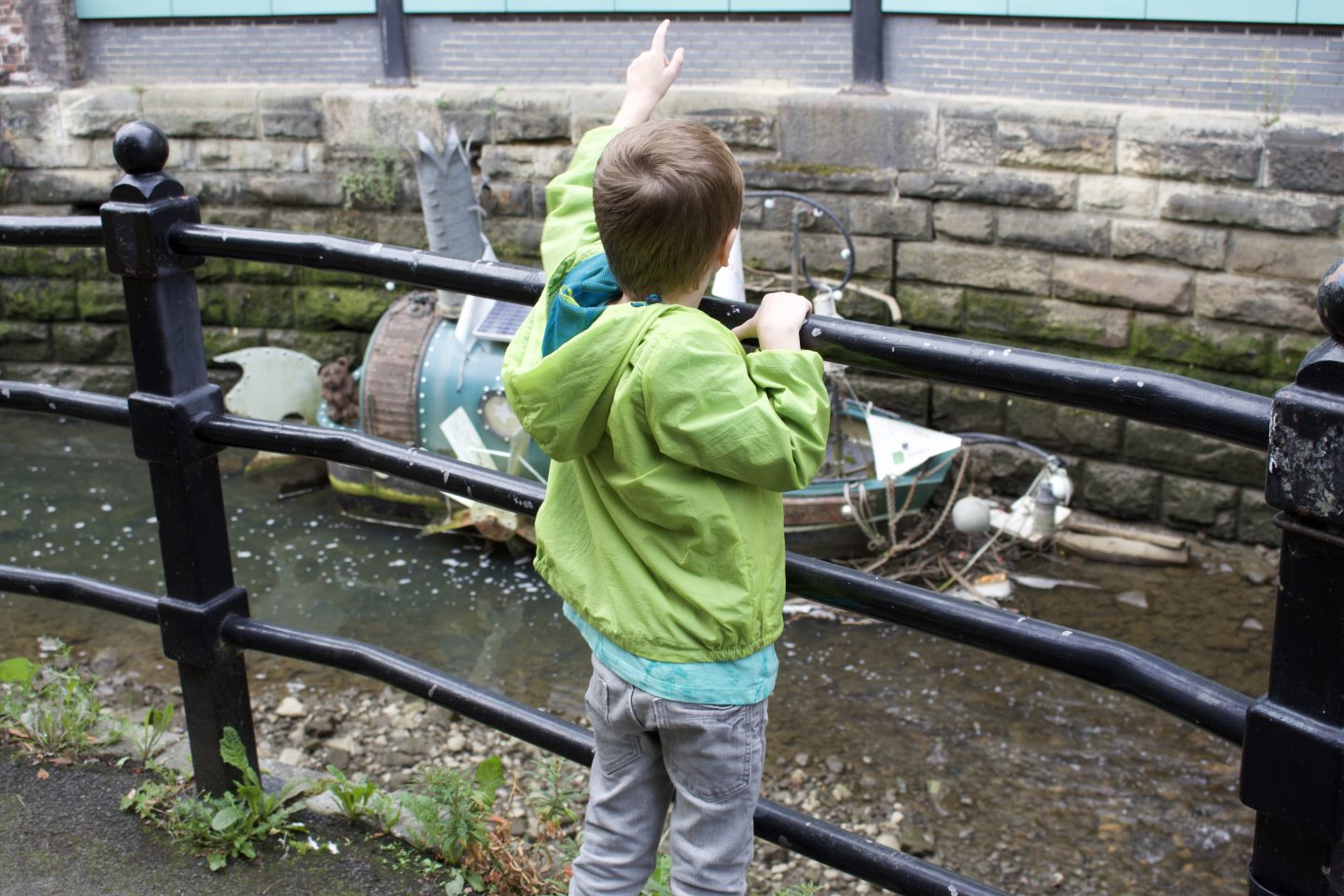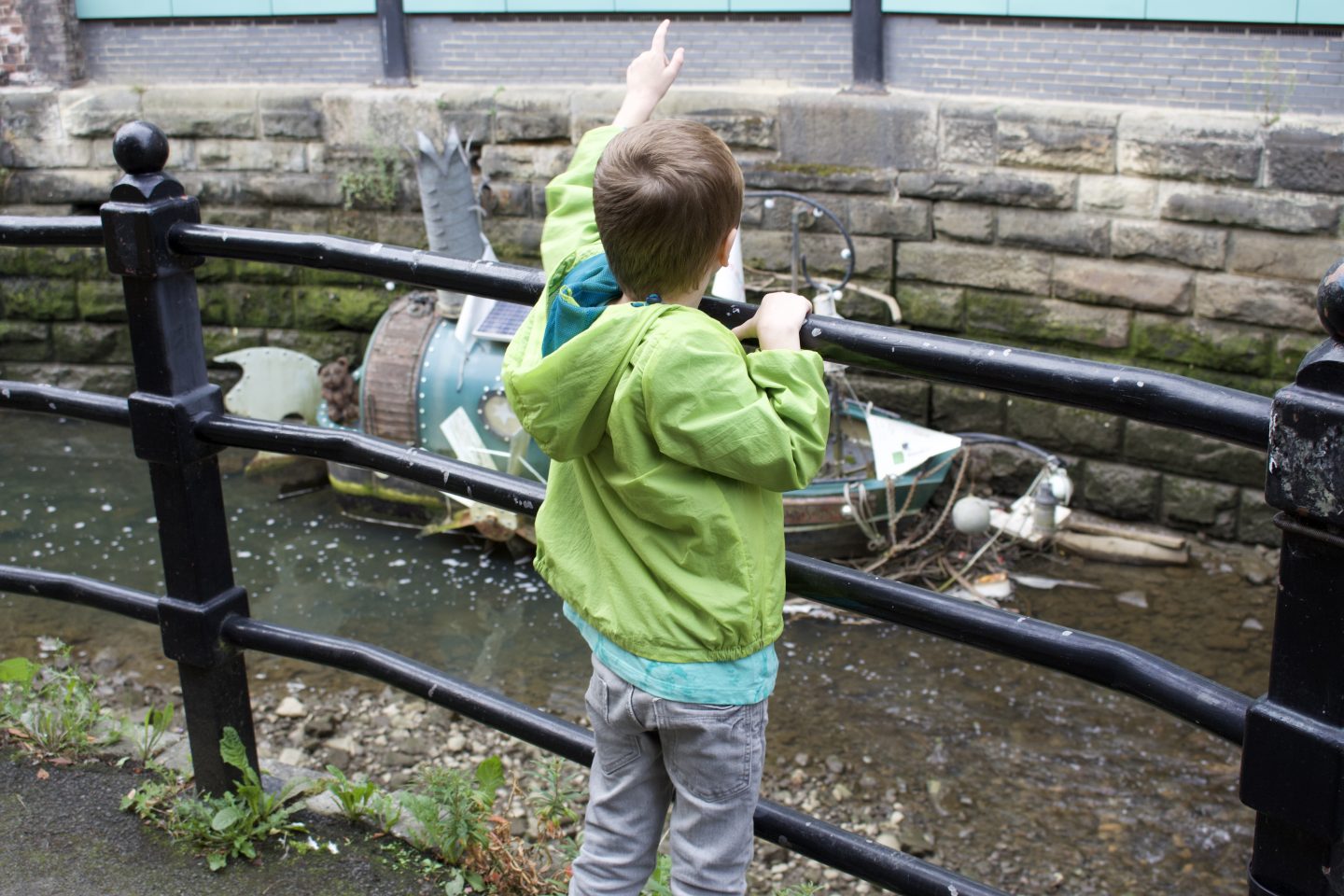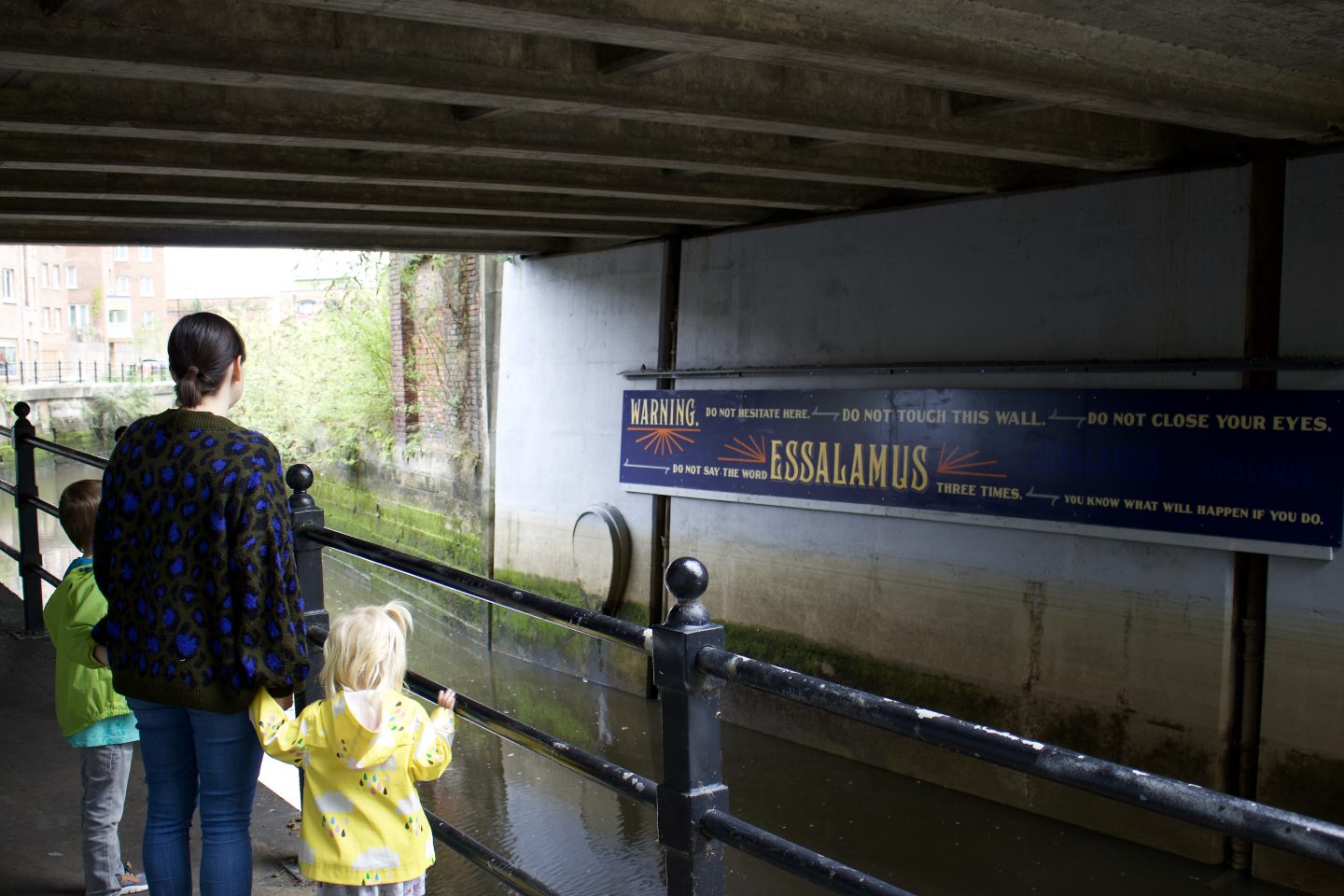 Unlike the unexpectedly lengthy trail we recently did at Derwent Waterside Park, this trail was much more manageable for little legs and there were no complaints from the kids who loved finding the arrows on the floor and spotting each next art piece.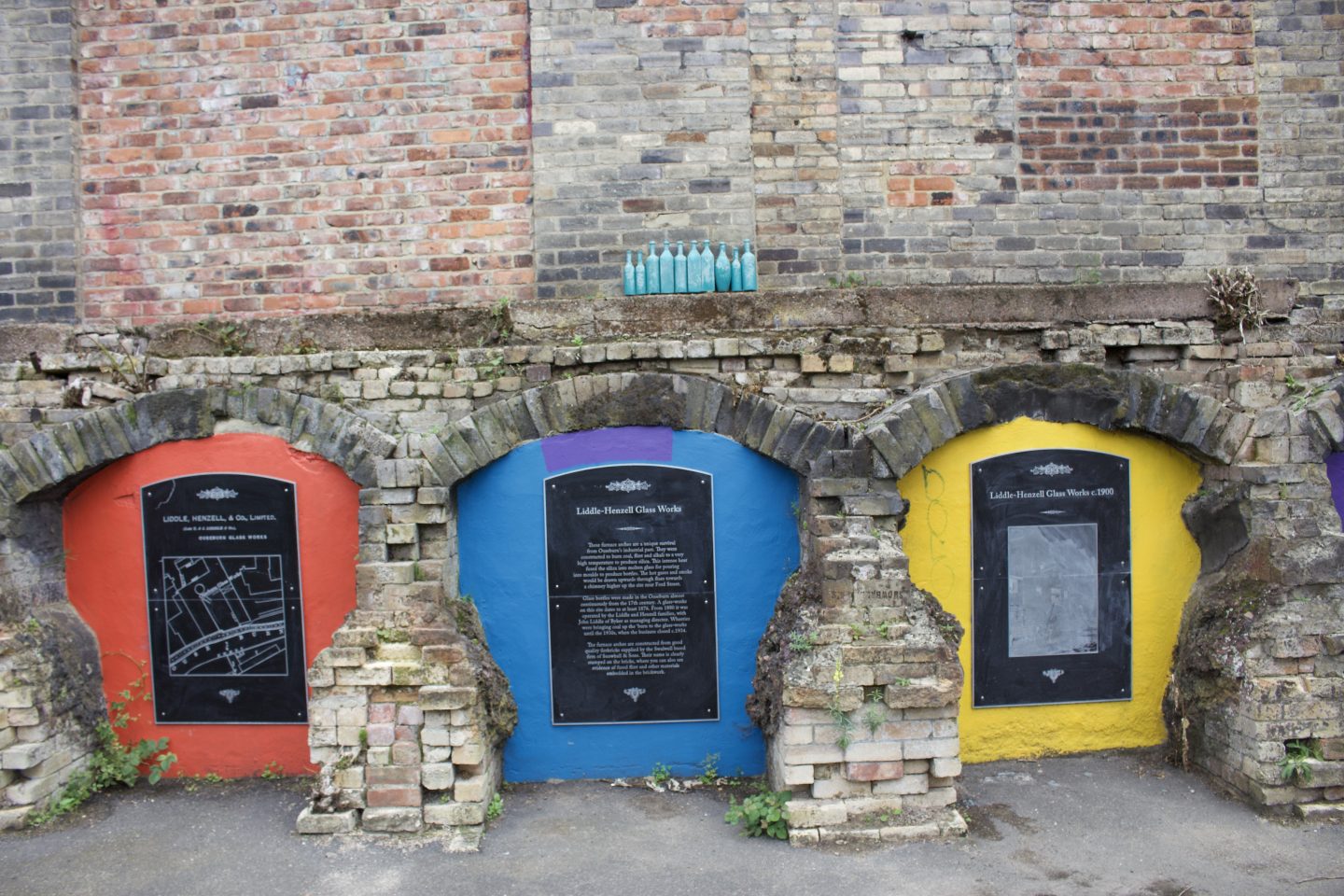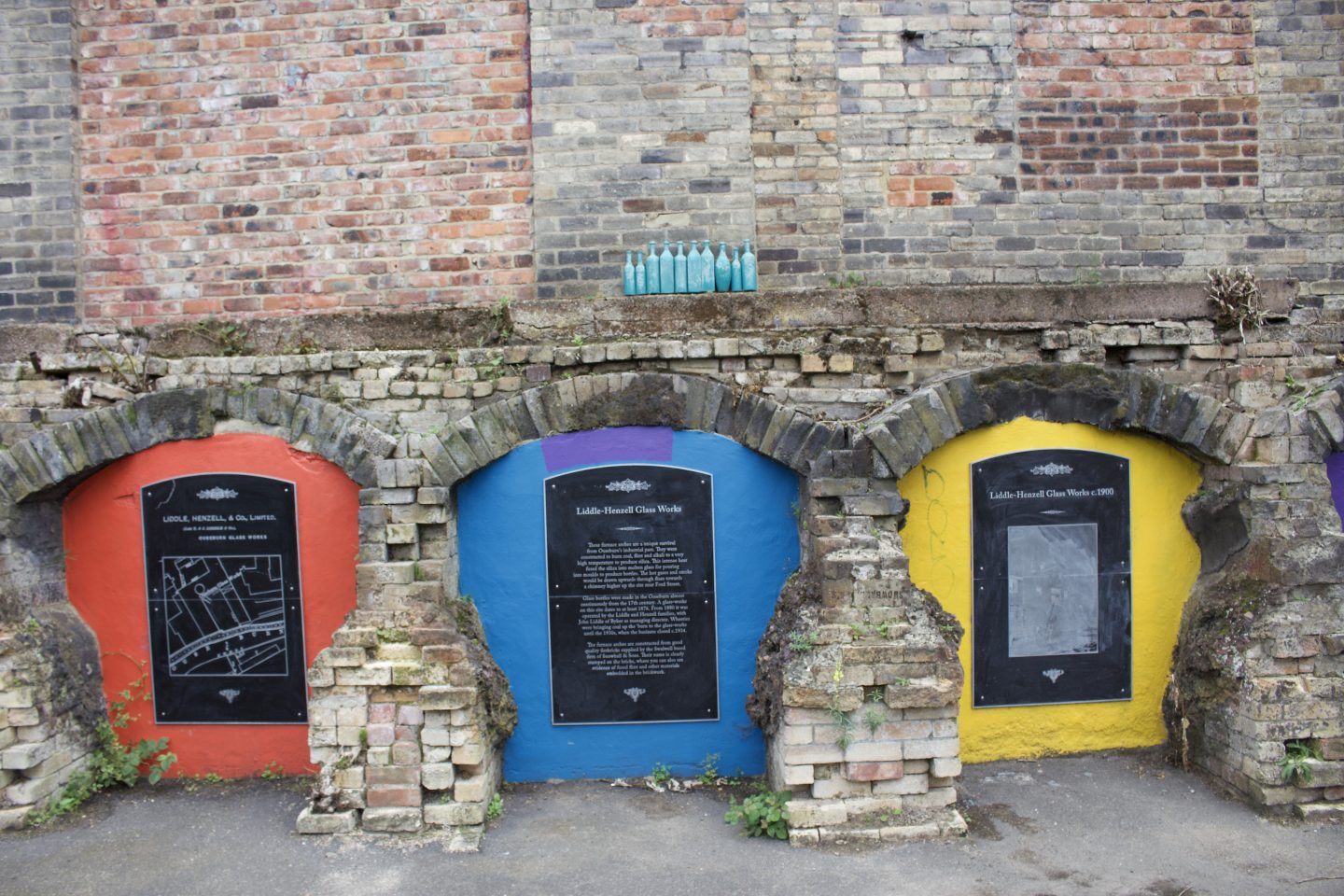 The trail is along the Ouseburn river, so aside from the art itself it's a beautiful trail. If you know the area it runs from the arch opposite Stepney Bank Stables down to the Tyne Bar so it's a nice little walk without being too much for the kids.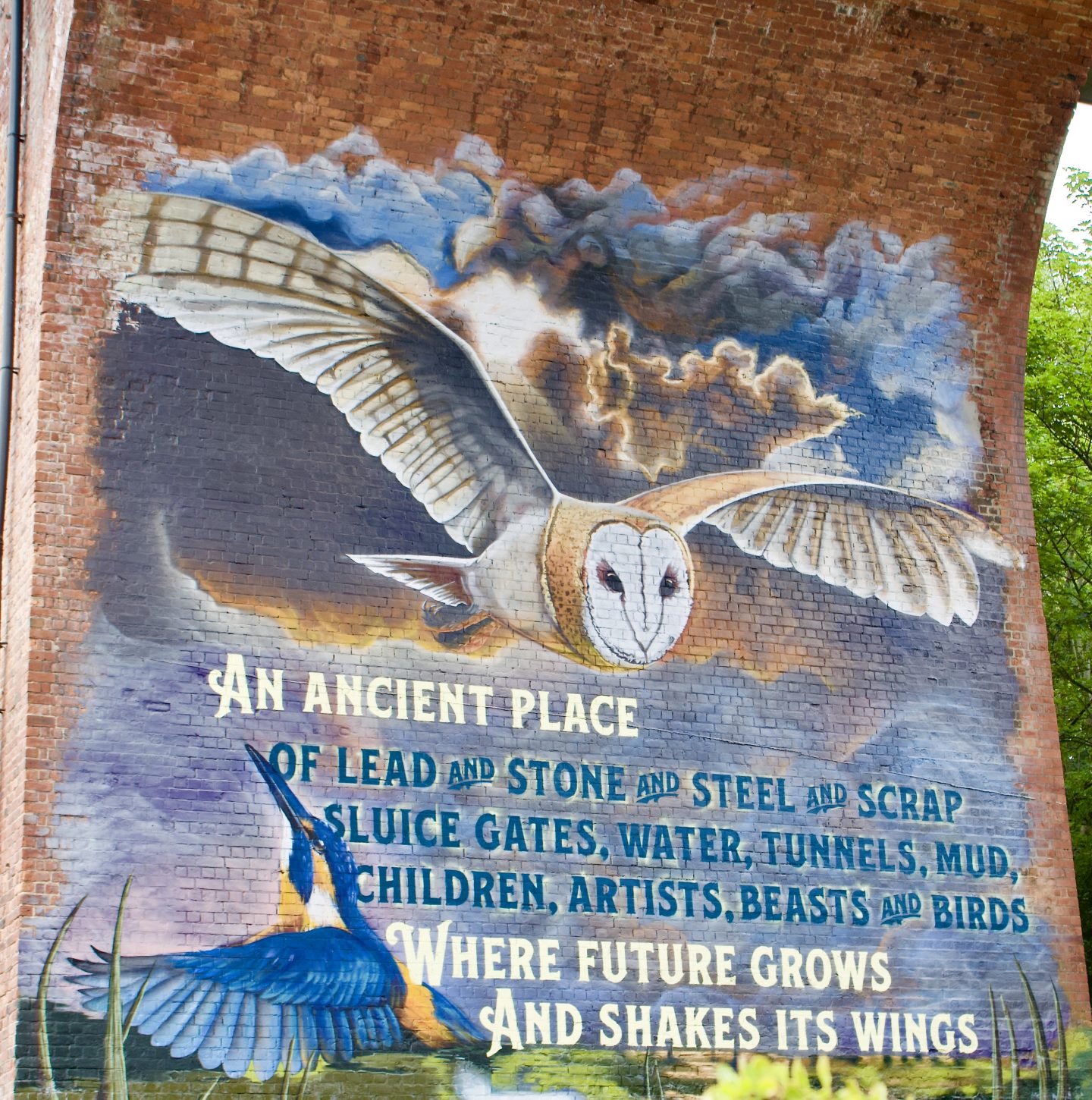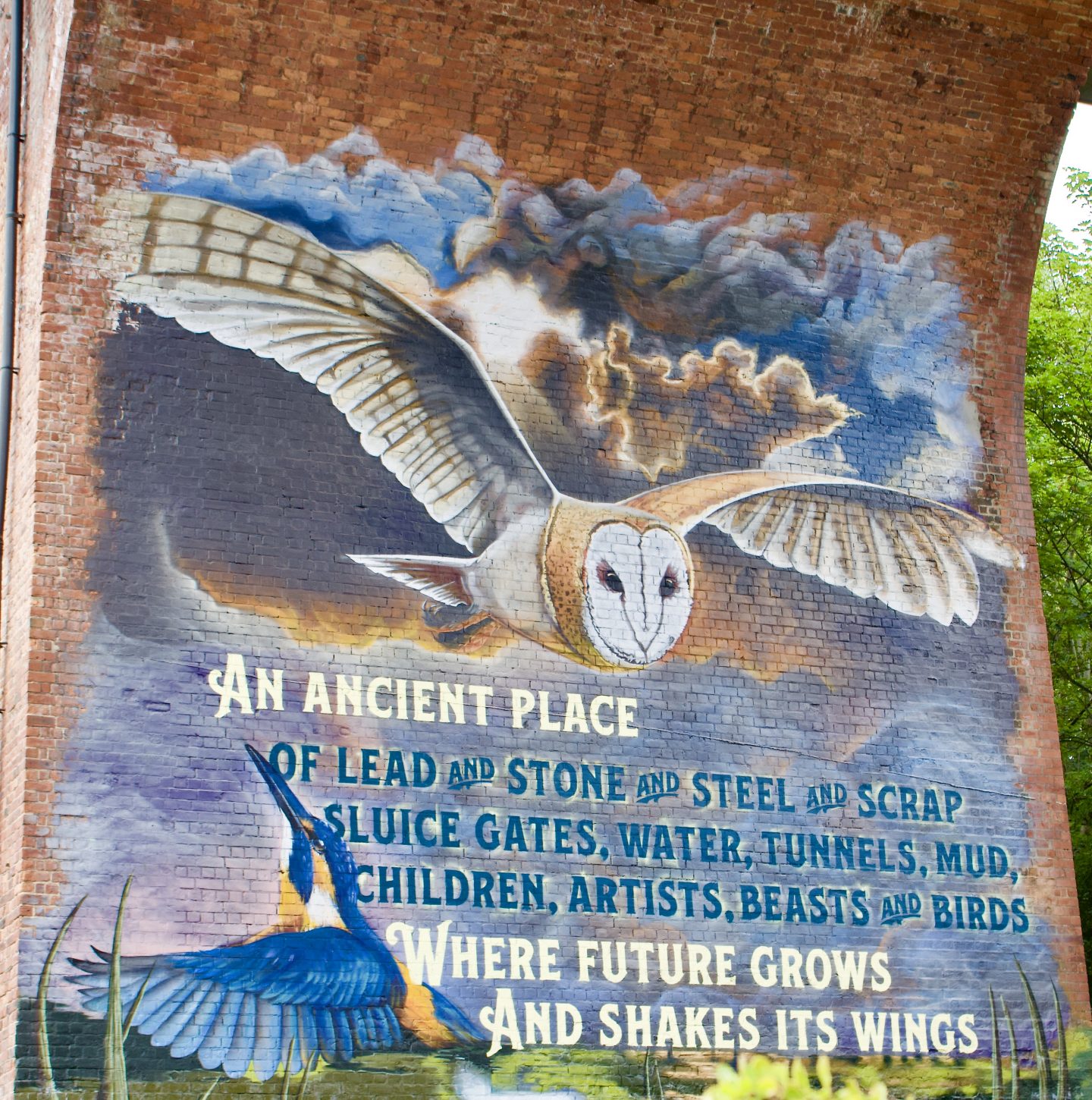 In my humble opinion, the most stunning piece is 'Ancient Place' with its giant owl spray painting. The kids enjoyed playing with the David Almond Mythophone where they got to press a button on a giant solar powered sound machine and listen to stories.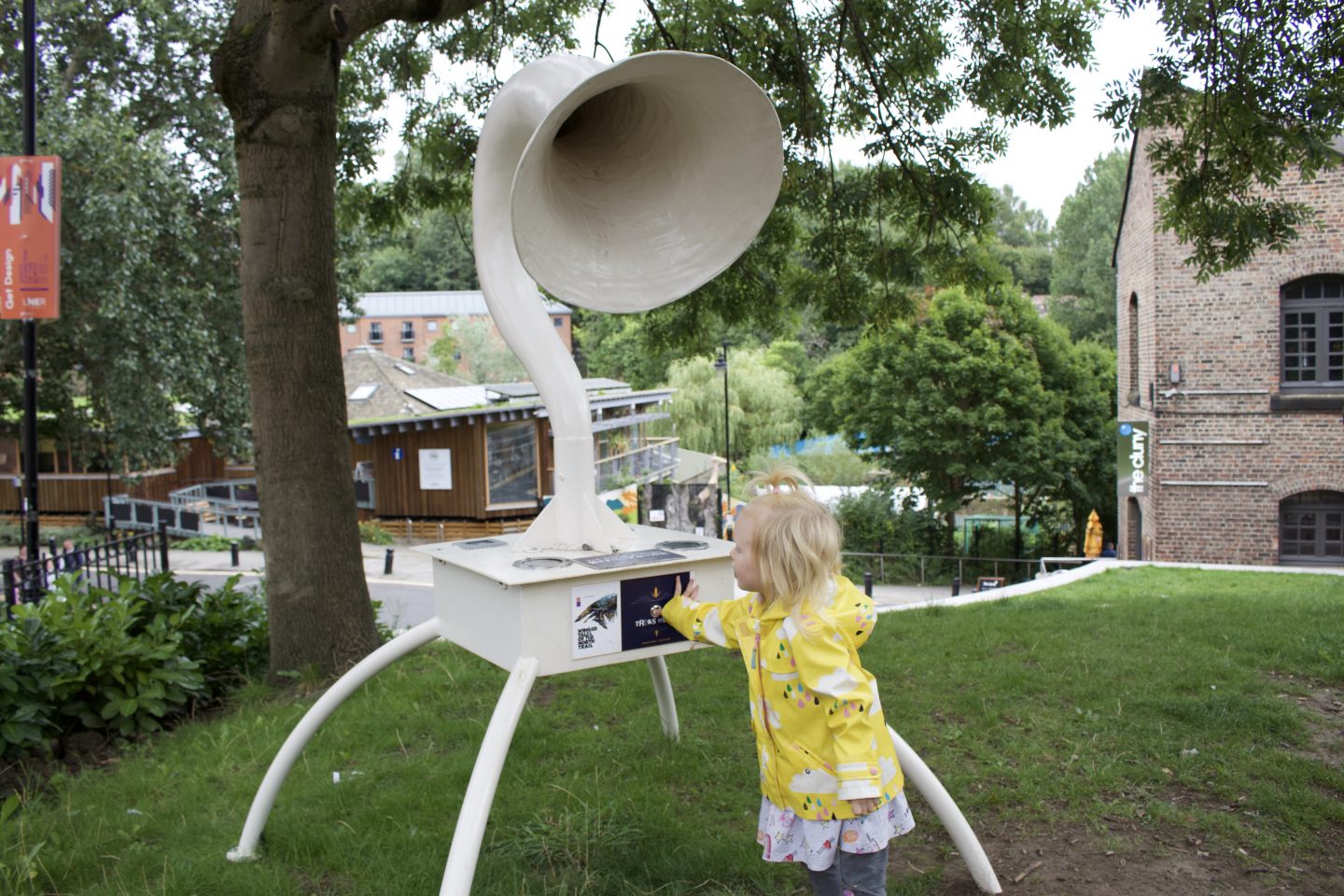 My favourite was 'Dream Again', a bright, graphic sculpture created by Katie Drummond and John Kingston.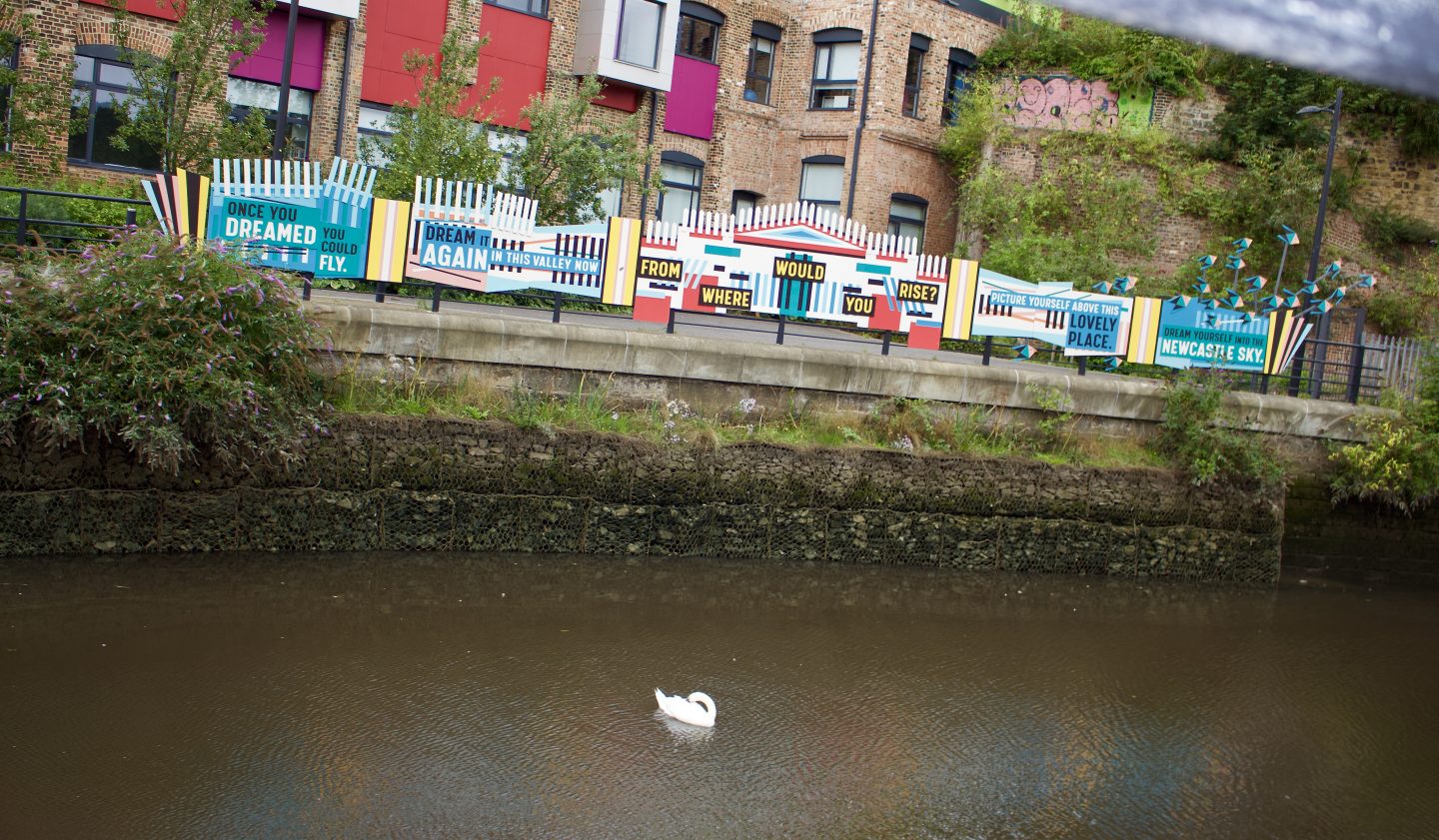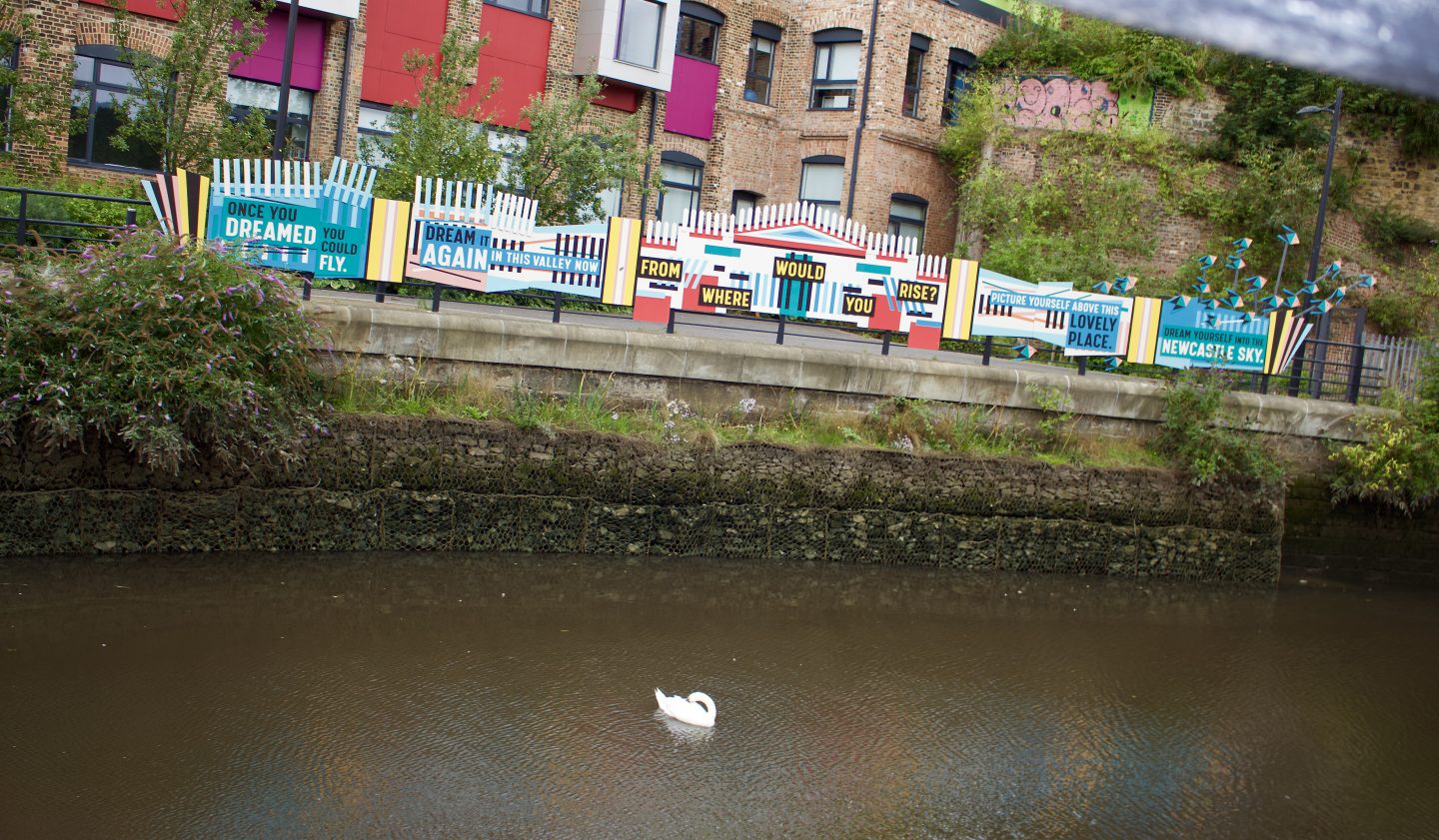 Ouseburn Community Farm
It wouldn't be a trip to the Ouseburn without popping into the community farm before we left. Free to enter, the community farm is a fantastic resource for families visiting the Ouseburn. Our 3 year old in particular is obsessed with animals and absolutely loved feeding the pigs.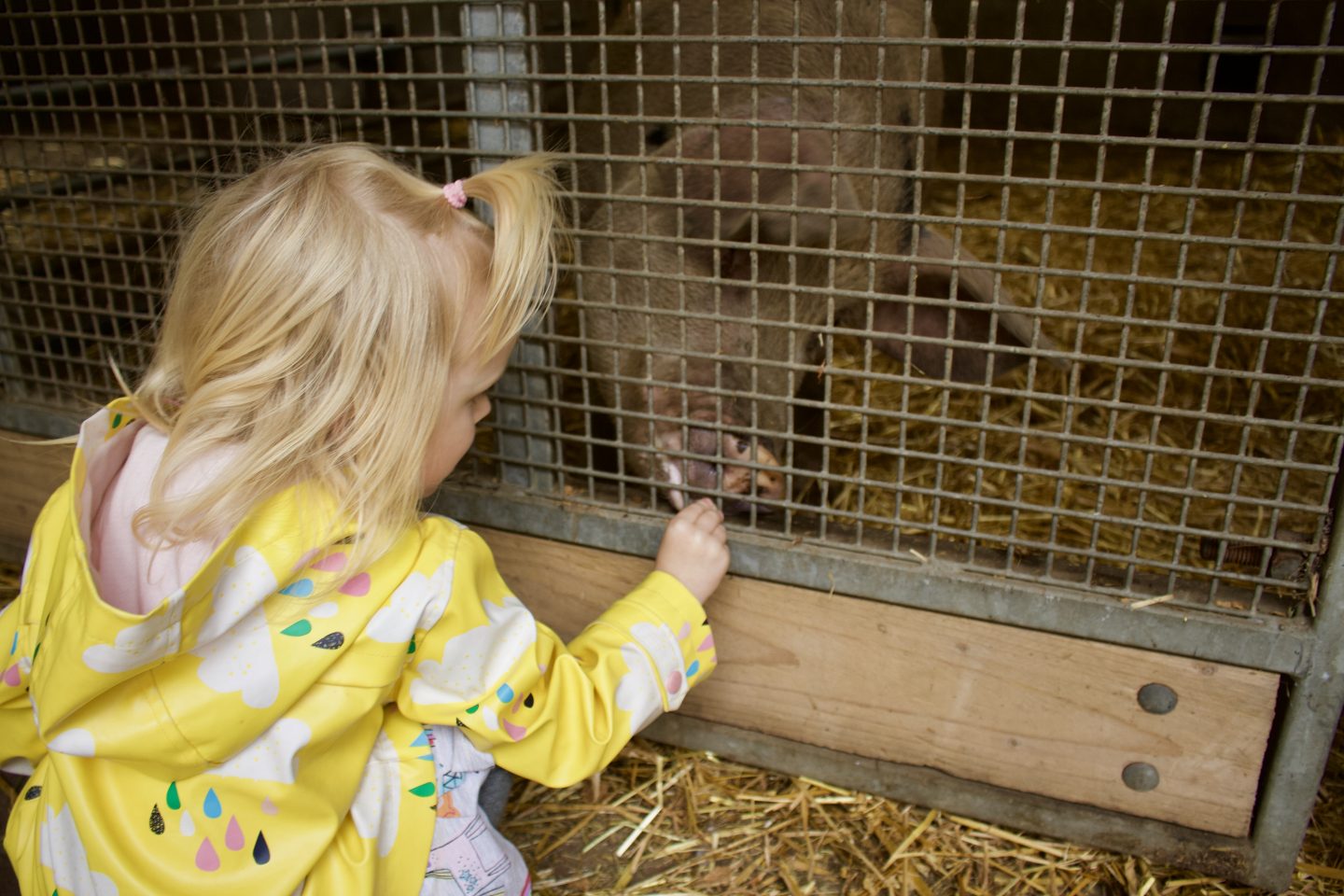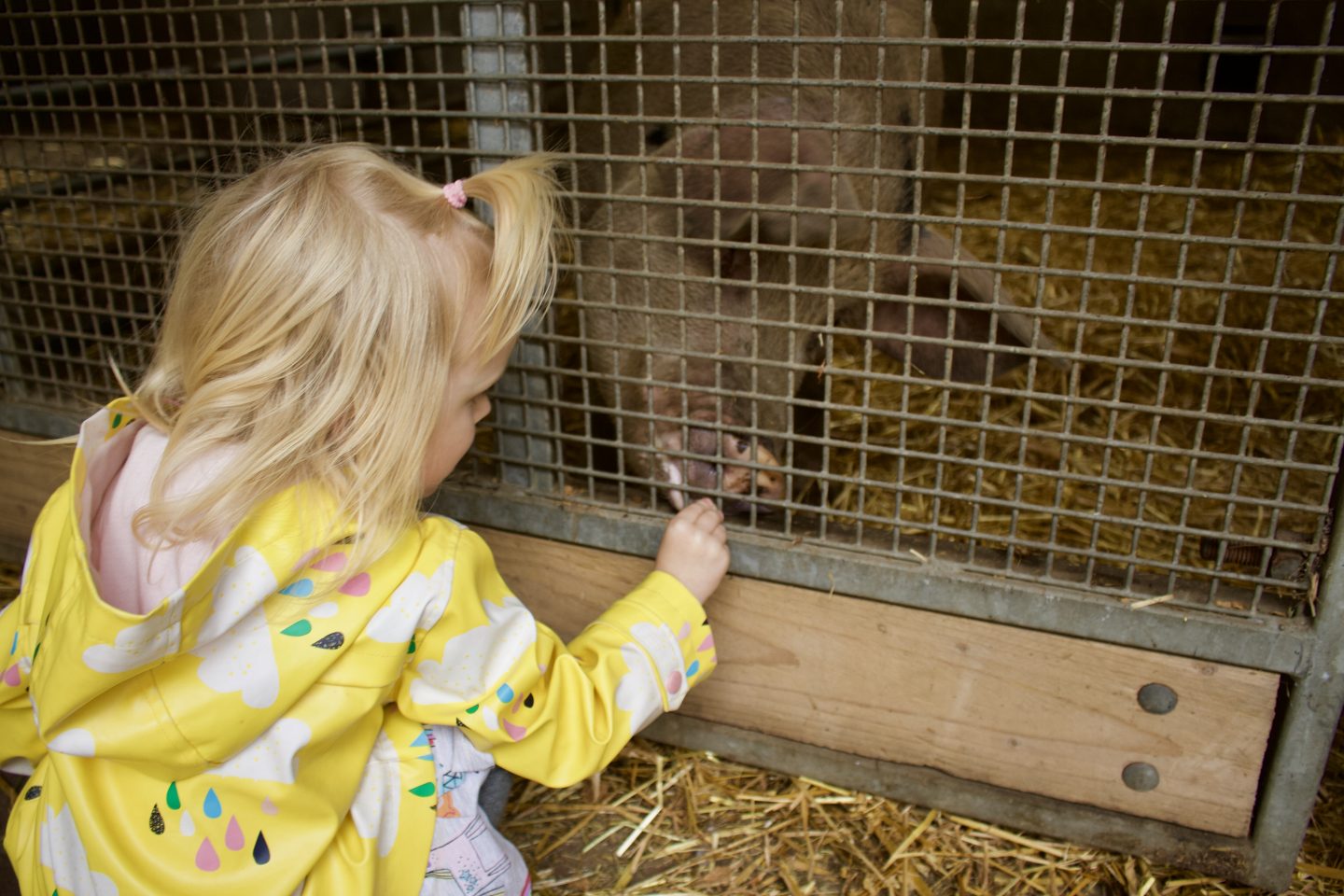 We took part in the petting time where she got to hold a guinea pig on a pillow and stroke it. I only had to remind her not to poke it in the eye about 22 times so that's progress.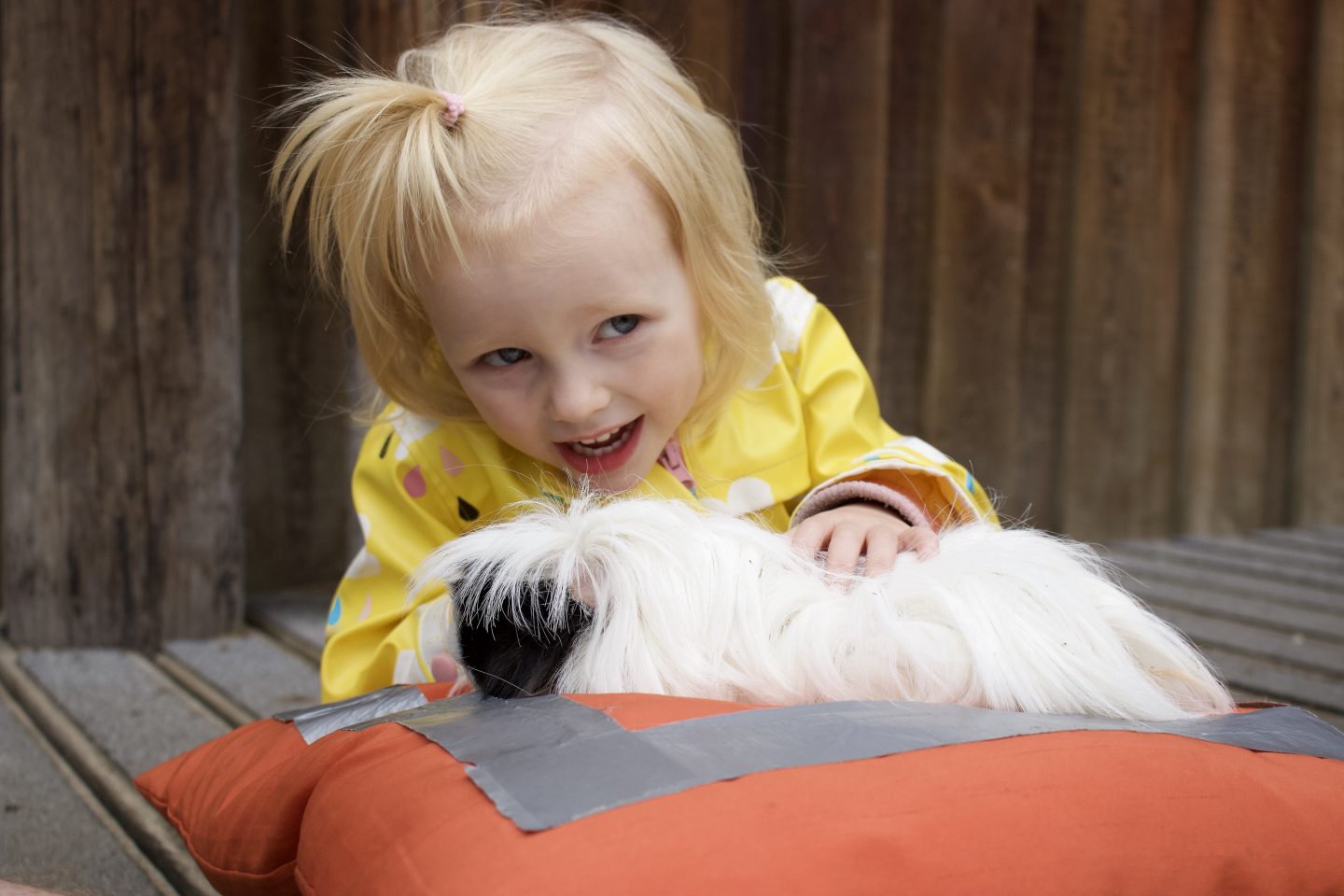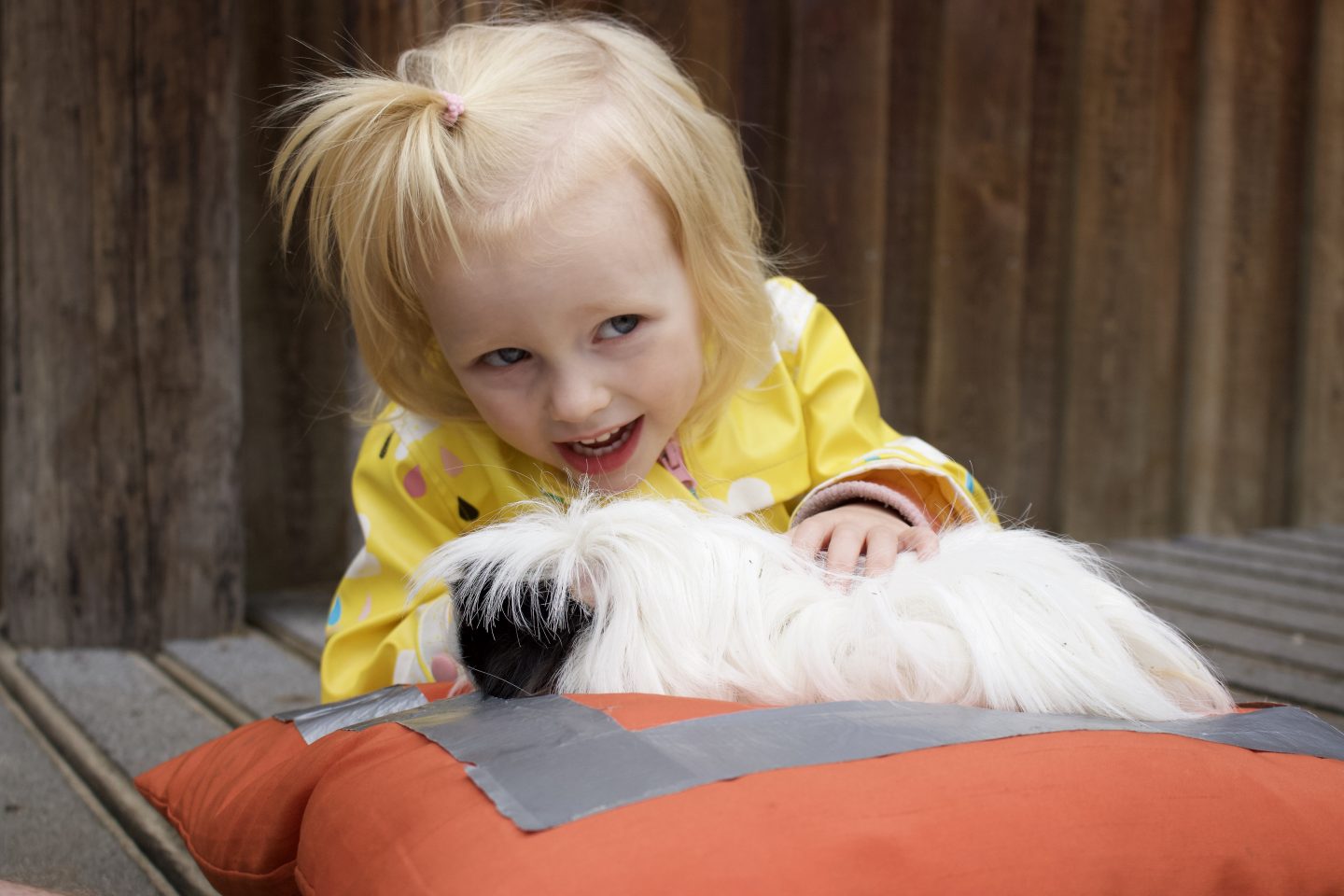 We haven't eaten in the café there before as we usually head to the Cluny but it did look and smell lovely. It even has a small play area for children with a play kitchen and some toys so I'm going to make the effort to go there next time. We left a donation for our visit before we headed off home.
Summary – what to do in Ouseburn with kids
Often seen as a great pub crawl area for adults, don't be too quick to write off the Ouseburn for families too. There is plenty on offer there to spend a full day out with kids and it's a slower more relaxed pace than the city centre itself. As well as the Cluny you have other great eateries like the Ship, Ernest, Kiln and Cook House (though I'm not sure how child friendly the latter is). You've also got Stepney Bank Stables if the kids are horse fans like mine. We had a fun pony party for Lena's 3rd birthday there.
For us, it was yet another win for the Fantastic for Families website which is now saved in our favourites for next time we are looking for something to do as a family. I suggest you do the same!
If you liked this post you might also:
If you have enjoyed this post or found it useful, here are some quick and easy ways that you can support Nomipalony or say thanks:
Share this post with your friends  
Pop over to my Amazon Storefront to see what products I have been buying and loving from there recently, including my health and fitness products list.
Sign up to my mailing list 
Women can join my feminist Facebook group – the Nomipalony Freehouse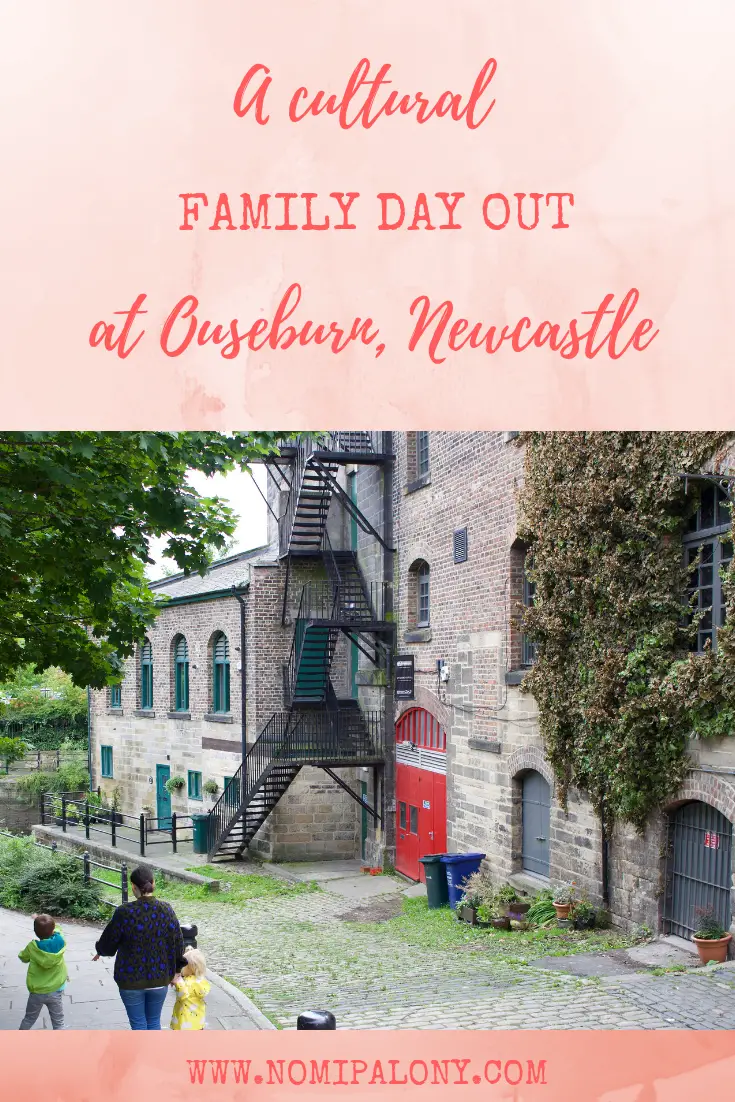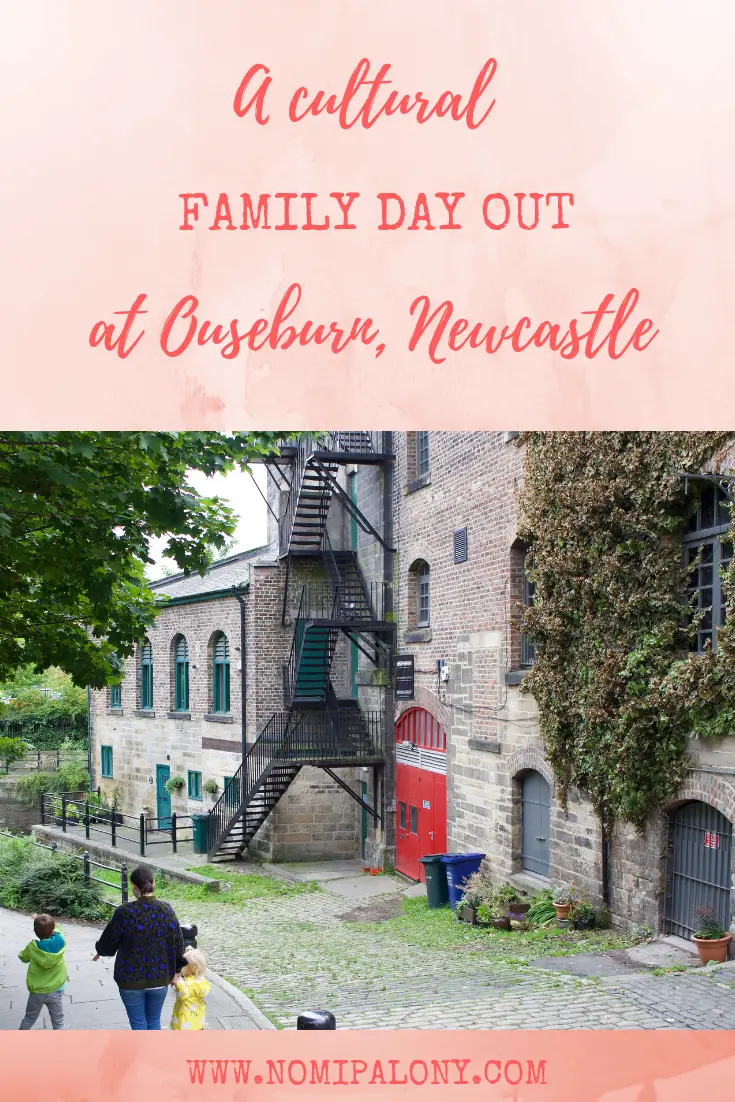 Disclaimer: This is a sponsored post. For more details about my disclosure policy please see my about page.