Over the years I've heard great things out Heighley Gate garden centre, Morpeth, but we had never got round to visiting. When we were kindly invited to review their Breakfast or Tea with the Easter Bunny event I thought it would be a perfect opportunity to see what all the fuss was about. When it comes to special holidays like Easter or Christmas we always like to do a family activity with the kids to make it seem that extra bit special. I think it creates lovely memories, like when we went to Whitehouse Farm for their Christmas activity last year.
Heighley Gate Garden Centre
The centre was originally a small pig and poultry farm in the 1960s. Now it's a big garden centre covering 40 acres. There is all sorts there, obviously lots of gardening products, a Costa, lots of concession shops selling food, clothes, homeware, toys, books and gifts. There is also a lot for children to do, including indoor and outdoor soft play areas and dinosaur mini golf. It's quite impressive and I can see why people kept telling me about it. There was so much I wanted to buy!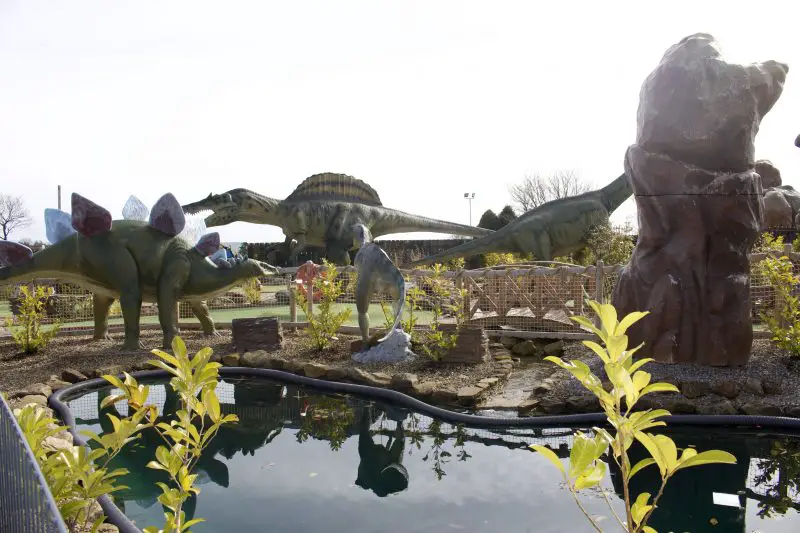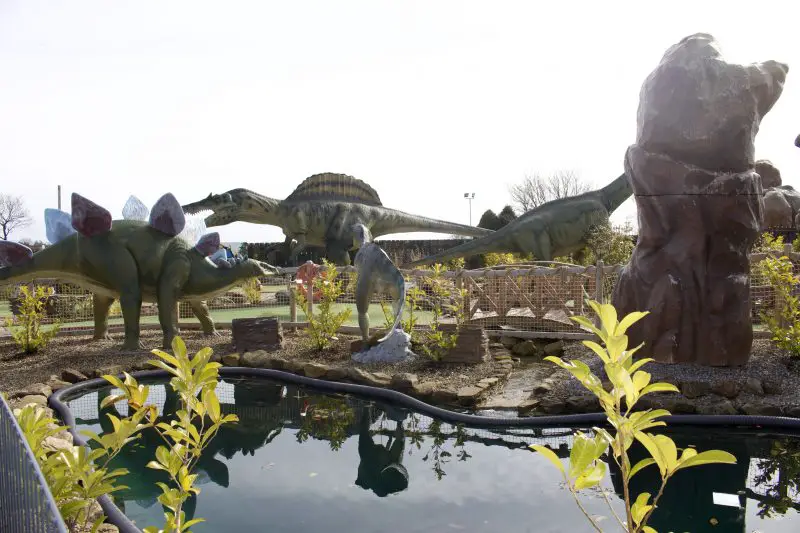 After we took part in the activity we had a wander through the centre. Both my kids loved the aquatic centre and Lena was overjoyed to spot 'Dory' in one of the tanks. Arlo was mesmerised by the carp in the big pond. You'd have thought we had took them to a proper Aquarium! They also loved looking through all the books in the book section. We could have spent much longer there but unfortunately we had to get back for another appointment.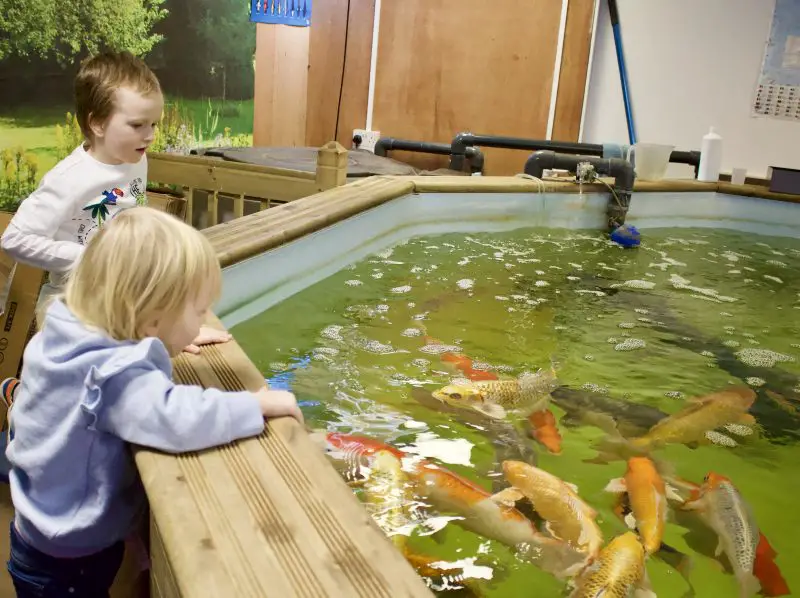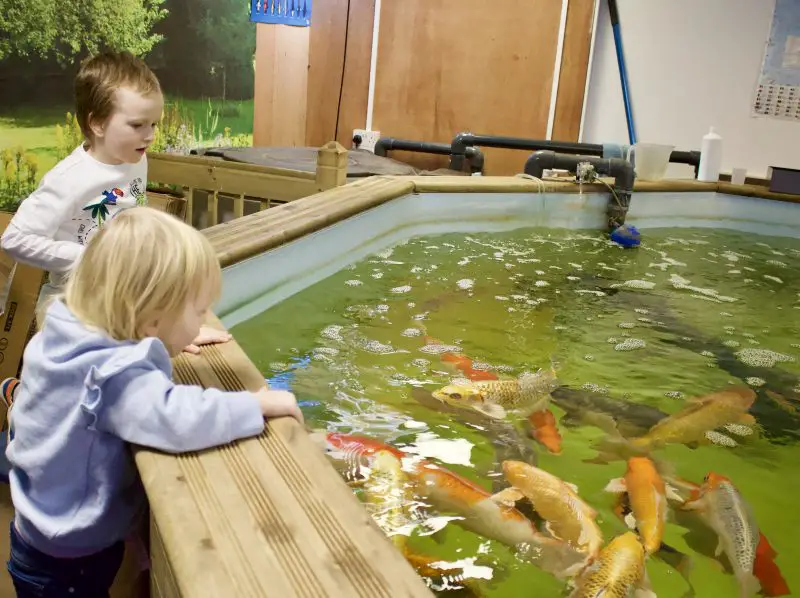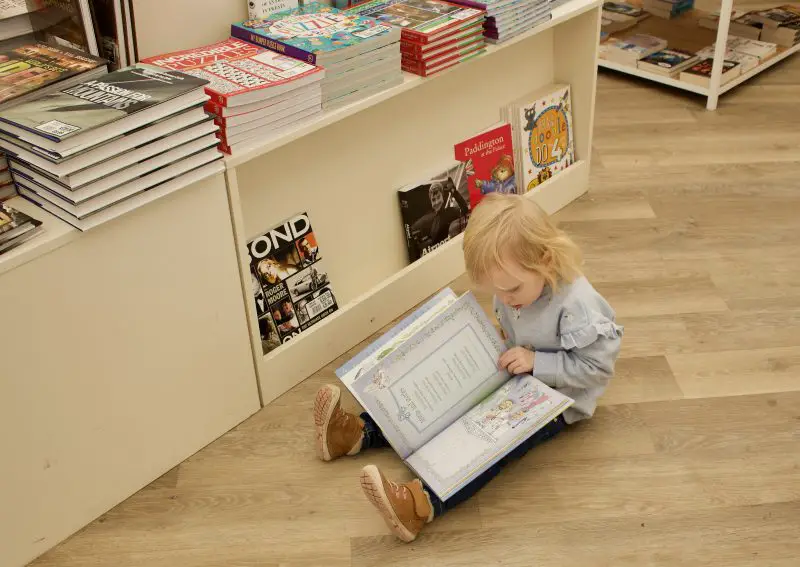 We found it easy to find using our sat nav and there was ample free parking outside. Papa Ginge wanted me to let you know that they have the angled American style parking spots as they give him life (seriously though, why haven't we adopted those everywhere? They are so much easier).
Breakfast with the Easter Bunny
We decided we would do the breakfast with the Easter bunny option as I worried the kids would fall asleep on the drive home if we did the tea option. No one wants a danger nap do they?! We arrived a little early and headed right to the back of Heighley Gate to the café for breakfast. When we arrived the kids were made up to see the Easter Bunny who greeted us. He/she really took their time with the kids. Lena kept going back for hugs and high fives. If I'm honest, I'm not sure she wanted to share him/her – she kept getting jealous when the other kids got cuddles. Throughout breakfast the Easter Bunny and other characters (Queen of Hearts/Alice in Wonderland) milled around and chatted to the kids and checked everyone was alright.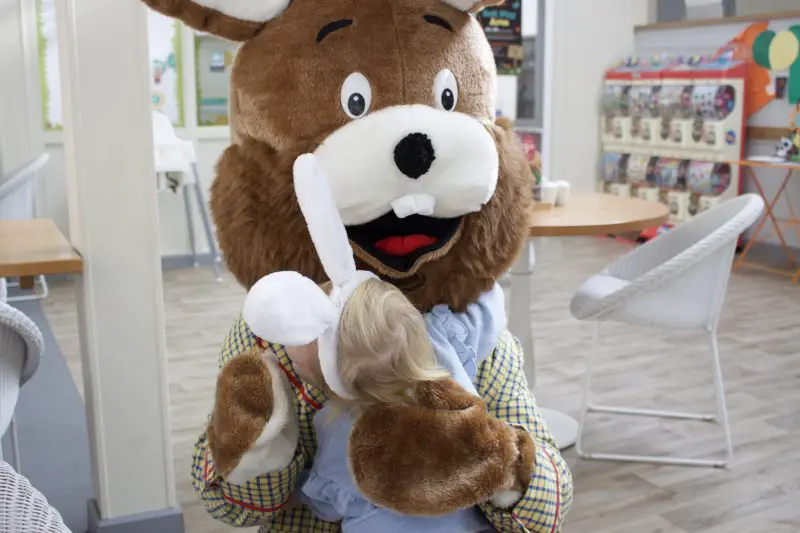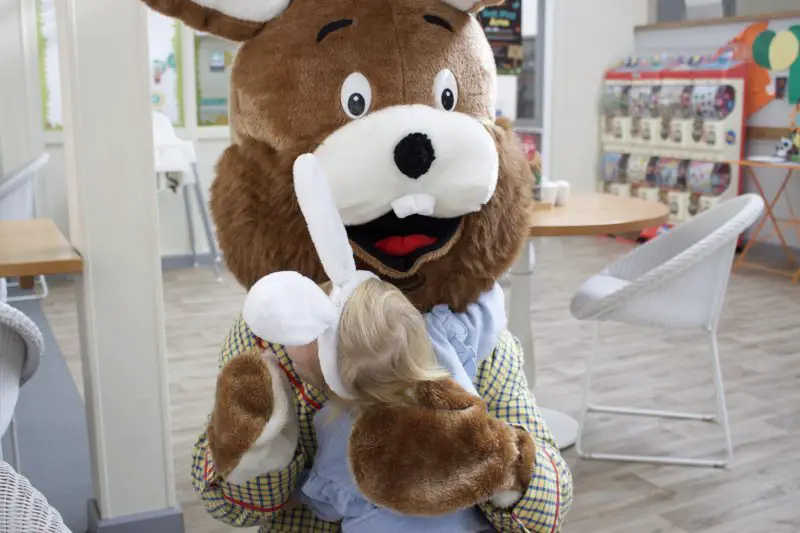 At the table, there was a colouring sheet and crayons for the children. There was a pack so they could decorate their own Easter egg biscuit. It contained a gluten free/dairy free shortbread biscuit (always thrilled to see good allergen free options) and then a little pot of marshmallows, a little pot of chocolate drops and some squeezy edible coloured icing. The café was spacious, airy and nice and calm. It was as relaxing as a breakfast with a 3 and 6 year old can be.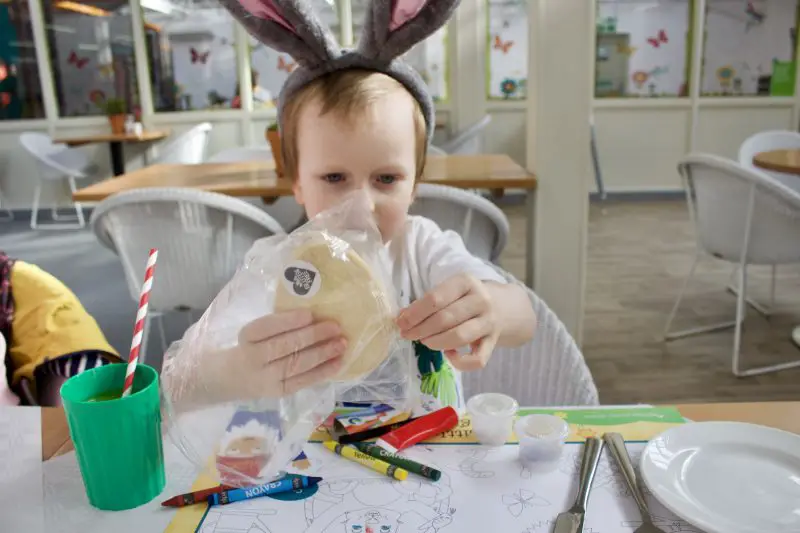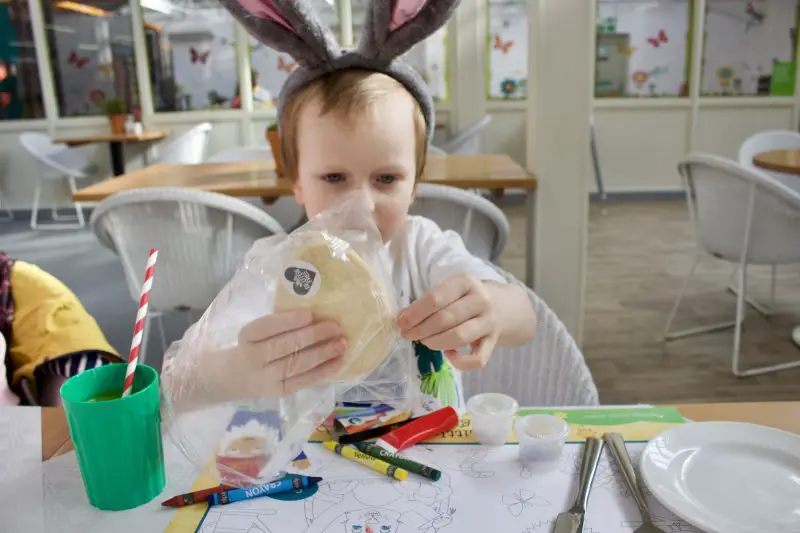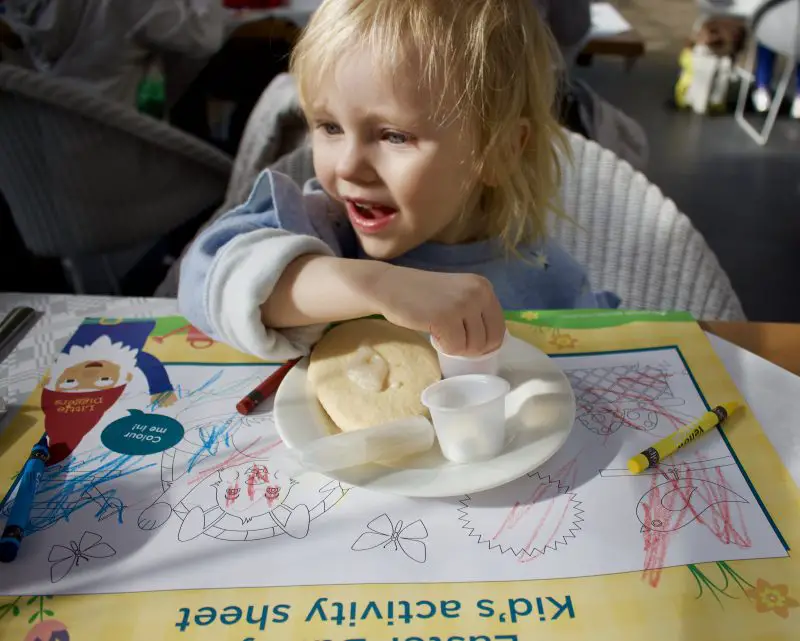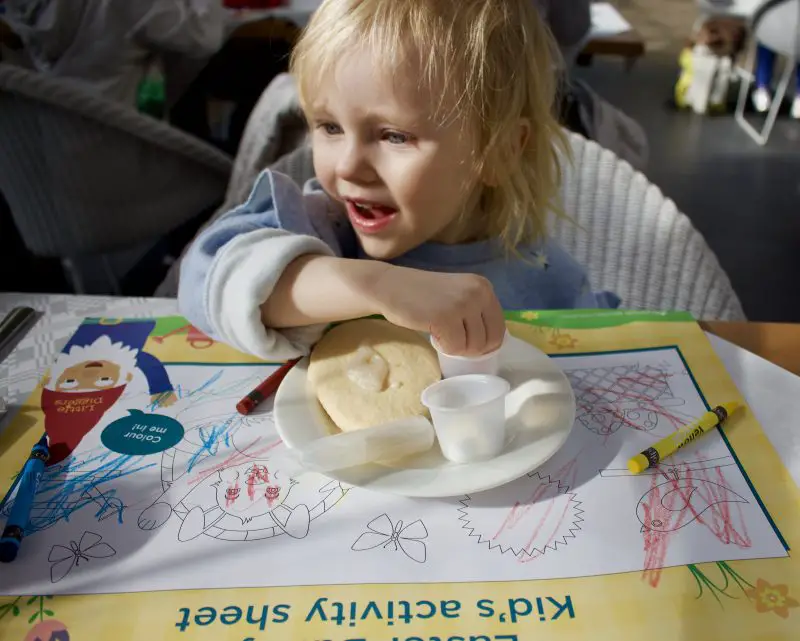 We are all fans of an English breakfast so we had pre-ordered that option. Most people there seemed to have, although I spied one guy having a the bacon butty option (£5). I got a pot of tea and Papa Ginge got a coffee. The breakfasts were lovely and by time we finished all 4 of us had full tummies – the kids couldn't even finish their biscuits so I wrapped them up to take home. I actually didn't need to eat lunch that day I was so full.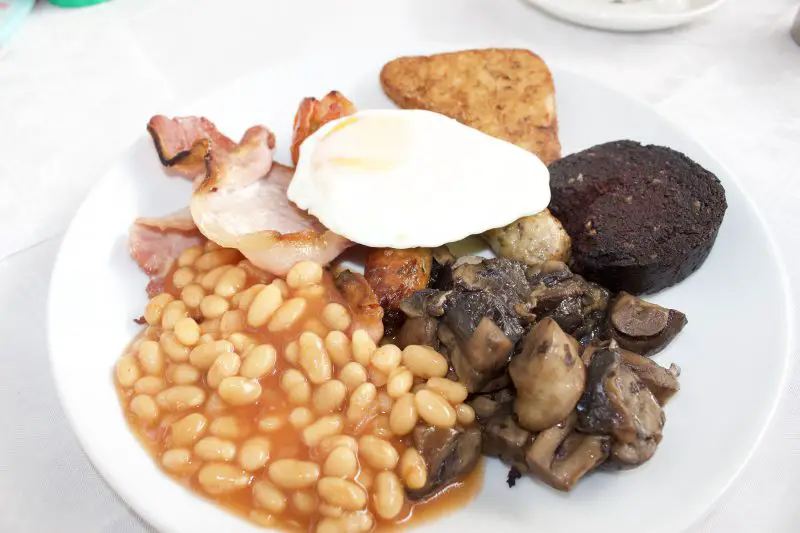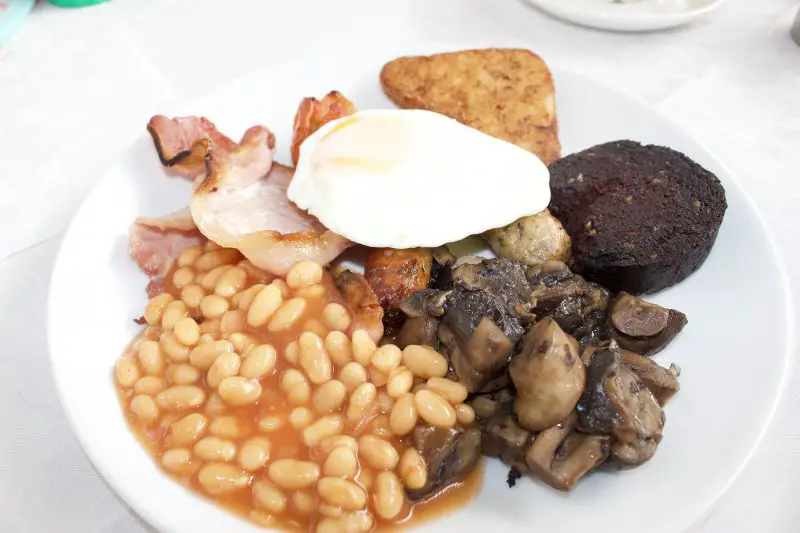 The egg hunt 
After breakfast, the characters gathered all the children together and introduced the egg hunt. The children were given little paper bags with a scorecard and stickers which I felt was a nice touch. They were well made and even the younger children were easily able to see what to do. The Alice in Wonderland character then led the egg hunt.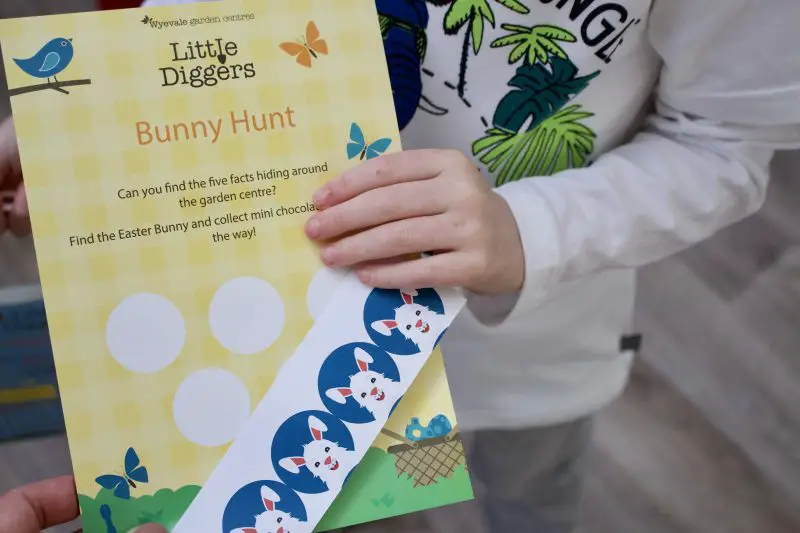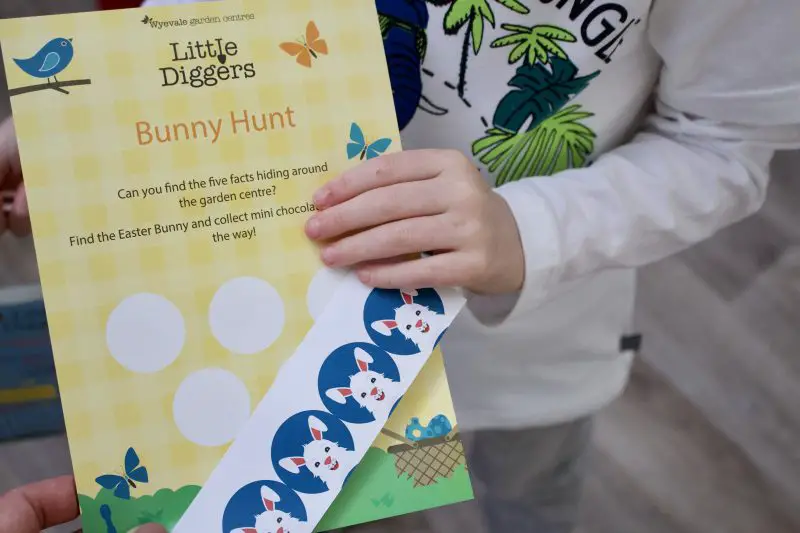 I had assumed that the egg hunt would be all outside in a grassy area somewhere but actually they were throughout the garden centre itself. There were five eggs to find. The children had to look for the big posters that showed where the eggs were. Each had a trivia fact about rabbits on them.
The first basket of eggs was in one of the gift shops. All of the baskets contained enough eggs for all the children to take one each. They then put them in their bag and put a sticker on their card. Both my kids really enjoyed doing the stickers, it made finding the eggs that bit more special for them, especially for my 6 year old who was pretty militant about it! There was then an egg near the dino golf, then some hidden in the garden section. It's quite a clever marketing tactic on behalf of Wyevale Garden Centre actually as going through the garden centre looking for the eggs I spied so many things I wanted to buy! So many pretty plant pots.
I did think that because there were lots of children and their parents, all trying to get the eggs in the same places throughout the garden centre it felt a bit crowded at times. A couple of times I was struggling to keep an eye on both my kids going opposite directions with other parents and children blocking my way. Then there were also regular shoppers trying to go about their business too. Where the eggs were placed in more open spaces it was easier, but in some spots it was a bit trickier. If you have anyone in your party with mobility issues or in a wheelchair, they may find it difficult – one of the eggs was up a small step and narrow path. I'm sure the staff would help accommodate though. There was some walking, not too much – my 3 year old managed to walk it fine.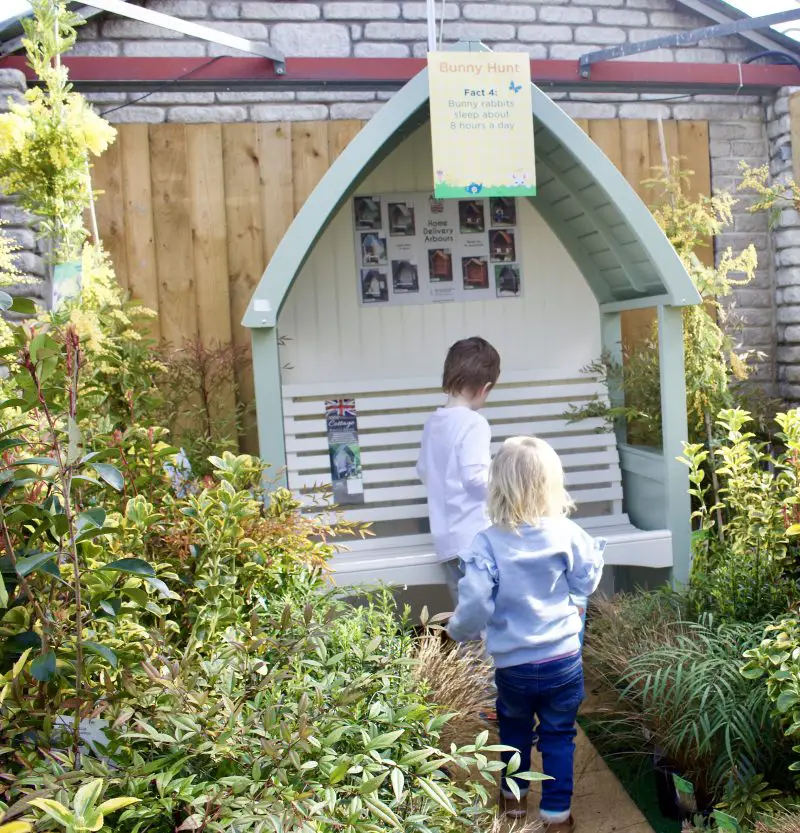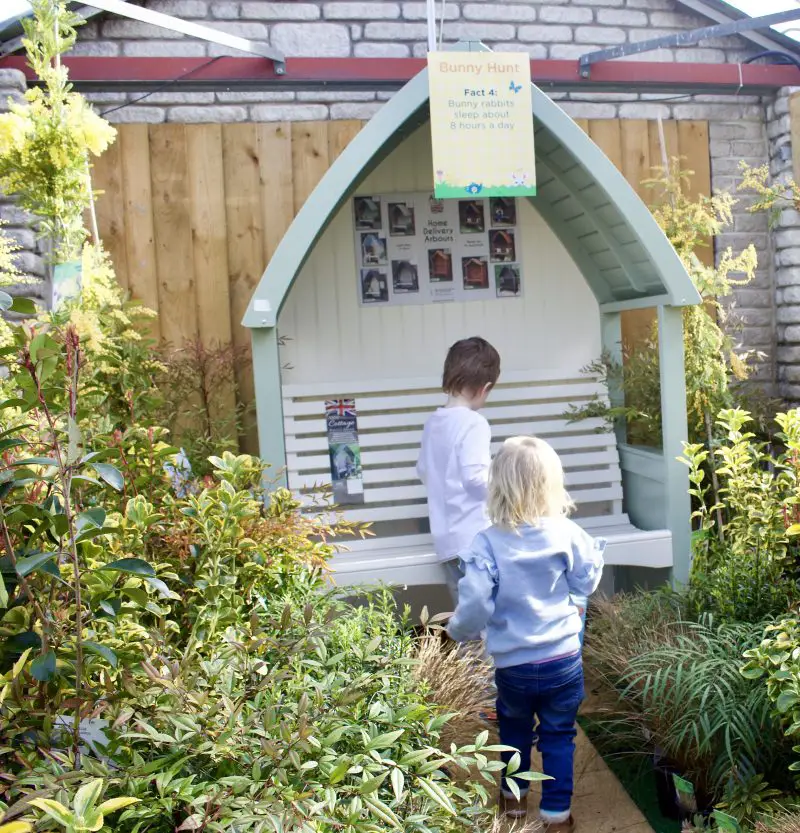 At the last egg, the Easter Bunny returned and they led us back to the café where the Queen of Hearts rounded off the activity and presented a basket of cuddly toys for each child to choose from. I was thrilled that both my children chose the same fluffy bunny so they didn't fight over them once back at home. The cuddly toys were really cute and both my kids love them. There was then an opportunity to get photographs with the bunny and the characters before the event ended.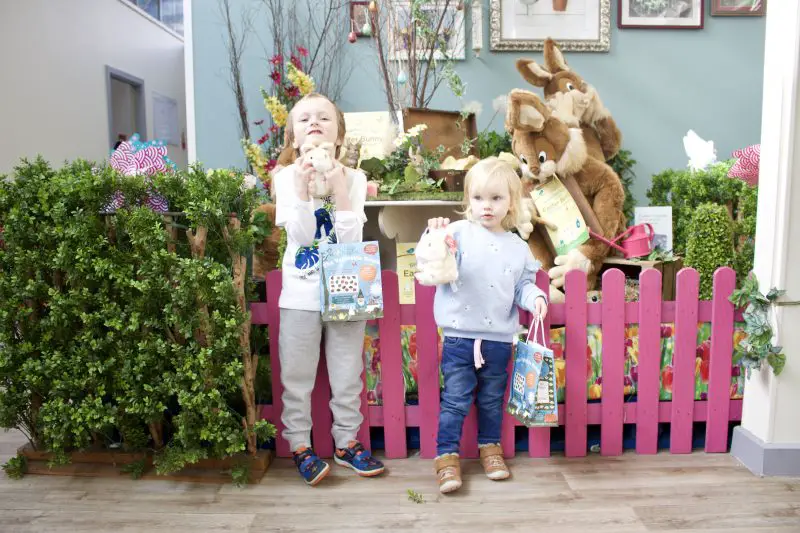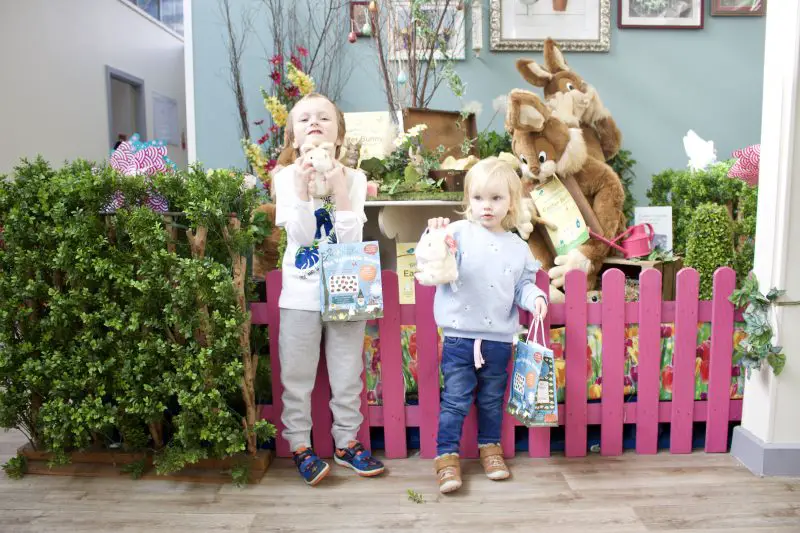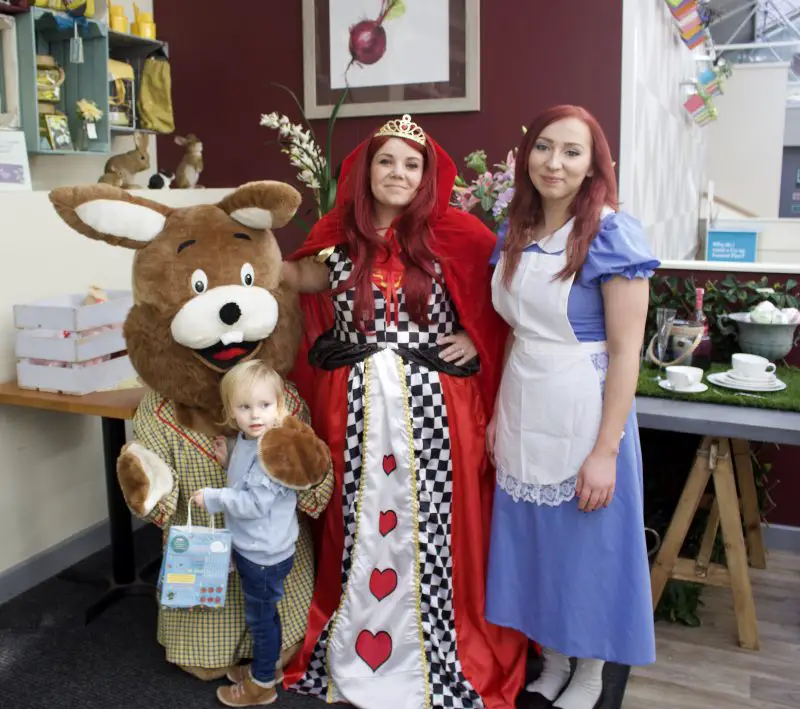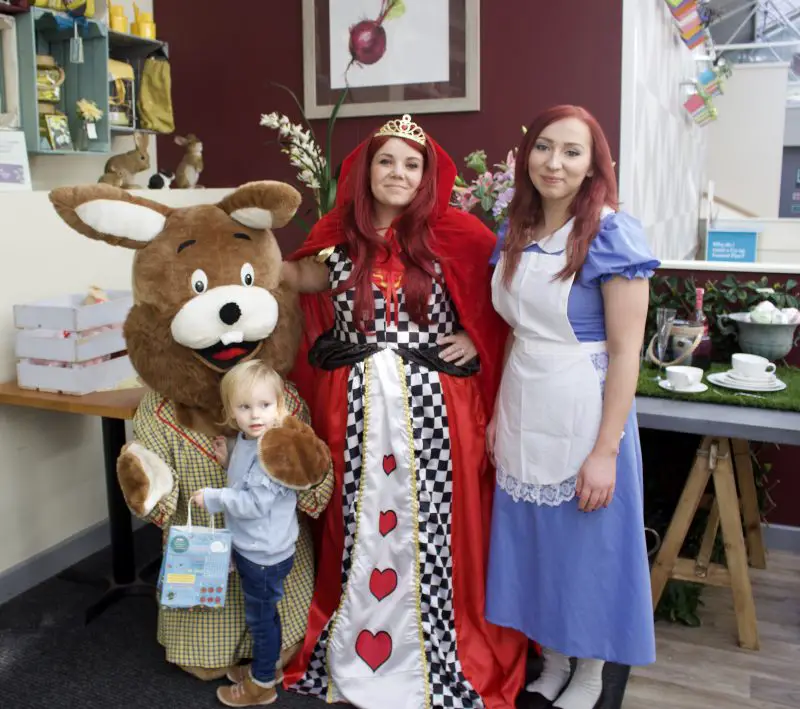 Value for money
It cost £10.95 per child and £8.50 per adult which I felt was good value for money. It came to £38.90 for our family of four. You can also choose a cheaper option for adults at £5 per adult for a bacon butty or pastry and a drink. It was a lovely family activity to do and would be a perfect Easter activity for when you are trying to entertain the kids and get out the house for a morning or afternoon. We would all go back again for an activity in the future.
There are Wyevale Garden Centres all over the UK holding these Easter events, including Heighley Gate, Gosforth and Stockton in the North East so check out if you have one near you.
Disclaimer: Thanks to Heighley Gate Wyevale Garden Centre for giving us complimentary entry in exchange for this honest review. We received no instructions on what to write.