Every seasoned parent knows that you need some kind of bag of goods to keep your children entertained on journeys. Nowadays, there are some great services where you can buy ready filled packs but they are a lot more expensive than making them yourself. It's hard to find the time to do it yourself though, especially when you need to take your kids to the shops with you and then they see everything you are getting and want it RIGHT NOW. So I've pulled together a handy Amazon shopping list for you so you can get some cheap, tried and tested busy bag travel items for toddlers from the ease of your phone, delivered right to your door.
Our favourite travel items for toddlers
Firstly, we get some cheap drawstring bags for the goodies.
This then goes inside the carry on suitcase they have where we also put their electronics, snacks, books and teddies etc.
All the new exciting things go inside the drawstring bag though. It just helps to keep it extra special for them and organised for us.
What's a busy bag without some colouring things. We love these Crayola colour wonder packs as they can only colour on the actual paper with the pens so you don't have to worry about them marking any public transport or accommodation with them.
This is a similar Melissa and Doug set that allows your toddler to colour with a water pen – no risk of getting pens or paints on the seats with this.
If you are happy for them to have real crayons then these little travel colouring packs with crayons are ideal for travel. We like this Moana one.
Kids love to open things so no busy bag is complete without some kind of surprise egg. Here are a couple of our favourites:
It's great to have something educational in there too. For my 6 year old, we loved this. He could do the activities himself and there is a broad range of things to do in there. It's quite thick so also helped entertain him during down time in our hotel room.
For pre-schoolers this little activity book helps to start learning about phonics ready for school.
I like to add a new book in for the trip, not only can we read it on the plane but we can also read it at bedtimes or downtime. If I have very little ones then I like books about airplanes and airports to help them understand what is going to happen. When my kids were toddlers they both loved this busy board book. It has bits you lift and pull to make it interactive and exciting for them.
I also like books about holidays to help get them excited. On our recent trip both my 3 and 6 year old loved this sweet book 'What the ladybird heard on holiday'.
This cheap scratch card pack will let them drawn in a novel way.
And finally, no travel items for toddlers list would be complete without a pack of stickers.
I hope you find this helpful! I've not added snacks as we usually buy those in the airport but lots of snacks are also essential for the busy bag – however much you think you need, double it! Happy travels, may your journey be short and uneventful.
If you liked this post you might also like:
If you have enjoyed this post or found it useful, here are some quick and easy ways that you can support Nomipalony or say thanks: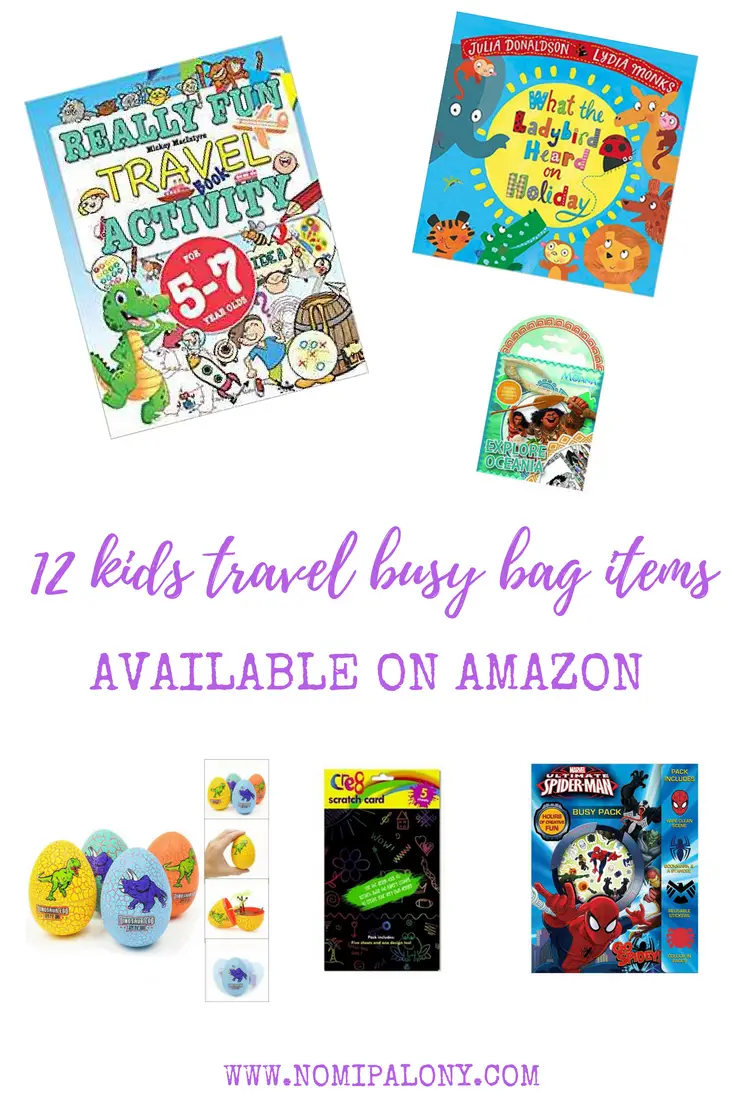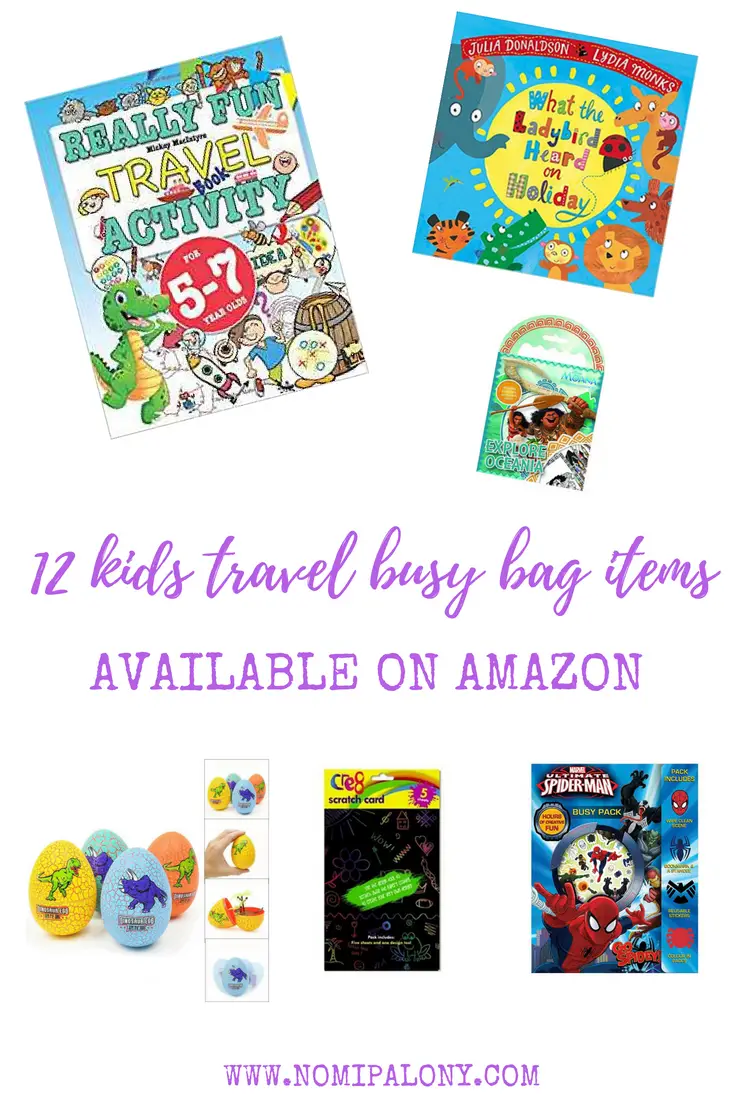 Disclaimer: All of the links in this post are Amazon Affiliate links. If you buy an item through this link you won't pay any more but I will receive a small fee for referring you. You can read my full disclosure policy on my about page.