We recently spent a week in San Agustin, Gran Canaria where we stayed at the Abora Interclub Atlantic hotel. This blog post is a review of our stay at the Abora Interclub Atlantic (affiliate link) and covers what we paid, the rooms, pools, food, what there is to do and more. If you prefer video reviews then head to the end of this blog post for our full YouTube video of our stay.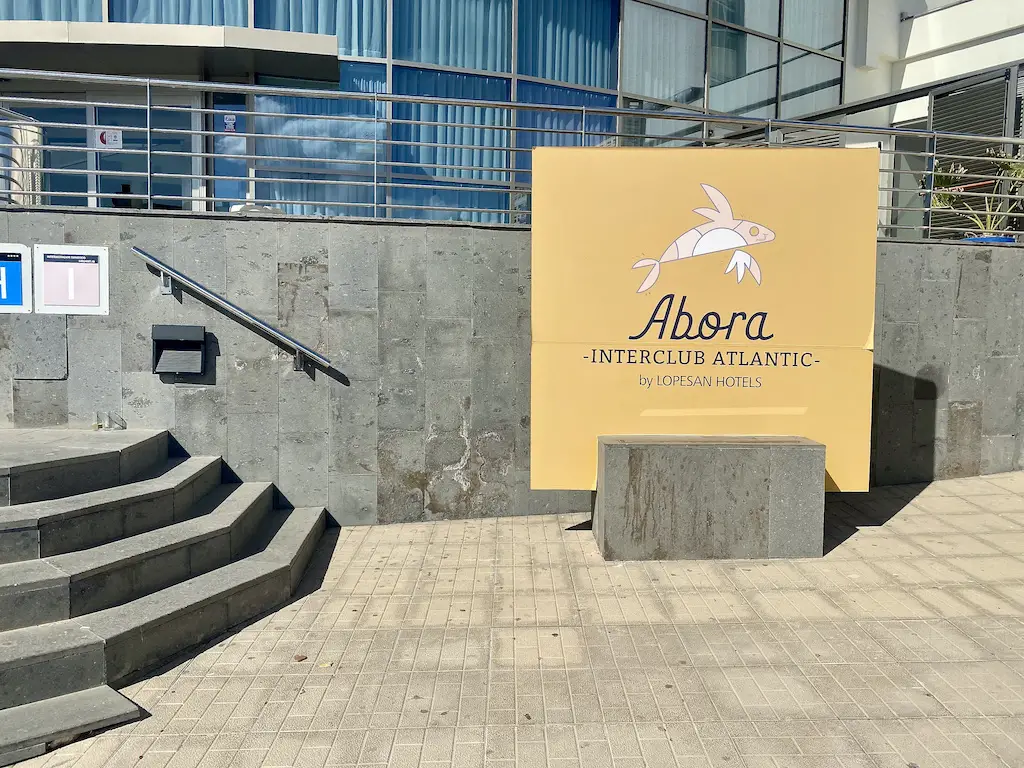 Abora Interclub Atlantic by Lopesan Hotels Jet2
We booked our trip through Jet2 and travelled the Thursday before February half term to reduce costs slightly. We travelled out 17 February 2022 at 9.30am and departed 24th February 2022 at 15.10. We paid £2029 for 7 nights all inclusive with a family suite and private transfers for 2 adults and 2 children (aged 6 and 10) through Jet2 – see the latest deals here (affiliate link).
Our flight out was delayed as apparently it was very busy in Gran Canaria so we arrived later than expected and once at the Gran Canaria airport it was the worst airport scene we've ever experienced.
Apparently 11 flights had arrived at once, there were around 2000 people waiting to go through passport control with only 2 desks open. We only saw 2 airport workers who weren't helping guide people but they were (angrily) responding to people when they were asked questions.
There was no queuing system whatsoever, no guide ropes. It was just one large throng of people, no one knowing where to go or what was happening. It was a huge COVID risk having so many people squashed together for such a long time. There wasn't one tannoy announcement the whole time. We saw families queue for hours, only to get to the front and be told they were in the wrong queue and be sent to the back of the queue crying with their babies in their arms. It was truly awful and not the start we wanted to our holiday. It took us 2 hours to get through passport control – which I was surprised by as with the state of affairs I had feared longer than that.
Once through passport control there were the COVID locator forms to sort but here there were 8 staffed desks and we were through in mere seconds! When we got through to the luggage it had been so long none of the conveyor belts were on anymore and it was just lots of abandoned luggage but thankfully we got our cases back no problem.
We then had a short queue for our transfer which all went fine. We did think though that anyone who hadn't booked a private transfer and had the good fortune of getting through passport control first would have just been stuck on the bus for 2 hours waiting! This made us vow to always pay the extra for the private transfer if we can.
Wondering if this might just be how things are post Brexit and during COVID, we spoke to several people at the hotel during our stay to see if they had experienced similar issues at the airport. Everyone told us that their experience had not been anything like ours so I think we were just unlucky and it hopefully isn't a regular occurrence. Annoying that we missed a couple of hours of our first day of our holiday due to it though.
On the way home we received a text from Jet2 to get to the airport early as it was looking very congested again. We feared a repeat performance but actually it was a good airport experience.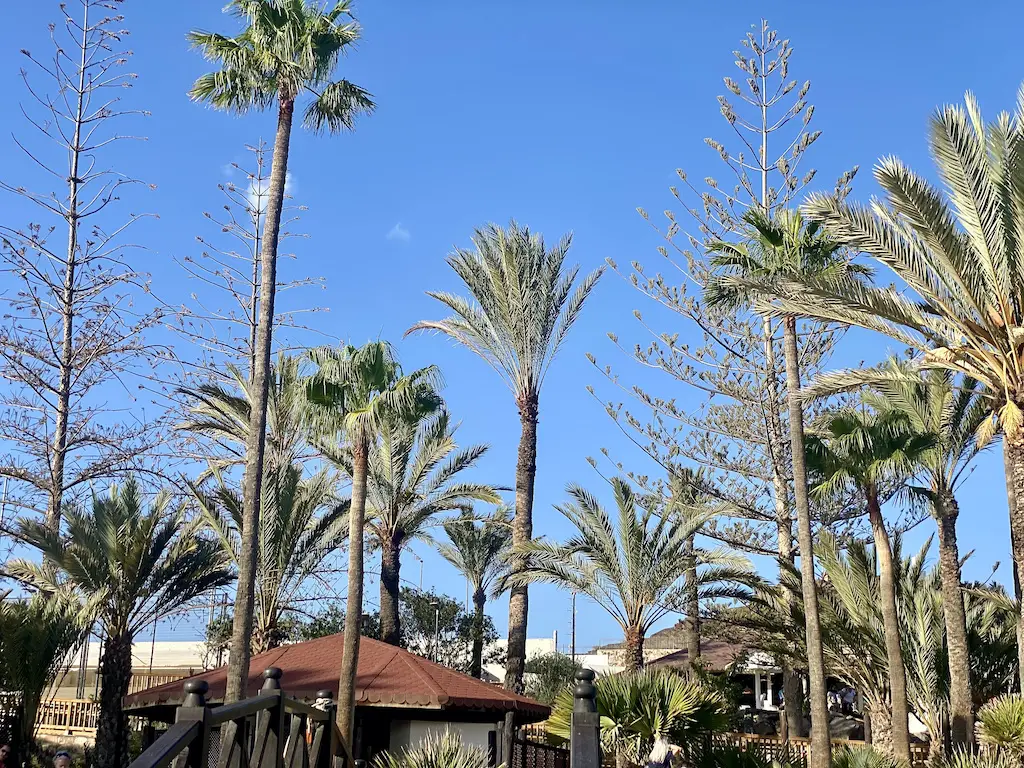 Where is Abora Interclub Atlantic by Lopesan Hotels?
Abora Interclub Atlantic is in San Agustin about a 30 minute drive from the airport in Gran Canaria. It's on top of a hill about a 15 minute walk from the San Agustin beach. You are close to Playa del'Ingles and Maspalomas here which are both great places to visit and the hotel has a free shuttle bus to both from reception.
What's nearby the Abora Interclub Atlantic?
There isn't a huge amount by the hotel though. San Agustin a 15 minute walk down/up the hill has a tennis club, beach, a restaurant. Be warned its 153 steps back up from the beach. Theres a hospital, pharmacy and 'corner shop' type shops. There isn't a huge amount in walking distance though so if you want the more hustle and bustle you might want to choose the Abora in Playa del Inglés (affiliate link).
Abora Interclub Atlantic and the beach
In addition to the beach at San Agustin, there is also a free shuttle bus that goes from the front of the hotel (literally collects you outside of reception) twice a day to Playa Del Ingles (Parque Tropical) and Maspalomas (Charca Maspalomas). The bus times whilst we were there was 9am and 11.30am to go the the beaches and then 14.20 or 17.00 to return.
We used the bus (like a mini bus, 20 seats) to go to Playa del Inglés. We got the 11.30am bus and were the only people on it. The bus had seat belts. It took 10 minutes to get to the stop at Parque Tropical however the stop isn't in the centre of Playa Deli Inglés, it took us about 25 minutes to walk to the main area with the bars and shops. The beach there is sandy and has the showers on the board walk to wash your legs and feet off (I wish more UK beaches had these!). On the way home we grabbed a taxi as we were returning between the bus times and it cost around €6.
I love the beach at Maspalomas, it's sandy and the dunes look impressive. There are so many nice restaurants along the seafront strip at Meloneras, well worth a trip.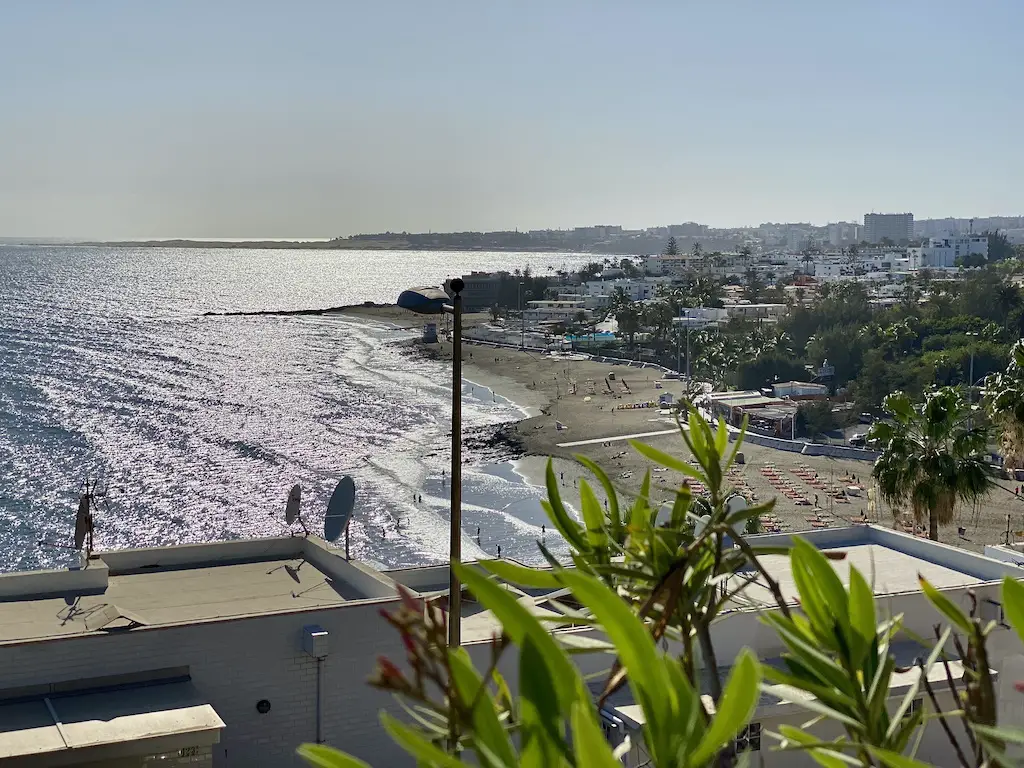 Rooms – Abora Interclub Atlantic by Lopesan Hotels family suite
We found it was difficult to figure out the rooms prior to booking with Abora Interclub Atlantic. One Jet2 and other sites like Tui there were two room types offered for us – a family suite or a double family room. Initially the family suite cost more for an upgrade of around £30 but later it reversed and the double family room cost more. They seem very similar except the family suite has two rooms, one with a door and the other is open into the foyer. The double family room has all the beds in one larger room so it just depends on what your preference is.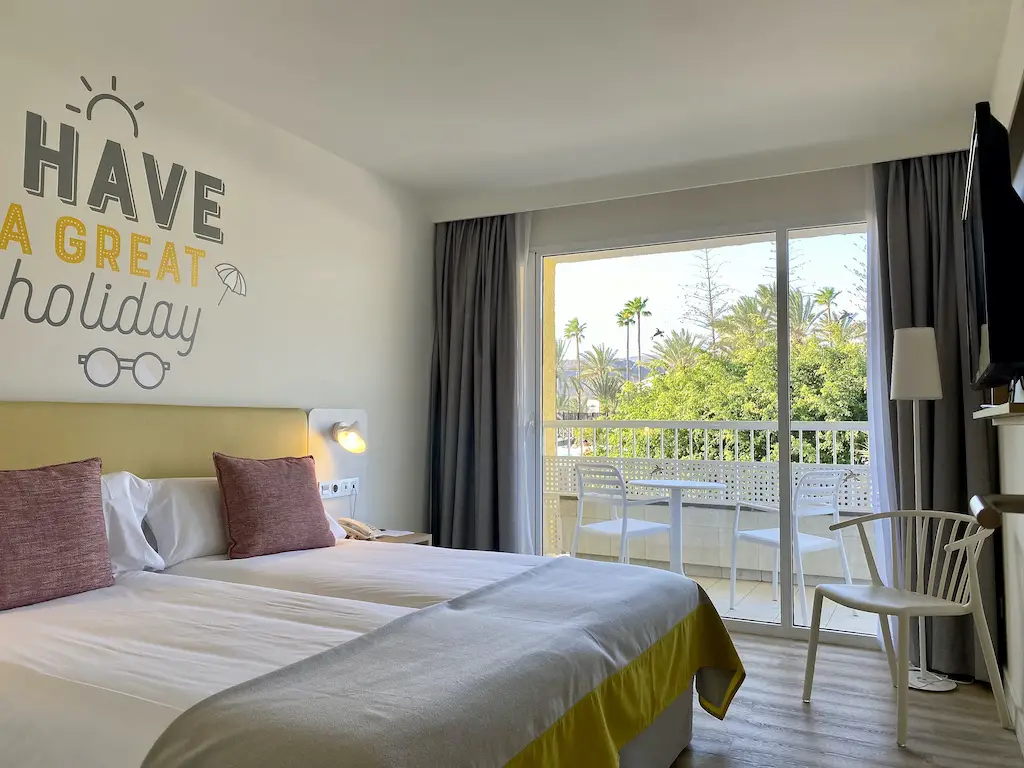 What we couldn't figure out from the images was how the sofa beds folded out. Online all the images had the bed made out into a single bed. We were worried the kids would be expected to sleep in the one single bed but seeing as though no one of the reviews was complaining about it we thought it would be ok and it was. When we arrived 2 single beds were made up in the second bedroom. All the beds were comfortable. In the main bedroom the double bed was the standard of 2 singles pushed together and they did come apart very easily which is annoying.
The bathroom was nice and had a good rainfall type shower which also had a smaller shower that you could take off the wall which was the perfect height for my kids to use.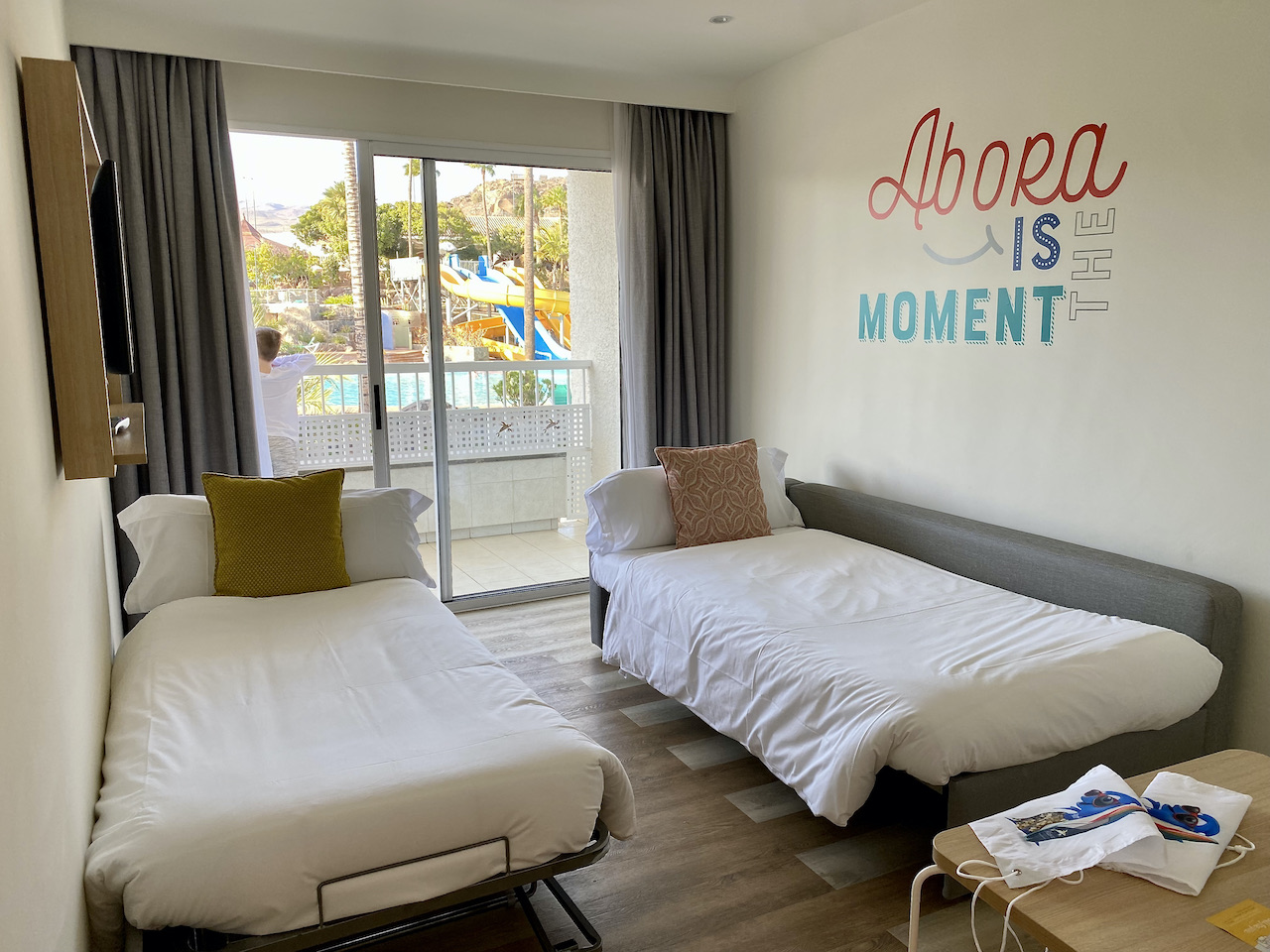 Just off the hallway was a small open room where you could store your cases, hang your clothes and keep all your belongings. This was a good way of helping keep the rooms more tidy – there is no storage in the rooms themselves. It did get quite cluttered in there though and could get a bit much when everyone was trying to get their stuff out at the same time.
In this room was a safe that cost €2 a day to rent. Ours was super glitchy and kept not locking so it was frustrating to have to pay for it. There was also a kettle (that we didn't use) and a small fridge. We received 4 complimentary bottles of water on arrival which came in handy.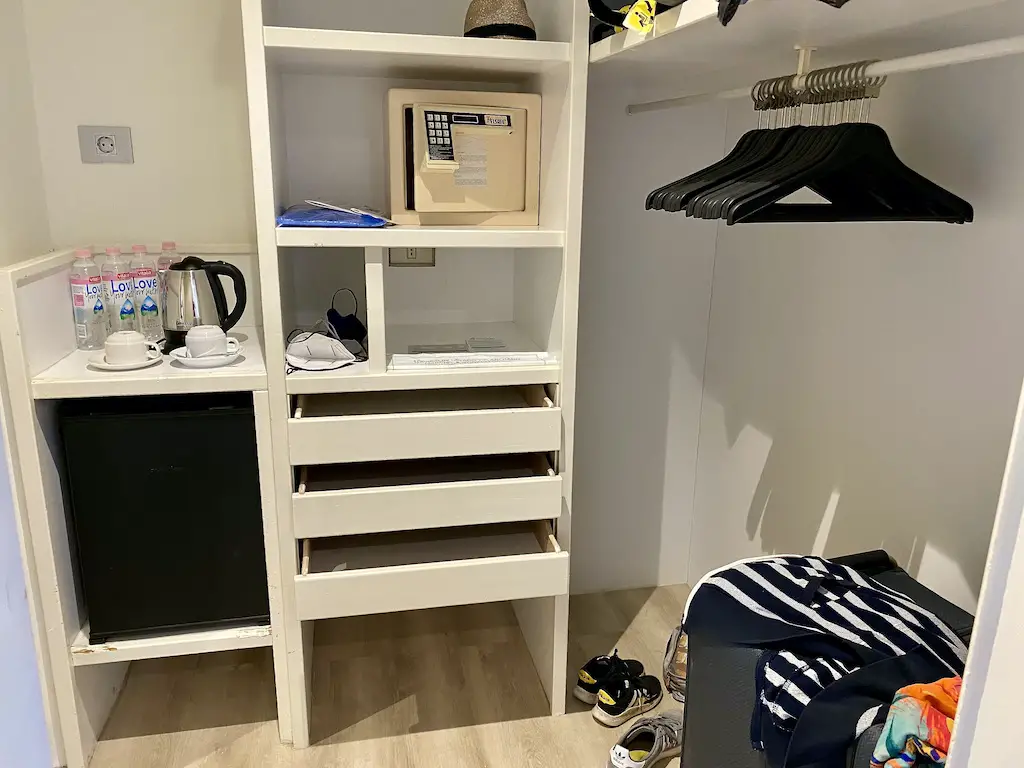 There were 3 big hooks in each room which were useful for hanging coats, bags and face masks etc. Both rooms had a flat screen TV. The rooms did have some usb plugs which were handy but they charged slowly.
We were on the second floor facing the pool and had a balcony with a dryer that pulled out from the wall and a small round table and 2 chairs (we booked as a family of 4). The balcony was large enough that I could workout out there. It sadly didn't get any sun at all though.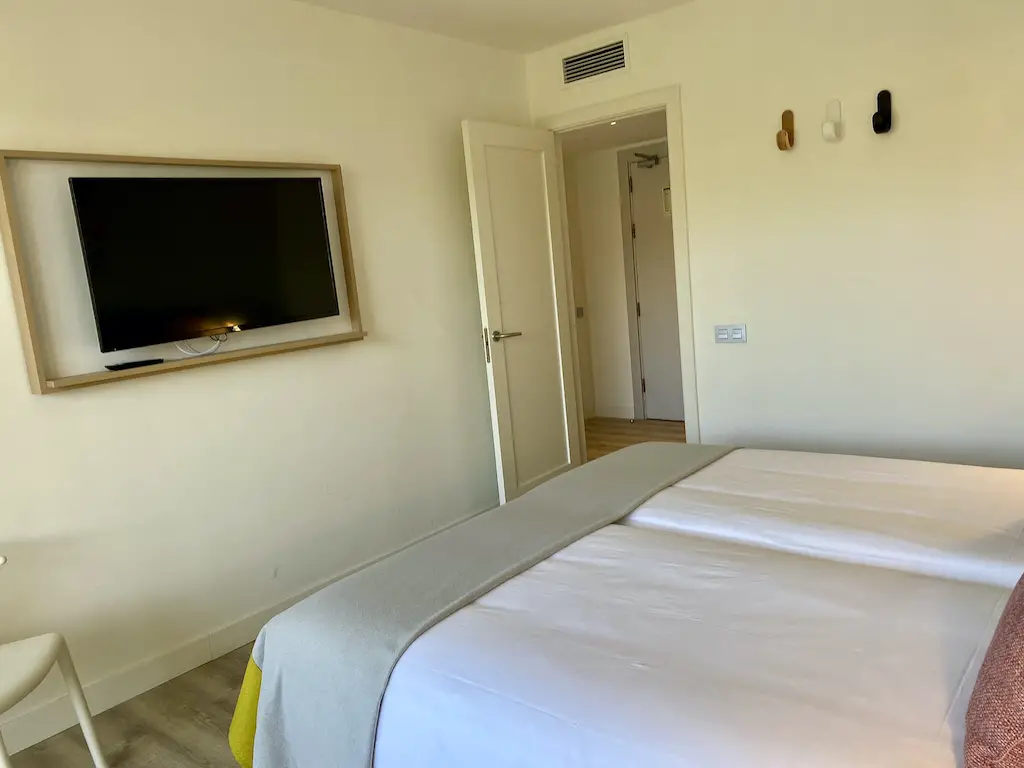 The hotel has free wifi and whilst its generally ok it was slow at times and certainly wasn't strong enough for me to live stream the Call the Midwife season finale that was on during my stay.
There were some little perks for families in the room that would help entertain little ones – ours had a table with a wooden abacus with multicoloured wooden beads and a little throw and stick wall game. They had also kindly left 2 drawstring bags for the kids with the hotel kids club mascot Panchi on them which was a cute gesture.
For those of you who always want to know what the hairdryer is like on holiday – there was a hairdyer in the bathroom, in its own handy holster on the wall and it was a decent hairdyer with different speeds and temperatures. I have a dyson airwrap and a ghd hairdryer and was fine with this. Not one of those that feels like someone is just blowing on your hair thankfully.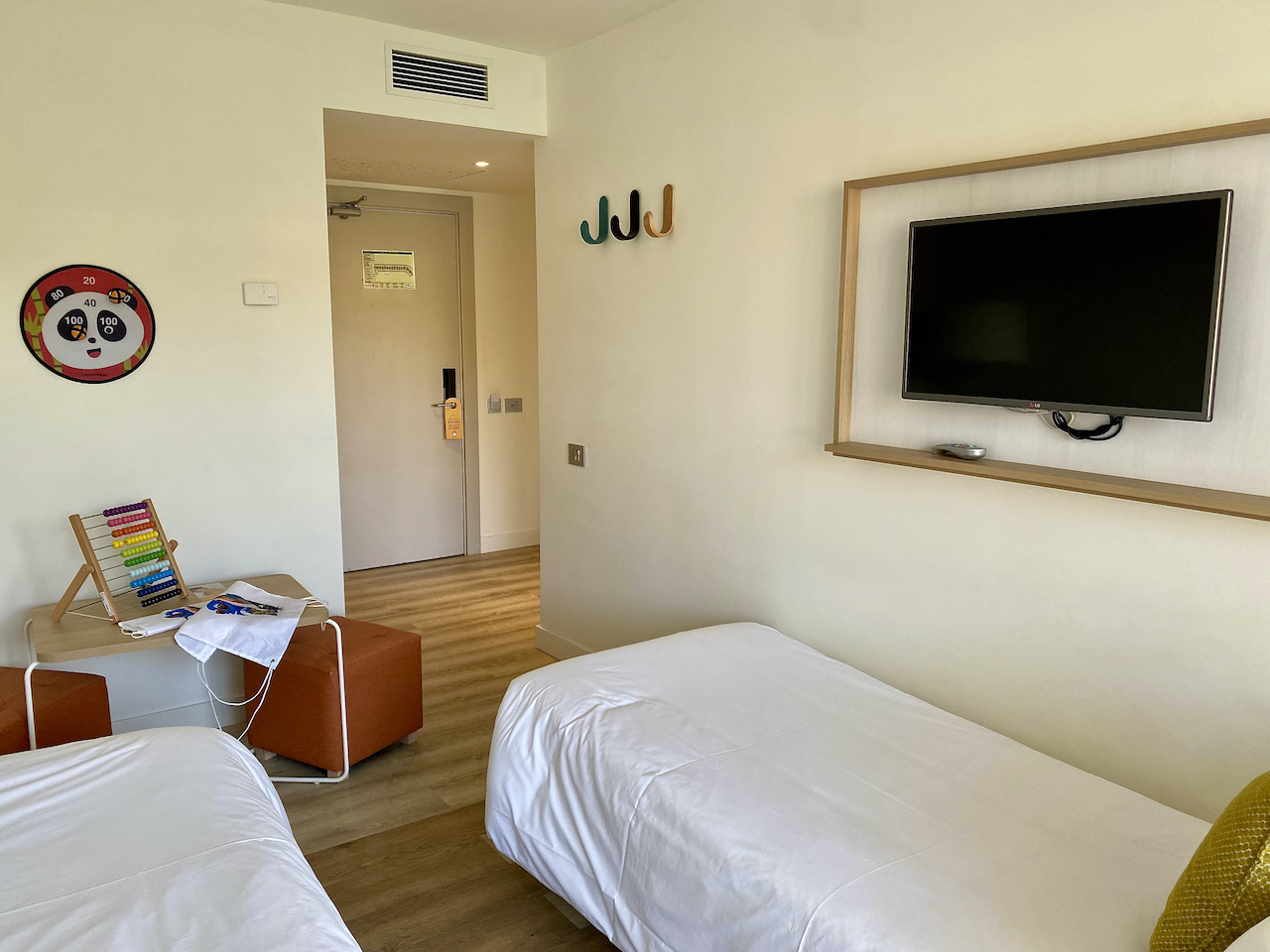 Cleanliness at Abora Interclub Atlantic
I couldn't fault the hotel for cleanliness. The staff all clearly worked hard. Our rooms were cleaned once a day. Everywhere was kept clean and tidy.
However, many of the food stands in the restaurant are uncovered and there were occasionally flies from outside landing on the food. The food in the snack bars were always covered.
COVID precautions at the Abora
I felt like the hotel managed COVID restrictions well – certainly better than what we are used to back here in England. You have to pick a time for the restaurant to manage numbers. On entering the restaurant the staff physically squirt anti-bac onto guests hands (although sometimes not enough). You must where a mask whenever walking around in a food area or ordering from a bar and this is strictly enforced. You didn't have to wear a mask around the resort though. I felt they had a nice balance and it felt as safe as it could. All staff wore face coverings at all times.
Abora Interclub Atlantic check in and check out
Check in at Abora Interclub Atlantic is from 2pm and check out is at noon. Reception is 24/7.
Abora Interclub Atlantic by Lopesan Hotels 4*
The hotel is classed as a 4* by Jet2 and Lopesan and I would agree with that description. If you would like a 5* hotel experience in the area then one of the nicest hotels we've ever stayed at was the Lopesan Costa Meloneras Resort (affiliate link) just down the road. I can't wait to go back there one day perfect location and it has the best spa I've ever been to.
Pools and Water temperature at Abora Interclub Atlantic
There are several pools at the Abora Interclub Atlantic. Whilst we were there, they did feel cold. There is the largest and deepest pool, this has 3 waterslides going into it. There is a shallow end going to too deep to stand. This pool is the coldest and whilst we were there the temperature of the pool was 22.2c. It felt cold to get into though I did a couple of long swims in it. It's ok as long as you are swimming/moving. It was often quite empty due to the temperature.
There is the middle pool which is a circular pool of varying depths. The temperature whilst we were there said 26.1c. This was a more popular pool for kids. This is the pool where aqua-aerobics etc took place.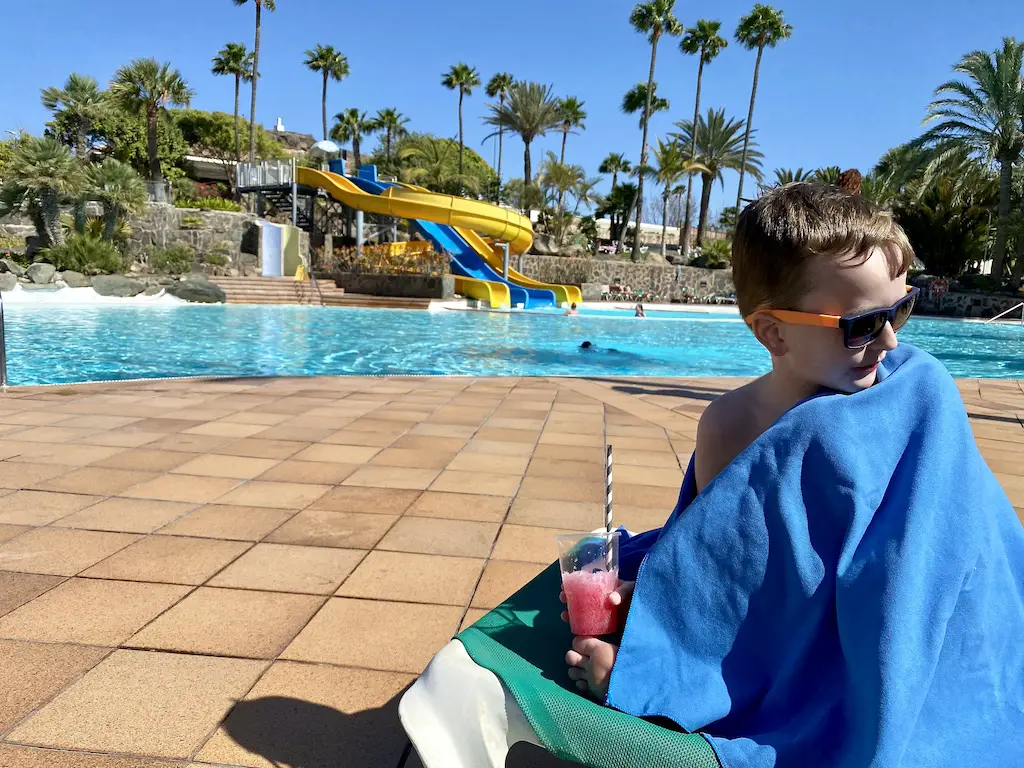 Then there was an infant pool which was shallow enough that toddlers could easily stand and splash in it. The temperature in this pool was 27.1c during our stay and the kids would play in it for a while but then their teeth would be chattering. After the pools we all wanted to go back to the apartment to warm up in the shower. I'm sure this is less of the case in the warmer summer months. It was around 21-23c during our stay.
There is also an additional infinity pool in the adults only area. The temperature there was the same as the middle pool 26.1c. We didn't pay the extra to use this pool though with having children with us.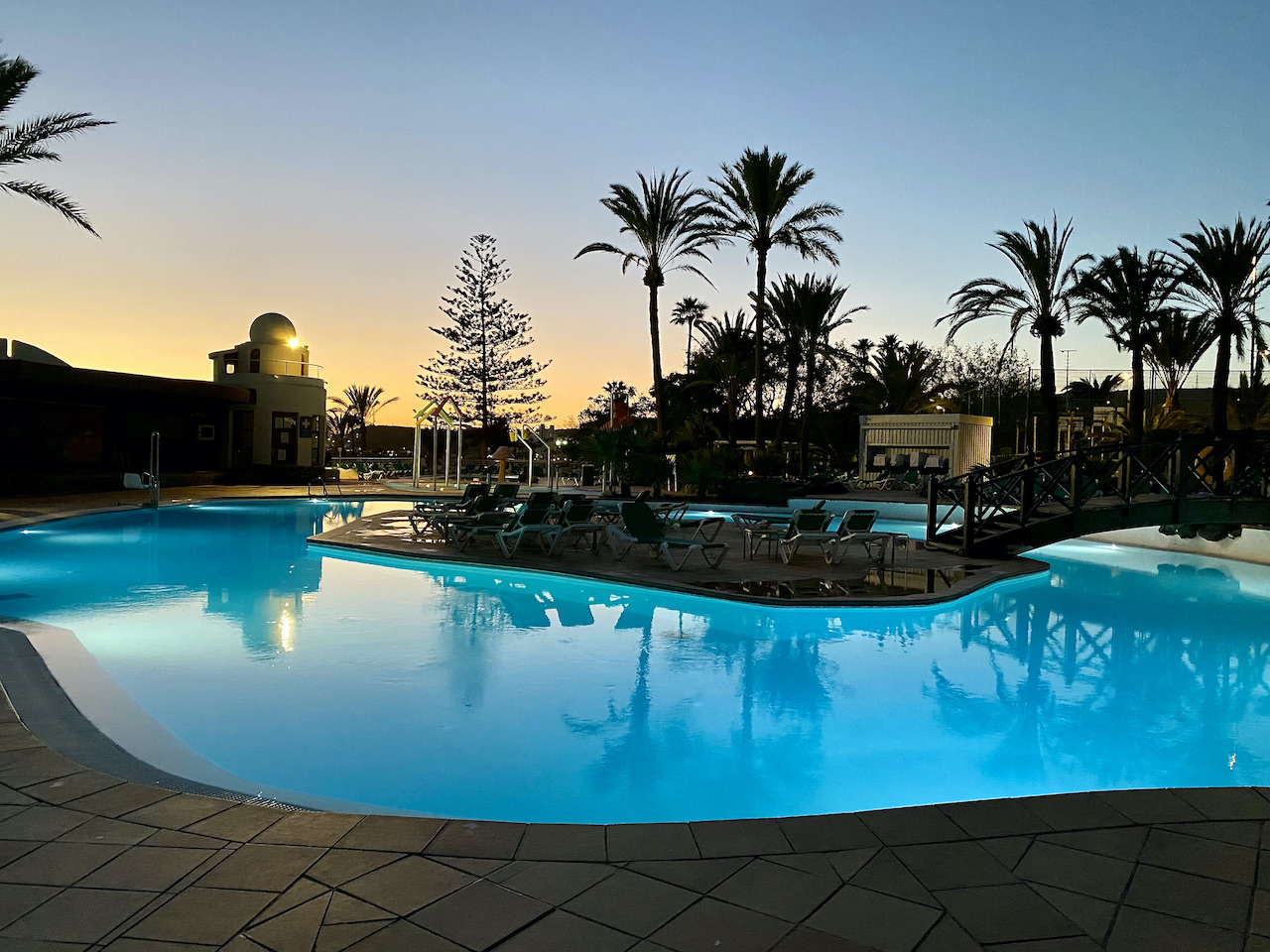 Sunbeds at Abora Interclub Atlantic
There were signs at the hotel saying not to reserve sunbeds and that it wasn't allowed. However, everyone did do this and people were out reserving beds with towels from 7am. By 8-9am all the sunbeds were gone which was frustrating. It was really hard to get a sunbed. On occasions we did see staff removing towels if guests were away from sunbeds for a while but not enough for it to really make a difference.
Most the sunbeds weren't great quality either. Quite a lot didn't have an option to adjust the back rest which isn't ideal if you wanted to sit up. A fair few we used were broken. The sunbeds did look a lot better quality in the adults only area though.
It's worth mentioning that there aren't movable parasols at the Abora Interclub Atlantic if you have people in your party who need the shade. there are some fixed wooden parasols but you can't adjust them, they are pretty high and have holes in the wood so aren't that affective. Also there aren't very many of them.
Abora Interclub Atlantic all inclusive
All inclusive seemed to be the only option at the Abora. You get a wrist band when checking in but these weren't checked for the rest of our stay (or at least we didn't notice anyone checking them). The main restaurant served 3 meals a day and snacks and drinks are available 24/7.
Restaurants at Abora Interclub Atlantic
Saborea Buffet
There was one main large indoor restaurant at Abora Interclub Atlantic with an outdoor terrace. It was very large with stylish modern decor, toilets, 3 self service drinks areas and a number of food staions. Tables were reasonably spaced. We enjoyed sitting on the terrace for meals where there was a little less hustle and bustle. There are a few parasols on the terrace so you could have some shade if desired. You could see the sea a little bit out there too and it was nice to watch the sun rise and set out there.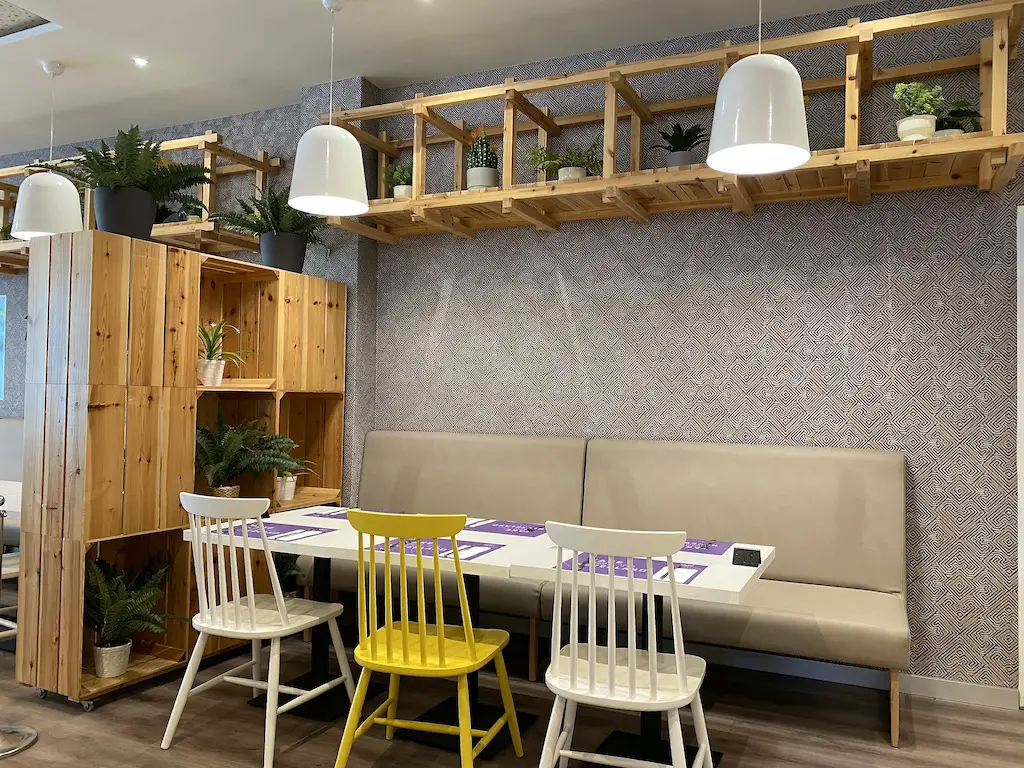 The restaurant served breakfast 8-11 (summer) or 7.30-10.30 (winter). Lunch was served 13.00-15.30 (summer) or 13.00-15.00 (winter) and dinner was served 18.30-22.00 (summer) or 18.00-21.30 (winter). It is worth noting that they do ask you to choose a time to go to meals on check in. I thought they might give us a time frame, say 1-2 but they just ask you to say a time which is quite difficult to choose on arrival before you have your bearings. They weren't sticklers for you arriving bang on the time you said and you can change your times later via reception but if you went much later than you said you did get reprimanded by the staff on the door and risked not being allowed in (though we didn't see anyone turned away).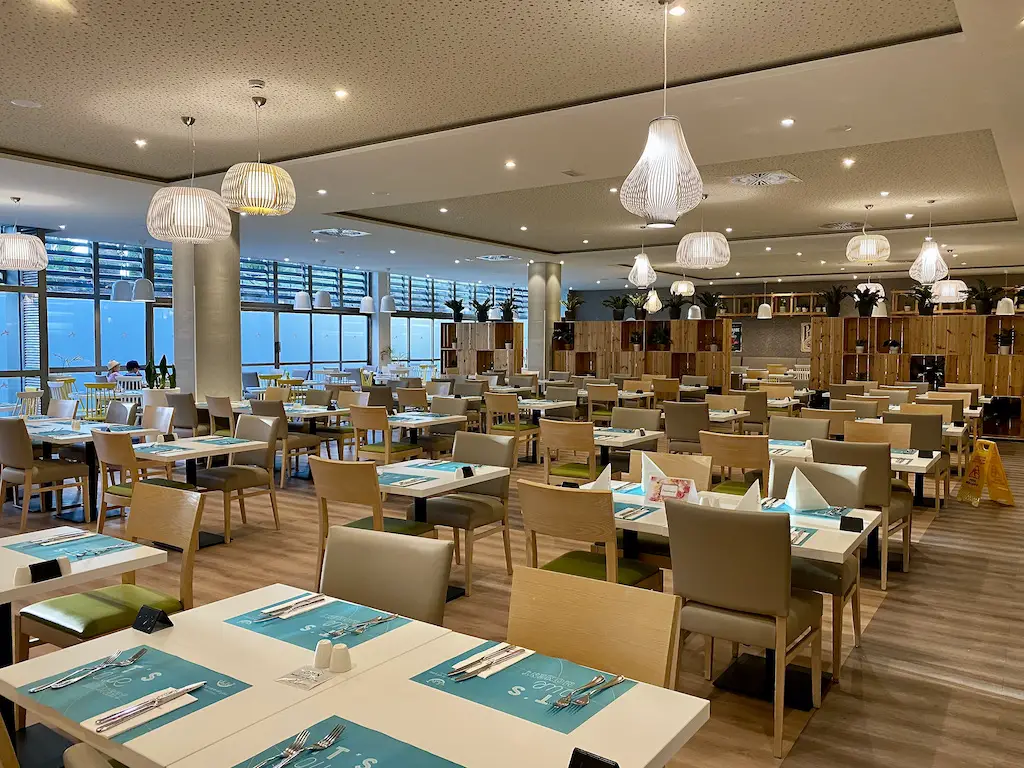 Snack and Go
Not a restaurant per say but there was a large self serve snack bar outside by the pool with lots of seating, both covered and uncovered. This area was open 11am-11pm. It always had hot dogs and buns and fries, then there were leftovers from breakfast/lunch – so there may be some sandwiches, fruit, salad, yogurt etc. Most of the food at the snack bar wasn't very nutritious so we preferred to eat in the main restaurant. We did have some snacks here occasionally – mainly the kids grabbing a hot dog after running around. On our last day check out was noon but the restaurant didn't open until 1pm so we grabbed lunch at the snack bar before checking out.
Snack and Go also had self serve drinks – beer, sangria, wine, pops, water, teas/coffees etc, juices. This is where we would go for drinks if around the pool.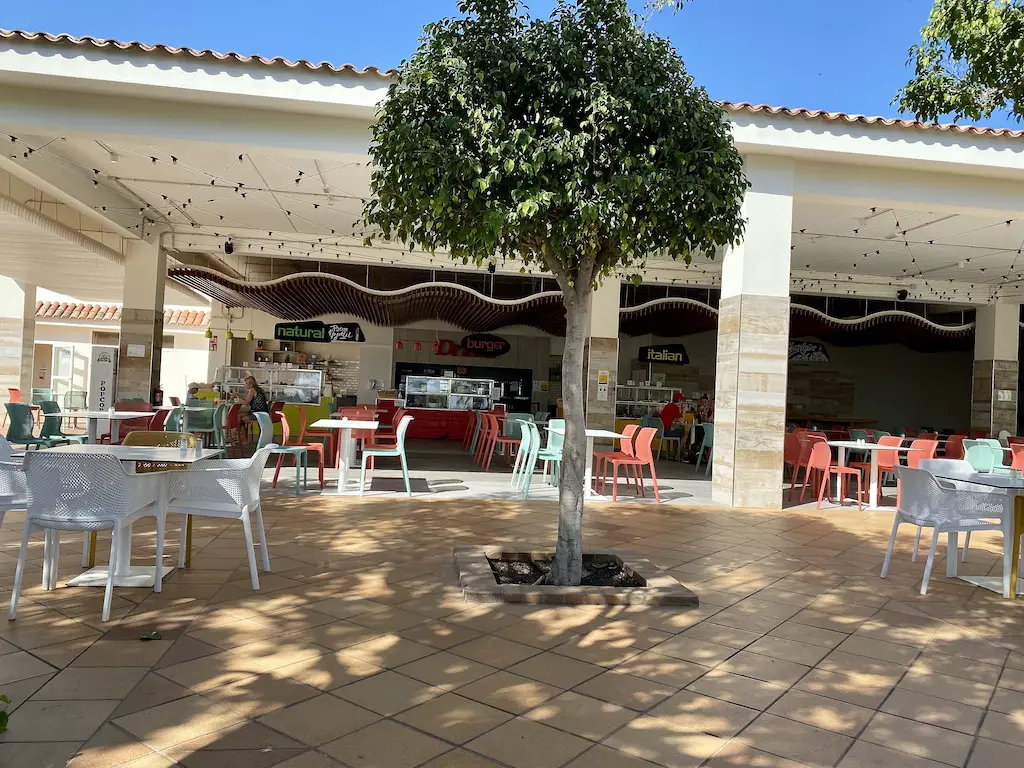 24/7 by Abora
In reception/lobby area there is a small area with fridge with some snacks (pastries, sweets and sandwiches) that is open 24/7. There is also self serve drinks and a bar in the lobby. You can upgrade further to get branded spirits and alcohol at a cost of €12 per day but personally we felt this was unnecessary. 5 alcoholic and 2 non alcoholic cocktail choices are included on the regular all inclusive.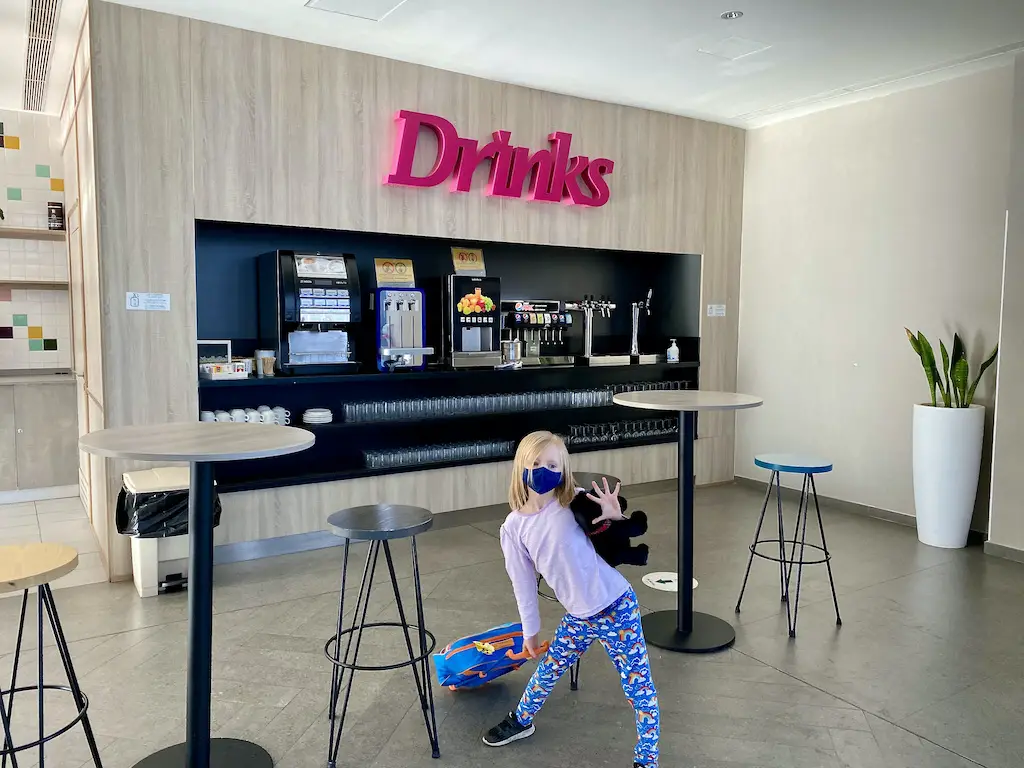 Food and drink
We liked the food and drinks options at Abora Interclub Atlantic. We felt what was on offer was quite typical of all inclusive Spanish hotels though to a high standard and with a good range of choice.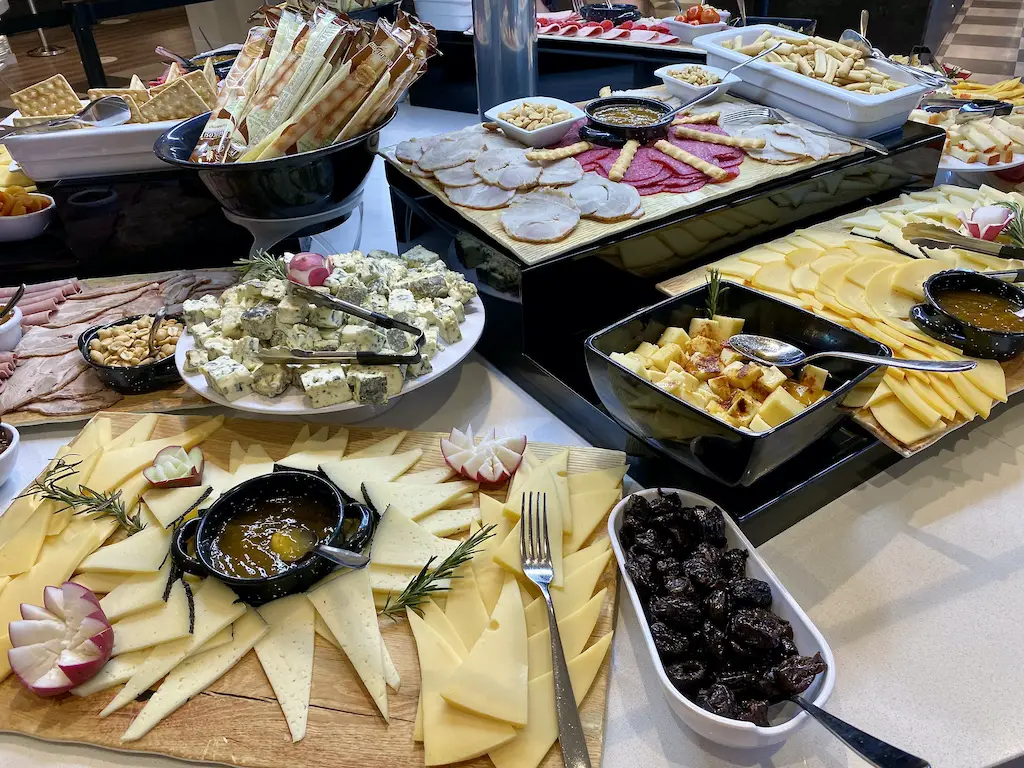 One annoying policy is that you can only get 2 drinks at a time from a bar. When you go as a family of 4 this is quite annoying as you can't get drinks for everyone at the same time and have to get 2 and then go back again for the next 2. It also made queues form as almost everyone was having to do this. They should reconsider that policy.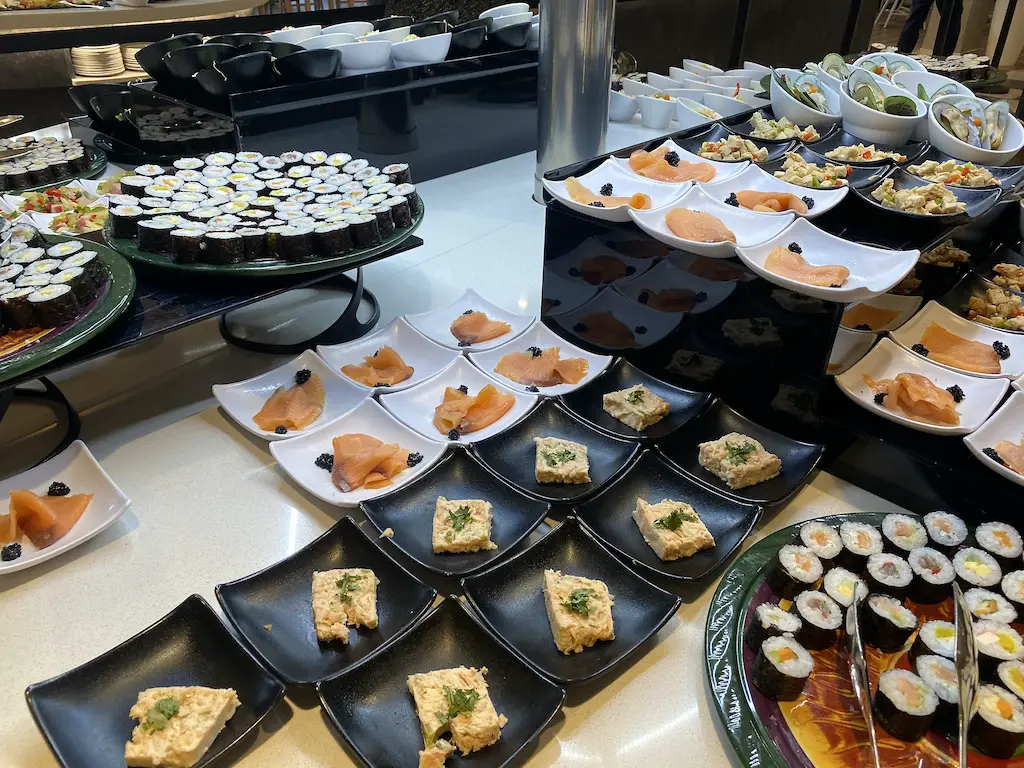 I do have to say though that our 10 year old did get a terrible case of what we assume was food poisoning whilst on holiday (the rest of us were fine). The hotel and Jet2 said that there were no other complaints of food poisoning but the onsite pharmacist said she'd had lots of people in with sickness and diarrhoea so I don't know. We did speak to someone else who had been sick. Though the rest of us were fine and clearly the majority of people were as the restaurant was very busy all the time.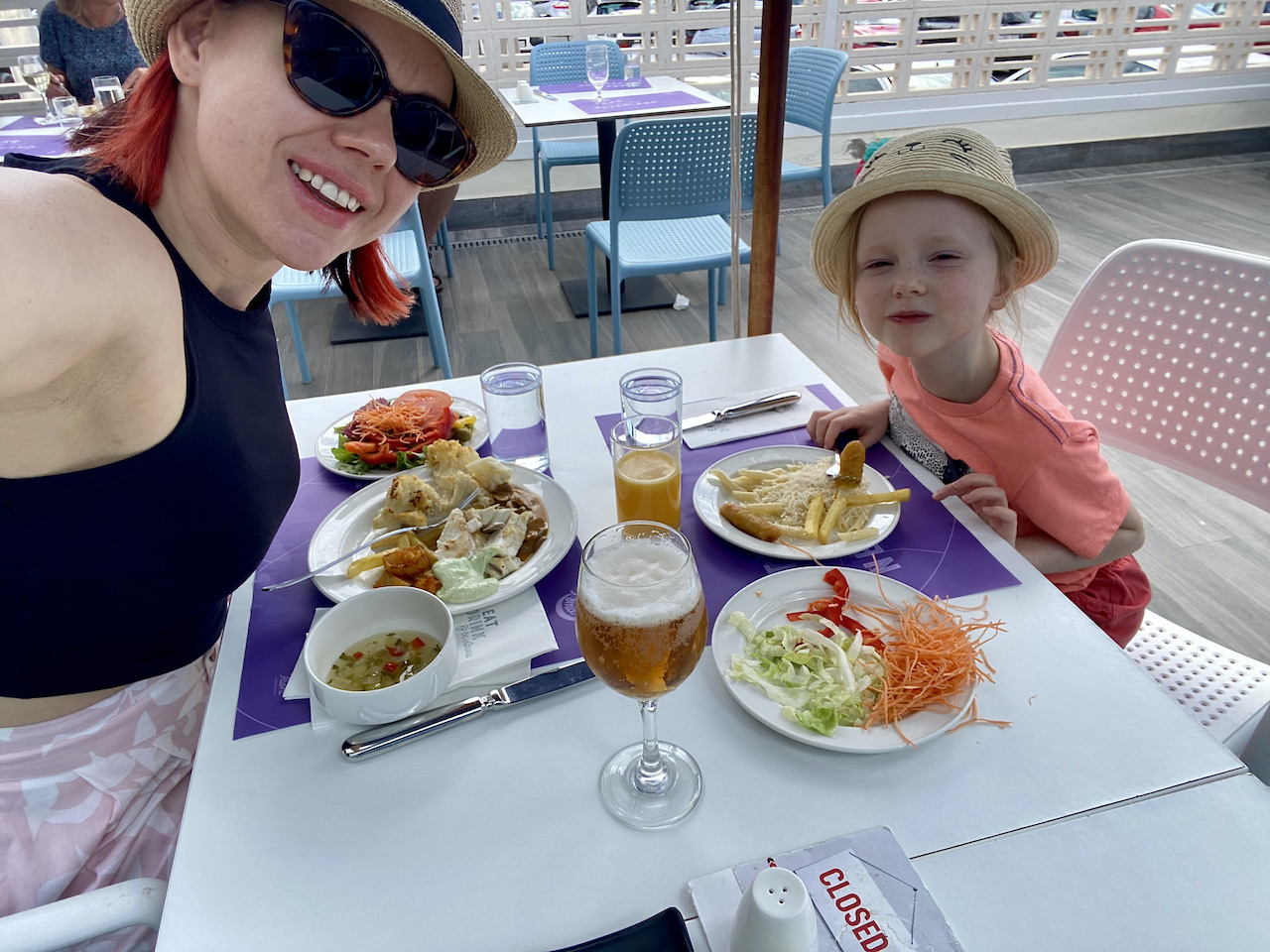 Food allergies at Abora Interclub Atlantic
Allergies might be a challenge to manage at the Abora. There were signs above the food saying what they were and they had an A if there were allergens but it didn't say what the allergens were. Therefore almost all signs had an A. You were meant to ask staff if there were specific allergens in something but obviously this is going to become very tiresome in an all you can eat buffet situation. The language barrier makes it a challenge too. Sometimes the signs were very obvious but others the sign was above many foods and it wasn't clear which of the foods it referred to, whether it was all of them or specific dishes. There were signs out saying lactose free but I didn't see any that were milk free.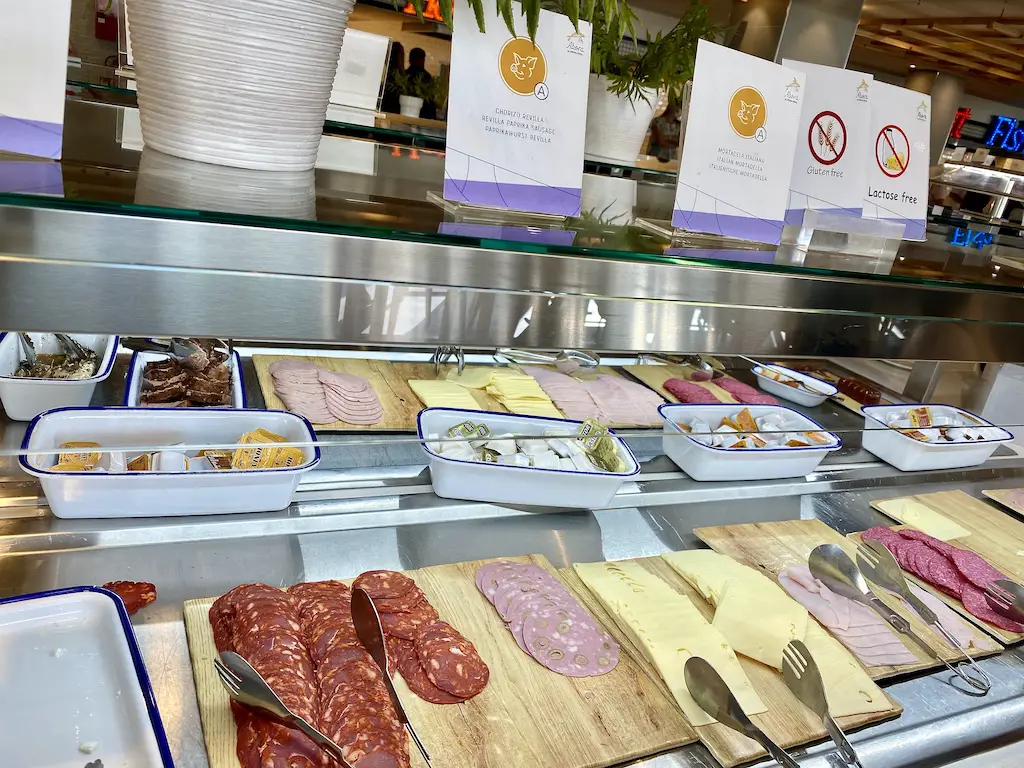 What's for kids at the Abora Interclub Atlantic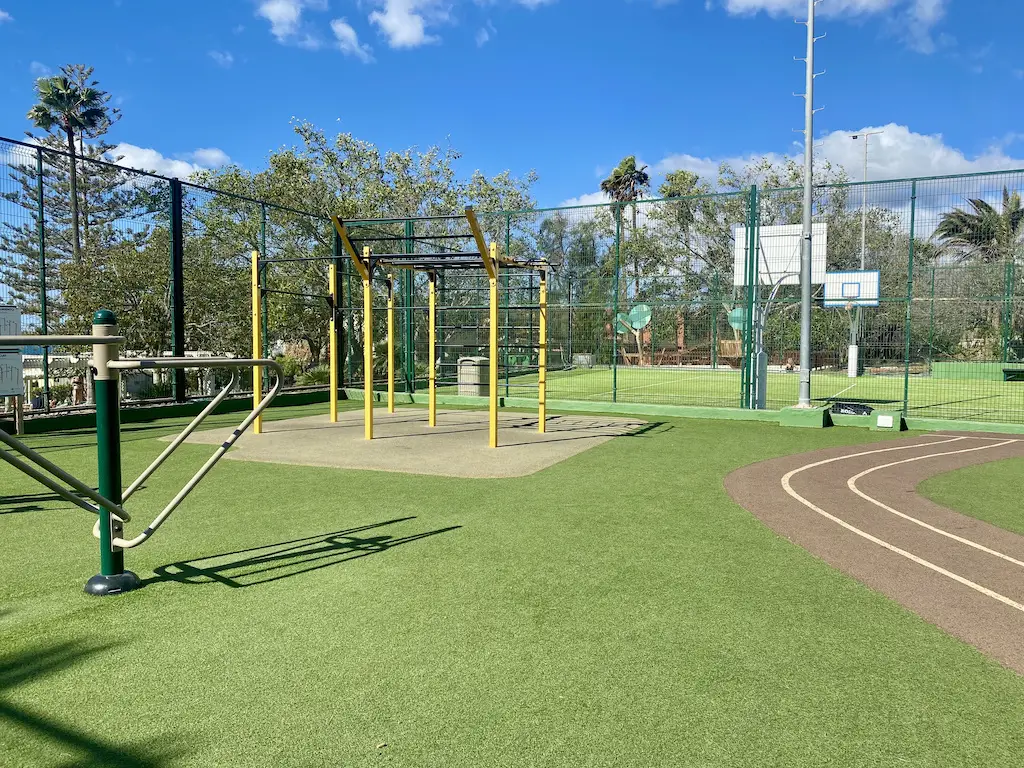 Specifically for kids, there is a dedicated kids pool and splash park – as well as the larger pools. Then there is a large playpark that has climbing equipment and a slide (as well as exercise equipment that the kids enjoyed playing on).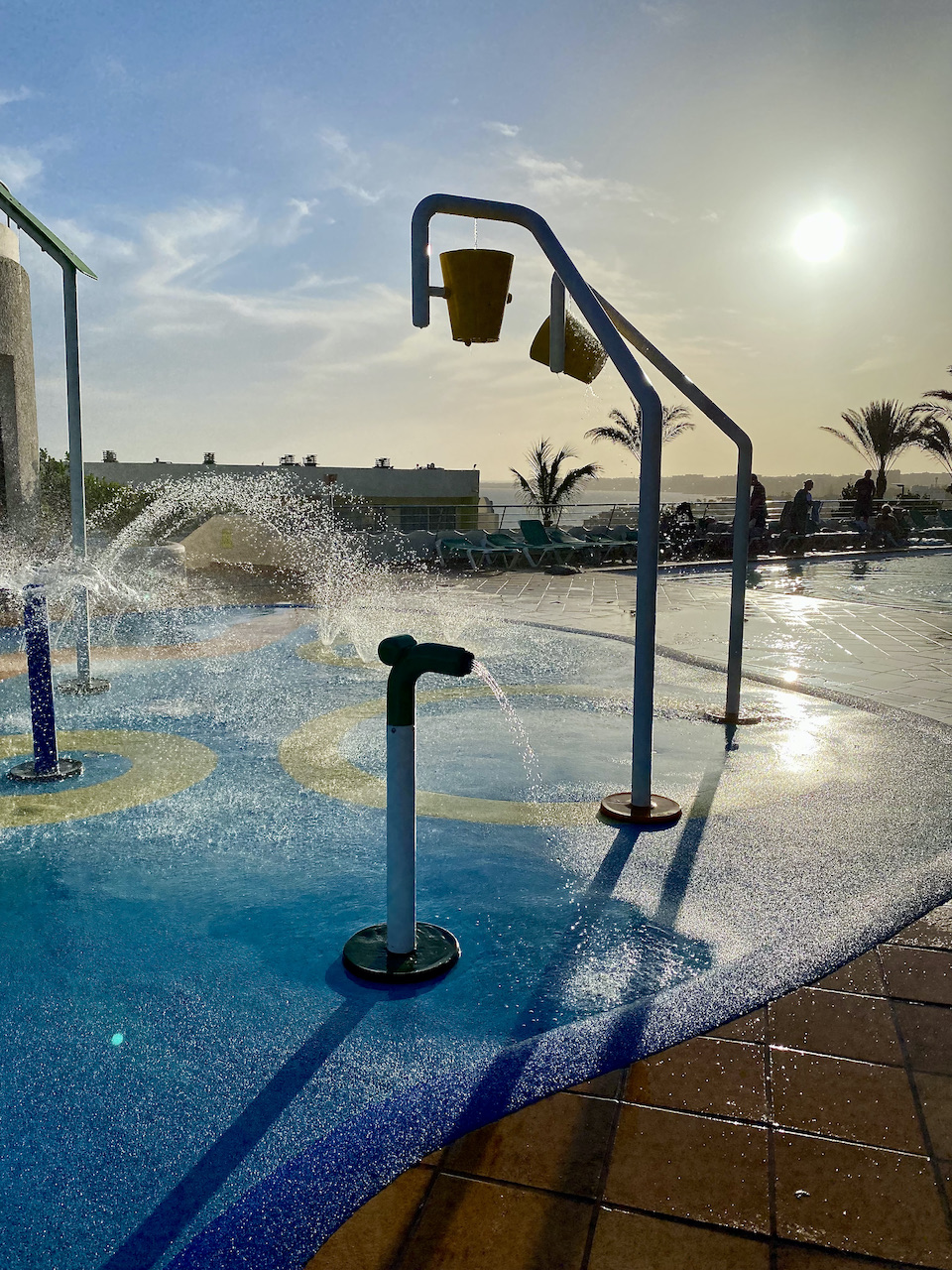 There are two football/basketball courts. There is a small arcade. There is a small play park and kids club for younger kids, this is shaded at all times so is a welcome respite for children on a hot day.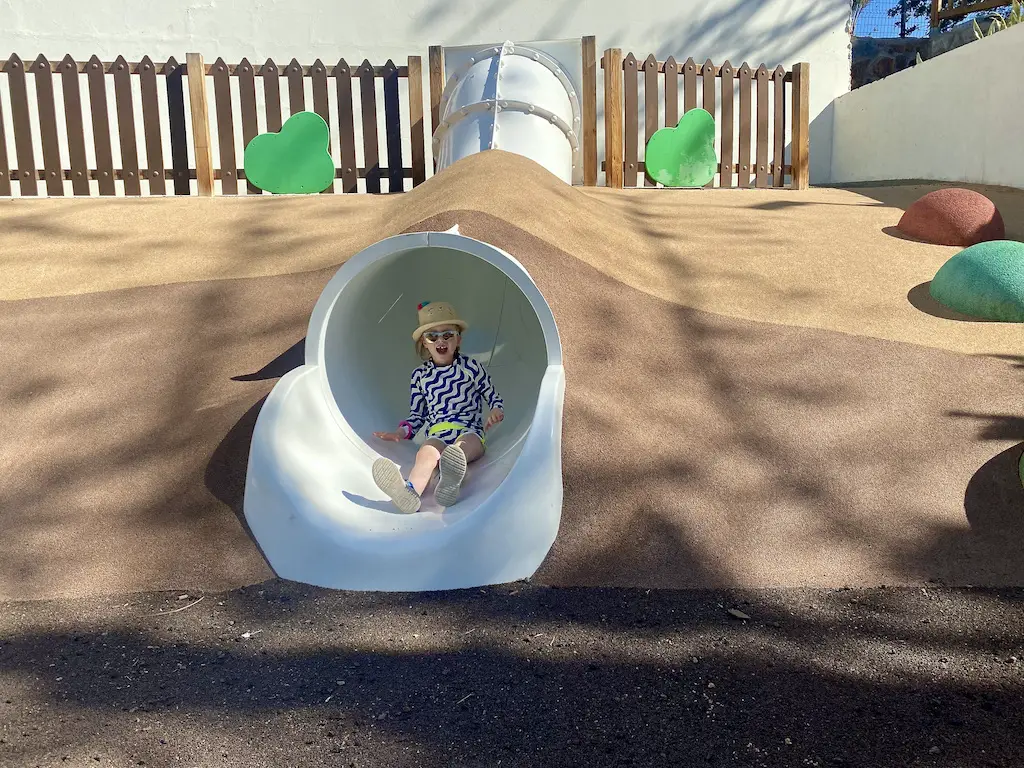 Our children didn't use the kids club but my daughter enjoyed playing in the park and the kids there seemed to be having fun.
Guests at the Abora Interclub Atlantic
The resort felt very safe and lots of young children were enjoying free roaming of the site without parents. The majority of the guests at the Abora are British but there is a good variety of nationalities holidaying there and my daughter enjoyed playing with kids from the Czech Republic, Sweden, Poland, France and Germany. It was really lovely to see children of so many different nationalities playing together.
Abora Interclub Atlantic Infinity Pool and Adults Only Area
There is an adults only area at the Abora Interclub Atlantic but you have to pay extra to access it. We didn't as we had 2 children with us but if you don't have children with you or you have some child free time then it may be worth it. When I went to have a look there were only 3 people in there and no one in the infinity pool whilst at the same time you couldn't find a sunbed around the main pools. It also has it's own bar and some canopy beds. You need a special wristband to open the gate to get in.
Book the Abora Interclub Atlantic by Lopesan Hotel in San Agustin Gran Canaria
You can book the Abora Interclub Atlantic by Lopesan via Jet2 (affiliate link). When you get to the hotel there is a QR code that takes you to the hotel page that gives you more information about the entertainment schedule, food and hotel services etc – I've linked that website here for those of you wanting to know more.
Video of our stay at the Abora Interclub Atlantic
If you liked this post then you might also like:
If you have enjoyed this post or found it useful, here are some quick and easy ways that you can support Nomipalony or say thanks:
Share this post with your friends  
Pop over to my Amazon Storefront to see what products I have been buying and loving from there recently, including my health and fitness products list.
Sign up to my mailing list 
Women can join my feminist Facebook group – the Nomipalony Freehouse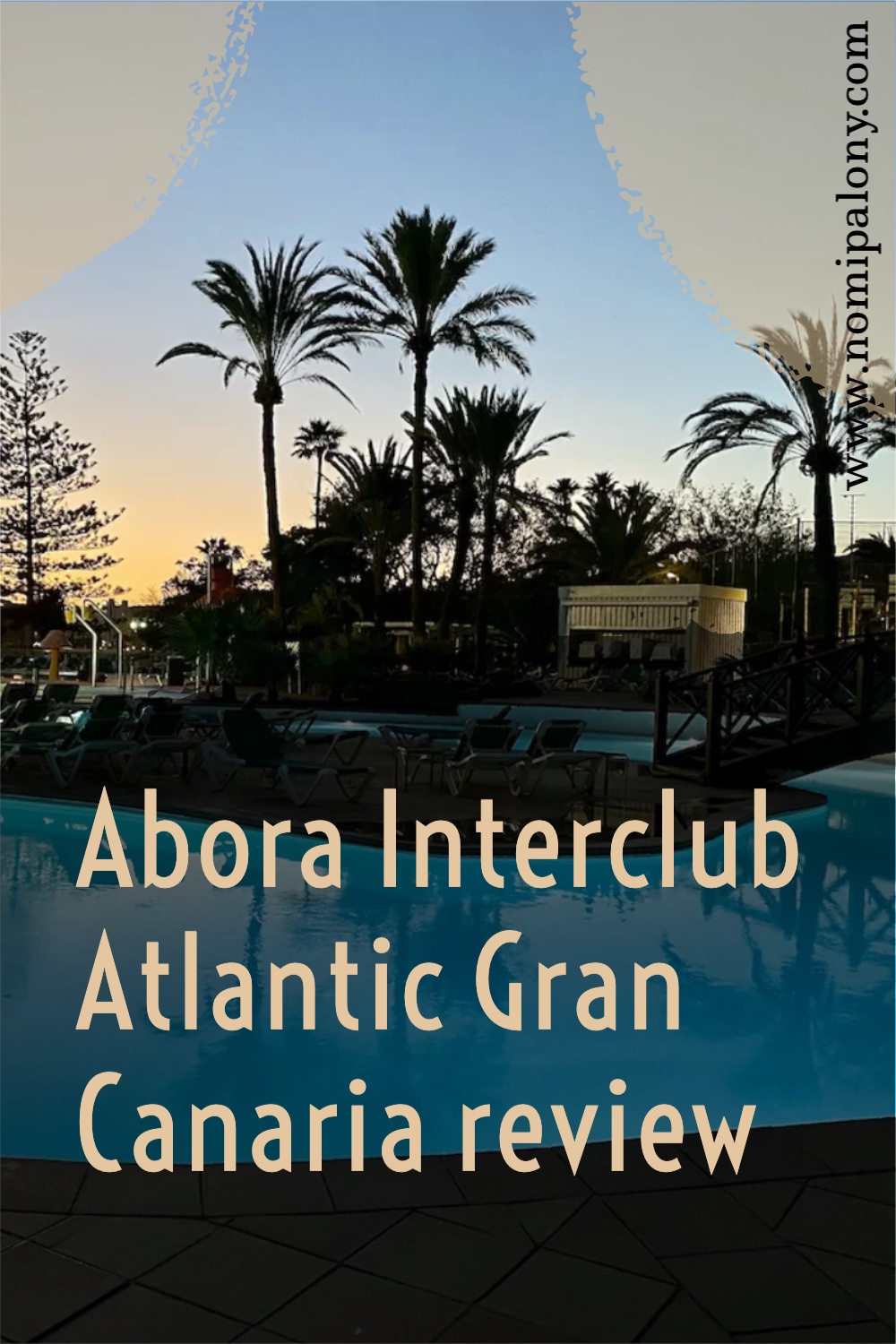 Disclaimer: This post contains affiliate links. If you purchase through an affiliate link you will not be charged any more for your purchase, but I will receive a small fee for referring you. As an Amazon Associate, I earn from qualifying purchases. For my full disclosure policy, please see my about page.