The following post is what we thought of our April 2022 stay at North Shire's Hagrid's Hut or as they call it, the Ground Keeper's Cottage. If you prefer video then scroll to the end of this post for our full YouTube video.
In the North East of England there is a magical site in Saltburn by the Sea that has some themed accomodation from your favourite fantasy books and film. We've had our eye on North Shire in Liverton for a few years now with a view to staying in their Hobbit's House, Ground Keeper's Cottage (Hagrid's Hut) or Harry Potter 'Dorm Rooms'.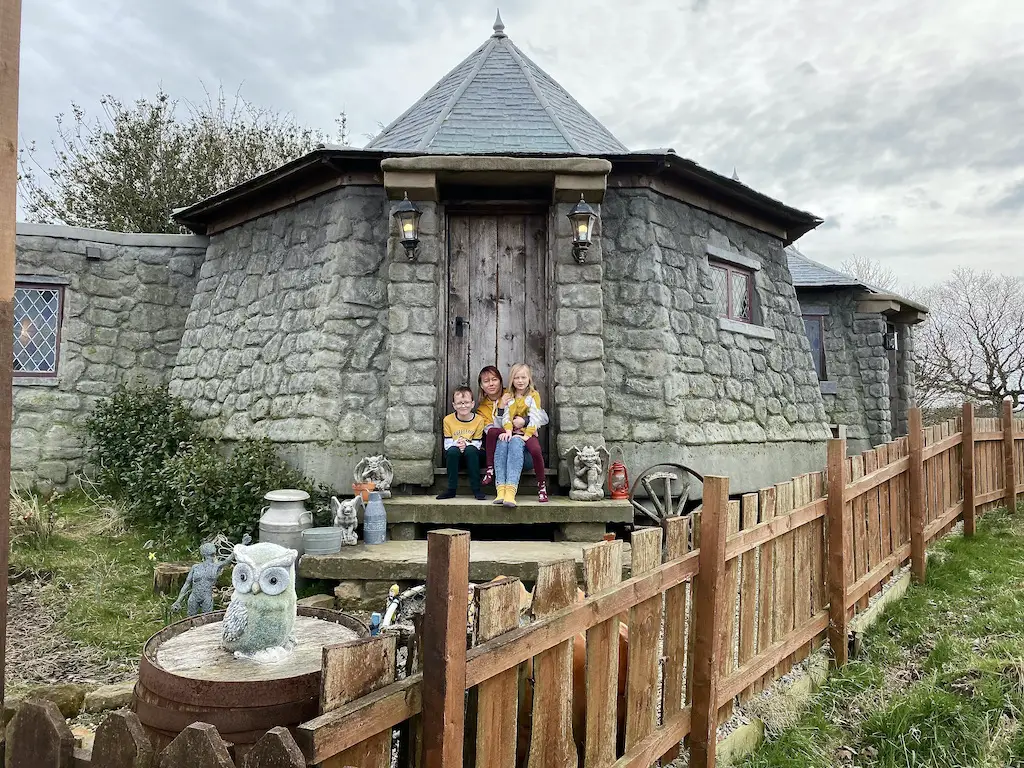 North Shire site
The North Shire site itself is a bit of treat. They have the Ground Keeper's Cottage (which I'm referring to as Hagrid's Hut as that's what most people will recognise it as), Harry Potter Dorm Room, Hobbit's House and then a number of Shepherd's Huts.
They also have a house attached to the owner's home that has a hot tub and sleeps 10. There is a large grassed and hard standing area for tents and caravans.
They have a small play park for children with swings and climbing apparatus. The site is so small we felt comfortable letting the children walk around by themselves and play in the park too.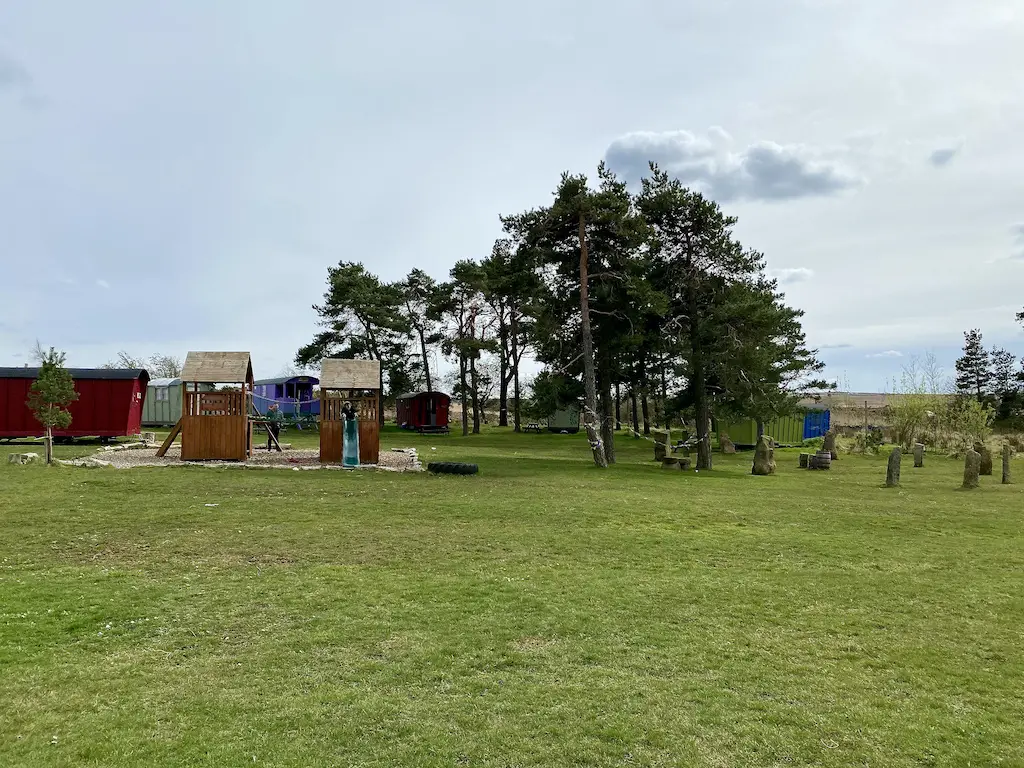 There is also a really cool small stone circle that is crying out for some Outlander events! For those staying on the campsite or in the Shepherd's Hut there is a toilet/washing block.
The site itself is really pretty, especially at dusk. There is bunting, soft glowing lighting from old fashioned lanterns and string lighting about the site.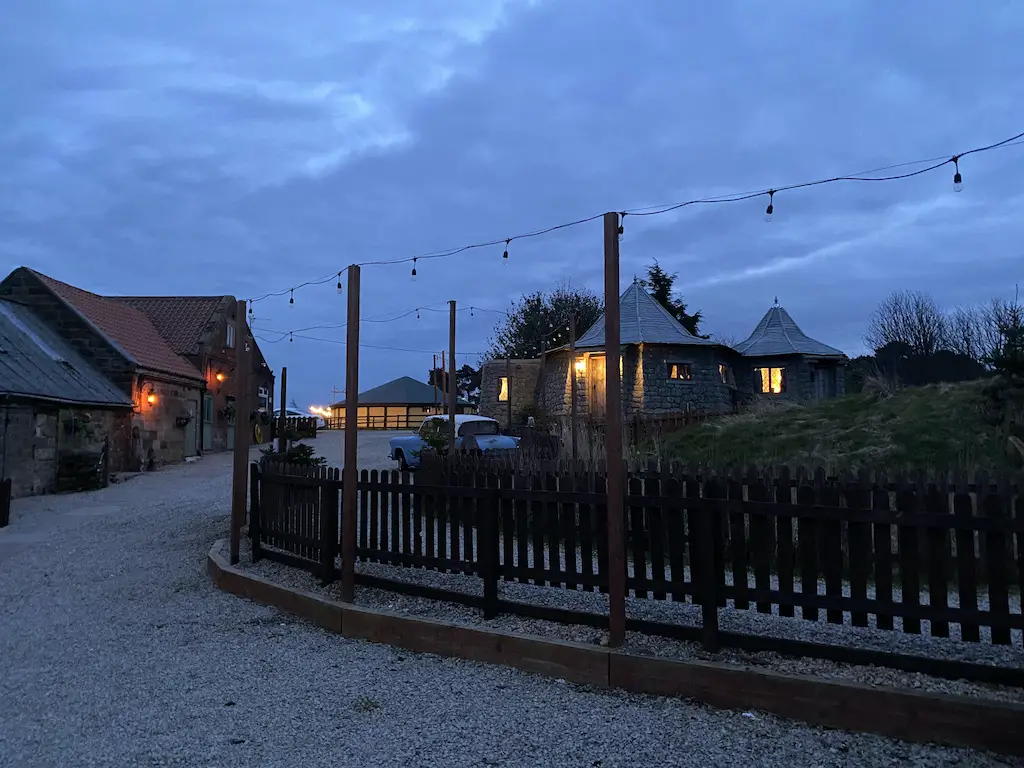 They also have a large barn for events with a bar and outdoor seating. If we hadn't done a quick and dirty wedding then I would have loved to have hired out the whole site for a summer harry Potter themed wedding. You could hire all the on site accommodation and have people staying in tents. It could be like a mini festival wedding (or Fleur and Bill wedding hopefully without the attack!).
The site also currently has 5 chickens roaming around and a peacock which my daughter loved to find. One of the staff on site even gave her some food to feed them with. At one point they were actually in the garden of our hut which made our stay even more special.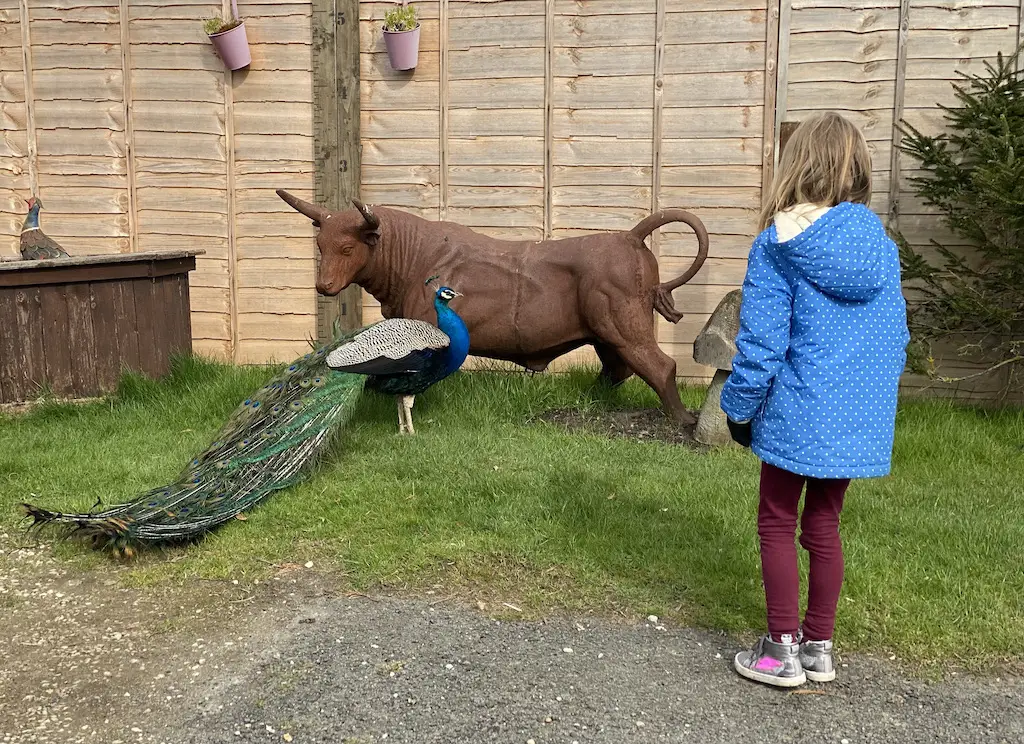 Cost to stay at Hagrid's Hut
Prices seem to vary but generally there is a 2 night minimum stay and the next two night stay available is in October for £525. They do let you book the one nights if you call them though.
For our stay we got lucky and saw a cancellation advertised on their Facebook page for 1 night for 15% off so watch their Facebook page for deals like that. They told us our 1 night stay should have been £275 so we paid £234 with the 15% off. It is expensive but you are paying for the novelty of the accommodation and it being an experience stay. We stayed 10 April 2022.
Check in and check out at North Shire's Hagrid's Hut
Check in was at 3.30pm and check out was at 11am. We felt this was sufficient for our stay. The check in was contactless, the key was just left in the door for us arriving. We arrived a little early to have a look around the site first and noticed the key was already ready in the door so got in a little early too.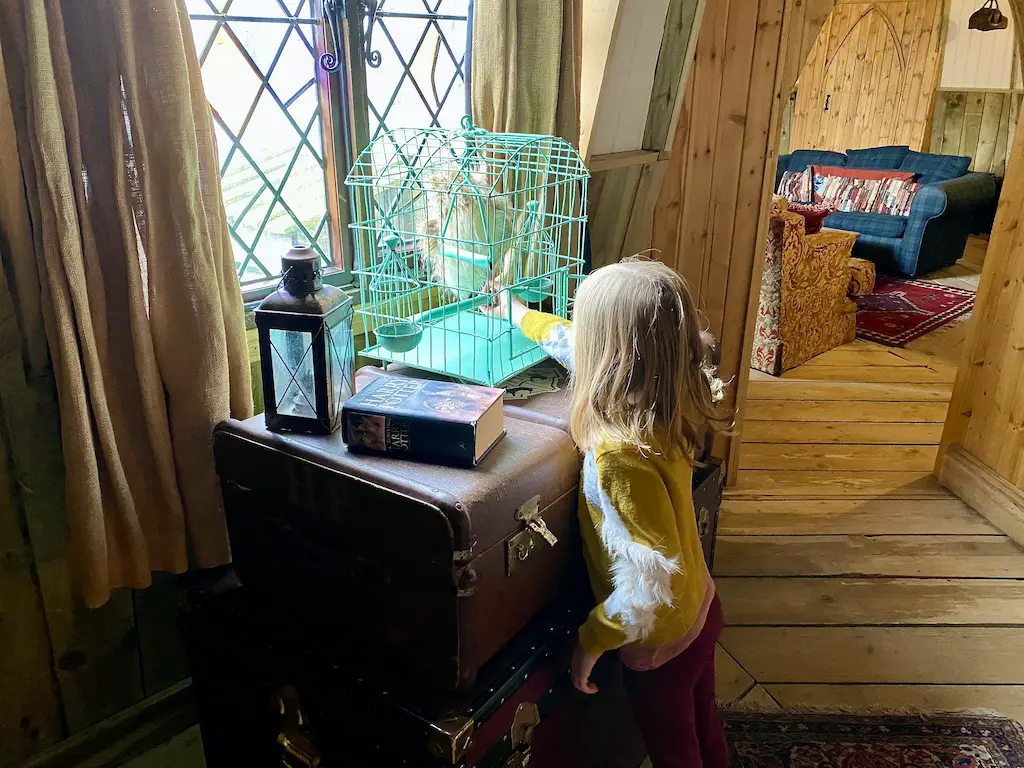 Hagrid's Hut – The Ground Keeper's Cottage
The Ground Keeper's Cottage itself looked so impressive. We were blown away. The old blue Ford Anglia outside really added to the look and feel of the place. There were giant pumpkins outside which added to the homely autumnal feel of it.
Hagrid's Hut garden
The Cottage has its own little garden with picnic table overlooking the countryside with chickens and peacocks roaming which would be lovely in the warmer weather.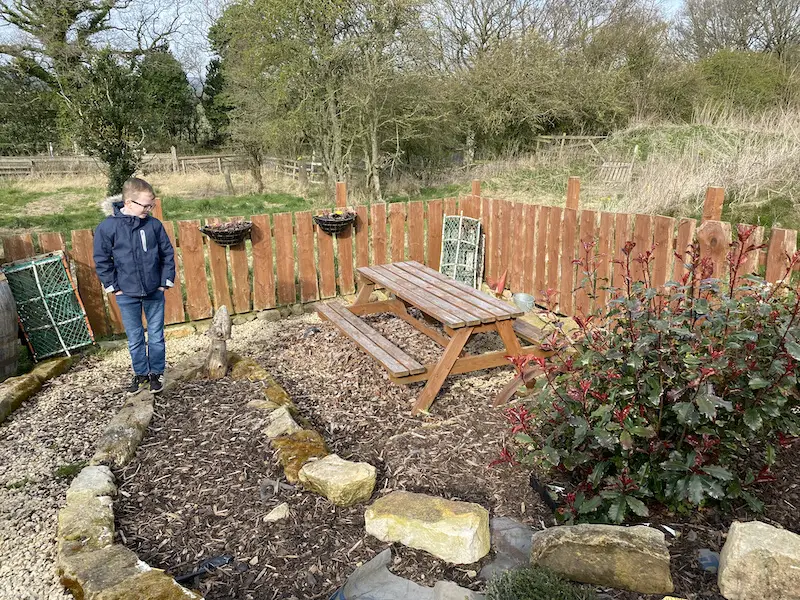 Hagrid's hut is warm and cosy
Before we came I had worried the cottage would be cold but it was really warm and cosy in actuality. They had lots of heaters and extra blankets in there too incase you were cold.
Hagrid's hut decor
When we arrived there were cool multicoloured lights lighting up a ceiling display of items hanging from the ceiling like Hagrid has. There were also various wall lights and lamps casting a cosy glow around the cabin.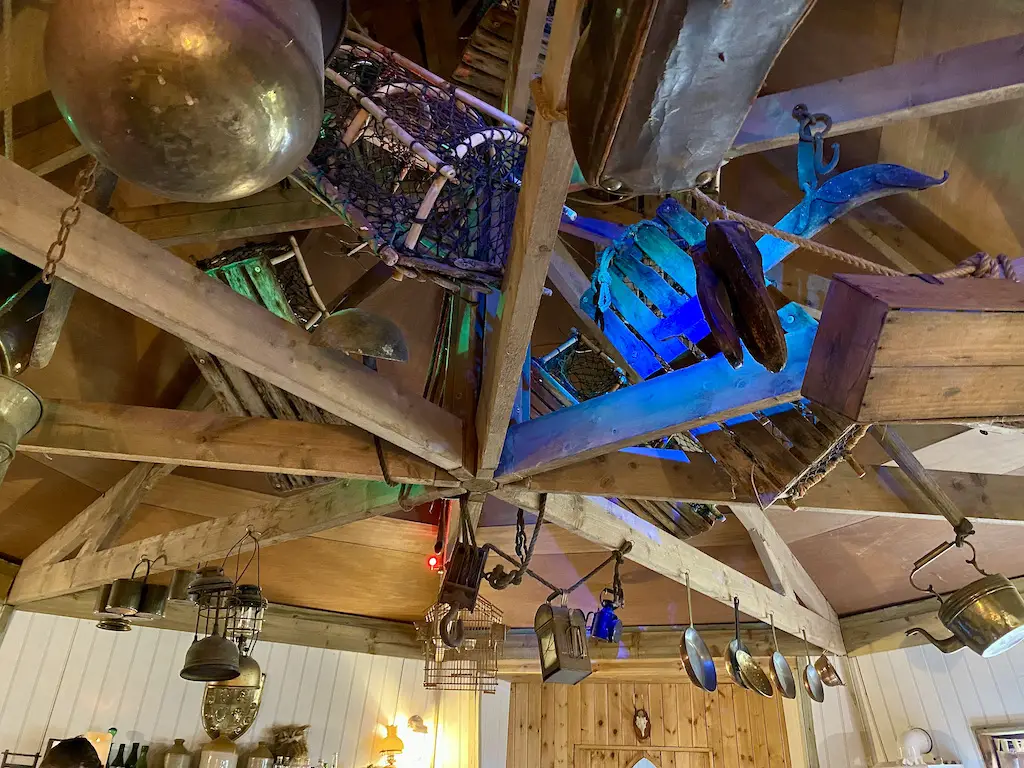 Hagrid's hut rooms
There are only 3 rooms in the cottage. The main living area and kitchen, the bathroom and the bedroom.
The living area had two mismatched sofas in front of a fireplace (not real but cosy nonetheless), a small flatscreen TV (reception was terrible but they had all the Harry potter DVDs which is what I imagine most people will watch and indeed what we watched). There is a dining table and kitchen, a trunk with blankets and a side board with Harry Potter themed guest books and quills and novelty items.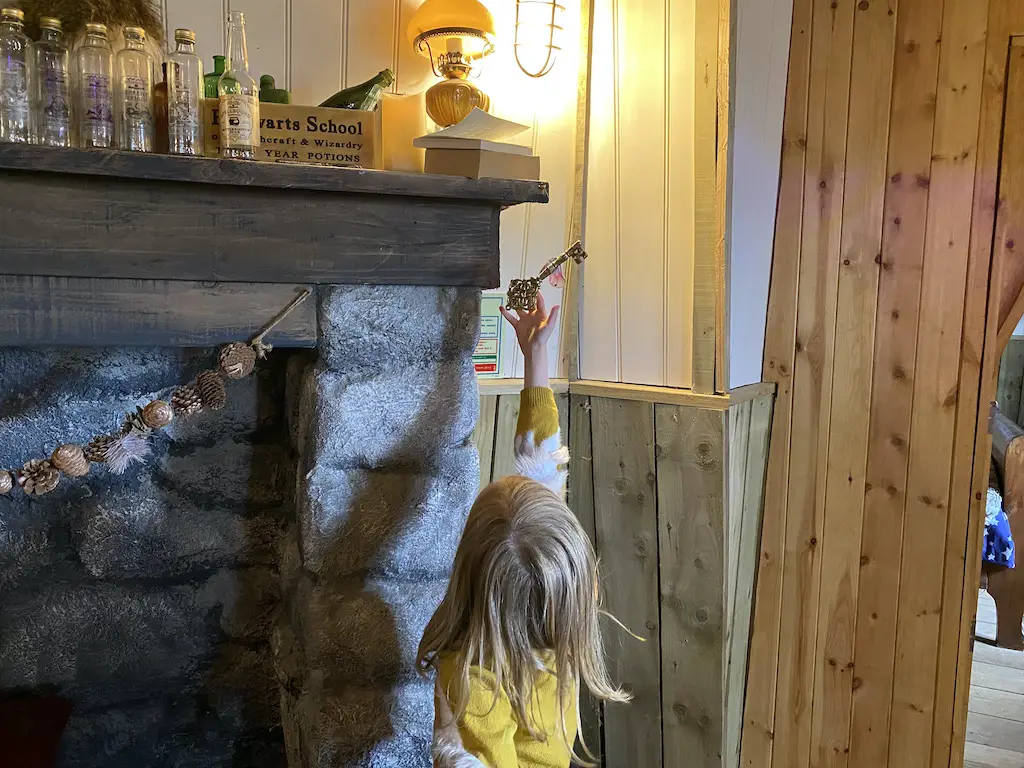 The bedroom had a double bed and a rustic wooden bunk bed. It also had a chest of drawer and some authentic looking trunks with a cage and stuffed owl inside.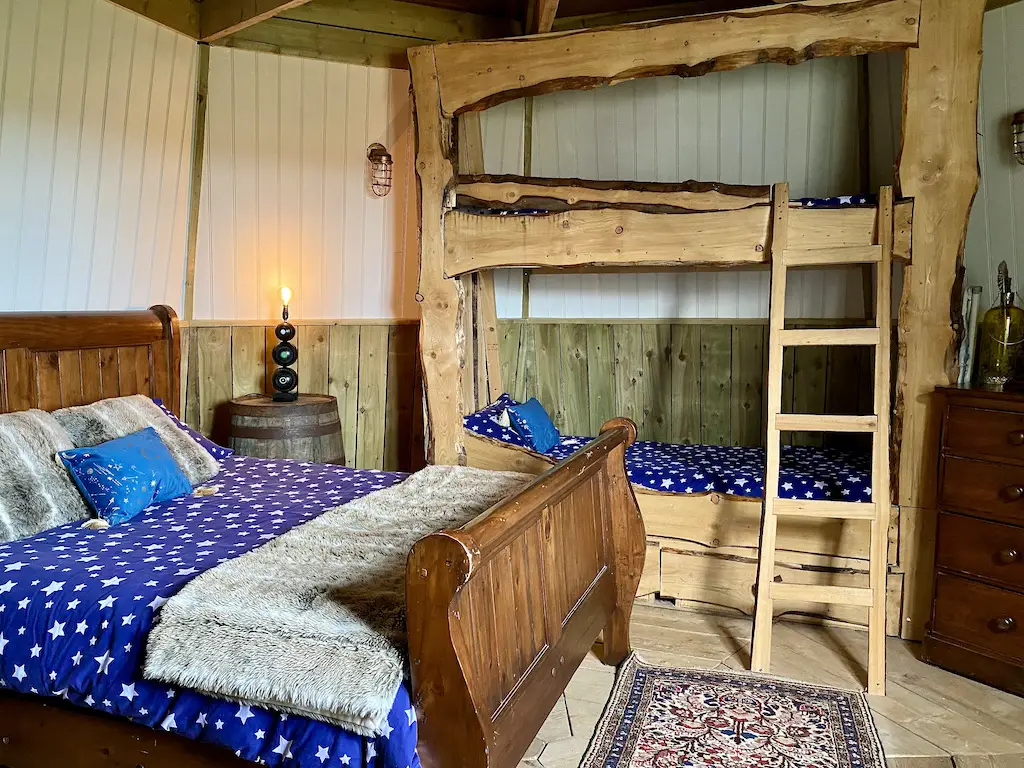 The whole cottage was fun to explore as you kept finding cool little nick-nacks and nods to the stories, like encased scorpions on the fireplace mantel place.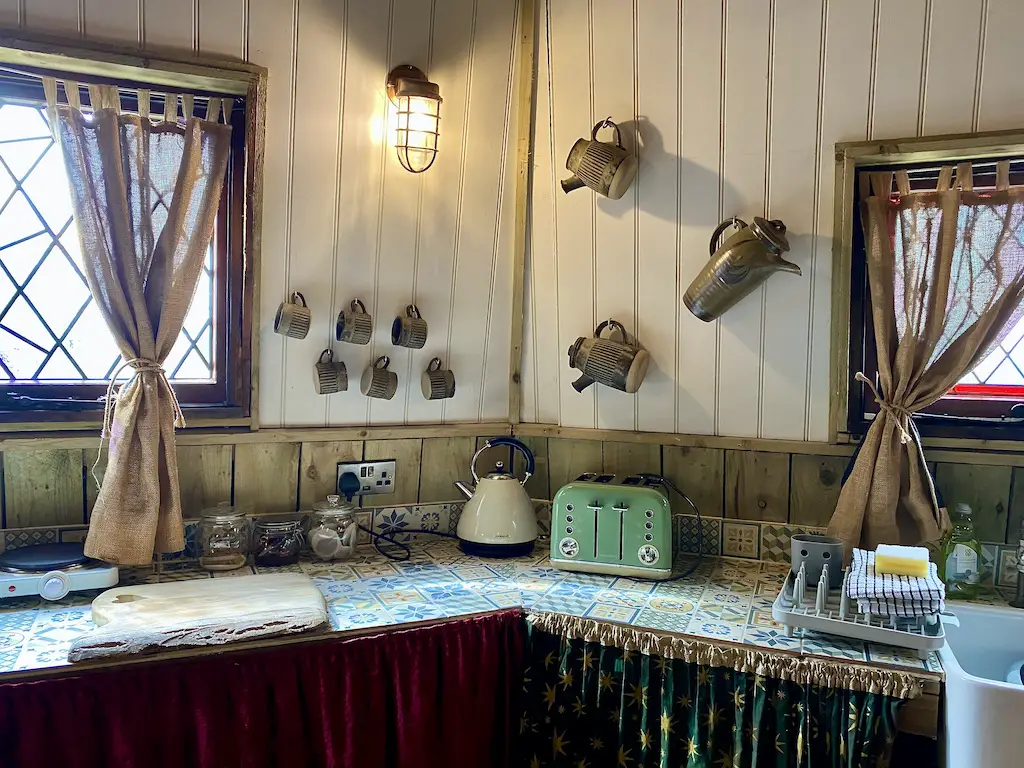 The bathroom was decorated in a glossy style with its tiles a nod to the green tiles used at the Ministry of Magic and a large brass bath and sink. Stained glass windows throughout the cottage add to a cosy hue.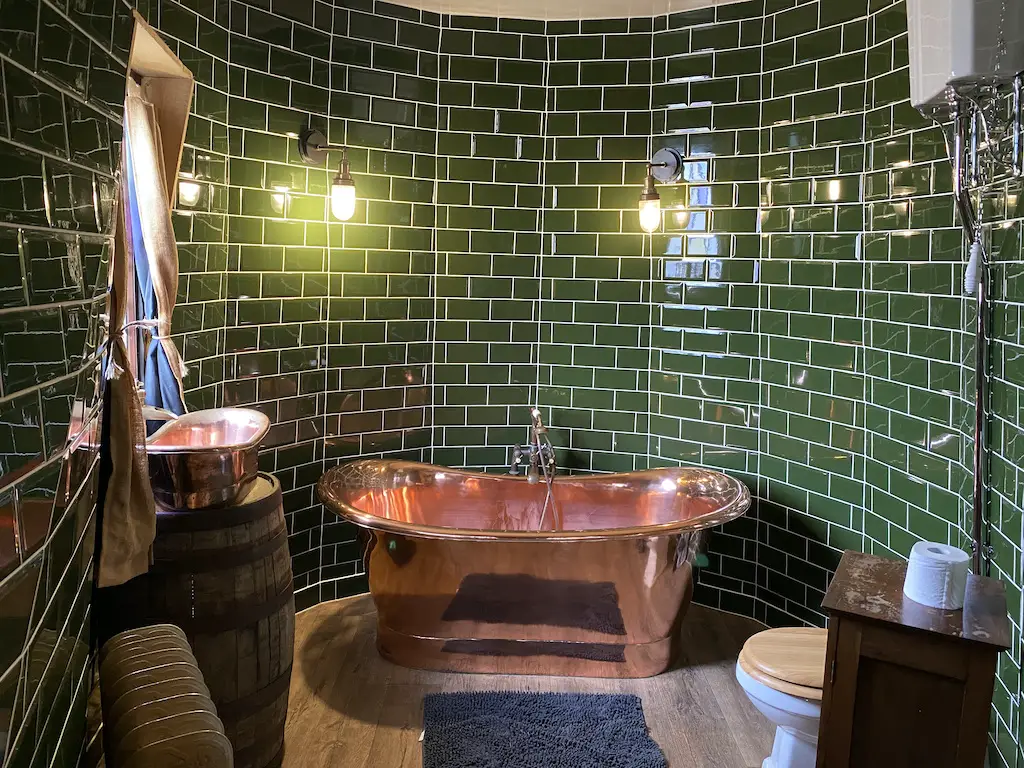 It definitely had the wow factor and we enjoyed exploring the cottage and then snuggling up on the sofas as a family and having hot chocolates and treats whilst watching Goblet of Fire.
Hagrid's hut – nearby takeaway
Then we ordered a takeaway from one of the takeaways mentioned in the welcome file left on the table – Salernos Pizzeria in Loftus. Salernos was on Just Eat so ordering from them was a doddle. Papa Ginge thought they wouldn't know where it was if we said Hagrid's Hut but I bet him that they would and of course they did!
We ordered a large cheese and tomato pizza, a kids parmo (because we were in Teeside so it felt like we ought to order their dish) and some wedges and dip. They also gave us a free garlic bread. It came to £18.40. To be honest it was way too much food for 4. We took a lot of it home with us. It was adequate but it didn't blow any of us away. Standard greasy local takeaway fayre.
After dinner we attempted to play one of the board games provided in the trunk but it proved too complicated so we gave up and played our own Harry Potter Dobble which we brought with us which is always a winner.
What is there to do nearby North Shire Hagrid's Hut
North Shire is in a really great location right on the North East/Yorkshire coast.
Staithes
On our first day we visited Staithes, a fishing village a 12 minute drive (7.7 miles) from North Shire. We went to the Cod and Lobster for tea and ate seafood on the tables outside overlooking the small beach and harbour.
We weren't hugely impressed by the food or service but the view was spectacular. There were also a number of shops that we visited and art galleries. Betsy and Bo had a great range of artisinal food products. We picked up some sweets from their sweet shop. We also got some Staithes candy rock from a newsagent there – the kids had never even seen sandy rock before!
You can't park in Staithes village itself. You have to park at the top of the hill and then walk down (and back up) so that's worth bearing in mind if any of your party has mobility issues. There was a play park for kids at the top of the hill next to the car park that my kids enjoyed playing in.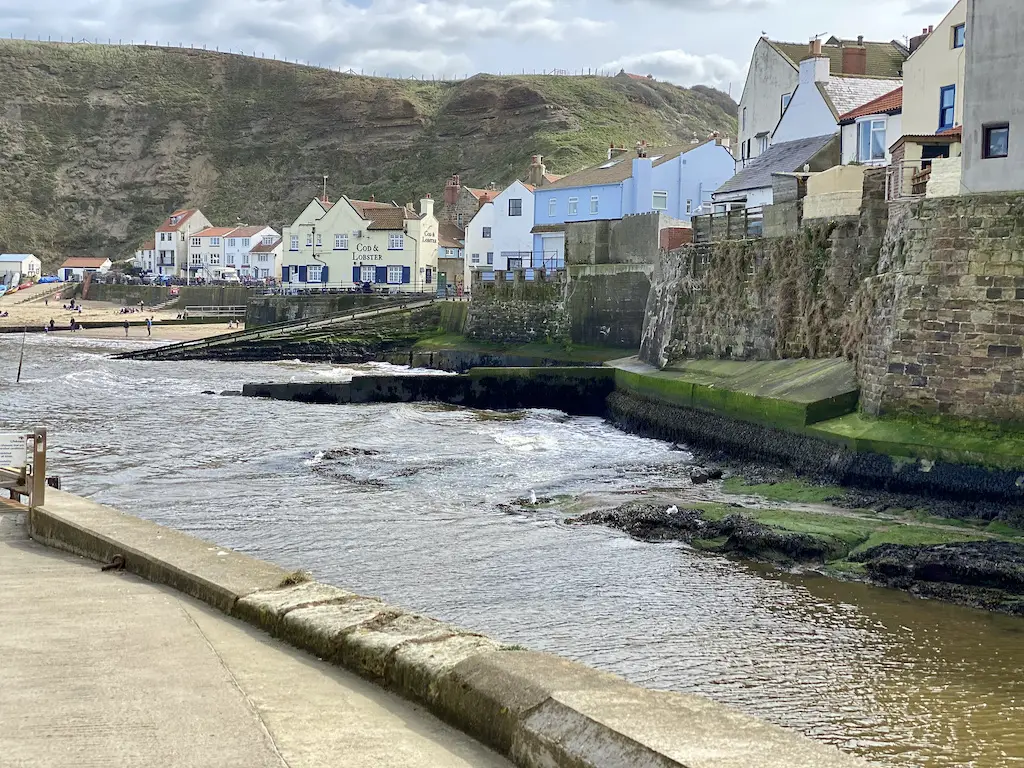 Saltburn
On the second day we ventured to Saltburn beach which is a 14 minute (8 miles) drive from North Shire. We had intended to eat at the Seaview Restaurant on the beach front but it was only serving a limited menu on the day we were visiting that was mostly fish and chips. As we had fish and chips the day before we didn't fancy that again. We tried Vista Mar instead but it has been closed down.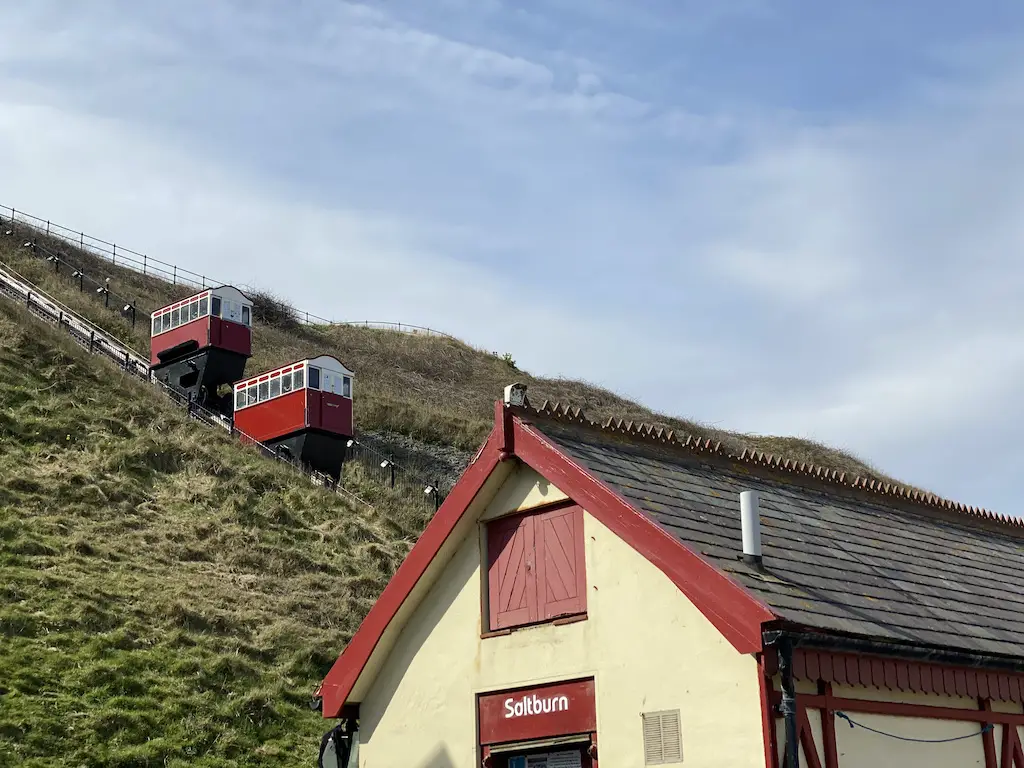 Third time lucky we tried the Ship Inn. Our expectations were't high but it turned out to be the best food of the trip. I got a cottage pie, Papa Ginge got a steak and ale pie, the kids got sausage/chicken nuggets beans and chips. All the food was freshly home cooked, excellent chips. We had a tankards of beer each (not the kids obviously) and watched the sea from the window and it was a lovely meal.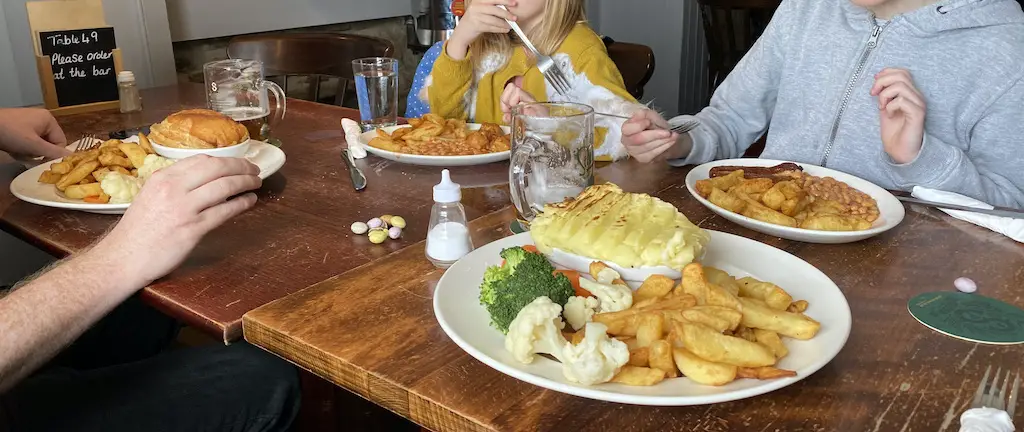 The kids also had a play on the pebble beach collecting stones. There is a long pier you can walk down and amusements.
Other local recommendations near North Shire
I asked my followers where else they would recommend in the local area and this is what they said:
Whitby – seaside town 14 miles away (19 minute drive from North Shire)
Runswick Bay
Valley Gardens at Saltburn
Guisborough Woods
Signals for hot chocolate
Falling Foss – 30ft waterfall 6 miles south of Whitby, also has tea rooms
North Wood Fairy trail near York
What could be better about Hagrid's Hut?
We did feel some parts of the hut were a little shabby – though they get away with it because it's Hagrid's Hut so you expect it. There was an inkwell that had an old fashioned quill type pen in it but the ink had long since dried up which was a shame. The kettle left a skim on the top of the cups of tea. Nothing that was a huge deal.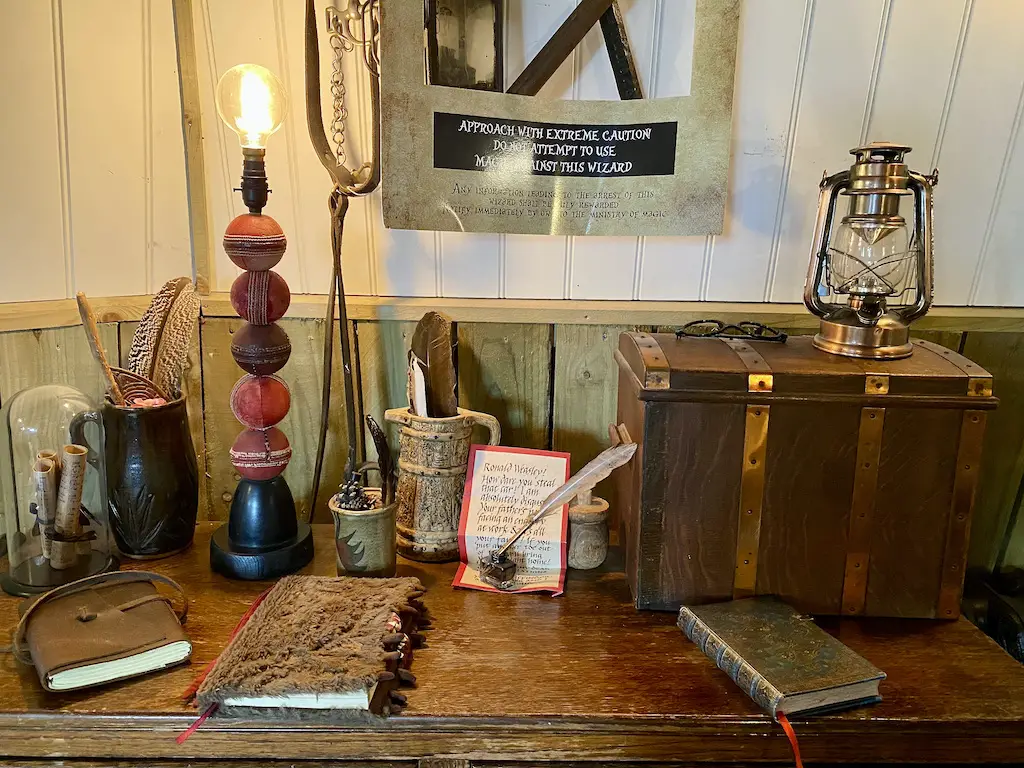 For accommodation of £275 per night I would have expected some small welcome basket. I think this is something they used to do based on trip advisor reviews but seemed to stop during covid however we have stayed at plenty of other places that have still provided welcome baskets during covid and I think it makes a stay more special.
You also had to take your own towels which is annoying when you pay so much. Expect to strip the bedding and empty the bins on your way out too.
What did Hagrid's Hut excel at?
The staff we saw on site, in particular a lady with blonde hair who was cleaning the accommodations (whose name I sadly didn't get) was so friendly and helpful.
She gave my daughter bird seed to feed the chickens. She offered to show us around the Dorm Room accommodation after the previous occupants had checked out and she was cleaning it. It was a real treat getting to see it. My son has already told us he 'wants to stay at that one next time'. The Dorm Room would be perfect for girl's nights and hen parties!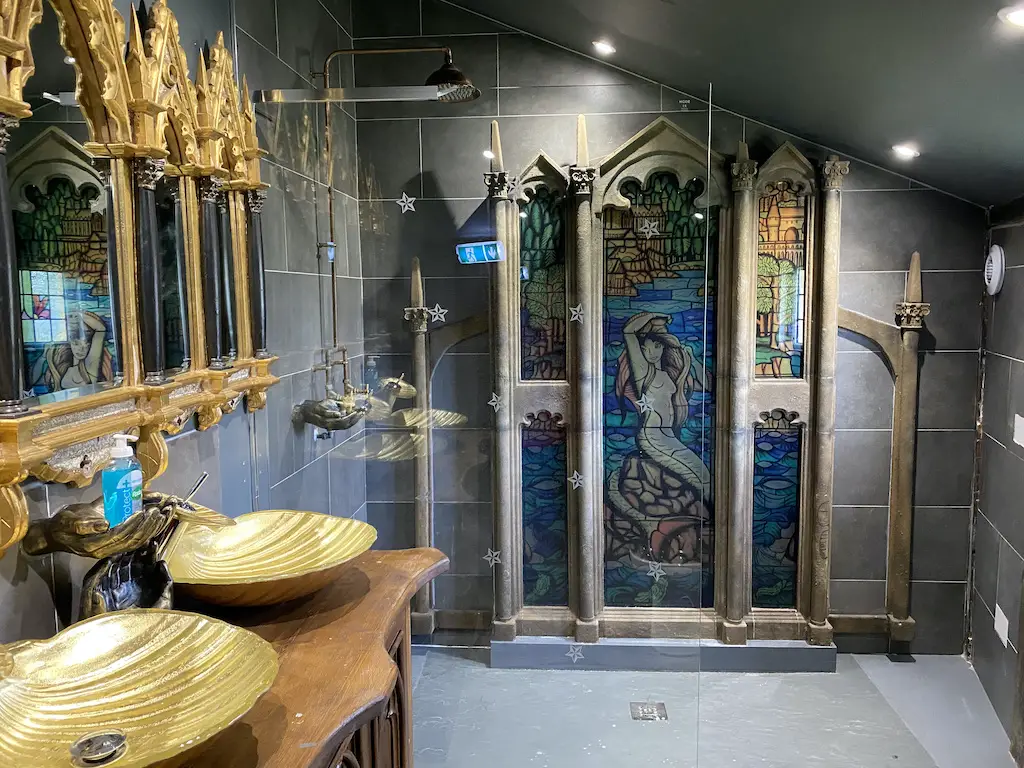 The site really does seem magical and feels special. We'll remember the trip fondly I'm sure.
Summary – would we recommend Hagrid's Hut
If you love Harry Potter or Lord of the Rings then staying in one of these themed cottages is magical and would be a wonderful way to celebrate a special occasion. The cost is high so keep an eye out for one night cancellation deals on their social media pages.
Personally we would rather do one night and get to try each of the accommodations rather than stay several nights in one. As it's a novelty thing, once the novelty wears off its just expensive accommodation.
There is loads to do nearby though so if you do have a few nights then at least you won't feel as tied to the accommodation. We wanted to stay in the cottage as much as possible to get the most out of our stay. We would go back and try the dorm room and hobbit house for sure.
If you are fancying a trip to Edinurgh then my friend Karen over at Mini Travellers has a post about 10 Harry Potter Edinburgh Attractions.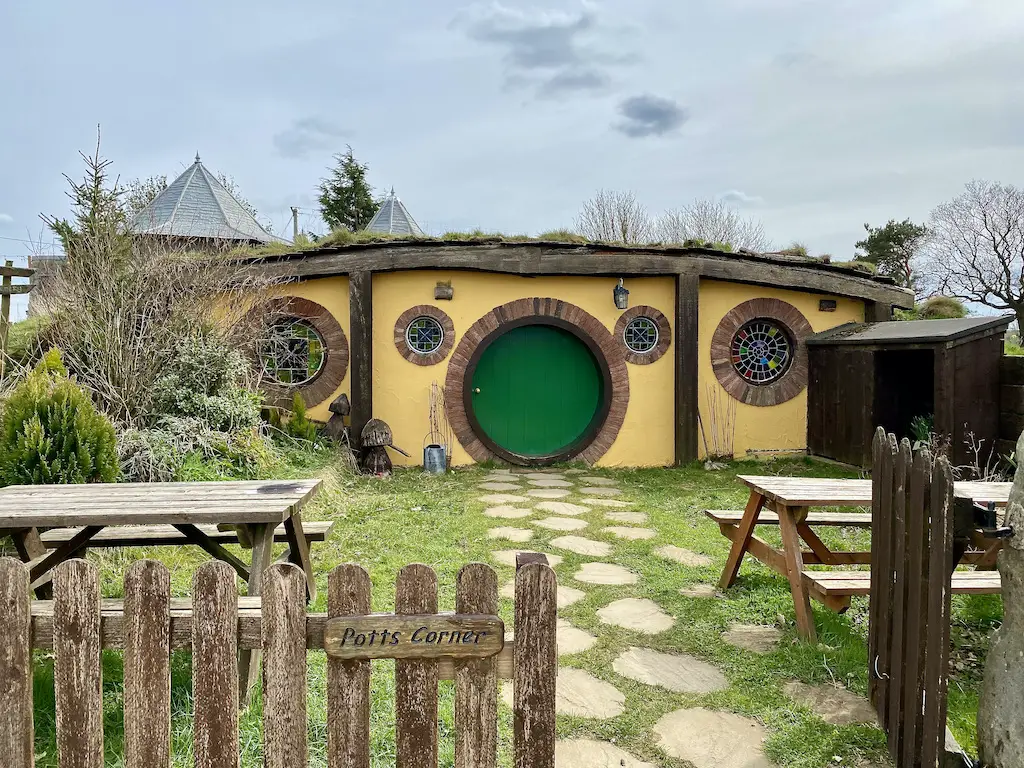 Our YouTube video of our stay at Hagrid's Hut
If you liked this post you might also like:
If you have enjoyed this post or found it useful, here are some quick and easy ways that you can support Nomipalony or say thanks:
Share this post with your friends  
Pop over to my Amazon Storefront to see what products I have been buying and loving from there recently, including my health and fitness products list.
Sign up to my mailing list 
Women can join my feminist Facebook group – the Nomipalony Freehouse