Our current house is the first house we bought. When we moved in, as is often the case, friends and family gave us some second hand items to help us get started. One of the items my cousin gave us was his old bed complete with double mattress. We put this in our spare bedroom as when we bought the house, 9 years ago, we didn't have children yet and had an active social life with friends visiting from far and wide and staying over. Then once we had children we quickly realised we were a bed-sharing family. Once my eldest became older, we decided to make the spare double bed his bed instead of purchasing a new single. Now, at age 6 he's only just getting to the point where he's ok with not sleeping with us all night. We figured it would be easier to let him have the big double so we could get in with him if we needed to, rather than do the whole squeezing in a single or sleeping on the floor.
We had been meaning to get a new mattress for YEARS but having a potty training toddler in the bed, it didn't feel sensible to get a new mattress. So we waited until accidents were more rare and importantly, he knows if he is going to throw up when he gets sick! Just as our day was finally here, Leesa (affiliate link) contacted me and asked if we would review one of their mattresses. It was fate! We ordered their UK double mattress (affiliate link) and were all super excited for the it to arrive.
Amazing packaging
The thing that shocked me most about the Leesa mattress is that it came in long narrow box, all rolled up. You think that there is no way it will become a normal sized mattress but it does! In the past I've been stumped a few times trying to get a regular mattress up my winding staircase but this was no bother. It was a total game changer.
I wanted to take a photo of this for you but when I asked Papa Ginge to simply carry it upstairs for me (it was a bit too heavy for me). He got ahead of himself, opened it and put it straight on the bed. Talk about an eager beaver!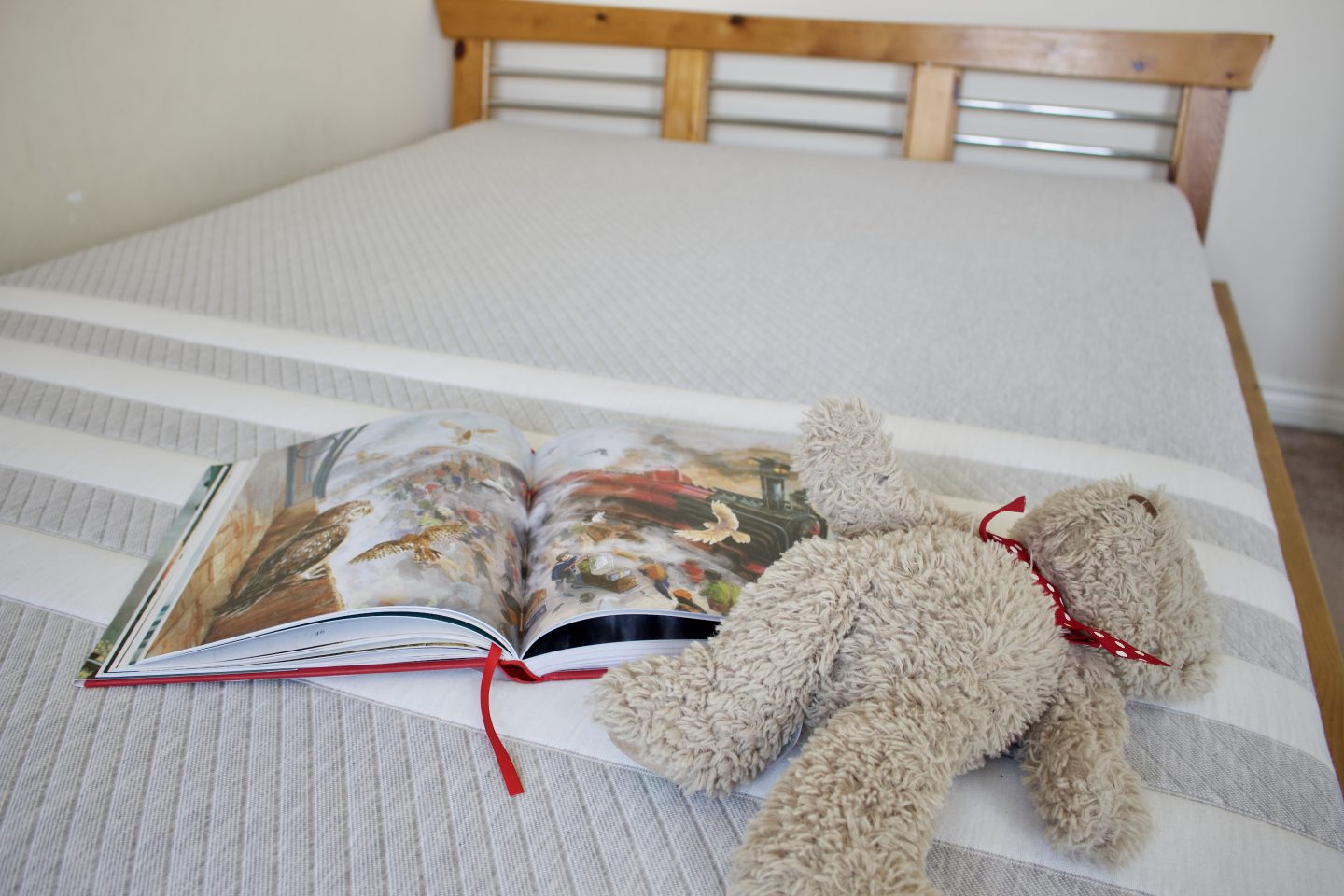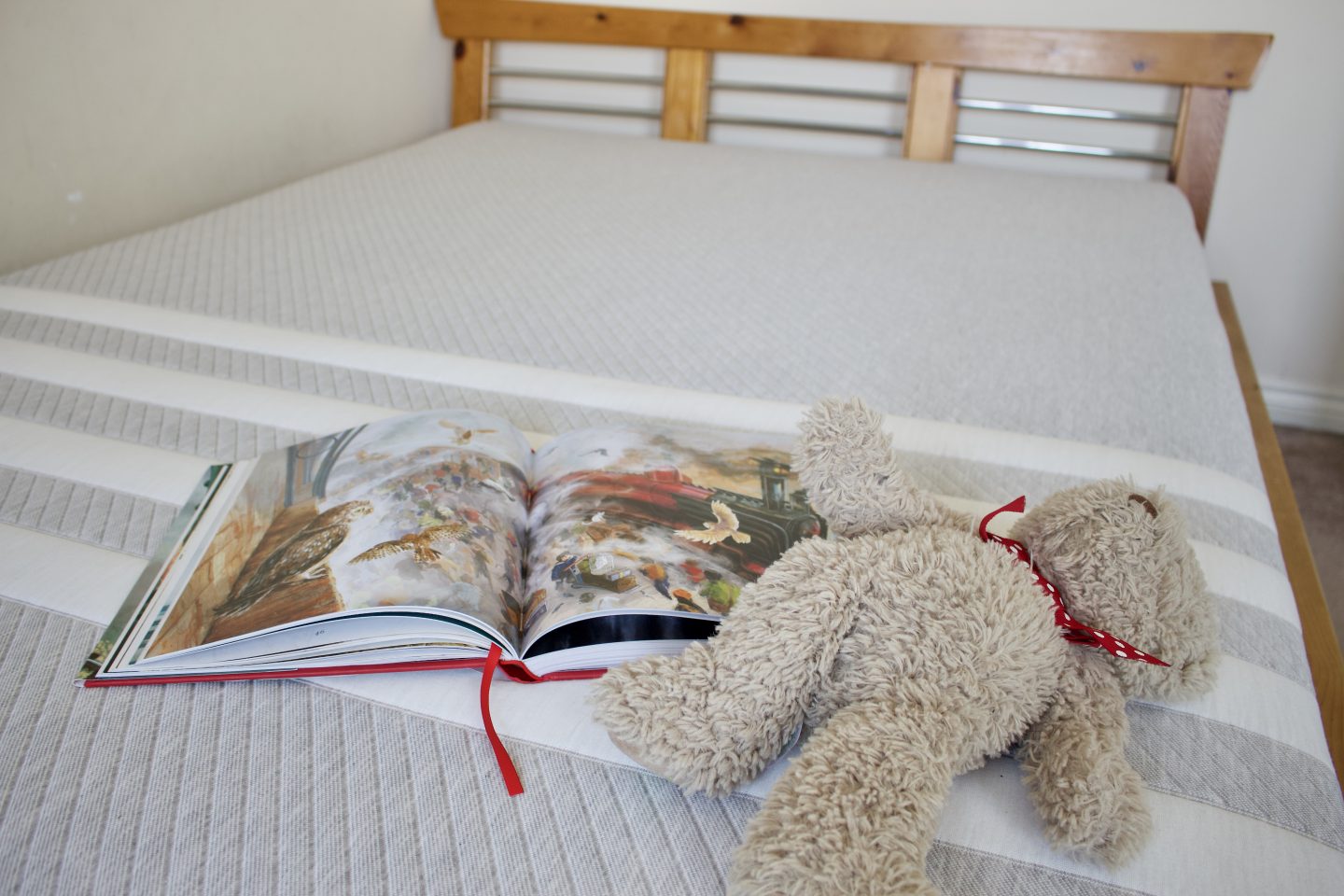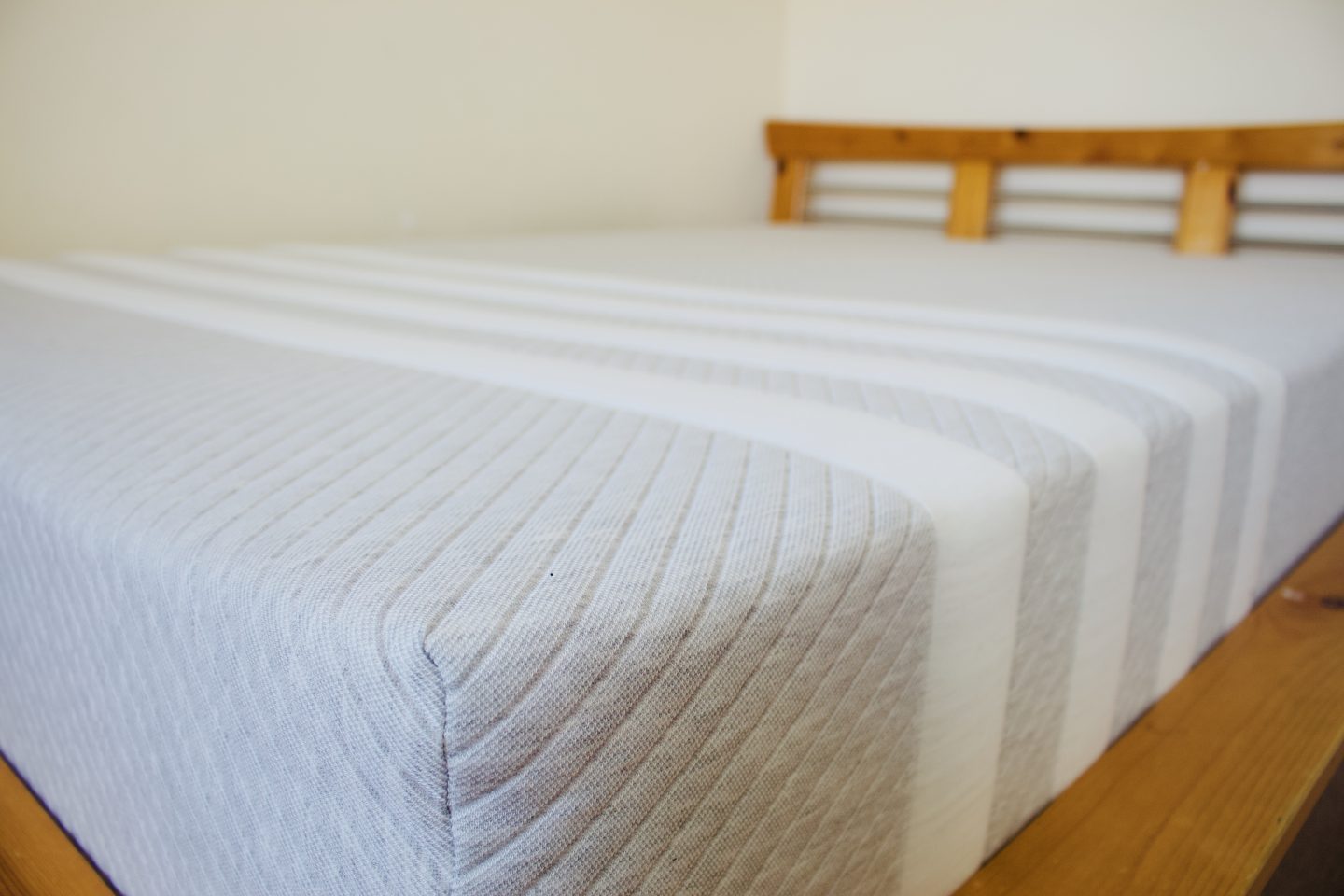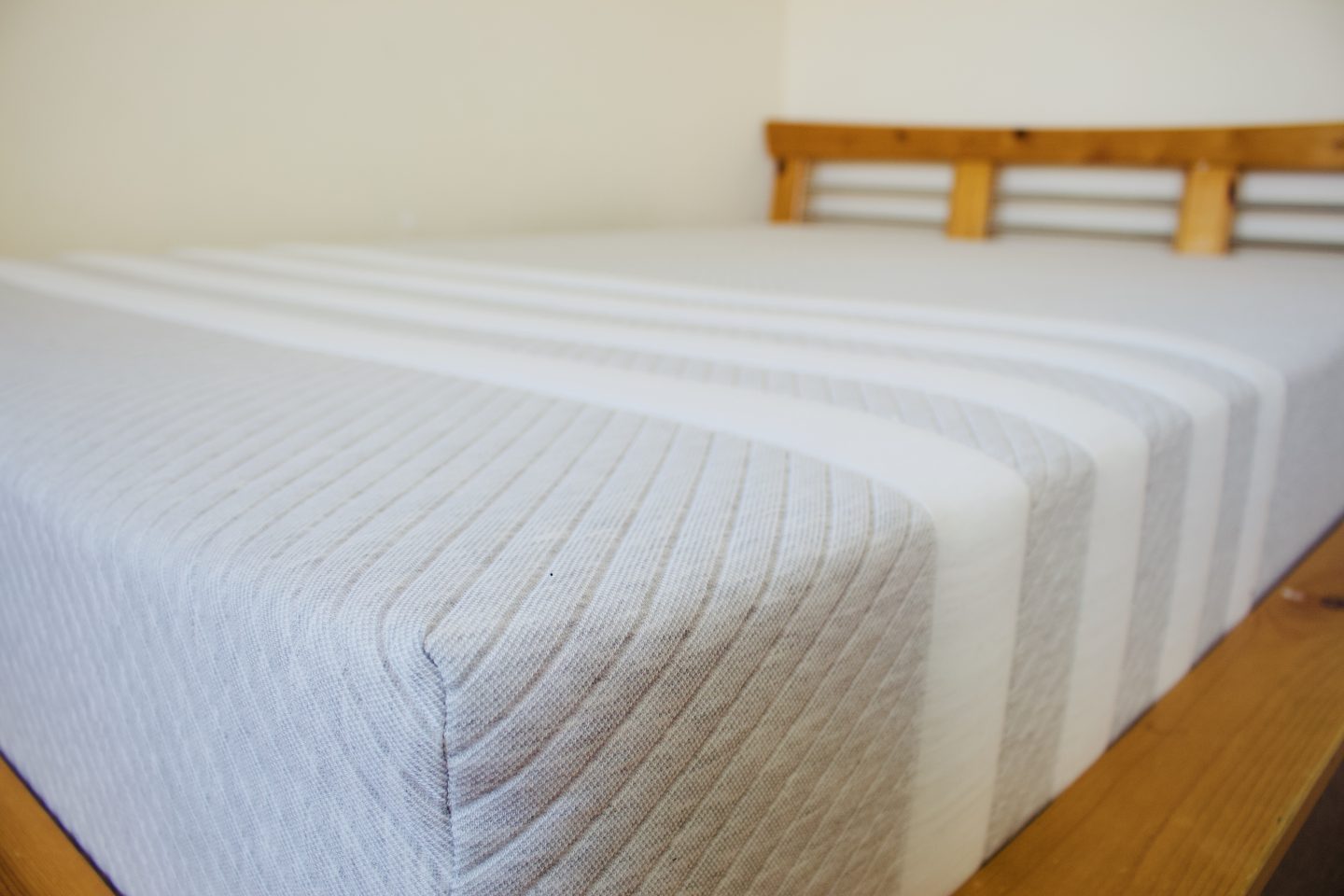 Design
I love the design of the mattress. No boring plain cream mattress here. It almost feels a shame to put sheets on this. I love the grey with the unique four white stripes. It's such a soft fabric to touch as well. I think nicely designed mattresses are the future. I wouldn't want to get a boring plain one again now.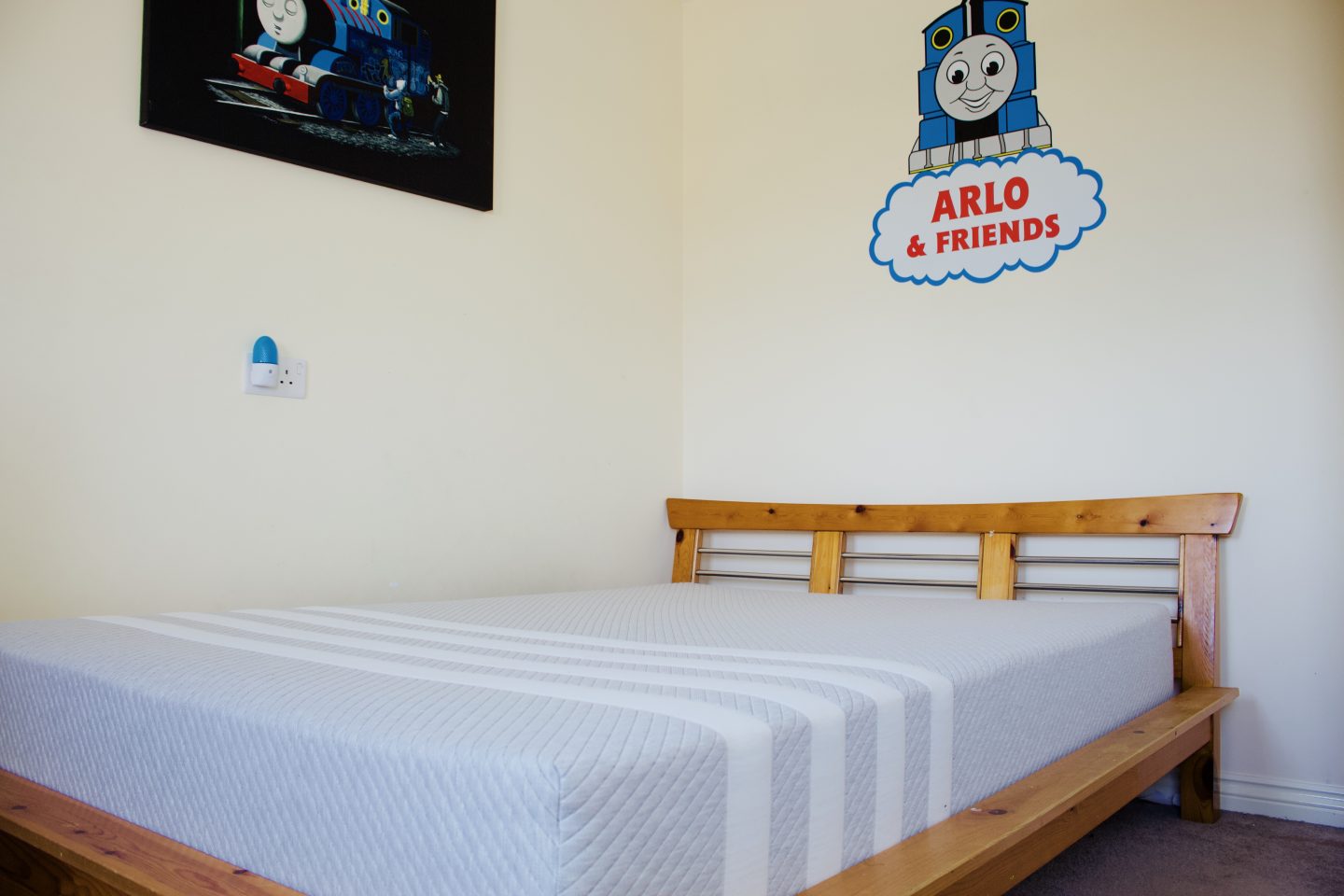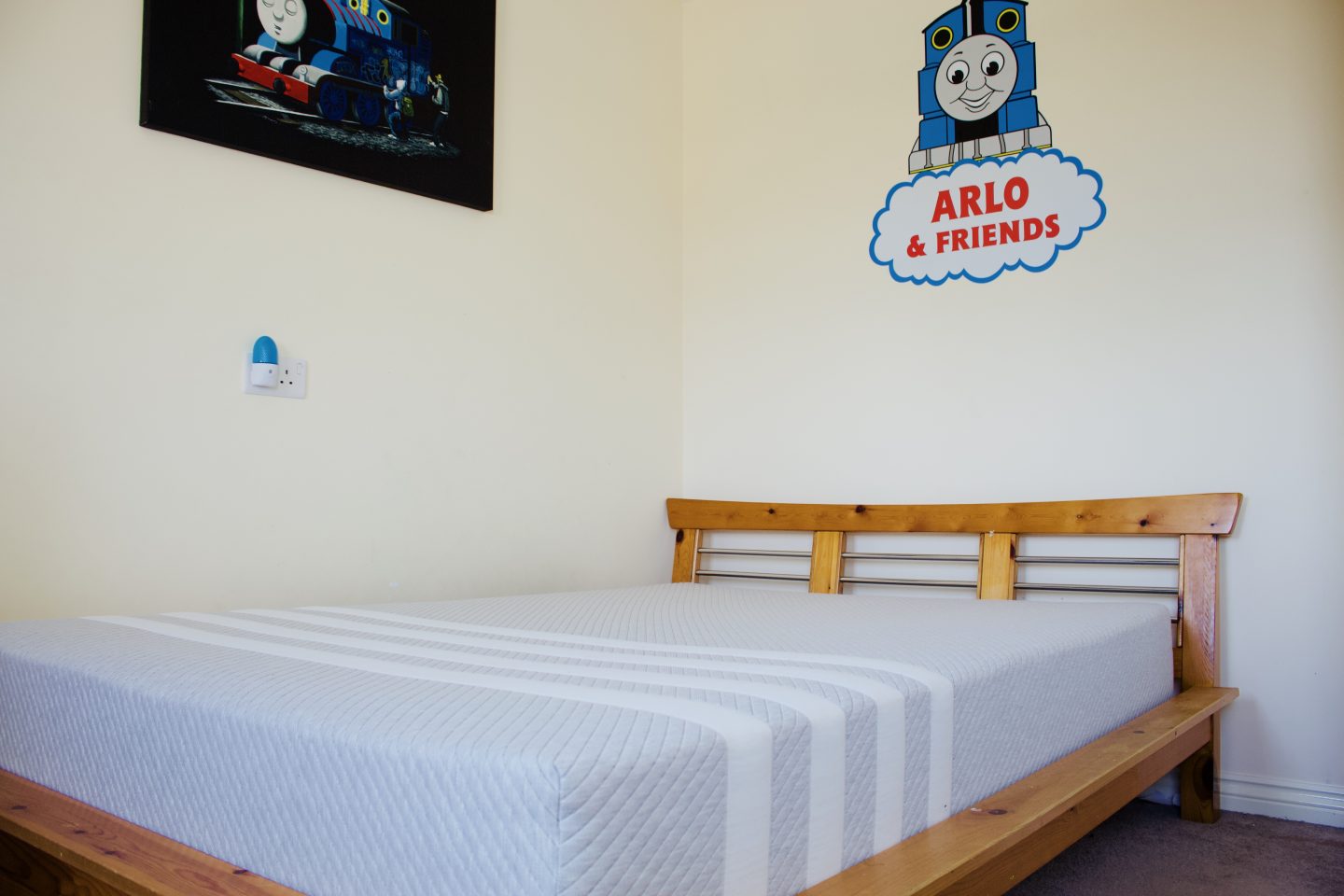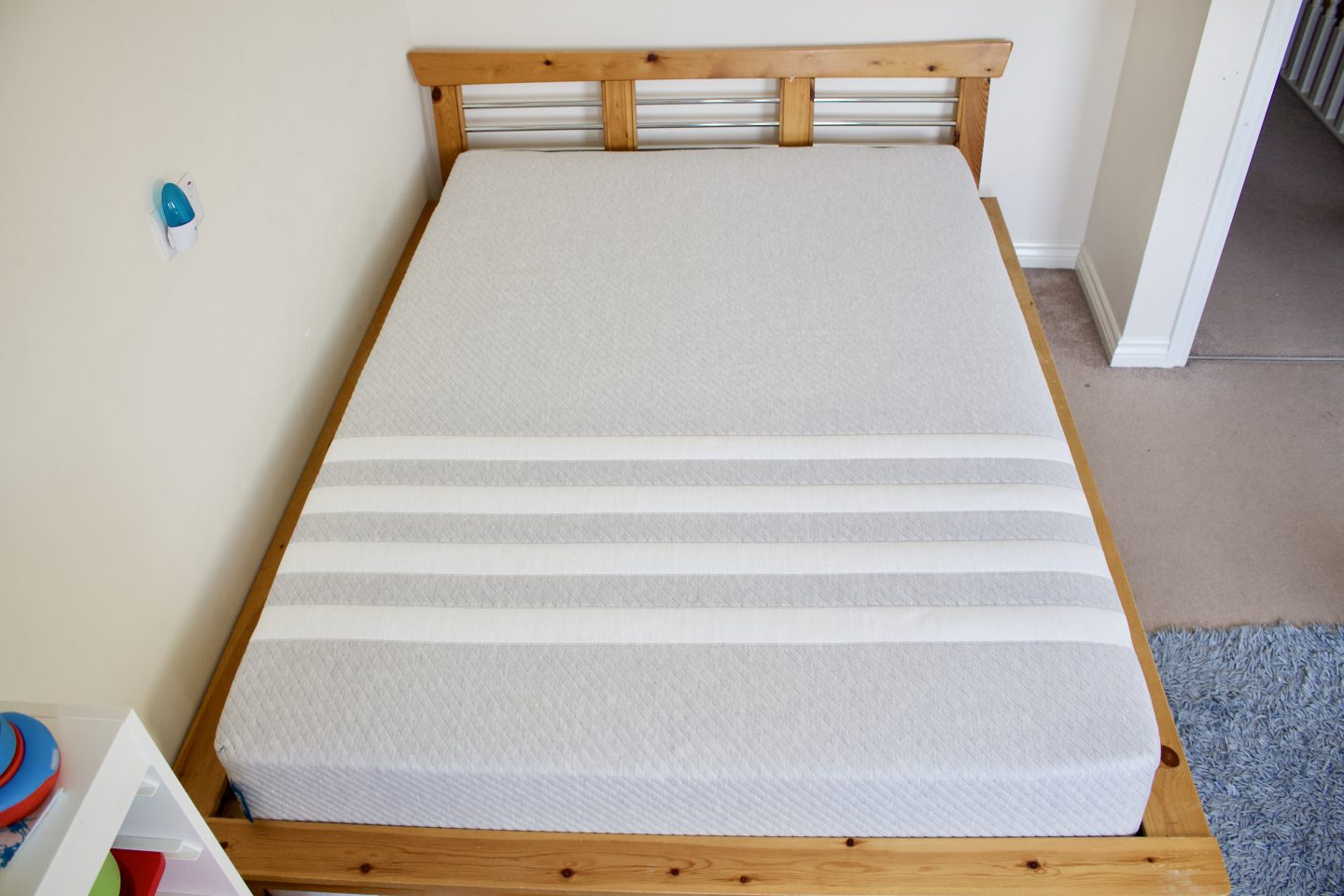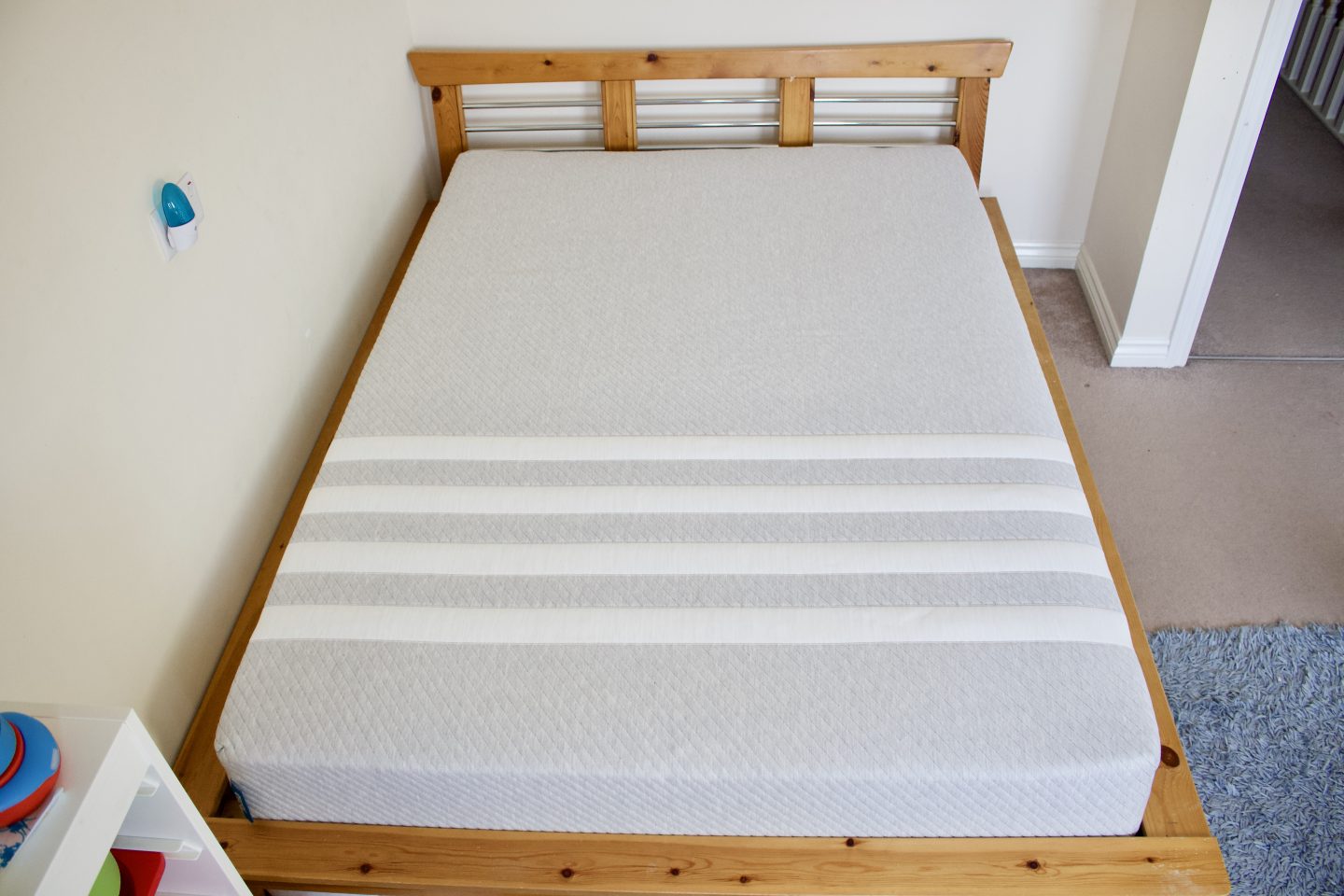 So comfortable
The mattress is an innovative design of three foam layers, that adjust to your body to offer optimum support and comfort, and get rid of the drawbacks of traditional memory foam mattresses such as overheating at night and leaving long-lasting dips that are difficult to roll out of.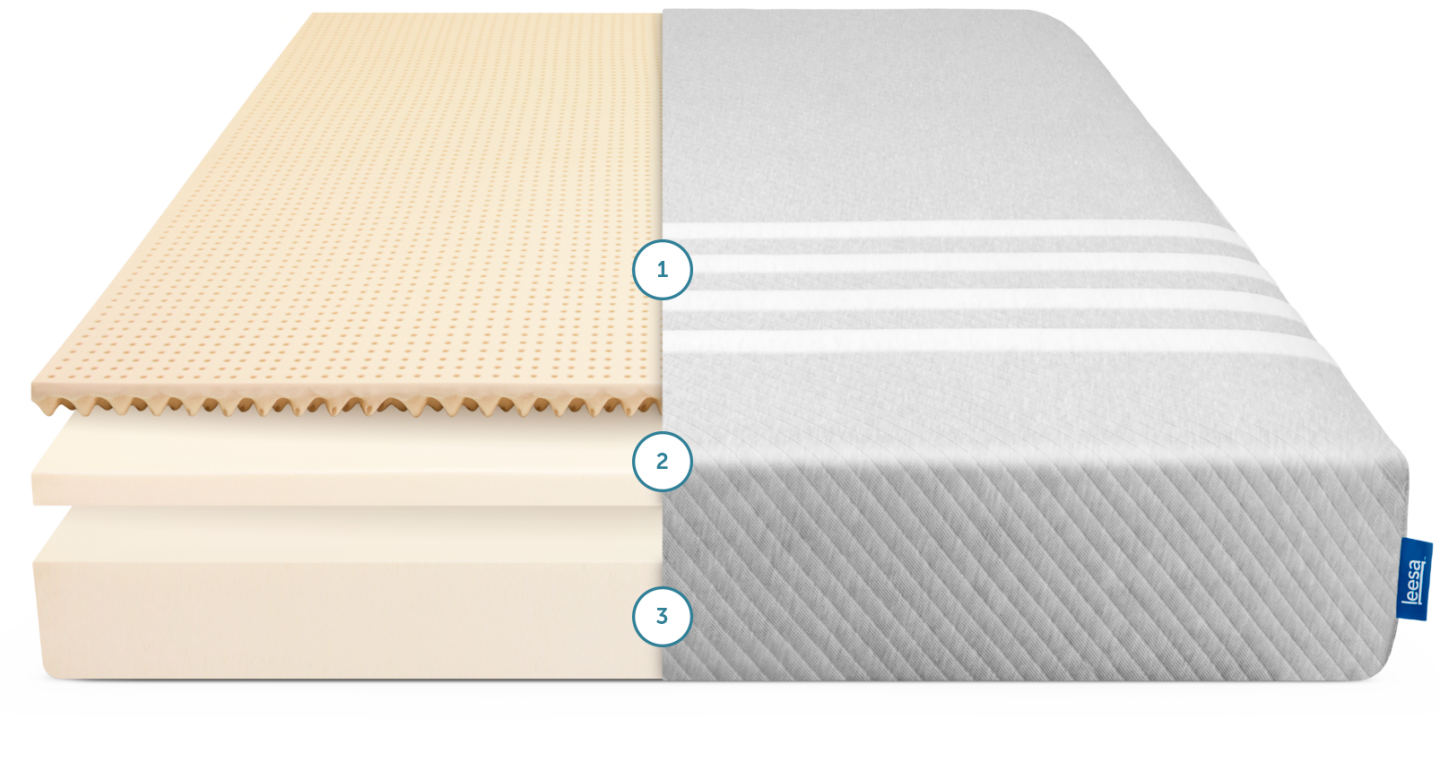 The top layer is 5cm Avena® foam. This provides airflow for a cooler night's sleep and enough bounce for freedom of movement. The second layer is 5cm memory foam to deliver the body contouring and pressure relief you've come to expect from memory foam. The final 15cm base foam layer adds strength, durability and structure to support sleepers of all sizes, without feeling too firm.
My parents had a full memory foam mattress that I got to try once and I hated it. I didn't like sinking in so far to it. This however is perfect. It seems to combine the best of both worlds, combining the structure with comfort.
The Leesa mattress is a completely redesigned mattress offering a 'Universal Adaptive Feel™' that adapts to all body shapes and sizes and all sleeping styles. This is particularly useful for couples as each side adapts differently to each partner. I can confirm that both my 6 year old son and my 6ft partner have both loved the way this mattress feels to sleep on over the past month.
Papa Ginge was having real problems with his neck and back that was making him quite miserable before this arrived. He had seen a chiropractor but was getting no relief. Soon after using this mattress the issues were completely relieved. He's over the moon.
Now I'm jealous that I'm upstairs on our 'normal' mattress with my daughter while the boys have this in my son's bedroom. We are honestly thinking of purchasing the King Size for 'our' (I say our because poor Papa Ginge hasn't slept in it for years) bedroom. The only thing stopping me is that my current mattress is only about 2 years old. I am having problems with my hip though (apparently 34 is the age where your body starts to fall apart in our house) and I do really think the Leesa mattress would help me, seeing how it has with Papa Ginge.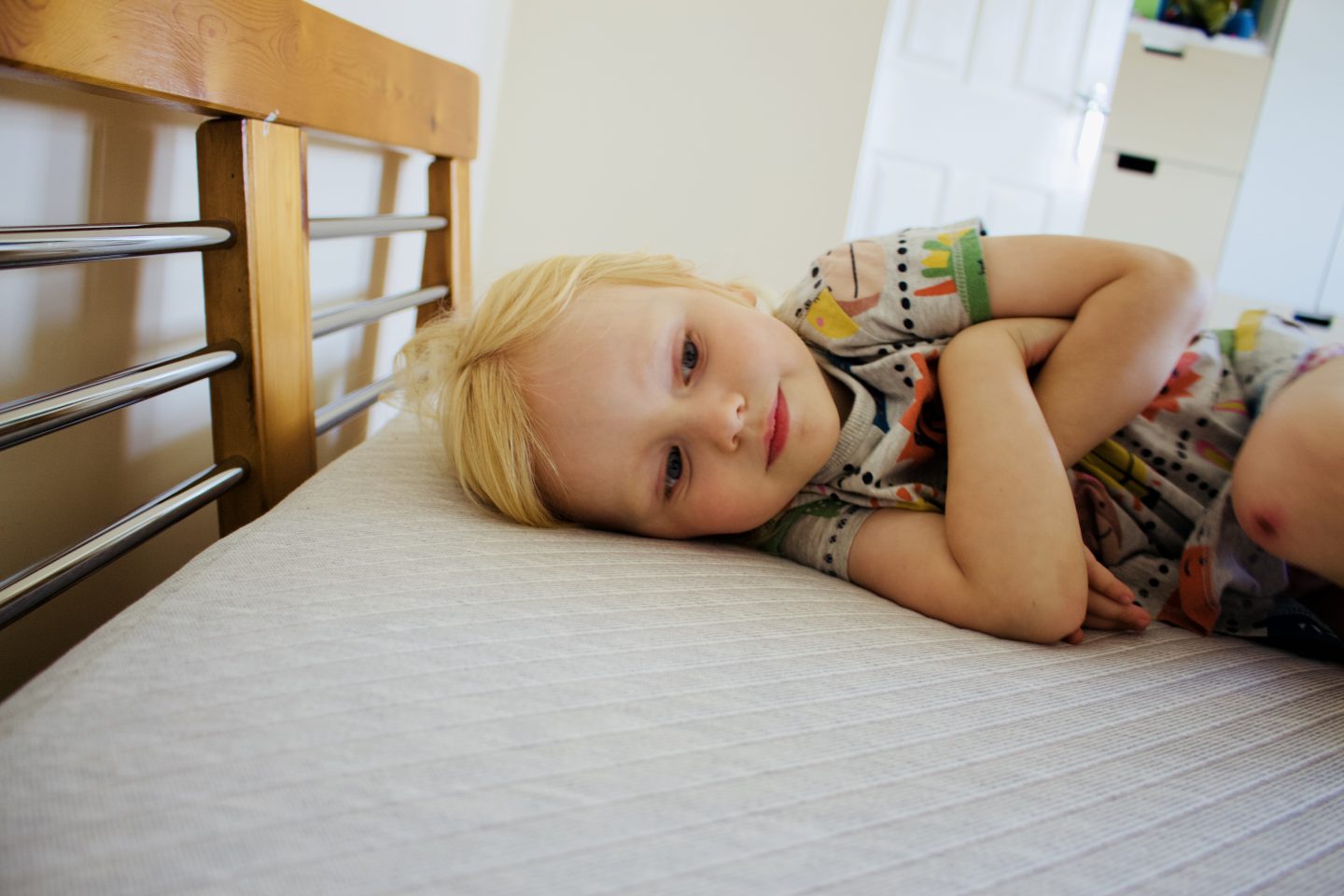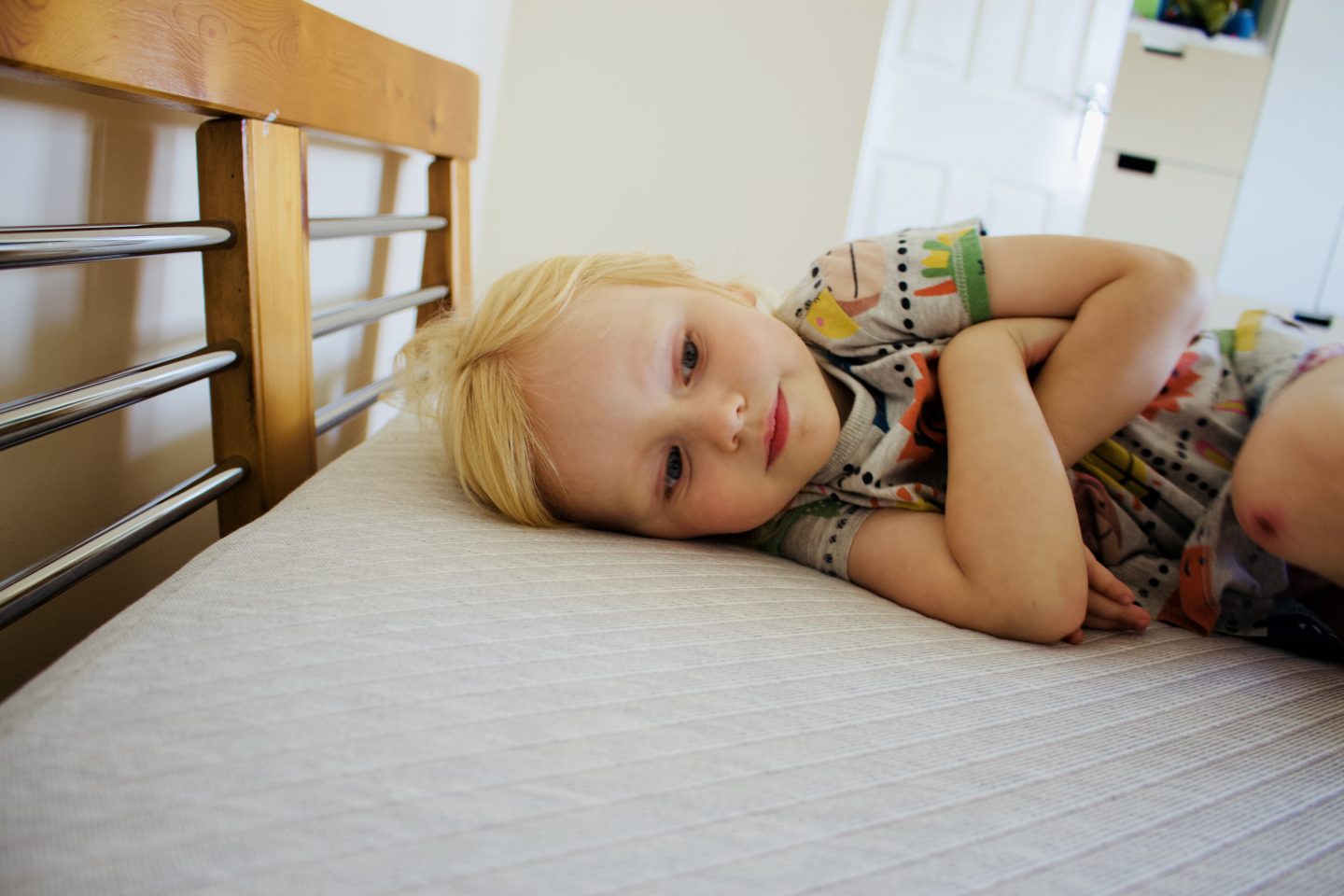 100 night risk free trial and charitable giving
Leesa operate exclusively online and because of this, they offer a 100-night risk-free trial period. This means that if it isn't working out for you at any point in the first 100 nights of receiving the mattress, all you have to do is get in touch with them and they arrange for the mattress to be collected and donated through a charitable organisation. You don't have to box the mattress back up and there are zero costs to you in returning it, your purchase is then refunded in full. Personally, I think this is better than trying a mattress in a physical shop and then having it delivered. It's only when you sleep on a mattress for a while that you truly realise whether it is right for you. Leesa understand that and offer you this risk free solution accordingly.
Giving back is also built into the company's DNA, as they donate one mattress to charitable causes, for every ten sold. To date they have donated 30,000 mattresses. They also plant a tree for every purchase and have donated 2,000 hours in volunteering time in the local community. I think that makes them a company worth shopping with and it totally removes the risk of buying a mattress online that you haven't been able to try out.
Technical
The Leesa mattress comes with a 10 year limited warranty. It is manufactured in the UK using BS 9001 quality standard. All foams used in the mattress are certified as CFC free. The Leesa mattress has been thoroughly tested to meet BS 7177:2008, BS EN 597-1:1995 and BS EN597-2:1995 standards.
£100 discount code
Leesa are very kindly offering my followers a very generous £100 discount! Simply enter the code NOMIPALONY when checking out to get £100 off your Leesa mattress (affiliate link).
Summary
This is one of the products that I've been sent to review that goes onto my best buy list (along with these and this). I can't praise it enough and as I mentioned above, we will be buying a second one for our master bedroom. I'm so chuffed that I can bring this product to your attention and offer you the £100 discount code. I really hope it can help some of you out. As always, if you get one, do feed back to me in the comments.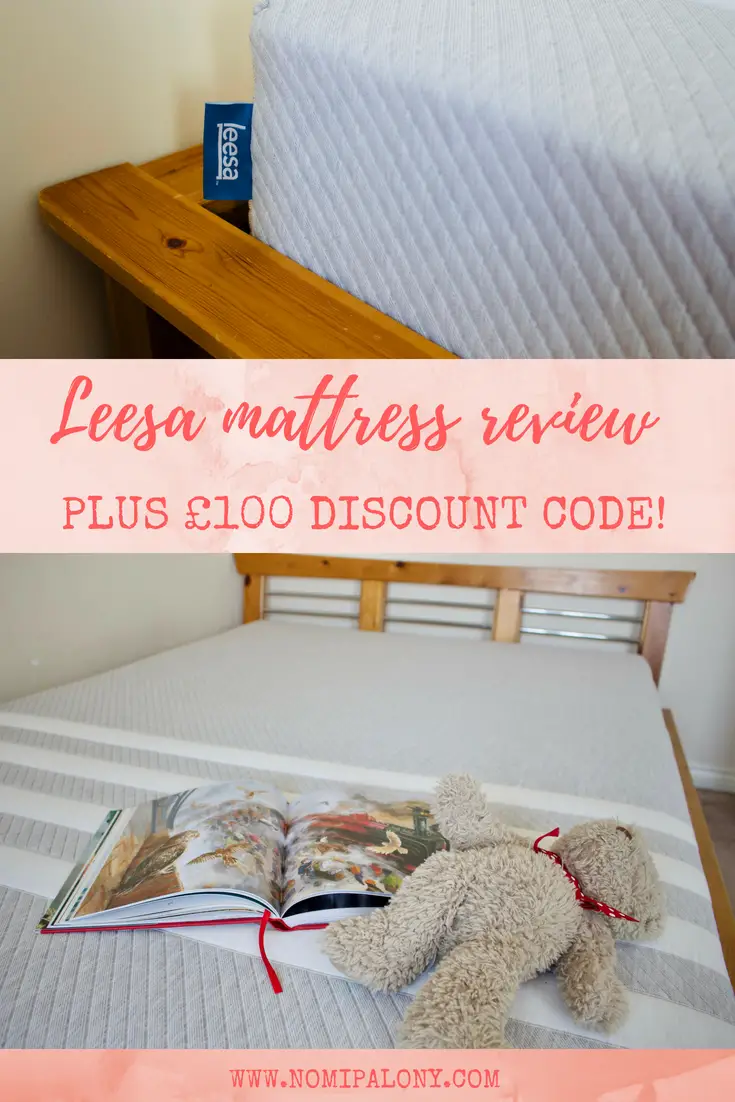 Disclaimer: This is a sponsored post. I had free reign to write whatever I wanted (good or bad) and if I didn't like the mattress I was under no obligation to keep it or review it. Leesa insisted that we try the mattress for a minimum of a month before writing the review to ensure that we tested it out thoroughly. They really are a company you can trust. This blog post contains clearly marked affiliate links. If you purchase a product through one of these links you won't pay anymore but I will receive a small fee for referring you. For more details on my disclosure policy, please see my about page.