Regular readers will know that our kids have been frequent wakers since birth and that I'm now thrilled that they are both pretty much sleeping through the night at 7 and 4. It's amazing. So amazing I wanted to celebrate with a brand new mattress. I had previously bought a Silentnight Miracoil mattress a few years ago I was finding it increasingly uncomfortable to sleep on. I'm a side sleeper and was having hip pain and the mattress was just far too firm for me. We live in a town-house with narrow winding stairs and two floors so I really like 'box mattresses' as they are so much easier to get to the top floor where I sleep. A quick google search to see what the best box mattresses are quickly brings you to Emma. My Emma Mattress review covers everything you need to know about the Emma Original Mattress. Updated to add – we've now been using the Emma mattress for 4 years so what follows is a comprehensive long term review. See the bottom of the post for my 4 year update.
Emma is the UK's No.1 Most Awarded Mattress
We are big fans of Which? and always check their reviews when making a large purchase. In the UK, Emma share the top position in the Which? mattresses comparison table 2019 but they aren't only endorsed by Which? they are also considered Best Mattress 2019 by T3, The Independent and i Newspaper as well as being endorsed by Ideal Home and Good Housekeeping for its extraordinary quality. Quite the set of accolades!
The lowdown on an Emma Mattress
The Emma Original Mattress (affiliate link) is made from 'next generation Airgocell foam'. It has an 'advanced 3-layer zone profile' to improve pressure distribution of the body so you can sleep well in any position. They combine different materials and structures to achieve optimal pressure distribution. The breathable Airgocell foam allows proper ventilation thanks to its open pores. In addition, a cover with climate control fibre provides for a fast moisture removal to ensure a completely pleasant sleeping environment (I bet that would be great for menopausal women or the early postpartum days).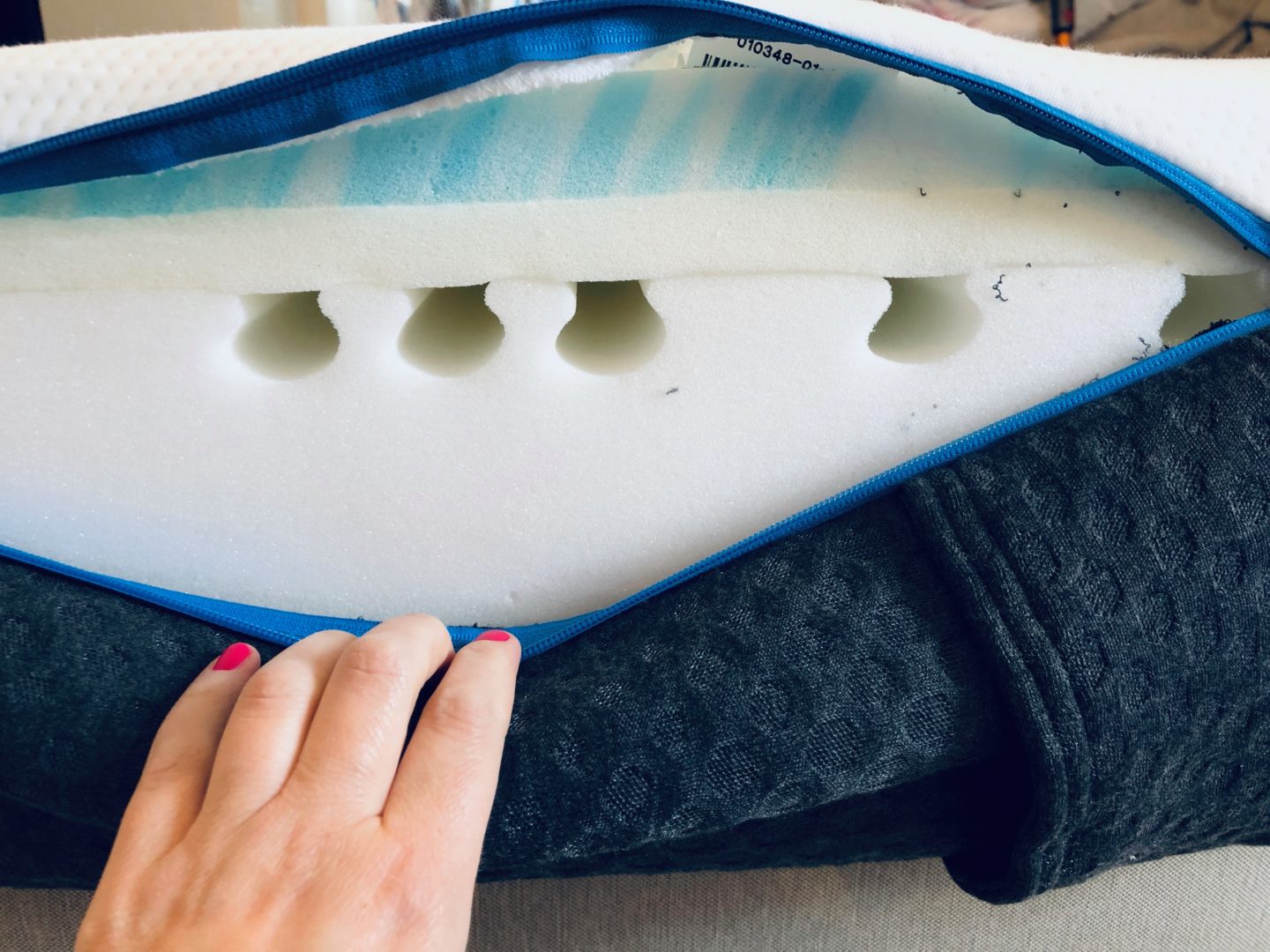 Unboxing the Emma mattress
When you open the Emma mattress (affiliate link) it is incredible how fast it springs out into a normal sized mattress. I did leave mine out to air for a few hours though as it had a slight chemical smell about it. I do have a very sensitive sense of smell though. It either went after a few days or I stopped smelling it. Either way, it's a none issue now.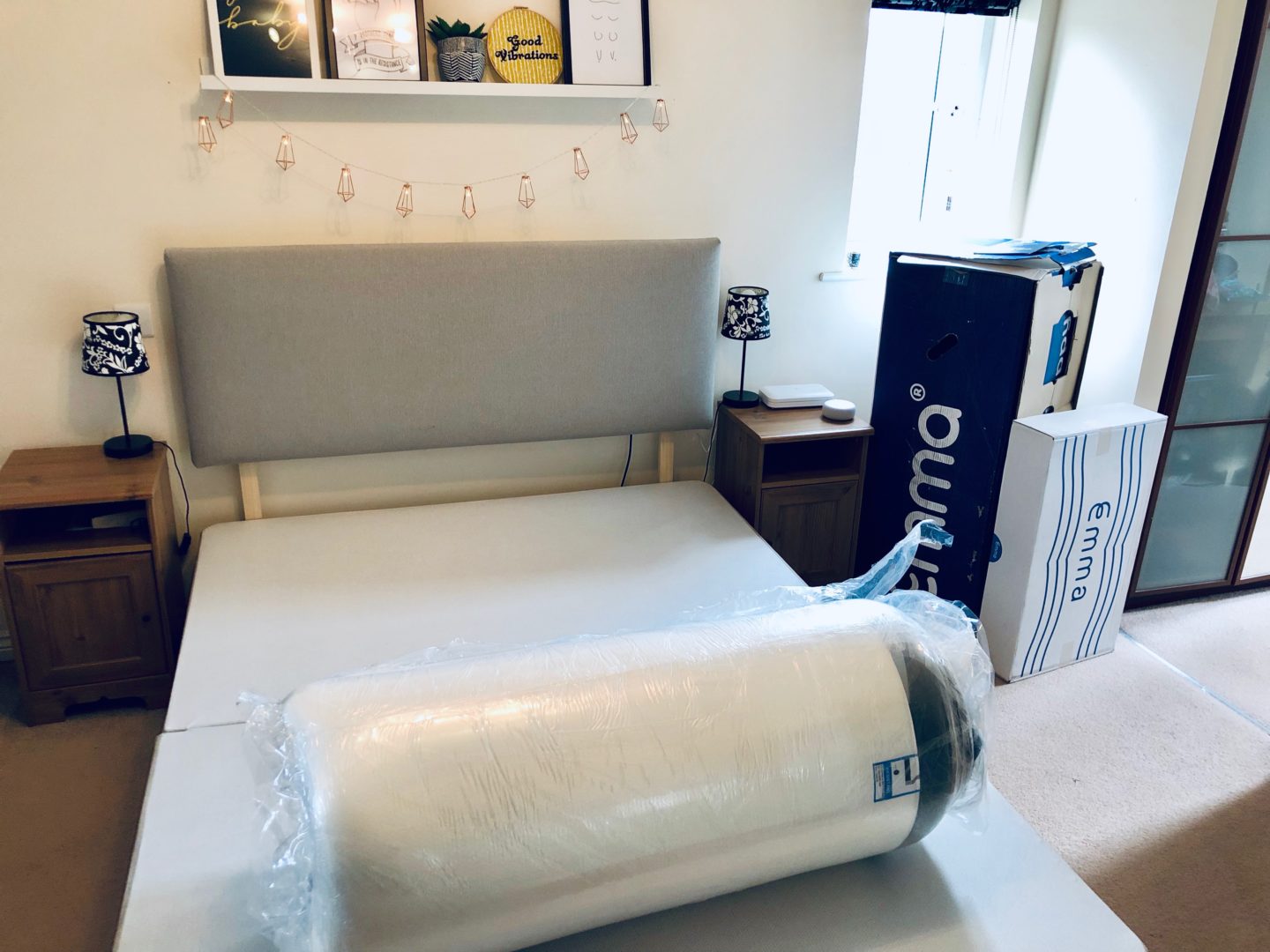 YouTube unboxing of the Emma Mattress
For those of you who are more visual, we also filmed a YouTube unboxing and Emma Mattress review for you to watch where you can see how the mattress expands and our comments on it over time:
100 day risk-free trial
What I love about the Emma mattress is that you get a 100 day risk free trial. If you don't like it for any reason you simply let them know and they will collect it and refund it all – no charges, no tricks.
It is so hard to try a mattress in a shop and know whether you are actually going to like it once you get it home and actually start sleeping on it. This is exactly what led to me buying the Silentnight Miracoil mattress and then needing to change mattresses only a few years later. Emma removes that risk by allowing you to properly try their mattress for a few months and if it's not working for you, just get it refunded. You've literally nothing to lose.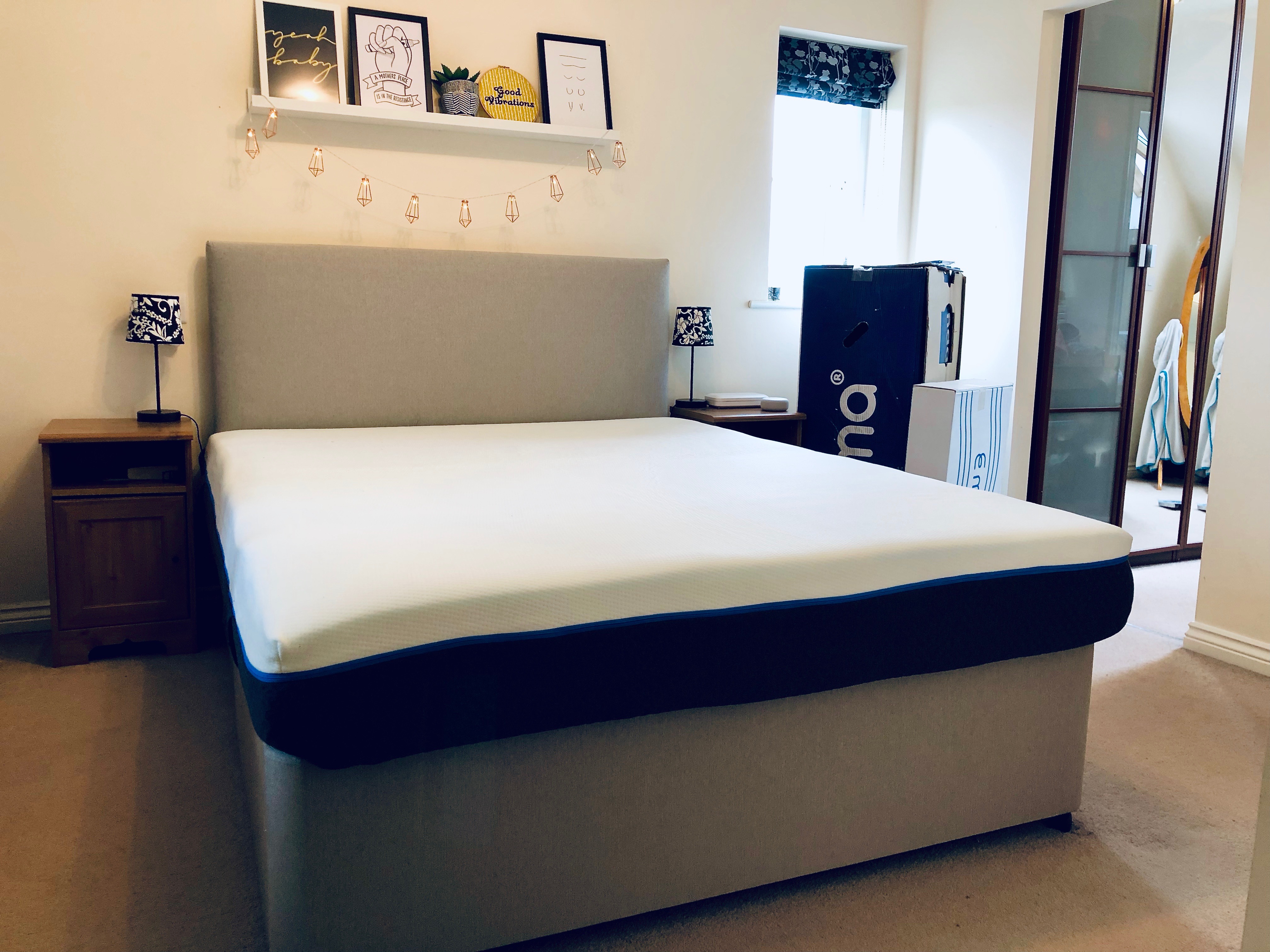 Emma Mattress topper
I'm a side sleeper and whilst the bed was more comfortable than the Silentnight Miracoil I had previously. It was still a little firm for me. This isn't the kind of 'memory foam bed in a box' type situation where you sink into the bed and then struggle to get back out of it. It's a firm bed.
Within the 100 day guarantee, if you aren't 100% satisfied the mattress is right for you there are other things they can try to see if they can improve it for your tastes. They sent me a Emma Mattress topper free of charge to make the bed a little softer for me.
The Emma Mattress topper is an additional layer of foam which is 2 cm thick and specifically designed for the Emma mattress. You can place it under the mattress cover and on top of the existing layers of foam and it helps to make the mattress softer.
It was very simple to add to the mattress you simply need to unzip the top half of the mattress cover (a great function that will make kid accidents way easier in the night even if you don't go for the mattress protector) and then you lay the new foam layer on top (as pictured below) and then just zip the case back on.
It has made the bed more comfortable for me for sure. Even with the top layer though I would categorise the mattress as firm still. I've been sleeping much better in it than I was on the Silentnight Miracoil though. I imagine there will be some softening over time and if it got too soft I'd simply remove that top comfort layer again. So far I've been using it for over a month and it's still firm.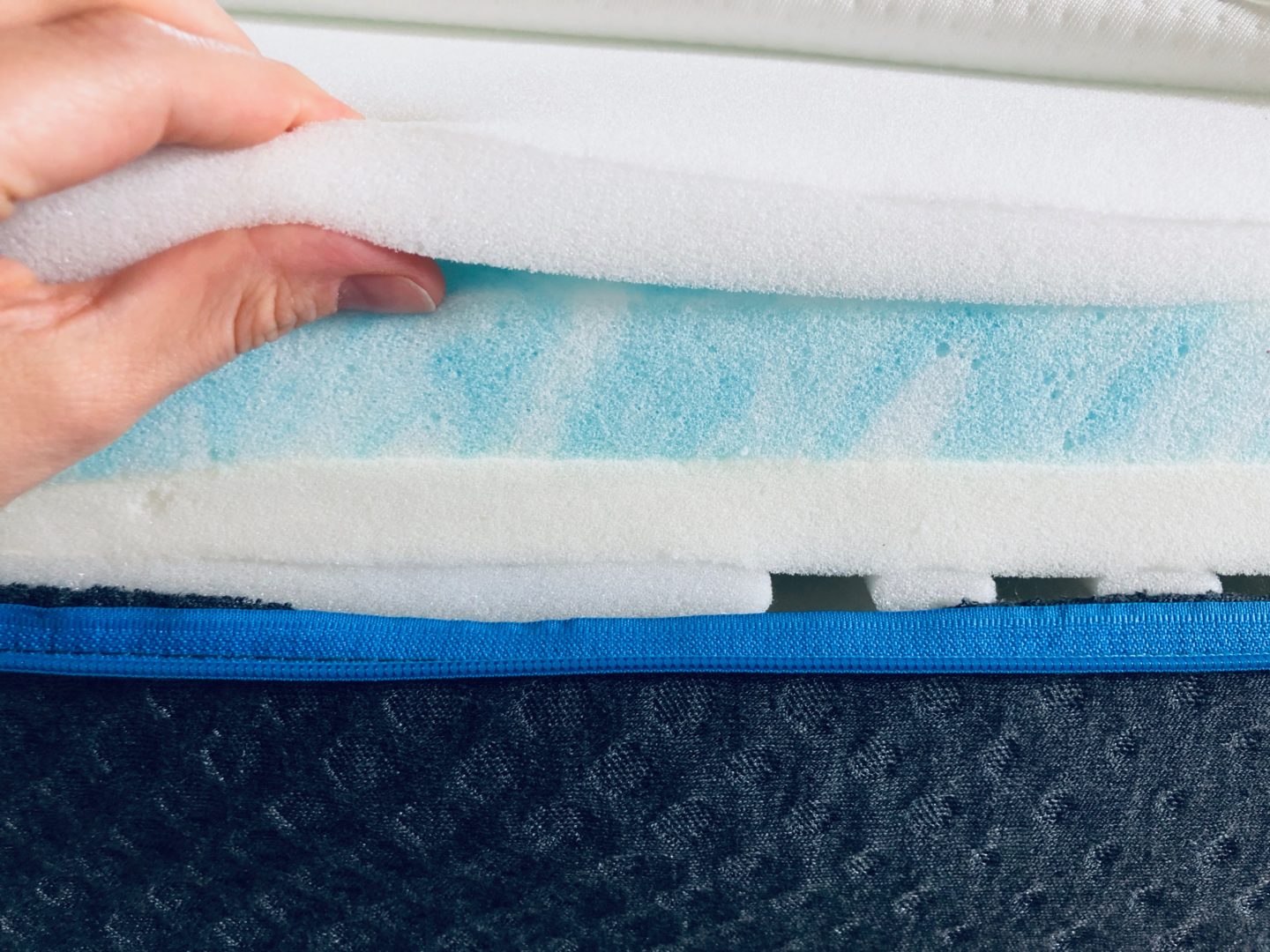 Emma Mattress Protector SmartSleeve
As we have two young children who like to sleep with us on occasion we thought the Emma Mattress Protector SmartSleeve was essential. I'm so pleased that we got it as it's by far the best mattress protector we've ever used, in part because it fits the mattress perfectly so is nice and smooth and easy to take on and off.
Thanks to its special fibres, the Emma SmartSleeve mattress protector shows 89% fewer dust mite allergens than conventional covers. It is therefore perfect for people who suffer from allergies, like my son.
In addition, the Emma SmartSleeve is probiotic (I know right?!). That means there are microorganisms in the material that prevent dampness in the mattress and the likelihood of developing allergies.
It's waterproof but breathable. Often, the mattress protectors you get that are waterproof have a horrid plastic feel and sound to them but this has none of that.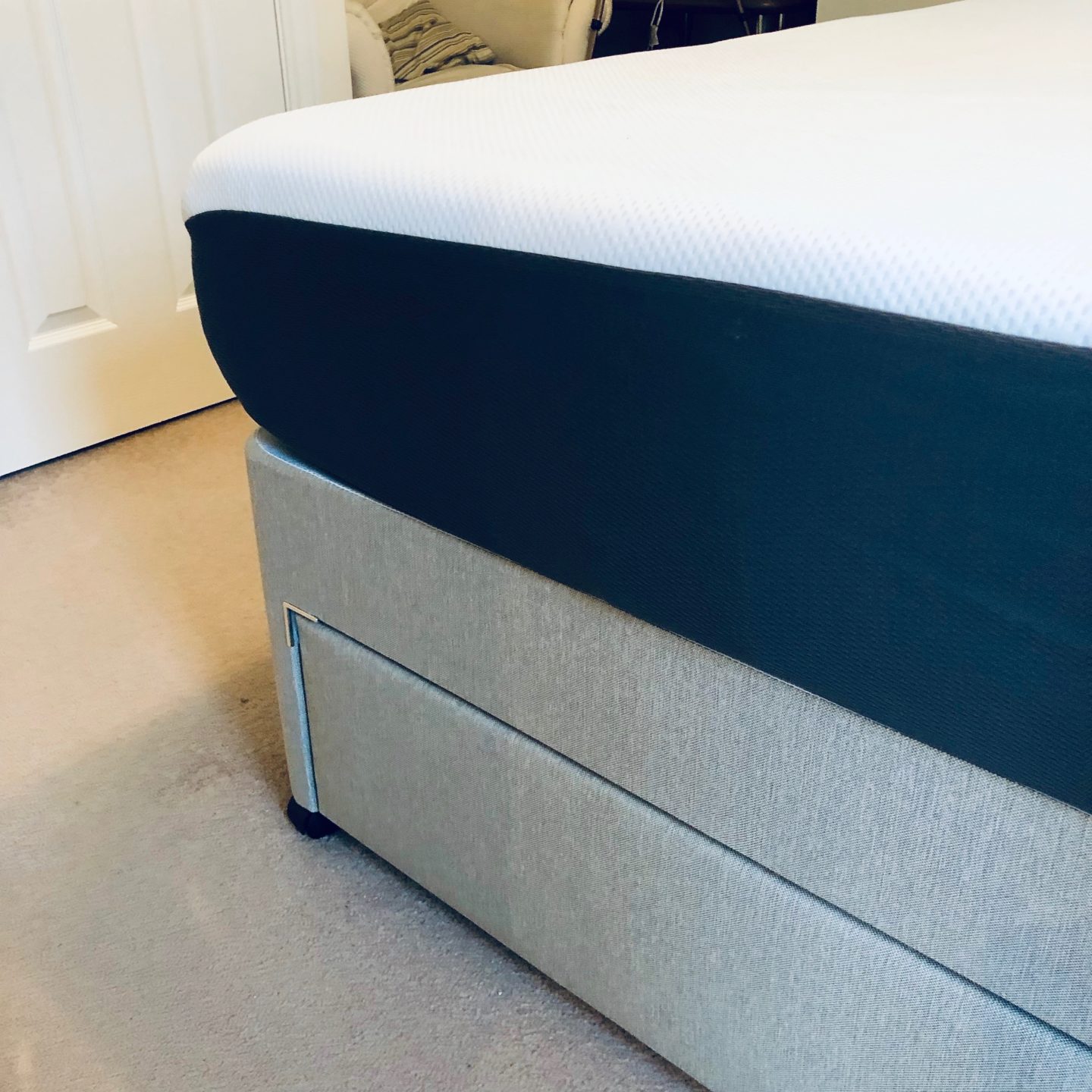 Emma Mattress depth
The Emma Mattress is deep (25cm deep to be precise) and you are going to need deep sheets to fit it properly. My standard sheets don't go over the bottom of the bed. We got the Emma deep fitted sheet. We've also bought these deep fitted sheets (affiliate link) from Amazon which work well.
Check out my post on the Best sheets for Emma Mattress for more!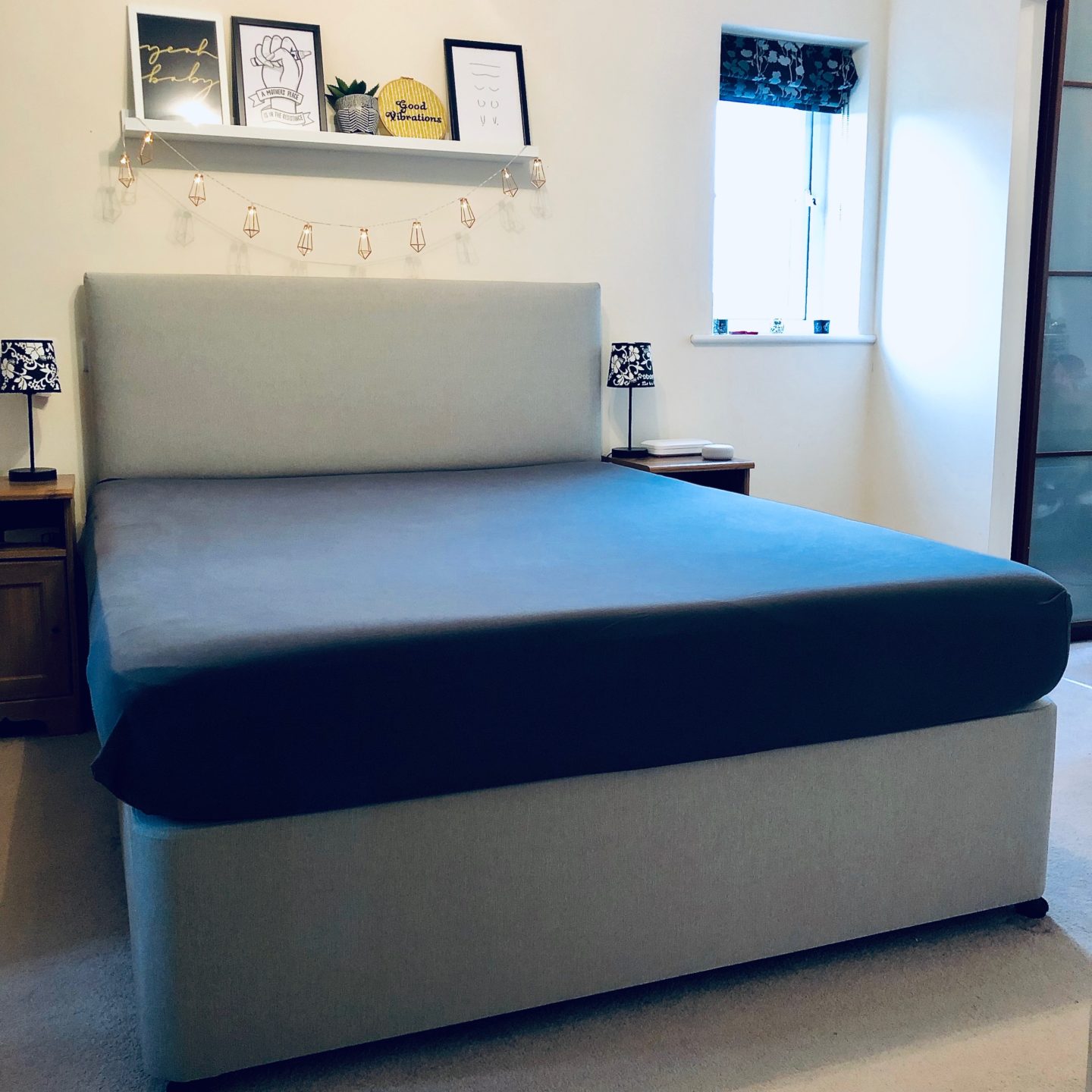 10 year guarantee
One of the criticisms I have heard of the new 'box type' mattresses is 'sure, these feel great now but a couple of years down the line and they'll be no good'. Well, Emma minimises that risk by providing a 10-year guarantee.
The guarantee covers:
cracks, dents or damage to the foam, which have arisen despite proper use and proper handling
production damage to the zipper
If you have any of these issues within the first 10 years then you send Emma a photo of the fault and they will send out a brand new mattress. Terms and conditions do apply.
0% financing
Emma has a great 0% finance offer where you can pay for your mattress over 1-12 months at 0% interest and no fees. We always take advantage of 0% interest deals where we can.
Emma Mattress long term review – update after using the Emma Mattress for nearly 4 years
So I originally posted this review in July 2019. It's now April 2023 and I'm writing an update after having used the Emma Original mattress (affiliate link) for nearly 4 years. It's still very firm – even with the Emma Mattress topper it's still a little too firm for my liking. It has softened some now. I notice that it's moulding around my body a little more as I sleep now more – somewhere in between a traditional mattress and full memory foam. There are more indentations if I'm sat on the bed now but I've not even moved the mattress around yet so it's keeping its integrity well. I stand by all the comments I've made in the original review. If you want a firm memory foam type mattress then this is the one for you. However, if you want something softer I'd maybe consider something different.
Conclusion
Overall we are a fan of the Emma Mattress though we find it a little firm for our preferences. If you do try it, come back and let me know how you got on in the comments and if you have any questions about my Emma Mattress review feel free to ask in the comments and I'll get back to you asap.
Buy the Emma original mattress
Buy the Emma original mattress here (affiliate link).
If you liked this post you might also like:
If you have enjoyed this post or found it useful, here are some quick and easy ways that you can support Nomipalony or say thanks:
Share this post with your friends  
Pop over to my Amazon Storefront to see what products I have been buying and loving from there recently, including my health and fitness products list.
Sign up to my mailing list 
Women can join my feminist Facebook group – the Nomipalony Freehouse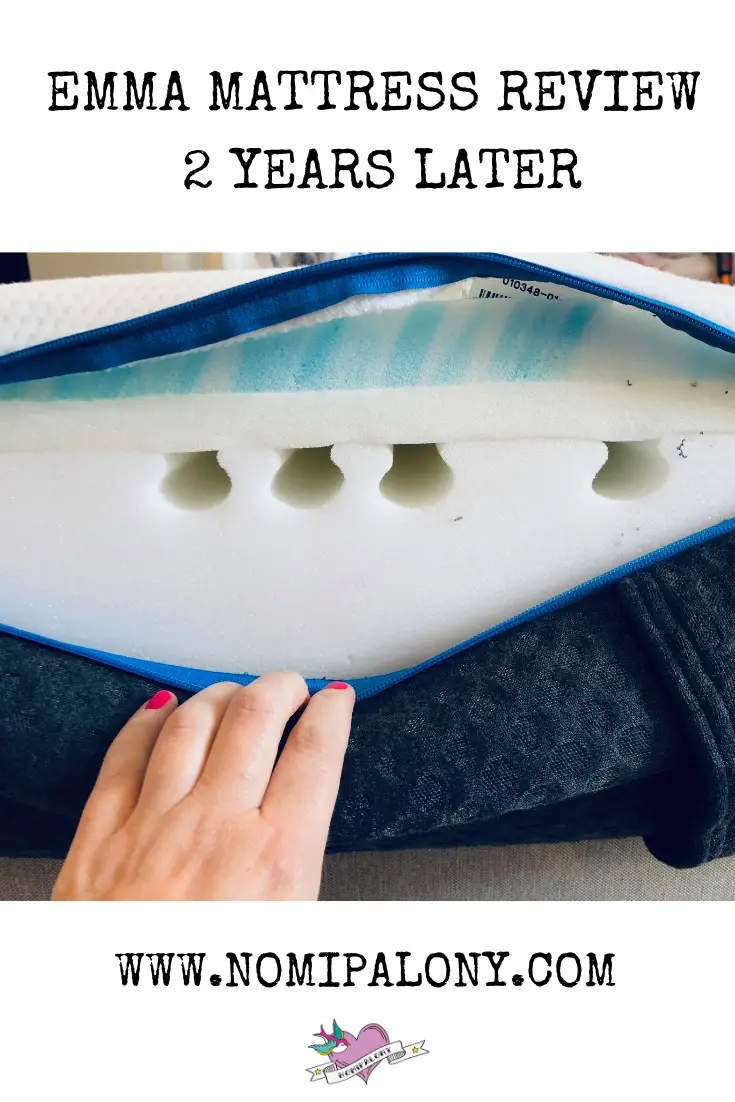 Disclaimer: This is post contains some gifted items. This post also contains affiliate links. If you buy an item through an affiliate link you won't pay any more for that item but I will receive a small referral fee. As an Amazon Associate, I earn from qualifying purchases. For my full disclosure please see my about page.