We've just got back from a weekend of family camping at Lilliardsedge Holiday Park in Jedburgh in the Scottish Borders. Today's blog post is all about what we thought of the campsite, what we did in the nearby area during our stay and whether we will be going back. If you prefer watching videos then we also made a little YouTube video of our trip too:
Lilliardsedge Holiday Park
Based in the charming countryside of the Scottish Borders, less than 50 miles from Edinburgh, Lilliardsedge Holiday Park is a family run 110 acre holiday park and golf course. It boasts a nine-hole, eighteen tee golf course, two woodland walks, a restaurant, bar and function room.
Their campsite was brand new in 2019. Nightly prices start from £11. If you've tried to book a campsite during the summer of 2020 then I'm sure you too have experienced everywhere being booked up. Lilliardsedge Holiday Park seems to have decent availability, though to be honest, I'm not sure how much that has to do with them booking more people in than other sites.
On site facilities at Lilliardsedge Holiday Park
Atmosphere at Lilliardsedge Holiday Park
My perspective on the atmosphere of the campsite at Lilliardsedge totally varied depending on the day. On the Saturday the campsite was packed and it was quite rowdy. It felt a little intense during a pandemic.
There were several groups without kids who stayed up till the early hours being extremely loud. Some campers asked one group to keep it down and they responded by making loud animal noises for while. We were chatting to some people who said it was the same on the Friday night until 4.30am. It's frustrating because the site is meant to be quiet from 11pm to 7am. Thankfully the kids slept through it.
However, the campsite literally emptied on the Sunday and then it was much calmer and relaxed. If we had arrived on the Saturday I'm sure we would have had an entirely different perspective.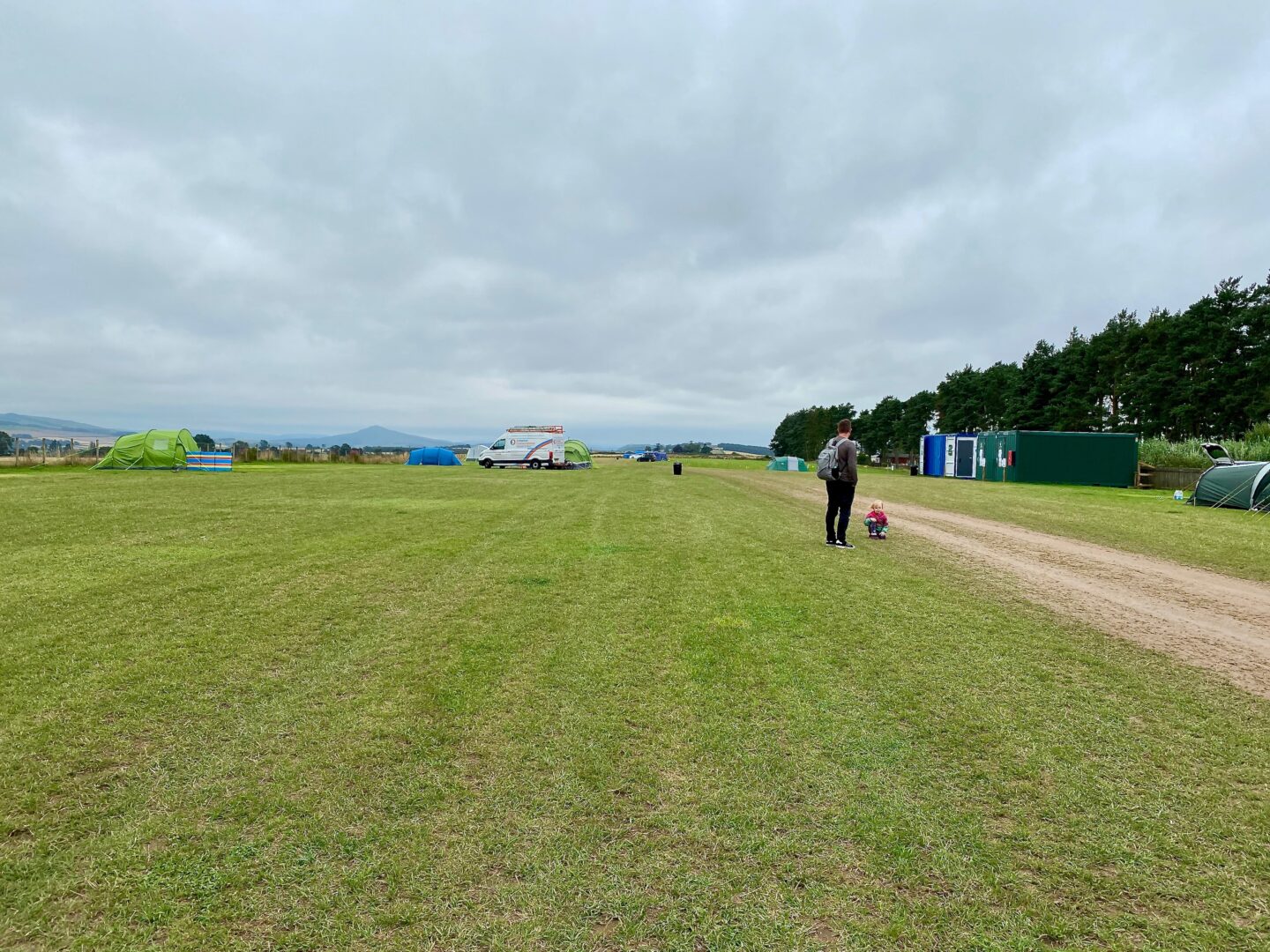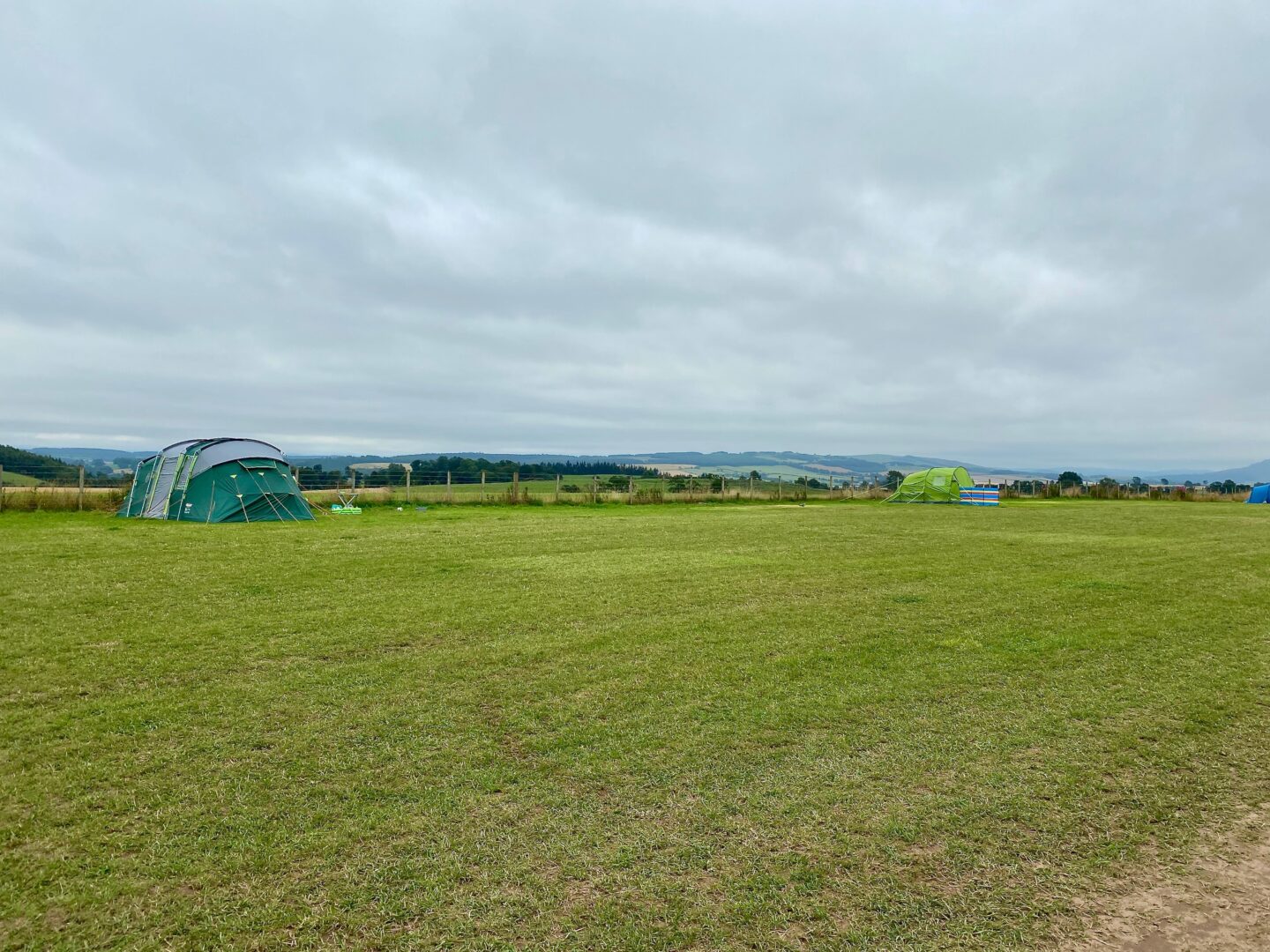 Facility building
Next to the touring area there was a facility Building with dishwashing, baby change, an elsan point/chemical disposal, accessible facilities and waste and recycle.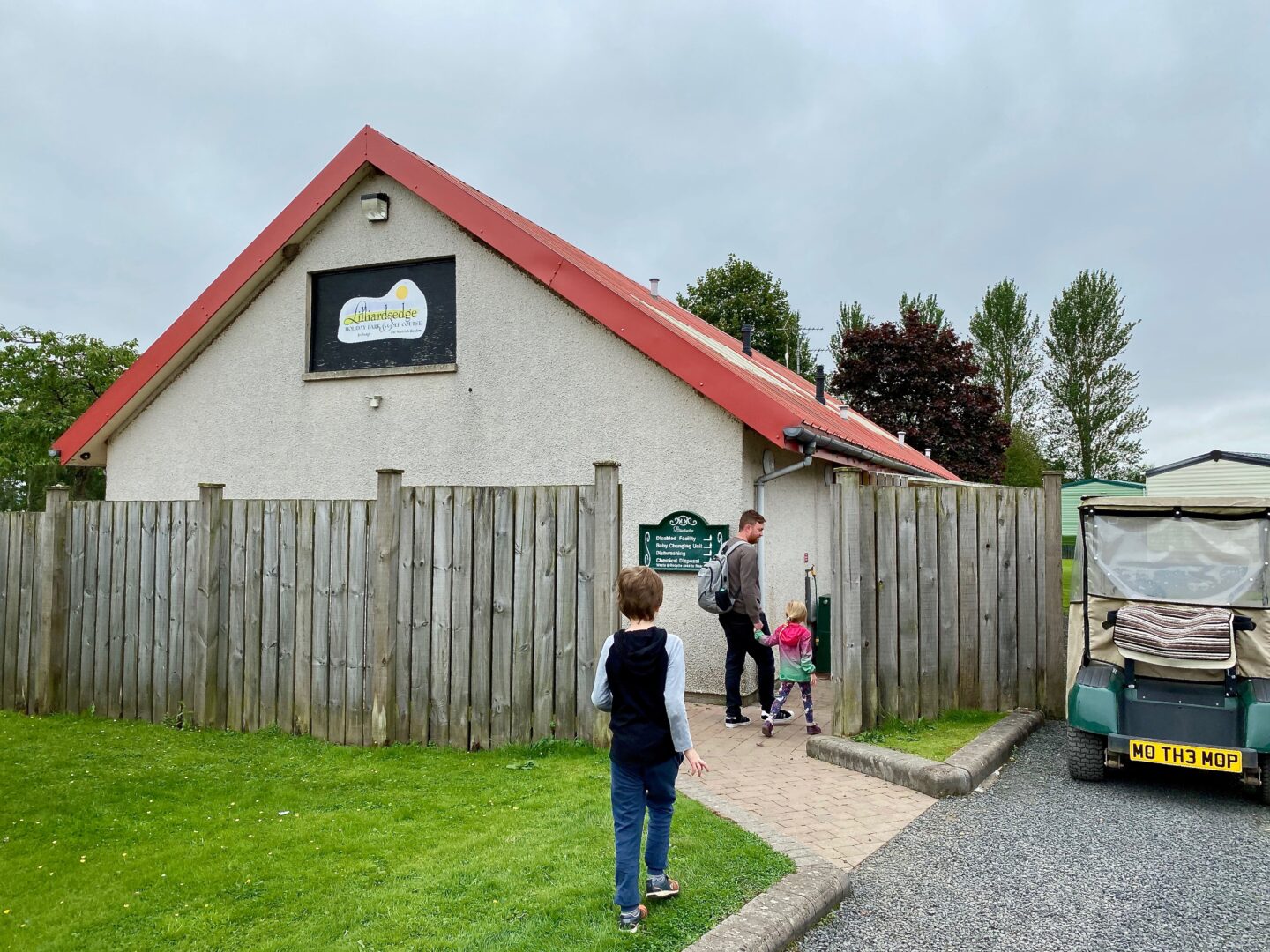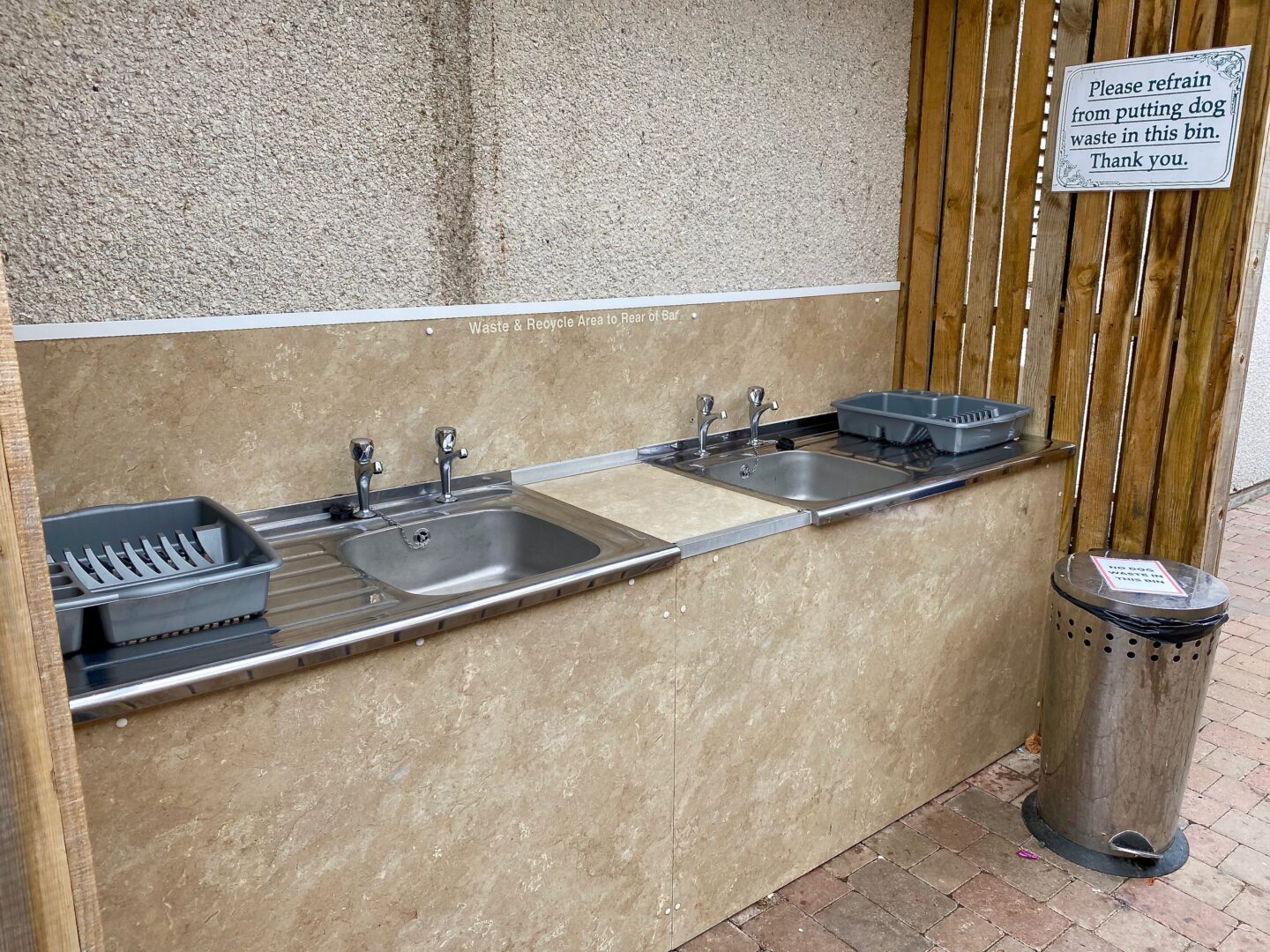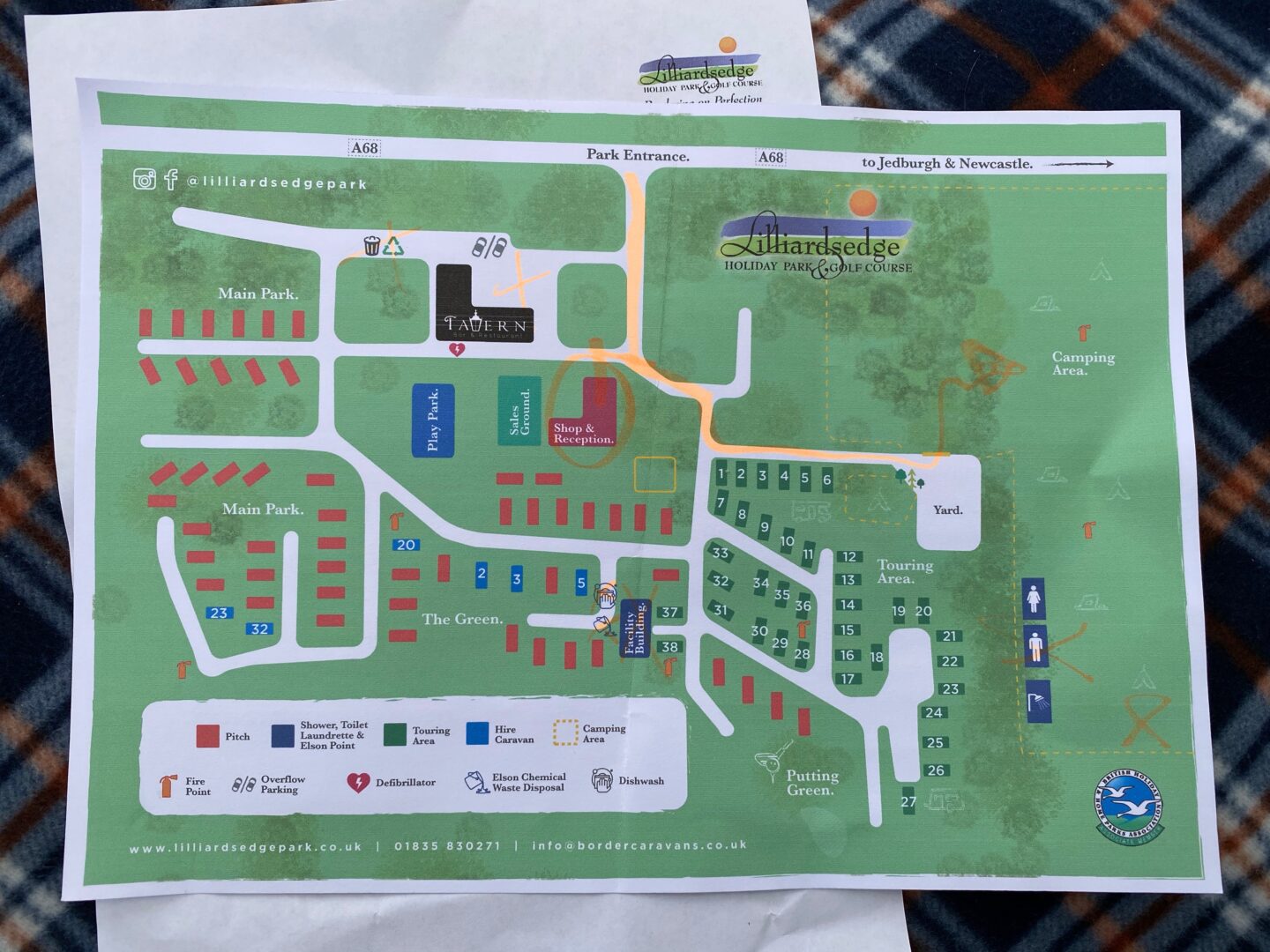 Toilets and showers
The showers and toilets on the campsite are in converted shipping containers which I think is a fantastic idea. There were 8 individual showers and two blocks of toilets – male/female.
I preferred the showers and toilets here to the Boe Rigg campsite. Especially the showers which were individually enclosed. This felt safer for Covid-19 and they looked clean and well maintained. In fact, we saw them cleaning them frequently which was reassuring in the current environment. Personally I prefer showers where you can shut the door and get ready in your own space, rather than the ones where you are on display getting ready naked.
Internet connection at Lilliardsedge Holiday Park
Lilliardsge Holiday Park promises free WiFi however, where we camped it didn't come up sadly. However, there is a mobile phone mast right next to the site so I had good 4G signal the whole time we were there – which can be a pro or a con depending on your opinions on that!
Fires and BBQs at Lilliardsedge
You weren't allowed campfires at Lilliardsedge (though some people clearly ignored this) which is a shame as toasting marshmallows on an evening is one of our favourite camping activities. You are allowed risen BBQs so you could potentially get around it if you really wanted to.
Play park
The site has a decent sized play park on it and importantly this is right opposite the pub/restaurant so you if your kids can play independently, you could get a pint and sit and watch them. This would have been perfect however while we were there the park was very busy and the tables were all taken. It was a bit full on for us during Covid-19 sadly. It was a lot quieter on the Sunday compared to the Saturday though.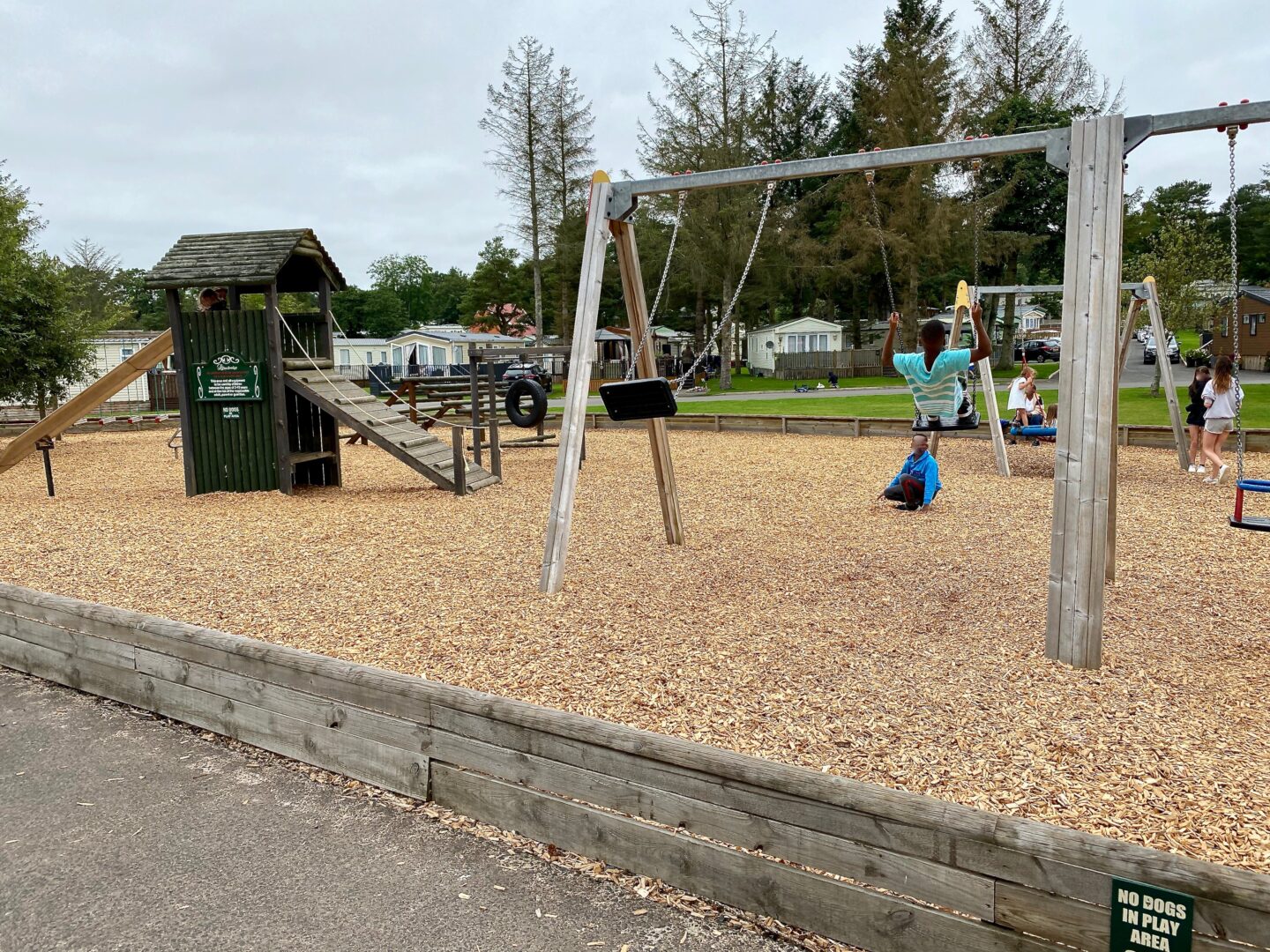 Restaurant and food
There is a restaurant on site and we ate from the carvery there on the Sunday. We reserved a table and sat outside. The carvery had tall plastic screens up to protect the staff and the food and the staff served it all out for you and then put the plate on a table for you to take away.
The food was nice enough, nothing to blow our minds but your typical standard carvery fayre. The steak pie and gammon were both really tasty. The meat choices were turkey/gammon/beef. We got two adult carverys, two children carverys, two fruit shoots and two pints and our bill came to £46.60.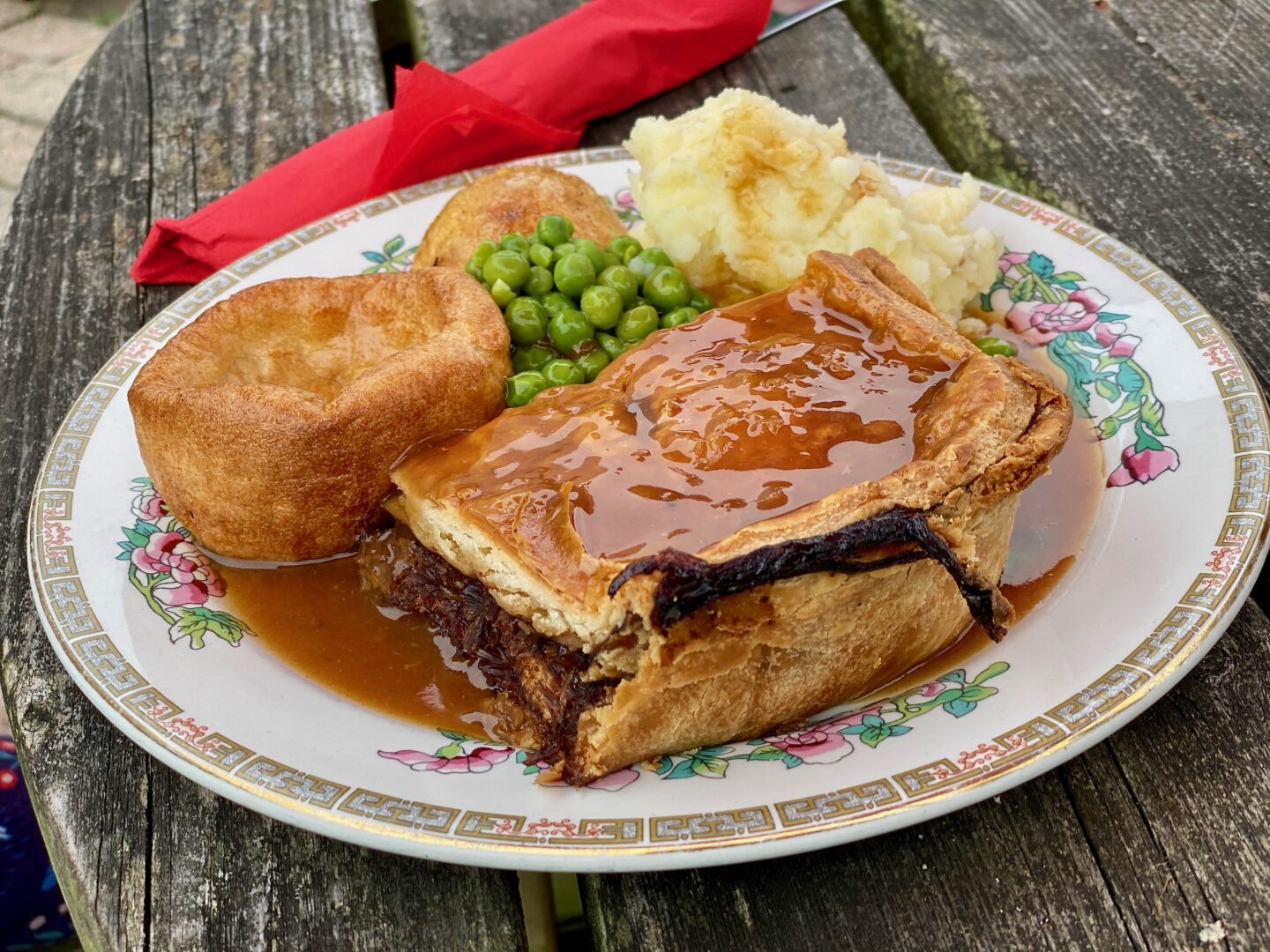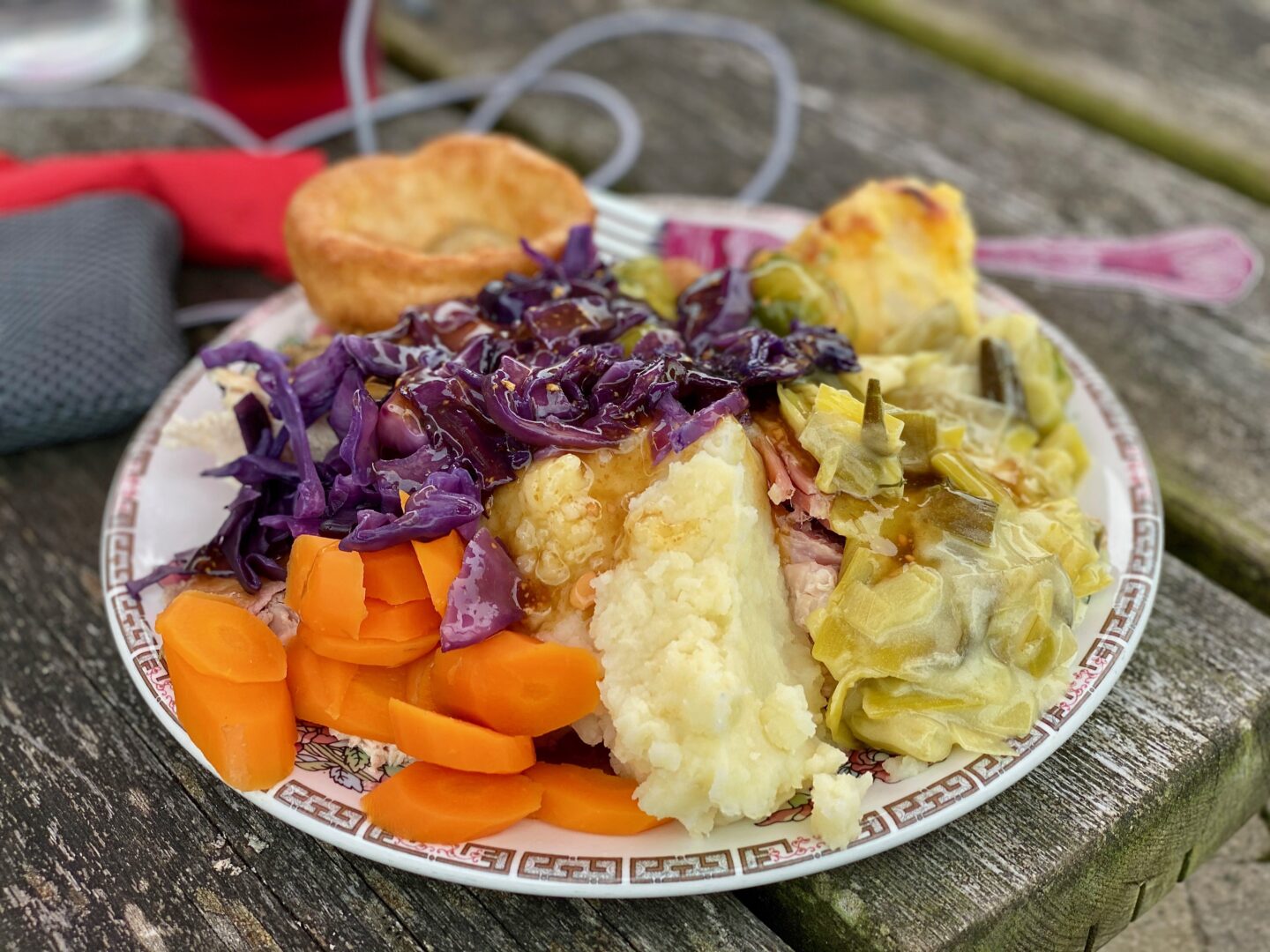 Next to the play park and opposite the pub/restaurant there was also a cute little takeaway truck that sold pizzas and burgers etc. We saw lots of people buying from it and taking back to their tents which I thought was a great idea. I wish we had done that to be honest, we had pot noodles at the tent, what was I thinking!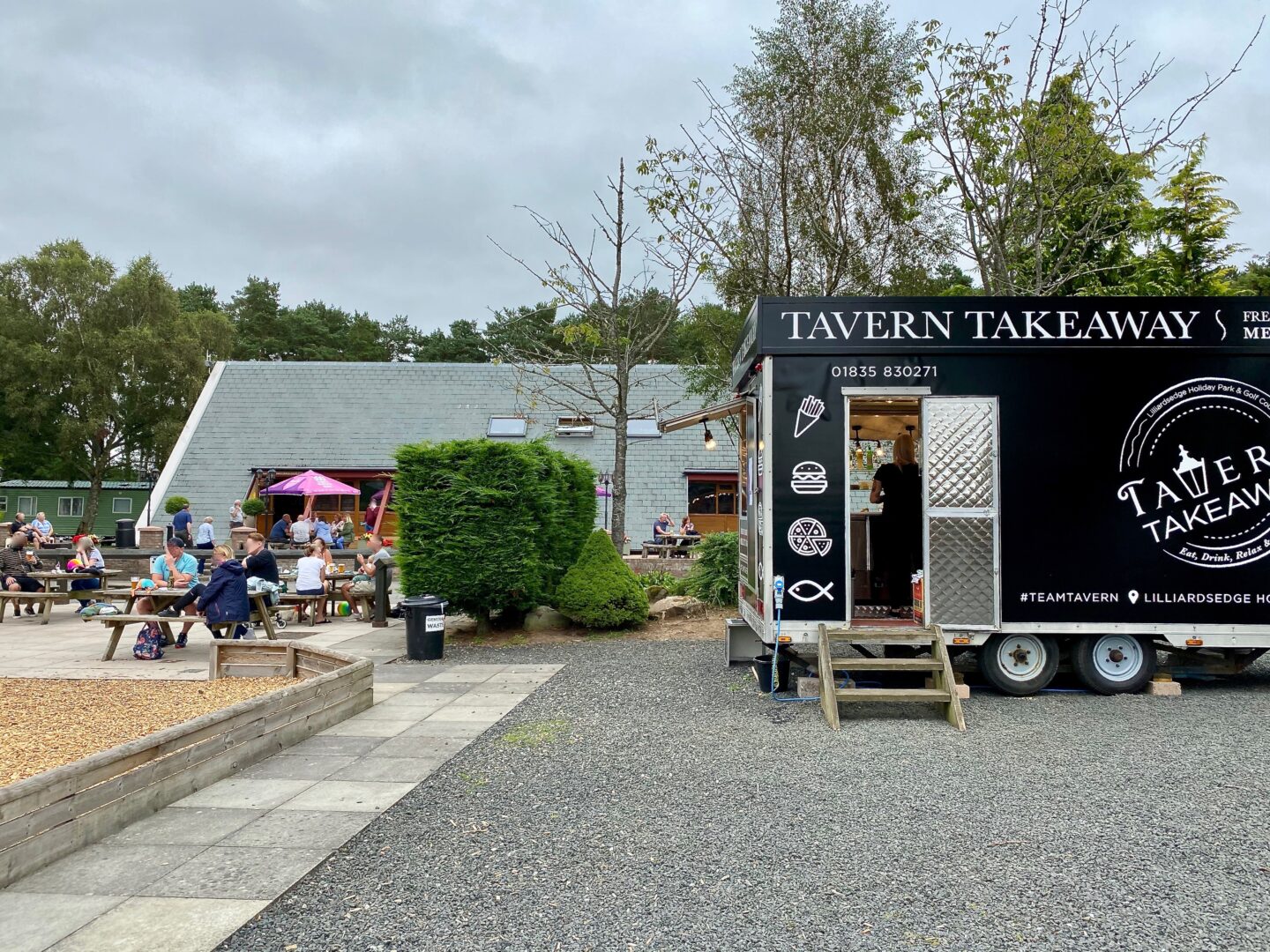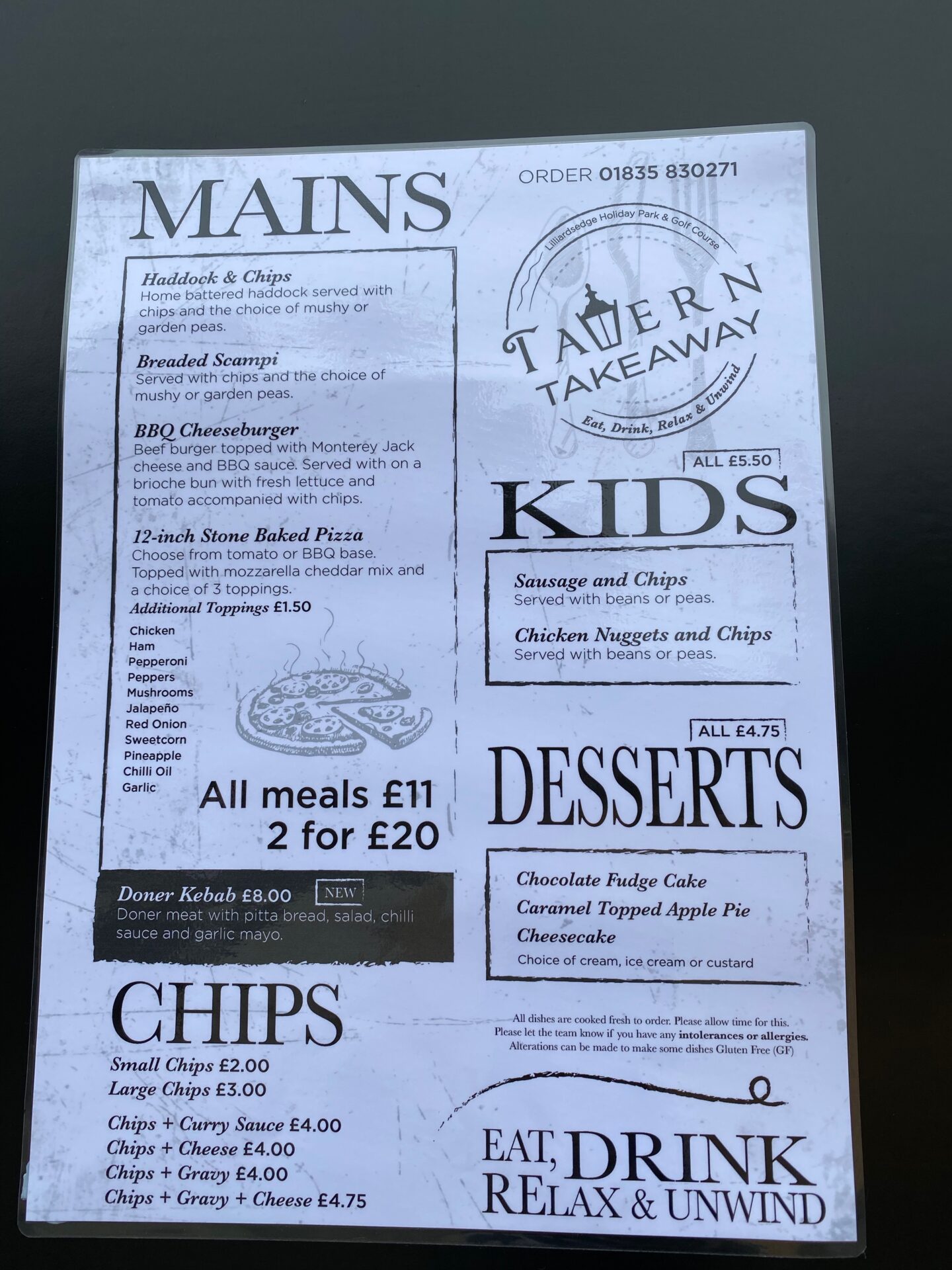 Golf
We didn't play golf while we are there as we had a 5 and 8 year old with us but it was clearly a big park of the park and there were lots of golfers around with their caddies and you could see them playing in the distance.
What we did nearby Lilliardsedge Holiday Park
Jedburgh Harestanes
Jedburgh Harestanes is a massive play park with fantastic accessible facilities. It is about a 5 minute drive from Lilliardsedge Holiday Park.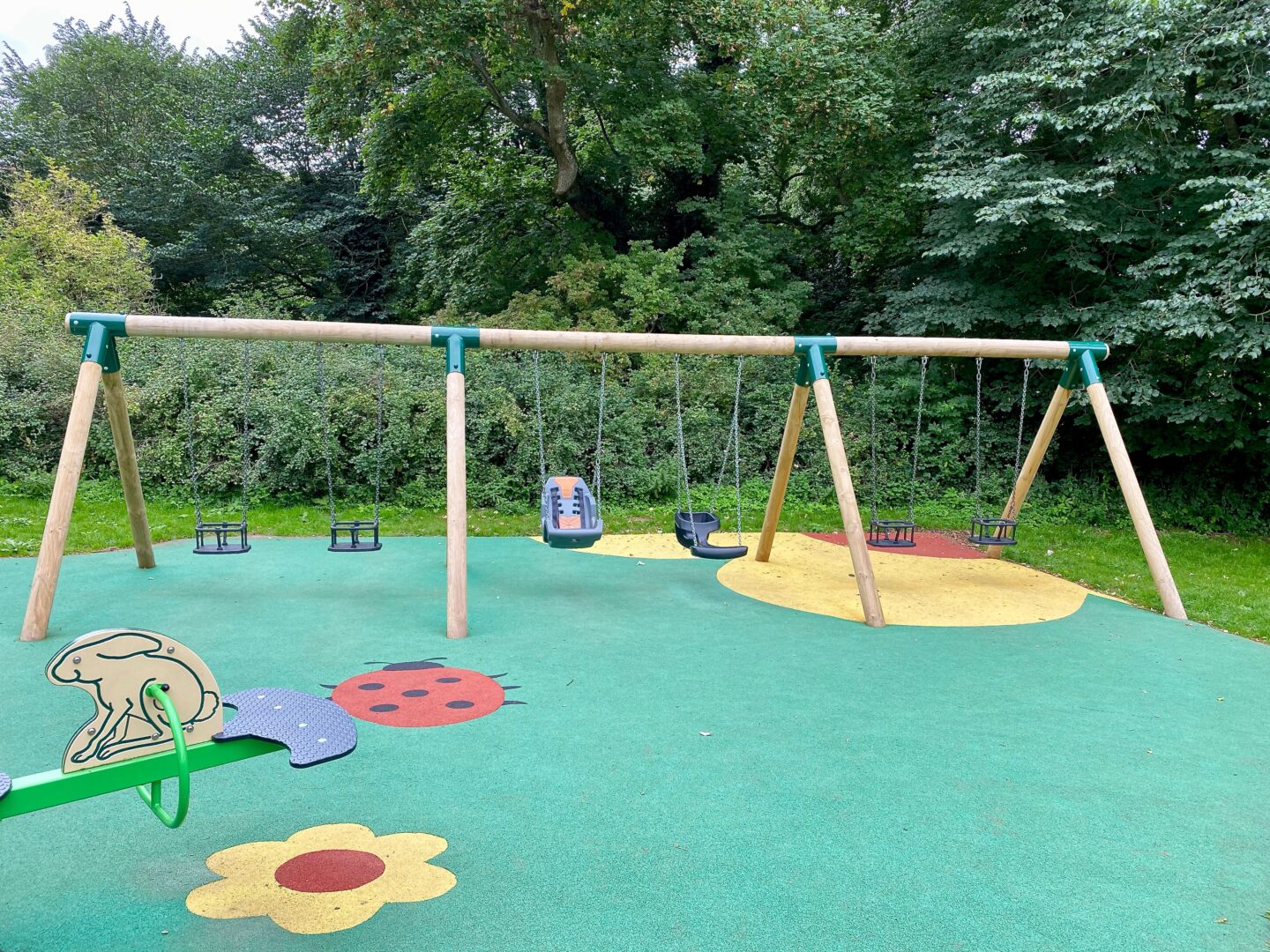 I would recommend going earlier in the morning as we got there around 9.30am on a Sunday morning and pretty much had the run of the park to ourselves. It started to get busier around 10.30am. We spent a morning there and took sandwiches for lunch.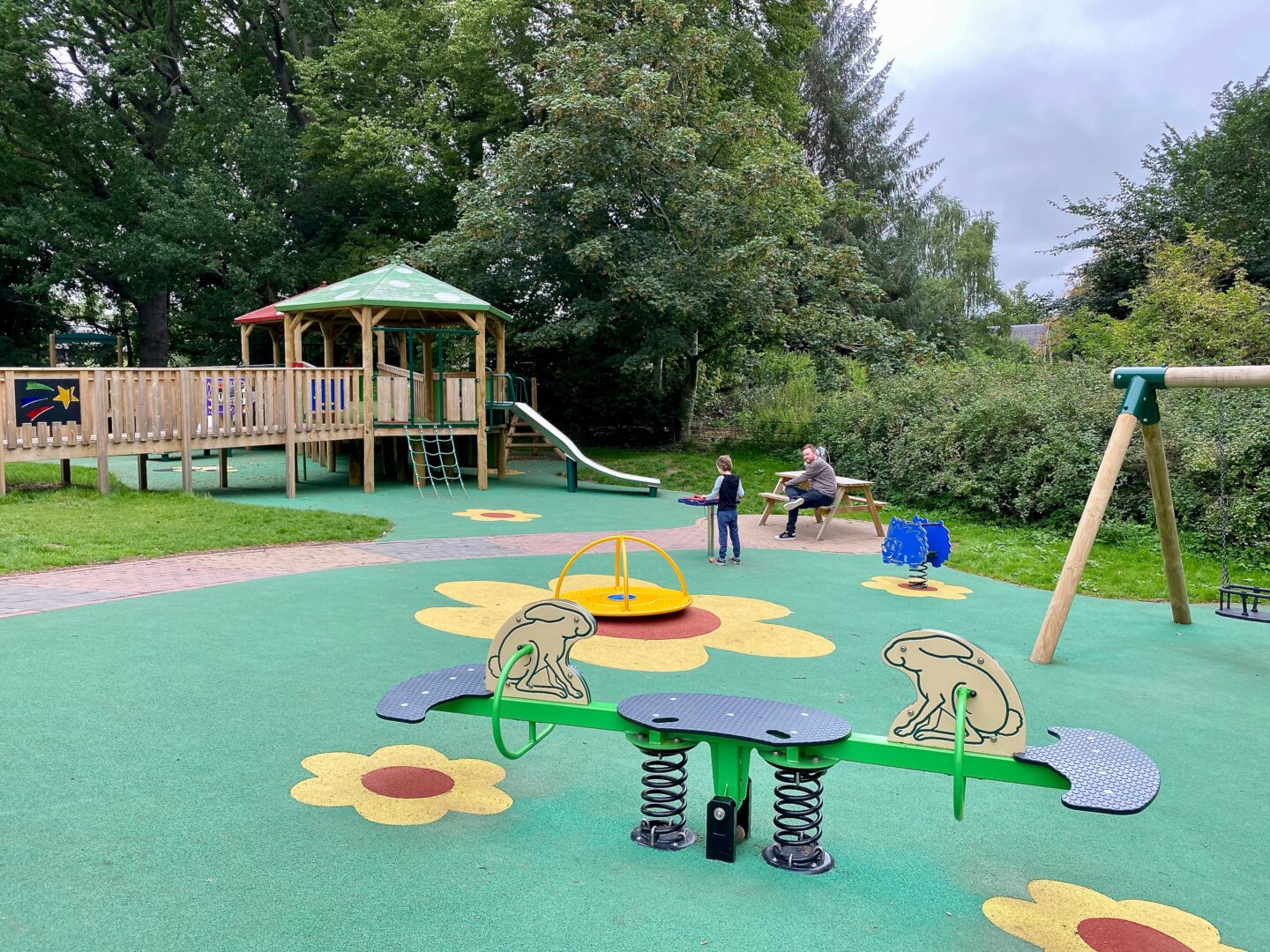 It had the best range of accessible and diverse play equipment that I've seen at a playground, catering to the smallest tots to the biggest. They had 2 wheelchair accessible swings. The park is mostly wooden too which looked so wholesome, especially nestled within the countryside with a view of some roaming cows. There were also lots of squirrels jumping around the trees.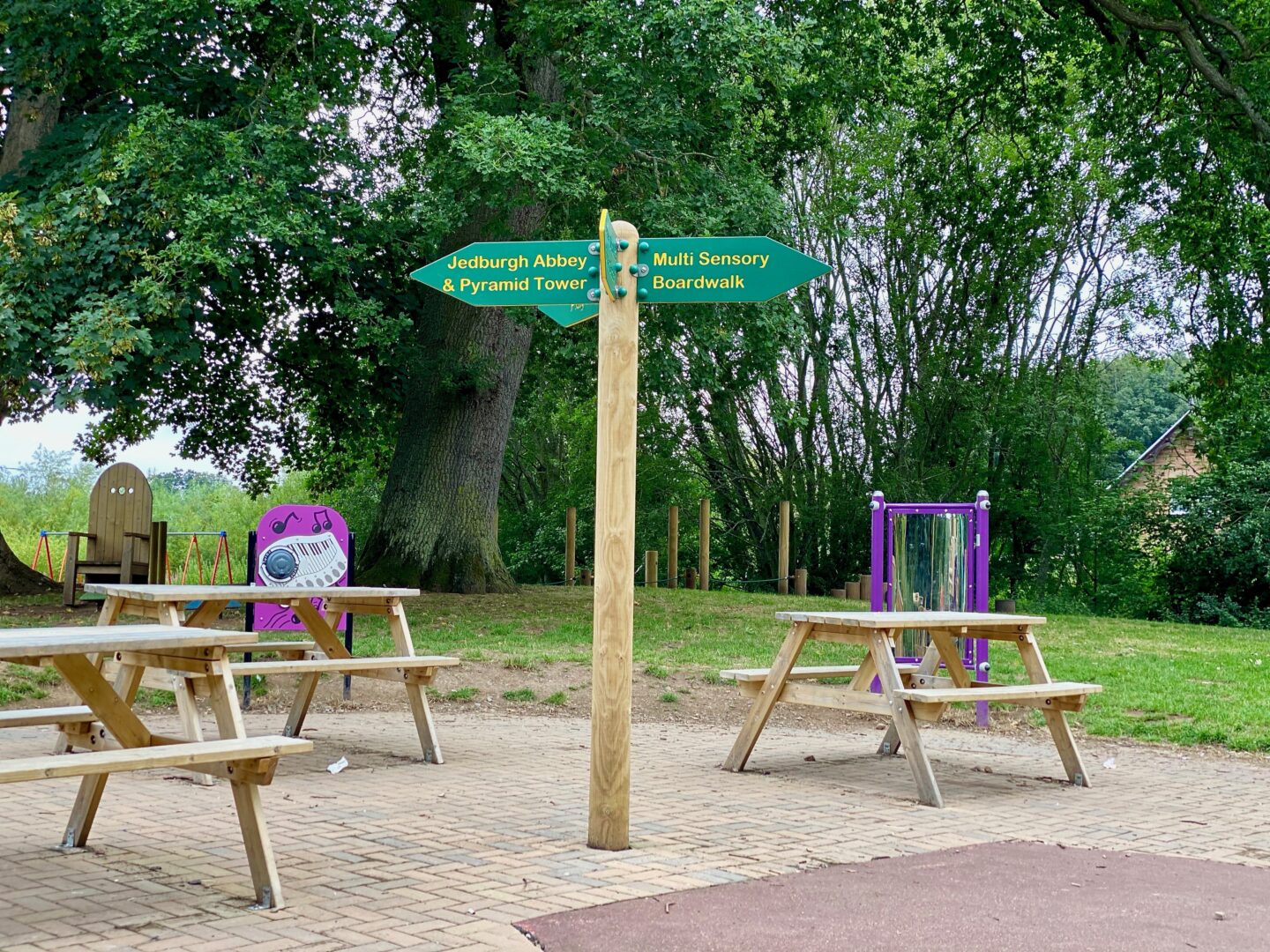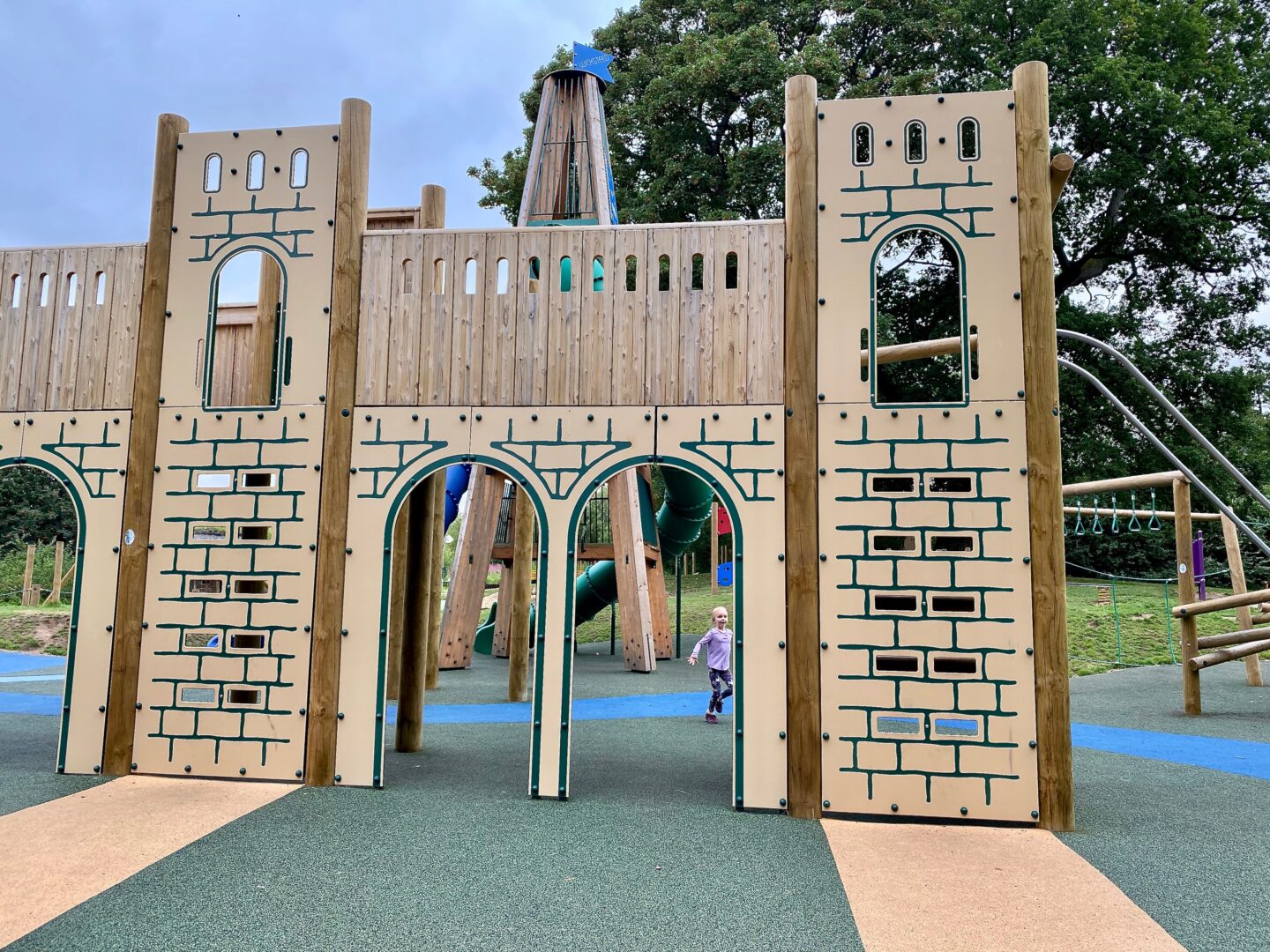 There are also a few different cafes/food shops on the site. We got ice cream and hot chocolates from Mary's Dairy.
There was also a cute little shop called 'Out There Artisan' (below) selling toasted filled pitta breads (£3), waffles (£4.50), fresh fruit smoothies (£2.50), frozen yogurt, fruit sorbets and teas/coffees. I would recommend Out There Artisan over Mary's Dairy as the prices there seemed better value for money.
There were wooden picnic tables both within the courtyard area and in the play park itself.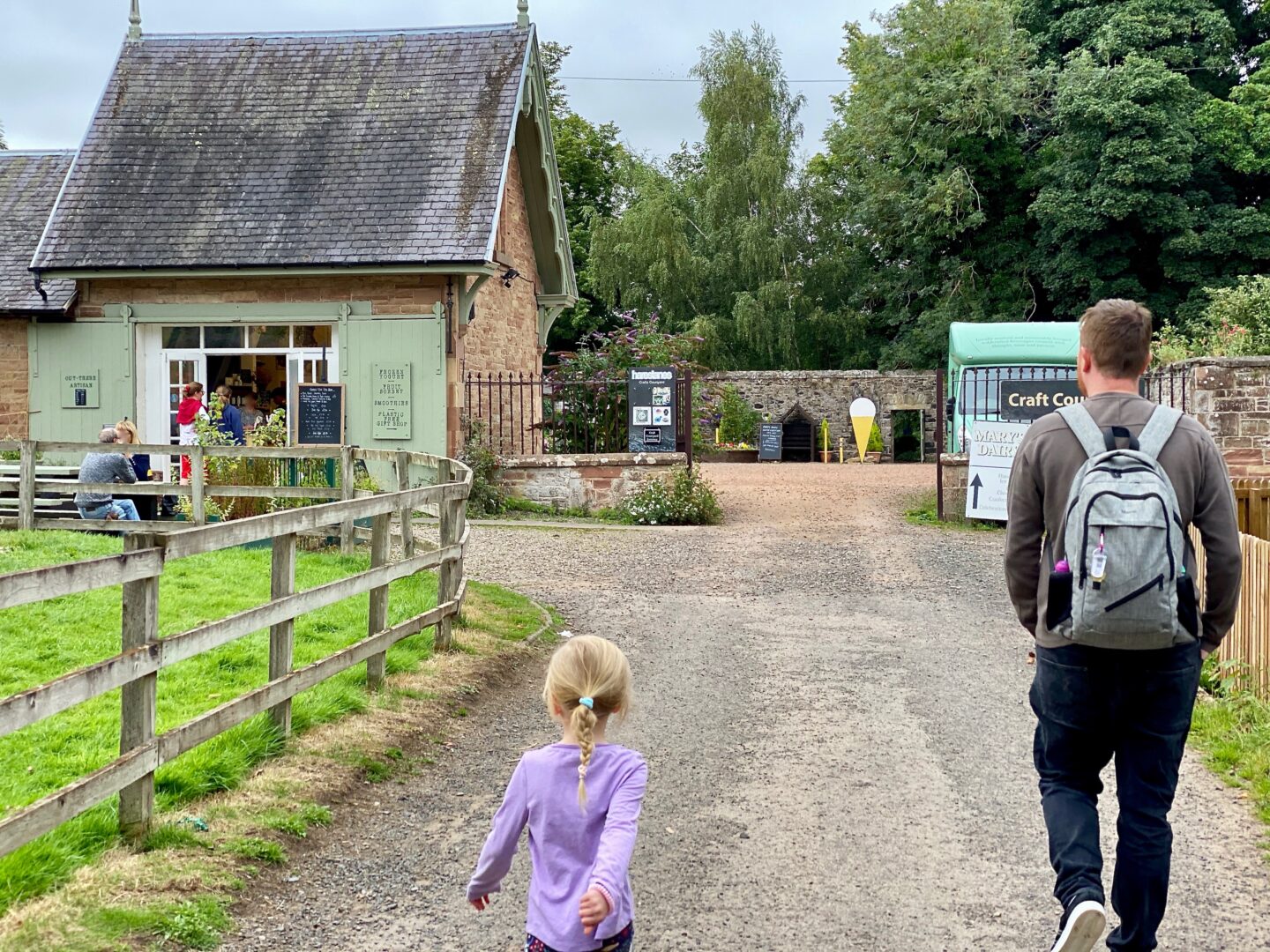 Monteath Mausoleum
About a ten minute walk from the campsite (make sure to go THROUGH the site not via the narrow path at the side of the main road like we did initially) is Monteath Mausoleum which is worth a little stroll to. The mausoleum itself is impressive and there are lovely views. It's a nice little activity to do if you want a walk nearby the site to settle your dinner!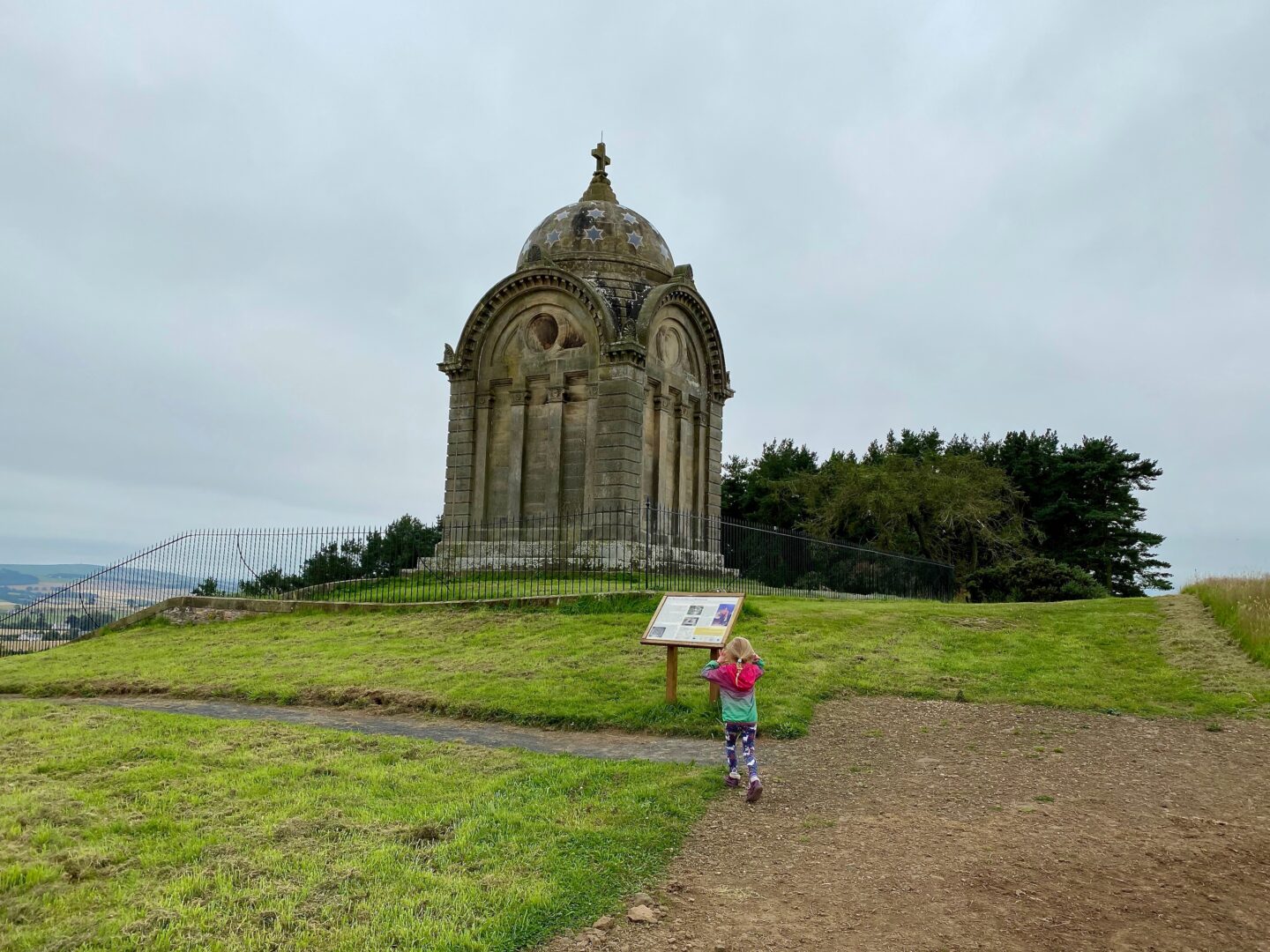 Other things to do nearby Lilliardsedge Holiday Park
Sadly a lot of things nearby were closed due to Covid-19 restrictions during our stay at Lilliardsedge Holiday Park. Some of the things currently closed that we would have liked to have visited included:
The Scottish Borders Donkey Sanctuary: Located at the 80 acre estate – The Holmes, St.Boswells just 5 minutes from Lilliardsedge Holiday Park, near Melrose, in The Scottish Borders. The animals who have been re-homed here are accommodated in small groups in well-fenced and watered paddocks of permanent pasture, each with a field shelter.
"There is a handsome Edwardian stone built stable block consisting of loose boxes, stalls, tack room and washing facilities round a cobbled yard. The estate has an ambience of its own – the beautiful views over the River Tweed and the tree-lined driveways are breathtaking whatever the season. Along with the donkeys there are ponies, llamas, goats, pigs, sheep, ducks and many breeds of poultry and a mule called Muffin."
Born in the Borders: Born in the Borders is a visitor centre located next to the Scottish Borders Brewery. Set on the banks of the River Teviot, it brings together the best of everything that is grown, made, spun, produced, cooked and created in the area. With a food and drink shop, a goods and gifts shop, a cafe and restaurant, riverside walks, picnic spots and brewery tours, it's a great way to discover the wealth of products and goods the Scottish Borders has to offer.
Jedburgh Abbey: Explore one of four great abbeys established in the Scottish Borders in the 1100s. Built over more than 70 years, Jedburgh is striking for its unusual mix of Romanesque and early Gothic architecture.
Mary Queen of Scots' house: This 16th century towerhouse tells the story of Scotland's tragic queen. Mary's month here in Jedburgh in 1566 was a turning point in her life.
The Waterloo Monument: The Waterloo Monument near Ancrum in the Scottish Borders is a 150-foot tower, built between 1817 and 1824 to commemorate the Battle of Waterloo. You can park at Jedburgh Harestanes and pay £5 at the Estate Office to get the key for the monument and climb to the top and see the spectacular views of the
Would we go back to Lilliardsedge Holiday Park?
Whilst there was nothing bad about Lilliardsedge at all, we didn't fall in love with the campsite/area enough to go back any time soon. Whilst the Boe Rigg is shabbier around the edges in comparison, it felt 'more us' and if we were returning to a campsite again soon we would choose that one.
I think what put us off it a little bit was just how busy it was on the Saturday and it made us feel a bit uncomfortable during the pandemic. I'm sure we would feel differently when activities don't feel so risky. That said, there is plenty that we didn't get the chance to do due to Covid-19 restrictions so maybe one day (when this fresh nightmare is over) it might be worth returning to.
If you enjoyed this post you might enjoy….
If you have enjoyed this post or found it useful, here are some quick and easy ways that you can support Nomipalony or say thanks: