For years I had been hearing about how good the show This Is Us is. I added it to my watch list but never got around to watching it until lockdown. Then I went into it hard. Oh I binged the hell out of that show. Totally fell in love with it. In series 4, episode 14 'The Cabin', Rebecca Pearson is wearing this incredible crocheted cardigan that I instantly fell in love with.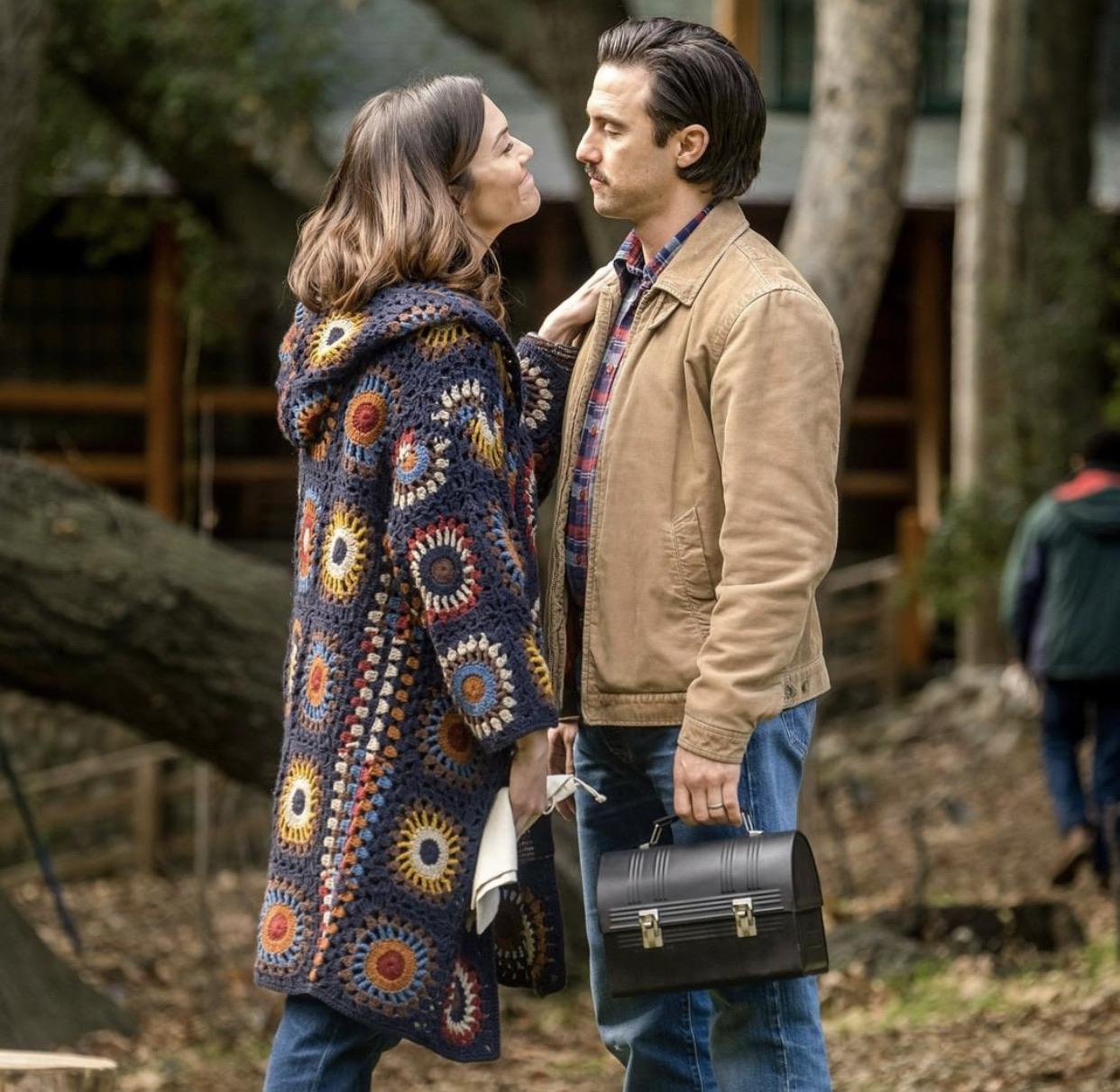 I took some photos for my mam who is a keen crocheter but forgot to send them. Then I pestered my mam to watch the show because I knew she'd love it too so she watched and she did. When she got to the Cabin episode, she messaged me straight away and said 'I love her cardigan', to which I replied saying I had taken photos of it and had meant to send her them because I loved it.
This was the start of our project to make me a 'Rebecca Cardigan' of my own. In this post I'm going to tell you about our process, what it cost and link to where we bought the pattern from so if you want to make one then you can too.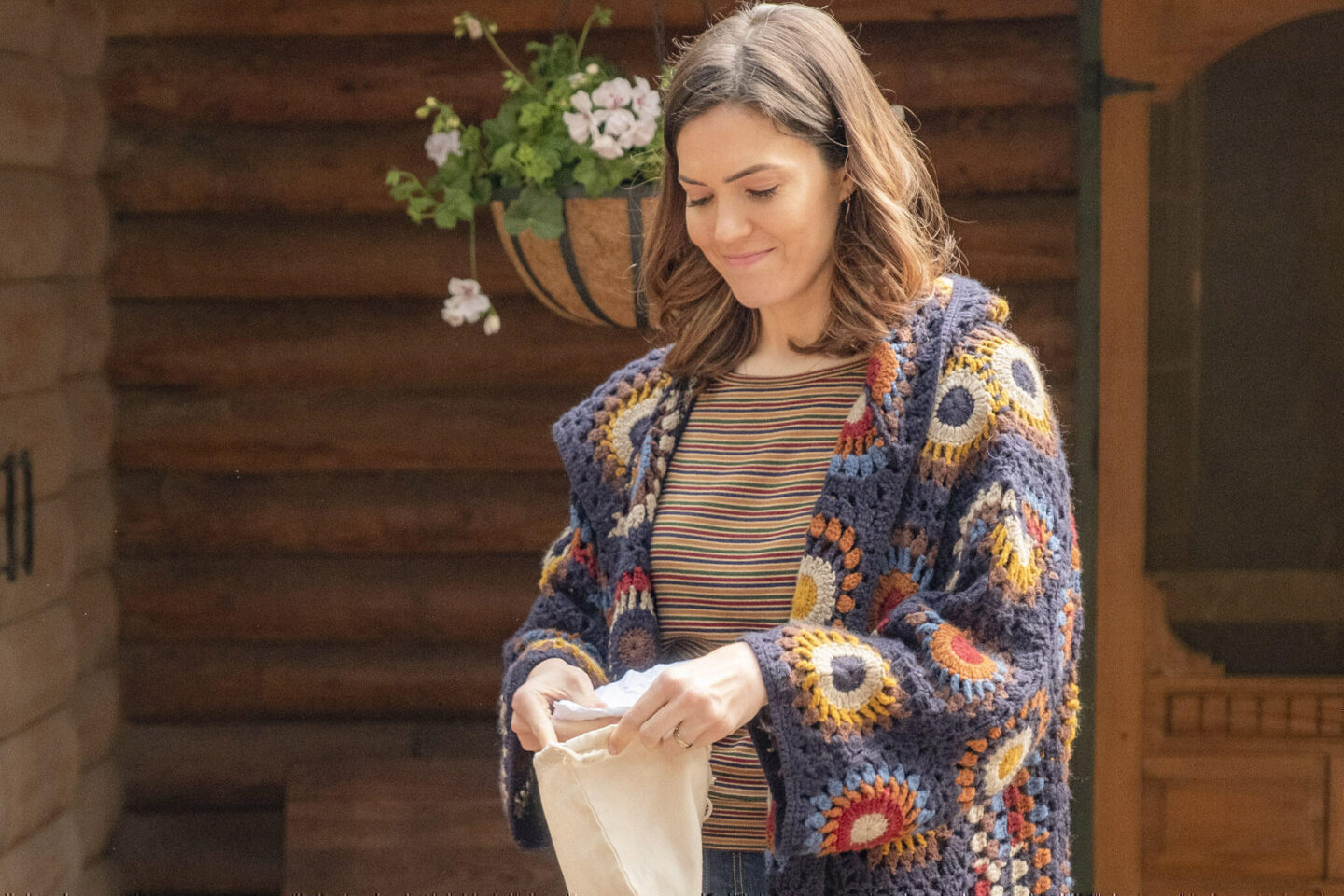 The pattern we used for the Rebecca Cardigan
The pattern we used was a Annah Haakt pattern from Ravelry. You can download this pattern from the site for €5.95.
Changes we made to the Rebecca Cardigan and the yarn we used
We made some changes to the pattern. My mam added the coloured side on the main part and on the sleeves (Annah Haakt has now added the stripes to her pattern).
She also put it all together using a different stitch because we ran out of the main blue we used and couldn't get anymore.
She had to leave off  1 row on both the main part of the cardigan and 1 row off the sleeve for it to fit me and only did 8 squares instead of 10 on the hood.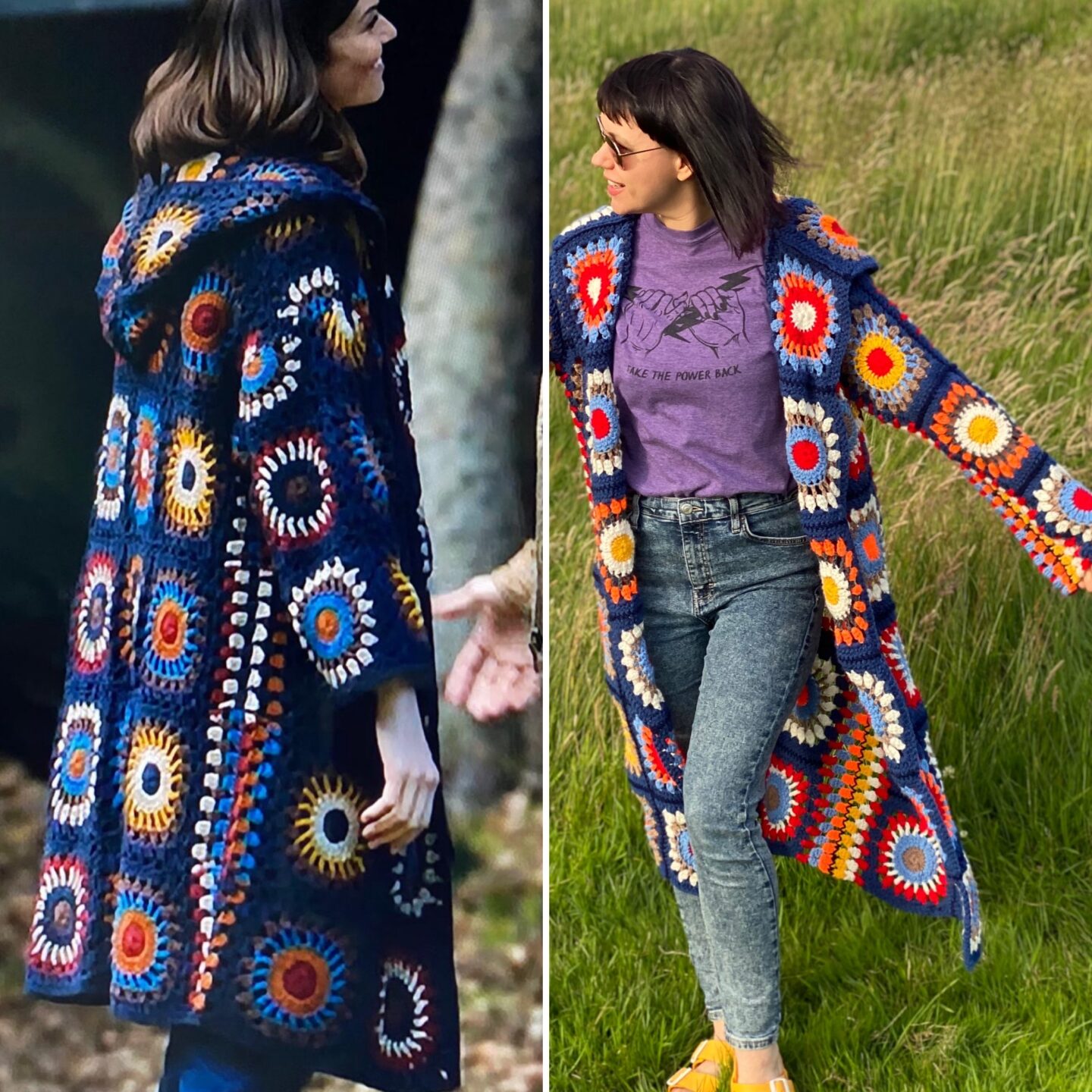 The main blue colour is blue aran and was about £5 a ball. We used two 200g balls. The rest was double knit and averaged about £3 per ball. She used full balls of some colours and part of one ball of others.
It took my mam 3-4 weeks to make it in total. Thank you mam! She says 'never again' lol.
Cost of the This is Us 'Rebecca Cardigan'
So my mam made me this from the heart and didn't charge me for her time, bless her. She had a fair amount of wool that she could use for it that she refused to let me pay for. We needed to buy the pattern (£5.64), some toggles (£4.25) (affiliate link) and some additional wool which came to £24. My mam thinks all in all materials wise it probably cost around £50. If you are paying someone for their time for this, expect the cost to be hefty.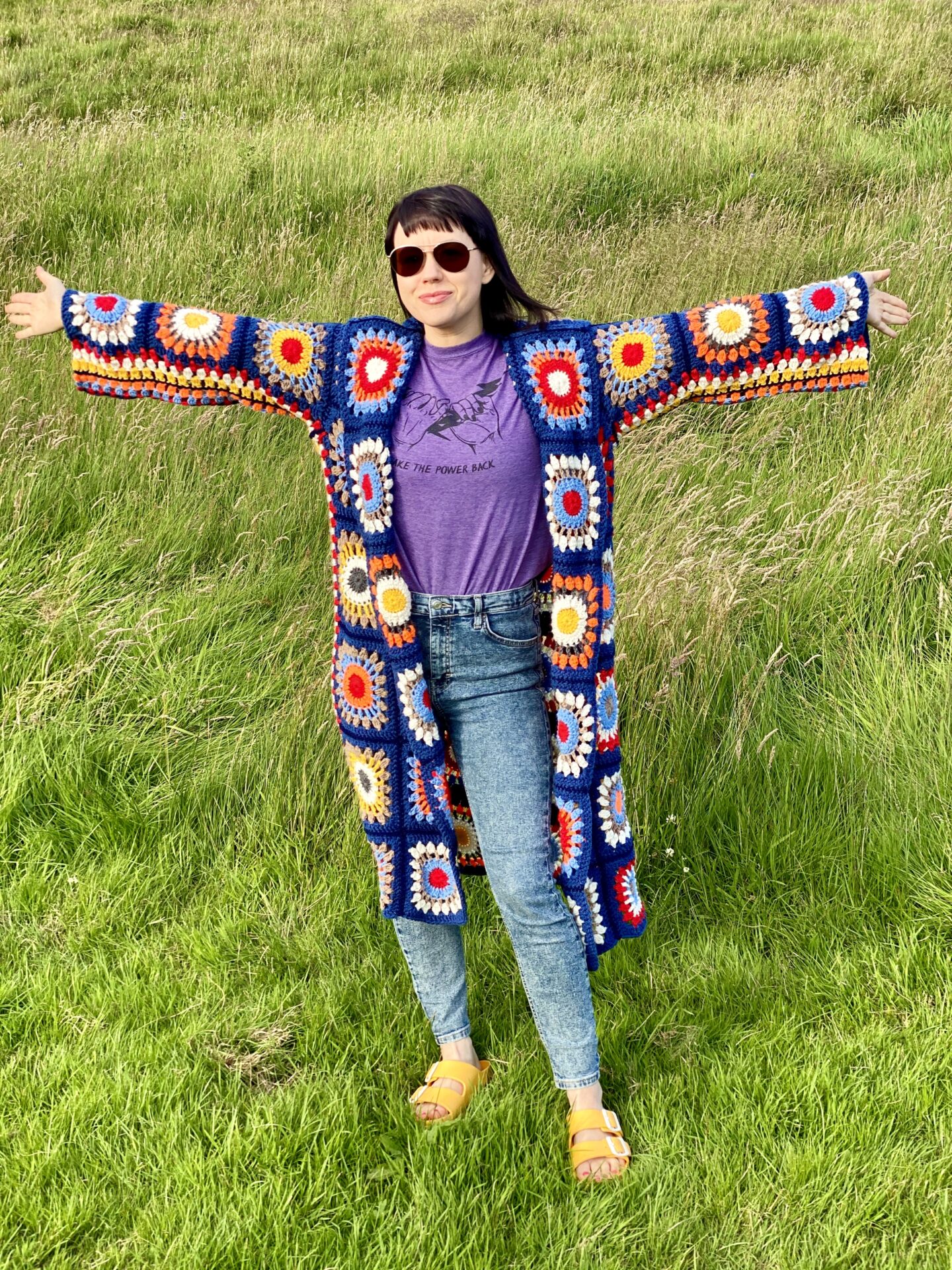 My mam made me a cute little pouch with little notes and extra yarn/toggles so I can maintain it over the years which was such a cute and meaningful touch too.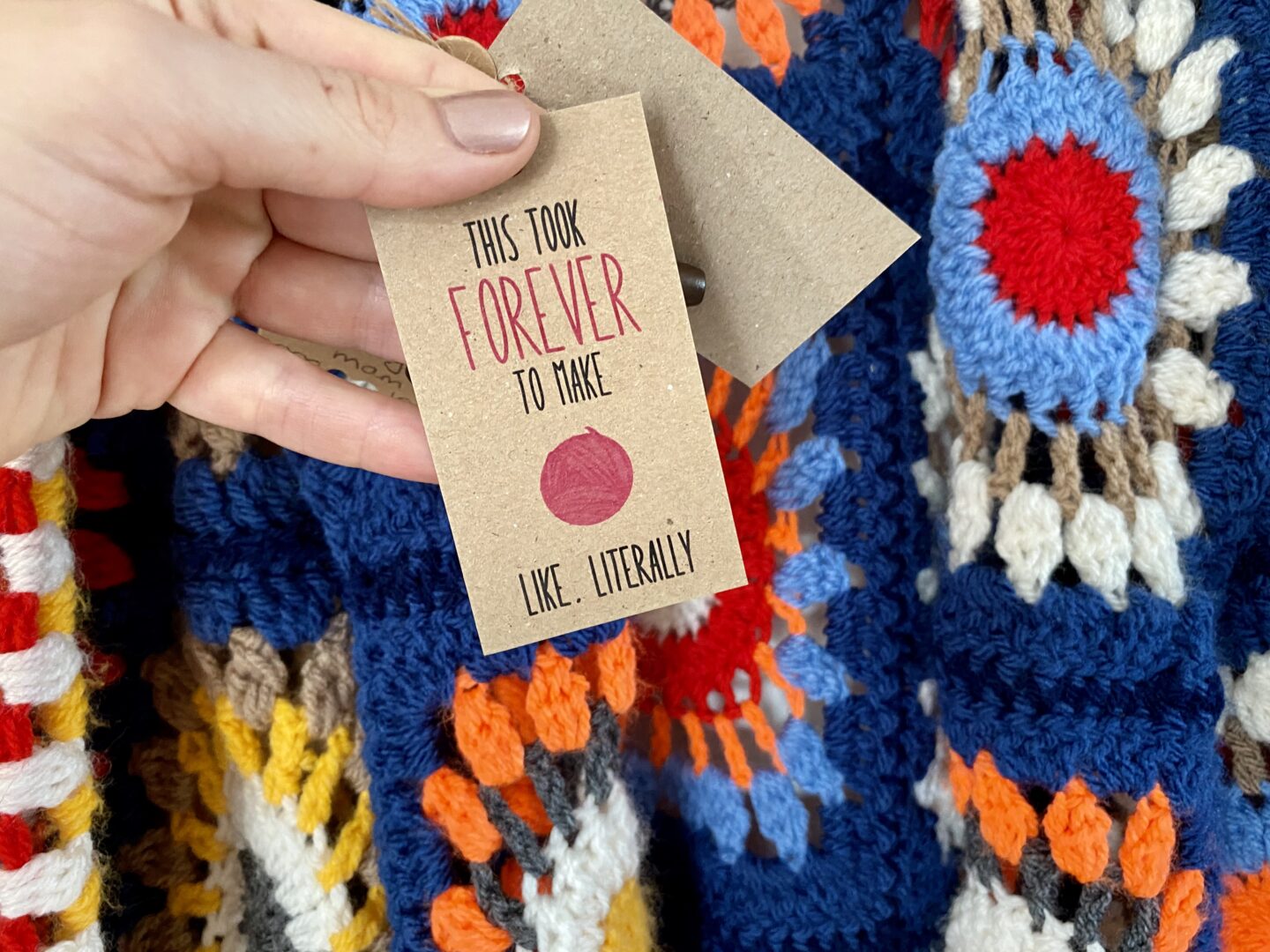 I will honestly treasure it forever. I'm taking such careful care of it. I probably need to remember to wear it more! It's currently stored with my wedding dress, also from my mam. I can't wait until festivals happen again as she's going to look so good at Glastonbury! Now I've just got to convince my mam to make a mini one for Lena, how cute would that be!