You'll likely have heard the new fantastic news from the autumn budget that after much campaigning, Nexus, has been successful in its bid for £337 million to improve the Tyne and Wear Metro. This means that Nexus will now start working on a new Tyne and Wear Metro fleet that will come into service in 2021.
I lived and worked in London for a year. Every day I caught the central line on the tube. The tube is fantastic but personally, I think the Metro beats the Tube hands down. I really think a lot of people take the Metro for granted. We are really very lucky to have it. I grew up in a small town in County Durham where we only had buses to get around on. You never know when a bus will REALLY arrive and then if there is a lot of traffic, they get caught up in it. With the metro you have none of that. They are mostly bang on time and stick to schedule.
Things to do with kids in Newcastle at Christmas
Travel on the Metro system – Pop PAYG cards
We live about a ten minute walk from a metro station in South Tyneside. I use the metro on my work days to get to and from work. I recently got a Pop Pay As You Go Card (PAYG) and if you use the Metro then I urge you to get one too. The Pop PAYG card itself is free, but you must buy it with a £10 balance. Pop PAYG is cheaper than adult single and DaySaver tickets. It's 20p cheaper than cash single tickets and 30p cheaper than cash DaySaver tickets.
You can travel as many times as you like in a day. Your card is charged each time you travel until you reach the daily price cap for the number of zones you've travelled in. You'll never pay more than the daily price cap for the number of zones you've travelled in that day (£2.60 for one zone, £3.70 for two zones, or £4.70 for all zones) as long as you touch in and out. And with an under 16 PAYG card travel on the Tyne and Wear Metro costs just 60p for a child's single and £1.10 for a Child All-day Ticket.
If you follow me closely, you'll know I'm the queen of indecision. Often, if I'm heading out on a night, I won't know whether I'll want to get the metro home early or grab a taxi or Uber later on. It depends how I'm feeling and how my night goes. In these cases, I never know whether it's better to get a single ticket and end up paying extra later if I need another return ticket. Or whether it would be better to get a day ticket in case I need the return but risk having wasted the money should I decide to get a taxi later. The Pop PAYG card does away with that issue for me as I can just use it whenever I need it and it will always be the least amount.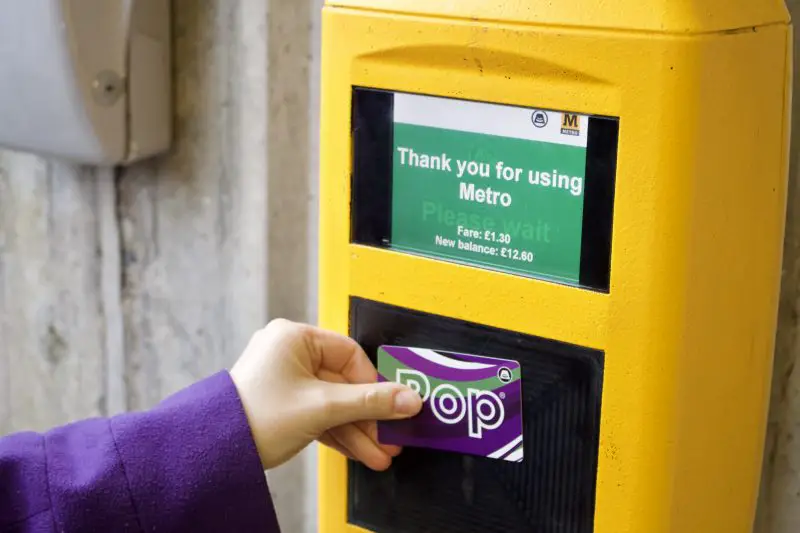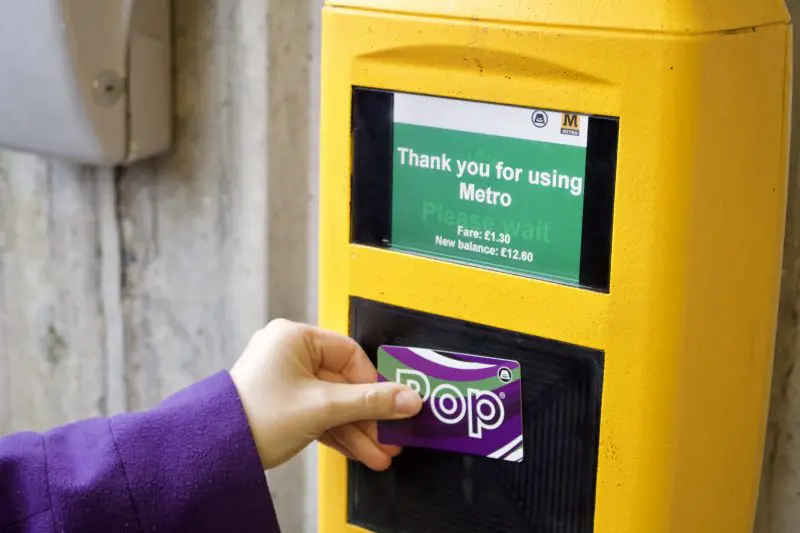 Newcastle city centre with kids at Christmas
Occasionally, I head out on the metro on my non work days with the kids as we only have one car in our family which my partner takes to work. Usually though, on weekends, we travel as a family by car. However, Tyne and Wear Metro recently challenged me to take my family out on an adventure to Newcastle via the Metro. I thought it would make a nice change for all of us to travel via train on a weekend. Kids love trains, they don't view public transport as a chore like adults do. They see it as an exciting adventure and it can make a day all that more special in their eyes.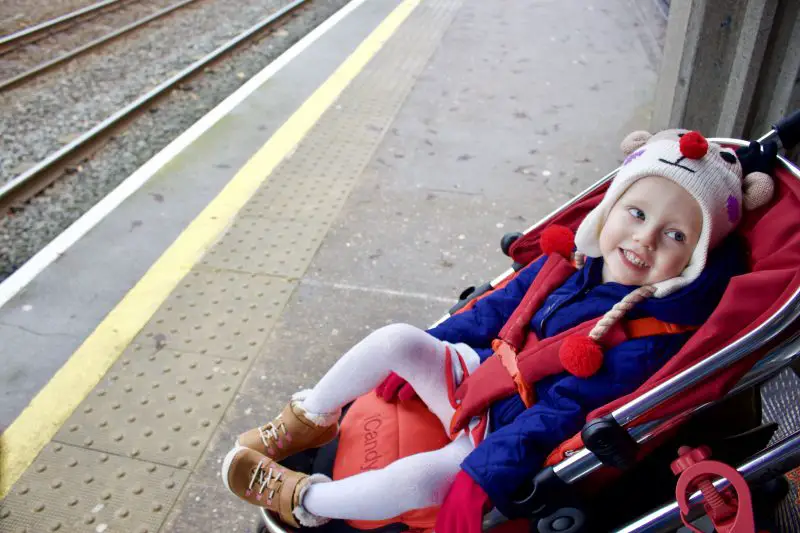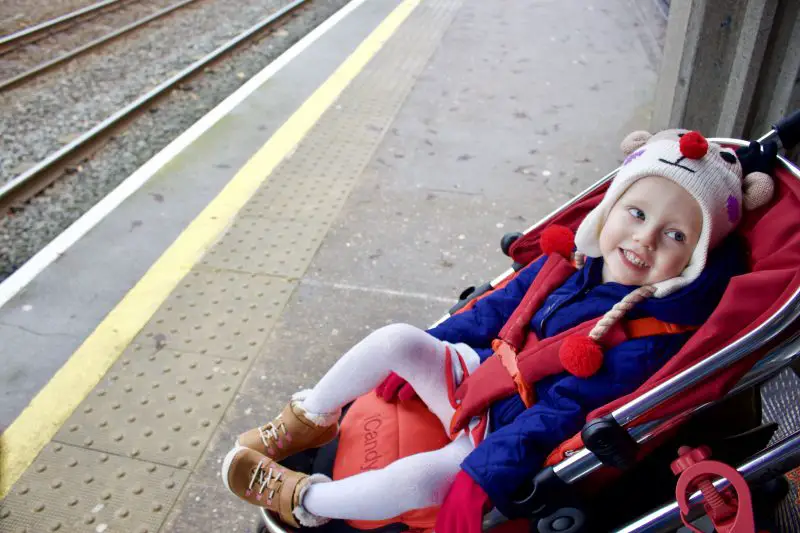 Metro Adventure Book
Tyne and Wear Metro have recently launched their Metro Adventure Book 'Metro's little book of things to see' which encourages families to go out and about to explore the region via Metro in search of Tyne and Wear's 'hidden treasures'. They sent us two of the books for the kids to try for our day out.
As I suspected, both kids got a real kick out of riding on the Metro for a change. Little Lena (2) had her nose smooshed up against the 'choo choo' window, oohing and ahhing at all the sights we went past. She's a bit too little to understand the book as yet but enjoyed turning the pages and looking at the pictures.
Arlo (5), LOVED the book. He told me it was the highlight of his day and he barely put it or his pen down. Arlo was marking off all the things that he had seen and asking questions about what we would see during our day. He even got it out again when we got back home to check he hadn't missed marking anything off. I didn't expect him to enjoy it so much and it's made me realise he would love some activity books for Christmas.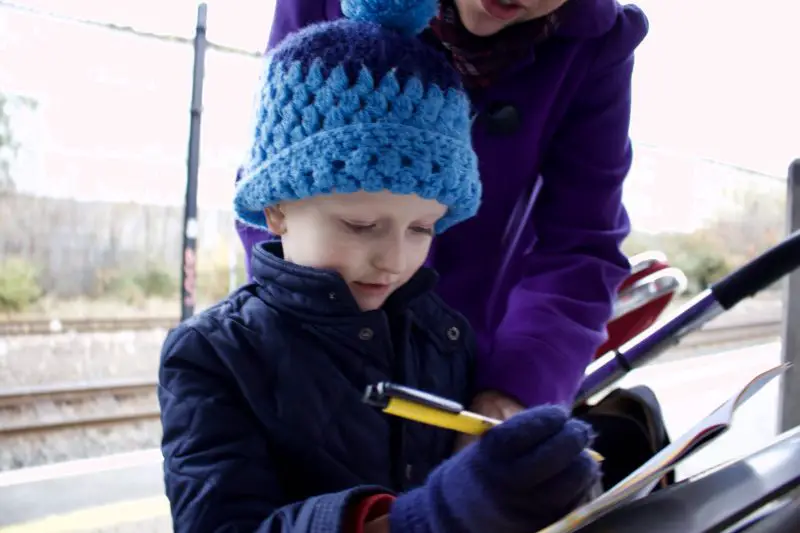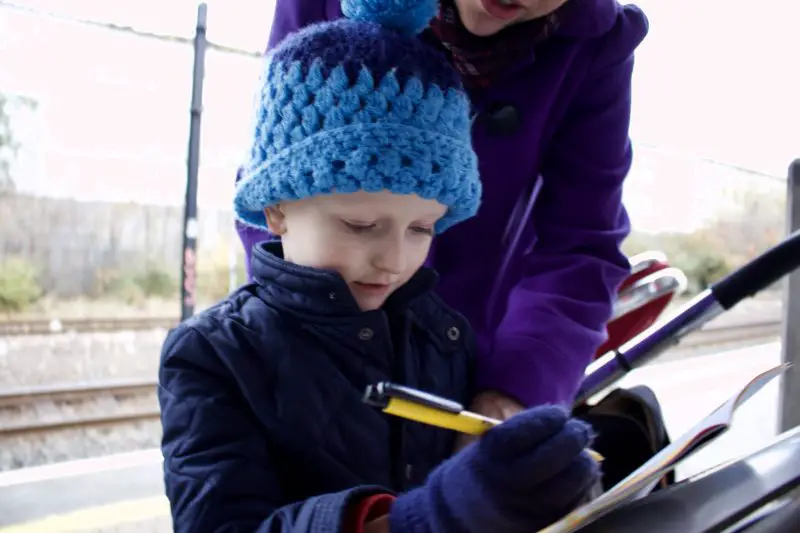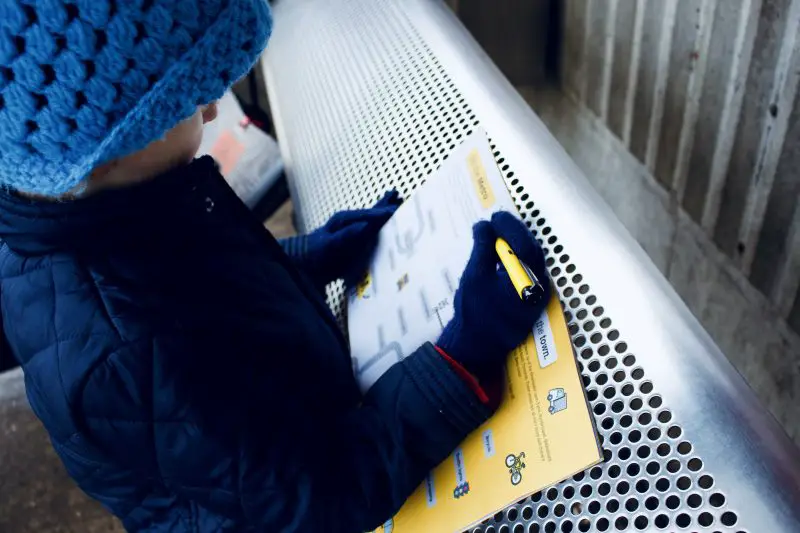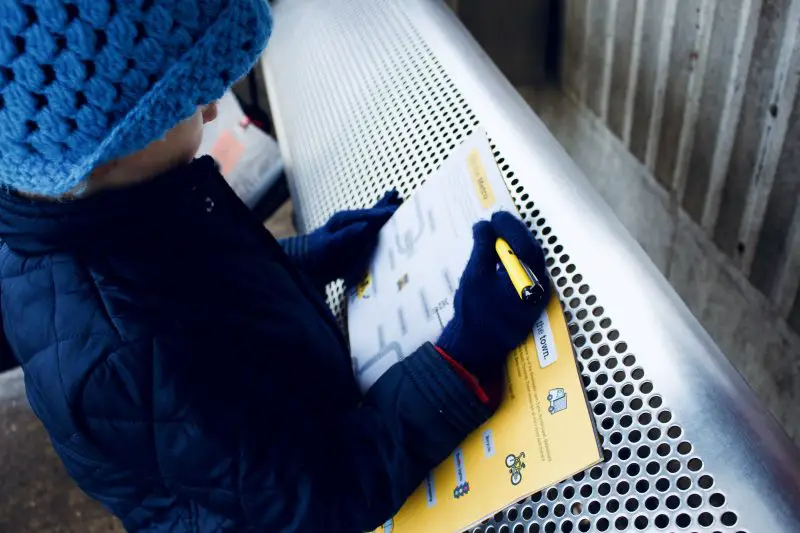 Great North Museum
The first place we decided to go in Newcastle was Great North Museum. We got off the metro at Haymarket and headed a short 5 minute walk to the museum. The traffic looked intense so we were relived we didn't have to try and find a parking spot.
The 'Hancock' is great resource and has free entry. We looked around the museum (animals and dinos were the kids' highlights) and then when the littles got restless we took the them to the play area, the 'Mouse House'.
The Mouse House has little holes in the wall that children can climb through, go in a little maze behind the wall and come out the other side. They can also pop their heads out little holes. The kids had a great time running around it and playing with other children until Lena fell and bust open her mouth. Kids, you can't take em anywhere.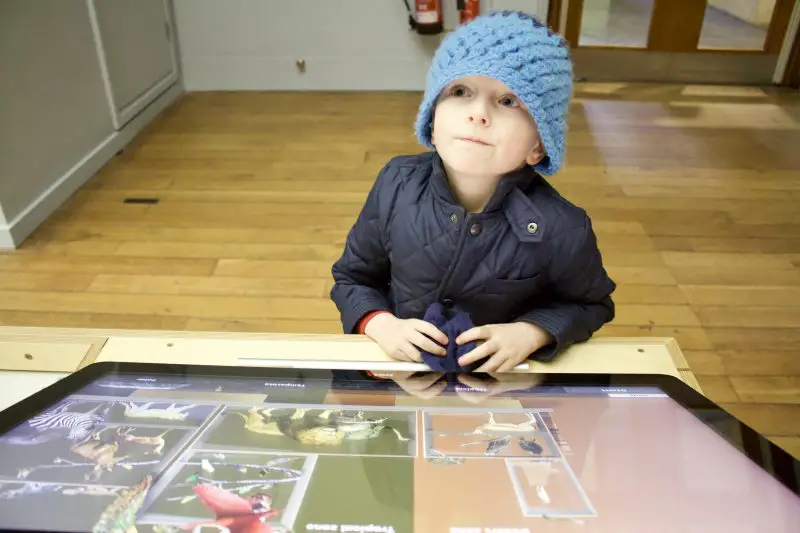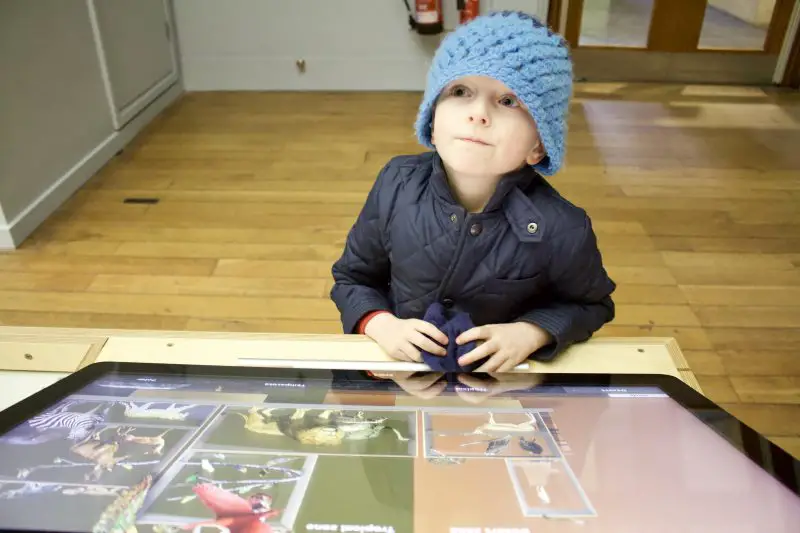 Fenwicks' Christmas Window
You can't visit Newcastle in December and not visit the famous Fenwicks' Christmas Window. Arlo had already been this year to see it with his Grandad but it was Lena's first visit (maybe first visit ever). As you can see in the photos, she thought it was great. She was quite put out that she couldn't get through the glass and play with the display though.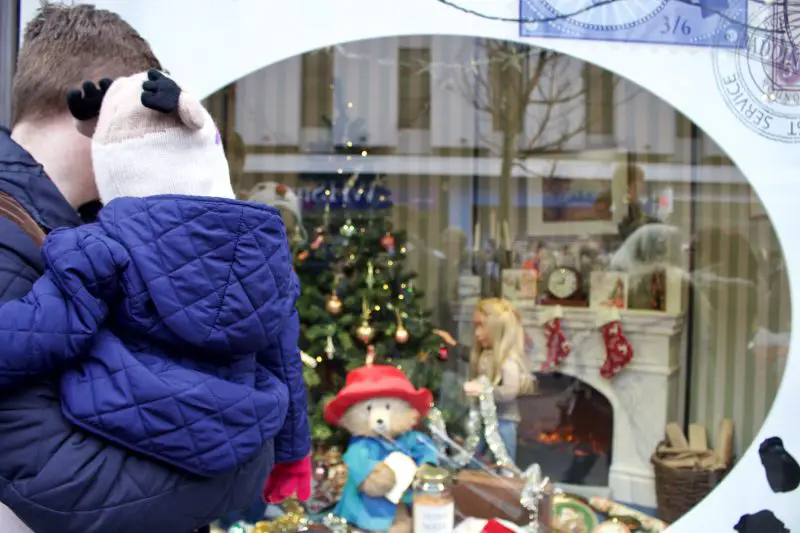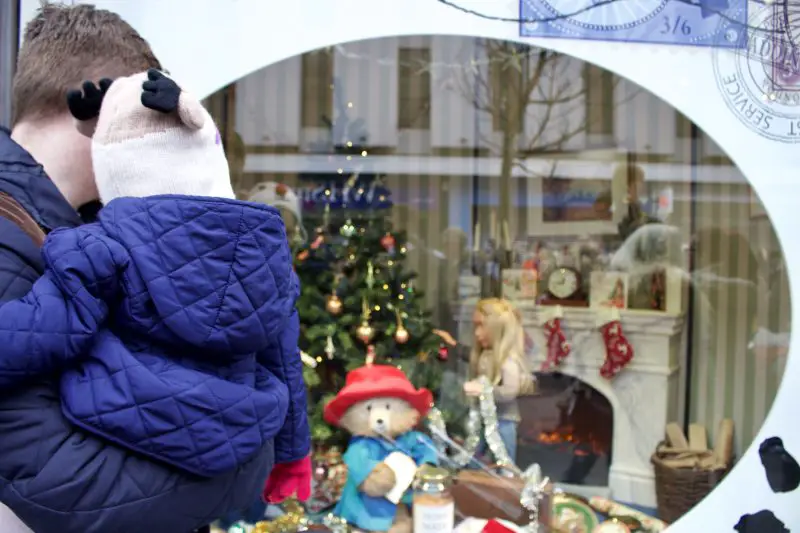 Eldon Square for food and shopping
We had a quick wander to the Christmas Markets at Monument. Lena is convinced that Rapunzel lives in the Monument tower, bless her. At this point, despite asserting that he didn't need the toilet when I asked him at the Great North Museum, Arlo now decided that he DESPERATELY needed a wee. Lena also started to tell us that she was hungry – complete with tummy rubbing hungry signs to show us how much she really meant it. We had been planning on heading to Hadrian's Tipi or the Christmas markets and eating some street food. Given that Arlo needed the loo and Lena was starving, we decided to go to a restaurant where we could do food/toilets in one go.
One thing I didn't bargain on was how busy Newcastle would be. I hadn't realised but it was the day after pay-day for many people, and the start of December. It seemed the whole of the North East had come out to do some christmas shopping. Everywhere was full but we managed to get a great table at Tapas Revolution.
We recently reviewed it so I knew that it would be somewhere that we would all enjoy. We knew we had to order the pan de la casa that we loved so much in my review. Arlo wasn't keen on the items on the children's menu so we got one child's menu (2 tapas plus churros for £5), then 3 adult tapas for us all to share. Unfortunately the kids decided to be their most picky and wouldn't attempt most of it. Arlo had a little but Lena really wouldn't eat anything except the churros chocolate sauce. She was over due her nap by this point and was being a bit fractious. Arlo was pleased that he got to eat all the churros though which he said were 'so delicious'. Lena kept asking for juice over and over until we caved and got her one just to shut her up. She had two sips and then left it and I'm not at all bitter about that wasting £2.95 of my hard earned cash on something that got wasted…
We all loved the new sign at Eldon Square that counts down how many sleeps till Christmas. I can see that being a much loved feature in Newcastle for many years to come.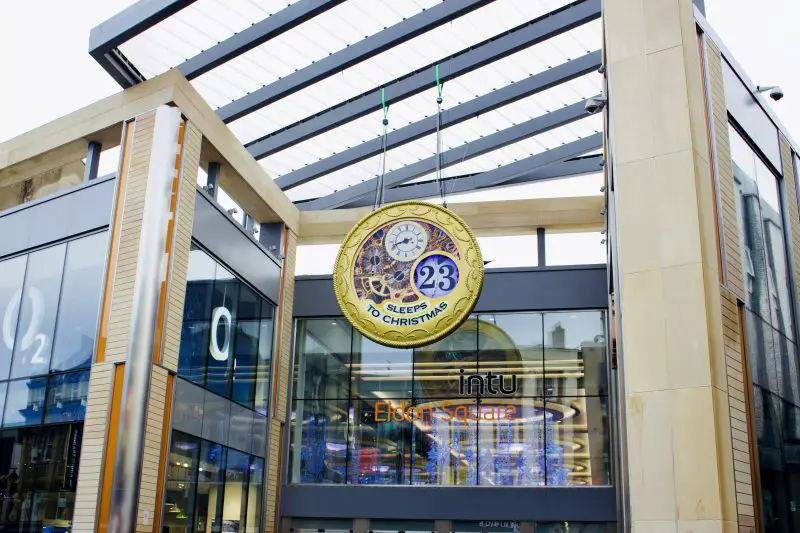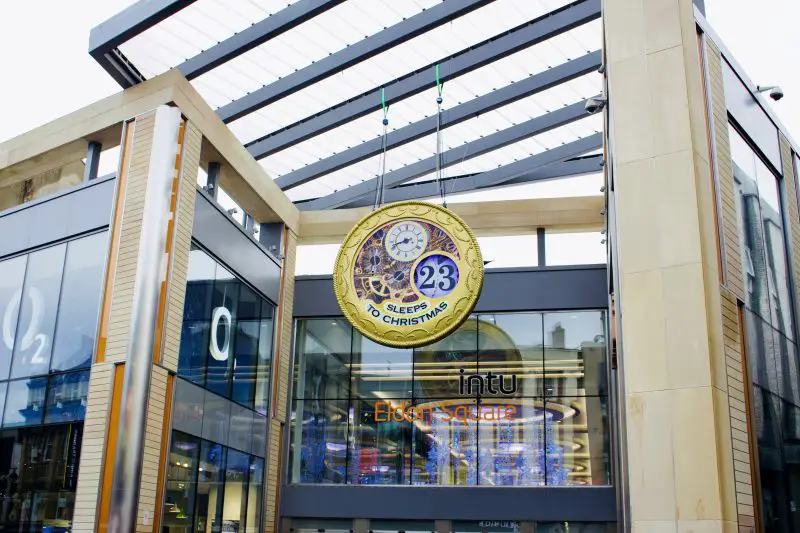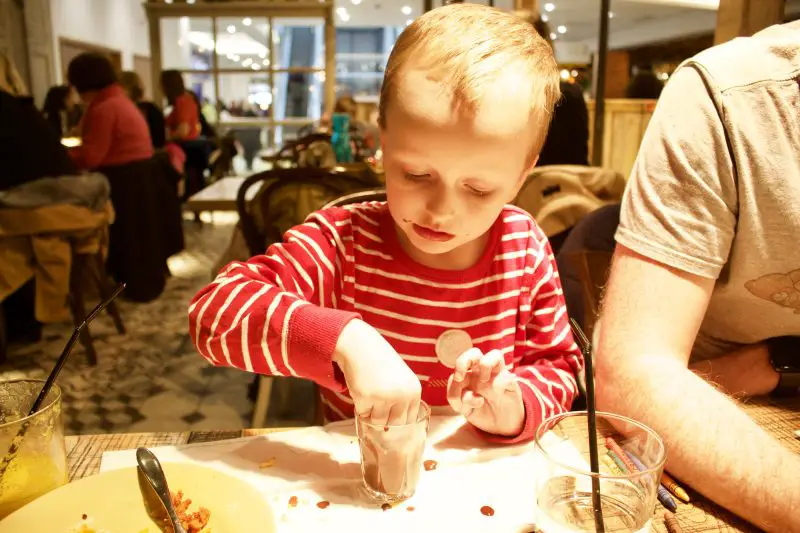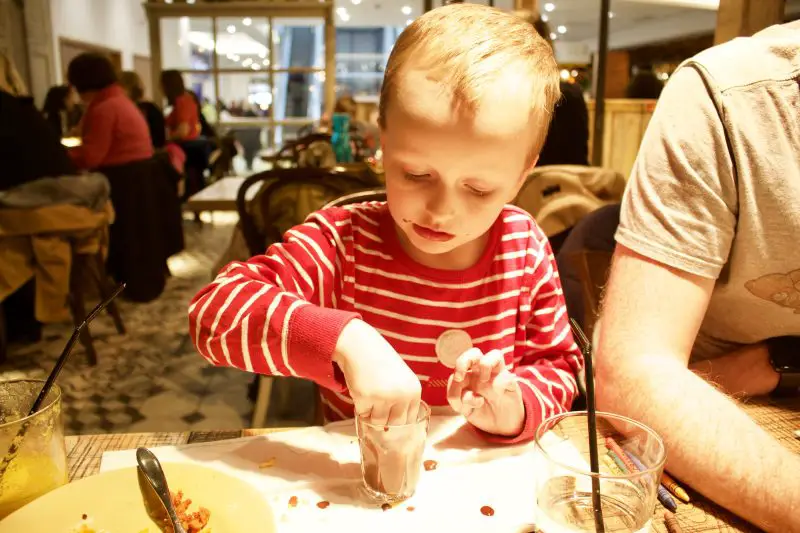 Heading home from things to do with kids in Newcastle at Christmas
Lena then started to climb out the high chair and try to escape over the wall into Eldon Square to 'go fast' aka, run like we had given her Red Bull at lunch. We had so many more fun things that we could have done for the rest of the day. I wanted to hit the christmas markets, Hadrian's Tipi and Etsy does Local. We were planning on taking the kids to the play area at the Laing Art Gallery. We could have visited the Discovery Museum, the Centre for Life (Metro have an offer where children go free with full paying adults), Newcastle Castle, Eldon Square soft play. But I'll be honest, at this point we were just a bit fed up. It was super busy, Lena wouldn't go in the buggy so we were holding a wriggly 2 year old and pushing an empty buggy (or a buggy with a 5 year old in it) through crowds of Christmas shoppers. We were done and just wanted to go home and snuggle up in front of a movie. Even though we got the metro to Haymarket, I loved that we could just jump on at Monument. If we had parked our car at Haymarket, it would have been a much longer walk back.
The metro ride home was actually quite fun. Taking inspiration from the Metro's little book of things to see, we played a game of eye spy with Arlo. Now that he is in year one, Arlo actually understands how to play eye spy properly for the first time. He got so into the game we couldn't help but smile and laugh along. Although we were never going to get the D for dinosaur, I'm pretty sure they aren't permitted on the metro…
Of course on our short ten minute walk back to our house, Lena fell asleep. Thanks to our Newcastle adventure tiring her out, she did however, have a very long nap in her buggy in the corridor. This allowed the rest of us to snuggle up on the sofa and watch Home Alone together. The perfect end to a fun family day.
Where are your favourite places in Newcastle to visit with kids at Christmas? Let me know in the comments.
And if you are going on a metro adventure with kids don't forget to get a copy of the little book of things to see and check out the Metro offers page – its full of discounts you may be able to take advantage of and save yourself some pennies.
If you liked this post you might also like:
If you have enjoyed this post or found it useful, here are some quick and easy ways that you can support Nomipalony or say thanks: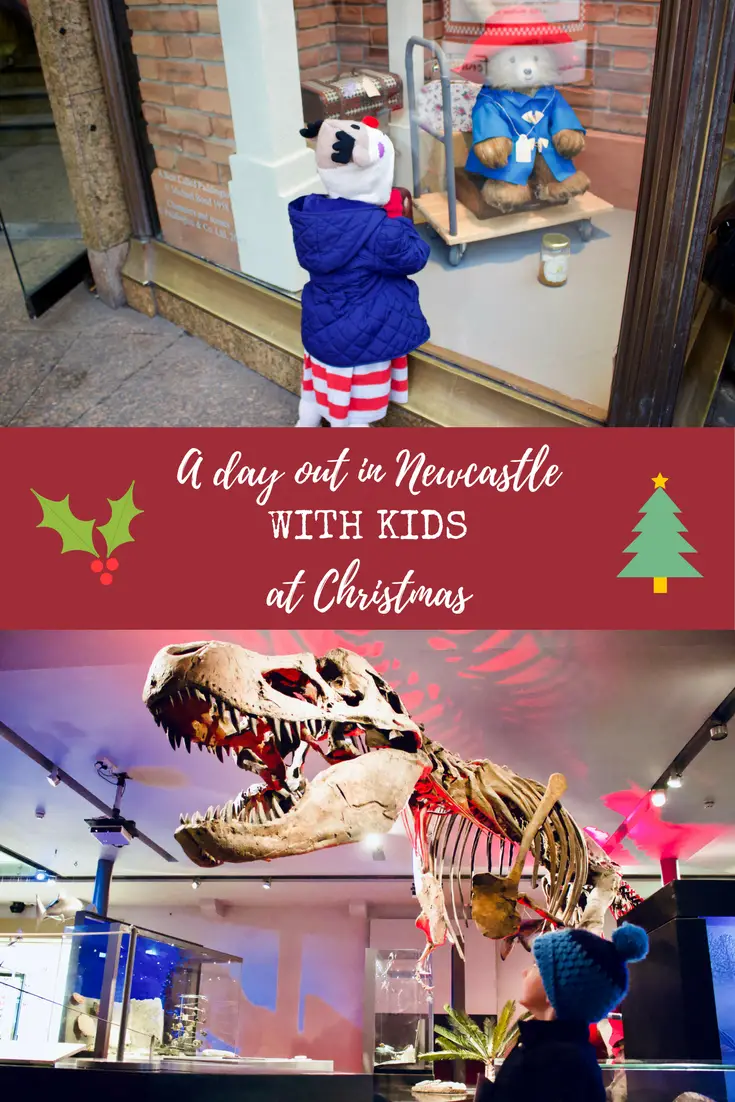 Disclaimer: Thanks to Tyne and Wear Metro for sponsoring this blog post. For my full disclosure policy, see my about page.