Last weekend we went to Tanfield Railway's North Pole Express. Last year we went to Weardale's Polar Express. Given I often hear parents asking which is best, I thought I would give a review of both with direct comparisons between the two compare the two. Please read on for my Tanfield Railway North Pole Express review…
Please note this blog post was written in December 2016. 2021 update: The Weardale Polar Express has temporarily stopped running. Weardale Railway was under threat after its US parent company went into administration. However, the Auckland Project has purchased the Weardale Railway and are currently in the process of finalising their licence to be able to operate the railway. Fingers crossed for the Weardale Polar Express being back in 2022.
Parking and arrival
Tanfield Railway North Pole Express parking and arrival
We were booked onto the 2.40pm train on Saturday 10th December, the event was fully sold out so I was expecting it to be very busy. I was pleasantly surprised to discover that at no point did it feel hectic or too busy. The ticket instructions said not to arrive more than 20 minutes early. We found it easy to find – it was well signposted once you got near. We also found it easy to park (although a bit boggy as it was over wet grass so don't wear your best shoes). Parking attendants helped guide the traffic at all stages. At no point did we have to queue to park or get into the event. The parking was very close to the entrance so there wasn't hardly any walking. Tanfield Railway did a great job of timing their event so people weren't all arriving and leaving at the same times. It seemed to be well organised and managed seamlessly.
Weardale Polar Express parking and arrival
In comparison, the Polar Express was a much longer drive for us from Newcastle to Weardale. It felt like a bit of a trek with a one year old who hates that car. When we arrived there was a very lengthy car queue just to park. The car park was huge and parking was a bit of a convoluted process and I would definitely allow time for this, maybe about 30 minutes or longer just to get parked. Then there is a small walk to the train, up stairs and a bridge over the tracks which is worth bearing in mind if you have any members of your group with mobility issues.
The train itself
Tanfield Railway North Pole Express – the train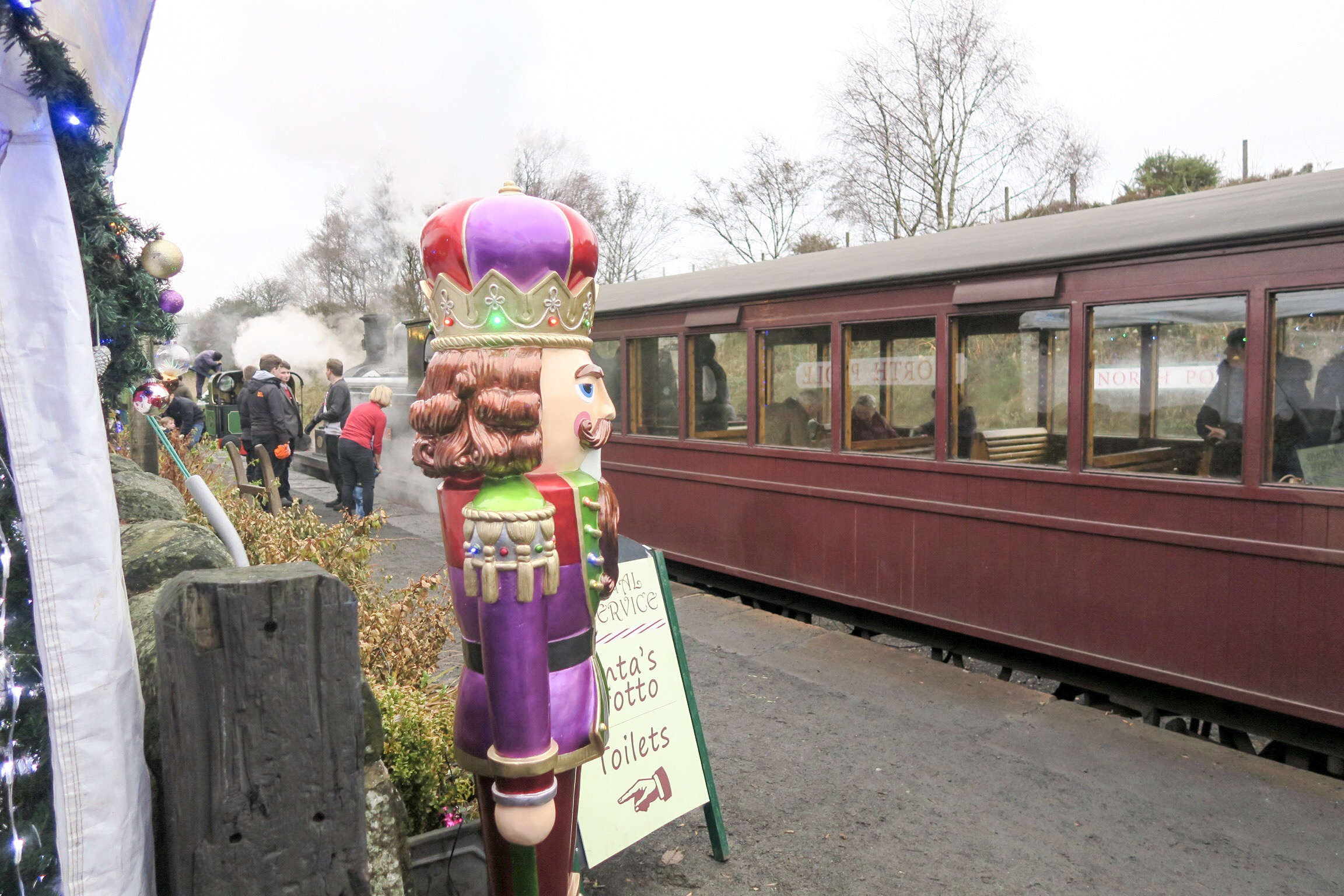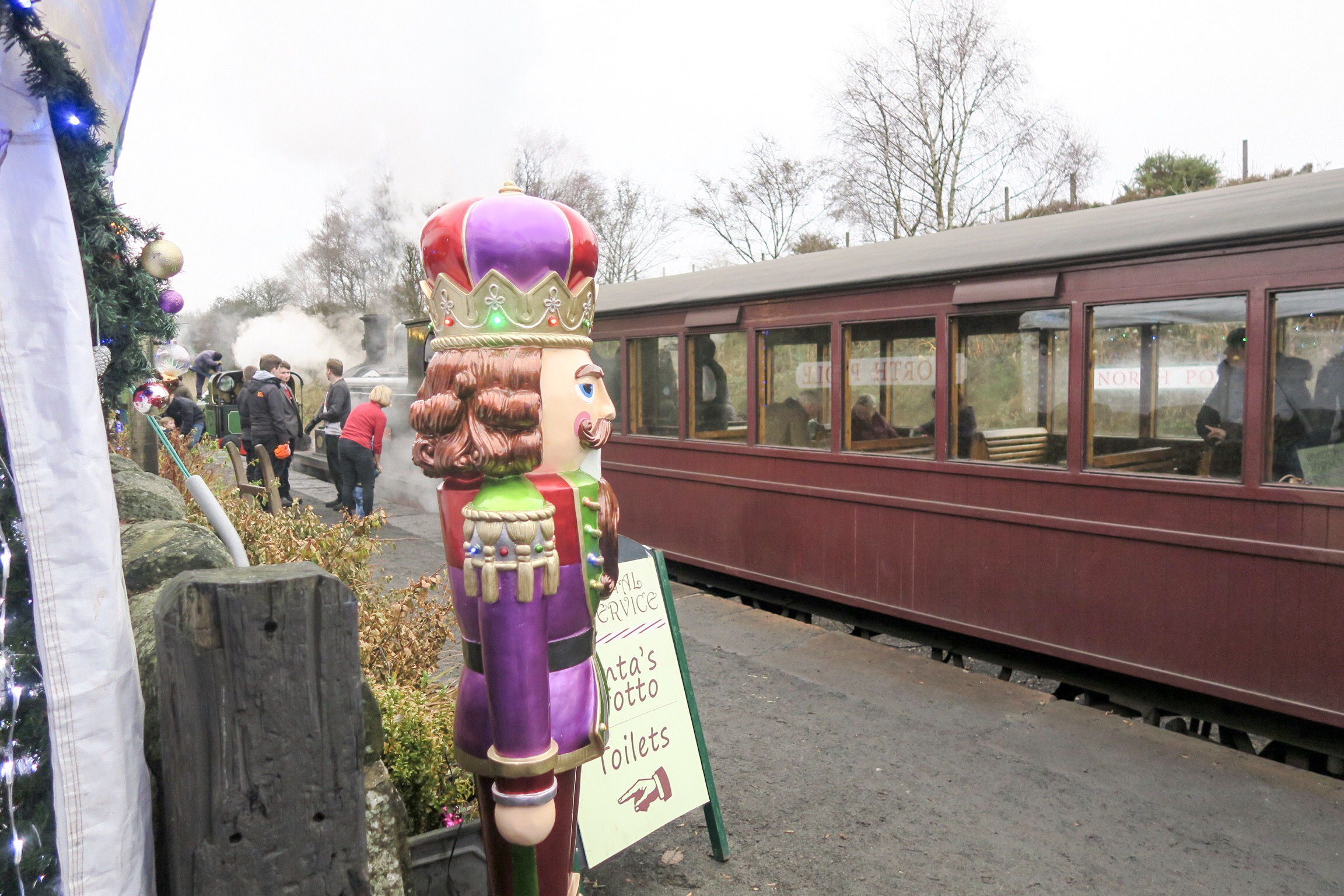 Some staff on the door checked our tickets and it was straight through to the train. The train looked fab. A proper steam train, tooting its horn and billowing steam out its funnel. My son was in awe. He's been obsessed with trains since we watched The Polar Express the Christmas before he turned two, three years ago. As a family we adore the Polar Express and watch it at least 900 times each festive period so these little train rides feel very special to us.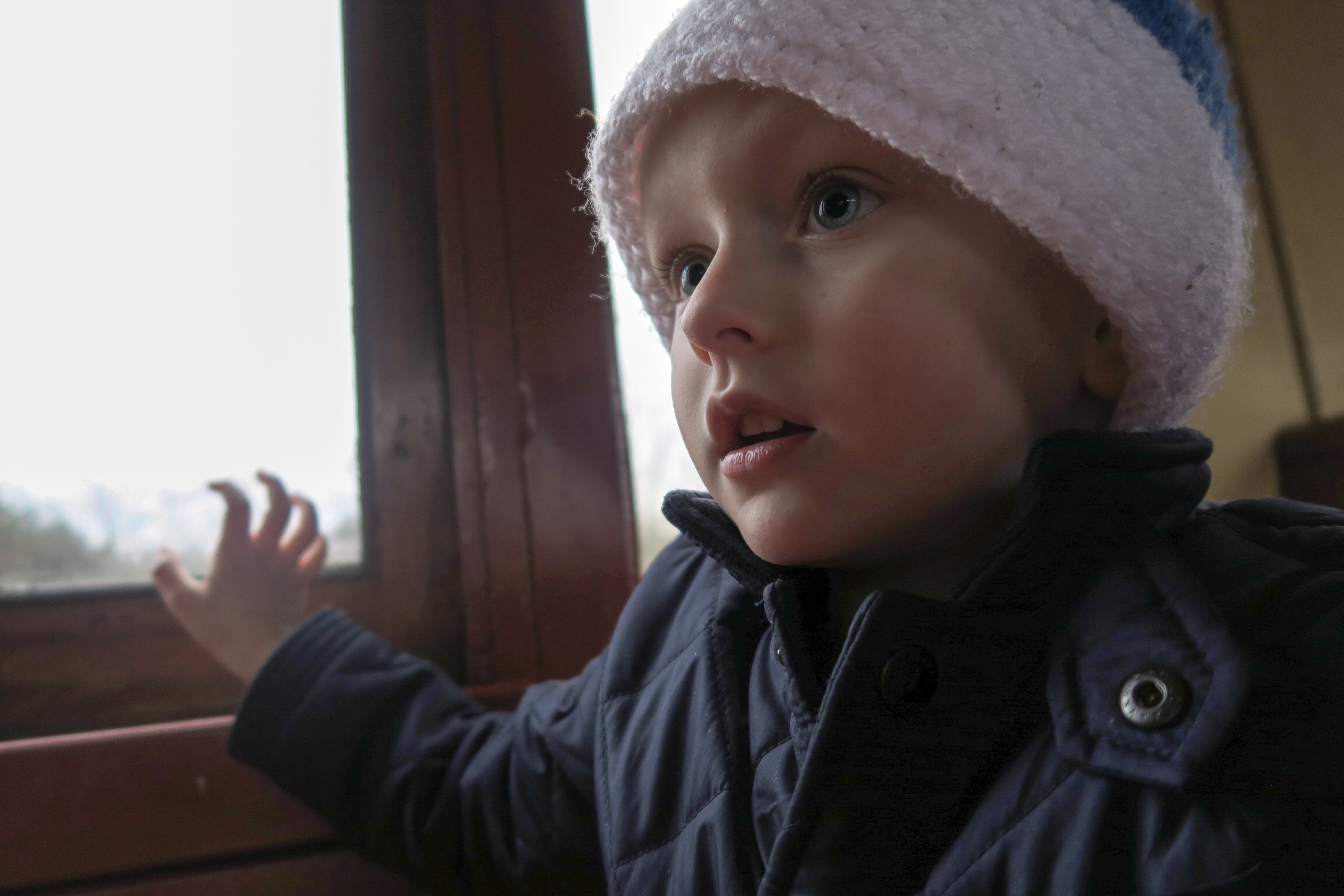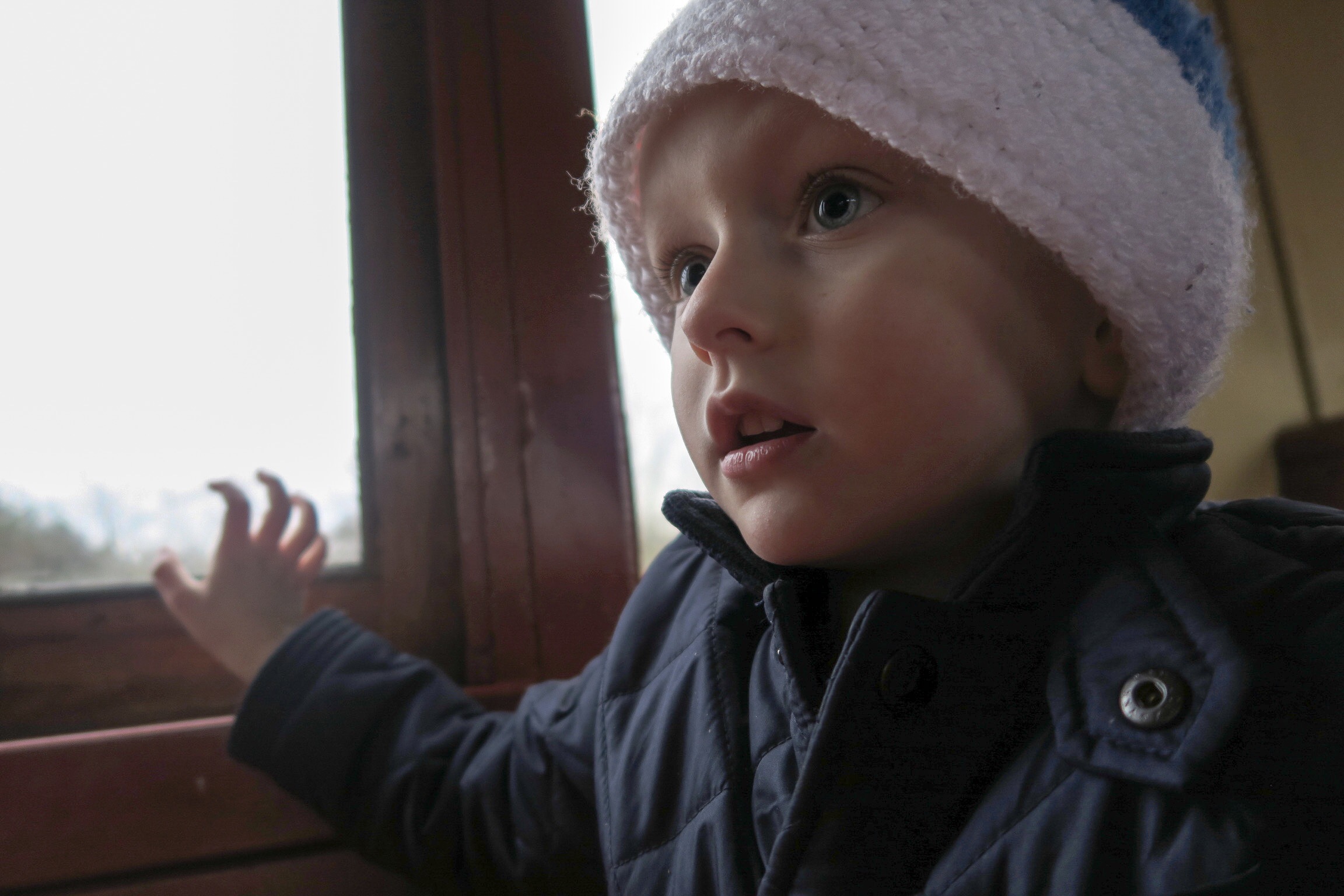 There was no queue or hustle and bustle to get on the train and despite the event being fully booked it was easy to get a whole carriage to ourselves with tonnes of space which is great when you have little boisterous little kids with you. The interior of the train was old school and basic. I'm talking wooden seats, no lighting or heat. Some of the windows were open (so dress warm) and the train was going slowly so we were (probably not the best for Health and Safety mind) able to stick our heads out to watch the steam cascade down along the train through the brisk cold country air. The views outside of the country side were lovely. I've seen photos of it in the snow and it looks stunning, unfortunately we weren't blessed with snow on our trip but it was still pituresque. We must have only been on the train around ten minutes before we stopped at the 'North Pole' to meet Santa.
The Polar Express train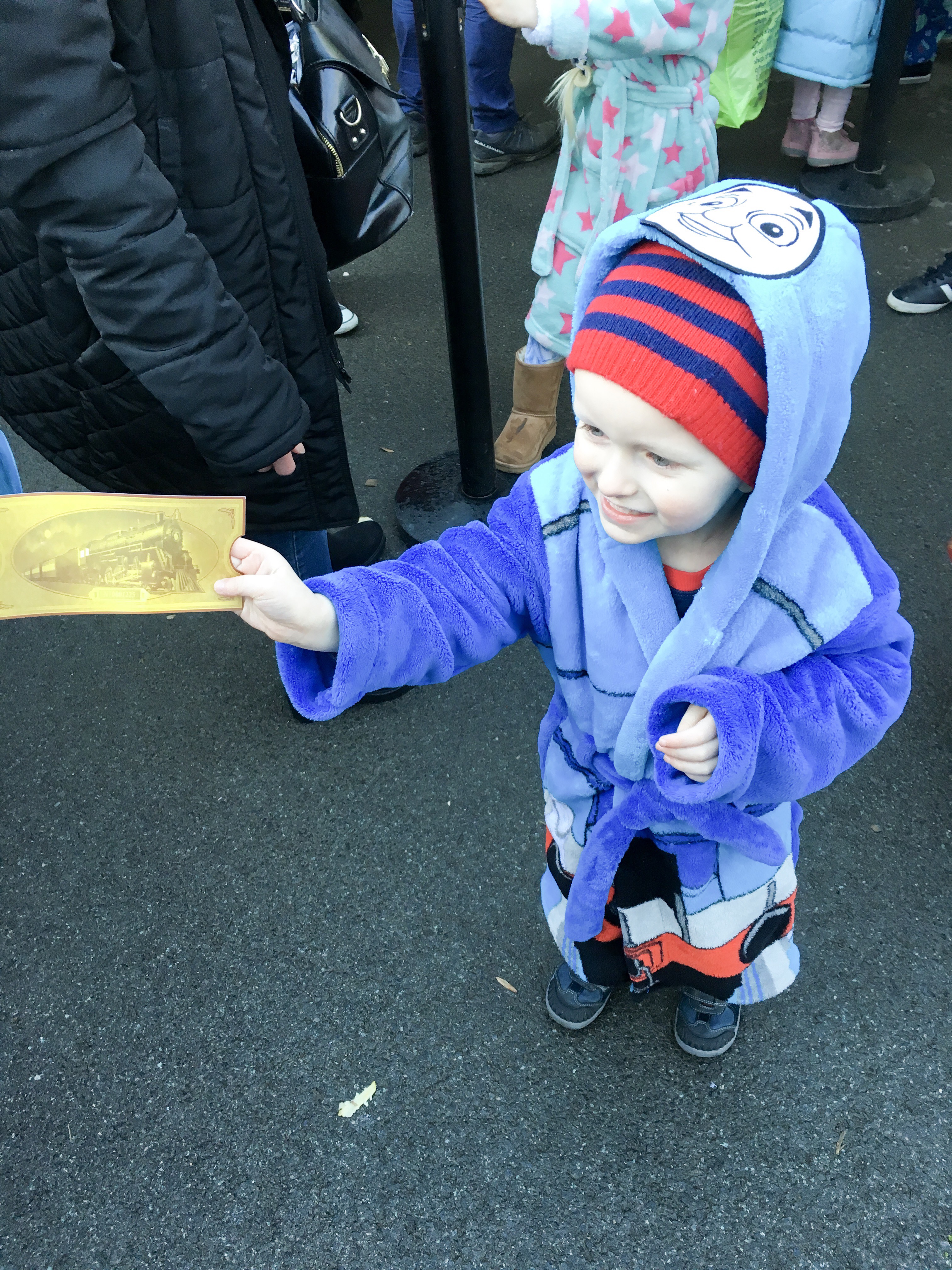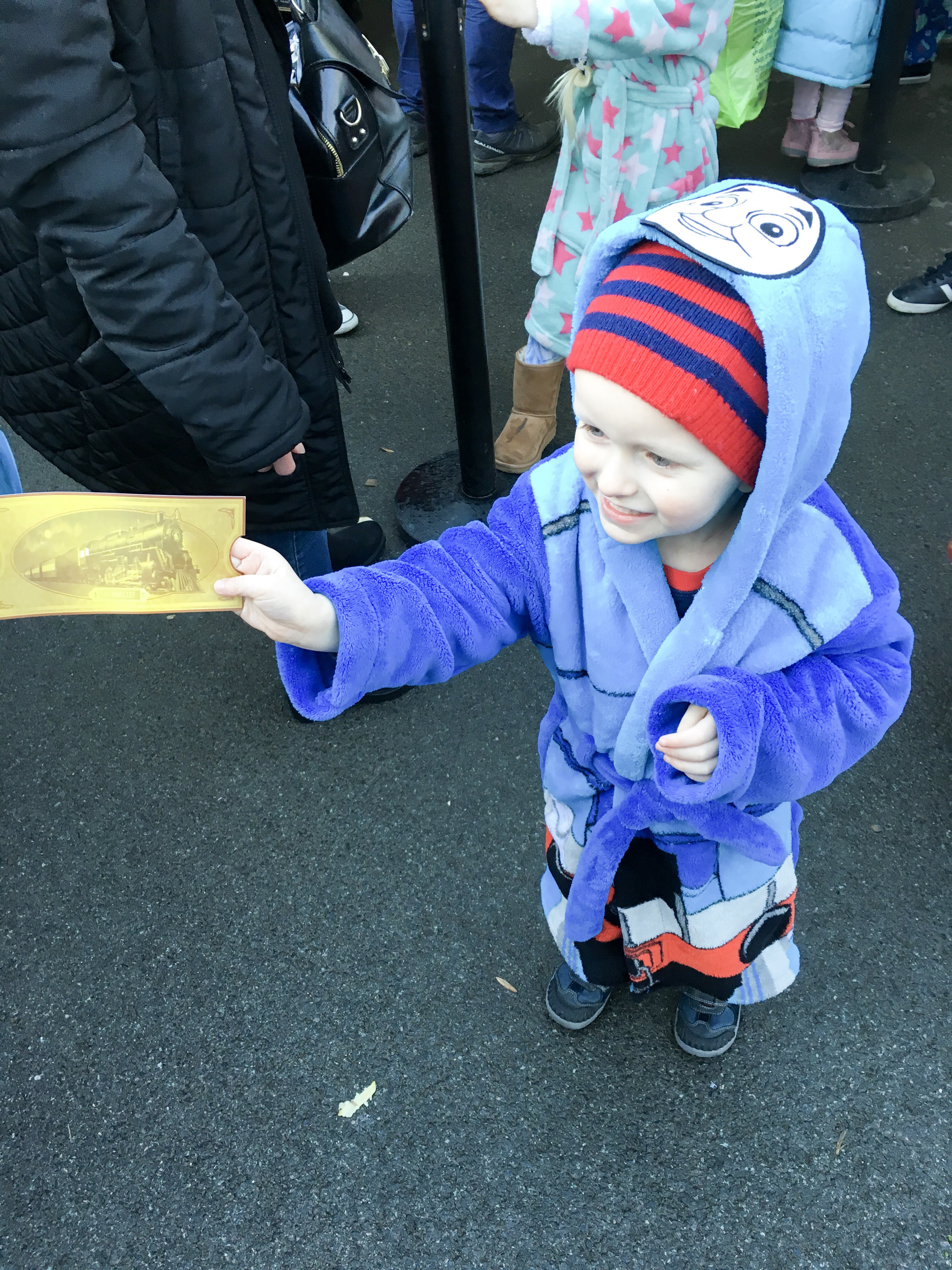 We were really disappointed when we saw the train for the Polar Express. It looked nothing like the train in the film and wasn't a steam train. It looked like they had taken different carriages from some old GNER, Virgin and Southern Rail trains and bunged them all together. They were all different colours (not in a good way) and styles and it was very long. It looked like some mismatched freight train that you see bundle past a train station every now and then. Not very magical at all. Inside, however, is more comfortable than the Tanfield train. It's similar to a normal passenger train you would ride on – warm with padded material seats. We had paid for the 'premium' seats so we had a table in front of us too which was nice.
The experience/Santa
Tanfield Railway North Pole express – experience and santa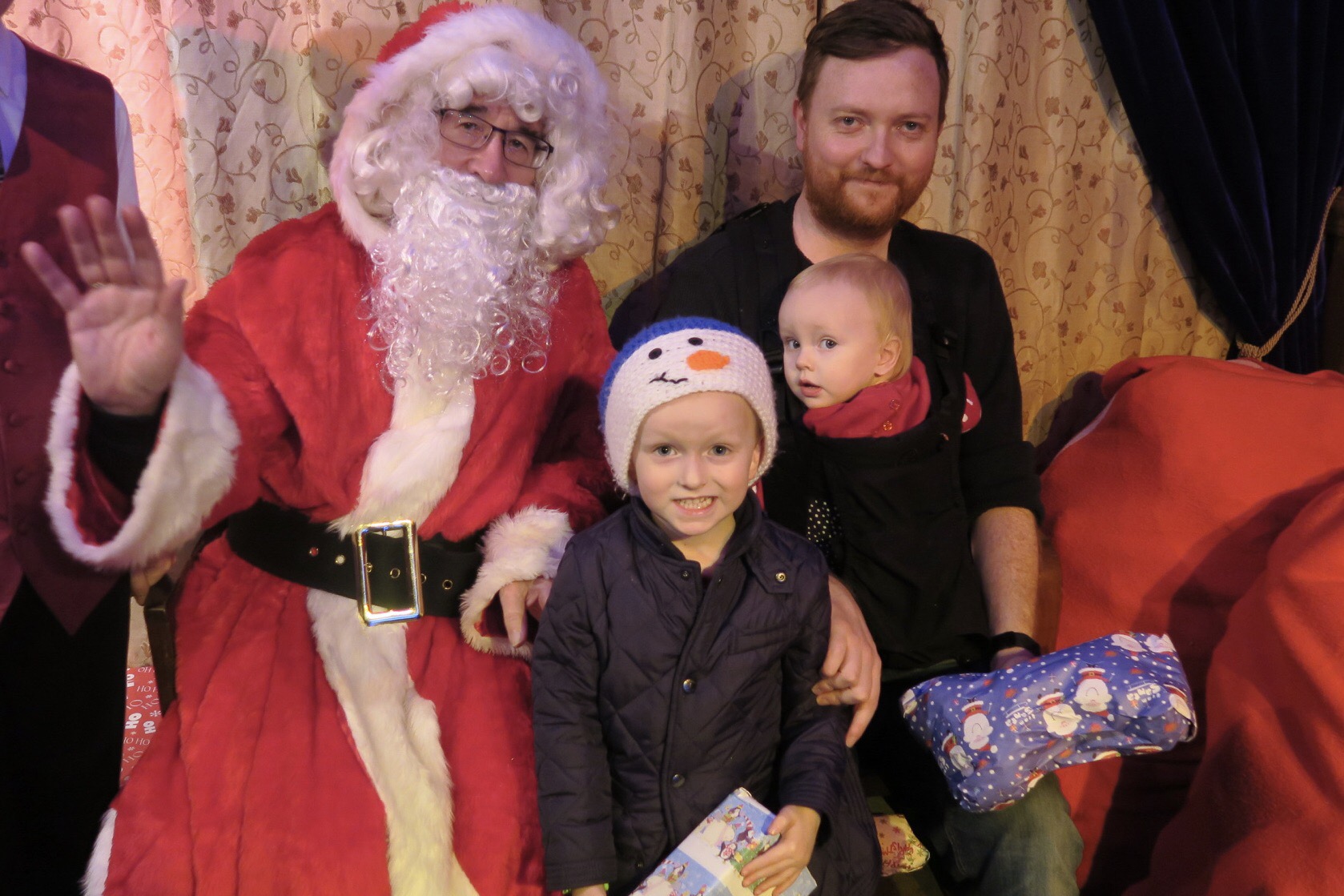 There is no entertainment aboard the train itself at the Tanfield Express. We saw some kids in their pjs but no adults, the atmosphere was still jovial though. After around ten minutes you disembark at the 'North Pole'. I think this event is better for younger toddlers who get bored sitting as they get to move about much more than the Polar Express where they have to sit on the train for an hour.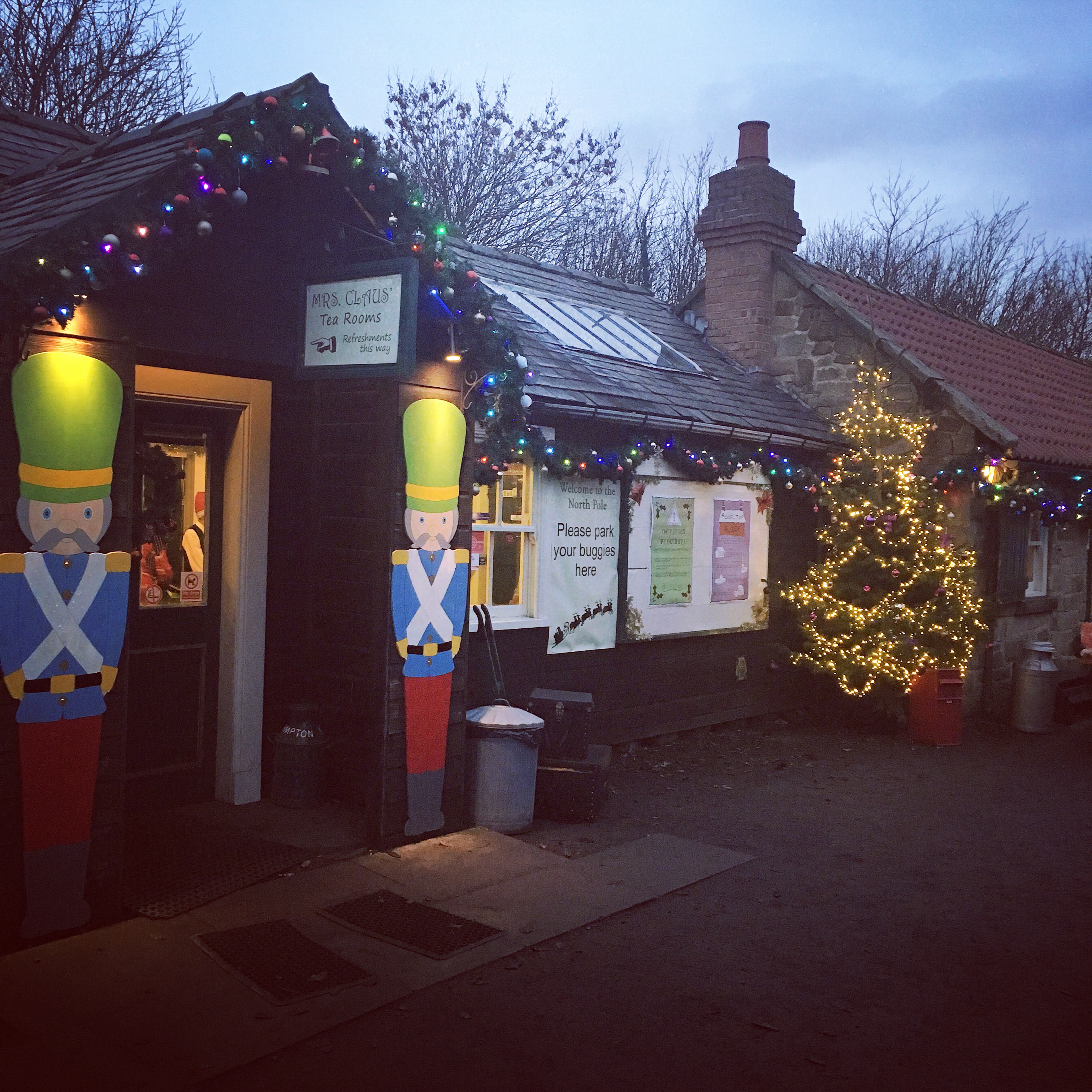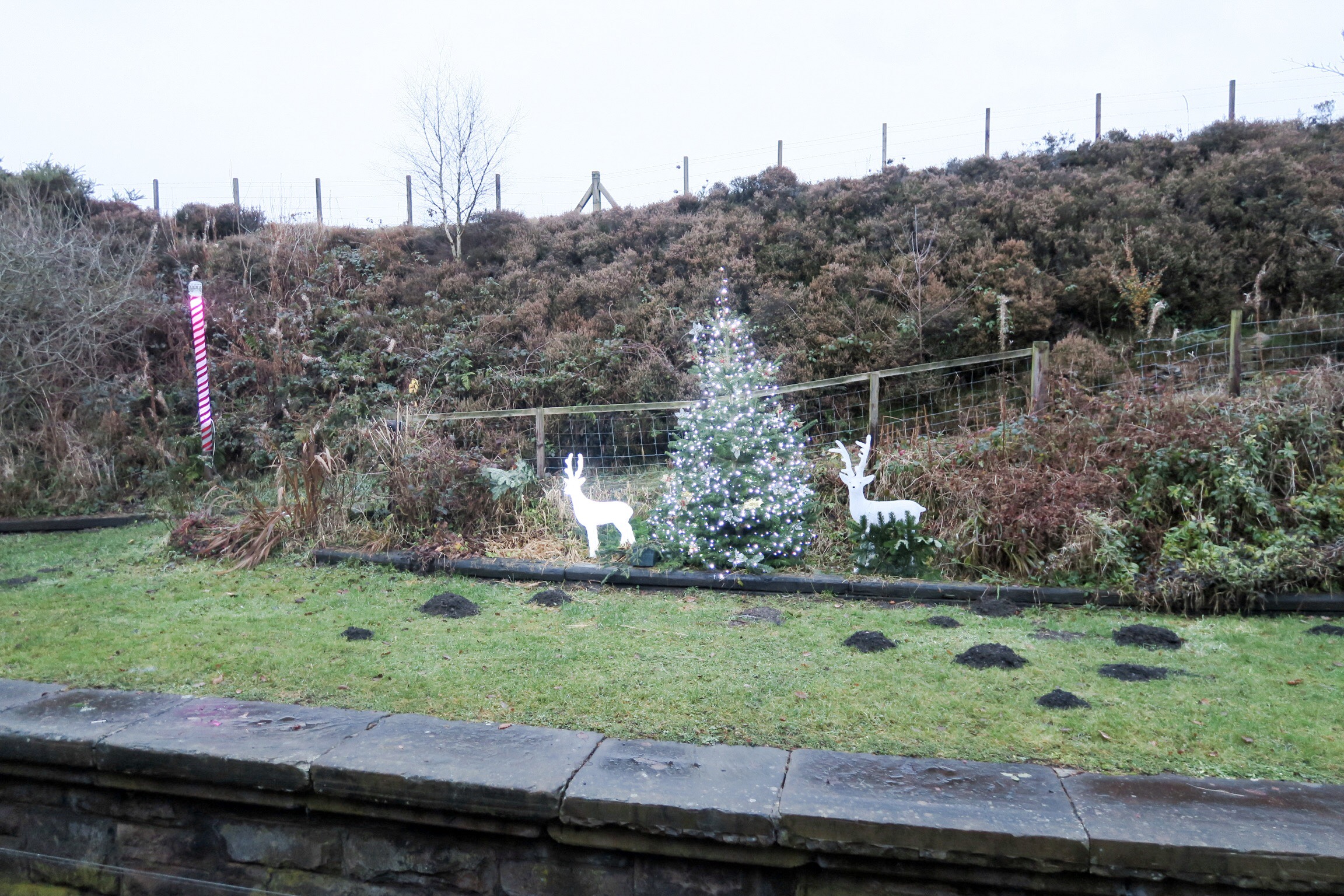 At the North Pole there is Mrs Claus' Tea Room where there is a cafe with complimentary teas, coffees and small sherries for the adults and Capri Sun pouches for the bairns. There are also crisps, apple pies and mince pies. Tanfield Railway provided enough options for food choices that there was something Arlo could have to eat and drink despite his dairy allergy. There is some kind of big metal burner (neither Papa Ginge or I know what it was called, sorry) roaring keeping the room warm and cosy – it smelled good too.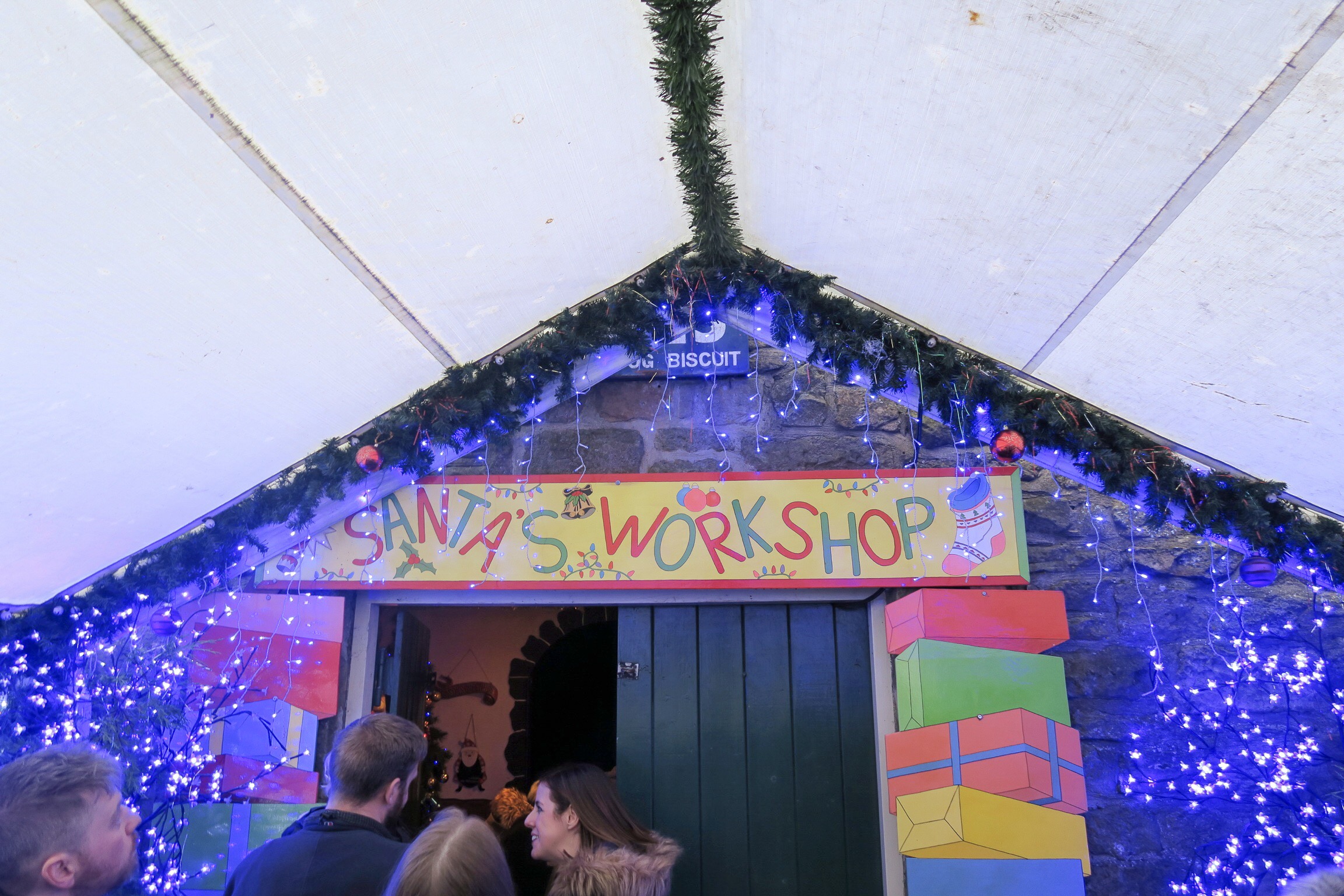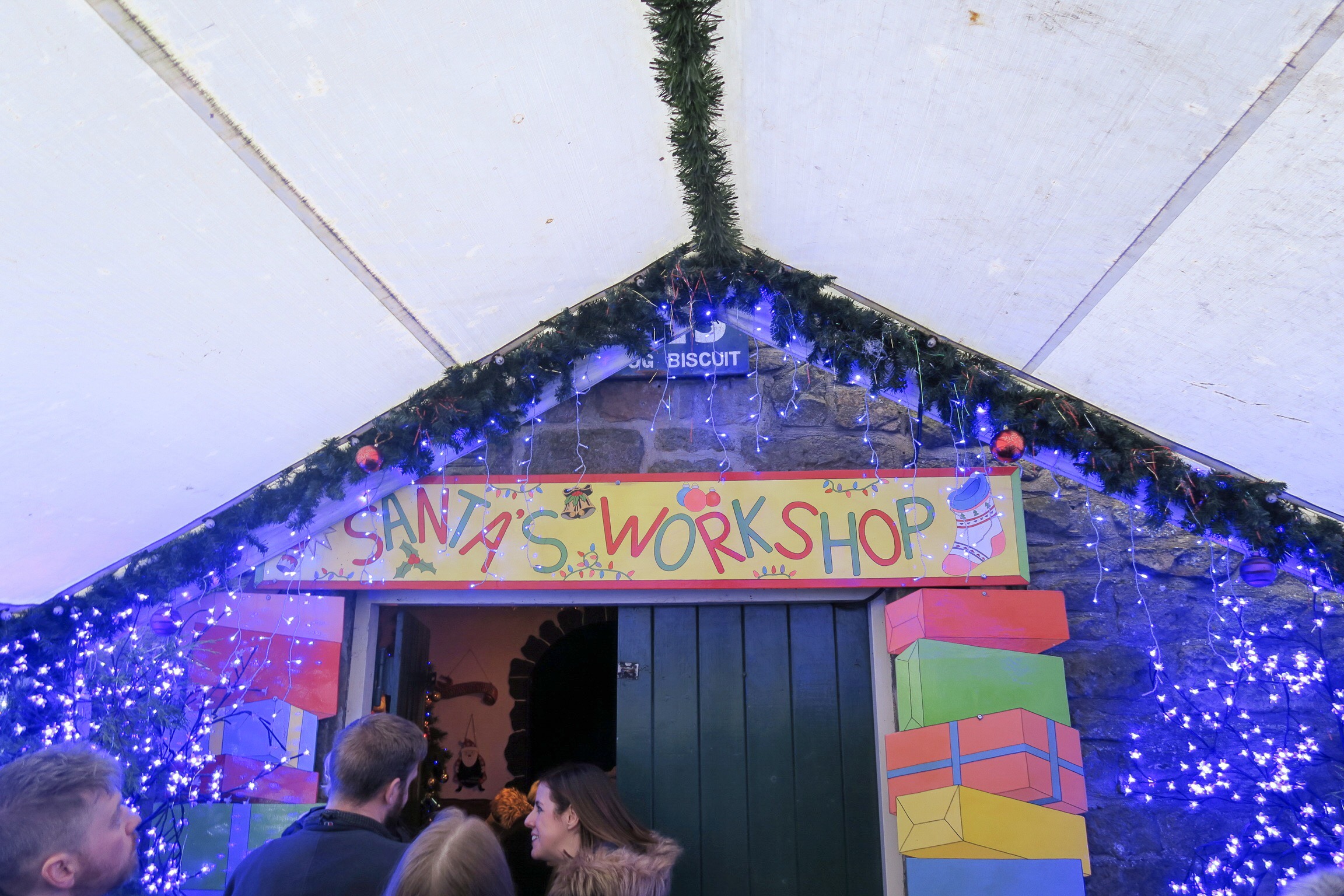 If your kids aren't as impatient as mine, then you could go to the tea room first and then see Santa but we personally chose to see Santa first so we could relax after while the kids opened their gifts.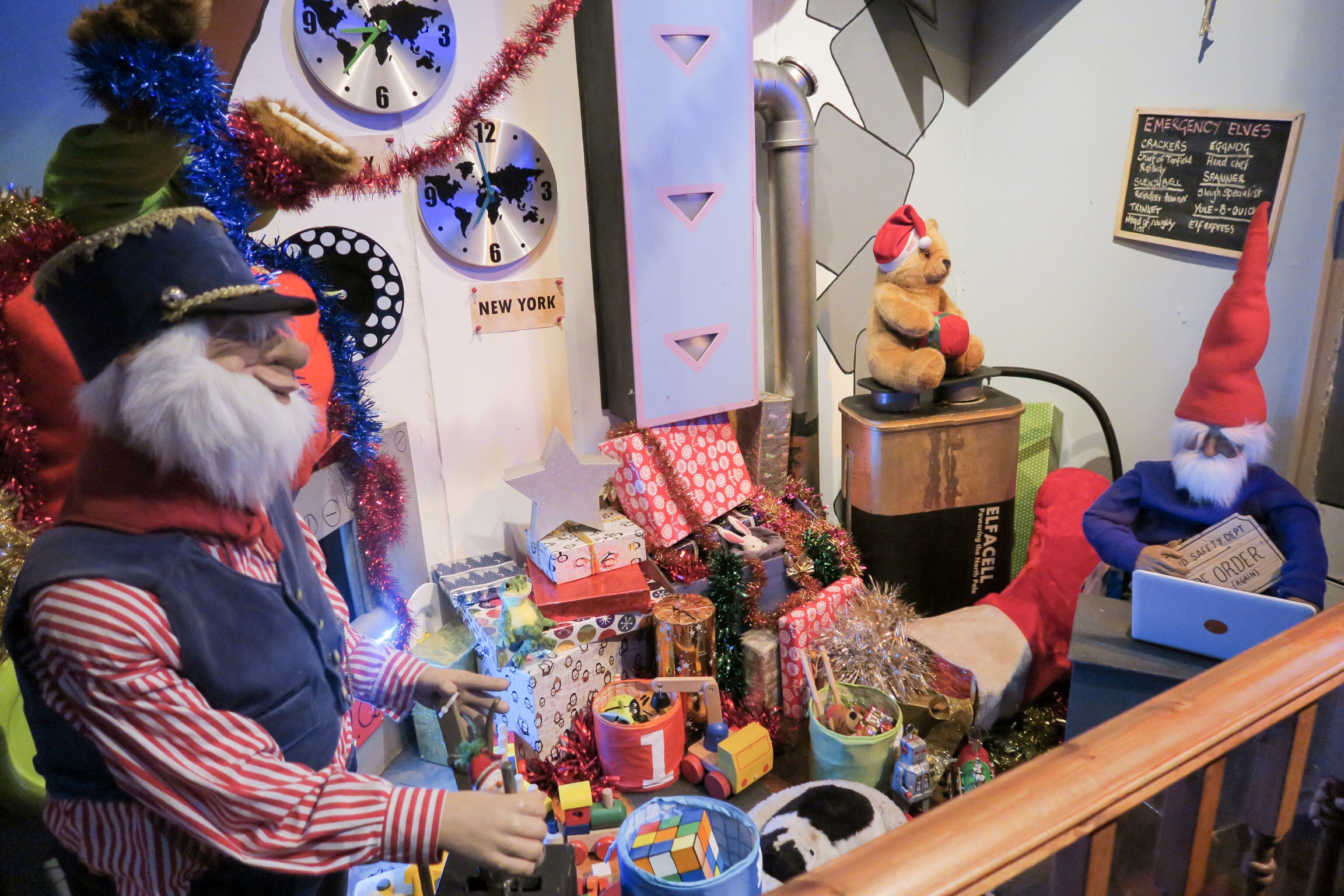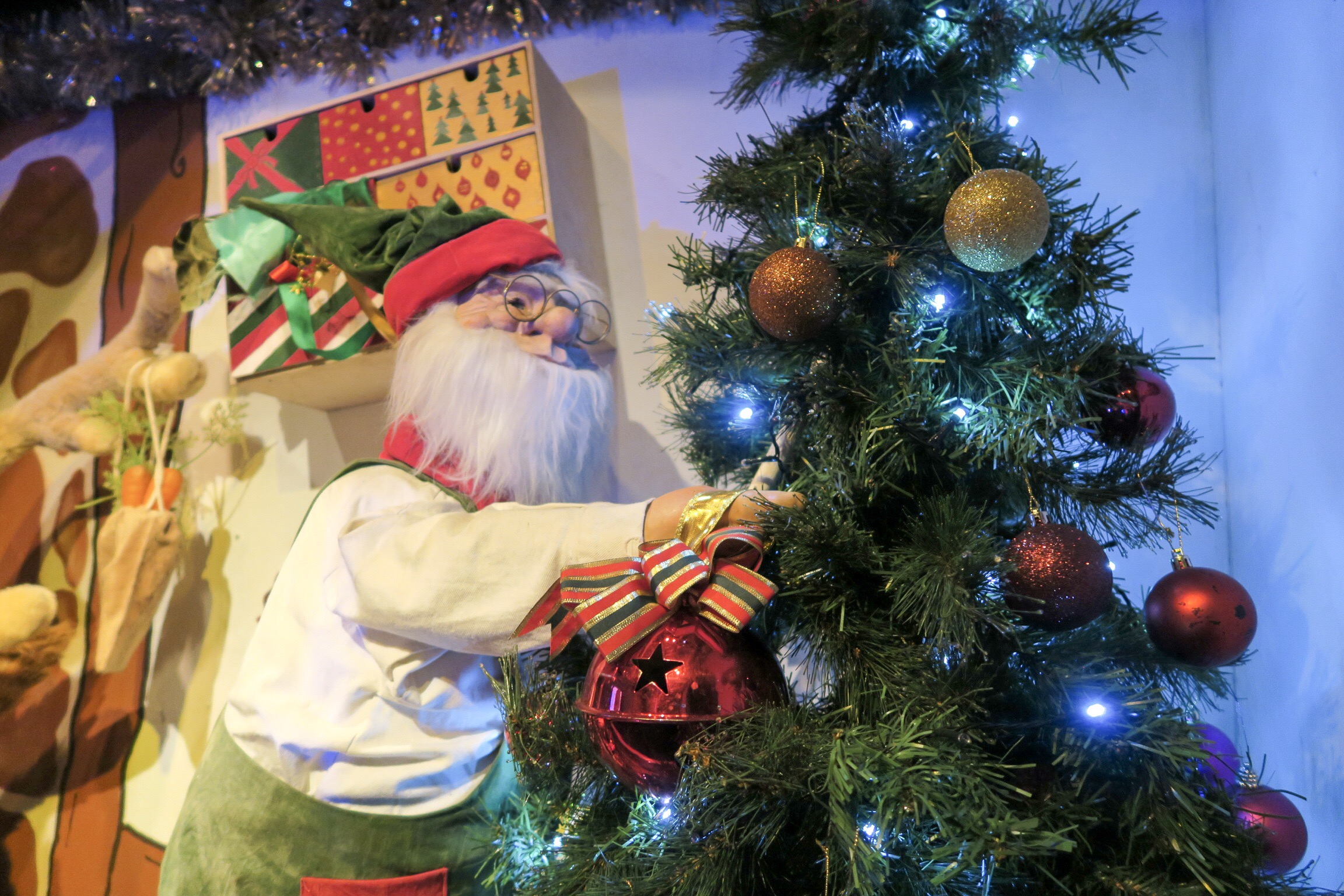 We queued for about ten minutes to see Santa and despite him calling my son a she, he was a canny Santa. Nothing especially magical but it all ran smoothly and the kids were happy. Arlo is four and his gift from Santa was a battery powered car that spins around, flashes and plays a (I suppose you could call it) tune (loudly). Its super irritating so the kids love it and have played with it a lot since bringing it home (I have contemplated hiding it many times already). Lena is one and her gift was a cuddly dog. The gifts felt like decent gifts – not like you had been ripped off as can sometimes be the case with these Santas.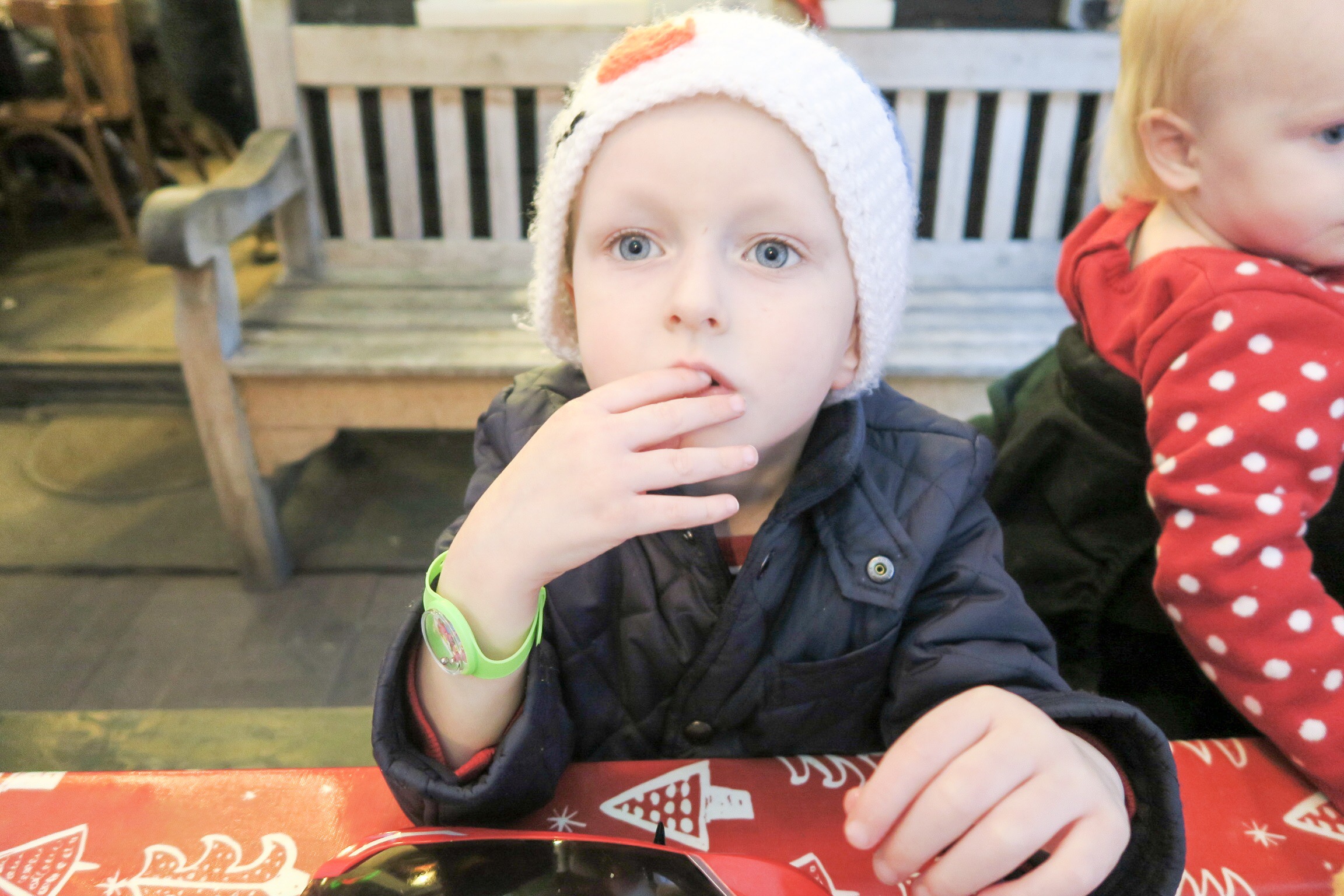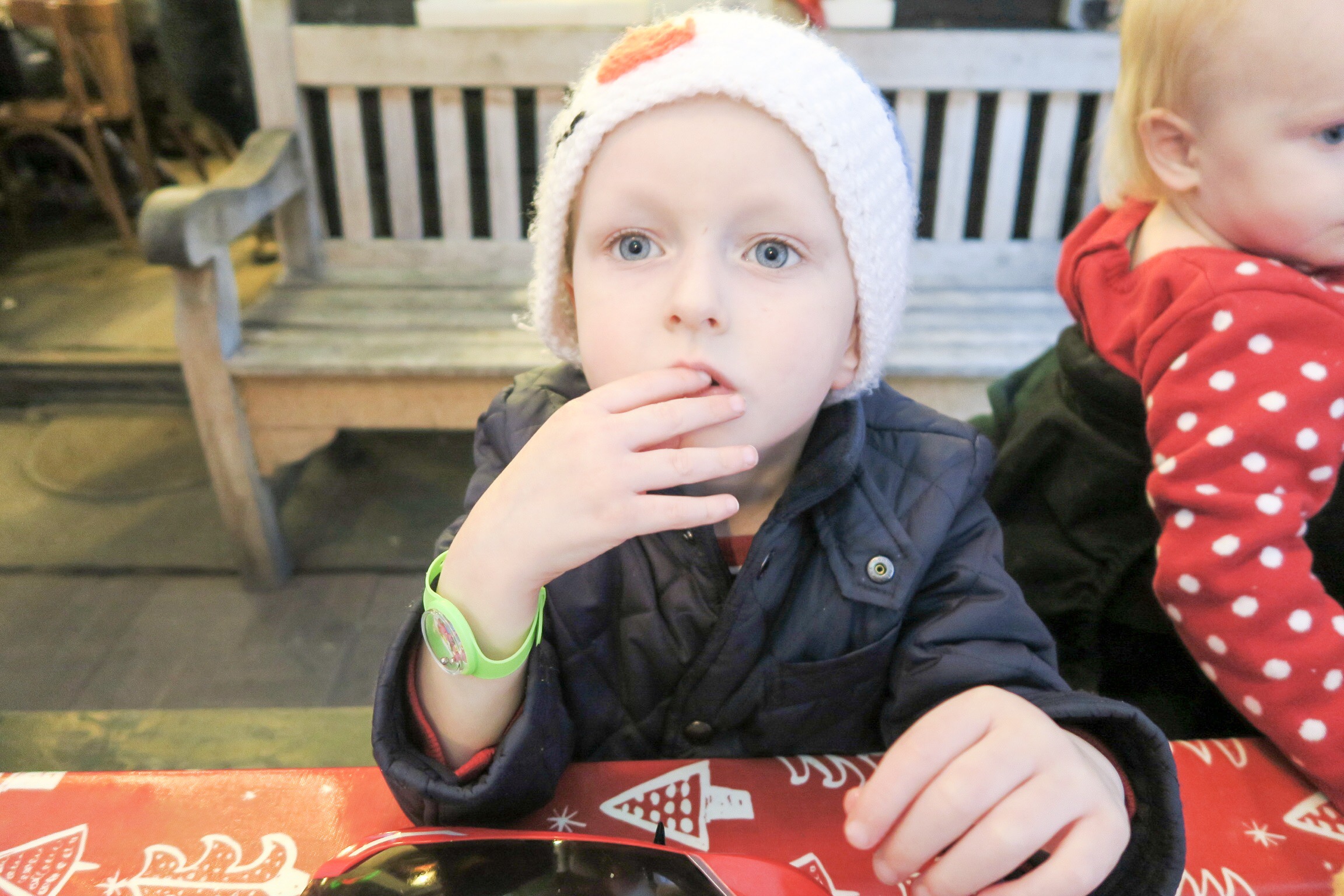 It was timed really well so we had enough time for a cuppa and mince pie etc before it was time to get on the return train before anyone got bored. Our tickets were for 2.40pm and the train back was at 3.40pm, we were all done and back at the car by 4pm. It was a lovely quaint way to spend a December afternoon.
The staff volunteers (mostly older gentleman) deserve a particular shout out for helping to make the event special. They were so personable and affable taking time to chat to the kids and ask them pertinent questions. They really helped make the event special.
Afterwards we went to the cosy South Causey Inn just over the road for tea where my mam and dad had the most enormous yorkshire puddings I've ever seen. It was the perfect end to a lovely day.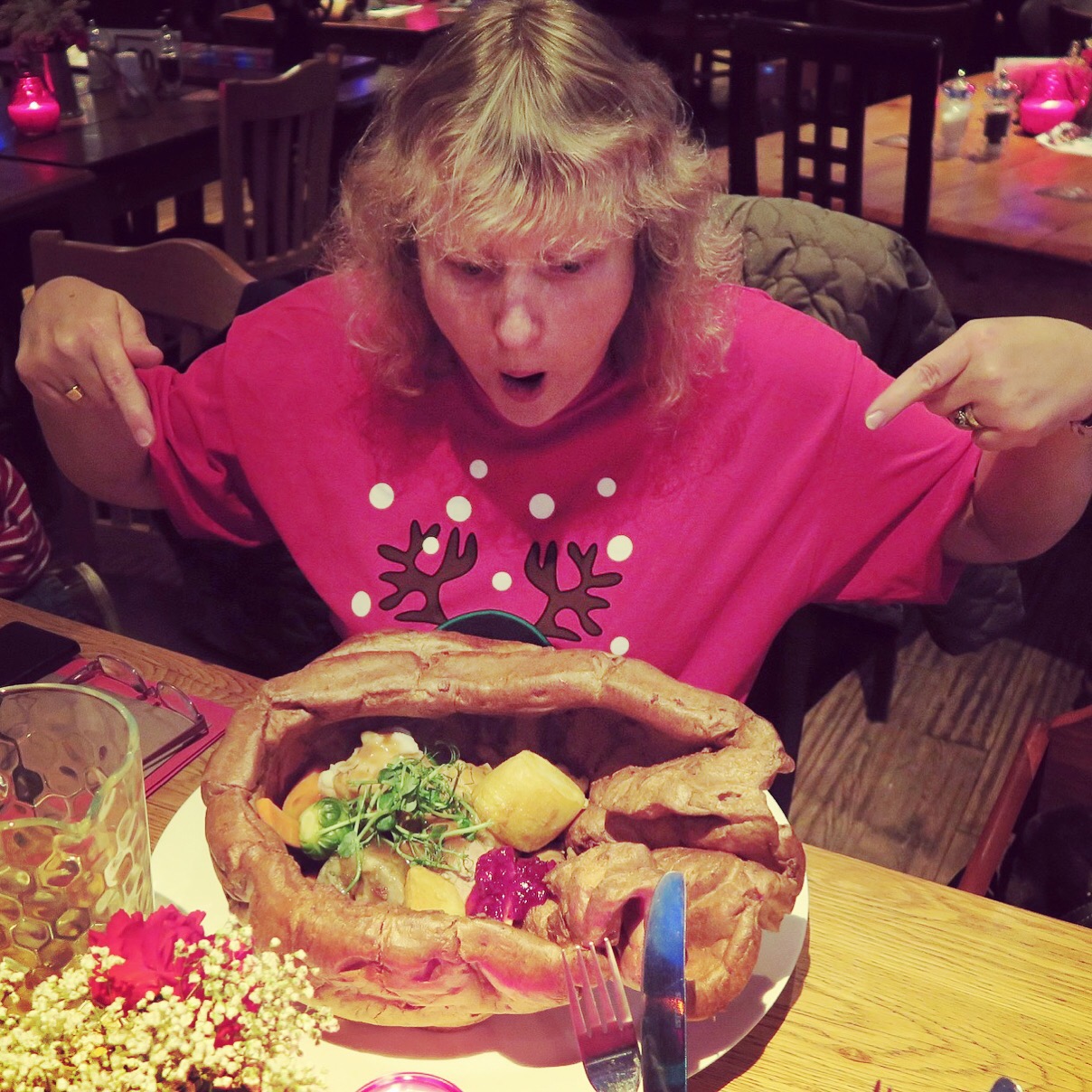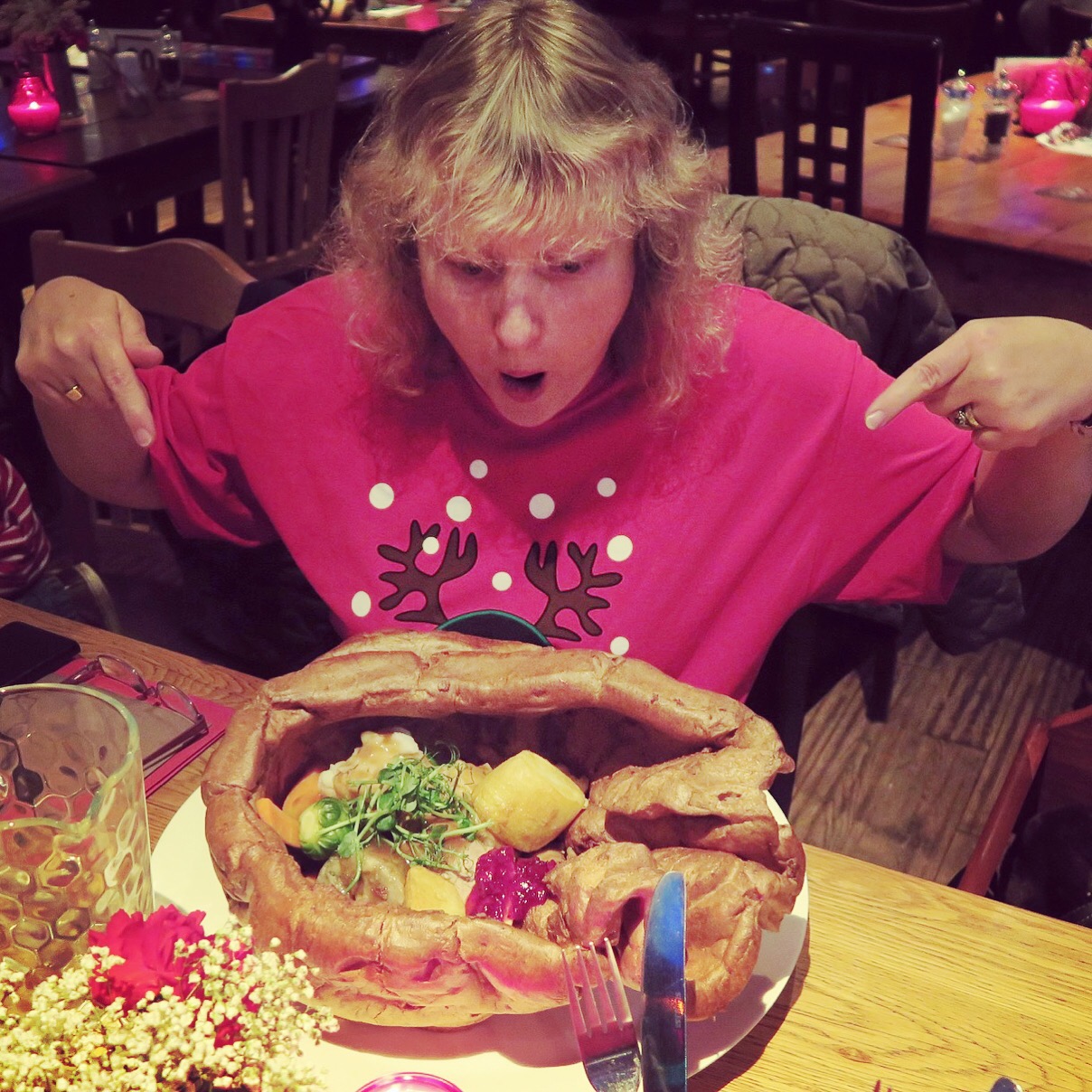 Bar Santa and the cafe there were no other forms of entertainment at the North Pole stop so this is an area the event could improve on.
Weardale Polar Express experience and santa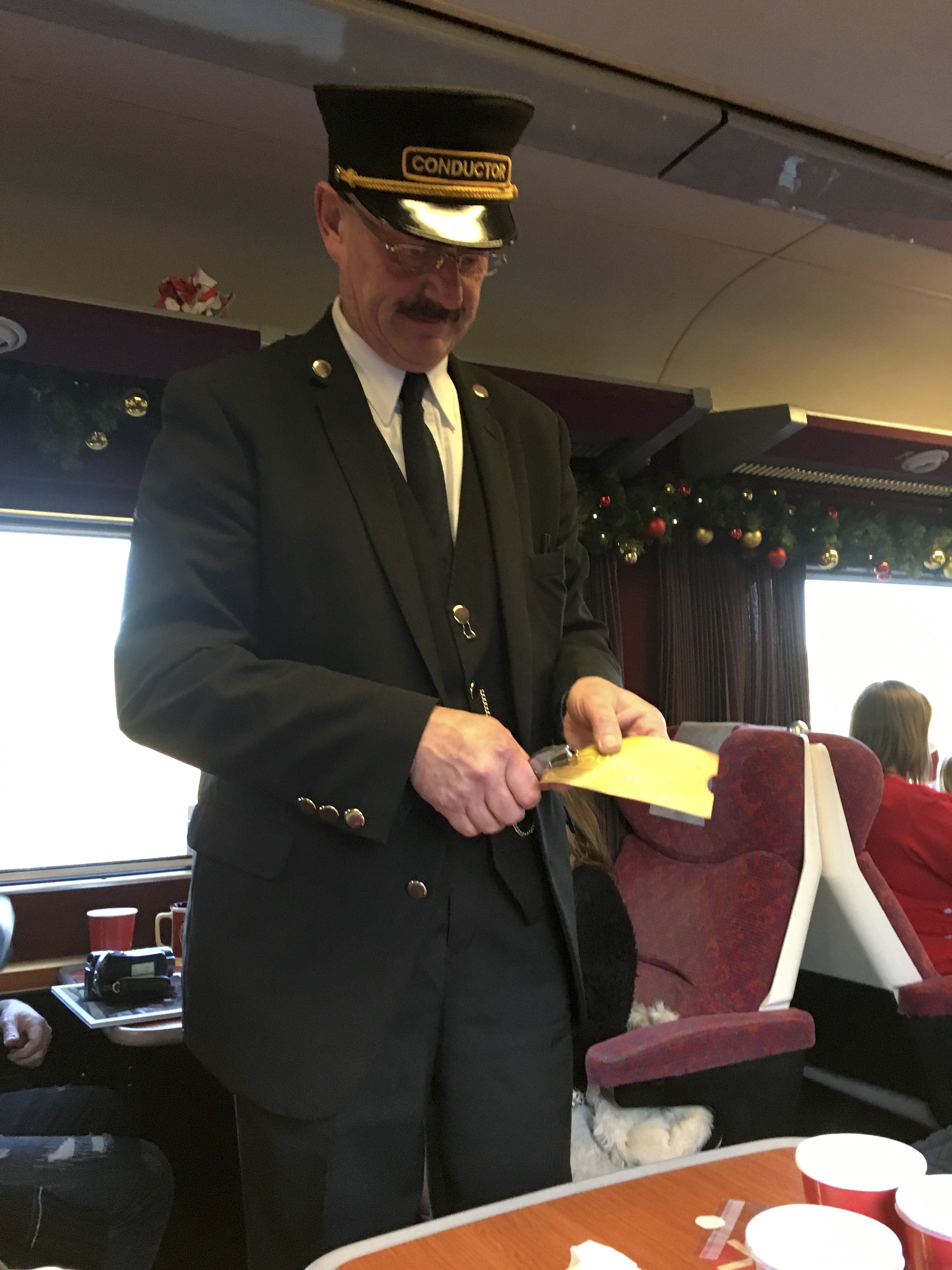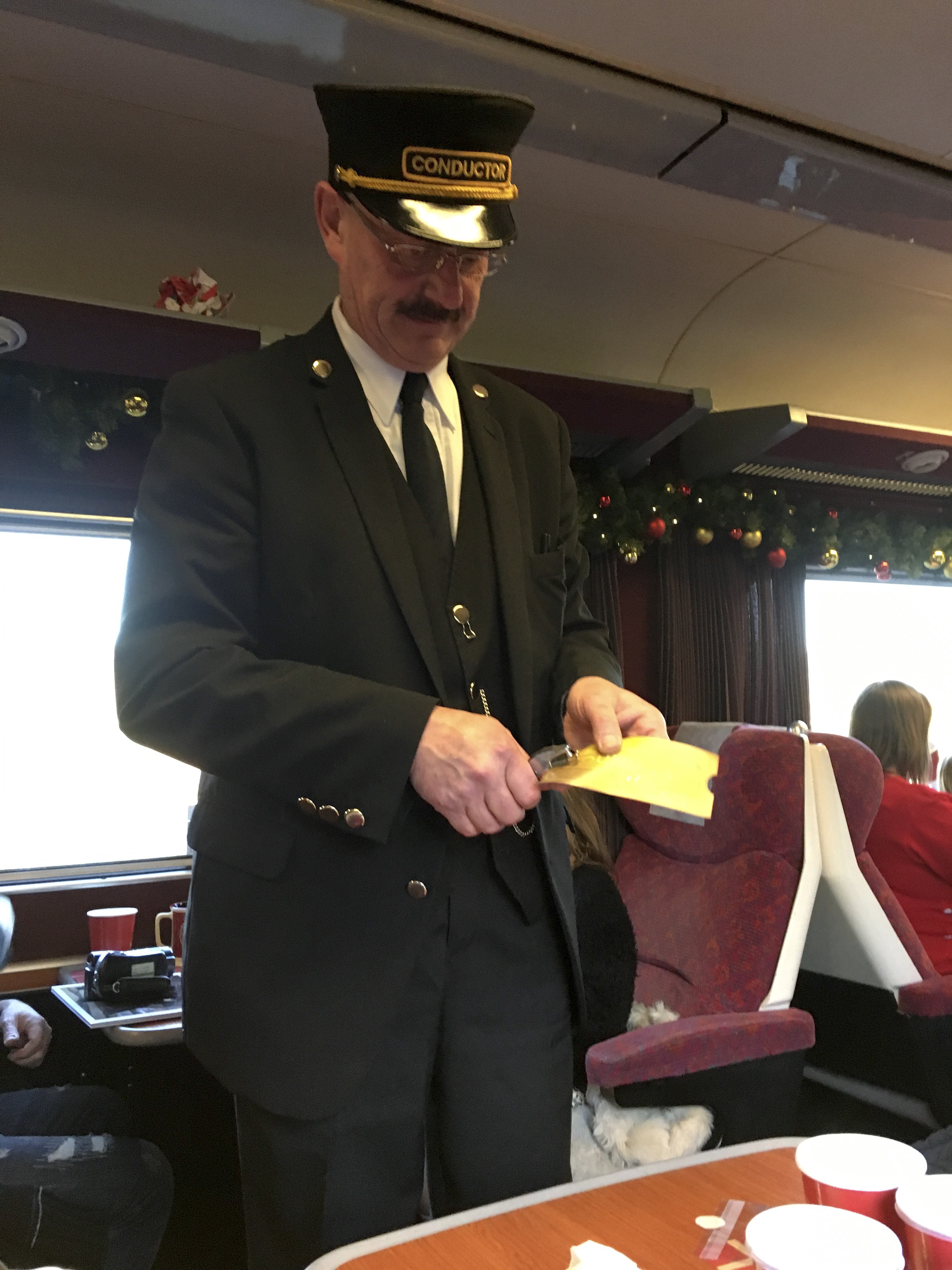 Most kids and lots of adults wear their pjs and dressing gowns for the Polar Express which makes for a festive atmosphere. On the Polar Express itself, there is a tannoy playing music from the film and readings from the book which was really fun. They have actors dressed as the 'dancing waiters' who interact with the kids and dance along to the infamous 'hot chocolate' song, which was our favourite part. My son can't help but do his own special dance each time that comes on in the film so it was great watching him enjoy it live.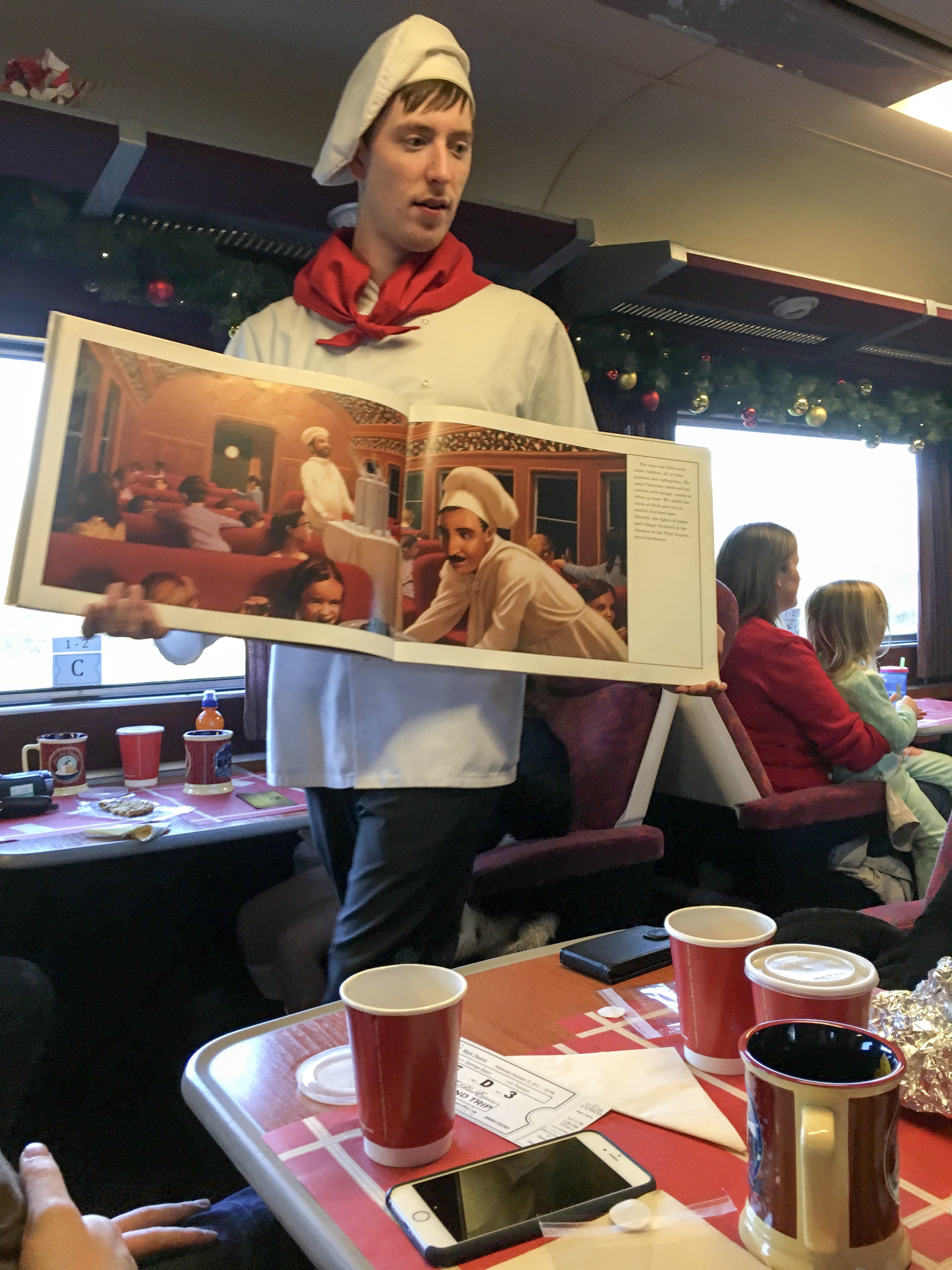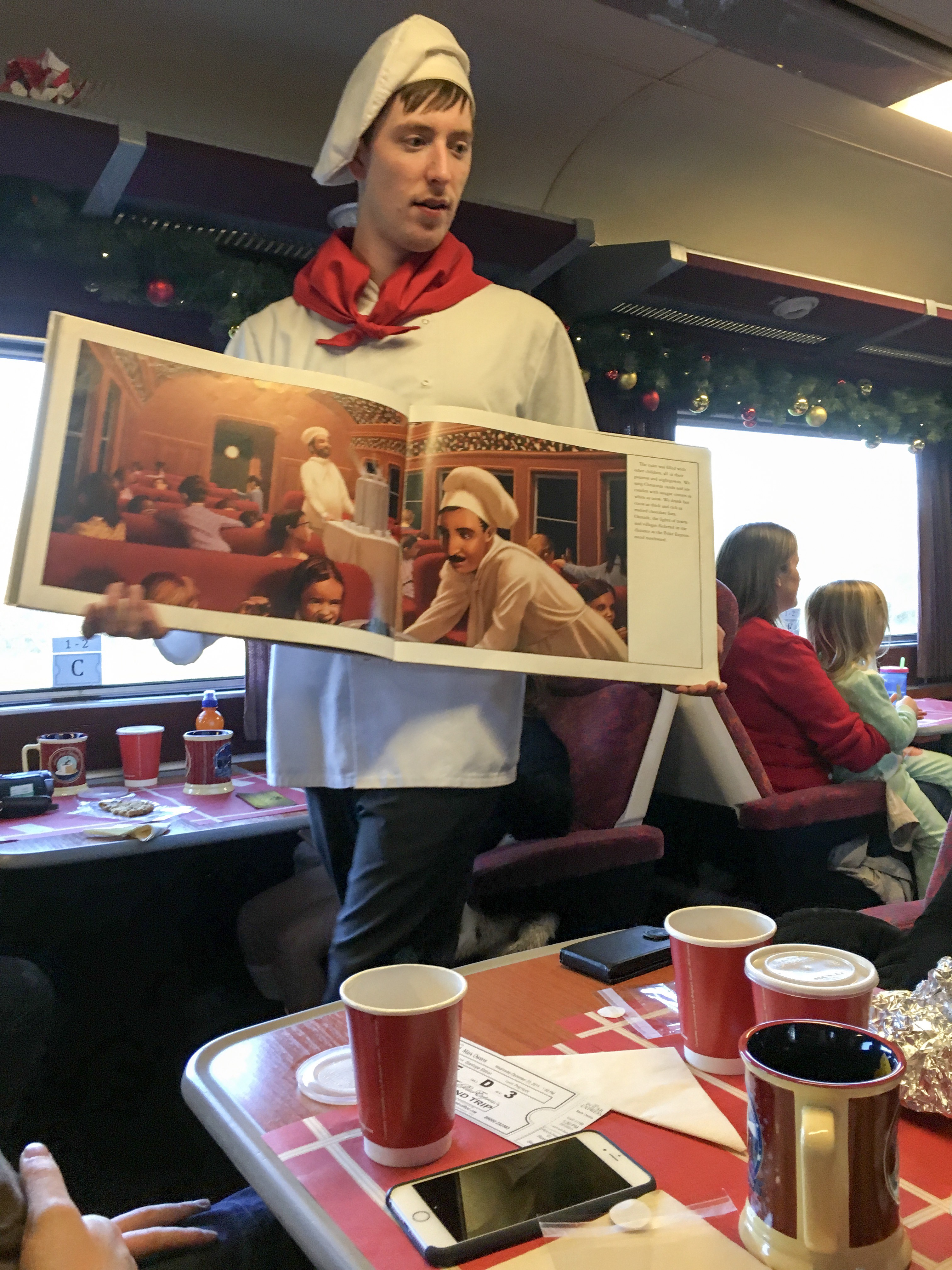 The train stopped briefly at the 'North Pole' where there were a bunch of actors who danced in a cute little 'town' outside the window and at this point Santa got on. Santa walked up the length of the train stopping to speak to each child and gave them a bell like the one from the book/film. Then Santa left the train and the train went back to the station. You will be sat on the train for about an hour which may be difficult for younger tots.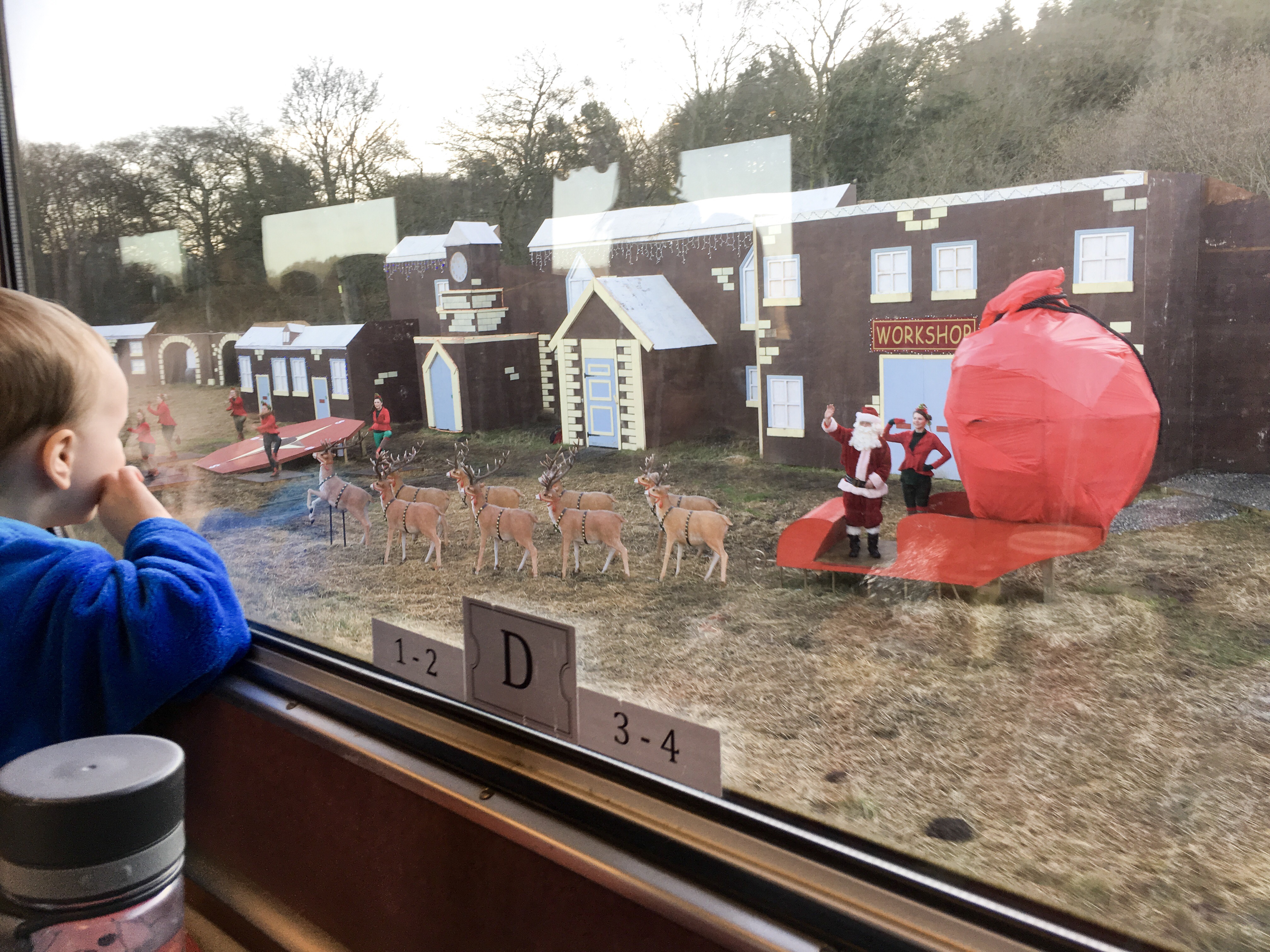 On the way back the staff encouraged/forced people to take part in some festive games. I was dragged out my seat to pretend to be a penguin or something and jump along the train which wasn't at all soul destroying… Despite my embarrassment though there was much more entertainment aboard the Polar Express than at Tanfield.
Once back at the platform there was a gift shop and cafe you could go to but we tried and quickly gave up as it was just carnage with too many people jostling to get to the same things. Unlike Tanfield, the event felt a bit corporate and more about getting as much money as possible out of you. Again, we had to queue to get out of the car park. 
Value for money
Tanfield Railway North Pole Express – value for money?
It cost us £60 for two adults and two children. Kids under one don't need a ticket but you have to buy one if you want them to get a gift from Santa. It was easy to book the tickets through their online booking system. We felt the event was decent value for money for a christmas event, definitely not cheap though!
Weardale Polar Express – value for money?
Standard class for us would have cost £64 but we paid extra for Premium Class as we were a party of 4 and the website indicated that this would be the only way we would be guaranteed to sit together. This cost us £109 and that included a babe in arms (which they shockingly make you pay extra for). Personally, I think £109 is extortionate and said we should sit standard class but you try arguing with Papa Ginge about these things!
£64 is ok value for money but £109 is far too much when all you really get is marginally better seats and a cup. If I was to do it again I wouldn't pay for the premium tickets. While the Polar Express bells are a nice touch I think its a bit naff that for the price you pay the kids don't get a small toy from Santa too.
Their website is also a disaster and they took our money 3 times and it took us weeks to get a refund. I also think that its poor customer service that given the price you pay for tickets they won't make any dietary accommodations for allergies etc. Arlo is allergic to dairy products so couldn't have the biscuit or hot chocolate so he didn't get anything. I don't think its difficult to provide for allergies nowadays and they could be doing much better there.
Summary
All in all we preferred the Tanfield Railway North Pole Express experience, despite being huge fans of the Polar Express book and film. I think a large part of that reason was due to the way the events were organised and managed.
At the Weardale Polar Express it felt like they had tried to make as much money as possible out of the event by cramming too many people into the experience. It felt too busy with little ones and lots of queuing. I think part of this is that this is ran by an American company so it was more 'corporate' whilst Tanfield Express feels much more like a quaint local event which I prefer.
For us the best thing about the Polar Express was the entertainment. The actors dancing to the songs was great but bar that, the Tanfield Express was better at every stage for us.
Due to the high costs of the premium seating on the Polar Express we came away feeling a little ripped off to be honest but of course we could have got cheaper seats. Regardless though, I'm not sure I would spend so much time and effort doing it again now we've done it once.
I will say that the age of our children will have influenced our review, like I mentioned above, Tanfield is much better for preschoolers because they don't have to sit down on a train for a long time. It may be that older children would prefer the entertainment of the Polar Express.
Tanfield Express just felt so much more chilled out and relaxing to us, they clearly could have booked more people on to the train but they didn't, making the experience so much better. December events with kids are always so full of hustle and bustle and this wasn't. It never felt stressful and it meant as parents we were able to sit back and actually enjoy it more for once – and that's something I would pay good money for! We'll go back again.
Overall scores
Tanfield Railway – 7.5/10
Polar Express – 6/10
Have you done either or both of these experiences with your kids? What did you think of them? Let me know in the comments.
If you liked this post you might also like:
If you have enjoyed this post or found it useful, here are some quick and easy ways that you can support Nomipalony or say thanks:
Share this post with your friends  
Pop over to my Amazon Storefront to see what products I have been buying and loving from there recently, including my health and fitness products list.
Sign up to my mailing list 
Women can join my feminist Facebook group – the Nomipalony Freehouse