We've recently just recovered from everyone in our house having COVID-19 (Omicron we suspect given that's the current dominant strain). I shared our experience on Instagram and a few people asked me if I could share our tips from going through it. Given that the latest ONS survey results have 13.9% of kids age 2 to school year 6 positive, if you haven't had it in your house I'm afraid that it's likely only a matter of time. Here are some tips for preparing for COVID in a household with children.
Please note that I'm not a medical expert and I'm not giving any medical advice. This is purely based on our experience!
To quarantine or not to quarantine?
When my son first tested positive the initial problem we faced was trying to figure out how to manage it logistically. This was a lot more stressful than I had expected it would be. The Government advice is that if a member of a household has COVID-19, you should quarantine them as much as possible. That's more challenging when its children though. We had my 10 year old positive and desperately not wanting to quarantine in his room but then my 6 year old was scared to be near him. Understandably so when 1/3rd of her life has been trying to avoid COVID and now it's in her house and we are trying to tell her it's ok. So my advice is to have these discussions ahead of time and have a rough plan of what you will do depending on who tests positive first. For example, if it's adults you might quarantine but if it's kids you might not. Have these discussions with the children so you know how they feel about it and so they are prepared mentally for what might happen.
In the end, my son spent a little more time in his room than usual and we kept our distance a little bit but we didn't fully quarantine him. We still ate meals in the same room and as expected we all caught it within the space of 5 days. I don't know if we should have done more to try and prevent it or if it would have made a difference if we did as we had all been cuddled up together all day until he tested positive. It's good to go into it with a rough understanding of your attitudes and what everyone's comfort zones are.
If you are going to quarantine properly then you are going to want to make sure that you have the things in the home to allow you to do that – FFP2 masks for adults (these 3m aura FFP2 masks (affiliate link) are expensive but a total game changer in fit for me), FFP2 masks for kids and sanitising products etc.
We were fortunate in that our cases were 'mild', that is, we were able to manage symptoms at home. There were a few things I would recommend having in the house so if you catch COVID, it will help you manage your symptoms at home.
Films and TV shows
No matter how poorly you feel you are going to be stuck in the house for a week minimum and maybe 2 weeks or longer. We got through a lot of TV and exhausted our watch list! I'd suggest pulling together a watch list of good family friendly TV and films so you have a go-to list to visit that you (crucially) aren't going to argue over! I have a couple of blog posts that might help you here that we used Over 100 family films that both children AND adults will enjoy and 10 adventure TV shows that you can enjoy with your children.
Paracetamol
One of the biggest symptoms for all of us was headaches. Papa Ginge kindly stole all the paracetamol for himself so I had to ask a neighbour to post some through our door. Make sure you have a few boxes (and some Calpol) in the house just in case. Papa Ginge went through loads, he was popping them like sweets.
Lateral flow tests
Make sure you have plenty of lateral flow tests in the house. We went through 32 that I counted (maybe more if some passed me by). There's the daily testing when one of you has tested positive and the others might be about to. Then there is the daily testing after day 5 to get out of isolation at the other end. You might have a box in the house and think that's enough but we went through nearly 5 boxes. Whilst you can order them to your home here for free and they arrive quickly, you never know when there will be a shortage like we experienced recently when nobody could get their hands on them and that would suck if you were in the middle of a household outbreak.
Contactless thermometer
You'll likely be taking lots of temperatures of people who might be infectious so I'd recommend making sure you have a working contactless thermometer (like the one below) in the house. Regardless, these are just great for your first aid kit.
Pulse Oximeter
Apparently one of the big issues with COVID is that people's oxygen levels can fall dangerously low and sometimes they aren't even aware of it. I had seen several scientists talking about the benefits of having a pulse oximeter in the home for COVID.
We have the one below and it just clips on a finger (this one works for kids as well as adults) and it tells you your oxygen levels and your heart rate. Thankfully all of our oxygen levels were fine but it's very reassuring to have around. Another good tool to have in your first aid kit generally.
I read about one woman who had got one because of seeing a scientist talk about it on Twitter and when her daughter got COVID she used it on her and her levels were dangerously low and they got her straight to hospital and they said it saved her life. She said she wouldn't have known otherwise!
Tissues
We all got snotty noses and went through many boxes of tissues so be stocked up. We like the Kleenex balsam ones as they are gentle on the nose.
Busy box
If your children are particularly young it might be helpful to prepare a busy box so they have stuff to keep them entertained when you are feeling your worst. To do this, I'd go through their toys and pick out some toys and books that you haven't seen them play with in a while (like for toy rotation) and pop them in the box (or a bag), then maybe add some paper/colouring book, some colouring pencils/crayons and anything you think they might enjoy the novelty of playing with. Then if the time comes and they are being a challenge you can whip out the box and it might buy you some time.
The only other thing worth considering but is not something we did is perhaps looking into air filtration systems if it wouldn't be easy to ventilate your home.
I hope these tips help you when it comes to preparing for COVID in a household with children. Have I missed anything from this list that you found helpful if you've already gone through this? Let me know in the comments!
If you have enjoyed this post or found it useful, here are some quick and easy ways that you can support Nomipalony or say thanks:
Share this post with your friends  
Pop over to my Amazon Storefront to see what products I have been buying and loving from there recently, including my health and fitness products list.
Sign up to my mailing list 
Women can join my feminist Facebook group – the Nomipalony Freehouse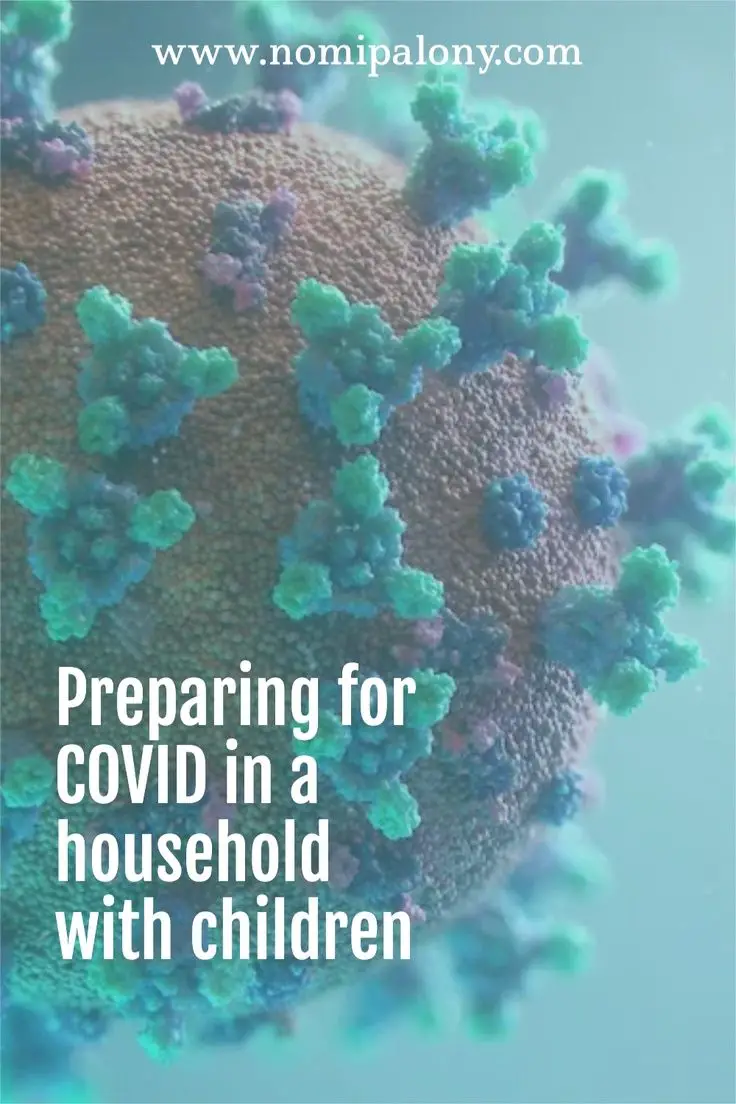 Disclaimer: This post contains affiliate links. If you purchase through an affiliate link you will not be charged any more for your purchase, but I will receive a small fee for referring you. As an Amazon Associate, I earn from qualifying purchases. For my full disclosure policy, please see my about page.