There's a new local 'festival' in 'town' and it looks awesome! North of the Tyne, Under the Stars is a series of 7 free spellbinding outdoor events, blending spectacular projection, fire and music with a sprinkling of magic. It is inspired by local stories and landscapes from across Newcastle, Northumberland and North Tyneside.
Over four nights in March, a new free event will bring magic to visitors of all ages in Newcastle City Centre with a series of events in neighbourhoods across Newcastle, Northumberland and North Tyneside to whet the appetite in the weeks before.
Here's 6 reasons why you should visit the new free North of the Tyne, Under the Stars events
1. The events are free
Most people I know are struggling a little financially at the moment. Something cultural and magical that you can take your children to for free, outdoors where the COVID-19 risk is lower is just what we all need right now! I think it's wonderful that these events are being offered free of charge and to be honest, I think it would be an awful shame not to take advantage of that. Let's put a bit of awe into a cold February and March.
2. The events are great for all ages, including children
Produced by Pinwheel and DAT Events and commissioned by the North of Tyne Combined Authority, the events will welcome visitors of all ages, including children, to engage in the experience, both in their local areas and in the Festival Finale in Newcastle City
Centre, which is supported by Newcastle City Council.
The events are in the evening and tend to start at around 6pm which might be getting on a bit for the bedtime of younger kids but you can arrive at any time and no booking is required so if you have young kids I'd recommend going for opening time.
3. The North of the Tyne, Under the Stars events celebrate and teach children about our local region
Driven by a sense of place and the stories woven through it – imaginative, magical and locally resonant stories – the events will use large scale projection, atmospheric imagery, sound and fire to capture the character, beauty and diversity of this region and ignite the imagination of the audience.
4. The events have a fantastic and engaging overarching storyline
The North of Tyne, Under the Stars website tells us "Settle yourself comfortably because I'm about to tell you a story of a place you might know, West of the Sea, East of the Lakes, South of Scotia and North of the Tyne. Have you noticed that the skies have been behaving strangely?  A blaze of shooting stars, the Northern Lights more visible than before, comets flying and constellations burning brightly? Something or someone is stirring in the night sky…"
North of the Tyne, Under the Stars tells the tale of a mysterious visitor, a Story-Weaver called down from the stars to travel the area and spin a new story about Newcastle, Northumberland and North Tyneside.  The Story-Weaver will be visiting Blyth, North Shields, Wallsend, Byker, Fenham and Hexham on her quest, before gathering up all of the ingredients she has collected and inviting us to Newcastle to witness the magic she has woven from all the tales that she has found. My kids will eat this up and we can't wait.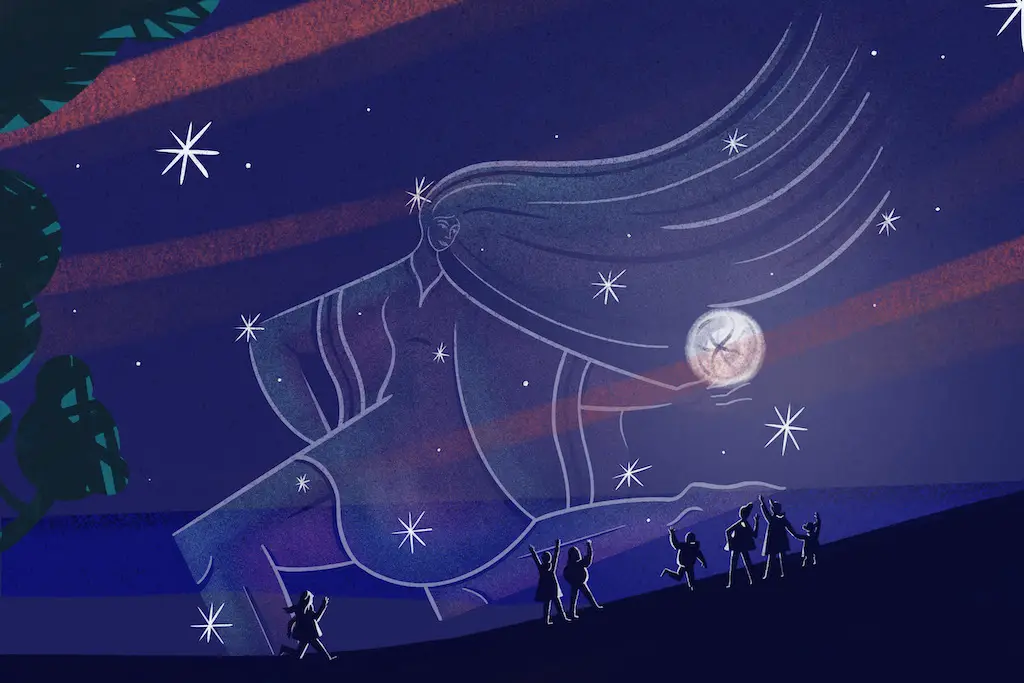 5. It showcases innovative works from some of the best artists in our region
From an enormous zoetrope (an early form of animation technology) powered by the inventiveness of our region, to a collection of ethereal, ghostly creatures and mythical beasts and an ever-changing magic carpet of intricate patterns, these enchanting works will play out across the iconic buildings and streets. Some locations include Newcastle Civic Centre and Newcastle University's Old Quadrangle.
The core story has been developed by a collaborative team of artists including Newcastle based projection artists, NOVAK, and composer Roma Yagnik, as well as Director Simon Sharkey and Designer Robin Peoples.
The March festival in Newcastle will have brand new commissions from companies including Illuminos, Limbic Cinema, Heinrich & Palmer and imitating the dog, all high-profile companies known for creating ambitious works for festivals in the UK and across the world. Fire and pyrotechnic effects all the events will be delivered by LightFires.
Katy Fuller, Creative Director at Pinwheel says: "I am thrilled to finally be able to present this magical story, which is being brought to life by the most talented group of artists. From the events across the region, to the work we are doing in schools, to the finale in Newcastle, our aim is to captivate audiences with this love letter to their region, mixing the real and the mythical and firing up the imagination."
6. It supports the local arts and culture sector

As Cllr John-Paul Stephenson, Newcastle City Council cabinet member for Public Health and Culture, said: "The cultural sector has experienced a really tough time during the COVID-19 pandemic and like most industries is really having to work hard to get back on its feet." By attending these events we can put our support behind this wonderful sector and ensure it continues to exist for our children in the future.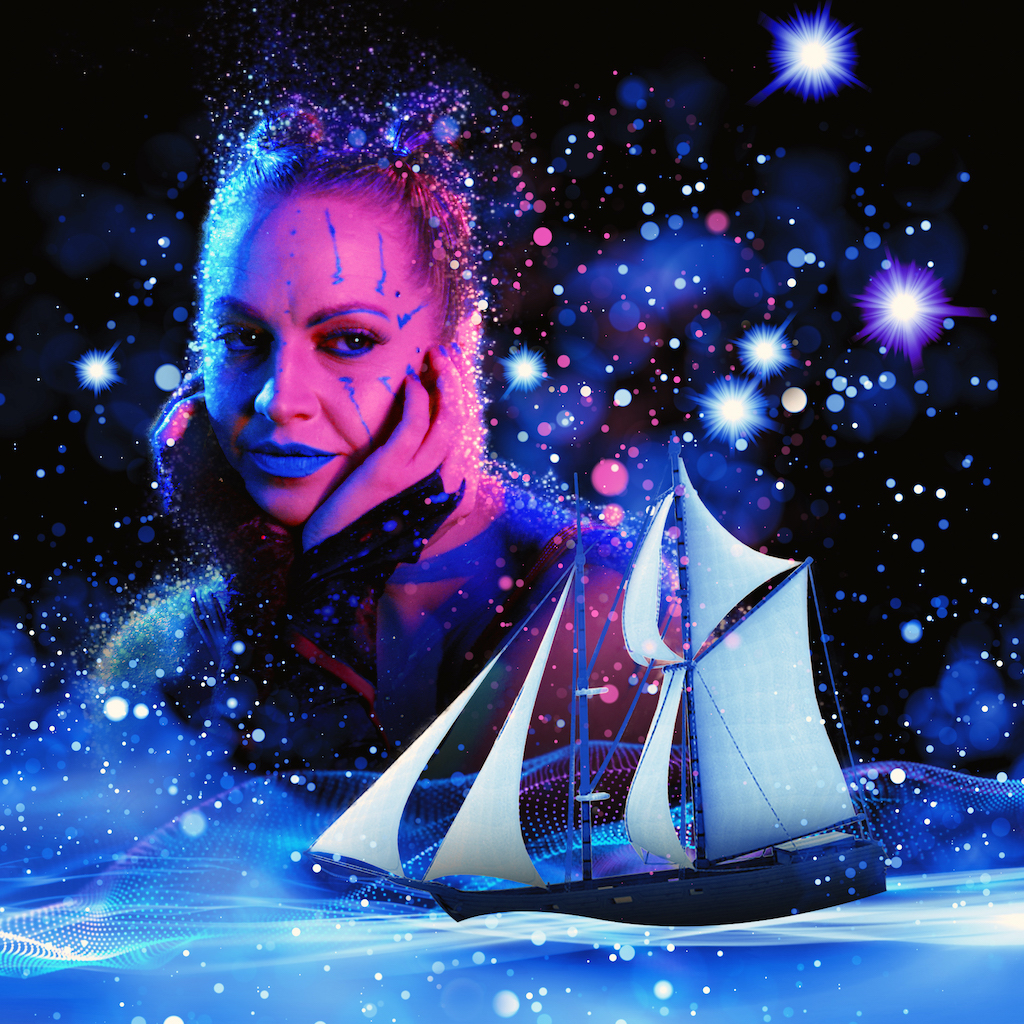 North of the Tyne, Under the Stars event details
Neighbourhood Events
Fri 18 & Sat 19 Feb, 6pm – 9pm Blyth and North Shields
Fri 25 & Sat 26 Feb, 6pm – 9pm Wallsend and Byker
Fri 4 & Sat 5 March, 6pm – 9pm Fenham and Hexham
Festival Finale
Thurs 10 – Sun 13 March, 6.30pm – 10pm Newcastle City Centre
I hope you are able to attend some of the events. Let me know in the comments if you are and hopefully, I'll see you there! We are planning on getting to the Newcastle finale at the least! If you see me do come and say hi!
If you liked this post you might also like:
If you have enjoyed this post or found it useful, here are some quick and easy ways that you can support Nomipalony or say thanks: