If you are anything like me then you are always entering those facebook competitions to like and share posts to try and win stuff and never winning anything. Well the other day I was overjoyed to win a family ticket for 4 to Chalk's Scandi-rave-ia event through one of their facebook competitions. I never win anything so yay!
Chalk have been on my parenting radar for a while for curating alternative family events. Lots of the stuff we take our kids to are fun for them but mindnumbingly dull or irritating for us. The Chalk events aim to rectify that! We were intrigued.
I'm really into music and have always loved gigs and festivals and really hope my kids will grow up to as well. Unfortunately most the events you go to with kids have music that makes you want to invest in those headphones those workmen using pneumatic drills have to use to protect their ears. Scandi-rave-ia promised to be a family event with good tunes that the whole family could dance to. Count me in!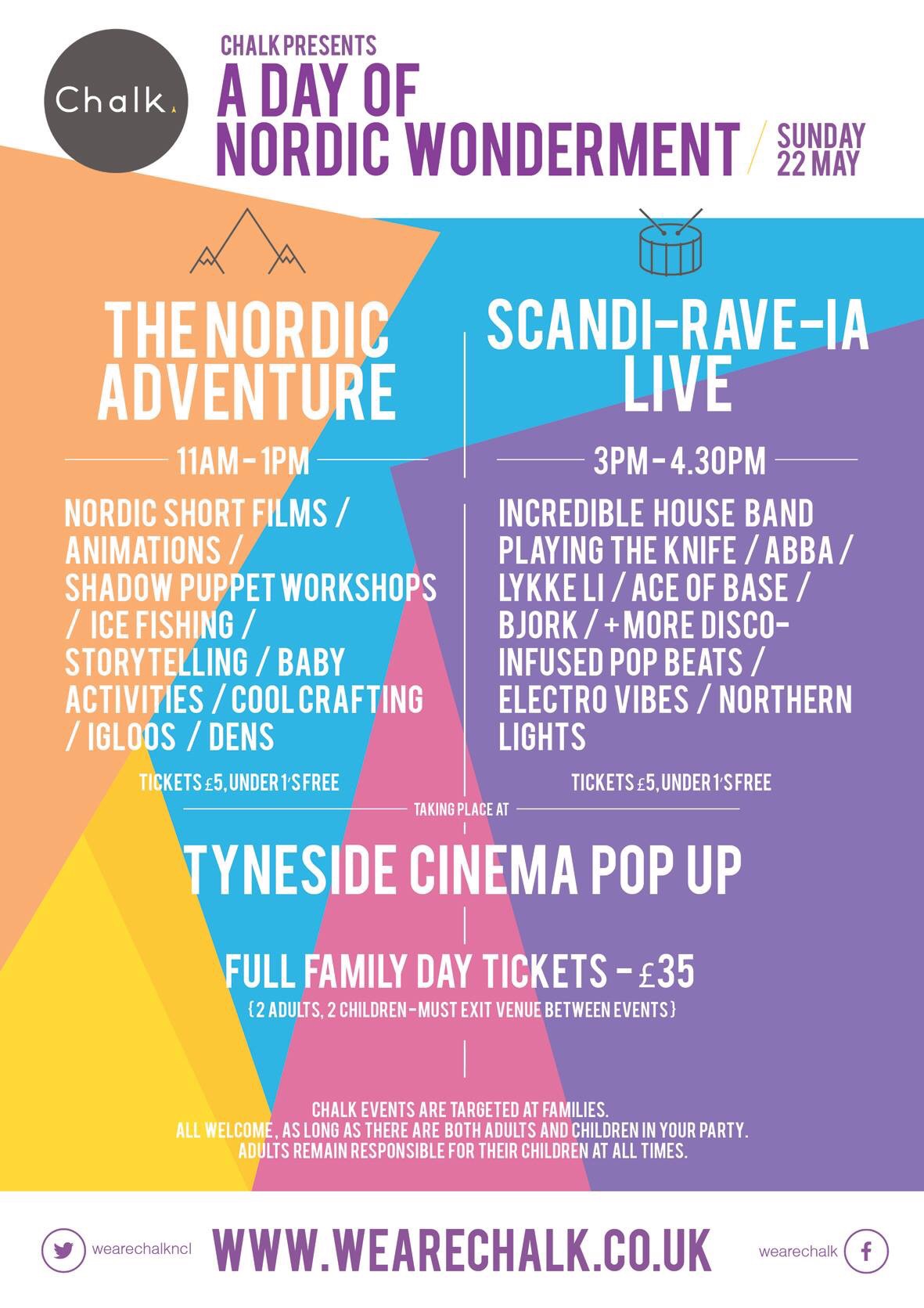 The description of the event was as follows: 'We're paying homage to Nordic musical brilliance in our raise the roof club night featuring our Chalk House Band, We'll be busting some moves to our live band who will pumping out a smorgasbord of sound from Roxette to The Knife, Abba to Lykke Li, Ace of Base to Robyn, Bjork to Peter Bjorn And John. There'll be inescapable disco-infused pop beats, sweet vocals, experimental sounds, electro vibes and above all a lot of dancing, hula hooping jumping and spinning.' The line up of Nordic music reminded me of when I went to Field Day festival in Hackney when I lived in London in 2007 – except a lot less crazy! (Also I've just realised that I'm now referring to years which means I'm officially getting old.)
The event was preceded by The Nordic Adventure, which we didn't attend but also looked like good fun.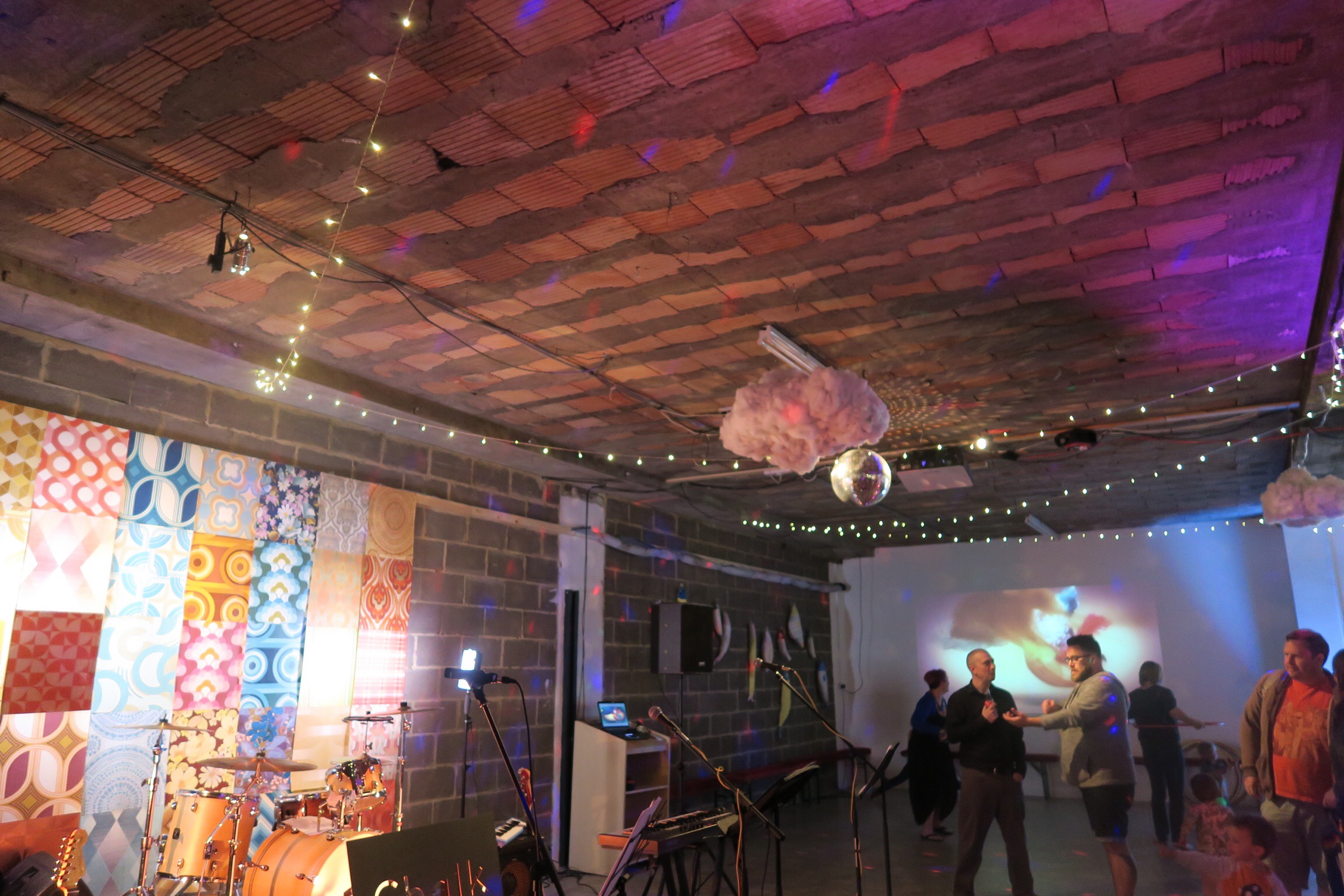 When we got there you could immediately feel there was a great vibe. The staff were very helpful, a real credit to the event, and it seemed well organised. It was held at the Tyneside Cinema Pop up School just across the road from the Tyneside Cinema itself. We got the metro in to Monument and it took  just a couple of minutes to walk across. The venue was perfect. It was spacious and airy and seemed to have just enough people there to allow you the space to dance around and for your little ones to roam free without causing accidents. I really liked this as one of my bug bears is events overselling tickets or space so that its too busy to fully enjoy.
They had decorated the venue really well, it looked very 'Scandinavian' and felt a bit like going to a cross between a chilled out old school club event (which I loved because man do I miss going clubbing now I have these little sleep thieves) and a 90s school disco. They even served overpriced booze so it felt very authentic. £3 for the smallest cans of Koppaberg was a bit irritating when you can buy a pack of 4 for £4 from ye olde Tesco but I did buy two so I clearly wasn't that put off. You could also buy teas/coffees, beers, waters and juices etc. There was a separate tuck shop stall that sold some kid friendly padded foam light up toys that were a bit like rave light sabers. The kids loved them. They also had crisps and other snacks for the little ones. I was disappointed that there wasn't mix-ups in paper bags though. That would have been perfect.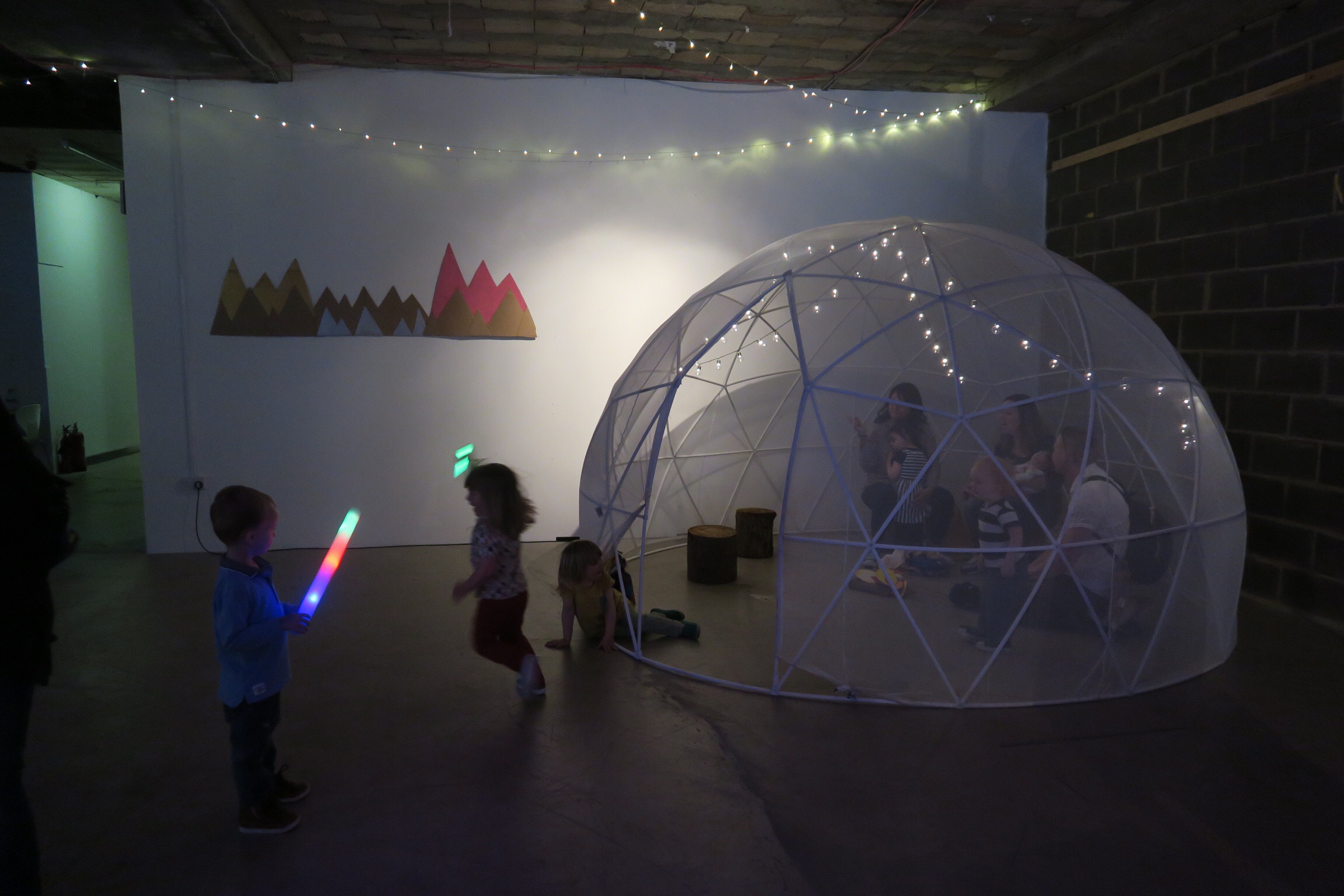 The ceiling was all strung up with fairy lights and one wall had a light/video display projection on it which looked really cool and at one point had a Bjork video on it. It doesn't get much cooler than Bjork in my books. There was a big 'igloo' in one corner that the kids could play in with seating inside around a fake fire in the middle. There was an area to hang your coats and park your strollers and then another smaller room which was a bit like a baby sensory room and was more chilled out.
That room had different materials for the kids to touch and play with. There was a big tunnel type structure with lights, a bubble machine and then a big screen with projections of the Northern Lights. It was a cool little room but both my feral kids wanted to be in on the action.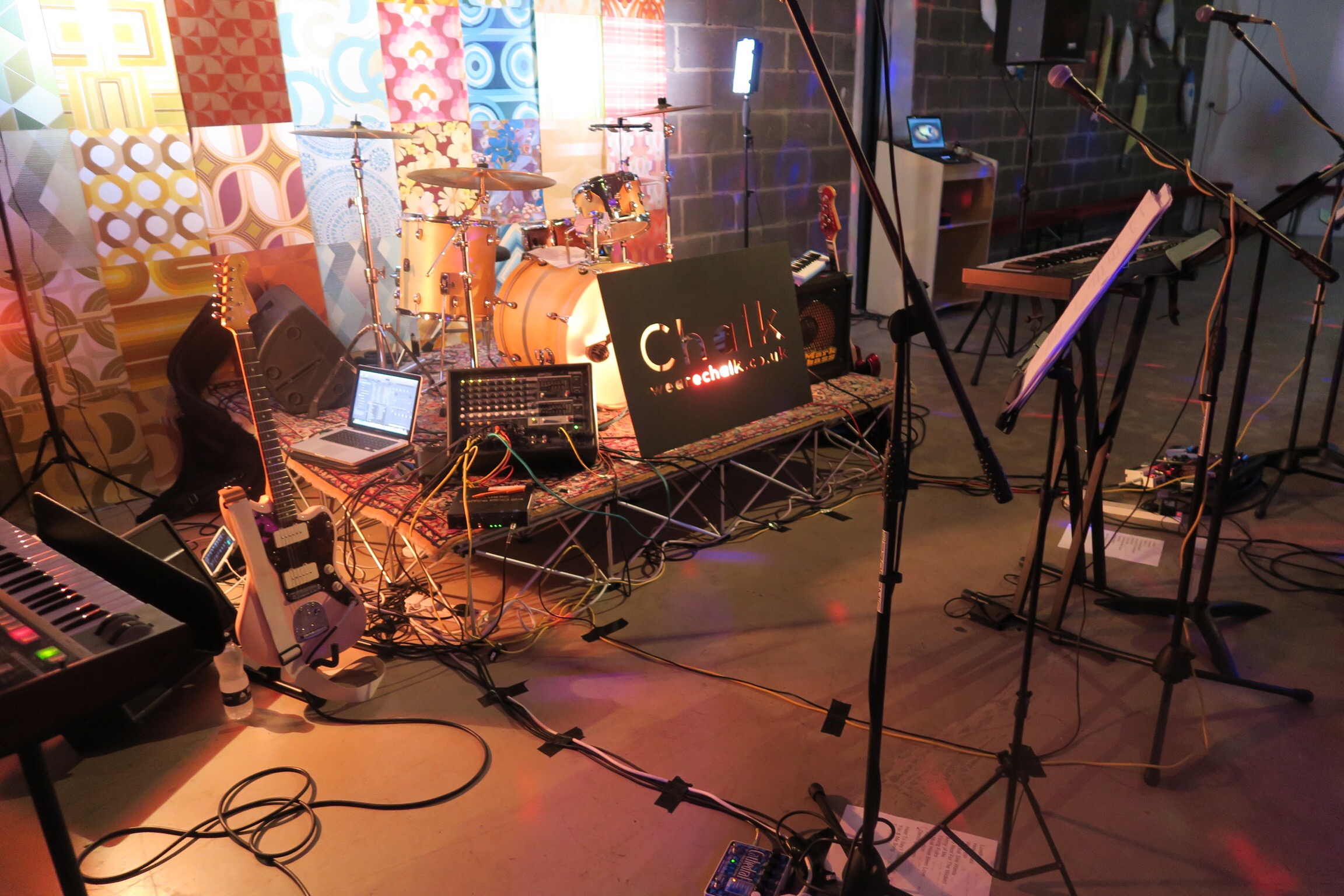 Not long after getting there the Chalk House Band, Fjord Fiesta, started up to play the scandi tunes. My 4 year old and 1 year old loved it – they immediately started dancing. The band was really good. I liked them and they worked well at getting the audience involved. My 1 year old's eyes nearly popped out of her head when she saw all the cabling for the band though and she was like a boomerang going back again and again to try and destroy the set. Parents and kids alike were dancing and singing together, all the songs were classic tunes and it just goes to show that children don't need to listen to shite like the Bob the Builder theme tune and nursery rhymes all day. You can all have fun to decent music. The photographer at the event, Nigel John, papped a photo of Arlo and I dancing to the Hives, which I love and will look back on fondly!
There were some hoola hoops that we had fun playing with and around the corner there was an activity table with Moomin pictures to colour in and a banner on the wall for kids to decorate. The event was the perfect duration. We got to have a go at everything but also the kids didn't get bored or restless or overwhelmed. The crowd seemed really cool, there were a number of people with babies in slings and baby carriers and I saw a couple of women breastfeeding – both of which I love to see. It also, supports my theory that loads of people who previously would have been classed as alternative/indie/rockers become attachment parents (and still alternative/indie/rockers too of course). We really loved it and can't wait to go to the next one like it. My one issue with it would be the pricing, we of course won our tickets but at £5 a ticket it can easily rack up for a family for a 1.5 hour event, the food and drinks on sale were pretty pricey too. A slight reduction or alternative pricing strategy would make a big difference I think.
Suggestions for improvement:
Mix ups at tuck shop
Cater for common allergens at tuck shop with wider range of snacks
Reduce prices at stalls
Reduce prices of tickets
Step up stools and pottys added to toilets for the little ones
Try cordon off band cabling from the toddlers somehow, perhaps by having a slight stage or some low fencing around it
All in all, we will definitely be attending more Chalk events in the future. A solid 9/10 from us. Can't wait to see what they do next!
P.S. You can see our vlog of the event here