I recently finished watching season 7 of Orange Is The New Black (OITNB) and after I had finished crying and had posted the obligatory Instagram Story about it, I knew I had to write a blog post about it. I want to scream from the rooftops to anyone who will listen about why this show in general, but this season in particular will no doubt be the most imperative zeitgeist viewing that 2019 brings us. And Goddess knows after the shit show that was the final season of Game of Thrones we needed to believe that a series finale could be good again and girl did OITNB deliver. SPOILER ALERT – spoilers will now follow so if you aren't up to date yet stop reading now and come back to this later! You have been warned. 
Immigration/US Immigration and Customs Enforcement agency (ICE) plotline
As a historian, I firmly believe that we are currently at a crossroad of change. We've had the global economic crisis that has led to the rise of the right and the demonization of migrants in the West. Whilst the 1% continues to profit off the struggling backs of the working classes, they use the media they own to blame migrants for the problems they create and those too tired and beleaguered at the bottom of the system eat it up because they don't have the privilege of time, money or education to know or do better. For at least the last decade there has been a sustained campaign that demonises immigrants and immigration, particularly in the UK and the US (clearly visible with Trump and Brexit). The 1% and the media work very hard to paint migrants as others, aliens (a term the Trump administration embraces wholeheartedly), not really human like you or I. The final season of OITNB says fuck that shit and exquisitely demonstrates the human side of the story. If you watch this season and don't empathise with the plight of the detainees then you need some serious therapy, stat.
This year the storyline centred around an Immigration Detention Centre in the US. What Trump is doing with ICE raids, Immigration Detention Centres and the deportation of refugees in America is scandalous and frankly, I'm livid Britain isn't taking a stand against him. I've no interest in our special relationship with a monster. To me, he's a stone's throw away from becoming Hitler and I can't believe that now, in 2019, I've suddenly got a new understanding about how Nazi Europe happened.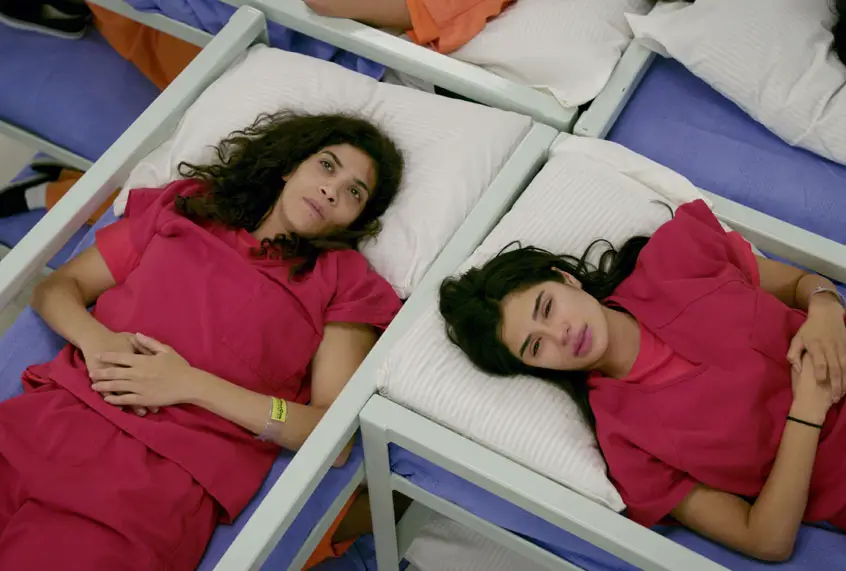 OITNB isn't standing back though; they've drawn attention to what the US Republicans are doing in a really clear, easy to understand and human way. We can see how refugees are deprived of their human rights, torn from their young children, unable to understand what's going on due to language barriers (often deliberately enforced by the power-hungry staff) and denied any opportunity to get legal counsel. We see very clearly that the prisoners have more rights than the detainees. We see the ICE agents drunk on power and abusing that power – which by all accounts is a kinder treatment of the ICE agents than I've read (the legend that is Alexandria Occasio Cortez described detention centre staff telling detainees to drink out of the toilet when she, as a member of Congress visited one). 
When new character Karla Cordova said goodbye to her children on her only call to them on the smuggled cellphone in the kitchen, and told them all of the things any mother would say in that situation, I heaved gut-wrenching sobs that were all the more heavy because I know this is really happening in America to too many women and families right now. I can't imagine much worse than being forcibly separated from my children.
Last year many of us read about or saw the courtroom footage and images of migrant children as young as 3 having to 'represent' themselves in their own deportation hearings in court. In a particularly gut-wrenching scene in episode 11 (God Bless America) we saw this played out in the newly installed courtroom in the Poly Con Immigration Centre that was so brutal it even shocked Figueroa. When ICE making Fig look like the goodie, you know they are messed up. As someone with two young children, it was almost unbearable to watch but it's vital viewing in order to fight against what's happening. Watch it, cry and then make a donation to the American Civil Liberties Union ACLU.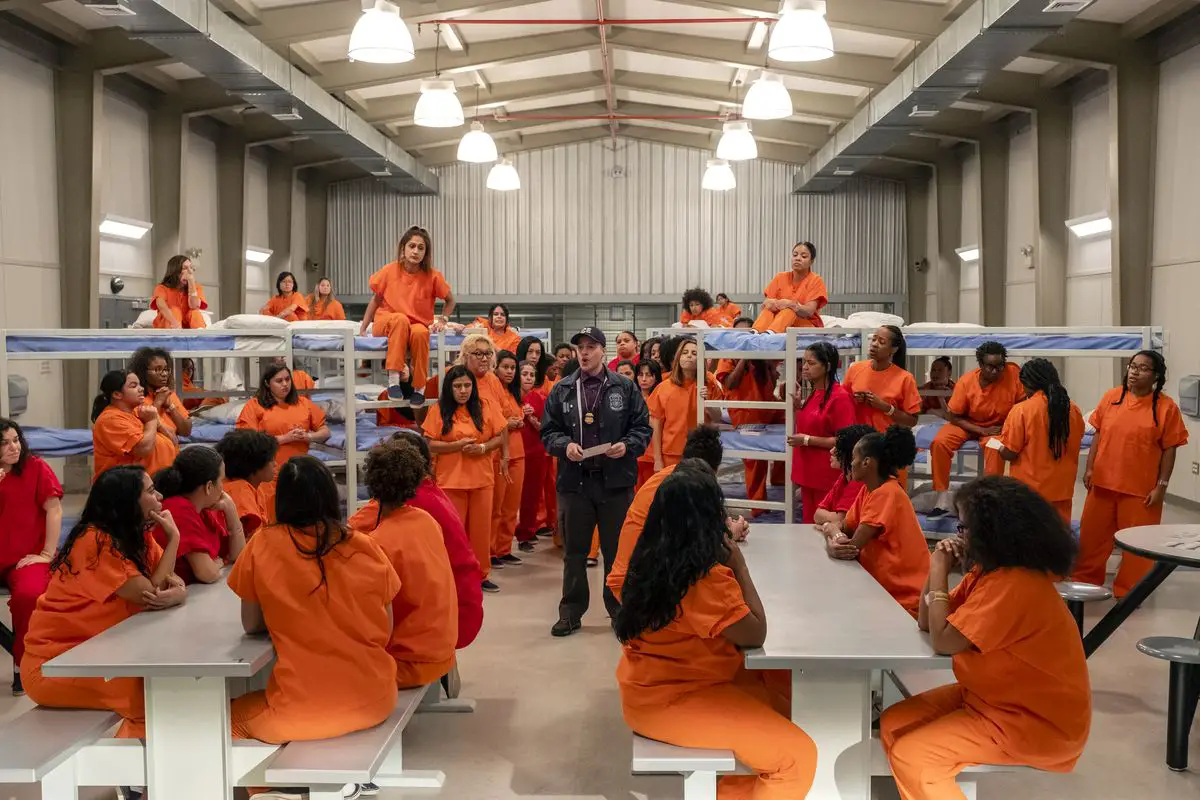 Other topical issues
As has always been its style, the show also brought so many other topical issues to light; Joe Caputo's comeuppance in a Me Too scandal, abortion after rape and Female Genital Mutilation. Even white privilege was perfectly demonstrated by the dichotomy of Piper's release with Cindy or Taystee's. But in the end, it was Taystee who stole the show as the walking heart of what OITNB was, is and has become. Danielle Brook's acting this season was spectacular. I don't think I've ever rooted for a character more. She's phenomenal, I can't wait to see where she goes with her career.
Lost characters
It was so perfect to see the characters we had been missing the past two seasons when Alex was moved to Ohio. I could finally stop saying, 'where is Boo?' every episode. Whilst this combined with Piper moving for Alex implied and felt a little bit like a happily ever after, Jenji Kohan kept our feet firmly on the ground by reminding us that things never really change as we saw officer douchebag (Hellman, apt name) promoted to Warden.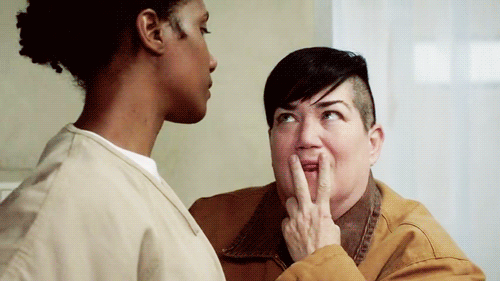 Representation and intersectionality
Despite the show making such a powerful political point in season 7, it's still a predominately character-based show and that's why it makes its point so forcefully. OITNB is the show where women get to see ourselves truly represented like no other. Naked bodies are shown in a non-sexualised way. The female characters are real, multifaceted and like real women that you know and not just a girlfriend asking 'what next?' or trying to be the fun police.  No other show displays intersectional feminism in such a way, where as a (white) viewer you get a better understanding of the ways that class, race and gender intersect to impact on women's lives.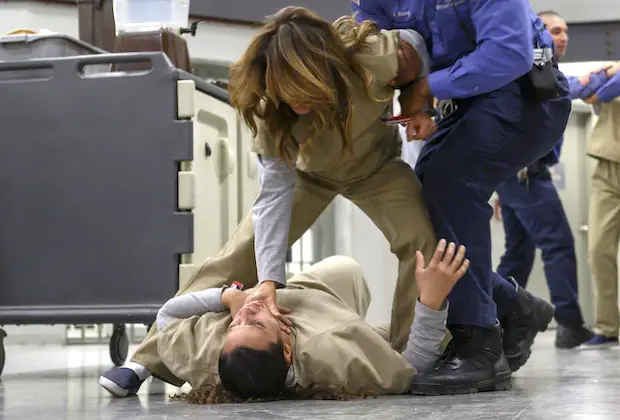 This meant something
In the final scenes, especially the one between Alex and Nicky you can see the tears and the goodbye between these women was real. These women know what this show is and what it means. You can see that in the goodbye clips that are played as the credits roll. And watching you know it too. They and we, are all part of something special here, something meaningful. And then Nicky delivers the brilliant joke of 'anything can be a dildo if you are brave enough' and the show takes you from crying to laughing in a heartbeat in the way that only OITNB can. 
As one of the first-ever original series commissioned by Netflix to drop all at once, OITNB played a huge role in changing the way we all consume TV.  To do this as a show with a predominately female team of cast and crew, highlighting women's stories and diversity in a way I've never seen on screen before I'd argue OITNB has paved the way for women in more ways than one.
There is no better way to end the show than to announce the Poussey Washington Fund is real (currently at $233,575) ensuring the show will continue to have a very real impact on the lives of women for years to come. 
If you liked this blog post, then you might also like: