If you read my cruelty free beauty advent calendar blog post, you will know that every year for my November birthday, Papa Ginge gets me a beauty advent calendar. This year I decided that his December should be just as exciting too so I've been on a hunt for a last-minute alternative men's advent calendar. In 2022 a simple £1 chocolate advent calendar just isn't going to cut it, and why should the kids get all the fun anyway?! Here are the best advent calendars for men I've found (in price order from low to high) this year.
Now of course, you don't have to be a man to enjoy these advent calendars BUT people have been using this search term and coming to my blog so I'm giving the people what they want. Please don't shoot me for gendering on a feminist blog - those hosting costs don't pay for themselves! 
Alternative advent calendars for men
Scratch card £5
One idea that could make December a lot more exciting is to simply buy 24 festive scratch cards and scratch one-off each day. You never know, it could end up paying for Christmas if you are lucky (or not!). Either way, it would be fun! Or National Lottery have a £5 advent calendar scratch card out that is cheap and fun. This year there are 5 jackpot prizes of £1 million, now that would make a Christmas to remember!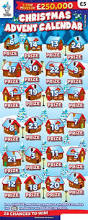 Chilli advent calendar £12.99
For the hot sauce lover for a spicy December!
Coffee advent calendar £20.99 – £3

9.90

This coffee advent calendar has 25 single-estate speciality coffees, that will allow you to taste new flavours and learn the story and craft behind each distinct coffee origin.
Build your own advent calendars – £

21.99-£22.52

If you are buying for a tinkers then these build your own advent calendars are a great choice. In the Build your own radio option, each door has parts to build this working retro FM radio. The second option allows you to build 8 electronic games.
Jigsaw puzzle advent calendar £24.99
This unique jigsaw puzzle advent calendar contains 24 numbered boxes to open on the day that corresponds to the number. Inside each box you will find 42 pieces of a 1008-piece jigsaw puzzle. The 42 pieces belong to a specific section of the puzzle, and your goal is to finish one section of the puzzle every day between December 1 and December 24. Love this!
Hotel Chocolat advent calendar for two – £27.50
A sneaky way to give them an advent calendar whilst you get treats too. We are both big fans of Hotel Chocolat in our house and this advent calendar has two of their tasty truffles per day.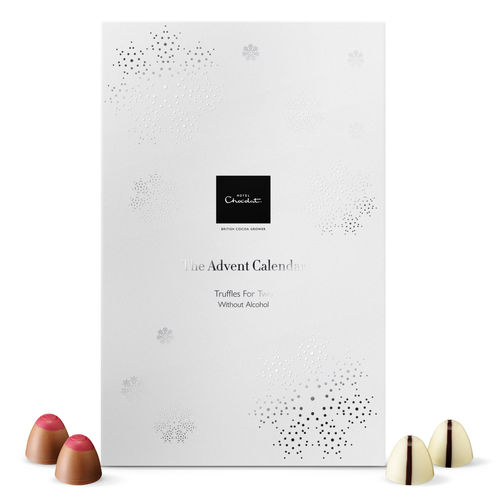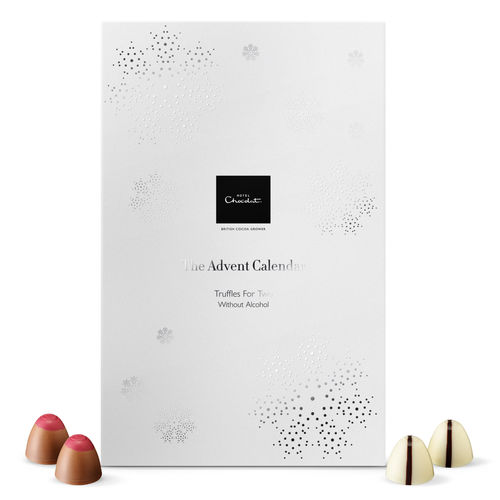 Gardening advent calendar £34.99
Featuring 25 different varieties of vegetables, herbs and salad seeds that can be grown year-round. 
Tools advent calendars (£30.95-£57.52)
For the DIY lover, a tool advent calendar is a great advent calendar idea for him.
Beer Christmas advent calendars (£55.95 – £85.50)
For the beer lover in your life, there are a bunch of great beer advent calendars available. Here's a selection for a range of price points and tastes.
Mens beauty advent calendar £95 (Worth over £431)
Discover the key to expert grooming with 25 essential grooming and self-care products for men, with the Look Fantastic Mankind Advent Calendar (affiliate link).
From Renewing Sheet Masks to Oil Control Moisturisers and Regenerate Hypersensitivity Toothpaste (where science and beauty unite!) this is the ideal gift for for him.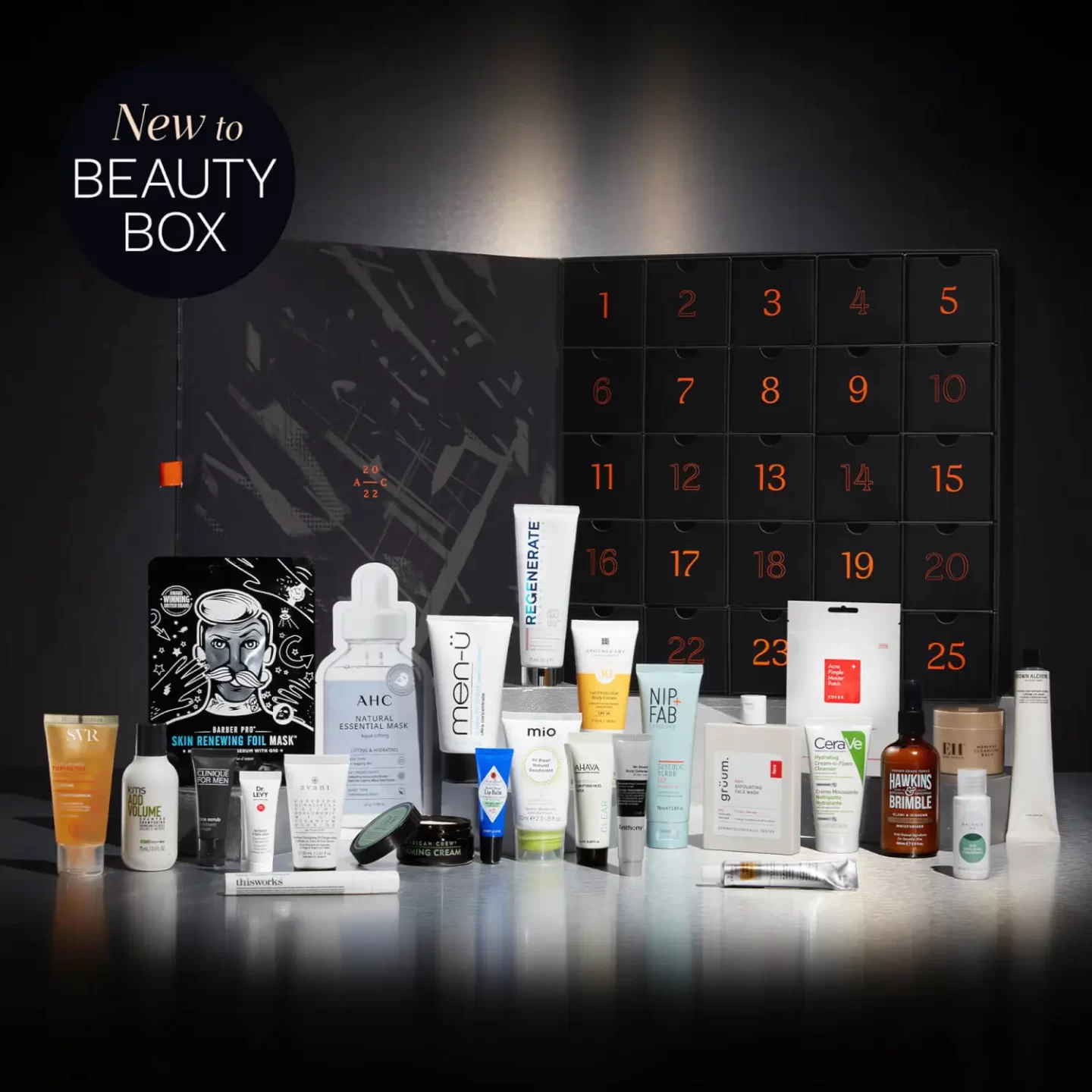 Whisky advent calendars – from £99.95
Perfect for those with whisky lovers and some cash to splash. Features 24 different wax-sealed 30ml sample drams of whisky from a selection of brill producers, with a host of styles and flavour profiles to enjoy. Papa Ginge would love this. Ah to be wealthy!
My top choice of mens advent calendar ideas
Happy buying! My top mens advent calendar of choice this year is the Whisky Advent Calendar (affiliate link) because its oh so extra special and the box design is gorgeous.
If money is tight though, like it is for a lot of us then you can't go wrong with the lottery advent calendar scratch card! We've done that a couple of times now and had a lot of fun with it – you never know, you might get lucky!
If you found this guide to advent calendars for men helpful, you might like my Vegan beauty advent calendars 2022, Best cruelty free beauty advent calendars 2022, 10 Christmas gift ideas for men who are hard to buy for or my ultimate guide to a family Christmas.
If you have enjoyed this post or found it useful, here are some quick and easy ways that you can support Nomipalony or say thanks:
Share this post with your friends  
Pop over to my Amazon Storefront to see what products I have been buying and loving from there recently, including my health and fitness products list.
Sign up to my mailing list 
Women can join my feminist Facebook group – the Nomipalony Freehouse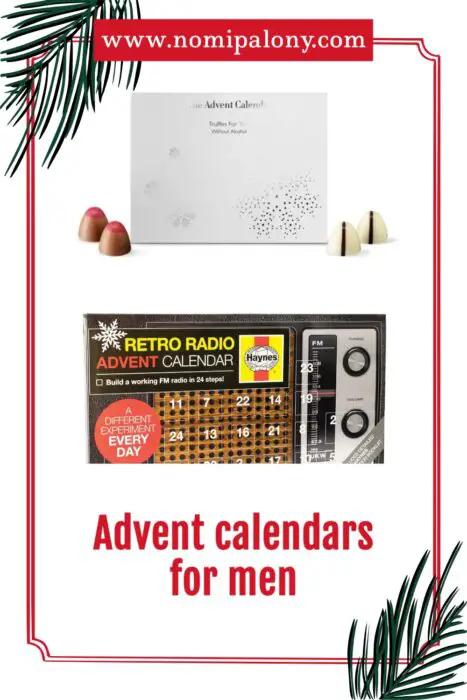 Disclaimer: This post contains affiliate links. If you purchase through an affiliate link you will not be charged any more for your purchase, but I will receive a small fee for referring you. As an Amazon Associate, I earn from qualifying purchases. For my full disclosure policy, please see my about page.