One of my lovely followers on Instagram mentioned to me that this year, given she won't be trick or treating, she'll be getting her kids Halloween onesies this year instead of a costume. I thought that was a great idea so I'm going to copy! If you have read my 20 ideas for Halloween at home blog post then you'll know that this year we plan to do a trick or treat treasure hunt for sweets around the house and then watch a movie (see this post for my ultimate guide to Halloween family films and shows) with our loot so Halloween PJs or onesies will be ideal for that. Top tip from me – if you are choosing one that would look silly if it was worn outside of Halloween then do size up so that they can wear them next year too – it doesn't matter if PJs are a little big!
Here are the best Halloween PJs and onesies I found in case you want to copy too! 
PJs
Glow in the Dark Skeleton Pyjama Set, M&S, £12
I've bought this glow in the dark skeleton pair of PJs (affiliate link) from M&S for Lena. These range from age 1-7 so sadly they don't go up to Arlo's size. I prefer PJs to onesies for Lena as she struggles to get the onesies on and off herself easily for the toilet.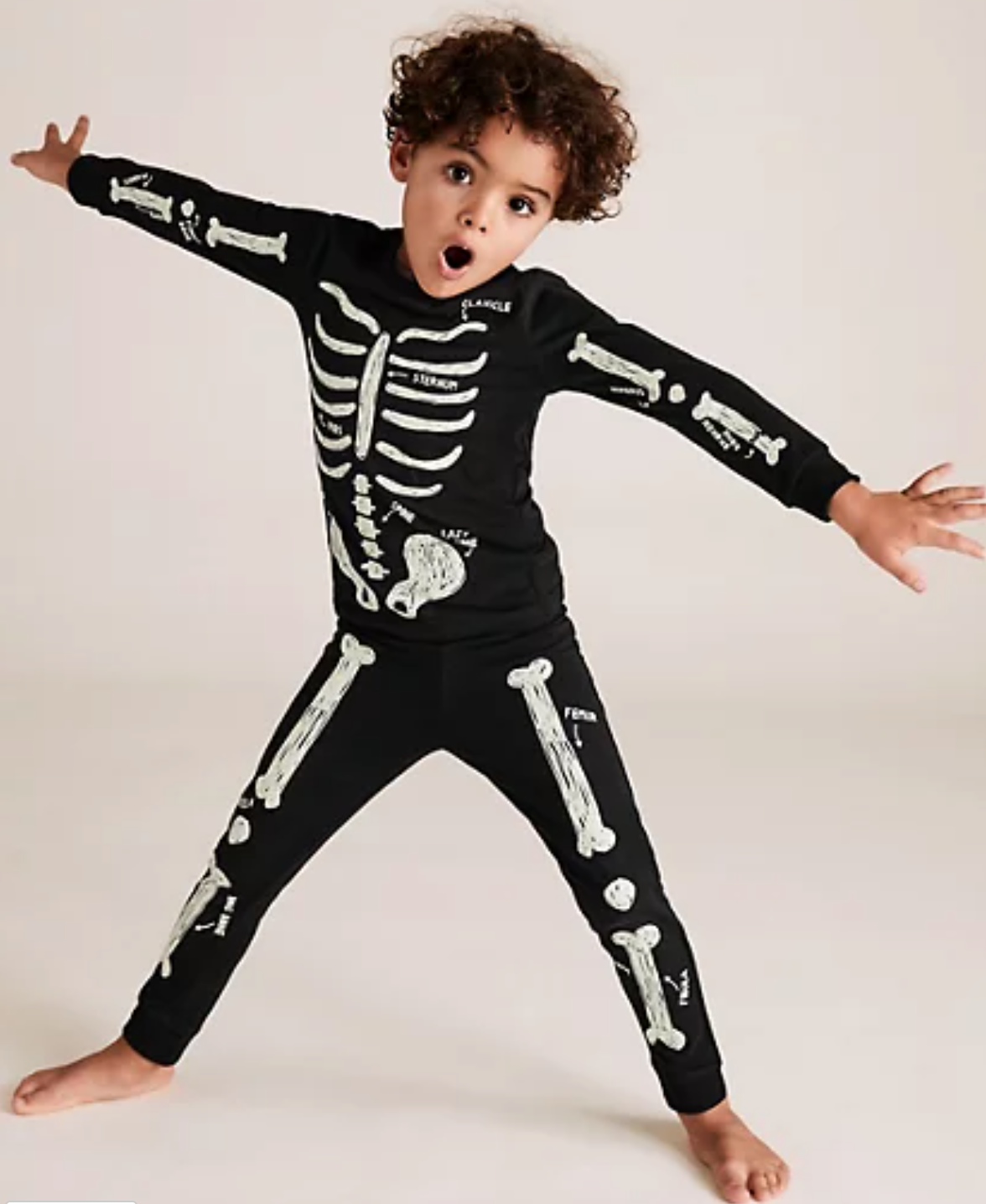 Pumpkin Halloween Long Unisex Pyjamas, Pyjamas.com, £7.99
Pyjamas.com have these affordable unisex pumpkin pjs in for ages 3-10 years for only £7.99.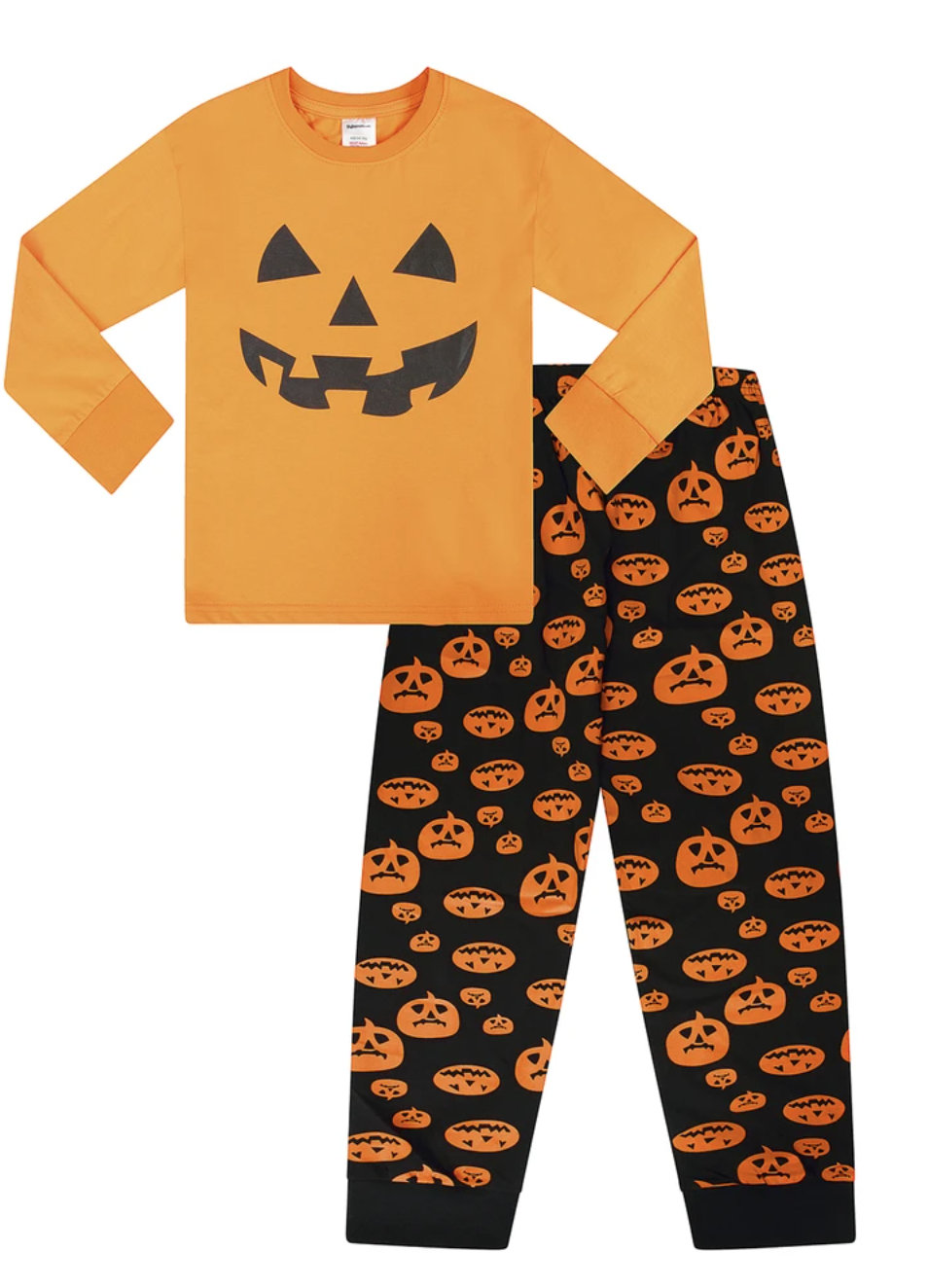 Matching family Minnie and Mickey Halloween PJs, Asda George
The whole family can match in these super cute Minnie and Mickey mouse mummie Halloween pjs from Asda George.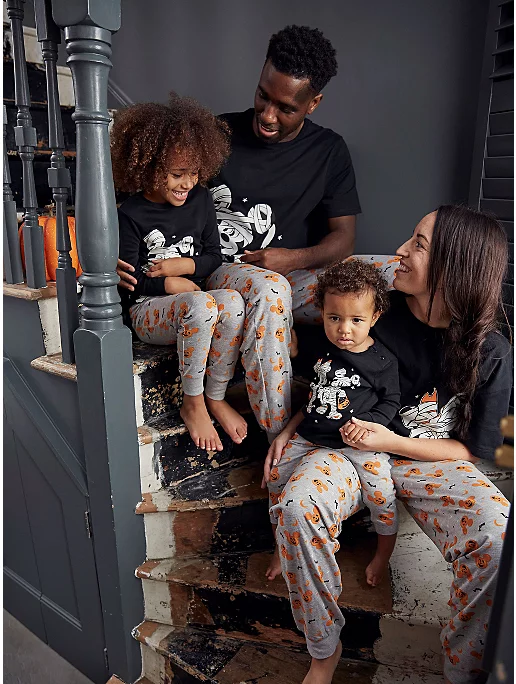 Halloween Ghost Slogan Glow in the Dark Pyjamas Set
Another set of matching pjs for the whole family from Asda George.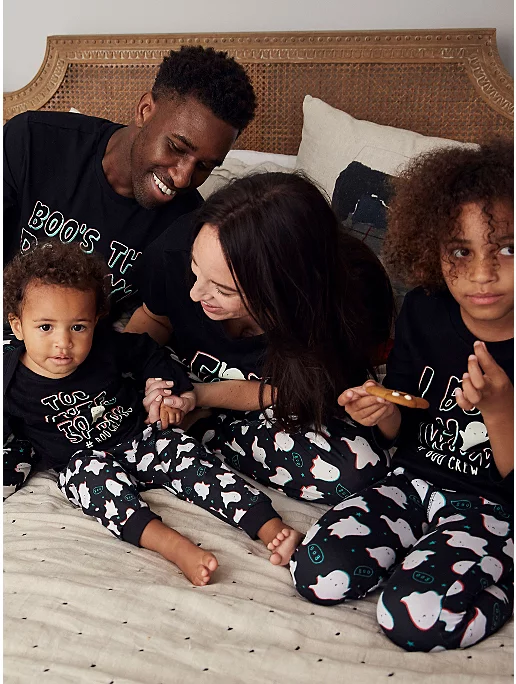 Halloween 'Boo Crew' Pyjamas, Sainsbury Tu, £7
This set includes a long sleeve top with round neck and the phrase 'BOO CREW' with adorable little ghosts on the front, dressed in all their Halloween clobber.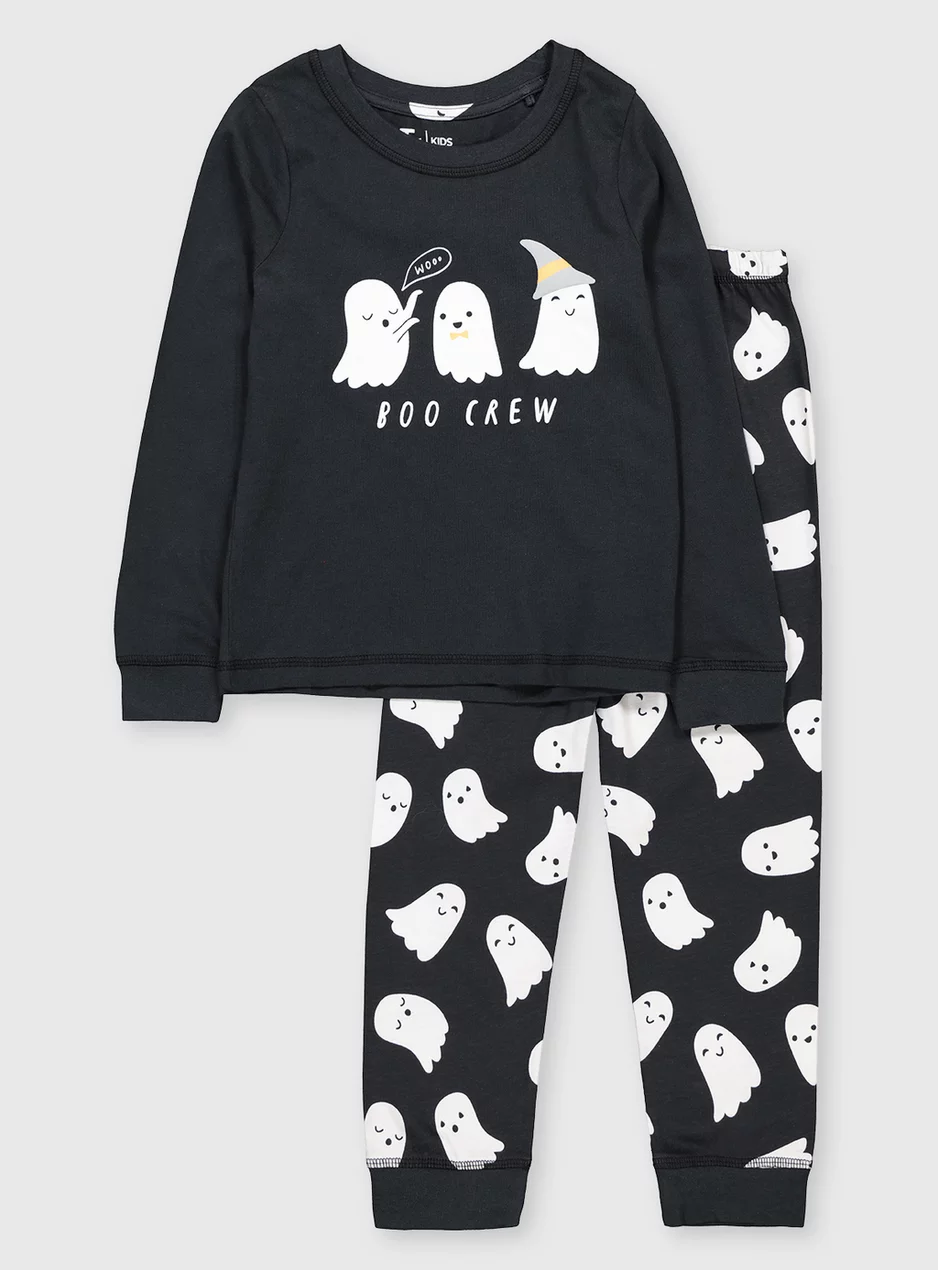 Peppa Pig Halloween George Pyjamas, Sainsbury Tu £10
Glow in the dark Peppa Pig pjs from Sainsbury Tu for 1-5 year olds.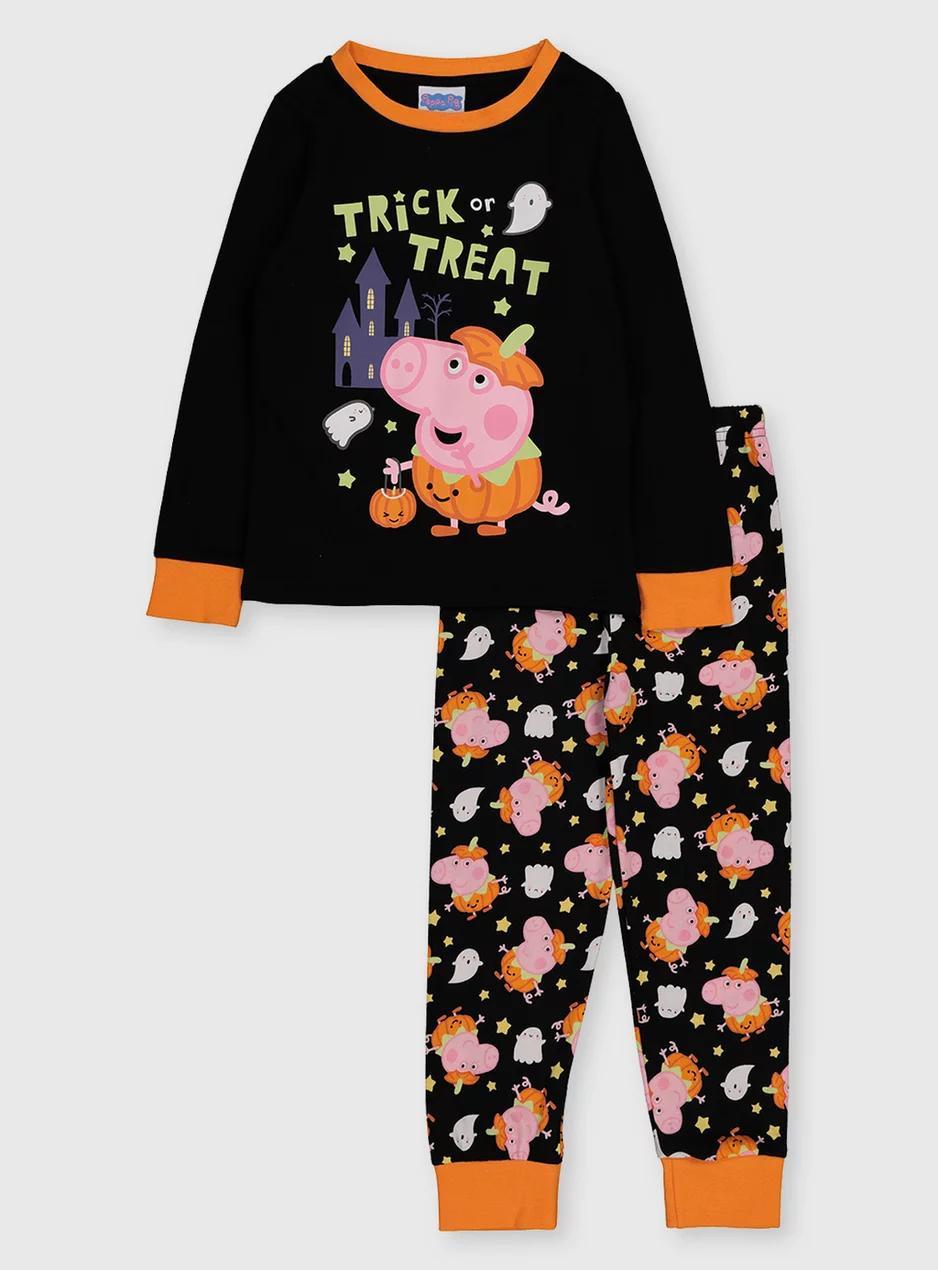 Jersey Glow in the Dark PJs, H&M, £9.99
Kids will love how these PJs glow in the dark. Pyjamas in soft cotton jersey. Long-sleeved top with ribbed cuffs. Bottoms with an elasticated waist and ribbed hems. From ages 1.5 – 10 years for £9.99.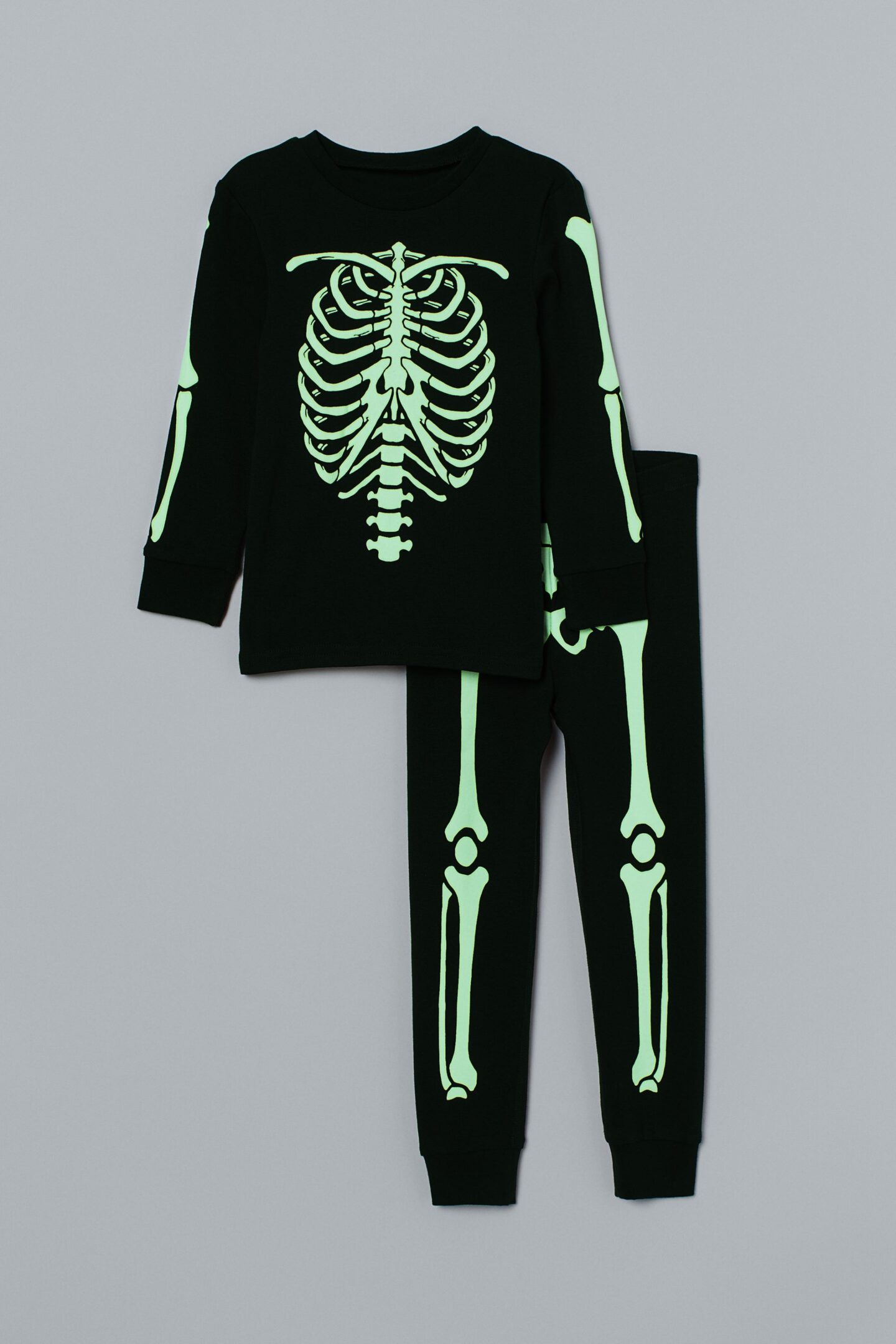 Labyrinth Babe With The Power Pyjama Set, Truffle Shuffle, £24.99
I'm going to pop just one option in for adults here. I was trying to focus on kids but fell in love with this Labyrinth Babe With The Power Pyjama Set (affiliate link) in my search. I mean who wouldn't love these PJs. They are immense.
I hope you liked some of those unisex options for your own kids. Let me know if you buy any! Are you team costume or team PJs this year? Let me know in the comments!
If you liked this post you might also like: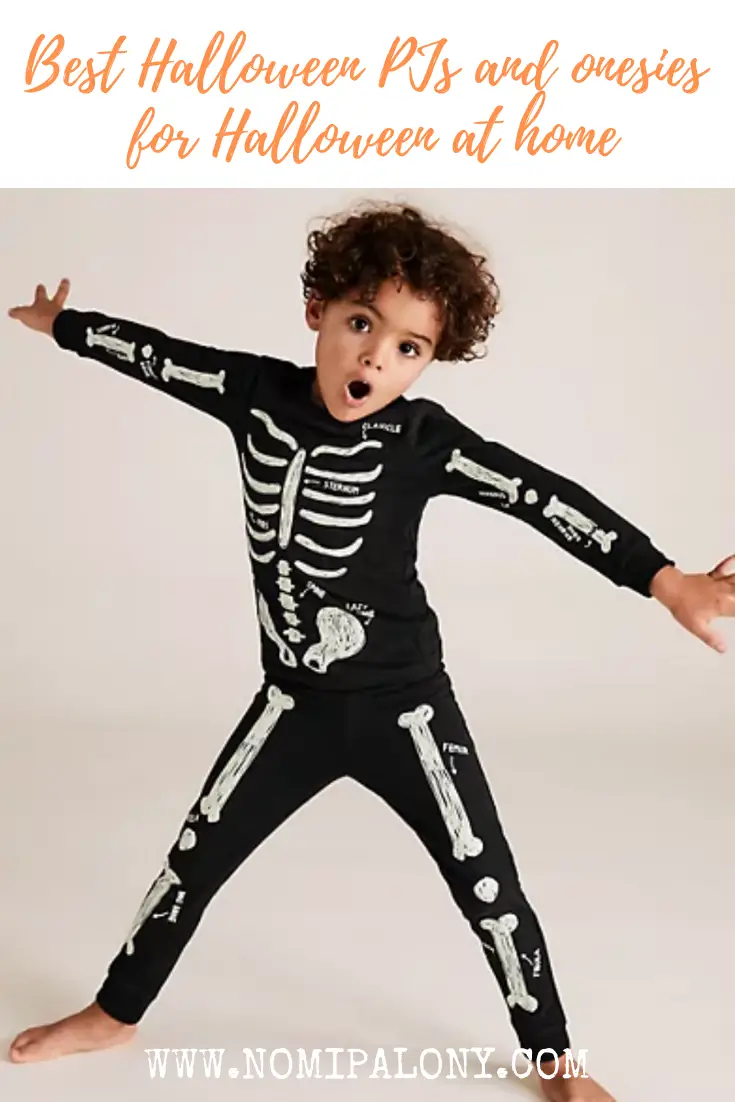 Disclaimer: This post contains clearly marked affiliate links. If you purchase through an affiliate link you will not be charged any more for your purchase, but I will receive a small fee for referring you. As an Amazon Associate, I earn from qualifying purchases. For my full disclosure policy, please see my about page.