There is little out there that can match the beauty of the Northumberland coast. It has some of the best unspoilt beaches in England and there is so much to do in the area (here you can read about some of the things we did on our mini-break at the Northumberland Coast to visit Bamburgh Castle). If you want to read more of my camping posts don't forget to come back to my ultimate guide to family camping that contains all of my best camping posts in one place, including my free family camping packing checklist printable. We live in the North East and have tried many of the best campsites on the Northumberland coast. Read on for my 13 top picks for camping the Northumberland coast…
If you want to see more places to camp in Northumberland then check out my Camping Northumberland – the best Northumberland campsites and tips from a local blog post. For camping further afield in the North East check out my post camping North East England. For glamping see Glamping Northumberland – 5 top spots. 
13 best campsites Northumberland coast
Budle Bay Campsite
Budle Bay campsite is a quiet, family-run site nestled in Northumberland's Area of Outstanding Natural Beauty. It sits 2 miles north of the spectacular village of Bamburgh, with its coastal castle dominating 16 miles of golden sand dunes and beaches, and 200 metres from the mud flats of Budle Bay which are renowned for their bird life. 
Situated within a picturesque tree lined valley with a small river flowing alongside it, Budle Bay is a friendly, quiet, low-key site catering for touring caravans, motorhomes, campervans, trailer tents and tents on both grass pitches and hard standing.
They operate as a dark sky site, providing breathtaking stargazing opportunities and even the occasional view of the Northern Lights.
They even offer fridges and freezers available for free use for campers!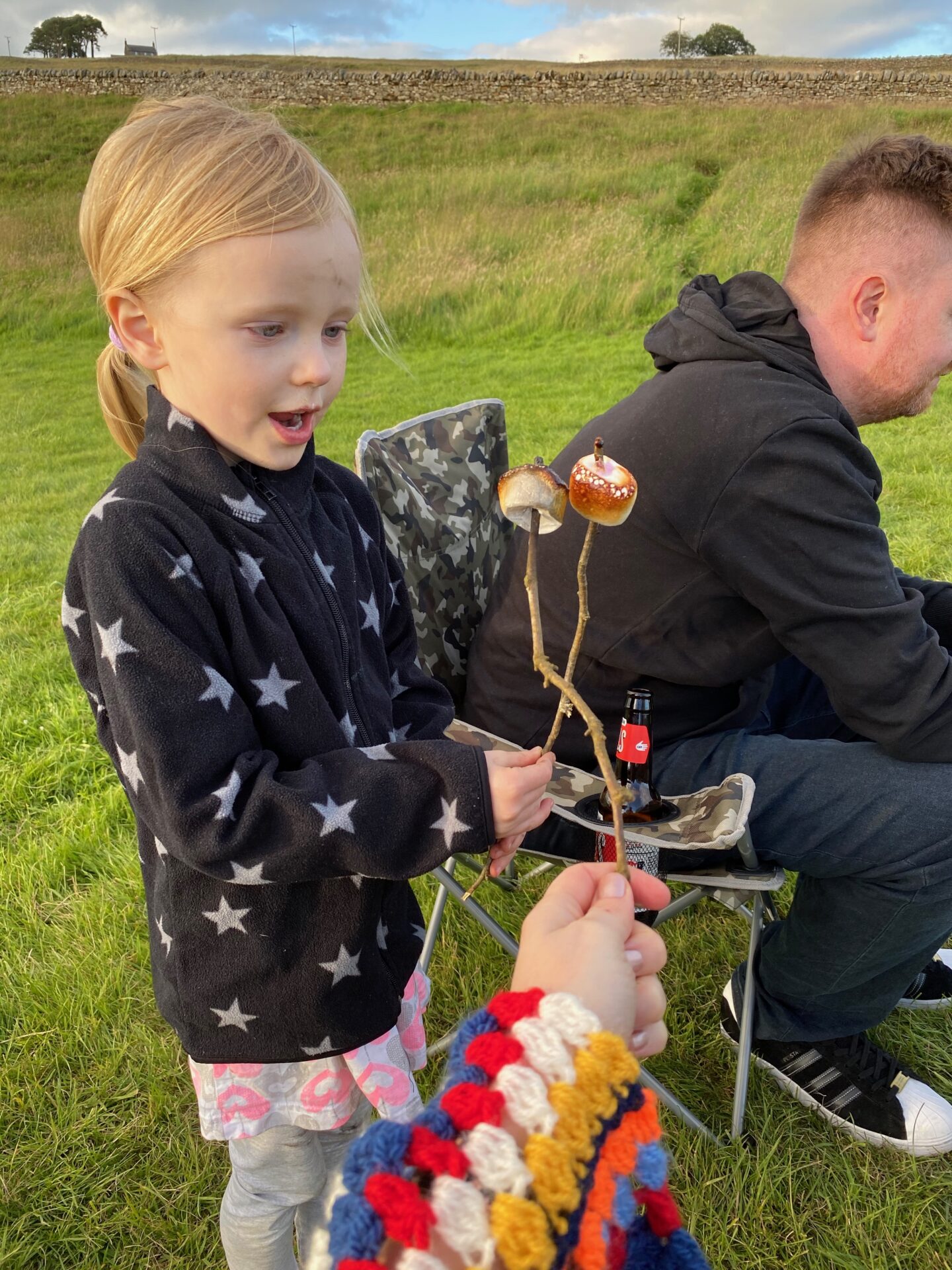 Nearly wild camping near the beach in Northumberland
Budle Hall Field, Bamburgh
Exclusive wild camping in our beautiful field behind Budle Hall with sea views and a short walk to the beach. Each pitch has its own private shower and toilet and there is also an outside shower to wash off the sand. Sinks (cold water) to wash dishes. Two pitches only. Car parking separate from pitches – wheelbarrows supplied to transport your tent & bags!
£40 for a tent (one per pitch) and up to 6 people per pitch.
If Budle Hall Field is fully booked? You could also try wild camping on a beautiful farm with view of the Cheviot Hills or the Bamburgh coastline. Pitches offer total seclusion with options to buy local produce, breakfast hampers, or rent a fire bowl. £20 per pitch per night. Contact Lucy on 07597 420228 or email [email protected]
Doxford Farm Camping, Bamburgh
Set amidst 500 acres of working farmland – Doxford Farm Camping ensures that campers and glampers have the opportunity to relax, enjoy and explore all Northumberland has to offer. As the campsite is at the heart of the farm there is always something going on to watch – from lambs in the fields to harvest!
With over 5 miles of farm walks which include woodland, field and lakeside – there is plenty to do and see without even needing to step foot in a car.
Only 4 miles from the nearest beach and 6 miles from Alnwick, you're in pole position here. Bamburgh Castle and Seahouses are a 15 minute drive.
Solar powered panels can be hired to provide a little electricity to charge items such as phones, small speakers etc. Batteries, ice, logs and overnight briquettes can also be purchased along with marshmallow toasting kits. 
This site has fresh cold running water and loos but DOES NOT have electric or shower facilities.
Walkmill Campsite, Warkworth
Walkmill campsite is located near Warkworth in a private setting next to the banks of the River Coquet. This hideaway site offers a fantastic vacation with privacy and space; a delight for enthusiastic individuals, walkers, cyclists and families who enjoy the countryside.
Set in 10.5 acres of Northumberland countryside, this quiet smallholding surrounded by the River Coquet is amongst some idyllic woodland walks with public footpaths, approximately 5 minutes by car from Warkworth Castle and its fabulous beaches. It is ideally placed for anyone wanting to have an outdoor holiday or activity holiday within a mile of the coast and castles cycle route.
Fire-pits and Barbecues are also permitted as long as they are raised off the ground.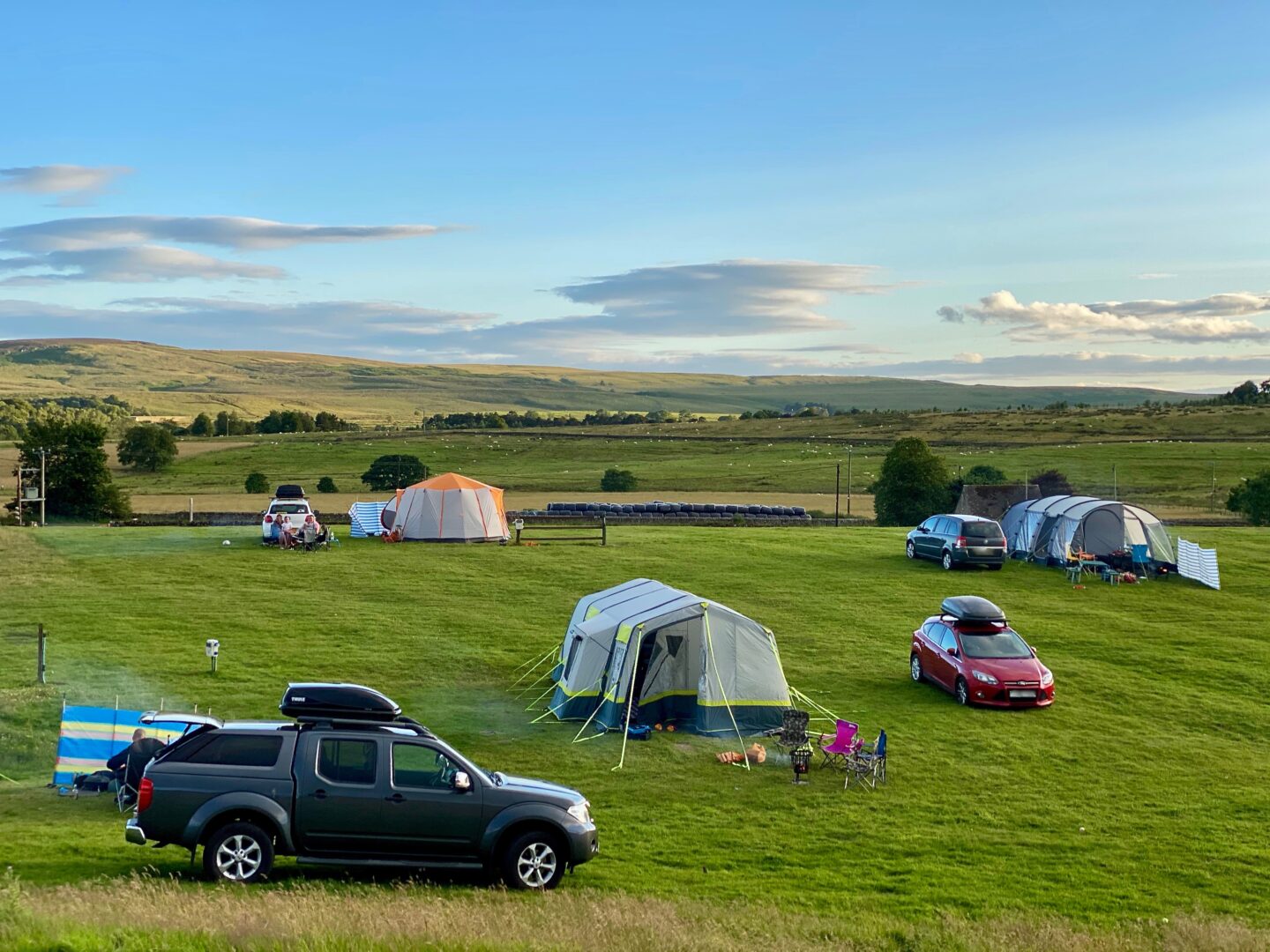 Camping at the Northumberland coast with seaviews
Budle Hall Field in the nearly wild camping section above has sea views of Bamburgh beach.
Waren Camping and Caravanning Site, Bamburgh
Waren Mill is nestled within acres of woodland on the headland above Budle Bay Nature Reserve with unbroken views across to Holy Island, Bamburgh and inland to the Cheviot Hills. 
The family owned park is set within an exceptional natural environment and has superb facilities which means that you have everything that you need to have a completely self-sufficient break in an idyllic location. But if you do want to venture out, you really couldn't be in a better location for exploring Northumberland's coast and country.
Waren Mill campsite has:
Views of Holy Island, Budle Bay and Bamburgh Castle
Nature Trail and play areas for children
Heated splash pool
Family pub and restaurant
Bar, restaurant and shop on-site
Berwick Seaview Caravan Club Site, Berwick upon Tweed
Berwick Seaview is a Caravan and Motorhome Club site that has 6 grass pitches for tent camping, without electric hook-up. It has a stunning outlook to Berwick-upon-Tweed across the River Tweed estuary. Sunrises over the horizon are supposedly spectacular.
The quiet roads in the vicinity will open up miles of unspoilt beaches, castles, and 'romantic' ruins. The sandy beaches within easy reach make Berwick Seaview a particularly good choice for families.
Annstead Farm, Beadnell
Annstead Farm is a family-run 600-acre working arable and livestock farm situated just yards from miles and miles of undiscovered, unspoiled sandy beaches on the spectacular Northumberland Coast, between the seaside villages of Beadnell and Seahouses.
The campsite is a picturesque 2-acre grass site next to the farm steading. A small secluded site (20 pitches), with electric hook up if required, for those who want a quieter location.
Springhill Farm, Seahouses
Springhill Farm is arguably one of Northumberland's most scenic sites. With great views across rolling countryside towards the sea and Farne Islands and with Bamburgh Castle to the north and the Cheviot Hills to the west, Springhill's 70-pitch camping and caravan site is in a prime location.
Just over half a mile from some of the UK's most breath taking beaches, the site is close enough to the village of Seahouses (one mile) to be within easy reach of shops, bars and restaurants. Bamburgh, with its stunning castle and quaint shops is just over three miles away. Touring caravan, mobile home and camping pitches are well spaced apart in a large, grassed area with hard standing and electric options.
Fire pit hire & logs available on site
Elevated BBQ's allowed
Children's play area and picnic area 
2 night minimum stay
Hemscott Hill Farm, Druridge Bay
This is one I'm desperate to do – wild-ish camping on the Druridge Bay dunes. They have closed for 2021 due to the pandemic sadly but I'm hoping they re-open again. Just imagine going to sleep to the sounds of the waves and waking up to the view of the beach. They also have alpaca walks there which my daughter would love.
The Barn at Beal, Beal Farm, Berwick
The Barn at Beal campsite has spectacular beach views and open 360 days a year. There are 11 tent pitches and 16 hard-standing for Caravans/Campervans. Electric is available on all pitches including tents and additional toilet and shower facilities. Bonfires/campfires not allowed however BBQ's that are risen off the ground are permitted. There is a bar, restaurant and coffee shop on site as well as outdoor seating and a children's play area.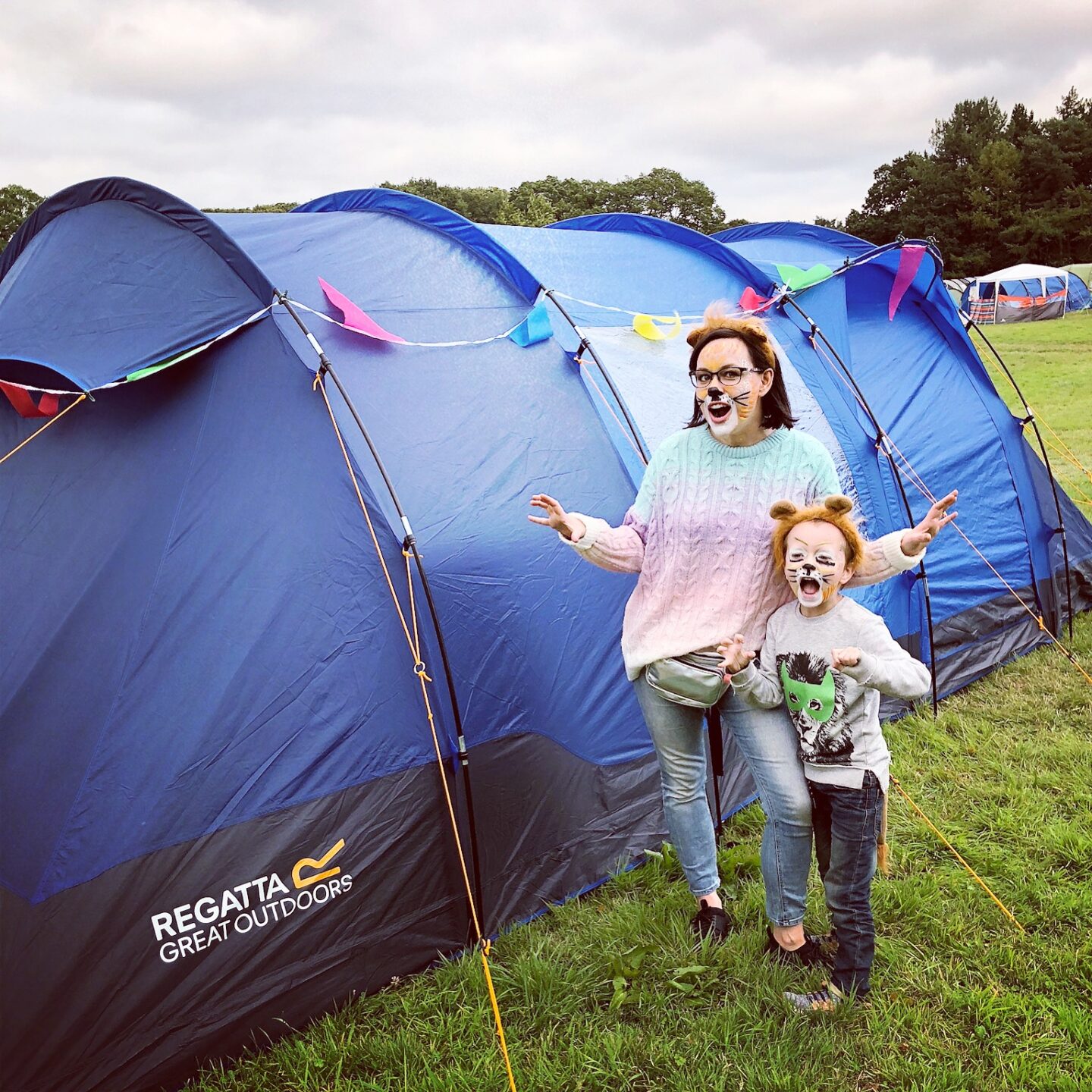 Glamping at the Northumberland coast/Camping pods Nothumberland Coast
I've popped a couple of glamping options for the Norhtumberland Coast here but I am planning on writing a full length post on this as there is so much on offer in the area so watch this space for that.
Budle Bay Campsite (above) also offers huts and bunkhouse for couples, families and solo travellers looking for a camping experience with a few more home comforts.
Waren Mill campsite (above) also has authentic wigwams made from environmentally friendly and sustainable wood. They will sleep a family of up to five or provide a more peaceful and private stay for two. Children under 16 years of age go half price and children under 5 go free. 
Doxford Farm (above) has five wooden glamping pods and a bathroom pod.
Springhall Farm above also has galmping options.
Northumberland Farm, Seahouses
Northumberland Farm has 5 canvas lodges that sleep 6 people each with an ensuite shower.
It lies less than a mile from the beach and only a 15 minute walk into the seaside village of Seahouses in the North Northumberland AONB. (Voted "Best UK Holiday County of the Year" at the 2018 British Travel Awards). There are a host of visitor attractions on the doorstep including the huge breeding colonies of puffins and seals on the Farne Islands as well as grand castles at Bamburgh, the Holy Island of Lindisfarne, Dunstanburgh and Alnwick.
While you are there, you can learn about the farm and its ethos on a family-friendly tour with the farmer or even help him on his early morning rounds to check the animals. You will also be able to sample the best of the local area in their Honesty Shop which, in addition to daily essentials, offers local honey, ice cream and even oysters!
It's a popular site that books up fast so don't delay if it's on your hit list.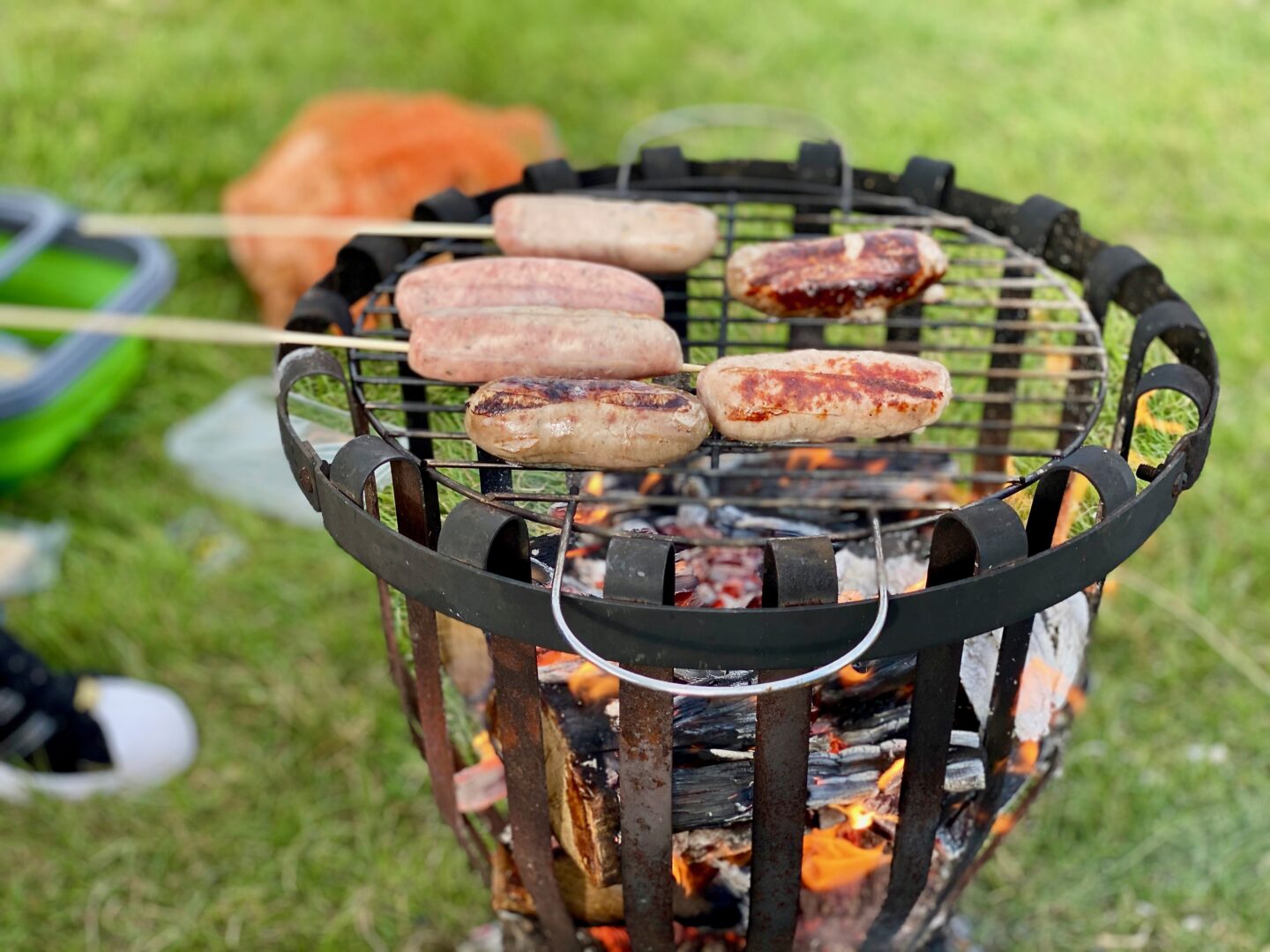 Camping and caravanning sites near the beach in Northumberland
Beadnell Bay, Beadnell
Boasting spectacular views across the Northumberland coast and Cheviot Hills, the spacious Beadnell Bay Club Site is the ideal location for a seaside escape. Overlooking the dramatic coastline, Beadnell Bay Club Site is just minutes from magnificent dunes, golden sands and swooping birds.
Take a stroll southward into Beadnell, or northward to Seahouses, where you can hop on a boat to the beautiful Farne Islands – a cluster of islands famously labelled by iconic broadcaster Sir David Attenborough as his favourite place in the UK to see nature. Keep an eye out for the colony of grey seals lazing on the shores and the puffins perched on craggy cliffs.
Dunstan Hill Club, Embleton
With stunning views, sweeping sandy beaches, abundant wildlife and a dramatic coastline, Dunstan Hill Club Site is situated in an area famed for its beaches, birds and castles. Located just a mile from the Northumberland Heritage Coast, this rural campsite is a restful base from which to explore the famous "castle coast".
Bordered by trees and offering a mix of hardstanding and grass pitches, Dunstan Hill is a spacious and mainly level campsite. From the campsite, take a pleasant woodland walk to the nearby coastal village of Craster – home of the kipper. A short distance north, Dunstanburgh Castle sits proudly, the backdrop to the glorious, sandy expanse of Embleton Bay.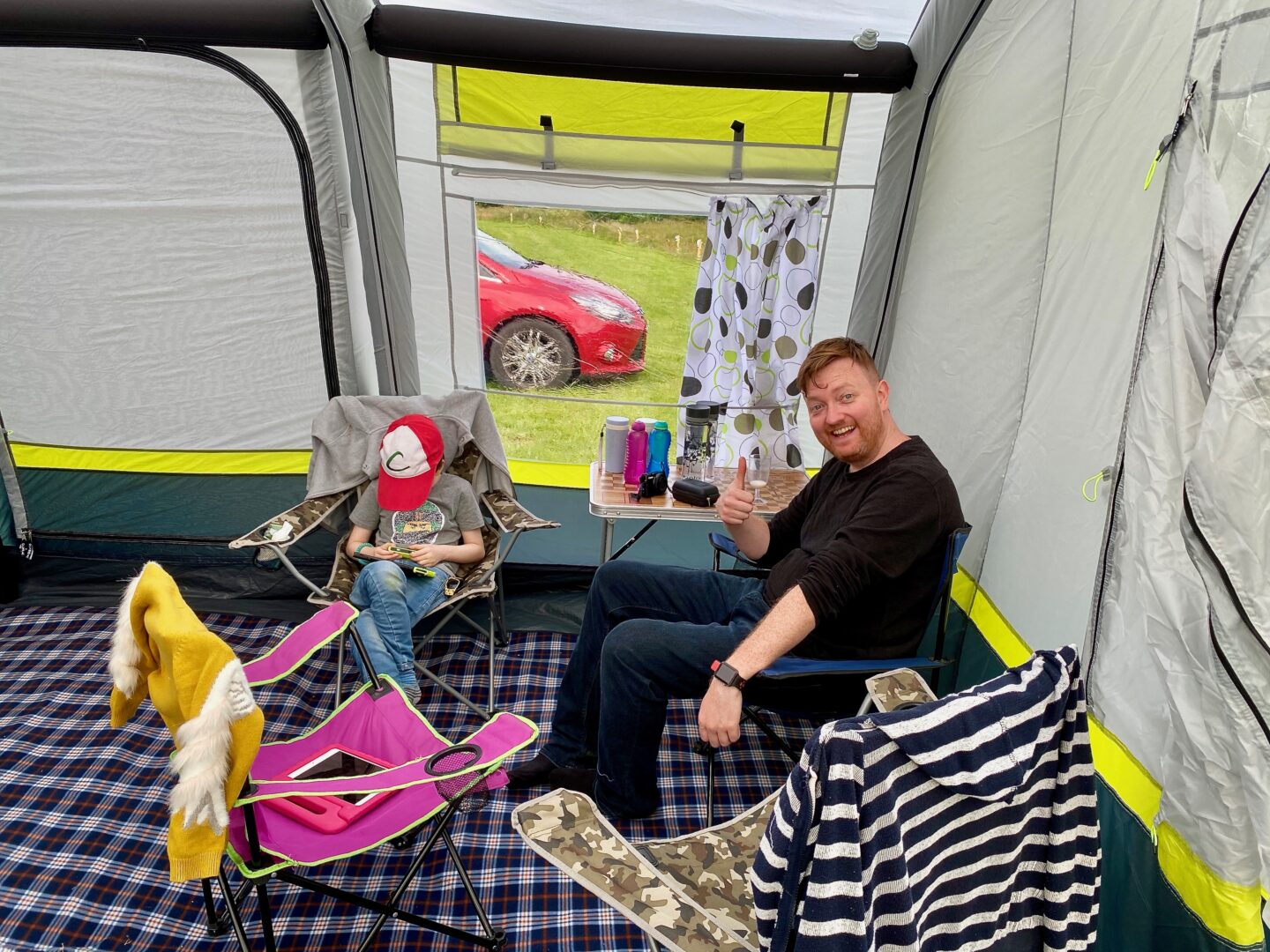 So that's my selection of sites for camping Northumberland coast, I hope you like them. Let me know in the comments if you have stayed at any or if you do as a result of this post!
If you liked this post you might also like:
My guide to camping in Durham, my guide to camping Newcastle and Wild camping Northumberland (7 scenic spots). My friend Sam at North East Family fun has a helpful guide to camping by the beach along the Northumberland Coast that includes suggestions of things to do in the area. My mini-break to the Northumberland Coast blog post suggests things to do in the Bamburgh area, including the Farne Islands boat tour.
I also have a review of the Boe Rigg Campsite in Bellingham which whilst it doesn't offer camping on the Northumberland Coast, it does offer wonderful camping in the Northumberland National Park with dark skies status.
And here are some of my top camping posts for you to have a look at:
You can read our review of our OLPRO tent that we love and you can buy the OLPRO Home tent here (ad/affiliate link) with 10% off with the code NYOMI10.
For other North East mini-breaks see:
If you have enjoyed this post or found it useful, here are some quick and easy ways that you can support Nomipalony or say thanks:
Share this post with your friends  
Pop over to my Amazon Storefront to see what products I have been buying and loving from there recently, including my health and fitness products list.
Sign up to my mailing list 
Women can join my feminist Facebook group – the Nomipalony Freehouse
Thanks for reading!
Disclaimer: This post contains affiliate links. If you purchase through an affiliate link you will not be charged any more for your purchase, but I will receive a small fee for referring you. As an Amazon Associate, I earn from qualifying purchases. For my full disclosure policy, please see my about page.