Diggerland is a construction machinery theme park (niche right?!) with parks in Kent, Devon, North East and Yorkshire. We are pretty lucky to have one locally at Stanley Park in Durham. I had known about its existence for years and kept meaning to take the kids but wanted them to be big enough to make the most of the different rides. On Sunday we had our first trip with a 4 year old and 7 year old. What follows is our honest review of what we did and how we found it.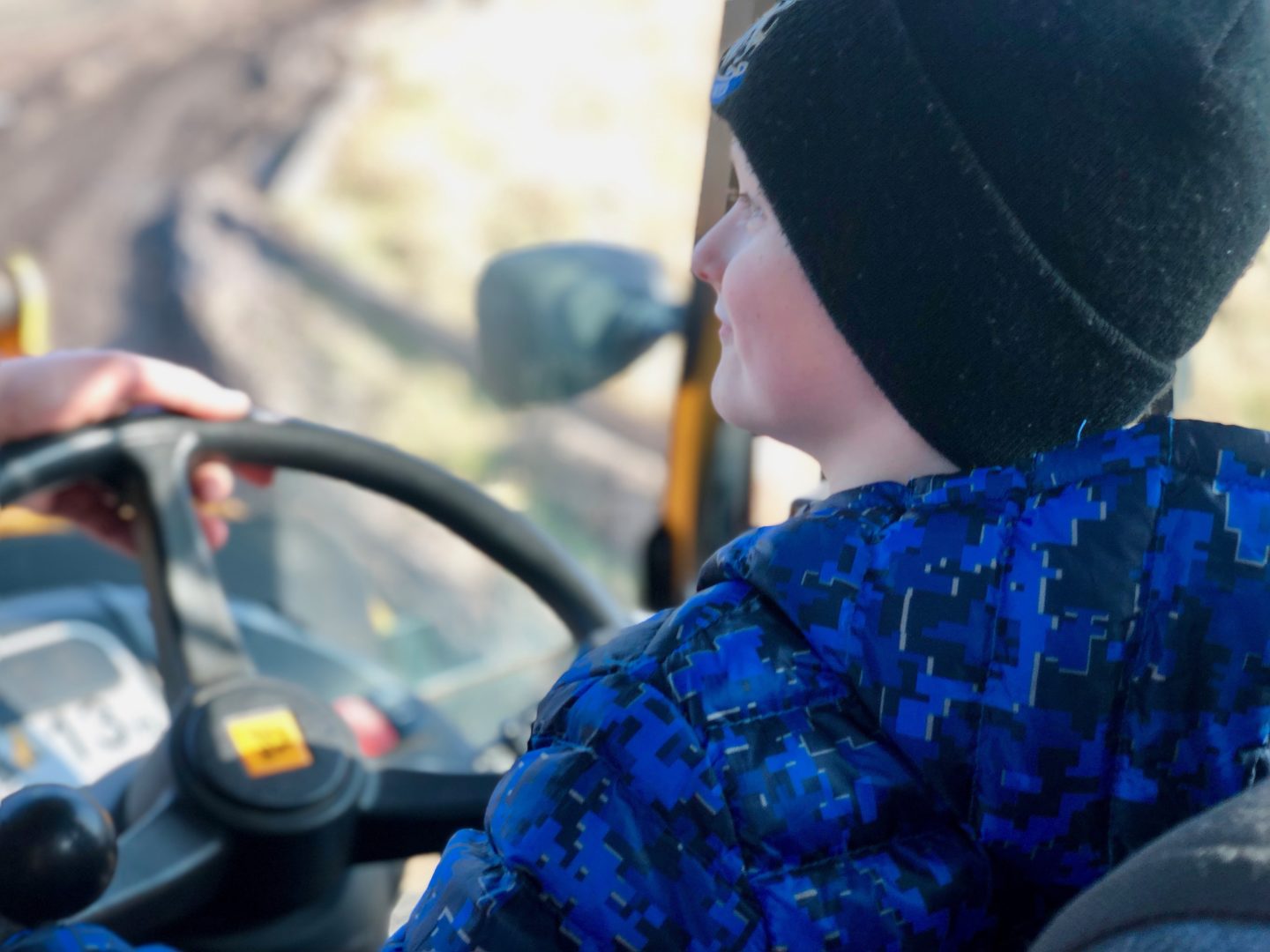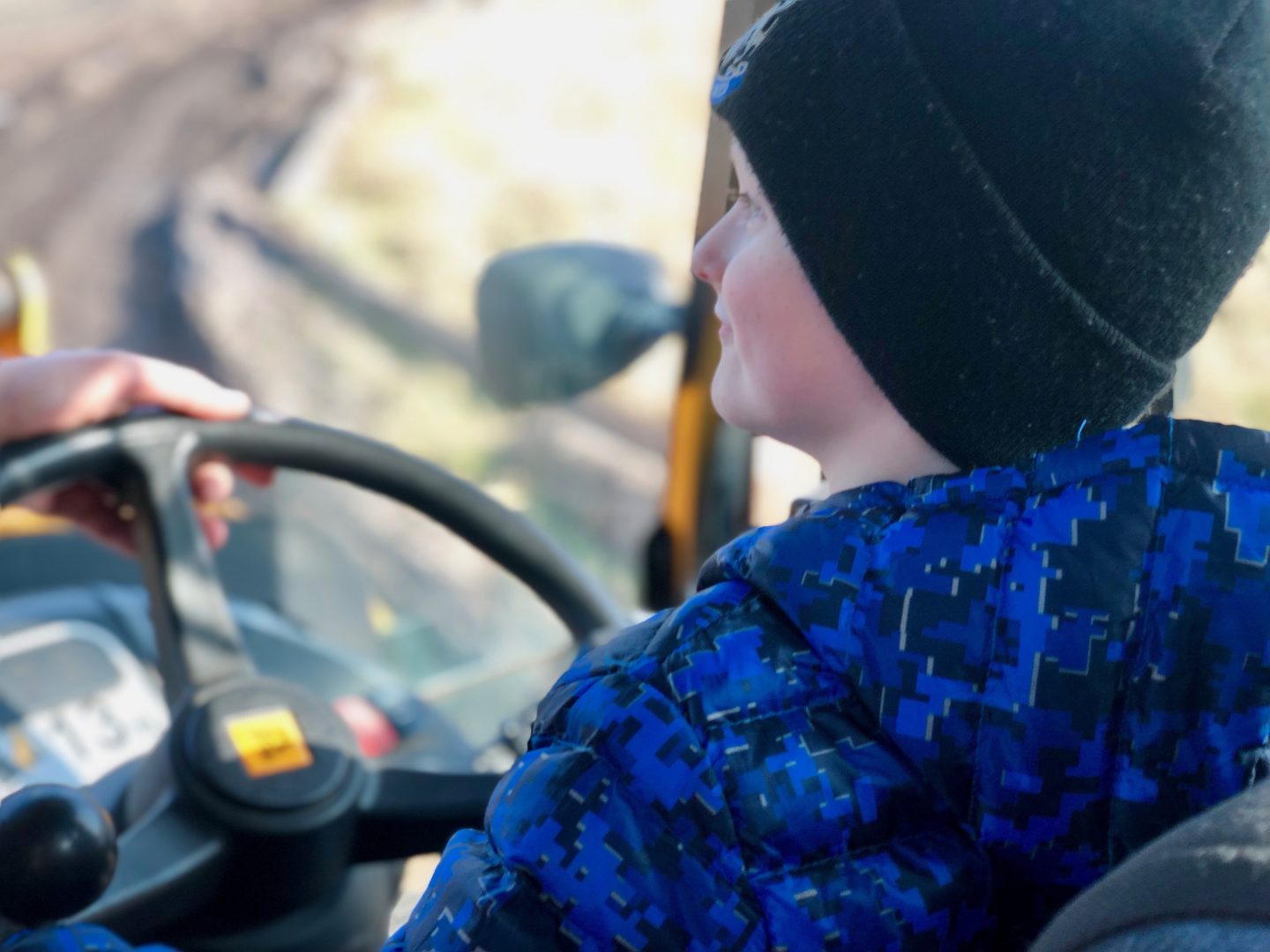 Getting to Diggerland Durham/parking
First things first, getting there seemed easy. We used a Tom Tom and it took us there no bother. Parking was ample and free of charge. If you have an electric car you can charge it in the car park free of charge. If travelling by public transport the 13 or 14 Go North East bus goes directly to the park from Durham train station. Apparently you can also land a helicopter there free of charge which I'm sure applies to most of my readers…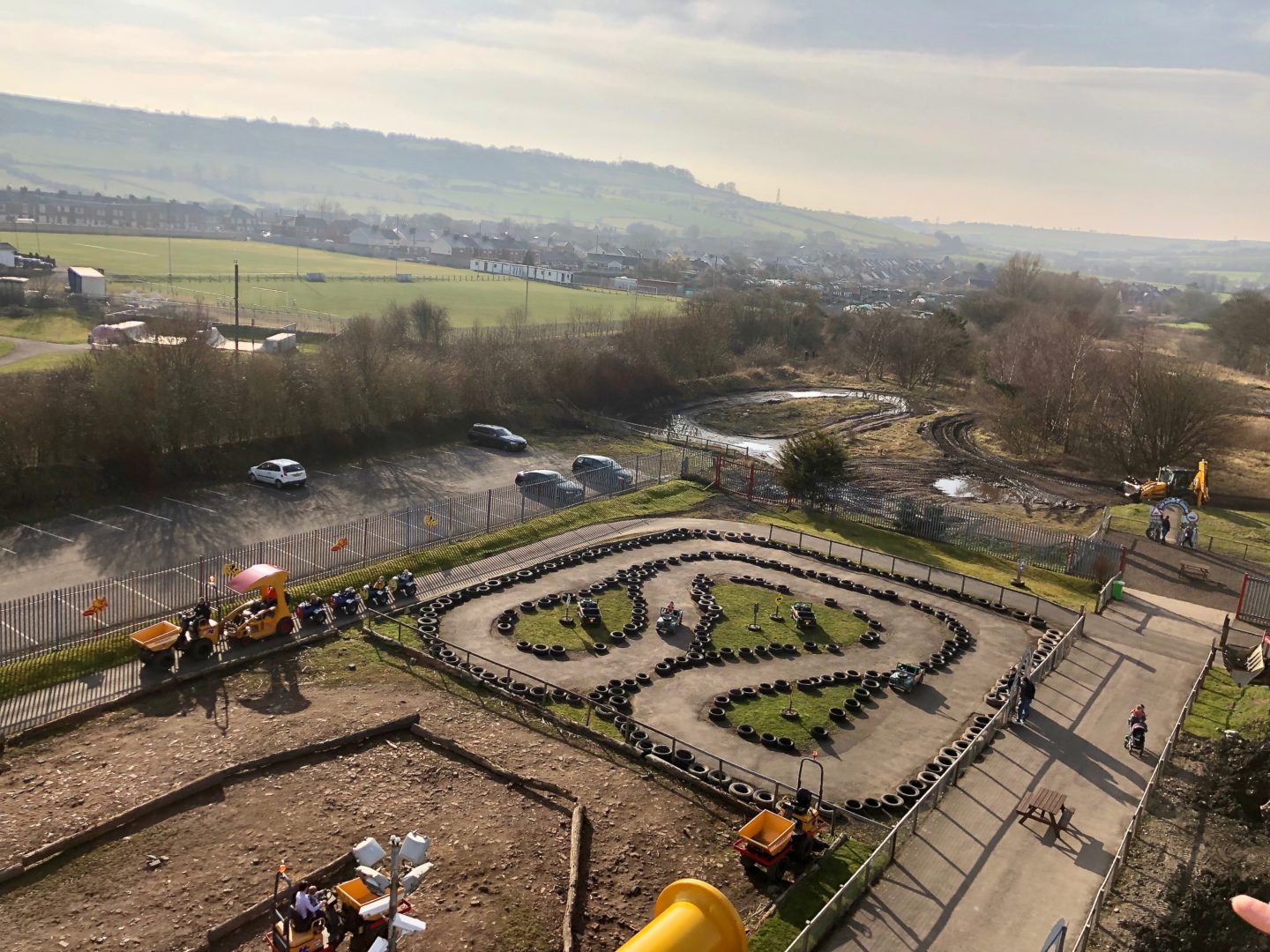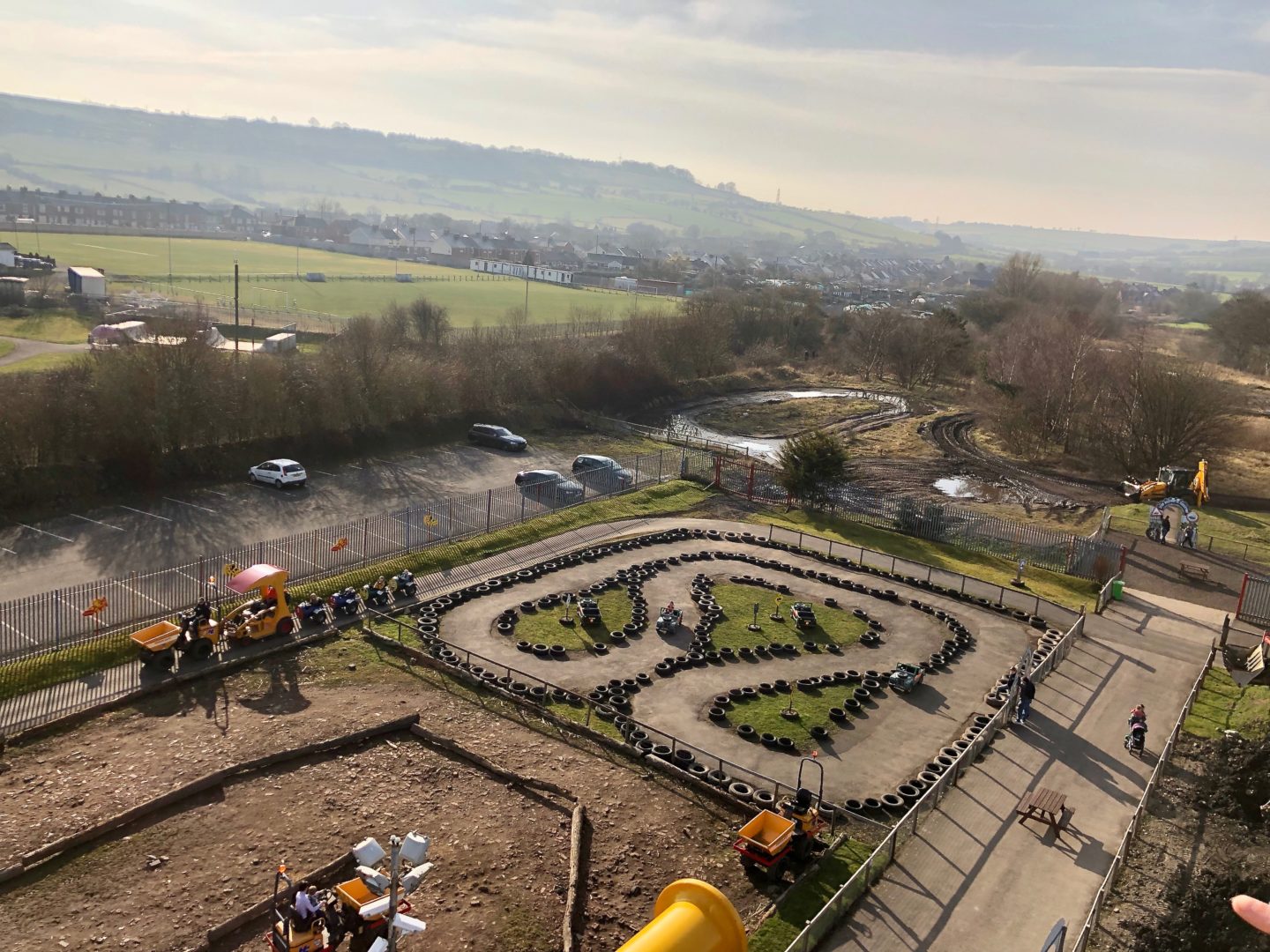 Indoor entertainment at Diggerland Durham
On entering Diggerland Durham you get your tickets at the gift shop next to the entrance and then head to the foyer to watch a brief safety video. To your right is the indoor area where there is  a café, tables and chairs for eating, a soft play, the Little Tikes toddler area, games, a party area and little bouncy castle.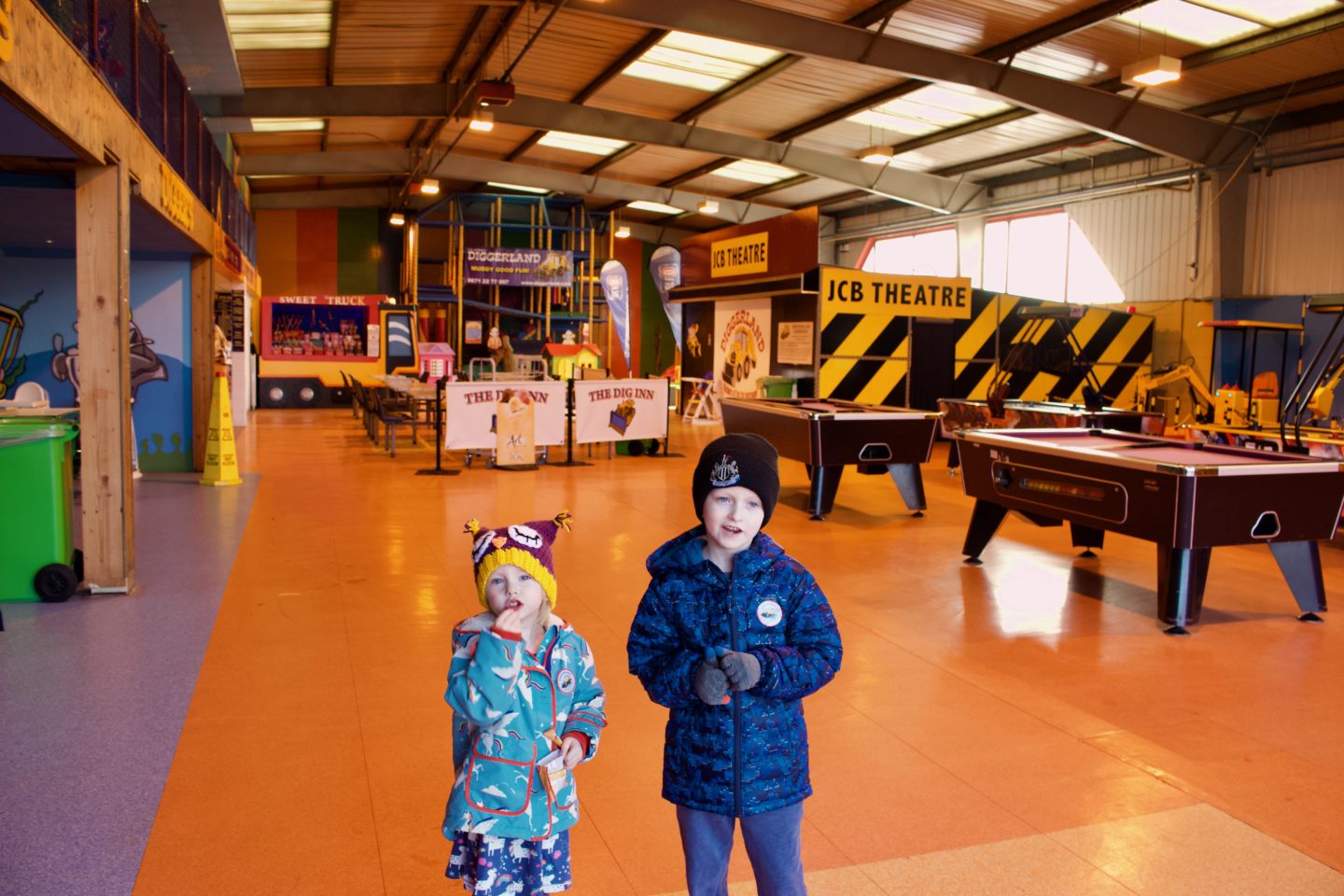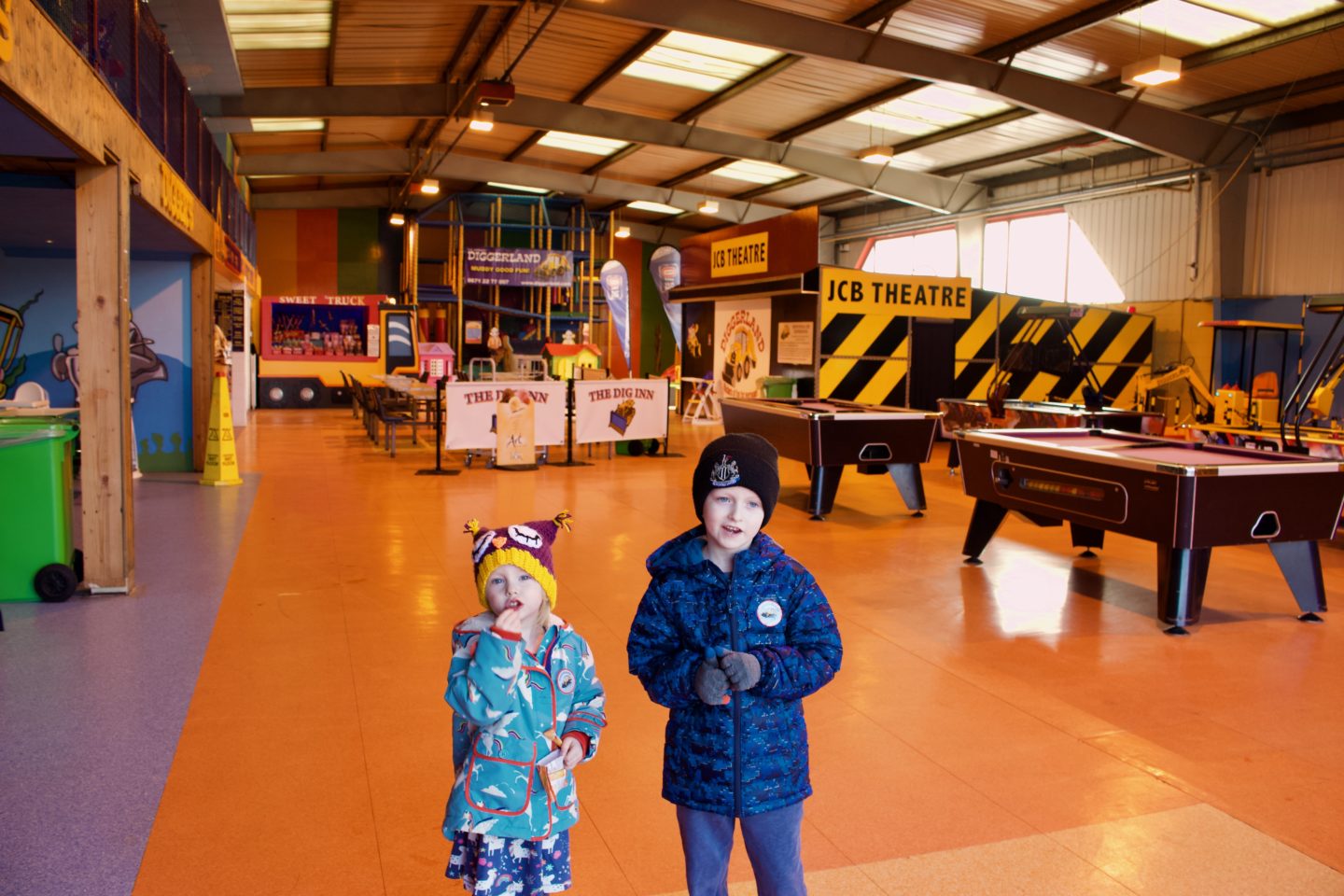 To keep costs down we actually took packed lunches (something about making packed lunches for excursions makes me feel peak mam) and as it was a bizarrely warm February day (15 degrees and sunny, say what, Papa G got some sunburn on his cheeks, in February, bless his ginger heed) we sat on one of the several picnic tables outside and enjoyed our lunch in the fresh air.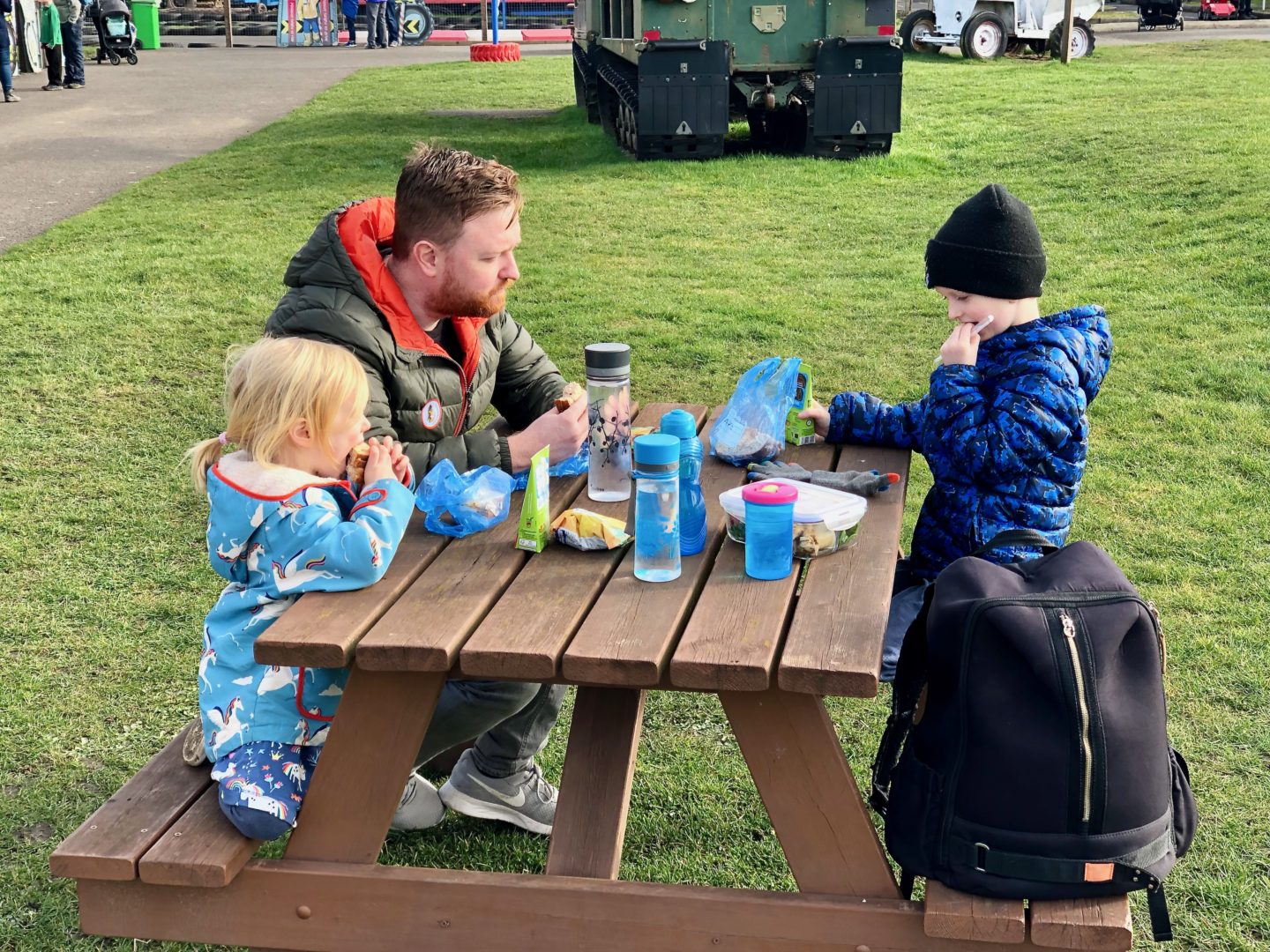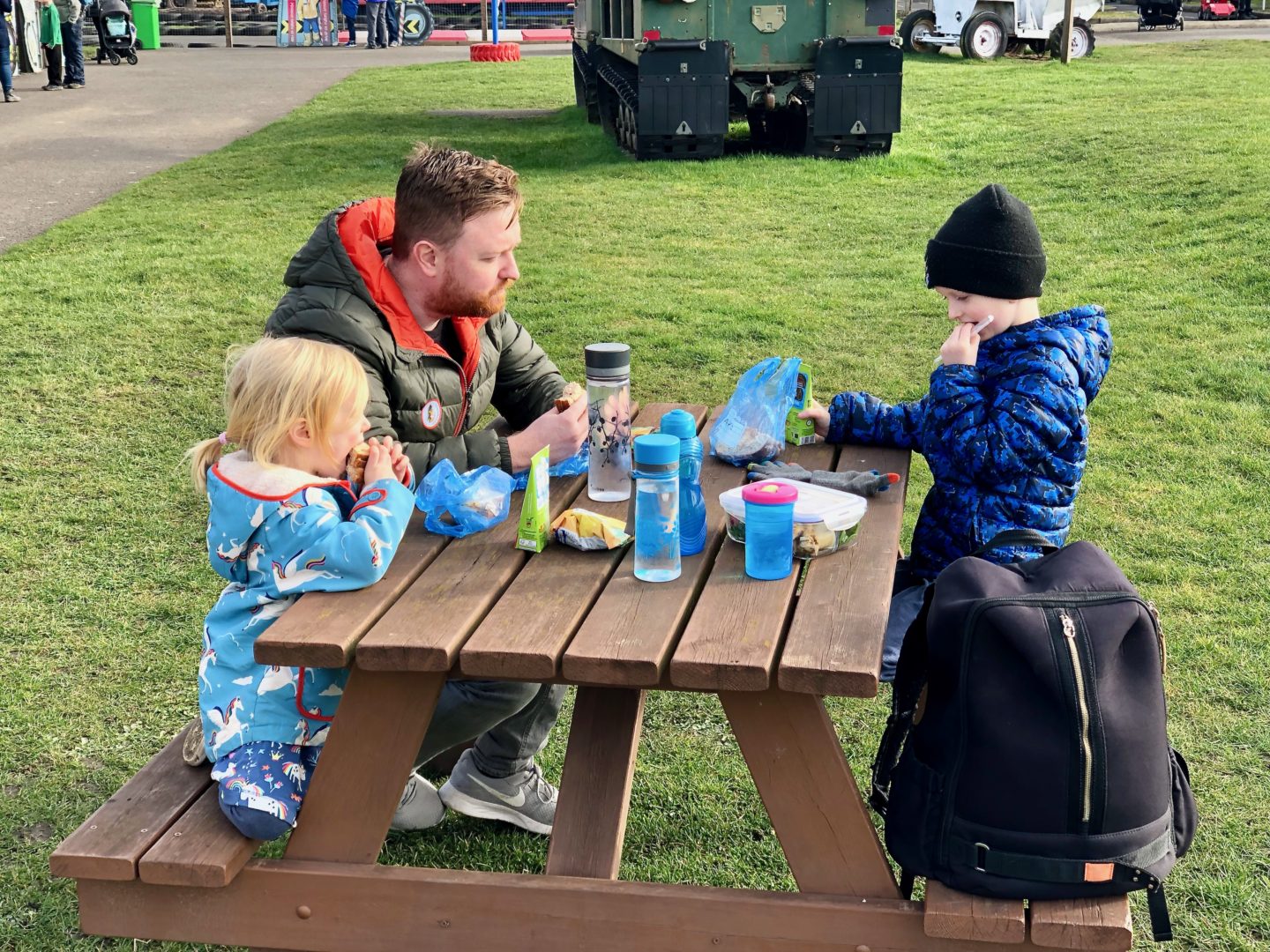 After lunch we headed into the indoor area though and got a cup of tea and a sweet treat and let the kids run off some steam in the soft play/bouncy castle/Little Tikes area. They had a great time down there and it felt quite contained/safe so we were able to sit at a table and watch them from afar. There were little Cosy Coupes to drive (though I stand by my assertion that I've no idea how these are such a popular kids toy when all they do is dangerously tip over). They played in the little playhouses. It's  a great thing to do in the middle of your trip to have a break from the rides and refuel.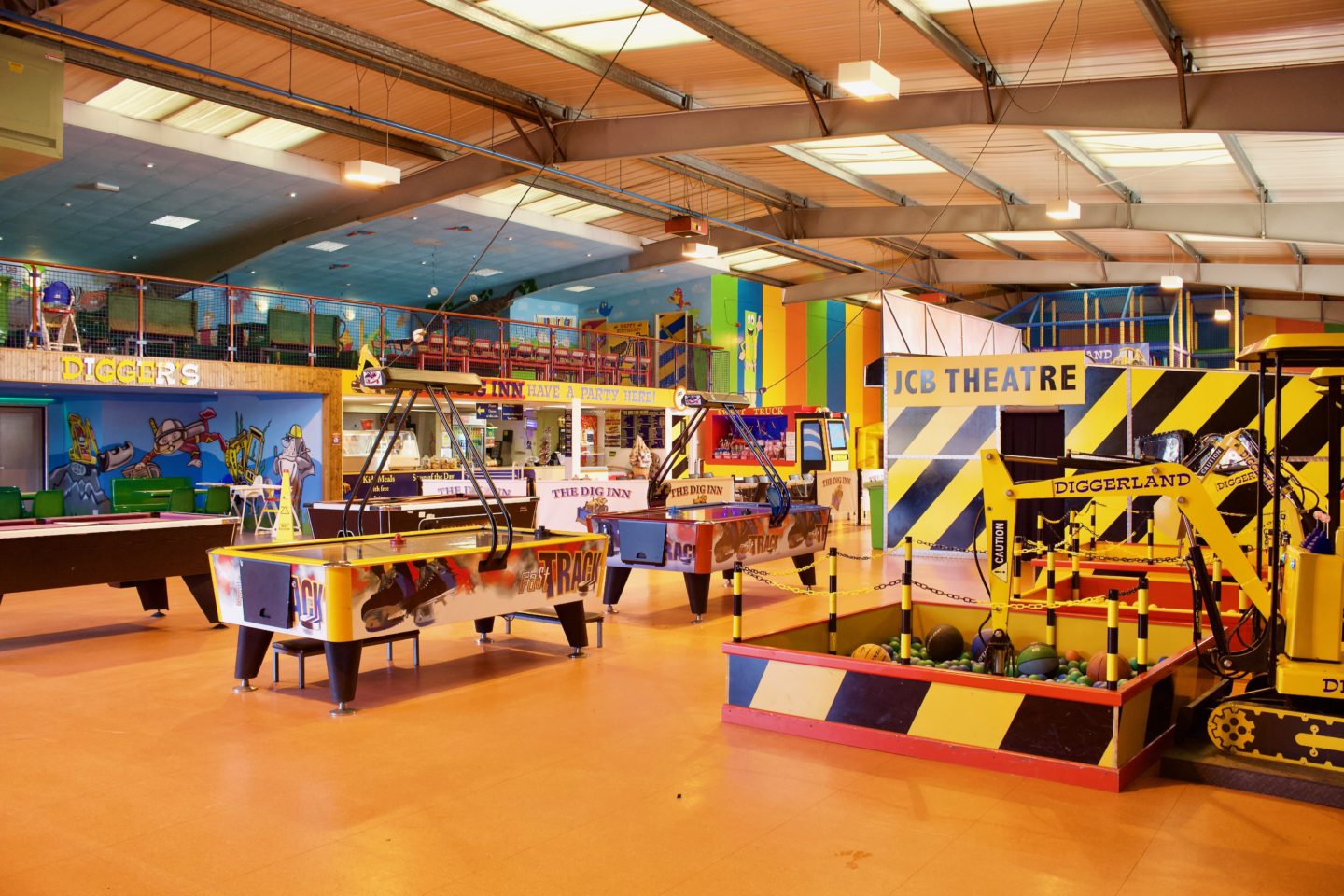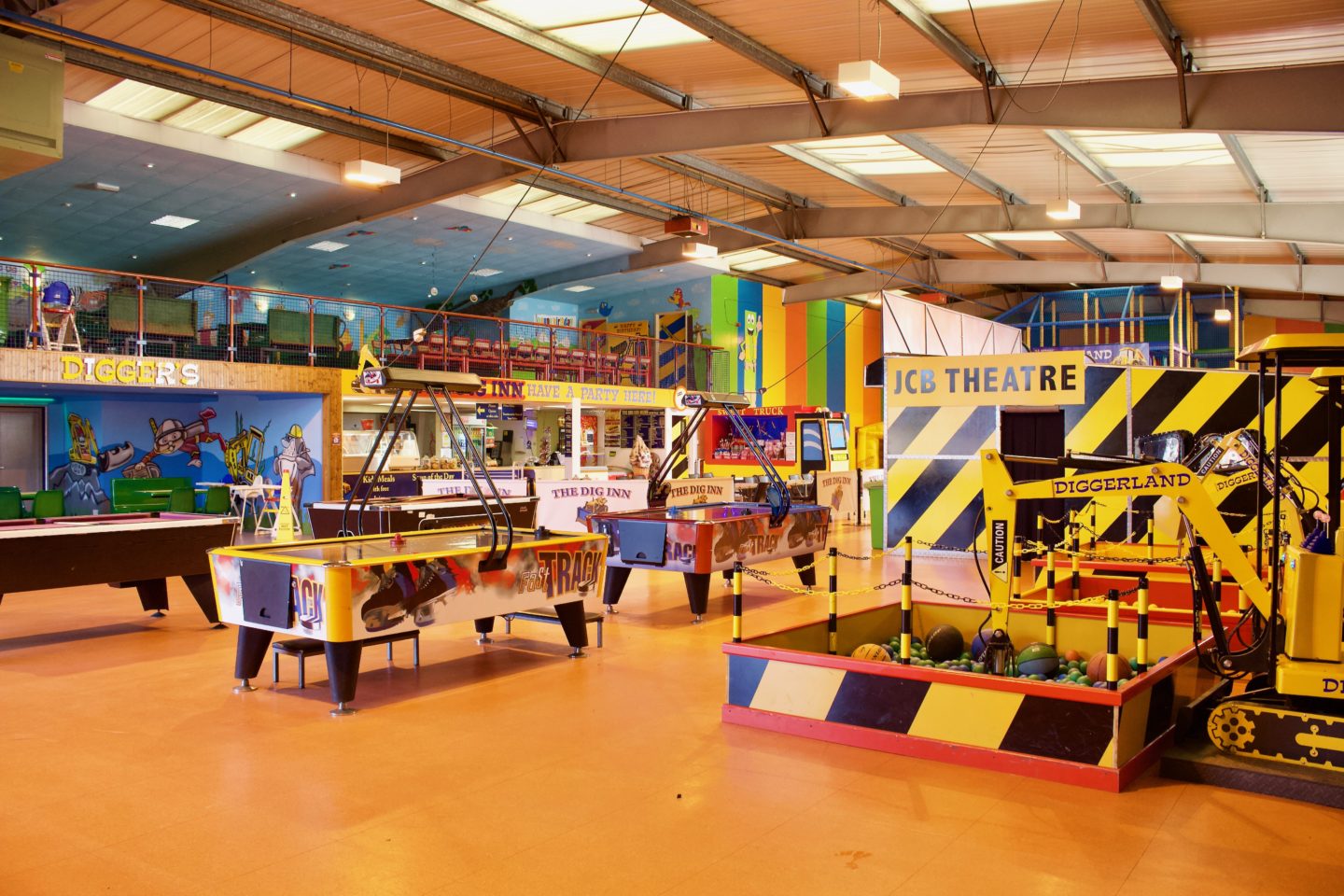 Food/refreshments at Diggerland Durham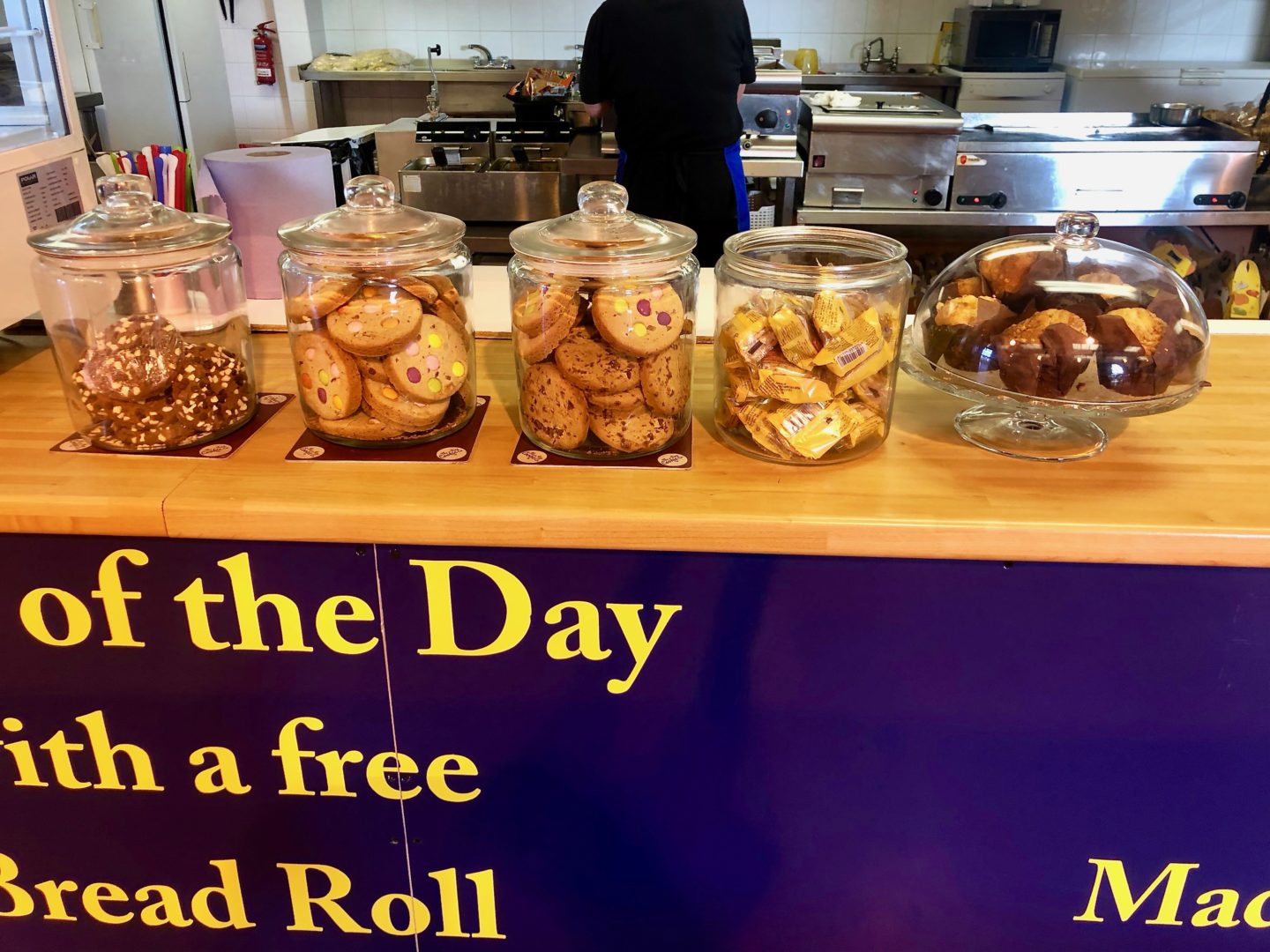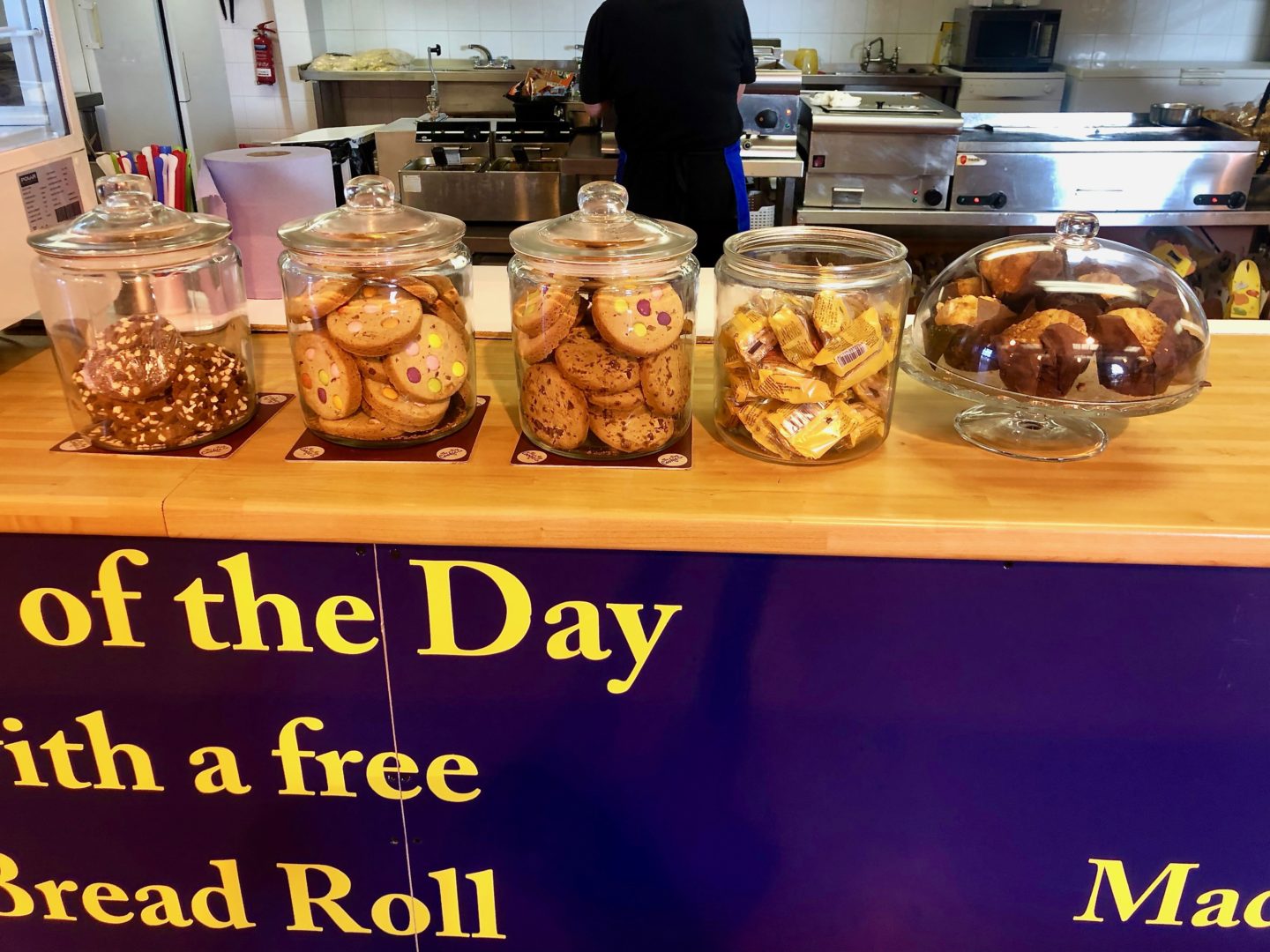 As for the food and drinks on site, it's your standard theme park fayre. Prices seemed reasonable. Here is a picture of the menu on the wall so you can get the gist. They had a nice range of ice creams and ice lollies for warmer days.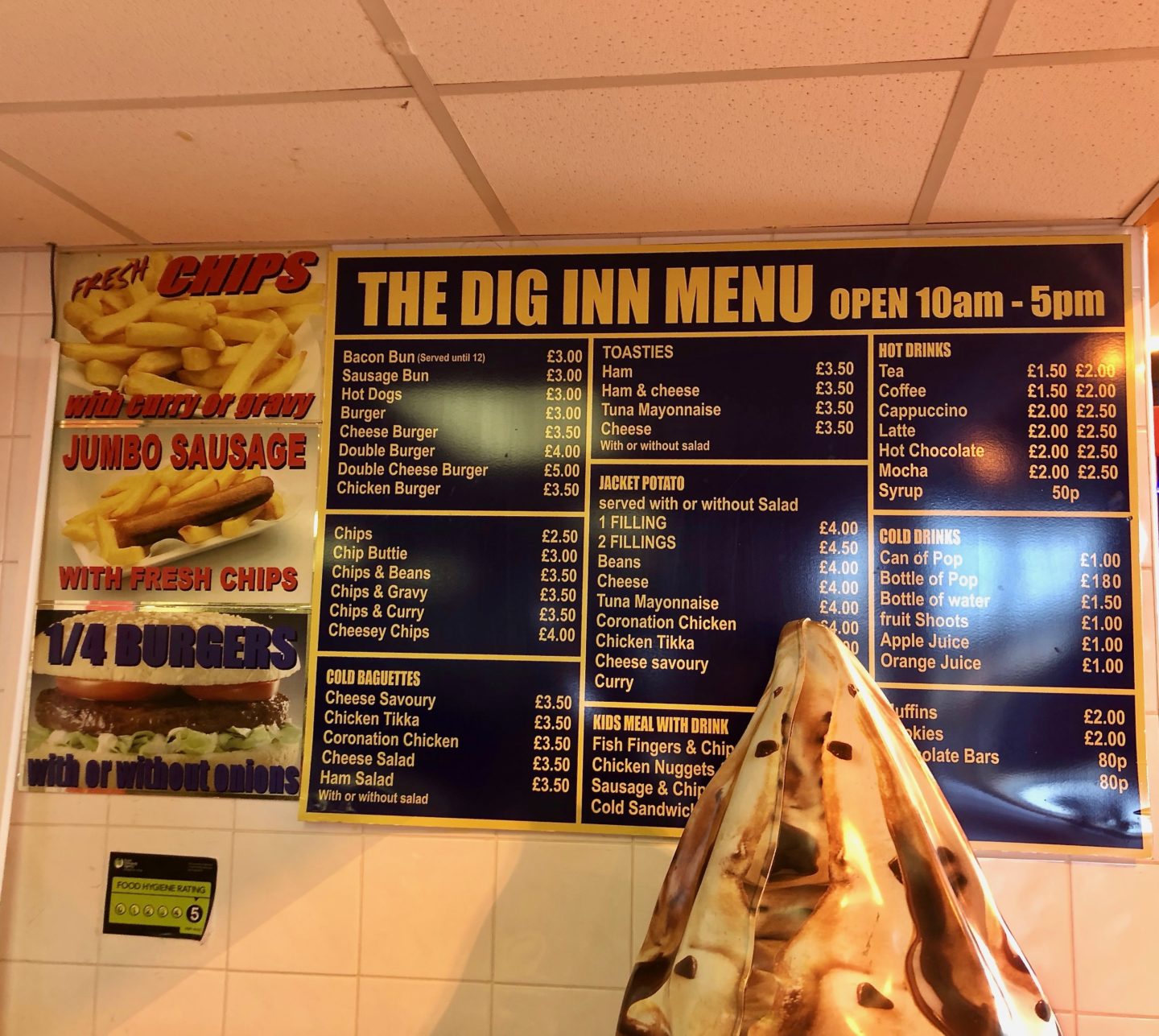 Rides at Diggerland Durham
The rides are mostly pretty tame. Quite a lot are not rides per se but experiences where you get to drive different vehicles. The Spindizzy was the fastest/scariest ride they had but my 4 year old could still go on it. Warning though, I've always gone on all the rides. Last summer at Flamingo Land I went on most rides no problem. However, I went on the Spindizzy twice with my son and ended up with mild vertigo all week from it. I spoke to a couple of other adults who had been and we all found it made us quite ill. If rides affect you then I'd give it a wide birth. I've never felt like that after a ride!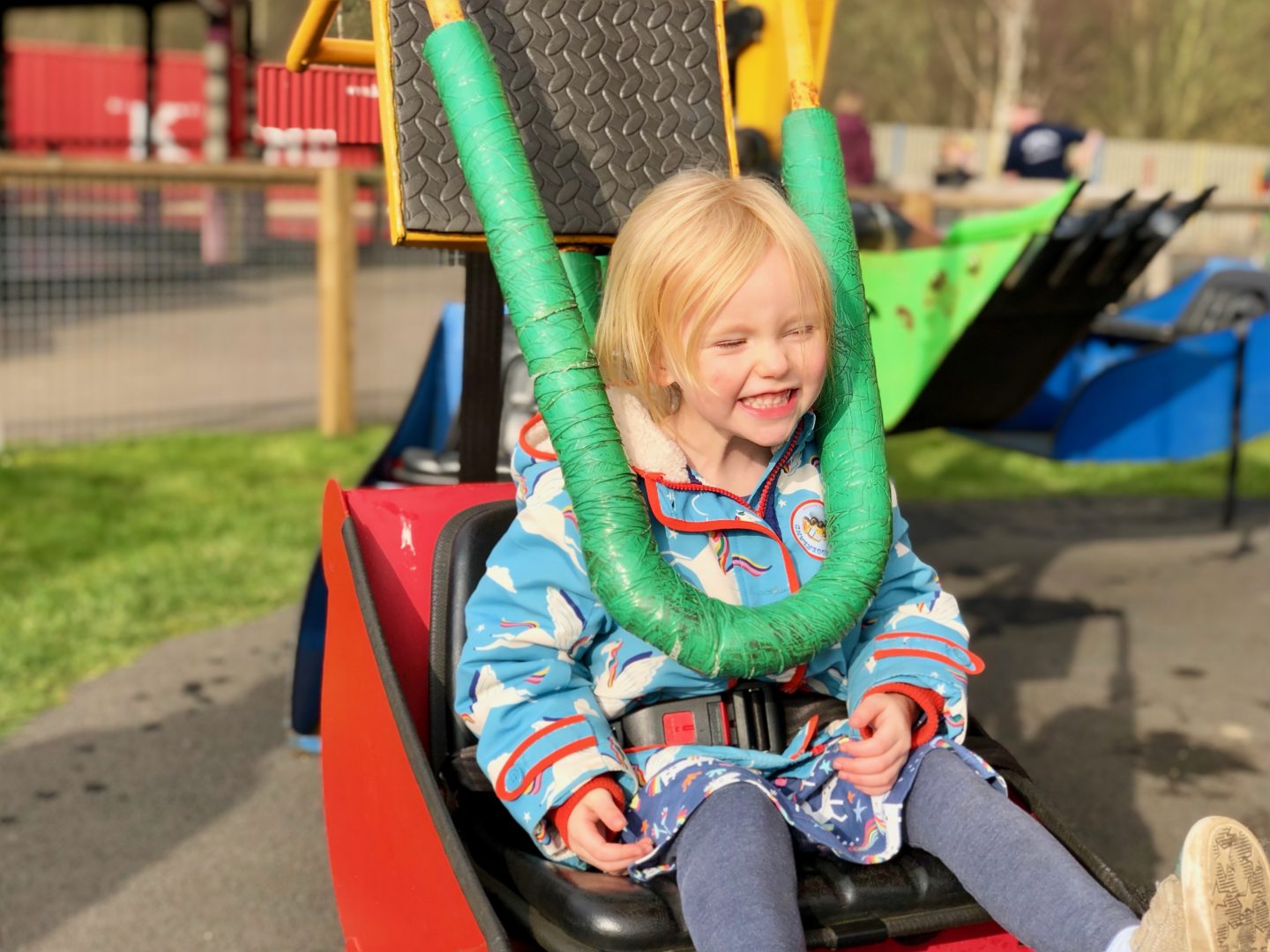 The best thing I found out about Diggerland was unexpected and was how over the course of our visit, it built confidence in my shy and introverted 7 year old. One of the first things we had a go of was the Go Karts and Arlo came off crying because he found it hard and thought he was 'rubbish'. However, by the end of our visit he had gone on two more driving rides and did brilliantly and felt really proud of himself. He went on the robot driving and we thought he wouldn't be able to do it and he blew us away, he totally smashed it. He did a great job driving his little sister round in the mini landrovers too.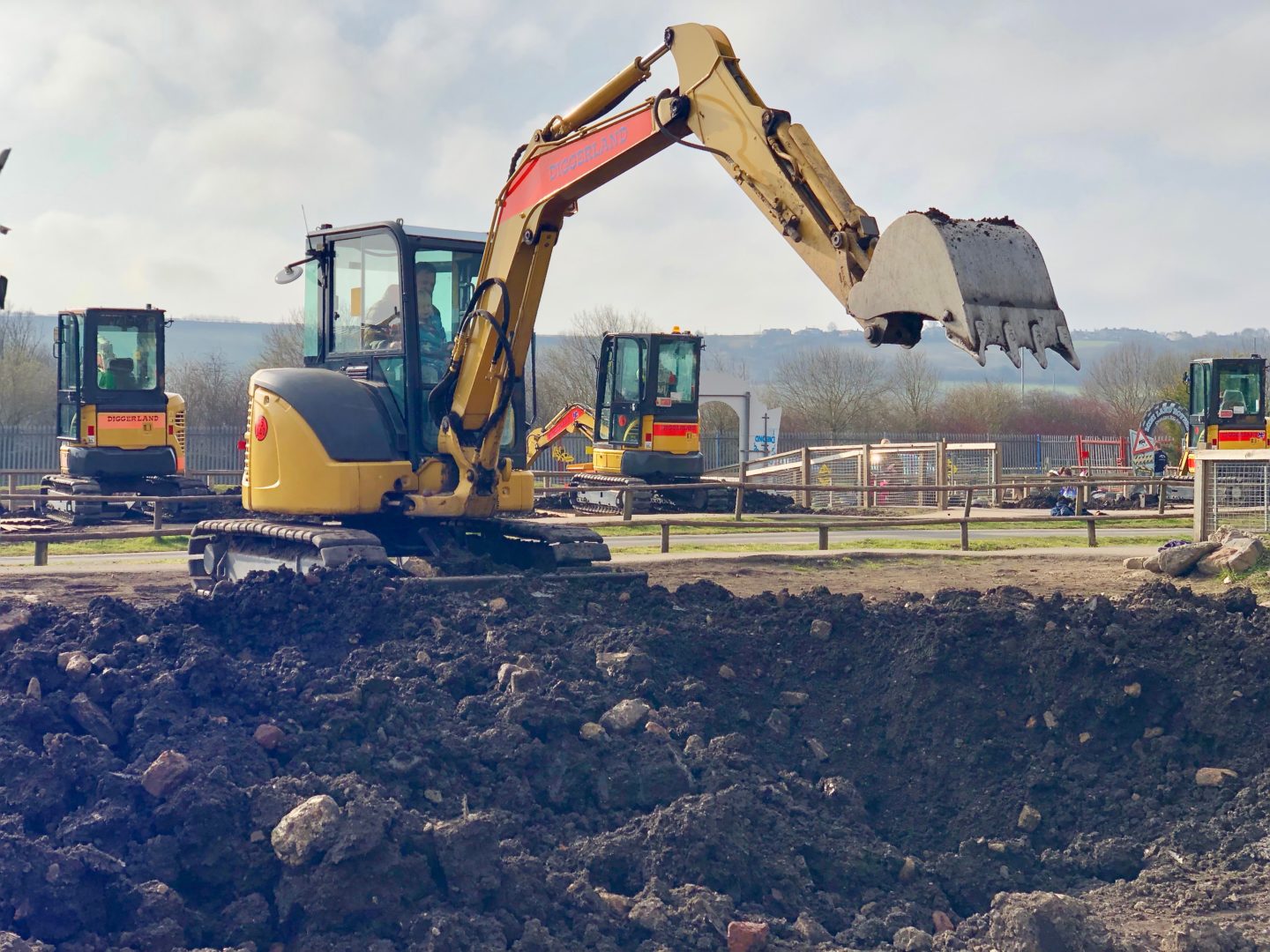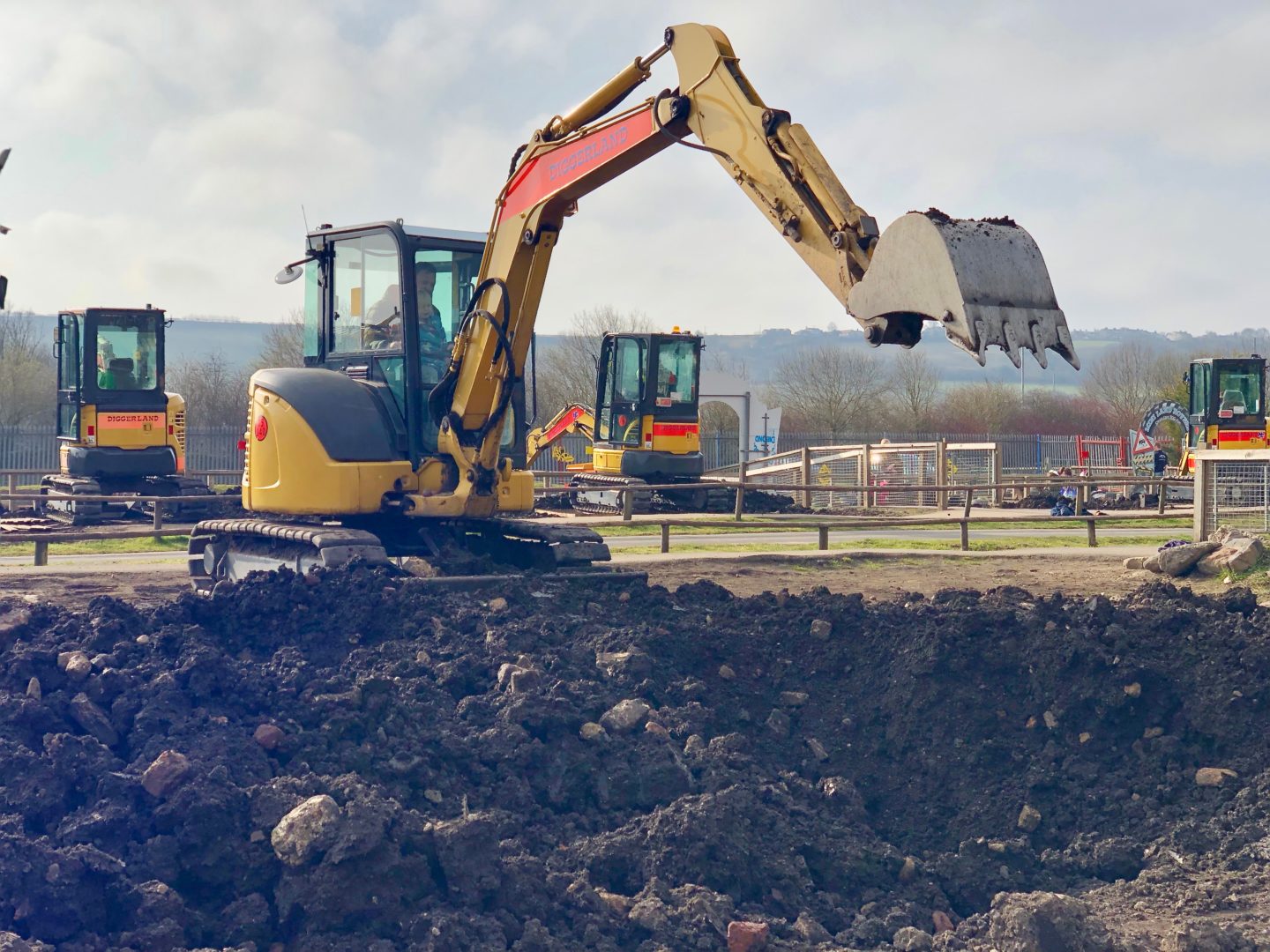 My 7 year old was able to do a lot of rides on himself, driving a fair few things totally on his own which I wasn't expecting. My 4 year old usually needed to go on with someone, either her big brother or an adult. She enjoyed it all.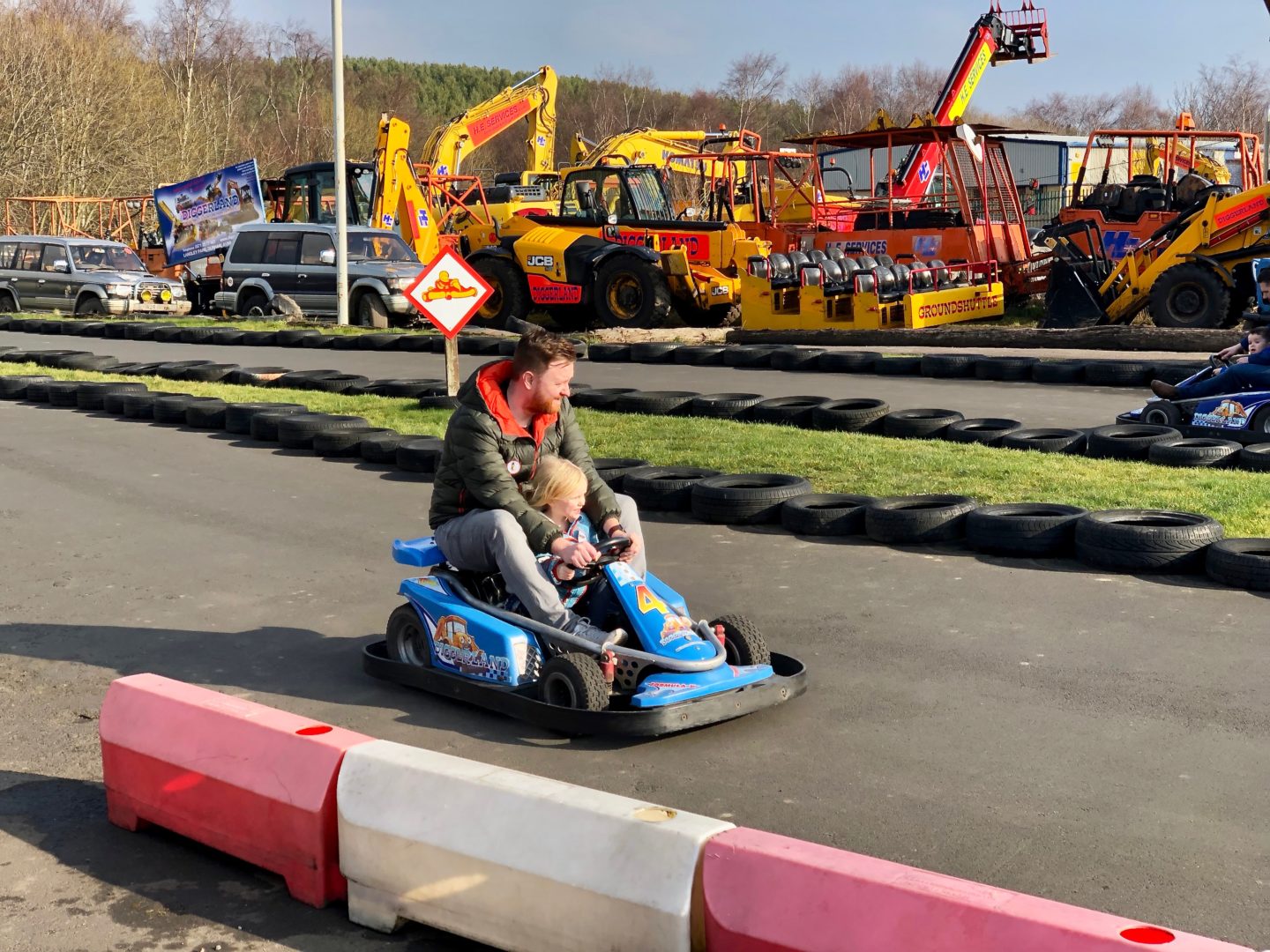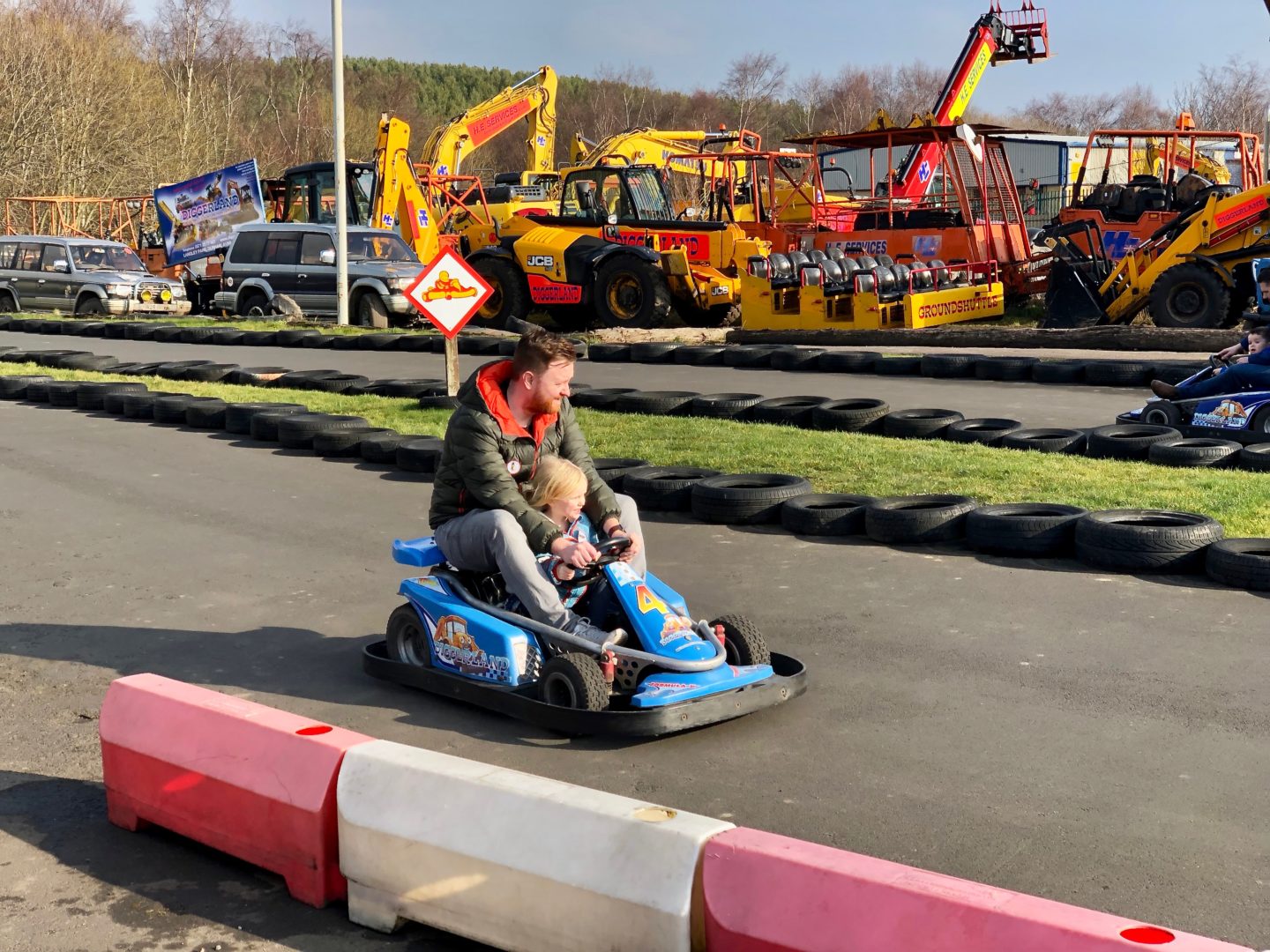 One of my favourite things about Diggerland Durham is that it was really chilled out and not too busy and we didn't have to queue for anything. Sometimes theme parks can feel quite stressful and you need eyes in the back of your head with 2 kids and lots of bodies. However, Diggerland Durham is relatively small and it felt safe and relaxed.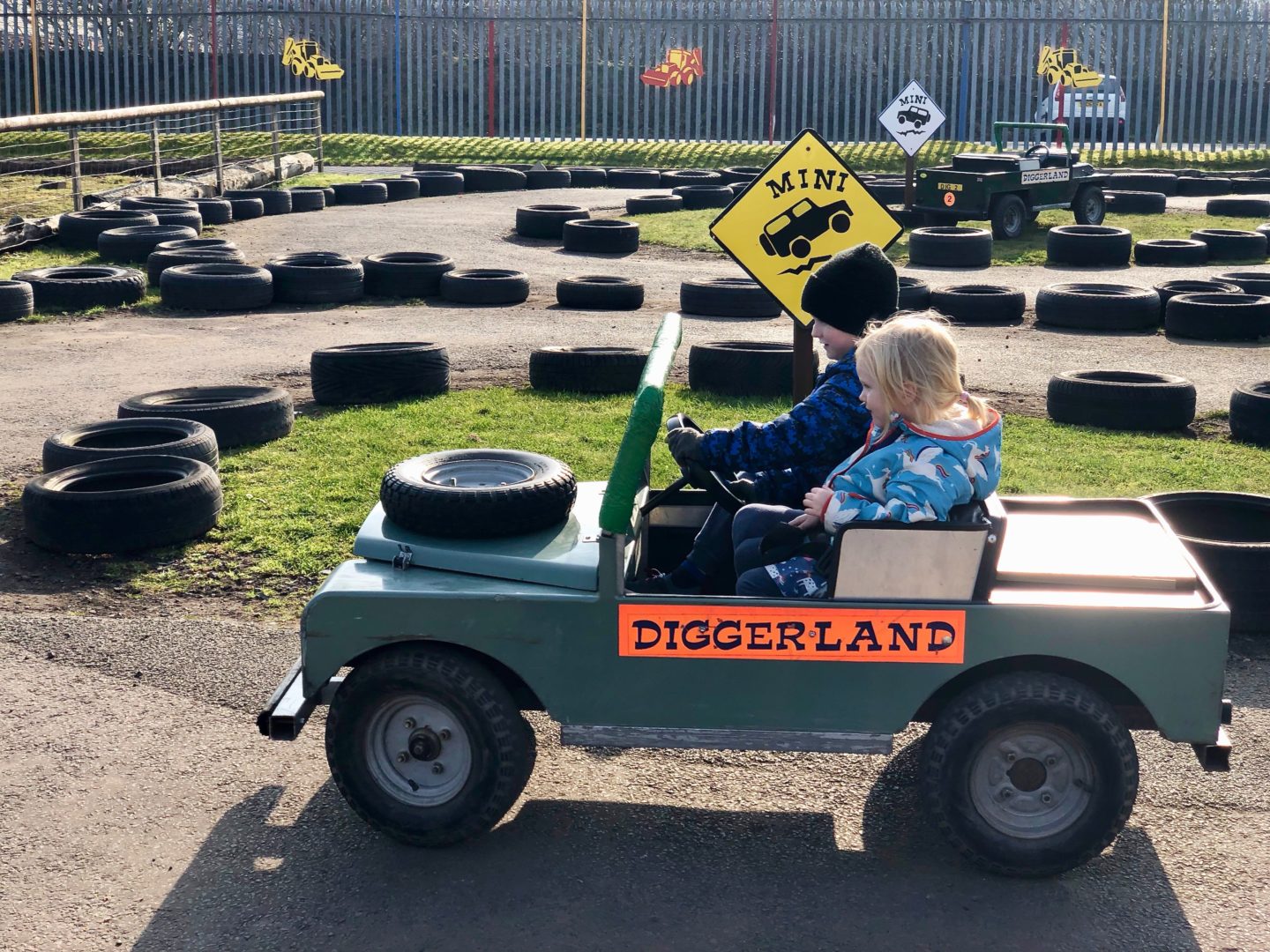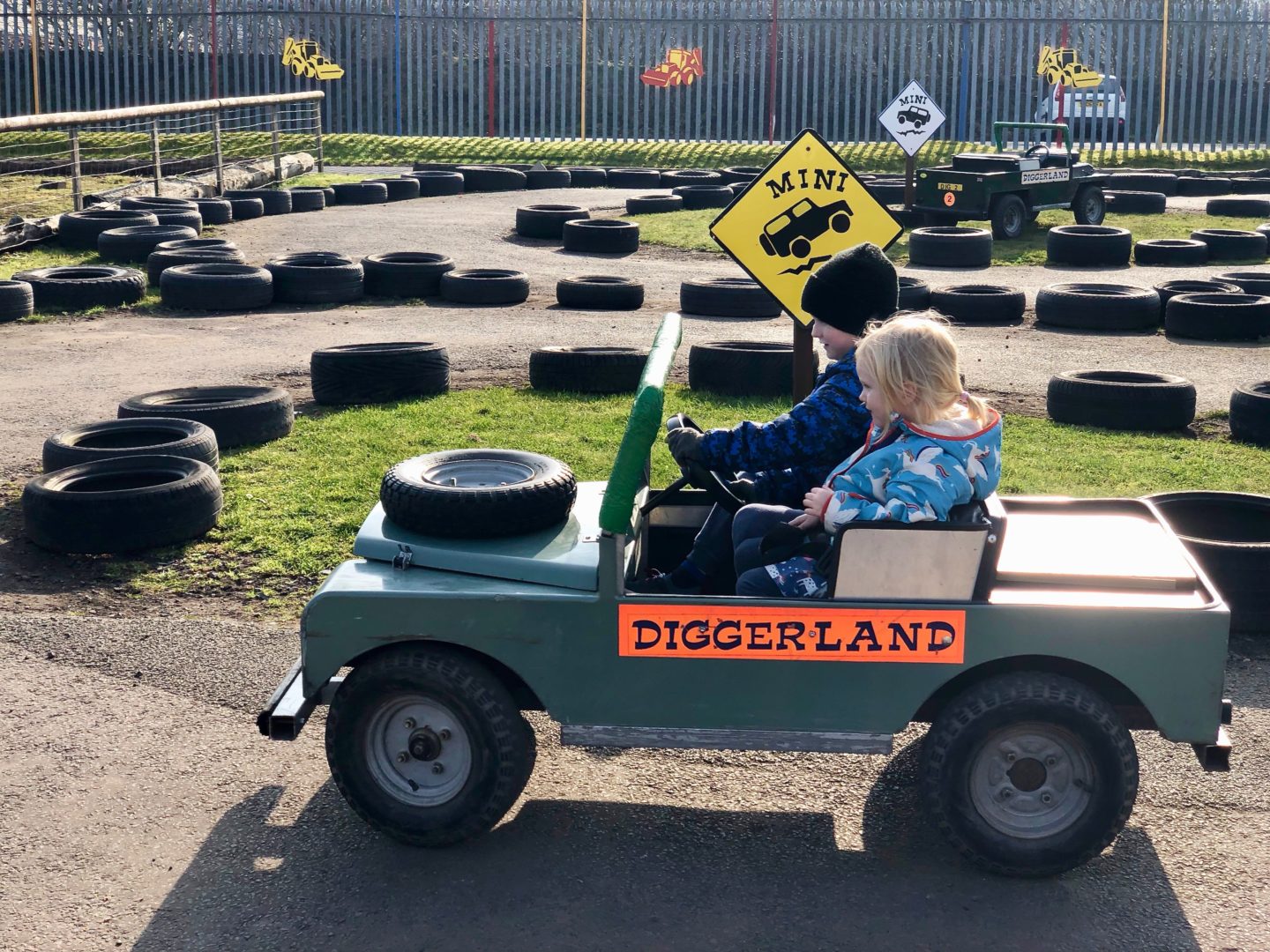 Neither of my kids are really into vehicles and construction anymore but they still had a great time at Diggerland Durham. If your kid is a fan of this kind of stuff though they'll be blown away. It's a construction vehicle geeks dream.
Characters
I was pleasantly surprised to see some Diggerland characters walking around the park. My kids (especially my 4 year old) live for giant foam characters so she was stoked! They really took their time with her and it made the trip feel that bit more special.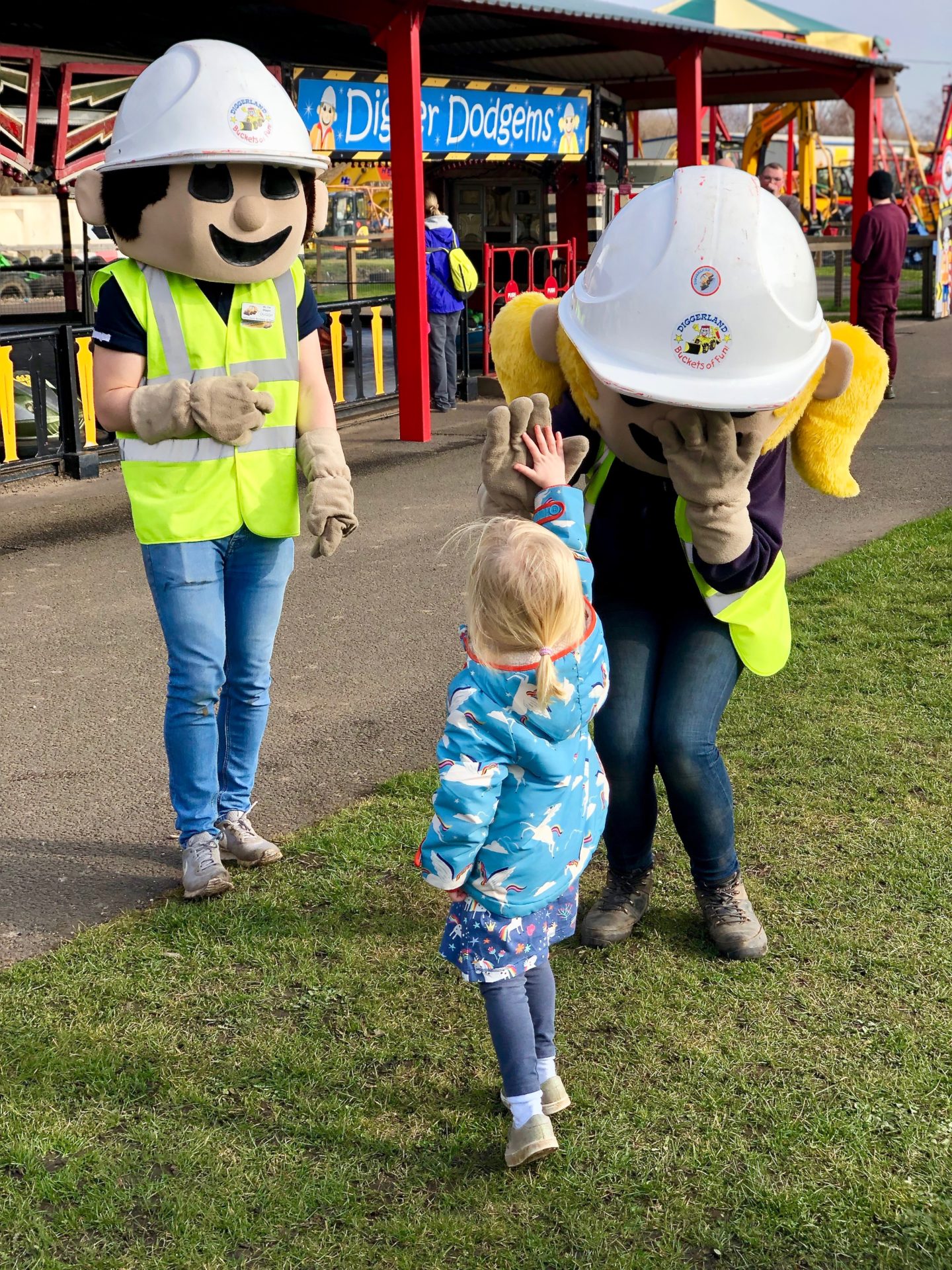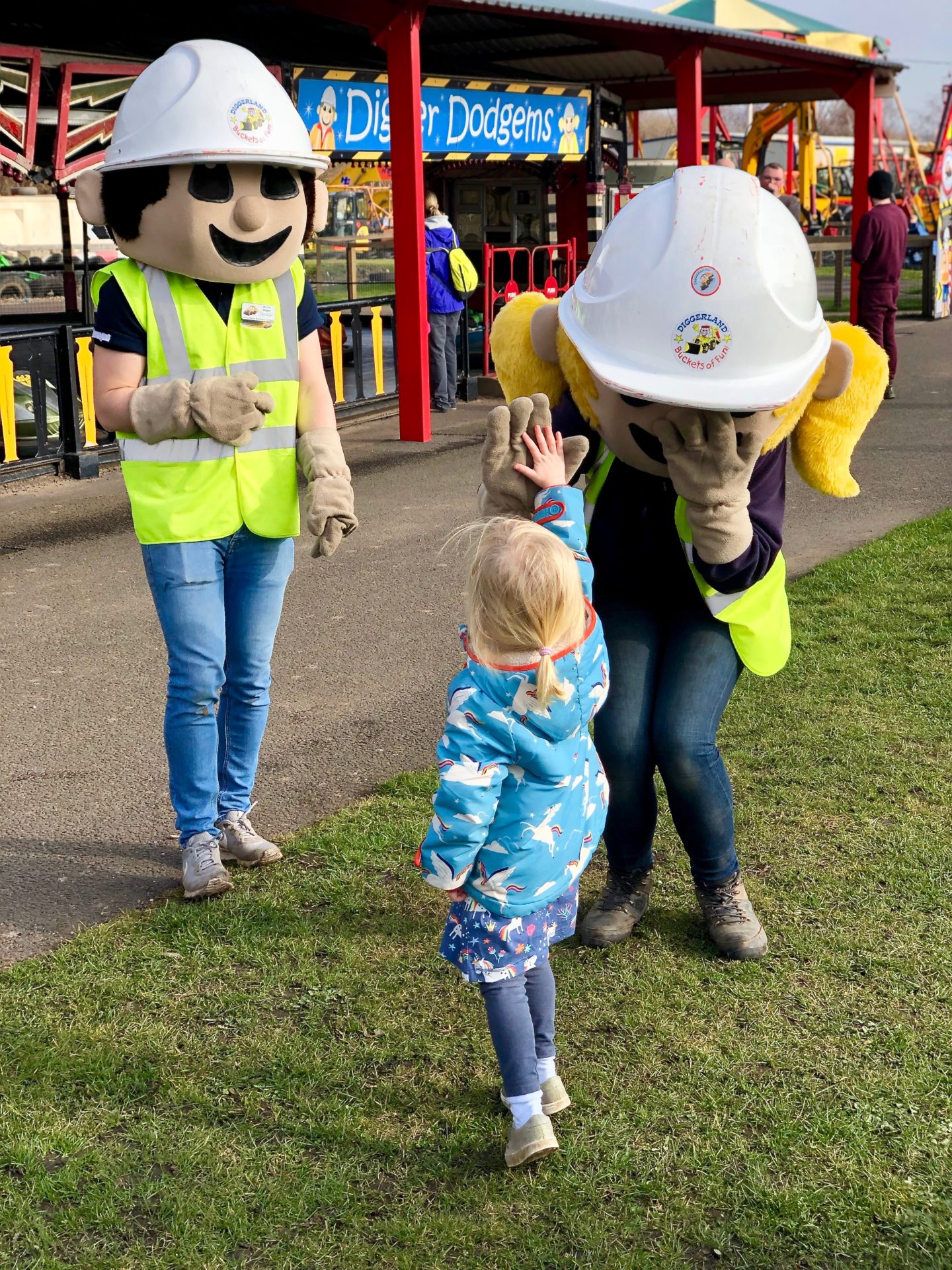 Is Diggerland Durham good value for money?
When I shared my visit on Instagram Stories the messages I got the most were saying 'it's too expensive, is it worth it?'. I can totally see their point. Tickets are about £20 per person which does seem on the steeper end for what it is. In terms of how long we spent at Diggerland Durham, we arrived at 10.30am and left 14.10. So we spent 3 hours 40 mins there. We could definitely have spent about another hour or more there I would say. We didn't do all of the rides but we (the adults) got a bit bored of it as a lot of the rides felt quite 'samey'. The kids of course did not get bored and that's what it's about isn't it?!
I couldn't help but compare it to Flamingo Land which is priced at £28 per person and you are getting a lot more value for the extra £8 a day. One of the things that annoyed me is that there were a few rides that you had to pay £1 for in addition to the entrance fee (dodgems, Diggerland Grand Prix and coin operated quad cars) . I think if you are paying £20 per person entrance then all rides should be included in that. For parents with 2 kids it kinda sucks a little to pay £80 plus for a family ticket and then be getting pressure from your kids to pay for further rides.
That said, there are ways you can get tickets for Diggerland Durham cheaper. The flyers that you can get at local attractions often have 15% off in them. It's cheaper if you buy your tickets ahead of your visit online. And they sometimes do half price rates, I believe February half term they just did half price tickets so that's worth keeping an eye out for. At full price, it seems expensive for what it is but half price seems very fair.
Summary
Diggerland Durham is a canny day out for families and we are fortunate to have it as a resource in the North East of England. I'm pleased we have finally been and I'm sure we will make it back in the future. If your kids are into construction/vehicles then they will adore it but even if they aren't they'll have bags of fun. That said, do keep an eye out for the reduced price tickets to increase value for money for your visit.
If you liked this post you might also like 7 of the best summer family days out in North East England.
If you have enjoyed this post or found it useful, here are some quick and easy ways that you can support Nomipalony or say thanks:
Share this post with your friends  
Pop over to my Amazon Storefront to see what products I have been buying and loving from there recently, including my health and fitness products list.
Sign up to my mailing list 
Women can join my feminist Facebook group – the Nomipalony Freehouse
Disclaimer: Big thanks to Diggerland who provided us with a family press ticket to allow us to write this review. I received no instructions as to what to write. For my full disclosure policy please see my about page.