When I was a little girl, we didn't go on holidays abroad. I didn't have a sunny holiday abroad until I was 21. When I was young we tended to do camping holidays and I always remember camping at Flamingo Land fondly. My parents once took us camping to Flamingo Land for 2 weeks! As an adult I feel for their backs just writing that! This blog post is a review of our holidays at Flamingo Land resort as a family of 4 in 2017 and 2022. If you get a better sense of things visually then do scroll to the bottom of this post where there is a YouTube video of our 2017 trip.
Flamingo Land Holidays – our experiences
Flamingo Land Caravans
In 2017 we booked a Flamingo Land caravan for 2 nights (Friday/Saturday) which gave us access to the theme park/zoo for 3 days (Friday, Saturday and Sunday). This cost £427 which we thought was a hefty amount to pay. But considering access to the theme park itself costs £45 for anyone in your party above three years old, if you have a lot of people staying in your van it starts to work out to be great value for money.
In 2022 we had planned to camp at Flamingo Land Resort as the holiday village was fully booked and very expensive. However, after having spent a lot of the summer camping (and thus feeling a bit run down) on a whim we called to see if they had any last minute one night cancellations in their caravans which they did.
We booked a 6 berth caravan for 1 night for £348 which is expensive. It's expensive because your first night booking (whether camping or in a caravan) includes park passes for the duration of your stay.
When you are staying at the Flamingo Land Resort, whether camping (in high season) or in a caravan, you pay £49 per person for the theme park and zoo tickets for the duration of your stay.
So if you stay only one night, the cost is higher. Generally they don't do one night stays but if you are lucky you can get cancellations.
We were able to get a second night extension on our stay as well and the second night was £145 which shows the impact those park passes have on your first night stay. Subsequent nights bring the cost per night value down.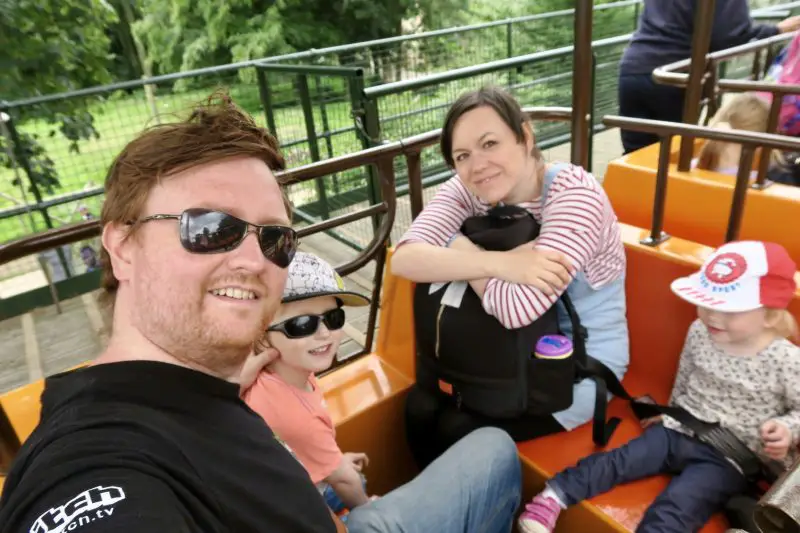 Gold caravan Flamingo Land
In 2017, our caravan was a 3 bedroom Flamingo Land 'gold' caravan which sleeps up to 6. It was situated on Hawthorn Way on the Flamingo Land Resort.
It cost a standard £427 off season (you can pre-book with a £50 deposit) for a 2 night break (starting on either a Friday or Saturday night). Hawthorn Way is well located. It's under a 5 minute walk (with slow kids) to the Theme Park entrance, or the supermarket/reception or the evening entertainment. It might be about 2-3 minutes realistically.
As mentioned, when you stay at the holiday resort you get unlimited access for each day of your stay. This is from opening on the day of check in, until close on day of check out.
Check in to the caravan is not until 4pm but they do often have check in earlier than that too. It just depends if your van is ready so definitely ask them.
in 2017, when we arrived at our caravan, we were pleasantly surprised that despite not having booked the best caravan on offer, it was modern and spacious. We were more than happy with it. It was all safe for our toddler.
There was a separate toilet to the shower room which meant that no one was hogging the toilet when one of us needed a shower like on our last caravan holiday to Haggerston Castle.
When we arrived, the children were running excitedly round and round the coffee table. Papa Ginge and I had a cuddle and watched them, remarking how wonderful it was to be able to give them an experience that they were so excited about.
We reminisced on times in our own childhoods where we had felt the same on holidays. For me, it was like coming full circle as I remembered my own childhood in the same place and reflected on how it must have been for my parents stood in my shoes back in the 90s.
I also thought that the two week camping holiday we had at the Flamingo Land campsite in the 90s must have been hell for my parents and it's a testament to their love for me and my sister.
Issues with the Flamingo Land gold caravan
The only criticism I had of the caravan was that it was wobbly so every time someone walked you could really feel the van wobble which was annoying (especially when our toddler was sleeping).
Our caravan (number 48) was right next to the bushes and there were a lot of birds out there. They were noisy, squawking a lot and banging around on the roof. My two year old sleeps like crap anyway so I could have done without them giving her the extra encouragement to wake.
On the last morning, when we were washing up getting ready to check out, the sink started flooding. When we looked we could see the waste pipe wasn't connected at all, this caused a bit of inconvenience with Papa Ginge having to fix the pipe and us having to use our towels to mop up the water.
We had to pull all the pans etc from under the sink out. I reported it to the resort and someone came out very quickly to fix it. When he saw it was fixed well he joked with Papa Ginge that he could have a job if he wanted. So just one of those things, not a big deal, just a little inconvenient.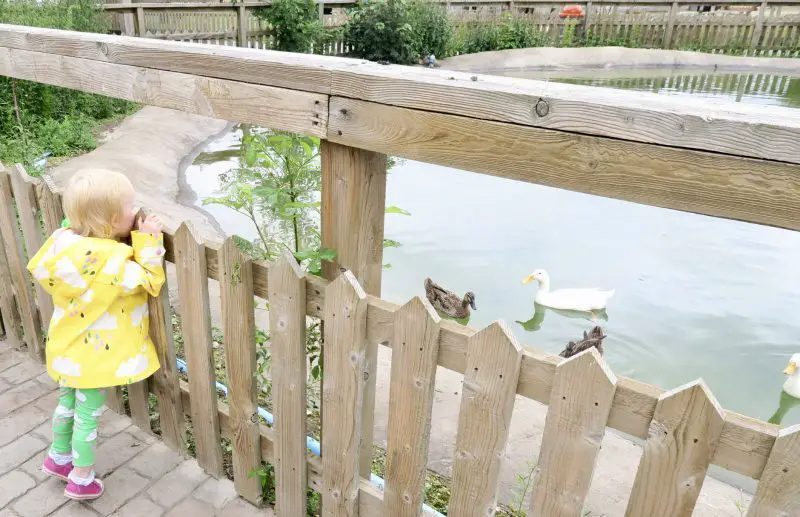 Caravan at Flamingo Land – platinum
In 2022 we stayed in a Flamingo Land Platinum caravan as there was an issue with the gold caravan we had paid for.
The platinum caravan was more spacious than the gold and had decking overlooking a shared green area where the kids could play.
We were in 98 Hawthorne Way which was ideally located right next to the evening entertainment block and the theme park entrance. Perhaps a little nosier at night but it really didn't bother us and was great for getting in and out of the theme park.
Whilst the platinum caravan was nicer we were honestly barely in it as spent most of our time in the parks so if you are torn I'd maybe save the money unless you expect to spend more time in the caravan.
Flamingo Land Holiday Village amenities
Flamingo Land holidays Leisure facilities
All Flamingo Land Holiday Village guests have exclusive use of the Splash Zone leisure centre.
This includes a large swimming pool, two flume slides and water jets, two kids' slides, plus a gym, sauna, Jacuzzi, steam room and the Poolside Cafe.
There is a nine-hole golf course too which we didn't have time to check out on either of our visits.
We did go to the swimming pool on our first morning there to make use of it before the theme park opened at 10am. It was easy to go and use – reception just gave us a band. Lockers are a refundable £1.
There were larger family lockers and large family changing rooms with good baby changing stations. The changing rooms were clean and tidy. The pool itself was nice and warm. The kids really enjoyed it.
The splash park outside looked like it would be great fun on a hot summer's day but unfortunately, it was a bit too cold for it when we were there.
We spent about an hour at the pool and then popped back to the caravan to get showered and dressed, eat and put our toddler down for her nap.
Lena slept atrociously the first night in the caravan so she and I were both feeling it on the Saturday so we both had a nap together. While we napped, the boys hit the theme park. Then once Lena woke up we re-grouped again.
Flamingo Land Holiday Village Supermarket
The supermarket was right next to the reception area – just a few minutes' walk from our caravan.
I was hesitant to buy stuff from the onsite supermarket. I know from past experience how resorts usually heftily inflate the prices as they know customers usually don't have any other choice. We popped to the supermarket and packed a cool box prior to the trip but I'm happy to report we didn't need to.
The supermarket was both well stocked and reasonably priced. Most of the products were sold at the RRP – usually displayed on the product packaging. They had pretty much everything you could need.
I remembered how big the supermarket and village seemed to me as a girl and how now, it didn't seem that big at all. It's worth noting, that I also noticed a Tesco van making a delivery to a caravan as well so it seems that there is also the option to have your groceries delivered straight to your accommodation which is handy.
There is also an onsite laundrette but we were only there for a short time so didn't need to use it.
I was really impressed by all the Flamingo Land Holiday Village amenities – it was all so handy and conveniently placed.
Flamingo Land rides – the theme park
The theme park was where we spent most of our time. Prior to visiting, I had feared that my 5 year old would be going on something with either me or his dad, whilst one of us would be left holding our wailing two year old who would be upset because she was too little to go on it. But there were only two rides that she couldn't go on that he could.
Most of the kids' rides were appropriate for adults to go on with their children too. This was ideal as it meant we got to experience it as a whole family and I wasn't expecting that. We had a great time on some of the rollercoasters (with Arlo shouting 'THIS IS SO MUCH FUN' with a huge grin on his face).
Favourite rides
We loved the 'hot air balloons' right next to the Flamingo Land Holiday Village entrance where all four of us got to sit in a balloon together. That was the first ride we went on after arrival and the last one we went on when we left, making it a lovely hello and goodbye to the park for us.
We also loved the wagon wheel which all four of us got to sit on together and afforded us great views of the zebras and giraffes.
We enjoyed the cable cars across the park towards the end of our stay. I wish we had gone on them earlier as they help you get a sense of the park's layout. I think I would have found navigating the park easier if I had made that one of the first things I had experienced.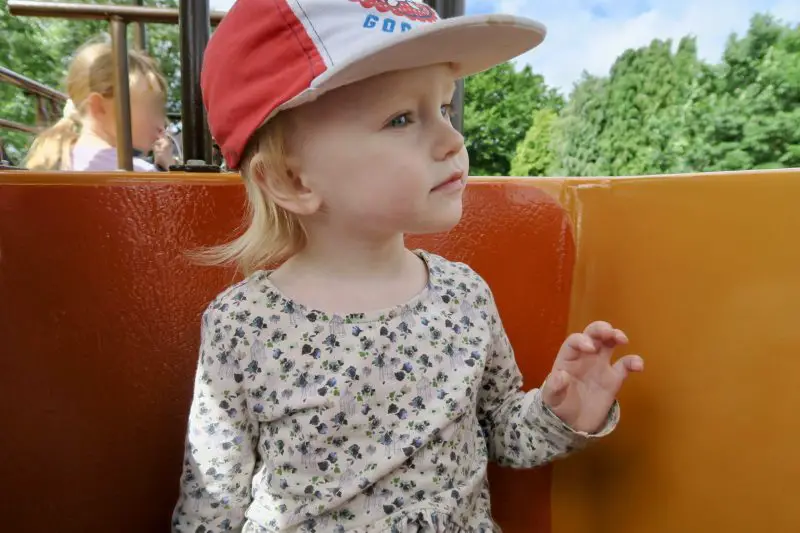 Least favourite rides
The only rides we didn't really enjoy was the mischief mansion haunted house which we spent a long time queuing for and it was very dated. I think it was all the same as when I went on it in the 90s – if not it certainly felt like that.
We also found the car ride opposite the haunted house a bit boring. We found the clown ride next to dino-land dull too. Everything else we had a blast on and I think we tried pretty much every kids ride.
There was no queuing at all on the Friday, a bit of queuing on the Saturday and the Sunday had some queues but less than the Saturday. If I was visiting again, I would plan more of my zoo time in for the Saturday when the queues are longer.
Flamingo Land new ride
Flamingo Land has a new ride which opened July 2022 called Sik.
Sik Flamingo Land is a high thrill Roller Coaster featuring ten inversions! There are five different types of inversion including a 25M loop, a Cobra Roll, a Corkscrew and five heart-line rolls.
You also go underground and through clouds of mist.
I was quite scared to go on it and as we were going slowly up the steep first climb it suddenly stopped and made a loud clunking noise.
Papa Ginge who had been on it already said 'that didn't happen yesterday'. I was petrified as I thought we had broken down!
Then a staff member wearing a safety harness climbed up the stairs and told me they had stopped the ride as someone had taken their phone out which obviously is incredibly dangerous. They had to wait for an engineer to come and check it over and restart it.
After being held high in the sir for 20 minutes the ride actually didn't seem as scary though.
We enjoyed it and I didn't actually find it much/any worse than the other high thrill rollercoasters there, such as Mumbo Jumbo, Kumali, Velocity or hero.
My least favourite high thrill roller coaster was Hero. It just threw you about and hurt but didn't feel fun.
The rides I found the scariest was Pterodactyl or Cliff Hanger.
Children's areas at Flamingo Land Theme Park
One of the areas we loved was the children's planet area. There was a little farm there and there was a fantastic tractor ride where all four of us fit in the tractor. The kids had a steering wheel each at the front so they thought they were driving.
Papa Ginge and I sat in the back, thankful to sit down for five minutes as the tractor meandered through the farm past the rabbits, ducks, goats and cows. We went on it twice as we enjoyed it so much.
There was also a great adventure park there with sand pits and climbing frames all around a meerkat enclosure. There is a pub next to there where you could get some food and drinks whilst the children play. The food wasn't the best but the joy of sitting down whilst your children are occupied is worth it!
There is a Peter Rabbit playground outside the Mansion House Tea Rooms too though it was closed on our 2022 visit.
We also enjoyed the dino area. It took us a wee while to convince a poor distraught Arlo (5) that the (weathered) mechanical life size T-Rex wasn't real. Bless him, he was terrified. Meanwhile, Lena (2) just shouted, growled and pointed at it and told it that it was naughty.
The kids really loved the sand pit in the dino area. There were fake dino skeletons under the sand and the kids got to pretend to be palaeontologists with dusters and spades. They played there until Papa Ginge and I got so bored that we had to drag them off for a new activity.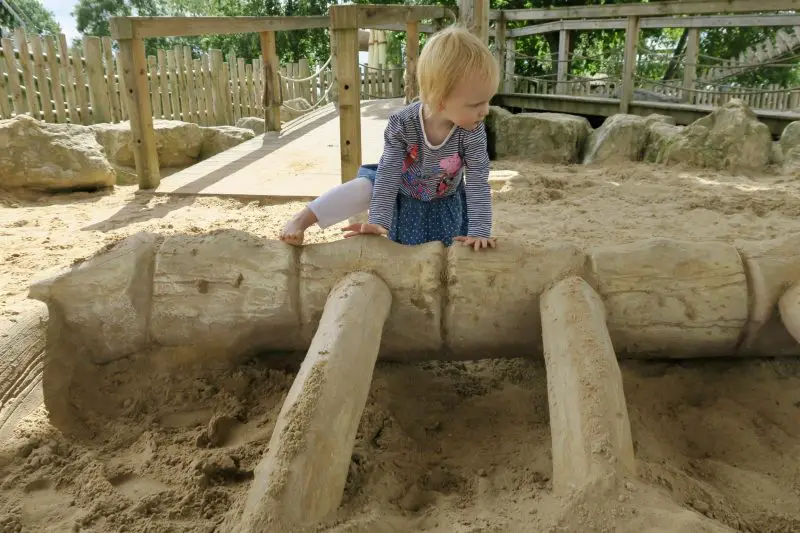 Flamingo Land Grabbers
It wasn't a ride but Papa Ginge and the kids also had the time of their lives at the grabbers. They won 4 Troll toys (including a Poppy that's been out of stock in the shops since we tried to get it for Lena's birthday back in February). It's fair to say they were all thrilled.
I don't even want to know how much he spent on them. I just hope it was less than we would have bought them for. As an aside, they were £16.95 in the souvenir shop and go for £10 online so that shows you how much of a mark-up they've got going on in that shop – FYI before you take your kids in and come out bankrupt.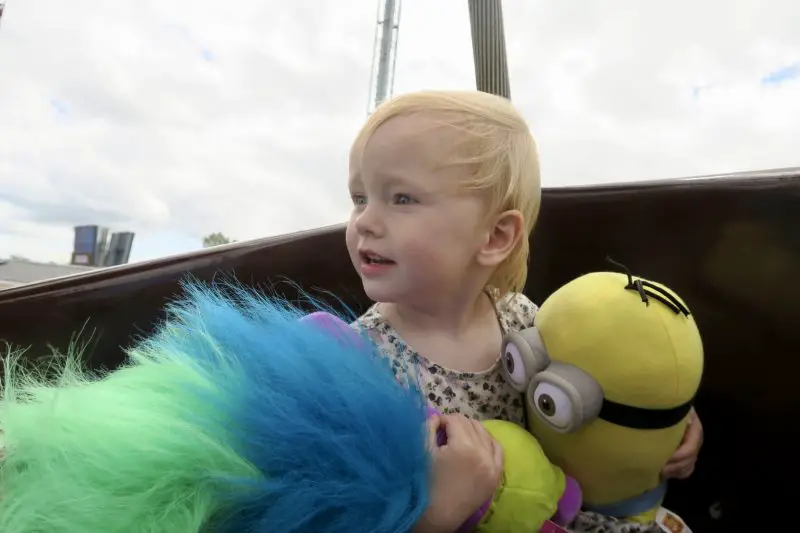 The Flamingo Land zoo
I loved the zoo but the rest of the family didn't seem too fussed. A lot of the animals seemed to be hiding away on our visit.
We briefly saw the lions but they were in a place we couldn't see much. We saw the tigers.
My favourite animals were the baboons. There were a lot of babies and I enjoyed watching them breastfeed and carrying around their young. Papa Ginge commented that we didn't have as much control over our kids as the baboons did over theirs! He wished our young were as well behaved as the baby baboons. I think this says something more about my children than it does about the baboons.
We all enjoyed riding on the mono-rail around the baboons. The kids thought a 'choo-choo' in the sky was super cool.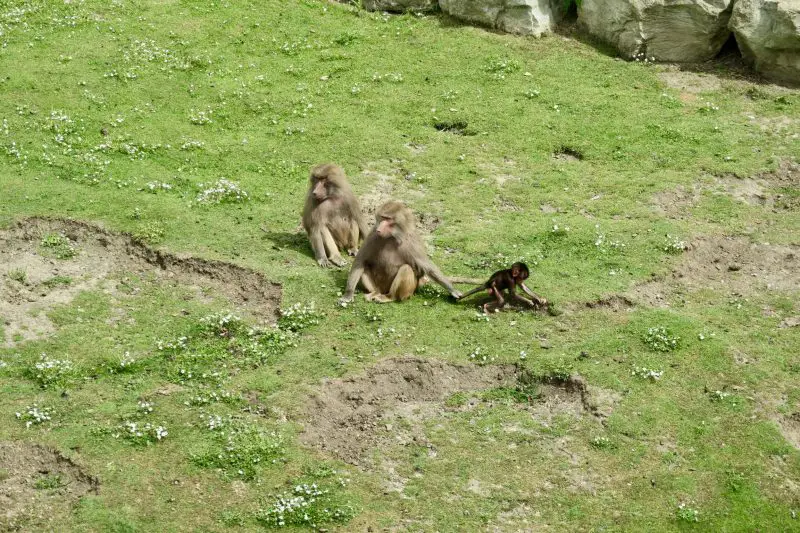 I'm always hesitant about visiting animals in an enclosure but they do seem well cared for and like they have lots of space at Flamingo land. I like the work they do with York University and their conservation work. They seem to do a fair amount of work in trying to get species that are extinct in the wild re-introduced to the wild too.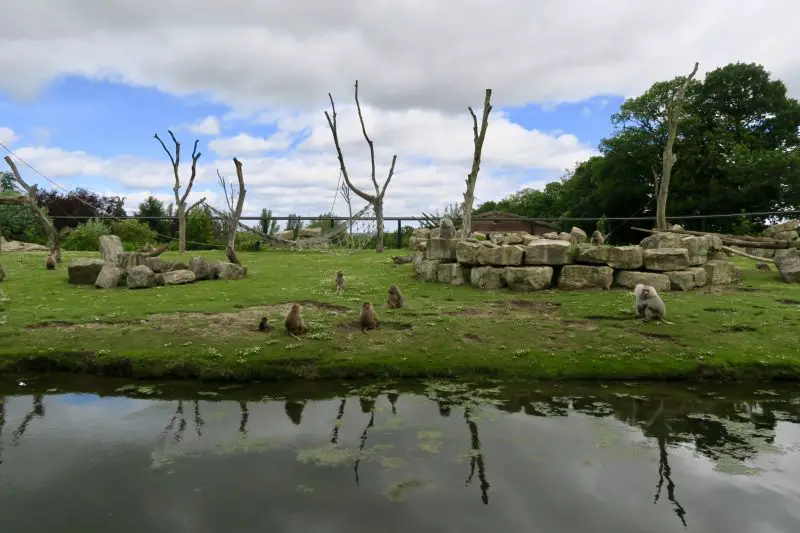 Food at Flamingo Land
I'm pleased we took/bought some stuff to make our own meals a lot of the time as there wasn't really any healthy food at the outlets on the site. I don't mind having a few greasy meals but I don't feel good when it's three meals a day like that. We would recommend taking some healthier options too.
Fabrizio's Pizzeria and Ristorante
We tried to keep costs down by making our food in the caravan but we did eat in the park a couple of times for a treat. On our first night we went to Fabrizio's Pizzeria and Ristorante.
Unfortunately, Lena was being an excited handful so instead of eating in the restaurant where she would just want to run around, we ordered pizzas to take back to the caravan with us. We got a margherita and a pepperoni costing around £17. The pizza was really nice, thin stonebase and tasty toppings. We really enjoyed it.
Upper Deck Fish Restaurant
On our second day we ate at the Upper Deck Fish Restaurant. We were tempted there because it has an offer on where kids eat for £1 if you buy a main.
It also has a soft play area right next to the restaurant. This meant the kids could let off some steam while we waited for our food.
Unfortunately, though the food really let this restaurant down. The chips were lukewarm and dry and it was all just a bit unappetising. We ordered the Upper Deck sharing platter £16.50 for us all to share and got one kids' meal of sausage, chips, peas and baked beans for £7. We got a couple of alcoholic drinks (my wine wasn't very nice either) which bumped the cost up but otherwise, it would have come out at roughly the same price as the pizzas.
Personally, we thought the pizzas were much nicer. We wouldn't go back to the Upper Deck which is a shame as the soft play makes it the perfect place to go.
Other days we noticed people getting fish and chips from the outside counter and theirs looked much nicer so maybe we were unlucky, or it's nicer from the outdoor counter. I'm not sure. My sister and her family have since visited and ate from the takeaway counter and said it was lovely so I've got a feeling our food had been standing around a while and that's why it wasn't very nice.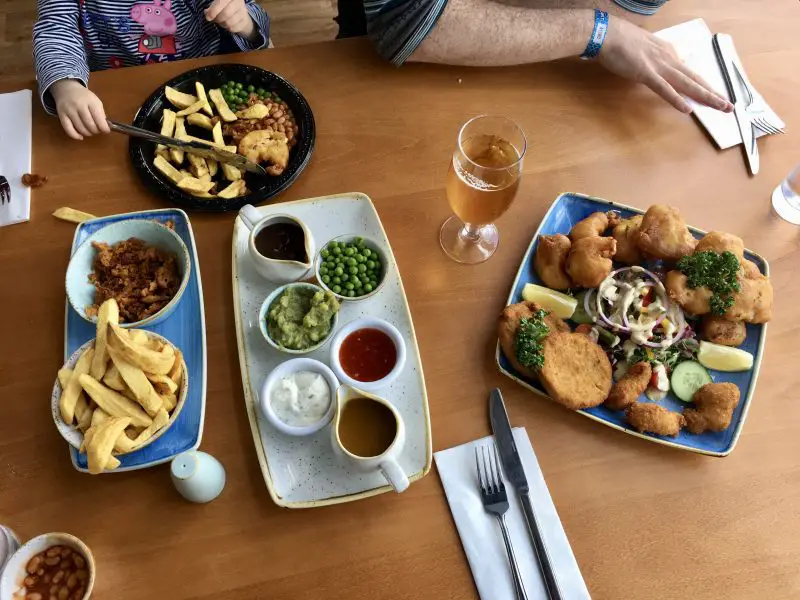 Mom's Hot Dogs
Arlo also got a hot dog one day which cost £4, it supposedly came in a brioche bun. I'm not sure if the French language has changed and brioche now means stale or dry but it there wasn't anything gourmet about it. He didn't get any toppings on his (nor did he eat the bun, he gave it to Lena) so it might have been nicer with the toppings on offer. The sausage itself was a perfectly nice frankfurter.
The toilets at Flamingo Land
I was impressed with how clean and tidy all the toilets were kept. It's a busy park and the toilets didn't gross me out at all. Good work.
Flamingo Land holidays evening entertainment
The Club is the night time entertainment venue featuring a programme of entertainment just for Flamingo Land Holiday Village guests. I actually saw them turn away some day visitors as I was walking in which made me feel like a goddamn VIP. Until I realised that I was at Flamingo Land club on a Saturday night and I couldn't be less A list. It has an arcade and bar area attached.
Now usually, I hate evening entertainment at these places. My kids LOVE it so much. The shows with the characters are EVERYTHING to Arlo. He makes me film them and he watches them back for YEARS afterwards. I feel like part of me dies a little each time I have to endure one of these 'shows' but that's being a mam. His little face lighting up means I'd sit through them forever.
Bingo
Papa Ginge is a OAP in disguise and gets very excited for bingo so he bought us some bingo books and a dabber.
He then realised the error of his ways when we kept having to try and catch Lena who was running away whilst simultaneously monitor 5 grids (I don't know what you call them) at a time.
I've not played bingo for years since I did it with my nana back in the day. I didn't know what the hell was going on but I got more interested when they told me I could win £190. They were reading them out super fast and we only had one dabber. Papa Ginge kept hogging it too (selfish lol). Anyway, it came down to me needing just one more number for the full house for the £190. I was rabid with hope but alas someone pipped me to the post. All I've got to show for it are these ramblings and a the dabber that I'll likely never use again.
Children's entertainment
Then it was time for the kids entertainment. First up was some tiny tots show at 7pm with a character in a big suit and nursery type rhymes. The kids both loved it. They both also loved dancing in between shows. Lena made a world record (I assume) for being the tiniest human to ever independently join a conga.
After this they had a super hero vs princesses show at 7.45pm which I was pretty impressed with. They had people dressed up as the characters singing the songs and doing the dances from films. There was Frozen, the Little Mermaid, Tangled, Mary Poppins, Spiderman, Batman, Power Rangers, Beauty and the Beast and more. The singing and dancing was good, as were the costumes. A lot of the time they were playing the film scene on the screen behind the actors.
All the kids (and us fools) were sat on the floor. The staff were good at making sure the kids sat down so everyone could see. Lena was stoked for Rapunzel when she came out and Arlo couldn't believe his luck that the 'real Spiderman' gave him a high five. I think this was on until 8.20pm so resulted in a late bedtime for the kids but they had a blast so it was worth it (this is not what I was saying at 10.30pm when I was still trying to wrestle Lena to sleep in a caravan mind).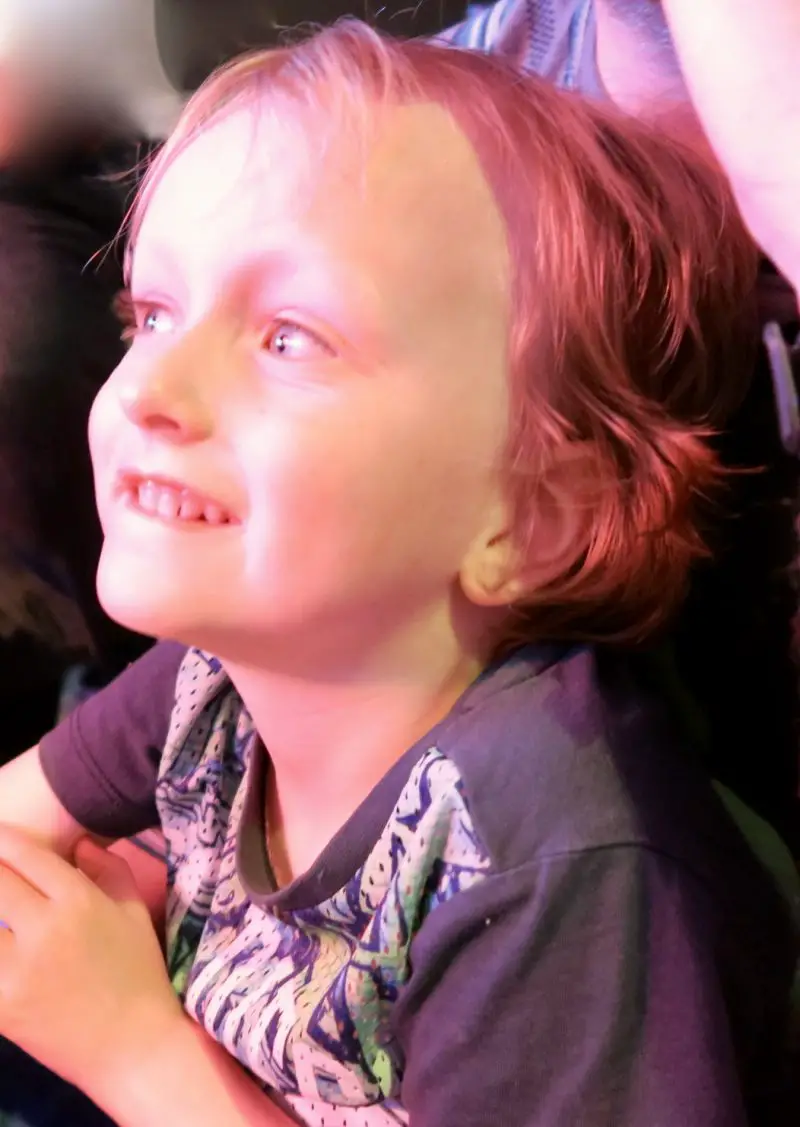 Flamingo Land holidays criticisms
One of my only real criticisms of the park is there isn't anywhere near enough signage. I would really like to see some boards with maps on and more signs with directions.
The park do give you a map but the day we were there was very windy making it hard to consult frequently. Additionally, Lena seemed to take real exception to the map being whole. Each time we got it out she would grab it and try to tear it. By the end we went through two maps and were trying to consult one in three pieces.
Holidays at Flamingo Land – best time to go
in 2017 we did a weekend in June and in 2022 we went in August. So we have visited both in low season and high season.
When we went in June we didn't really have to queue for anything. The parks were much more chilled.
In August there was a fair amount of queuing. It was much busier and more expensive.
My advice is if you kids have an INSET day in low season on a Friday then that can be an excellent time to go as you could stay for a long weekend and get your money's worth and it won't be too busy.
We did have a great time in the August trip and the weather was perfect but we did waste a lot more time queuing and it was frustrating at times.
Summary of Flamingo Land Holidays
We thoroughly enjoyed both of our holidays at Flamingo Land, both when the kids were 2 and 5, and then again when they were 7 and 10. We will definitely come back for another mini break. 2 nights and 3 days feels like just the right amount of time to do it properly.
The park felt like just a good size to feel big but not be too overwhelming. One day Arlo said when consulting the map 'is that back on the other side of the world'. I remember it seeming so big to me when I was his age but it felt like nice exercise to me, with us hitting our 10,000 steps a day.
If you want to get a true feel of the holiday, you can watch our family vlog of the trip below:
If you enjoyed this review, please follow me on my social media links below so you don't miss another.
If you liked this post you might also like:
If you have enjoyed this post or found it useful, here are some quick and easy ways that you can support Nomipalony or say thanks: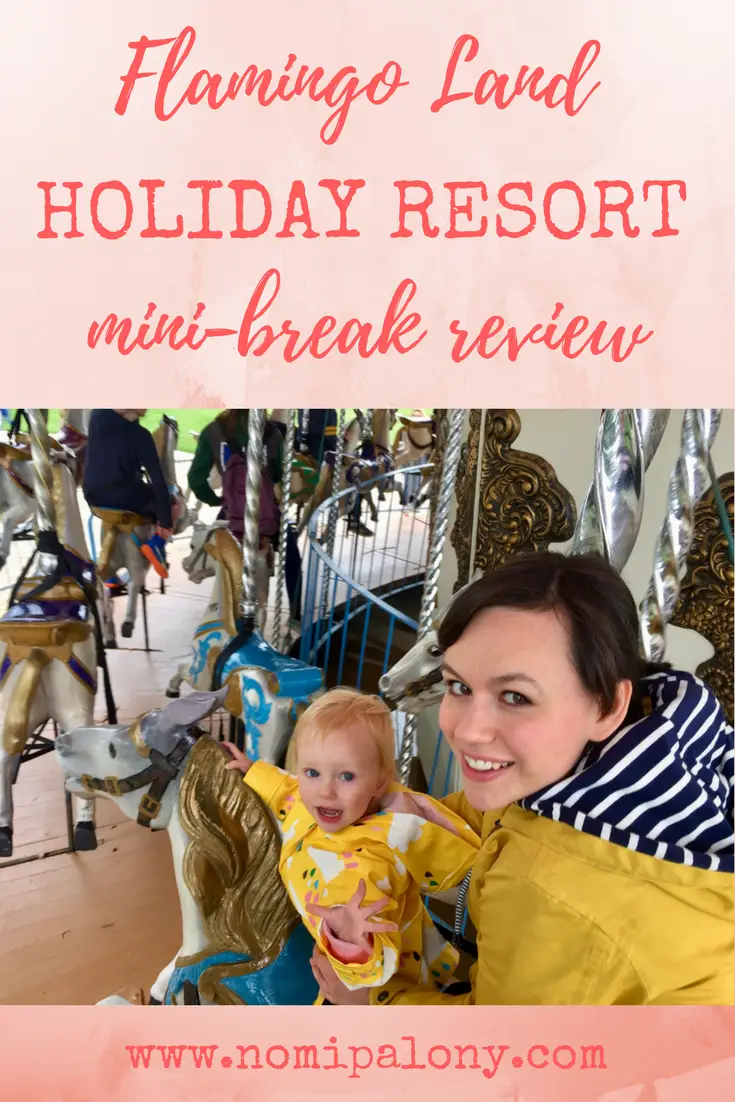 Disclaimer: These reviews are in no way affiliated with Flamingo Land.