We've just got back from a wonderful week in Angus, Scotland celebrating my mam's 60th birthday and lots of my followers on Instagram were asking about the details so this post is all about where we stayed and what we got up to on our 2021 holiday to Angus, Scotland. If you prefer videos then check out our YouTube vlog of our trip too.
Where we stayed – Slade House, Redford, Angus, Scotland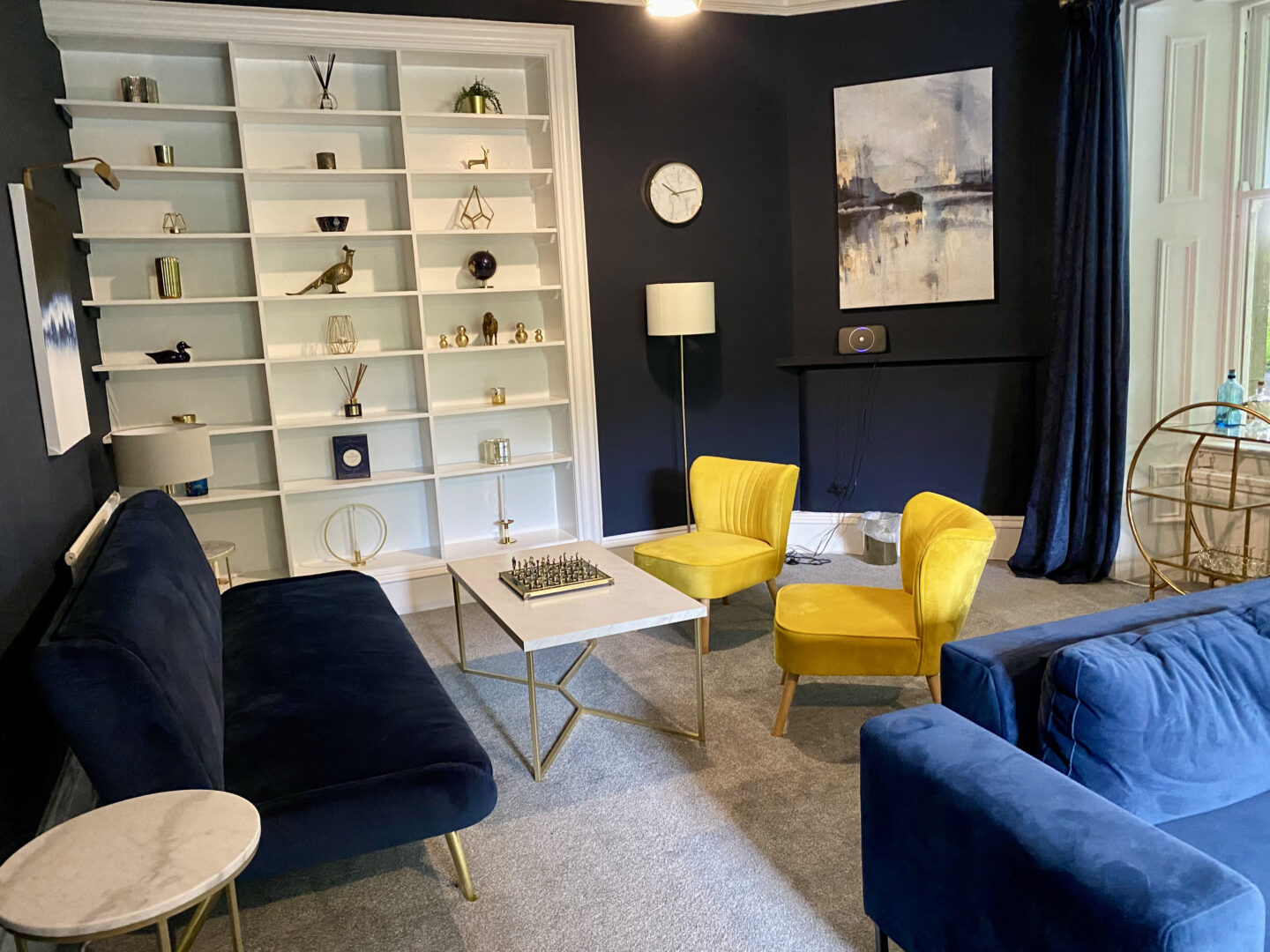 We spent months and months trying to find the perfect large holiday home for a group of 10 to celebrate my mam's 60th birthday. As it was during the pandemic and the school holidays not only were most things booked up but the prices were at least double or treble what they usually were. In the end, not wanting to let my mam down we finally just said well if we are paying a fortune for somewhere crappy then we may as well go all out and book somewhere extra special. Slade House (affiliate link) in Redford, Arbroath, Angus was that somewhere special.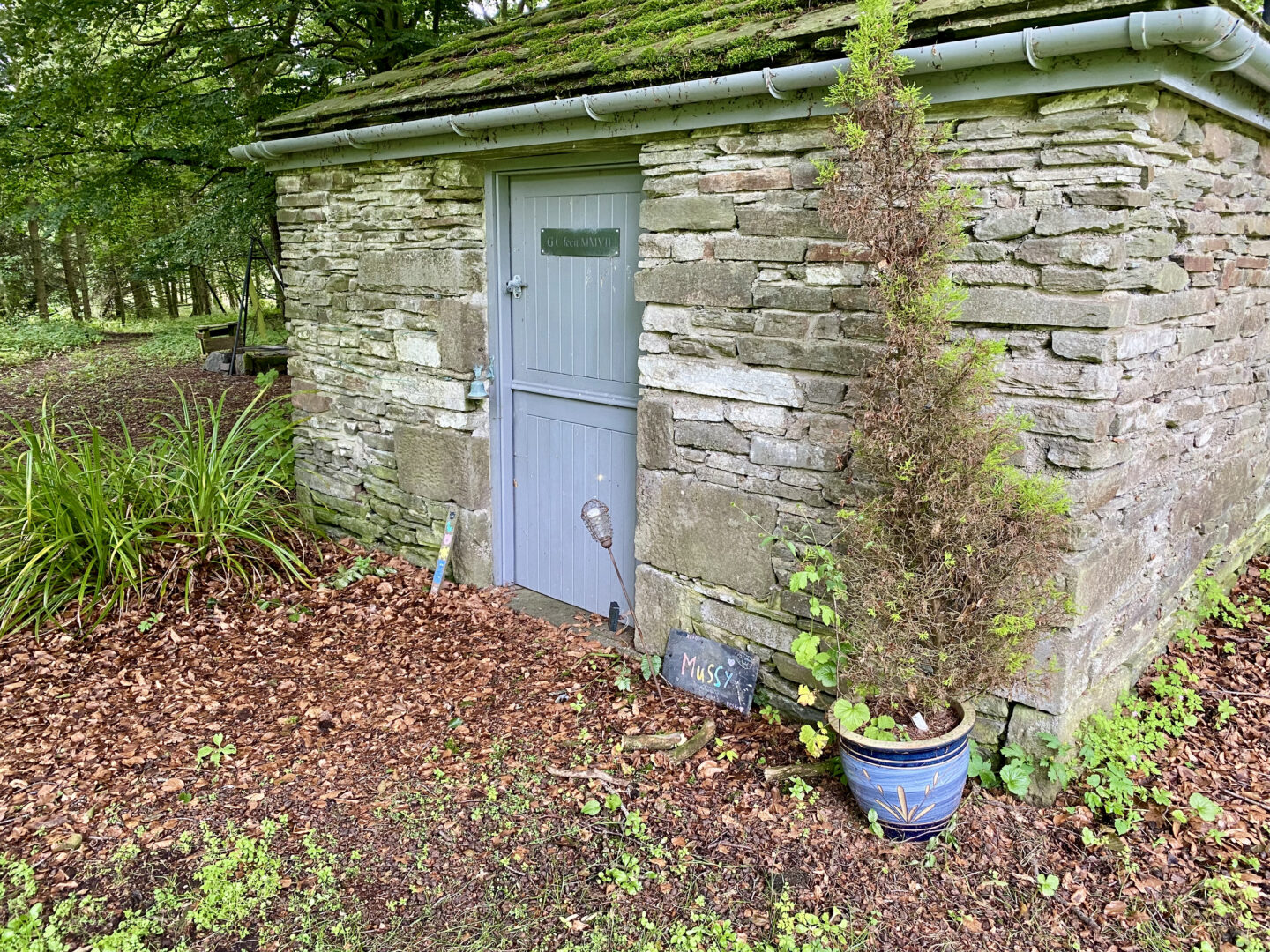 Slade House (affiliate link) is a detached period house with masses of mature gardens, a heated outdoor pool and hot tub and was perfect for our needs. There were more than enough bedrooms as it sleeps 13. It was spacious enough that we weren't tripping over each other. There was a 'snug' room that the kids immediately took over as a 'kids only' room.
The grounds were copious, you'd have no issues with spending lockdown on this property let me tell you.
Slade House pool and hot tub
The pool and the hot tub were the real stars of the home though. We went in both every day. The first day the pool was a little chilly but we asked them to increase the heat which worked a treat. Every day the pool got a little warmer. By the end of the week it didn't feel terribly cooler than the hot tub.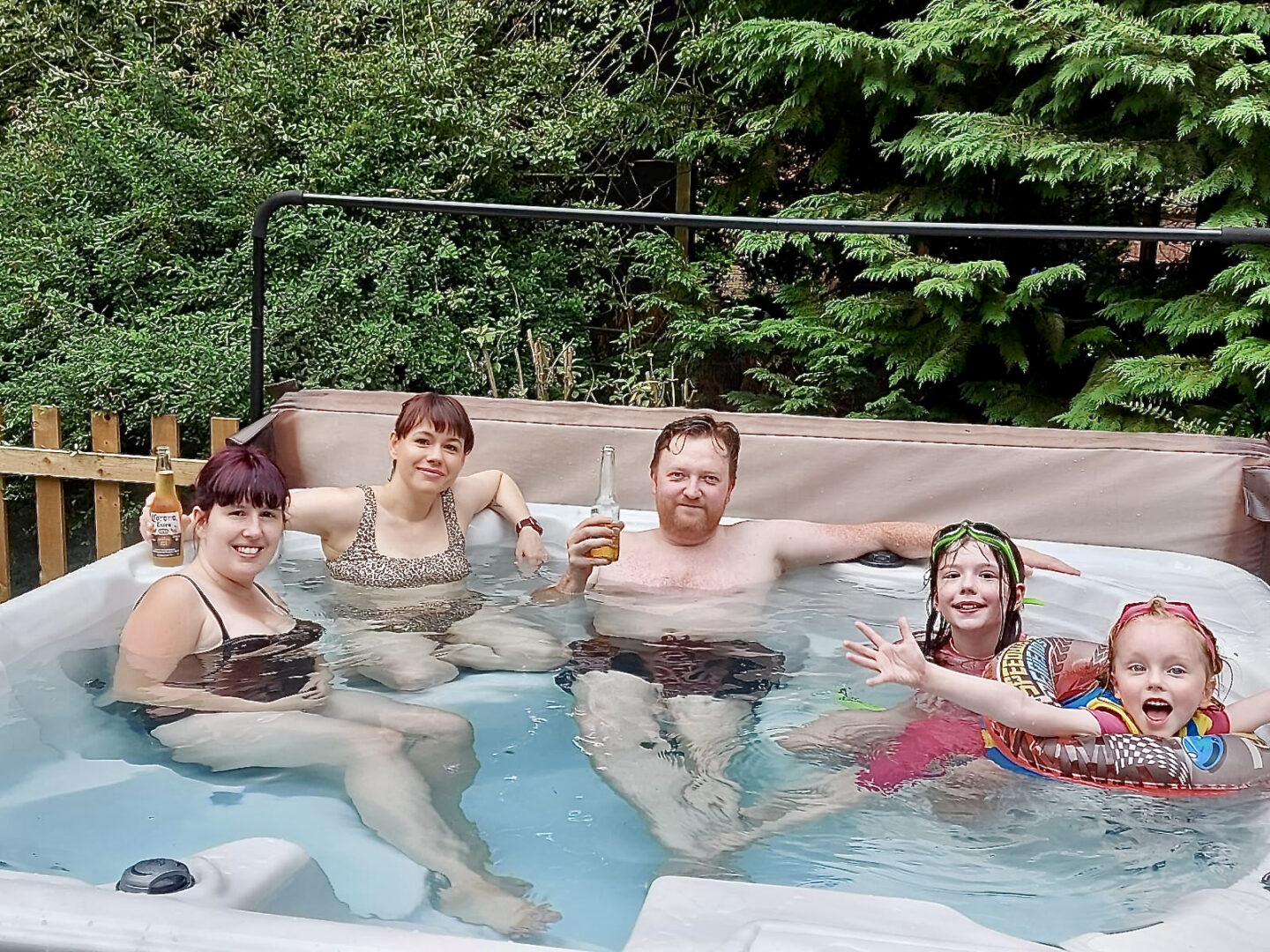 The photos don't do the size of the pool justice. I thought the property was trying to make the pool look larger than it was and that it would be smaller than we expected when we got there but I was blown away. It was much bigger than I was expecting. Probably 18-19 metres long. I thought it would be too small to do lengths in but easily spent 20-30 minutes swimming every day we were there. We loved it. One holiday memory that stands out for me is swimming on a warm day as the sunset through the mature trees as I listened to the Cocteau Twins and then having a cider alone in the hot tub. It was the most blissed-out I've been in the longest time.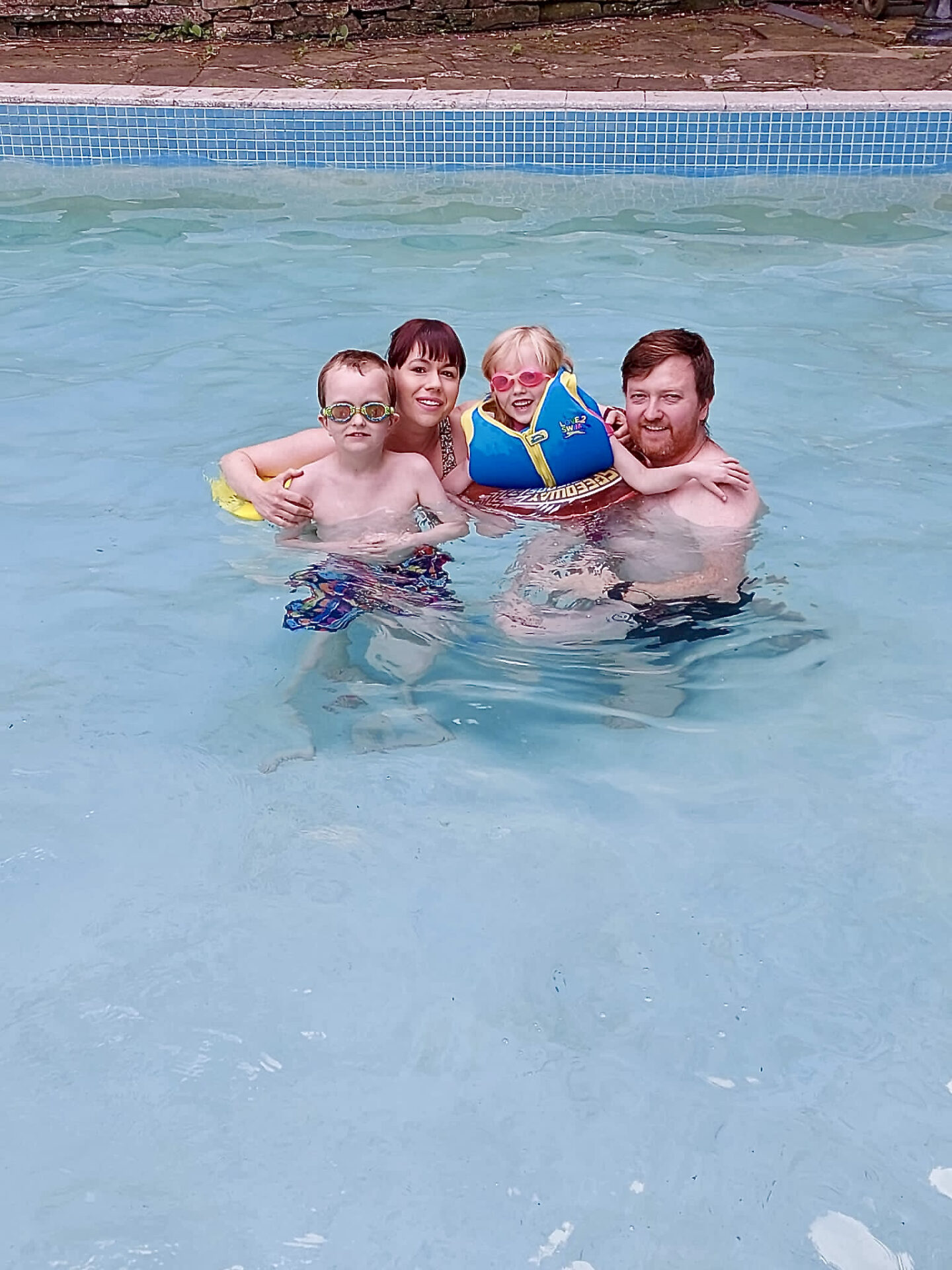 I also enjoyed some boxing workouts in the old stables where there is a bench and long punch bag hung.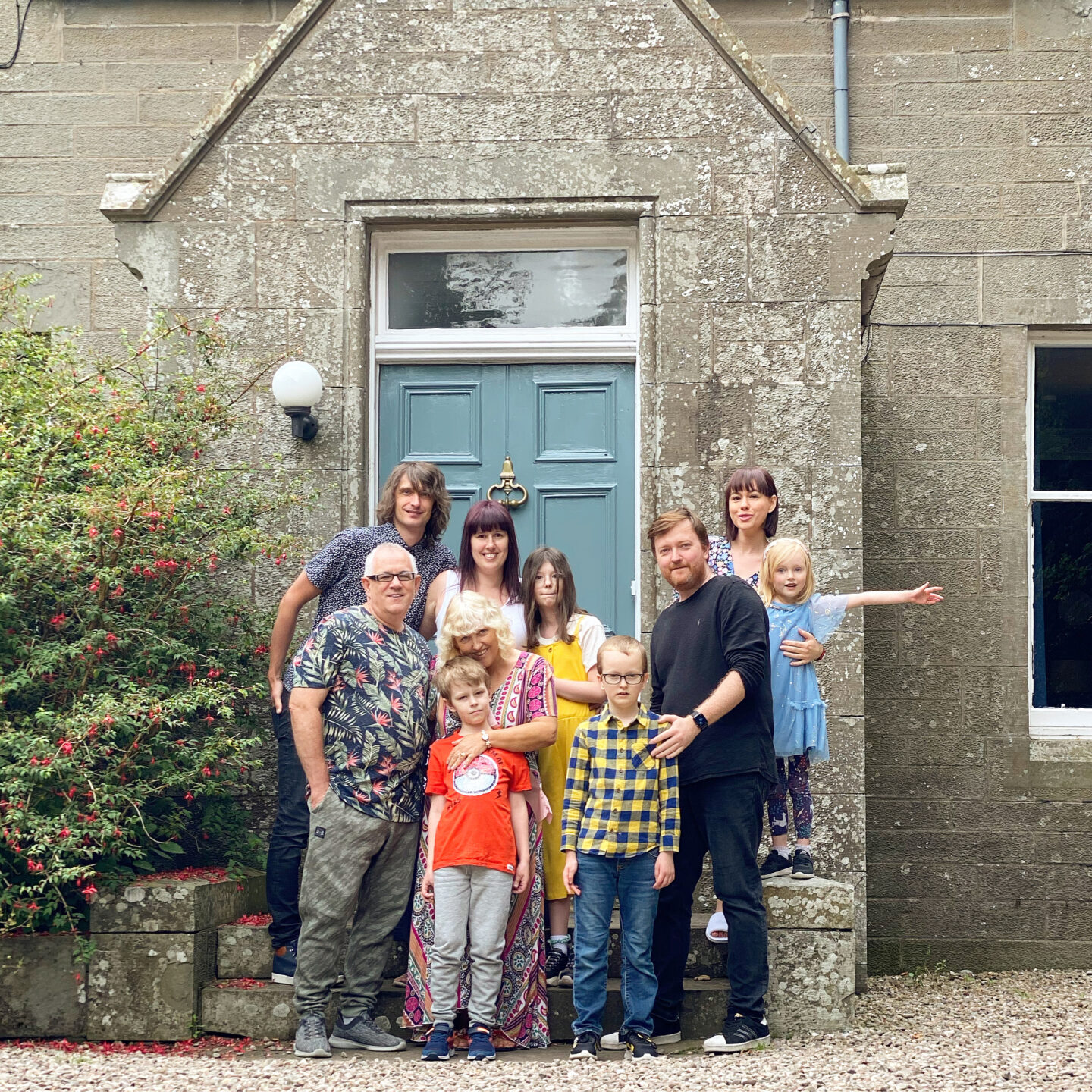 Some of the property felt a little rough around the edges – cupboards needing rehung, holes in some walls etc but on a whole it was a real privilege to stay there and I'd love to go back one day.
What we paid for Slade House, Angus
We paid peak prices of £4272 (including a £62 booking fee and £10 damage waiver) for a party of 10 working out at £427.20 per person for the week. Certainly not cheap by any stretch of the imagination for a self-catering holiday but like I say it was a special occasion and middle of the school holidays in a pandemic. We figured if we were going to be paying £2.5k for a caravan we may as well go all out and make it worth the expense. In non peak times Slade House (affiliate link) can be rents for a week for around the £2000 mark and that would be great value for money and something we'd look at in the future.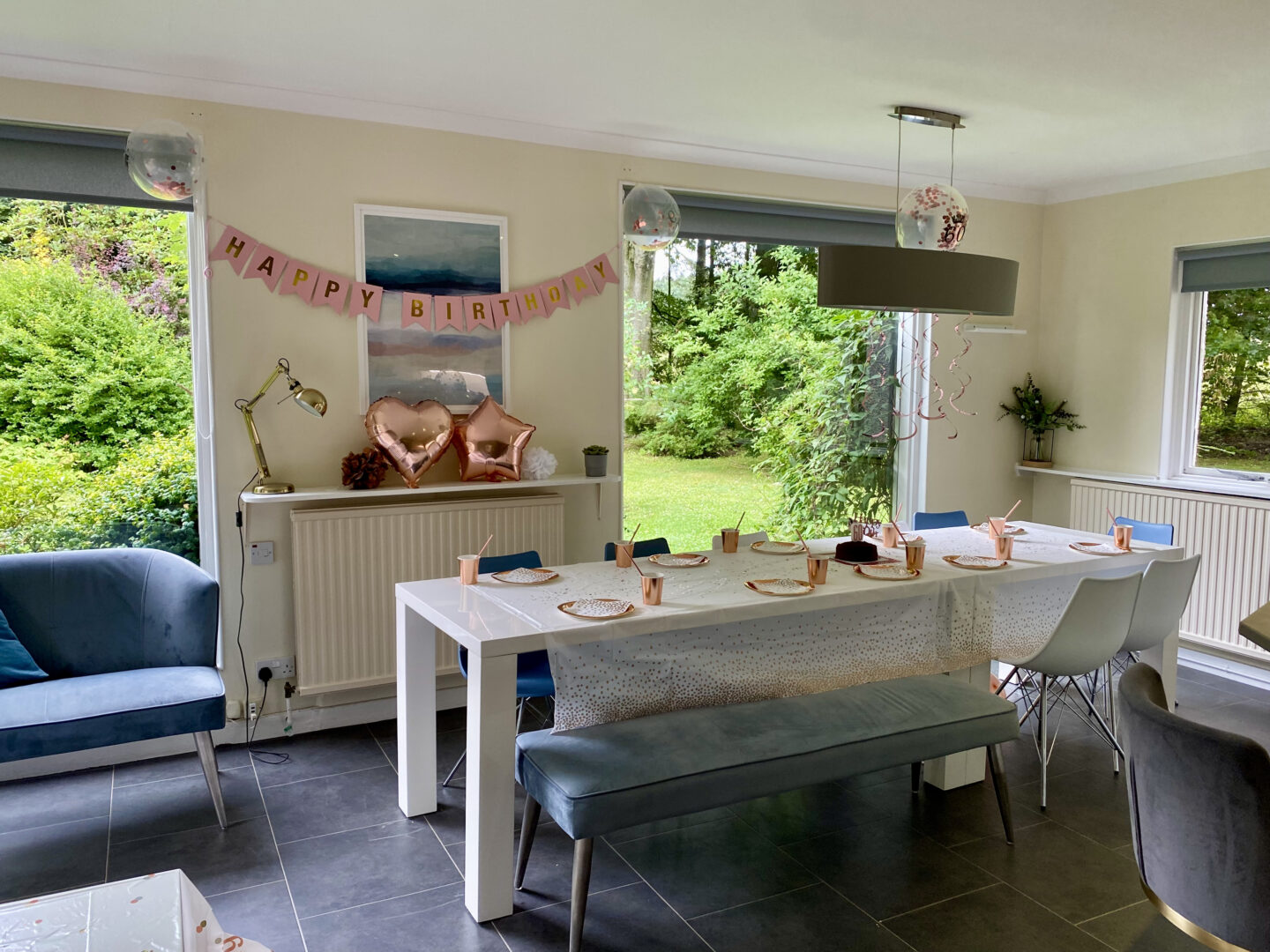 What we got up to – things to do near Slade House in Angus Scotland
As it was during the pandemic with cases still high and we had such a beautiful property that we wanted to make the most of, we didn't venture out as much as we usually do on holiday. You could spend a few hours just exploring the woodland on the grounds of Slade House! That said we did venture out a bit and here's what we did…
Crombie Country Park, Dundee
On our first trip out we went to Crombie Country Park. Crombie Country Park consists of 200 acres of woodland around the striking Crombie Loch. There are 7 km of woodland trails, including the Discovery Trail where you can find out about Crombie's social and natural history.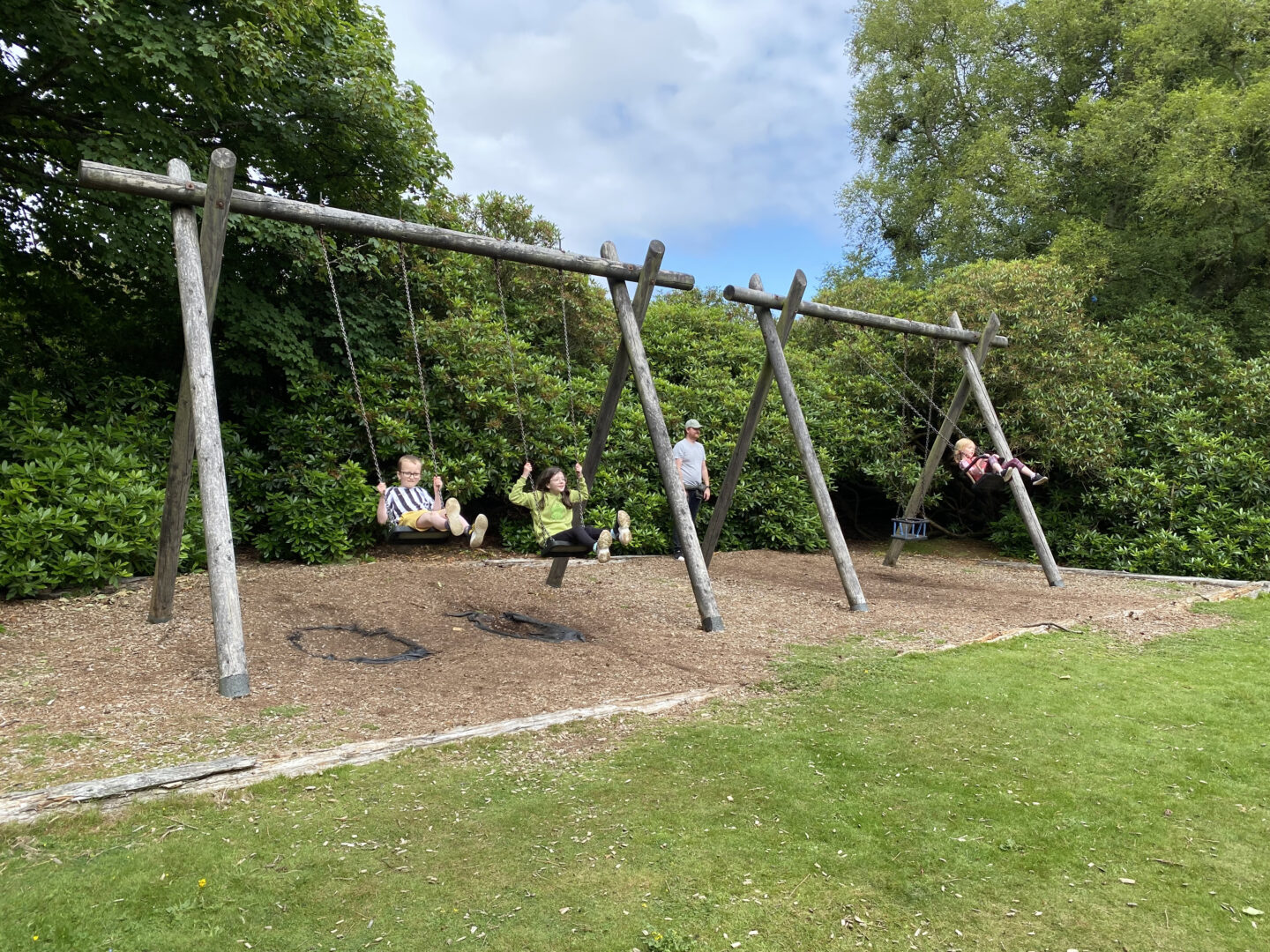 Our kids enjoyed the adventure play area. It was my niece and nephew's first time back in a park since the pandemic started and it was lovely to watch them enjoying the swings.
There were a mixture of trails – short ones for a little explore that were good for our kids who find walking 'BORING' and then some longer ones including a 2 mile trail of the entire loch.
Perfect for even a short outing from Slade House as it was only a very short drive away.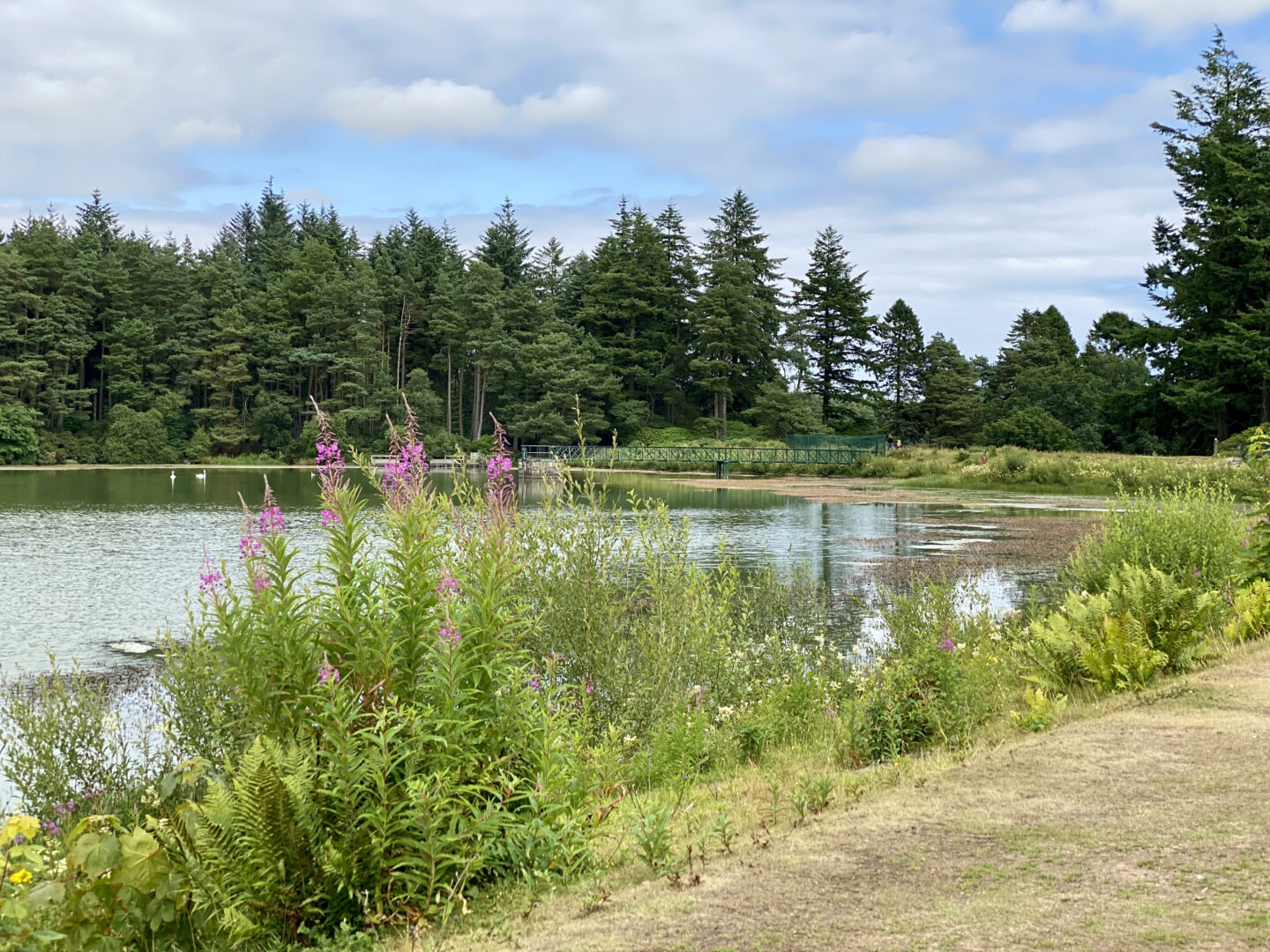 Lunan Bay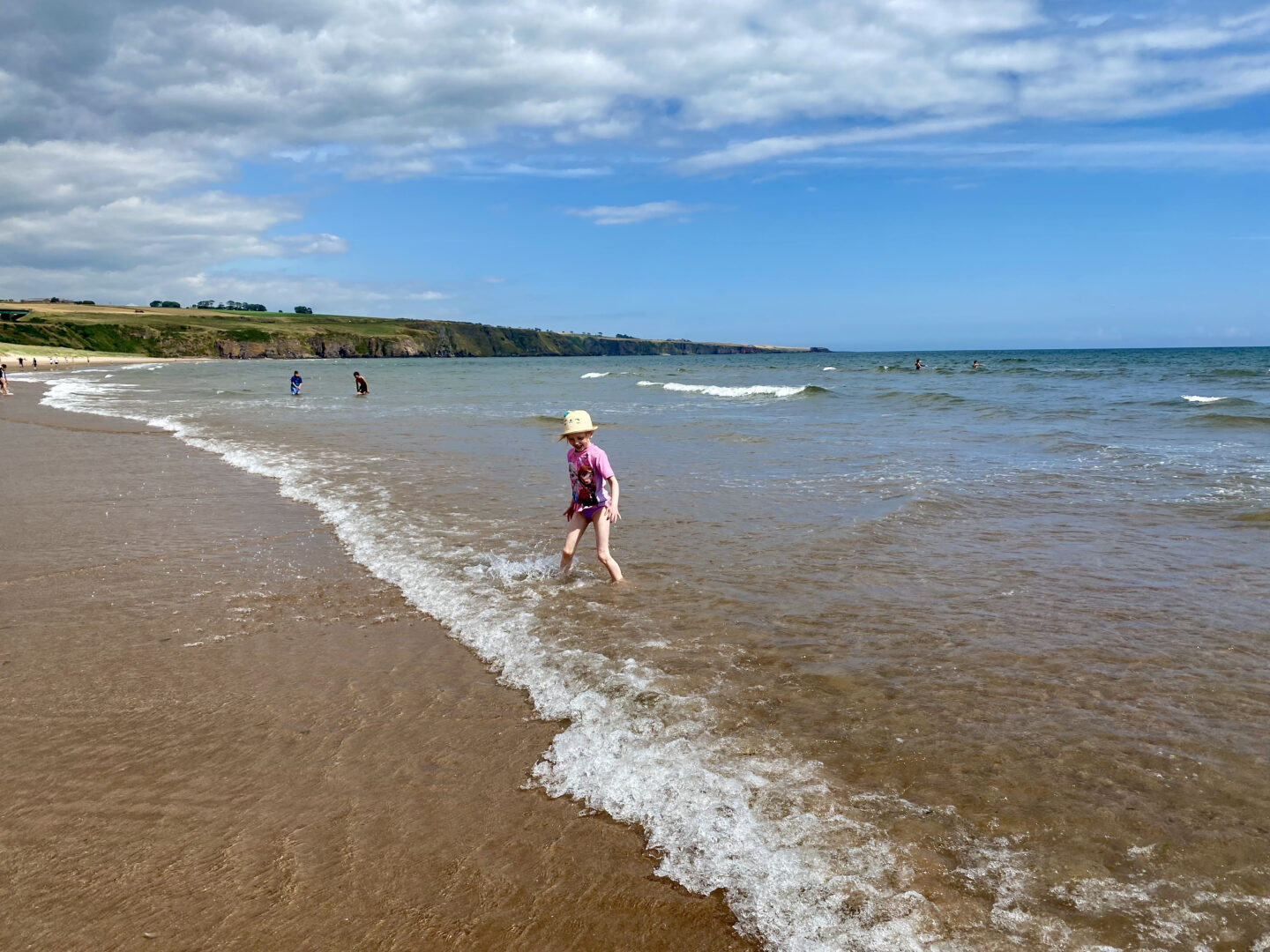 When I asked where I should go whilst in the area almost everyone said Lunan Bay. This stunning east-facing beach is backed by sand dunes and framed by low cliffs to the north and south.
It's a pretty sandy beach and our kids had fun flying a kite, making sandcastles, finding 'shrimp' and playing in the water.
The beach is a popular destination for surfers and horse riders. Traditional fishing is still practised here with nets strung on poles dug into the sand to trap fish in the receding tide. The beach is also a fantastic place to go bird watching with several fantastic species to spot.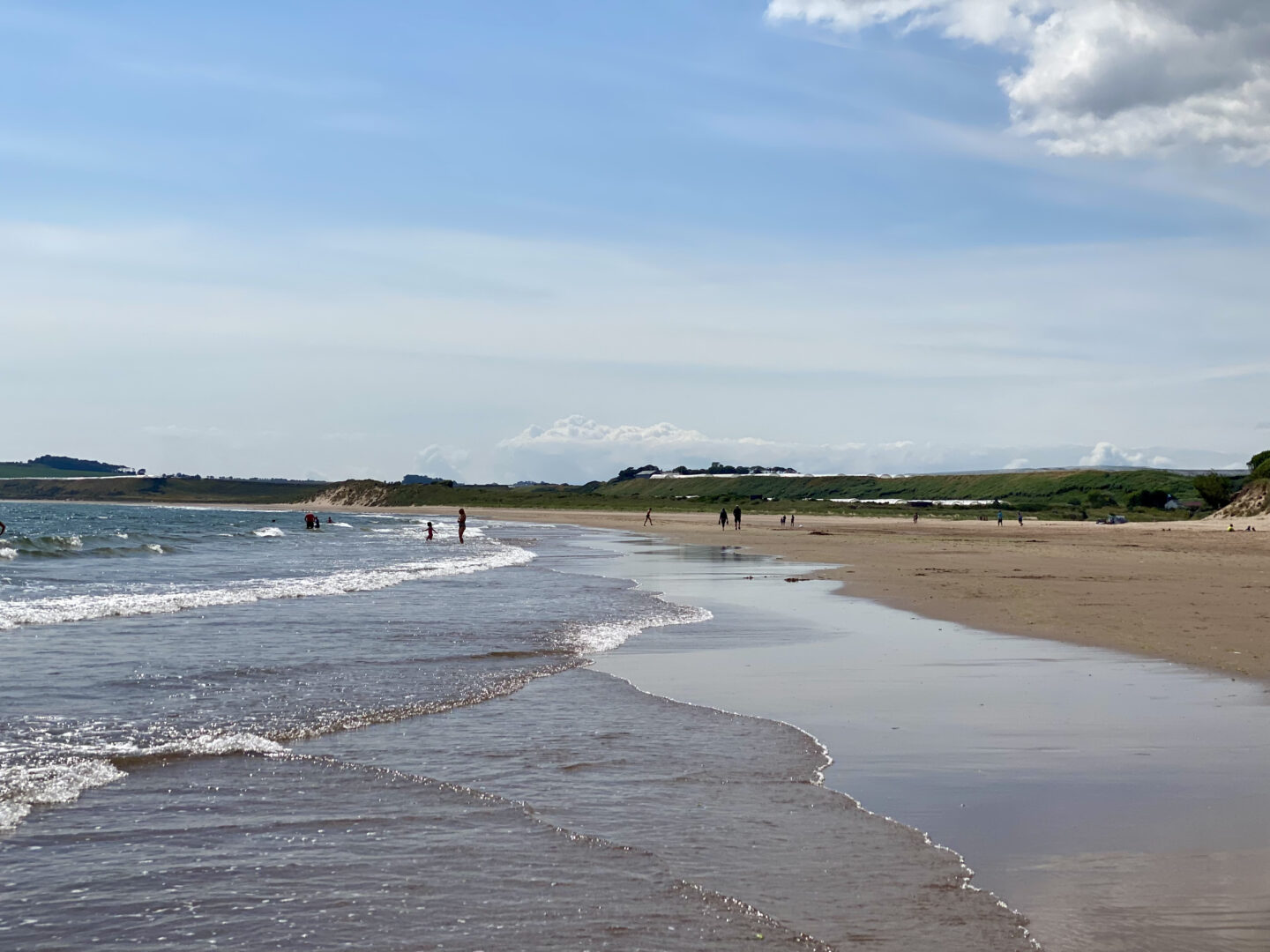 The best access to the beach is found via the car park at its rear. It was free to park though hard to get a spot whilst we were visiting. Be warned it's a pretty steep slope down to and up from the beach so maybe not one for those with any mobility issues. My mam struggled and we couldn't find any accessible points.
We couldn't see any food or drinks vendors on the beach so take your own picnic. There is a cafe set about a 5 minute walk back from the beach which is an option. It has free parking for guests for the first hour but is £5 per hour thereafter.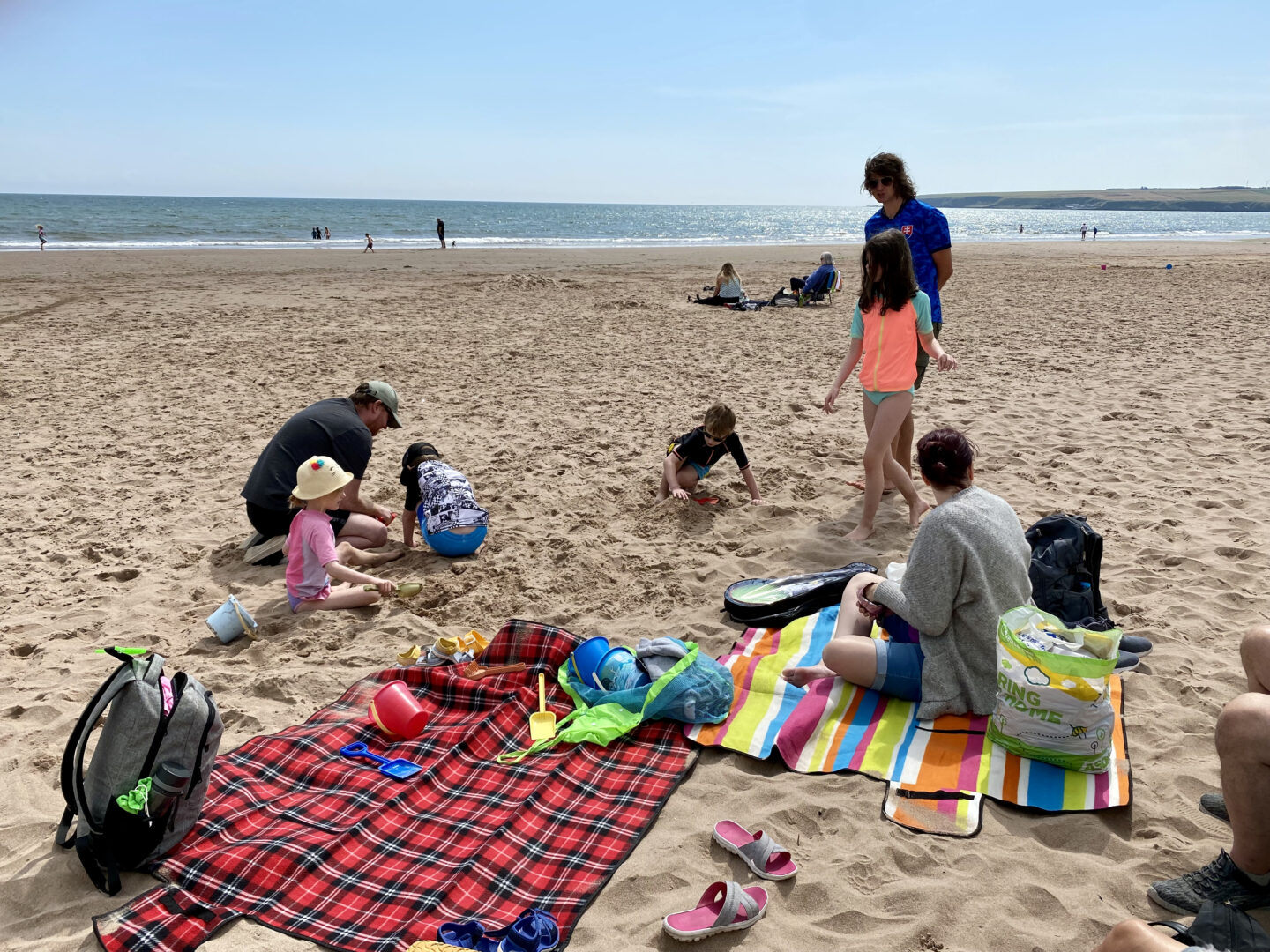 Arbroath – things to do in Arbroath
Only a 15 minute drive from Slade House in Reford is Arbroath Harbour so we made sure we took the time to visit.
Arbroath Harbour
Our final excursion was an afternoon date for Papa Ginge and me. The kids didn't want to come so they stayed with their grandparents, aunty, uncle and cousins and Papa Ginge and I ventured into Arbroath Harbour and Town.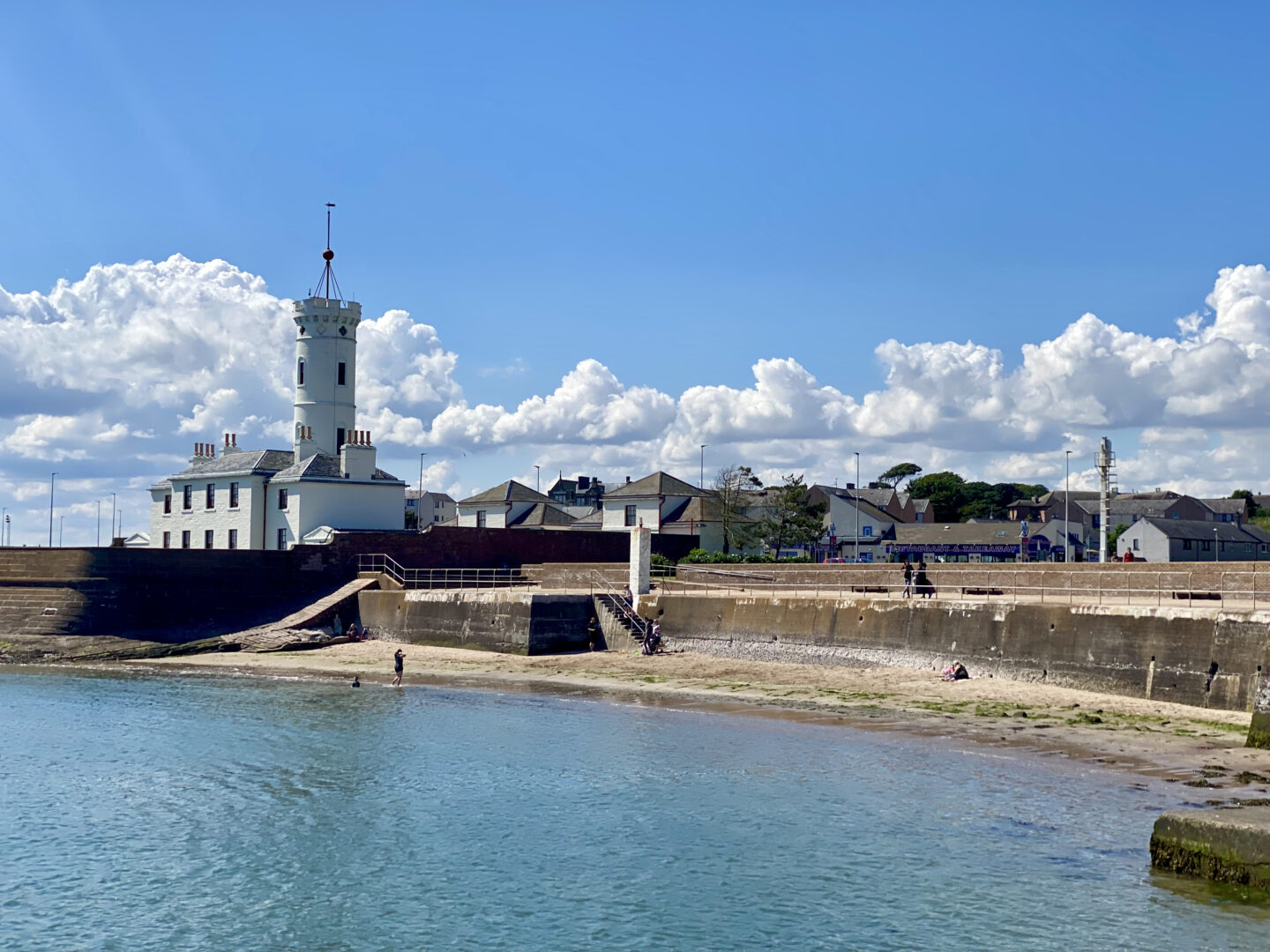 We parked right in front of the harbour itself in one of the 2 electric charging bays (which sadly weren't working our visit – a common issue with electric charging bays). It usually costs to park but all the meters were out whilst we were there and the locals told us there were no charges at present.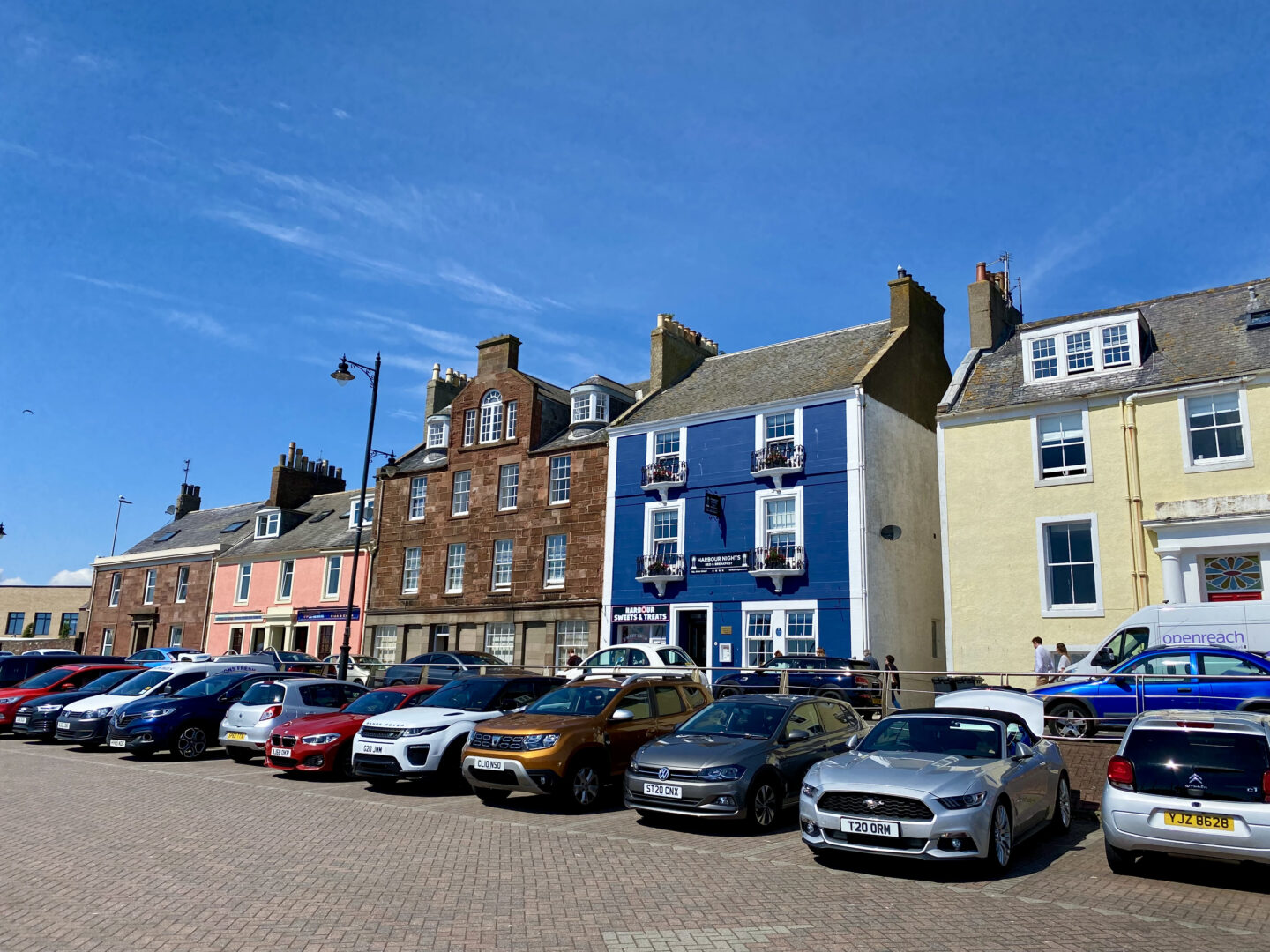 Arbroath Harbour is really pretty and you can watch the boats come and go. There is a small stretch of beach where I saw people swimming in the water. There are restaurants/cafes, gift shops and several fish and chip shops, an ice cream parlour and a sweet shop.
After lunch we had a mooch around just exploring and taking in the sights. We enjoyed perusing the Bosun's Cabin gift shop which had some lovely products in it.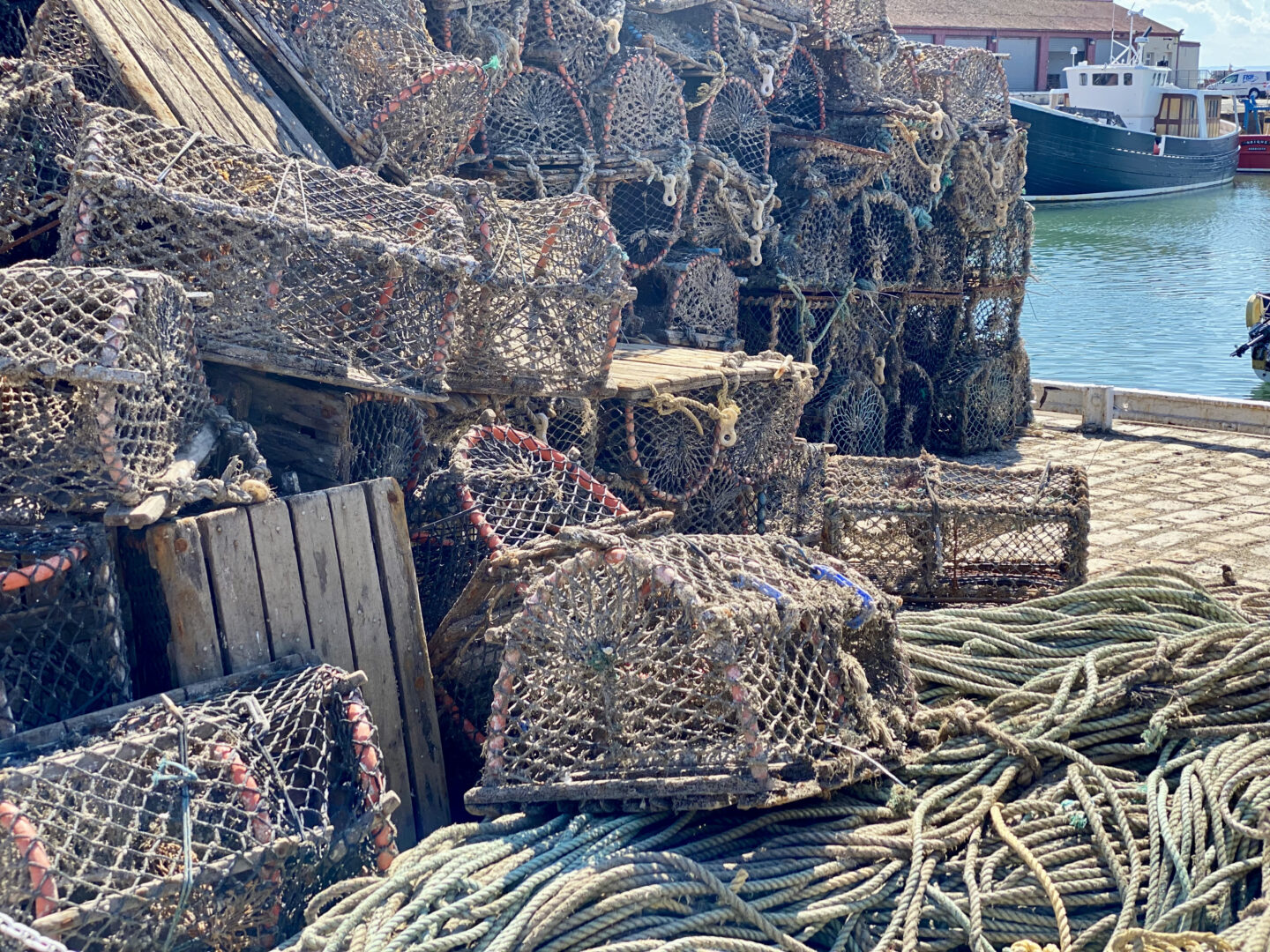 Arbroath Town and High Street
Then we had a walk through the town up to the highstreet (it's a small town and the walk was only 5 ish minutes), popping into shops that took our fancy along the way. There was a nice mix of local independent shops and recognisable brands too, such as WH Smith and Boots etc. It's definitely worth a visit for a look around and to pick up some gifts and treats.
Old Parish Chruch, Arbroath
Arbroath's Old Parish Church is situated in the centre of the town of Arbroath – don't think this is the Arbroath Abbey like we mistakenly did! We didn't go in (we are atheists) but its 1831 tower and steeple looked pretty from the outside.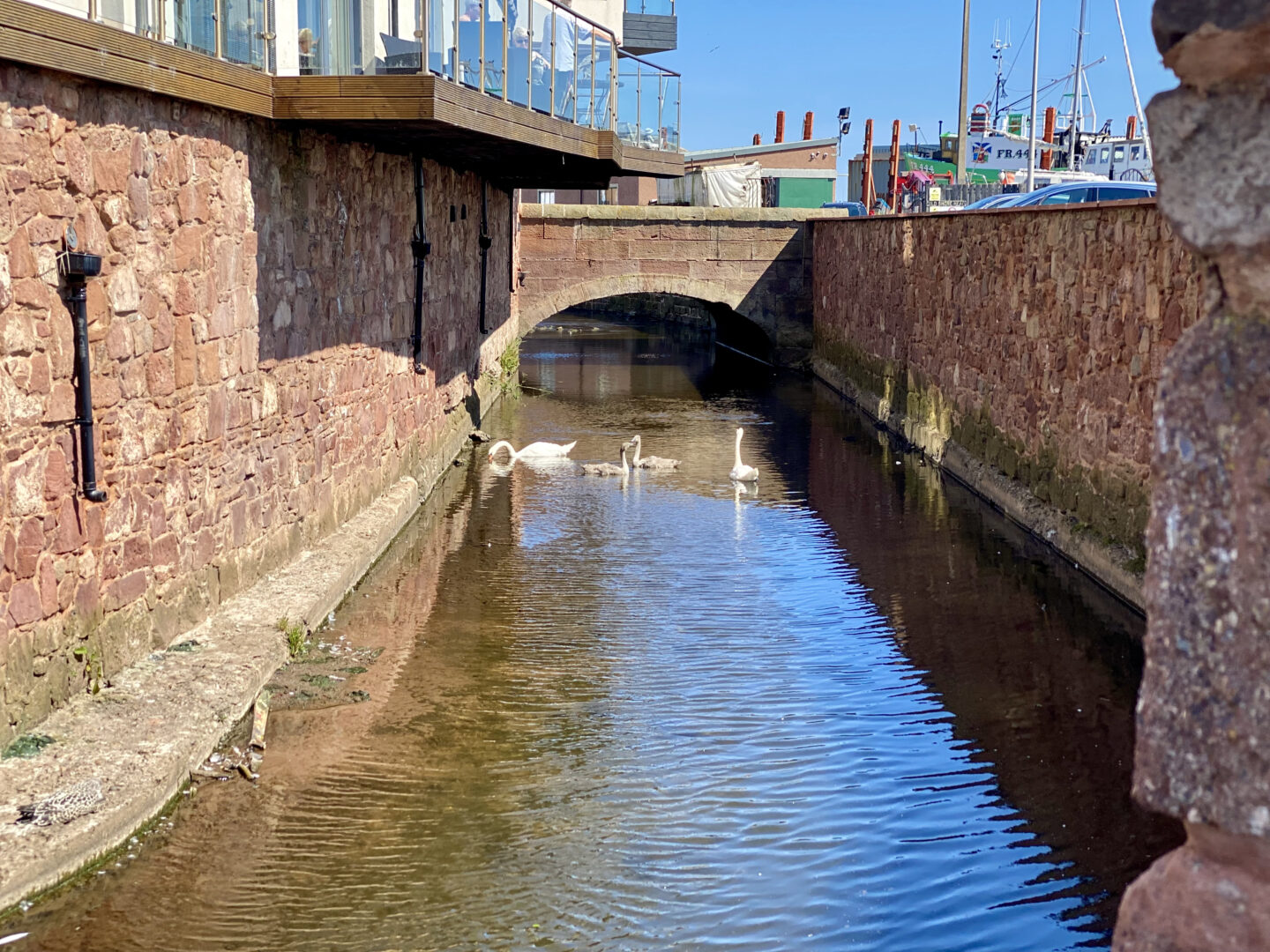 What we ate in Arbroath Scotland
The Old Boatyard, Arbroath
We had a lovely lunch at the Old Boatyard 'Arbroath's premier seafood restaurant' in the Arbroath harbour. We sat outside overlooking the sea – it was a gorgeous view. Papa Ginge ordered a pork belly bun off their light bites menu as we were having fish and chips for tea but got a pretty hefty meal! I ordered their lobster bisque from their starter menu which really was a starter/barely there portion! The fries that came with Papa Ginge's pork belly bun were incredible. They tasted like fish shop chips but were fries. Some of the best fries we've ever tasted. Service was also good and we'd definitely recommend eating there if in Arbroath.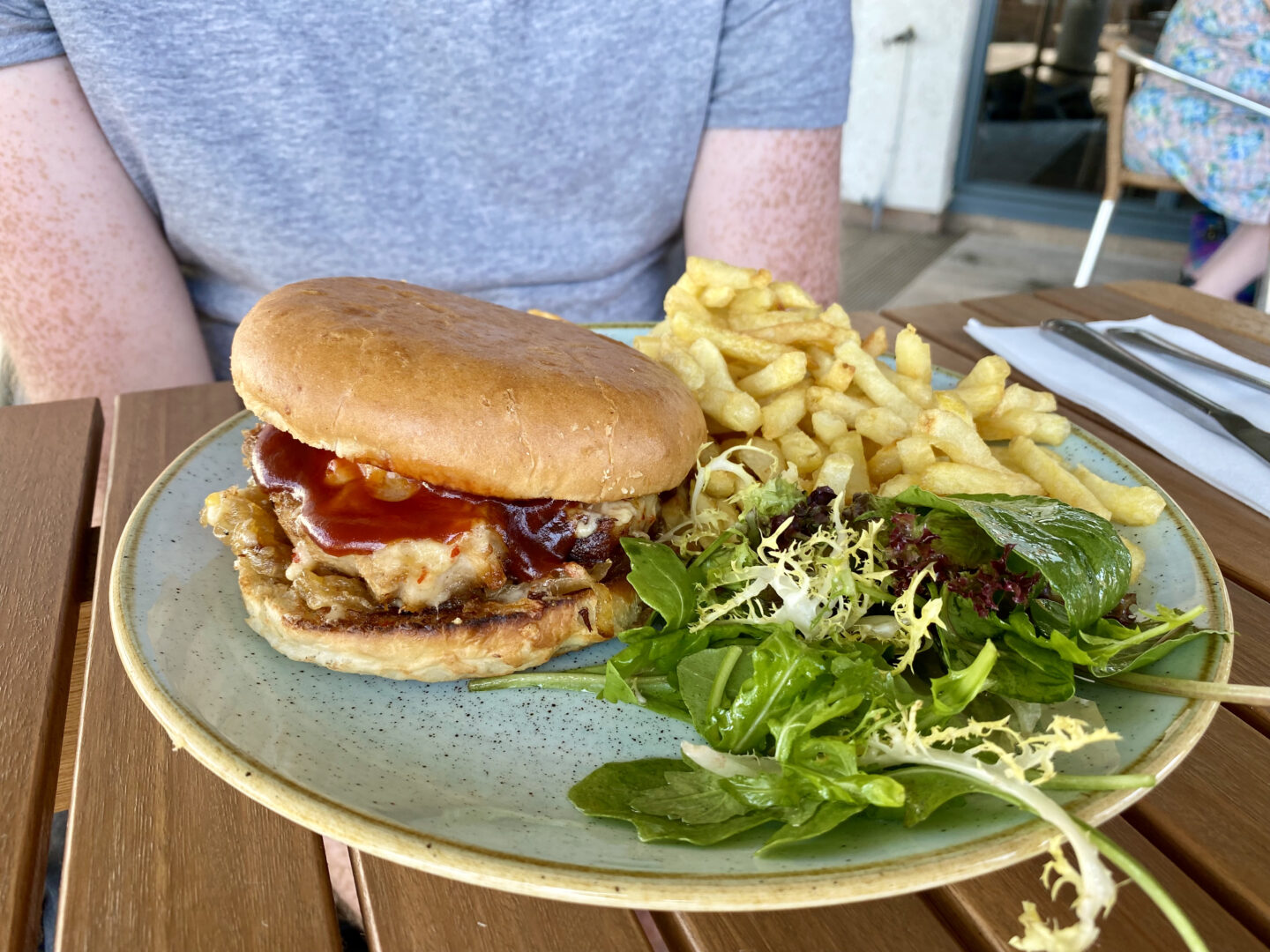 Arbroath Smokies
Arbroath's most famous product is the Arbroath Smokie, which was first created in the village of Auchmithie. It is line-caught haddock, smoke-cured over smouldering oak chips, and still made there in a number of family-run smokehouses tucked in around the harbour.
Apparently, one of the most approachable and atmospheric is MM Spink's tiny whitewashed premises at 10 Marketgate; chef and cookery writer Rick Stein described the fish here, warm from the smoke, as "a world-class delicacy".
I ordered an Arbroath Smokie from The Bell Rock. I'm not sure what I was expecting but it was pretty much a full smoked haddock with skin and fins still on and then when you opened it up it was full of butter. It was nice if a bit sickly so maybe one to share. Be rude not to try a speciality when in an area though!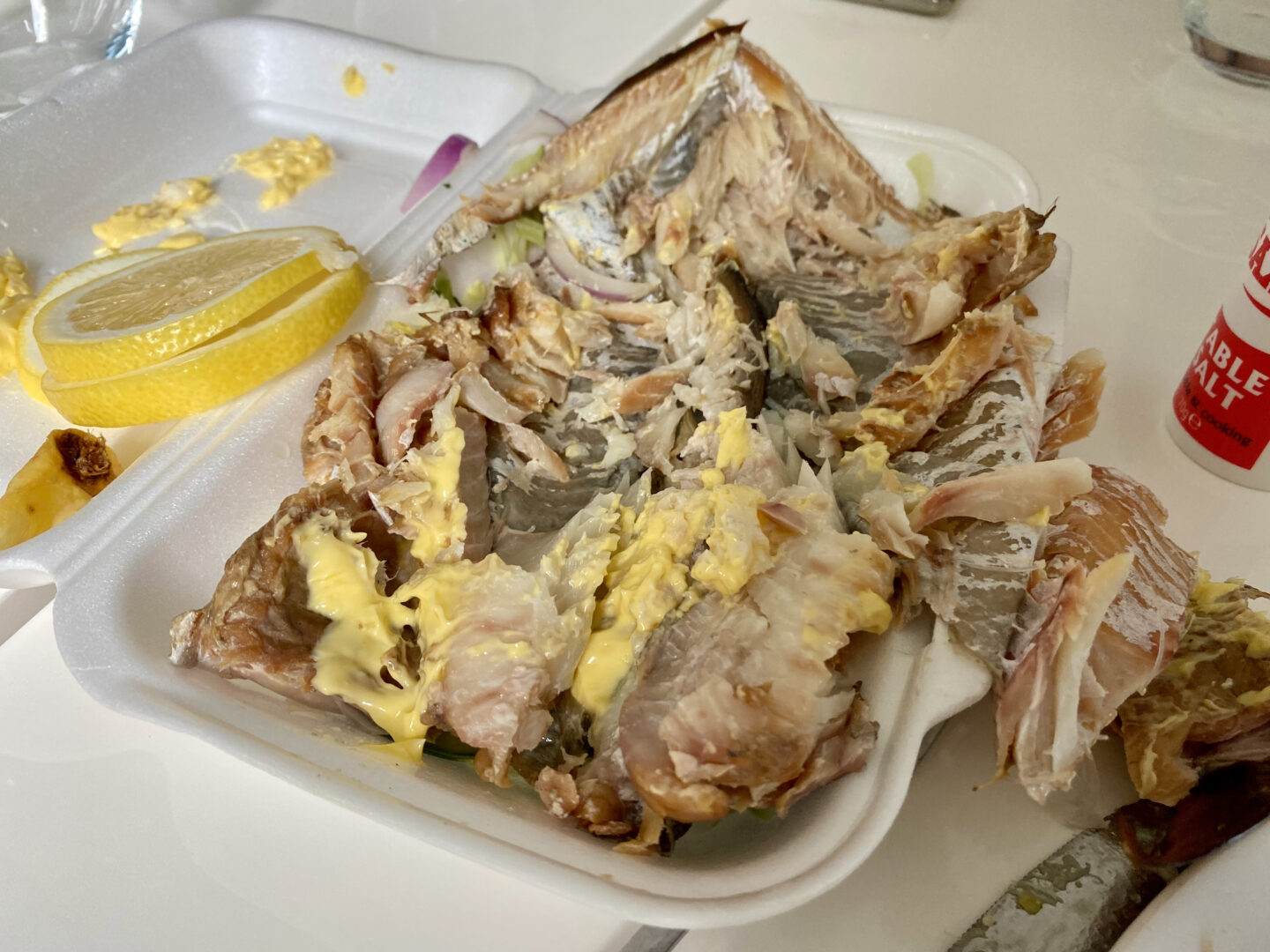 The Bell Rock
Everyone I asked said we needed to get fish and chips whilst in the area. Arbroath had a wide selection of chippies, we were spoilt for choice. In the end we ordered takeaway from the Bell Rock in Arbroath as they delivered up to Slade House. They also did gluten free for my sister. Whilst all the food was perfectly fine and we had a nice meal, it wasn't one of those chippies that blows your socks off if you know what I mean. It might have been because we added a note to ask for salt and vinegar and scrapings and they forgot and those are key components of a fish and chip tea for us! Being at a holiday home we had no vinegar either!
Milton Haugh Farm Shop and Corn Kist Bakery
A five-minute drive from Slade House will take you to the Milton Haugh Farm Shop and Corn Kist Bakery. It's a lovely farm shop where you can get most things you need. We got some milk, sweets for the kids, some nice blue cheese, a local chutney, crackers and quiche. We could have spent a fortune in there though!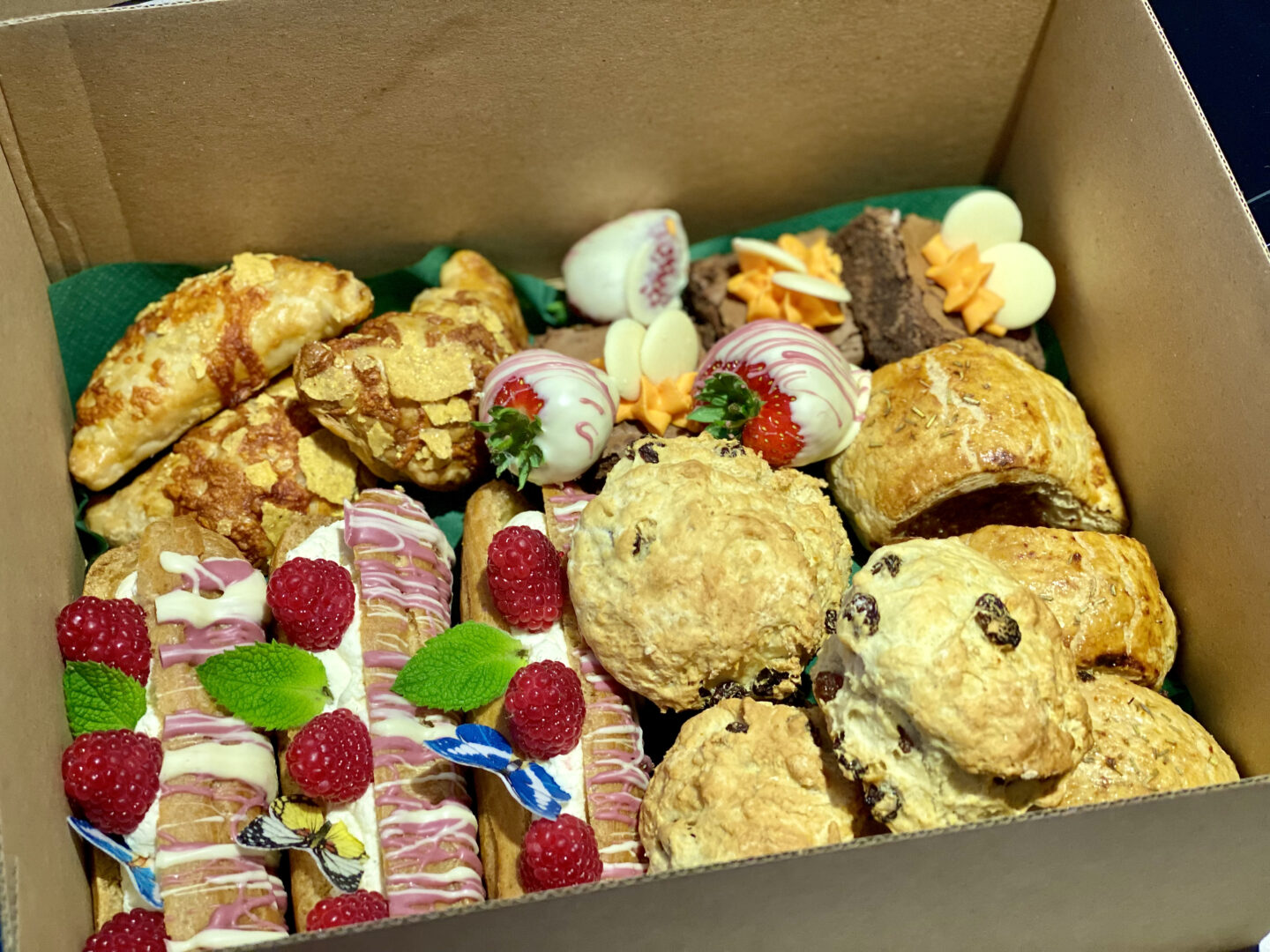 During our stay at Slade House as a surprise for my mam, we planned a 60th birthday party and ordered afternoon tea for everyone from the Corn Kist Bakery. They were so accomodating as one of the kids has ARFID, one is allergic to dairy and an adult is allergic to gluten so we were quite the challenging group. The Corn Kist went to such an effort to ensure that everyone was accommodated and still got a wonderful experience.
They even let us borrow the cake stands to make it look special. The food was wonderful and we had leftovers for days. I highly recommend them for an afternoon tea if staying at Slade House or locally in Arbroath/Angus. They also have a Yurt that they can set up afternoon tea in which we were going to do but it was booked when we needed it. I was really impressed with them and would definitely order again if we return.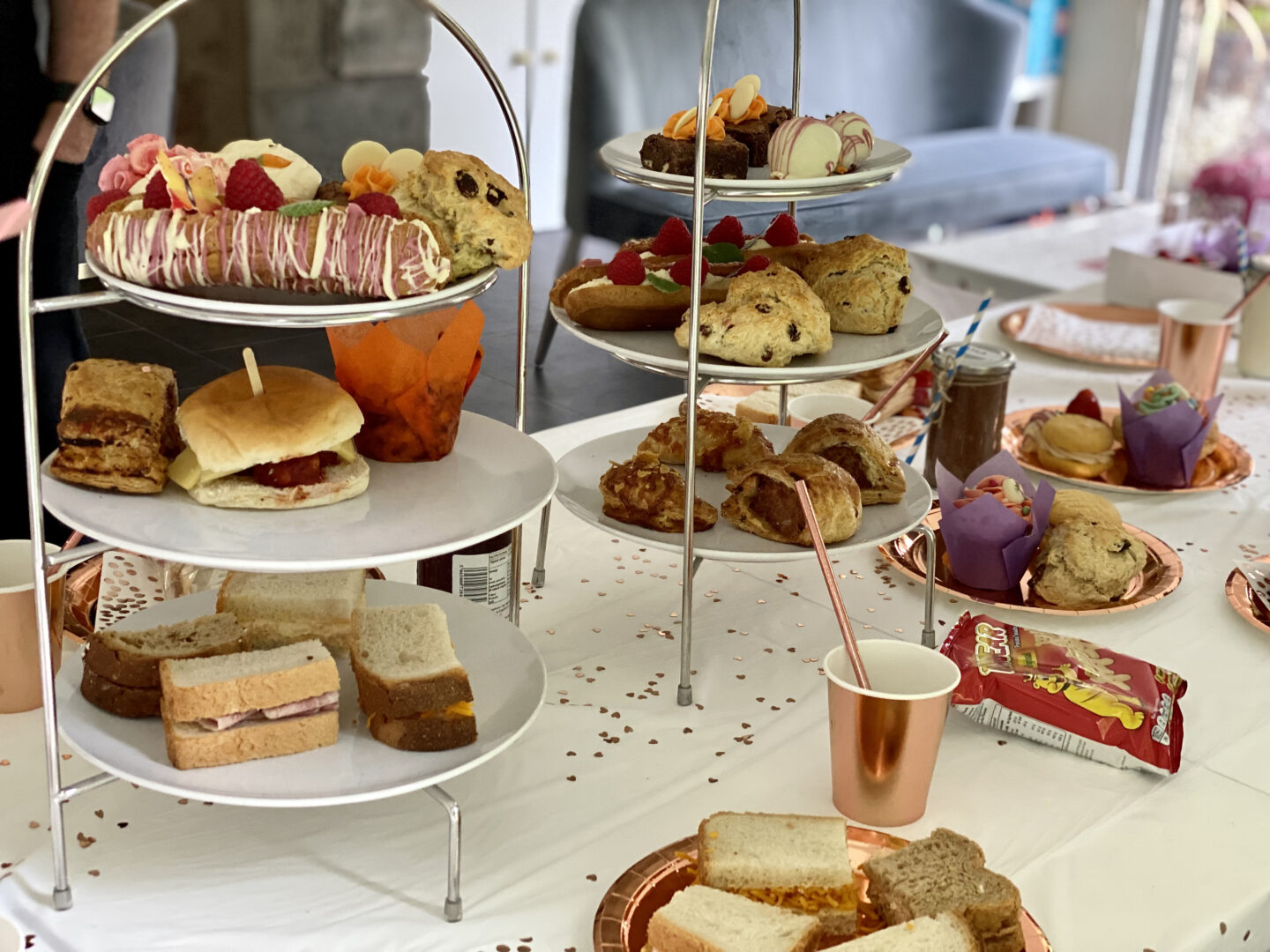 Arbroath Dominos
On our first night we had planned ahead and ordered a Dominos from Arbroath to be delivered to the house. We knew it would be hectic after the long drive and settling in and this would take the stress out of having to cook. I mean Dominos is Dominos but I felt this was one of the better ones that we had. Kohenoor Indian Takeaway is right next door to Dominos too.
Other than this we just had groceries delivered and cooked for the trip – Sainsbury's, Morrisons and Tesco all deliver to Slade House, Angus.
Summary of our holiday to Slade House, Angus, Scotland
Overall we had a lovely relaxing time in Angus, Scotland. Slade House was a really special place to stay and there was more than enough locally to entertain you for a week. Frankly, there's plenty to entertain us if we were to return for another week which I'm sure we'd be tempted to do again. The only thing putting us off is the long drive from Newcastle and the cost!
Don't forget to watch our YouTube vlog of the trip too:
If you liked this post, you might also like some of our other holiday posts:
For more scottish travel ideas see my blogging friend Jenny's complete guide to family travel in Scotland.
If you have enjoyed this post or found it useful, here are some quick and easy ways that you can support Nomipalony or say thanks:
Share this post with your friends  
Pop over to my Amazon Storefront to see what products I have been buying and loving from there recently, including my health and fitness products list.
Sign up to my mailing list 
Women can join my feminist Facebook group – the Nomipalony Freehouse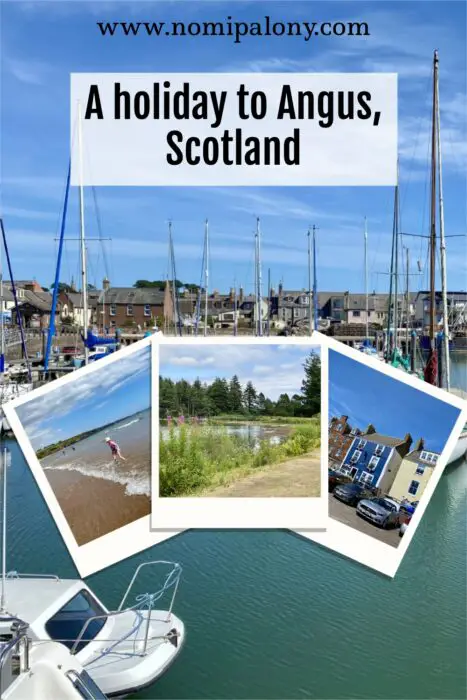 Disclaimer: This post contains affiliate links. If you purchase through an affiliate link you will not be charged any more for your purchase, but I will receive a small fee for referring you. As an Amazon Associate, I earn from qualifying purchases. For my full disclosure policy, please see my about page.