We did it! We successfully got married in the space of 38 days from the decision to saying I do! I recently told you all about why we decided to get married after 11 years and why we were doing it in a month. Now that we've done it, I thought I'd update you on the big day, how it all went and even including what we spent…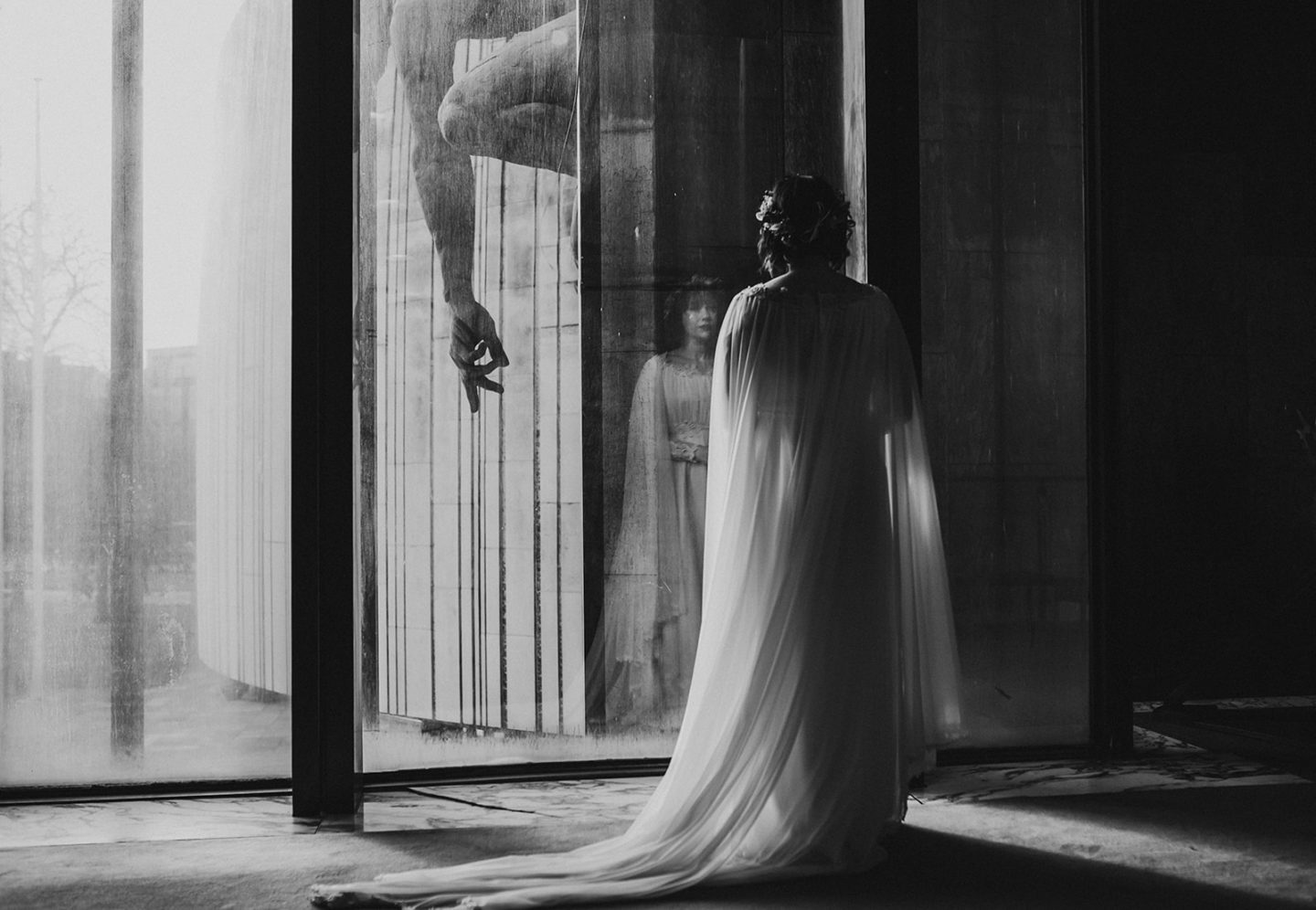 Pre-wedding – wedding day morning
The kids woke me up at the crack of dawn as usual so I got up and did a workout straight away to get me into the right headspace for the day. Once I did that I made myself a cup of decaf breakfast tea and some poached eggs on toast topped with spinach, cherry tomatoes, mushrooms and parmesan cheese.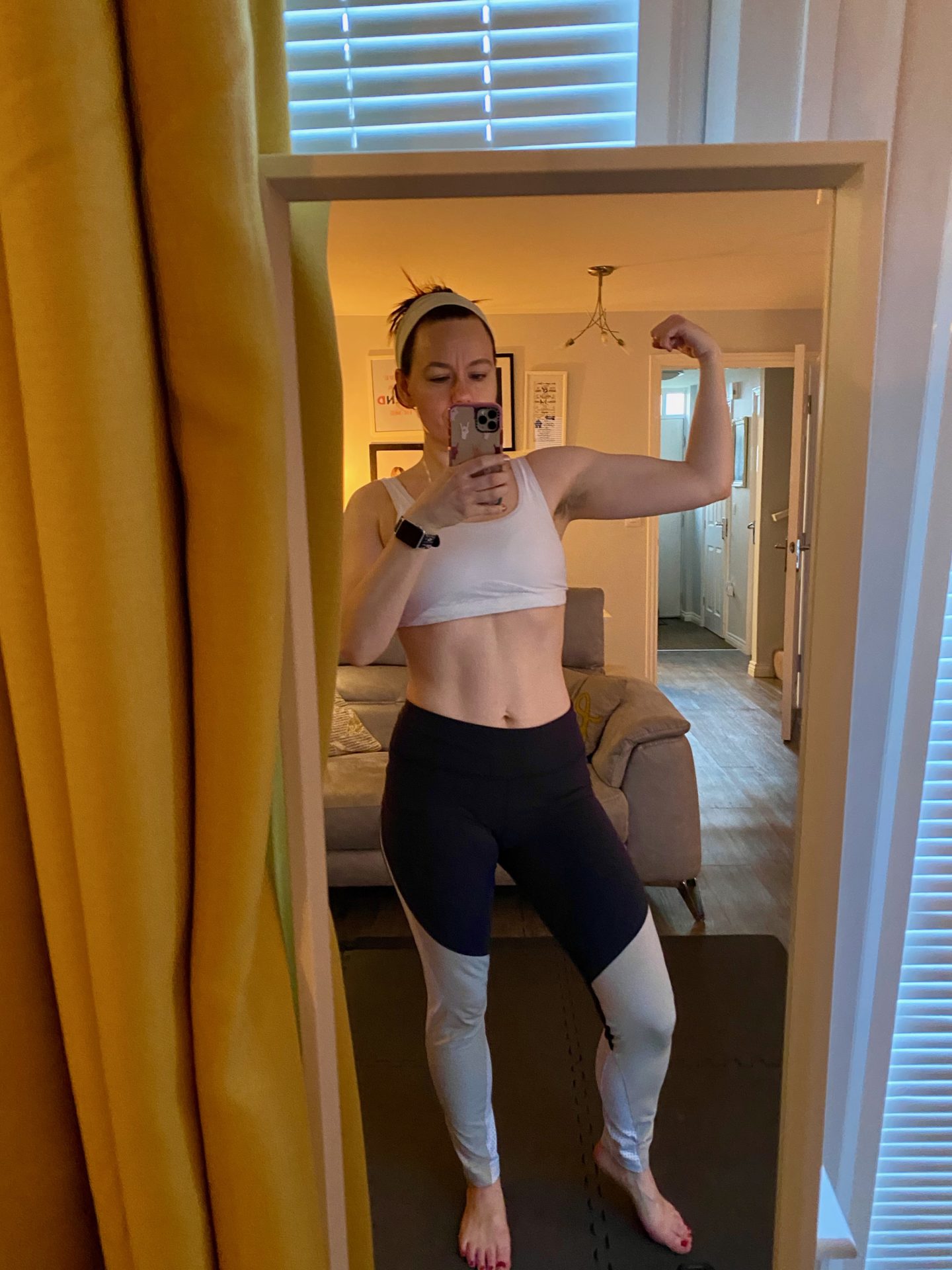 After breakfast, I jumped in the shower and used some of the lovely Liz Earle products my friend Laura had sent me as a wedding gift the day before which made it feel like such a treat. While I was doing this Papa Ginge was bathing the kids. Unfortunately, my (relatively short) shower used all the hot water which was a problem. We don't get much hot water before it runs out, we need to do something about that!
Once out the shower I dried my hair, straightened my fringe and spritzed a little dry shampoo on the underneath of my fringe to help it last for the day (I have a very oily forehead that makes my fringe greasy fast). I had mostly packed everyone's bags the day before. The children were staying at my sister's house that night and we were staying at the Hotel Du Vin in Newcastle so we needed our overnight/next day stuff as well as the stuff for the wedding. I packed the remaining items in the bags ready to be put into the car.
At 10am myself and my 4 year old went to get our hair done at a local salon. We were both getting waves done and Lena got a plait too. I was booked in for 10am and Lena 10.30am but they managed to actually do us both together sat next to one another at 10am which gave us half an hour back in our schedule which was appreciated. In the meantime, the boys were trying to get some balloons blown up with helium for our decorations but couldn't find anywhere to get them done.
Once home we had a cup of tea and some lunch while we had the chance. I wasn't hungry yet but I had makeup scheduled at 11.30 until 1 so I knew I wouldn't want to spoil my make up afterwards. I had a pitta bread with falafel, hummus, cottage cheese and spinach and cherry tomatoes. I'm pleased I ate then as if I hadn't, I wouldn't have got chance! I re-brushed my teeth just before make up so I had less food/tea breath for chatting to people later.
Make up
Then my make up artist, Becca from Becx Beauty arrived at 11.30am and we did make up until just after 1pm while Papa Ginge got himself showered and ready and then got the kids dressed. He had pre-ironed clothes earlier in the week to save us time.
I knew my make up artist Becca from the North East blogging community and I chose her because I like that she only uses cruelty-free products and she is super inclusive. I'm a sucker for good ethics. I also liked Becca's make up style. These days a lot of makeup artists go for a really heavy look with intense contouring and that's not a look I'm a fan of.
As I had planned the wedding so short notice, I didn't have time to do a trial first. Becca was super patient with me sending her looks I liked on Instagram and I was confident she 'got' what I was going for.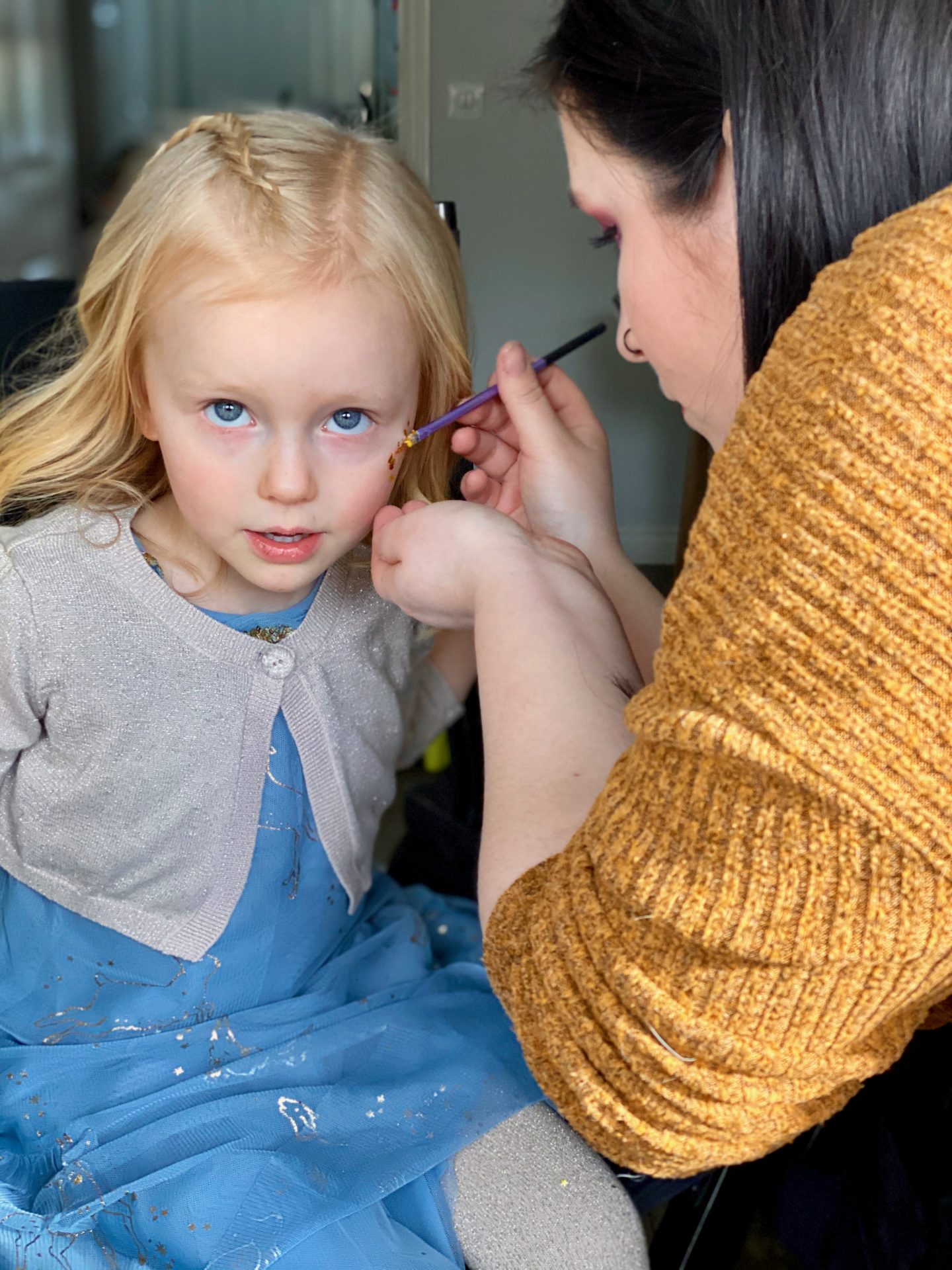 She arrived bang on time and kept letting me check how it was going and giving me a chance to ask for adjustments if they were required. Something I didn't anticipate is how useful it would be to get to try other cruelty-free products and find out my shades from Becca. I now have a little shopping list for next time I need products!
I loved the final look and it looked great on the photos and lasted all day and night. I'll definitely be using Becca again next time I need make up done for a special event.
I almost didn't get make up done as I didn't feel I could justify the expense on myself but I'm so pleased that I did. I think if I did it myself I would have been stressed out trying to get it done and keeping re-doing bits. Instead, I got to relax and be pampered and it added to the occasion of it and made it feel more special for me. I did my own nails the night before though!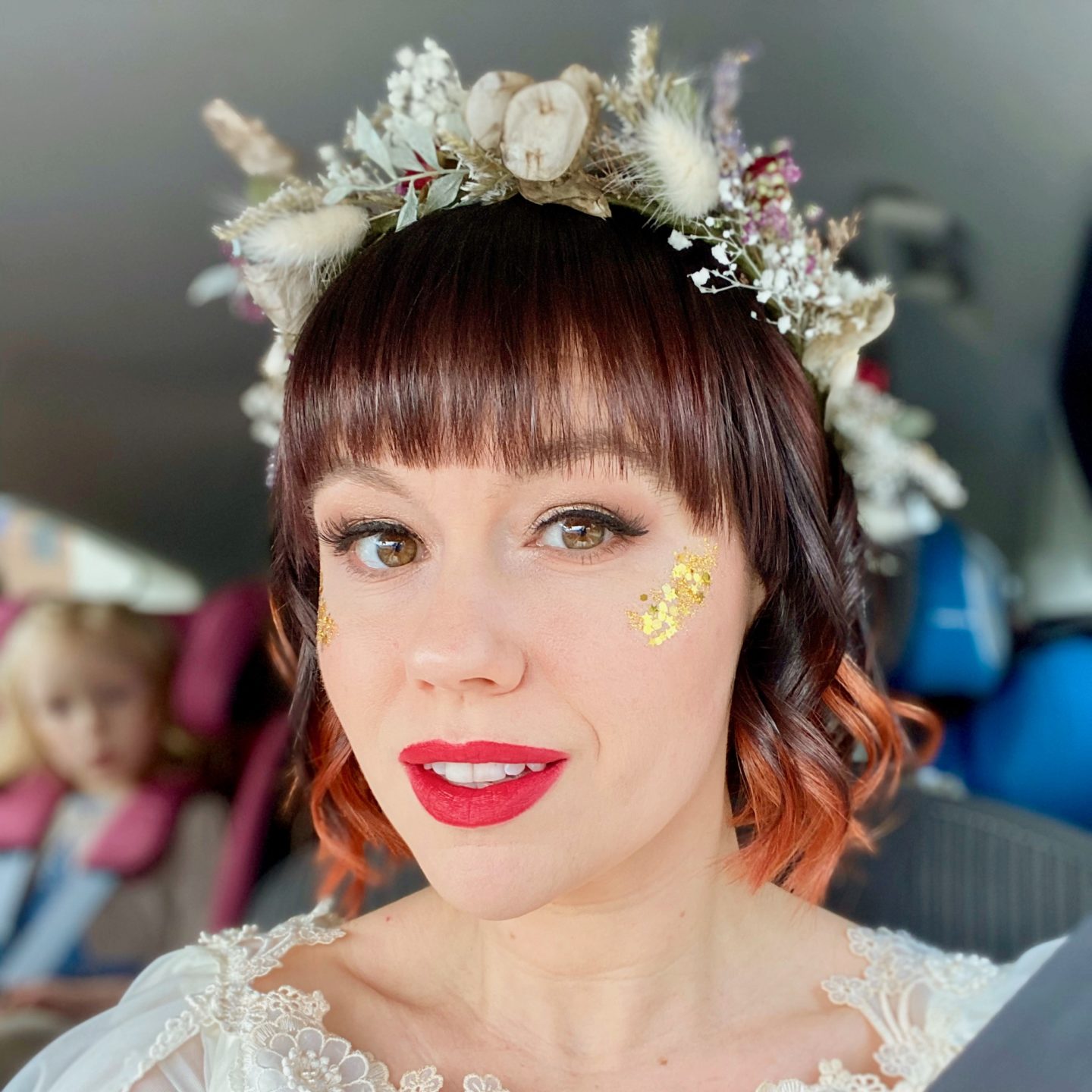 Parking at Newcastle Civic Centre Registry Office
Then I quickly got dressed and it was time to go. We were both a little anxious about getting there on time and where we would be parking etc.
As we pulled up to Newcastle Civic Centre, You Do Something to Me by Paul Weller was playing on the radio which felt very apt and I think will be one of 'our songs' going forward.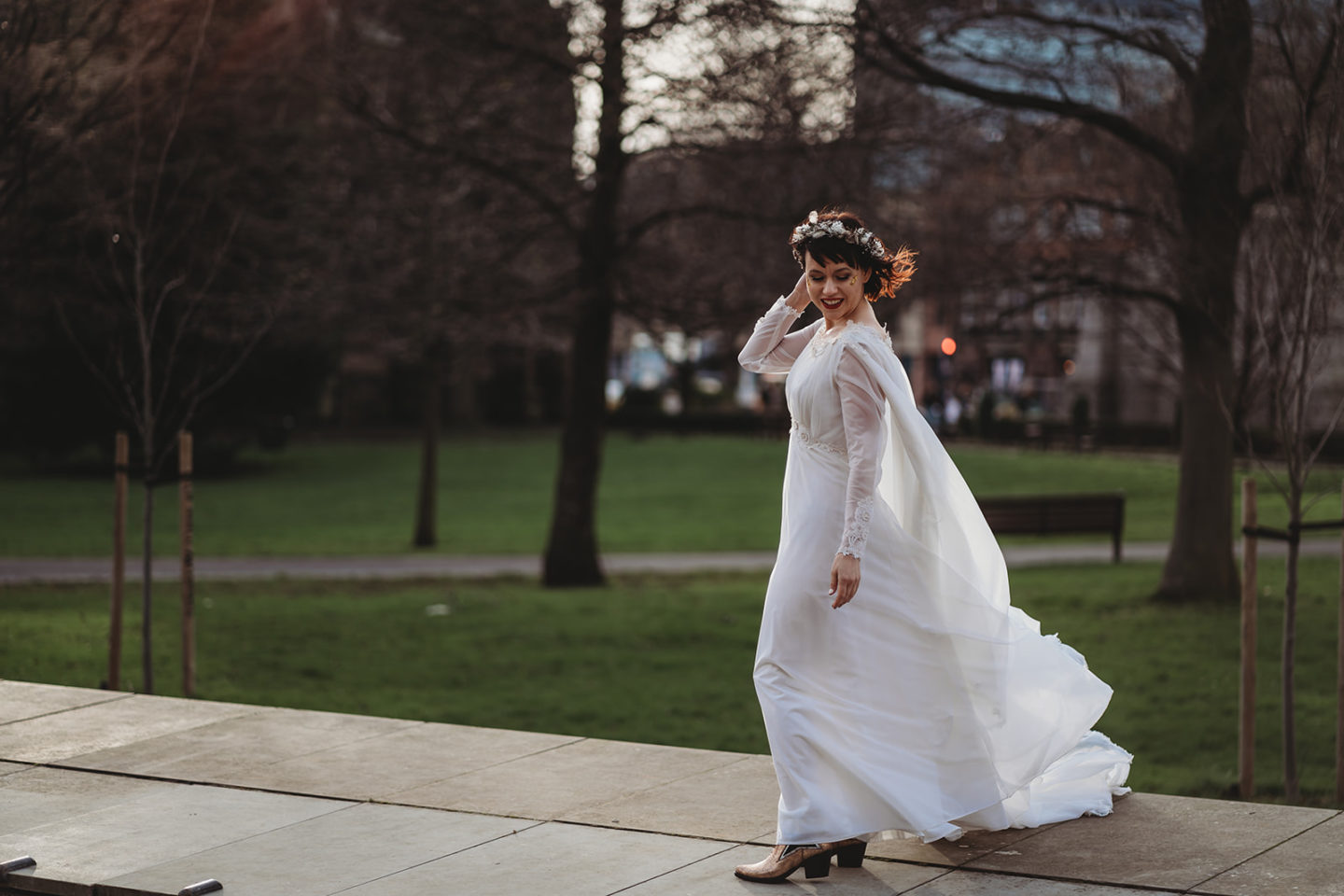 We were a little confused about where to park but you can literally park right in front of the doors to the Civic Centre wedding entrance, or just around the corner. I jumped out of the car to ask as we weren't sure! Some signage would have been helpful. We were also able to park right outside the Civic Centre wedding entrance for the whole time, as in we didn't have to move the car afterwards when getting the photos done. This was really helpful for getting there and leaving afterwards as it is central Newcastle. They let you take 2 cars through there. It was more convenient than I had anticipated.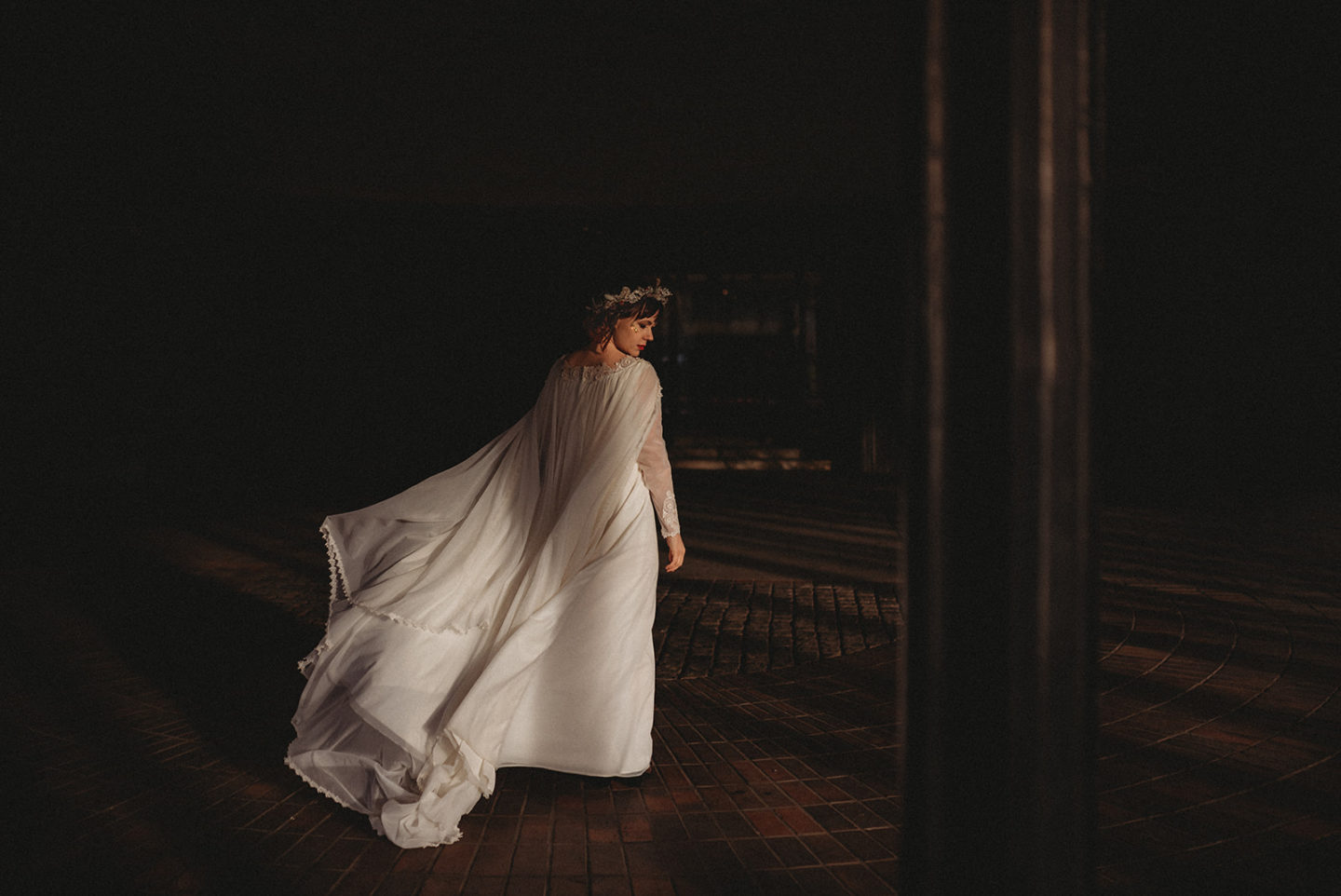 Newcastle Civic Centre wedding – Registry Office for the ceremony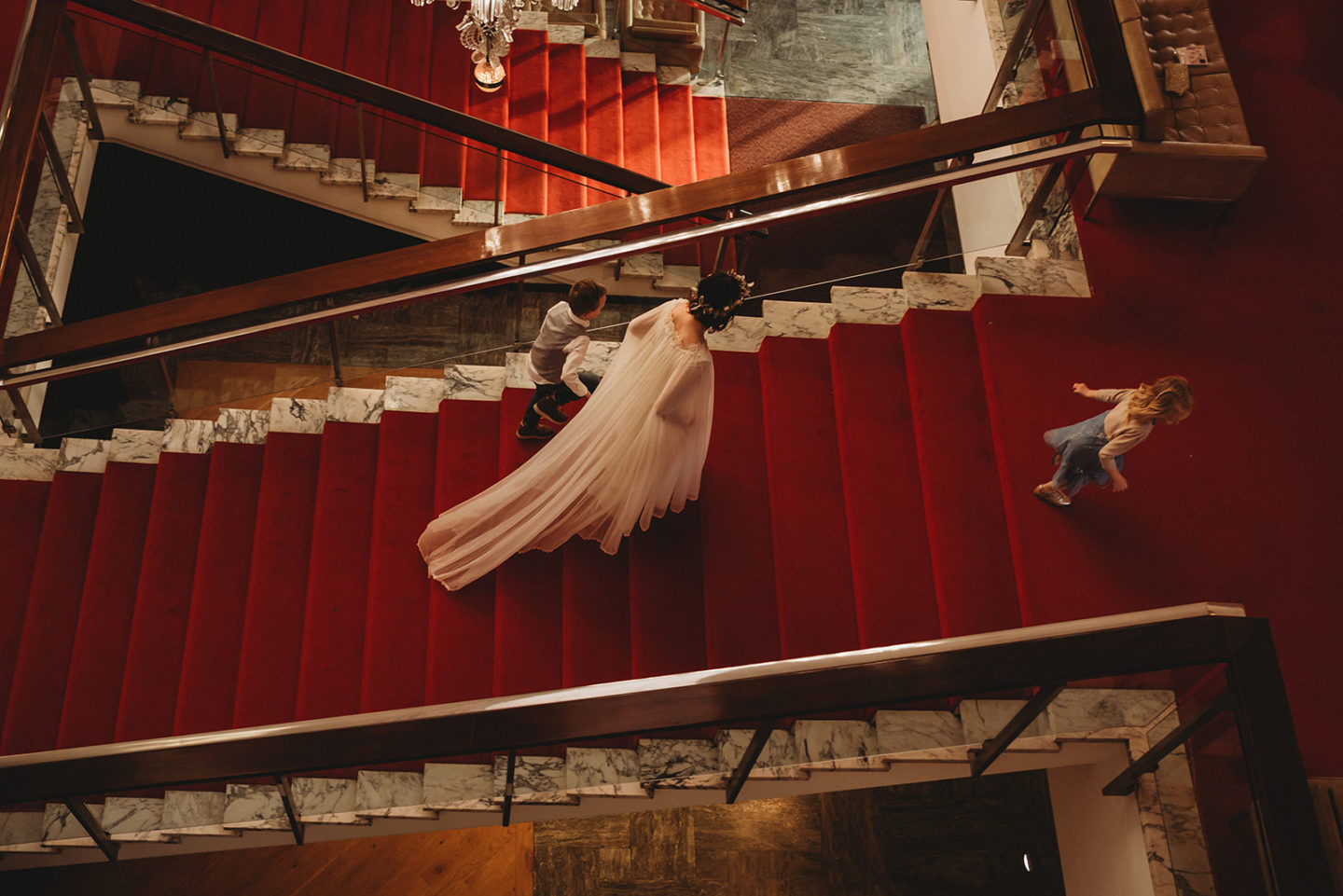 We were greeted at the door by a staff member who took us up to the waiting room. We had our parents as witnesses and they were all upstairs when we arrived.
I vaguely remember the mam's gasping a little and saying I looked nice but it was hard to take stuff in. I felt a bit awkward and distracted if I'm honest. It's struggling to recall memories like these that made me wish I had got a videographer.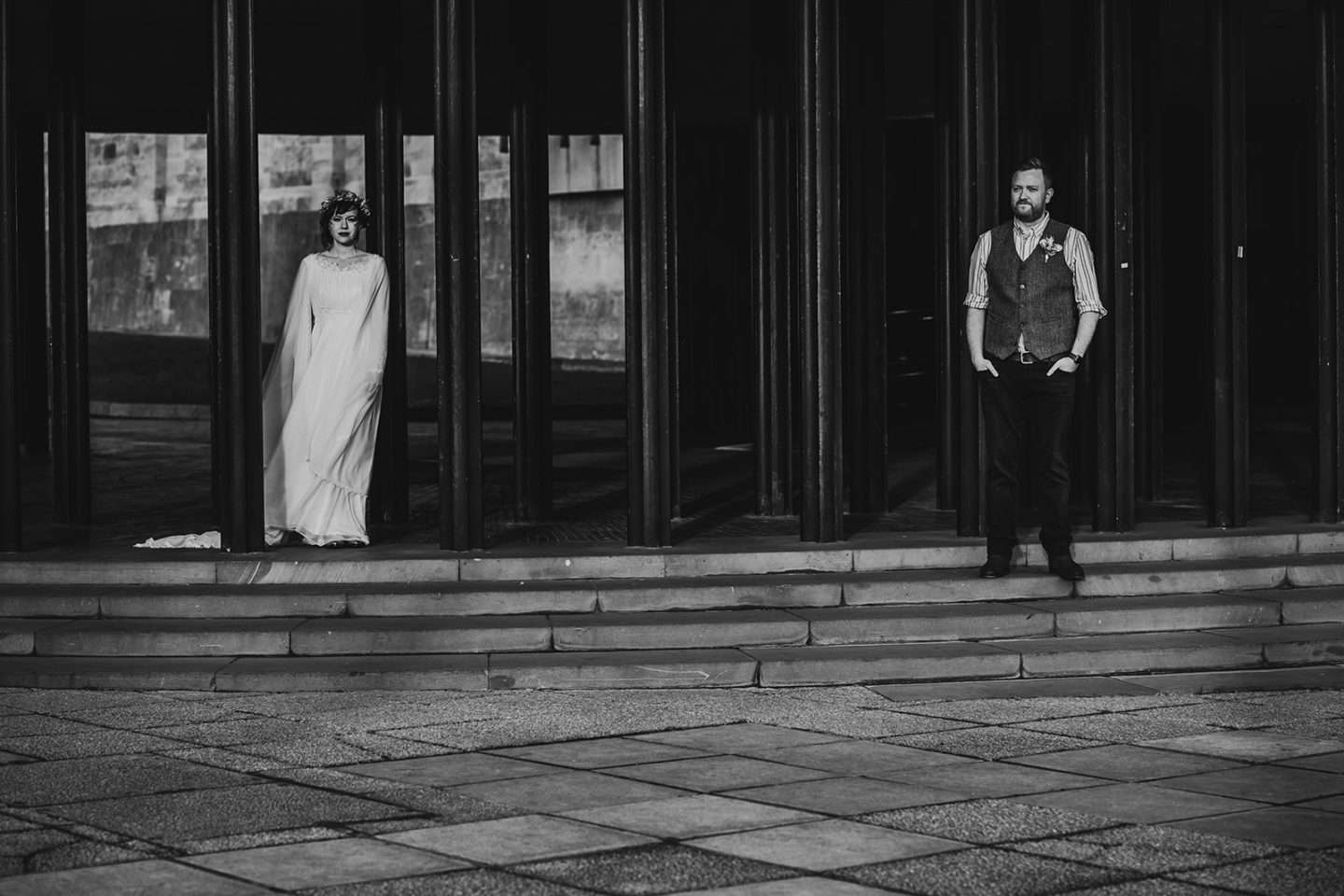 The waiting room was an unexpected treat. I think it was decorated in the 70s and has come back into fashion. Either that or they have recently invested in an interior designer who is well into mid-century interiors. It went really well with my outfit! I loved it.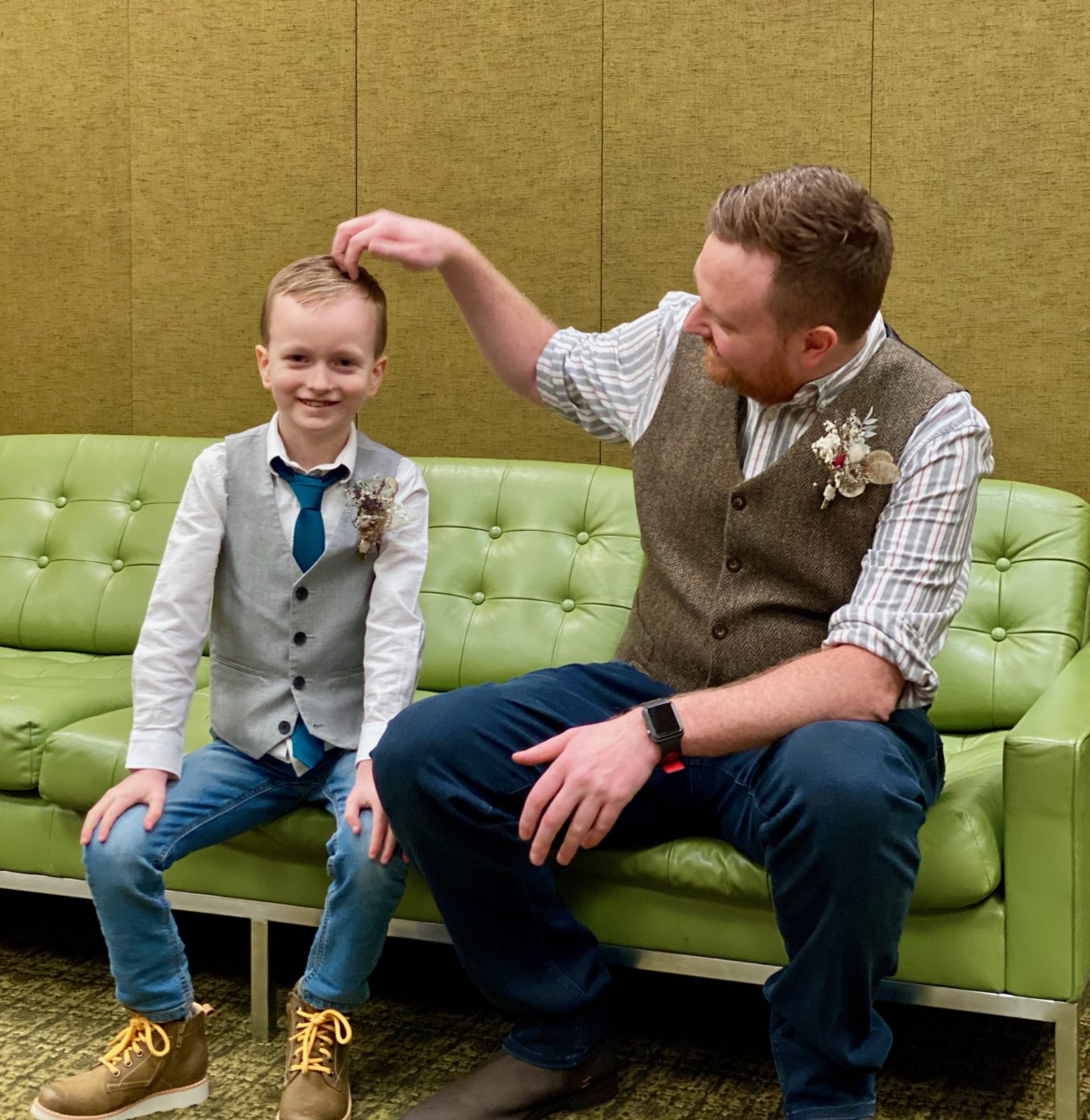 Lena kept trying to run around and kept running out to look through the glass barriers. We were up a couple of floors and despite there being barriers it made me nervous so I kept having to pull her back in. At one point she had snuck out without anyone noticing which could have been dangerous. Luckily I noticed before anything happened to her but it was very distracting. Also, despite us getting her a £25 flower crown made she took it off before we even got into the waiting room as it was 'too spikey'. This is one of the many reasons why you are meant to get married BEFORE kids.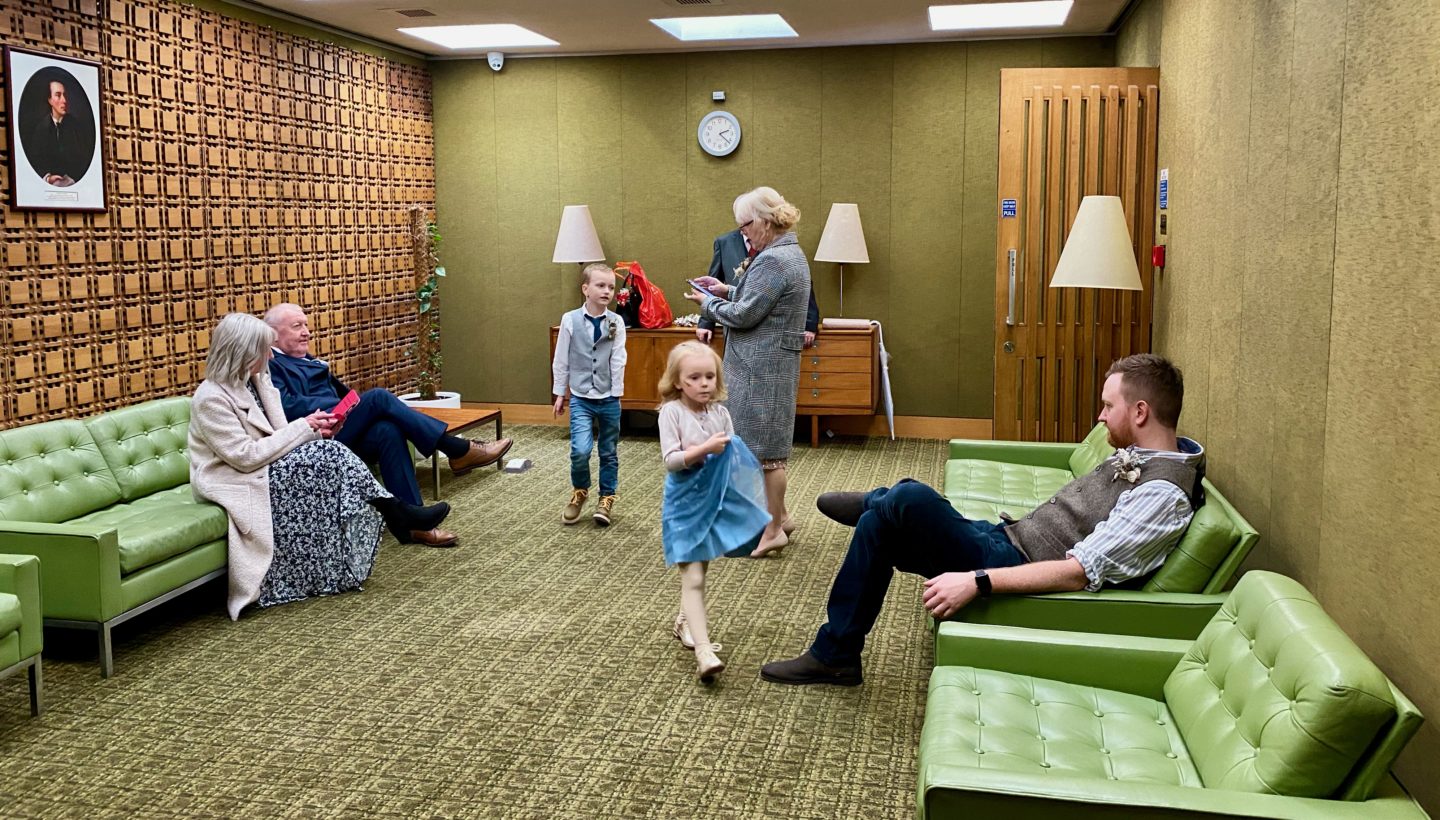 All the staff at Newcastle Civic Centre were wonderful. After a short wait, they called myself and Papa Ginge into the room to talk us through what would happen.
The room was really nice and cosy. There was a desk with one staff member who was doing the documentation and then we stood to the side of it in front of the Registrar who was performing the ceremony.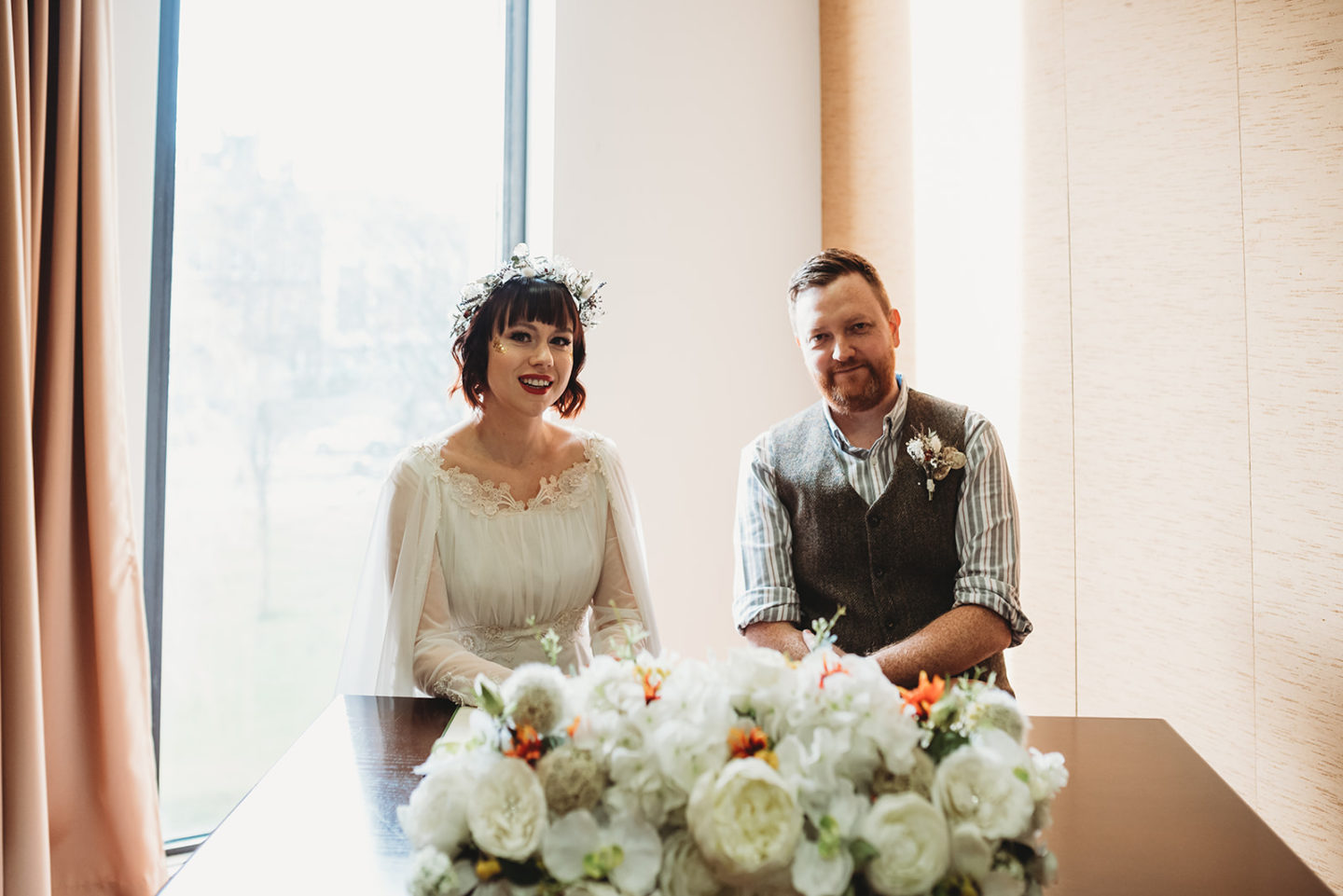 I wasn't expecting to stand because we were going for an informal ceremony but they asked if it was ok and we said we were fine, we just hadn't prepared ourselves mentally for it.
There were 4 seats for our witnesses and as we were standing the children could sit on our spare seats. At one point Lena had pinched her Gran's brolly and was inadvertently hitting her grandad's in the face with it which made me chuckle.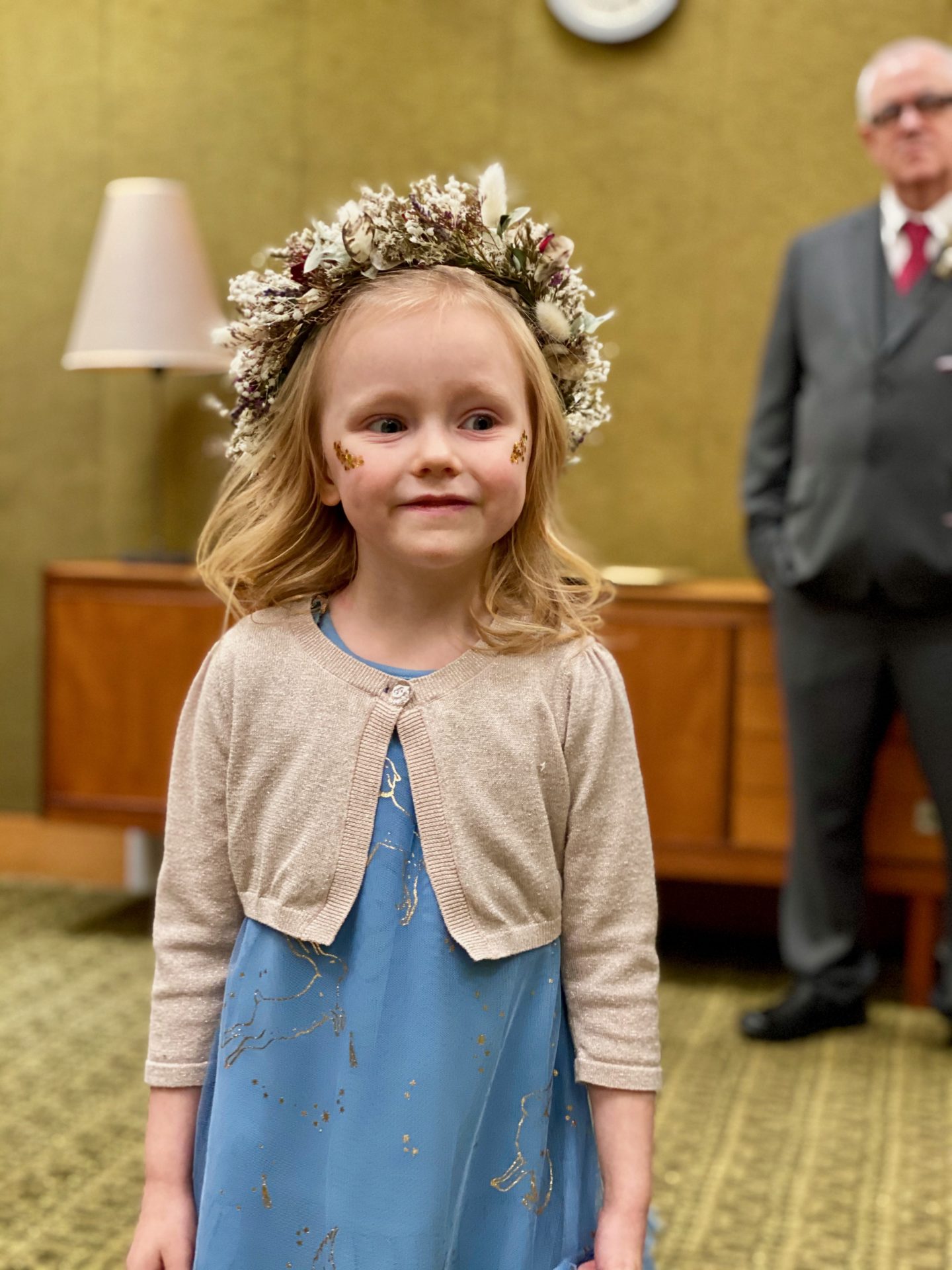 Prior to the wedding day, we had been sent a form with some vows to select from. There were 3 options for each part of the ceremony. We chose the simplest plain English options, forgoing any old fashioned language or ceremony. We also removed the part of the ceremony about exchanging rings as we had decided not to do rings.
As a result, I had expected that the ceremony would be very basic, just our vows, sign the paper and be done. However, the ceremony was a bit more elaborate than that. The Registrar spoke a lot about love which made me cringe a bit. I didn't know what to do with myself or my hands. I felt incredibly awkward and in my head.
Papa Ginge said he felt a bit emotional but I didn't. I just felt awkward. I think it was all because in my head I had envisaged sitting down and standing up made it feel so much more formal than I had anticipated/wanted.
My mam recorded the ceremony and you can see how awkward I felt even just watching it. We just aren't a romantic lovey dovey couple so it felt a bit inauthentic to me. It's why we were avoiding a formal ceremony in the first place. That said, I'm sure it was better for our guests and it did feel special and intimate. I became a lot more relaxed when I got to sit down and sign the book afterwards.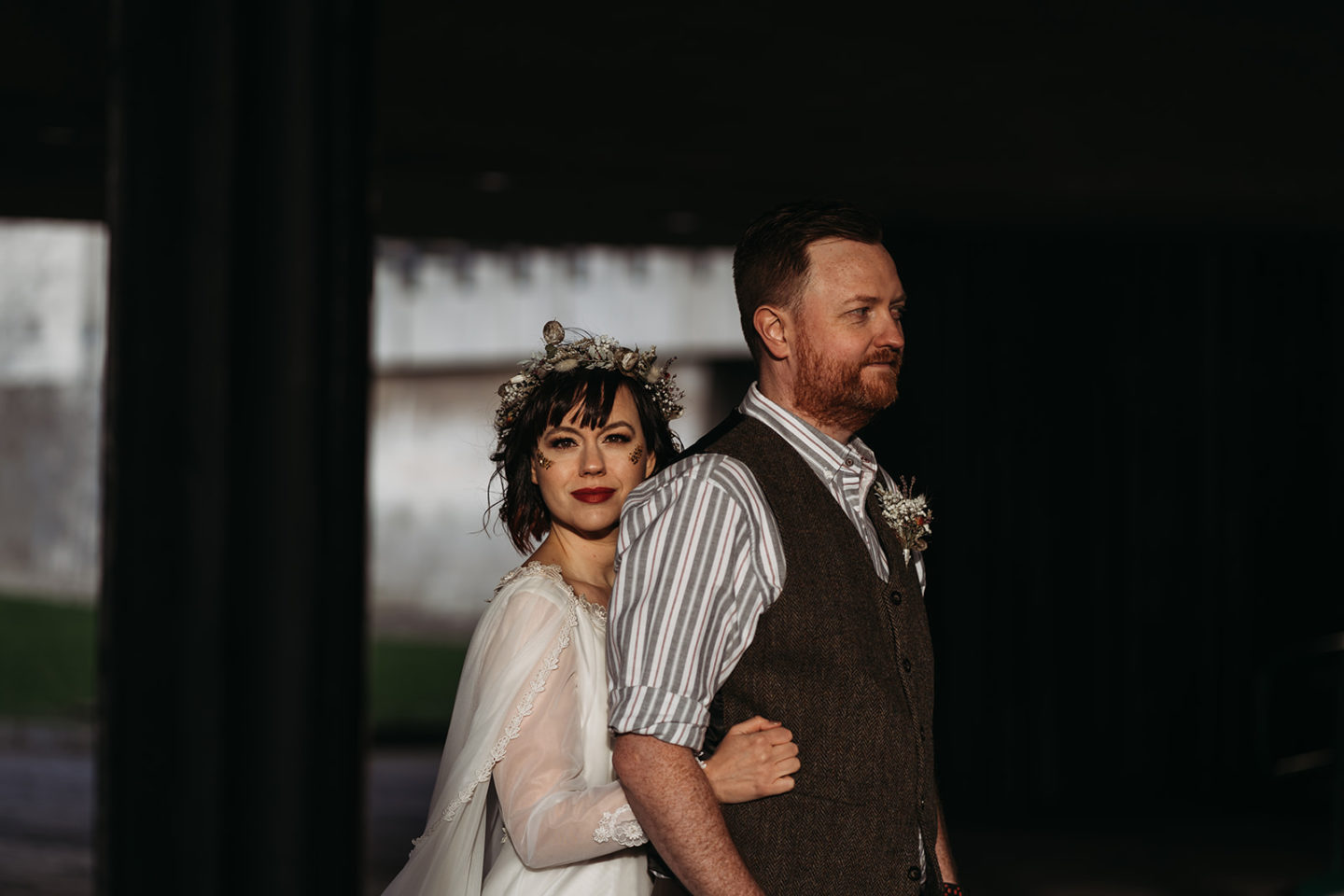 Photography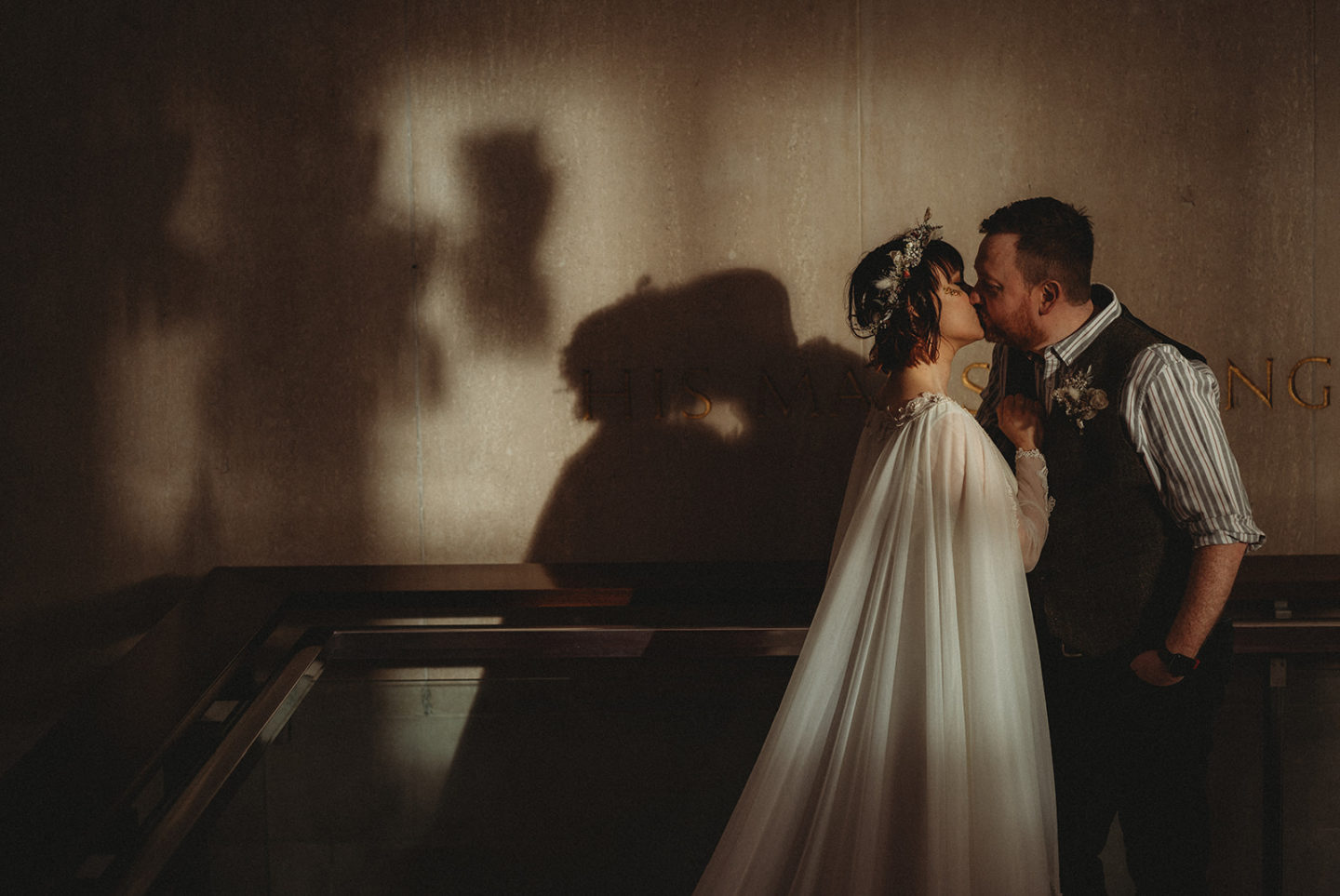 As we were signing the documents, our photographer Fiona arrived bang on time to get a couple of staged photos of us signing. Then I had scheduled an hour for some photography with Fiona. We had pretty good weather for February – it was bright and there was a teeny bit of drizzle once but otherwise dry.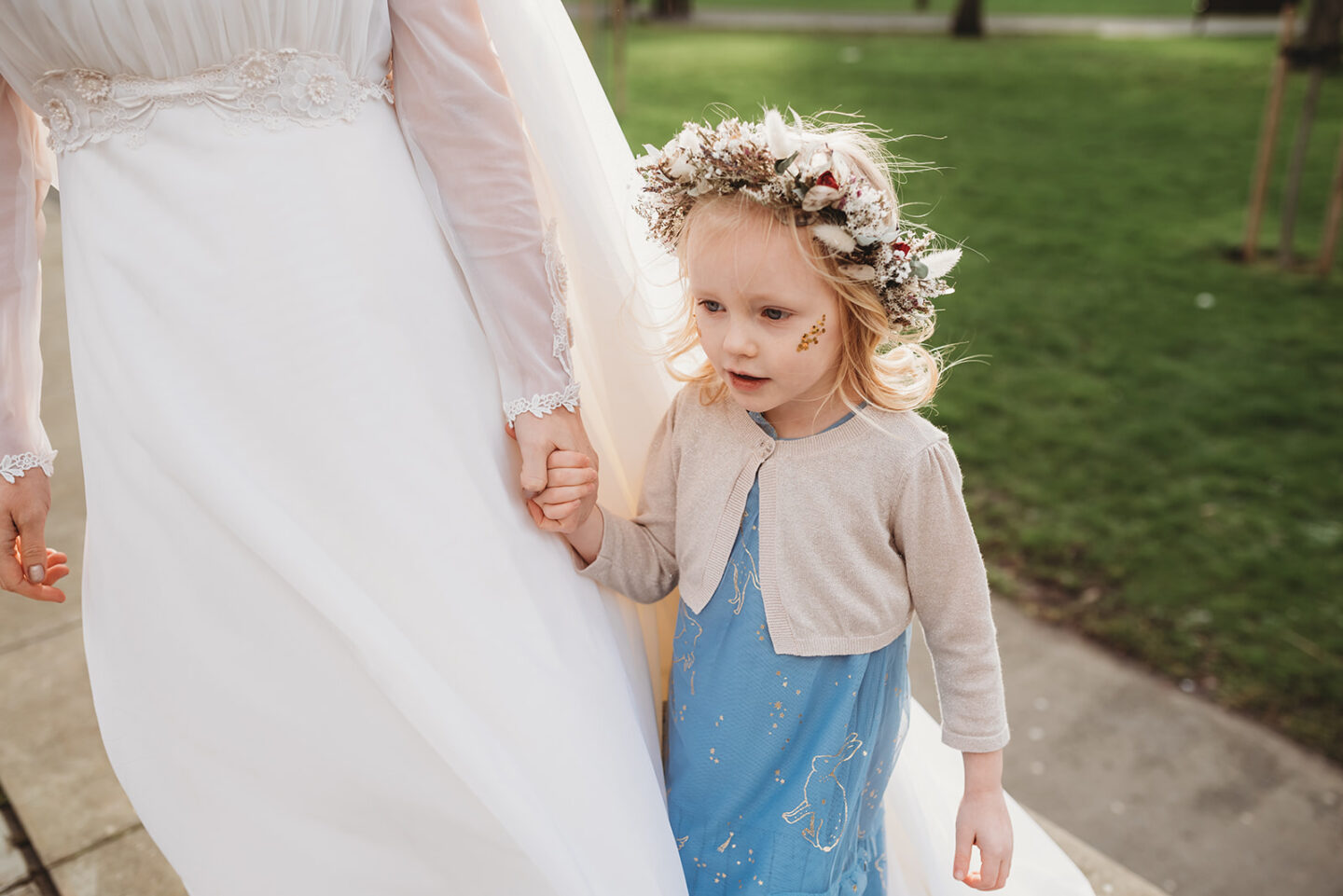 However, we were in the middle of 'Storm Dennis' so it was incredibly windy and cold. It meant my cape was blown out to full effect which was looked impressive but meant my hair got blown all of over the shop and my flower crown nearly blew off which wasn't so great. Try maintaining a fringe in a gale. It's not easy let me tell you!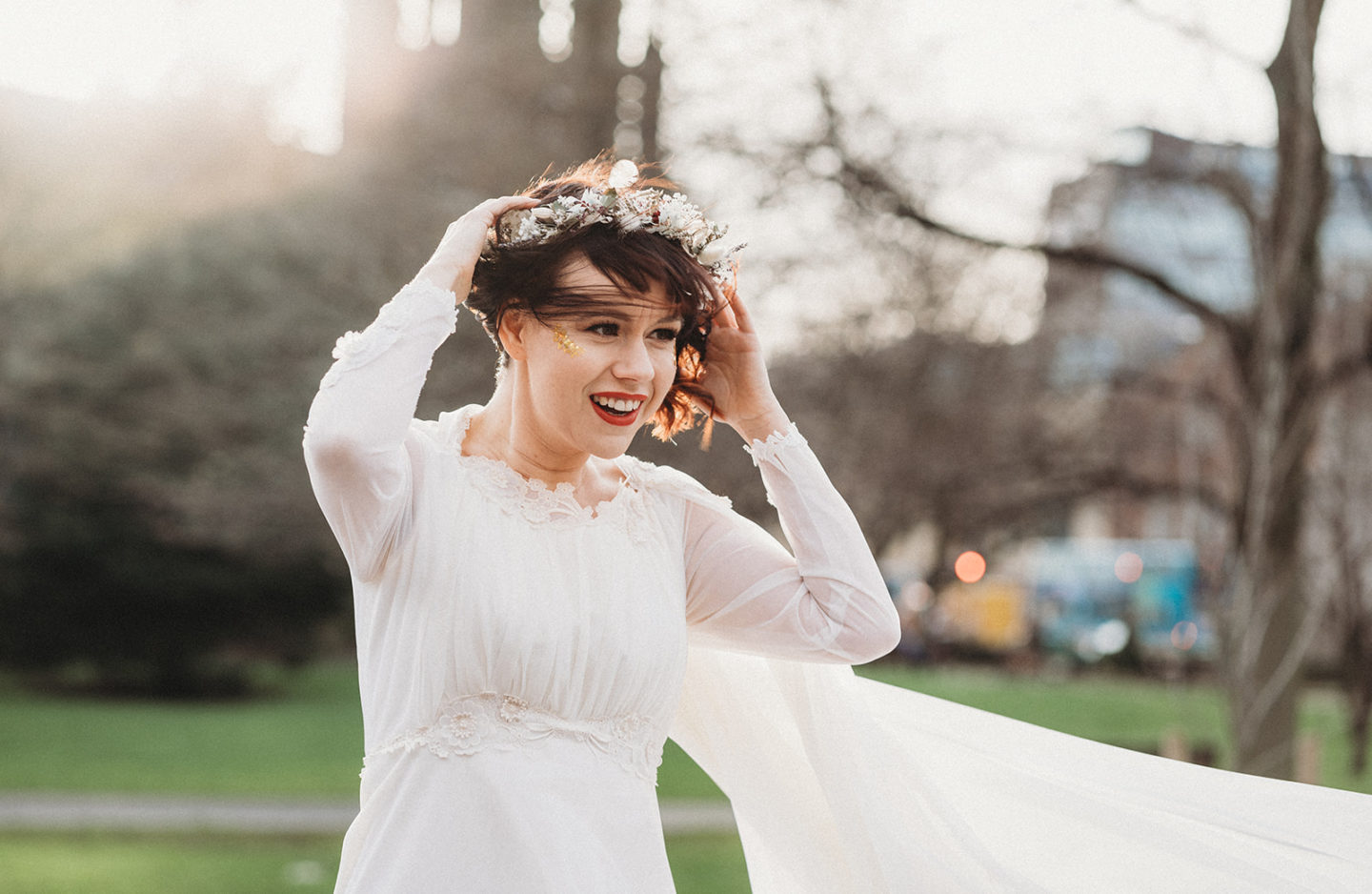 I only scheduled an hour for photos as I knew we wouldn't have much patience for it – the kids especially. I also knew it would be very cold for everyone to be outside mid-February – which it was. An hour was plenty. The photos ended up being a bit more posed than I anticipated. I prefer candid shots but it's hard to do that when the photographer isn't just among party guests.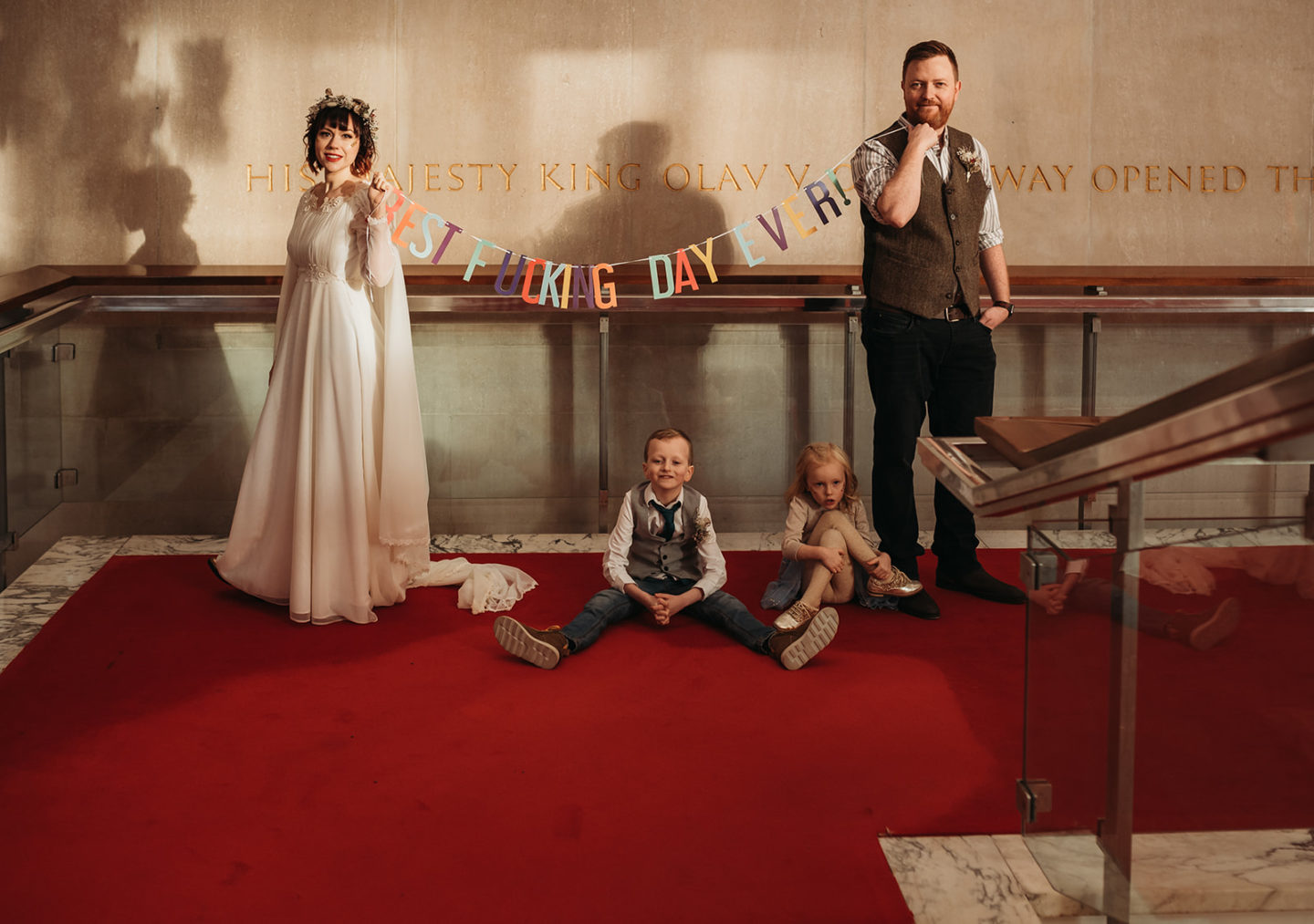 We had planned to get some shots outside with some interesting architecture of the Civic Centre but sadly they had closed that off to be an internal structure now that you can't access. We shot outside for a while trying to make the most of the sun as it was beginning to set. I love the way Fiona uses light and dark in her photography which is one of the reasons why I chose her for our photographer. Also, she's photographed me breastfeeding before so I knew that we clicked.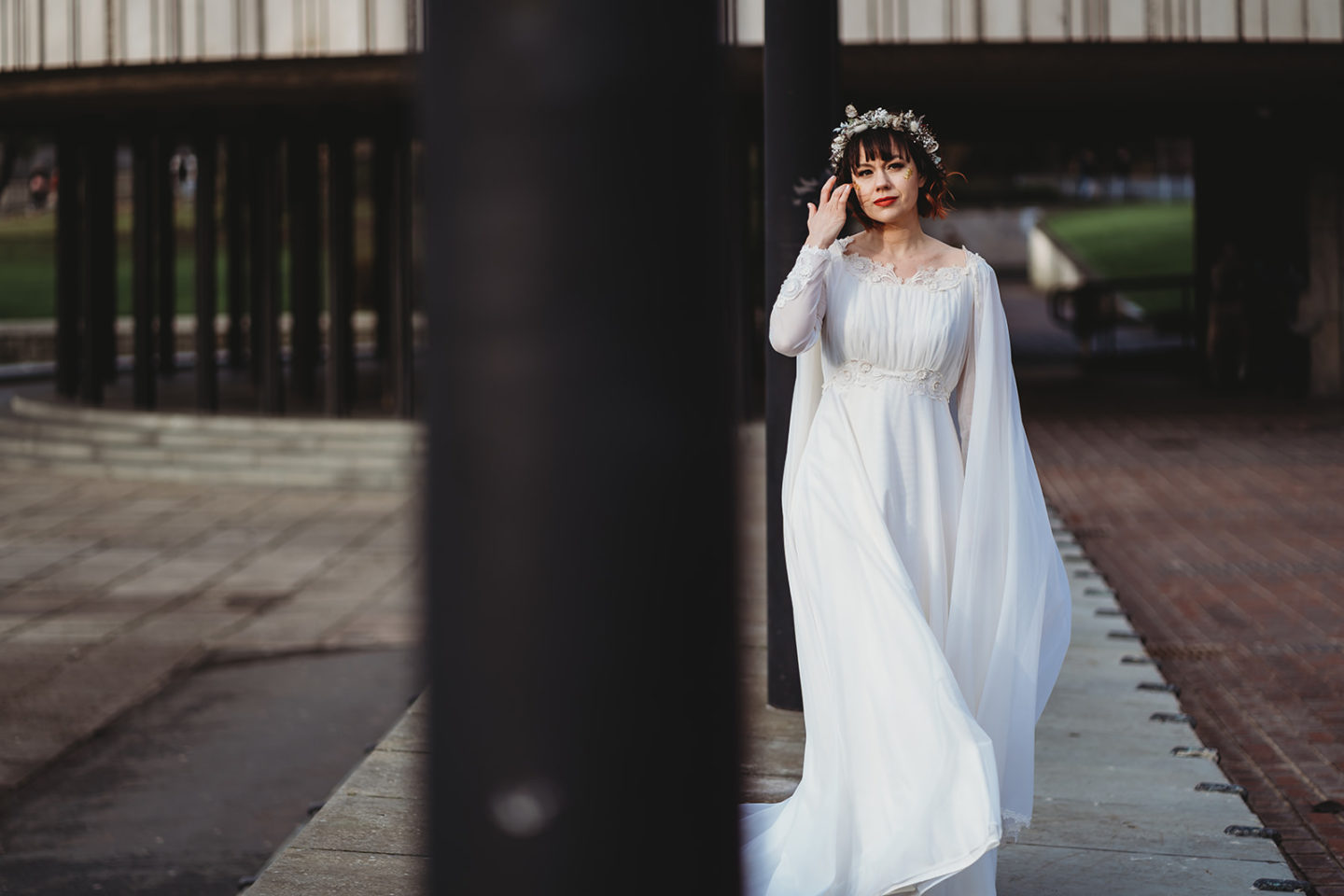 We took some group photos with our parents and then called them an Uber to move on to the next venue as they were too cold. Then we moved inside for some final photography in the warmth.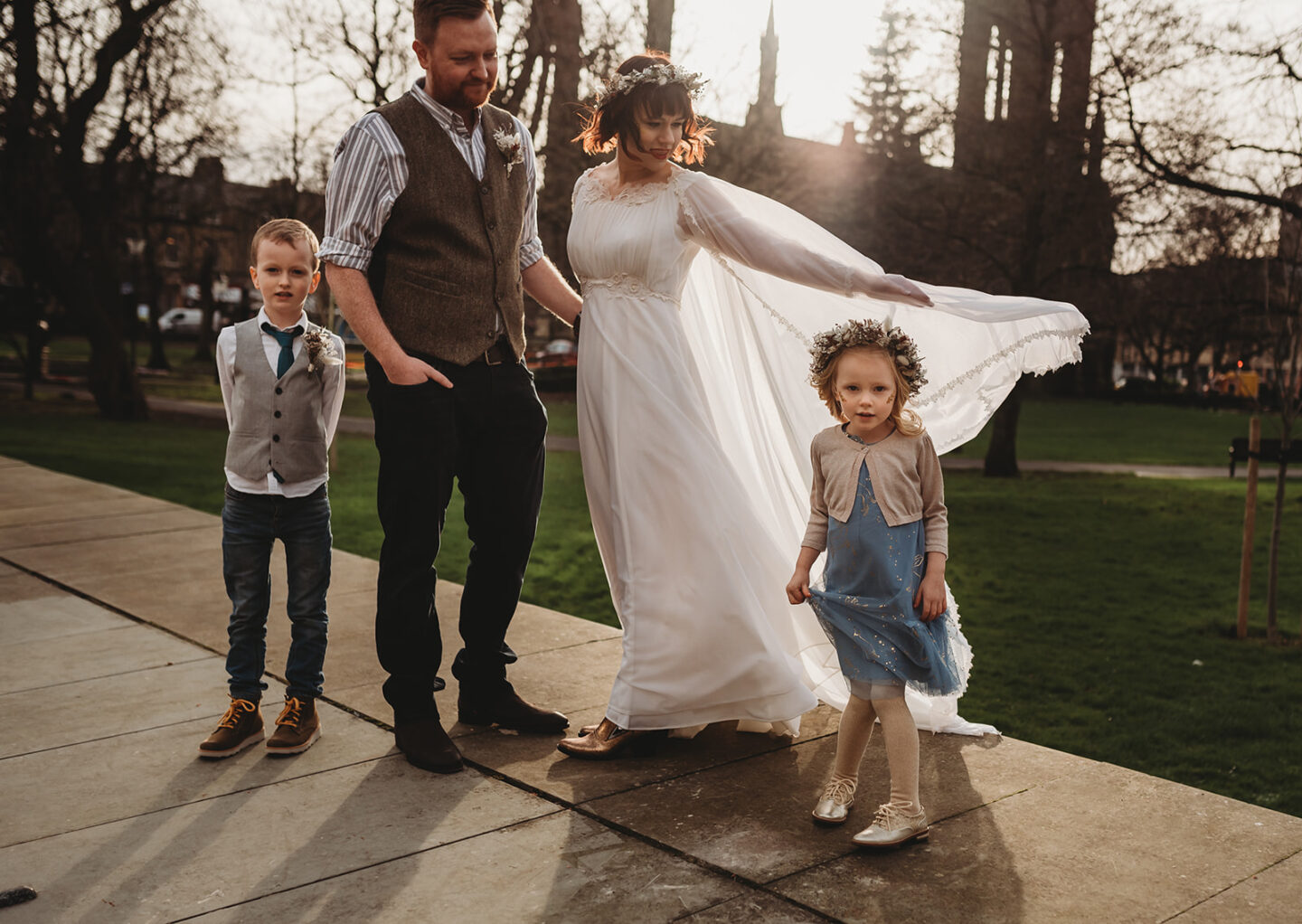 Newcastle Civic Centre was actually way prettier than I was expecting it to be which was a pleasant surprise. There was a beautiful red-carpeted staircase with a huge chandelier and gold embossed writing on stone walls.
Fiona is such a great photographer she was able to get some impressive shots even though the lighting was a little dim. I wouldn't hesitate in recommending Newcastle Civic centre for anyone wanting a low key wedding, it was so much more than I was anticipating. I'm so pleased we chose to go there.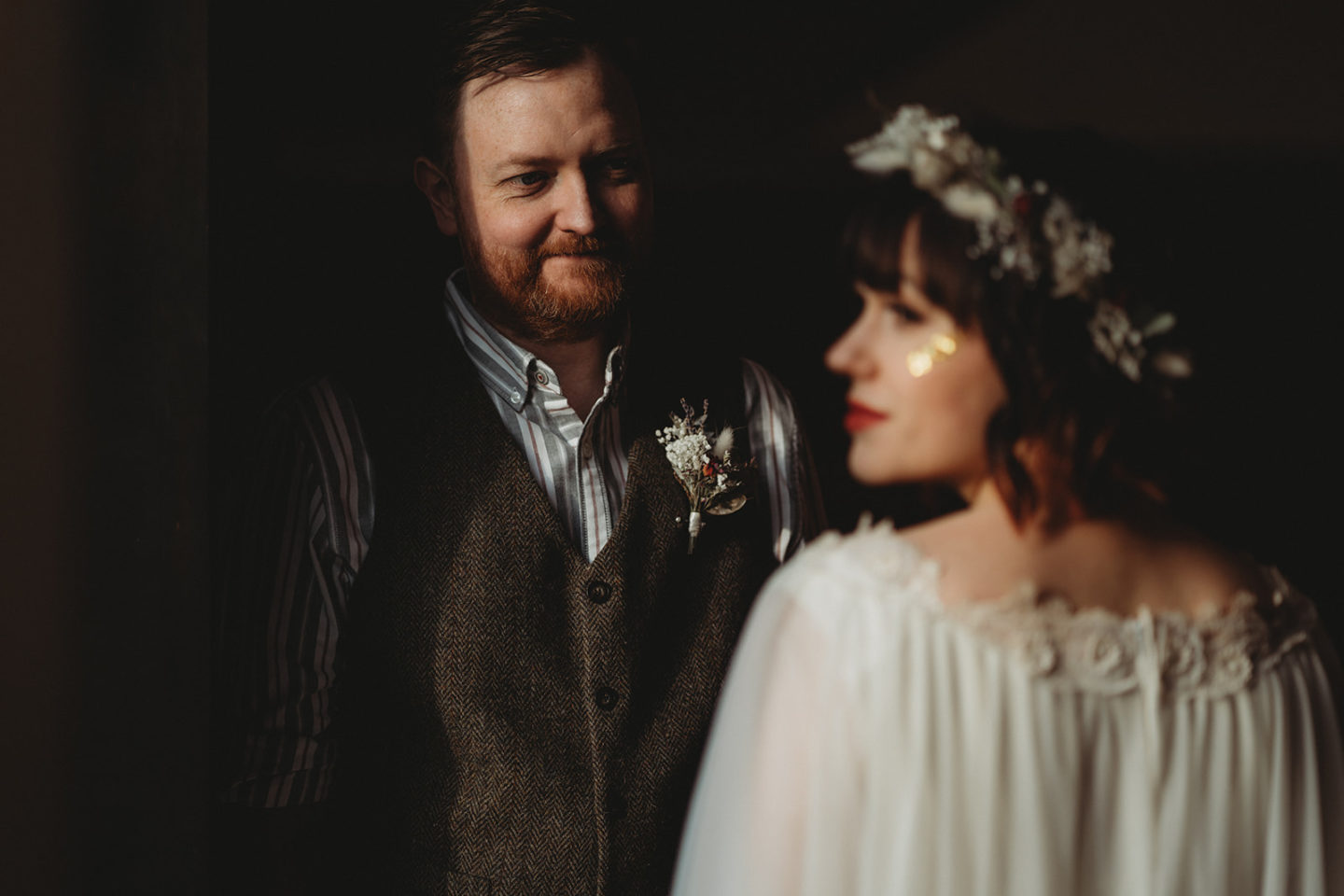 By the time we had reached an hour the kids' patience was truly used up so we said our goodbyes and thank yous to Fiona and hopped in the (our own) car to the Hotel du Vin at the Ouseburn, Newcastle.
Hotel du Vin – wedding meal
We got the stuff out of the car and went and met our guests in the lounge area where we had a welcome glass of prosecco each with fresh berries to put in them. It felt really good to have a drink and finally relax.
Hotel du Vin Newcastle Executive Suite
We had booked the executive suite at the Hotel du Vin for the night so we checked in there and took our stuff to the room. One of my regrets from the days was my bra was really uncomfortable to the point of it actually hurting me and taking away from the day. Popping back to the room meant I could readjust slightly and be a little more comfortable (though still deeply uncomfortable, I vow to never wear underwire again) and freshen up before popping back down to our guests.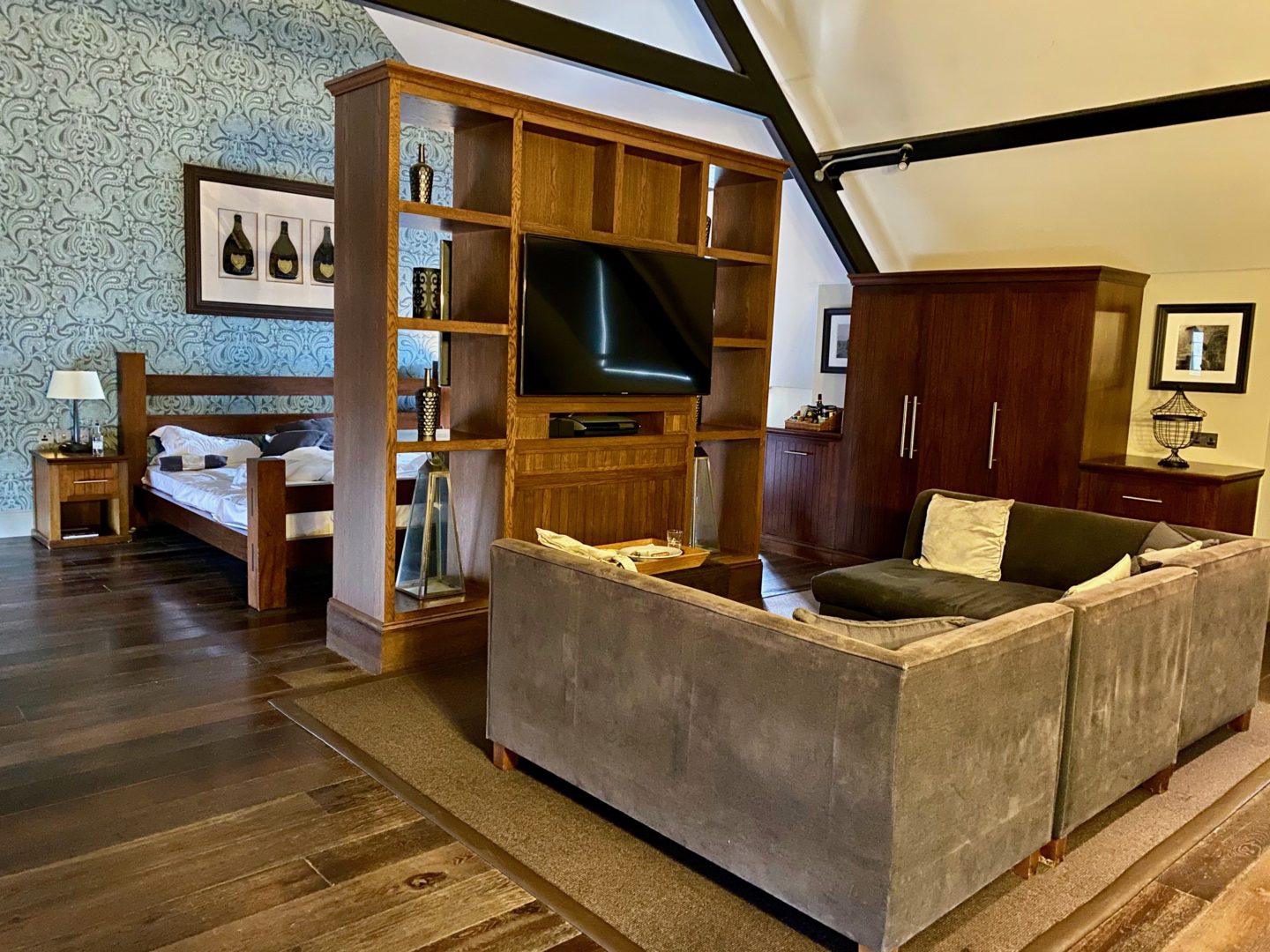 The executive suite was amazing. Huge and really impressive looking with lots of dark wood, two flat screen TVs and 2 free standing baths in the room. I'm hoping we can return for our first year anniversary as sadly we didn't get to make the most of the room as we were busy downstairs with our wedding guests all night. The most we really saw of the room was actually bringing our guests upstairs to see the room!
I also thought Hotel Du Vin missed a trick in making a personal gesture with the room. We had booked both their best suite and their private dining room, they knew it was our wedding night but there was no token gesture in the room. I was expecting there to be a card and bottle of fizz or something of the like. For example, when we stayed at Rudding Park, we had mentioned it was our 10 year anniversary and there was a small 1/2 bottle of wine in a chilled bucket and 2 glasses waiting for us. Small gestures like that make all the difference. We spent around £1000 there – half the entire cost of our wedding so I think it's a shame they didn't go the extra mile with a small special gesture.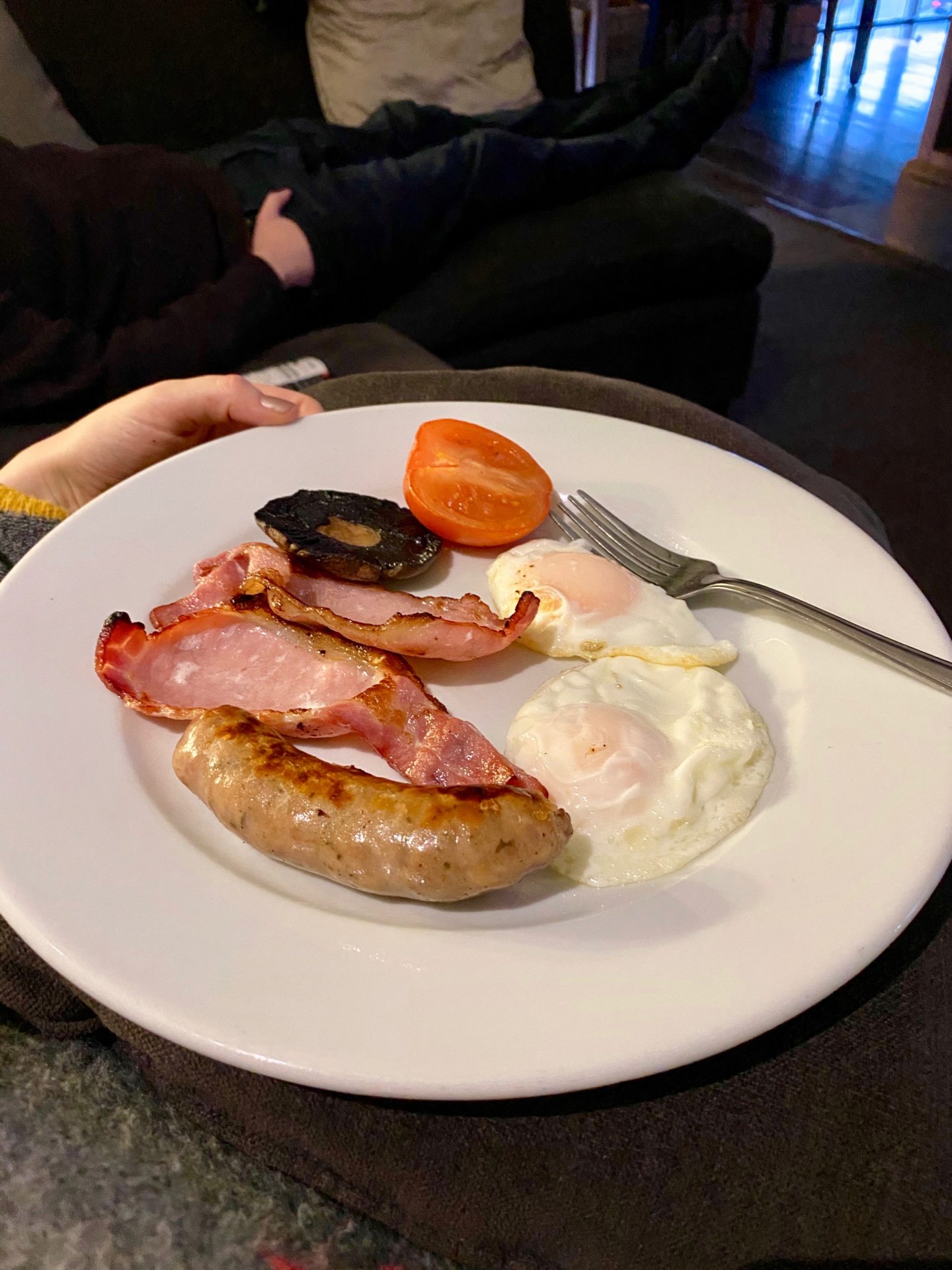 Hotel du Vin Shipyard private dining room
We had booked the Hotel Du Vin Shipyard private dining room for the evening. We had 12 adult guests and 6 children – our immediate family – parents (and partners) and brother/sister and their families.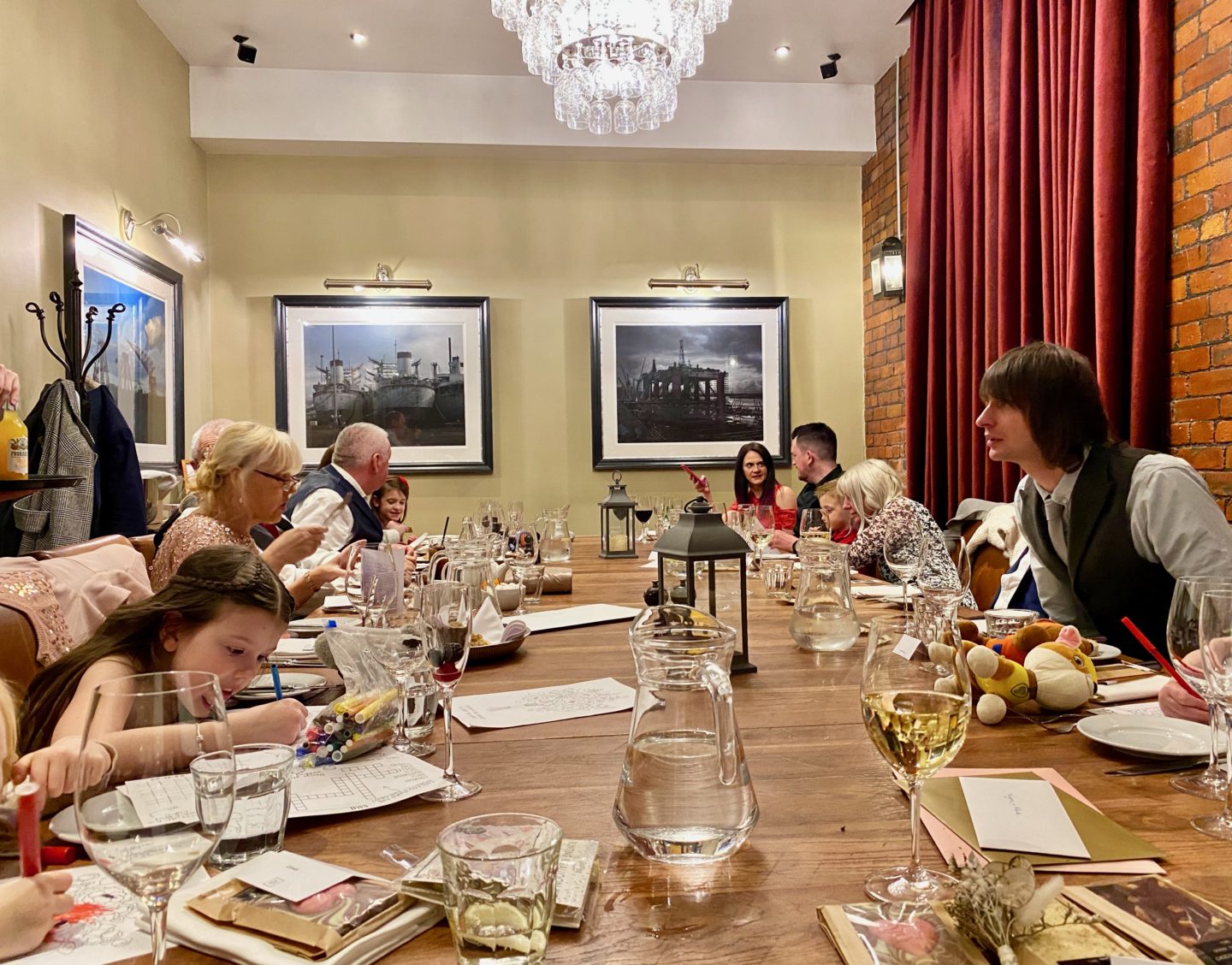 I would have loved to have extended this out to cousins and aunts/uncles but sadly we just couldn't afford to cover the costs for that amount of people. Plus then it would take it from being low key like we wanted. Doing it this way meant that Papa Ginge and I were able to pay for everyone's food and drinks for the evening.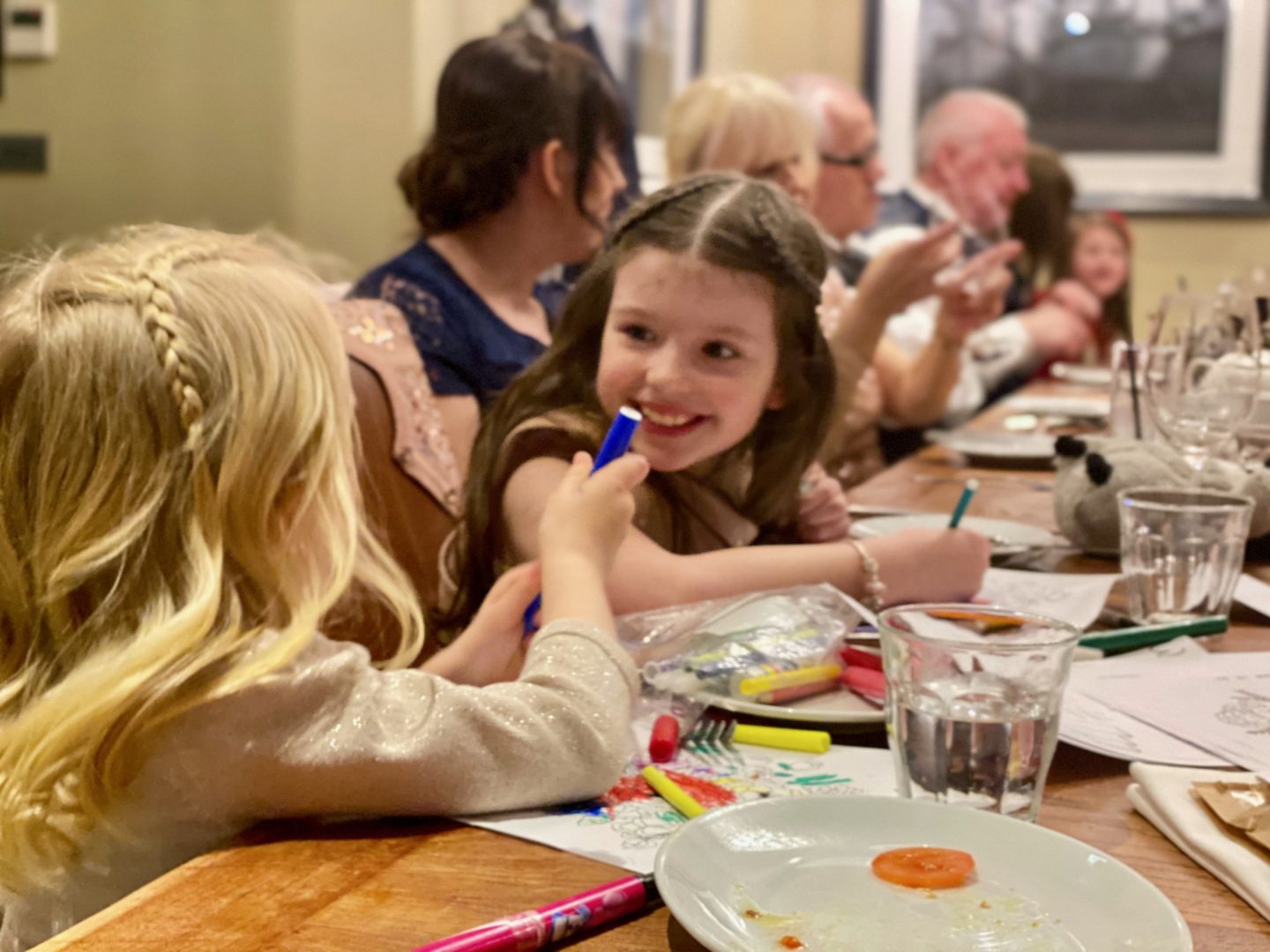 The room was great – it was a little tight but it was cosy. I had made a (banging, if I do say so myself) playlist for the meal that we were able to play through the speakers of the room via Bluetooth on my phone. This made the meal feel really special for us as I had chosen songs that were meaningful to us as well as alternative love songs that created the right atmosphere for us. We had some issues with connecting the music initially and then it went off a couple of times but other than that it was all good.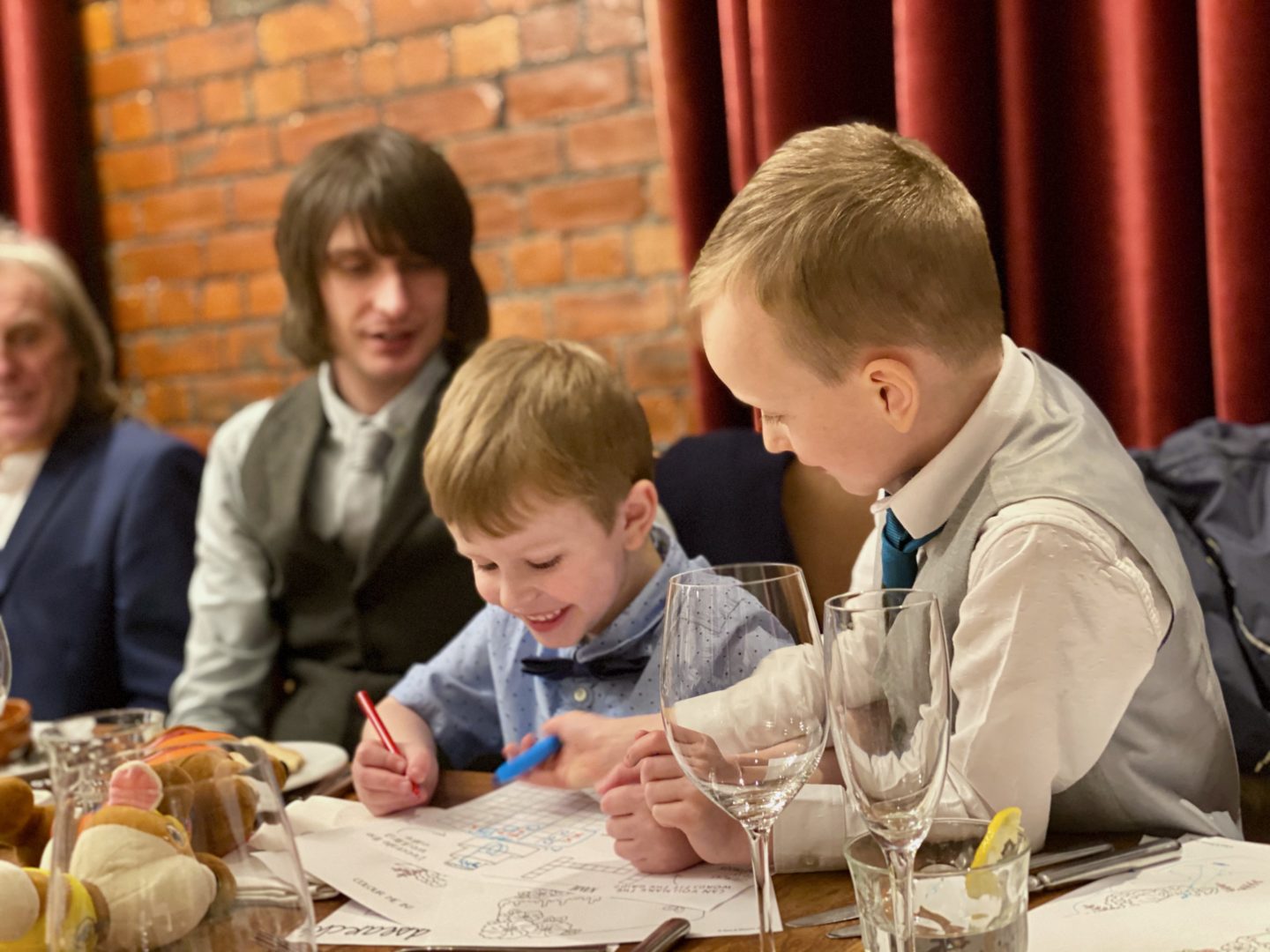 The staff at Hotel Du Vin were great, especially Stacie who helped us make the booking and made sure everything was right for the night and Luke our main waiter for the night who was full of charisma and charm who wooed our guests and made sure they were well looked after and topped up.
There were two seats at the head of the table where we sat but I wish we had sat in the middle as we ended up sitting next to all the kids and found it difficult to speak to the majority of our guests at the other end of the table during the meal. I wanted to nosey at the food options other people had ordered that I hadn't ordered! After the meal we got up and wandered around though.
My new brother in law and sister in law had thoughtfully brought along a beautiful Paperchase guest book and an Instax camera so we could take lots of photos during the meal and stick them in the book alongside messages from our guests. Some of these photos are my favourite from the day as they are so much more relaxed, fun and more 'us'. I will treasure the book and I'm so grateful to them for bringing it. It really added to the occasion and made it feel more special.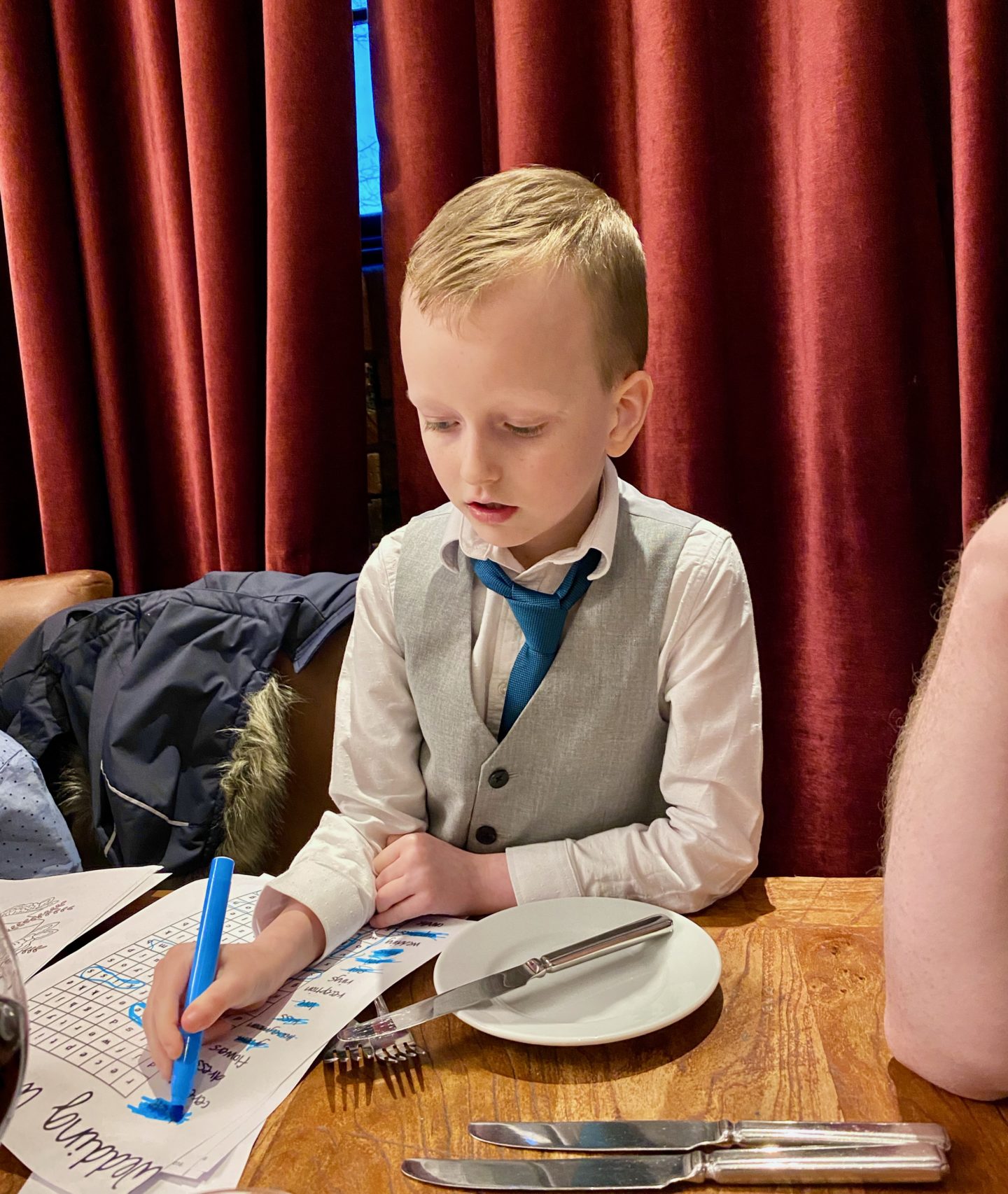 The night time celebrations with friends
The kids started to get tired around 7pm and my parents/sister etc had a 30 minute drive to get them back to County Durham for a sleepover so they left around that time.
It was so special having our children as part of the day – both during the ceremony and with us at the meal. They really got to be part of it all and it was all about us, the amazing family we have created, rather than just Mark and I as a couple.
The kids were excited to have a sleepover with their cousins. It was nice to be 'off duty' once they had gone though and I could relax a little more without having to 'be a mam' (aka hypervigilant) for the night.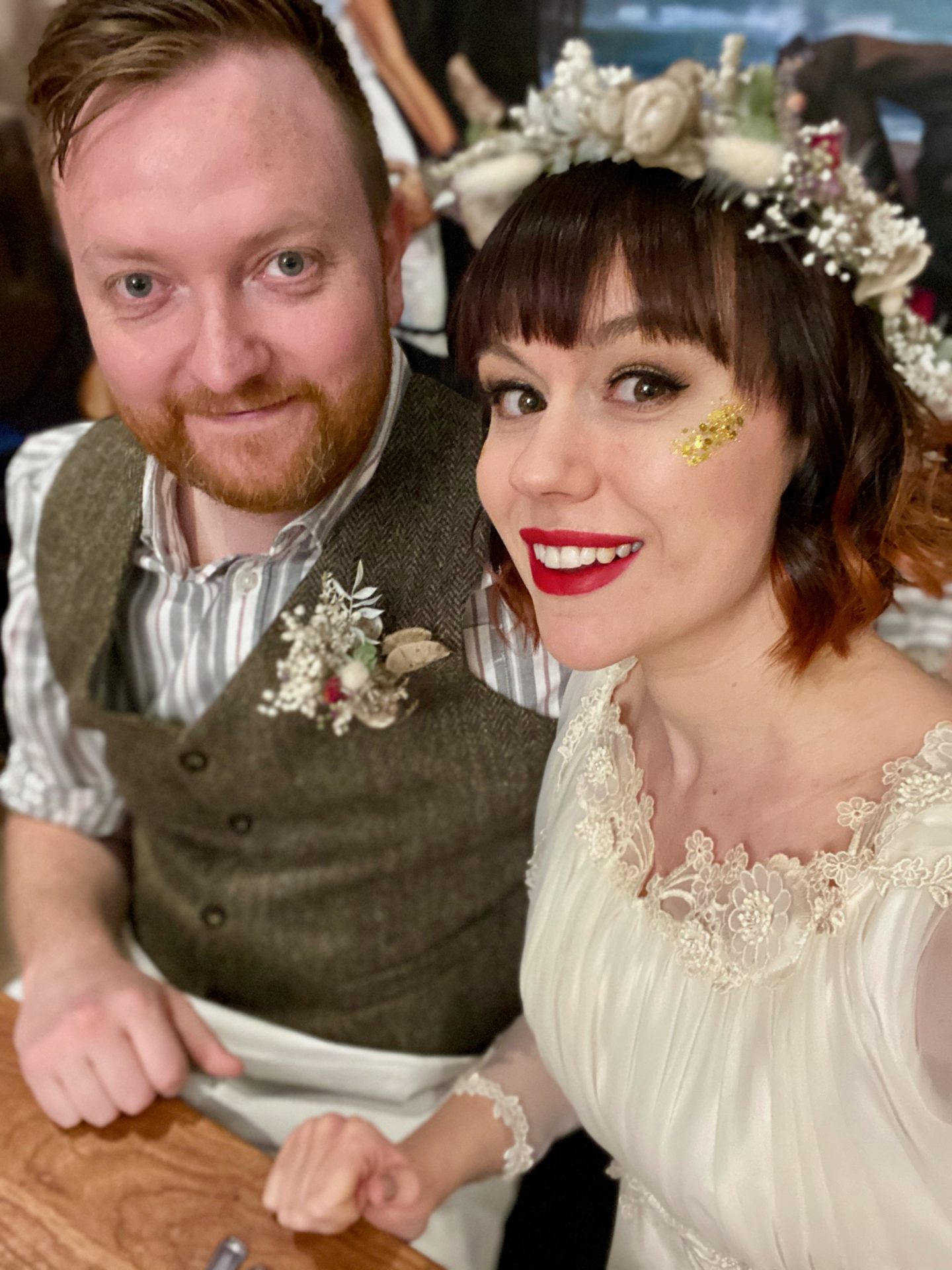 One regret I have is that I didn't lock down the evening plans properly beforehand. Our plans for the evening were that we were just going to get changed and meet our mates in Newcastle for regular Friday night drinks in Newcastle in the pubs and bars that Papa Ginge used to frequent when we were first going out.
I had told Papa Ginge I wanted let our friends know a location and time the day before so that it was arranged. Papa Ginge wanted to just go with the flow and text them during the day. He reassured me saying they knew it would be Newcastle, around 8pm so it didn't matter if they found out which bar a couple of hours before.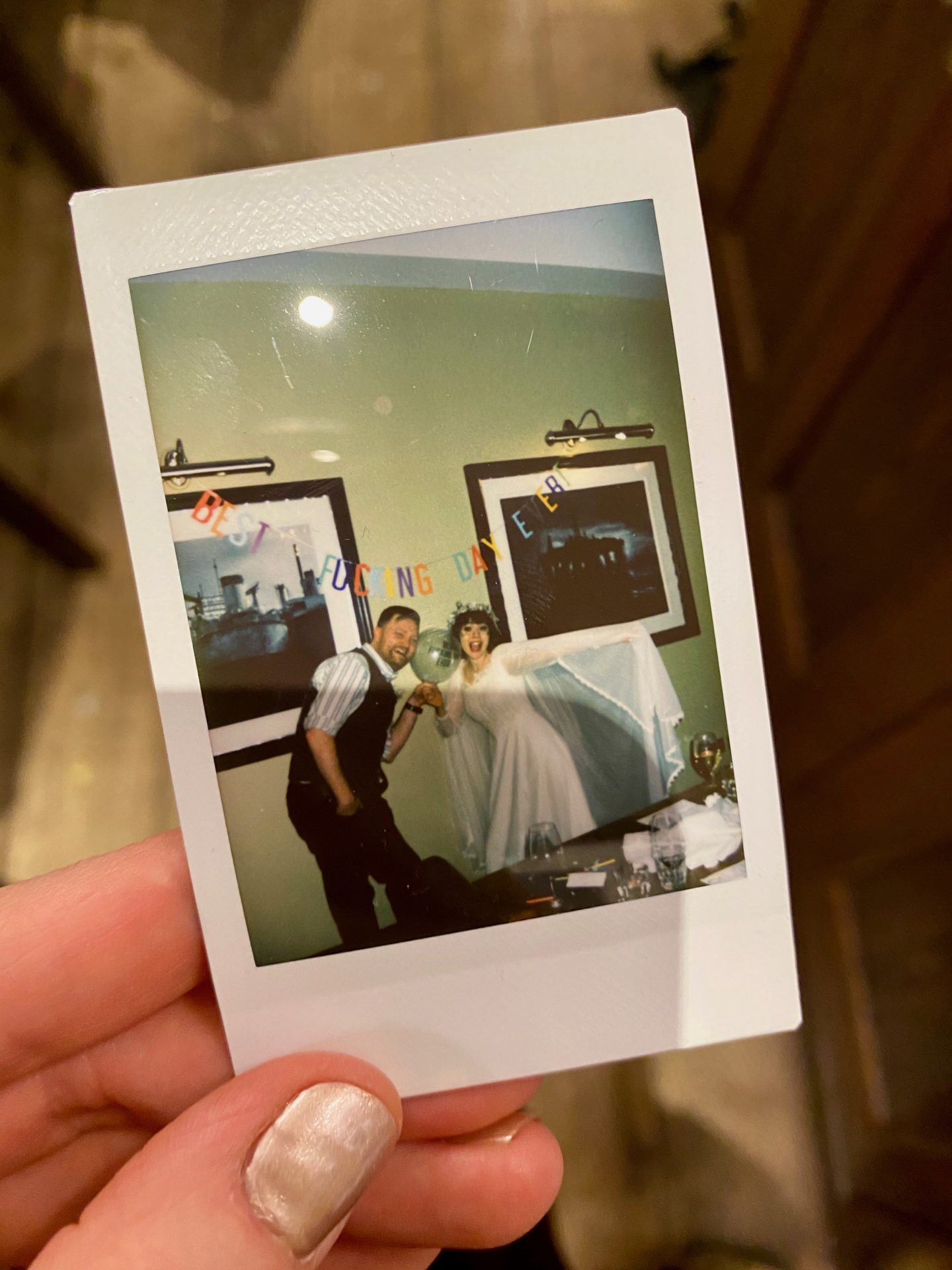 I worried that I would be too busy and distracted and forget to let people know in plenty of time. I had meant to set up a Whatsapp group for our friends who would be going on the evening and neglected to do that. So when it came to about 6 o Clock on the wedding night we realised that we hadn't text our friends yet and we hadn't figured out where we actually wanted to start the evening at.
We decided that seeing as though we had the private dining room all night, we may as well just invite them there and then figure out together where to move on from there. It also meant I could keep my wedding dress on so they could see me in it. But in all the chaos I didn't realise that some of the people meant to be coming weren't in the WhatsApp group I had texted so I forgot about poor Sam and Steve from North East Family Fun and my friend Alex. Luckily, Alex text another friend and figured it all out but it did mean Sam and Steve didn't make it along which was a shame and I felt bad about messing them all about!
Once that was sorted though, our friends arrived just after 8pm and we had fun catching up. I'm cringing a bit remembering it back as our friends arrived sober and Papa Ginge and I were quite drunk by this point and making fools of ourselves. It's one thing when you are all drunk but another when only 2 of you are!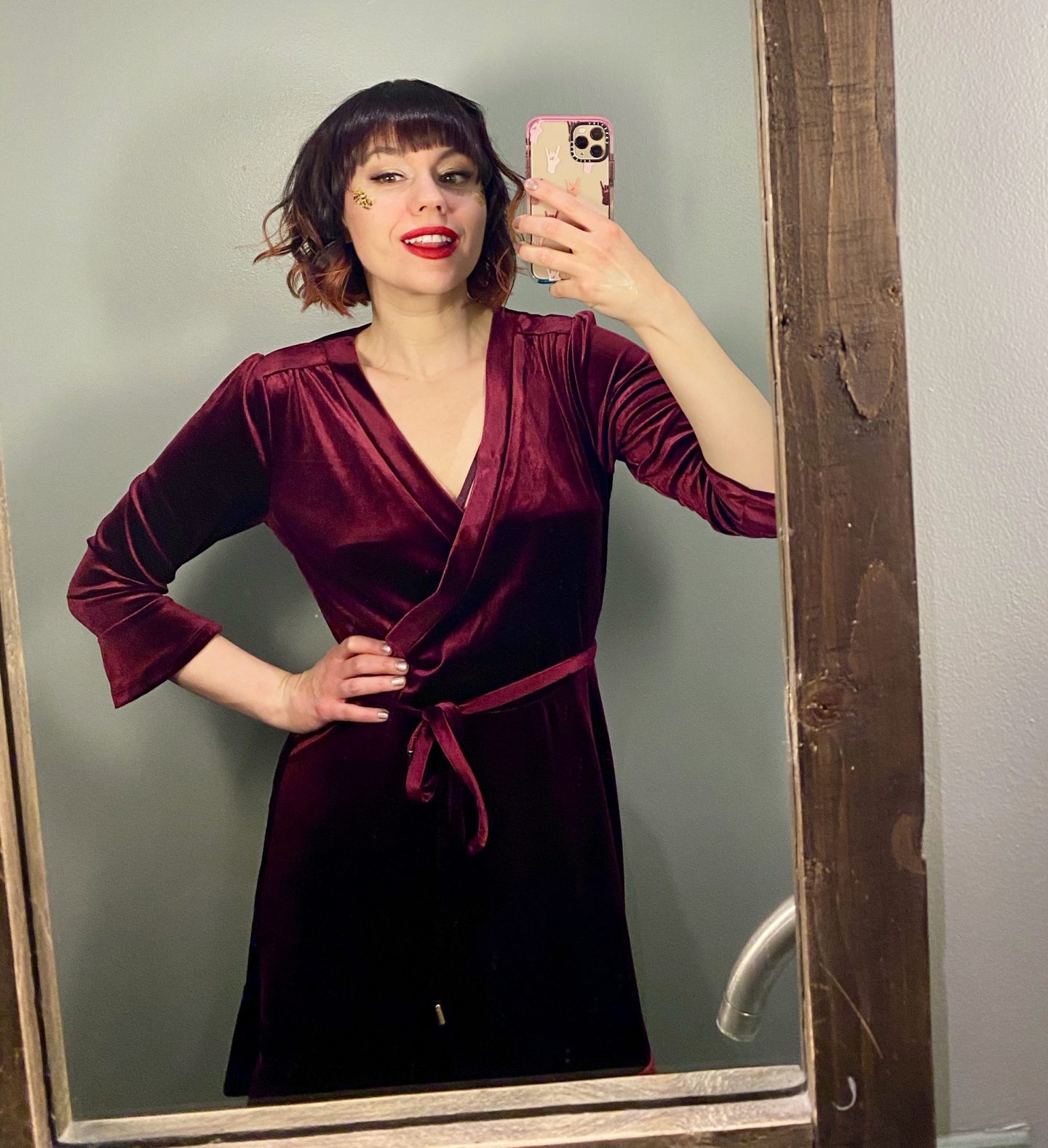 2 of our friends are pregnant and so weren't drinking. Another wasn't drinking as she was getting a new tattoo in the morning so when we were discussing moving on elsewhere it became quite clear everyone would rather stay put in our chilled out room so we did just that. I think people left sometime just after 11. We made a vague attempt at tidying up the room, which had become a bit of a mess of confetti, collected our belongings and moved up to our room for the night.
Sadly shortly after this Papa Ginge began vomiting (mixed drinks and too many of them) which he continued to do until 8pm the following evening so we really didn't get to make the most of the room. Bless him he couldn't even eat his egg benedict in the morning which looked so good.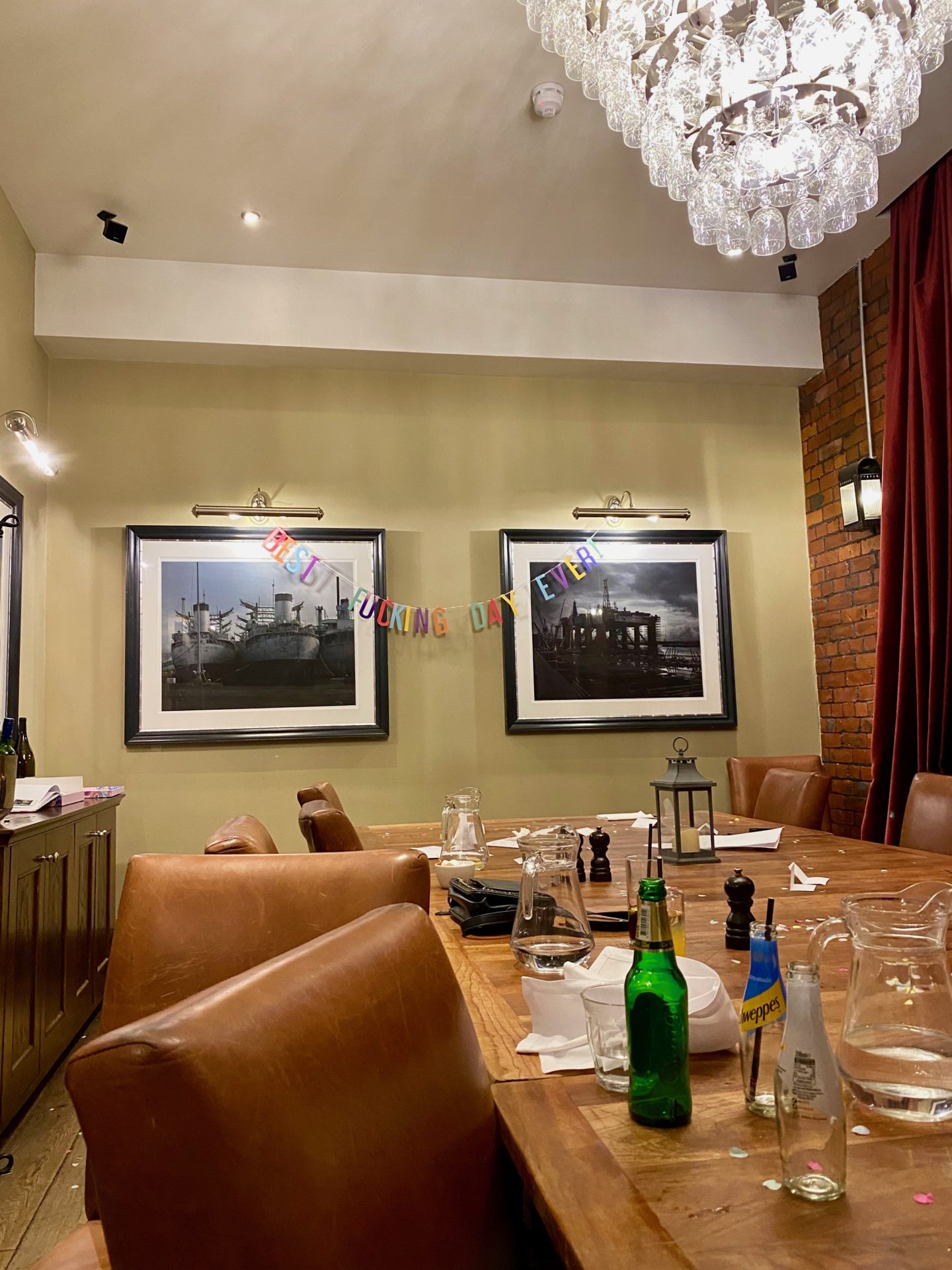 Once our (significant) hangovers passed we reflected on what a great day it had been though. It was low key, intimate and fun with family, friends, children playing, good music, good food and lots of laughs. You can't ask for more than that can you?
What we spent
All in all, we spent just over £2000 on the wedding in total. That included stag and hen do expenditure as well (Papa Ginge had a weekend in Liverpool which added to the costs).
The food and drinks part of the meal was the most expensive coming to over 1/3rd of the total cost of it. The hotel room took that up to about half of the cost of the wedding with around £1000 being spent at Hotel Du Vin alone.
For the basic wedding itself, it cost us £35 each to give notice, £40 to book the Registry Office room, £57 for the registry office ceremony. So the absolute cheapest we could have done it all for would have been £167.
One good thing about having a wedding in February and planning it all in 5 weeks is that you can really make the most of the January sales. This helped save us some money. Although, getting married on Valentine's night did increase the hotel room costs and knocked out several of the venues we were considering.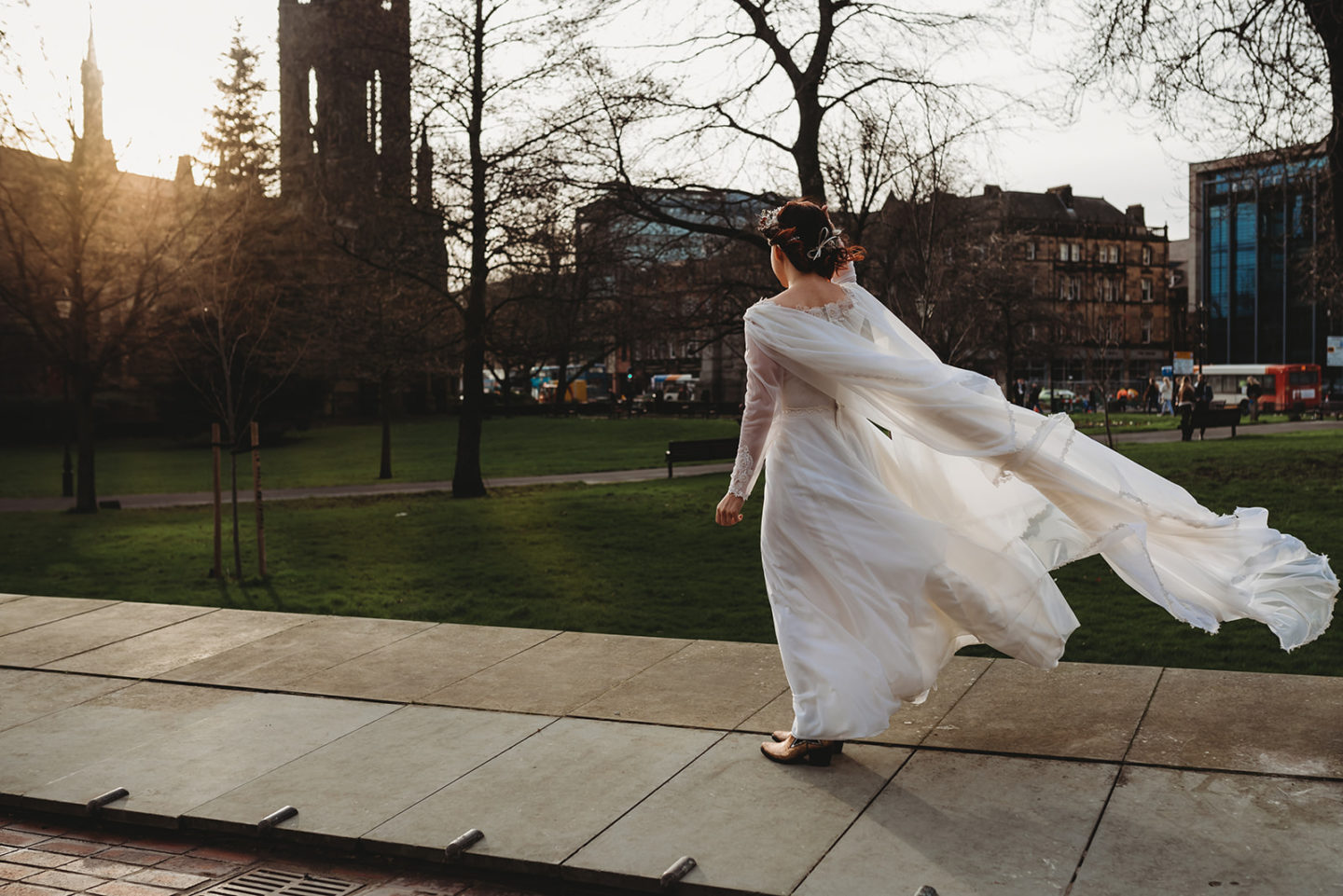 As I wore my mam's dress we only spent £40 on my dress getting it altered (Bex Brides removed some discoloured netting and added some beads). My flower crown from Bees and Butterflies in Seaham cost £40. My new torture device of a (wonder) bra (affiliate link) cost £20.88 and my new golden boots cost £42.90 from Moda in Pelle's January sale. My hair cost £15 and my make up cost £40. I wore knickers I already had – I did not wear any shapewear. All in all my outfit/look for the day cost £198.78.
Papa Ginge's outfit cost £200 – all his clothes/shoes were new. He bought most of his outfit from ASOS.
Arlo's outfit was from a wedding last summer. It still fit so I saw no reason to waste money buying something new when he had only worn that once. We did get him some new brown boots (affiliate link) from the Clarks' sale for £22 as he only has bright orange football style trainers otherwise. Arlo's total outfit cost £22.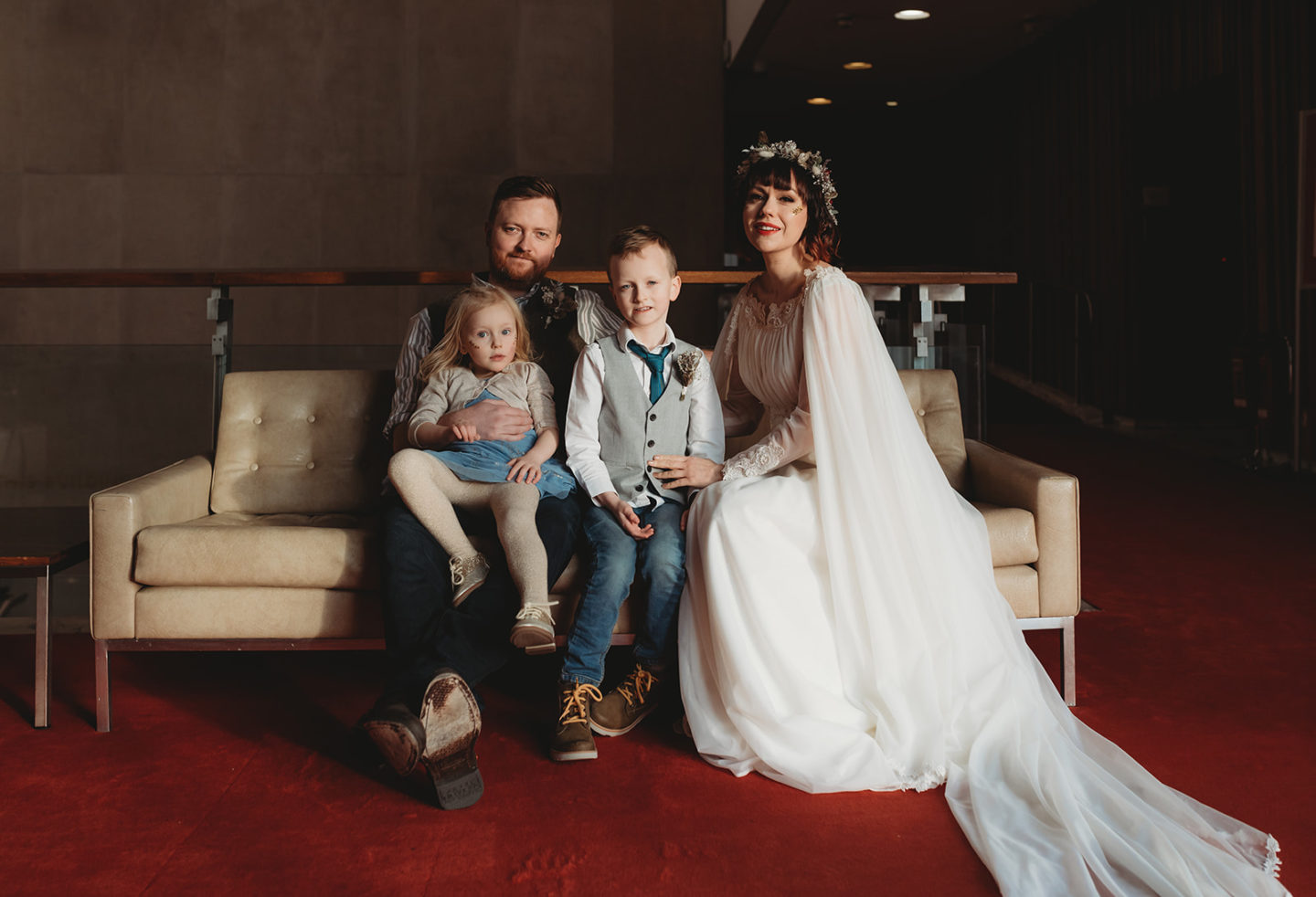 Lena had her hair curled and plaited at the salon for £10, wore the Boden Harry Potter Patronus dress (affiliate link) that we bagged in the sale for £17.50. We got her some glittery golden brogues to match my golden boots in the Clarks' sale for £13. She wore tights that she already had. They were a little big so we put another pair underneath which kept her warm and bulked them out so they fit properly. She wore a hand me down cardigan from her cousins that she's had for years. Her whole outfit cost £40.50.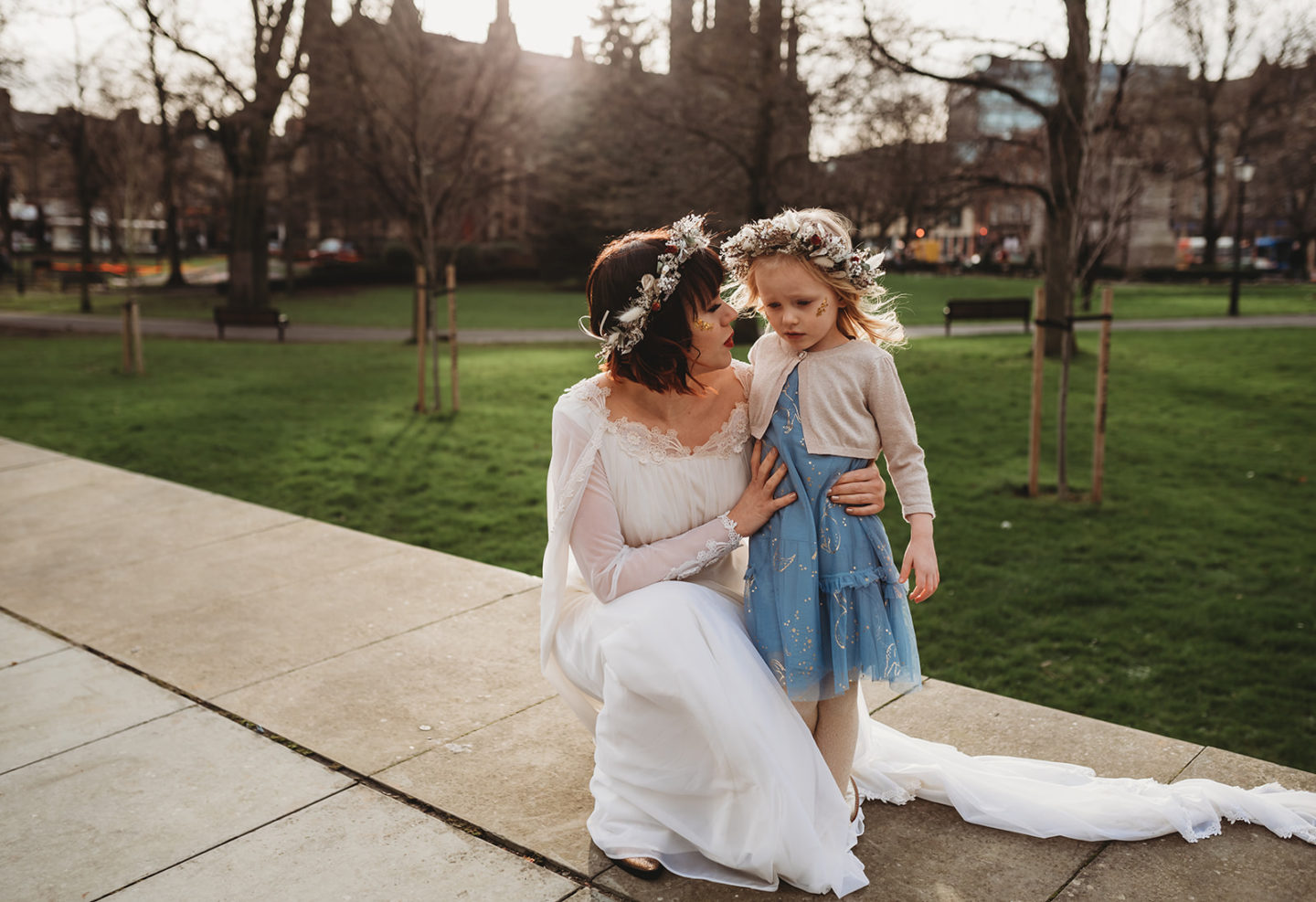 Thank you
I want to thank my mam and dad for paying for the dress alterations and our dried flower crowns/buttonholes. I want to thank sister (and my mam) for arranging and covering almost all my hen party costs, as well as ferrying me around all day and night.
I also want to thank my family and friends who came to the hen/stag or wedding or who gave us gifts/money for our wedding even when they didn't attend. You have been so generous that we have probably broken even in the end. One of my aims for the wedding was to come away from it with no debt which we achieved, so hurrah for going small!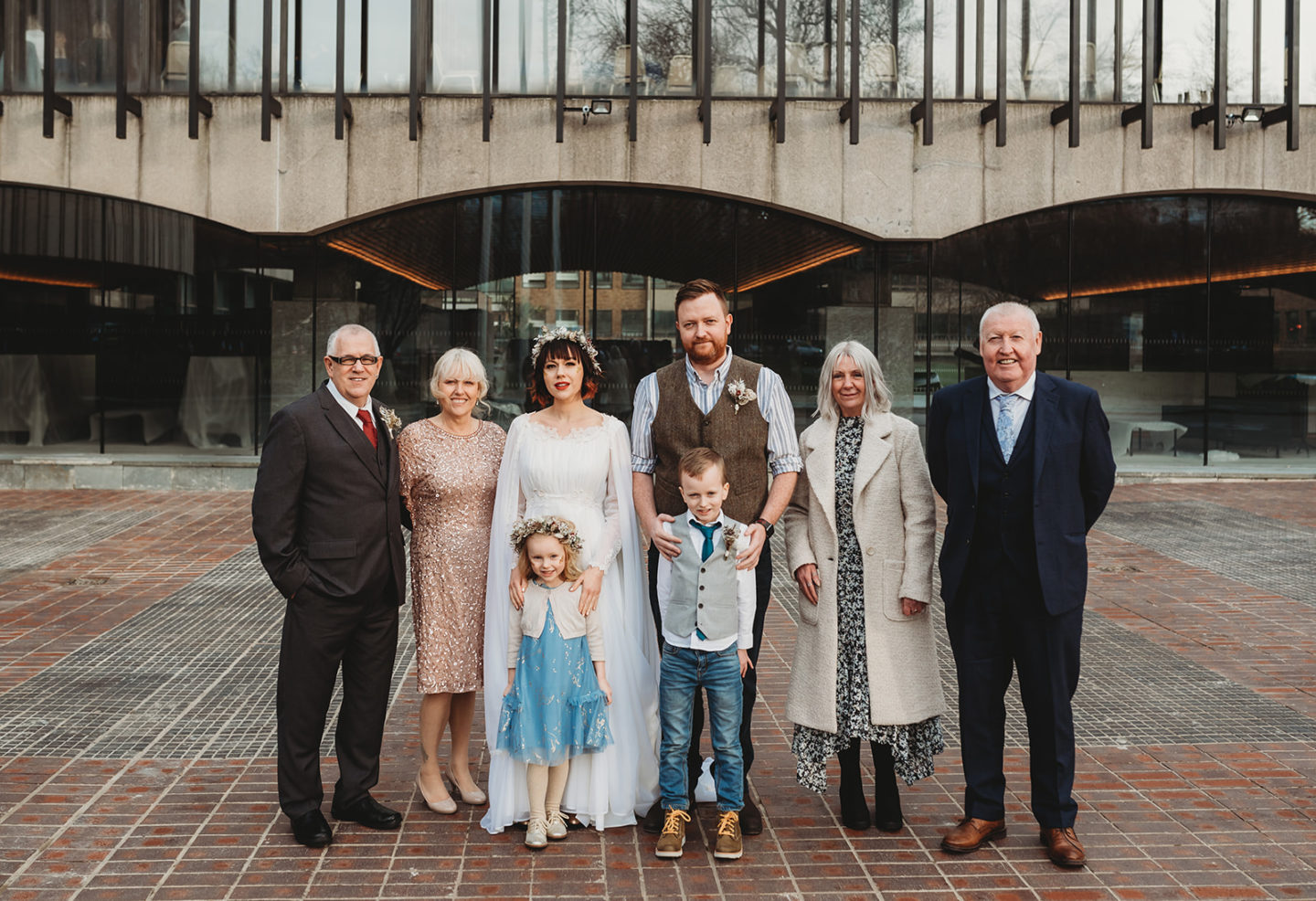 And I want to say a final thank you to my readers – you've been so supportive of our little whirlwind wedding from engaging with my posts, to giving me advice and sending heartfelt congratulations. It meant so much to us and that's why I share so much on here. The relationships I have with many of you are real and my followers felt like an important part of my wedding too. You were so excited and that made me excited too. So thank you.
I would 100% recommend a quick and dirty wedding. Inadvertently, we have come to realise the biggest benefit of having done this so quickly is we got it all done before the Coronavirus Covid 19 spread here and caused us issues. If we hadn't have done this so quickly, we might have been doing it right now. We didn't lose out financially on our wedding being cancelled at short notice like so many people are suffering right now. If that is you, my heart goes out to you. It also means as we enter this unprecedented global pandemic, at least one thing I don't have to worry about is that we don't have the legal and financial protections that being married parents affords you. Deciding to get married in January, and doing it all in the space of 5 weeks might have been hectic, but it also might have been our best decision yet.
Now I just have to get used to calling Papa Ginge my husband instead of partner. It feels proper weird!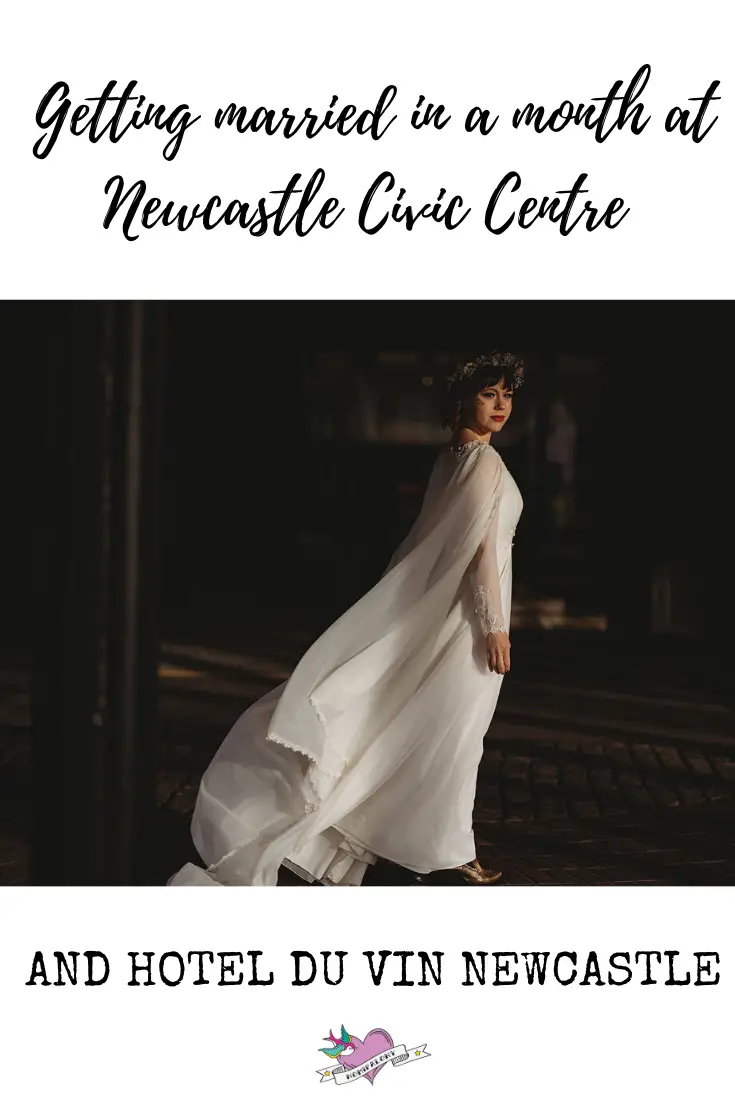 Disclaimer: This is post contains some gifted items. This post also contains affiliate links. If you buy an item through an affiliate link you won't pay any more for that item but I will receive a small referral fee. As an Amazon Associate, I earn from qualifying purchases. For my full disclosure please see my about page.