I've been a big fan of Mama Jewels for 5 years now so I was thrilled when they recently made me Brand Ambassador for Autumn/Winter 2016. This means October, November and December I'll be trying out a new product of theirs and reviewing it for you. Lucky me!
I already had 5 Mama Jewels necklaces and have loved them all – so much so that Papa Ginge joked he wouldn't know what to get me for Xmas now I'm brand Ambassador in our latest vlog.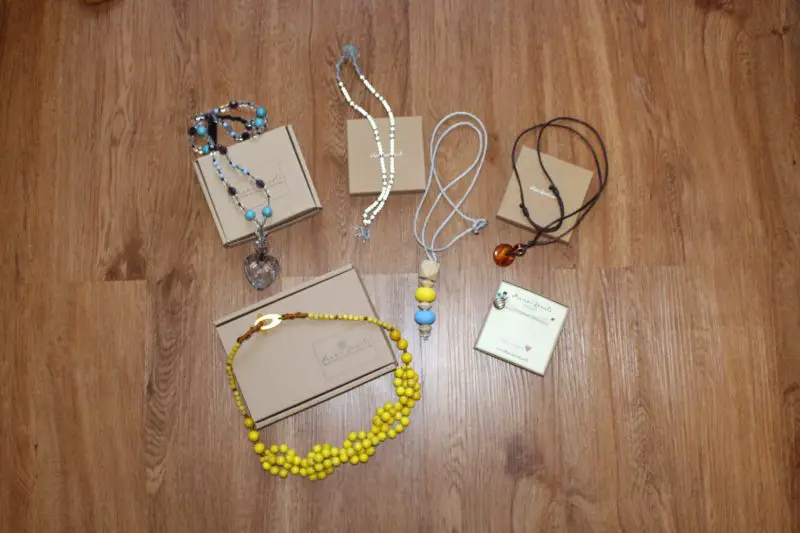 I came across Mama Jewels in 2011/12 when I was searching for jewellery that my new son wouldn't break. So much of my jewellery I just can't wear around my babies because as I'm sure you know just like a rabid dog, they like to pull and tug and chew on everything.
That's why Mama Jewels is so great because they can do those precise things and they don't harm the jewellery or themselves. And trust me, my testers are robust ones! If the jewellery survives my two feral beasts they'll survive pretty much anything. You don't need to take my word for it though as the brand is also the first safety tested jewellery brand (BS EN 71 parts 1, 2 and 3) so they are properly strength tested to ensure that they are 100% baby-proof.
Additionally, as someone who tries (and often fails) to avoid toxic chemicals in our household I love that Mama Jewels products are free from BPA, PVC and phthalates, lead, cadmium and heavy metals.
The prices are reasonable and the designs are stunning and fashionable. You aren't sacrificing safety for style whatsoever.
They make a great gift for a baby shower or new mama too and come with a one year no quibble guarantee. I have bought these as a gift for friends on many occasions.
All of October I tried out the Mama Jewels Tani wooden nursing necklace in yellow – £23.95.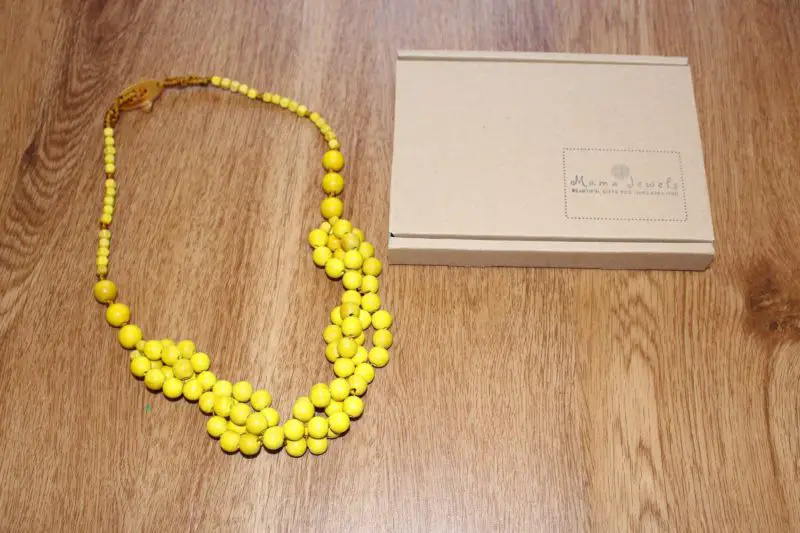 Now I adore nursing necklaces because I'm a breastfeeder with grade A nipple twiddling kids and that shit drives me crazy!! Man I hate the twiddling and nipping. It's 'nails down a chalkboard' for setting me on edge. Mama Jewels nursing necklaces really do help with that. They can twiddle with that instead of my bare flesh which is immeasurably preferable.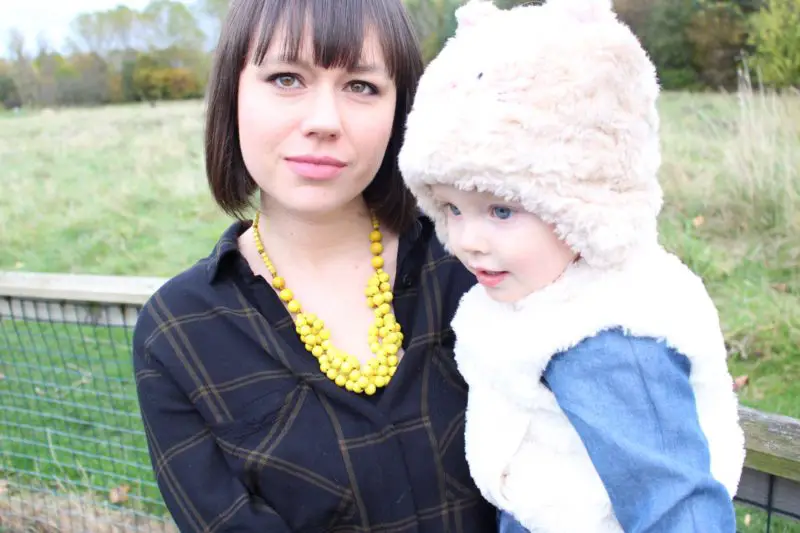 The Tani nursing necklace is a statement cluster necklace made using mustard yellow beads that have been dyed with non-toxic dyes and polished then mounted onto four strands of strength tested gold cord.
Let me tell you, I liked this necklace on the Mama Jewels site but it's even nicer in real life. It's gorgeous, much more mustardy than the yellow it looks on the site and I'm so into this mustard yellow colour this autumn. If you aren't obsessed with this colour like me though the necklace also comes in 5 other colours (blue, green, orange, red and purple).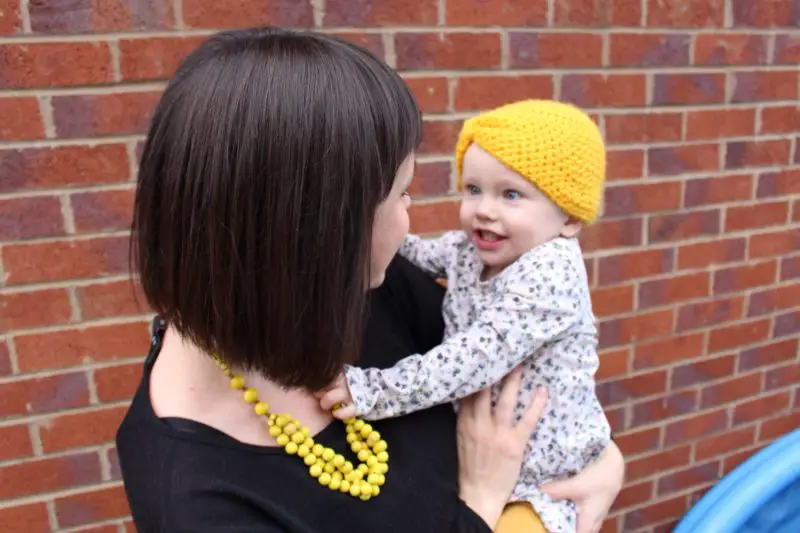 It's 22" / 60cm long which is shorter than the nursing necklaces I usually buy but my baby can reach it easily and she is quite taken with it. She is enjoying playing with it when I'm nursing and when I'm not and keeps asking me to take it off and put it on her (you know the way toddlers ask by trying to strangle the life out of you by just yanking on the damn thing while screaming nonsense at you).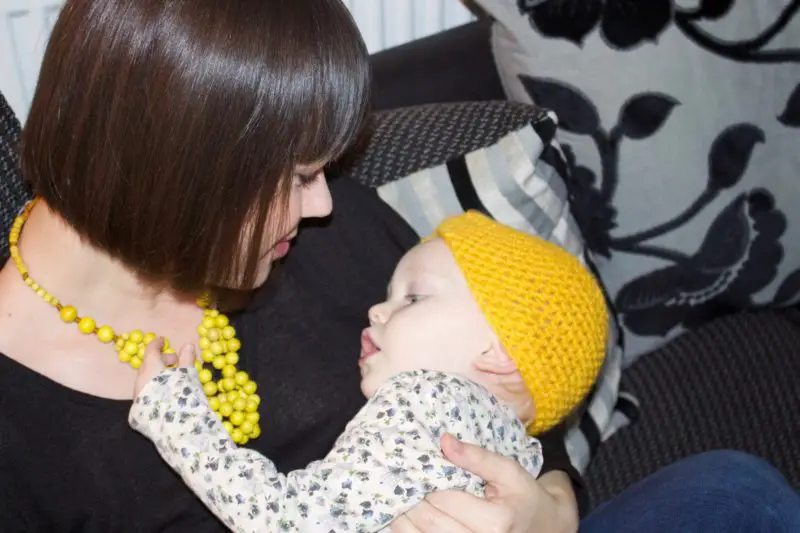 This may actually be my favourite out of all the Mama Jewels necklaces I own (which is saying something as I'm hard pushed to choose between my top three). It's definitely the dressiest of the ones I own though and I could easily be worn dressed down in the day or up at night. It's a really versatile piece.
I have absolutely no hesitation in recommending this necklace and would go so far as to say if you have a (rambunctious) nursling like me, then get this on your Christmas list right now!
If you liked this post then please follow me on Facebook, twitter or Instagram so you don't miss another (links below).
Disclaimer: I received this necklace in exchange for an honest review.