My second baby turned one at the weekend. I've blogged before about the emotions involved as your baby turns one so I'll not mention that today but instead focus on how we celebrated and made the day special for her and us. If you are looking for first birthday gift ideas then check out this post I wrote about the toys she loves.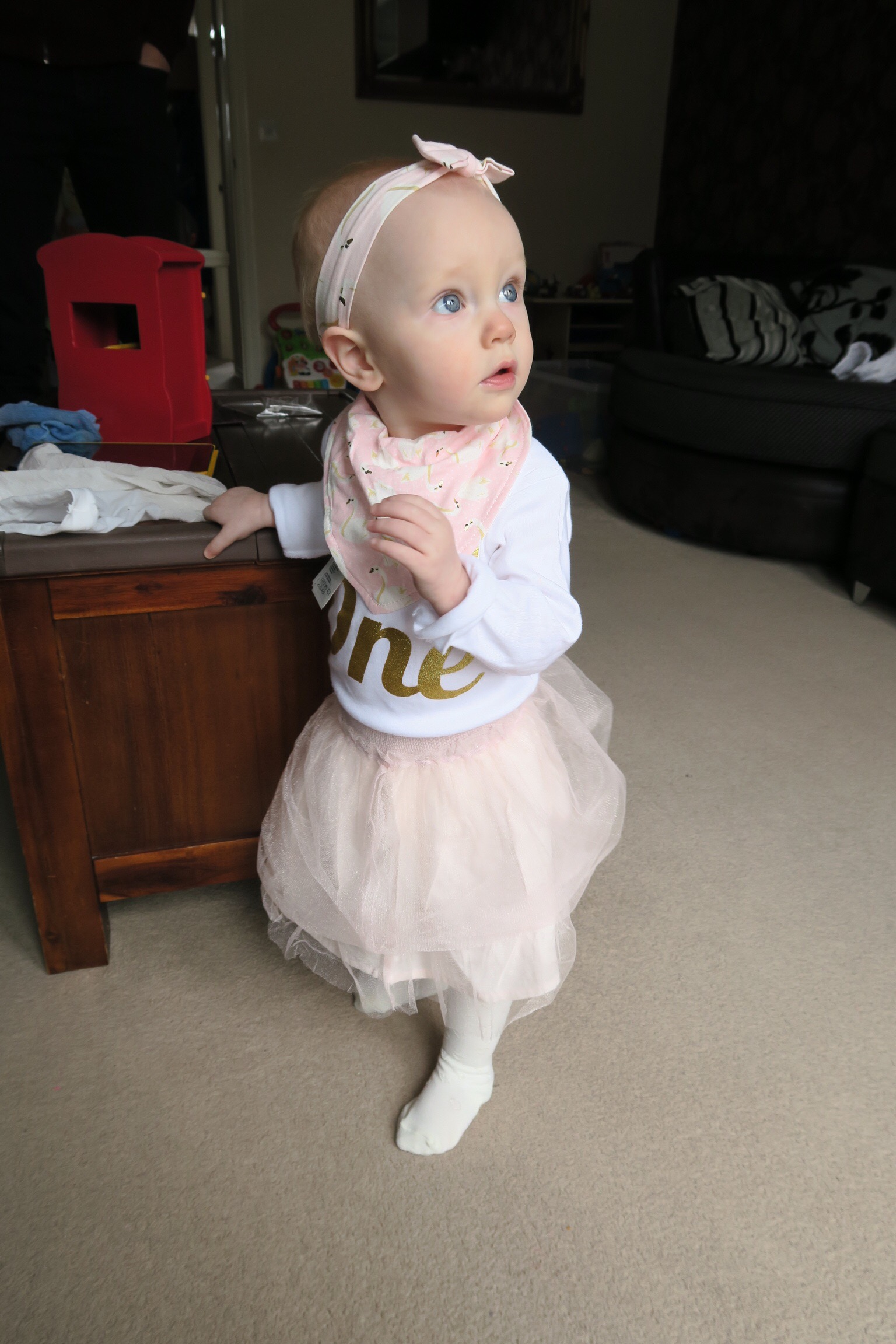 Sometimes it feels like there is a lot of pressure as a parent to do these big-arse parties for every birthday your child has and I'm not really buying into it. It's too much of a faff and too expensive. I just don't have the time or patience. And whilst I don't want to sound like an old lady – we didn't get a big party every birthday when I was a kid.
I'm not sure when there became this pressure to hire a venue, entertainment, do party bags, have a cake made etc. Probably something to do with social media and picture perfect Pinterest boards no doubt!  If you want to do all that then that's great, you do you but I'm opting out. I'll do it for some birthdays but not every birthday. We don't have the cash and I just can't be bothered with adding more to my never ending list of shit to do.
One of the birthdays I'm opting out of a huge celebration for is the first birthday. Let's be frank, she doesn't know her arse from her elbow. She can't open presents or blow out candles, and she is happiest playing with the wrapping paper and boxes than expensive gifts.
I did want to do something to celebrate such a momentous milestone though so we decided on a small tea party at home. Our living room and kitchen are really small so whilst I wanted to invite everyone who means something to us unfortunately we were only able to invite immediate family (grandparents, aunties/uncles and first cousins) and even then it was uncomfortably crammed!
I had a gold and baby pink theme. I had a long sleeve vest made for Lena that said 'Lena is One' and matched it with a pink tulle skirt from La Redoute. She had a gold and pink flamingo headband and bandana bib from H&M but she's at the age where she just wouldn't keep them on. We did pink first birthday balloons, hung up streamers and banners.
I made a chalkboard sign as a centre piece to celebrate her first year milestones – an actual Pinterest win which is rare. I bought the chalkboard sign, some graphite and chalkboard pens (the pens are not easy to use but look good once you've managed) from Amazon.
I did some supermarket (mostly frozen just to cook) party food – that we had to put out on a wallpaper pasting table covered with a table cloth in the kitchen because we don't have a dining table. We had a shop bought dairy free rainbow celebration cake costing £10 (my son is allergic to cow's milk protein).
Everyone had a bite to eat, we sang happy birthday and the older kids blew out the candles. We ate cake then the kids helped open the presents. It was a fast and furious tea party as we had to sandwich it in between her morning and afternoon nap but the kids all had fun and it felt like we did something with our family to mark the occasion.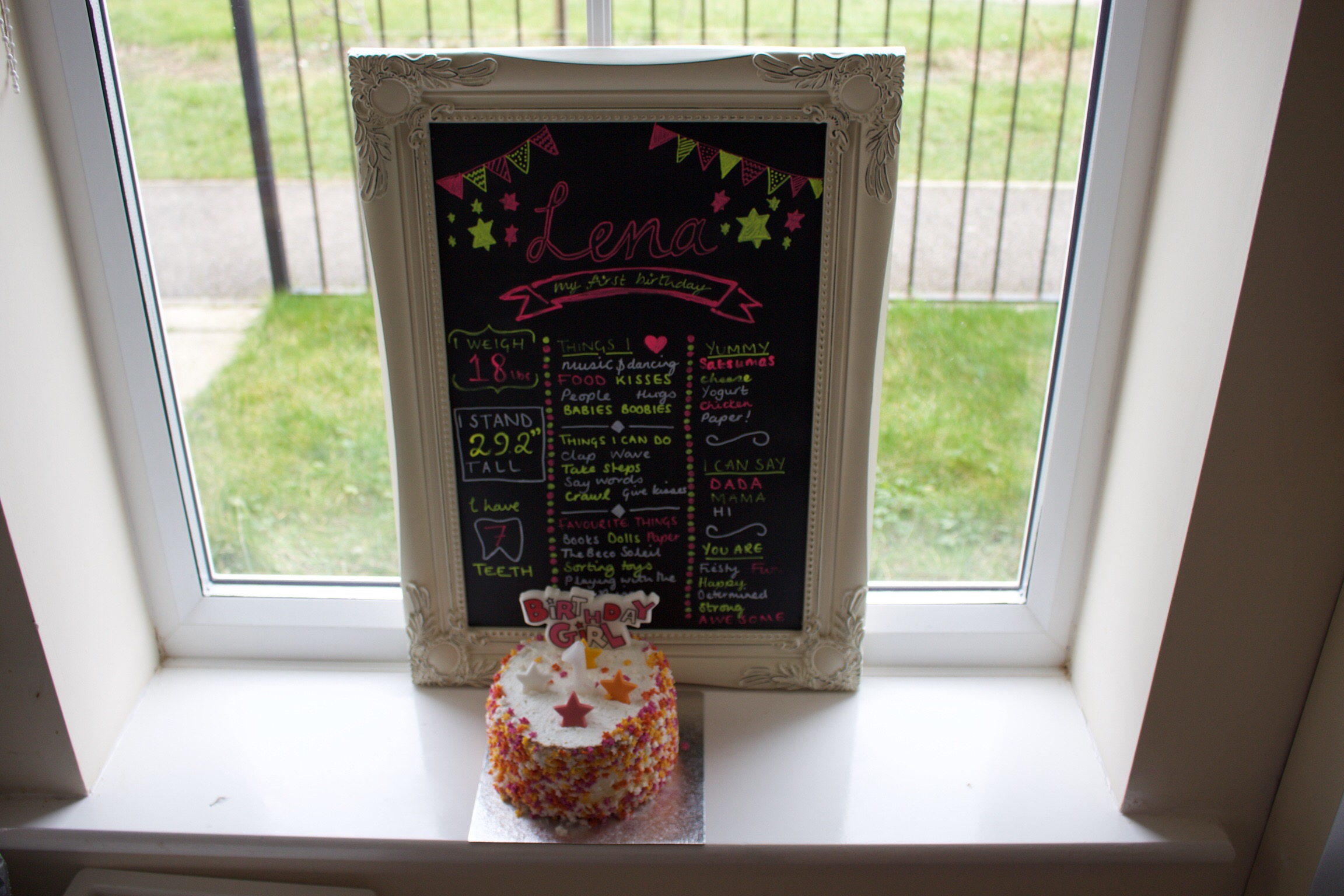 One thing I ballsed up is that I didn't do enough preparation before. Papa Ginge worked till late the day before and because our daughter won't let us put her down to sleep (still), we couldn't prepare in the evening.
The morning of the party we were busy cleaning and showering and  kid herding so by the time the guests were arriving we still hadn't cooked the food, put up the decorations or wrapped the presents. I'm usually pretty organised so I was annoyed at myself but sometimes this is just the way it goes down when you are dealing with two tiny sleep thieves.
There is something to be said for hiring somewhere (or someone) that does everything for you! I felt like I missed most of the party because I was in the kitchen doing the food. And I burned my arm too. Ah well, lesson learned. That's parenting for you, forever learning on the job.
We made a vlog of the day, have a watch and if you like it hit like and subscribe:
What about you, do you feel the pressure to have a big party for every one of your kids' birthdays?
If you liked this post you might also like this post I wrote about the end of her baby days – Baby turns one – not a baby anymore.