Given that it has just been my daughter's first birthday I thought I would do a quick blog on good first birthday gift ideas. I've had one of each, a boy and a girl, and my son is 4 now so I've a good idea of what gifts get played with long term, and seriously friends, that's the key as your house fills up with toys so quickly.
You want to get fewer toys but ones that last longer, and that can be played with in many different ways. Not big bulky toys that get played with a few weeks or months and then take up valuable space or get sold for a fraction of the cost. I swear toys depreciate faster than cars! (For voucher codes on toy deals check out Dealsdaddy.)
If you are buying for someone else's kids then these are all options that will have the parents thanking you for years to come and not cursing you!
20 unisex first birthday gift ideas
Here are our top 20 best buy first birthday gift ideas for one-year-olds with a rough price next to them at the time of posting:
First birthday gift ideas for £10 and under
Board books (affiliate link) £5 for this much loved classic – the Very Hungry Caterpillar. Must be board books though as they'll just rip the pages of anything else.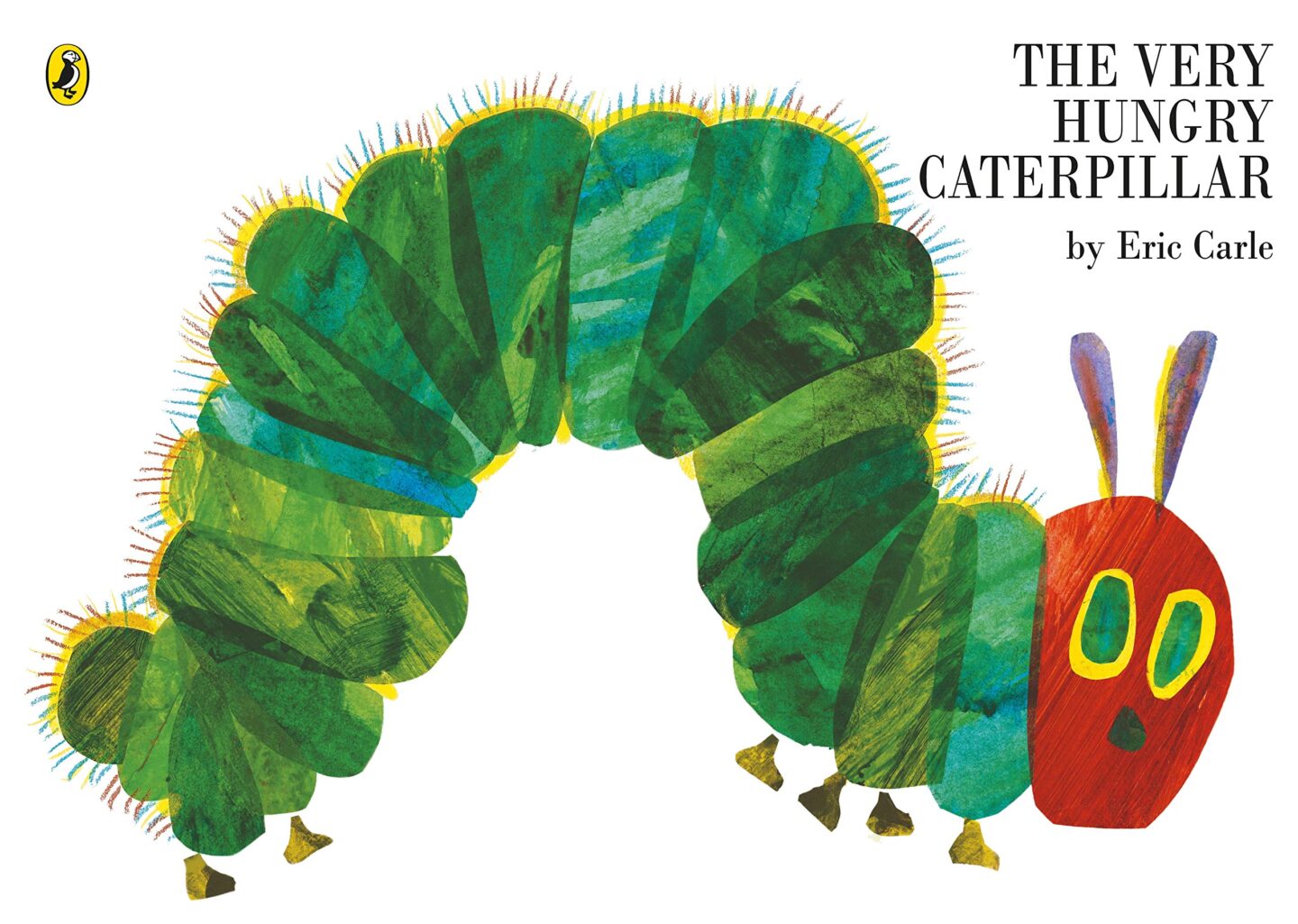 Tomy Hide and Squeak Eggs (affiliate link) – £7.98. Tomy Hide 'N' Squeak Eggs are a great fun developmental activity toy for baby. 'Crack' them open to reveal the brightly coloured press-and-cheep chicks. It's also a shape-sorting game matching egg bases to the right shaped hole in the box. Hide 'n' Squeak Eggs are a great way to encourage play and to develop your baby's early skills. Crack them open to reveal the brightly coloured press and- cheep chicks. It's also a shape sorting game matching egg bases to the right shaped hole in the box.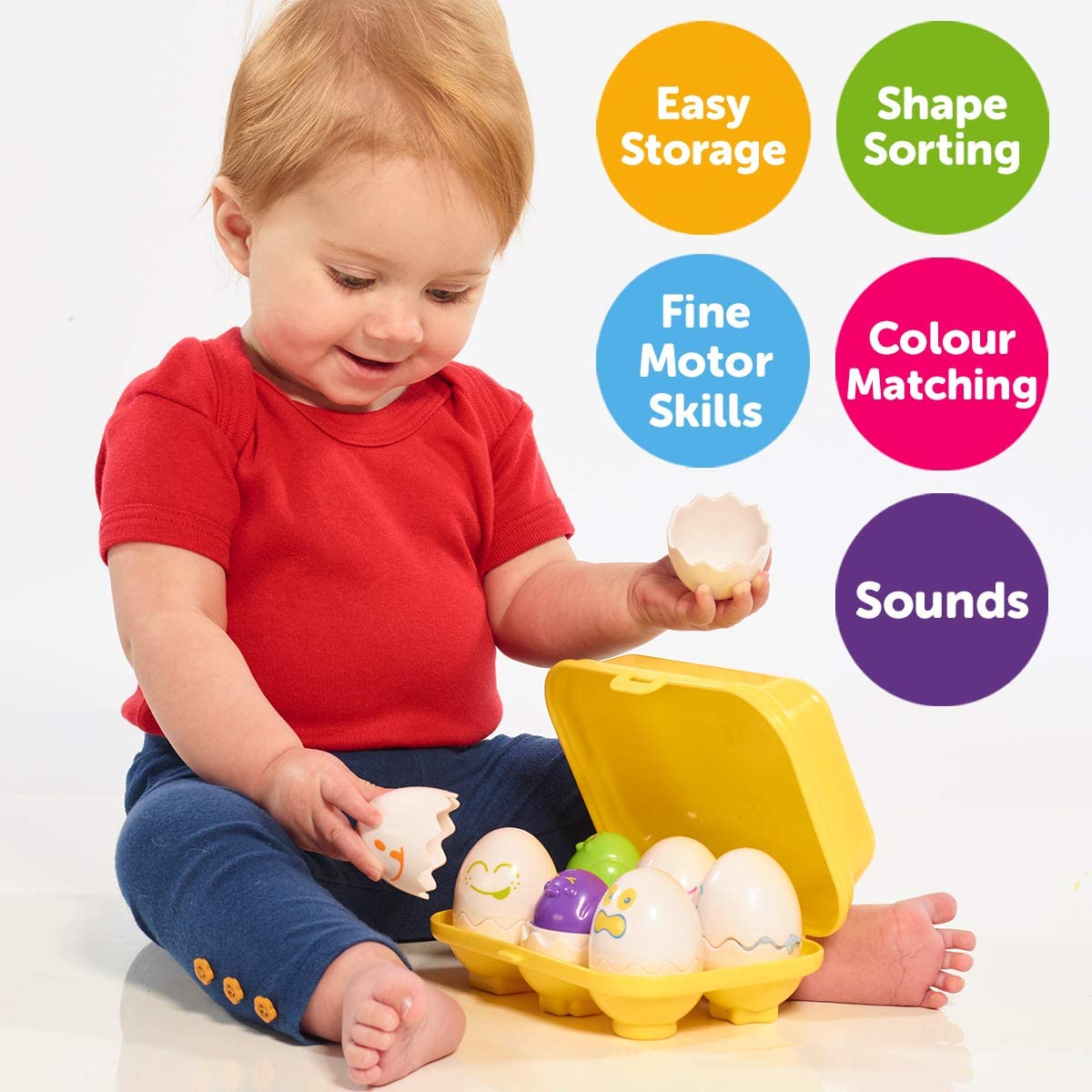 Stacking cups (affiliate link) £8.90 – tots can learn about gravity, colours, letters and numbers with these stacking cups. They can stack them high or in a line and can play find the ball and other games.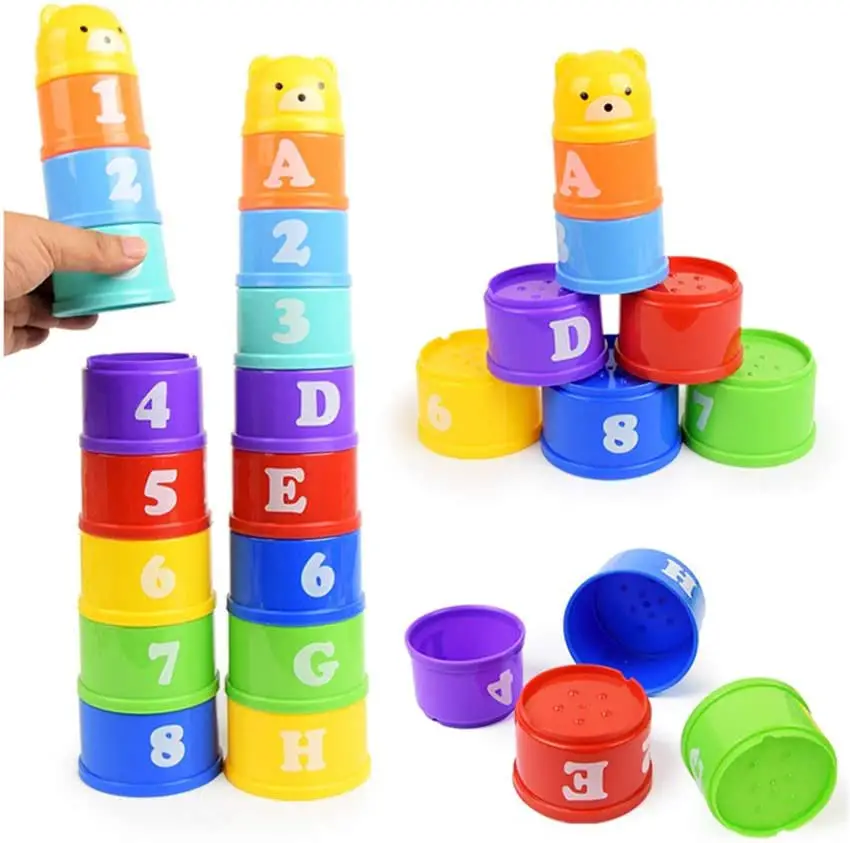 Mega blocks (affiliate link) £8.10. Whilst plastic, these are very easy to play with and my one year old and four year old both love them. They got years of play out of them and then we were able to donate to another family because they are almost impossible to damage. Fantastic value for money for a long-lasting and durable toy.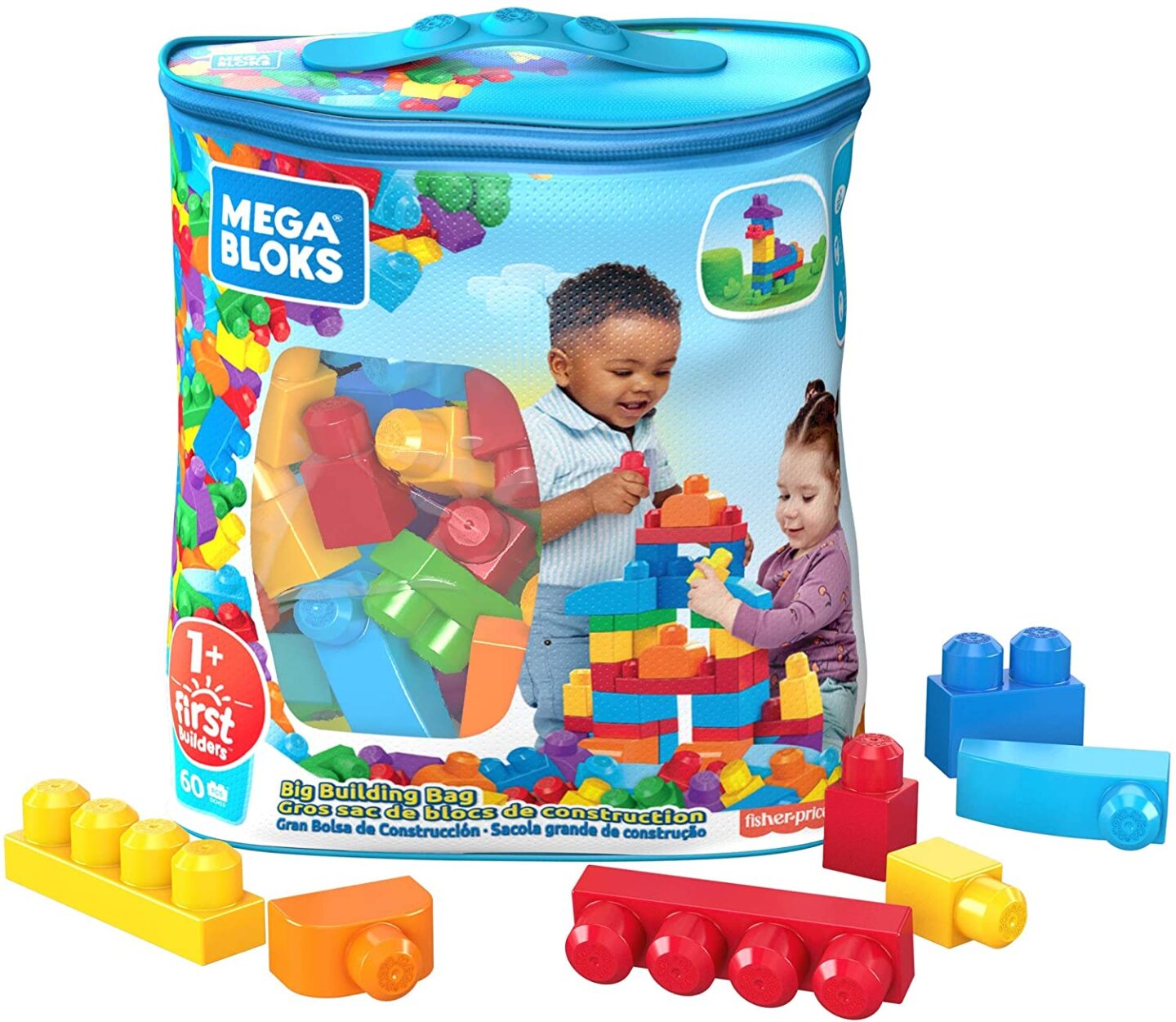 Lego duplo (affiliate link) learn to count train £9.44. This train gets some serious mileage, great buy. Kids adore playing with this and it teaches motor skills, colours and counting.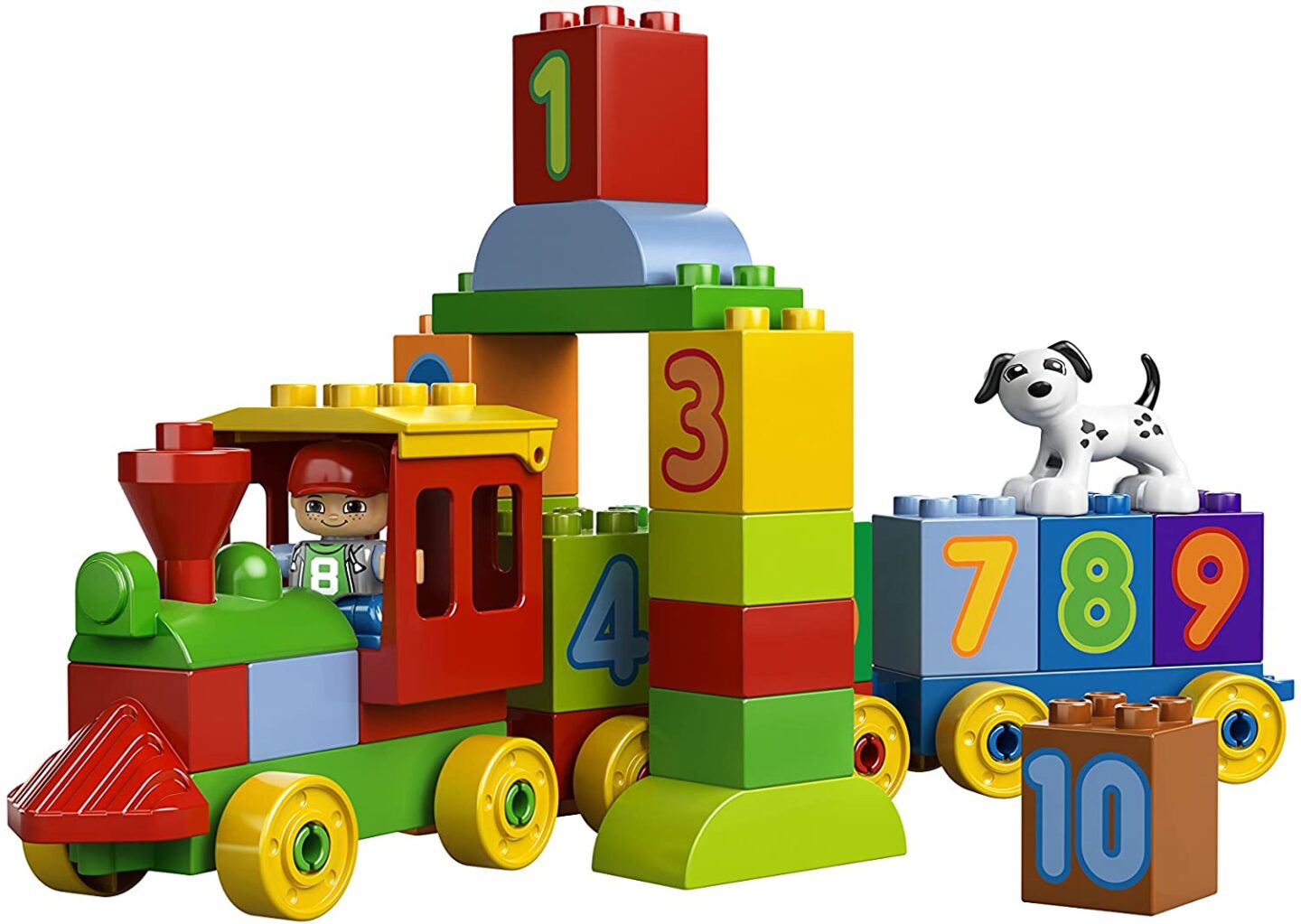 Shape sorting toy (affiliate link) £9.99. This Melissa and Doug wooden shape sorting cube is a great first birthday gift idea that will entertain kids until school age. This colourful toy for toddlers and preschoolers promotes colour and shape recognition and problem-solving skills.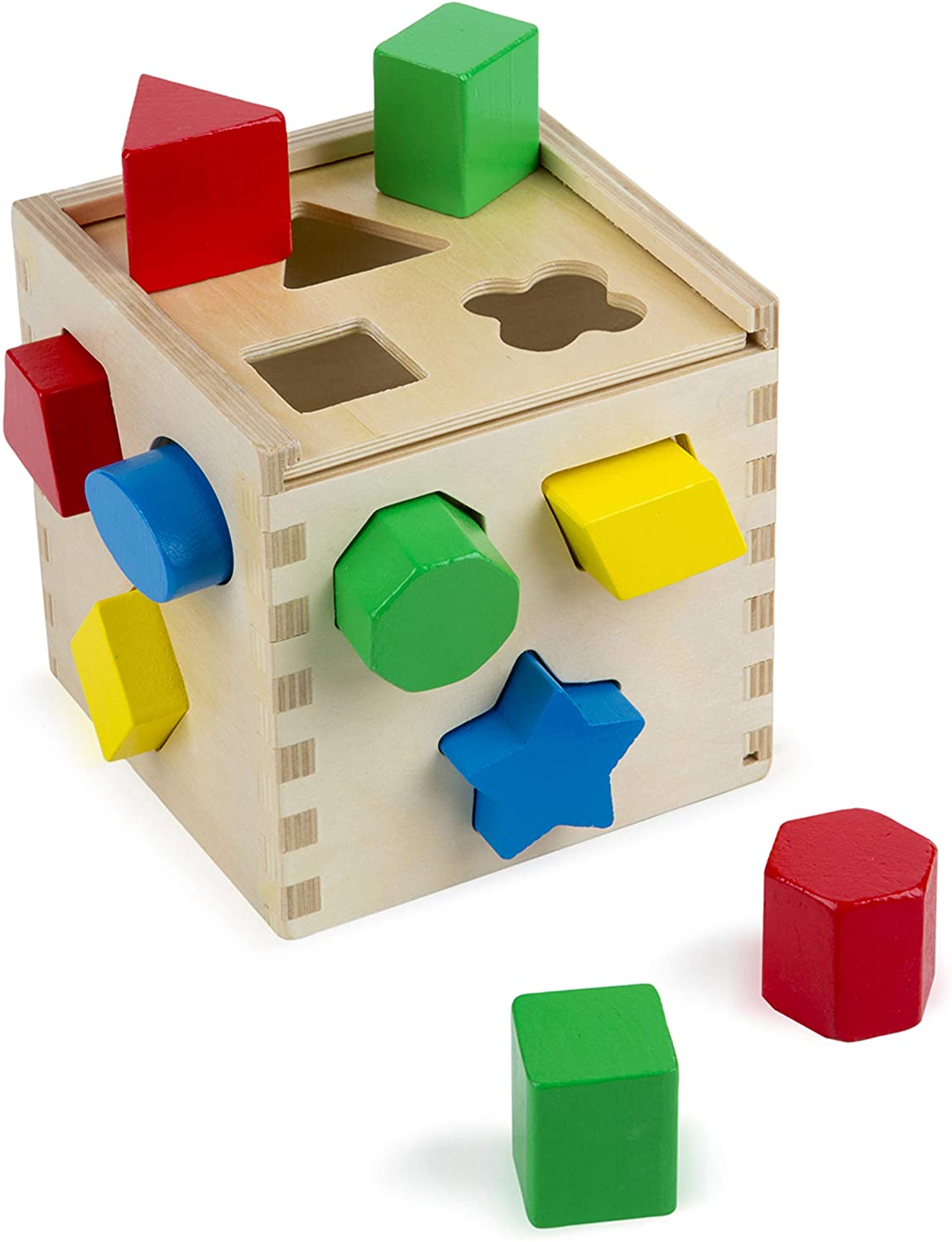 First birthday gift ideas for £15 and under
Stacking rings (affiliate link) £13.90. You can't go wrong with stacking rings and this Melissa and Doug wooden set is the queen of all stacking rings. Rings, octagons, and rectangles can be slotted onto the three rods, stacked on top of each other, or lined up to compare shapes, sizes, and colours. This first-concepts set is a manipulatives all-star!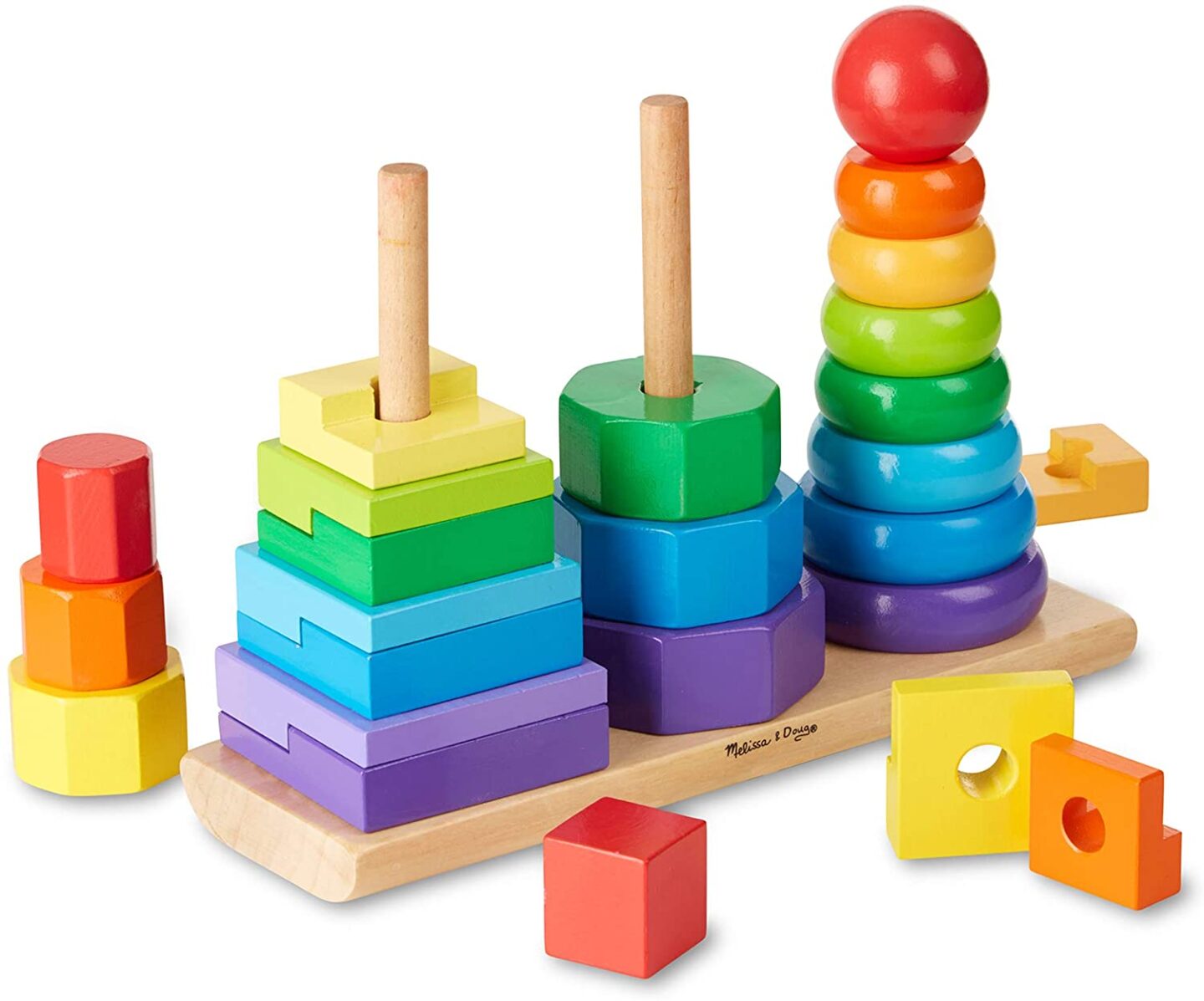 Wooden blocks (affiliate link) £14.99. Another great option from Melissa and Doug. Slightly more expensive than the plastic blocks but worth it for a wooden alternative. This classic wood block set includes 100 solid-wood blocks painted bright red, blue, yellow, and green. A versatile variety of shapes are included: rectangular prisms, cubes, cylinders, half circles, arches, and two different sizes of rectangular planks and triangles. This set offers the opportunity for younger kids to practice their fine motor skills and experiment with the laws of physics while giving older kids an outlet for their creativity.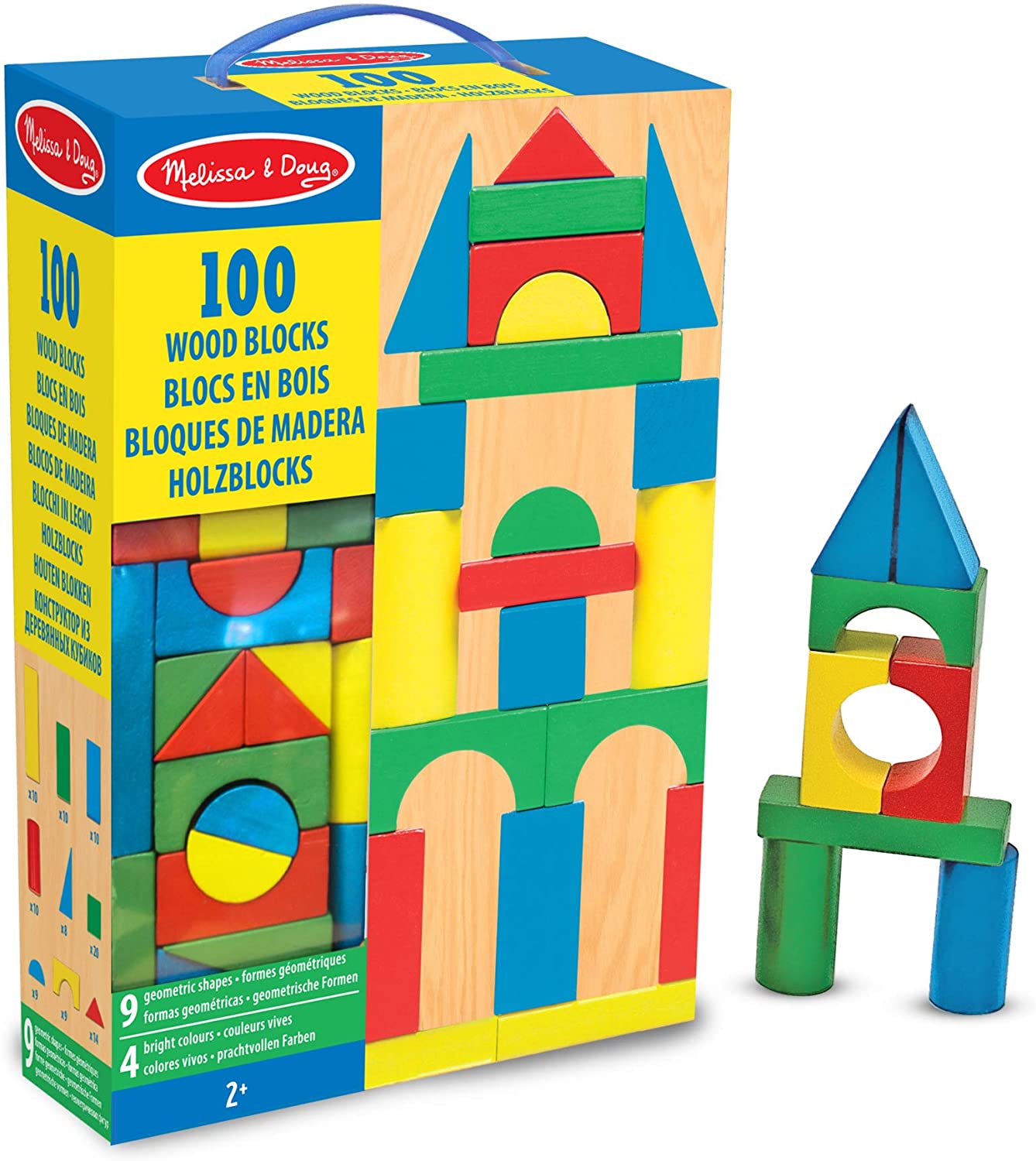 First birthday gift ideas £15-£20
Skip Hop Rucksack (affiliate link) £18.60 – time to ditch the changing bag? A rucksack for your tot comes in helpful for taking on day trips and to nursery. Skip Hop bags are great quality and really functional. Kids loves to wear their fun animal designs too. The pack contains an insulated pouch for snacks, a roomy main compartment, a write-on nametag inside and an easy to clean lining. The front pouch is ideal for snacks and includes extra pockets for pencils and other travel necessities. Comfy padded straps go easy on little shoulders.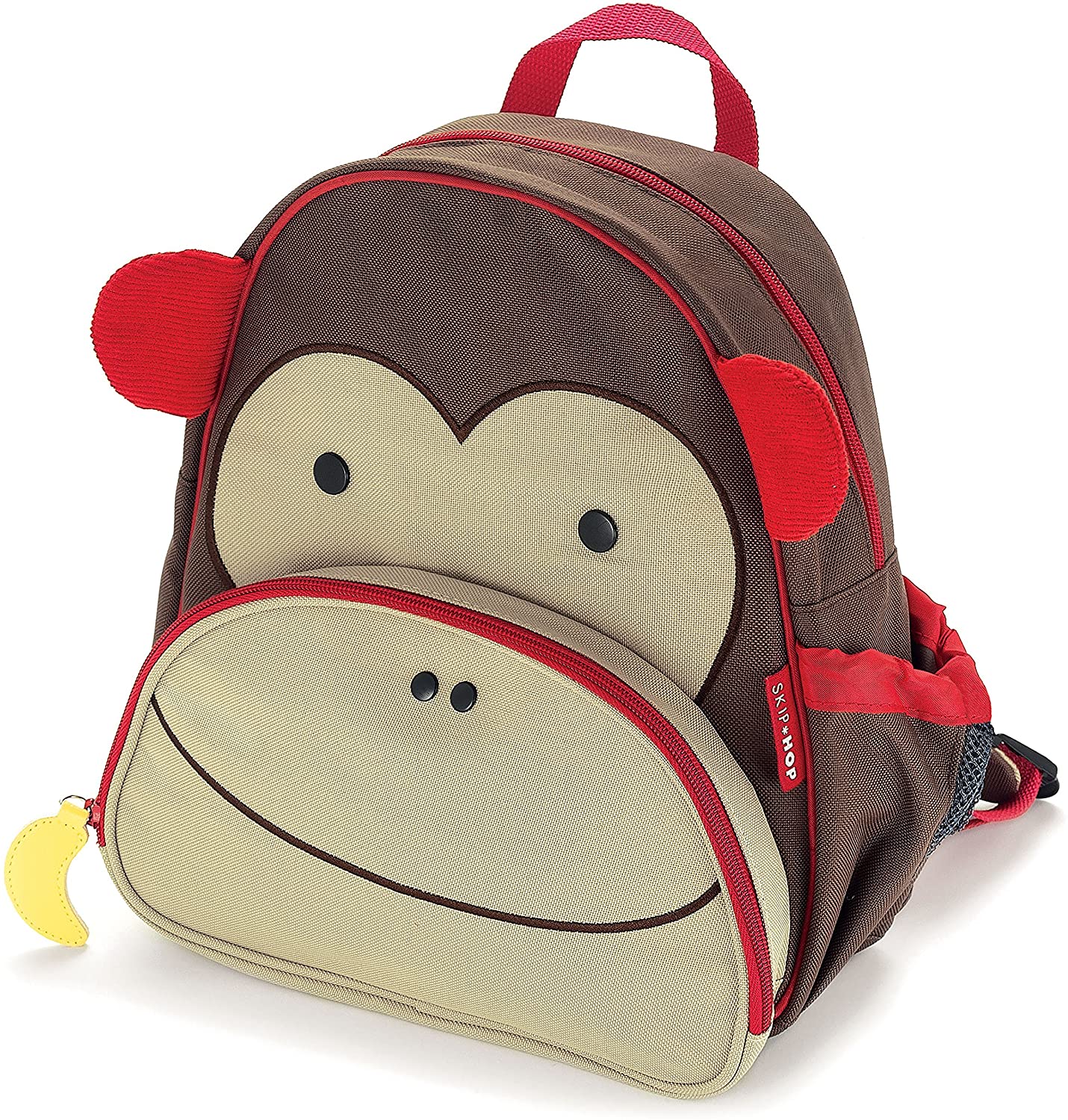 Activity cube (affiliate link) £19.98. This Discovery Box is a five-sided box of delight with a wire bead maze, mirror, colour wheel, spinning face and abacus. The toy will help develop counting skills, hand-eye coordination and colour and shape recognition. The description says it's not suitable for children under 2 years but I can't see why not. It must be in case of parts that come off so they may just need supervising whilst playing with it. Alternatively, it can be kept back for when they are a little older. Either way, it's a great toy with lots of functionality.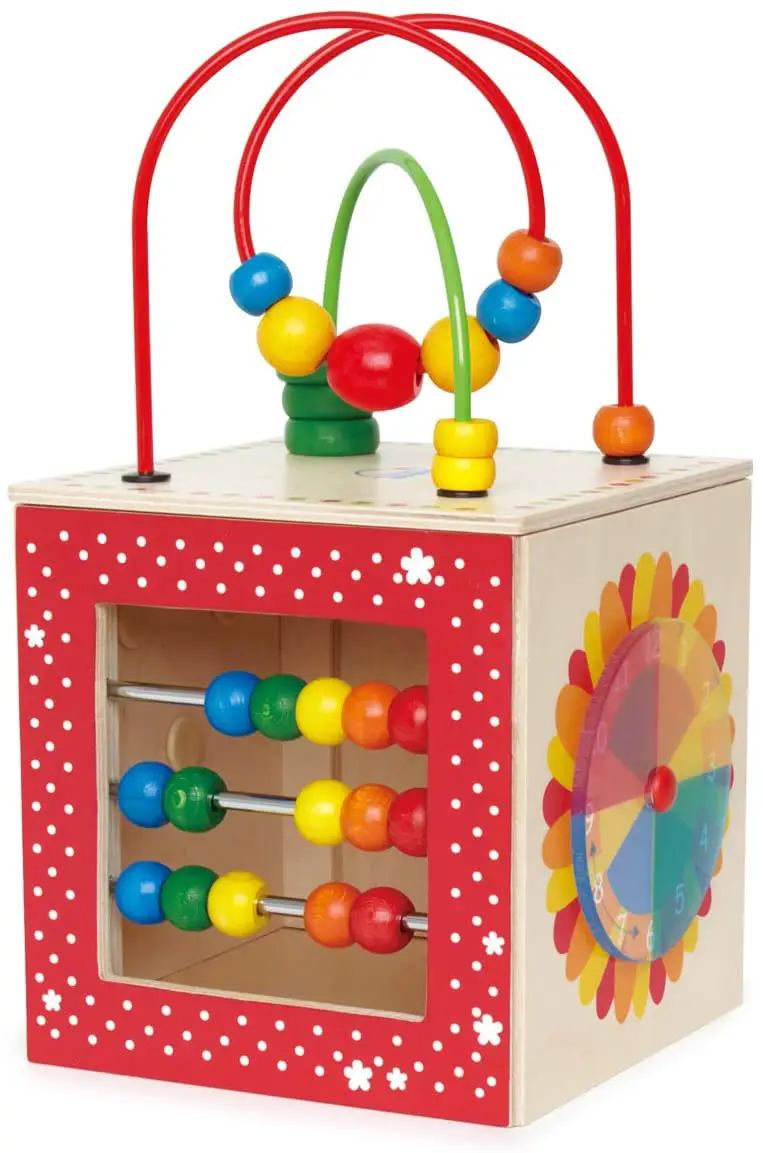 Rainbow stacker (affiliate link) £19.99 – As an open-ended toy that encourages children to learn while having fun. It can be pretend as bridge, tunnels, house…Kids will explore colours, fine motor skills, improve thinking and logic skills, expand reasoning abilities and stimulate imagination when playing with these rainbow blocks.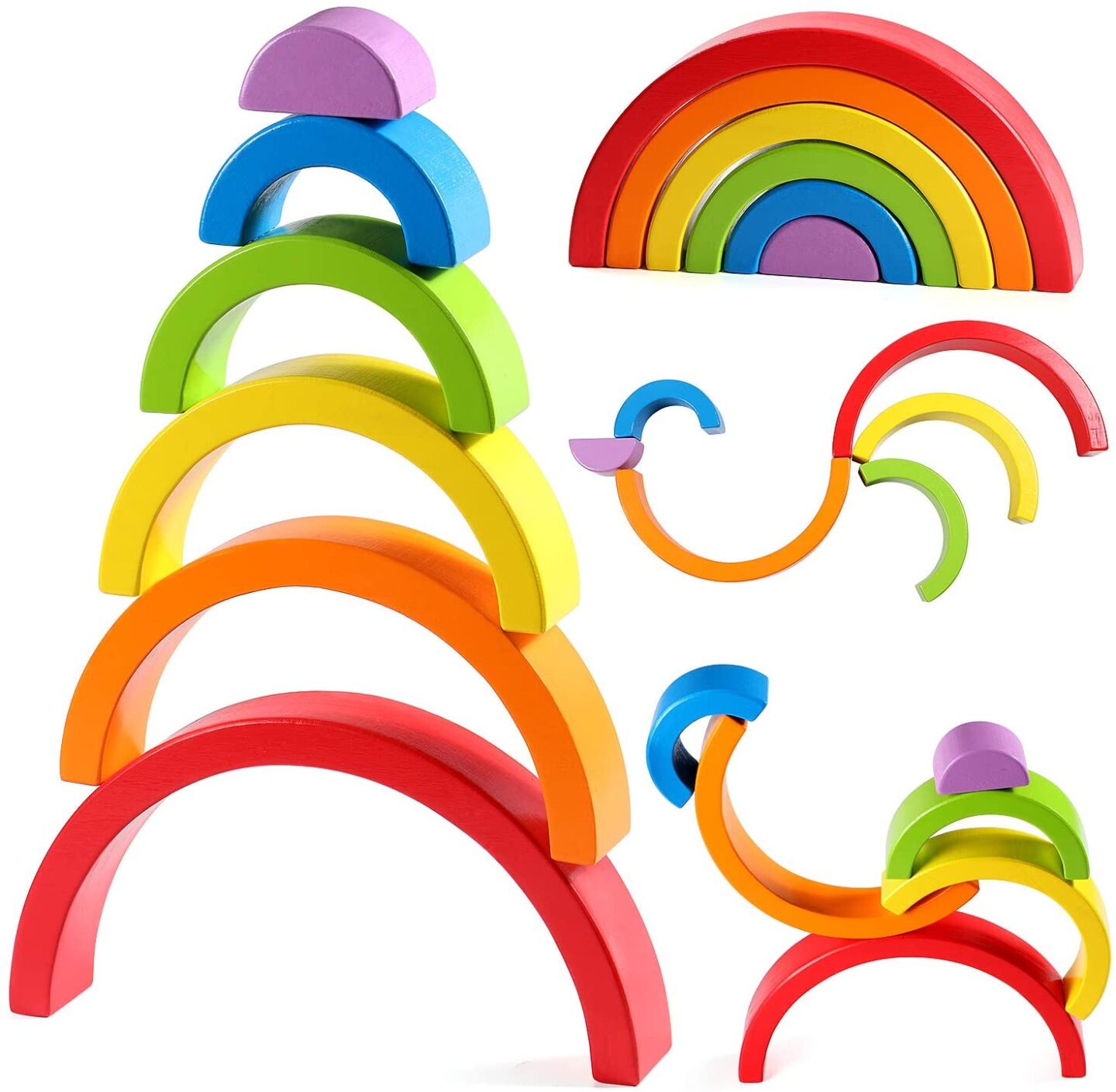 My first finger paint kit (affiliate link) – £19.99. This SES My first set contains everything that young children need in order to get acquainted with finger painting. Put the apron on, roll the paper out and the painting can begin. Safe to use for children aged 1 and above.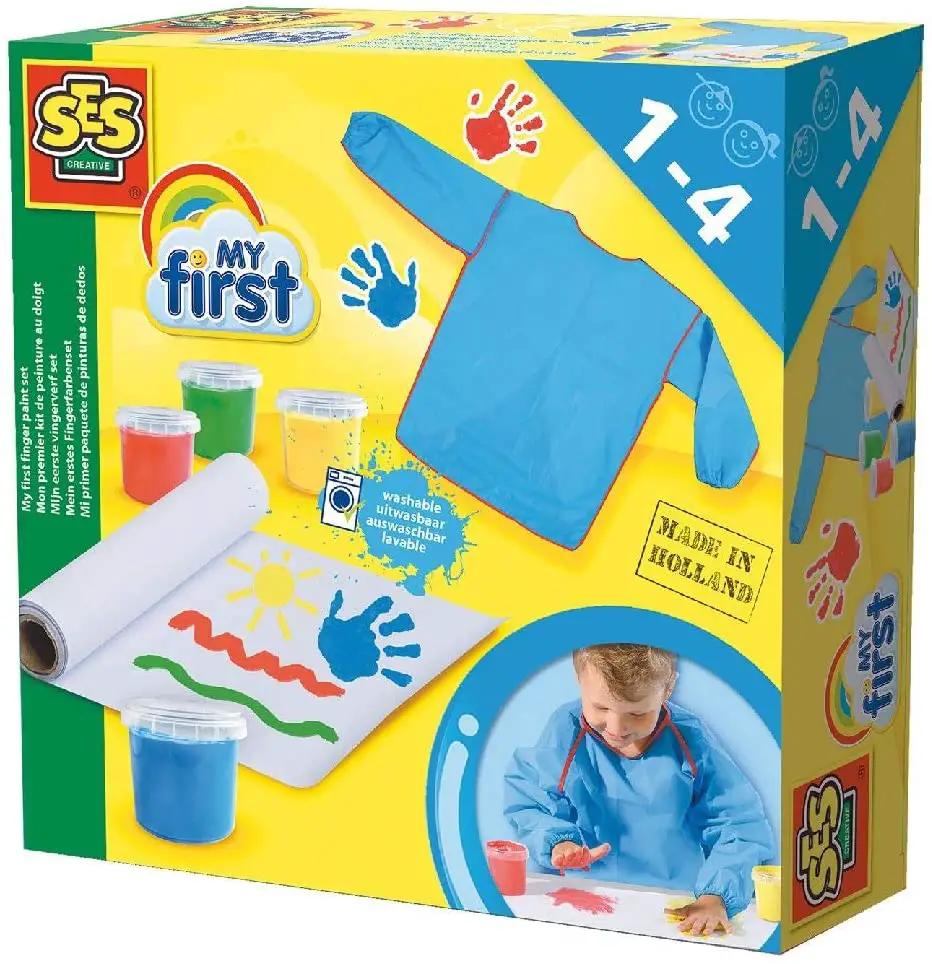 First birthday gift ideas for £30 and under
Old McDonald truck and farm (affiliate link) £20.99. My son was gifted this when he was little and I've not met a kid under 5 who hasn't loved playing with it. It entertained my son and my daughter for years and years. Keep an eye out in places like B&M or Home Bargains as you can often pick it up there cheaply.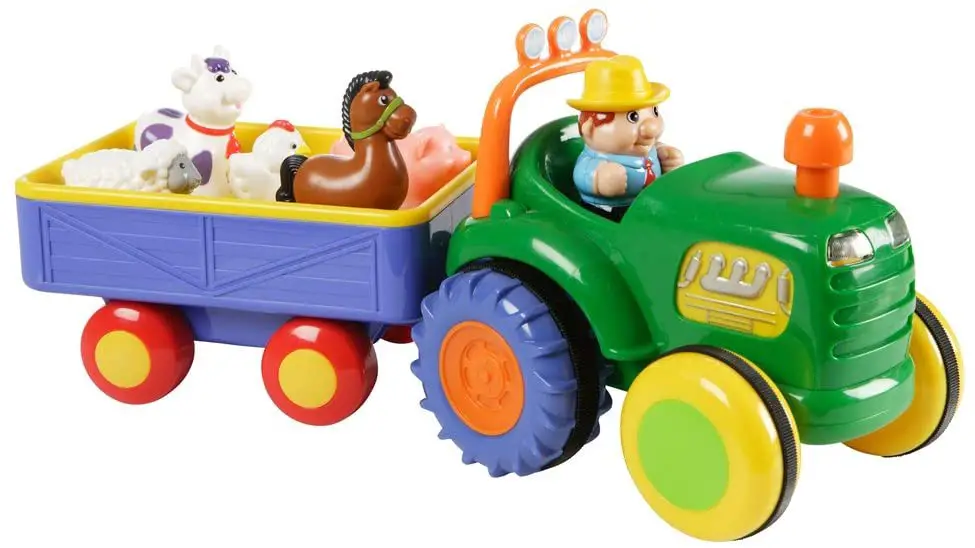 Musical instruments (affiliate link) £21.89. The Band-in-a-Box musical instrument set includes a tambourine, cymbals, maracas, a clacker, tone blocks, and a triangle, plus a sturdy wooden storage crate. This set exposes your mini-musician to different tones, volumes, and rhythms. The manufacturer says that this isn't suitable for children under 3 due to the risk of strangulation from the strings, however this is one I would let my toddler play with under adult supervision.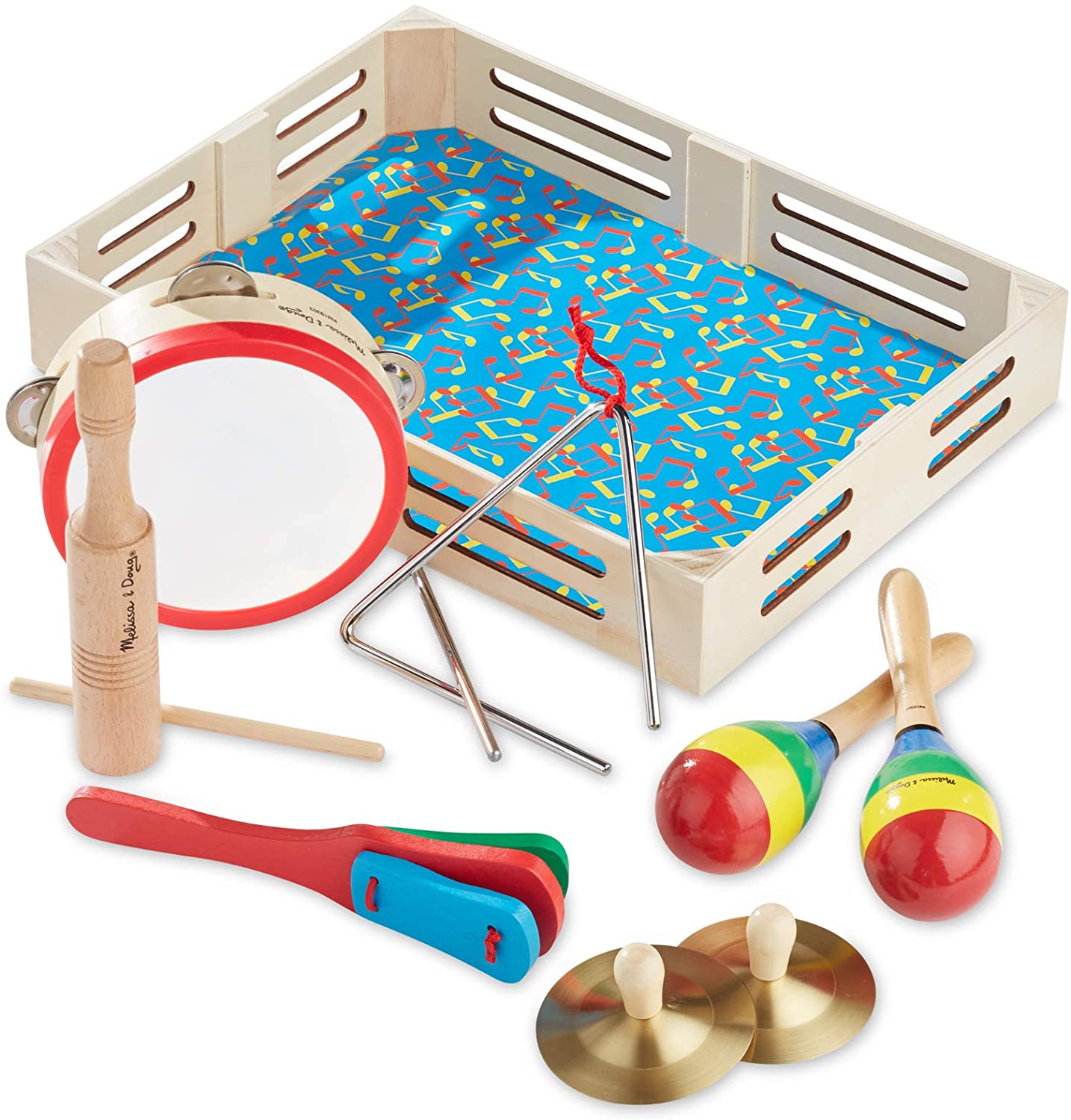 Rainbow blocks (affiliate link) £29.99 – fun and educational wooden first birthday gift with colours, sounds, shapes, stacking options. They are so pretty – I found myself playing with them!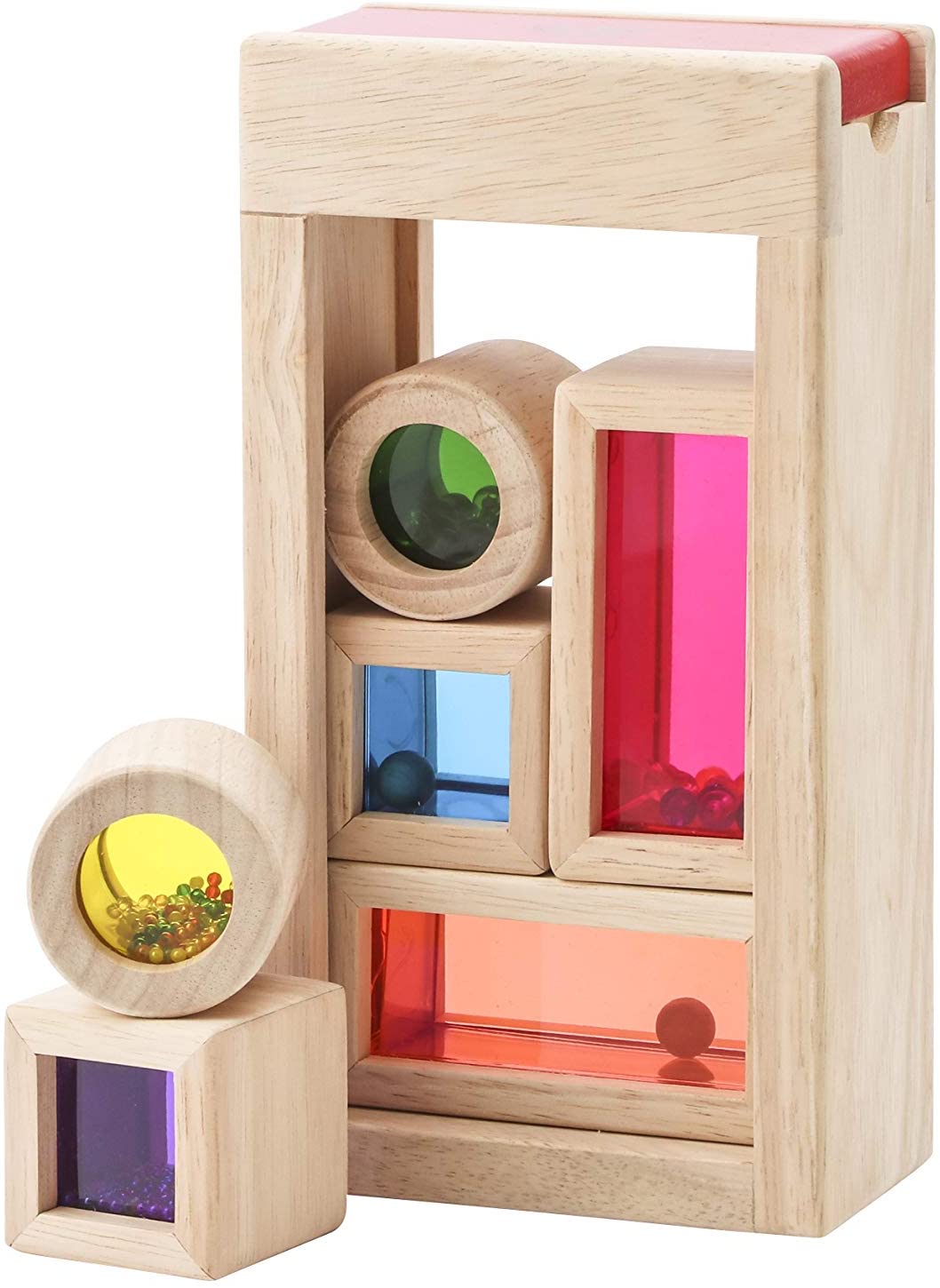 First birthday gift ideas from £30-£50
Medical play set (affiliate link) – £37.49. This medical playset is perfect for role play games. Your child will love acting out real-world scenarios, naturally encouraging communication skills, memory and hand-eye coordination! This is age 3 and above so it's one you'll need to supervise with to make sure it's safe. My 1 year olds loved their doctors kit though.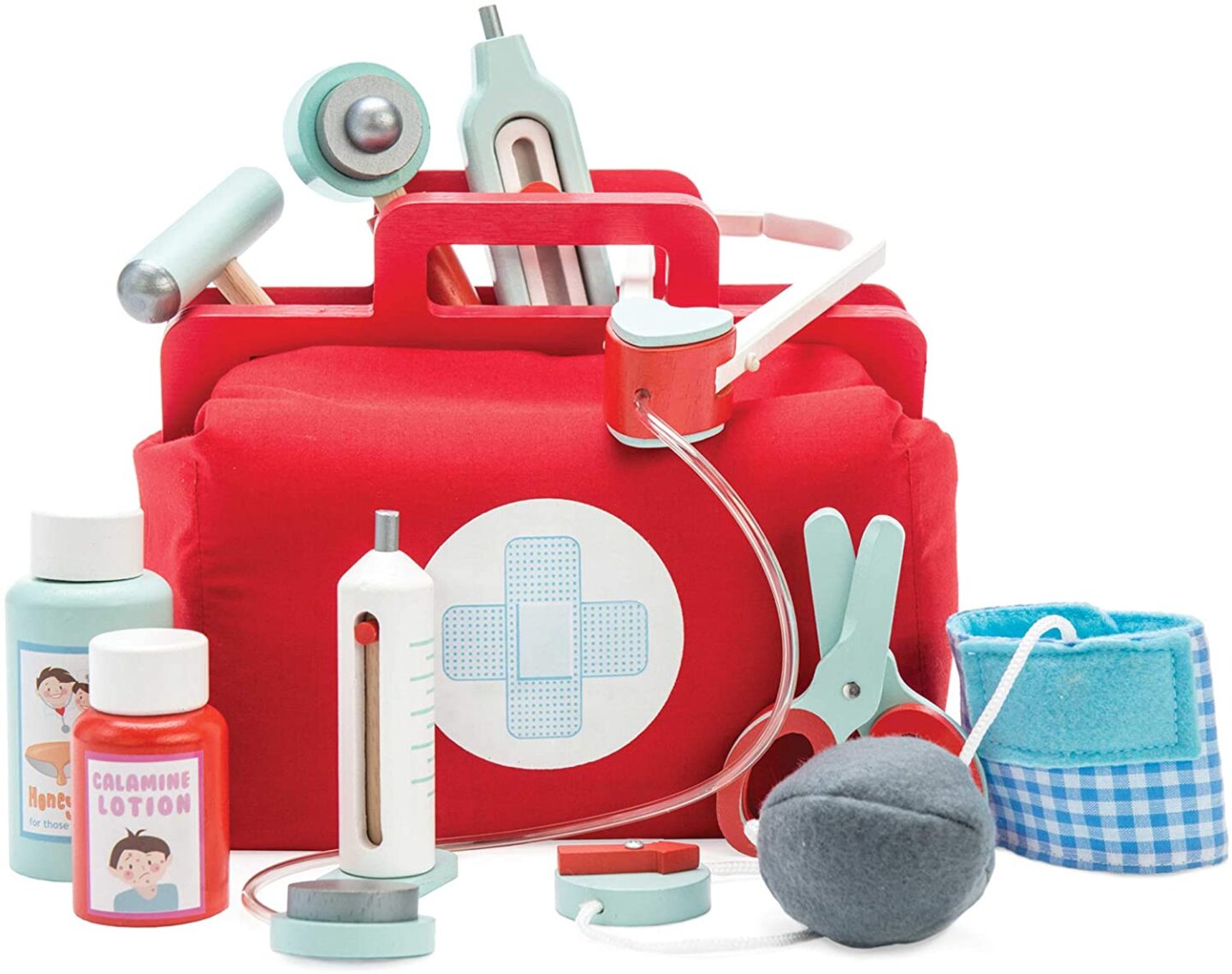 Happy Land Pirate Ship (affiliate link) – £49.99. My kids both played with this ship for years. Both as a toy set and my daughter used it as a ride on too (even though that's not how it is intended to be used but hey you try stopping her).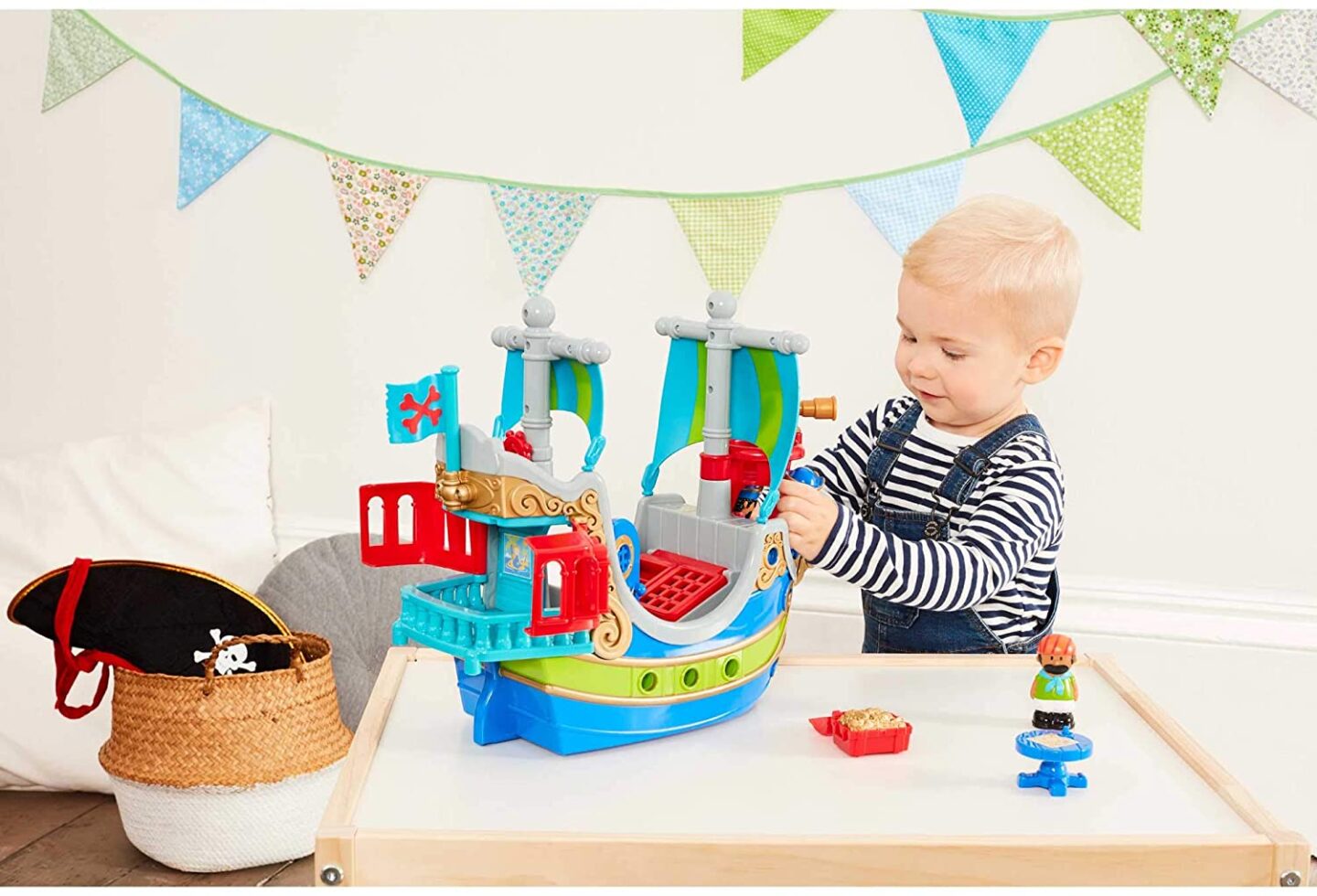 First birthday gift ideas £50 – £100
Wooden toy kitchen (affiliate link) £77.86. We made the mistake of getting a plastic toy kitchen and it constantly fell apart. A stylish wooden toy kitchen will last for years and looks so much nicer.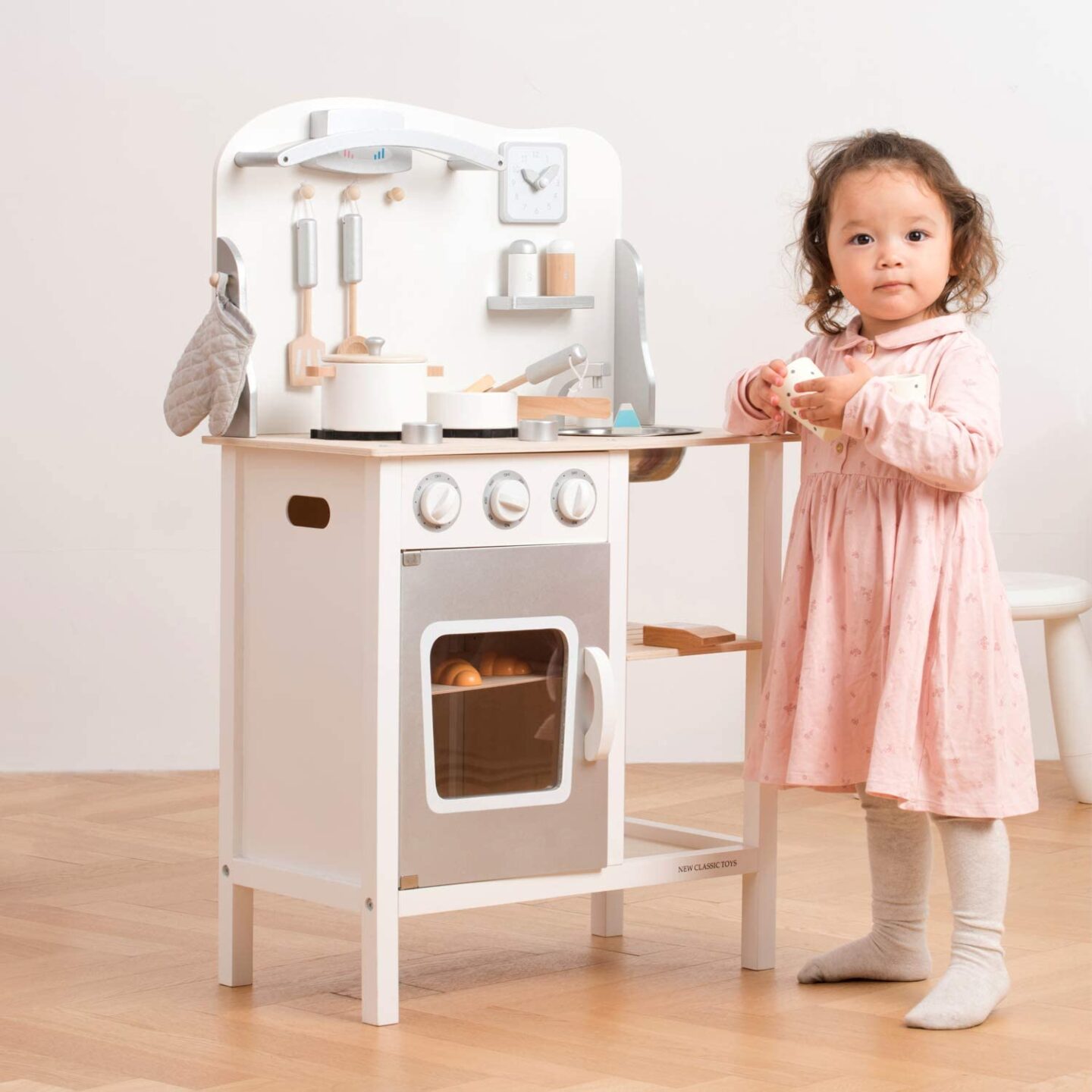 Little Tikes outdoor water table (affiliate link) £77.89 – this is such a great activity table for outdoors and my 1 year old and 4 year old love playing with it.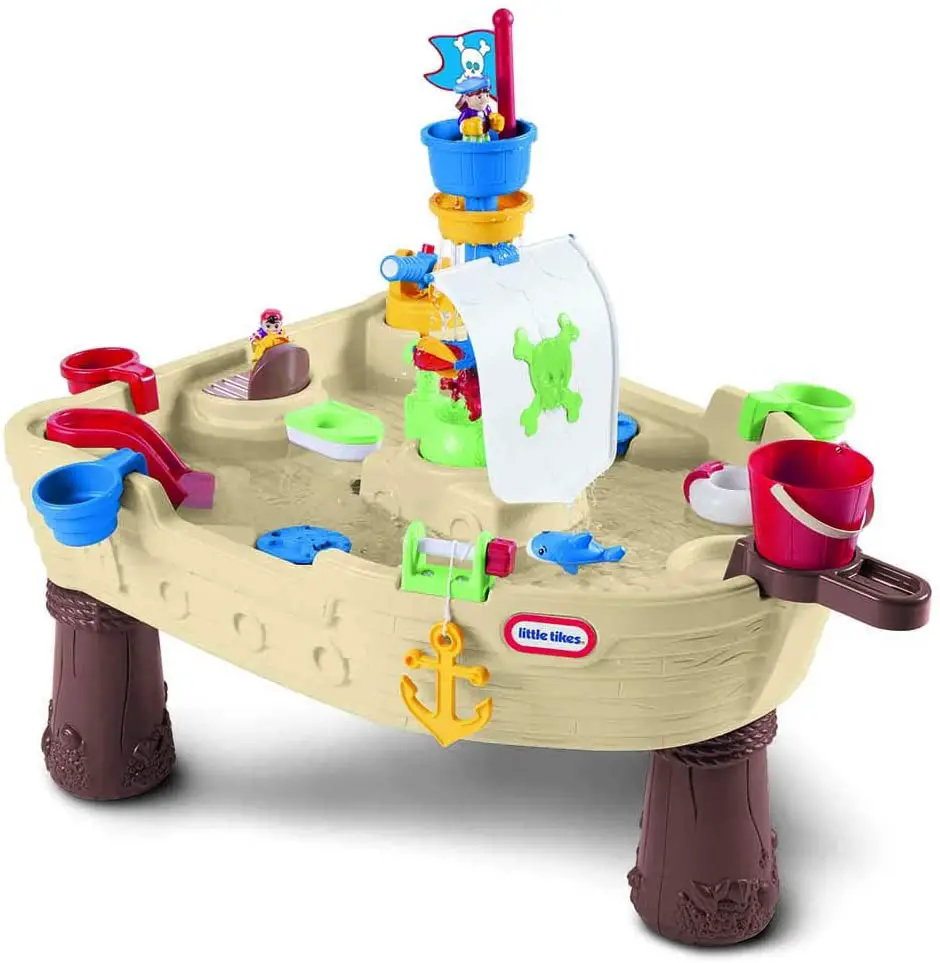 First birthday gift ideas – over £100
Outdoor wooden play house (affiliate link) £163 – keeps them shaded on sunny days and offers the opportunity for imaginative role play. Made with thick Fir wood and the prefabricated panels simply slot together to fix in place, so there are no fiddly parts. Glazed with two child-safe windows which let in lots of light for a bright and welcoming play space, Evermeadow House inspires lots of exciting imaginative play. The pretty windows and full height door are already fixed in place for easy assembly. Fully safety certified to EU standards for children aged 18 months plus. You can make it their own with paint and decorative pieces.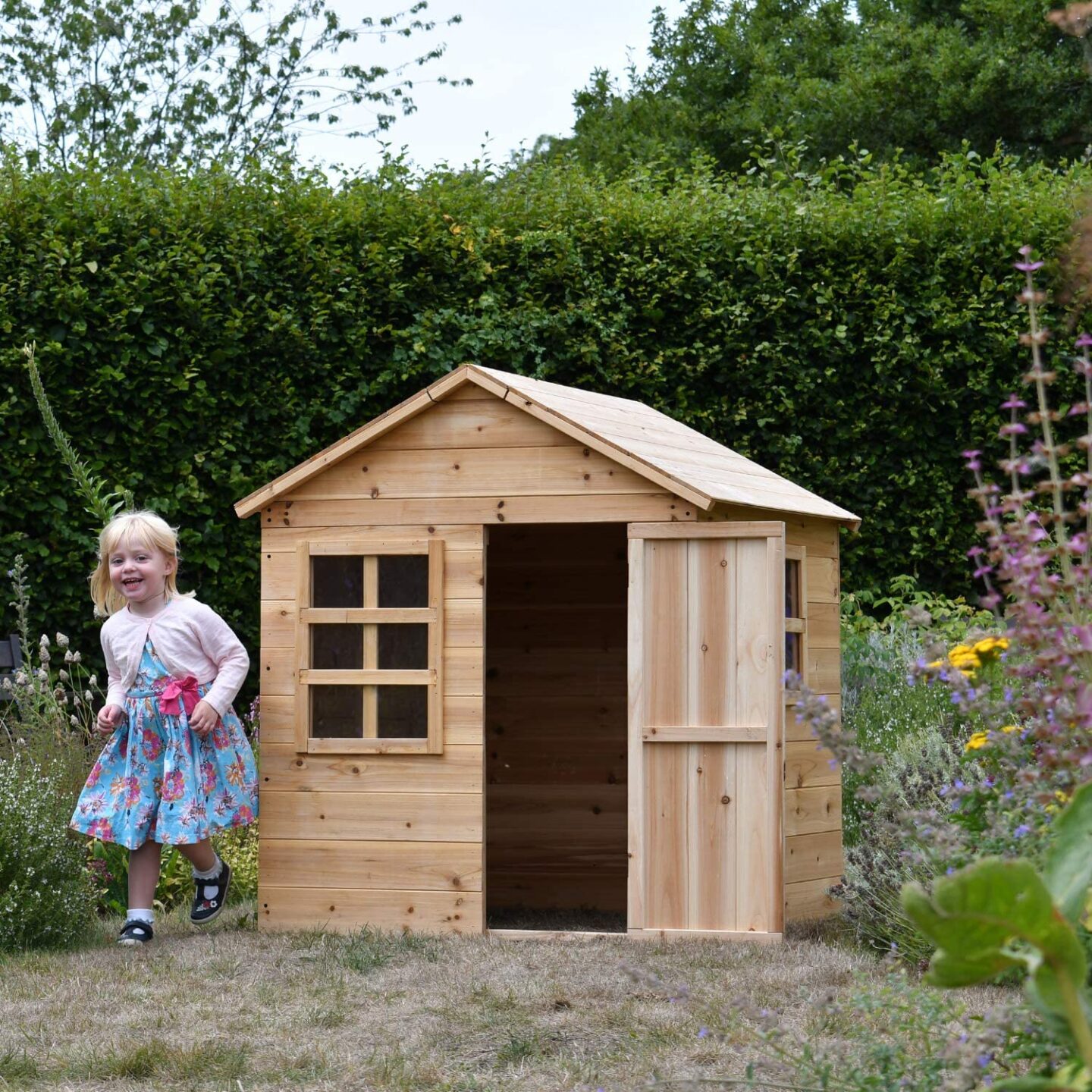 My don't buys:
Cosy coupé! How did these things get so popular? And how haven't they been recalled. They are such a hazard, they constantly tip over and injure children. It's the way the wheels at the front turn. I sold ours, I was sick of picking up crying children from it. All of my friend's cosy coupés are the same.
Sand and water tables – they mix up the sand and water and you are left with mickey gloop. Or they get sand in their eyes constantly or eat sand. You've not had a shiver down your spine like a toddler crunching on sand, yuk.
Toot toot driver products. Yes, your child will love them but yes they will also drive you to distraction with their repetitive and irritating 'songs'.
What are your best and worst buys? Let me know in the comments.
If you liked this post you might also like:
If you have enjoyed this post or found it useful, here are some quick and easy ways that you can support Nomipalony or say thanks:
Share this post with your friends  
Pop over to my Amazon Storefront to see what products I have been buying and loving from there recently, including my health and fitness products list.
Sign up to my mailing list 
Women can join my feminist Facebook group – the Nomipalony Freehouse
Disclosure: This is a sponsored advertorial post. For my full disclosure policy please see my about page.