For my recent birthday, we had the pleasure of staying at the new County Durham venue Runa Farm. Runa Farm used to be the Jersey Farm Hotel site and it has had a £5.5 million revamp by the Apartment Group, relaunching in 2022. We had lunch at their onsite restaurant The Smithy and stayed in one of their luxurious hot tub rooms and had breakfast the next morning. Read on for my full and honest Runa Farm Barnard Castle review.
Disclaimer: We have been collaborating with the Apartment Group who own Runa Farm for Instagram promotion throughout Autumn 2022, as such we stayed at Runa Farm free of charge as a press stay. However, I was not required to write a blog review but am writing this as we had such a good experience I think you might like to read about it.
Scroll to the bottom of this post to see a video of our stay.
Runa Farm Barnard Castle review
Runa Farm rooms
We were really impressed with our room at Runa Farm Barnard castle. We stayed in one of their Courtyard Suites.
It was huge, the decor was gorgeous – rustic but modern and high end. The bathroom and shower in particular were stunning.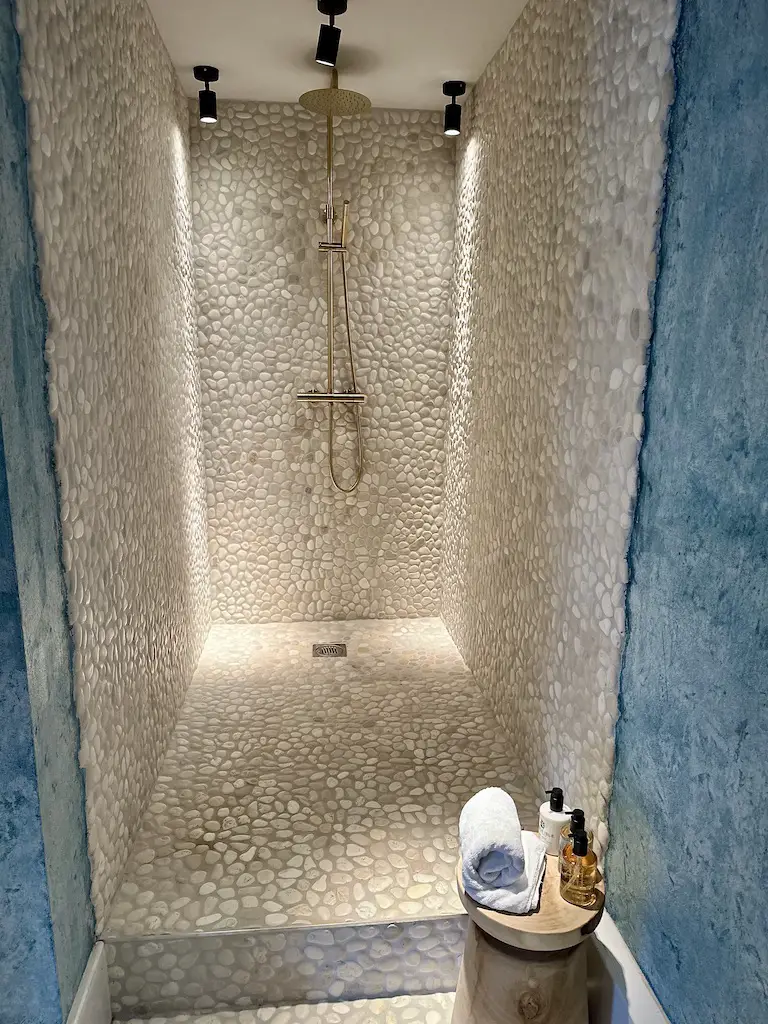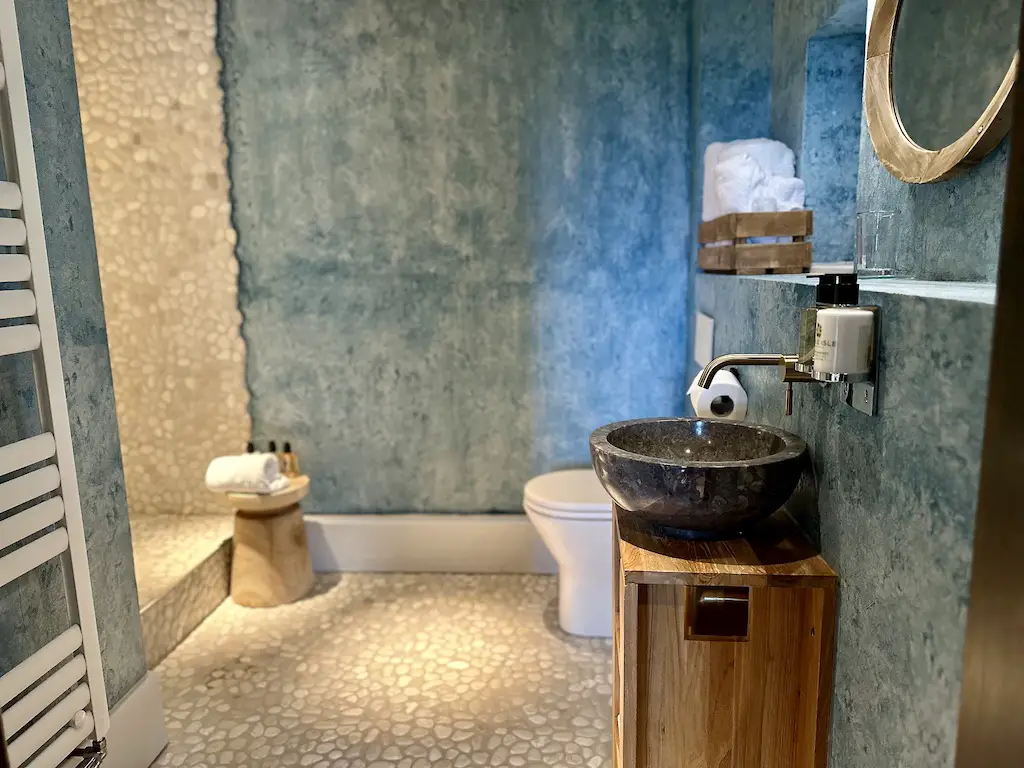 The bed was very large and comfortable.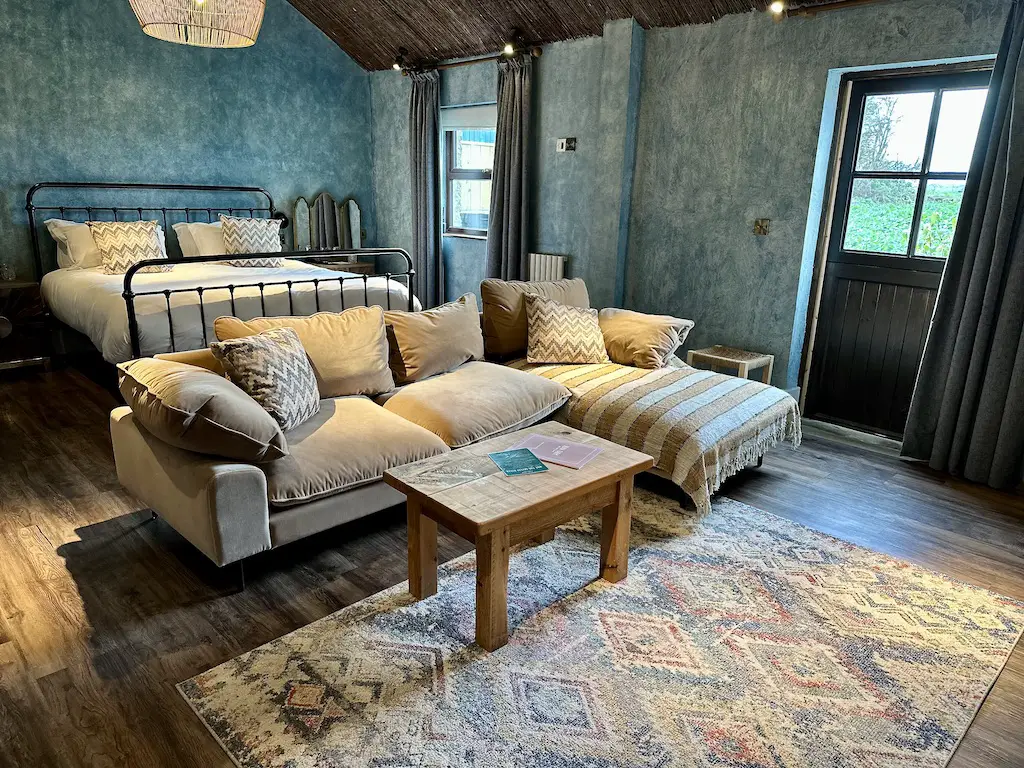 I loved that there was a little sofa and lounge area with a flatscreen TV with Netflix on it. Though we couldn't for the life of us figure out why the TV had been placed in the corner of the room instead of centrally on the wall.
Our room had bunk beds for the kids built into the wall. You could close these off with some big wooden doors but frankly they got in the way and I think it would be better with them removed and it just open.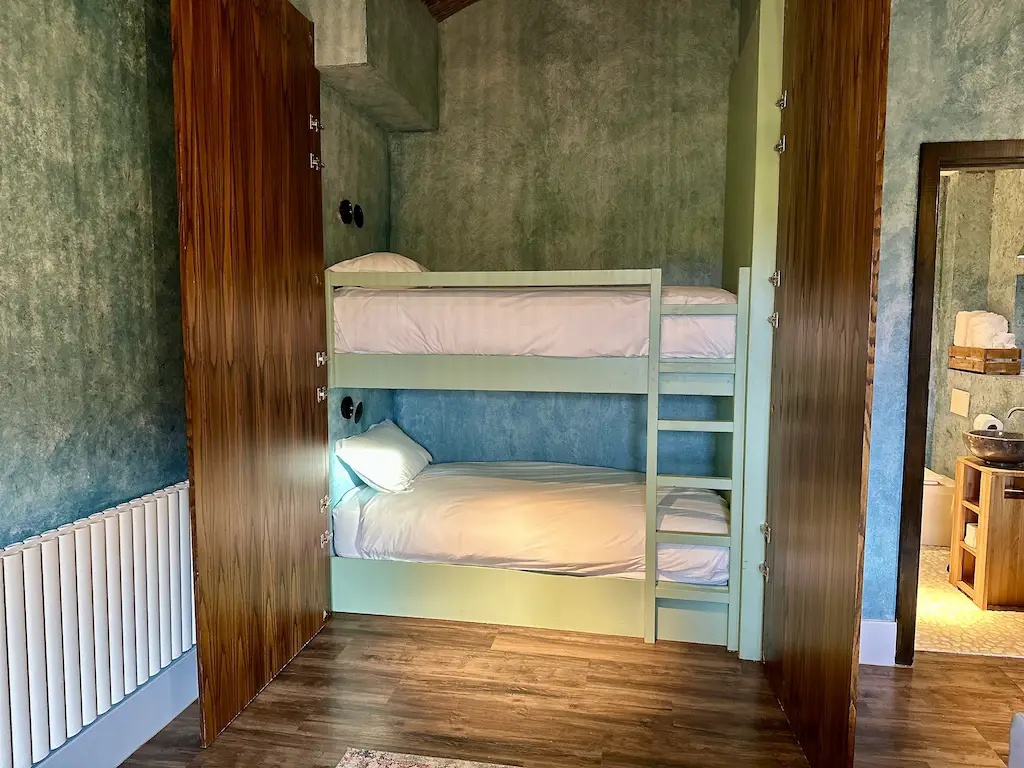 There was a cupboard with a kettle, some Northumbrian shortbread and teas/coffees. Reception were fantastic too and brought us decaf tea bags when there were none and a pot of fresh milk. Such a nice touch.
Cans of water were also provided which were gratefully received.
Runa Farm hot tub
Some farm house style doors led to a small outdoor area that overlooked fields of green crops. Here, there was a large hot tub to relax in and enjoy the scenic views of the County Durham Dales. It was really pretty and relaxing.
We had an issue with our hot tub not being hot enough. We thought it might get hotter overnight so didn't report it straight away but the next morning it was still cool.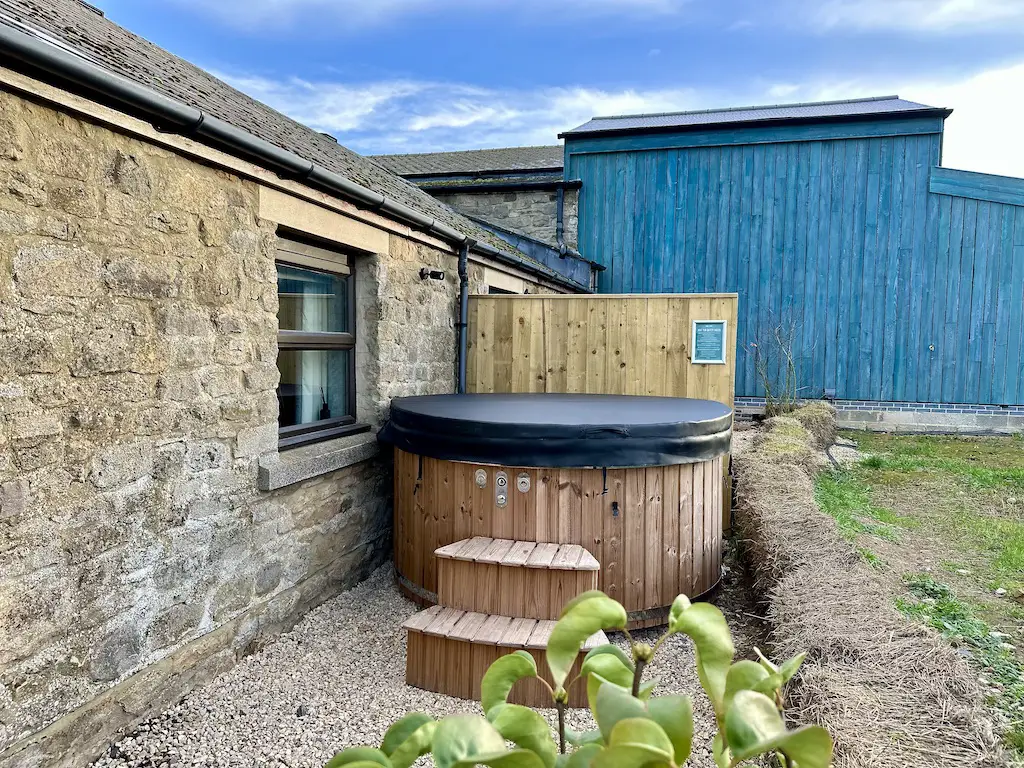 They sent an engineer out immediately to fix it but it wasn't going to be ready before check out so they let us pop next door (which was empty) to use theirs.
Ironically, next doors hot tub as too hot! I was like the Goldie Locks of hot tubs. They said they had been having some issues with them so my advice is check it out on checking in and let them know right away if there are any issues.
Dressing gowns and slippers are provided and there were hooks for the dressing gowns right next to the hot tub which was handy.
Runa farm restaurant – the Smithy
One of the stand out parts of Runa Farm Barnard Castle for us was the restaurant.
As long time readers might know, we are foodies and have pretty high standards. Runa Farm's restaurant the Smithy was one of the best meals we've had in a long time and immediately went into our North East top 5 restaurants.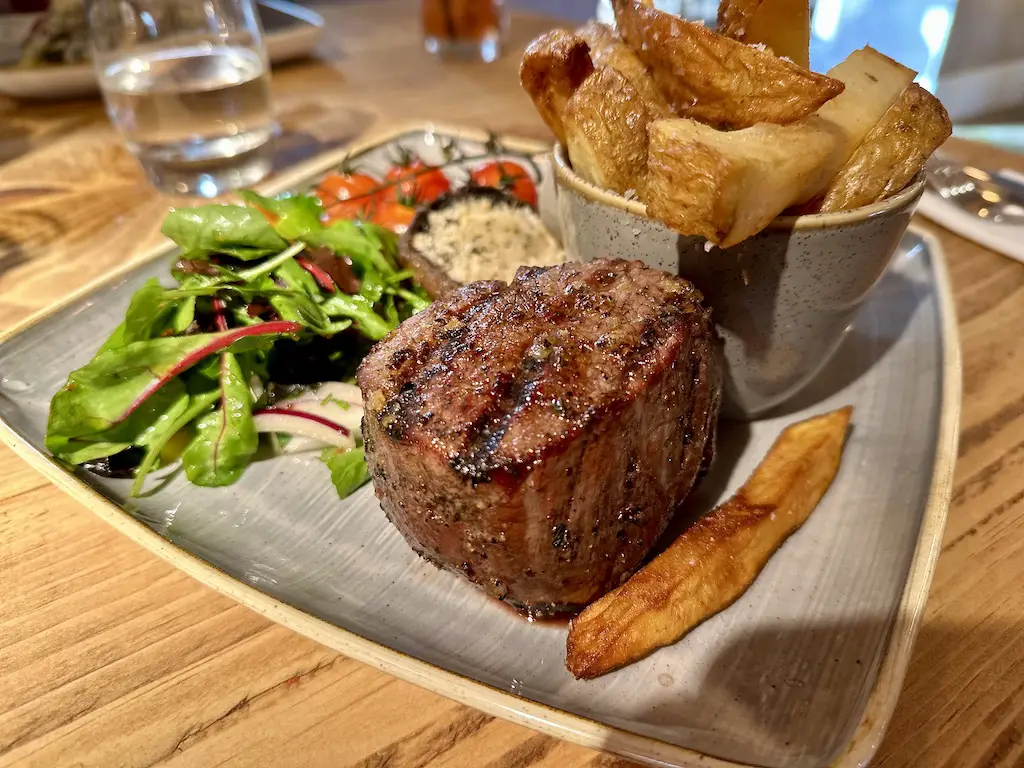 Pape Ginge had a steak that made me so jealous I hadn't ordered steak as well. Thankfully it was a generous portion so he let me have a slice and we both agreed it was up in the top 2 steaks we'd ever had.
I had a beautiful sea-bass dish.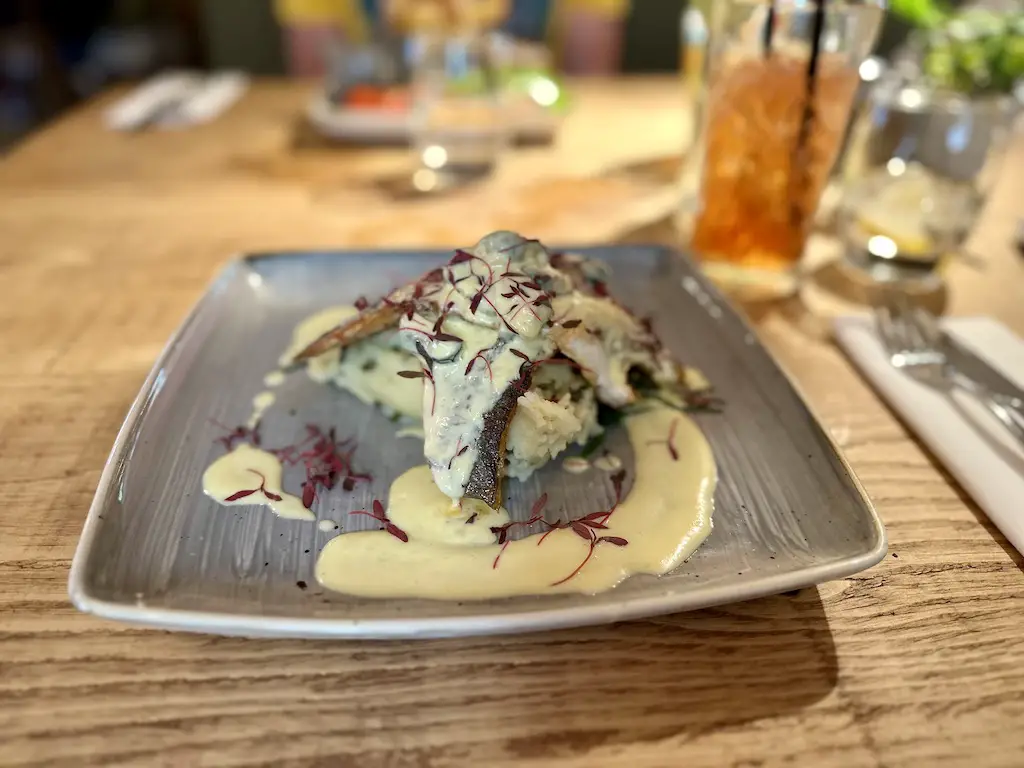 For puddings my husband had a sticky toffee pudding and I had a crumble with custard. All the food was delicious.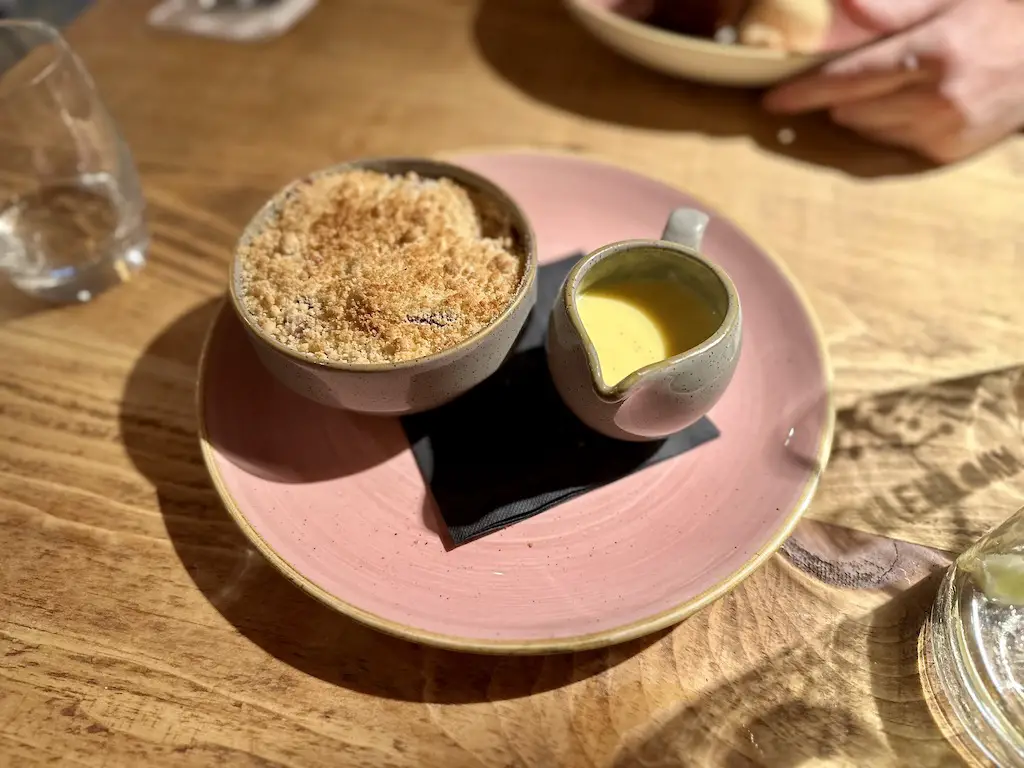 For drinks I had a gorgeous cocktail – it was my birthday after all and Papa Ginge had a pint of his favourite lager, Neck Oil which they had on draft.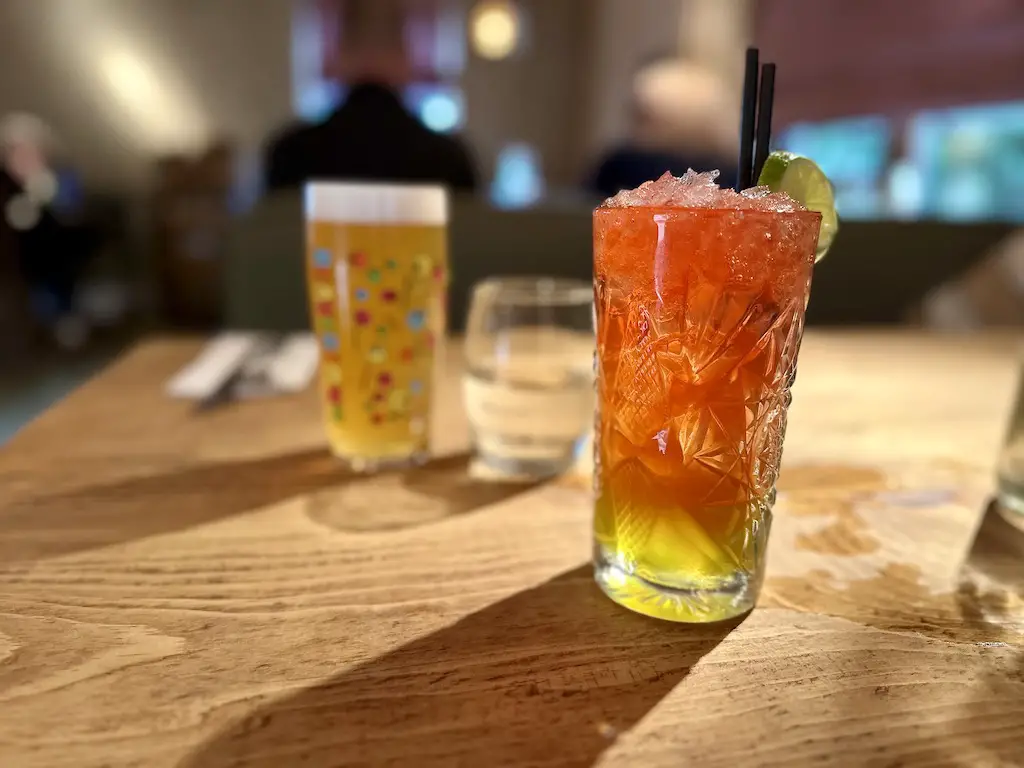 The decor of the restaurant gave me very Byron Bay or Ibiza vibes. Rustic and boho but modern and trendy at the same time. Nice and spacious.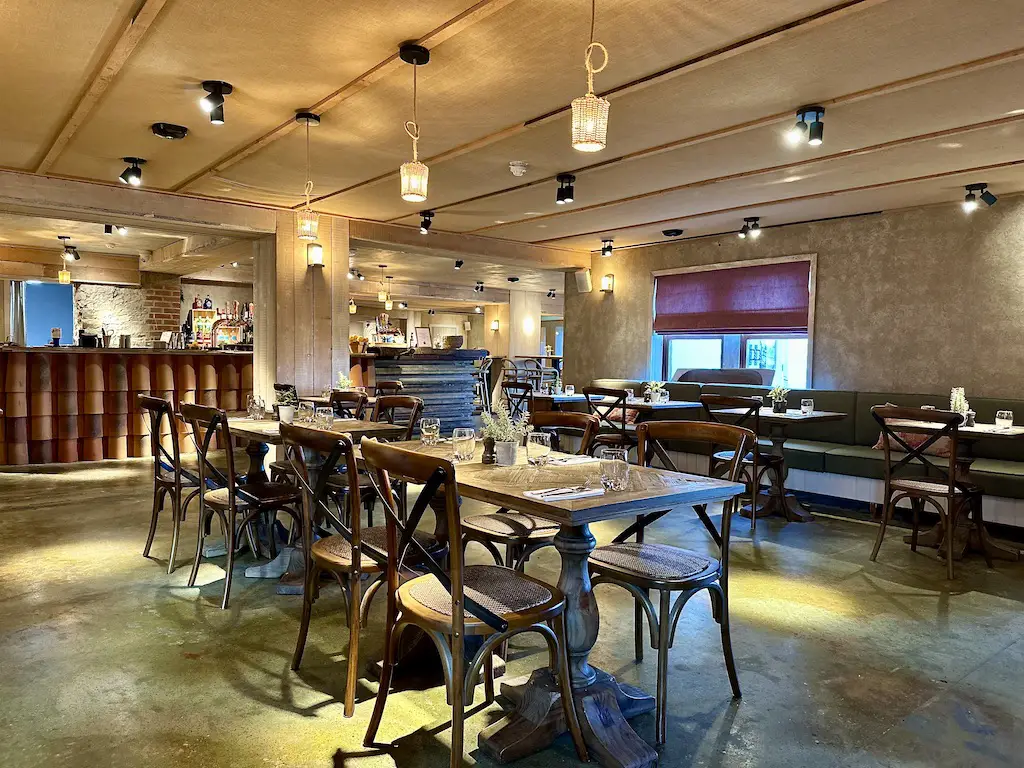 Runa Farm – breakfast
Breakfast, served in the Smithy restaurant, was included in our room and it's very generous!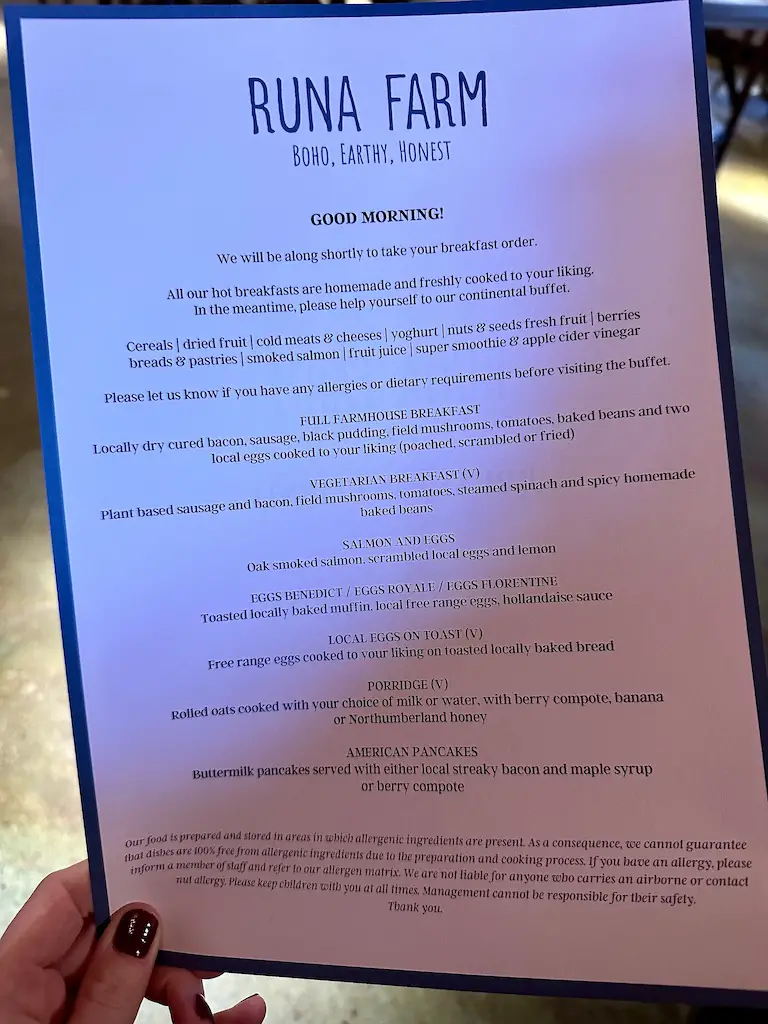 There is lots of food and drinks set out that you can help yourself too. This includes stuff like cereals, pastries, meats, cheeses, smoked salmon, juices, fruits, yogurts, toast and jams etc.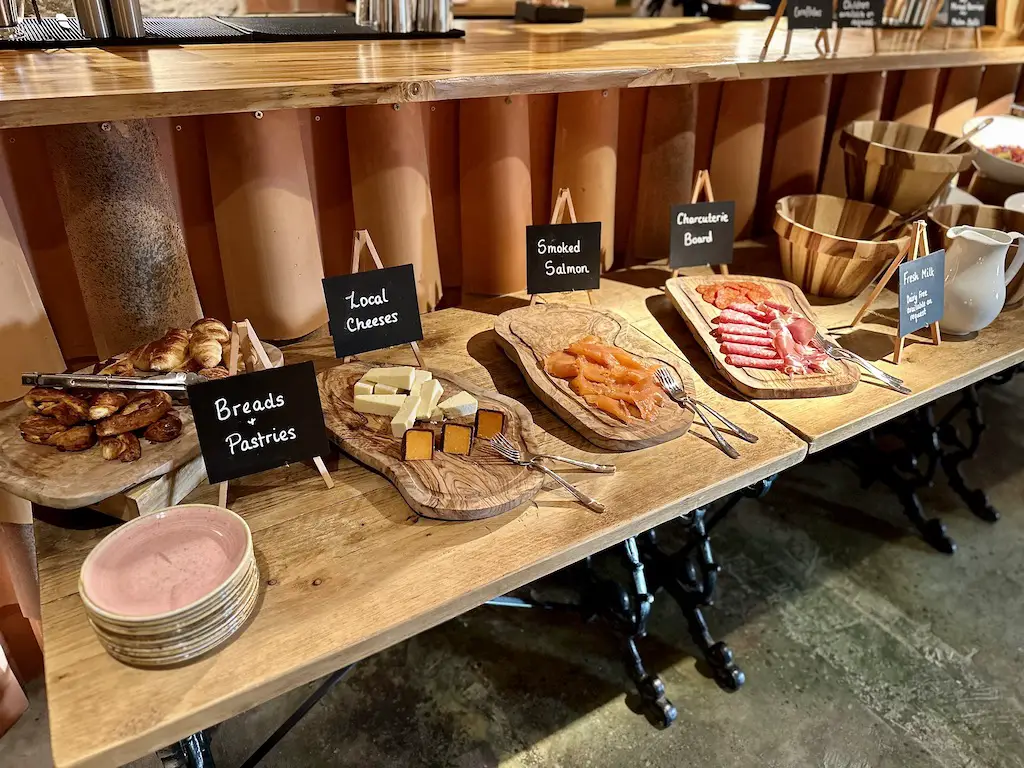 Then, also in your room price, you can order hot drinks and cooked breakfasts. These included things like eggs royale and a full english. Just like our meal in the Smithy the day prior, the food was fantastic.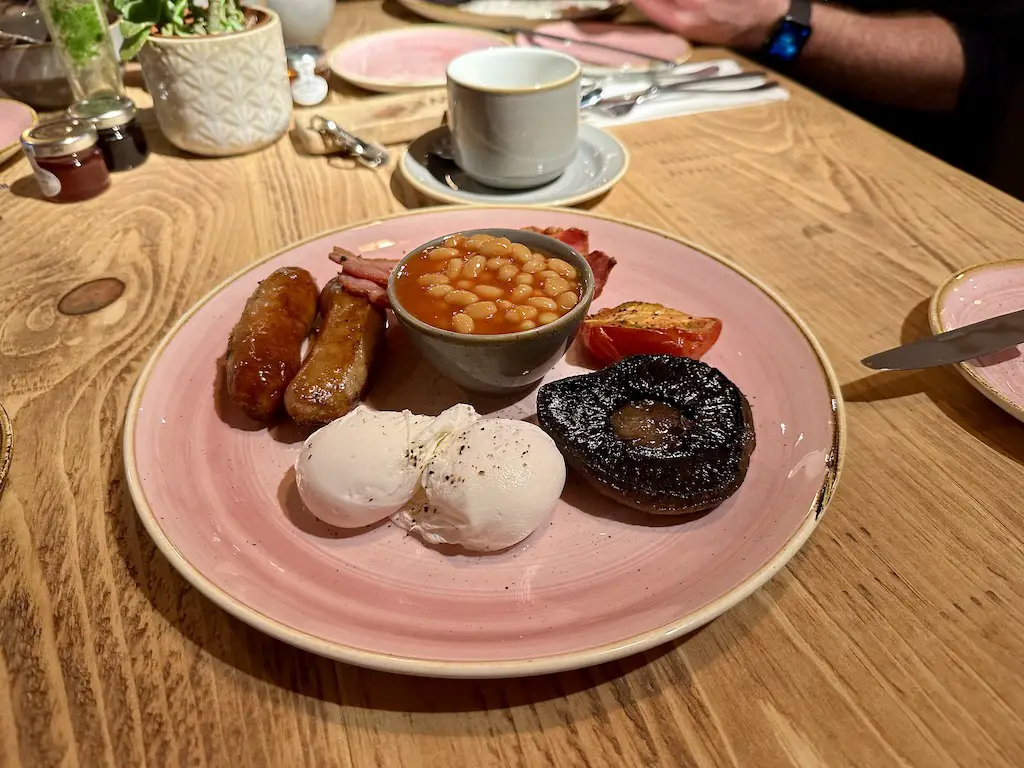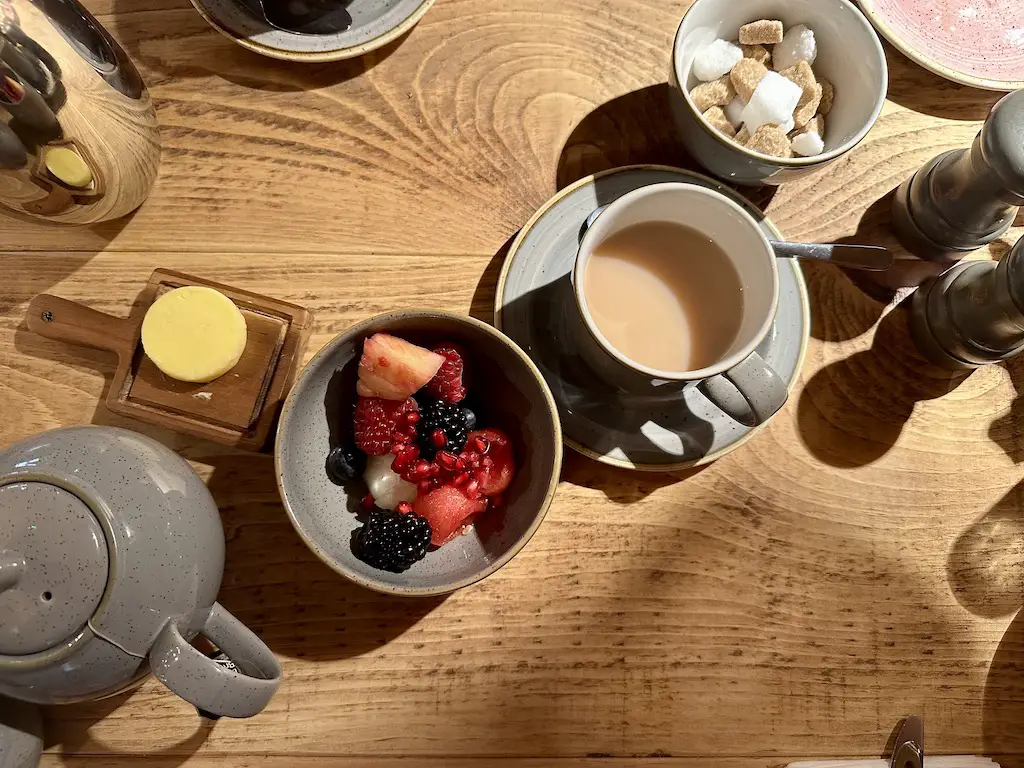 Runa Farm check in and check out
Runa Farm check in is at 3pm and check out 11am.
Is Runa Farm Barnard Castle dog friendly?
Runa Farm do have a number of rooms that are dog friendly. There is a £30 surcharge if you want to bring your pet dog.
Runa Farm's restaurant the Smithy is also dog friendly. They had water on the floor for dogs and a number of things at the bar that you can buy for them including treats and doggy beer lol.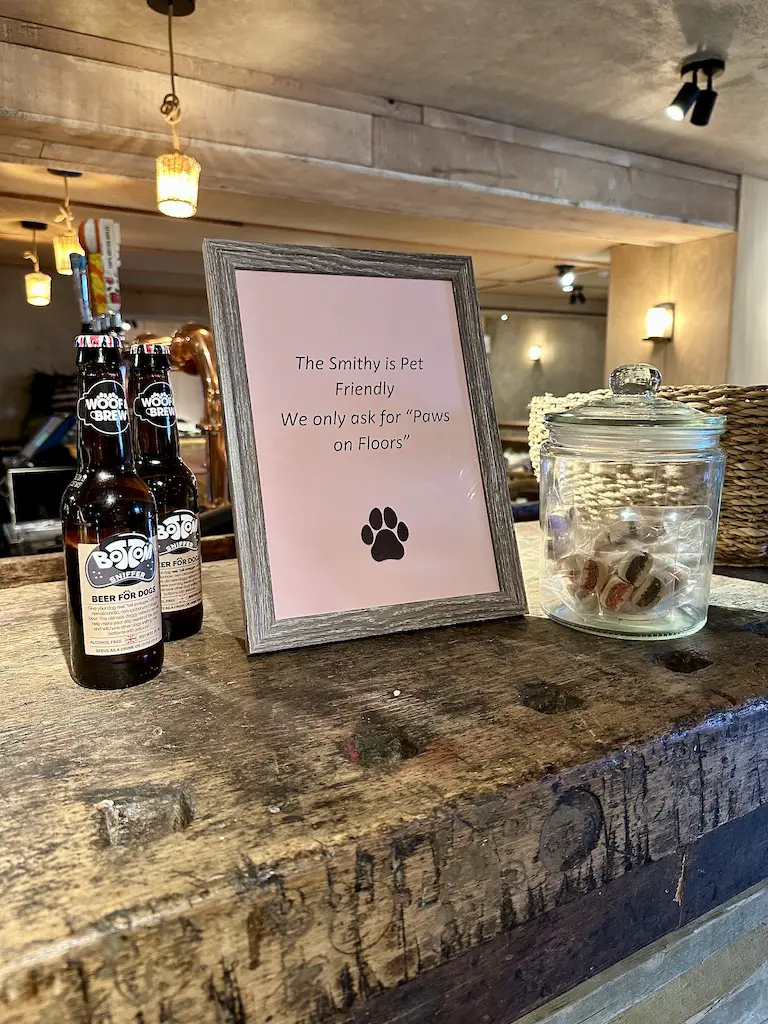 Runa Farm Barnard Castle menu
Menus at Runa Farm's The Smithy have a field to fork focus that centres around the use of high-quality, locally grown produce with dishes that switch with the seasons.
Runa farm invites diners to experience the hospitality of a small working north east family farm whilst feasting on the region's seasonal harvest.
They have a Sunday Lunch, kids menu and afternoon tea menus alongside the usual menus. You can see their various menus here.
Runa Farm's farm
Something that makes taking kids to Runa farm wonderful is it has a small working farm on site and you can go and look at the animals.
They have ponies, alpacas/llamas (I'm not sure which lol) and deer that we saw on our visit. If you stay in the farmhouse you can even watch them right outside your windows or on the terrace. How cool is that?!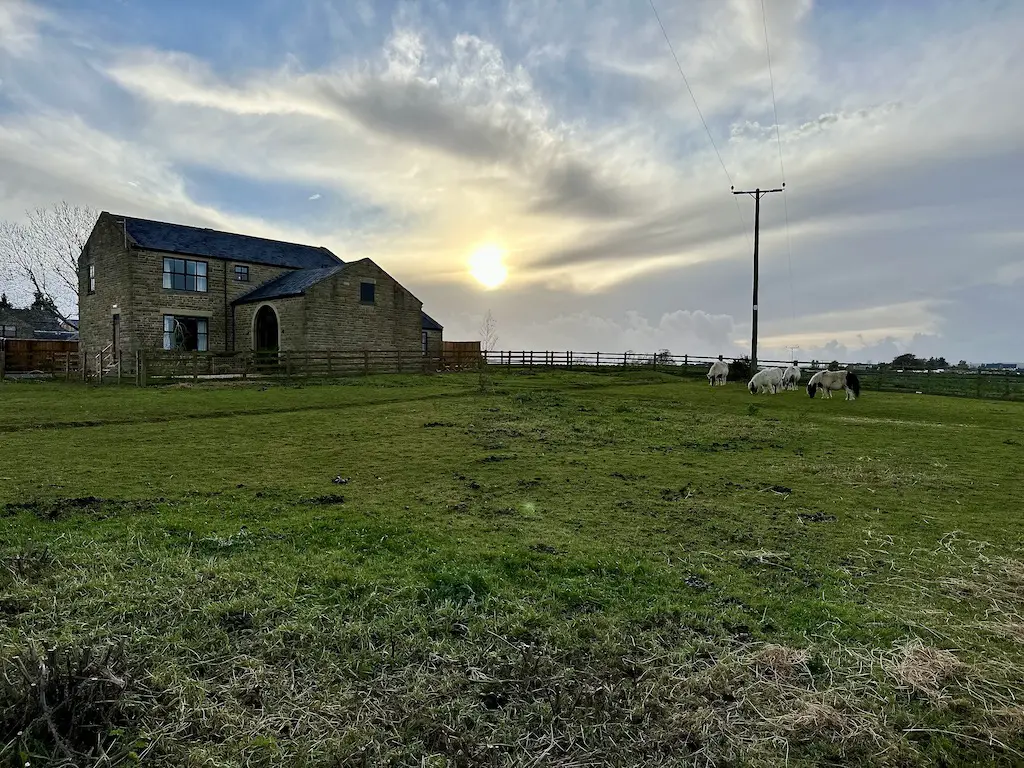 Runa Farm Barnard Castle wedding prices
Runa Farm is a beautiful wedding venue and it seems really affordable at the moment. I think the prices will increase in time as this venue becomes better known so get in quick now for a steal!
As I'm writing this they have an offer thats £1995 for weddings up till March. That includes a three course wedding breakfast for 30 adults with a glass of wine, bellini reception, bellini toast, evening pimp your own fries/nachos and complimentary honeymoon suite and bottle of bubbly and more.
If this had been around when we decided to get married in a month in 2020 then I would have booked this for sure!
Runa Farm Farmhouse sneak peek
Whilst we were there we got to have a sneak peek at the Runa Farmhouse that sleeps up to 12. Its stunning!
There are also an additional 2 rooms next to the farm if you had more guests who would benefit from their own space a bit more.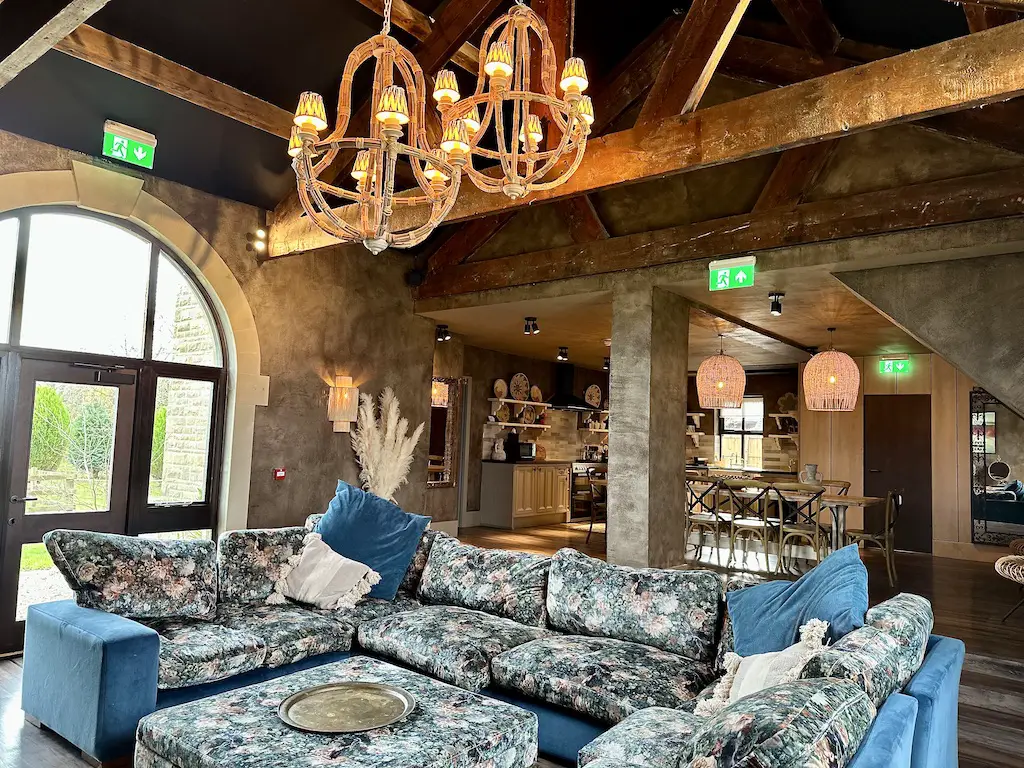 I've already sent links of it to my friends and family for our next large group mini break.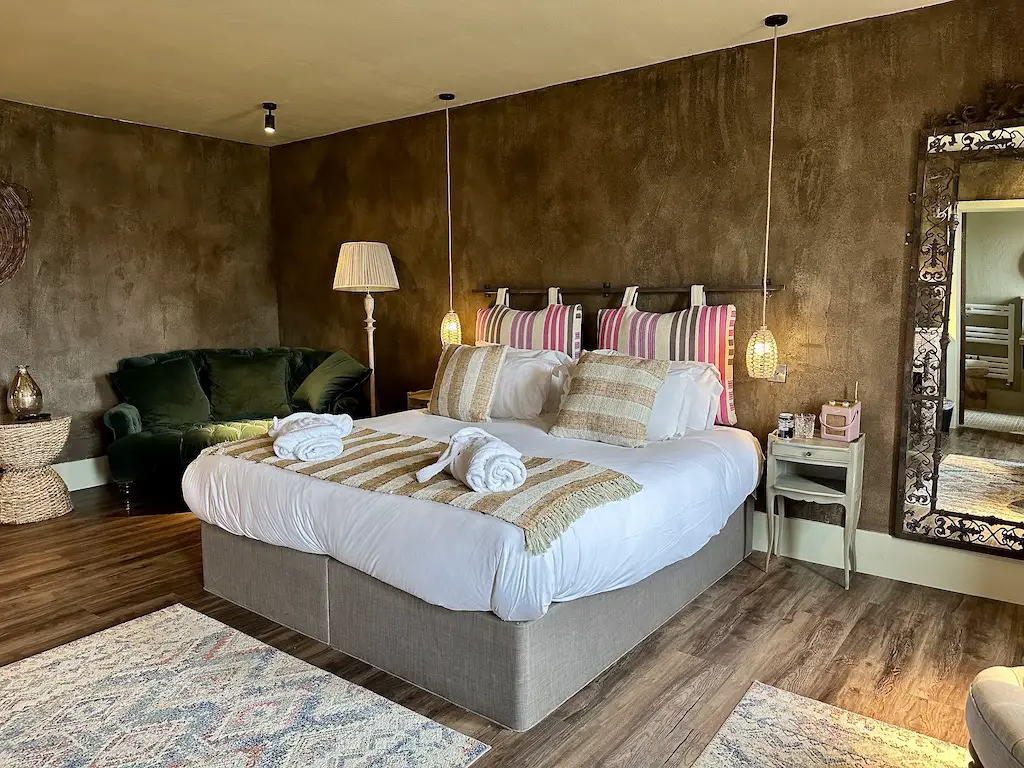 Runa Farm address
You can find Runa Farm at:
Runa Farm
Darlington Road,
Barnard Castle
Durham,
DL12 8TA
Tel: 01919337409
Email: [email protected]
And you can follow them on their Twitter or Instagram accounts where they often post special deals and competitions.
What can you do nearby Runa Farm?
Runa Farm is 1 mile from the centre of Barnard Castle.
It is also really close to Raby Castle which would make it a great place to stop if you were wanting to visit there to see the medieval castle, it's many deer and children's treetop playground Plotters Forest or the stunning High Force Waterfall.
Video of our stay at Runa Farm
Before you go
If you liked this post you might also like some of our other local North East reviews:
If you have enjoyed this post or found it useful, here are some quick and easy ways that you can support Nomipalony or say thanks: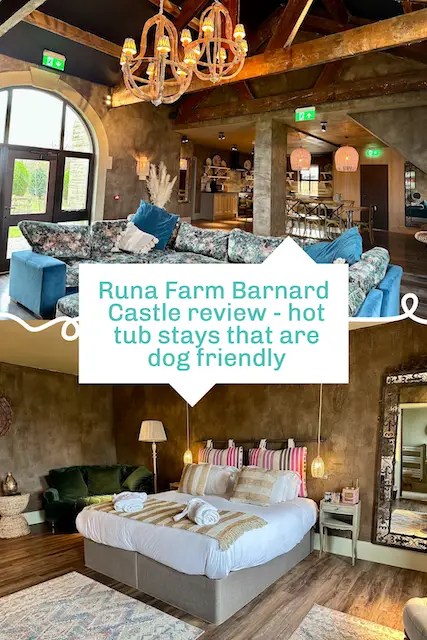 Disclaimer: This trip was a press trip and our accommodation was provided free of charge for the purposes of reviewing the accommodation for the post. For my full disclosure please see my about page.