Last weekend we had a family mini-break in Seaburn courtesy of the Seaburn Inn. This review of the Seaburn Inn covers what we thought about the 'foodie pub with rooms', all the details you need to know and what we did in the local area during our stay. Please note this was a press stay for the purposes of this review but I have not been instructed what to say – these are my honest opinions of our stay.
The Inn Collection Group Winter Breaks special offer
The Inn Collection Group who own the Seaburn Inn (affiliate link) currently have a special offer (affiliate link) where a one night bed and breakfast break with dinner for two costs just £44.50 per person. This is the offer that we visited under.
The rate includes a £26 food allowance per adult which depending on what you are ordering, usually covers 2-3 courses.  Additional spend, all drinks and child meals are charged as taken. The offer is valid from 1st November 2021 to 32 March 2022 and is available to book now.
Let me tell you it's an absolute bargain of an offer. I couldn't recommend it more for a lovely mini-break in Seaburn.
Also look out for their 20% off NHS discount on food and drink.
The Seaburn Inn – amenities
The Seaburn Inn is a new pub with rooms right on the Seaburn seafront that just opened in summer 2021.
It has a sea-view restaurant and an outdoor terrace that overlooks the beach.
Guest check in is from 3pm until 11pm and check out is from 7.30am until 10.30am. A complimentary full English breakfast is included in room rates (unless specified when booking).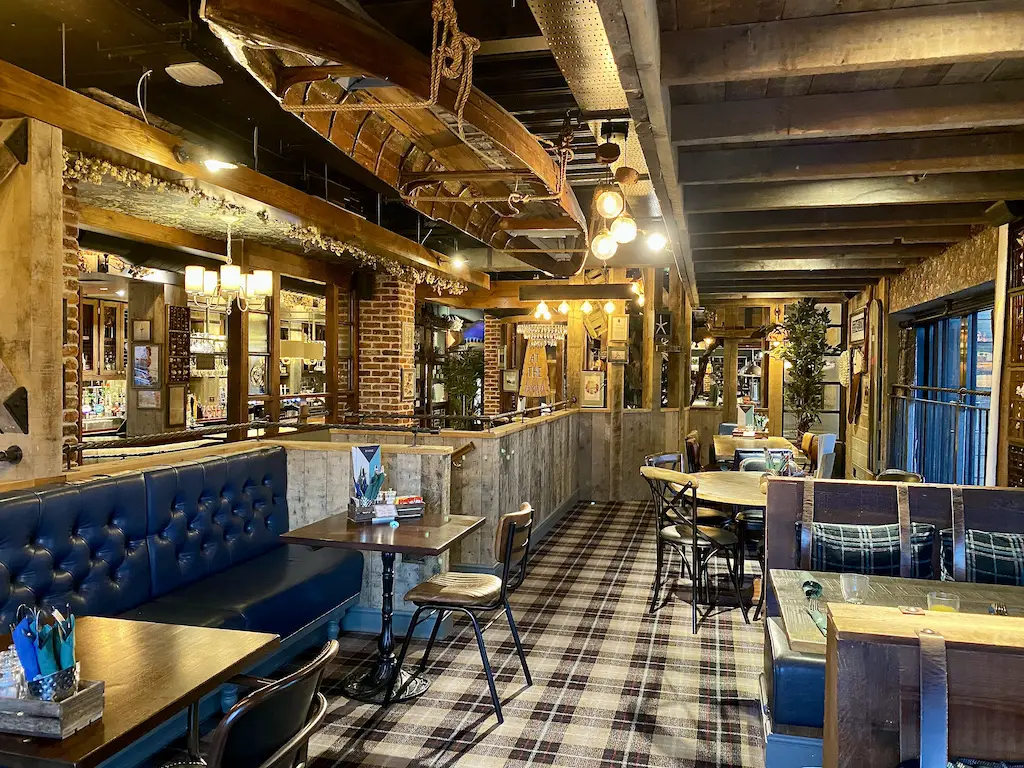 Getting to and from the Seaburn Inn
The Seaburn Inn has a huge car park so parking is not a problem. They even had an electric car charger though it wasn't yet operational during our stay but should be soon.
According to google, Seaburn Inn is a 19 minute walk from Seaburn Metro for those who don't drive. We also saw plenty of buses stopping nearby on the seafront.
The Seaburn Inn location
The Seaburn Inn is set right on the Seaburn seafront. It rubs shoulders with the coastal resort of Roker with its famous pier and Whitburn in South Tyneside.
It is close to Sunderland's many attractions including The Stadium of Light, the National Glass Centre, and the Empire Theatre.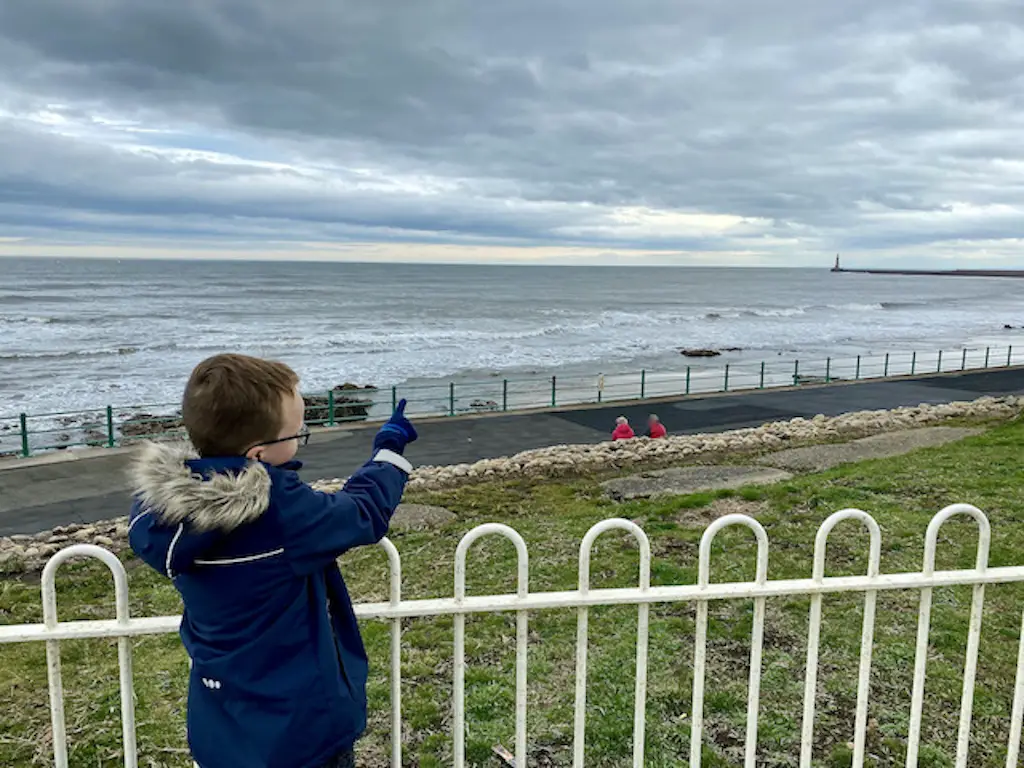 The Seaburn Inn – family rooms
The Seaburn Inn family rooms have king sized double beds or twin beds, plus bunk beds for your little ones. You can enjoy complimentary sleep kits, free WiFi, flat-screen TV and tea & coffee making facilities.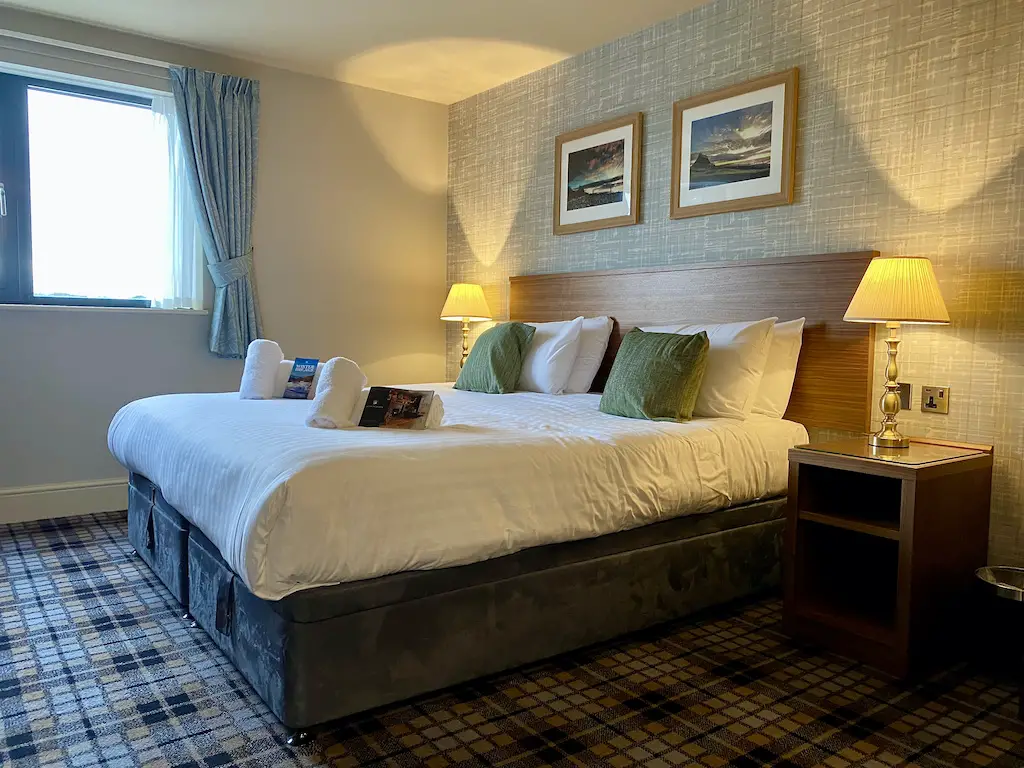 Sadly none of the family rooms have a sea view. If you don't have kids with you I would highly recommend a sea view room as the views don't get much better. They are truly stunning and some of the rooms have balconies overlooking the beach.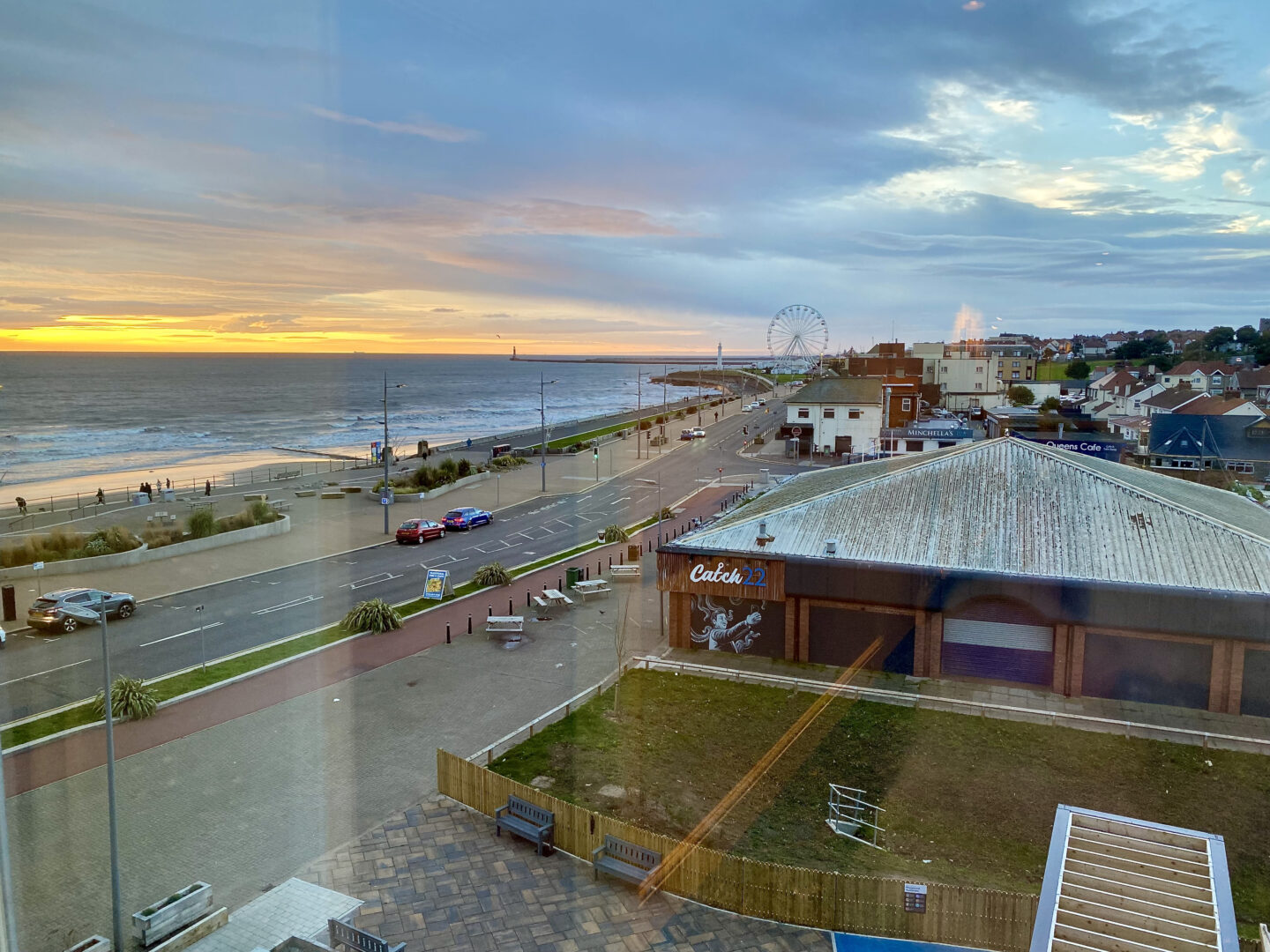 If your children are a little older or you are staying with friends the Seaburn Inn does have connecting room options.
Our Seaburn Inn family room included:
Freeview television with radio channels
Free WiFi
Tea and coffee making facilities
Complimentary sleep kit
Iron and ironing board
Hairdryer (which I tried and was fine)
Safe
The room was large and we had ample room as a family of 4 and everything we needed for a comfortable stay. We commented that the king size bed felt much larger than our king sized bed at home as all 4 of us snuggled up to watch Saturday night television in bed together.
There was plenty of room to store and hang clothes. The room had a stand for storing your suitcase. There was a desk and small table and chairs for sitting at when not using the beds.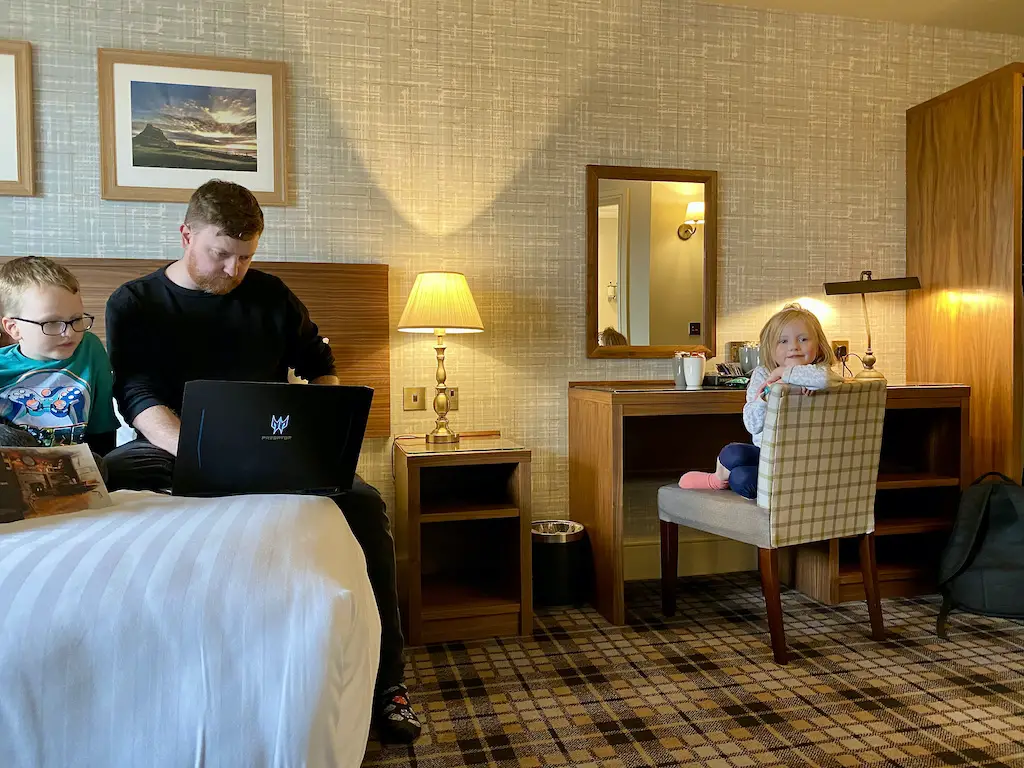 I will say our room was exceptionally warm even with the heating off. This was something they must be aware of as there was an electric standing fan thoughtfully placed in the room which we made use of all night (and my daughter hogged).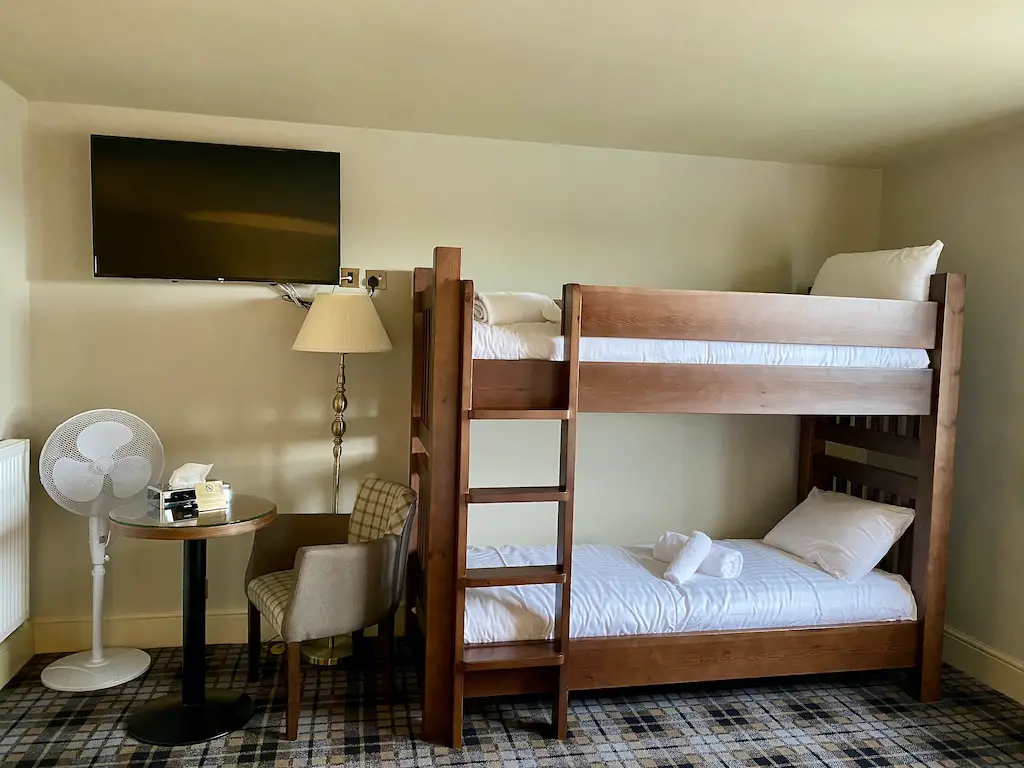 The room and bathroom were clean. The shower pressure was a little up and down but mostly fine and I did go in at the morning pre-breakfast which I imagine is peak time for usage.
A small change Seaburn Inn could make to improve the bathroom would be to lower the soap dispensers in the family rooms. Whilst they would be no problem at all with the height of their placement in a regular room they were much too high for my children to reach independently so each time they needed to use the bathroom I had to get their soap for them or lift them up. Lowering them in the family rooms would be super helpful!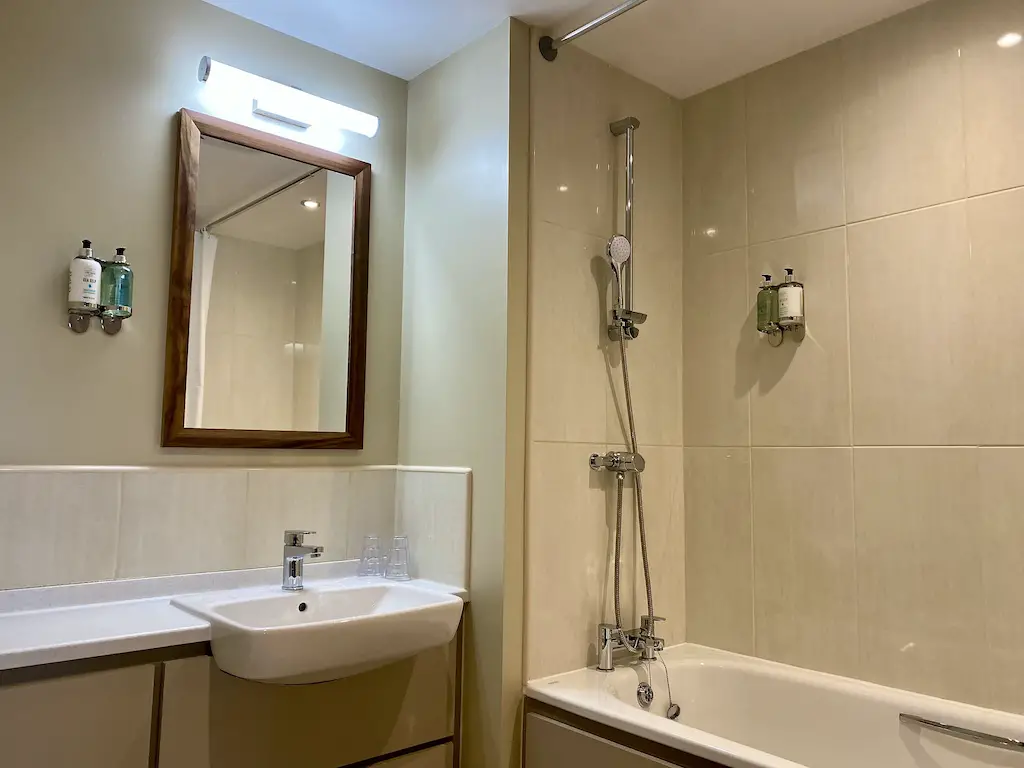 I will warn you that our room was right next to the Stack next door which whilst it is an excellent venue, it did play music pretty loudly until 1am on the Saturday night of our stay. We all slept through it fine as we play white noise anyway but if you are light sleepers you might want to request a room at the end of the hotel away from Stack.
What's the food and drinks like at the Seaburn Inn
We ate twice at the Seaburn Inn. Our booking was under the Winter Breaks offer so dinner and bed and breakfast were included. We dined on a Saturday night so the pub was busy and had a jovial atmosphere. You can view the food menus here (affiliate link).
The kids both ordered a garlic bread starter. My son ordered a main of sausages and my daughter a Margherita pizza. The portions were generous, particularly for the kids meals. My son has a big appetite and pretty much filled up on the garlic bread and could hardly eat his main and couldn't order a pudding, which is unheard of for him. My daughter got the ice cream for pudding.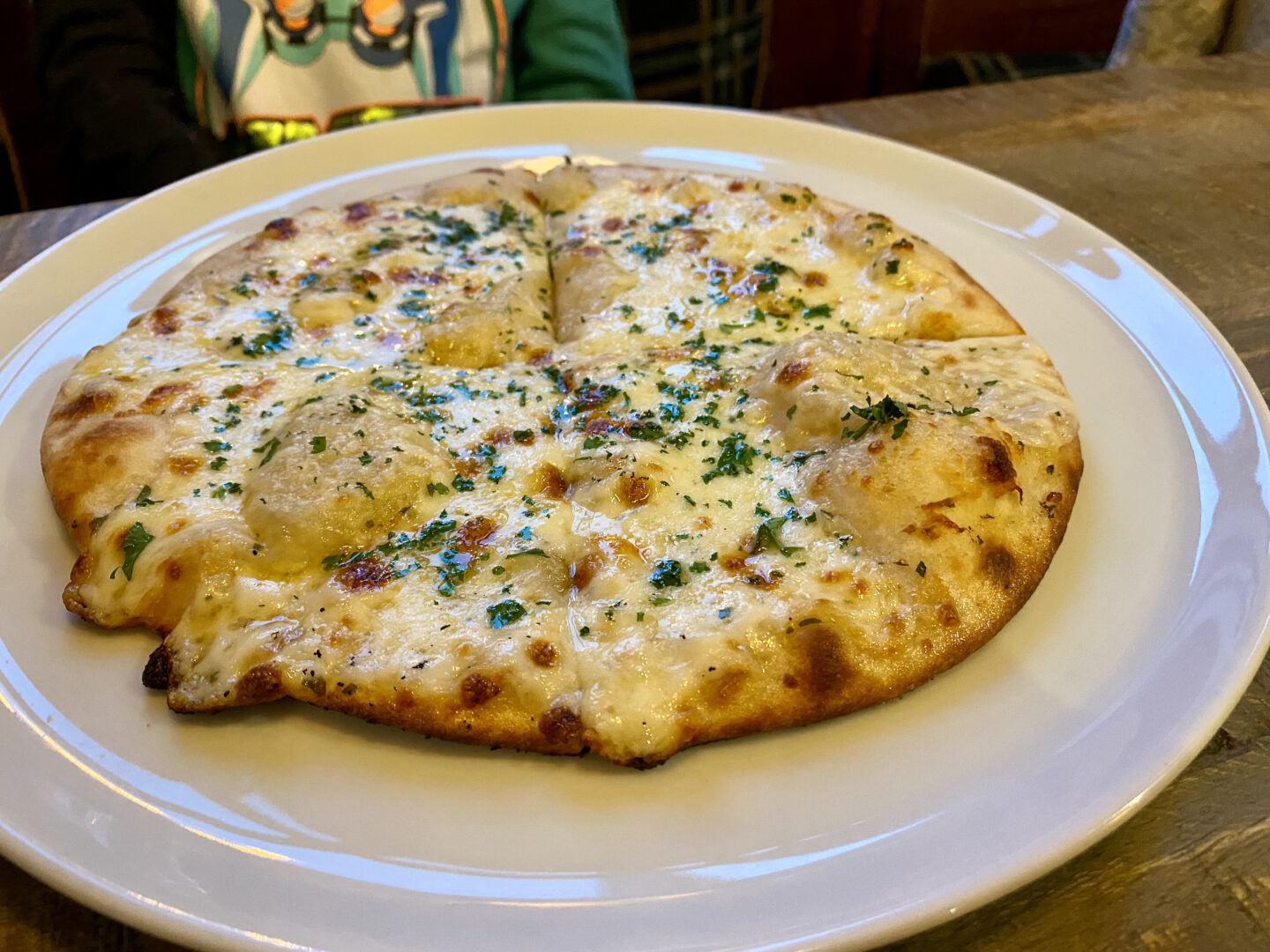 The children's menu was £8 for 2 courses or £9 for 3 which felt fair given the portion sizes. You could also order the items from the children's menu individually. The garlic bread at £1.50 for a starter is an absolute bargain and would fill most kids up if I'm frank (I stole a good few pieces and it was more like a pizza and really yummy).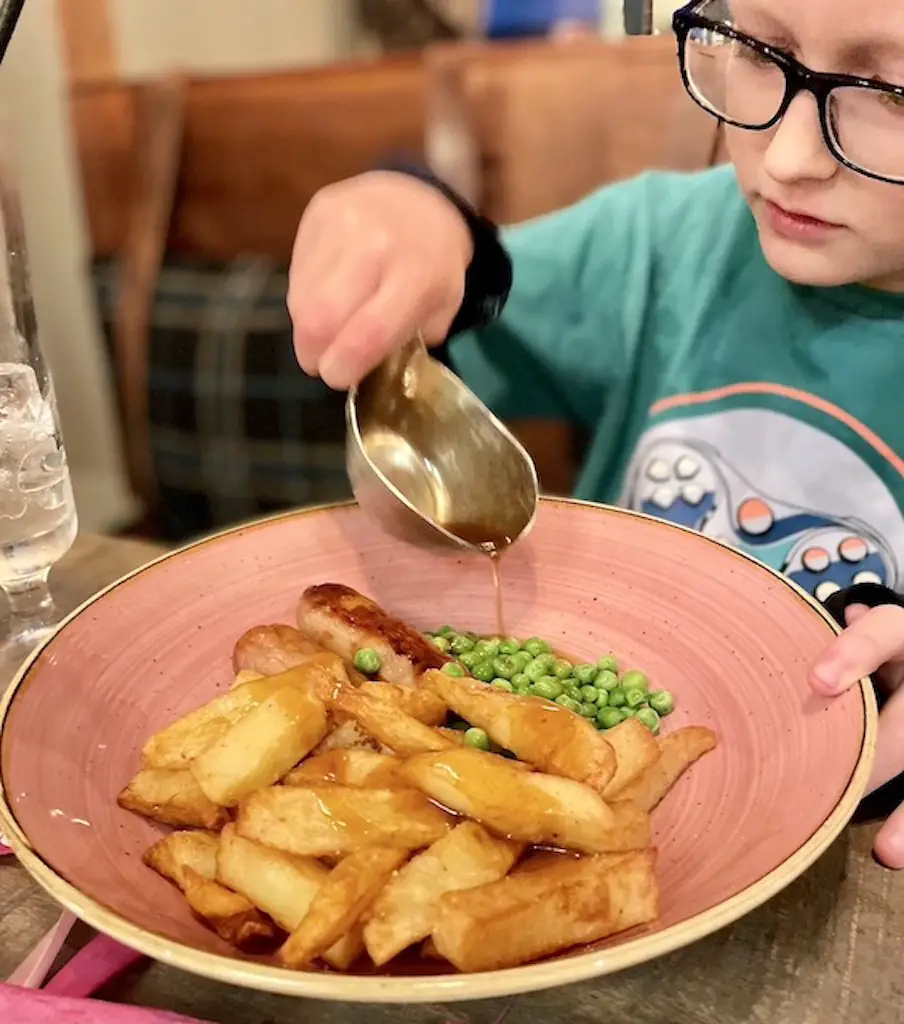 To start, Papa Ginge and I shared the 'Crispy & Creamy Brie' which was brie coated in thyme panko breadcrumbs and deep-fried, served warm with habanero and cranberry jam (£7.00) which was delicious and a great starter to share between two as there were two distinct wedges of deep-fried brie.
For my main, I chose the 'Fish Medley Pie' which was cod, salmon and haddock with white sauce and fresh herbs, baked with duchess mashed potatoes and served with fresh broccoli and purple kale (£16.00). The broccoli and kale were cooked perfectly and really complemented the richness of the fish pie.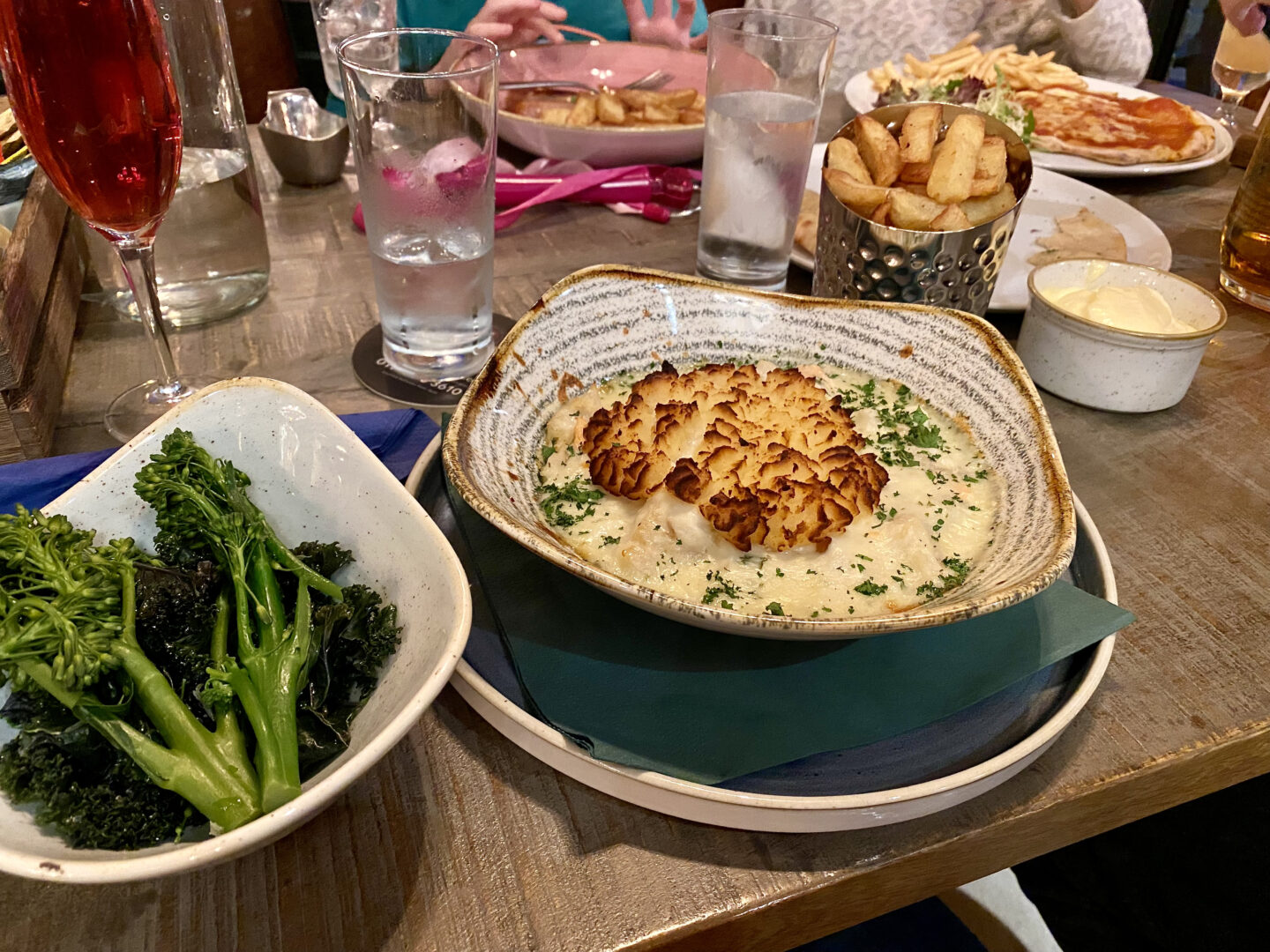 Papa Ginge chose the Margherita pizza for his main (like father like daughter) which was £10 and came with fresh sliced tomato and basil.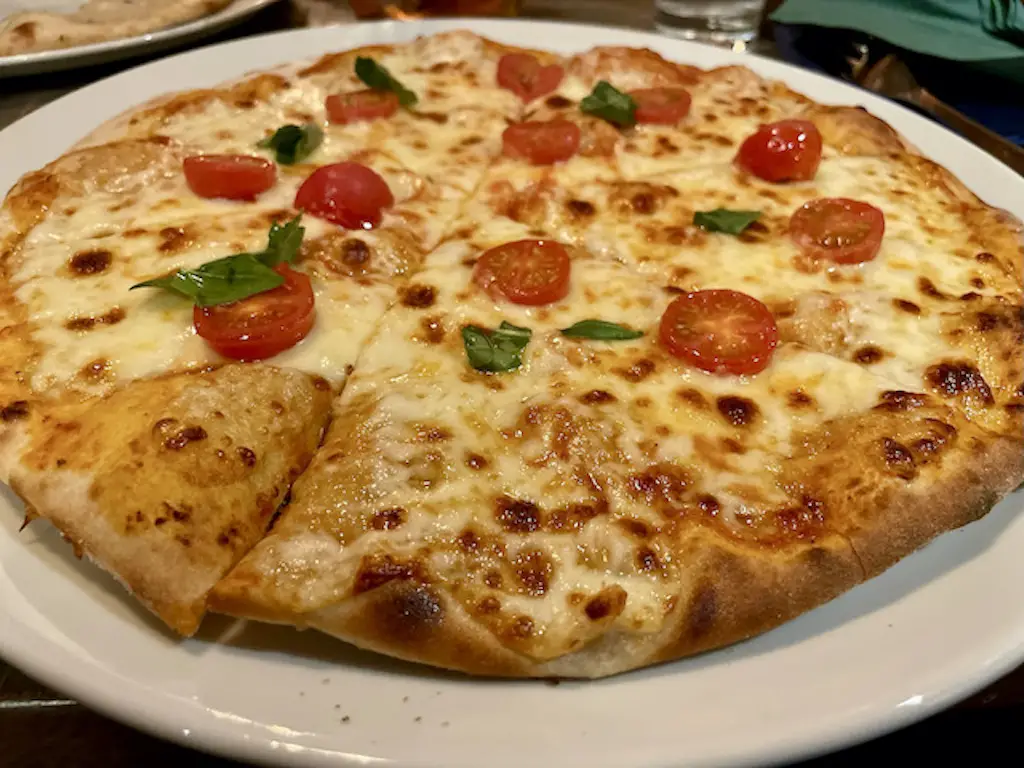 For puddings I got the 'Chocolate Mousse' – a rich velvety set chocolate mousse with homemade honeycomb and vanilla whipped Chantilly cream (£7.00) which was gorgeous and very generous.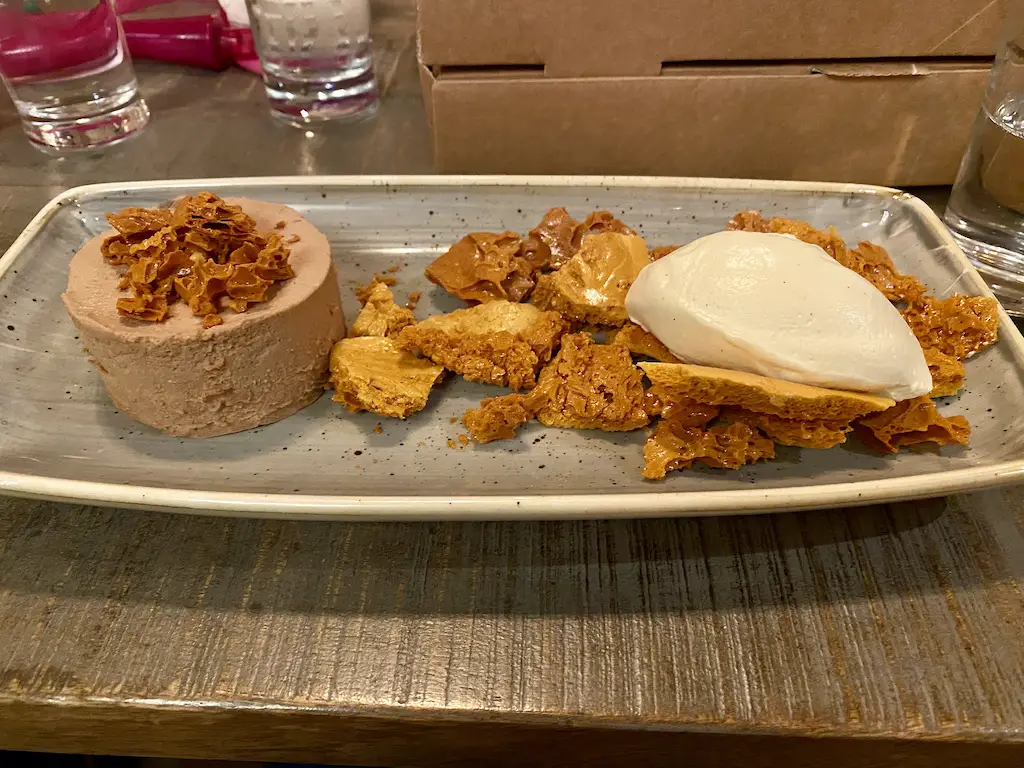 Papa Ginge can never resist a sticky toffee pudding so that was what he ordered and it was a good one (£6).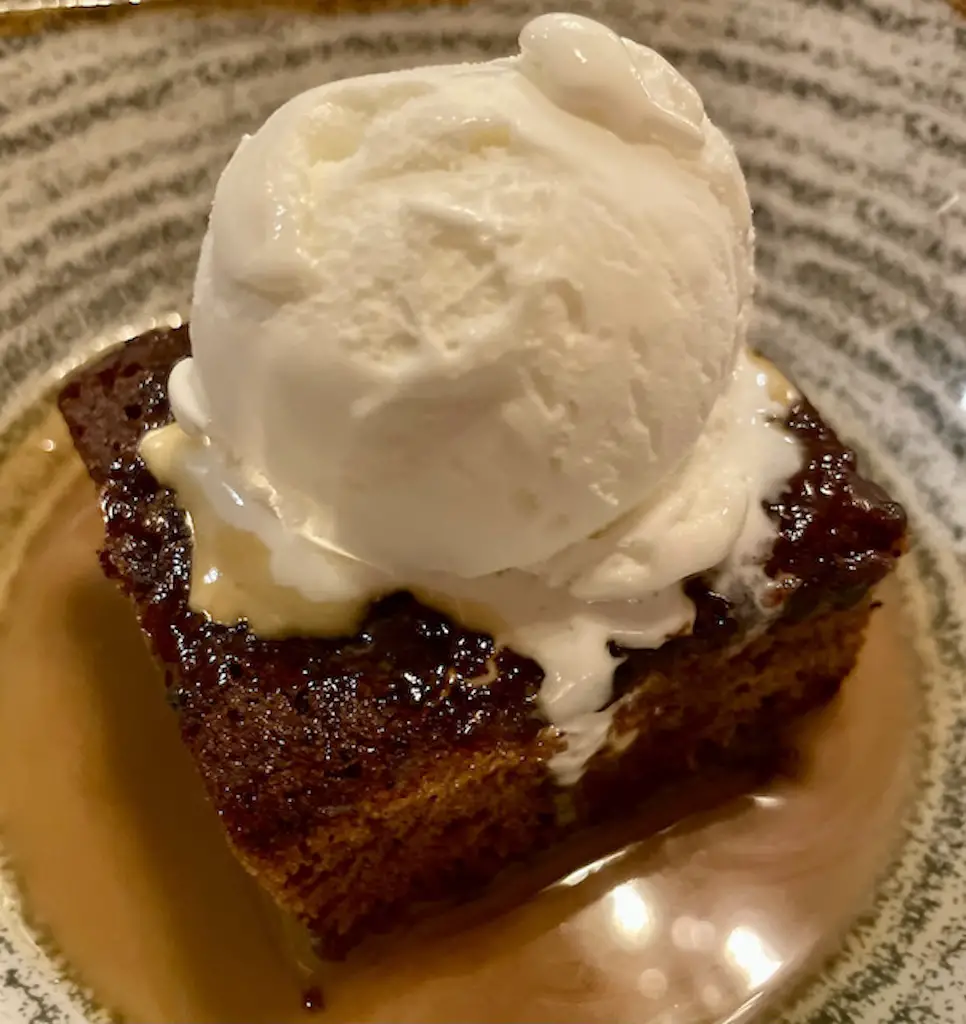 As for drinks, given it was a Saturday night and we had a hotel we thought we would order a couple of cocktails. I tried the Bakewell Bellini (£7.95) which was amaretto, cherry and prosecco. It was so good I ordered a second. Since I've come home I can't stop thinking about it so I've bought the ingredients to make my own for my birthday! One of the nicest cocktails I've ever had!
Papa Ginge ordered an Espresso Martini (£7.95) which he enjoyed but not really being a cocktail man he then followed that up with a pint of Staropramen which they had on draught.
Everything we had was great, service was good despite them being busy and there is nothing that we tried that I wouldn't order again. It was the nicest family meal we've had out in a long time. We even started making a winter bucket list together between courses.
Breakfast at the Seaburn Inn
Unsurprisingly, it was a lot quieter at breakfast in the morning compared to Saturday night, with just the hotel guests at breakfast. We chose a wooden booth next to the windows with a gorgeous view of the sun rising over the beach as the morning dog walkers and joggers strolled by.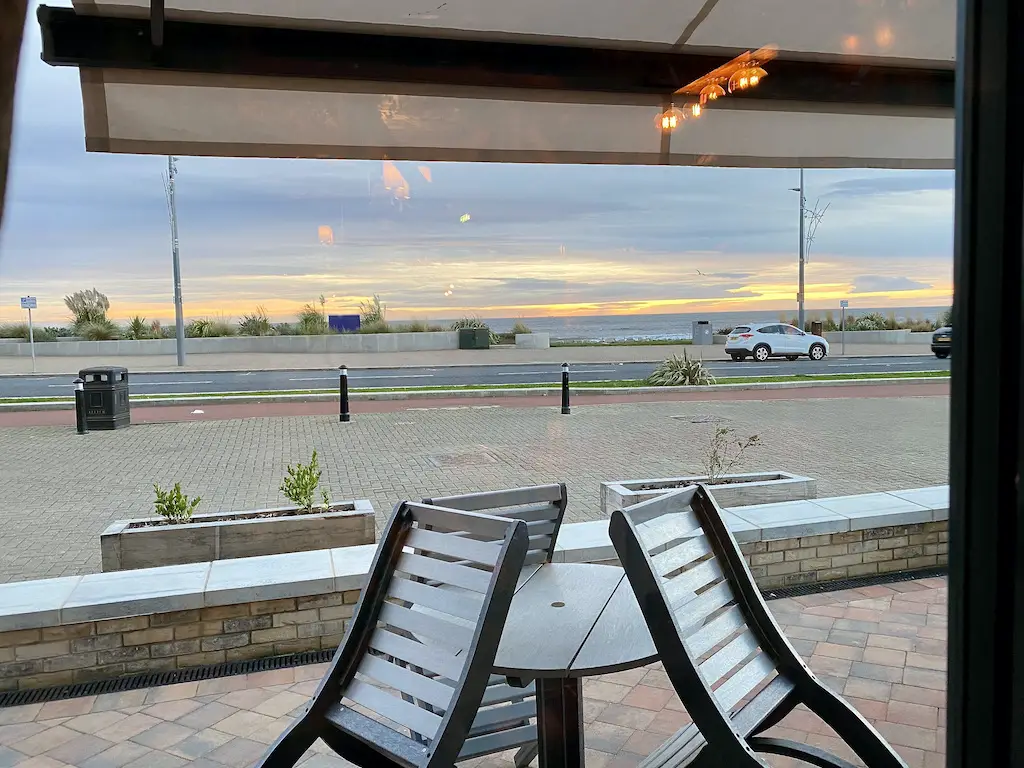 The Seaburn Inn has an extensive breakfast menu which was hard to choose from, as well as a help yourself continental breakfast area.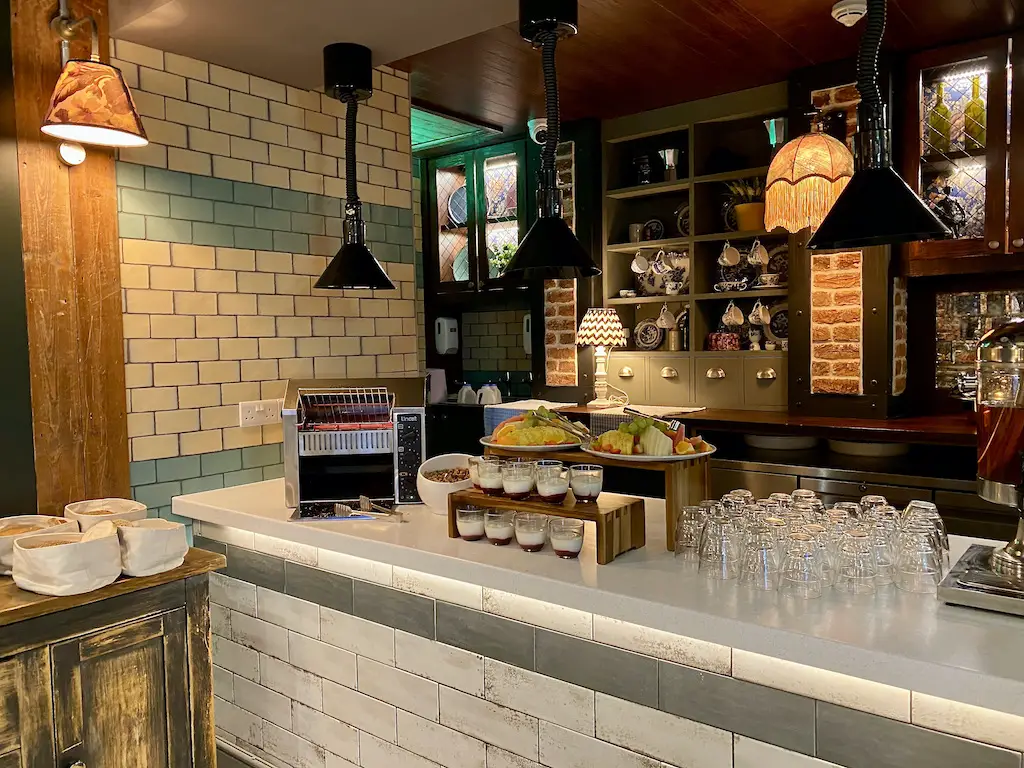 My daughter enjoyed choosing her own cereals and toast with Nutella chocolate spread. The kids both liked getting themselves some juice. There was also fresh fruit and yoghurts.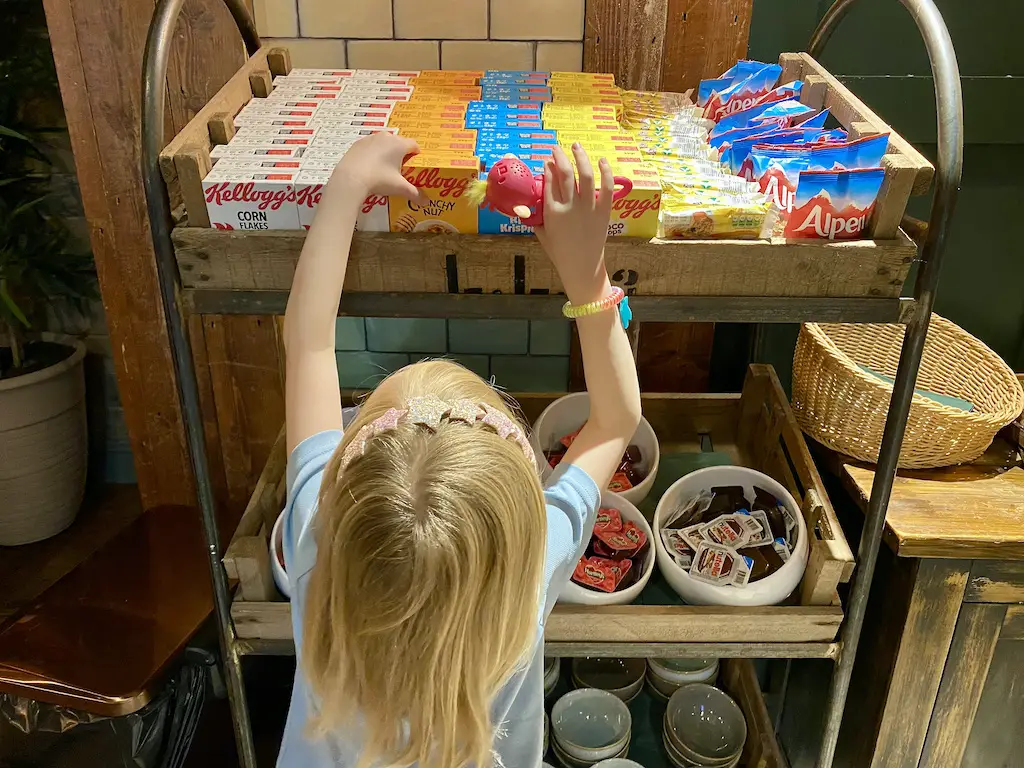 You could help yourself to teas, coffees and milk. I was pleased to discover that they had decaf English breakfast tea which is my preference and not many places have.
The rest of us ordered a cooked breakfast each, though I was very tempted by the Eggs Royale. We all enjoyed our breakfasts and checked out for a morning exploring Seaburn with full tummies.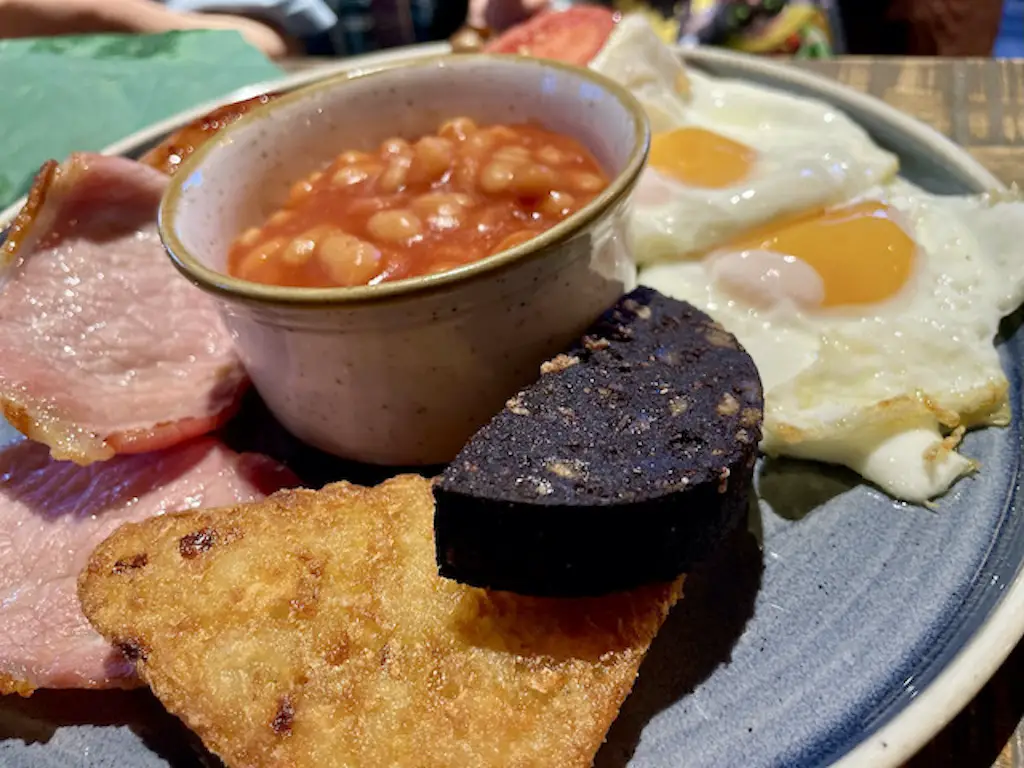 Things to do near the Seaburn Inn
There is so much to within walking distance of the Seaburn Inn. Firstly there is an abundance of bars and restaurants on the same street as the hotel. Stack Seaburn is a shipping container village with loads of different street food vendors and is right next door to the hotel.
We went to Stack for lunch on our first day. We enjoyed some live music and some boozy baileys hot chocolates (juice for the kids) whilst we ordered some food. I'm still preferring to keep to outdoor venues where possible for extra covid safety. Stack is perfect as it's covered and has heaters but has open airflow.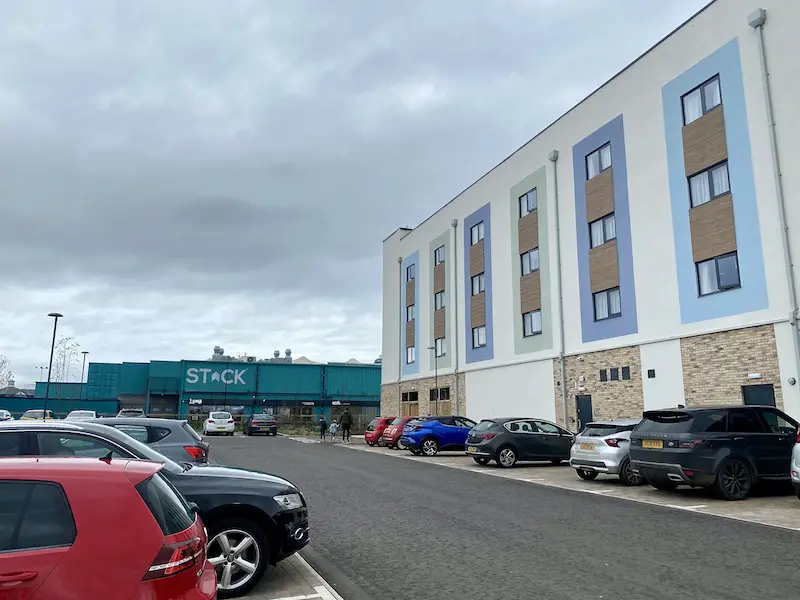 I ordered a King Prawn salad from Healthy Thaim (£7) which was ok but nothing amazing. Papa Ginge ordered a chicken gyros wrap with halloumi, fries and baklava from Acropolis (£14.50). The kids both orders a Downey's Fish and Chips kids meal each for £4.25 which included cod bites, chips and a soft drink. You order through the W8R app and then collect when the food is ready.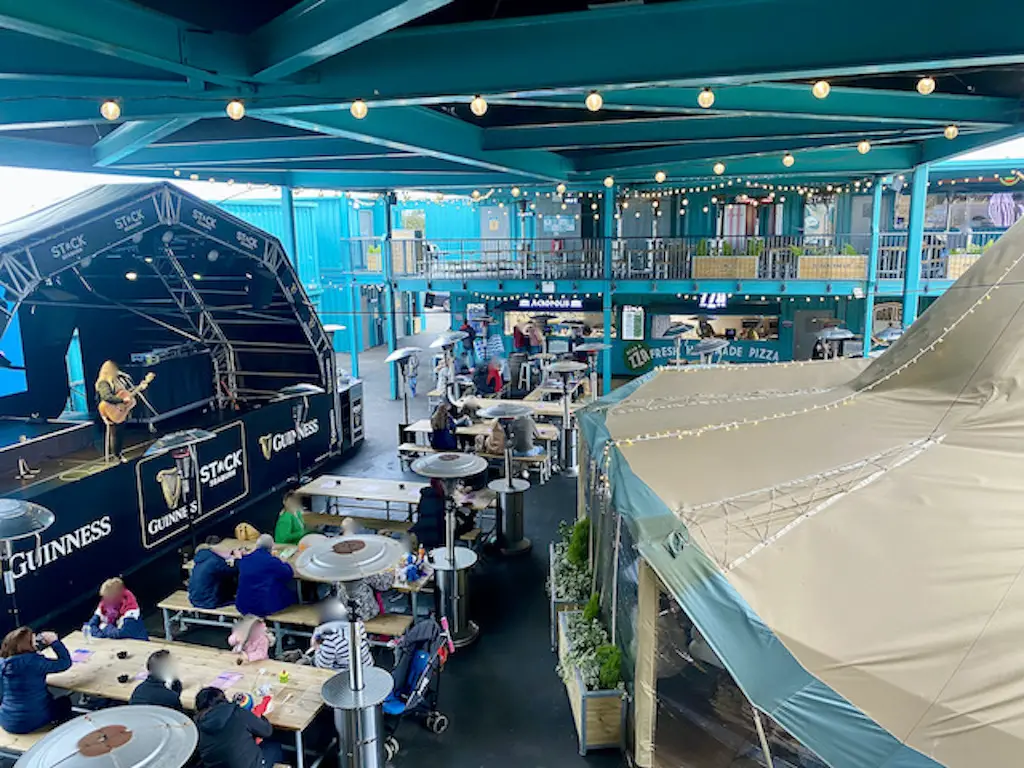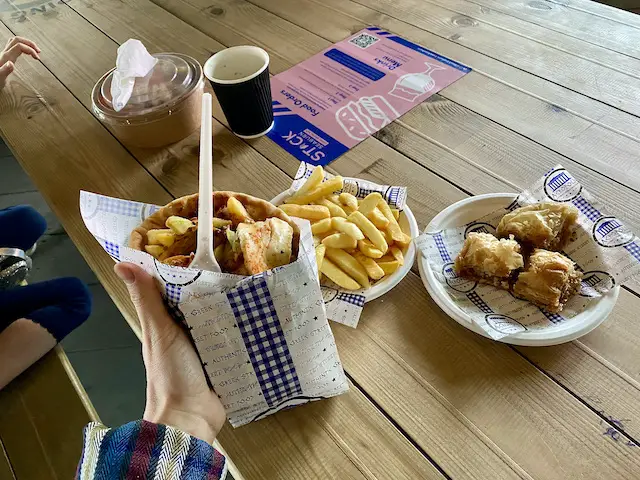 One of the containers in Stack is Game Cabin if you have any gamers in your group. One hour of gaming costs £6.
Straight across the road from the hotel is the beach. There is a coffee shop there and I saw people enjoying hot chocolates in their wetsuits after windsurfing in the sea. Bar 88/House of Zen is directly opposite the hotel on the edge of the beach which we sadly didn't get to try.
There is a small play park to the side of the Seaburn Inn next to the outdoor seating which is perfect for tired parents to have a drink whilst they let their children blow off some steam outside. Don't worry – there was outdoor heating for the colder days.
Directly behind the Seaburn Inn car park was a large play park with swings, a big slide, lots of sand and climbing apparatus.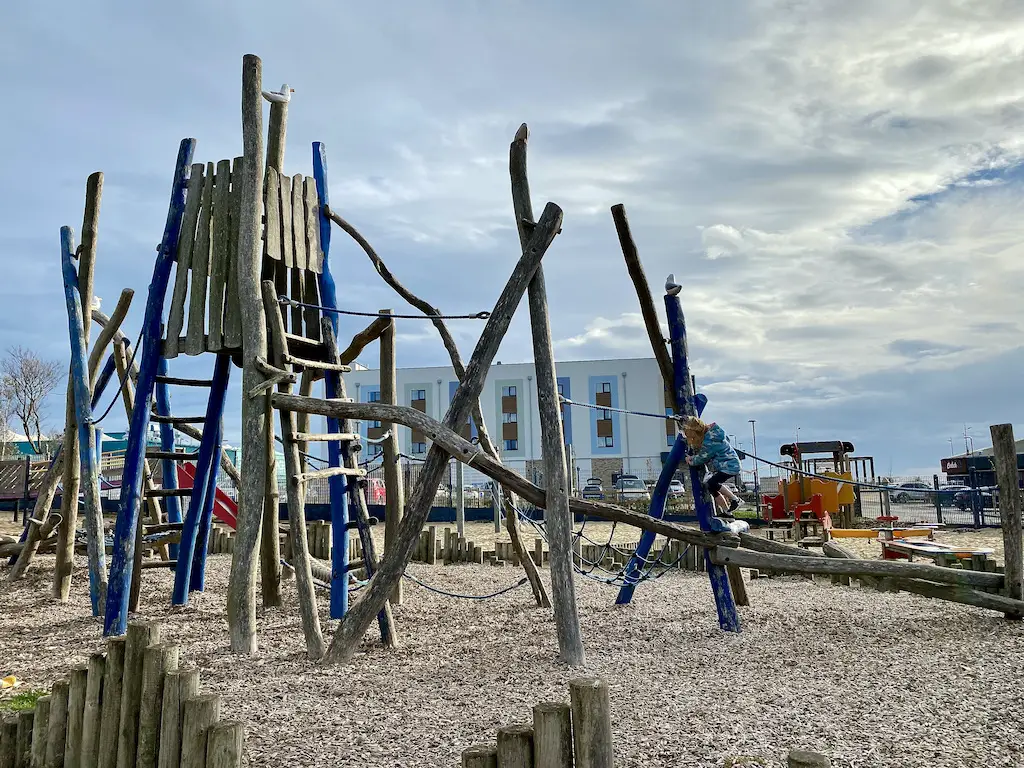 Either side of the Seaburn Inn were arcades – Sheldon's Leisure World and Shore Leisure. The kids enjoyed spending the coins we had on the 2p slots.
Whilst we were there it was the Sunderland Illuminations Festival of Light just up the road in Roker Park. Sadly I wasn't aware of this prior to our stay so it was all sold out. However, it did mean there was a small fairground at Cliffe Park 5 a 5-minute walk up the road.
The Seaburn Inn is also close to this friendly city-by-the-sea's many attractions including The Stadium of Light, the National Glass Centre (5 minute drive, 34 minute walk), and the Empire Theatre. Sunderland Winter Gardens are a 9 minute drive or 53 minute walk away.
When I asked my followers where they recommend in the area they also mentioned: Herrington Country Park, Mullers (that sells old fashioned cakes and fondant fancies), Gabrielle Italians and Queen's fish and chips.
If you have forgotten anything there is a big Morrisons just a couple of minutes walk down the road too.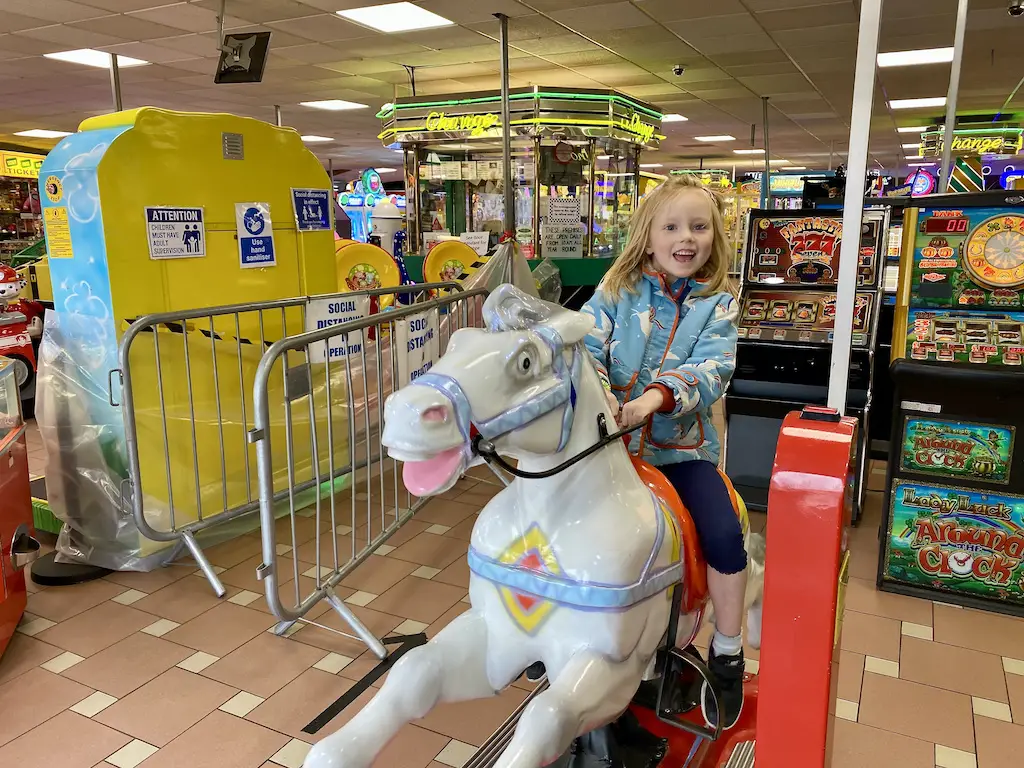 Wifi at the Seaburn Inn
WiFi was free, easy to access and worked well.
Is the Seaburn Inn dog friendly?
The Seaburn Inn is a dog friendly pub. We saw several people with pups whilst we were eating dinner and again frolicking in the sea and on the beach the next day, much to my daughter's amusement.
While some small areas of Seaburn and neighbouring Roker beach have seasonal dog restrictions, there is still plenty of beach space for dog-friendly walkies. Dog-friendly rooms are available, subject to a pet supplement of £10 per dog, per night.
Stack next door has a cabin called Woofs n Scruffs. It combines traditional dog grooming with their very own drop-in self-service bathing experience. I don't think you could find a more dog-friendly area!
The Seaburn Inn summary
We had a lovely stay at the Seaburn Inn (affiliate link). It's a great option for families, couples or friends and is ideally situated for a mini-break with ample to do within walking distance of the hotel. The Winter Breaks offer (affiliate link) is excellent value for money for a one night stay, perfect for blowing those winter cobwebs away!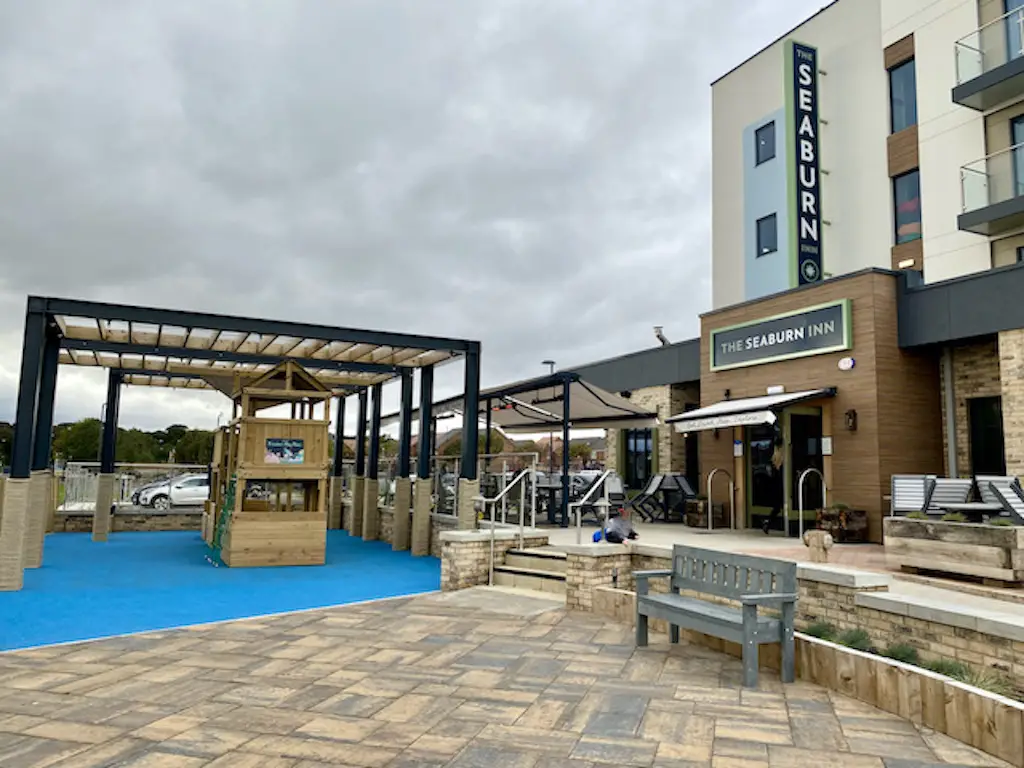 If you liked this post you might also like:
If you have enjoyed this post or found it useful, here are some quick and easy ways that you can support Nomipalony or say thanks: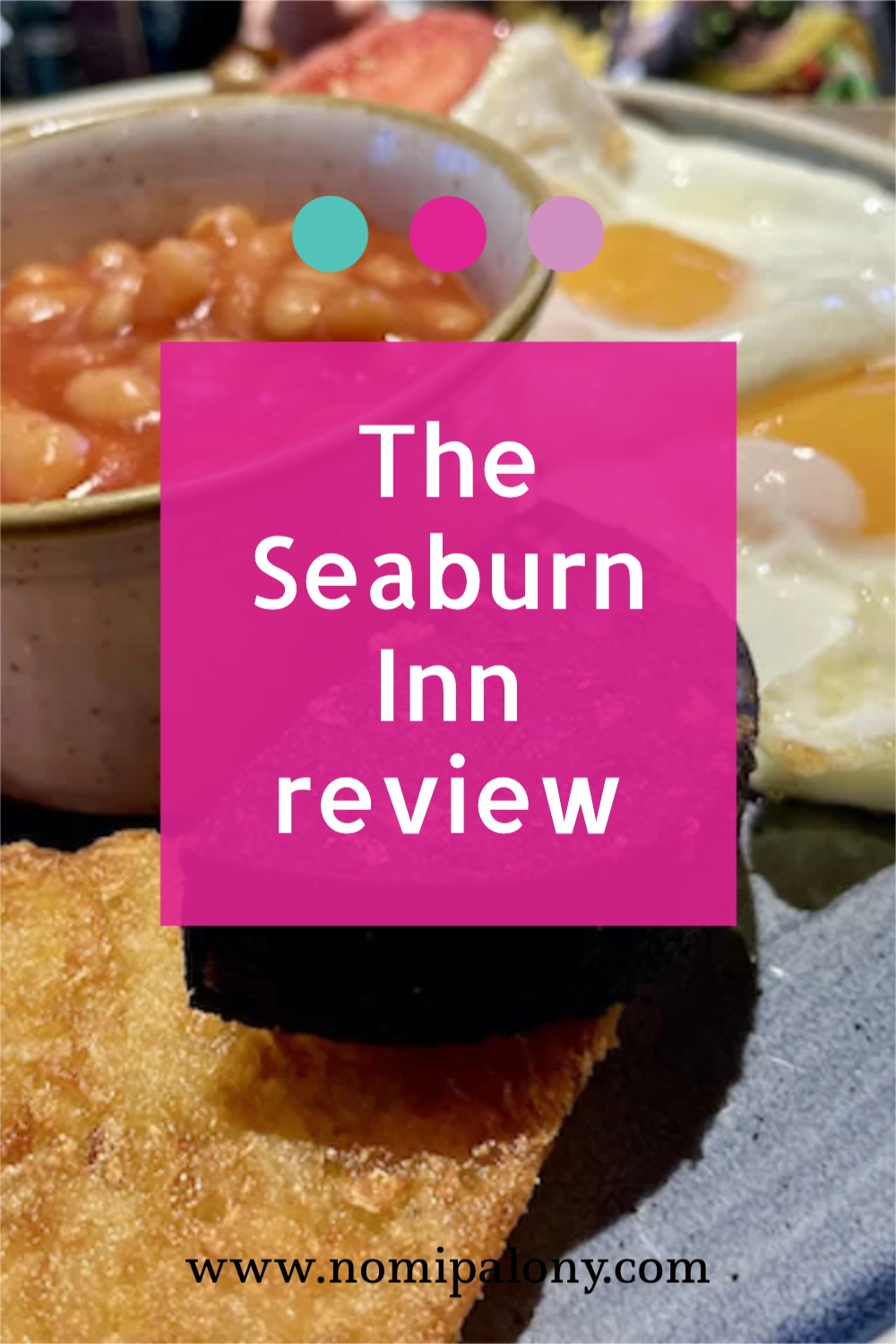 Disclaimer: This is a sponsored advertorial post. This post contains affiliate links. If you purchase through an affiliate link you will not be charged more for your purchase, but I will receive a small fee for referring you. For my full disclosure policy, please see my about page.