DISCLAIMER: We no longer promote JK Rowling's works since her anti-trans comments.
We just got back from an awesome mini-break to London. This was the first time we have had a break together without the kids since finding out I was pregnant with Lena over 2 years ago. You would think that we would plan something more mature for our first child free trip in ages but no, we planned a trip like an 11 year old would, a Harry Potter themed mini break that would include a trip to the Harry Potter Studios and to see the new Harry Potter and the Cursed Child Play.
When the Cursed Child Play was announced last year, as a member of Pottermore I was eligible to pre-register for tickets. After much (so much) queuing on release day I was able to secure us some much sought after tickets for the play. It cost us £130 for dress circle seats per person, these were some of the better seats they had, you can do it cheaper.
I also got tickets for my best friend Laura, who lives in London, to join us. Laura and I have been best mates since we met in college aged 16 (we are now 32) and we spent a year of our early twenties living together in Stratford, London in 2007-8.
We had never been to the Harry Potter studios in Watford so we knew we needed to add that to our itinerary so we booked that in for the Friday night. Unfortunately, I left booking it a little late and they sold out so I was only able to get the last slot available at 6pm when I would have preferred to go earlier in the day. That should teach me a valuable lesson in procrastinating (it won't). If you want to go visit the studios I recommend booking well in advance and leave as much time as possible to do it. You could easily spend a day there. Two adult tickets to the Studios cost us £70.
I was pretty anxious about leaving Lena. She still nurses on demand all day and all night and we bedshare. We are very attached. I wondered how she would manage without easy access to my boobs all night. My 'mother-in-law' kindly looked after her for the weekend and they bedshared too. Lena woke a bit but wasn't too upset so they both did really well. I wasn't too worried about Arlo as he's slept at his grandad's many times and loves it. Mind you he wet the bed with his grandad in it, so grandad wasn't quite so keen (tehehe).
Day 1 – Friday
We were giddy with excitement at being WITHOUT OUR KIDS!! We really needed a break. As is often the case, I didn't realise just how much we needed a break until we got one. We stocked up on food for the train at M&S in the train station as you do and then settled down to enjoy the ride. Pre-kids I found train travel a chore but now, without kids it was like a god-damn holiday! We could talk, eat, relax, read, work – whatever we bloody well wanted to. It was fabulous. I even enjoyed going to the train toilets alone instead of trying to help a 5 year old drop a deuce in what amounts to a tiny cupboard. We got down to Kings Cross in the blink of an eye and headed over to our hotel, the Premier Inn Hub in Covent Garden.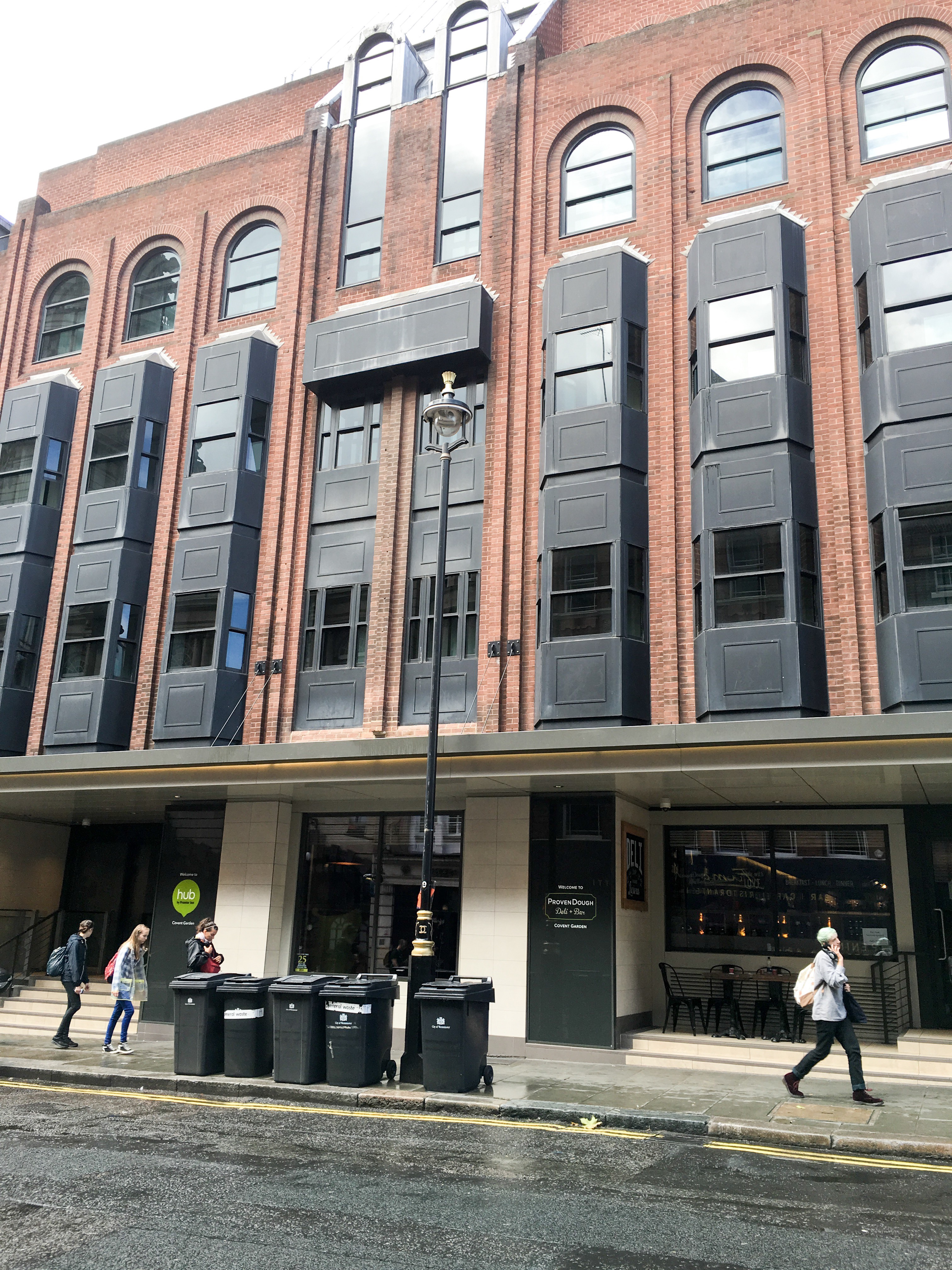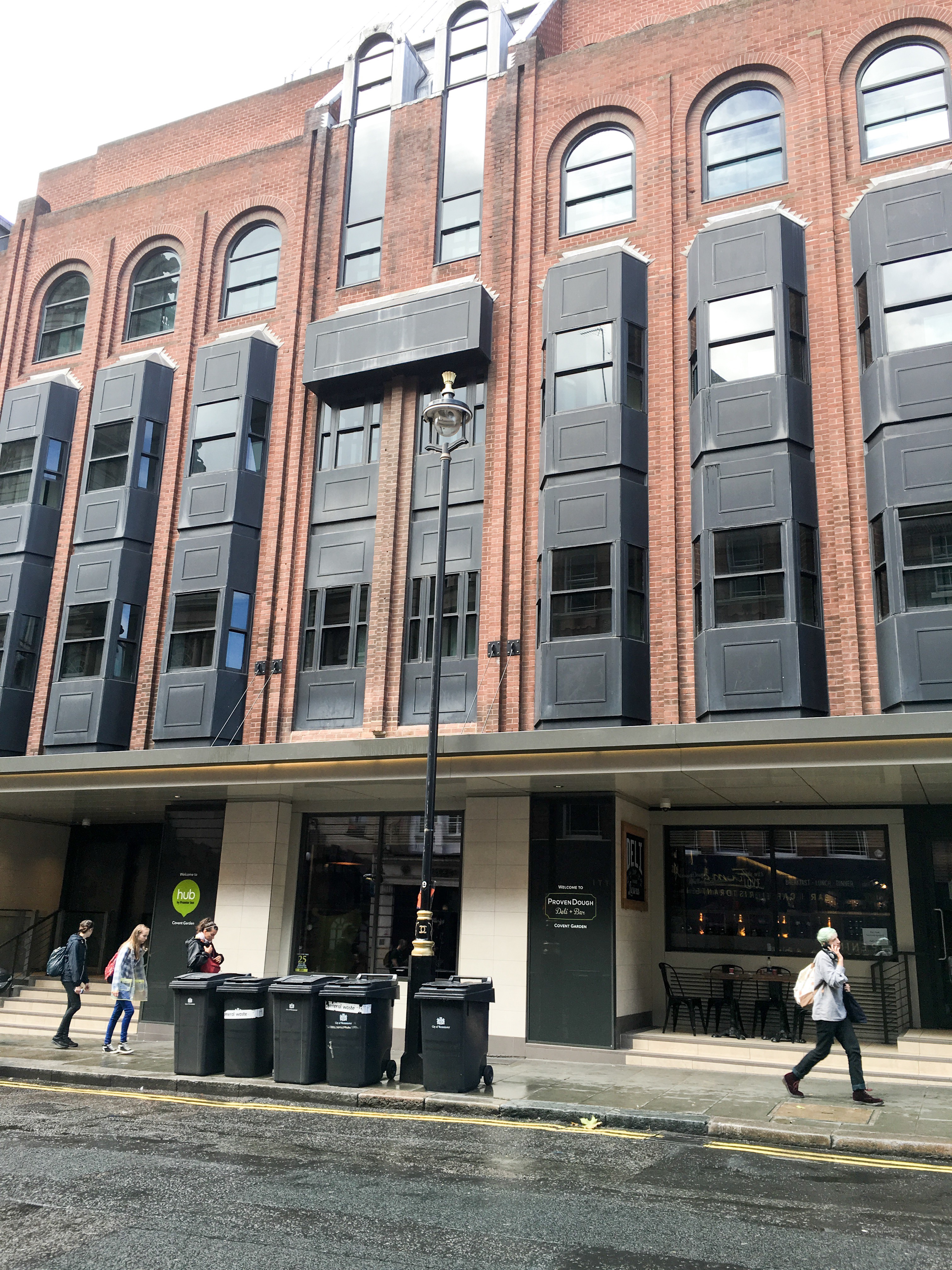 Mark wanted to stay near the theatre so I could easily get back to the hotel to express milk if I needed to (thoughtful and practicals Papa Ginge). Our hotel was perfectly located – right in between Covent Garden and Leicester Square. It took less than ten minutes to walk to the Palace Theatre where Cursed Child was playing. We were just around the corner from Trafalgar Square. We had chosen very well. We paid £238.50 for 2 nights (but bear in mind that this was in the summer holidays).
Our room was really compact but fine for what we needed, we were only in the room small amounts as we were out exploring most the time. It was clean, modern and digital. You could even control the lights etc from an app on your phone if you wanted. The shower was good, the hairdryer terrible (take your own!). There was a cute café downstairs and you were welcome to free tea and coffee whenever you wanted which was ideal – they even had decaf which was perfect for me as that's all I drink nowadays.
We settled into the room, I sat on their conveniently placed armchair and expressed milk (using the new Haakaa pump that I recently reviewed) before we headed to Euston, to get the train to Watford to go to the Harry Potter Studios. We had a really great time at the studio tour but I'm going to save that for another post so I can give it the attention it deserves – in the meantime you can check out our vlog of it.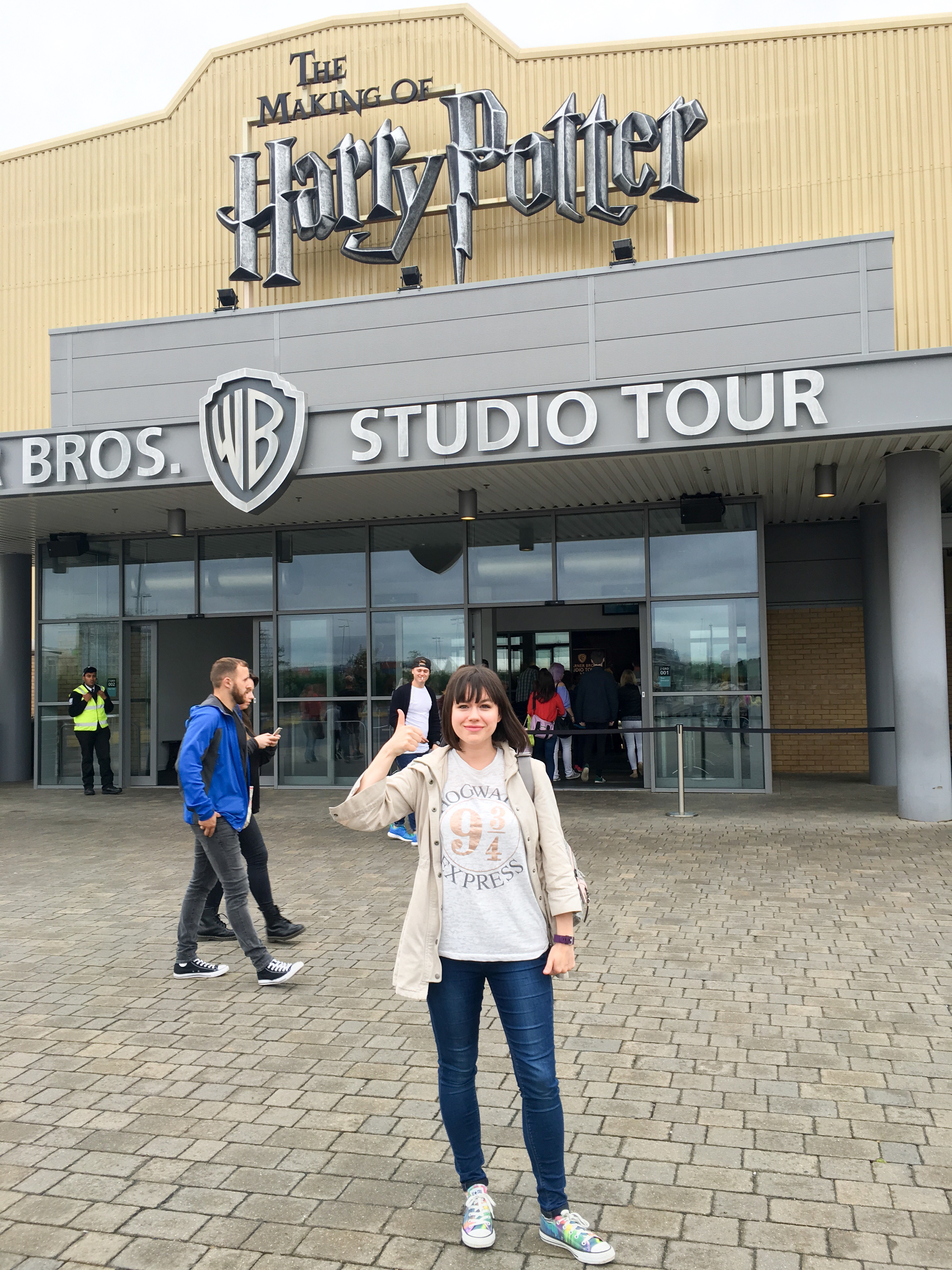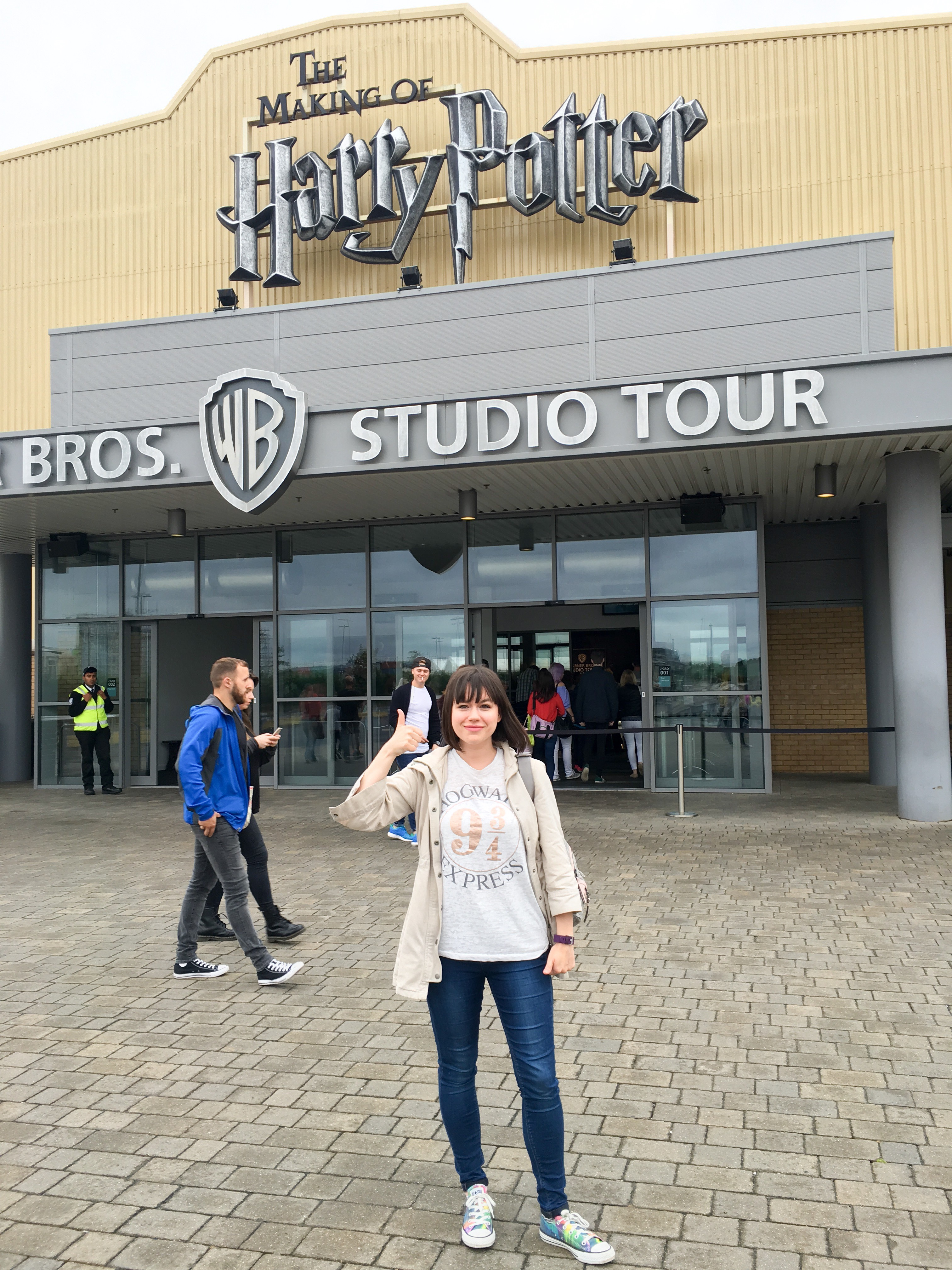 By time we got back to the hotel and I had expressed again it was close to midnight so we just crashed out, it was the first time we had shared a bed together in a year and a half so that was lovely. Papa Ginge didn't even snore which is a rare treat!
Day 2 – Saturday
We got up and I expressed – are you spotting a theme in the life of a nursing mother here? Fun times! Then we headed to a café for a cooked English breakfast. After this we did a little exploring, we had a mooch around Covent Garden and Trafalgar Square and had a walk along to Buckingham Palace to be proper tourists.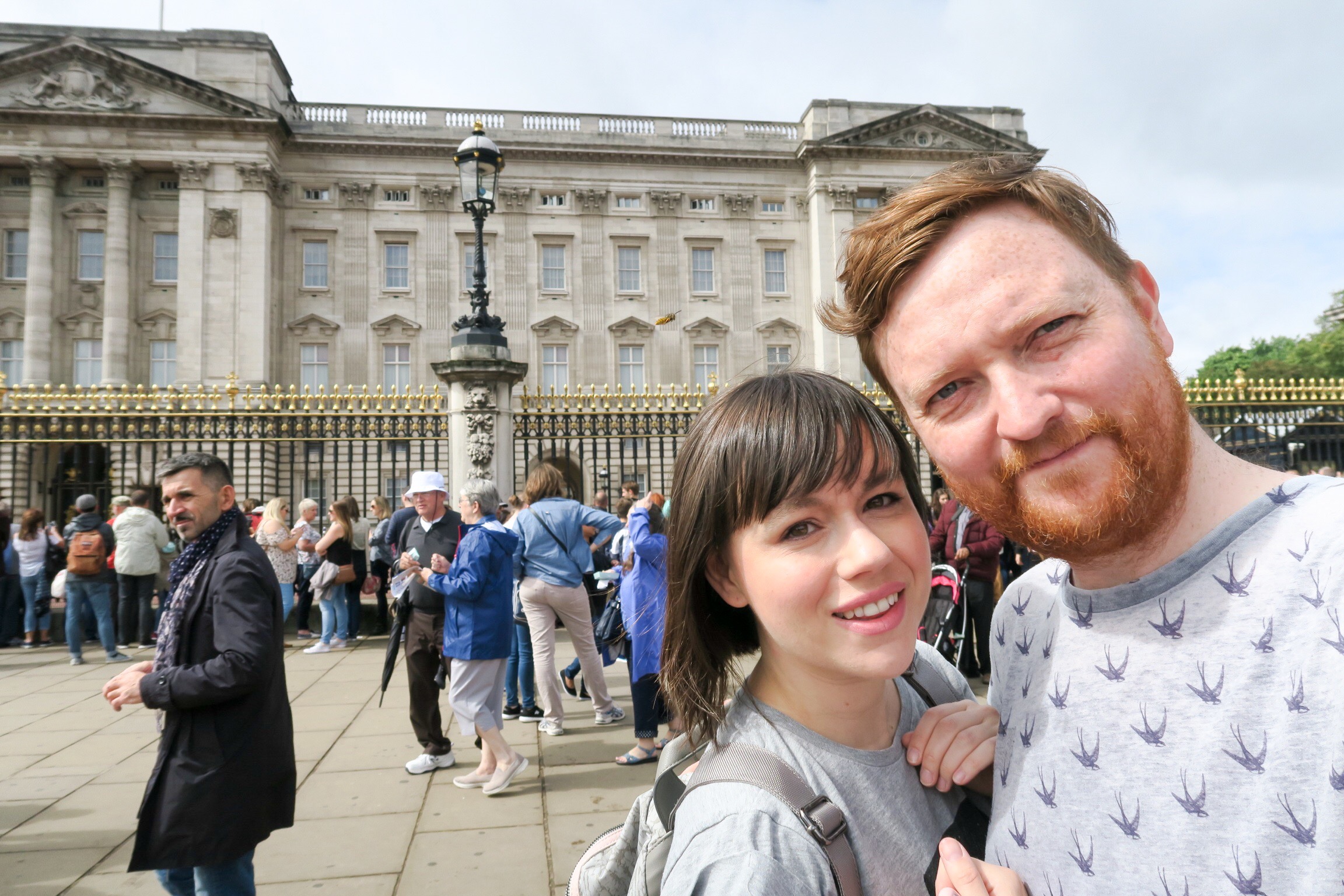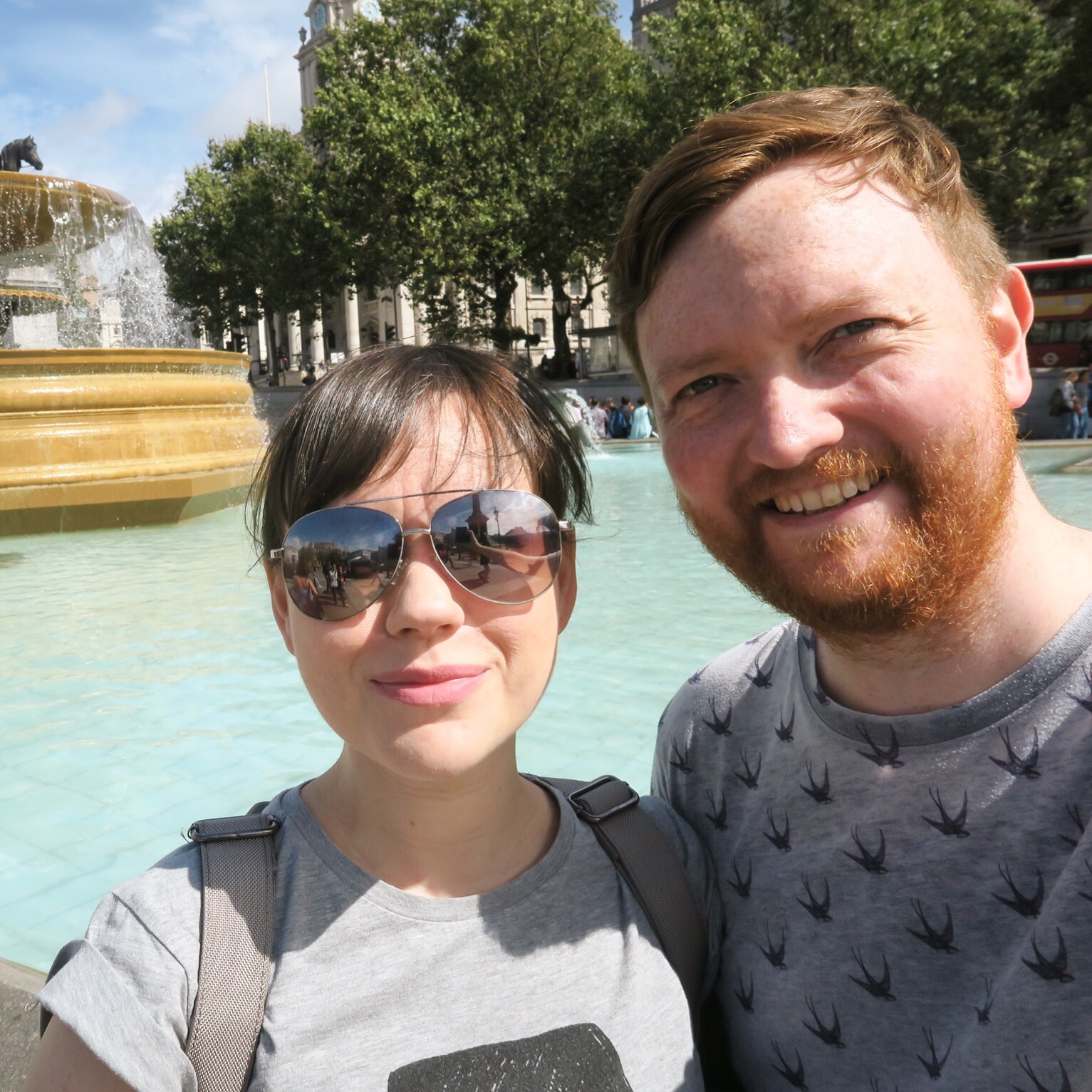 Then we realised that we were away from our kids and still were yet to have an alcoholic beverage so we did the classy thing and popped to Tesco Express and grabbed a couple of beers to drink while we went back to the hotel to freshen up (and express yet again). I was so pleased we had chosen to stay somewhere so well located.
Harry Potter and the Cursed Child review London
I put my Harry Potter t-shirt on and we set off on the short 5 minute or so walk to the Palace Theatre. If you are wondering about clothes, there were lots of people dressed in Harry Potter gear but also lots of people not. It looked so great when we got there with the identifiable gold 'HARRY POTTER and the CURSED CHILD' gold lettering topped with the child curled up in the winged nest. I was practically bursting with excitement. It was very busy but we quickly spotted Laura. I hadn't seen Laura for ages and was delighted to see her so we did a big hug and then the obligatory photos in front of the theatre.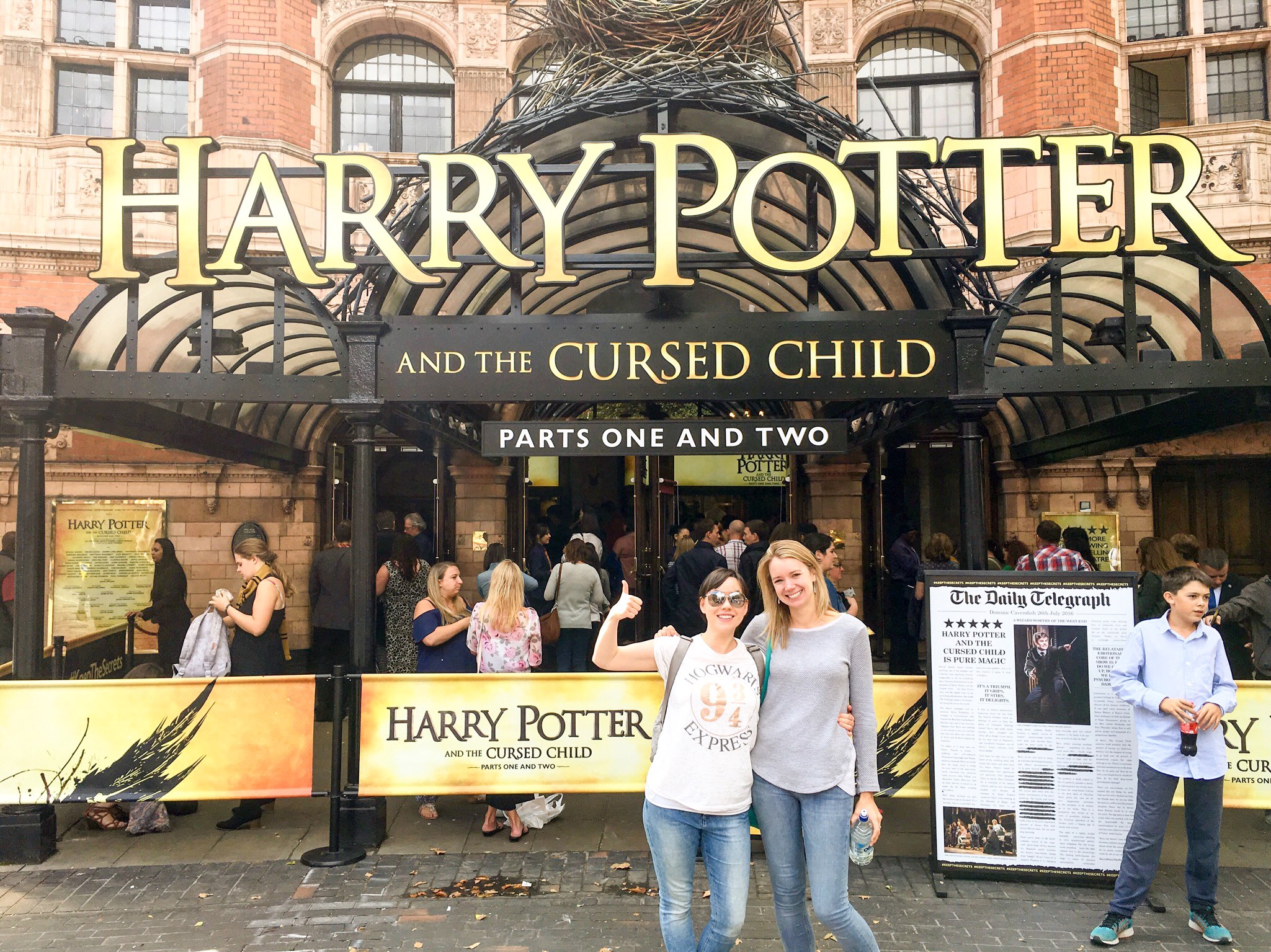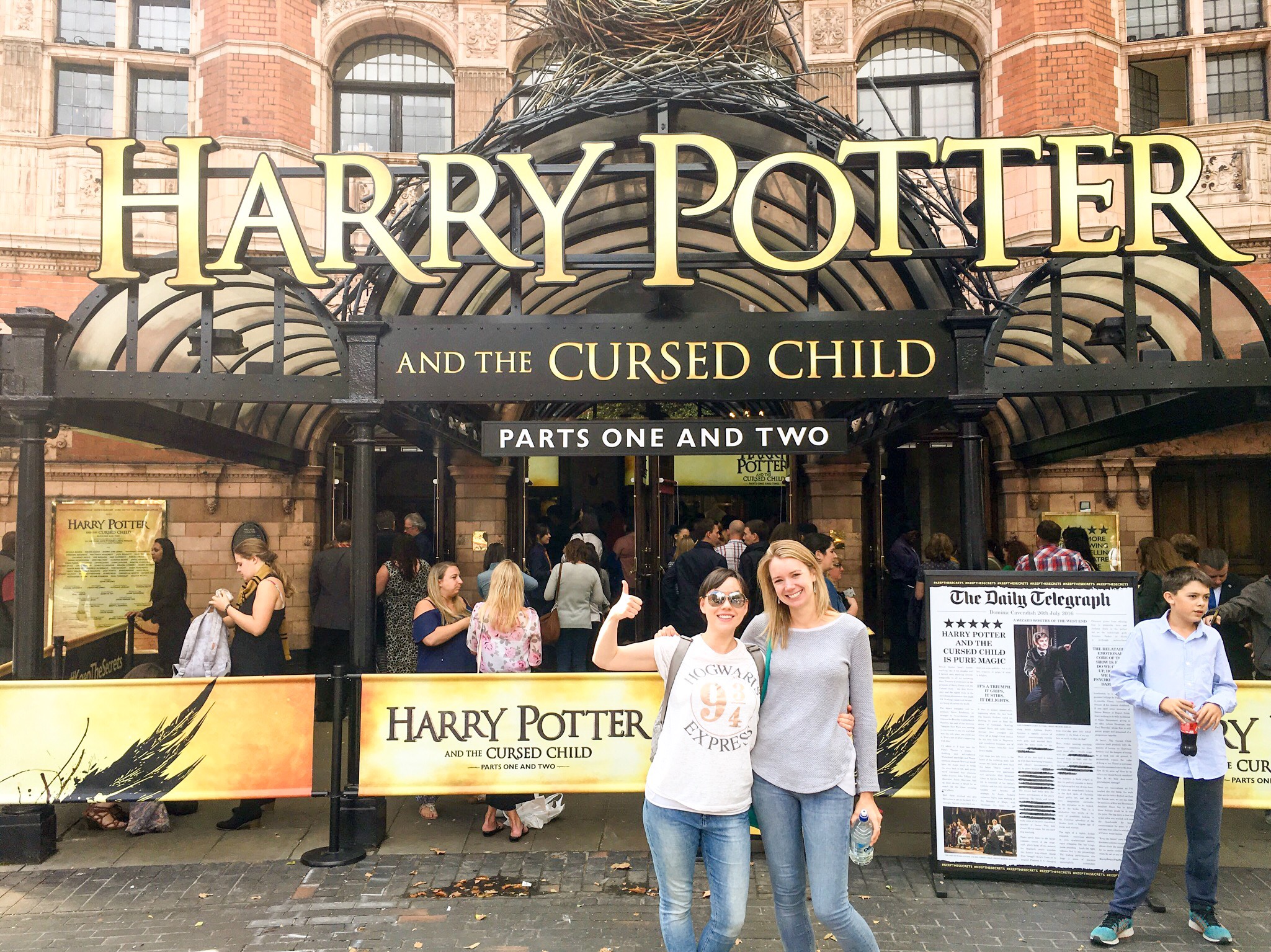 If you follow me on snapchat or Instagram stories then you might have seen my footage of the queue going all the way around the building, it literally curled around all four sides so by time we got to the back of the queue we were back where we had come from originally. It did go down very quickly though, and we got inside in no time at all. The staff were checking bags (not very well, it would have been pretty easy to get a camera in and we did see cameras in there). Papa Ginge also got a pat down but have you seen him?! I don't blame them.
The queue for merchandise was already right down the stairs when we got in so we left that, thinking we could get merch at the end but word to the wise, all the merchandise is different for each part. If you want something that's on sale from part one it won't necessarily be on sale for part two.
We bought a programme and headed up to the dress circle bar and got some drinks. Drinks were expensive but no more than you would expect for central London. Laura and I got peach bellinis which were priced £8 each and Mark got a beer that was £4.50. There were vouchers on the bar for cheaper drinks combo options from the stalls bar for during the interval between part one and part two so watch out for those. You can take your drinks into the play so don't feel you need to down them before it starts. They had complimentary jugs of iced tap water and cups at the side of the bar too which was handy.
I was incredibly excited by this point so we did our 'safety wees' (the queues for the women's toilets were always massive by the way) and took our seats.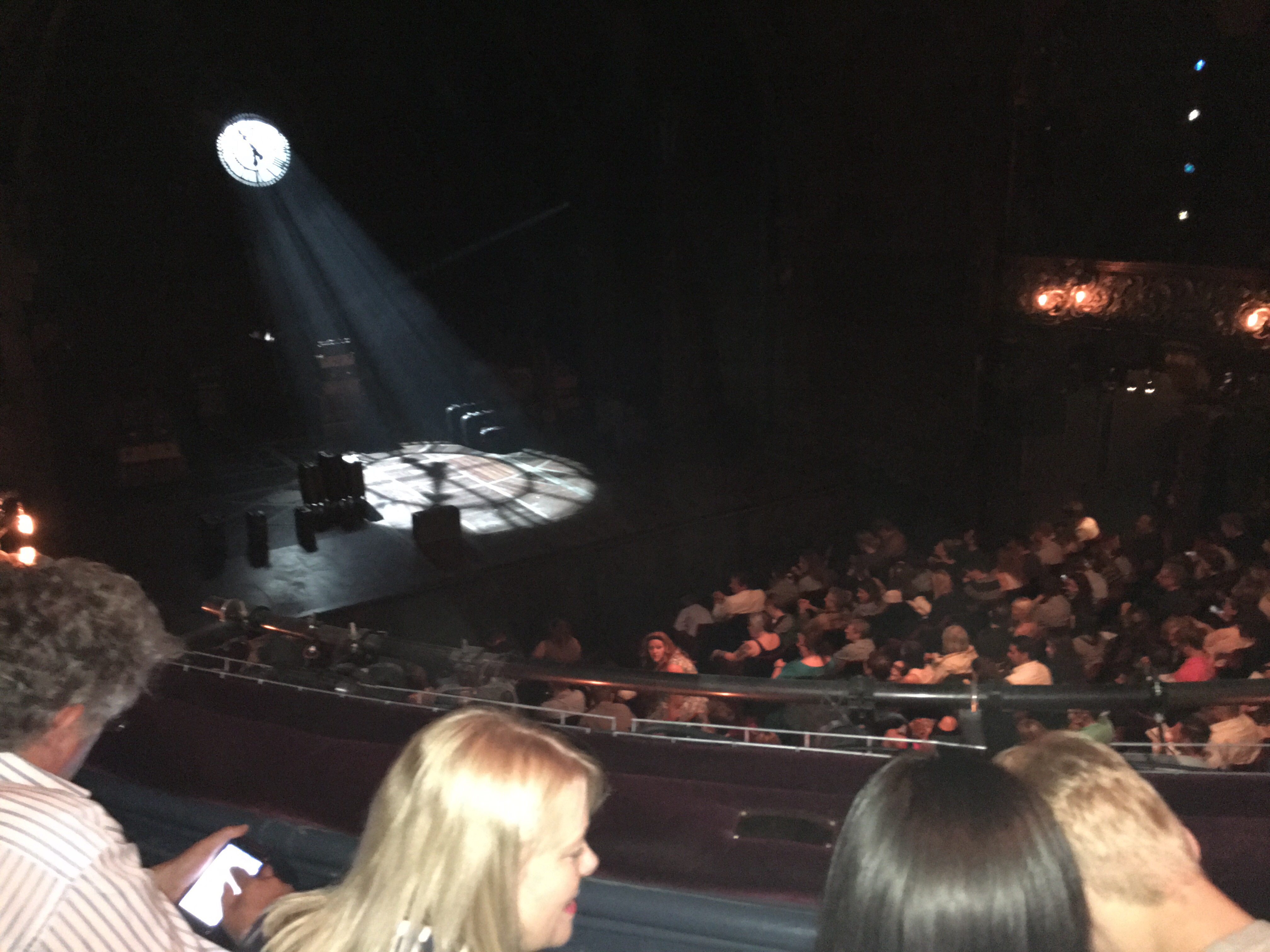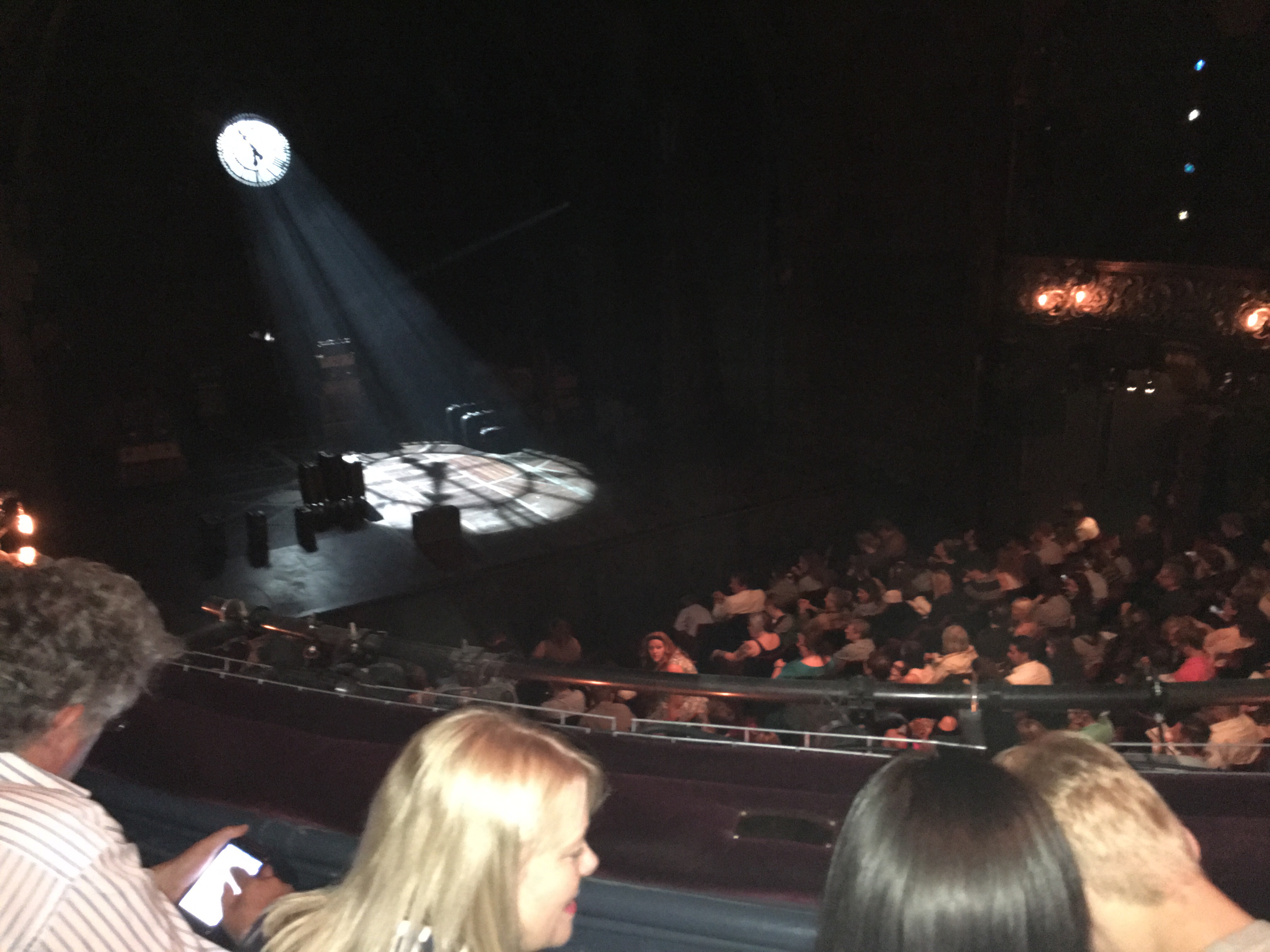 Apparently Margot Robbie was sat below us in the stalls and I'm pretty gutted that we didn't discover this until afterwards. The people in front of us were told off for trying to take photos of her over the edge of the dress circle. The staff were pretty on it and were quick to tell people off for using cameras etc. There was an announcement to make sure everything was turned off and (as someone who suffers from misophonia) I was delighted to hear them instruct people to not eat during the performance so as not to distract from the performance.
Then it began! Firstly the music is ah-mah-zing!! Just perfect. Recognisably Harry Potter but with a theatre edge. It conjured (see what I did there) up such an air of excitement in me. The staging and choreography was incredible too. At times you almost expected them to start singing and dancing it was such fluid choreography to the music. The acting was superb. We were hooked. There were so many times that the audience laughed out loud and gasped. There was a short break part way through part one. This was well timed so you could pop to the toilet and get a drink – the girls toilet queue took up the whole time so if I were you I would just go to the bar and then join it at the end. It was ridiculous, at no point was there a queue for the men's toilets.
I would say that I read the screenplay before we went and I did regret this having now seen it live. I wish I had waited because it's not like the books where there is so much description you can create the world in your imagination, this needs to be seen performed to bring it to life.
I did enjoy reading the screen play but there were lots of parts I didn't think were overly funny reading it, where as the actors brought it to life and had the audience laughing loudly. There were so many pieces of magic that had everyone muttering 'how on earth did they do that'. The props and stage dressing was incredible. The stage was constantly moving and transforming with a revolving floor. It's so difficult to describe but if you get the opportunity to go see it you must! It's truly magnificent.
Part one ended in such an epic way I think it will stay with me forever. On leaving for the interlude between parts one and two everyone was in awe and just saying 'wow, that blew me away'. Everyone was a buzz leaving the theatre after part one.
Laura had pre-booked us a table at a restaurant nearby for eating an early dinner during the interlude. We got out of part one about 4.45pm and our reservation at Dishoom, an Indian tapas restaurant was at 5.15pm. I would probably book for 5pm if I did it again. The gap did allow me to pop into Office and buy these new Nike Juvenate trainers. I love to buy something new to wear on every trip I go on, as every time you wear it in the future it reminds you of that place and time. My last trainers were bought in Prague on our last kid free trip.
I didn't realise it but Dishoom is extremely popular and you can't book on an evening. Laura had booked the last daytime slot for us 2 months in advance. She said not many people know you can book it in the day up to 5pm but not on an evening. The entire time we were eating there was a huge queue of people outside waiting to get in – they were even queuing in the rain. This made me feel very privileged to be there and the food was really good. It was dimly lit and hectic in there so I didn't take any food photos unfortunately. I would thoroughly recommend it though. We had a great meal and service was fast so we had plenty of time to get back to the theatre for part two.
We didn't think that part two had as much 'wow factor' as the part one but it was more emotional. There was a part that made me tear up that didn't when I read the screen play. It was really good. Papa Ginge got some Haagen Dazs in the interval and I asked whether there was anywhere to express. The staff were really helpful and took me to the VIP area (it was not as exciting as it sounds honestly) but I ran out of time to express much. Also, the area was just curtained off and I was worried about someone walking in on me milking my tits! Or even someone famous or one of the actors, ack could you imagine if Margot Robbie had walked in on that. Yikes!
The play was done at about 10pm and closed to a standing ovation. It really was excellent. It's hard for me to critique it properly as it was my first experience of the West End so I haven't really got much to compare it to. I asked Laura, who has been to much more theatre than me (having gone to dance school), if it was like other plays or as special as it felt to me and she confirmed it was something special.
We grabbed some merch on the way out (some t shirts and pins – Hufflepuff for life y'all). I had intended to go for drinks in Soho afterwards but we were wrecked so we headed back, expressed again and crashed.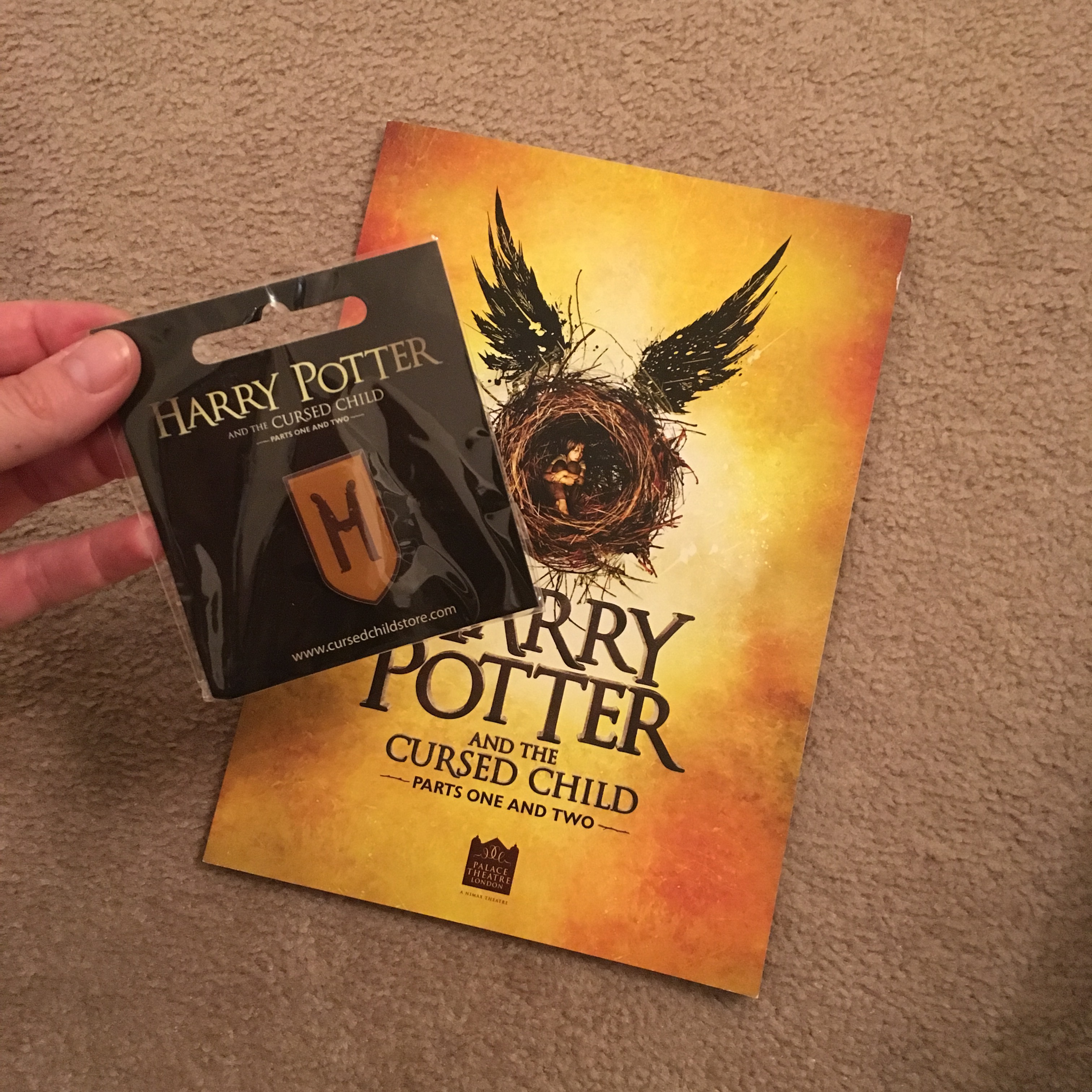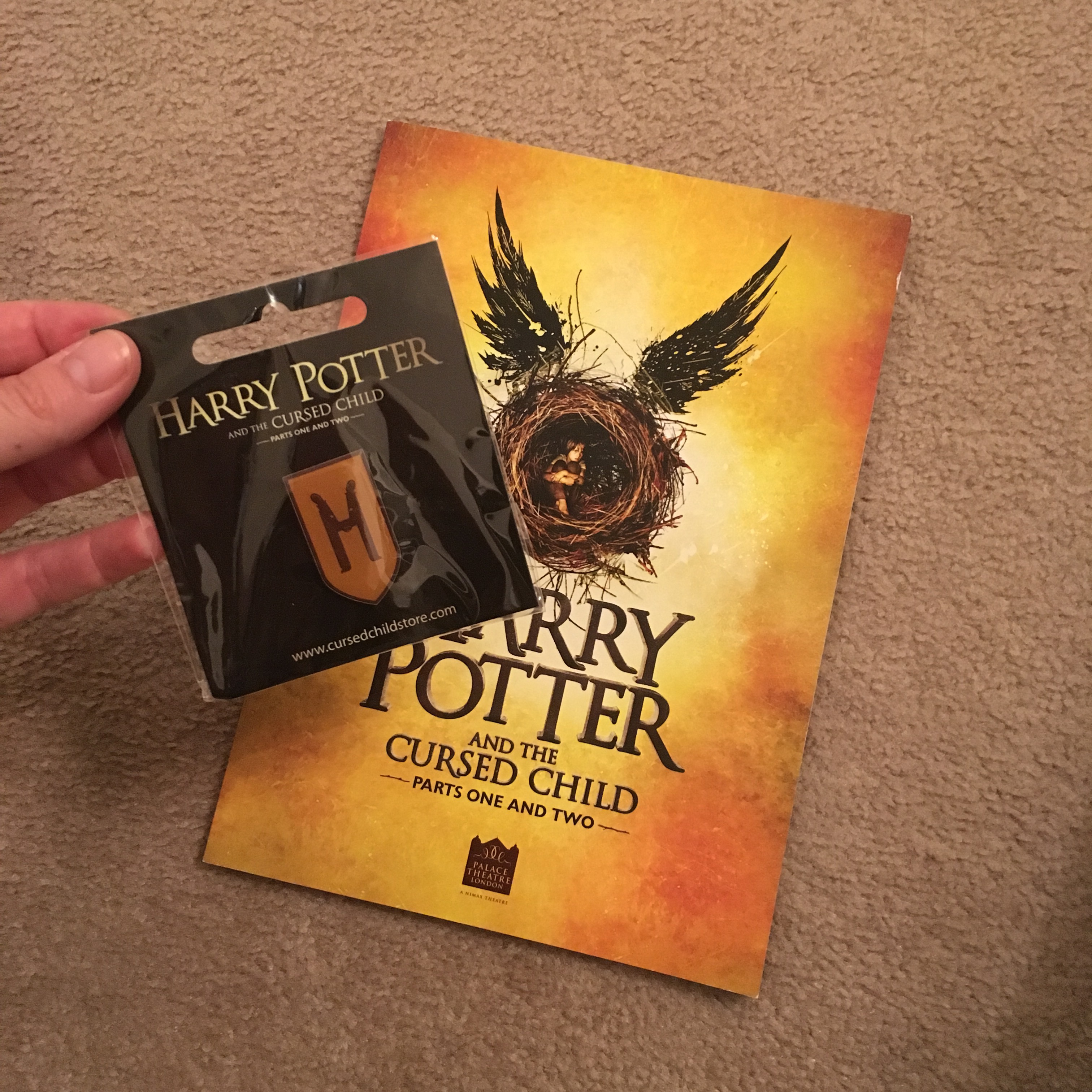 Day 3 – Sunday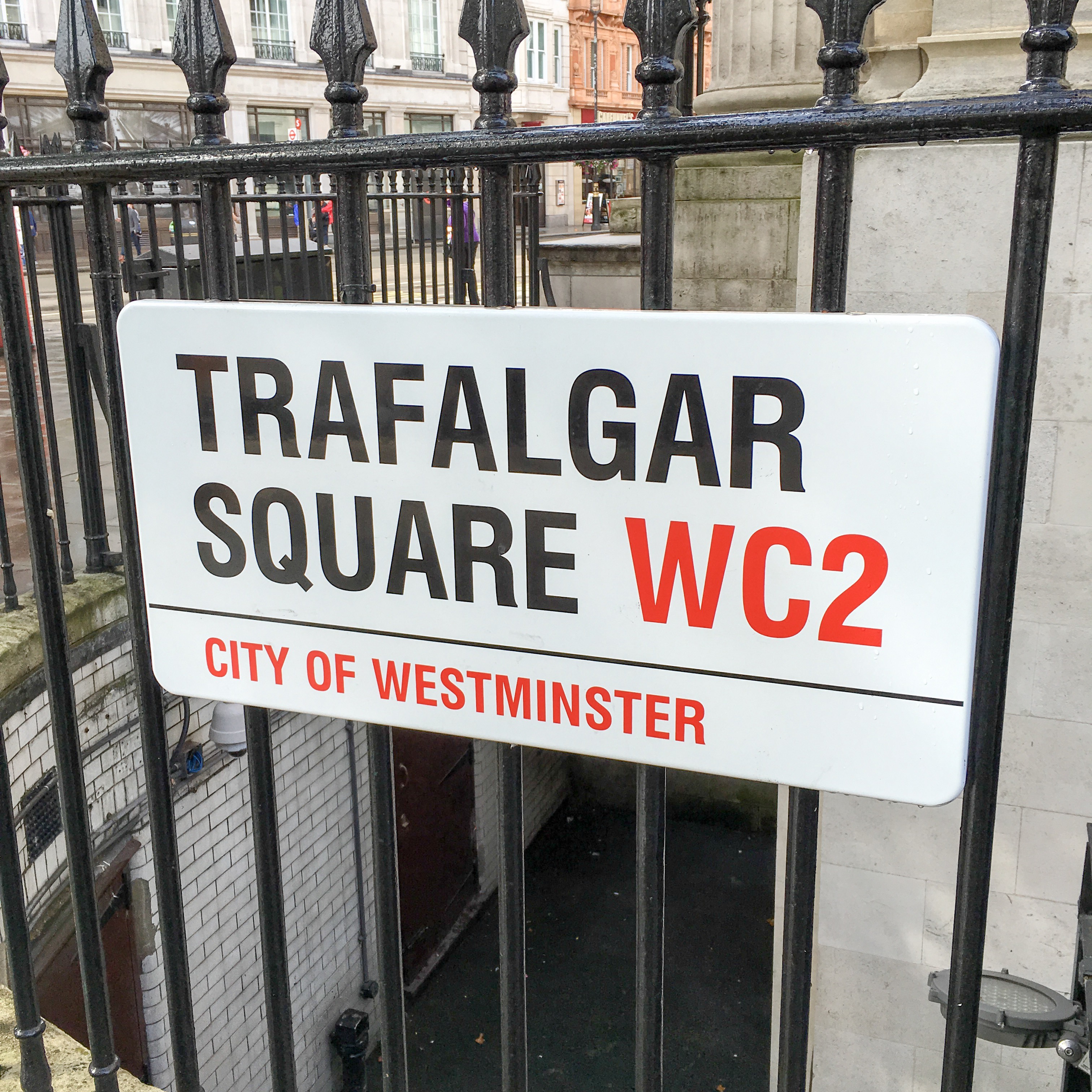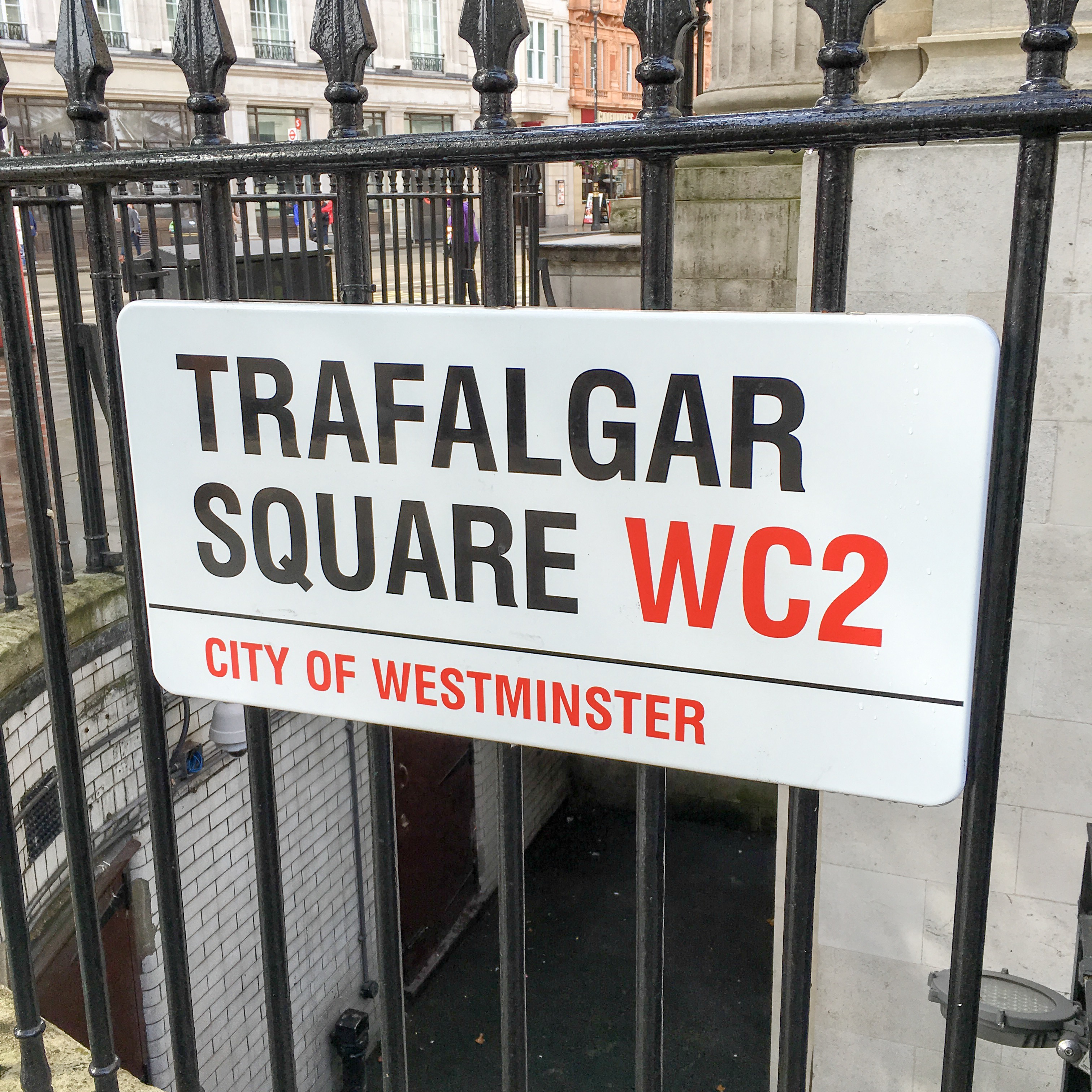 It was our last day in London and we were gutted to be leaving. We had the best time. Everything had been perfect – lots of fun, all our trains were on time and we had timed it all really well. We had forgotten how easy life without kids felt! I expressed and we popped out for Eggs Royale and then pottered round Covent Garden and Leicester Square picking up some gifts for the kids.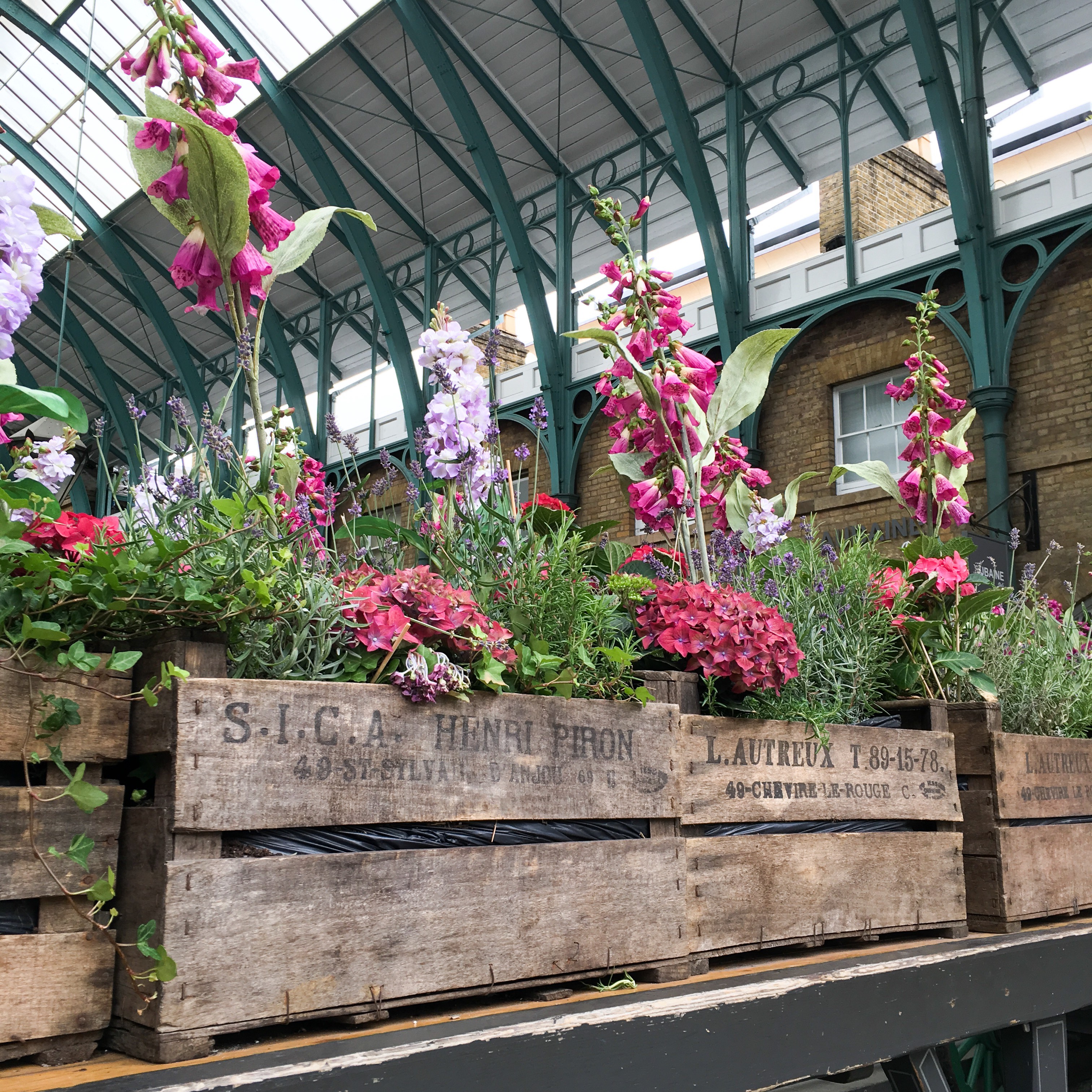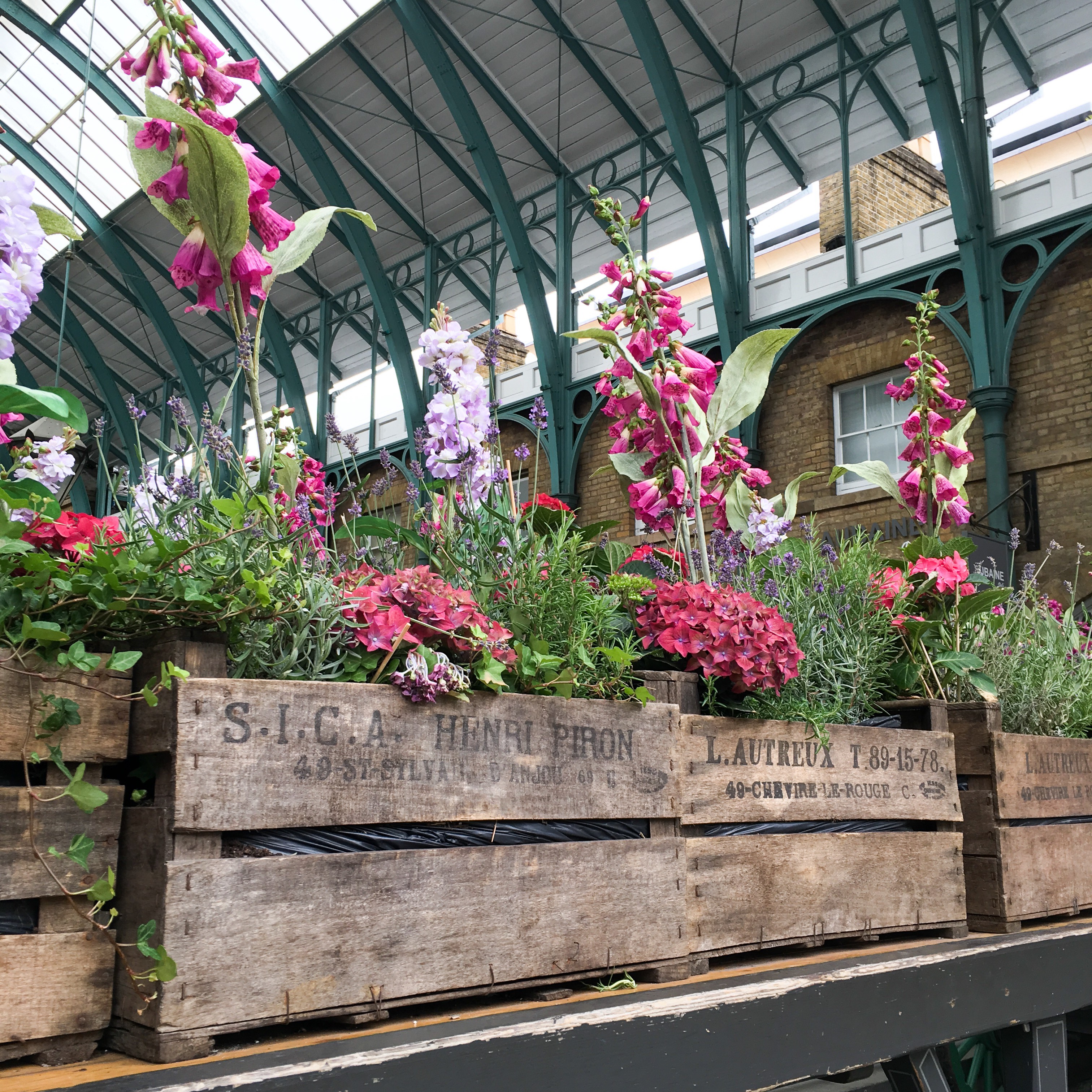 Then we had a quick visit to the National Portrait Gallery which was right next to our hotel. As a history graduate I just love the National Portrait Gallery. Especially the Early Modern portraits. It was always one of my favourite places to visit in London when I lived there and its free too which is an added bonus. You can see some of it in our vlog of our trip. Then we popped back to the hotel, I expressed one final time (my 8th time of the trip for those counting) and we jumped on the tube back to Kings Cross and the trip back to Newcastle.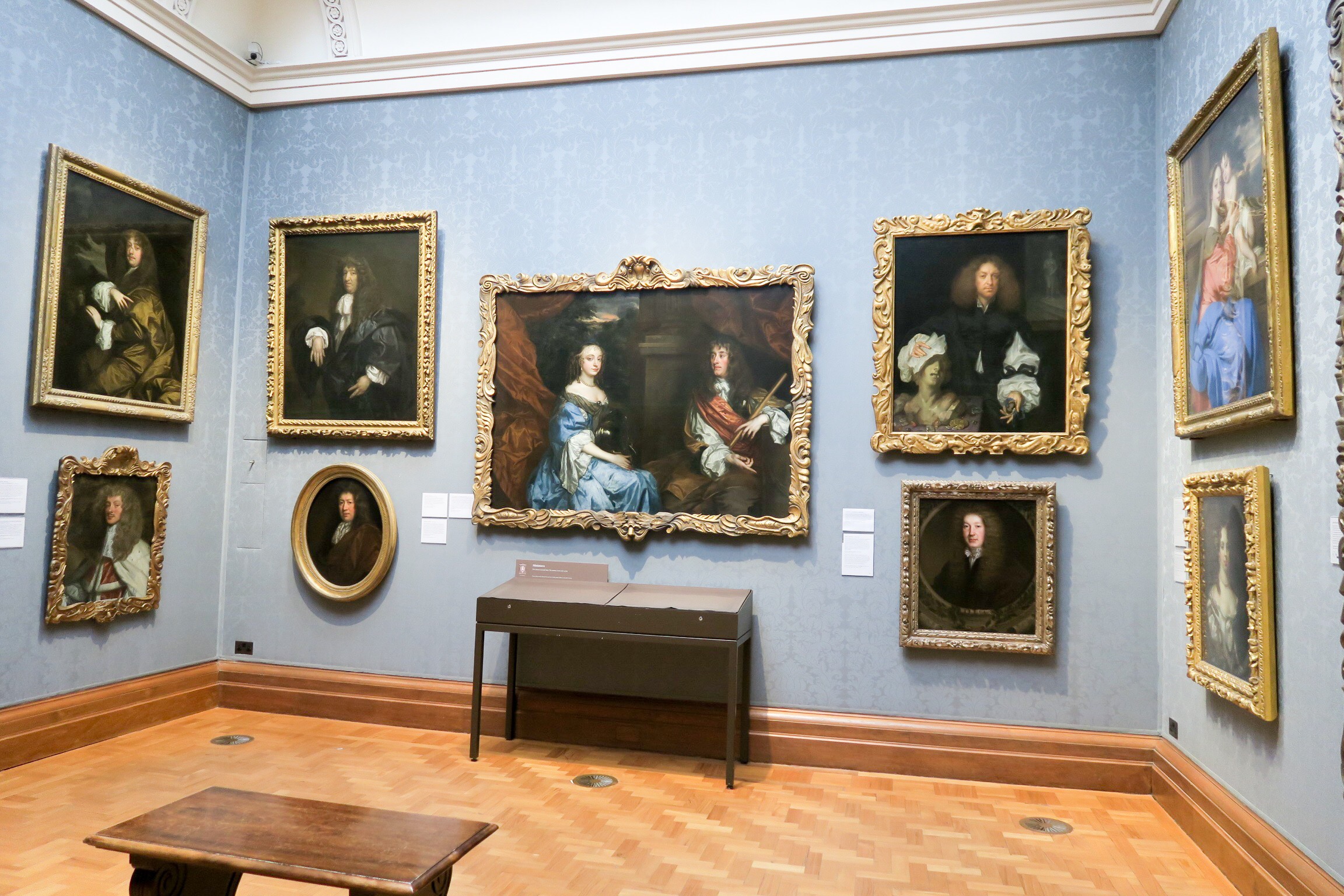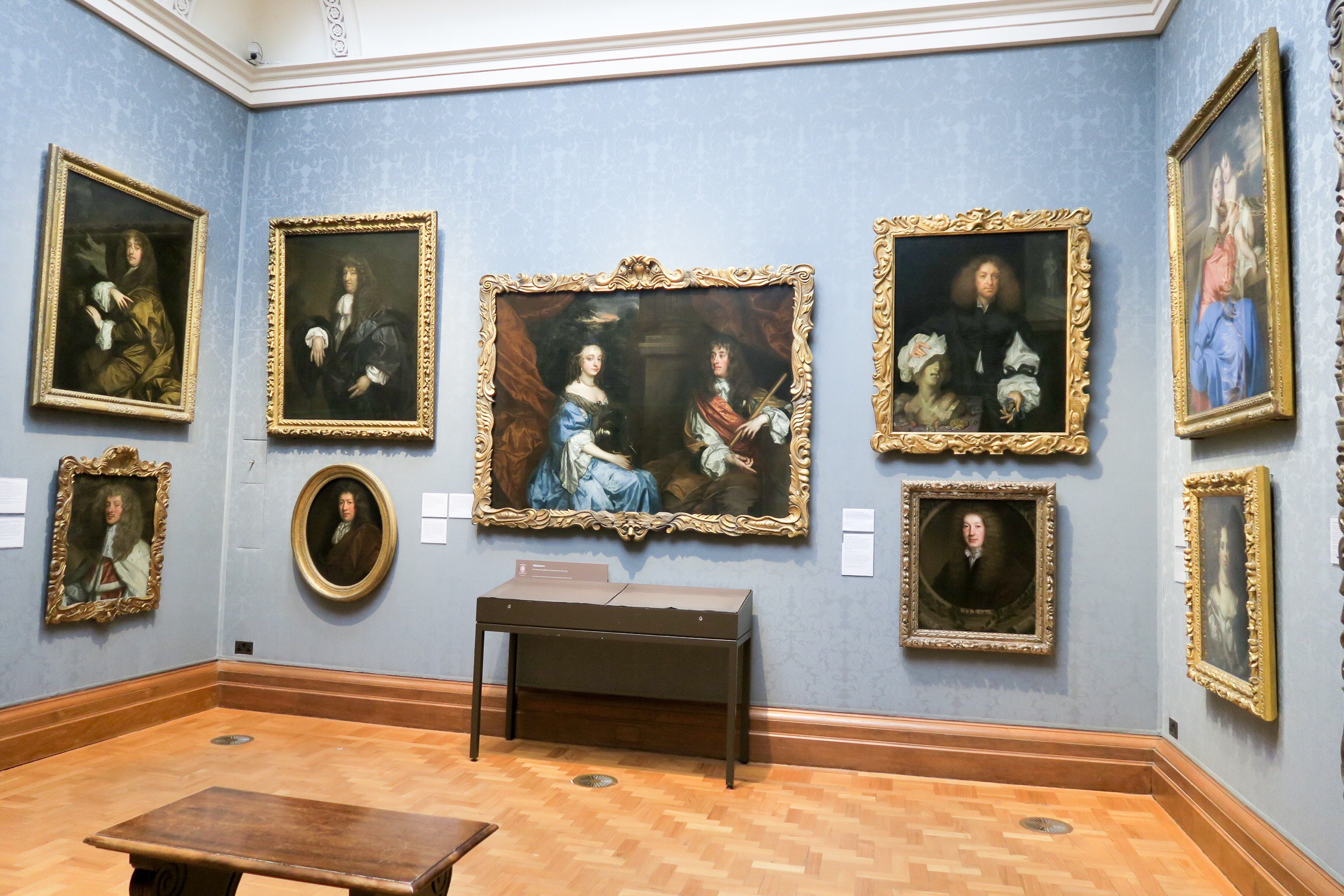 I would absolutely recommend staying where we did at the Premier Inn Hub if you are looking for accommodation to go see Cursed Child, it was really well located. I'd also recommend Dishoom for eating between parts one and two but make sure you pre-book. This post is not sponsored in anyway but these places really worked out well for us.
If you are taking your kids on your London trip to see Cursed Child then check out 59 things to do in London with kids.
Have you got tickets for Cursed Child? Or have you seen the play already? I'd love to hear from you in the comments!
If you liked this post you might also like:
If you enjoyed this trip review then please follow me on Facebook, twitter and Instagram so you never miss another post! And if you want to see our vlogs of our trips then make sure you pop over and subscribe to our YouTube channel where we post a family vlog every Sunday at 6pm.