It's a peak 2020 move that on the year Halloween finally falls on a Saturday, it won't be sensible to go trick or treating in the usual way. Annoying. However, we can't let that ruin Halloween for us. It's time to show 2020 what we are made of, put our thinking caps on and think of the best ways to make Halloween at home fun for kids. I've had a few ideas myself and then I've also asked some other bloggers for their top ideas too. Hopefully, this will give you plenty of ideas so that your kids won't even miss trick or treating.
Ways to make Halloween at home fun for kids
Halloween parties at home
Nicola from Wildflower and the Bear says 'We have already started doing crafts and will do the usual pumpkins and Halloween baking! On the 31st October, we will just have a little Halloween tea party followed by a little disco. We have a cheap disco ball from Amazon (affiliate link), we had lots of little discos during lockdown. We have already started watching Halloween films, so after the disco when the kids are winding down we will just pop a film on and have some popcorn & sweets.'
Emma from Happy Family Hub says 'We are going to have a full on Halloween Party at home with makeup, costumes and a spooky disco'. We also love to play the doughnut game where we have to eat doughnuts blindfolded dangled from a string. So nice to enjoy the traditions we also did when we were young. Being at home will be different, but super spooky and super fun.' 
Home Halloween hunts
Sarah from Boo Roo and Tigger Too suggests doing 'a ghost hunt around the house, the children can help create the different ghost or Halloween themed pictures to be hidden around the house. With a little treat or craft at each picture.'
Mandi from Great Yarmouth Family Fun told me 'Every year we dress up various parts of the garden as different 'houses'. The older children dress up and hand out sweets to the younger two, that go trick or treating, this year will be no different.'
Halloween games at home
Jessica from Beauties and the Bibs will be playing games such as bobbing for apples but using slime or jelly instead of water . They will also be bowling using empty pop bottles but putting a glow stick inside then turning the lights off . It's lots of fun for the whole family. 
The lovely Kelly from Our Transitional Life told me 'George and Molly want us to make each room a house, we wait in the rooms and they come trick or treating to each 'house' too cute!'
Clare from My Tunbridge Wells will be doing a 'Halloween Hunt' around the house and garden. They'll hide treats in different rooms. Kind of like an Easter Egg hunt. They'll 'decorate the house more than usual and put on some 'spooky' films for the older two when the baby has gone to bed'! 
Charlotte from Team Stein suggests some sensory play ideas for little ones.
Baking Halloween treats at home
Hayley from Miss Many Pennies will be doing Halloween themed baking – 'biscuit or cupcake decorating is easy and fun, think pumpkins, skeletons, spiders, monsters etc'. 
Raimonda from Cosmo Mum will be making a Haloween pizza! It's super easy – normal pizza Margherita plus add spiders (made from black olives). They will also be visiting their local pumpkin farm while social distancing .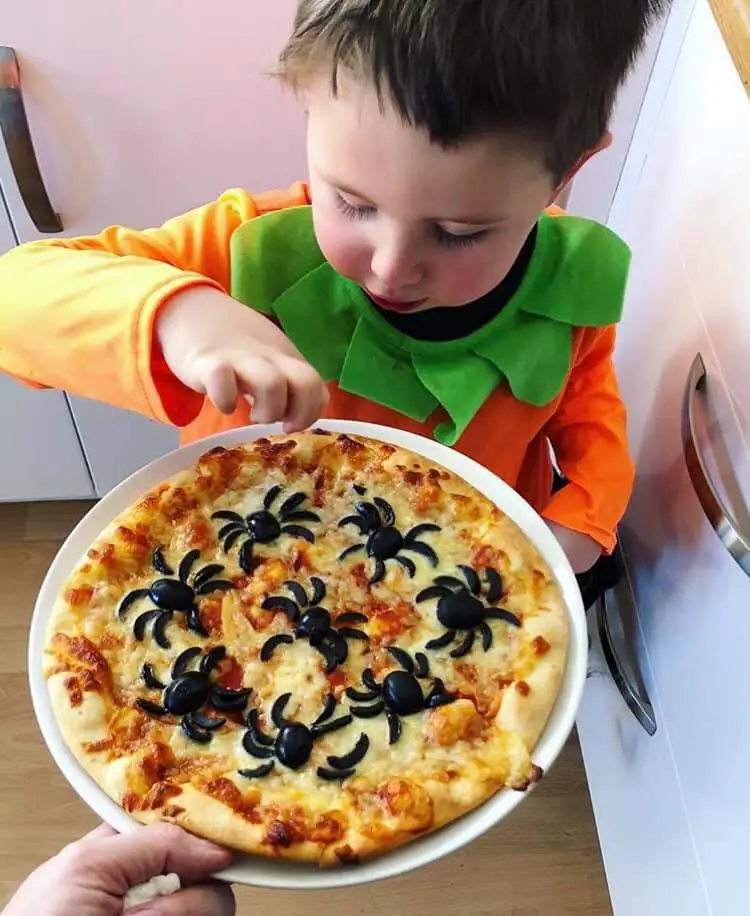 Amy from All About Mummy has some fun recipes for Halloween cupcakes which are really fun to make with the kids.
Jenny from Peak District Kids will be making Halloween slime popcorn by adding green food colouring to popcorn.
Halloween crafts
Claire has a fun 5 minute ghost decoration over on her site.
Karen from Travel Mad Mum is sticking to the standard – carving pumpkins together. You can't go far wrong with that.
Sharna from Life with Alden Jax says 'I'm making a spooky potions science lab for my dude. Good old vinegar/baking soda and simple preschool science experiments. Think plastic test tubes, beakers and bubbling cauldrons with bones in which we will fizz out and make a skeleton – and another day use play doh to make a frankie Frankenstein. It's our favourite time of year so I'm planning quite a few invitations to play for him over October – spooky month '.
Socially distanced Halloween trails
If you are still desperate to get out and about there is this North East facebook group that you can join that aims to create neighbourhood pumpkin trails.
Bethanie from Northumberland Family Diaries suggests to 'go for a walk round your street/ village/ town early evening to see all the houses decorated. The children could even still dress up and you have a checklist of things to look out for: spiders, pumpkins, ghosts etc.'
Claire will set up a Halloween hunt with friends. Every house she passes with a pumpkin she will give her child a treat rather than going to the door.
Amanda has whole blog post with alternatives to trick or treating this year.
How we will be celebrating Halloween this year
Given Halloween is a Saturday this year that gives us the whole day to play with. We'll start by decorating the house and carving pumpkins. I'll use the pumpkin guts to make a big batch of my nutritious pumpkin gut soup for lunch. Then we'll bake some Halloween themed treats together.
We'll all dress up in Best Halloween Pyjamas UK – for a cosy Halloween at Home. Later in the afternoon when it's starting to get dark I will hide sweets all around the house and do a trick or treat treasure hunt with Halloween music.
I'll give them their usual trick or treat buckets to put the treats they find in. Then we'll have party food for tea and watch some Halloween movies. You can check out The best Halloween shows for kids – movies and TV episodes rated PG and U here.
I hope this blog post has shown you that even with local lockdowns and social distancing restrictions, there are so many ways to celebrate Halloween during Covid that keep yourself and your community safe. Yes Trick or Treating is fun but it's also fun to take a year off from it and see what other mischief you can make.
Do you have any creative ideas for ways to make Halloween at home fun for kids? Let me know in the comments.
If you liked this post, you might also like the following: