We all know that Halloween is going to be different this year but that doesn't mean it can't still be fun. Normally we love going trick or treating but this year we are going to put our energy into tricks and treats in the home.
As you know if you follow me on Instagram, our family love to prank each other. We think it helps kids to grow up more imaginative, free-spirited and fun-loving. Papa Ginge even has a whole Insta Story highlight dedicated to all the times he's pranked me. There was a lot of love for my recent blog post where I shared 20 general ideas of how to celebrate Halloween at home this year. In today's post, I'm going to share four specific activities that you can do that I've found on the MAOAM Mischief Hub that are perfect for putting some excitement into Halloween at home this year. Now if you are like me, you are time poor and not so into crafting. I've chosen easy, quick win, maximum fun activities to bring Halloween 2020 to life. Here are my 4 easy ideas for Halloween fun at home…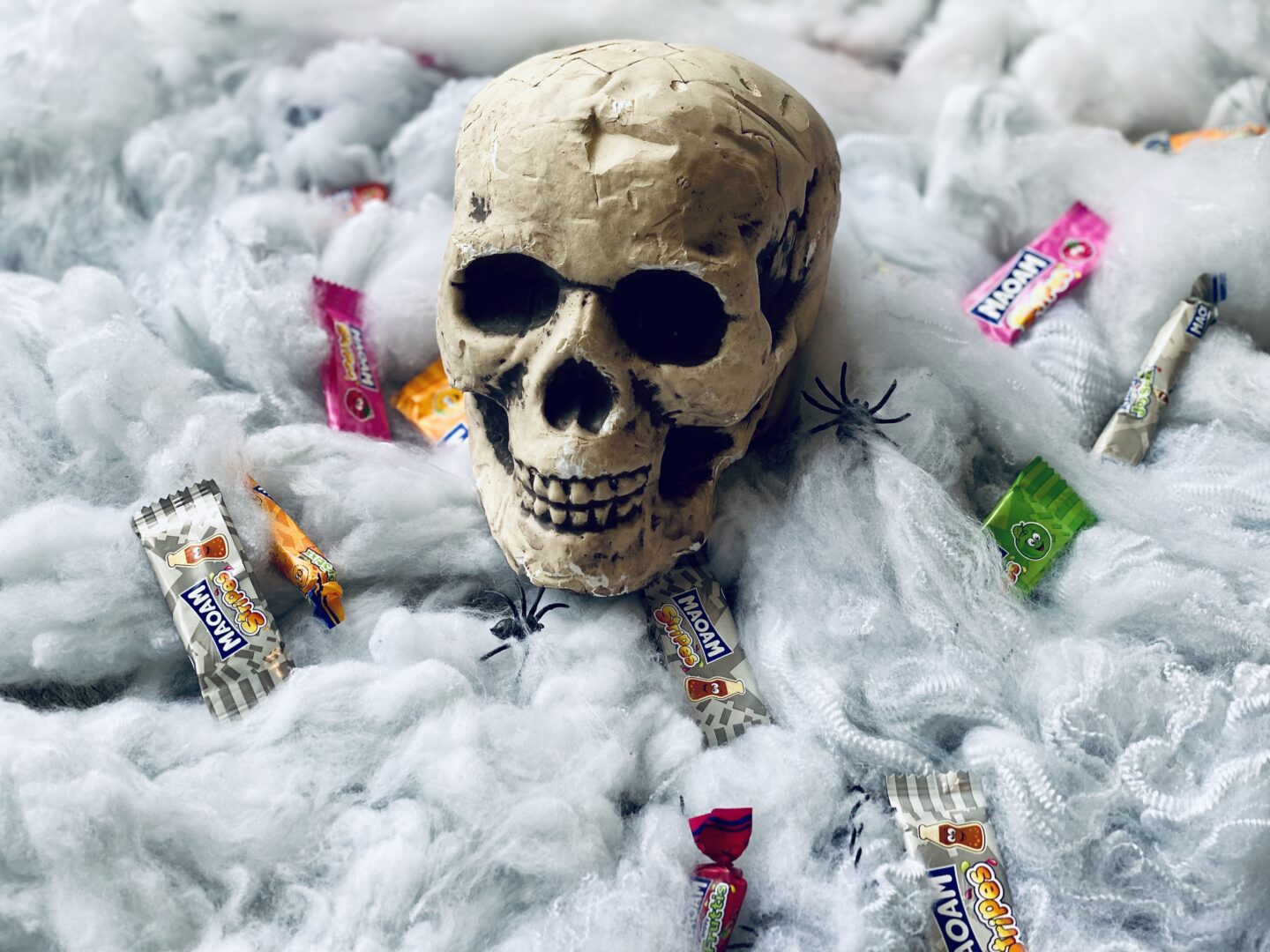 4 easy ideas for Halloween fun at home
Halloween toilet roll decorations
I was looking for an easy Halloween crafting activity that wouldn't involve me having to buy anything new and that the children could largely do by themselves when I came across this simple toilet roll activity on the MAOAM Mischief Hub.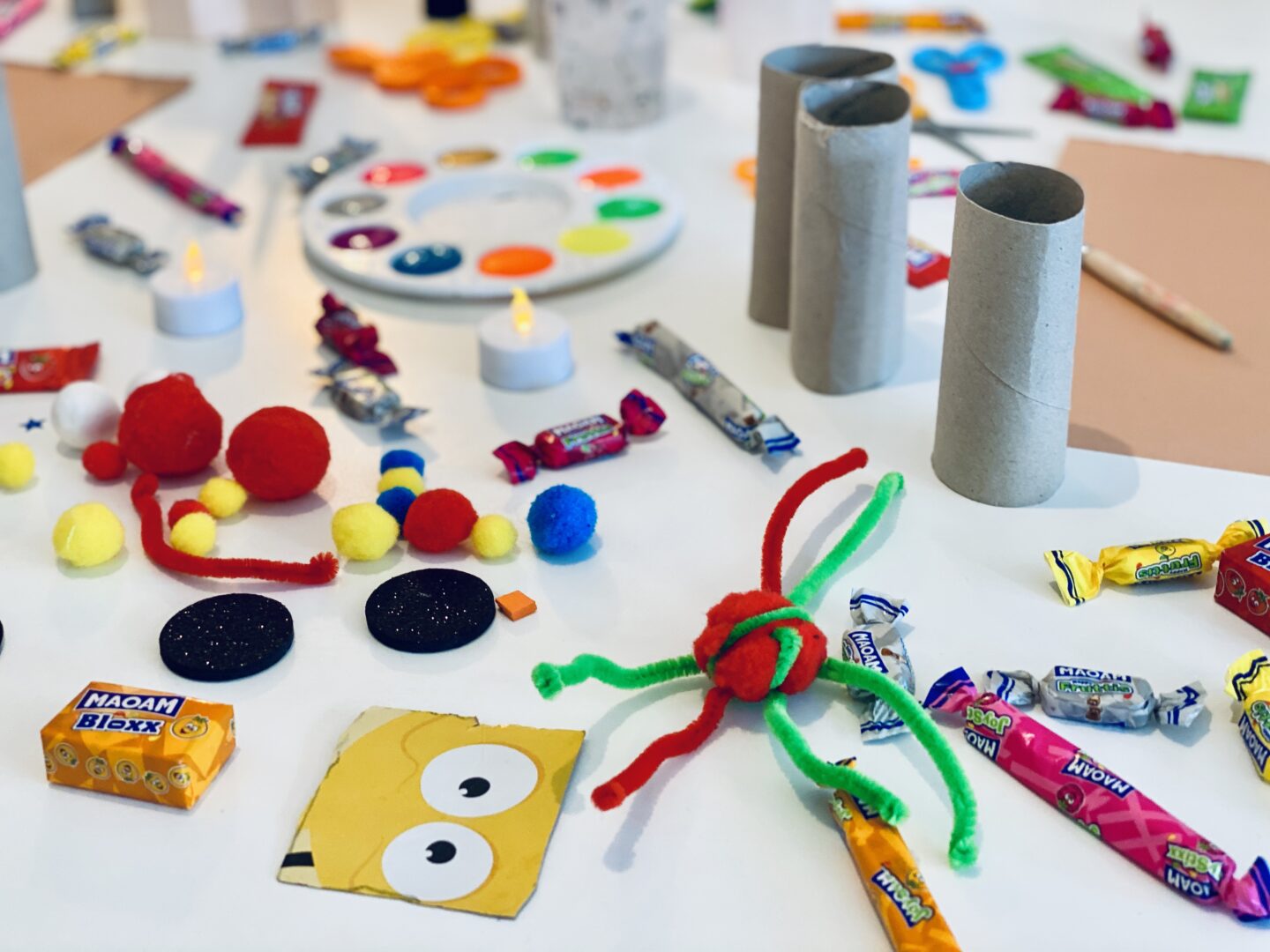 I found this activity on Max's Mischievous Toilet Roll Crafts page. You really just need toilet rolls and paints to make some spooky characters. Both my kids loved doing this and now they are proudly on display ready for Halloween. It's a simple activity that has an educational element (arts and crafts) and I think you could spend around 30-60 minutes on it.
For more Halloween crafts see 100 Halloween crafts for toddlers.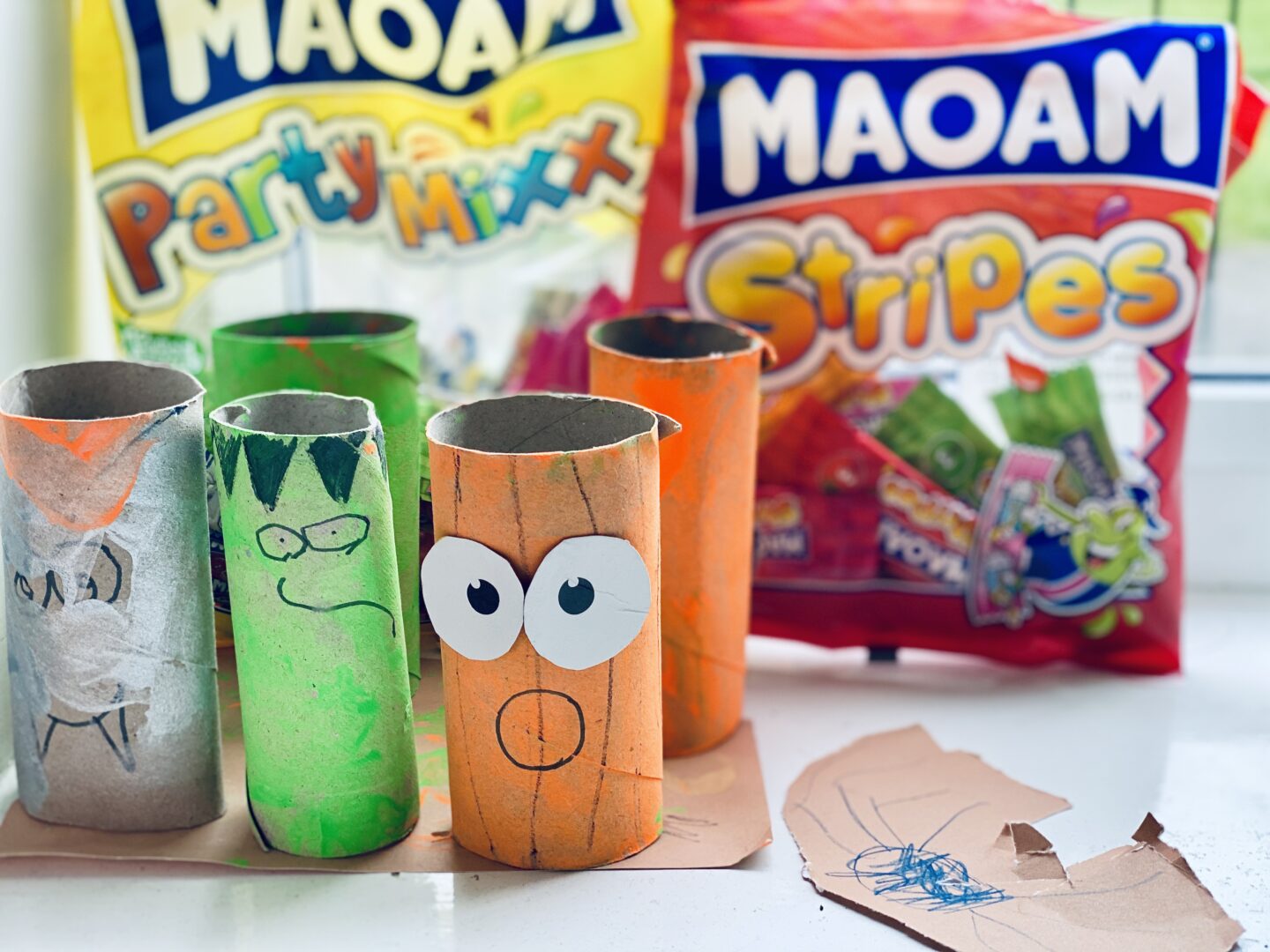 Spider scare prank
Next up in my easy ideas for Halloween fun at home is a spider scare prank. Combining a craft with a prank is the dream for most kids. I found this one on Dick and Dom's Mini Mischief Challenge page of the MAOAM Mischief Hub.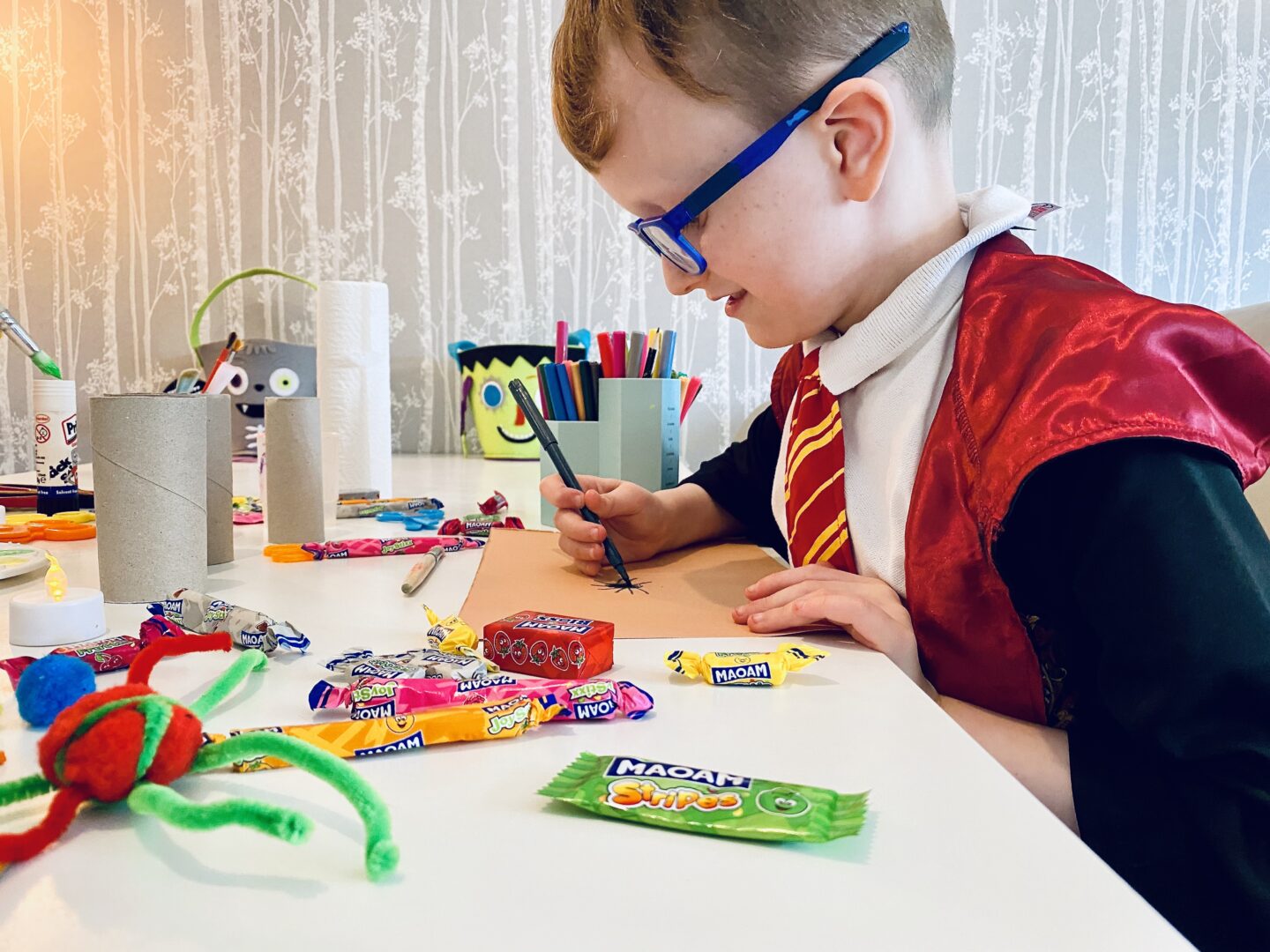 The kids made little spiders on paper and then cut them out and we stuck them inside our lamp to prank Papa Ginge. The idea is that when you turn the lamp on the shadow of the spider makes someone think there is a big spider inside the lampshade.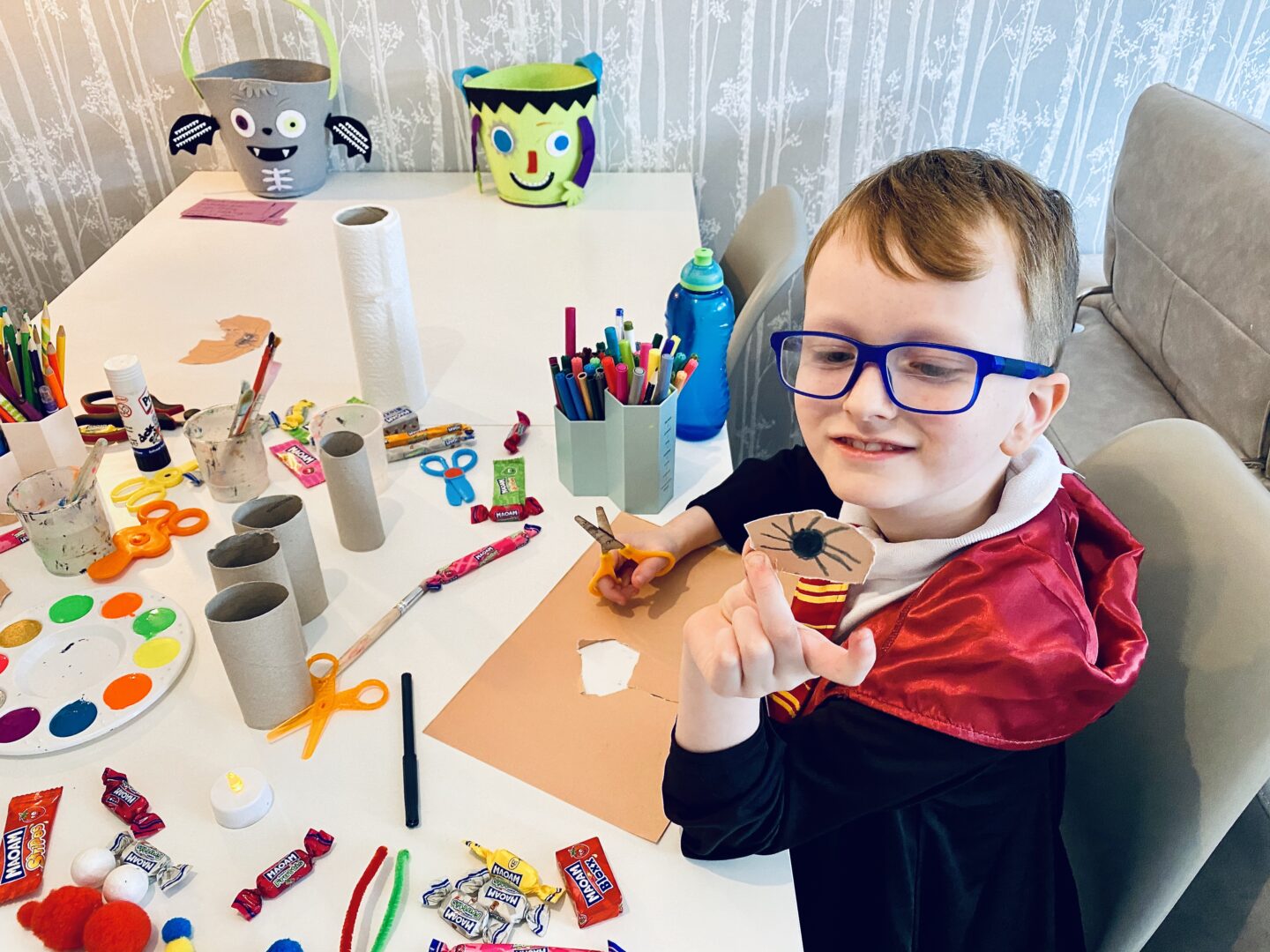 Sadly, our lampshades aren't plain so it didn't show up well enough. Not to be defeated we had the idea of trying to make an even bigger spider out of a fuzzy ball and some furry pipe cleaners. We also stuck a MAOAM treat in the lamp so that as well as getting a scare, the victim also got a treat too! This prank definitely works best if you have a plain light lampshade but it's such an easy one to do, perfect for Halloween. A good hiding place for a Halloween themed trick or treat treasure hunt too. Speaking of which…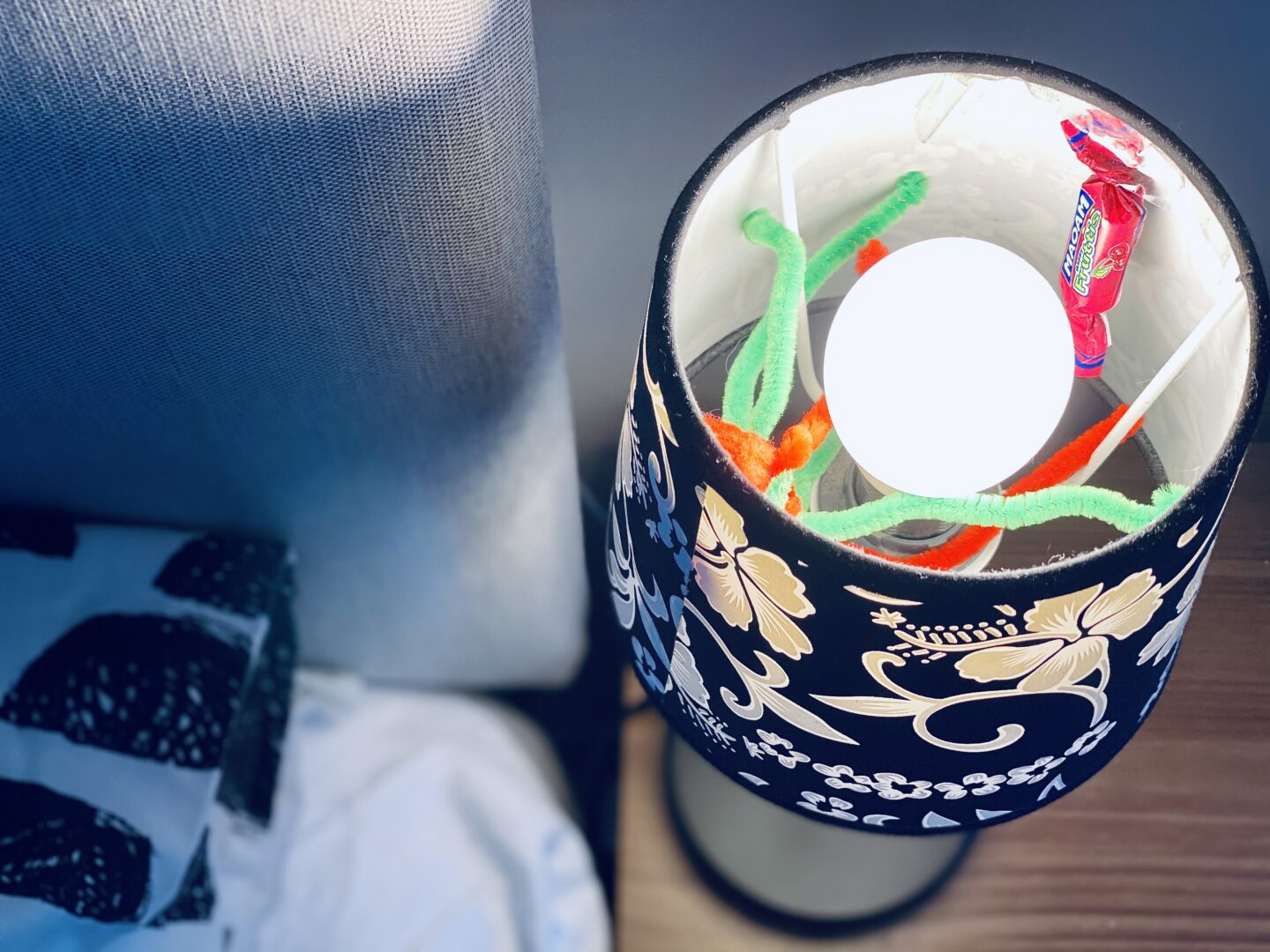 Mischievous Halloween scavenger hunt
Next, I took inspiration from Max's Boredom Busters page on the MAOAM Mischief Hub to devise a Halloween themed treasure hunt. I wrote out a bunch of spooky riddles that I thought would be just challenging enough for the kids but allow them to work it out without them getting too frustrated.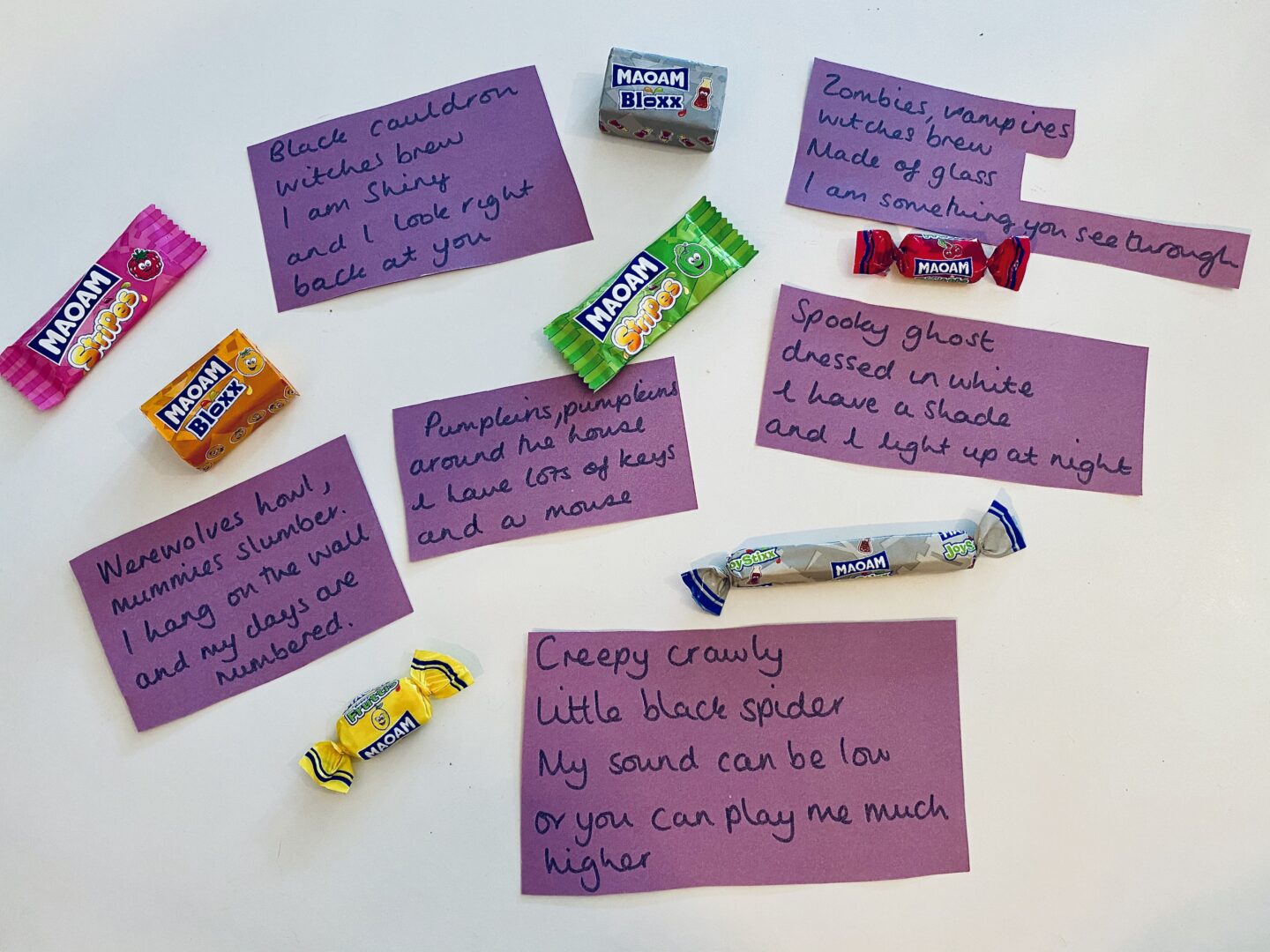 Then I hid MAOAM treats at the locations of the answer to the riddles. The kids read the clue, work out the location and find the treats which is such a thrill for them.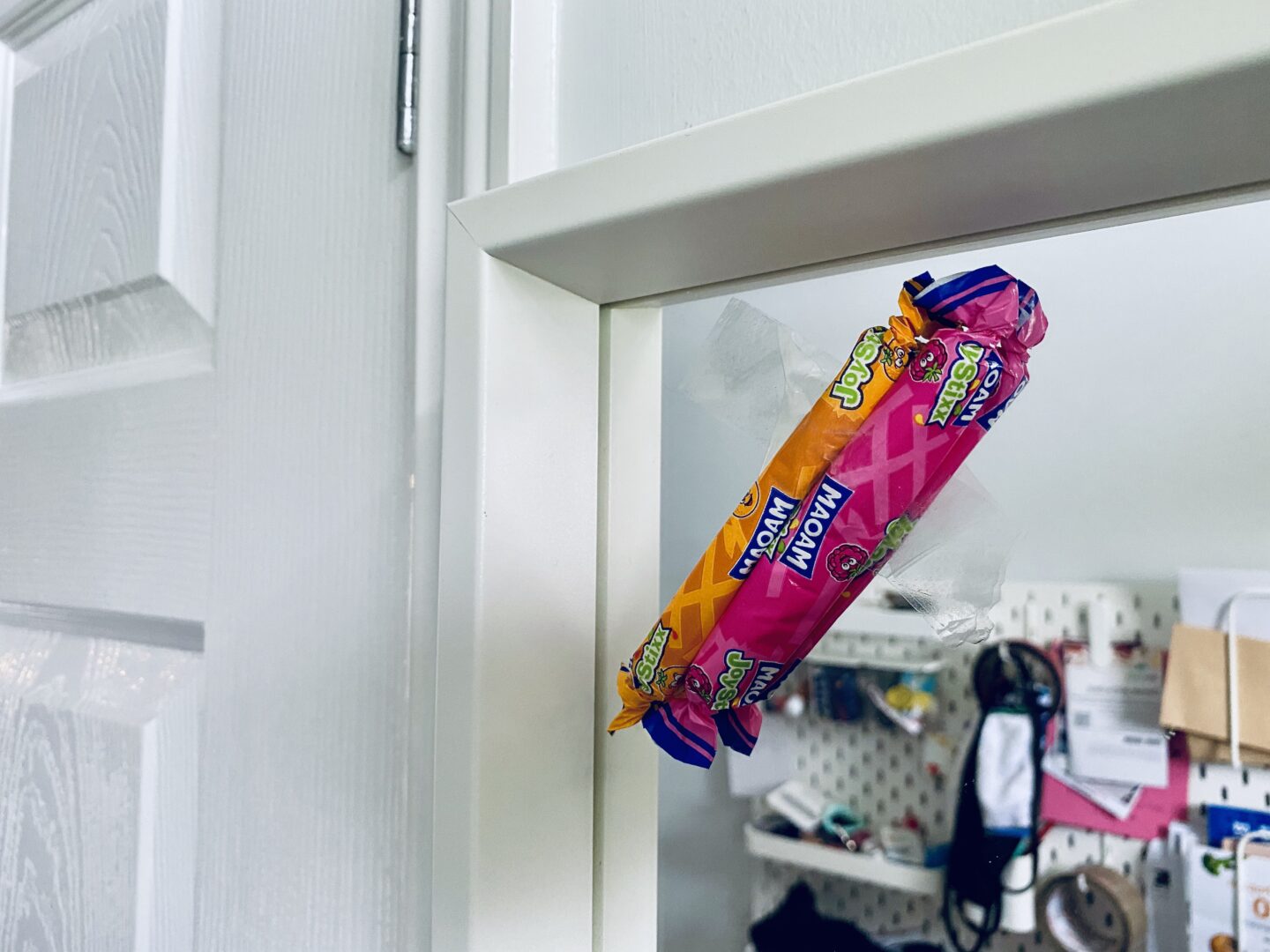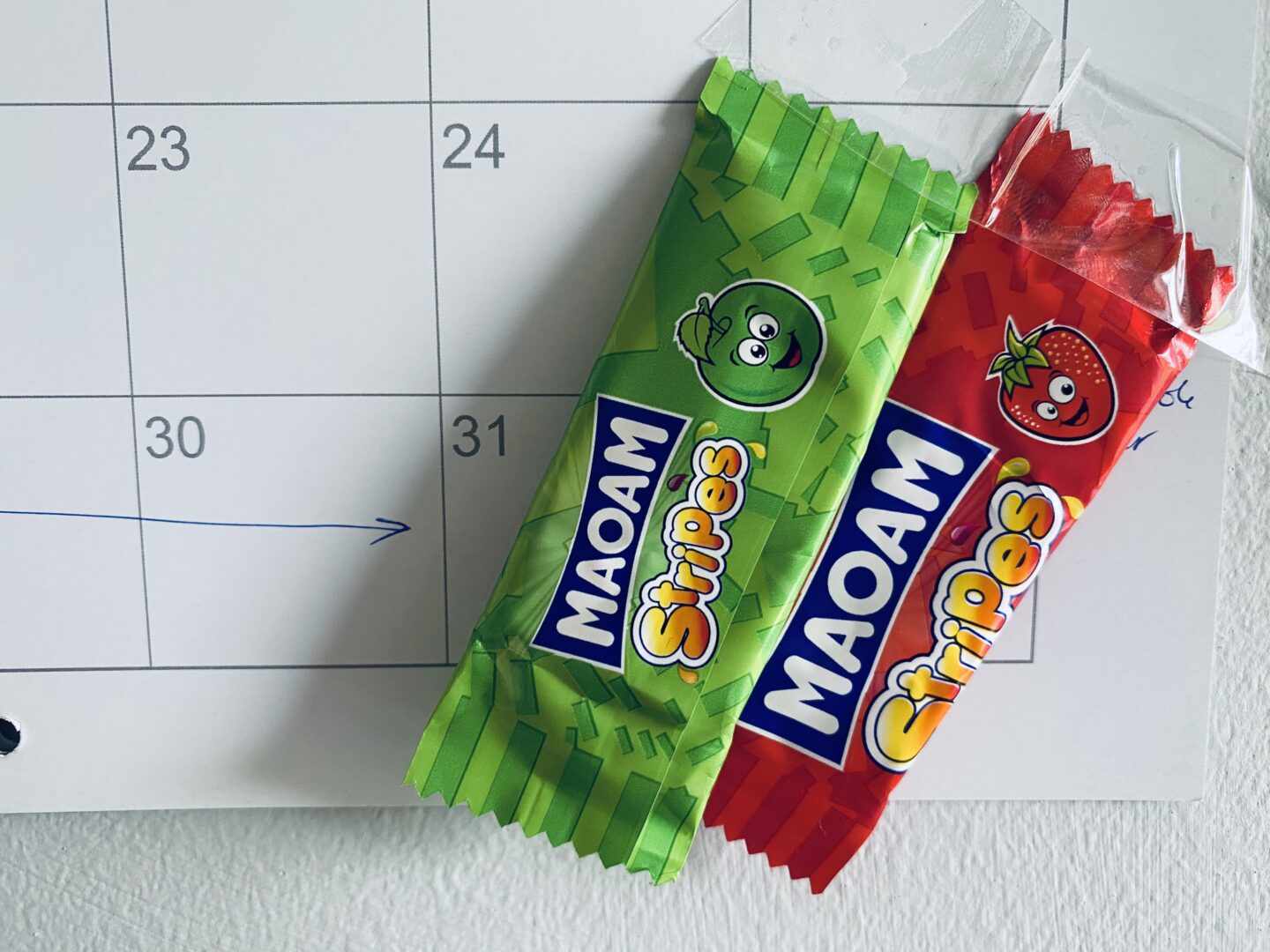 I had also hidden more MAOAM all around the house for them to find after they had found the 6 riddle locations too. I played Halloween music and turned most of the lighting off too. The kids loved it.
Here are the riddles I used in case you want to use them too:
Zombies, vampires, witches brew. Made of glass, I am something you see through. (Window)
Black cauldron, witches brew. I am shiny, and I look right back at you. (Mirror)
Pumpkins, pumpkins around the house. I have lots of keys and a mouse. (Computer)
Werewolves howl, mummies slumber. I hang on the wall, and my days are numbered. (Calendar)
Creepy crawly, little black spider. My sound can be low or you can play me much higher. (Speakers)
Spooky ghost all dressed in white. I have a shade and I light up the night. (Lamp)
I found the riddles here if you want inspiration for some more for your own Halloween treasure hunt. You could also get inspiration from Halloween jokes for kids.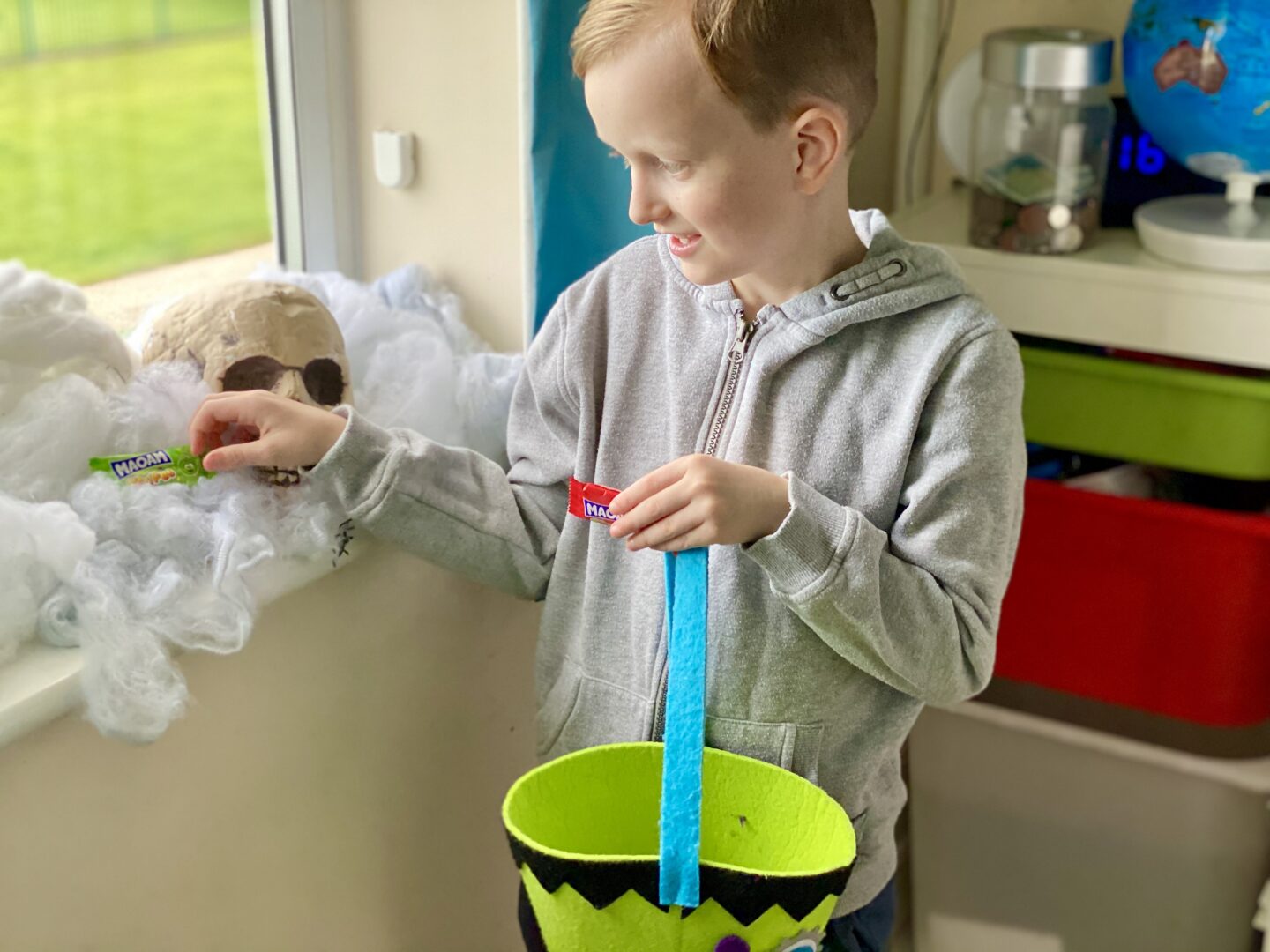 Classic door sweet drop
Finally, we devised our own Halloween prank inspired by MAOAM. The classic prank of someone opening a door and something falling on them. We took our bag of MAOAM Stripes and opened one end of the bag. Then we stuck the unopened end to the wall above the door and shut the opened end in the door frame – like in the photo below.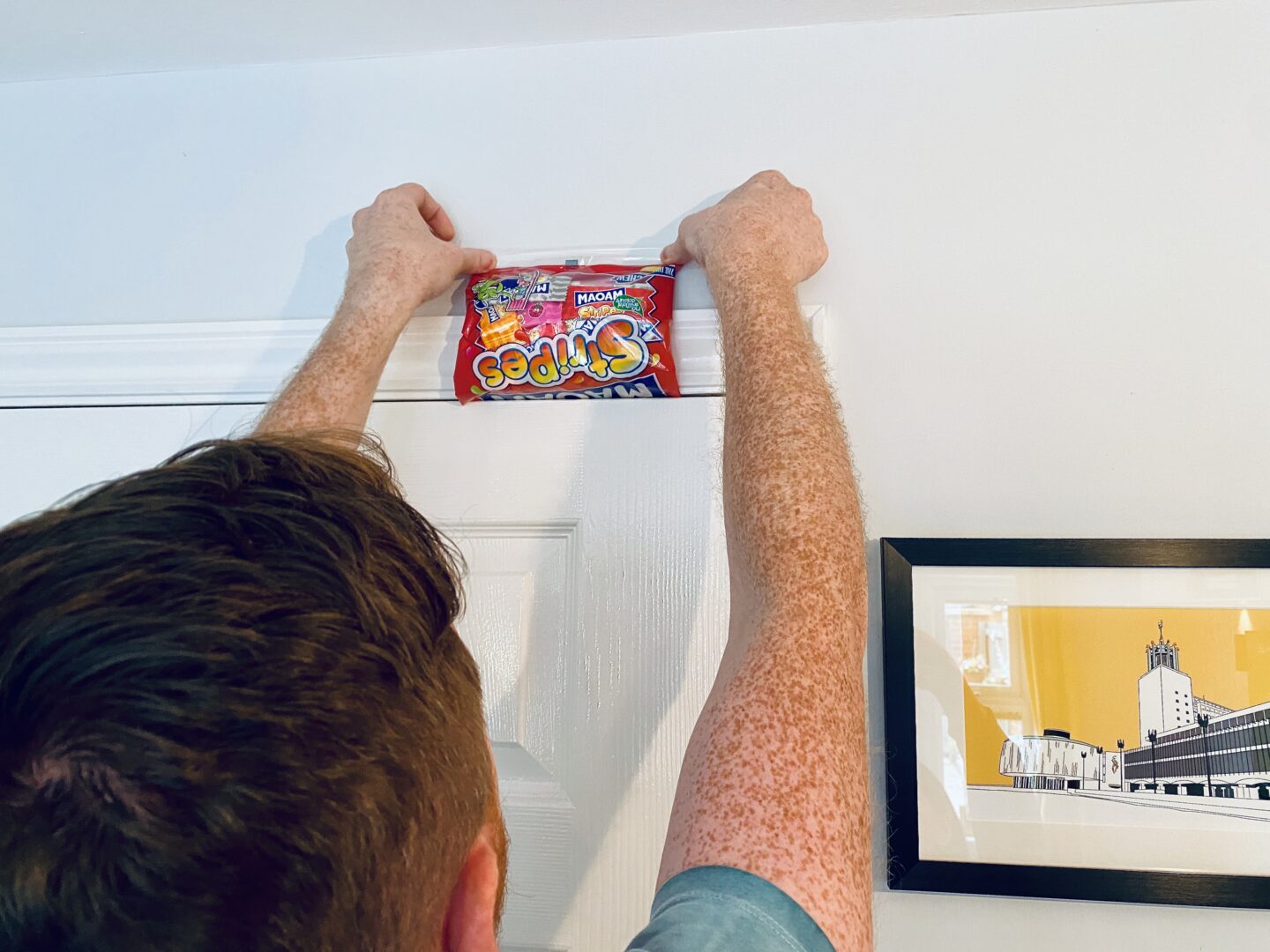 We got the children to wear their Darth Vader plastic helmets just in case any of the sweets hurt when they fell. MAOAM Stripes are very light so we were confident they would be ok – but it's better to be safe than sorry.
Then we got the kids to walk through the door with their Halloween buckets and they got to keep the treats that had fallen on the floor.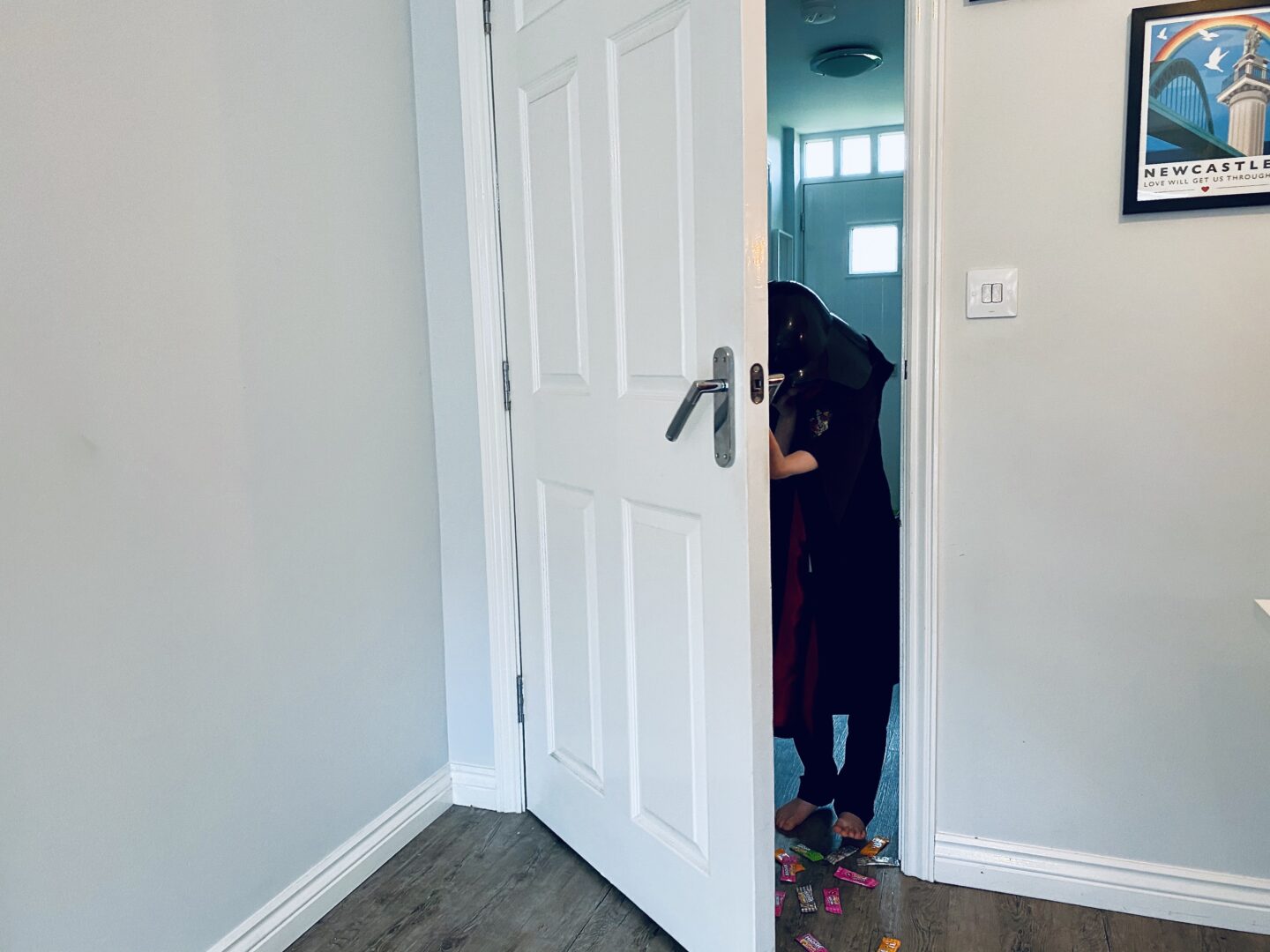 My youngest, in particular, found this very fun and exciting. My eldest got a little scared so proceed with care with this one. You know your own kids. He didn't mind at all once he was eating the MAOAM loot though!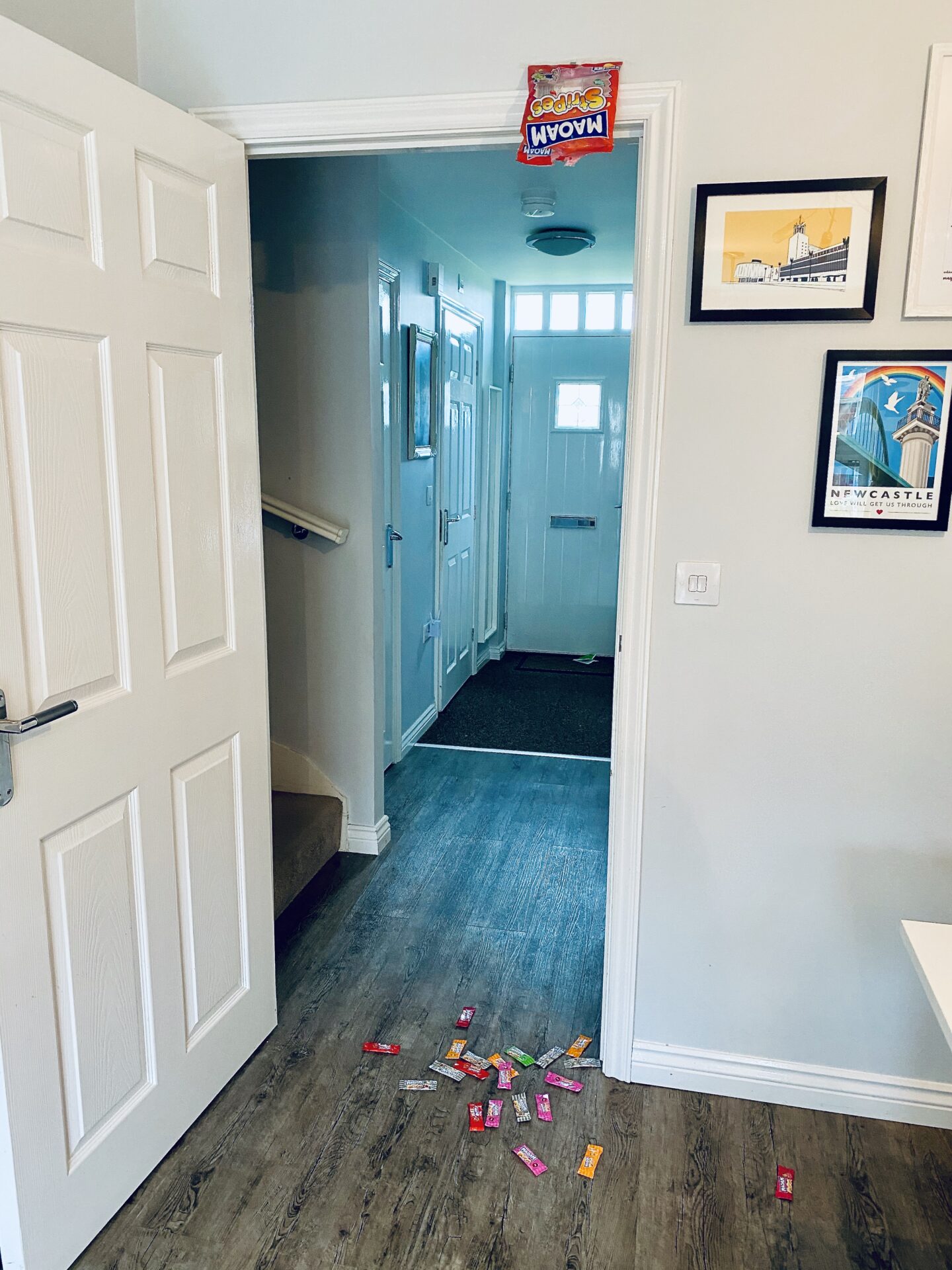 Easy ideas for Halloween fun at home with MAOAM and their Mischief Hub
We loved doing our Halloween themed crafts and pranks inspired by the MAOAM Mischief Hub. We do love MAOAM in our house. It's the perfect treat for our Halloween this year as I need something that's dairy free for my son and normally lots of the Halloween multipack bags have products containing dairy in them. In our house, MAOAM means that no one gets left out of the fun. I hope this post has given you some ideas that you can copy for your own Halloween plans. And if you are looking for ideas to make this Halloween special then do check out the MAOAM Mischief Hub for more ideas.
You can also follow MAOAM on the following social media channels:
Instagram: @MAOAM_UK
Twitter: @OfficialMAOAM
Facebook: MAOAM UK
Will you be doing any Halloween crafts or pranks this year? Let me know all about your plans in the comments.
If you liked this post you might also like:
If you are looking to celebrate Halloween further afield then check out some of my blogger friends posts Halloween breaks across the UK and visiting Disneyland Paris during Halloween season.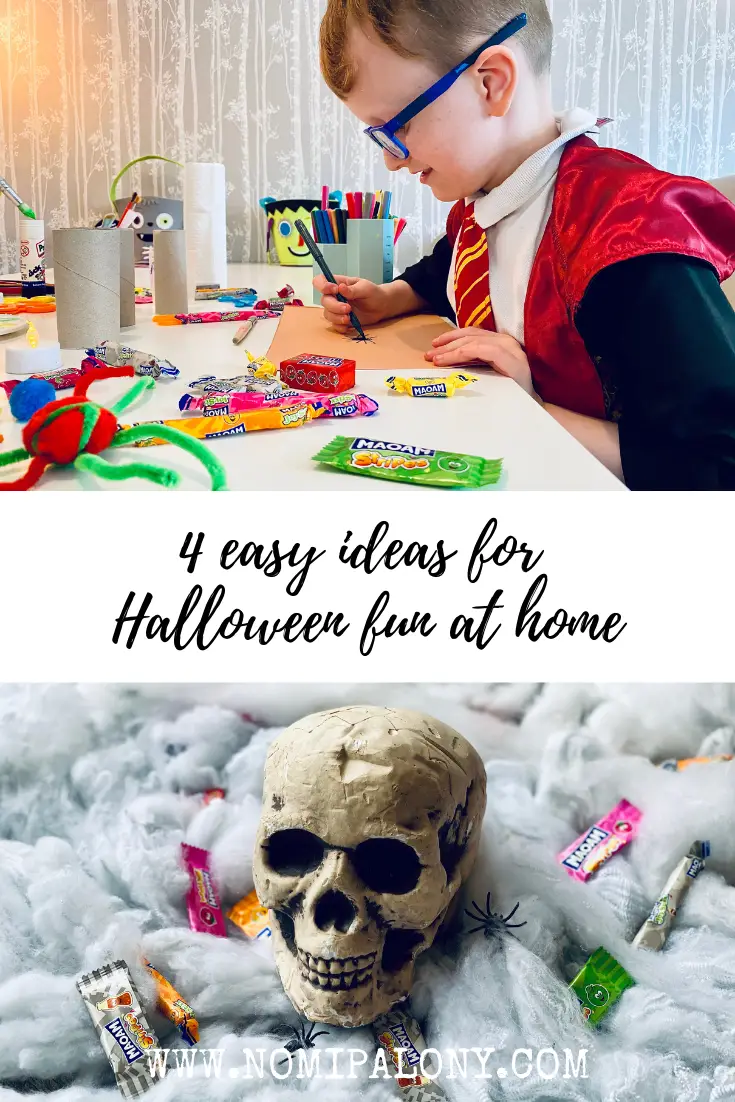 Disclosure: I'm working in a paid relationship with MAOAM promoting its Mischief Hub guide. Get ideas at https://maoam.fun/