I can't believe Y Not Festival was 2 weeks ago already. We had a great time on our first visit to the festival despite pretty extreme weather conditions (both sun and rain!). Here is our Y Not festival review from 2019 from the perspective of a family with 2 young kids.
Update: I also attended Y Not Festival in 2022 after it went back into local ownership so I'll pop an update at the bottom of this post for those who want a short update about any changes as well.
Y Not festival parking and getting in
I'll be honest here and say that we didn't get the best first impression of Y Not Festival 2019.
Getting parked wasn't too bad but queuing to actually get into the festival could have been managed better. There were no staff showing people where to go and no signage that we could see either.
People had to queue to get wristbands and then queue to get into the camping areas. There was meant to be 2 queues, one for family camping and VIPs and then one for general camping. But with no signage or staff to tell people this was the case everyone was queuing in the wrong queues and then being pushed out once they got down to the front.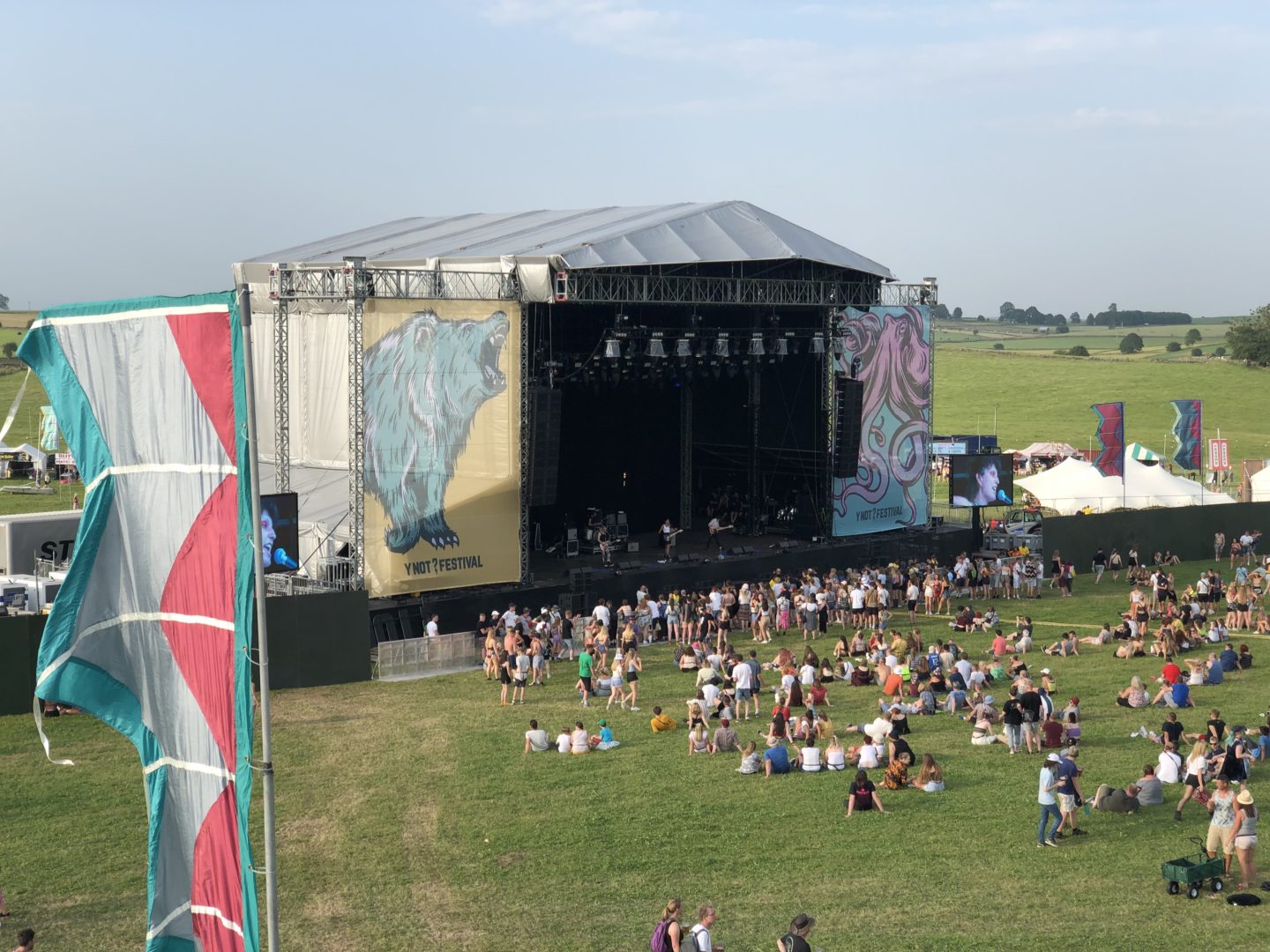 The festival opened at noon on the hottest day on record for England. It was 35c and baking hot, really not ideal temperatures for people to be queuing for long periods with lots of camping gear and children.
We queued a little differently as we had press tickets but our friends who queued normally spent 3 hours total in the queues to get in.
To their credit, Y Not sent staff round to distribute water bottles to those in the queue.
In terms of bag checks, staff were checking people's bags but in a very cursory manner. This might have been because they were trying to hurry the process up because people had been queuing so long but it was wristband allocation that was the issue, not bag check.
I really hope they improve entry processes for next year. I will say, it must have been just as hard on staff in that heat as us punters so I don't want to judge them too harshly!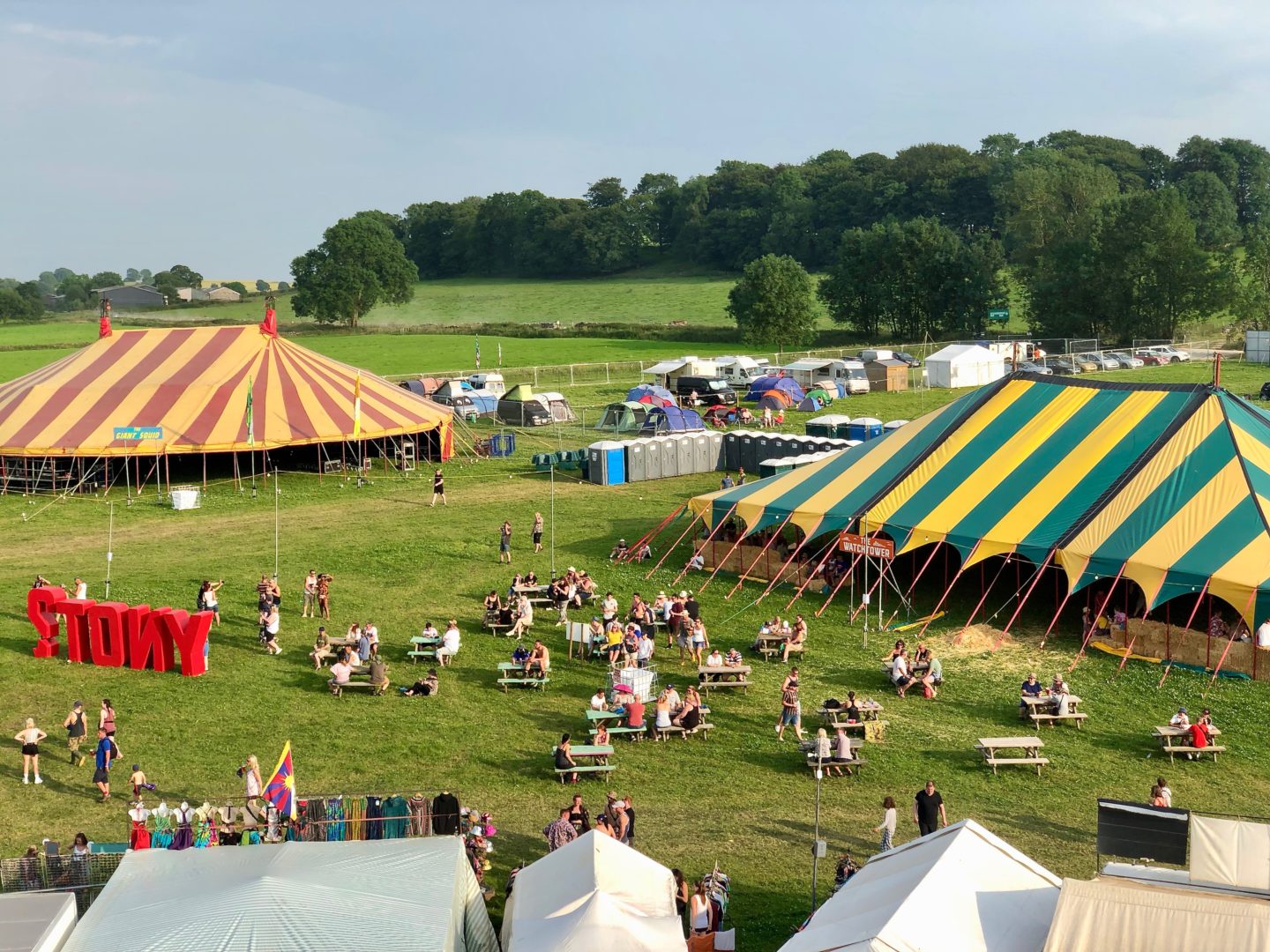 Distance from car park to family camping at Y Not Festival
I didn't time it because of the queues but we guess that the walk from our car to where we pitched the tent in family camping was around a 20 minute walk.
The arena was about a ten minute walk from family camping with kids.
It should be noted that it's down a slight hill going in but up the hill on the way back which meant pulling a wagon with kids in on the way back was doable but hard going.
Y Not festival camping – Family camping at Y Not
We pitched relatively closely to the entrance to family camping, next to a cute little playground which was helpful for occupying the kids (our kids are 7 and 4) as we put the tent up.
As we quickly discovered though, the playground was largely occupied by bigger kids (tweens) who were being quite rough and unruly making it less safe for younger kids. For example, one tween was throwing large rocks up the slide as kids were trying to come down.
Our son was quite intimidated by the groups of older kids there so didn't want to use it. It was quite wild and I wish the parents of older kids would have been mindful of their kids behaviour on the equipment as it spoiled what would have been a fantastic asset.
I guess in reality it was just a small resource to be shared amongst a lot of people so it was inevitable really.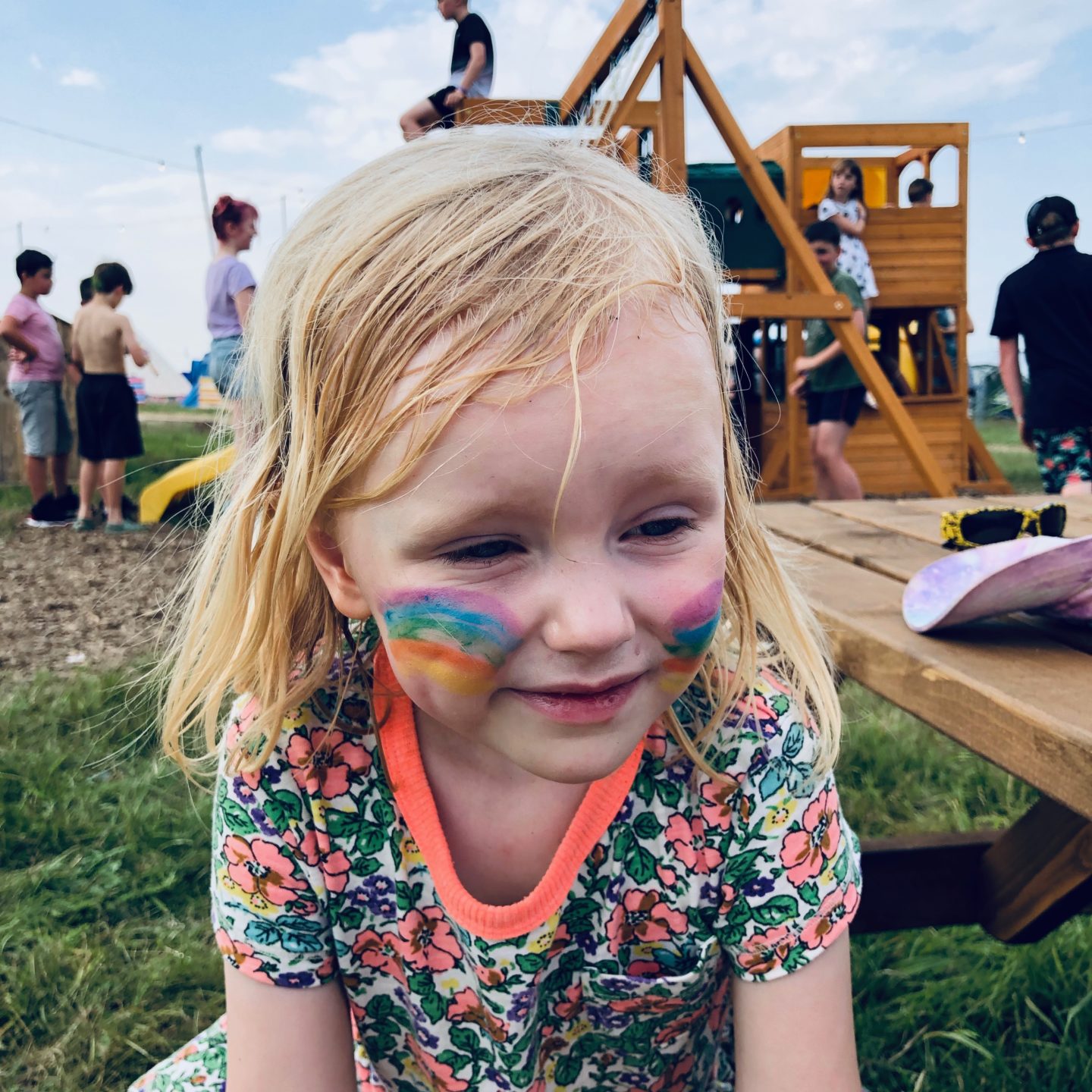 There are a lot of picnic tables so you can go sit outside your tent to eat etc easily which was handy – especially with the tents being so hot.
There were two large sets of loos on the campsite. One at the far side of the site and one at the top. Quite far for little ones desperate for a wee from where we pitched (which was our fault, we should have gone closer but we were dying in the heat and just pitched the first place that looked reasonable).
The toilets were relatively well managed but do take toilet paper and antibac/wipes as they did run out on occasion as most festivals do.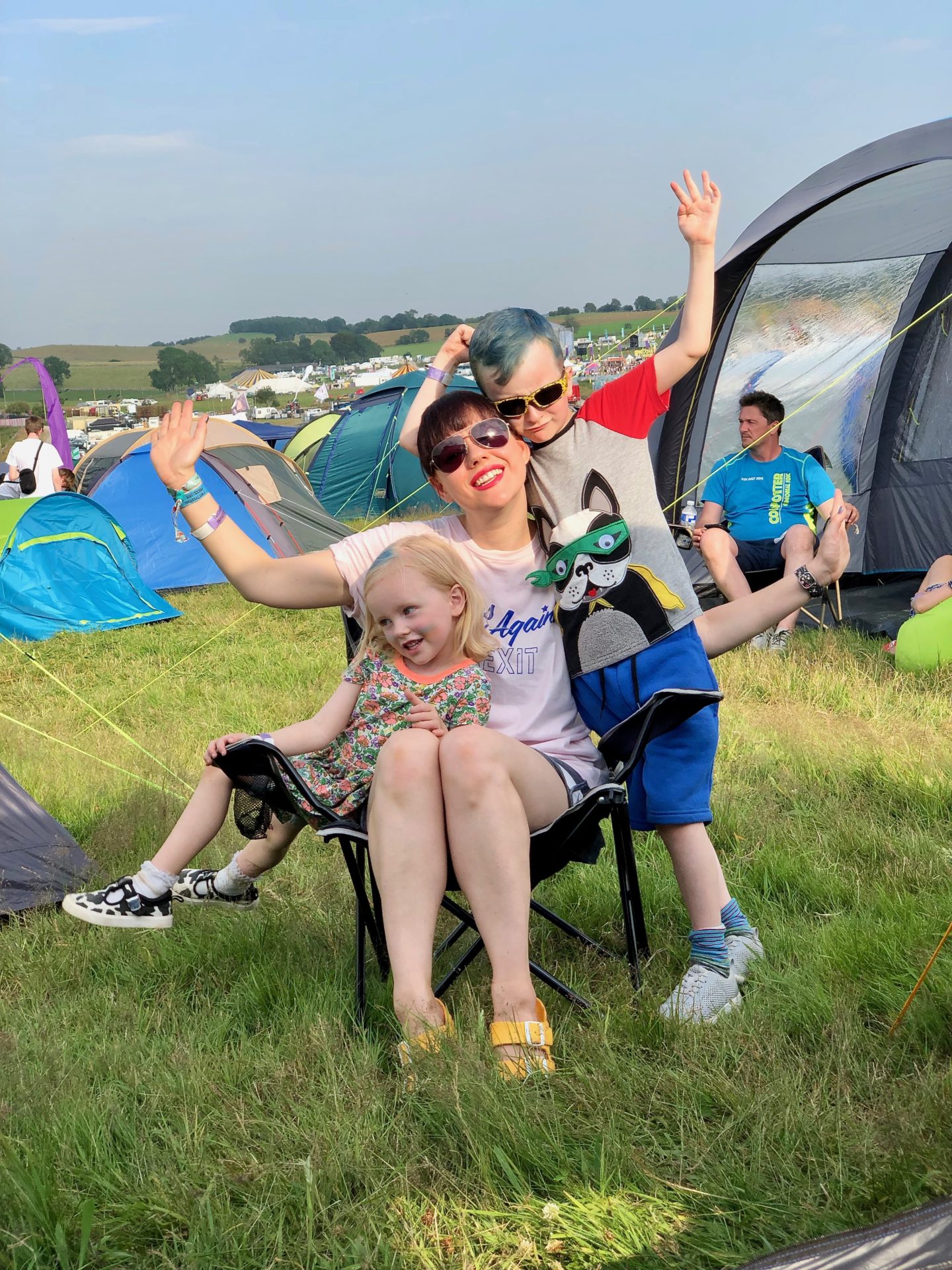 There were water points at the top and bottom of the site. They did break and go off several times at the festival so I would advise taking a concertina canteen and filling it up whenever you can and keeping it in your tent so if they do go off at least that will tide you over for a while. We did this and were never short on water as a result.
Family camping was rowdier than I expected. There seemed to be quite a few groups of teenagers camping in it which I didn't expect. They had family camping wristbands on so Y Not must have known about it but they were swearing lots and having parties after the arena closed which wasn't ideal for family camping.
We had a large group near us and they were sat outside their tents drinking from 11pm until 4am most nights.
Lots of children started getting up for the day at 5am so where we were there was only really quiet between 4am-5am. No one seemed to make any attempt to keep their voices down when it was late or early or ask their kids to keep it down. It was one of the noisier festival campsites we've stayed on as a result.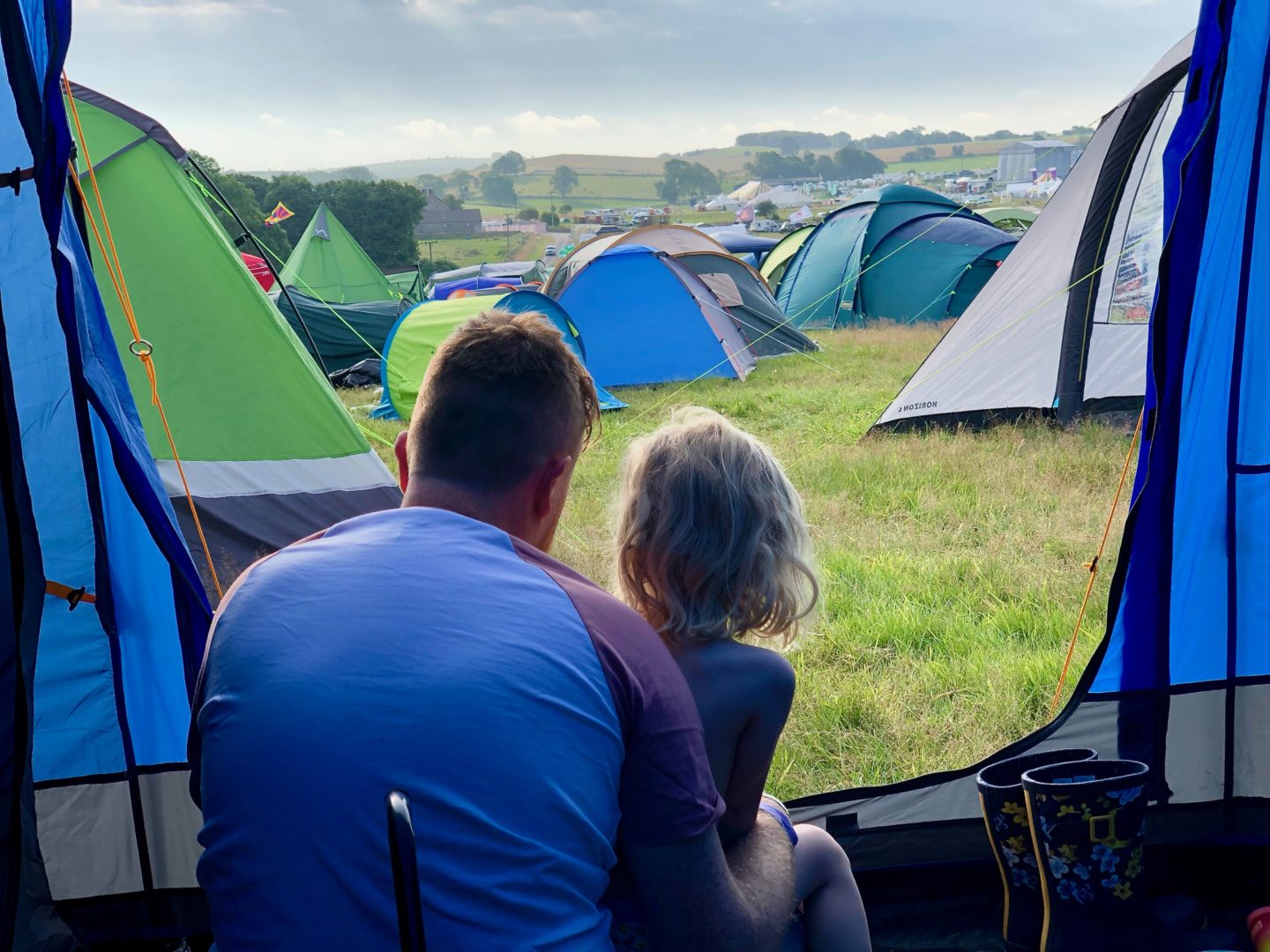 The quiet camping area looked nice and chilled though.
Y Not Festival showers
As far as I'm aware, the showers in family camping never worked. We just scruff it out when we go to festivals anyway (baby wipe washes and hats for the win) so didn't find it a big deal.
I thought I might have my first festival shower after the heat but then it became torrential so I thought what's the point. Part of the festival experience is enjoying roughing it I think!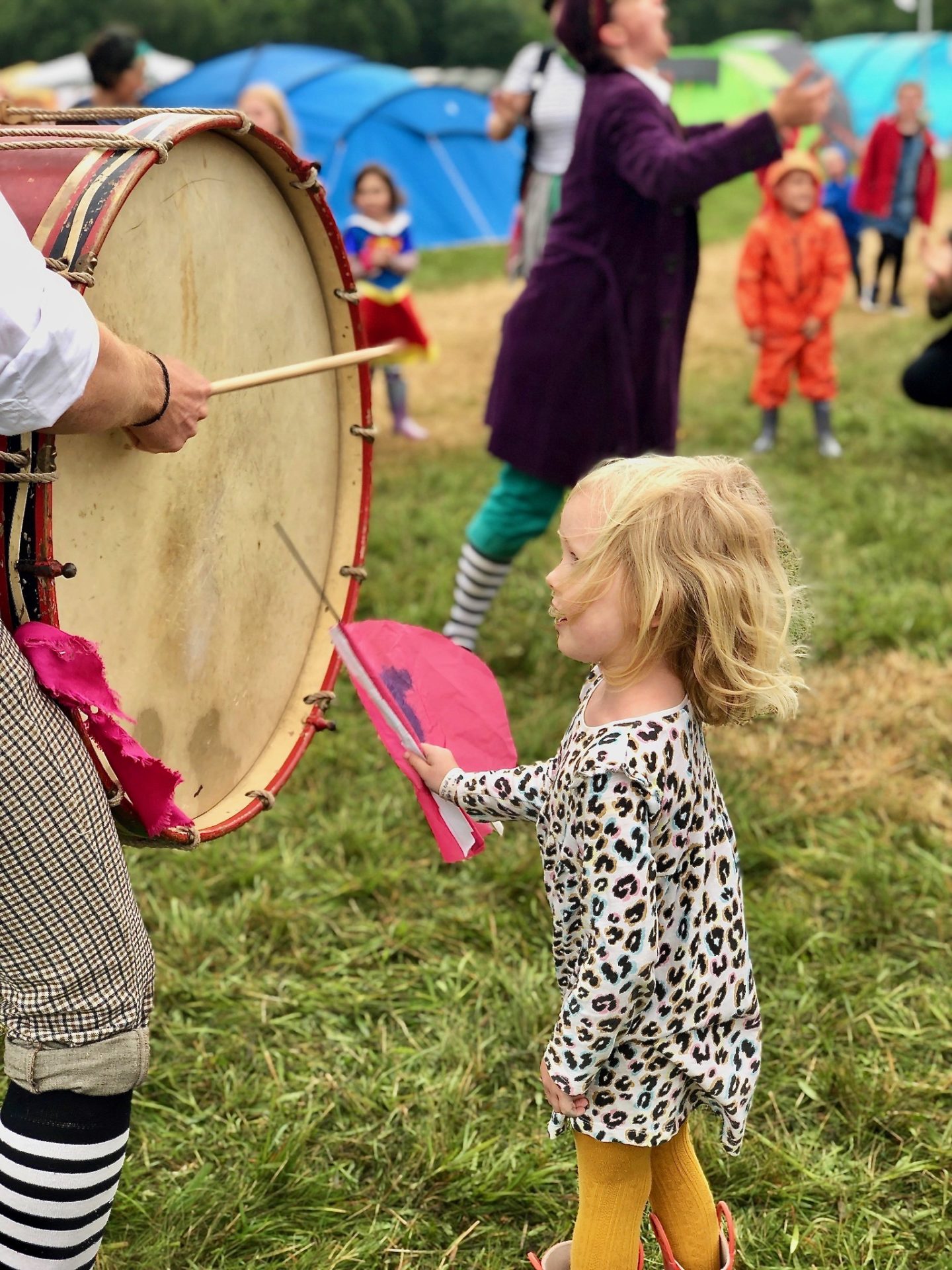 The website advertised an evening campfire with Marshmallow toasting, as well as storytelling from early in the morning.
We didn't see the evening campfire as I think it was on around 8pm and we tended to be out in the arena then.
We did take part in the morning 'stretch and shine' sessions though at 10am next to the playground.
Staff from the Flying Seagull Project came round banging drums and getting the kids involved in a fun interactive group circle session. I thought it was a really good way to get the kids in a good festival mood for the day ahead before you went down to the arena.
Food and drinks at Y Not 2019
The drink selection at the festival was good and they managed the bars well so we didn't spend hardly any time queuing.
There was a wide range of food and our friend John is vegan and had no issues finding food. I saw at least one specific vegan van that did a yummy looking burger that he bought.
One of my regrets about the festival is that I didn't get to try more of the food. Our local Papa John's shut down a few years ago and we got excited to have the pizza while we were there – plus it's so easy to share as a family. So we neglected some of the other stalls, unfortunately.
How much did we spend?
I know it's hard to budget for festivals. You never know how much it's going to cost until you are there so I thought I'd track what we spent so that you can get an idea.
I'd say that drinks prices were in line with what I would expect for a festival, most pints cost £5. Here is a full list of a bar menu, this was standard across the arena.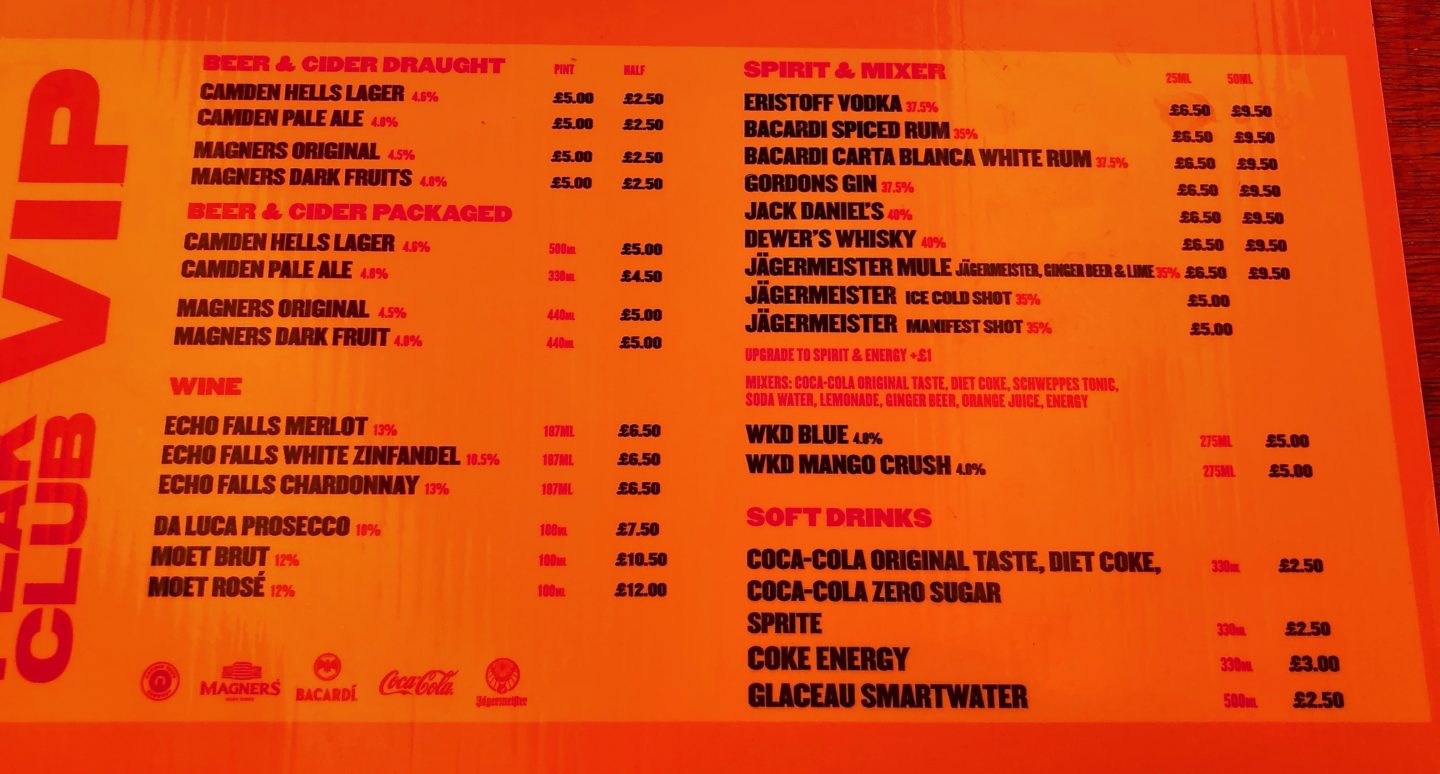 We felt that food prices were a little above average for a festival on some stalls. With a cheese pasty costing a staggering £6.50! A small 10inch cheese and tomato pizza from Papa John's cost £10.
Most of the main meal costs seemed to range between £7-10 meaning costs can quickly add up for a family of four. It was a case of shopping around the stalls to see what offered better value for money.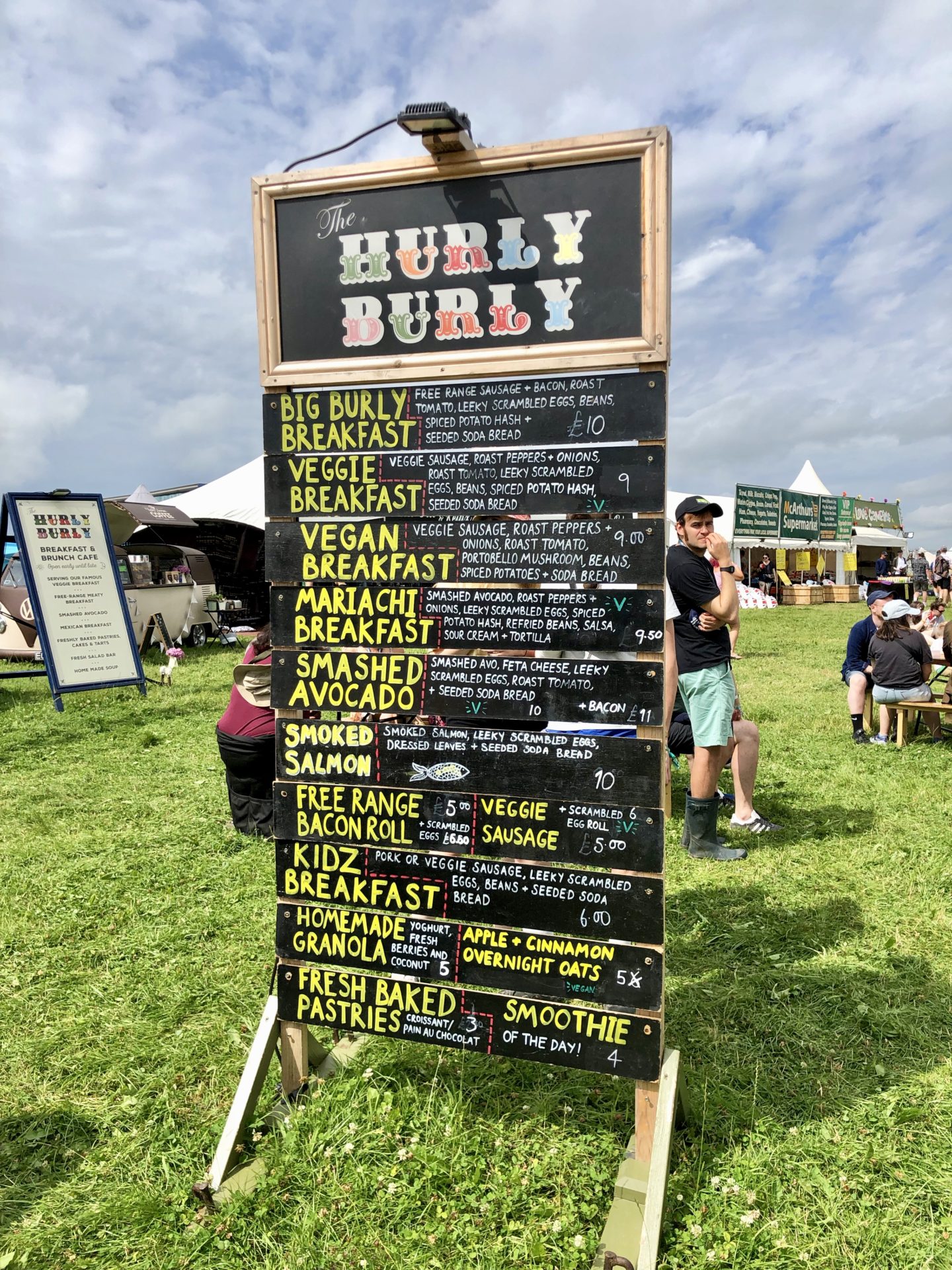 Y Not doesn't allow any food or drink into the arena. Sometimes the bag checks were lax and sometimes they were more thorough. They even checked under the children and around the edges of our wagon one night.
Most of the food/drinks vendors accepted contactless but some only took cash or the wifi wasn't strong enough for them to use the machines.
We were there from Thursday lunchtime until Sunday mid-morning and spent £167.50. This included buying two camping chairs as we had planned for the kids to sit on the floor but they kept stealing ours.
Y Not got a fair amount of stick on social media for having a McDonald's McNugget bus at the festival but it was a positive for us.
There was a big bus and you joined a queue (we only spent 5 minutes or so queuing) and then went inside an adapted bus.
There were a few augmented reality experiences inside, like a snapchat filter that turns your head to a chicken nugget etc and then you 'dipped' giant foam chicken nuggets into a dip on the ceiling as a 360 degree camera filmed you to make a gif (below).
The kids thought it was so fun and as you left you got 6 free chicken McNuggets – you could choose either the regular ones or to try the new spicy ones. The kids and I (wimps) went for regular and Papa Ginge went for the spicy ones. They were also giving out spicy McNuggets as you queued, they were pretty spicy!
We did this twice during our stay (it wasn't open on Thursday but for the Friday and Saturday we did it for lunch), there were no restrictions on how many times you could do it.
The staff were all lovely. It really helped us keep the costs down. 6 chicken McNuggets normally costs £3.19 so that saved us at least £12.76 each time we got them. I think with the mark up at the festival though if they were actually sold there they would have been £5-6 and given that by doing this, we weren't spending money on other vendors for lunch it probably saved us about £50-60 total over the festival in reality.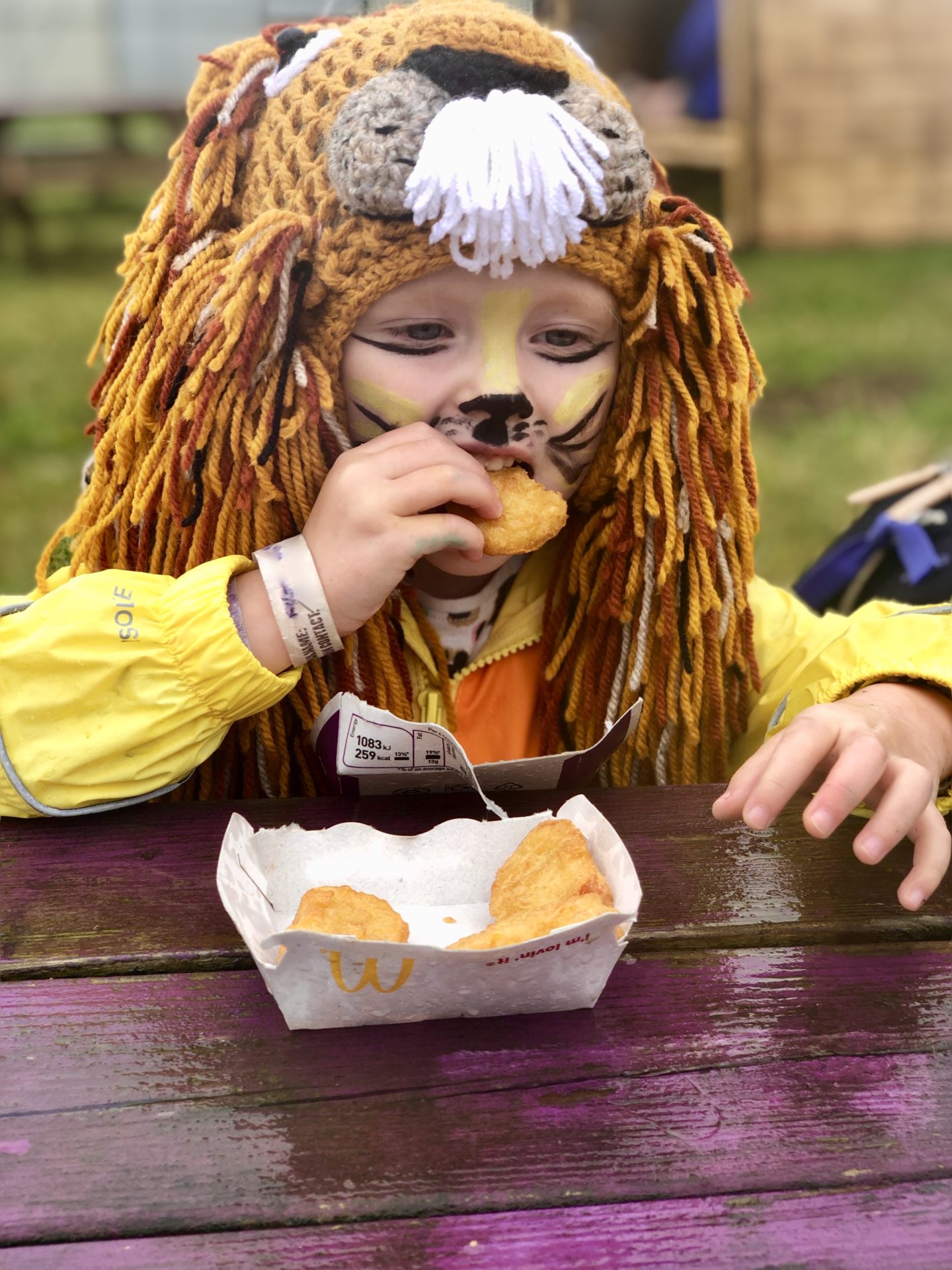 Coca Cola were also around giving out their new Coca Cola energy drink for free too. Now, Papa G is addicted to cherry coke but I don't normally drink stuff like this but having two kids at a festival in extreme weather I certainly needed an energy boost!
On the Saturday we grabbed a free McNugget meal and then a free Coca Cola Energy and had a lovely little free lunch in the rain.
I know lots of people prefer to keep festivals independent but it's quite a privileged perspective really isn't it. We found the freebies a welcome economic relief for a family of 4 like us who were very conscious about how much we were spending.
Thursday – £61.50
£10 small cheese and tomato pizza
£7 plain hot dog
£12 Ferris wheel (£3 each)
£15 2 ice creams, ice lolly and slushy
£17.50 3.5 pints
Friday – £54
6 pints £30
2 x Papa John's small 10 inch cheese and tomato pizzas £20
Fries £4
McDonald's McNuggets 4 boxes of 6 – free
Coca Cola Energy x2 – free
Saturday – £52
Fish and chips £12 (1 fish and chips, 1 chips and gravy)
2 camp chairs £18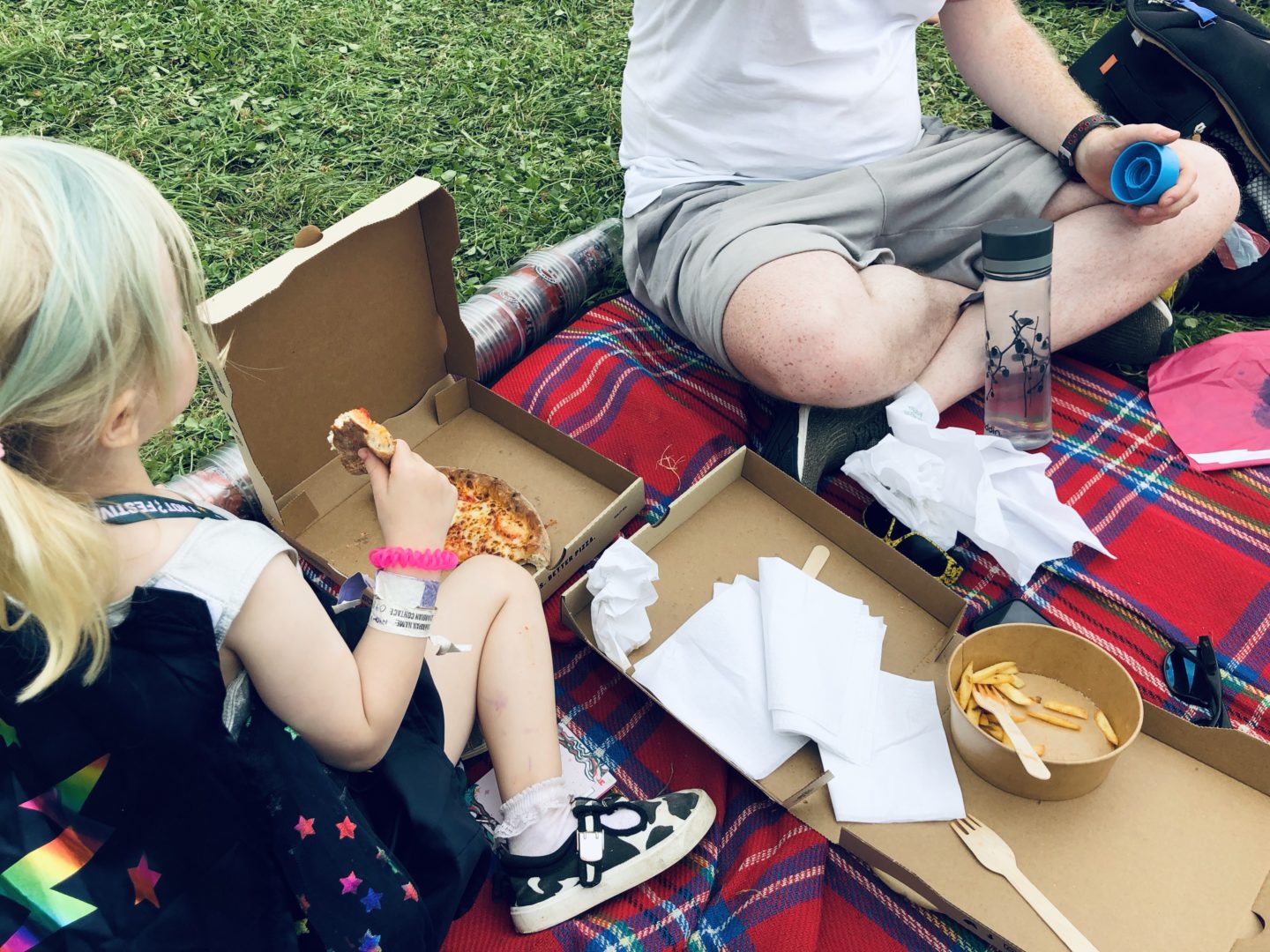 Is Y Not festival child friendly?
I would say Y Not is family-friendly but not family-focussed. The majority of the revellers either don't have children, or have older children so I kept my kids on a relatively short leash.
I didn't see anyone openly doing drugs though you could smell weed in the air a fair bit, nothing too bad. I didn't see anyone too drunk either.
Family camping would be better without groups of unsupervised teens being rowdy but overall was fine.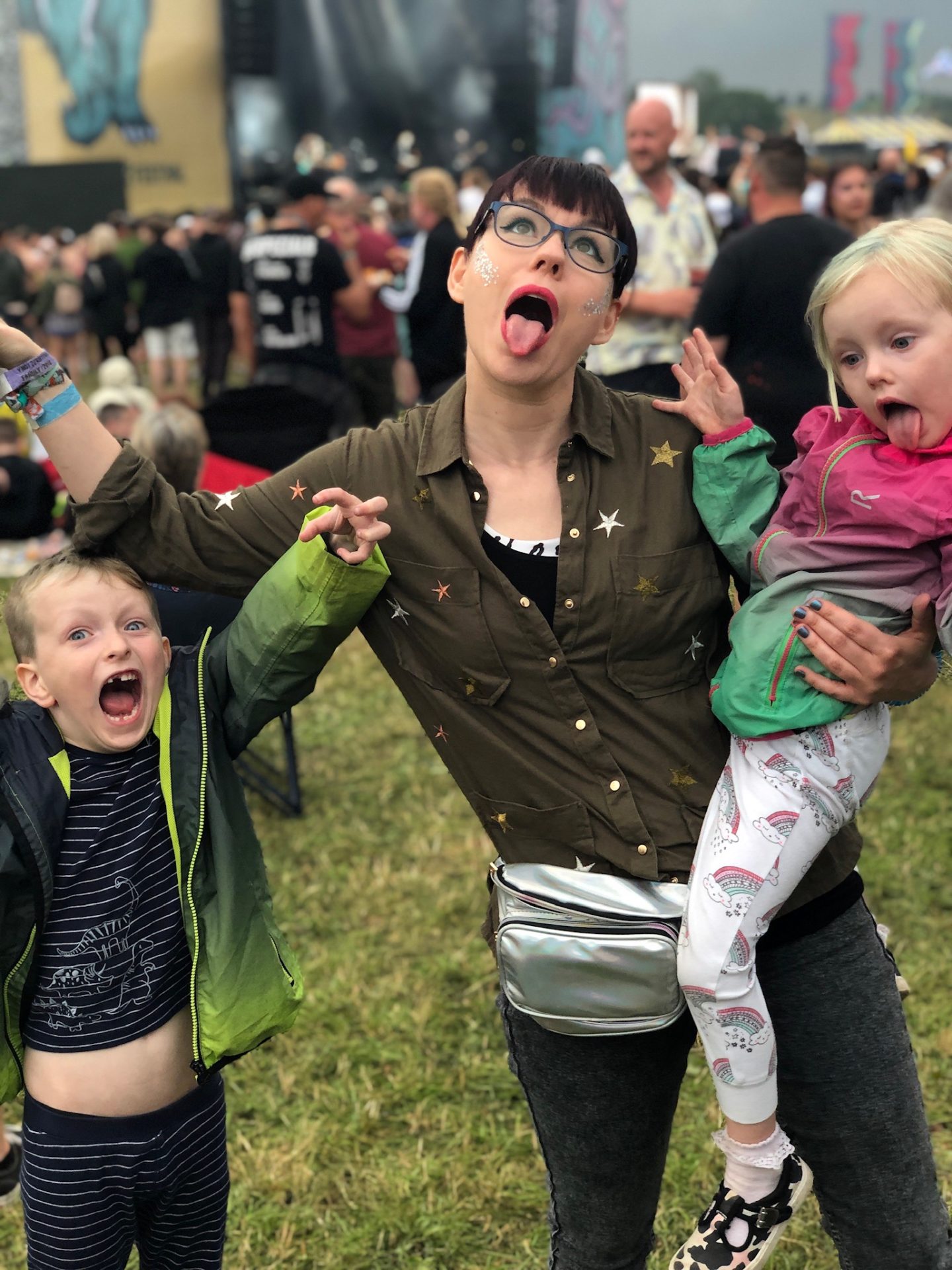 The kids arena was great (read on for details below).
The main arena and site as a whole isn't too big so getting around wasn't too tiring. I was walking about 16-17,000 steps a day. The kids did start to get a little tired on a night so a wagon or baby carrier is a big help.
You could watch the bands with kids safely at the main stage with a decent view with ease – we simply moved to the side down the bottom and it was great.
Would I go back with kids – yes! I would love to see them let parents take food for kids into the arena though, more kids portions at the food stalls, move the rowdy teens out of family camping and have separate queues for families.
What was there for families at Y Not Festival?
Strawberry Fields: family and children's area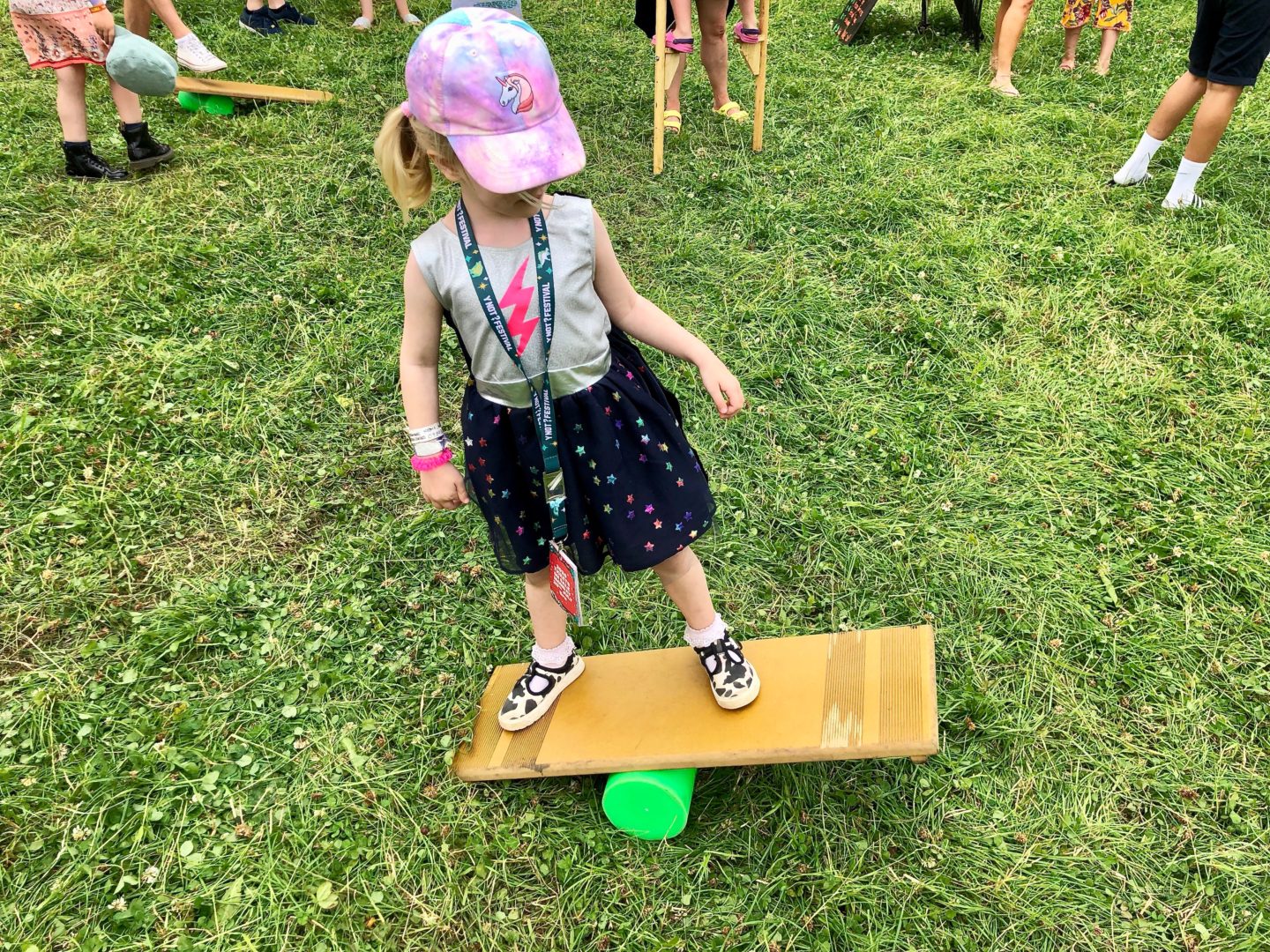 We spent most of Friday day time at the family and children's arena, Strawberry Fields. I thought it was a great little place for families.
I was blown away by the Flying Seagull Project who were just excellent with getting everyone involved. The Flying Seagull are a troupe of clowns, magicians, circus performers and musicians. They've been 'spreading love, light and laughter across hospitals, orphanages, schools, marginalised communities and refugee camps since 2007'. They were always smiling and engaging as you can see in the photo below.
Lena did some tightrope walking with them. Both the kids got involved in practising some circus tricks. Arlo took part in a kids comedy show.
A magical moment of the festival for us was when our painfully shy little boy got up on stage at kids comedy club with the Flying Seagull project and told a joke to the whole audience and had everyone laughing. His joke was 'why did the dog cross the road? To poop in the bin' (that's 7 year olds for you).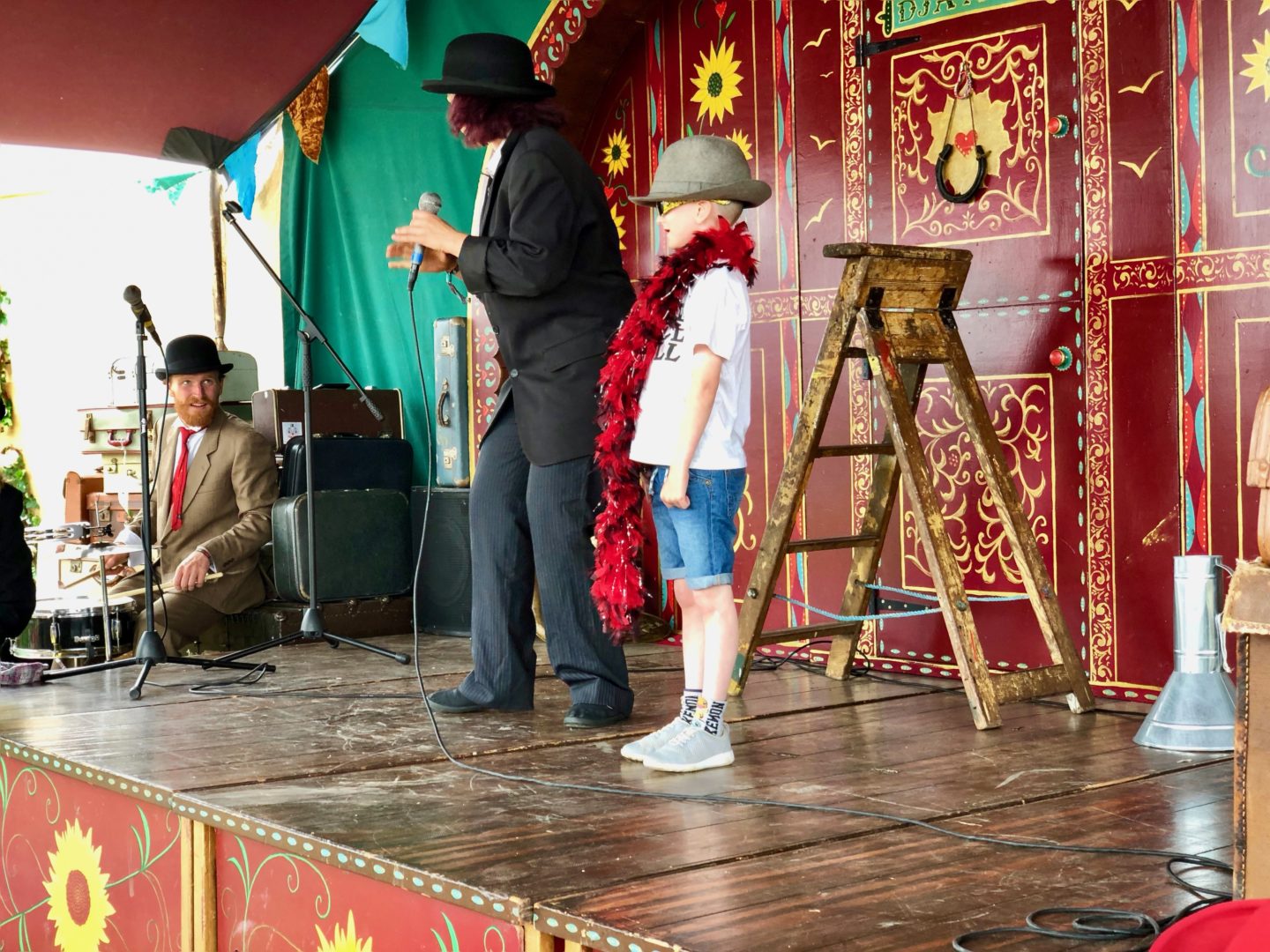 There were lots of different tents in Strawberry Fields and we didn't even get to try them all. We meant to go back but there's so much at the festival we ran out of time to do all the things we wanted.
The kids wanted to do the graffiti spray painting but never seemed to get there at the right time, there were plenty of other activities to try instead though.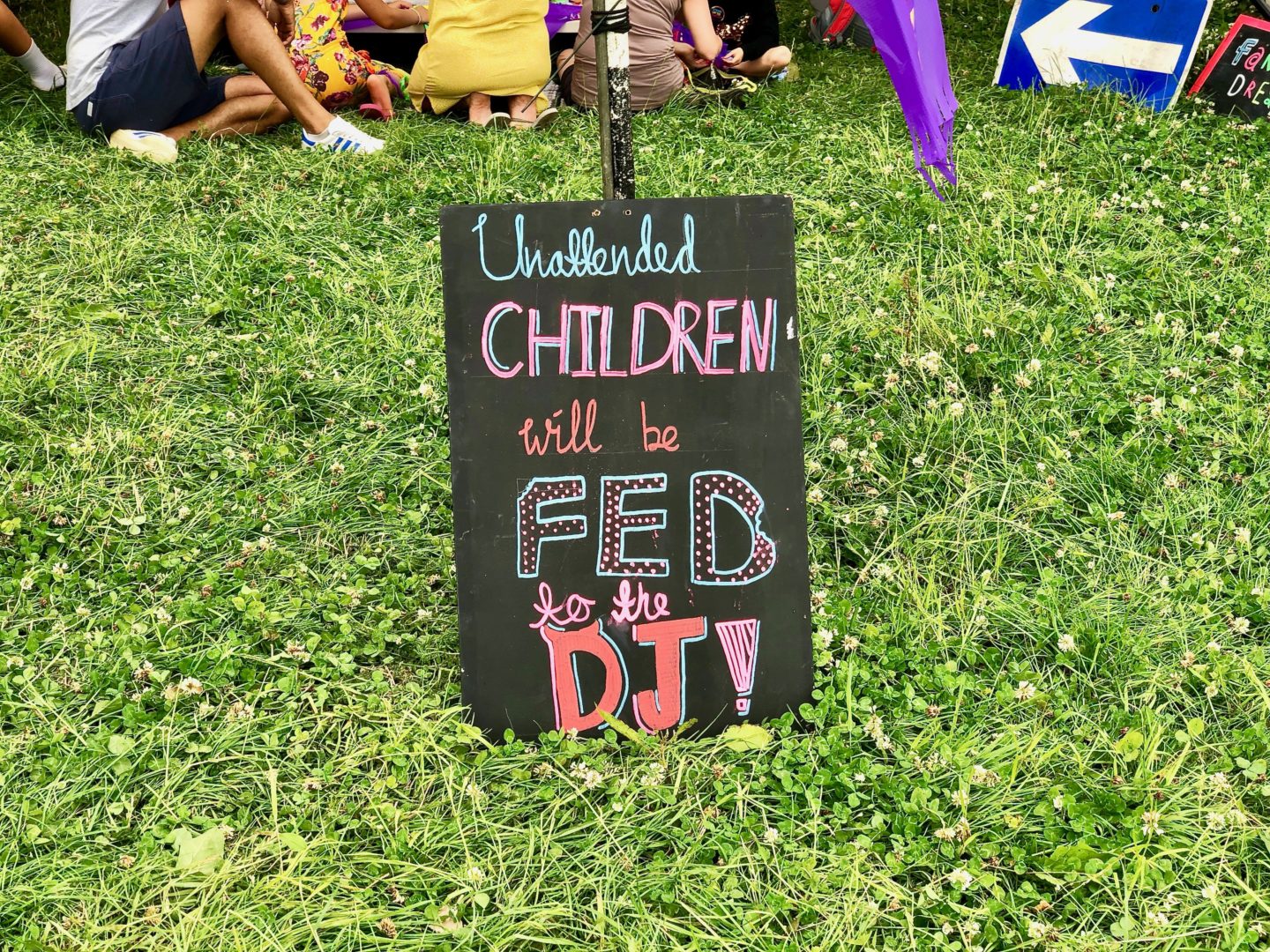 Both the kids enjoyed doing arts and crafts, again the staff were great with them, helping them out.
Arlo made a pom pom made from carrier bags and they both made their own flags that ended up having pride of place on their little wagon.
There was lots of fancy dress for the kids to wear to get them into the festival spirit.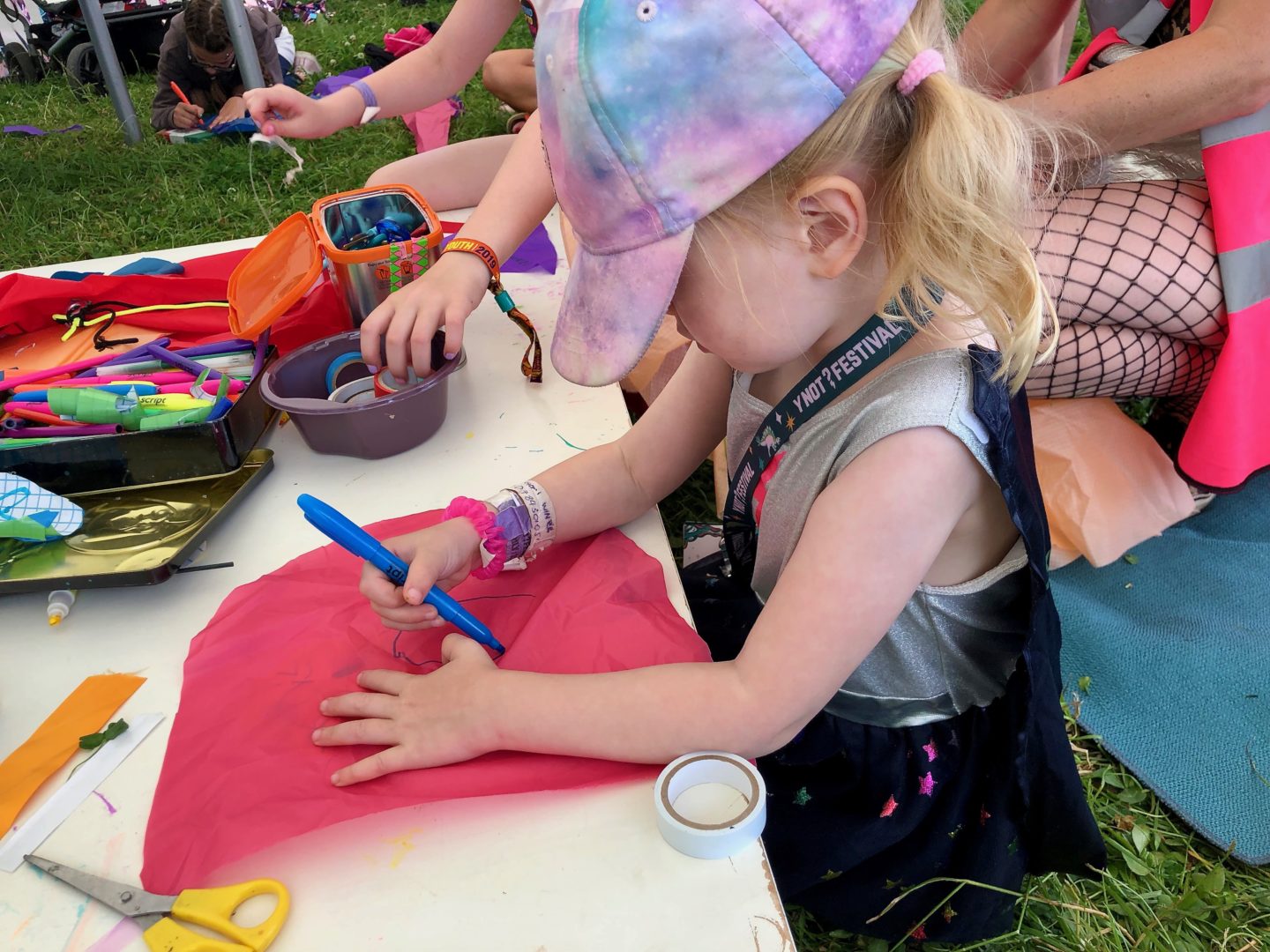 Strawberry fields was really nicely decorated with some great signage and puns.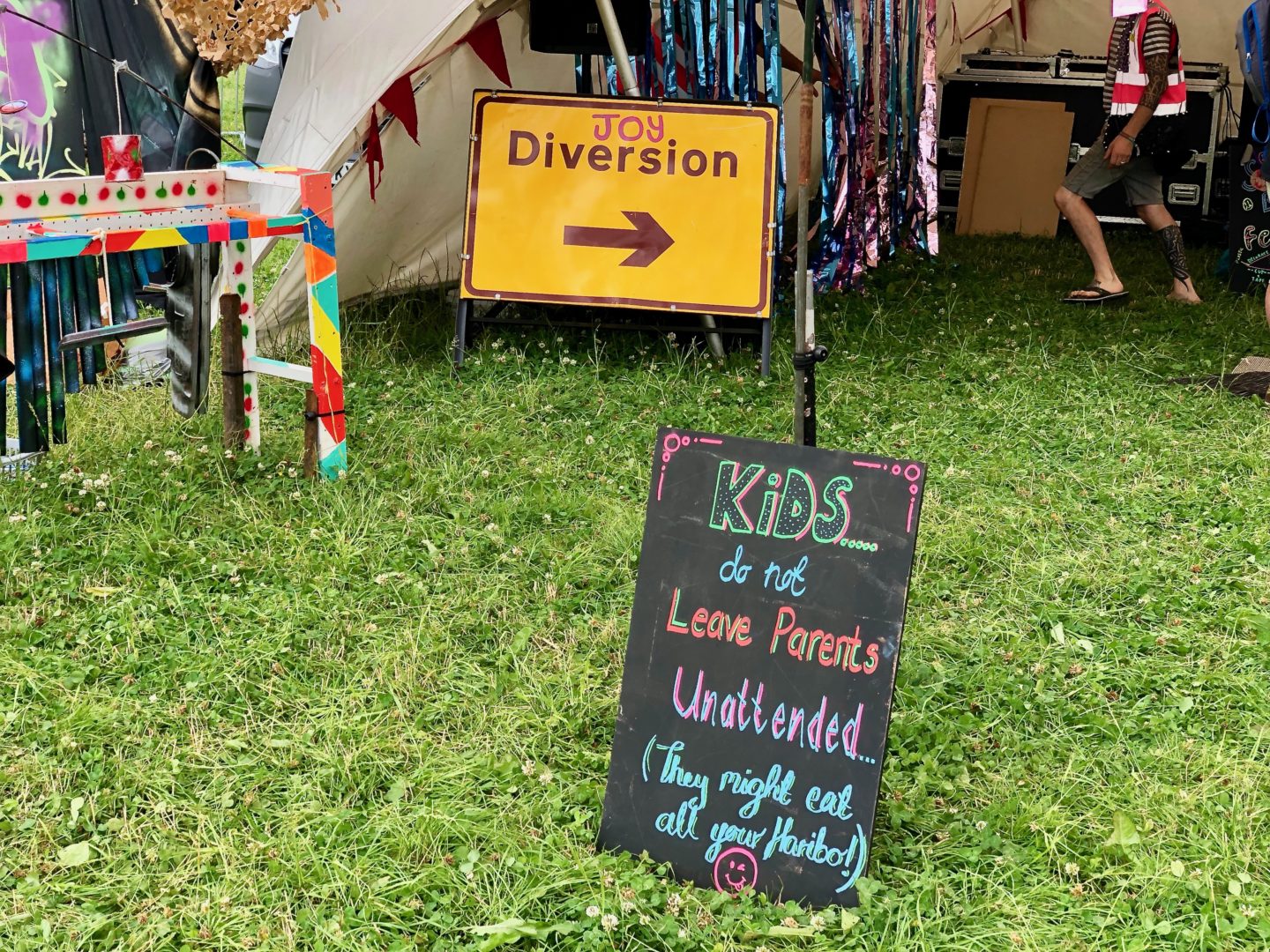 We thought the area was a credit to the festival and just wish we had managed to spend more time in there.
We had planned to go each morning from when it was advertised to open at 10am but the arena was late opening every day, opening sometime after noon each day and we were eager to watch the bands too.
Fairground rides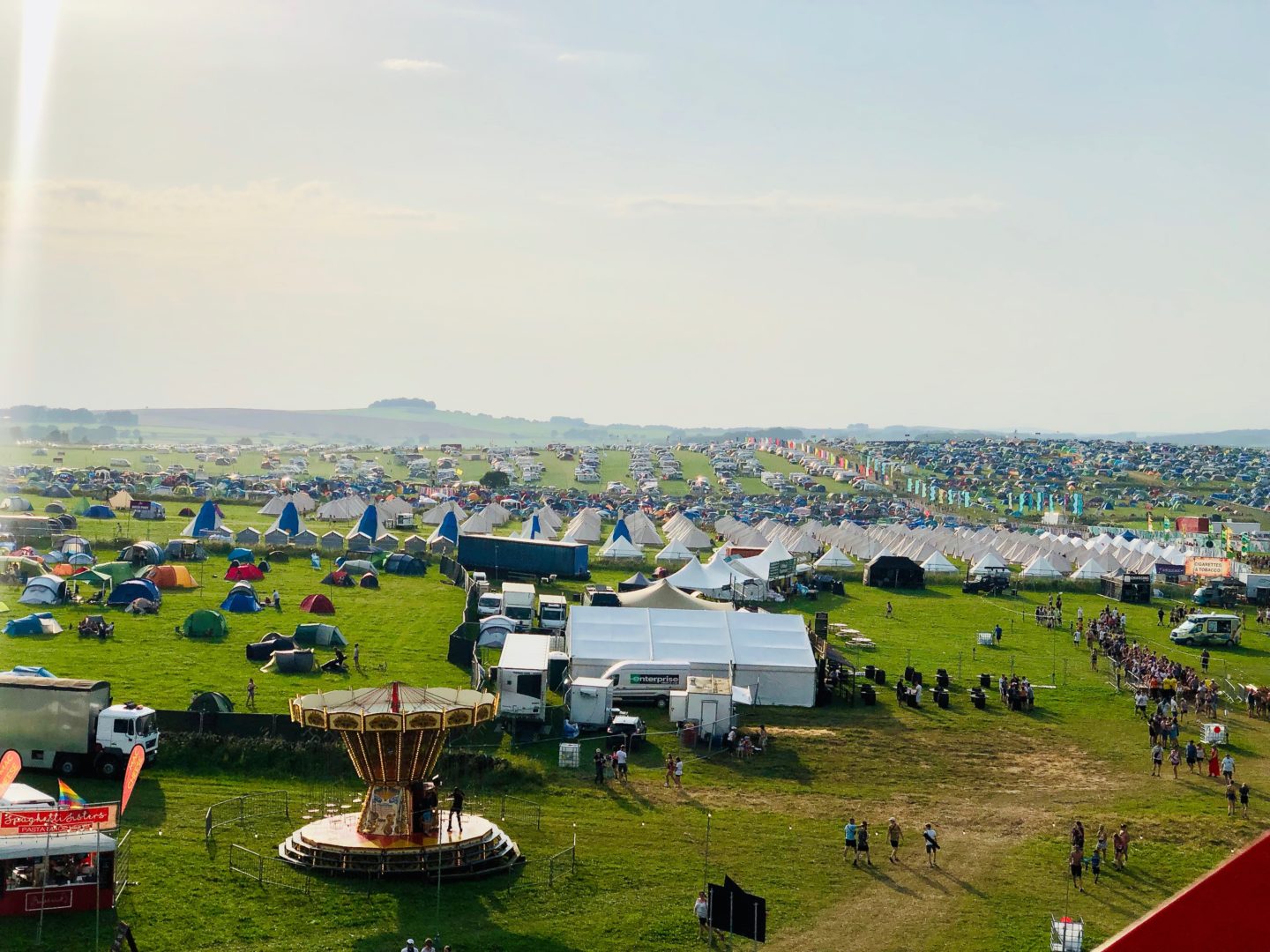 There were fairground rides kids could enjoy dotted around the arena, including a ferris wheel, a swing carousel, dodgems and waltzers. Most seemed to be priced at £3 per person.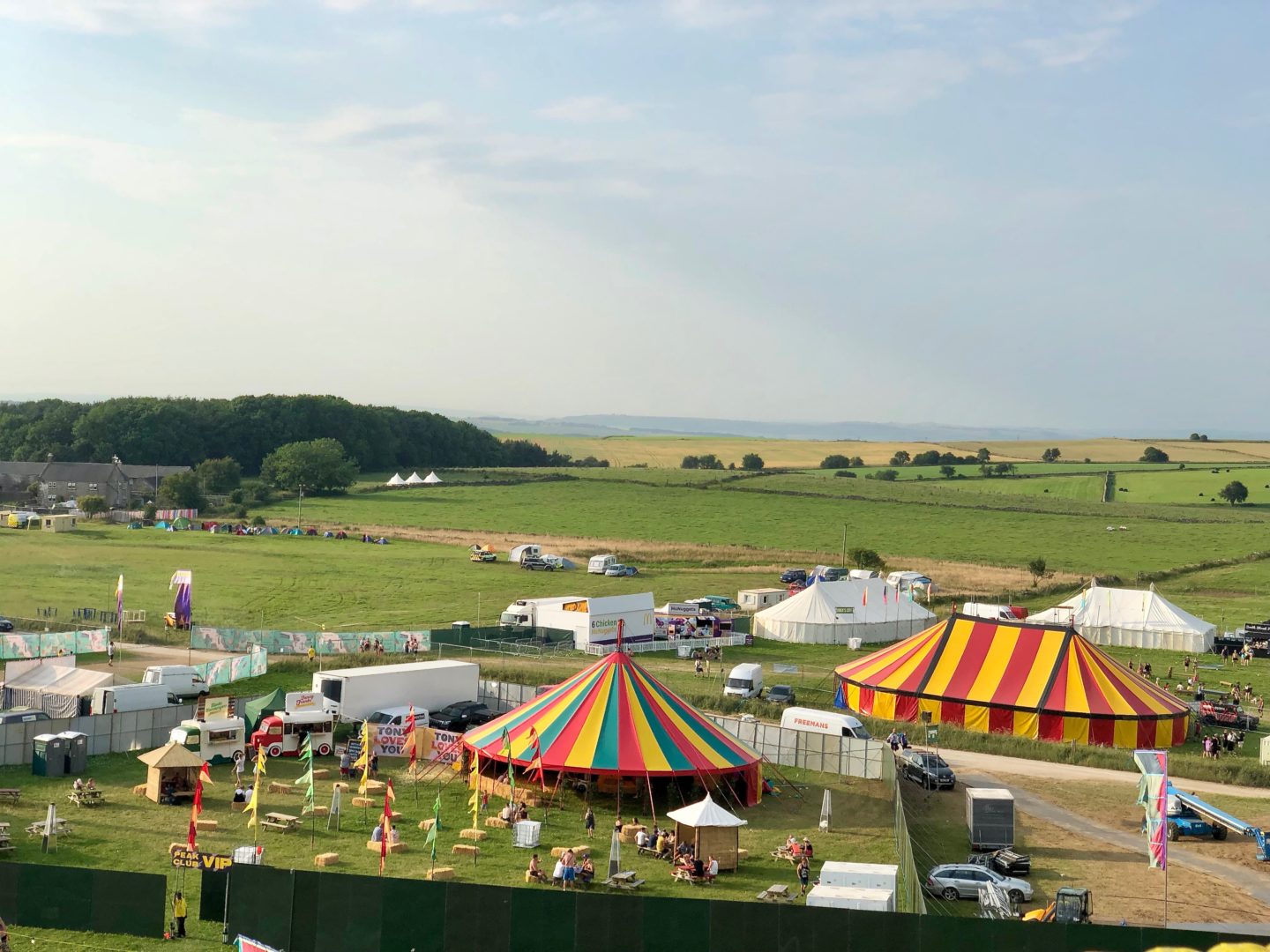 I love to locate a ferris wheel when I first go into a festival and go straight on it. It's a great way to gain your bearings and figure out where everything is. Plus the kids love them.
Cinema
There is also a 'cinema' on-site that showed family-friendly films in the day.
We actually never made it to a showing but the kids were keen to go watch Shrek and Lego Movie.
I thought it was great they had that resource where people could go chill out and get out of the rain for a bit.
Get money for your cups recycling scheme
This wasn't targeted at children but we saw loads of children having fun taking part in this, ours included.
If you collected certain empty plastic glasses and returned them at a set point then you got 10p per cup.
Our kids enjoyed doing this on the Friday and made £8 from collecting people's empties that they could then spend on what they wanted on the site.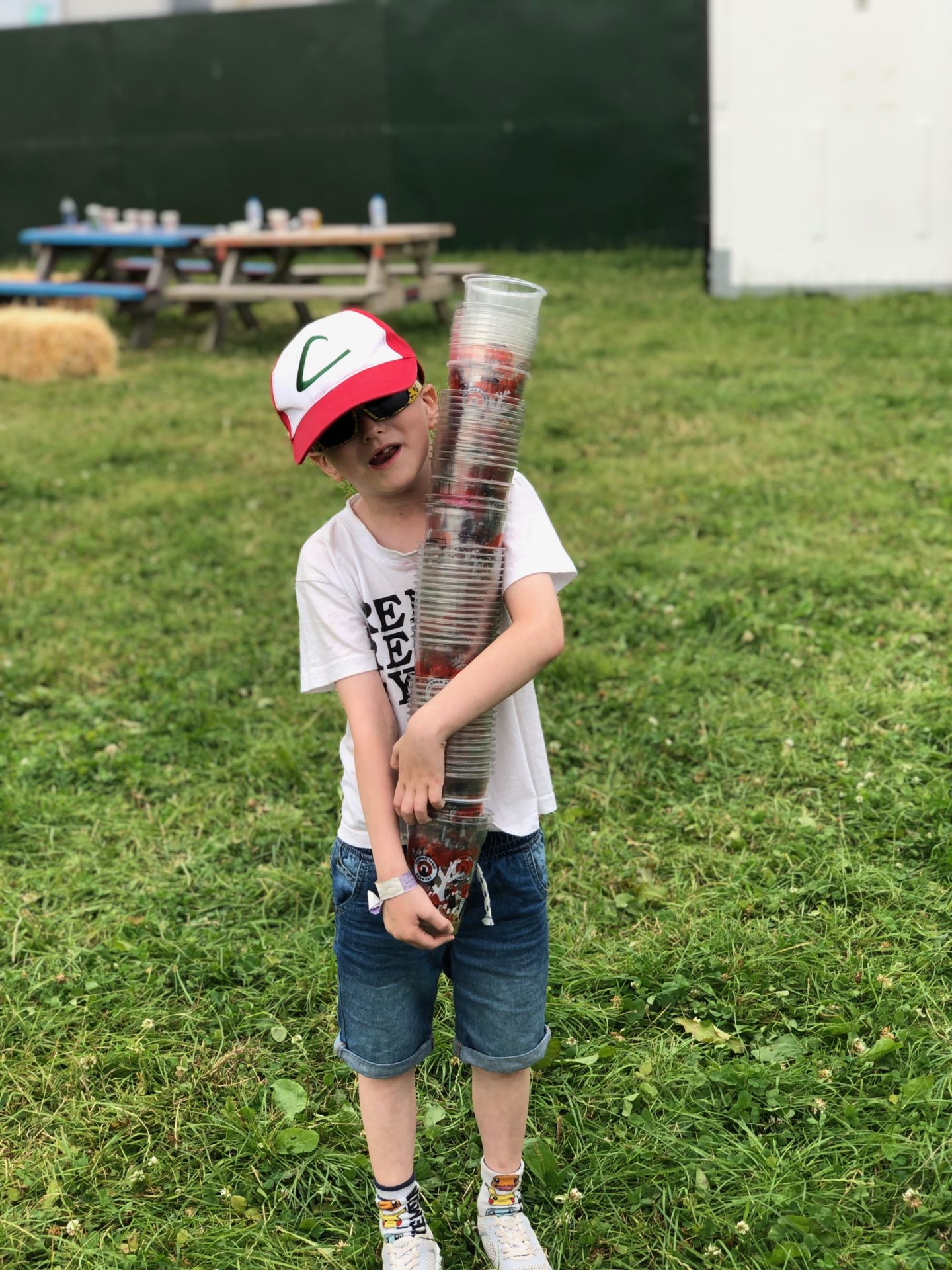 Y Not festival toilets
On a whole the toilets were well maintained for a festival (you have to expect that at a camping festival the loos will on occasion be gross, it's just par for the course) and there was minimal queuing on a whole.
Some people were complaining on social media because they had some urinals at the toilets that were fully exposed, they had no barriers so you could see men peeing, if you were looking.
It wasn't a big deal as far as I'm concerned though, it's pretty easy not to look and I don't think my kids even noticed or would care if they did. No one is going to die from seeing a bit of a penis and if it reduced the toilet queues them I'm all for it.
The Y Not App – phone reception/coverage
Y Not has a fantastic app, I was really impressed with it and used it to select my favourite bands and create a schedule. I was really looking forward to using it throughout the festival.
However, as is often the case at festivals there was hardly any phone signal, whilst my phone often said 4G there was rarely any connection at all. It largely rendered the app useless as I couldn't even get into it which was a real shame as I bet a lot of hard work went into making it.
I was told there was an EE mast on site so those on EE had a great signal (Like Colette from We're going on an adventure, whose review you can read here).
We were both on o2 though and hardly had anything most the weekend. That's not unusual for festivals though, just bear it in mind if taking iPad etc for the tent or trying to meet up with friends.
Highlights
As is often the case with festivals, the people made it. The people at Y Not were lush.  From all the people who stopped us to admire and praise our matching lion hats, to the man dressed as a gorilla who played with Lena for ages. She loves animals and 100% thought he was real. He spoke once and she exclaimed 'HE CAN TALK!'. He made her day.
There was a bunch of lads dressed as Teletubbies who Lena ran up to who all gave her high fives and they happily suggested to her that we could take a photo of them all. Drunk teens were kind and respectful of the children. Everyone just seemed so lovely and I saw no agro at all. You did Derbyshire proud Y Not revellers.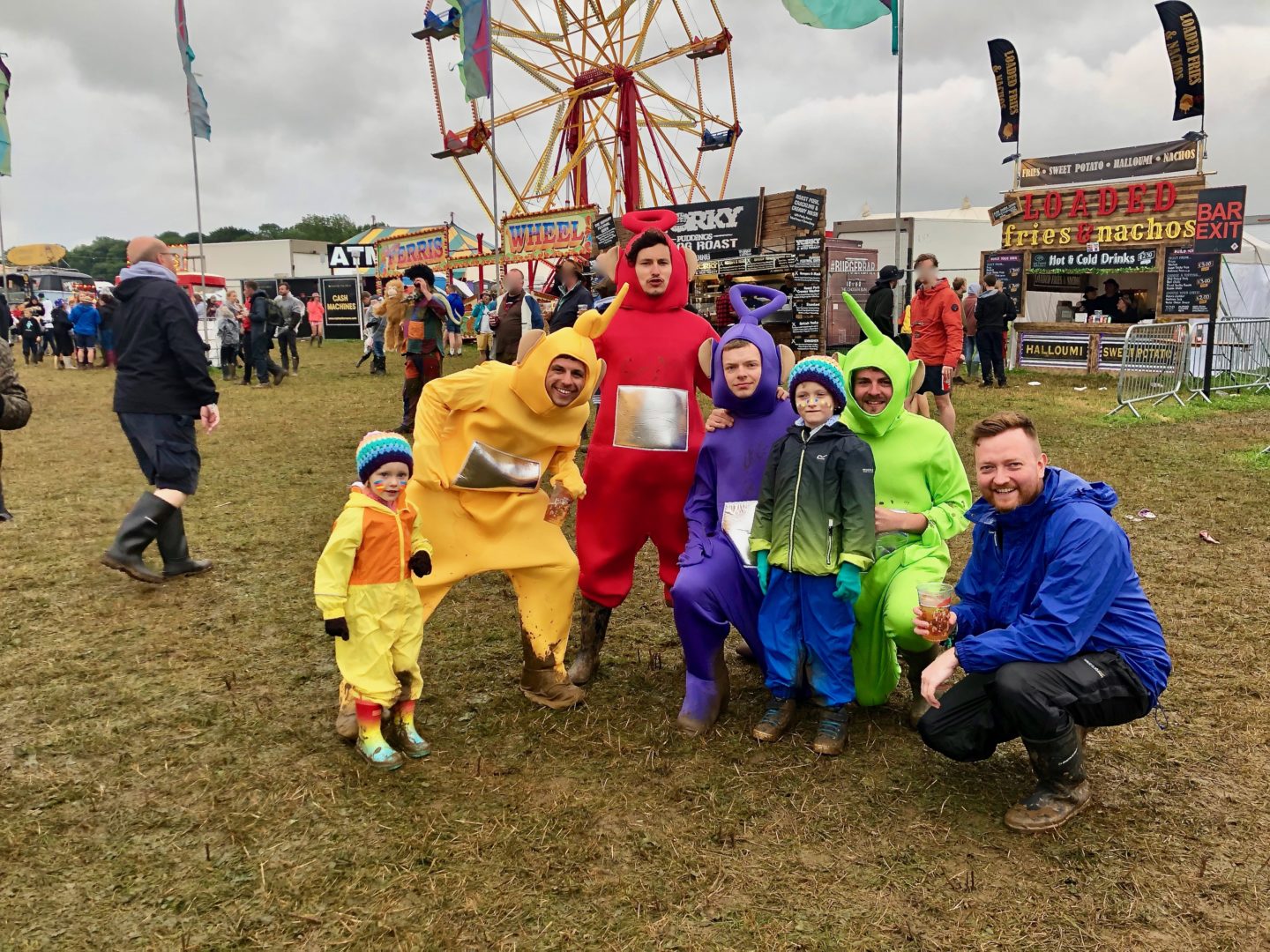 Generally the music sound was good. I had a terrible experience at a festival earlier in the summer where I could hardly hear some of the bands playing and the punters were actually booing. At Y Not there was a little sound bleed at the back of the main stage near the tents but otherwise sound was great.
There was minimal queues for toilets, bars and food vendors. Too much queuing at a festival really takes away from the experience but I thought within the arena itself this was pretty well managed.
There was a huge range of things to do at the festival, especially for a festival of its size. We didn't get to see everything, we could have stayed days longer and not get bored.
I loved that there were some things at the festival for people on lower budgets. From the free food and drinks from McDonald's and Coca Cola to the Barnados festival stall which was selling festival items at affordable prices, e.g. hats for £2.
I thought the Barnados Festival Stall was fantastic and saw a girl try on and buy a pair of amazing tie-dye dungarees for a steal that looked amazing on her.
The music
The band choice and acts themselves were excellent. Y Not excelled itself by getting some huge bands for the size of the festival.
Highlights for us included Idles on the main stage on Saturday afternoon who didn't let the rain put them off getting into the crowd as usual. They did 4 festivals in 48 hours and they really didn't let it show.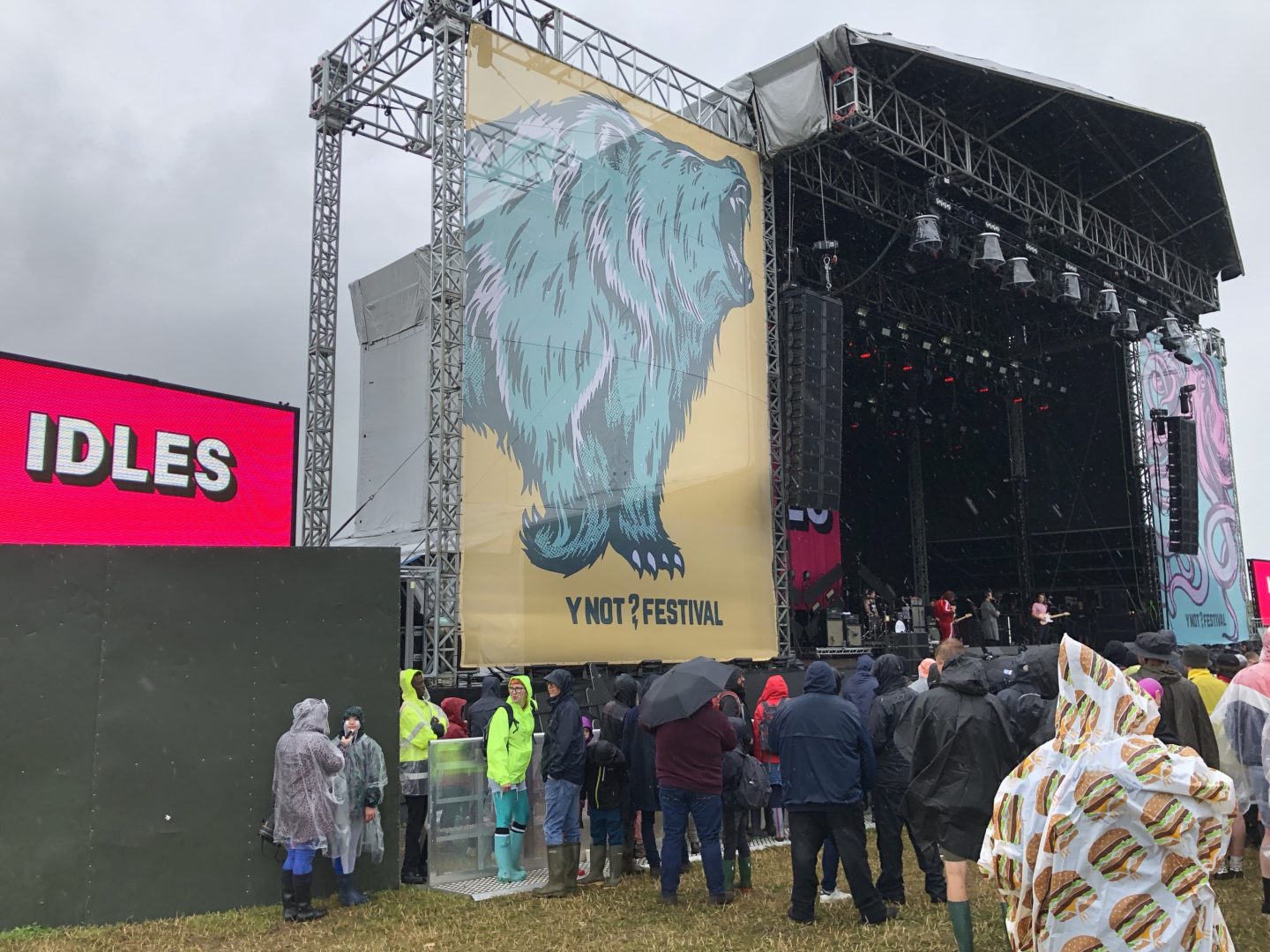 Kate Nash was excellent on Friday night at the Quarry tent – she definitely needed to be in a bigger space though, it was rammed for as far as people could go outside the tent. We couldn't really see her which was a shame as she sounded amazing.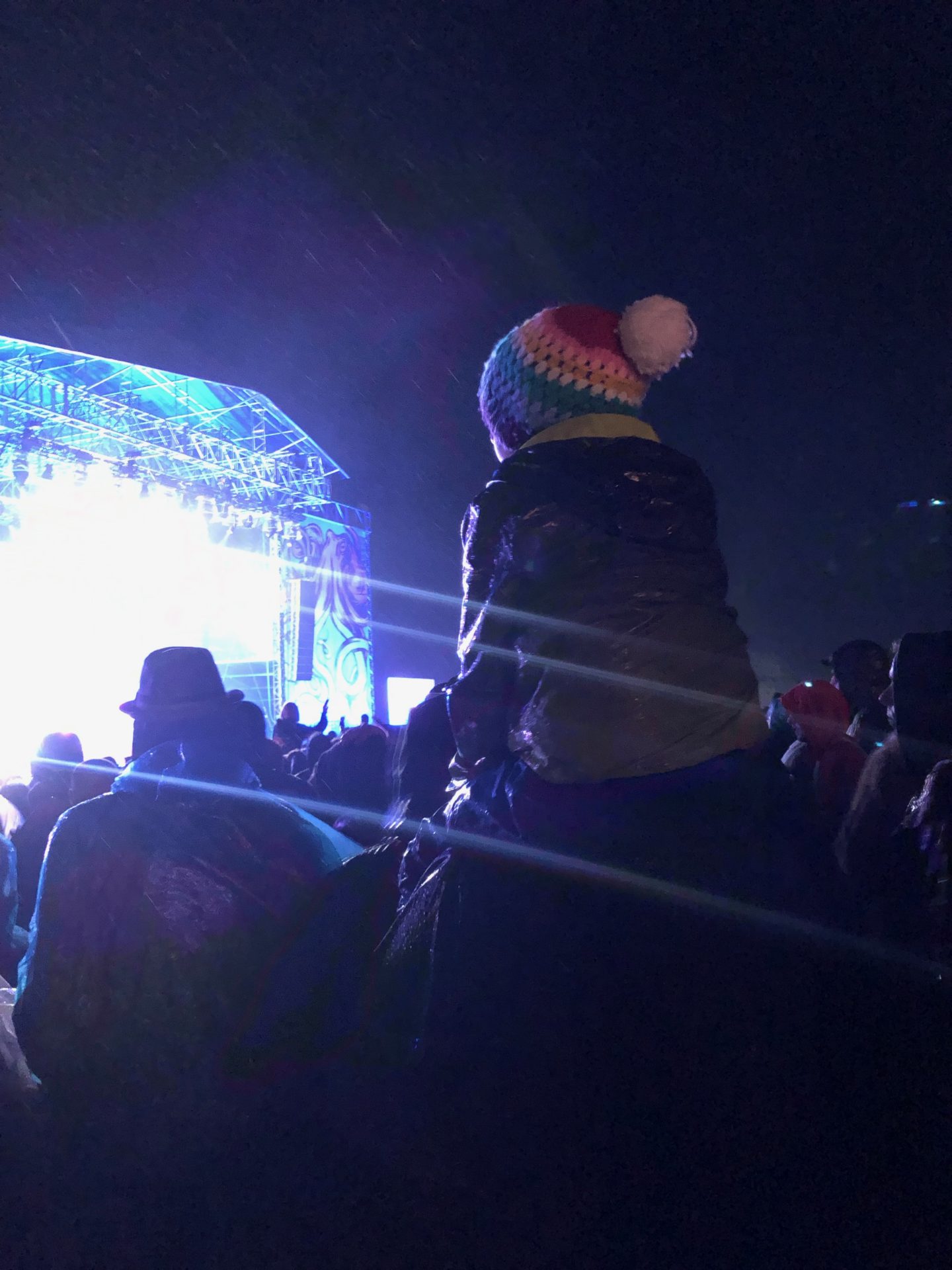 One of the unexpected highlights of the festival came on the Big Gin Stage on Thursday night when the Pigeon Detectives brought on a little boy on to stage.
His mum had shared how much of a fan he was on social media so they brought him on stage and had him say stuff to the crowd for the crowd to shout back, he did 'oggy oggy oggy' and we shouted back 'oi, oi, oi'. It was so sweet.
I loved watching White Lies with my 7 year old, he was on my hip, mesmerised by the stage lights as we rubbed noses and he told me how much he loved me.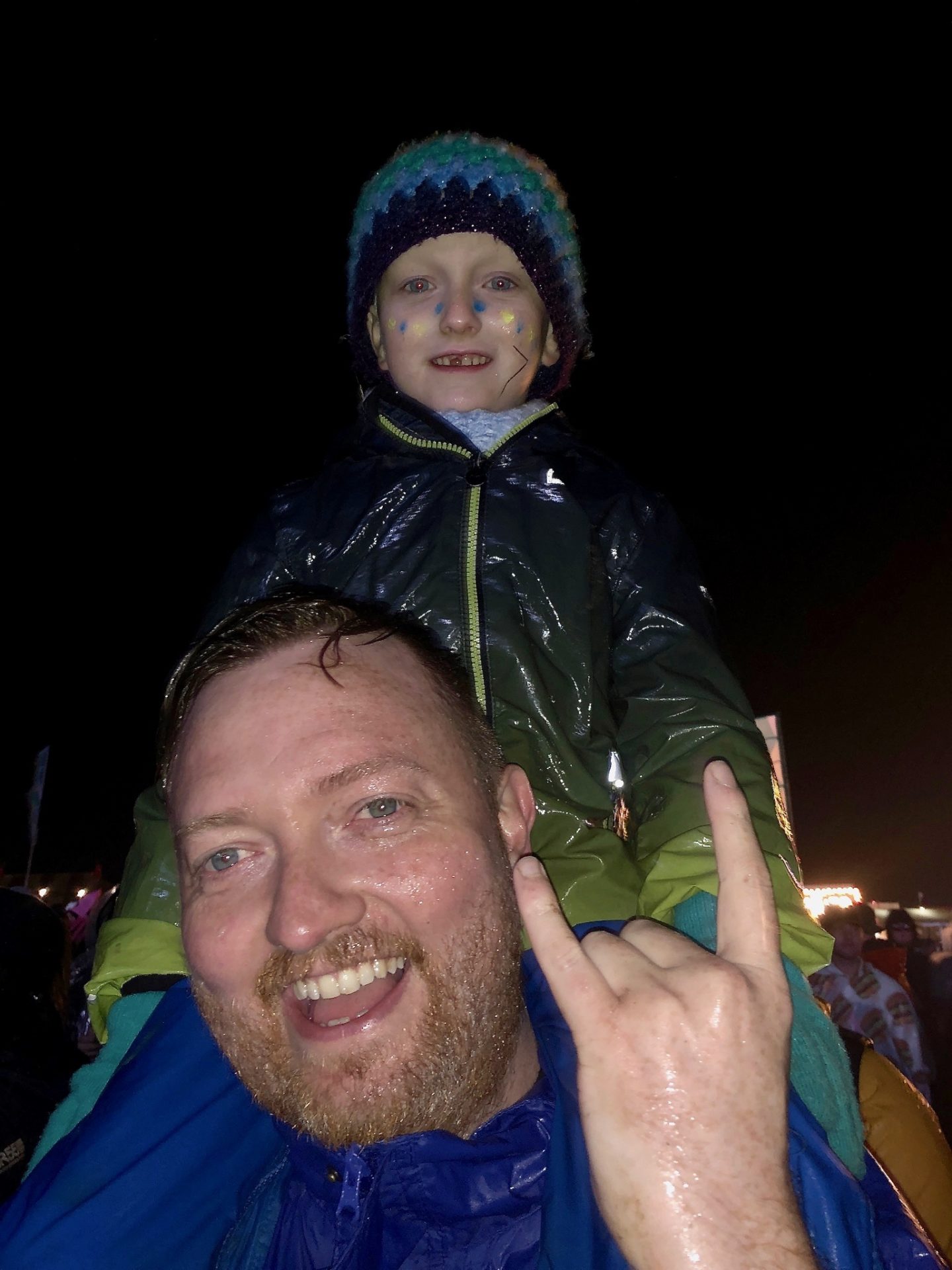 He was also so happy to stay up on the Saturday night and watch Two Door Cinema Club on his dad's shoulders. You could tell he was proud as punch to be up late watching the last band while his little sister slept in the baby carrier on my back.
We also enjoyed watching Elbow and Franz Ferdinand. I liked that most the bands finished at around 11pm so the kids did get to watch some of the headliners this time.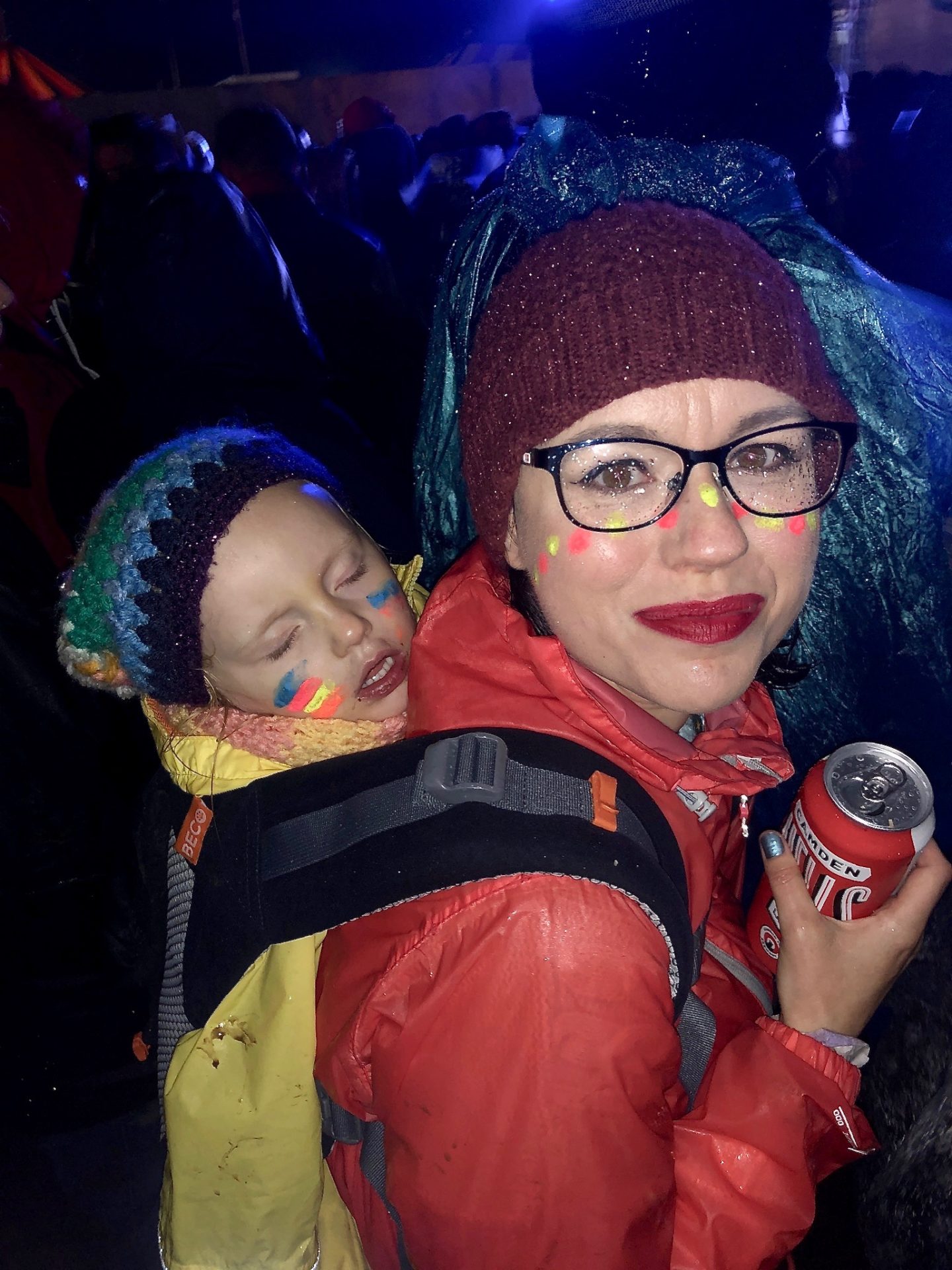 Things that could have been better
I'm trying to not be too critical as the festival did suffer from extreme weather that I've seen lesser festivals cancel for. This no doubt made it much harder for all the staff concerned to do their jobs. However, I would be remiss if I didn't mention some of the issues where the organisers could improve going forward.
I had heard that the organisers had bought the festival back from the previous owners only a week before and that might go some way to explaining why they were still preparing some sections of the arena on opening day.
The arena opened hours late on the Thursday night, meaning acts were rescheduled/missed. It was the same again on Friday with the gate opening 2 hours late (noon) after the first stuff in Strawberry Fields was advertised from at 10am.
This might not sound like a big deal but standing around in large queues for 2 hours in 24 degree heat with small children really sets the festival to a bad tone. To my knowledge there wasn't a day of the festival that the arena actually opened from when it was advertised.
Another improvement would be to give families access to Strawberry Fields from the advertised time – move it to an area that this is possible if the arena is running late or even move it next to/in family camping. Kids love to look at programmes and choose what they want to go to and can get quite disappointed if they had their heart set on something that they can't access. At least 2 hours or more of Strawberry Fields scheduling was missed per day.
It would have been better if announcements could have been made in the camping areas so guests didn't walk all the way to the arena with kids only to have to wait for long periods. Or even if the staff on the gates could let people know. Temporary signs could have been put up but there was no information. If you asked the staff around the site no one ever knew what was going on.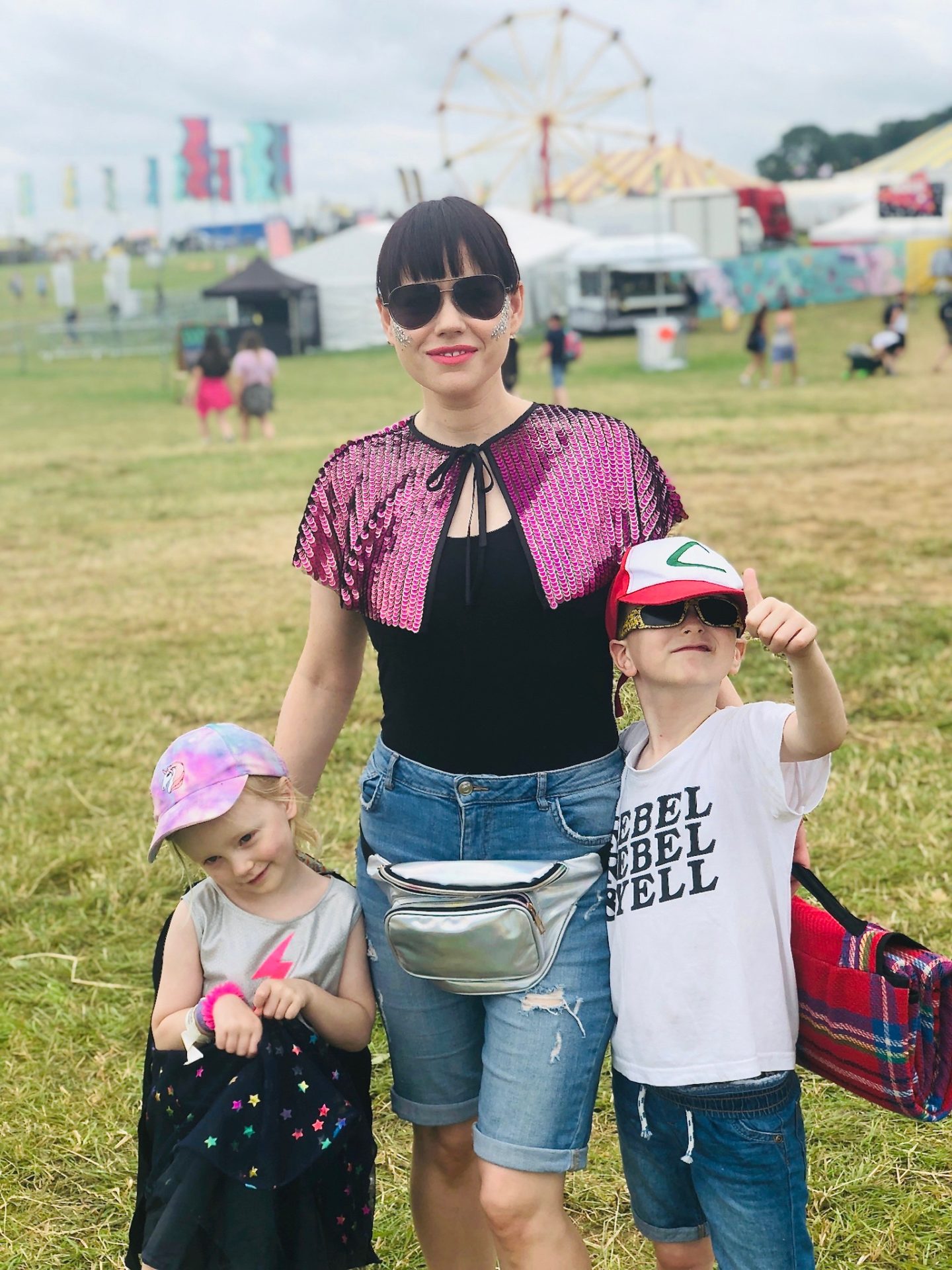 There were meant to be water points next to each bar in the arena but honestly, we couldn't find them and neither could anyone else we spoke to. Towards the back of the arena though you could pop into accessible camping (which I would recommend if you have any mobility issues) and fill up water bottles there.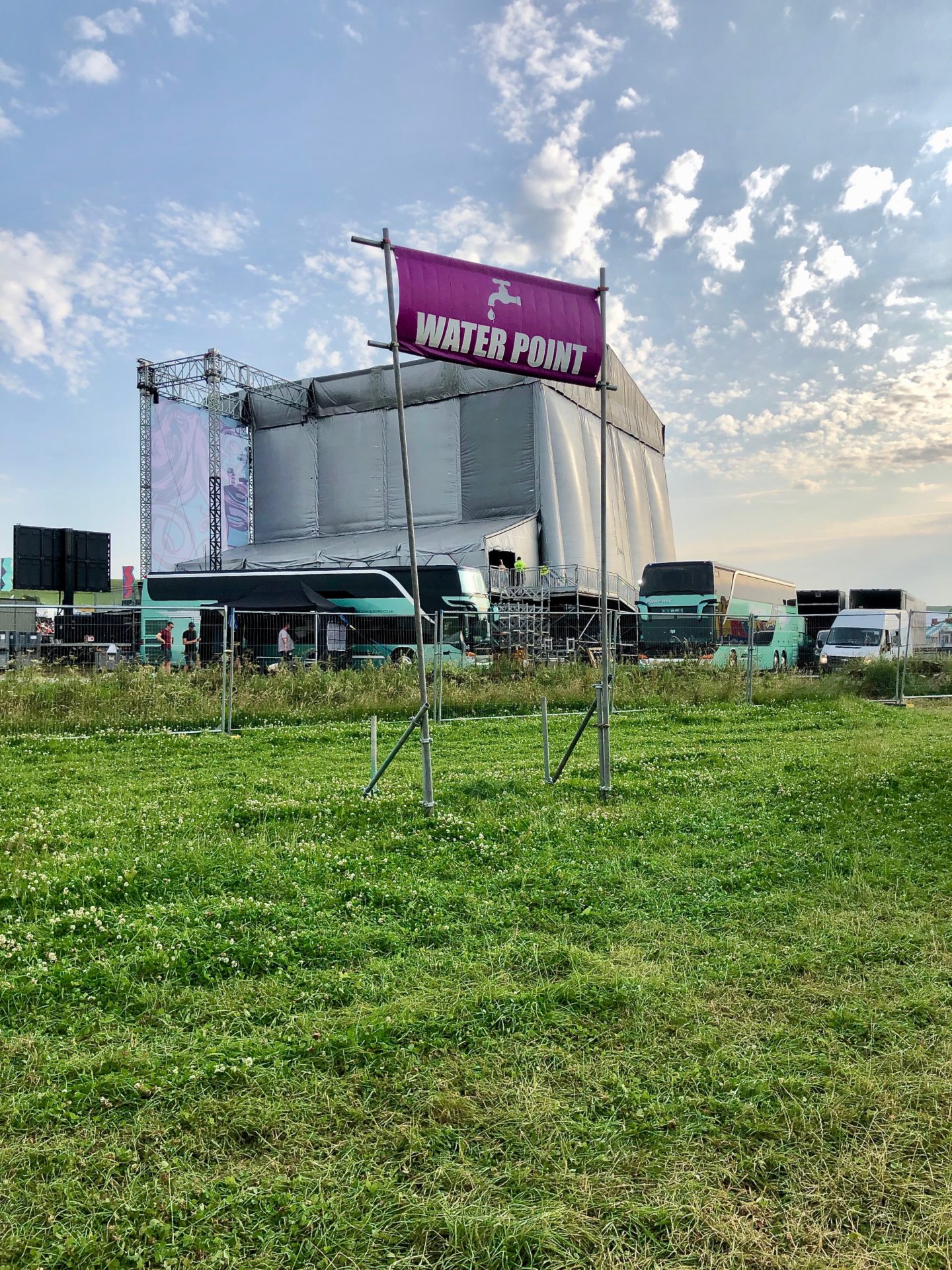 I think it would be an improvement if there was a separate queue into the arena for families. With the delays into the arena we ended up queuing with loads of drunk teens, who were rowdy. Kids aren't good at queuing at the best of times so something to speed it up for them would have been great.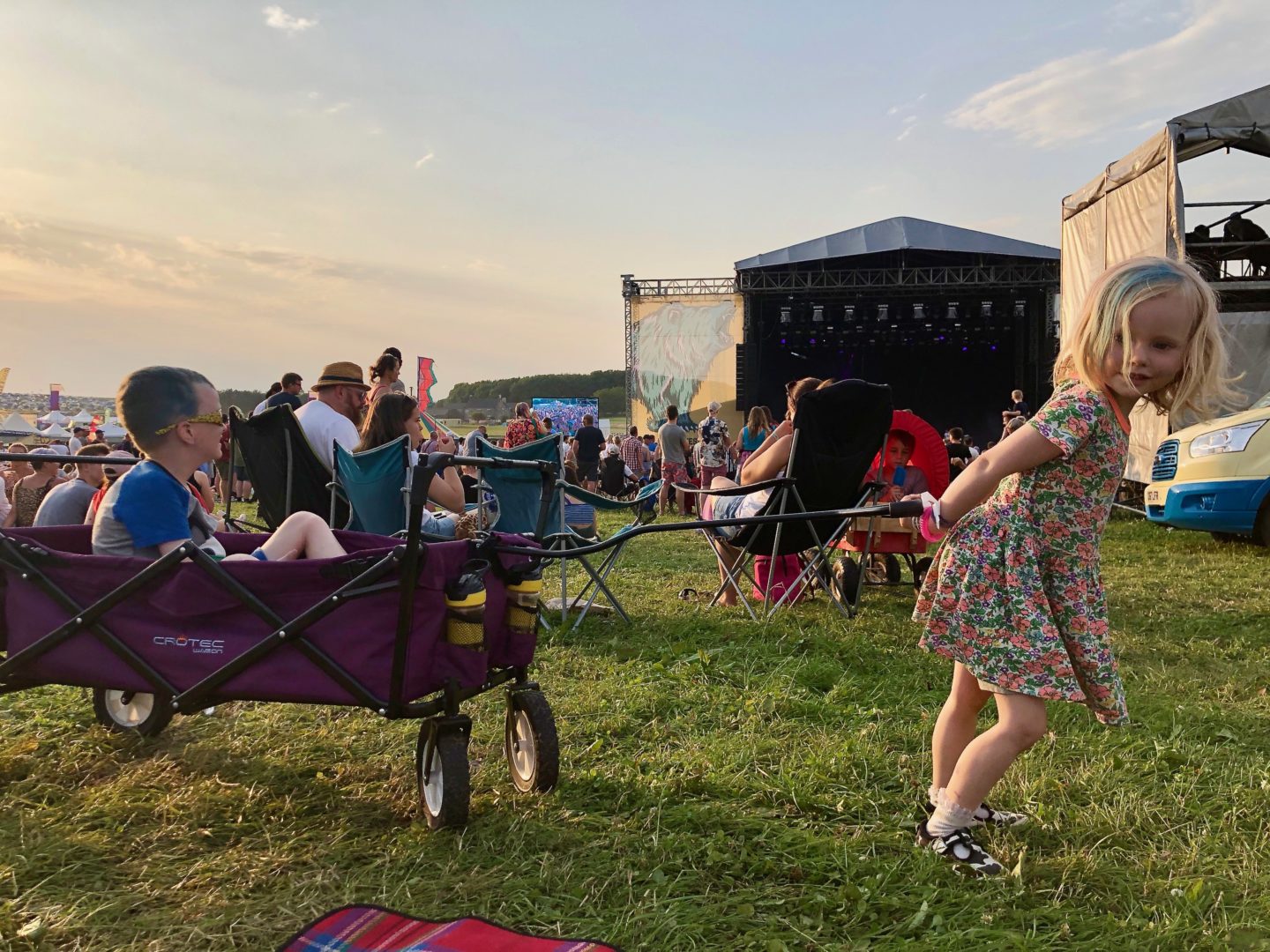 Lots of people left a day early as it had rained constantly all Saturday and the forecast for Sunday was worse. There were rumours that the festival was getting cancelled and when you asked staff they said they didn't know whether it was going ahead so we took the decision to leave a day early. We were worried about getting out the car park without getting stuck in the car for hours with kids.
As it was, even a day early, it took an hour to get out of the car park. All the cars were stuck in the mud including ours and we needed to be pushed out by staff.
The forecast had been available for days (though had worsened). I would have expected to see metal tracking down on the main route out of the car park at the very least.
However, I know Kendall Calling (which was on the same weekend and had the same weather) had similar issues with cars needing to be towed out of the mud so for all I know perhaps this is standard for festivals of this small-mid range size.
There needs to be better signage or staff controlling people getting in the festival. That's my biggest criticism of the festival as I felt it got quite dangerous on the Thursday coming in. It was chaos.
Staff were just as frustrated as punters as many told us, they just had no idea what to do or what was going on. I just kept saying to Papa Ginge, I'm reserving judgement on this, it's the hottest day we've had on record, everyone is struggling. It was definitely the worst entrance I've ever seen into a festival though.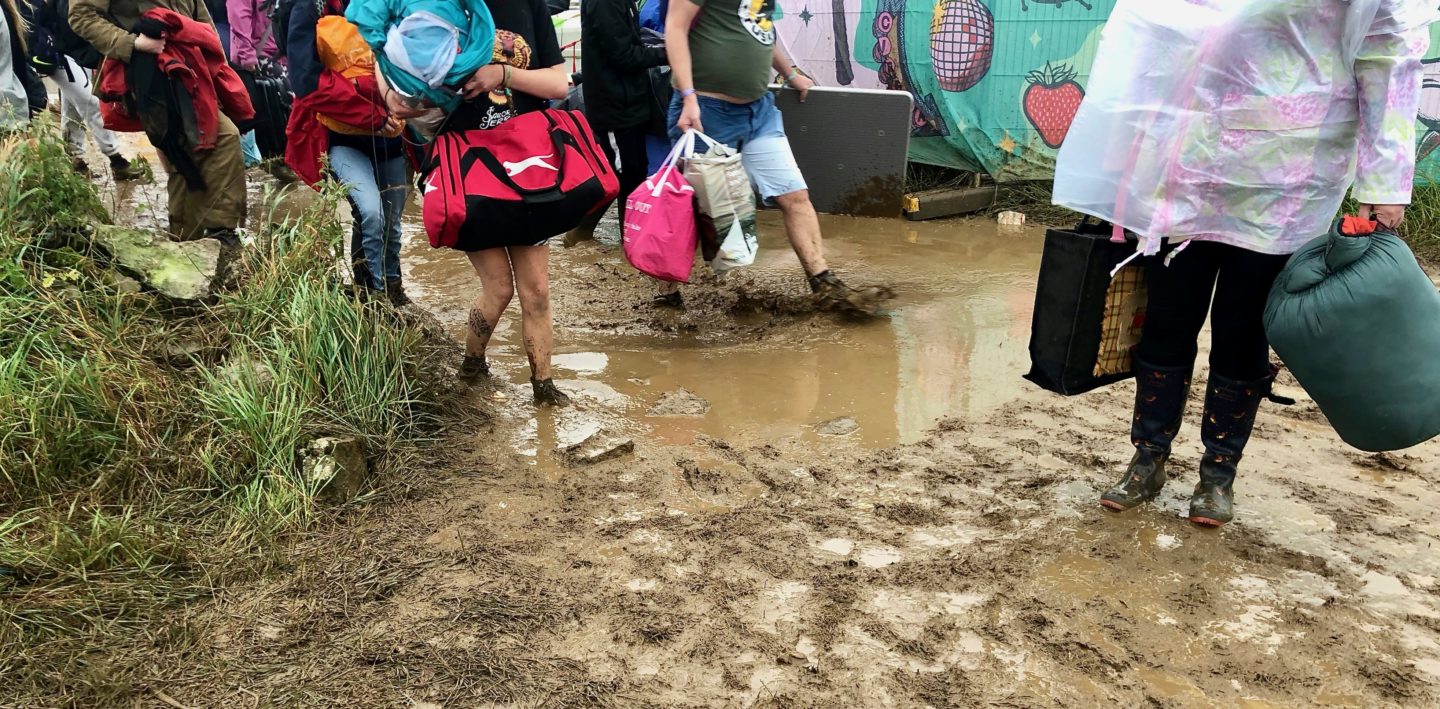 Communication across the festival as a whole could have been improved. An information screen at arena entrance would have been helpful as would signs at the campsites with any updates added on them.
Elbow came on 15 minutes early and whilst the app, socials and screen next to the main stage were updated with zero phone signal we didn't know about it until we got to the main stage on time and missed a chunk of the set.
Another example of organisational/communication issues was that in the run-up to the festival Saturday was advertised as dress-up day with a competition happening on the Saturday at 1.30pm.
The kids were excited to take part and dressed up but when we got there a compere came on and said 'there is meant to be a fancy dress competition on but I don't know what is going on, I'll try and find out'. Then 45 minutes later there was still nothing and then next act came on.
I saw my criticisms echoed over social media following the festival. I'm sure it would make people much more likely to return to Y Not if the organisers acknowledged the issues and outlined what they planned to do to avoid them going forward.
Top tips for Y Not Festival first timers
1. Take plenty of your own food/booze for back at the tent. There was only one food/drinks van on family camping selling toasties and teas (toasties cost £4.50-5.50 and teas/coffees cost £2.50-£3.00, see photo below).
The main arena didn't open before 12 noon most days so definitely take breakfast food. If you don't have anything to cook on we like to take croissants, pain au chocolat and scotch pancakes for easy morning eating.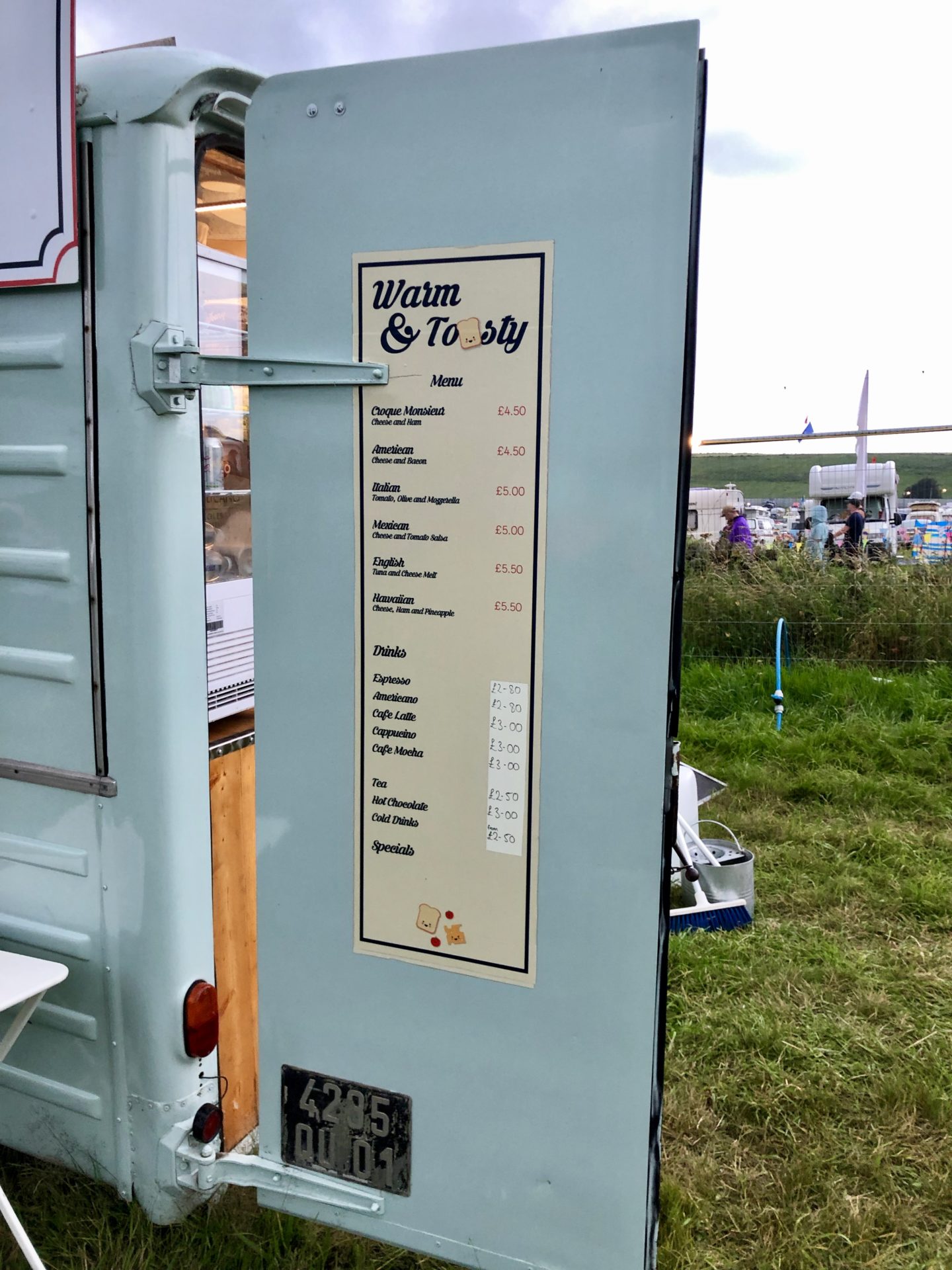 2. Take reusable water bottles to refill at the water points. Also take a collapsible water canteen and fill it up whenever you can so you have your own water source. The taps stopped working a few times but we were ok as we had our canteen full still.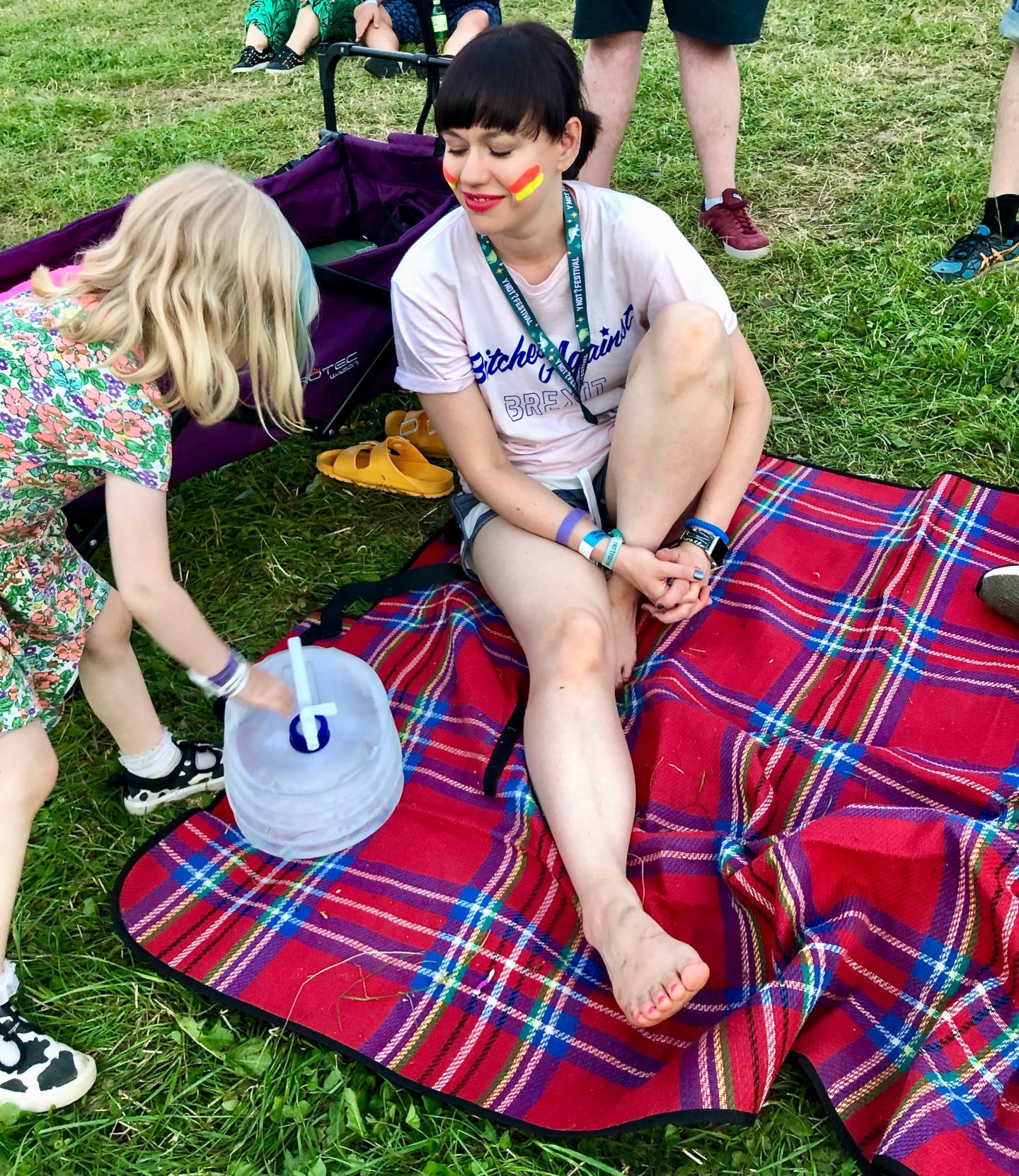 3. Due to the location, there were a lot of flies around. If like me, you are the kind of person who gets harassed by flies you might want to take repellent.
4. Scope out how far you are from the loos so you don't camp too far away for little bladders.
5. Do take some cash for the rides and stalls without card machines
6. Take screenshots of the stage times/app or buy a lanyard so if you have no reception for the app you still know what you want to do
7.  Do dress up if you fancy it. Lots of people did on the Saturday and it really brought the festival to life and got us chatting to loads more people. Dozens of people stopped us on the Saturday to admire our lion costumes and we felt top notch.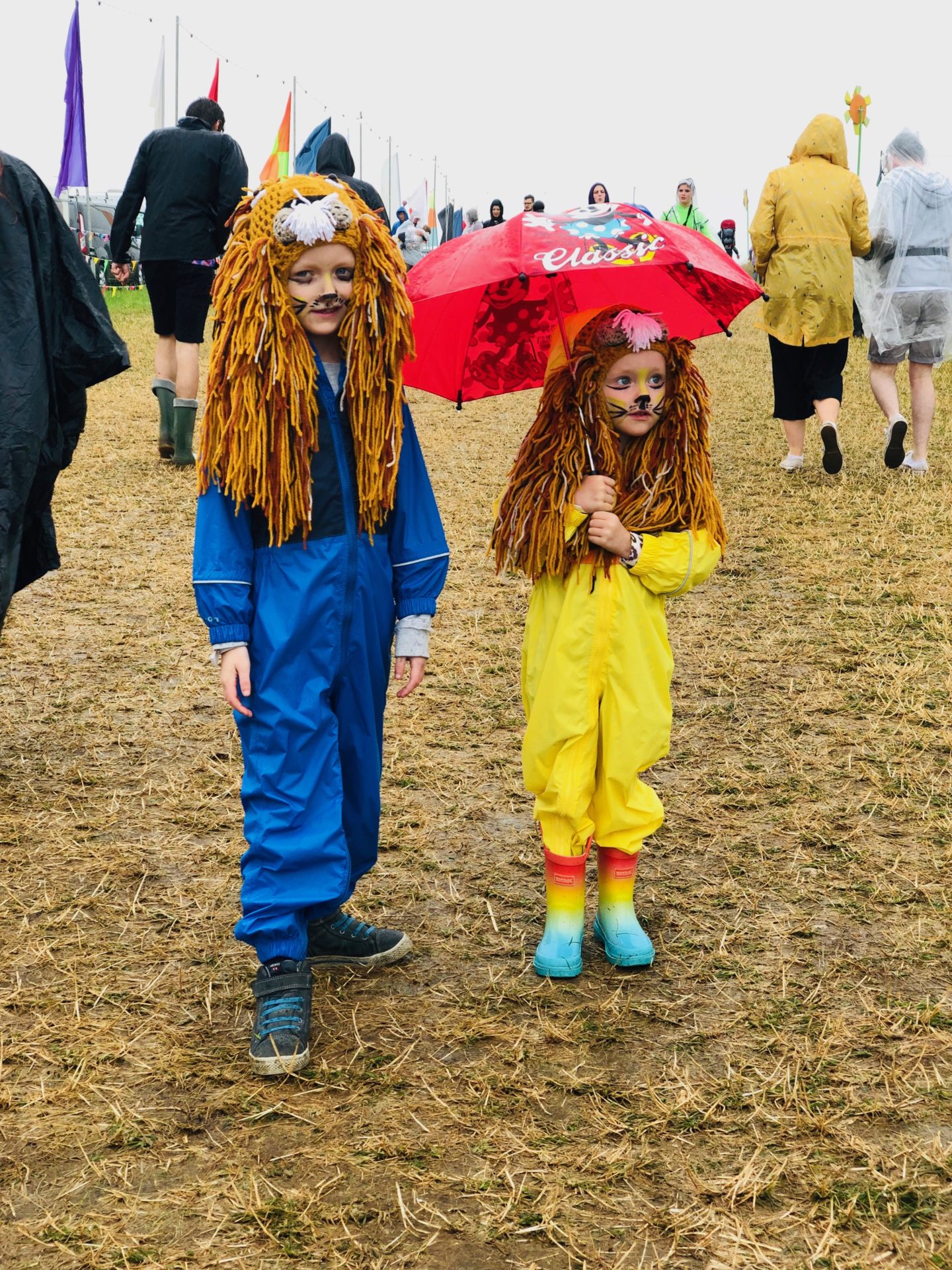 8. Take ear plugs or something to help you sleep if you are a light sleeper, its rowdy, even on family camping.
9. Take things to entertain the kids in the morning, nothing is on until 10am at the earliest. We make busy bags for our kids for the journey and the tent (see our Busy Bags post here)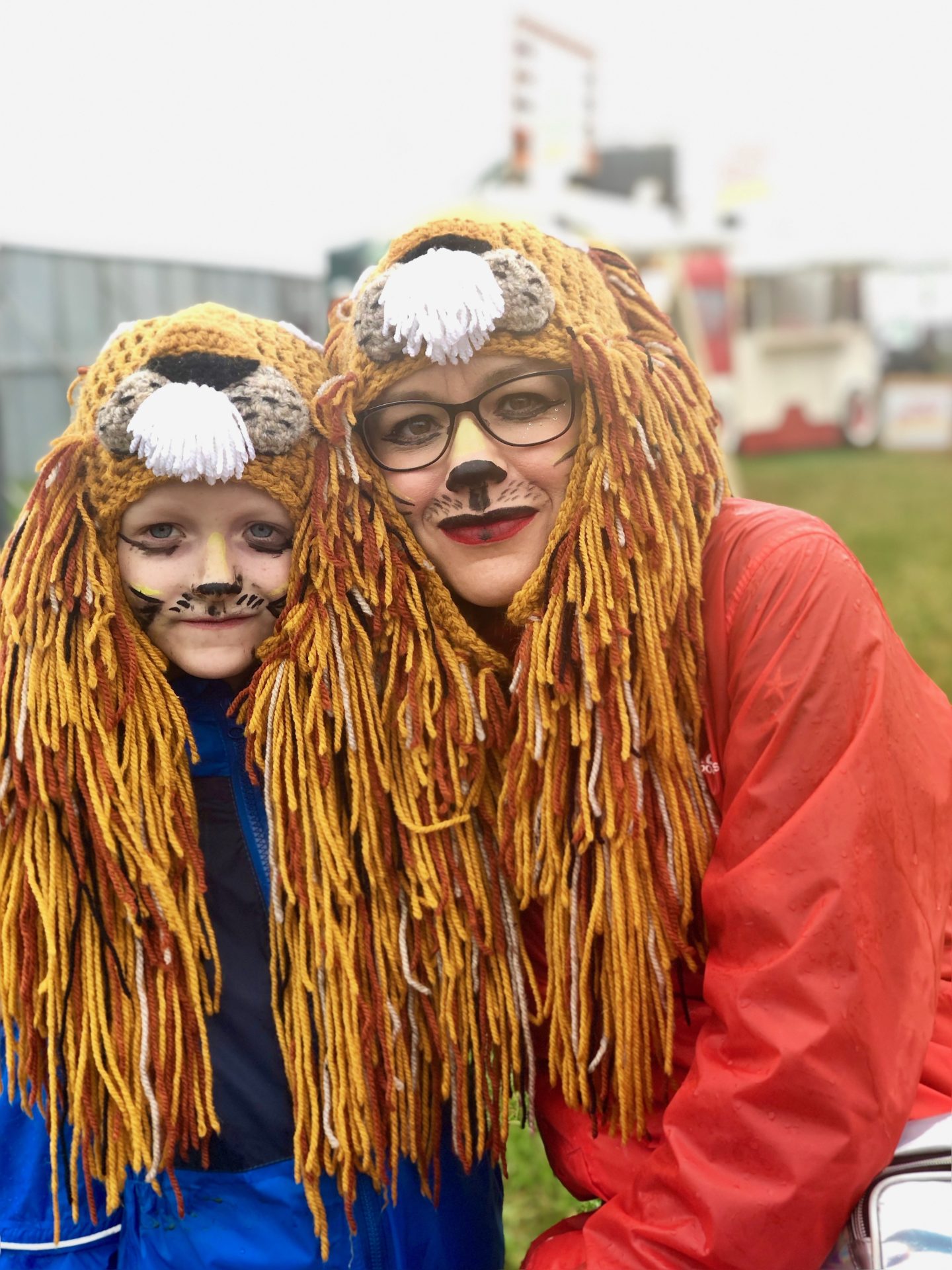 Is Y Not festival good? Would we go again?
I would. I'm not sure Papa Ginge would but I think that has more to do with the extreme weather we faced than anything else.
Look, I've been quite critical as it's my job to do that and be 100% honest with my readers.
That said, I think that Y Not is great value for money for the kind of bands they bring in. This year I'd say it had THE best value for money tickets out of all the British festivals based on what they offered and the bands they had.
They also had to deal with some of the most extreme weather I have seen at a festival this year which is no mean feat.
If they could just sort some of their organisational/communication issues out then it would be perfect.
Tickets for next year are on sale now for £99.50.
If you are interested in family-friendly festivals, our next festival is Little Lindi Festival (5 reasons to get tickets) in July which I'll be covering on my Instagram stories and here so watch out for those.
Y Not Festival 2022
After we attended Y not Festival in 2019, 2020 and 2021 didn't go ahead due to COVID-19. 2022 was the first time it happened again and it had been taken back into local independent ownership.
This time I went along with my cousins and on a whole thought there had been improvements to the festival from 2019.
Ways Y Not 2022 had improved
Getting in and out of the arena was much better and quicker this time (though a slightly longer walk of around 10 minutes). We were never searched on our way into the arena which helped speed up the process.
The vibe on the site was really good. I loved the new addition of Penny Lane. There was a great selection of artists and things to do. There was a good selection of places to eat and relax. Toilets were on a whole well maintained with minimal queues.
They had a change to the layout of the arena which was good but could do with a little tweaking. There was some sound bleeding from the different stages/tents. There were bigger tents though and it felt like there was a lot more on offer in 2022 than in 2019.
Club Malibu was a highlight for us, brilliant tunes and vibes in there. Make it bigger next year!
Issues where Y Not Festival 2022 could still improve
They still had a big issue with queuing to get wristbands to get into the festival. Again, people were telling us on the Thursday that they queued for over 4 hours to get into the site. This is a problem they really need to get on top of as most of the Thursday acts were missed due to it. Separate queues for families and regular pundits was better though.
They also could have done with more signage or staff on the campsite as people didn't really know where they were going to when they got to family camping. No one knew there was a second family camping field so everyone camped on top of each other and the second filed ended up half empty with much more facility capacity compared to the first where toilet and water provision were over used.
My biggest shock for Y Not 2022 was the food prices. In all my years of going to many festivals, I've never seen the food prices so high. Almost everything was £12 – hot dogs, burgers, burritos, noodles, mac and cheese etc. A basic fish finger sandwich was 12 for 3 fish fingers in a bun. It was like the food vendors were told they could charge £12 a meal as nearly everywhere charged the same. My advice, take some of your own food.
The walkway along 'gold city' between the main arena and revolution green/octopus' garden needed to be widened. At times when there were popular bands (like Noasis) on in the tents along it, it created dangerous bottlenecks. Me and my 11 year old goddaughter had to squeeze through a dangerous queue into a shop and then out the back of the shops to get out of a bad situation on the Sunday night.
There needed to be more water points in the arena. There was only one and it was very hidden.
So all in all, some areas where they could still improve but we thought it was much better than 2019 and I'd definitely go again.
If you liked this post you might also like:
If you have enjoyed this post or found it useful, here are some quick and easy ways that you can support Nomipalony or say thanks:
Share this post with your friends  
Pop over to my Amazon Storefront to see what products I have been buying and loving from there recently, including my health and fitness products list.
Sign up to my mailing list 
Women can join my feminist Facebook group – the Nomipalony Freehouse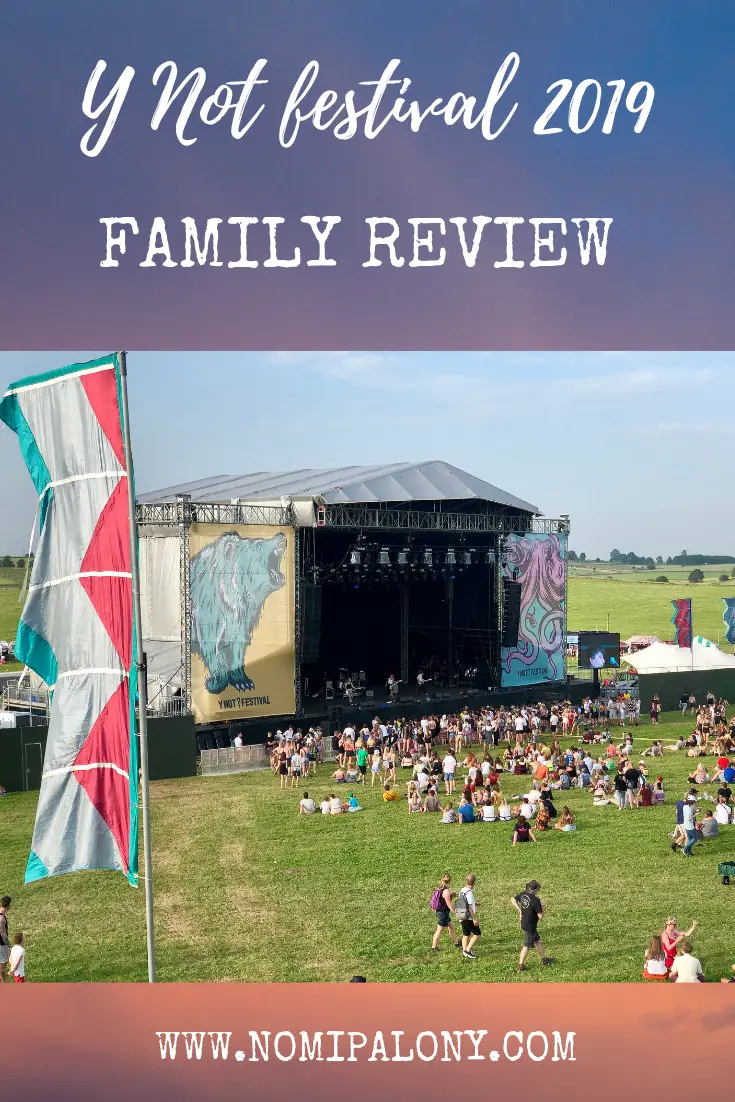 Disclosure: Big thanks to Y Not festival who gave us press tickets for the festival in exchange for this honest review. For our full disclosure policy please see my about page.