The Emma Mattress is a deep mattress and regular fitted sheets are usually not big enough to fit it. It can be tricky to know which sheets will fit your Emma Mattress. This post has a number of fitted sheet options that will fit your Emma Mattress. For more information on what we thought of the Emma Mattress as a whole, see Emma mattress review – 2 years on
Do you put a sheet on an emma mattress?
You do put a sheet on your Emma Mattress. This will help you keep the mattress in the best condition as you can easily remove the sheet and put it in the wash regularly. As the Emma Mattress isn't cheap you want to protect it for as long as possible.
What is the depth of an Emma Mattress?
All of the Emma Original mattresses and the Emma Premium mattresses are 25cm deep.
Dimensions of Emma mattress
Whilst the 25cm depth of the Emma mattresses remains consistent no matter what size you go for. The other dimensions of the mattress do change as follows below. Please note these were correct at the time of publishing (June 2022) but always double check the Emma website incase they have changed since.
UK Single mattress
3'0 x 6'3
(90 x 190 x 25 cm)
15.6 kg
EU Single mattress
3'0 x 6'7
(90 x 200 x 25 cm
18.5 kg
UK Small Double mattress
4'0 x 6'3
(120 x 190 x 25 cm)
20.8 kg
UK Double mattress
4'6 x 6'3
(135cm x 190cm x 25cm)
23.4 kg
EU Double mattress
4'7 x 6'7
(140cm x 200cm x 25cm)
29.5 kg
UK King mattress
5'0 x 6'7
(150 x 200 x 25 cm)
27.4 kg
EU King mattress
5'3 x 6'7
(160 x 200 x 25 cm)
33 kg
UK Super King mattress
6′ x 6'7
(180 x 200 x 25 cm)
37 kg
What depth fitted sheet for Emma mattress?
You will need at least a 25cm deep fitted sheet for any Emma mattress minimum. I would recommend going for a 30cm deep sheet though to ensure fit though. 40cm would be ok but may fit a bit too loosely and move around whilst you sleep.
Sheets don't fit Emma mattress
We found it quite frustrating that none of our existing sheets fit the Emma mattress. We also have the same problem with our Leesa mattress. It seems to be the case that the new mattress in a box type mattresses don't fit standard sheets you can buy in any shop. Don't fear though, below I have searched for a good selection of sheets that will fit your Emma mattress.
Best sheets for Emma mattress
Official sheets for Emma mattress
Unsurprisingly, a fantastic option for the Emma mattresses comes from Emma themselves. This sheet is 30cm deep and as it from Emma and it is designed specifically for their mattresses, you are guaranteed a good fit. This Emma fitted sheet (affiliate link) is 100% cotton with a Percale weave and 200 thread count. The material is machine-washable at 40 degrees. You can get it in a range of colours and sizes. Below are some of the options for king size Emma mattresses.
Egyptian cotton sheets for the Emma mattress
This pure Egyptian cotton fabric makes the fitted sheet fitted bed sheet has wrinkle fade resistant fabric and breathable design for year-round use. With added stretch and durable elastic the fitted sheet is designed to stay snug and fitted to your mattress. It is available in a variety of colour options.
This 300 thread count 100% pure Egyptian cotton fitted sheets stretches up to 30cm deep for a very affordable price.
Silk Emma mattress sheets
For the most luxurious (and expensive) Emma mattress sheets option then look no further than this 19 momme 100% pure mulberry silk bed sheet that is 30cm deep.
Satin Emma sheets
If you prefer sleeping in satin sheets then this satin option is 30cm deep for the Emma mattress whilst still being an affordable price.
Jersey sheets for the Emma mattress
If jersey bedding is more your cup of tea, then this is a great option for Emma mattress sheets.
Budget emma mattress sheets options
If you are on a budget then here's some of the most affordable sheets for the Emma mattress that I could find.
Emma bedding
Emma also sell a fitted mattress protector which we have and I would recommend:
They also have a range of other bedding options such as a weighted blanket, cloud duvet and pillows and premium pillows that are worth a look at.
If you liked this post about. Emma mattress sheets you might also like:
If you have enjoyed this post or found it useful, here are some quick and easy ways that you can support Nomipalony or say thanks:
Share this post with your friends  
Pop over to my Amazon Storefront to see what products I have been buying and loving from there recently, including my health and fitness products list.
Sign up to my mailing list 
Women can join my feminist Facebook group – the Nomipalony Freehouse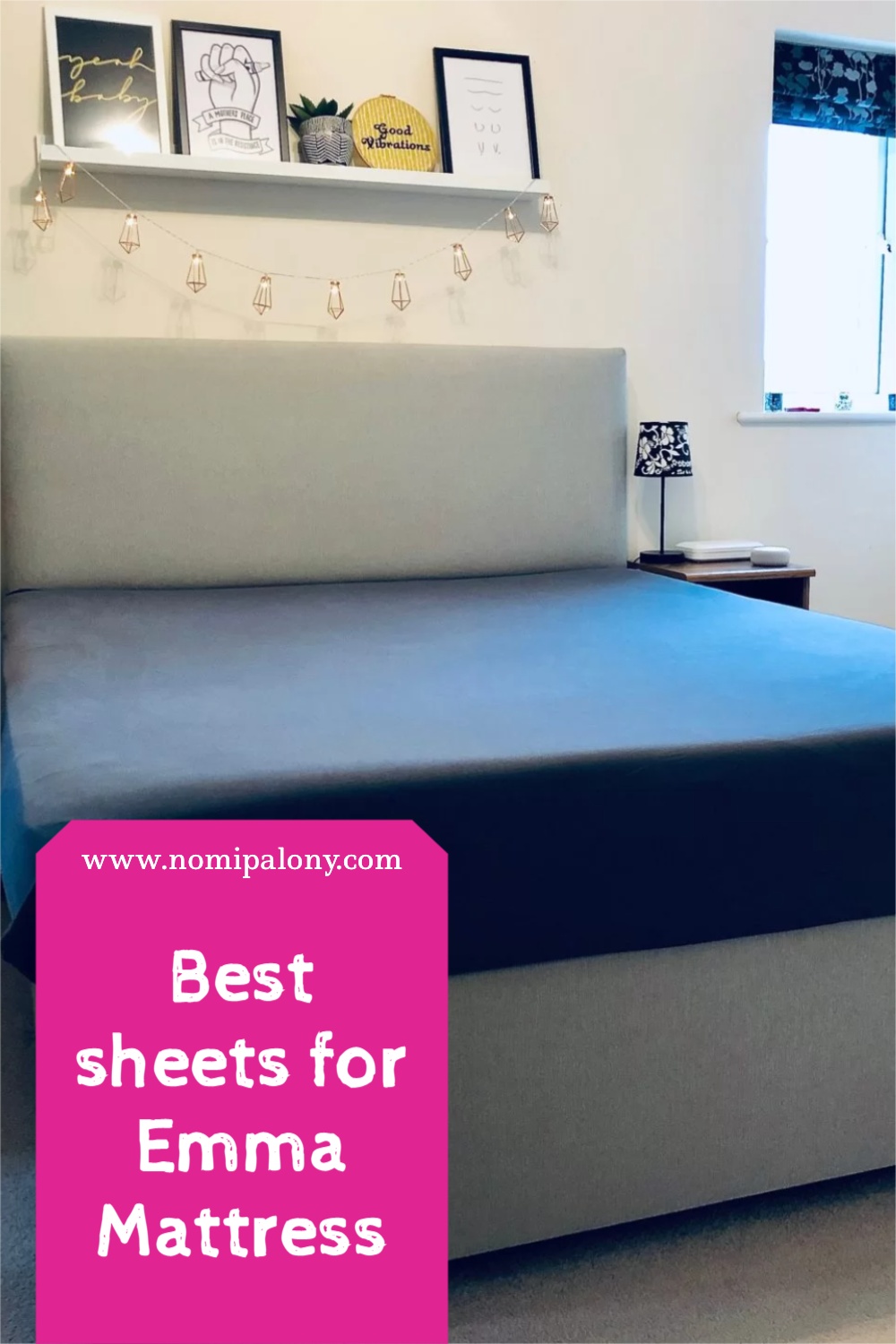 Disclaimer: This post contains affiliate links. If you purchase through an affiliate link you will not be charged any more for your purchase, but I will receive a small fee for referring you. As an Amazon Associate, I earn from qualifying purchases. For my full disclosure policy, please see my about page.