Every Christmas I give my kids a box of treats on Christmas tree day (you can read about how we do that in my guide How to create a magical family Christmas tree day box). Each year I put a new Christmas book in the box and every evening on the run-up to Christmas we will read the books together. It's become one of our special Christmas traditions, especially between me and my son. In this blog post, I take you through the children's Christmas books that we've enjoyed over the years and I also asked my lovely followers on Instagram for their favourites so I've included some of those as well!
Best children's Christmas books
Best Christmas picture books and Christmas books for toddlers
Dear Santa
For the littlest tots there is 'Dear Santa'. Toddlers will love lifting the flaps to open the presents and find out what Santa has sent – and finding the perfect present at the end. 
A Bear Stays Up for Christmas
Another one we have enjoyed over the years is the Bear stays up for Christmas: 'Bear's friends are determined to keep Bear awake for Christmas! So they wake Bear up and have him help them find a Christmas tree, bake cakes, hang up stockings, and sing Christmas songs. Bear stays up–by discovering that giving is one of the best Christmas presents of all!' For 1-4 years.
Mog's Christmas
The house is full of strange bustling, there are new noises and new smells, and where is that tree going? Disconcerted by all the unusual activities, Mog escapes to the roof, and there she stays…until, unexpectedly, she returns with a bump! Aimed at ages 2-5.
Pre-school Christmas books
The Jolly Christmas Postman
The Jolly Christmas Postman is a classic: 'It's Christmas Eve and the Jolly Postman is delivering greetings to everyone's favourite fairy-tale characters. He has a card for Baby Bear, a game for Red Riding Hood, a get-well jigsaw for poor Humpty Dumpty and lots more packages to deliver! The Jolly Postman keeps on peddling his bicycle up hill and down dale. . . and into everybody's hearts.' For ages 3-5 years.
Snow
One year the kids were given this book below by a family member and it's beautiful with a sparkling cover just like snow and it's magical to read. 'Every child loves a snow day – no school and snowball fights galore! But Sam has to wait for his Grandad. Trying to hurry him up, Sam tells Grandad all the other kids have gone to the park… and all the local dogs… and all the zoo animals! Only when they finally arrive does Grandad see Sam was telling the truth – and both of them get stuck in having fun on their snow day!'
For 0-5 years but has paper pages so not best for toddlers who tear!
Ten Minutes to Bed Little Unicorn's Christmas
A new one I have purchased this year for my unicorn loving daughter is 'Ten minutes to bed little unicorn's Christmas'. Lena loves the ten minutes to bed series and I know she will adore this. For ages 3-6 years.
The Dinosaur that Pooped Christmas
Danny wants everything for Christmas. But what he gets is a dinosaur – a very hungry dinosaur. Danny's new dino eats up all of Christmas, but as we all know, what goes in must come out . . . From Tom Fletcher and Dougie Poynter from McFly. For ages 3-6 years.
Lucy and Tom at Christmas
It's Christmas, and Lucy and Tom are getting ready! There are cards to make, a tree to decorate and presents to hide. And how can you get to sleep when Father Christmas may be coming? This classic picture book from the creator of Dogger is the perfect book for Christmas excitement for ages 3-5.
Tinseltoon: or One Night in Newcastle
One for the Geordies. Published in 1998 by Newcastle Libraries. A reader said her child loves pointing out all of the places he knows.
The Christmas Muddle Personalised Story Book
From North East company, Elf For Christmas (affiliate link) this personalised Christmas book makes your child or children and their very own elves the stars of the story. Your book can feature one or more children and one or two named elves as the heroes of the story. My code NOMITEN will get you 10% off (one use per customer on any product).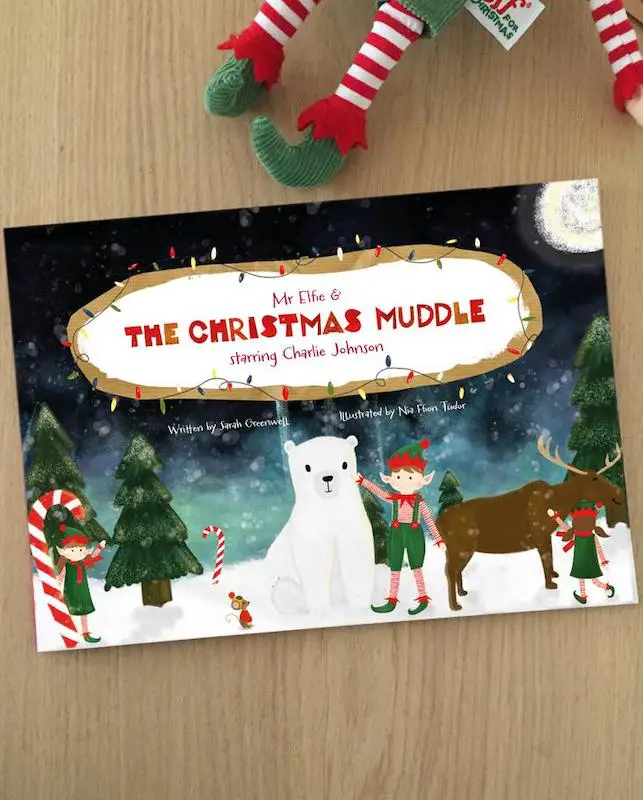 How the Grinch stole Christmas
The timeless Christmas classic from the iconic Dr. Seuss! Aimed at kids aged 3-7.
The Christmas Eve Tree
When the ugly little fir tree is taken to the city, no one wants to buy him; they prefer the big tall trees. But a homeless boy asks the shopkeeper if he can take the tree, and down by the river in a cardboard box, decorated with a few candles, the tree finds itself at the centre of a magical Christmas Eve it will never forget. For 4-7 years old.
Last Stop on the Reindeer Express
Mia misses her Daddy. Without him, Christmas has lost its magic. But when Mia discovers a world within a mysterious post box, she is whisked away on a truly wonderful adventure over sparkling seas and streets of paper stars. But what will Mia find at the end of her journey? For ages 3-6.
An Angel Just Like Me
When Tyler and his family are putting up the Christmas decorations, Tyler takes a look at the broken Christmas-tree angel, and asks, "Why are they always pink? Aren't there any black angels?" It's a question no one can answer. Tyler's friend Carl manages to provide a solution late on Christmas Day.
Little Robin Red Vest
One frosty evening, a week before Christmas, Little Robin washes and irons seven warm vests for the chilly nights to come. As the days go by, he comes across lots of cold and shivering animals, and kindly offers them his vests to wear. But oh no! on Christmas Eve, Little Robin is cold and all alone with no vests left! That is, until Father Christmas arrives to reward his kindness and generosity with a perfect little red vest . . . which is just how a robin got his red breast!
Santa Claus vs the Easter Bunny
For kids aged 4-8, this book works for both Easter and Christmas so you'll get double the use out of it.
Greg the Sausage Roll: Santa's Little Helper
The tinsel is up in the bakery, the lights are twinkling and the mince pies are sold out.
It's CHRISTMAS EVE! Greg the Sausage Roll is so excited he could burst. And when he's scooped up as a last-minute treat for Santa, he's catapulted into a magical festive caper beyond his wildest dreams. For 3-8 year olds.
Grandpa Christmas
Michael Morpurgo frames his powerful message about protecting the environment in this beautiful personal story about a grandpa's wish for his granddaughter to live in a better world. This vital and timely story is paired with Jim Field's emotive illustrations in this gorgeous Christmas picture book, perfect for the whole family to share. For kids aged 3-5.
The Christmas Truck
When celebrating a special Christmas tradition things go awry. Papa, Dad, their amazing kid, and one fabulous grandmother work together and implement a plan to save Christmas for a child they have never met. For kids aged 4-8.
Best children's Christmas Chapter books and Christmas books for primary school aged children
The Christmasaurus series
Our favourite books to read at Christmas with the kids are the Christmasaurus series by Tom Fletcher. These stories are just so fun and exciting. We've had those in our Christmas tree day box the past couple of years and was a new one out last year – The Christmasaurus and the Naughty List (affiliate link).
You can buy the Christmasaurus books pretty cheaply via amazon below and we really enjoyed reading them as a family. I'm dying for them to be made into films!
There is a picture book version aimed at younger kids too that I've added below.
A Boy Called Christmas
Last year we enjoyed A Boy Called Christmas (affiliate link) and this year it's being released as a family Christmas film so definitely read that if you can – maybe one for older kids as there are some dark bits in it.
Letters from Father Christmas
This classic festive book of Tolkien's enchanting Father Christmas letters, written to his children between the 1920s and the 1940s, has been reworked into a sumptuous, new standard hardback edition. It contains high-quality digital reproductions of his wonderful letters and pictures, including a number of them appearing in this format for the first time, and a revised introduction by Baillie Tolkien. For ages 7 and up.
How Winston Delivered Christmas
From Alex T. Smith, bestselling author of the Claude series, comes How Winston Delivered Christmas – the irresistible story of the brave little mouse who sets out on an adventure on Christmas Eve. Featuring beautiful colour artwork and Christmassy activities to make-and-do throughout, this gorgeous book is sure to become a festive family tradition that will be enjoyed year after year.
Which children's Christmas books are your favourites?
More posts like this:
If you have enjoyed this post or found it useful, here are some quick and easy ways that you can support Nomipalony or say thanks: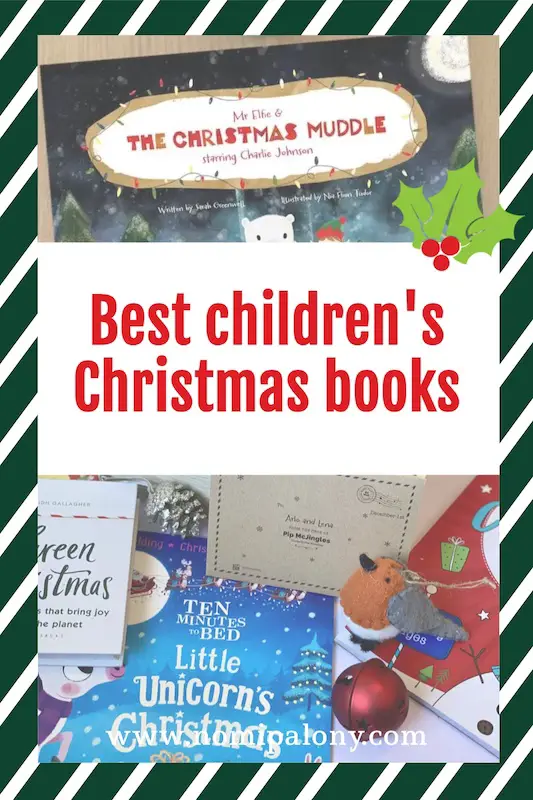 Disclaimer: This post contains clearly marked affiliate links. If you purchase through an affiliate link you will not be charged any more for your purchase, but I will receive a small fee for referring you. As an Amazon Associate, I earn from qualifying purchases. For my full disclosure policy, please see my about page.