After our awful Spanish holiday last year we had vowed not to go holiday abroad again this year. However, this was our first year with a kid in school and man were school holiday costs for a family of four a slap in the face. Yikes. I knew they were high, but didn't realise they were THIS high. All we've been able to afford are some mini breaks (like our trip to Flamingo Land). I had asked around in lots of groups where might be good/cheaper to go and a few people mentioned Crieff Hydro. According to them, it was Scotland's version of Center Parcs. Crieff Hydro is a large hotel complex that offers hotel accommodation and self catered cabins and cottages on the same site. I was intrigued. This post is our Crieff Hydro review.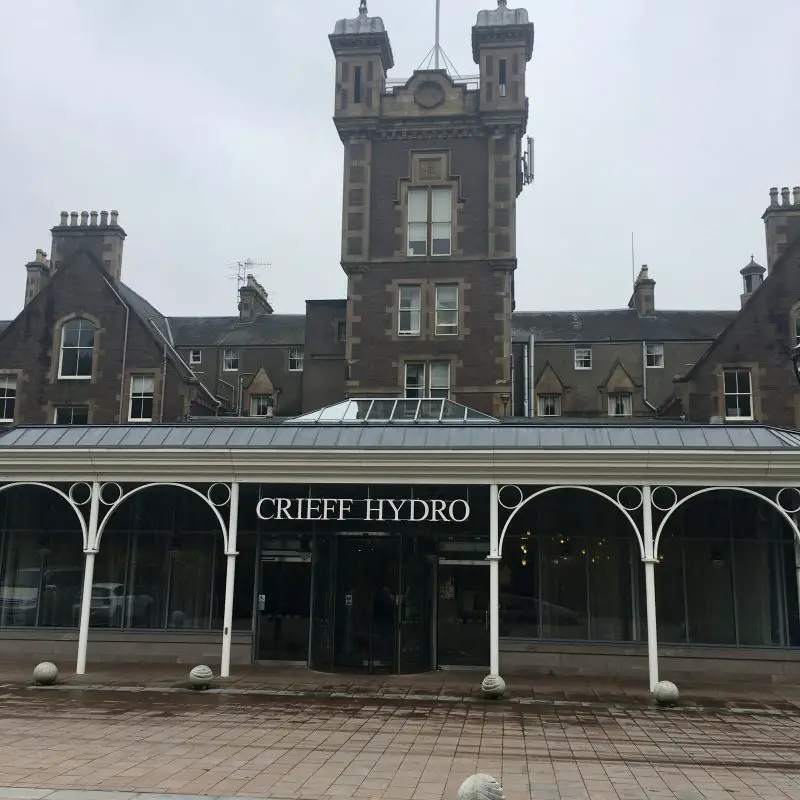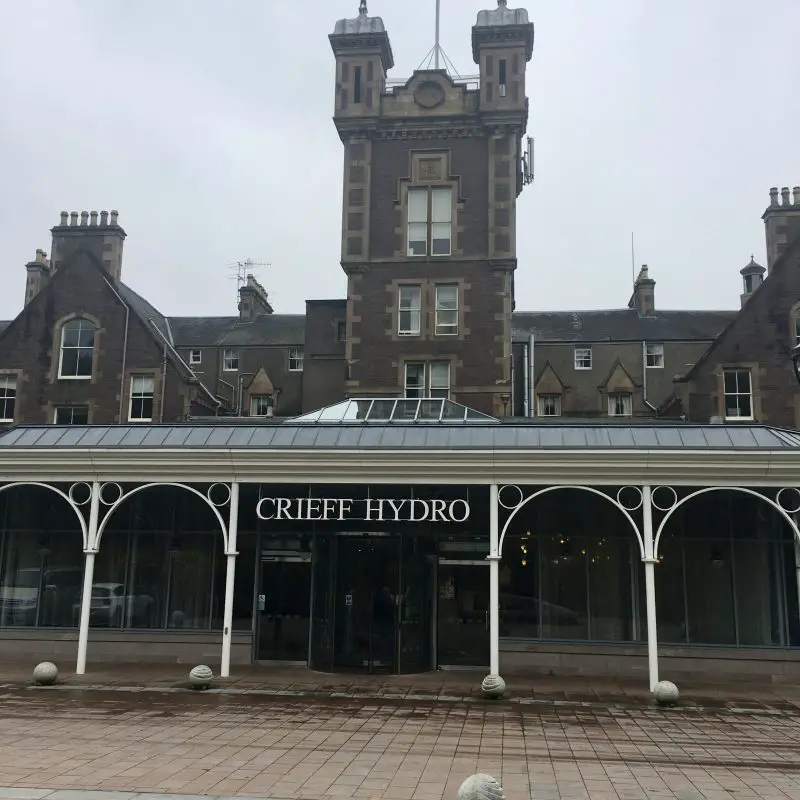 Accommodation at Crieff Hydro
Scotland's school holidays end mid-August meaning you can visit Crieff Hydro (affiliate link) at the end of the english summer school holidays for much cheaper than you can go to many places in England.
We were able to book a Cosy Cabin for 5 (self catering) for £454.50 for a three night stay at the end of August. The three night's accommodation gave us access to the facilities (and importantly the free childcare) for 5 days.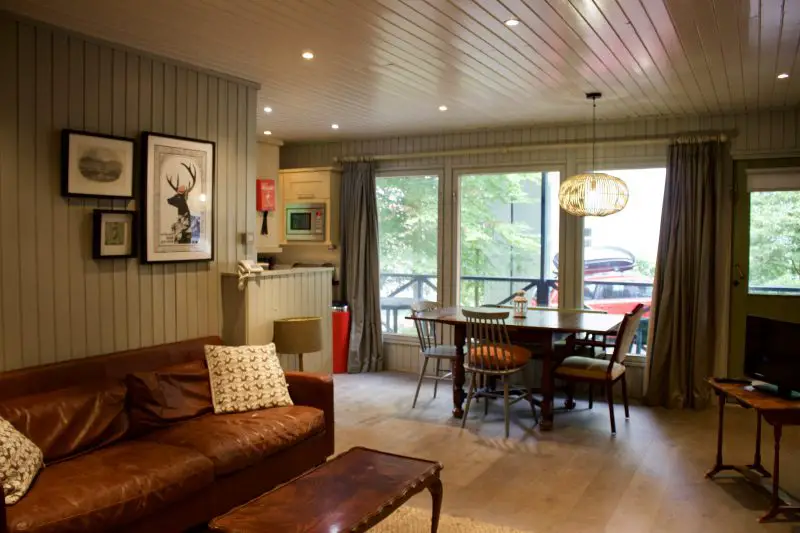 The cabin was very spacious, there was more than enough room for the four of us. There was a room with a double bedroom that myself and my toddler slept in. Then there was another bedroom that had a bunk bed with an additional pull out trundle-bed that the boys slept in.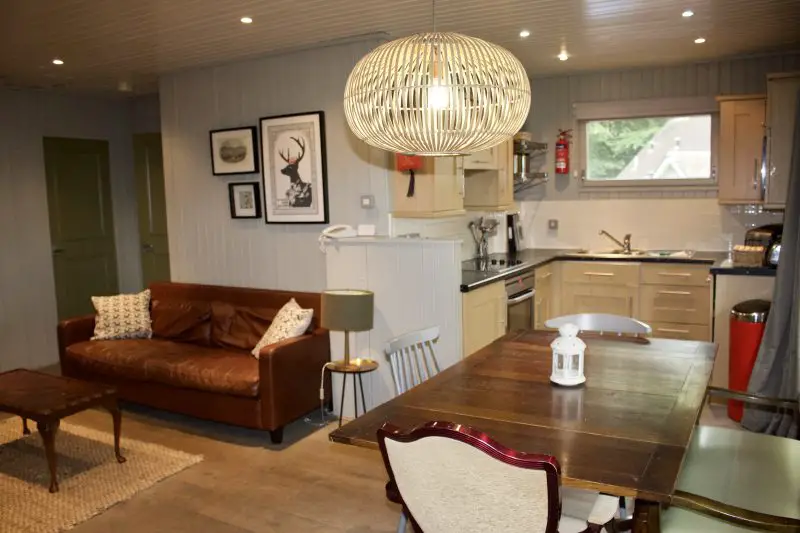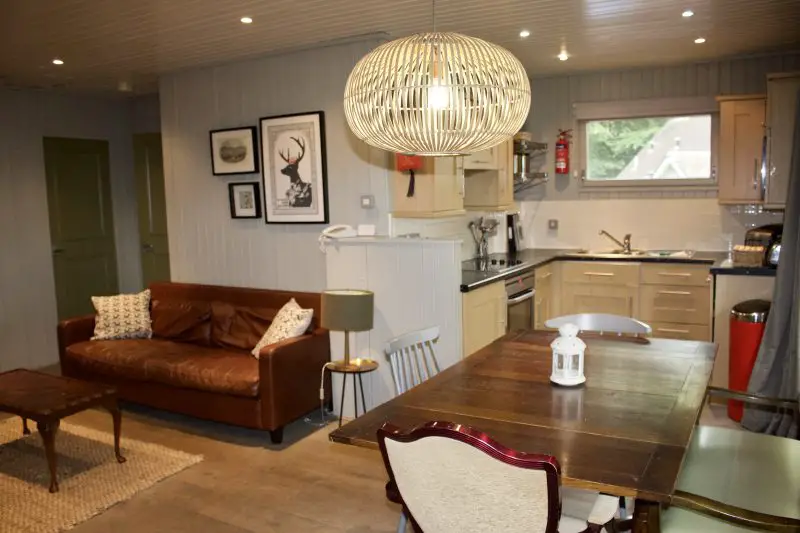 I enjoyed the log burning stove and Crieff Hydro had provided logs so we could use it right away. It made the cabin feel cosy and added to it feeling special as we don't have a fire at home. There was a small area for sitting at outside that I'm sure would have been lovely in better weather.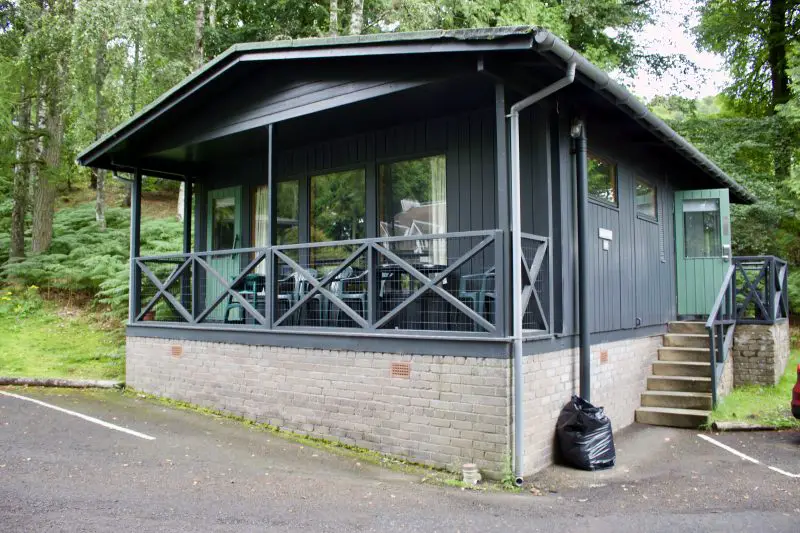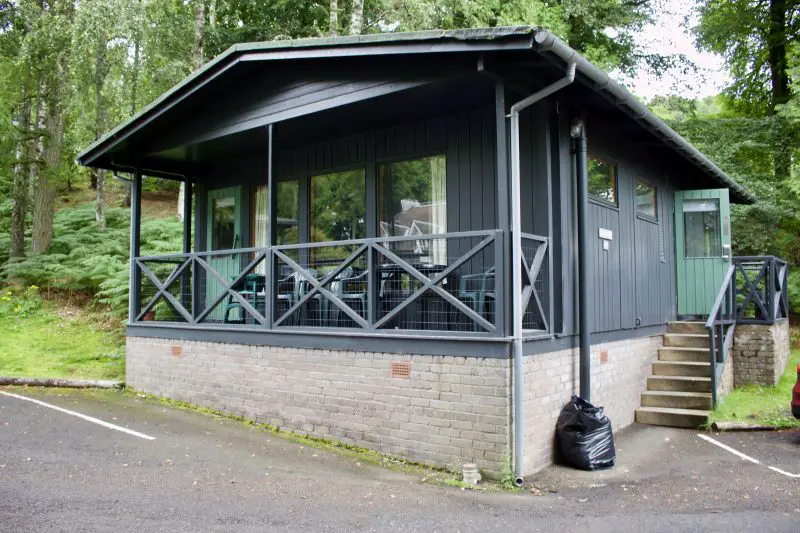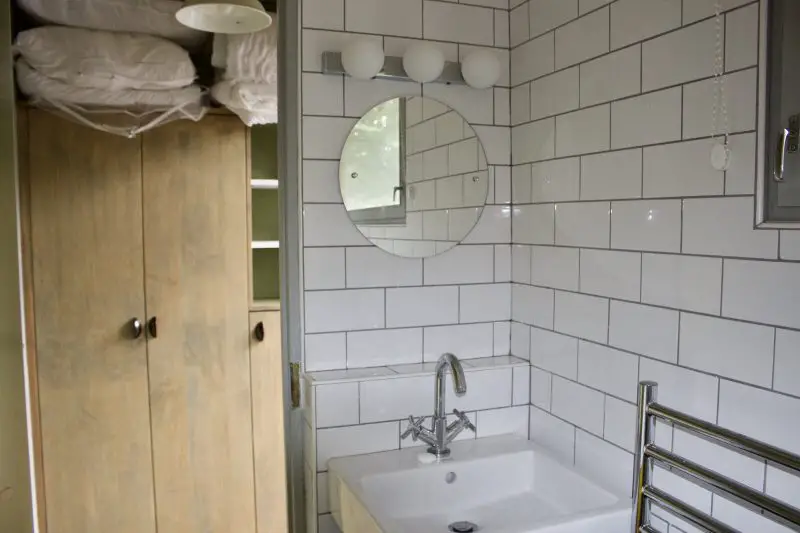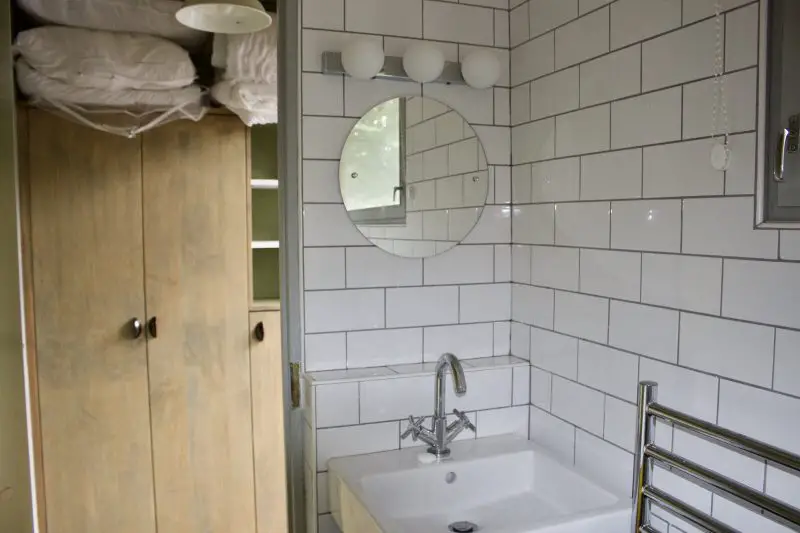 The cabin was well located, less than a 5 minutes walk to the main hotel. That was down quite a steep hill though so carrying a toddler back up it was an effort! Definitely worth bearing in mind if you have any mobility issues. We were about 2 minutes away from the playground which was convenient and 5 minutes from the pony rides. My toddler loved that she could see 'horseys' from our 'house'.

Free childcare at Crieff Hydro
One of the best things about Crieff Hydro is that it has FREE childcare. It's brilliant too. There is a small soft play area that is free and open all day. Next to the soft play is the child care facility, Big Country.
Safety and security
The reception is always staffed and to get in to Big Country you have to get past both a baby gate and a locked door that staff buzz to get through so it's very secure. They follow all the proper childcare ratios and on the wall they had staff experience and qualifications and they were extensively qualified.
They also run daycare there for staff and some of the local villagers. It speaks highly of a place when staff are happy to send their own children (unlike the nursery Lena normally goes to where a staff member crushed me by telling me she wouldn't send her kid there, cheers love). Most sessions the kids would come out with art work they had made and were very proud of.
One of the days Lena tripped and bumped her head (the kind of thing toddlers are forever doing), the staff called me straight away to let me know even though she was fine to stay which gave me confidence that they were being looked after well.
The sessions
They run three sessions a day 9.30am, 1.30pm and 6.30pm. Each session lasts three hours. You can let them know if you want to take them later than the start time and of course you can get them early, which we did a few times. Lena loved it there and she went three times over the 5 days that we were there. Arlo preferred to hang out with his mam and dad (we are THAT cool) so he only went the twice. On the website it specifies sessions by different age groups but that is for childcare ratios, they all actually go in together. This worked better for us as my kids like to go together. I doubt they would have gone to separate clubs.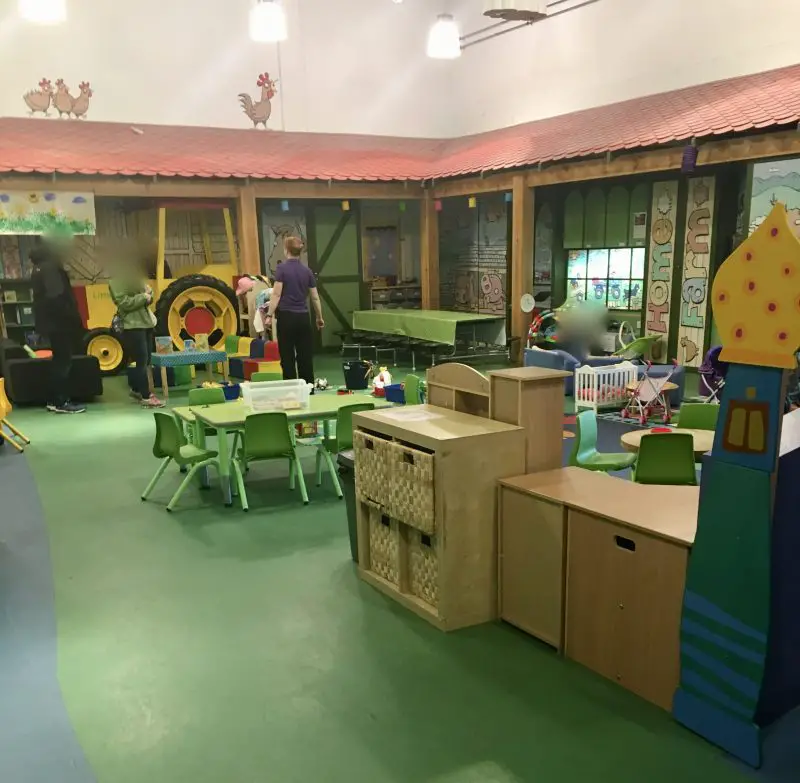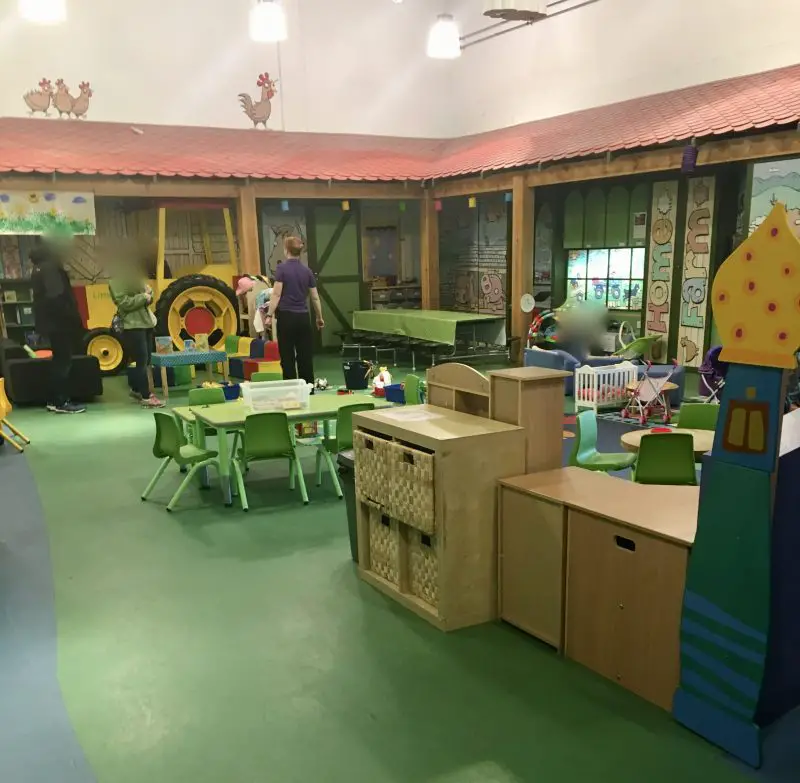 When we arrived at Crieff Hydro, the cabin wasn't ready for check in yet but the kids were restless after being in a car all day. We asked them what they wanted to do and they went straight to kids club. Papa Ginge and I were thrilled to be able to head to the bar and have a couple of bottles of our favourite beer, St Mungo. We were so happy to see the Glaswegian beer there as it's quite hard to get in England. We really needed a drink and relax after a 4 hour car journey with a 2-year-old who HATES the car with a vengeance. It was the first holiday we've had since having two kids that we got to have some child free time. It was precious.
I imagine if you have older kids the 6.30pm session would be great for allowing you to go out for a romantic dinner and drinks. It was a bit late for our kids though so we stuck to the day sessions. Lena tends to nap around lunchtime so she only did the 1.30pm session when we first arrived. Then, what we did was, go for breakfast on the morning, and then after a family breakfast we would drop her off for a morning session and then get her for a family lunch and take her back to the cabin for her afternoon nap (of which she did the entirety of them on my boobs).
When Arlo chose not to go it meant we could have some one on one 'big boy' time with him too which was nice, especially with the return to back to school looming.
We thought we would take advantage of the childcare and booked a session at the Victorian spa one morning. The session we chose was from 9-11am. Unfortunately kids club didn't open until 9.30am. The staff were great though and when I mentioned in passing we were off to the spa they took the kids in early for us so we could enjoy more of our down time. It's worth calling and asking them if you need the kids in early for something you have booked as they were very accommodating. I was really impressed with the childcare offer and I think it sets the hotel apart.
Victorian Spa at Crieff Hydro
We had a really lovely morning at the Victorian Spa. At only £10 for a two-hour session I felt it was good value for money. They don't seem to overbook it so we got to use the pool, sauna, steam room and Jacuzzi on our own at times.
The pool was a decent size and they had lovely showers. There was also complimentary robes, fruit, Scottish shortbread, teas/coffees and cold drinks. There was a good selection of magazines and papers to read while you reclined on one of the loungers.
It was bliss and I felt really relaxed. It was lovely to spend some one on one time relaxing with Papa Ginge. The fact that the childcare allowed us to do that was priceless. I would definitely go back to the spa if we visited again. It's worth mentioning that the treatments don't take place in the spa but the salon upstairs. I found that a bit odd but I couldn't afford a treatment anyway unfortunately.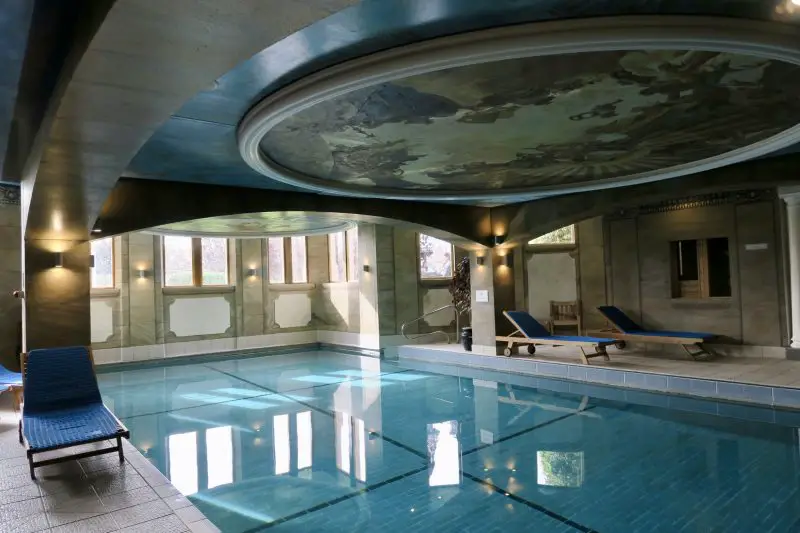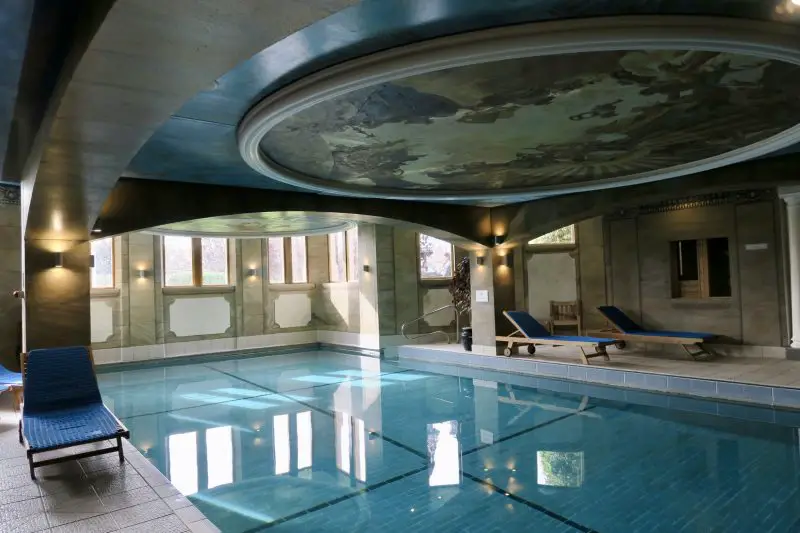 Restaurants/food at Crieff Hydro
Crieff Hydro has an impressive amount of eateries on site – so many that we didn't even get to try them all. Whilst we did take some food to the cabin to keep our costs down, we did treat ourselves to fair few meals out across our five days (so many that I had gained 3lbs by time we got back).
The Meikle
The Meikle is their fanciest restaurant and unfortunately we didn't get to eat there on an evening. We did however, eat breakfast there for three of the mornings. We had meant to make breakfasts at the cabin but we ran out of bread and there is no on site shop. Crieff village is nearby but we just couldn't be bothered to drive there if I'm honest. Plus, a buffet breakfast was a pretty good temptation not to.
For hotel guests, the breakfast is included in the room cost but self-catering guests do have to pay. They took a look at our kids and said 'nah, they are too little to pay for, just you adults pay' which was awesome. Especially considering it was the meal both of them ate the most at by far. They loved the breakfasts. Actually, it was our favourite too. We love a big breakfast. I think they liked the novelty of getting to go along the buffet and choose exactly what went on their plates. For the adults it was £12.99 so £25.98 for a family of four. For the amount we ate it was a bargain. I even tried haggis. It was quite nice actually.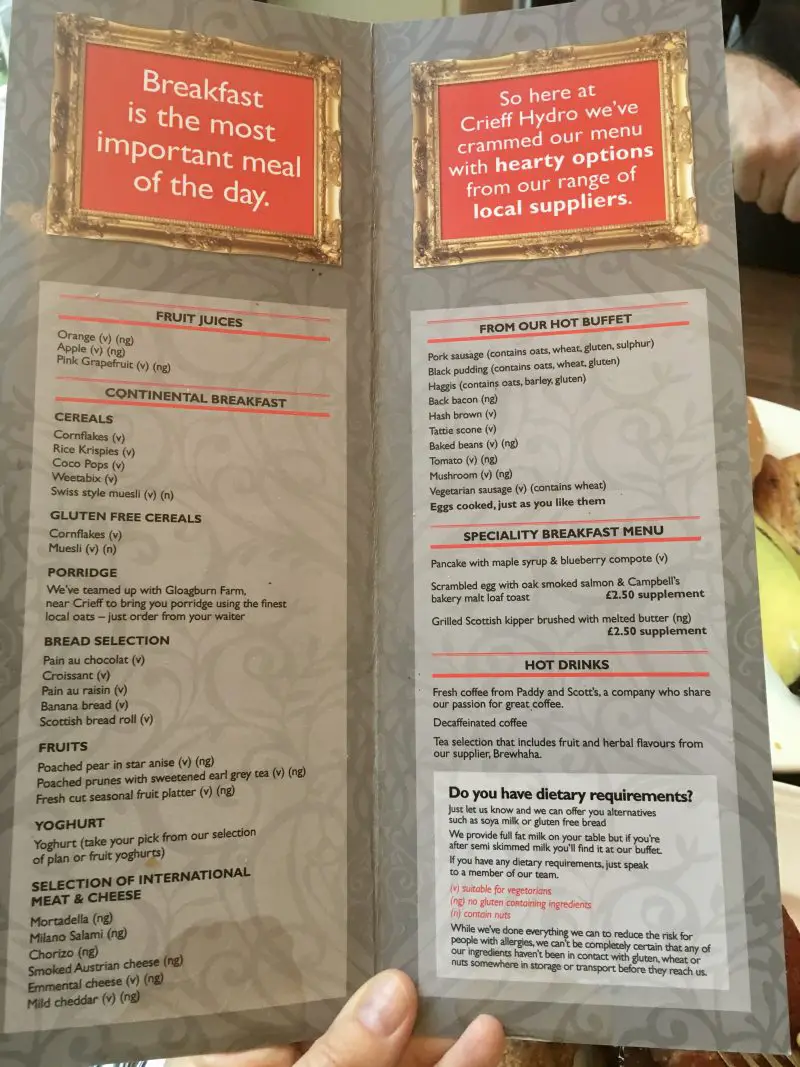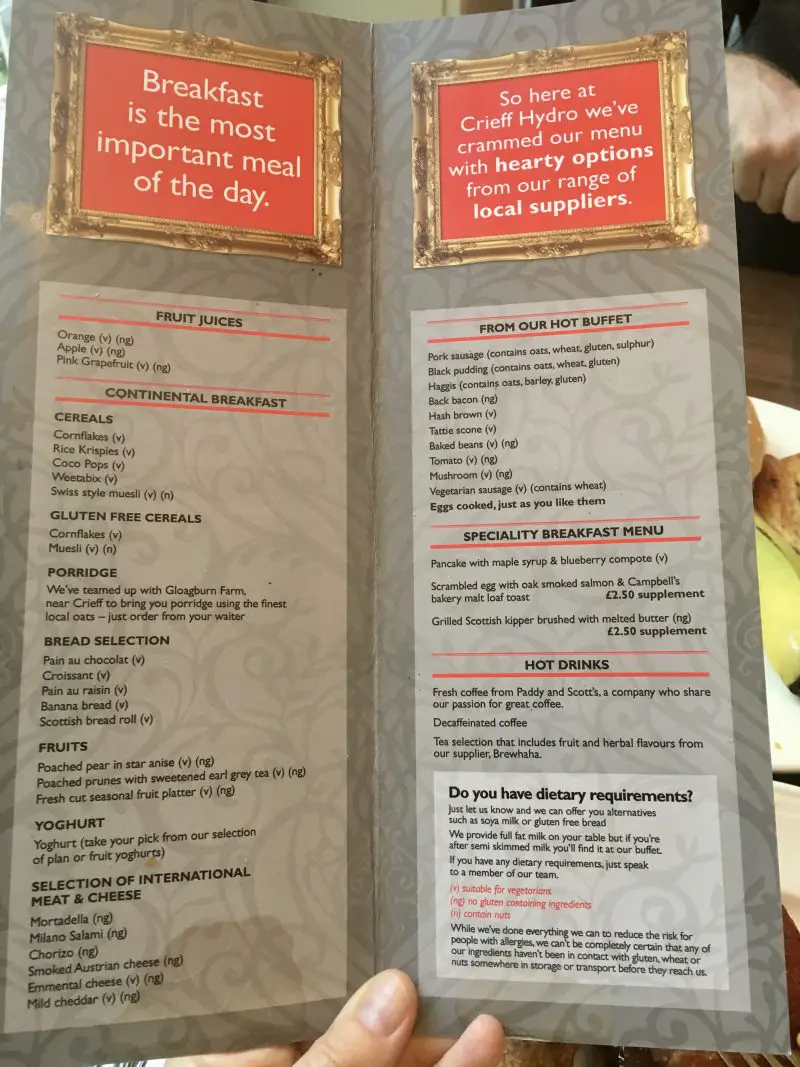 There was all your usual cooked breakfast fayre. Lots of pastries, like croissants and pain au chocolat. There was a cold meats and cheese section, yoghurts, cereals, breads, juices, teas and coffees. Then there were also items you could get to order, like delicious pancakes with maple syrup and blueberry compote that they happily adapted for the kids who are fussy about sauces. I bet there were even more options we didn't try too. We were always in a rush to get the food down our throats before Lena bored of sitting and ran into the kitchen (she actually did that one day, I was mortified, she's a hazard to herself and society).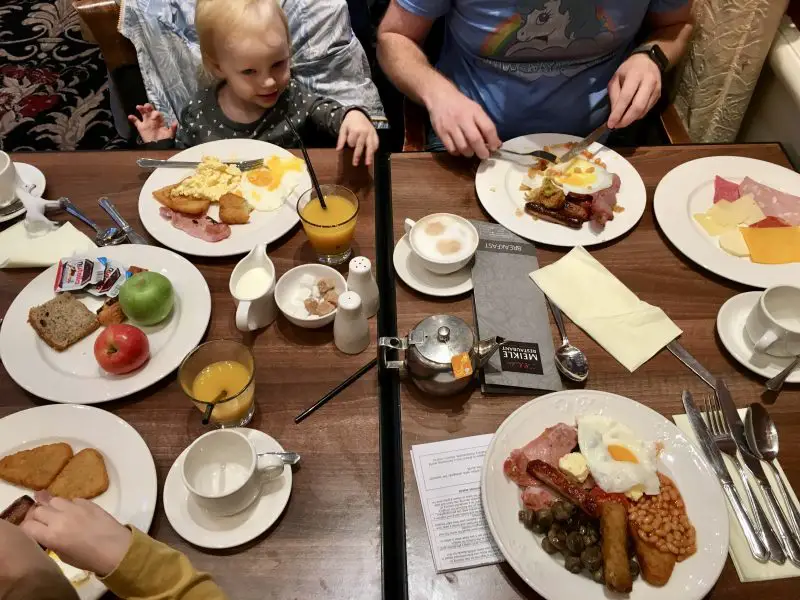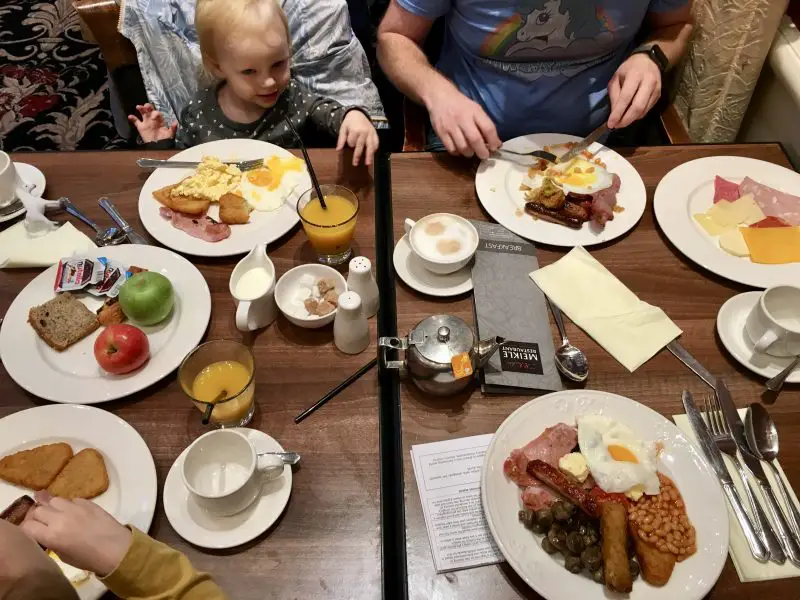 The brasserie
On our last evening we went to the brasserie for dinner. I had a late lunch (fell asleep with the toddler) and was quite full so I had a starter for my main – a French onion soup. While nice, it wasn't a patch on my favourite French onion soup that Café Rouge do.
Papa Ginge went for a burger and chips which he enjoyed and finished it off with the special dessert, recommended to us by our server, Patryk, of a white chocolate éclair. I tried some, it was really bloody good.
There were crayons and colouring sheets to help keep the kids entertained. Arlo had sausages, peas and chips. Lena is a small eater so she had a selection of bits from all our plates. Arlo needed a dairy free dessert and they were able to provide two different flavours of sorbet which he thoroughly enjoyed. I had a couple of mojitos which were good, well made mojitos and Papa Ginge had a couple of pints.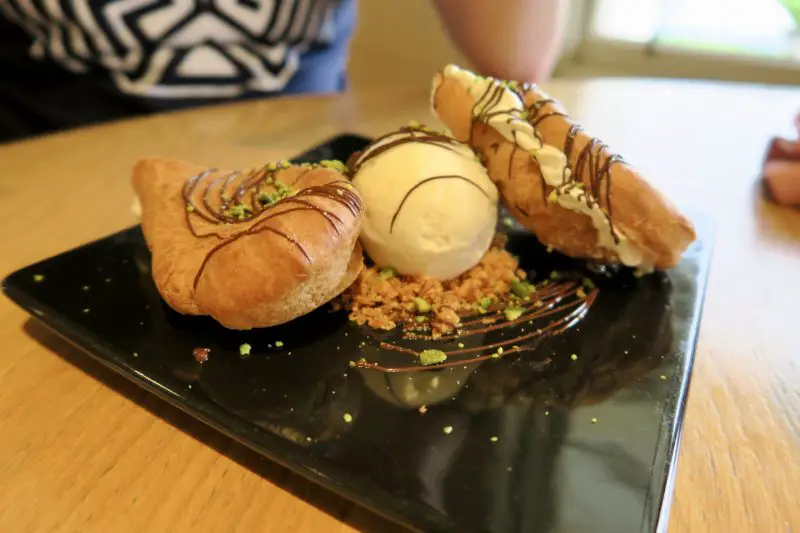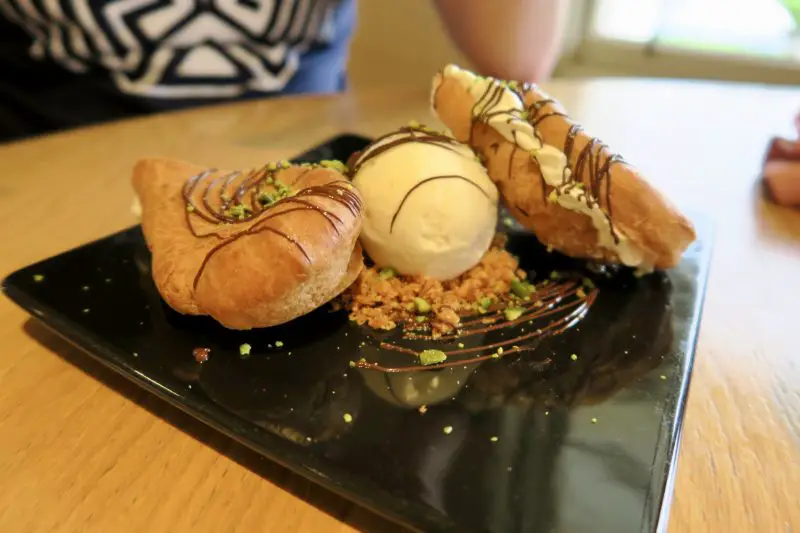 Piccolo
On our second night we were knackered (from activities) and couldn't face cajoling a toddler in a restaurant so we ordered a couple of takeaway pizzas from Piccolo. You order over the phone and then they are ready to collect in about ten minutes. We ordered a Margherita and vegetal and both were really good pizzas. I particularly enjoyed the vegetable one topped with capers and artichokes. An unusual combo on a veggie pizza but it worked well.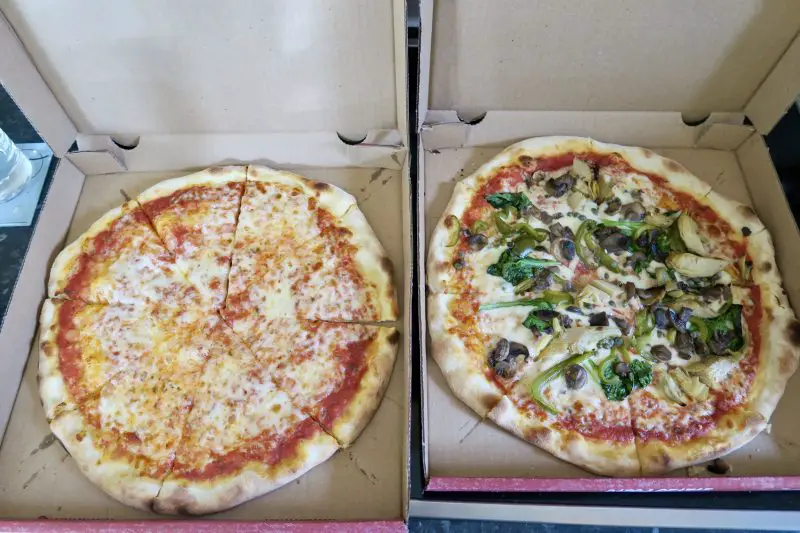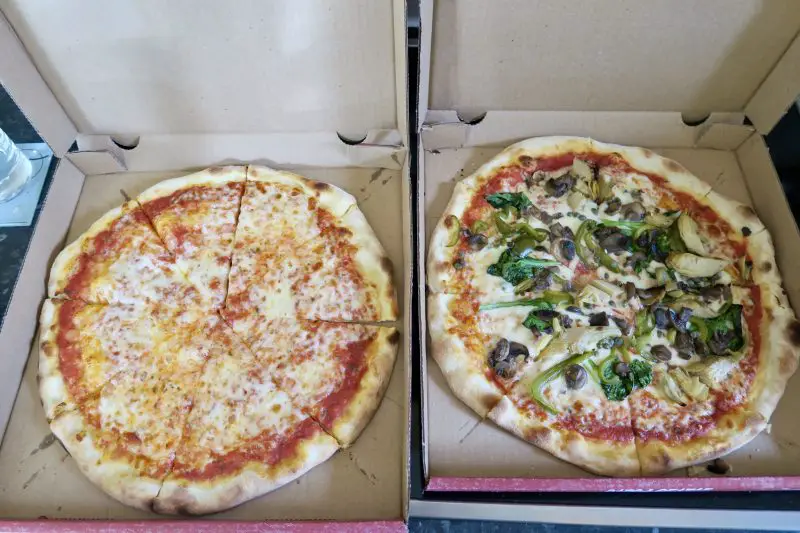 The Hub
On our first day we ate our tea in the Hub. The Hub is kind of like a sports café with flat screen TVs and it serves Brew Dog beers as well as all the usual teas and coffees. It's right next door to the childcare so we thought it would be a good idea to order food for us all and then eat ours while it cooled and then grab the kids from Big Country so they could come out and eat theirs straight away. It was a great plan as for once I actually got to eat my food hot! I ordered a mushroom and halloumi burger which was delicious.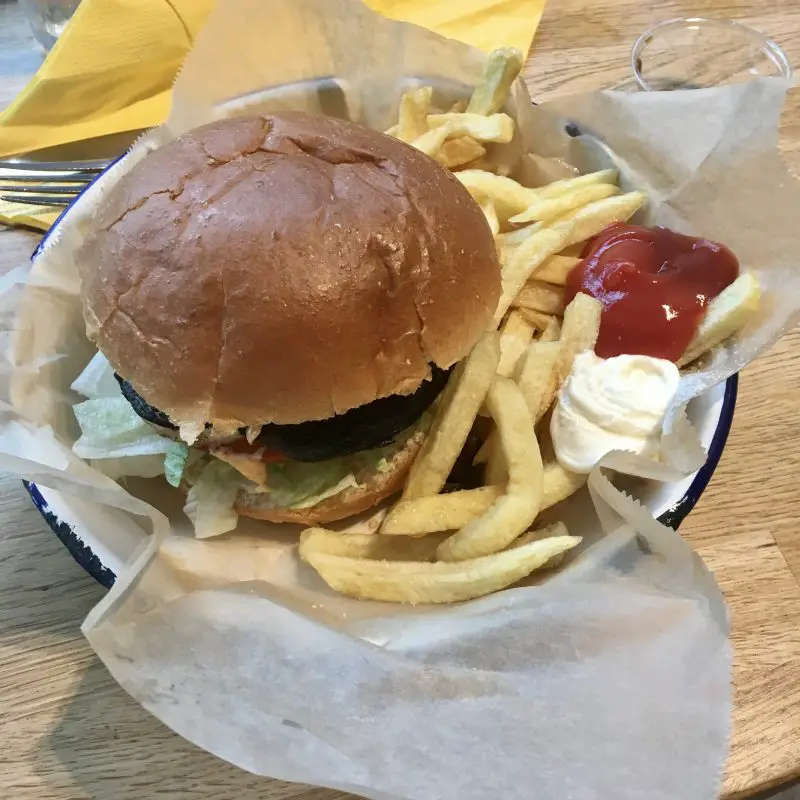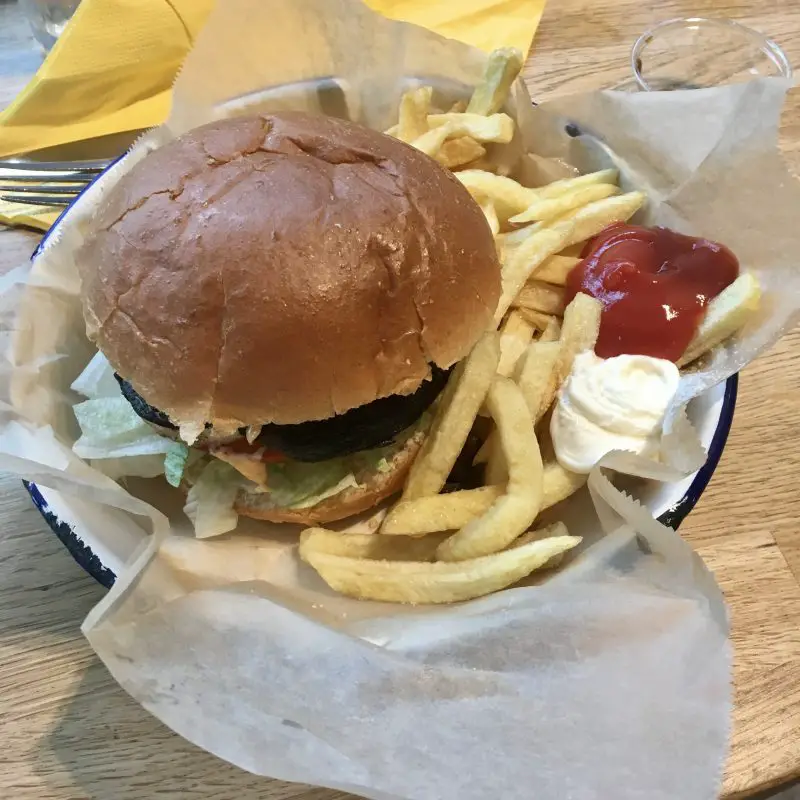 Papa Ginge had a burger which he did not rate well at all. We got the kids both frankfurters and chips which they both enjoyed. We also had a pot of tea and a latte and a millionaires shortbread biscuit.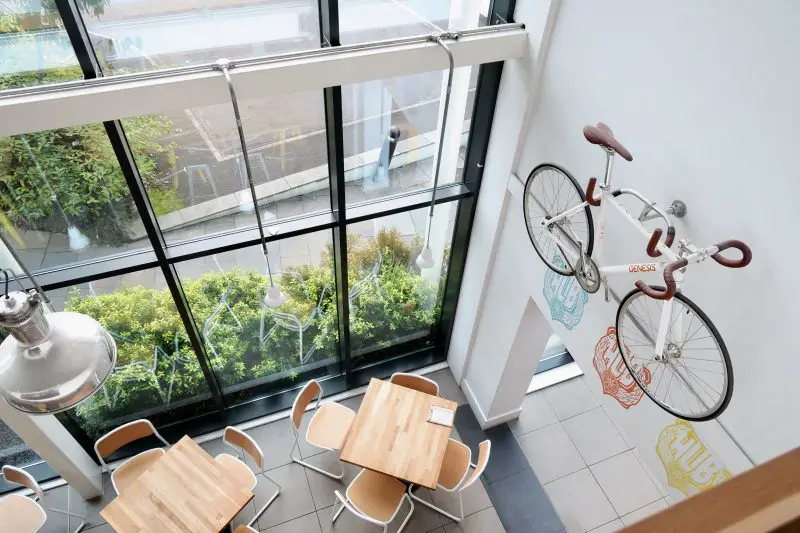 Activities at Crieff Hydro
I loved that Crieff Hydro has a daily sheet with all of the copious daily activities on. It told you the weather forecast, news and listed what times everything was on through the day and how much they cost. We would grab a sheet from reception and look over it at breakfast planning out our day.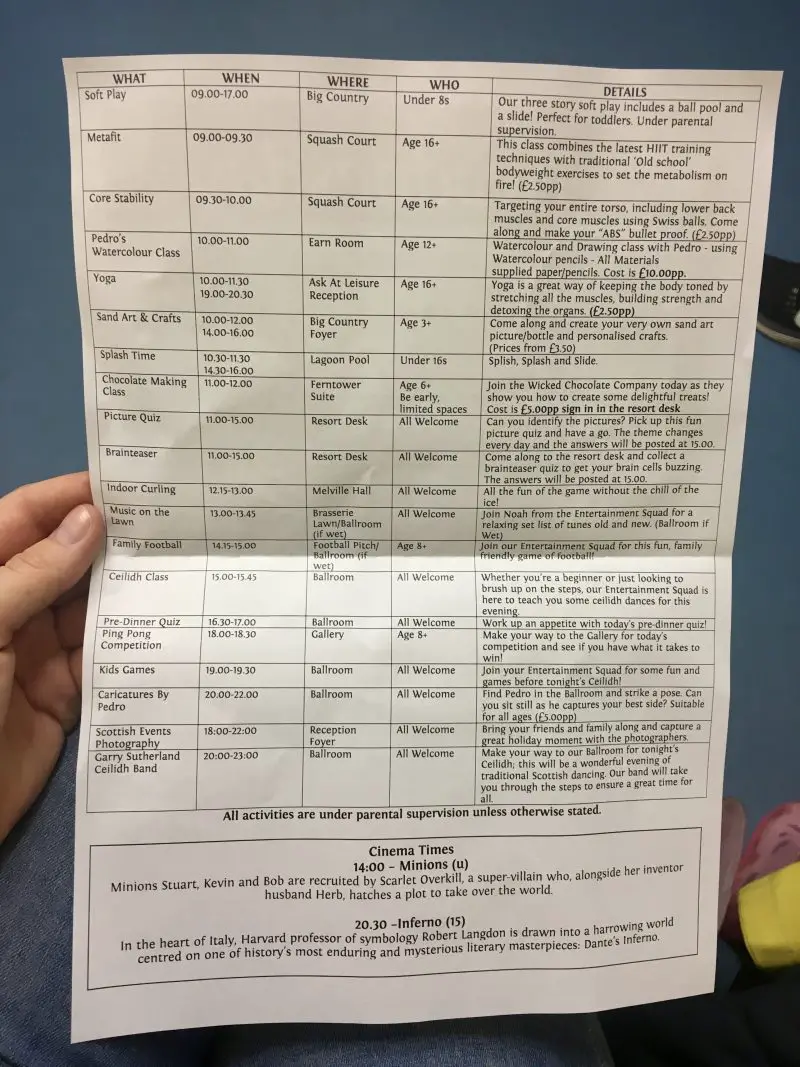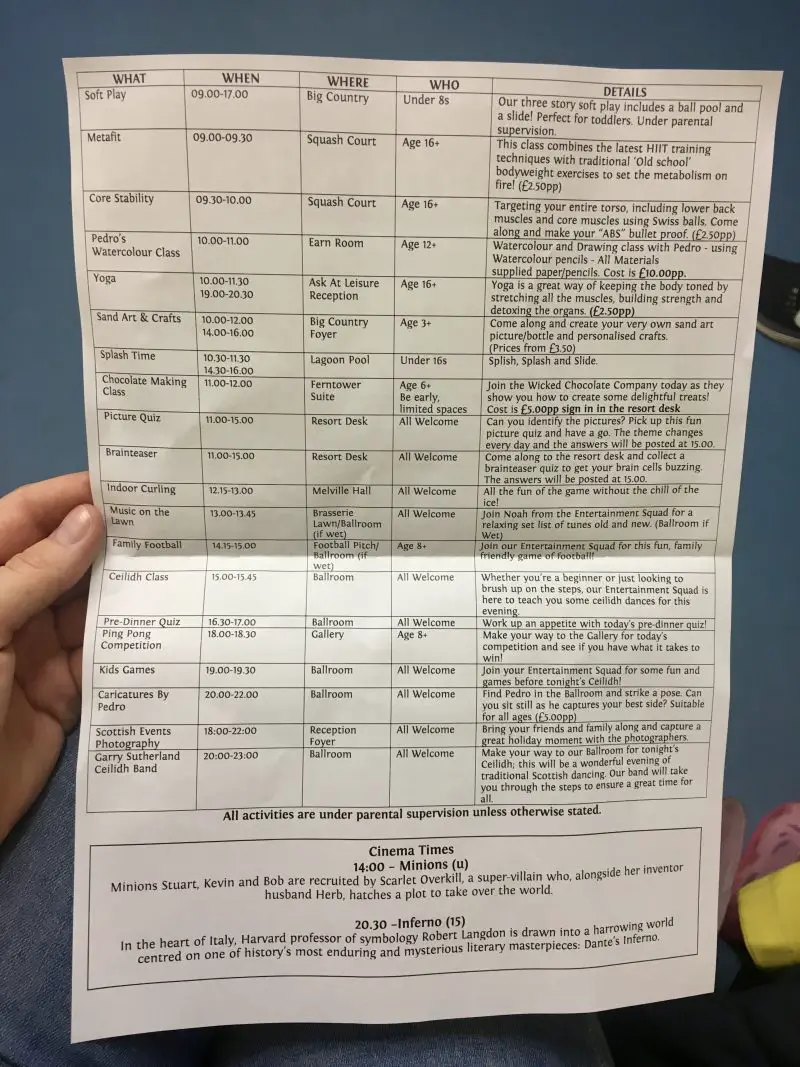 Unfortunately, a lot of the activities were too old for our kids. Lots of the adventure type activities started from either 6 or 8 plus. There was still plenty for us to do though. The kids both loved their Shetland pony ride for £5.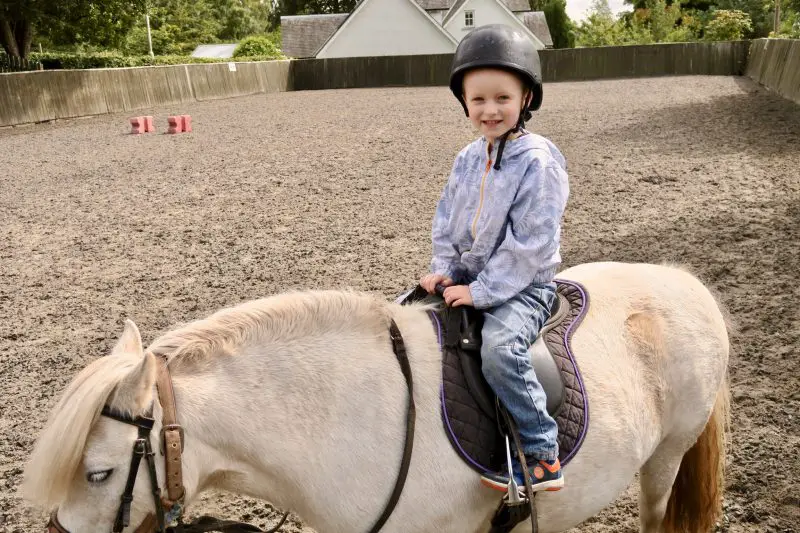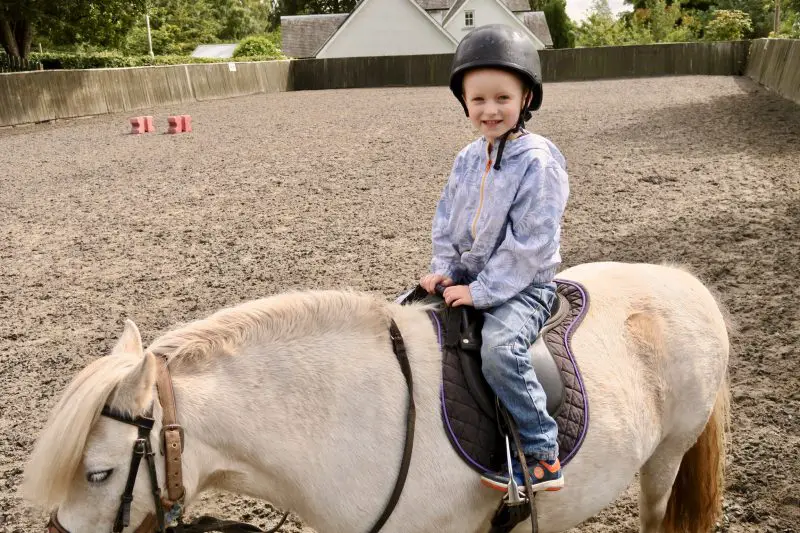 They also loved the playground. They enjoyed playing on the giant trampolines and on the bouncy castle. We had fun playing air hockey in the games room above the Hub which also has games consoles and table tennis.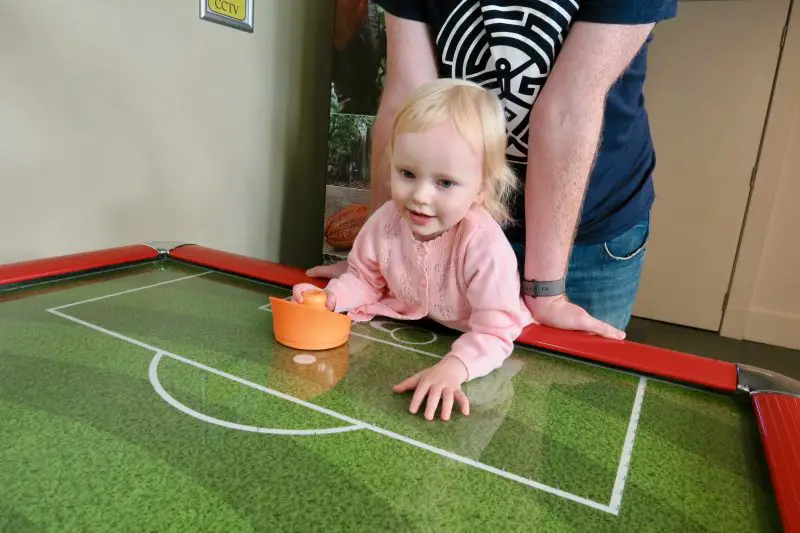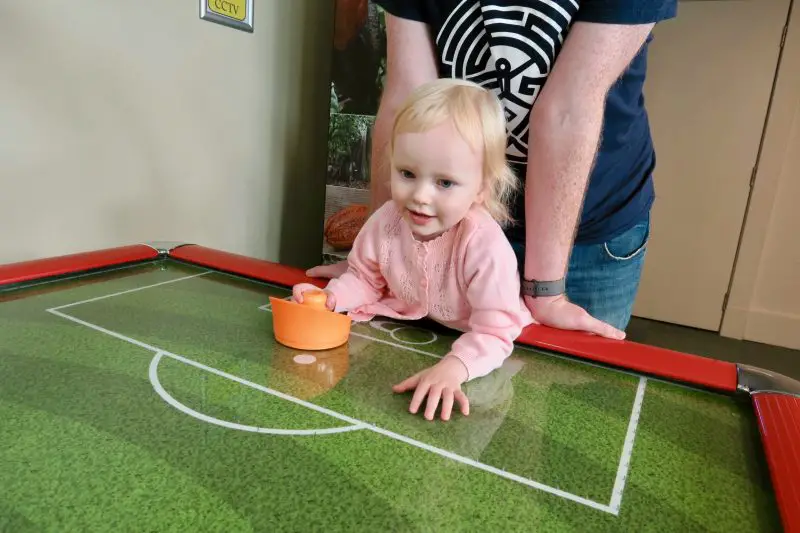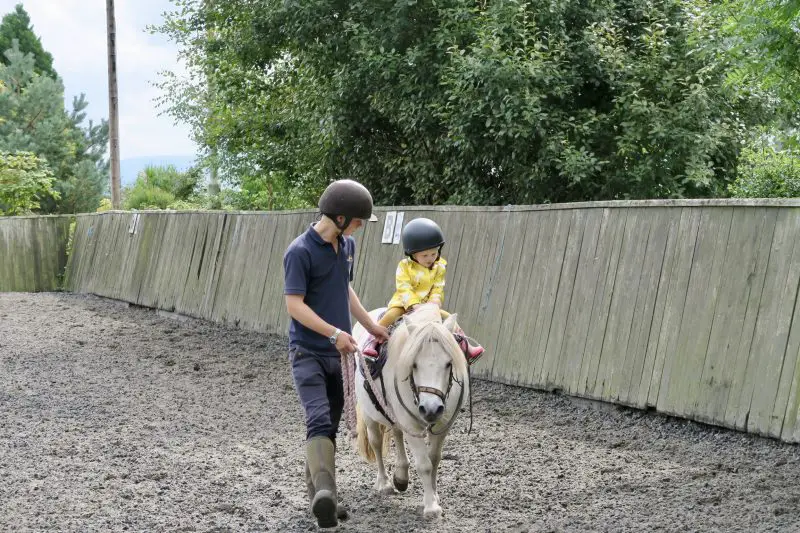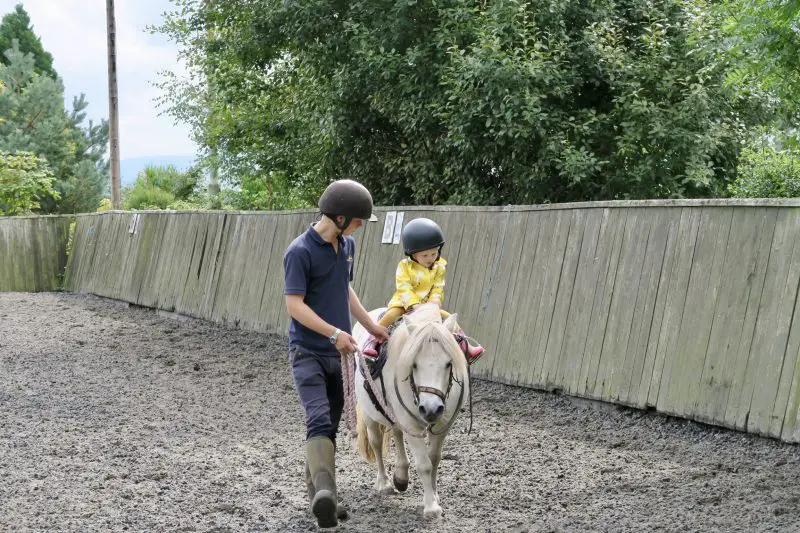 For us adults, I got to do a yoga class. Which incidentally, was the toughest yoga class that I've ever done. Don't exercise with the Scots – they are tough! It didn't help that I was wearing my Harry Potter PJ bottoms as I thought I had forgotten my yoga pants but it turns out I hadn't (face-palm). It was the first chance I had to go to a yoga class in over a year so a win again from the free childcare there.
While I did the yoga class, Papa Ginge had some one on one father son time with Arlo next door in the Winter Gardens café. They were waiting for me when I came out and my 5-year-old was very bemused that I had been 'laid down with lots of strangers in a room'.
We also went to a family movie quiz. Unfortunately, no one turned up but us so we told the host it didn't matter but he was insistent and an elderly couple relaxing nearby took pity on us and agreed to take part. Bless them, they hardly knew any films and couldn't hear the music sections but they were so sweet. The kids were chuffed to get a prize each when we won.
There is also a free cinema showing a film in the afternoon and another in the evening. They were decent, relatively new films too.
Swimming pool at Crieff Hydro
First off – the changing rooms. As a family going swimming you always hope for family changing rooms and I'm happy to report Crieff Hydro had several, complete with changing tables. One I saw even had a play pen, perfect for plonking down unruly crawlers while you get dressed.
The lockers were directly opposite the changing rooms so it was really easy to shove all our gear in the locker once changed. They were a big size and operated using a refundable pound coin.
Within the pool itself there is a main pool, a baby/kids pool and a Jacuzzi. The Jacuzzi was mostly covered up when we were there but kids aren't allowed in it anyway. The kids pool whilst small was the warmest pool I've ever been in. It felt like a bath. It was almost too warm for me.
They had a kids splash time where they inflated a big slide for the older kids to use which they seemed to be having fun with. Mine were both too little for it.
I've seen some people complain about the size of the pool. Whilst it was a lot smaller and less jazzy than somewhere like Center Parcs, it was perfectly adequate for us. I'd probably compare it to a local leisure centre type pool. It's also free of charge.
Crieff Hydro Vs Center Parcs
I've heard a lot of people say that Crieff Hydro is the Scottish Center Parcs. Others say it's not a patch on Center Parcs. I've been to Whinfell Center Parcs so I can compare it to that one.
Firstly I'll say that I think comparing it to Center Parcs is a little unfair as I don't really think they are that like for like. Crieff Hydro is primarily a hotel. It's nicely decorated and the customer service was excellent. I can't speak to the hotel rooms as we stayed in a cabin.
In terms of the self-catered accommodation, I think the lodge I stayed in at Center Parcs were nicer than the cozy cabin for 5 that we stayed at in Crieff Hydro. It felt cleaner and more modern. The quality of the furniture at Center Parcs – for example, beds and sofas etc were of a higher standard. That said, Crieff Hydro gave a lot of complementary products that Center Parcs don't. For example, White Company toiletries, a welcome hamper, logs for burning, teas, coffees etc.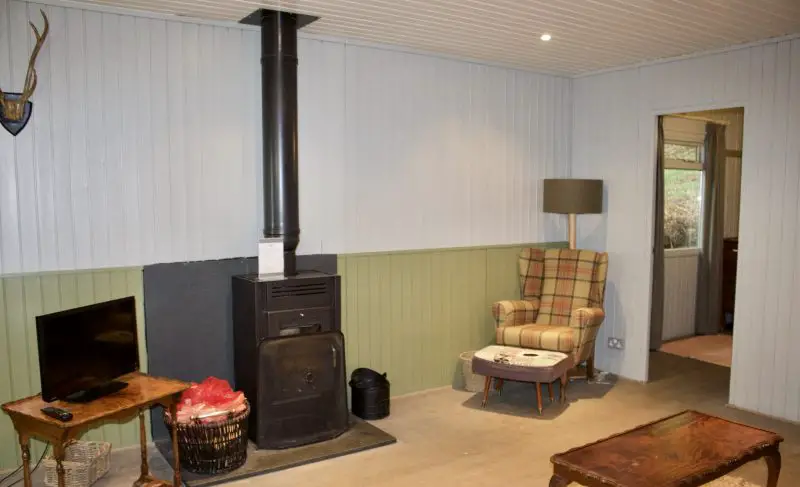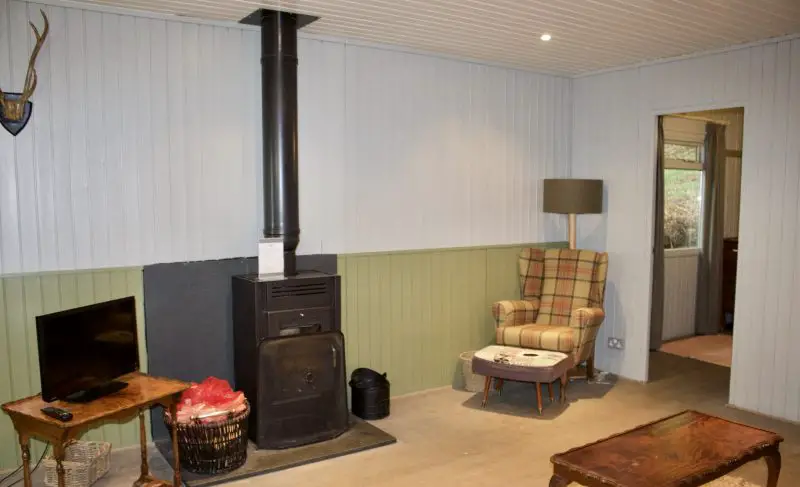 At Center Parcs I felt a little like once you were in the complex itself they tried to make money off you however possible. Everything seemed overpriced and I resented not being able to take advantage of the offers at the chain restaurants there that I would be able to anywhere else.
At Crieff Hydro, it felt like they were trying to help you out more. For example, when they didn't charge us for the kids' breakfasts. That made me feel like I was getting better value for money. Everyone loves a bargain.
For young kids like ours (5 and 2) there was a broader range of activities to do at Center Parcs.
Center Parcs Whinfell felt like a much bigger site (I'm not sure if that's true or not), certainly our walk from our lodge to the centre took a lot longer than the short walk from the cabins to the hotel at Crieff Hydro took.
I do think I slightly preferred the Center Parcs break but I did enjoy Crieff Hydro too. Being able to use the free childcare and have a break on our holiday for the first time in years was a real bonus for us. Crieff hydro felt a bit more chilled out and restful for me than Center Parcs.
I would say, don't go expecting Center Parcs as if you did, you may be a little disappointed but if your expectations are appropriate I'm sure you would have a lovely time.
Where could Crieff Hydro improve?
They have a decent on site shop but it largely sells gifts and toys. With it having self-catered accommodation it would be an improvement to see the shop selling milk, bread, eggs etc.
The cabins felt like they could be better cared for with a few cabinet doors wonky, frames broken etc. Papa Ginge said it seemed like they were going for shabby chic and went a bit too shabby. I should say though, we did choose the cheapest accommodation. Other more expensive options look more luxurious on the website.
I would also like to see a few more activities/classes for the baby/toddler/early years age range.
My kids love early evening entertainment (the garish sort that has characters and songs) and they missed something like that. Whilst there is evening entertainment, it's a bit later and not as child focussed.
Would I go to Crieff Hydro again?
I would. Papa Ginge says he wouldn't though. Arlo says he loved it. I would look for the special offers out of season as it can be really good value for money then. It might be somewhere we go back to in a few years when the children are old enough to make the most of it. I imagine it would be nice to go with extended family and for a special celebration. If you are the kind of person who works better with visuals, then we made a family vlog of our trip that you can watch below:
You can book with Crieff Hydro here.
If you liked this post you might also like:
If you have enjoyed this post or found it useful, here are some quick and easy ways that you can support Nomipalony or say thanks:
Share this post with your friends  
Pop over to my Amazon Storefront to see what products I have been buying and loving from there recently, including my health and fitness products list.
Sign up to my mailing list 
Women can join my feminist Facebook group – the Nomipalony Freehouse

Disclaimer: We paid for our trip to Crieff Hydro. For more details on my disclosure policy, please see my about page.