We just had THE best weekend at Electric Fields Festival 2018. So much so that I just had to write a blog post about it in addition to the vlog I went there to make (if you prefer videos you can see the full vlog at the end of this post). So few people in the North East know about this absolutely gem of a festival! At Drumlanrig Castle in Dumfries and Galloway, it's only 2.5 hours from us and is ideal for families so I feel obliged to do my little bit to spread the word about it (although half tempted to keep it a secret too!). So brace yourself for my Electric Fields Festival 2018 – family review.
What was there for kids at Electric Fields Festival 2018?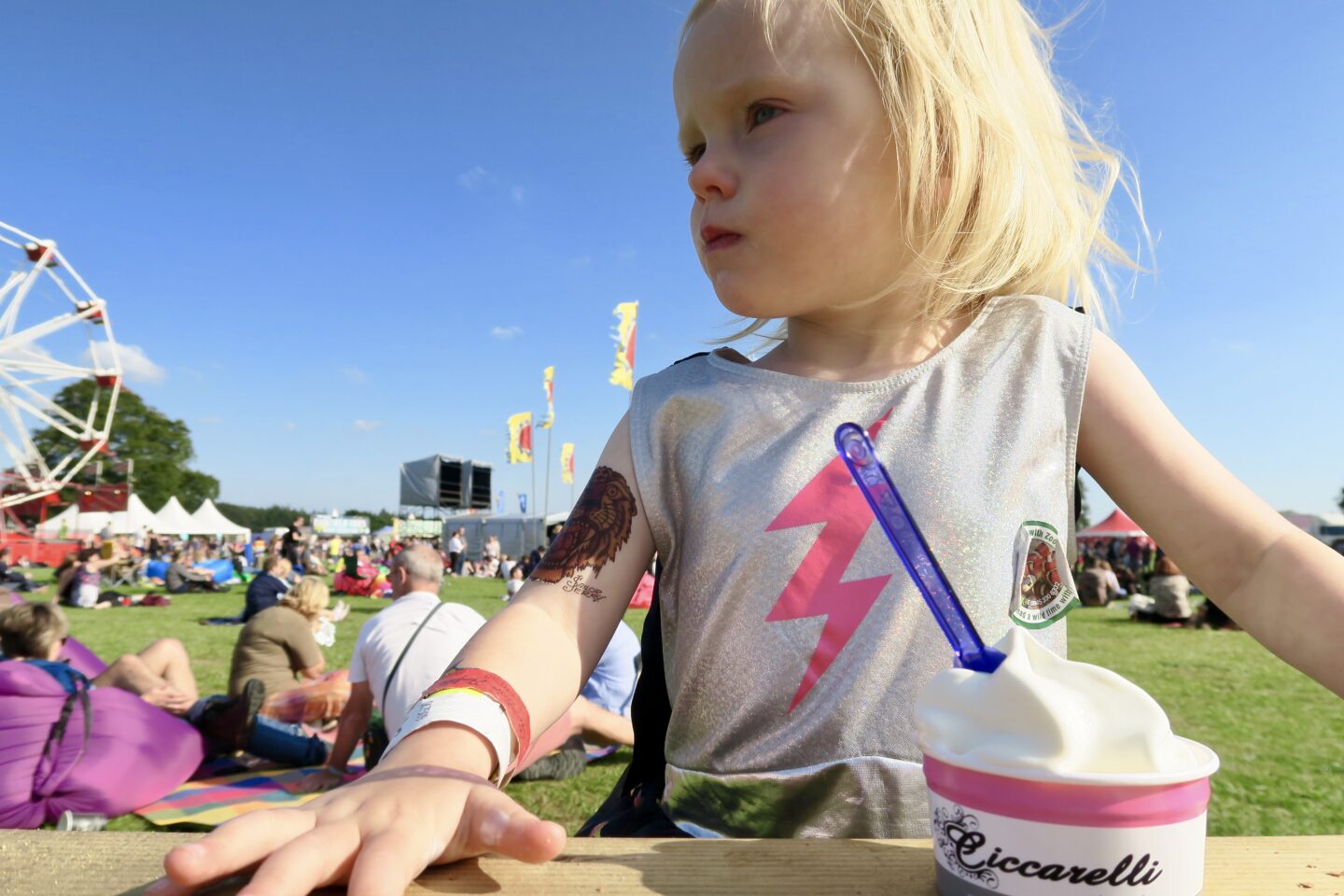 We had previously done small scale day music festivals with the children, like Summertyne Americana Fest in Newcastle but this would be our first proper music festival all weekend and I was hesitant. I spent a lot of time researching which festival should be our first family camping festival and chose Electric Fields out of a shortlist of dozens for reasons I highlighted in this post.
One of the things I was most worried about was that I wouldn't be able to watch the bands I really wanted to see because the kids would whine or complain, or need the toilet etc. I needn't have worried at all as the set up at Electric Fields is such that you could easily stand to the side a little, having a great view of the stage and still be amongst it whilst simultaneously allowing the children to run around and play freely.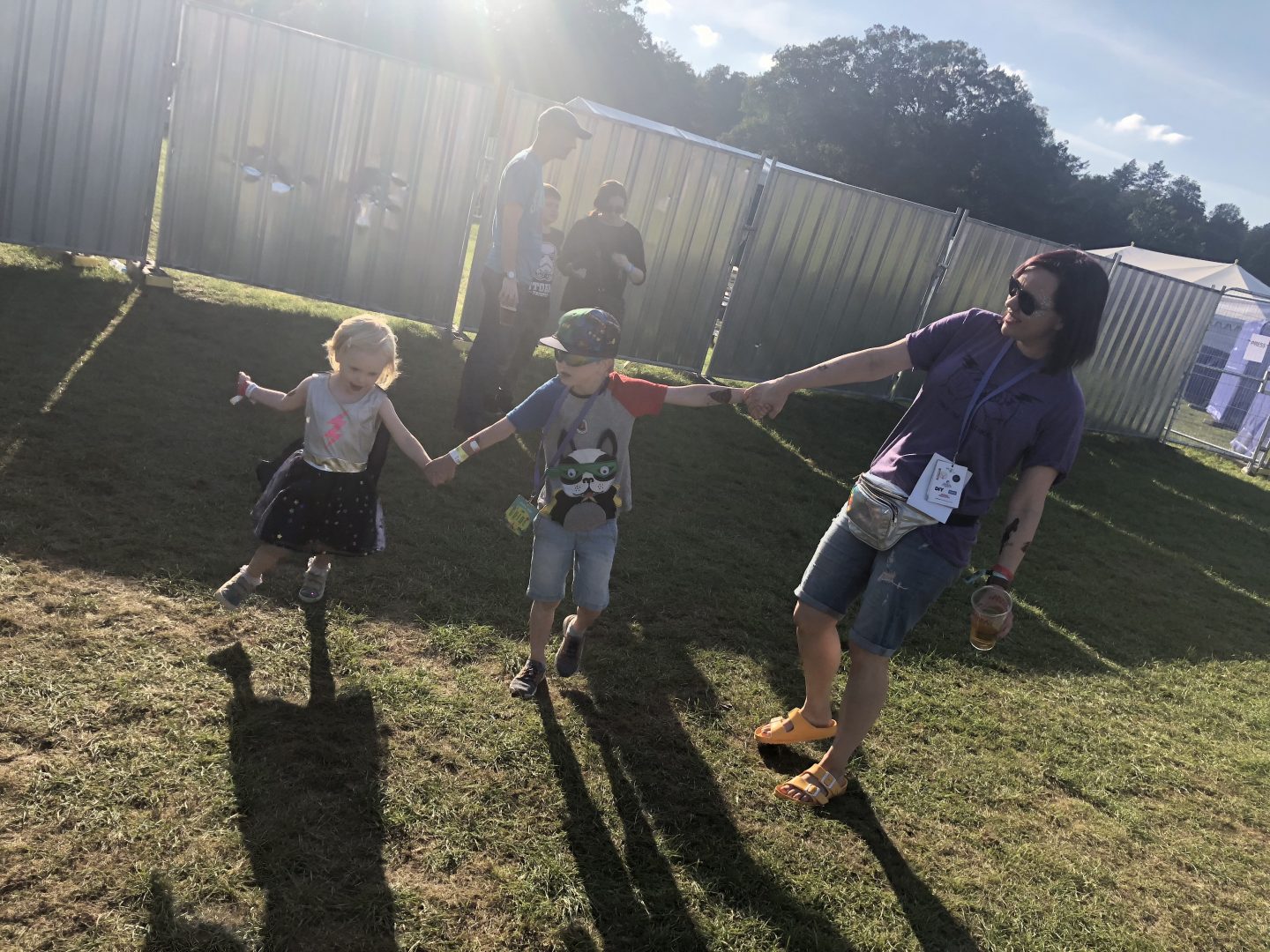 In fact, the security staff from FGH were so lush, my 3 year old took a real shine to Fani (not sure on the spelling as I couldn't hear well over the music) and especially Megan. When I was watching the bands Lena kept running over to Megan and spent way too much time in Megan's arms on Saturday night. I couldn't prise her away. Megan kept reassuring us that she didn't mind but I kept worrying she was getting in her way. You know when staff are lovely to your kids and it just makes an event for you? It was that. It wasn't just the security staff either. Lena fell head over heels in love with the Press Manager Jenn (can't blame her, I've got a girl crush on her too, she's a badass) and asked to see her any opportunity she got all weekend. Jenn even took the kids backstage for the Horrors! Arlo was so excited to tell his daddy all about it.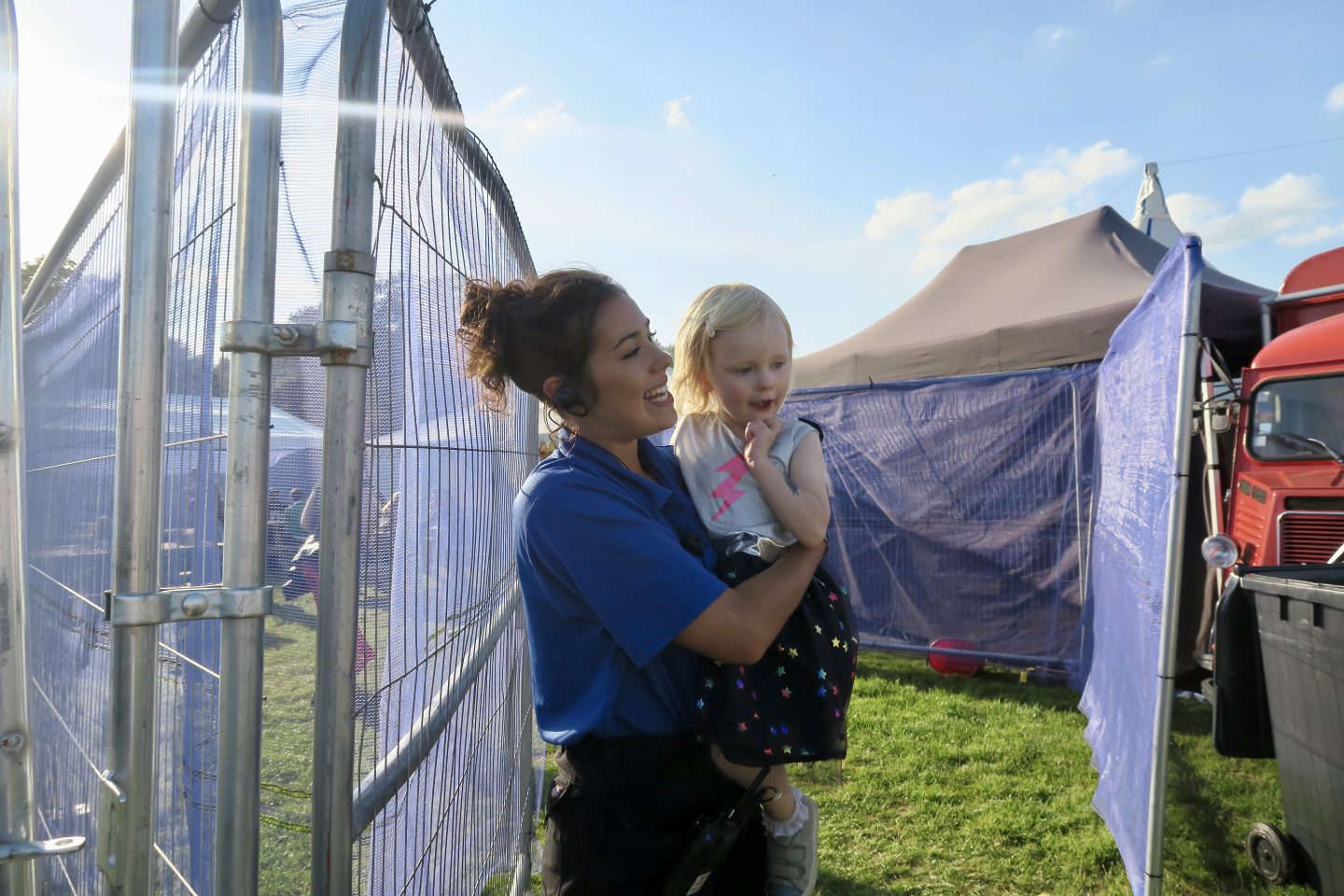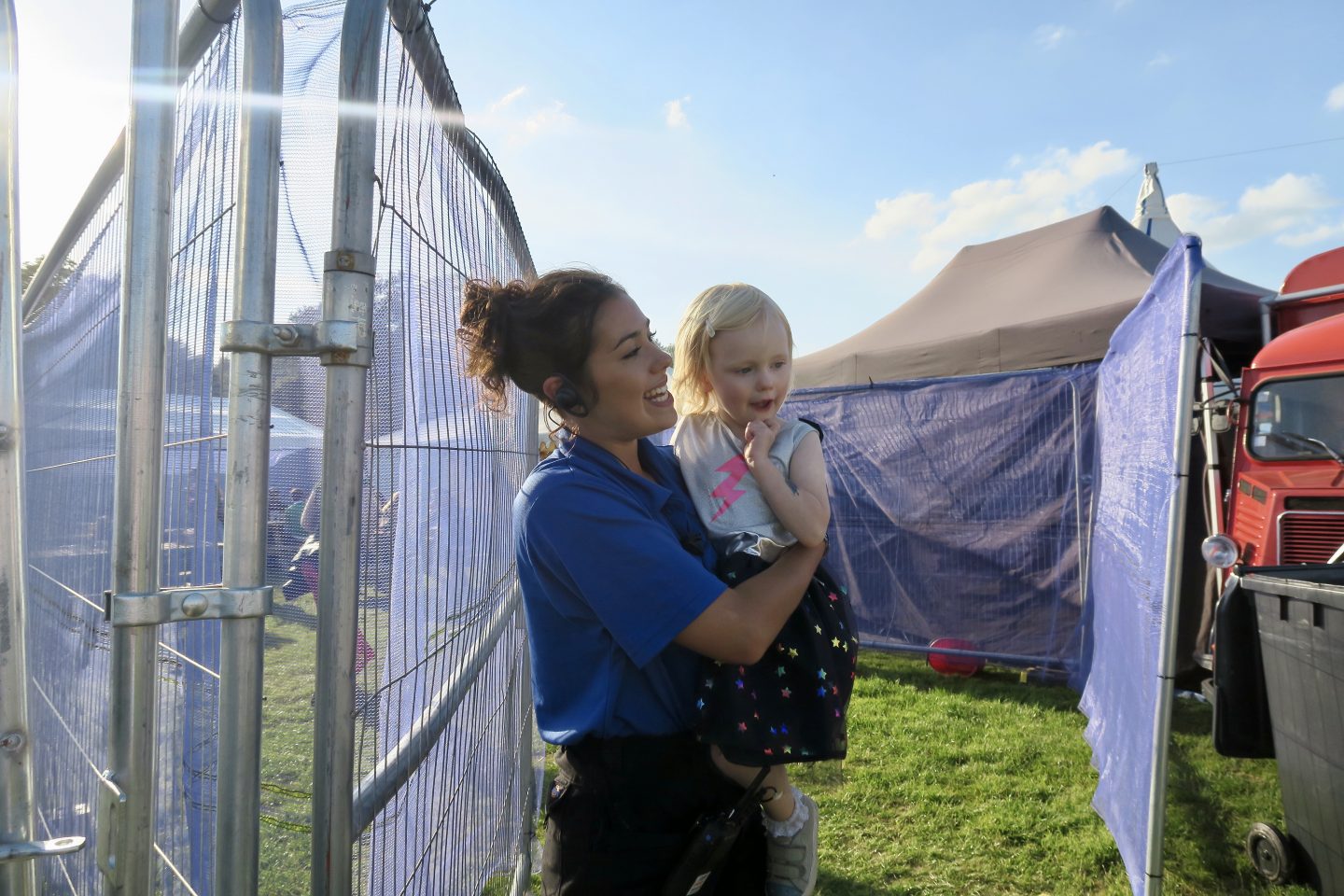 Even the regular punters were all lush though. I've always found the Scots to be the best kind of people – generous in both time and kindness. It's one of the reasons we try to holiday north once a year (like this trip to Crieff Hydro). Everyone interacted really positively with the children and us. It made me want to move there if I'm honest. The kindest people, with the best craic. I still assert Newcastle should have gone North in that English Scottish split.
We worried about how safe it would be for the kids with drunk revellers falling around. I felt like the kids were safe all weekend though. There was only one point that I had to remove them from a situation when we were too far in the crowd at the mainstage on Saturday night where it was a bit raucous for little people to be running around so we simply moved out a little bit to the edges. It was no problem.
Our Kids Electric – the kids area at Electric Fields Festival 2018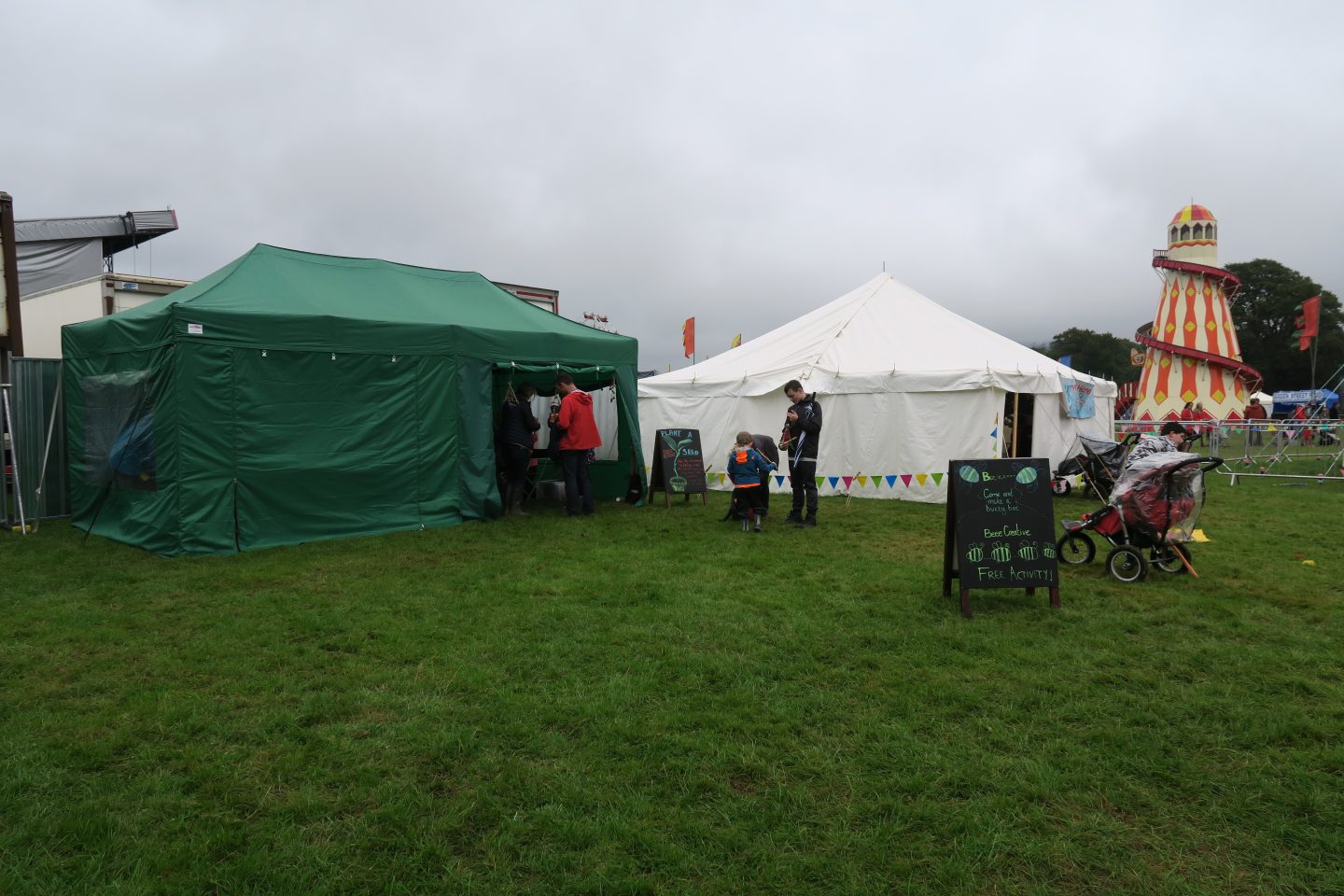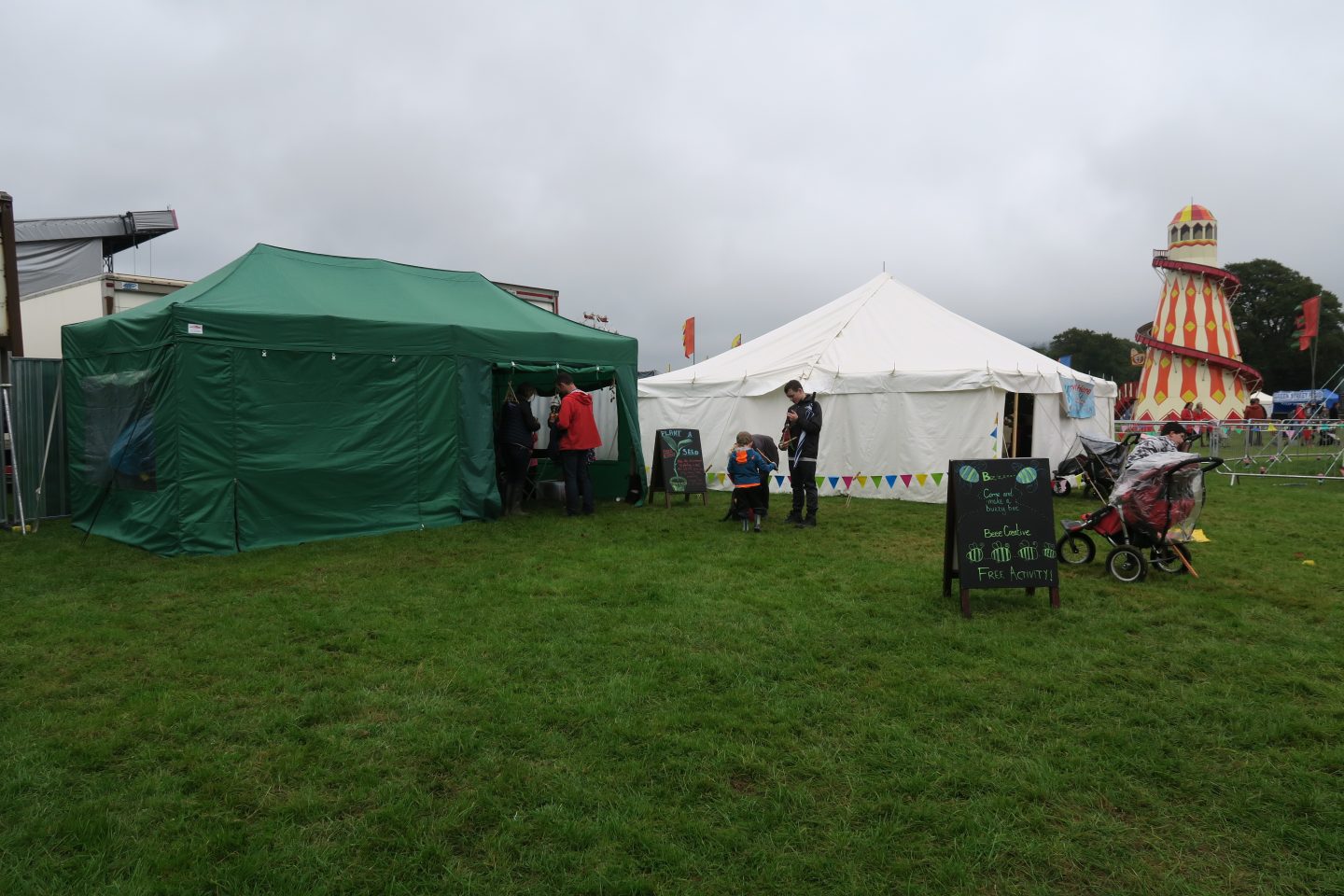 One of the reasons I was drawn to Electric Fields was the dedicated kids area, Our Kids Electric. There were two small tents (which actually could have done with being bigger at times they were so popular). In one of the tents, there were shows and discos. Whilst the other had longer displays on like Zoo Lab and Glasgow Science Centre presents Bodyworks on tour fitlab exhibits.
The kids absolutely loved daffy Dill magic show with her bubbles. Lena thought it was the best thing ever that she got to go inside a giant bubble. We all had fun dancing at the kids discos at various points over the weekend.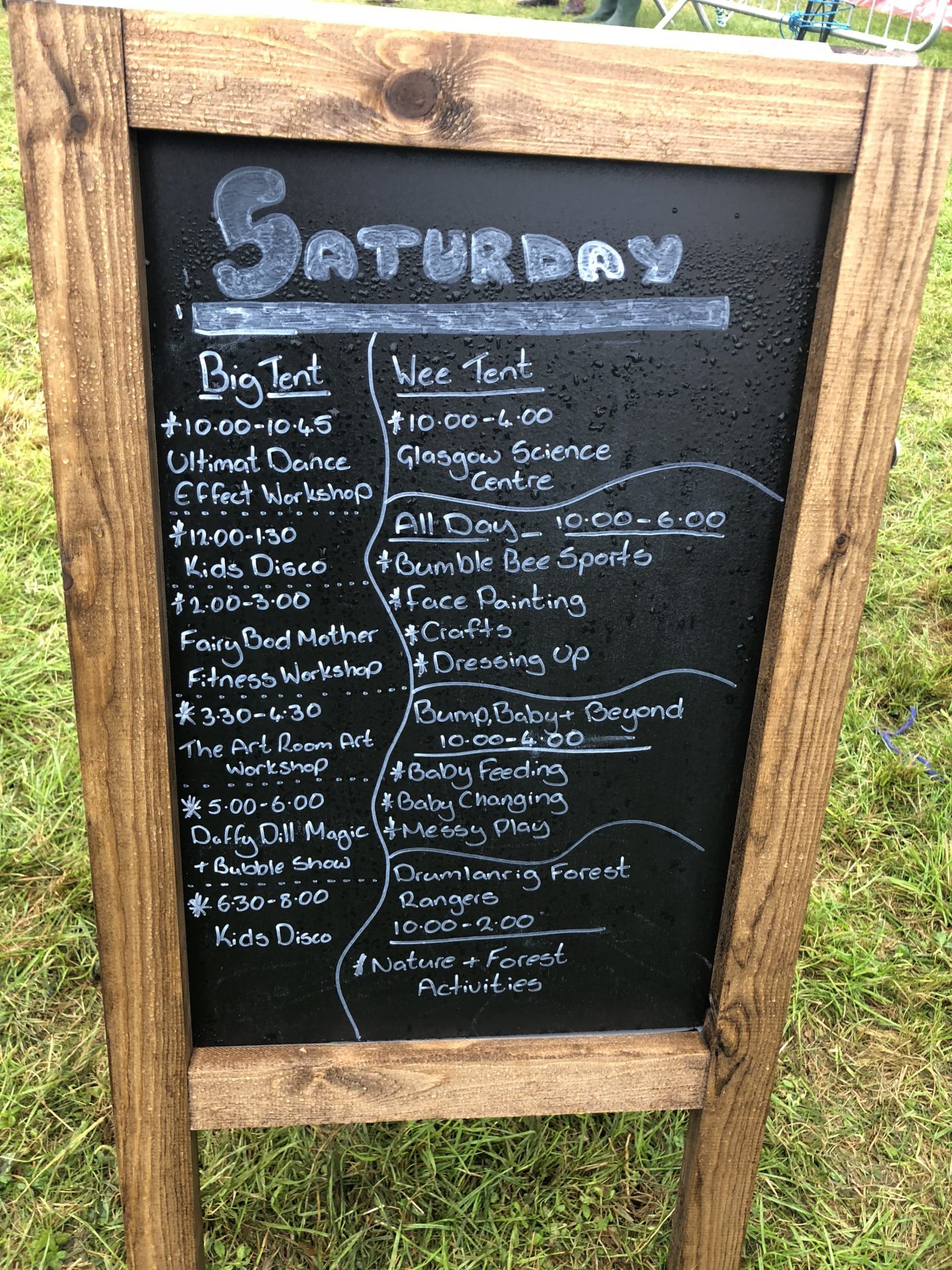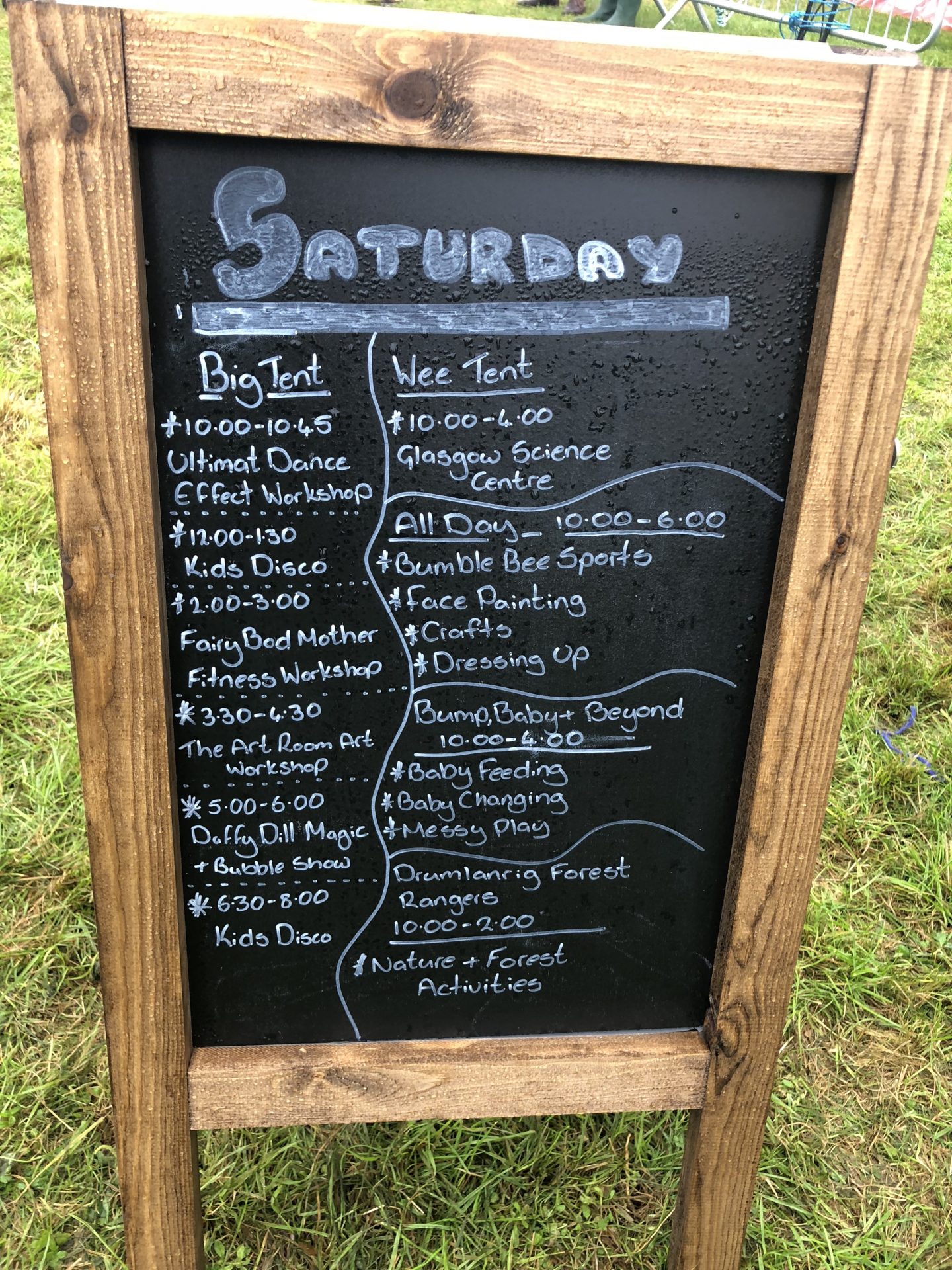 We all had a lot of fun and laughs at Glasgow Science Centre presents Bodyworks on tour fitlab exhibits. The 'stations' they had set up in there were both interesting and fun. The kids both loved this pulley game where they had to try and dodge holes to get a puck through the 'goal'. I personally liked challenging Papa Ginge – I beat him at the flexibility challenge, he couldn't even reach the chart to score us whilst I scored 'amazing' (always knew it). I think I need to get him started on yoga. He annihilated me on the grip strength score where I was exceptionally weak!
The kids both loved the sports area where they got to play basketball, football and archery. They had kids sized goals, basketball hoops and archery equipment so the kids could give it a really good go. It really bolstered Arlo's confidence that he was able to score several 'hoops' in basketball. I must say, the staff from Bumble Bee Sports leading these sessions were brilliant, really engaging with the kids.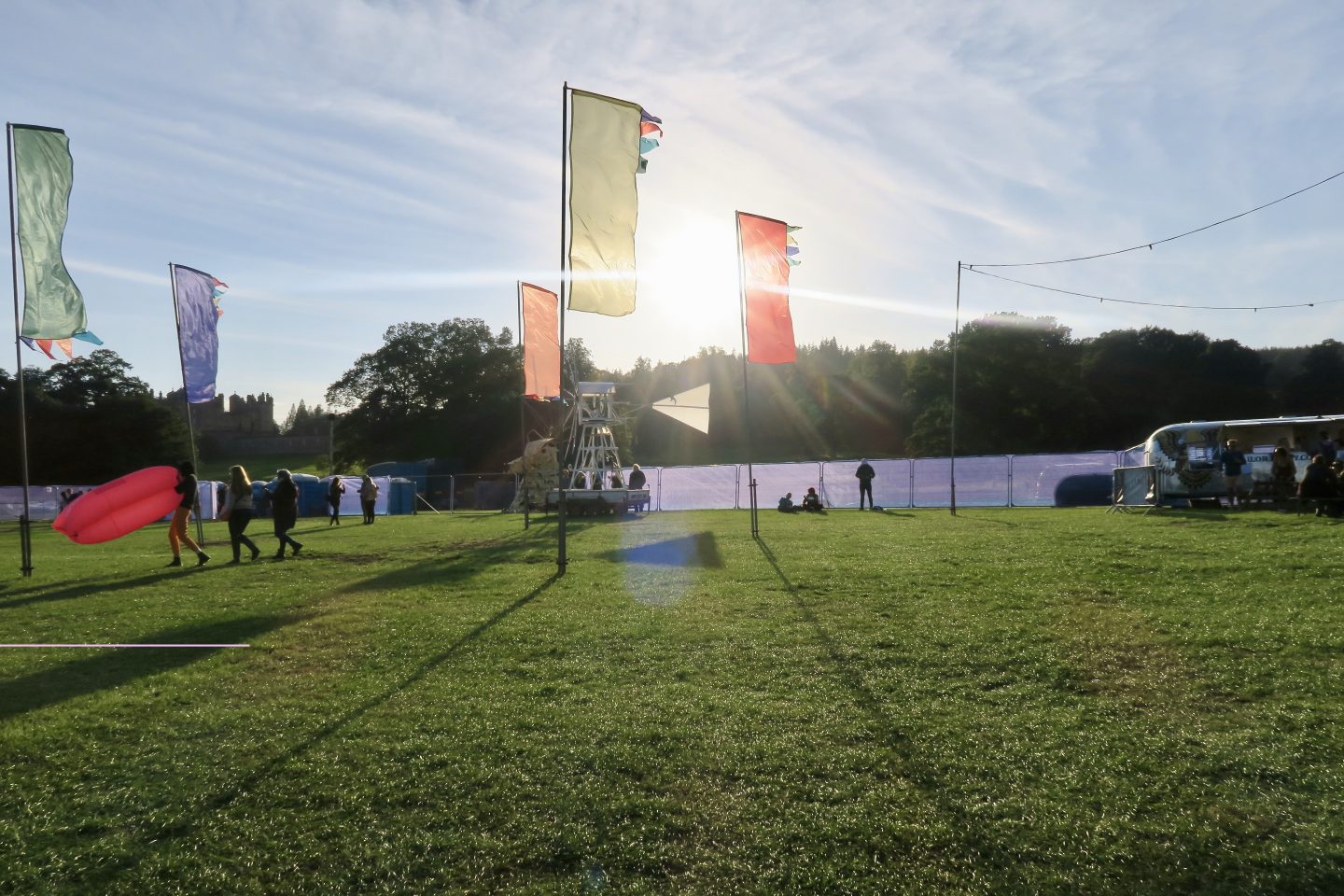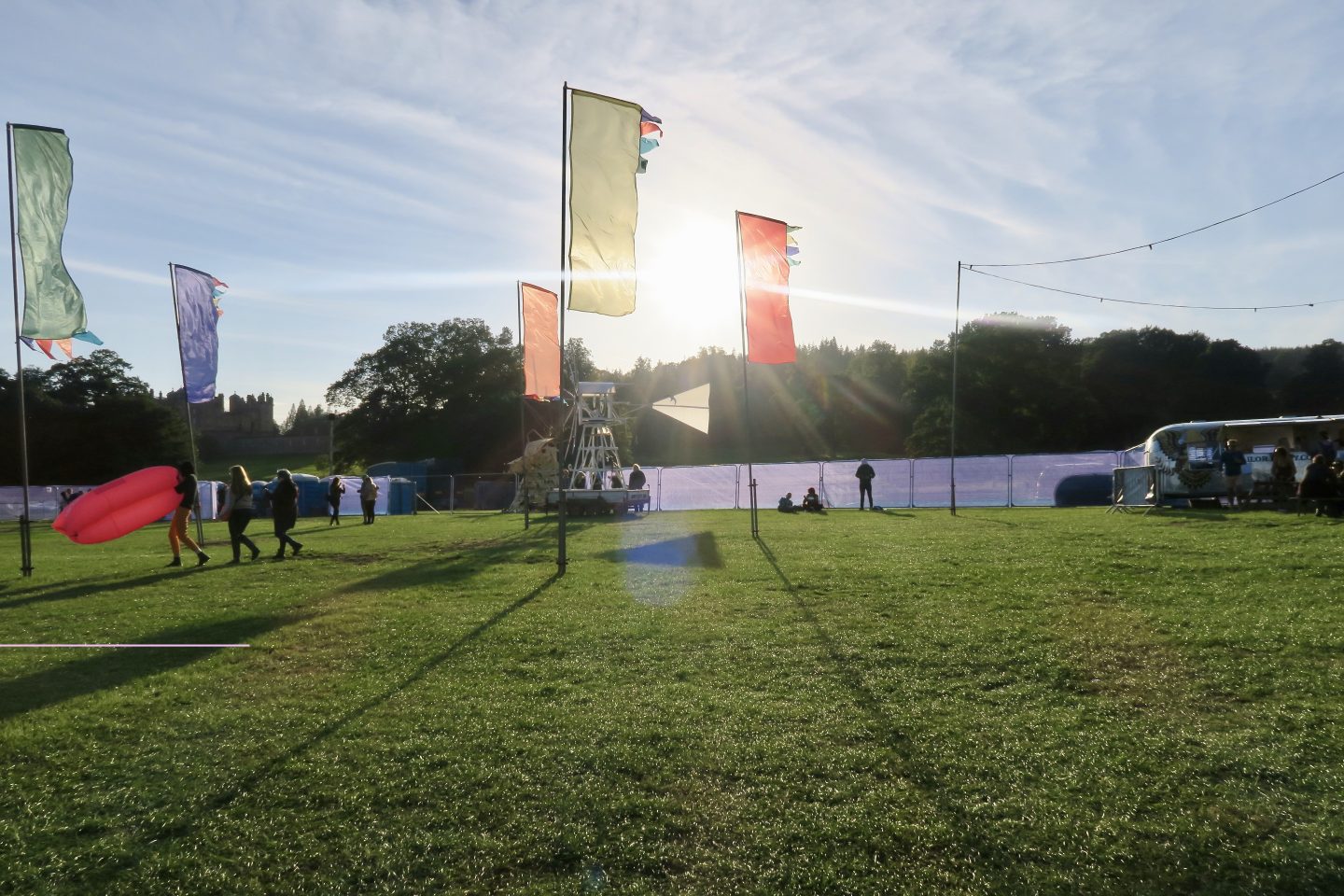 For the littlest of littles there was a baby tent with changing mats and products, baby sensory equipment and comfortable chairs. They had wrist bands that you could write your phone number on and put on your kids in case they got lost. There was also free fruit and refreshments, like free tea and coffee for the parents. I went in there twice for a cup of tea and some respite and it was a little haven in the chaos.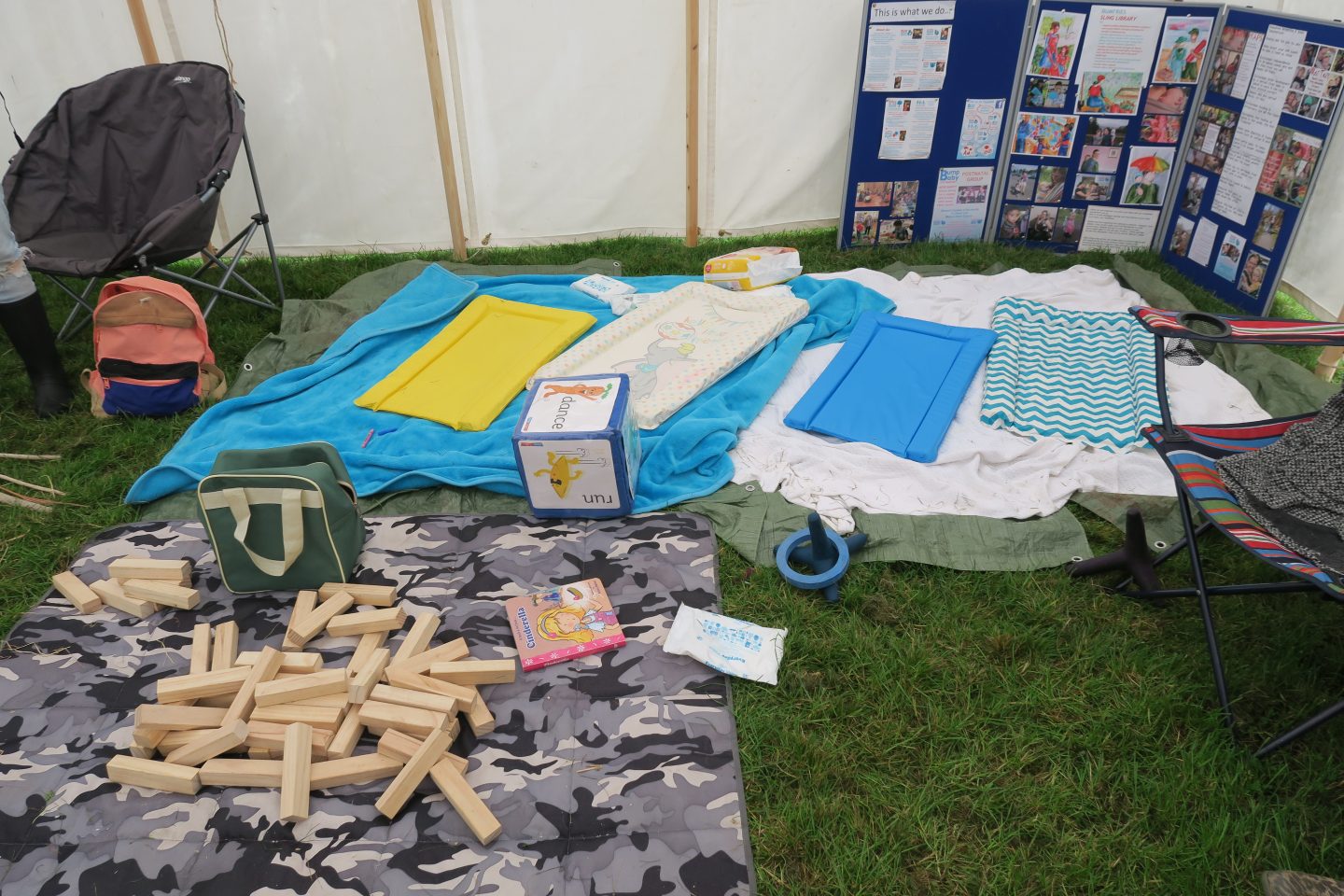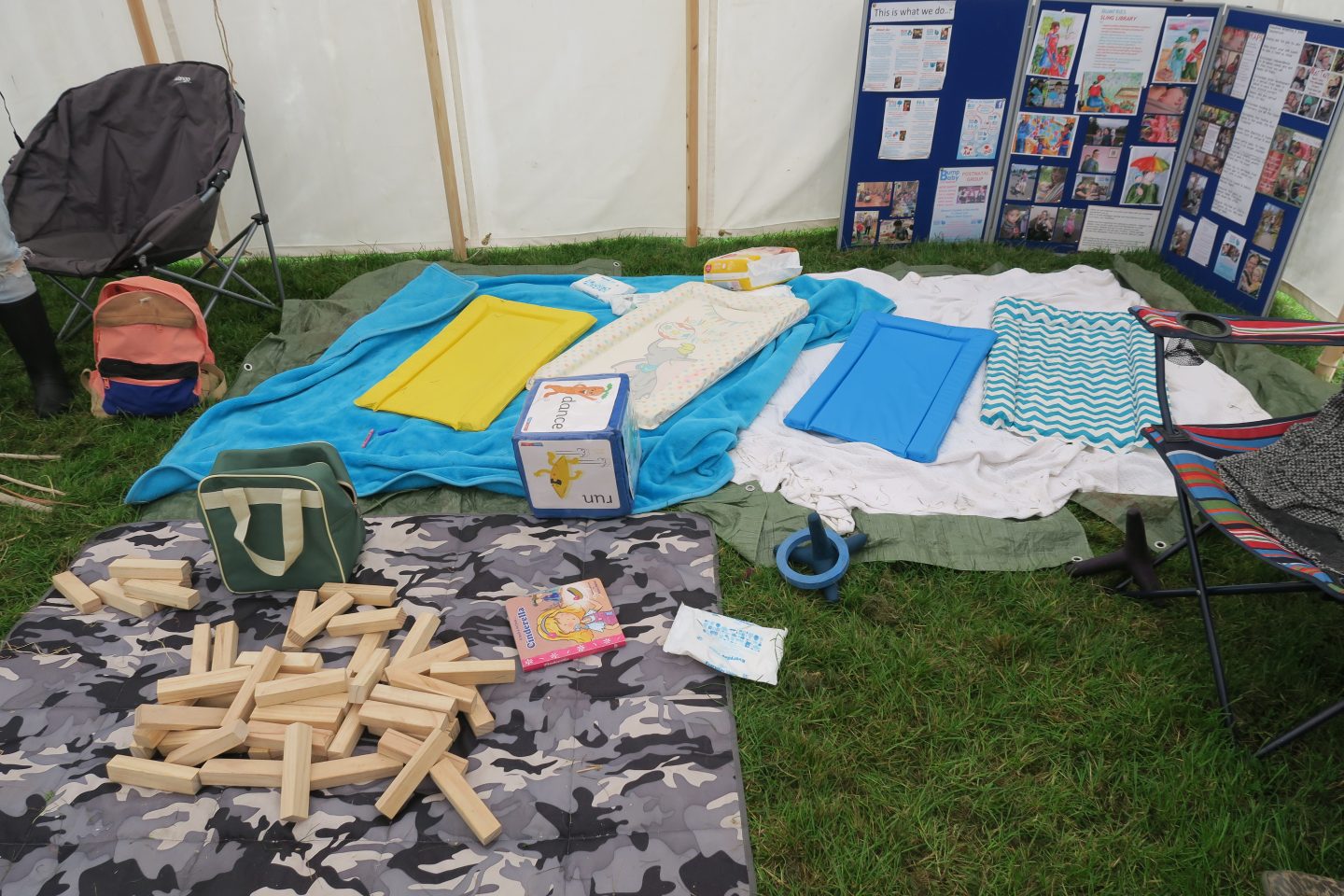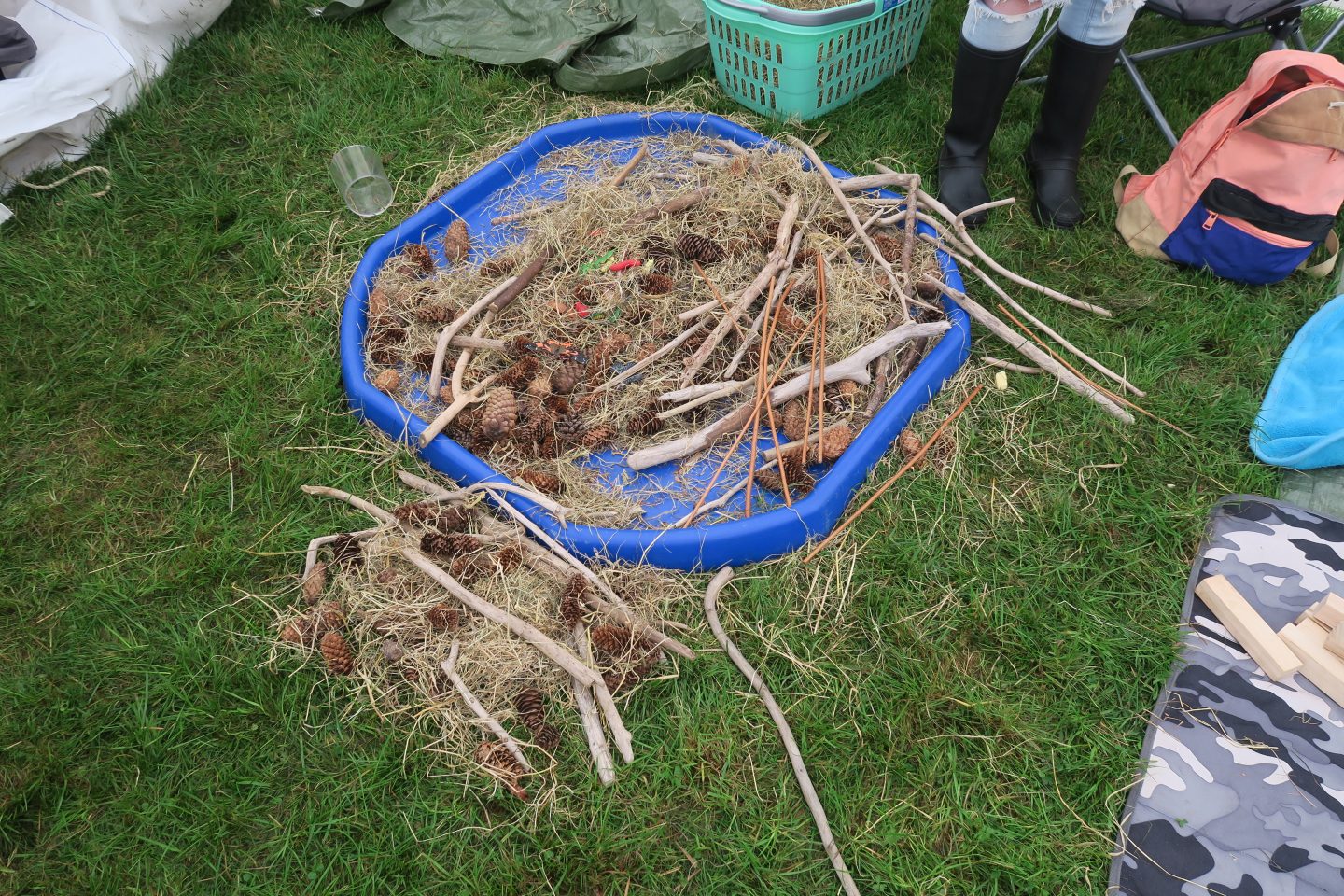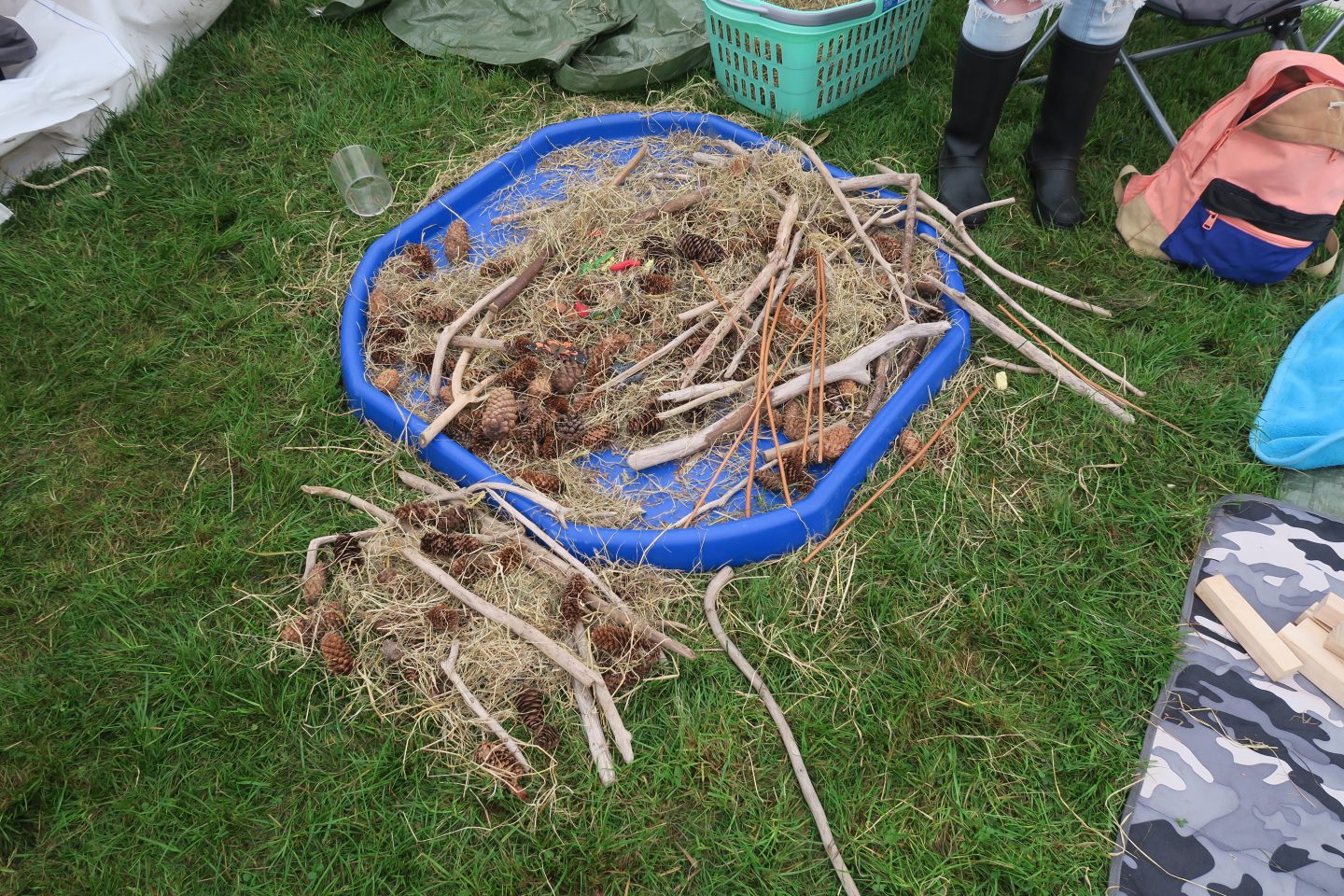 Also in Our Kids Electric there was face painting, glitter tattoos and giant games like Jenga and Connect 4. We saw several crafting sessions like dream catcher making and pottery classes but unfortunately they were too full when we tried to go. There were other sessions we could have gone back to throughout the day so we didn't miss out but we never got round to it.
We did all this and we still missed stuff that was on at Our Kids Electric, like the Drumlanrig ranger team and the drama workshops. I'm also gutted that we just missed the Major Minor Music Club gig. I think there had been a change to the schedule and we arrived just as it was finishing up. I had thought we would spend 90% of our time in Our Kids Electric but it was just so easy to take the kids to what we wanted to do that we actually could have done with spending a bit more time there.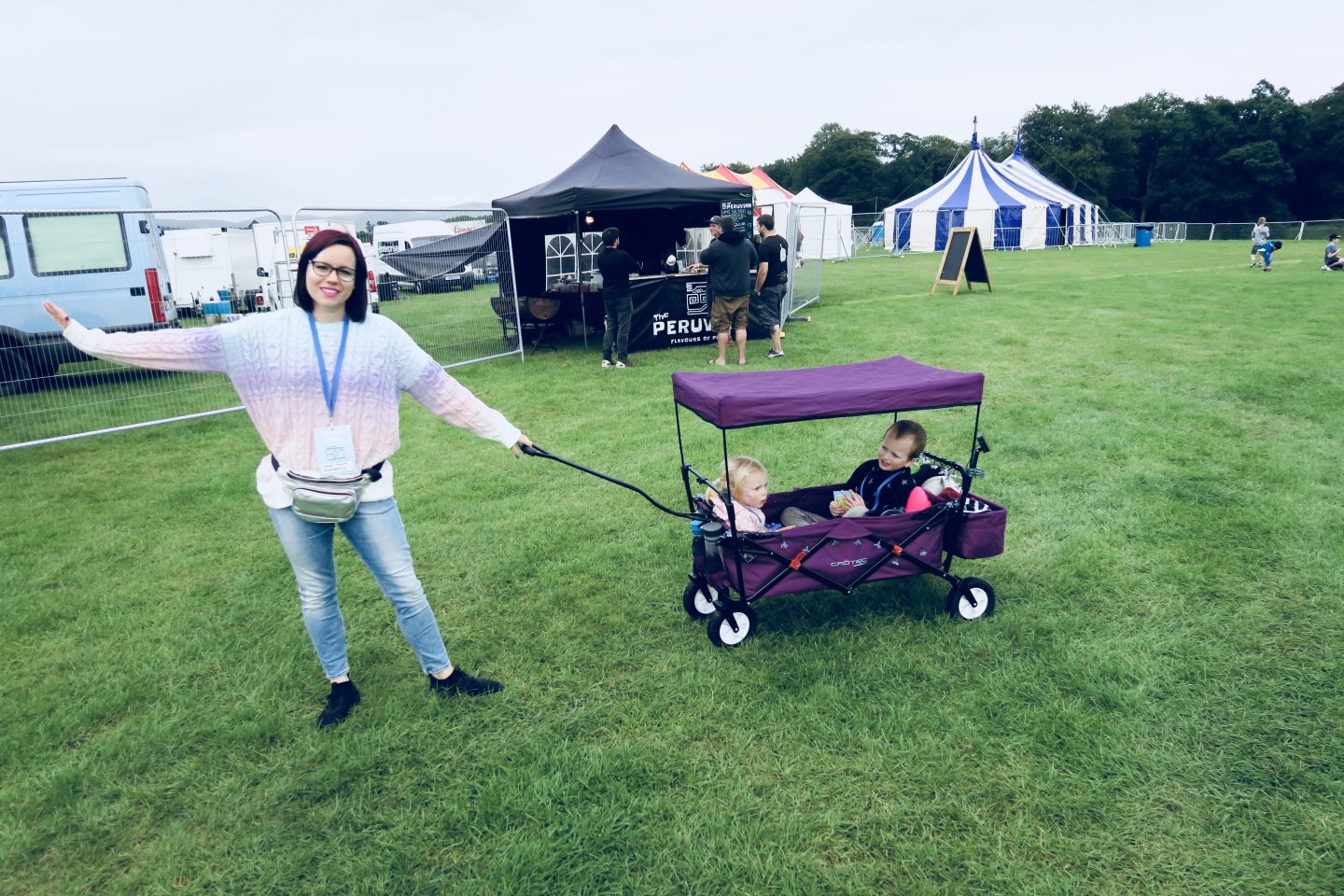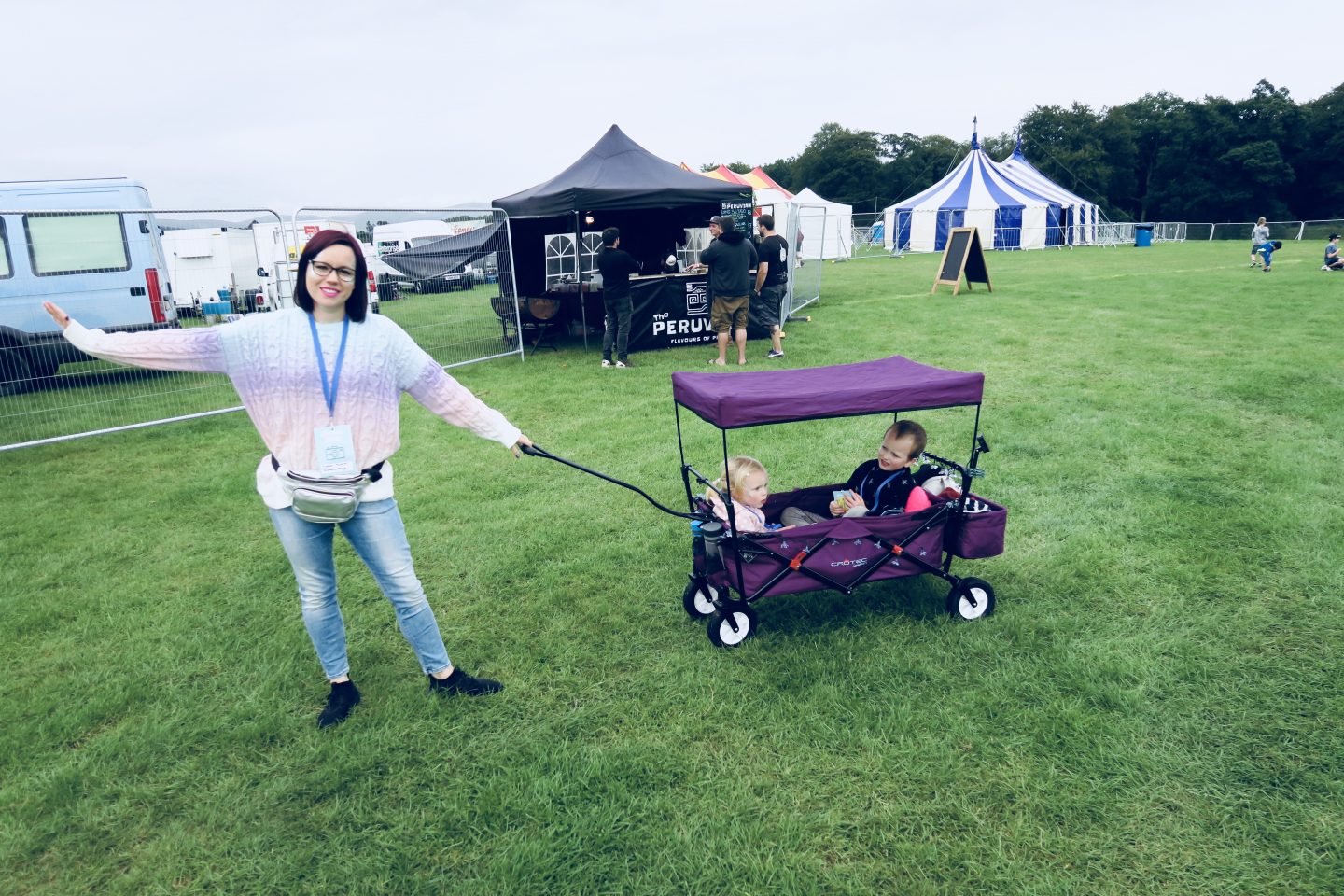 Free access to Drumlanrig Castle's Adventure Playground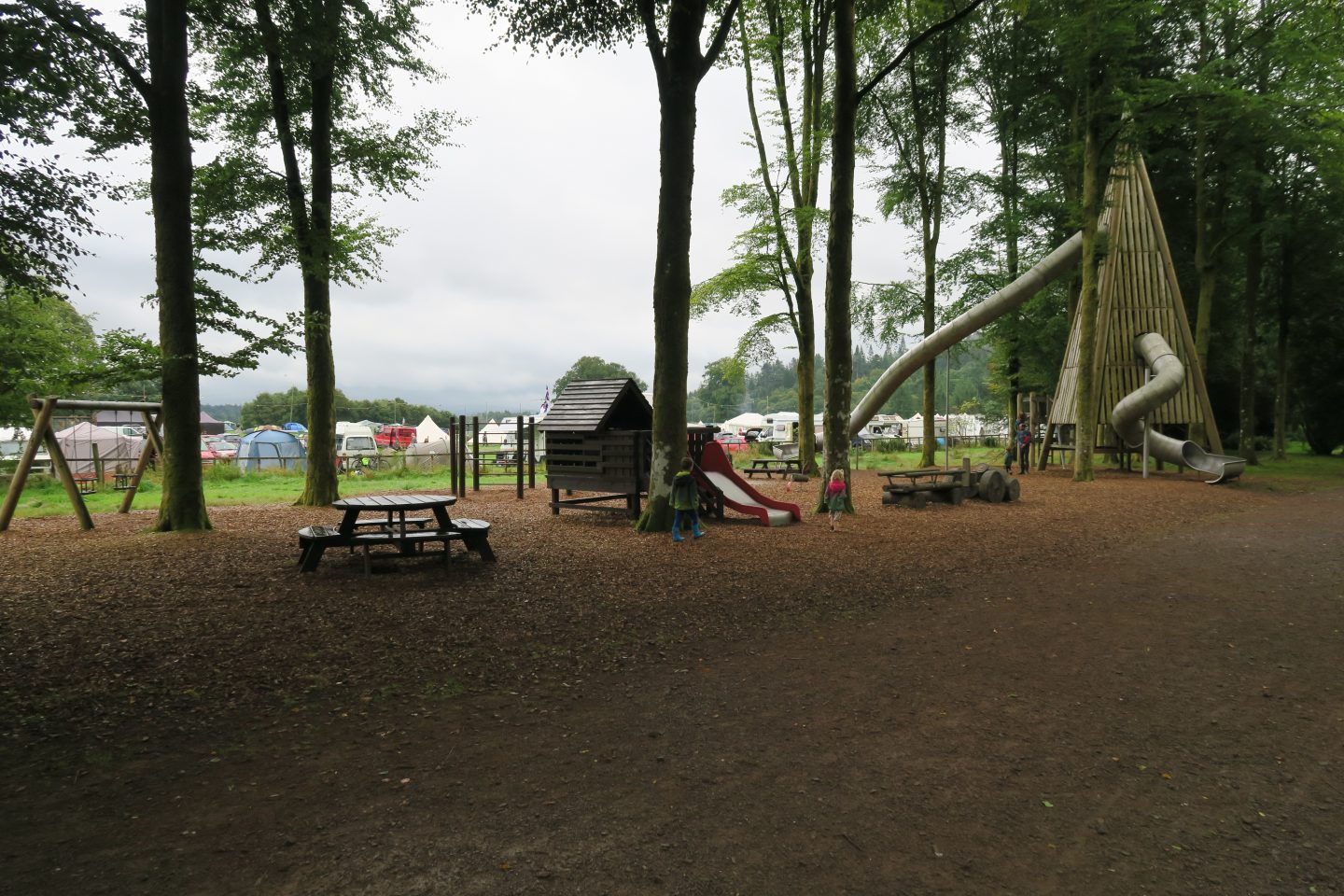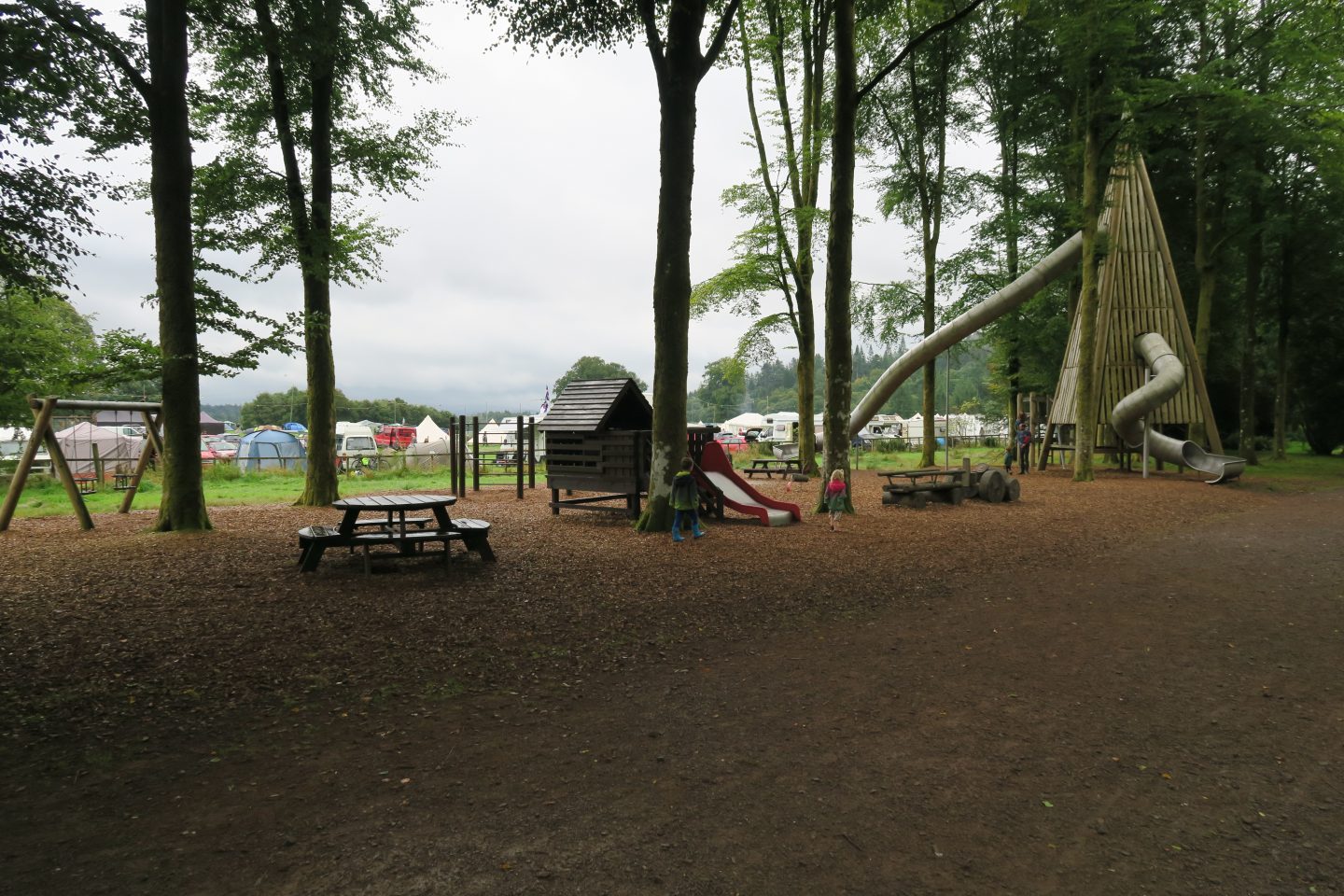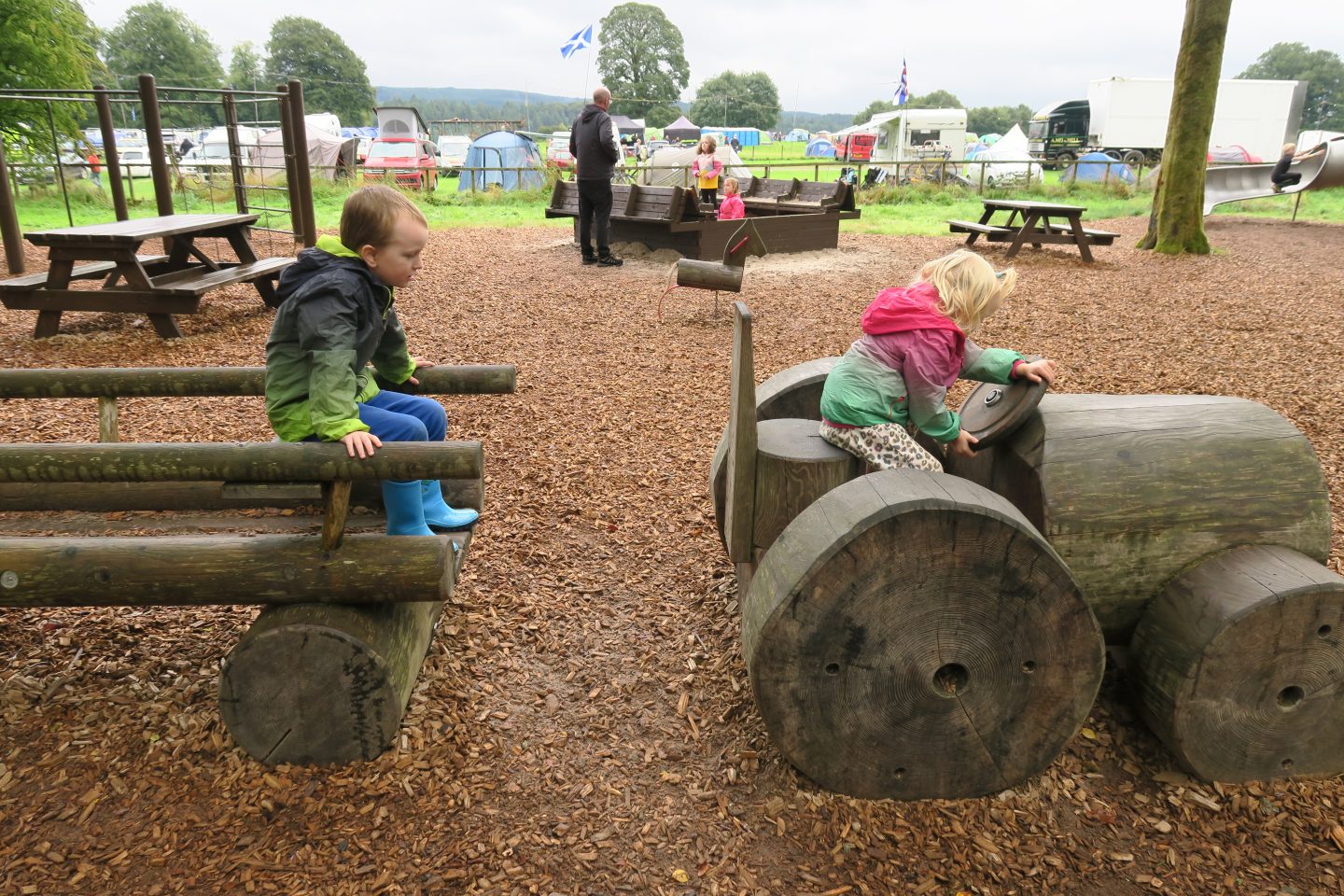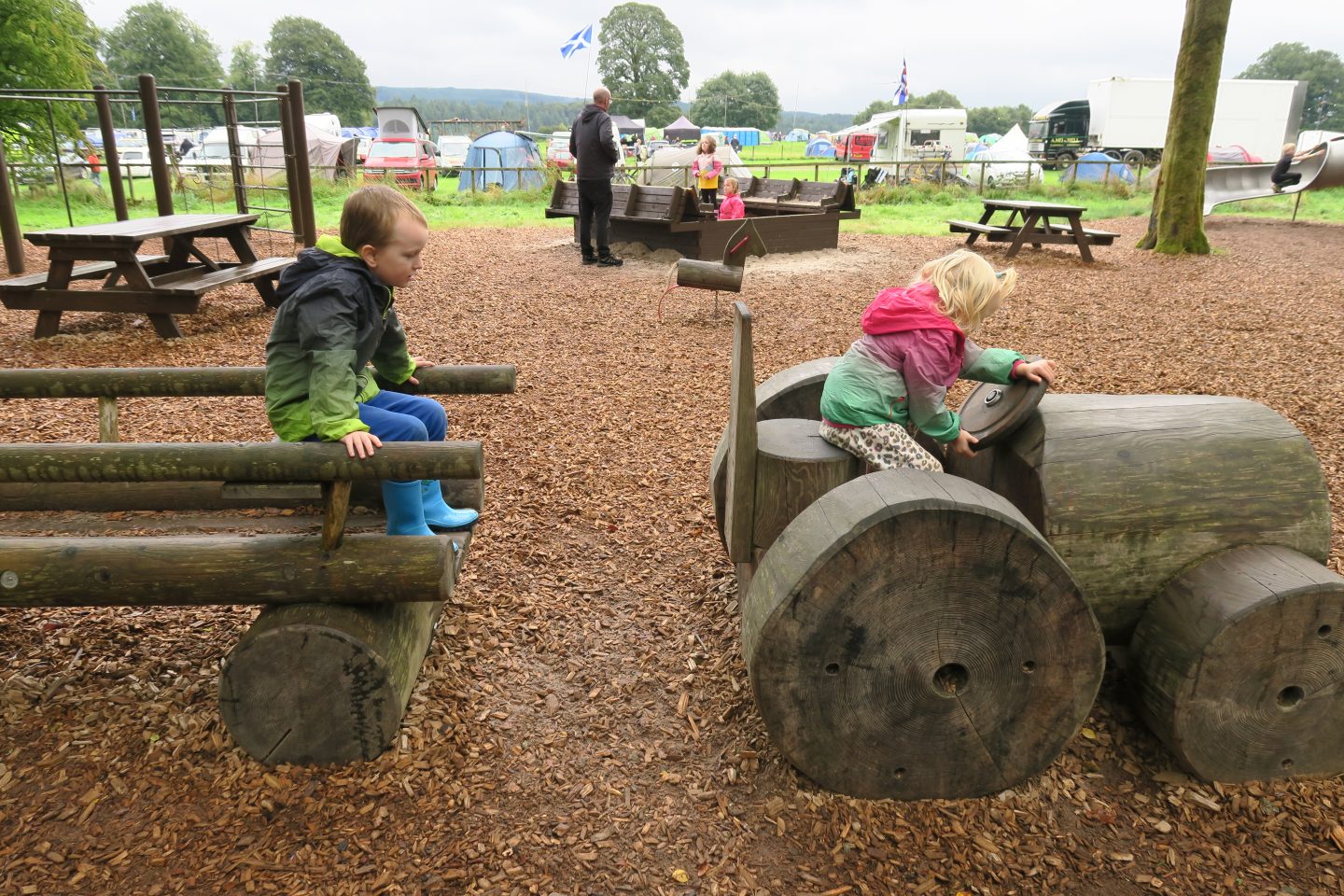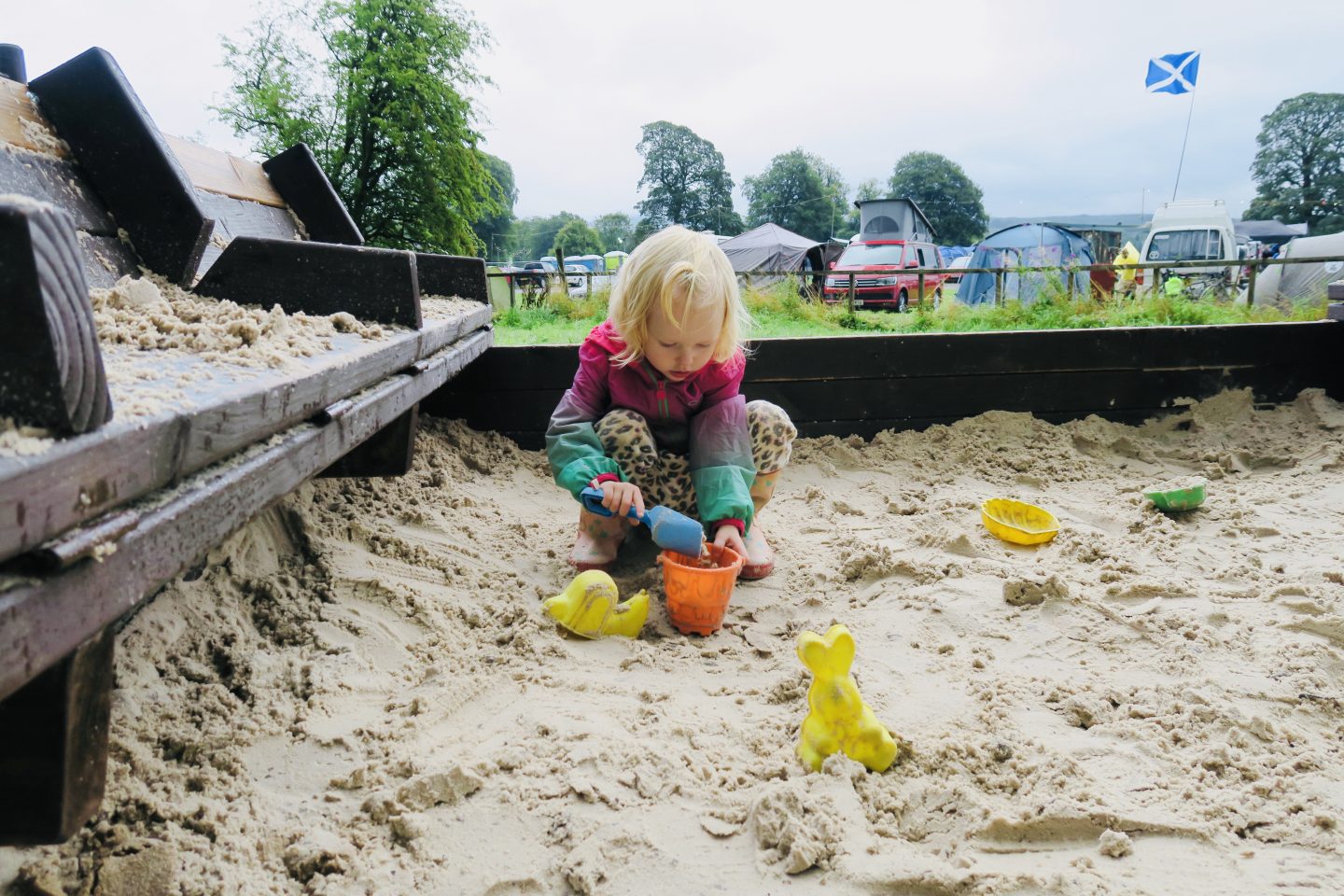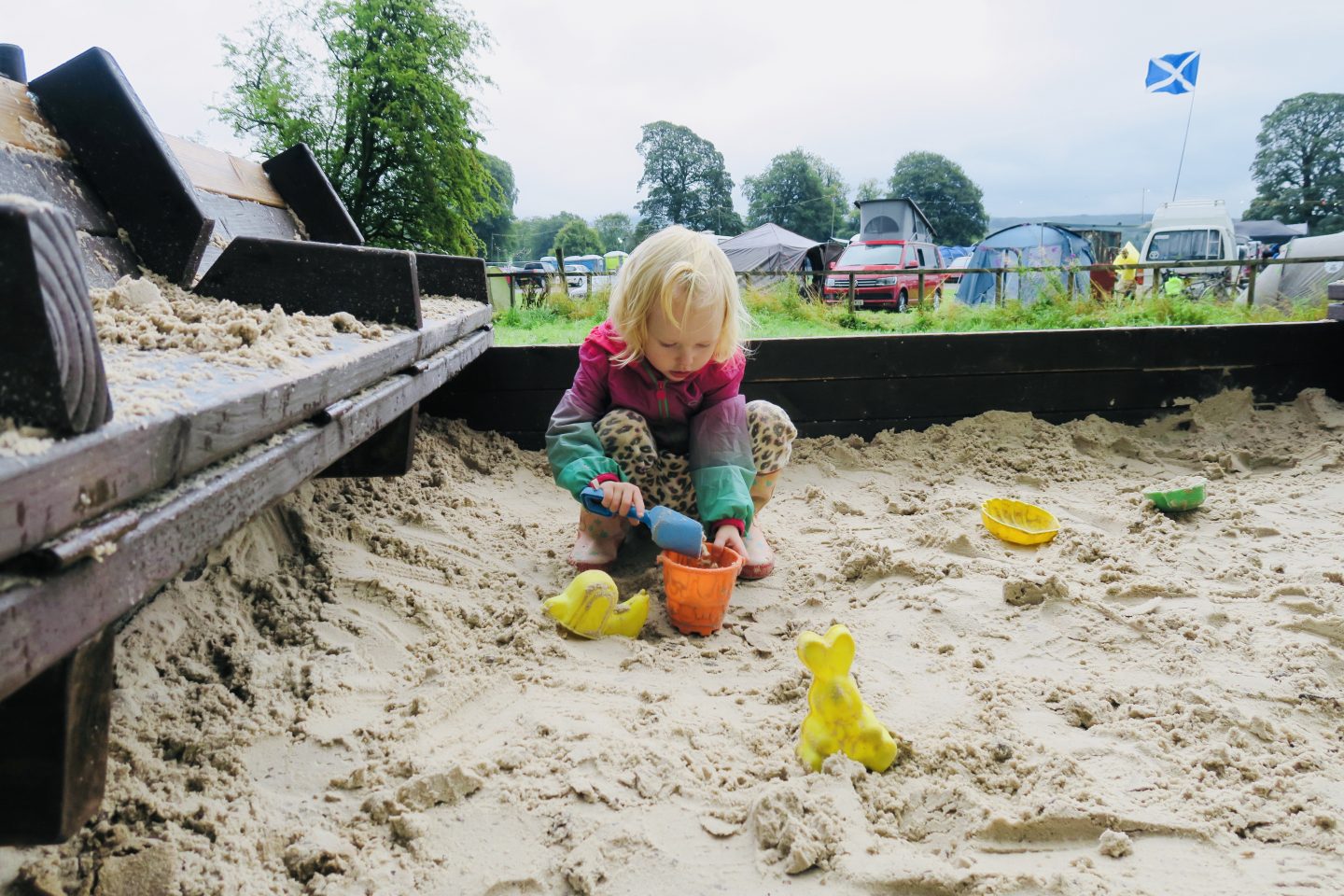 Electric Fields is in the grounds of Drumlanrig Castle and your ticket gets you access to their fanastic adventure park for the weekend. It is right next to family camping so its so easy to pop there.
In fact, on our last morning, I took the kids there to play while Papa Ginge loaded the car up. We all loved the park. Its such an asset to the festival and was one of the kids favourite things about it.
We started off most days with a trip to the park before we entered the arena itself. My 6 year old adored the zip wire. Its a fantastic park with enough to entertain all ages under 16.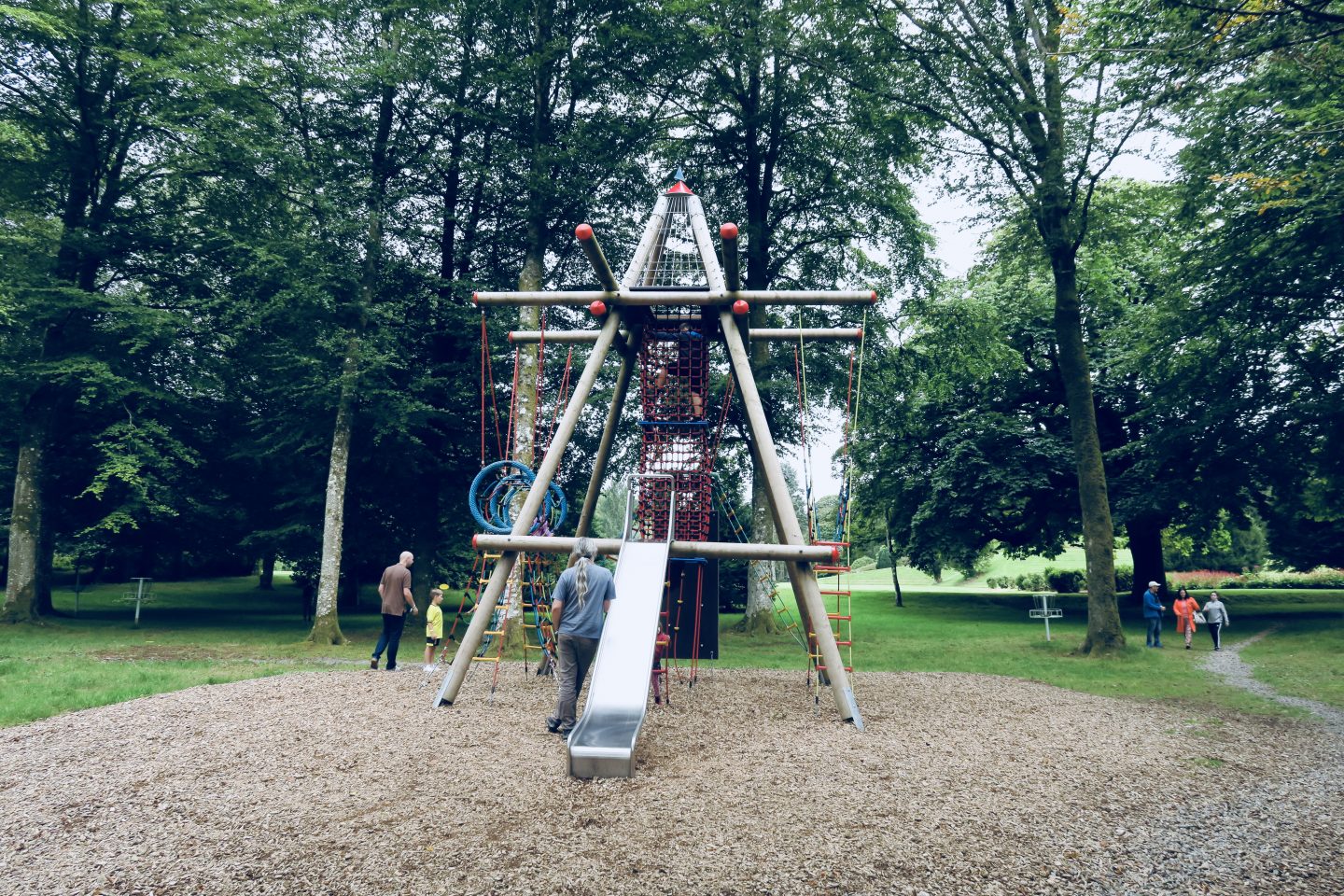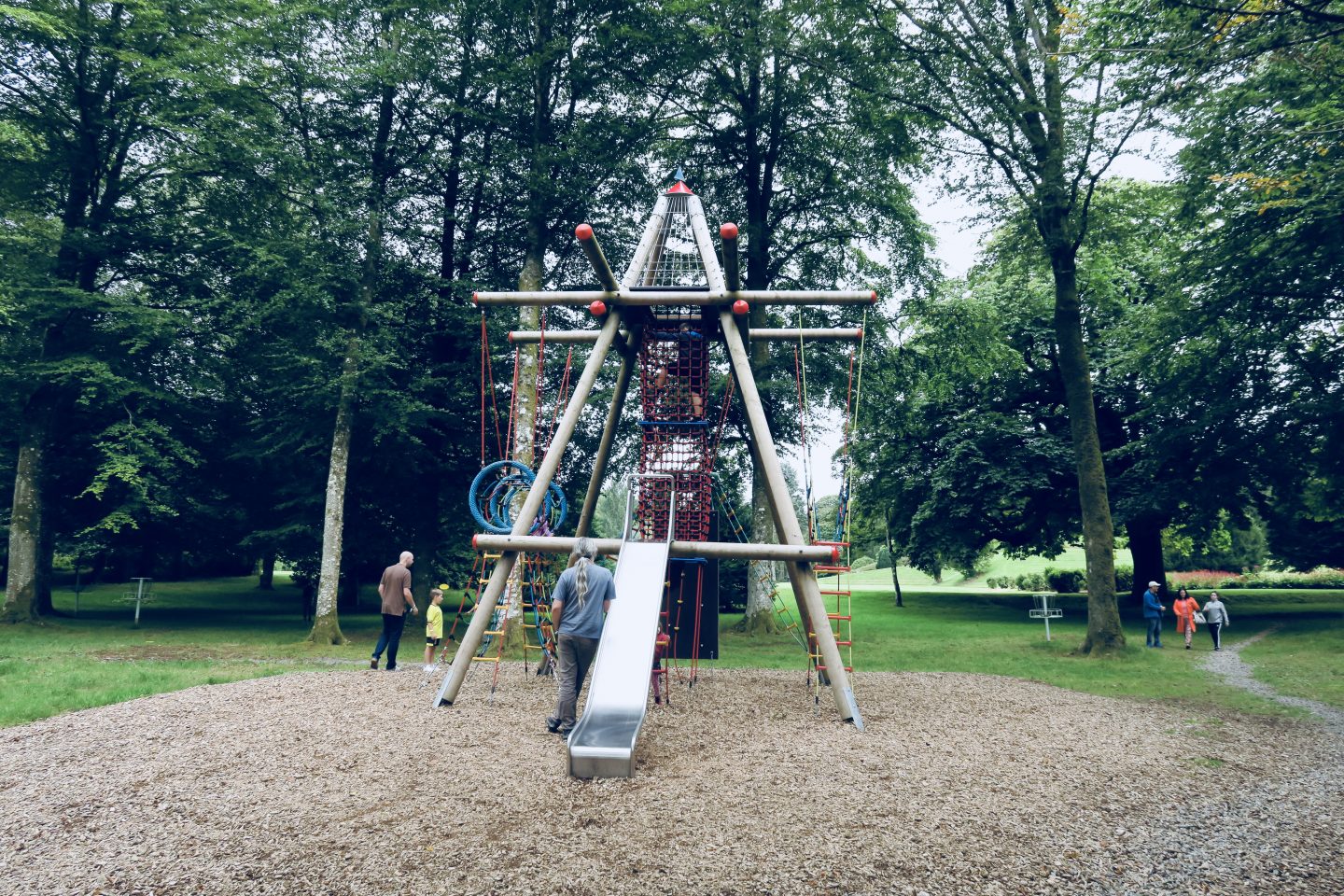 Fairground rides at Electric Fields Festival 2018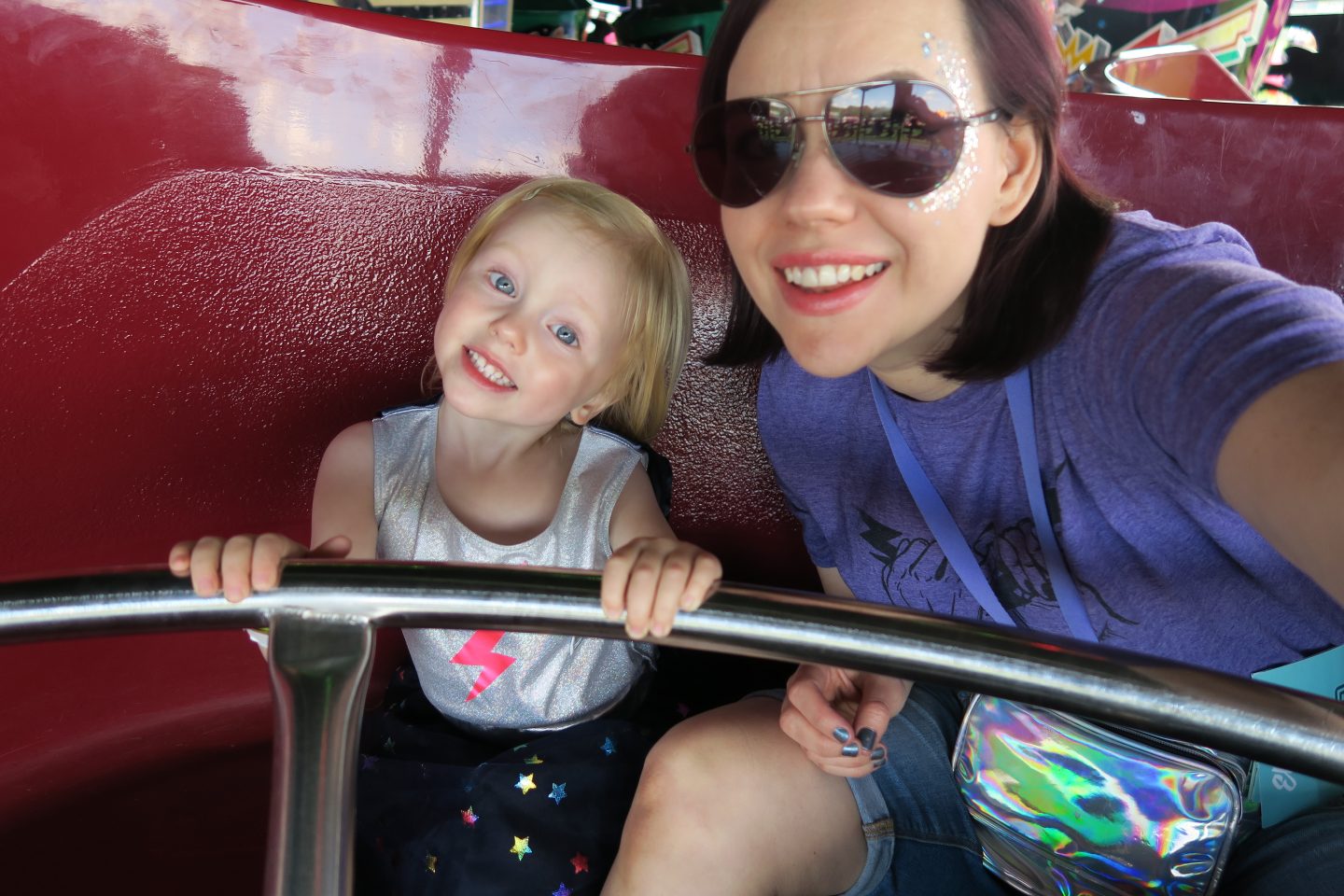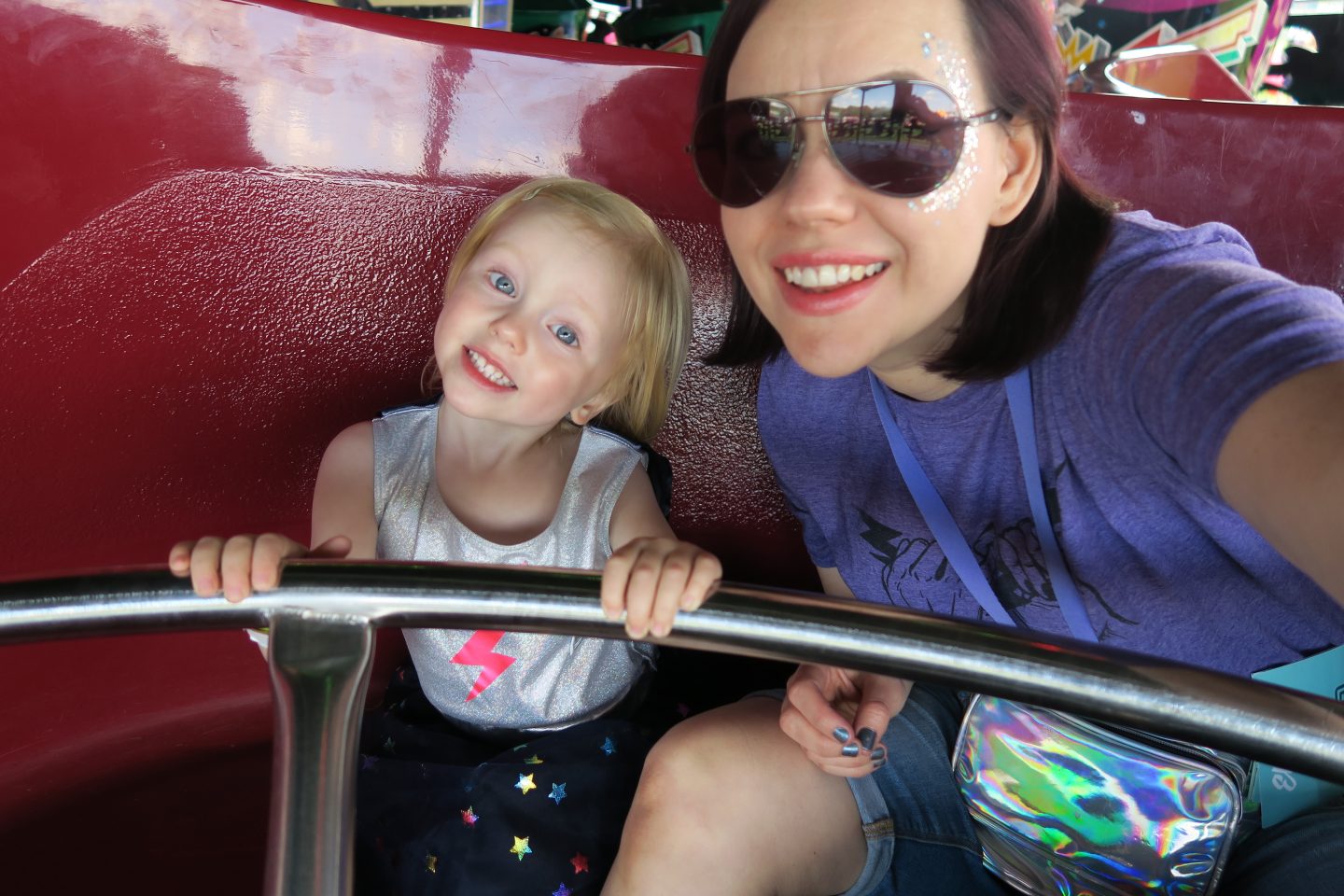 Electric Fields 2018 had a helter skelter (6 and above or under 6s with a parent), a ferris wheel and waltzers. Each cost £3 per person which was reasonable but quickly adds up when you need a parent to go on with each child each time. We agreed with the kids they could do one ride each day so we had 2 goes on the ferris wheel and one on the waltzers. The ferris wheel gave a great view over the festival site and the waltzers were fast and fun. I loved that my 3 year old could do all of them so she wasn't begging to go on something she wouldn't be allowed to.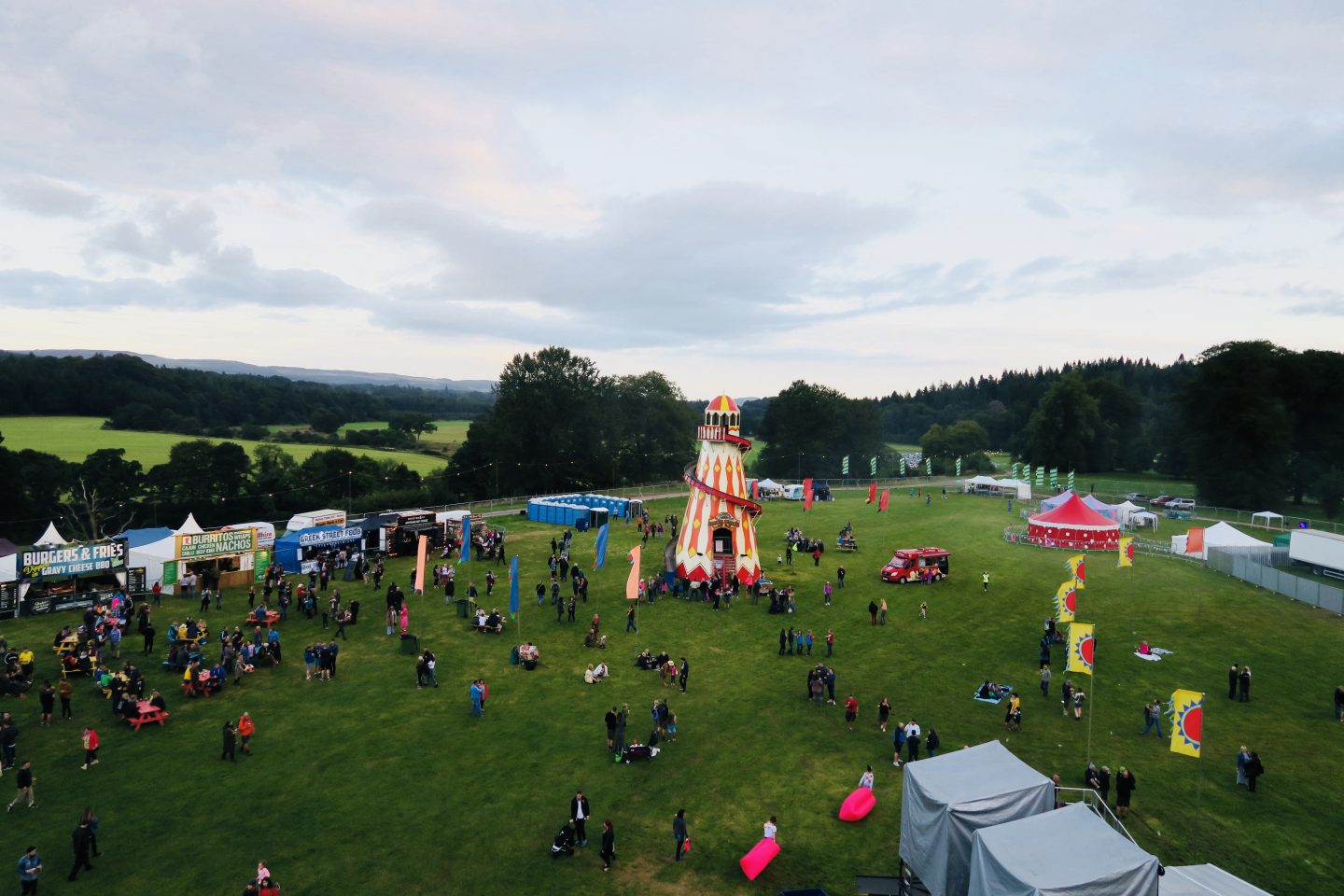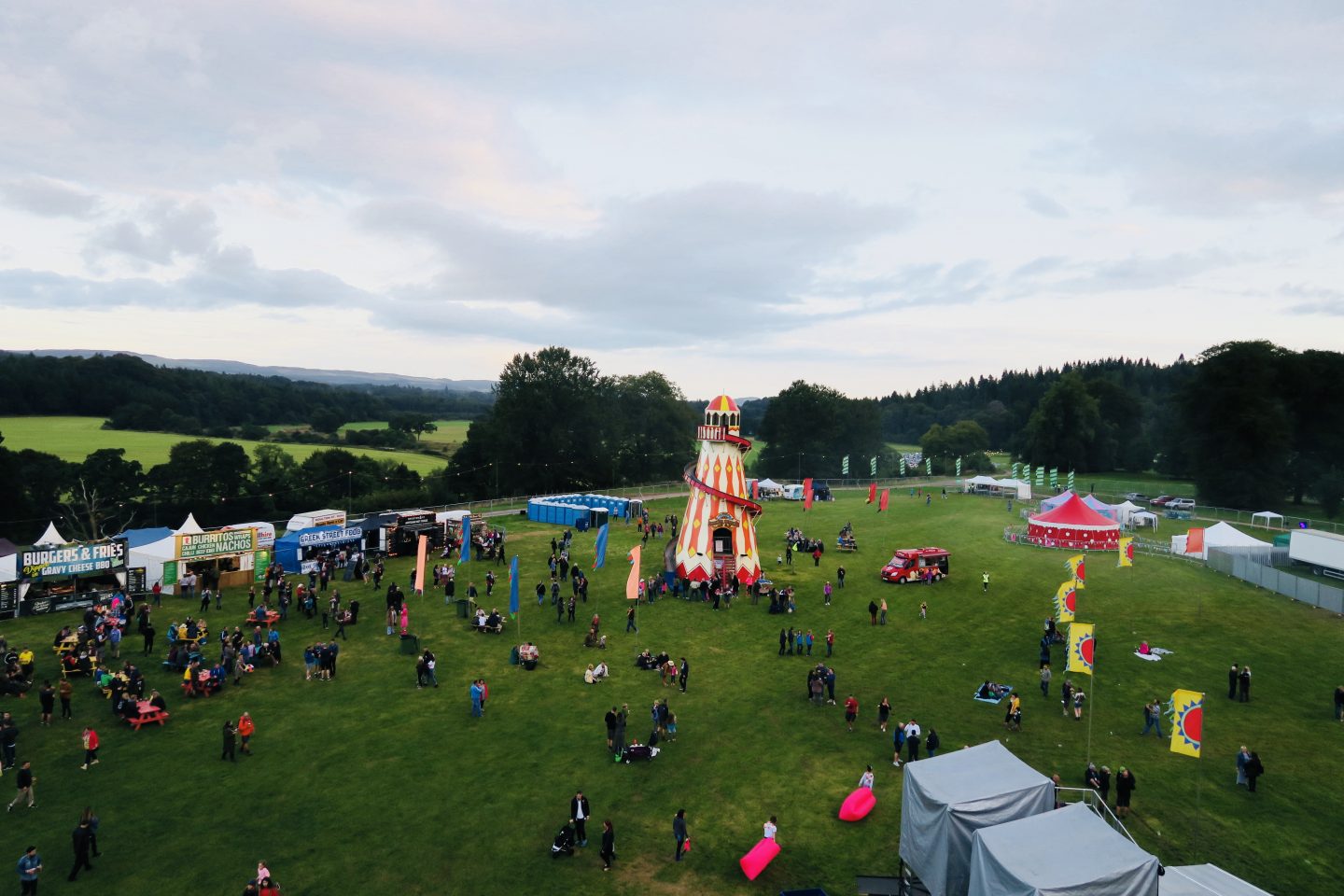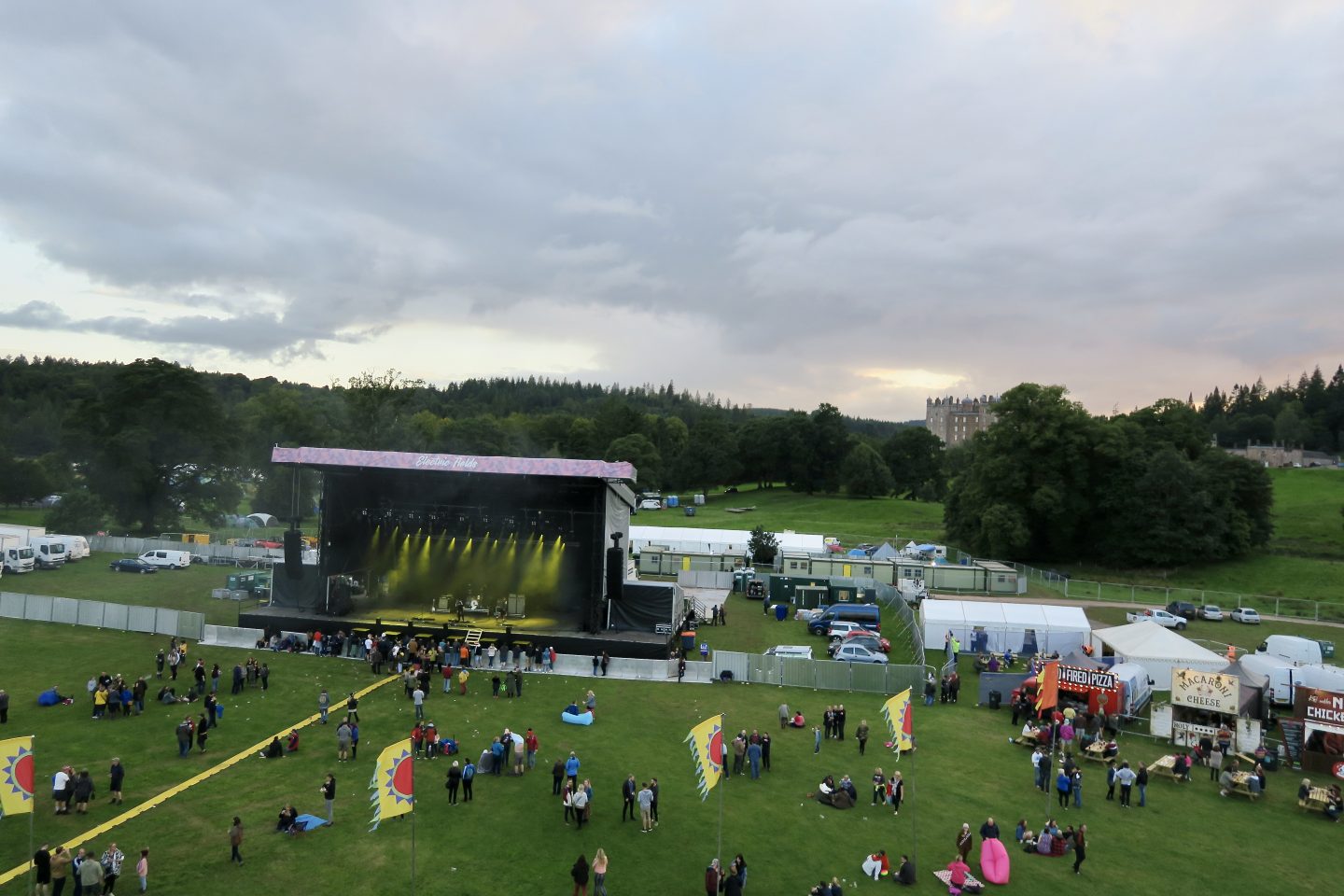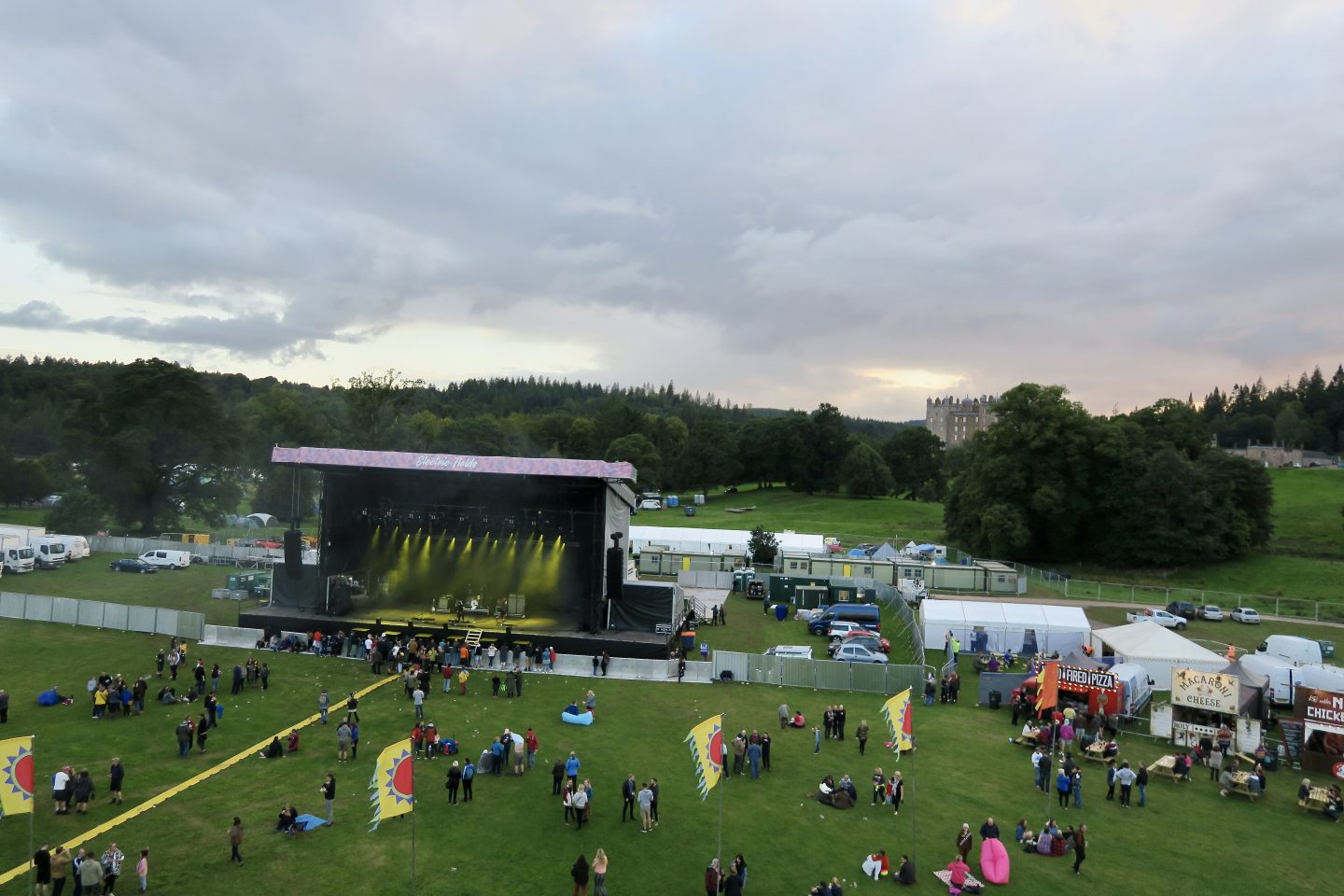 Family camping at Electric Fields Festival 2018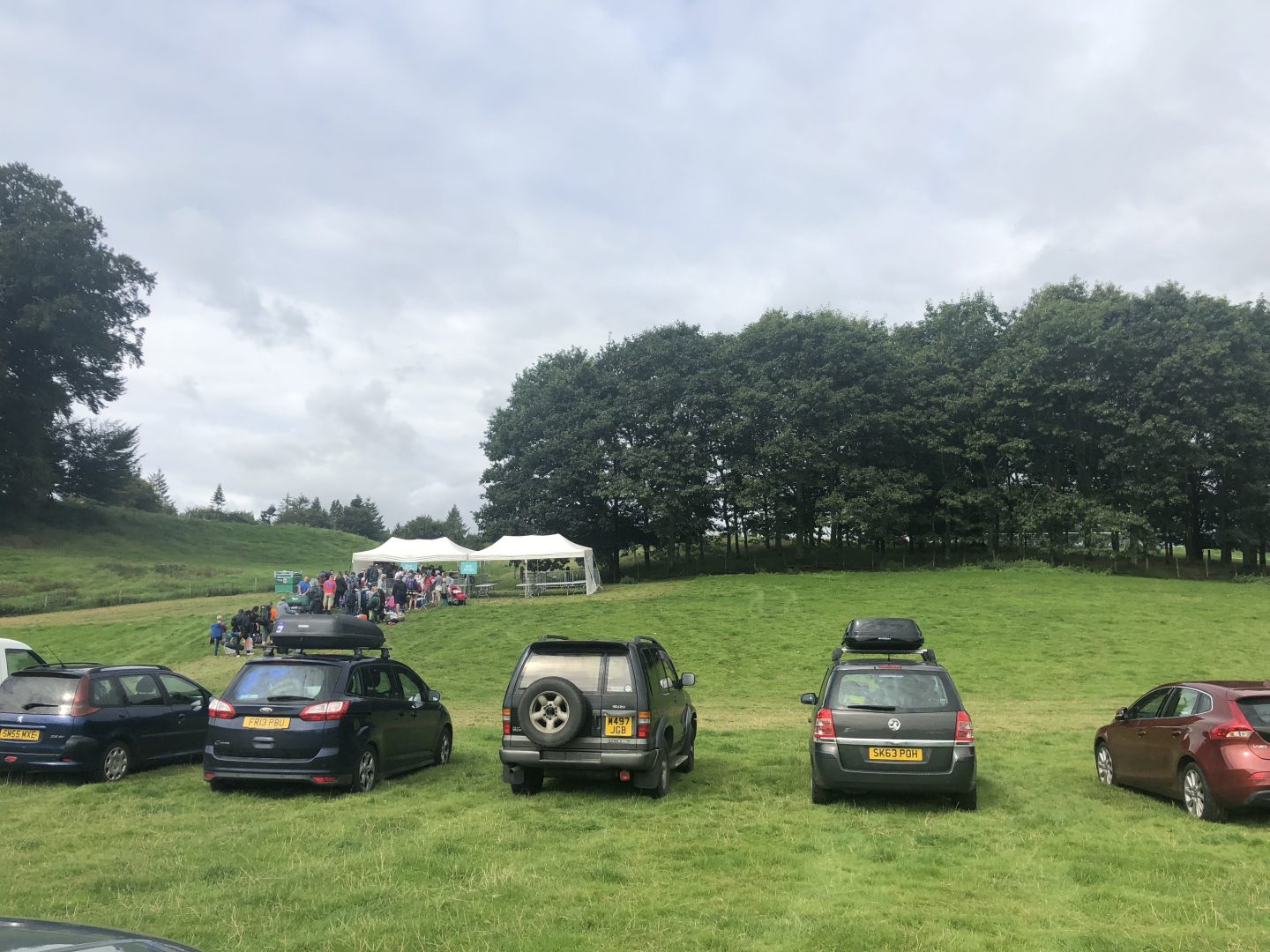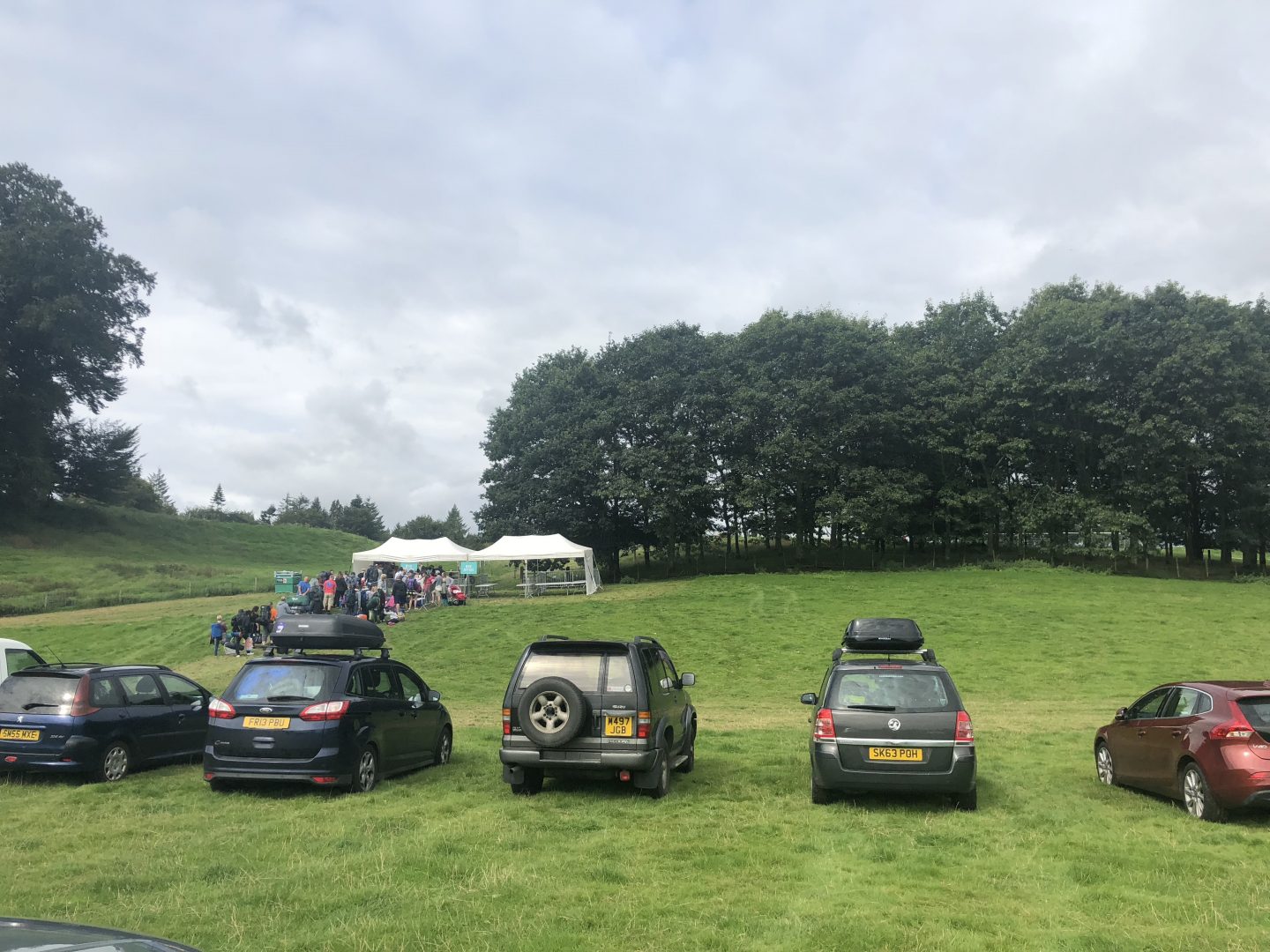 At Electric Fields Festival 2018 there was a special family camping area away from the main camping. This meant you were parked really close to the campsite. Although be warned, it is up a bit of a hill and pulling your gear up it is an effort. Handily, there were two food vans doing food and drinks from 7am. There were water points and a set of loos right in the middle of family camping so it all felt very convenient. We were also next to a few different sets of showers but we never used them so I can't report back on that (stop judging me, I used wipes and dry shampoo alright).
I will say that the day ticket entrance/exit was the same as the family camping one so there was noise from that at the end of the night. Mind you, it didn't make much difference as the site was quite rowdy anyway. I was surprised at how loud it was for family camping to be honest. Unlike Just So Festival where we had just been where everyone would whisper and speak quietly late and early, at Electric Fields no one seemed to make any effort to be quieter at all. One night it was loud until 4.30am. One night a tent was singing loudly until 1.30am when a particularly angry man near us shouted 'shut up' in a broad Scottish accent and put an end to it.
It didn't matter much though. In a way, because it was quite rowdy, it all became white noise rather than particular conversations standing out so we all slept pretty well. Well, except me, on one night where the temperature dropped to 2 degrees and my toes went numb and my bottle of Avon Skin So Soft froze solid.
I'd have no hesitations staying in family camping there again and I think it's great that they provide this facility.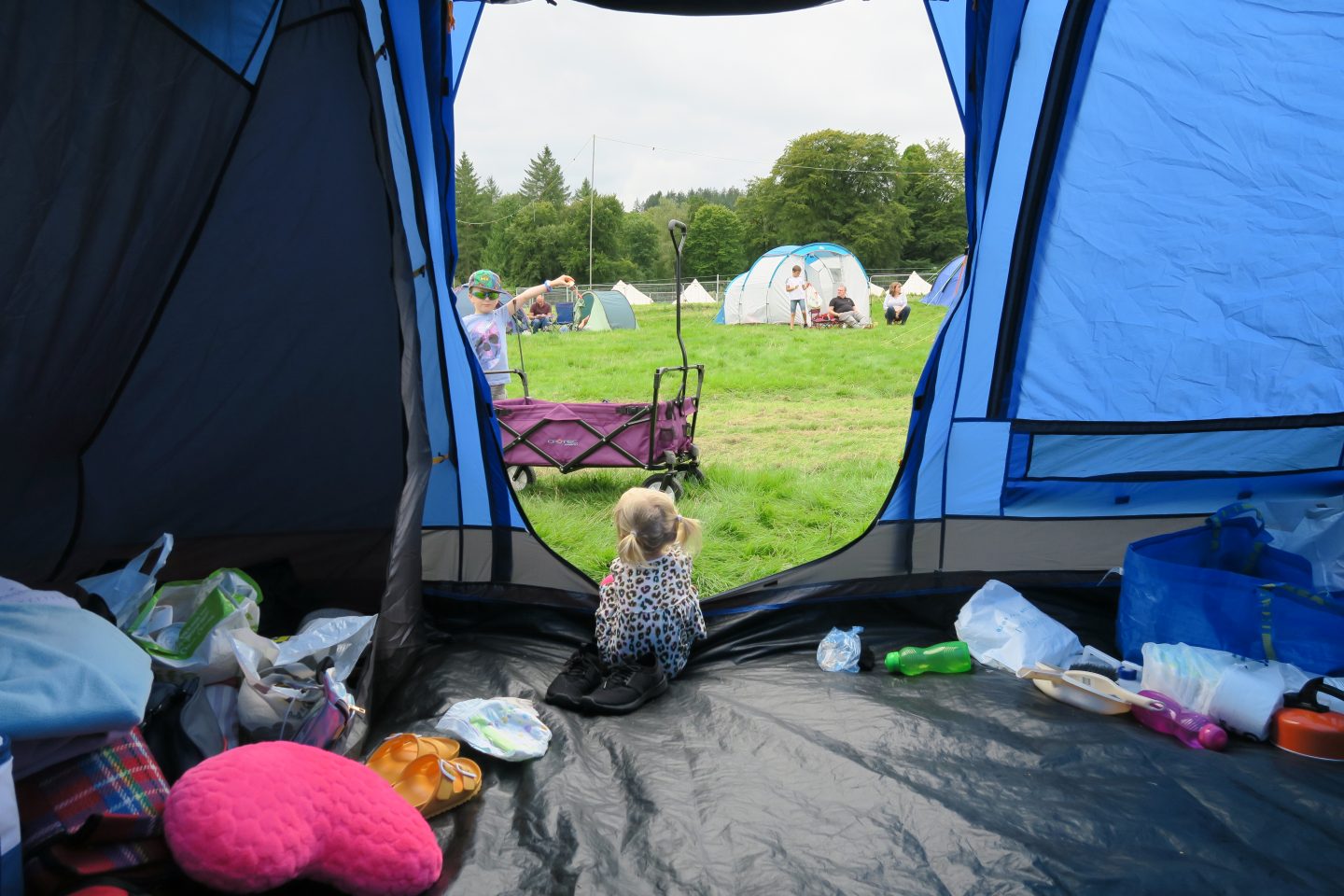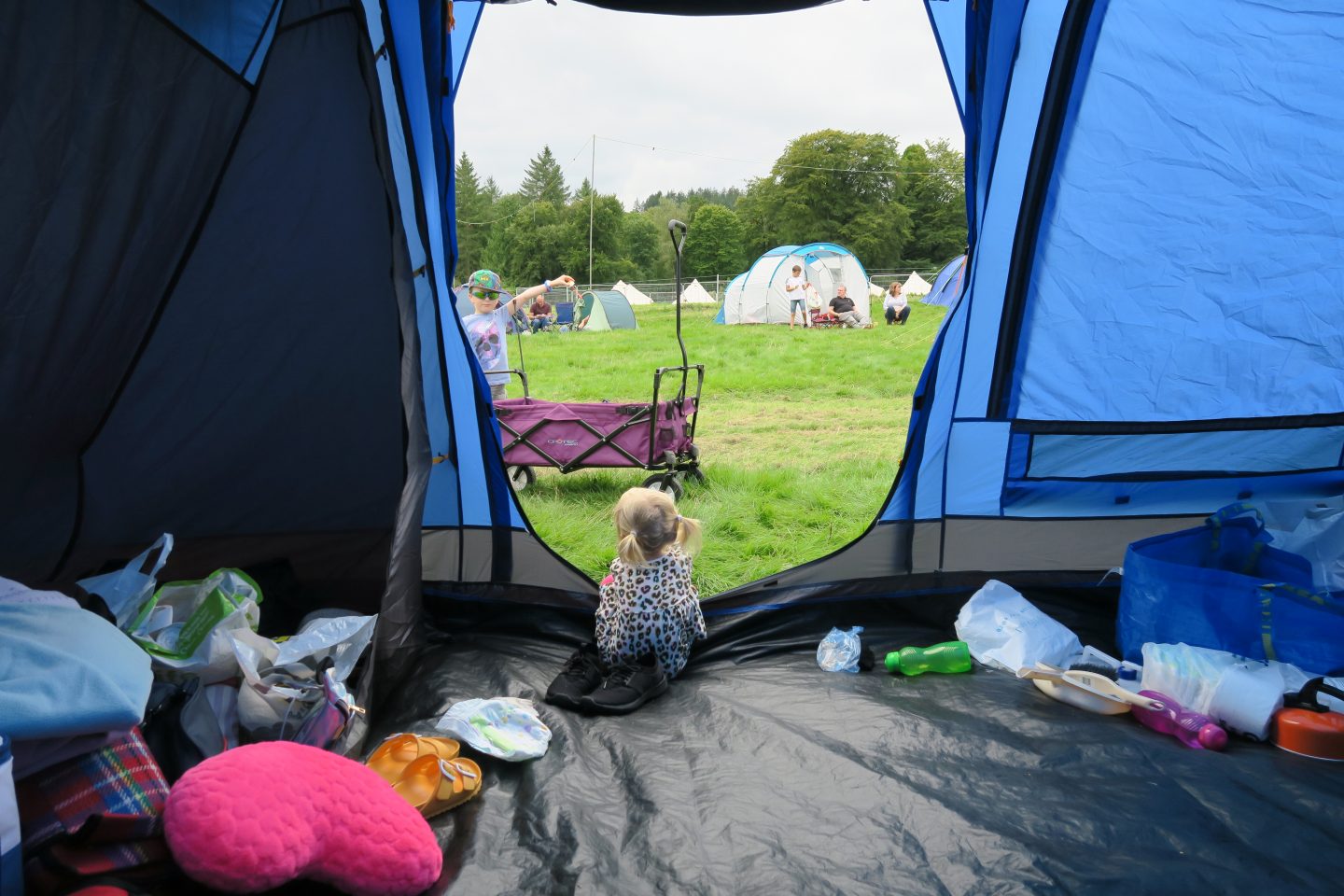 Music at Electric Fields Festival 2018
For my top performance of the weekend I'm torn between Young Fathers and Idles, both of whom played the Valley tent on Friday and Saturday night respectively.
Being a Scottish band, I expected Young Fathers to draw a big crowd but the tent was full to capacity with people queuing on the outside to get in. I went front of stage for the first three songs with my press pass but we had to go out the back of the tent after as we couldn't get back out the front. Then I had to go back round and queue to get back in on one in one out.
It was the best atmosphere of a crowd all weekend. It was also the only time during the weekend that I heard my favourite Scottish gig chant 'play, play, play the fucking song' prior to them playing Shame and the tent suddenly bouncing to the raucous crowd jumping. They were great in the tent but I think they could have played main stage if I'm honest. Maybe next year!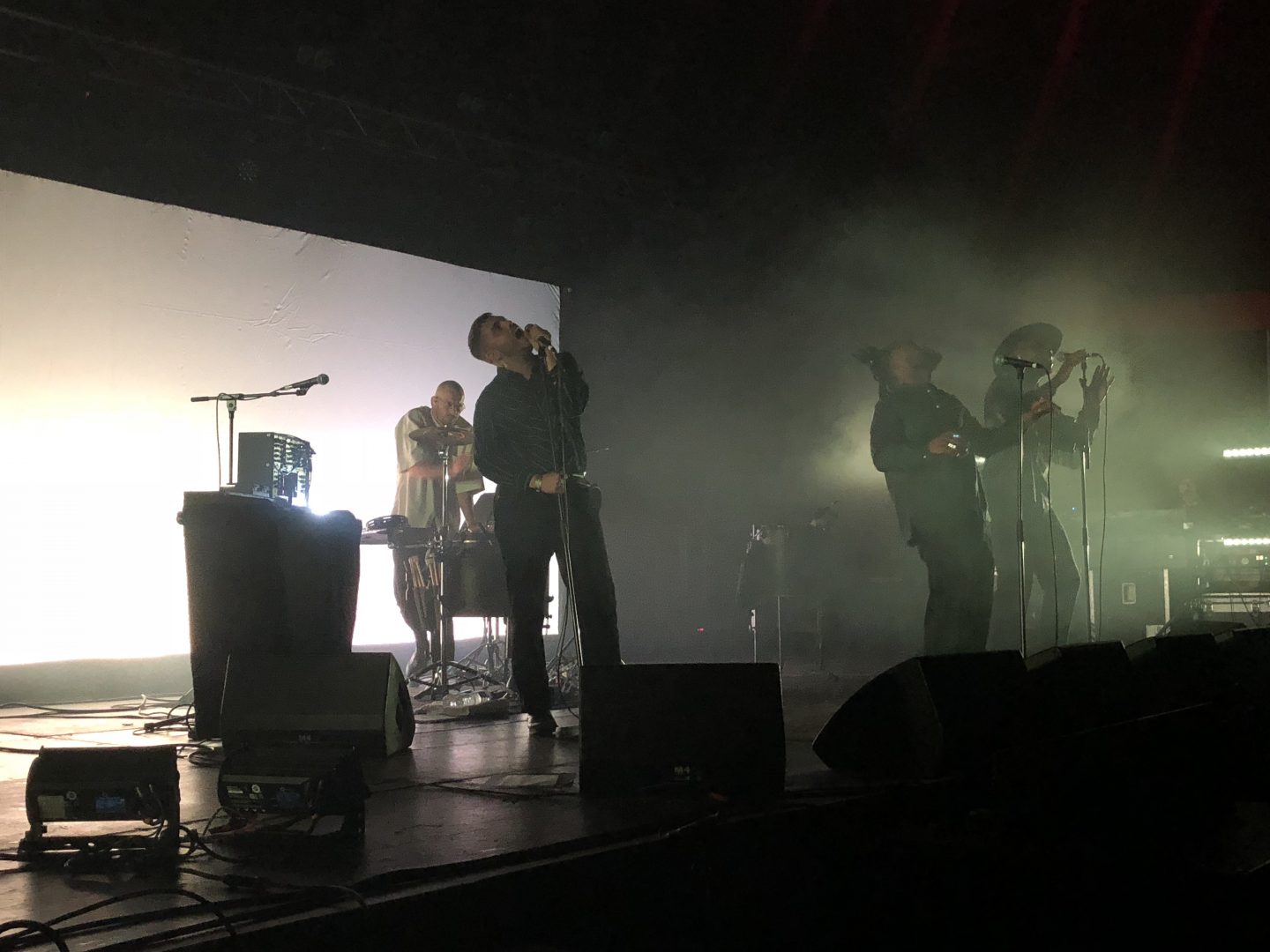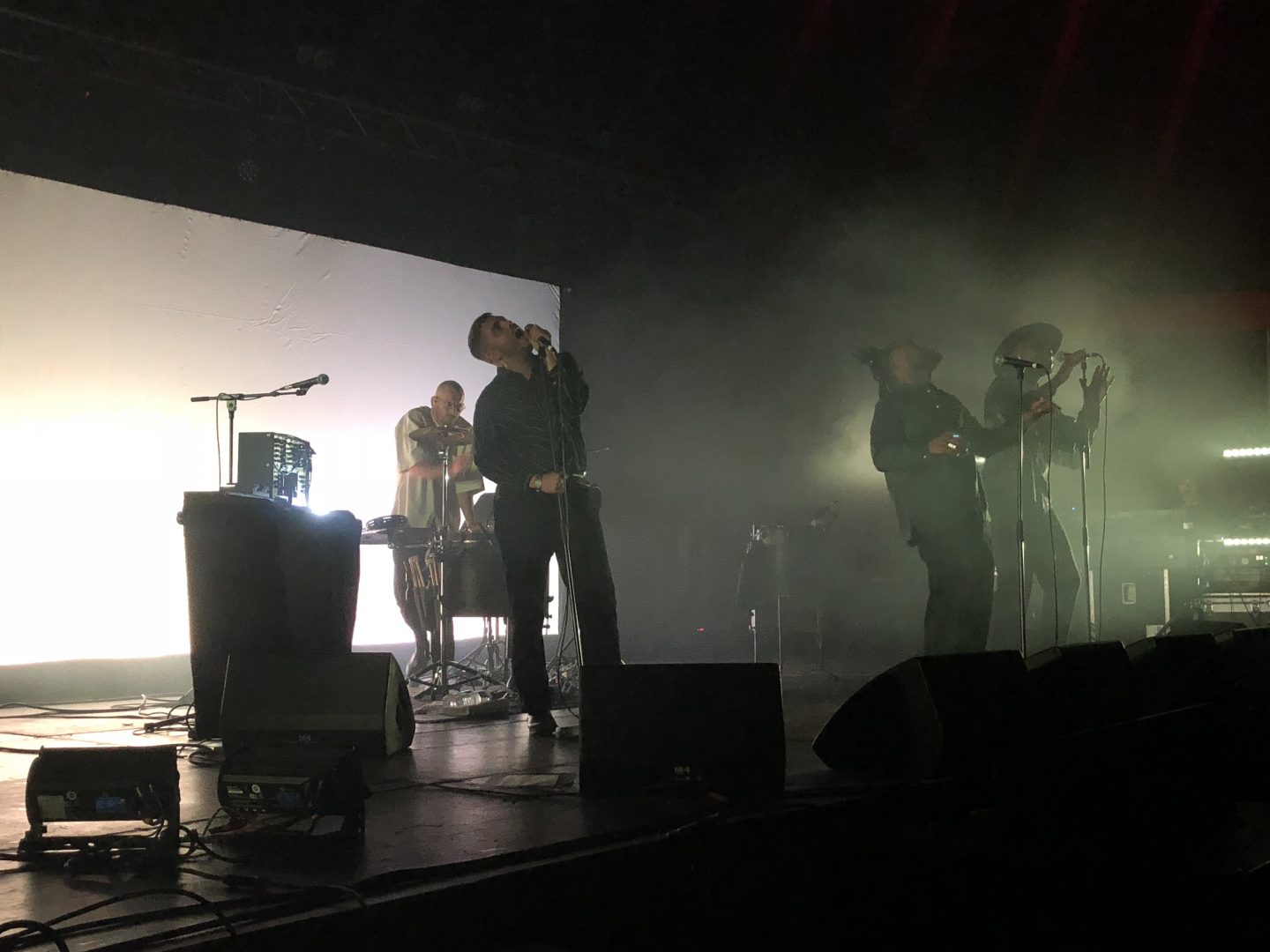 Band of the moment Idles were one of the bands on my hit-list for the weekend and didn't disappoint. They good-naturedly complained about the distance between the stage and the crowd asking 'what do you lot do to the bands, you got big fucking swords or something', before praising the security staff for doing a great job of keeping everyone safe.
This was probably to pre-empt how hard said staff were about to work with the number of crowd surfers coming over the barriers at the same time as guitarist Mark Bowen went out and played in the middle of the audience. Bowen brought back two punters who pretended to play guitars and it all descended into the best kind of carnage and chaos. And that was before they sang some of Mariah Carey's All I Want for Christmas accapella. I got the sense that some of it was performative punk, rather than spur of the moment (I know they've played all I want for xmas at other gigs) but they played on that, calling themselves the Brew Dog of punk, a line I'm sure they've said many times before.
I have tickets to see them again in Newcastle this Autumn and can't wait to see what more this zeitgeist band have to offer, especially now Joy as an Act of Resistance has been released to critical acclaim and incredible charts success (went in at number 5!).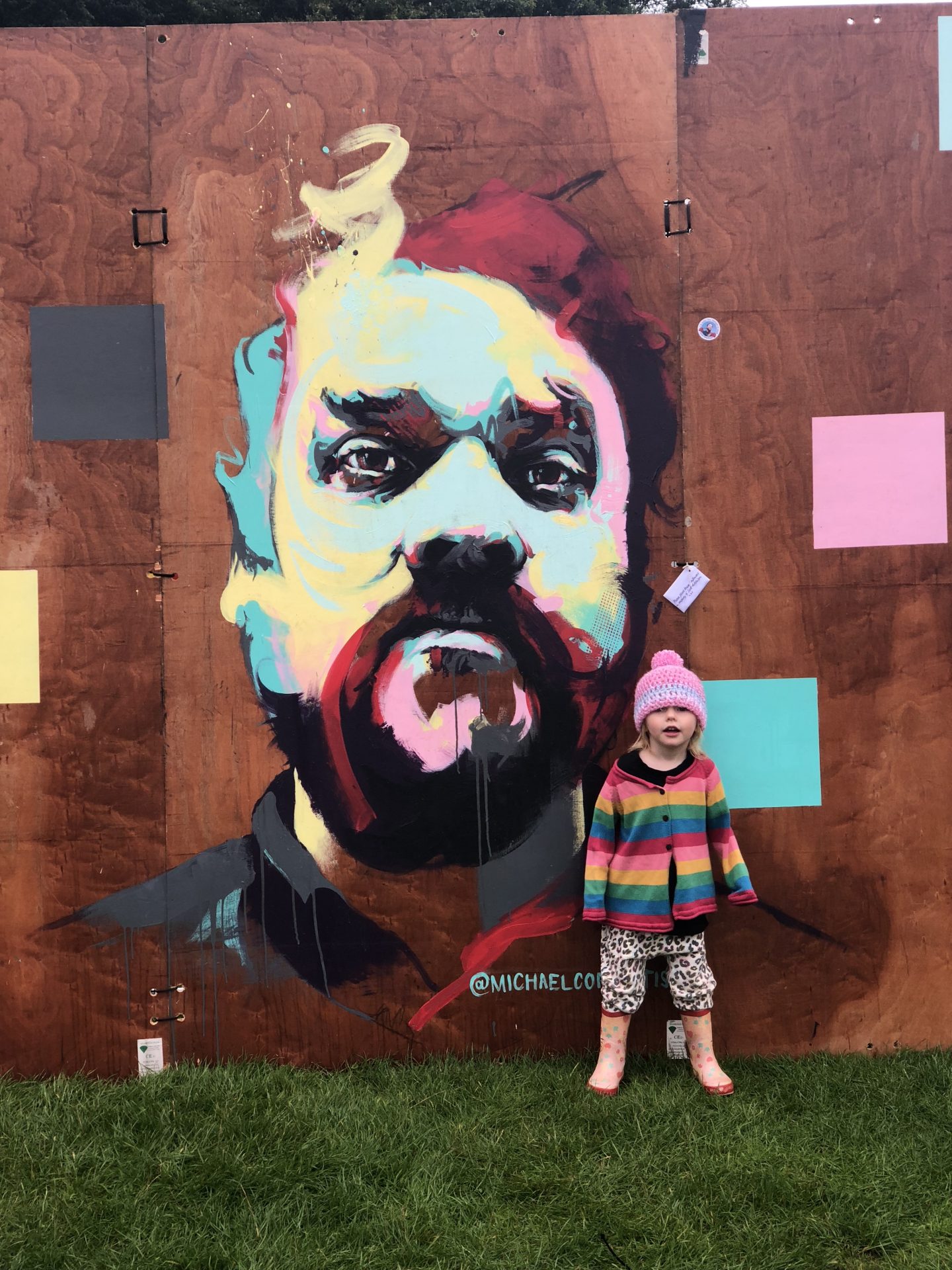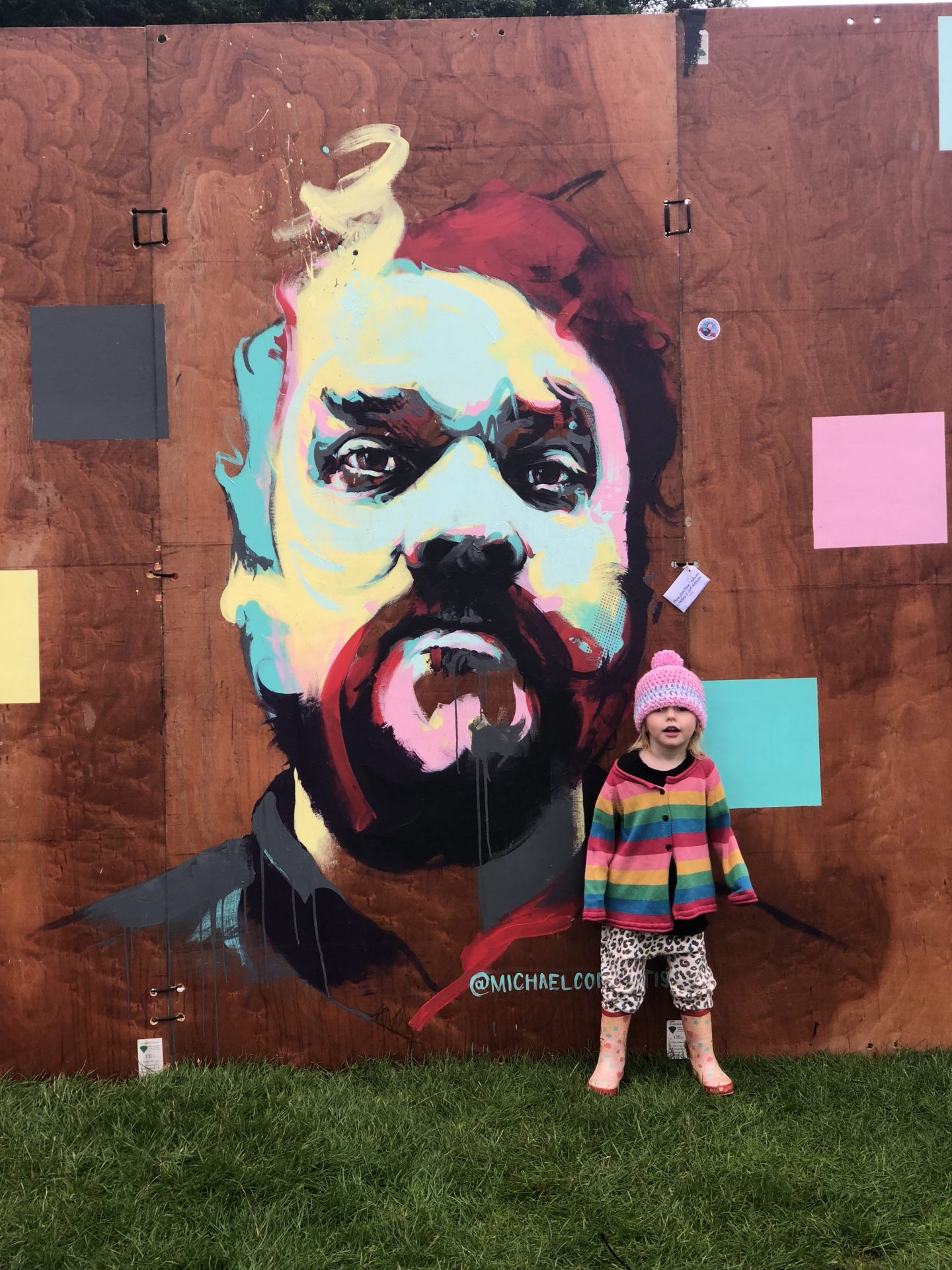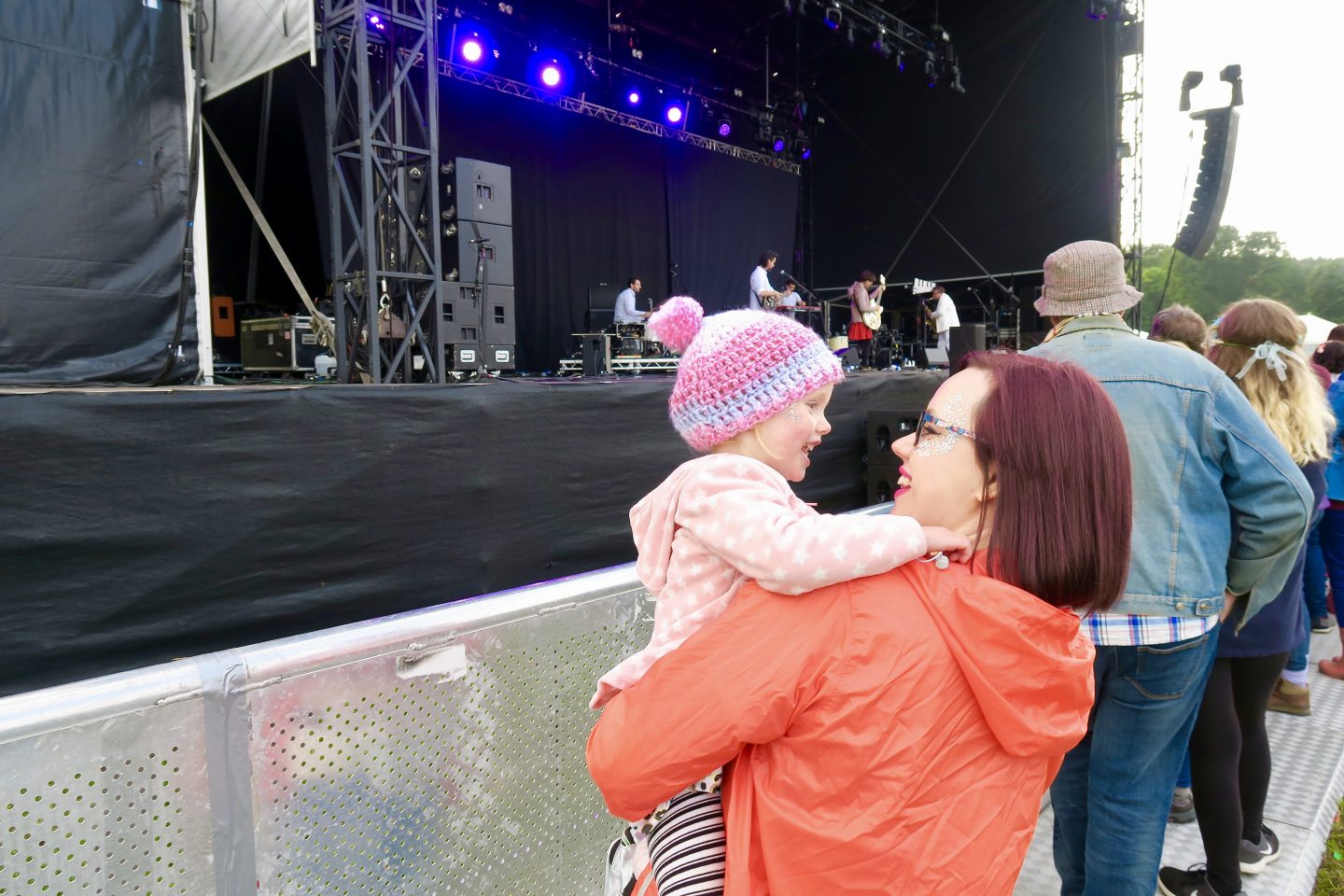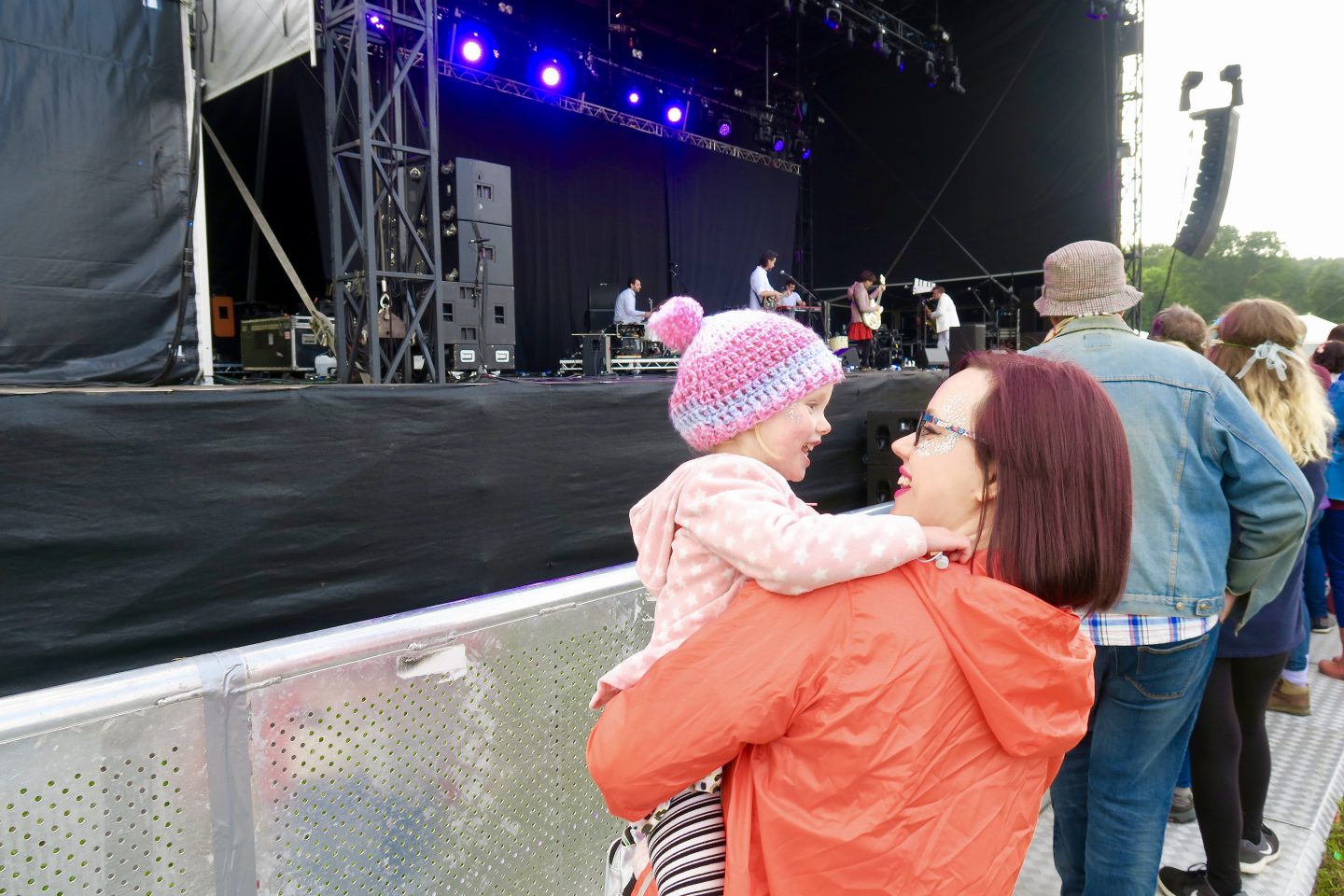 Other notable performances of the weekend for me were Avalanche Party, whose lead singer ended up topless and fully immersed in the middle of the crowd finishing their set. That's the kind of energy I like to see at my gigs.
Ibibio Sound Machine playing in the glorious sunshine on Friday late afternoon was serendipitous. Noel Gallagher leading a crowd rousing rendition of the beetles' All You Need is Love was a particularly heart-warming karaoke.
Ezra Furman was a force to be reckoned with in his charity shop red dress. Opening the festival were the Orielles, who with tracks like 'Let your Dog Tooth Show' hold so much promise for ones so young. I can't wait to see where they go.
James headlined the festival on Thursday night but made the festival mistake of being slightly too self-indulgent favouring new songs over classics. New anti-Trump song Hank did go well though with lyrics like 'this president's a dangerous tool' and 'black lives matter shoot on sight' striking a chord with the crowd.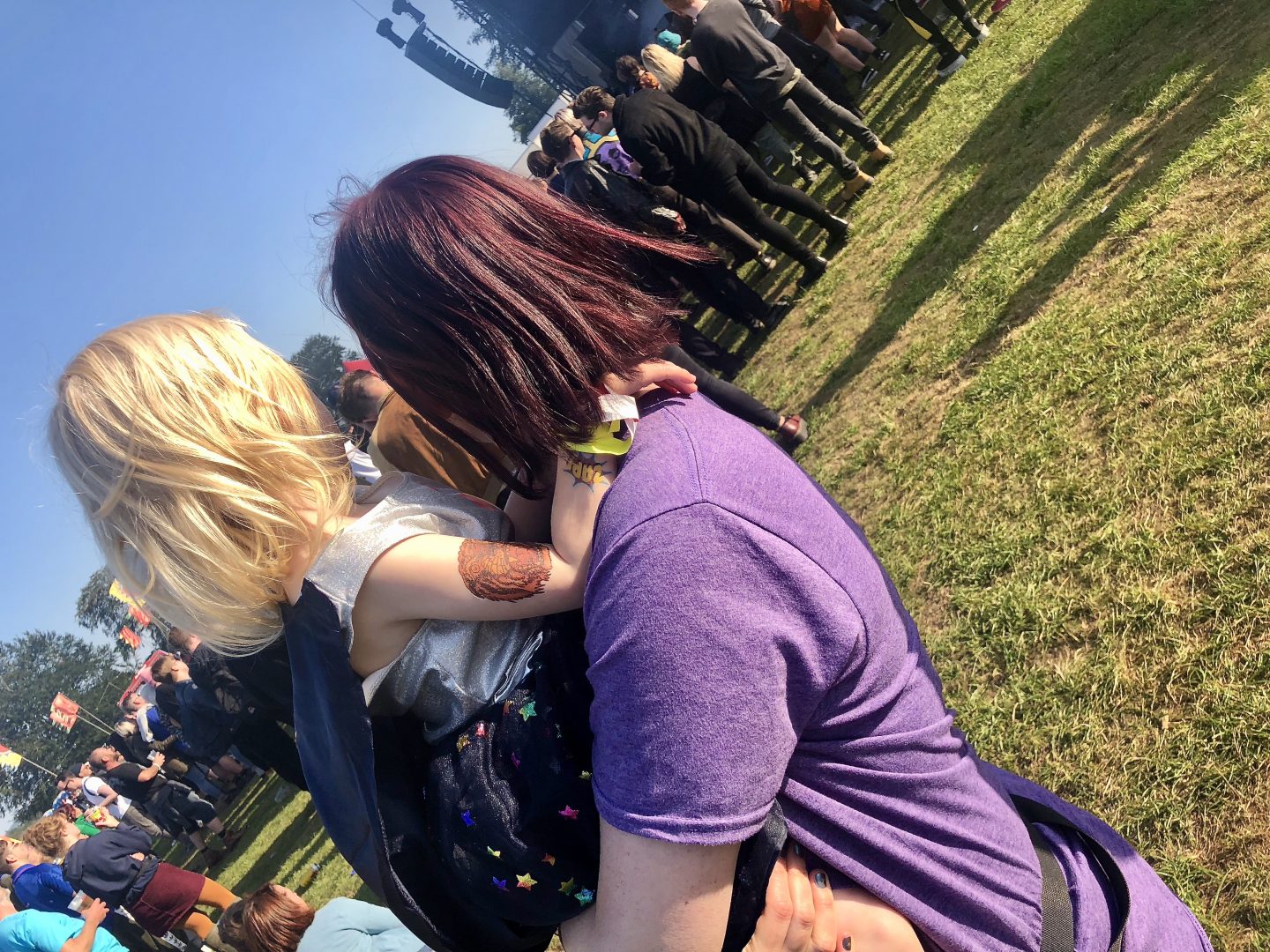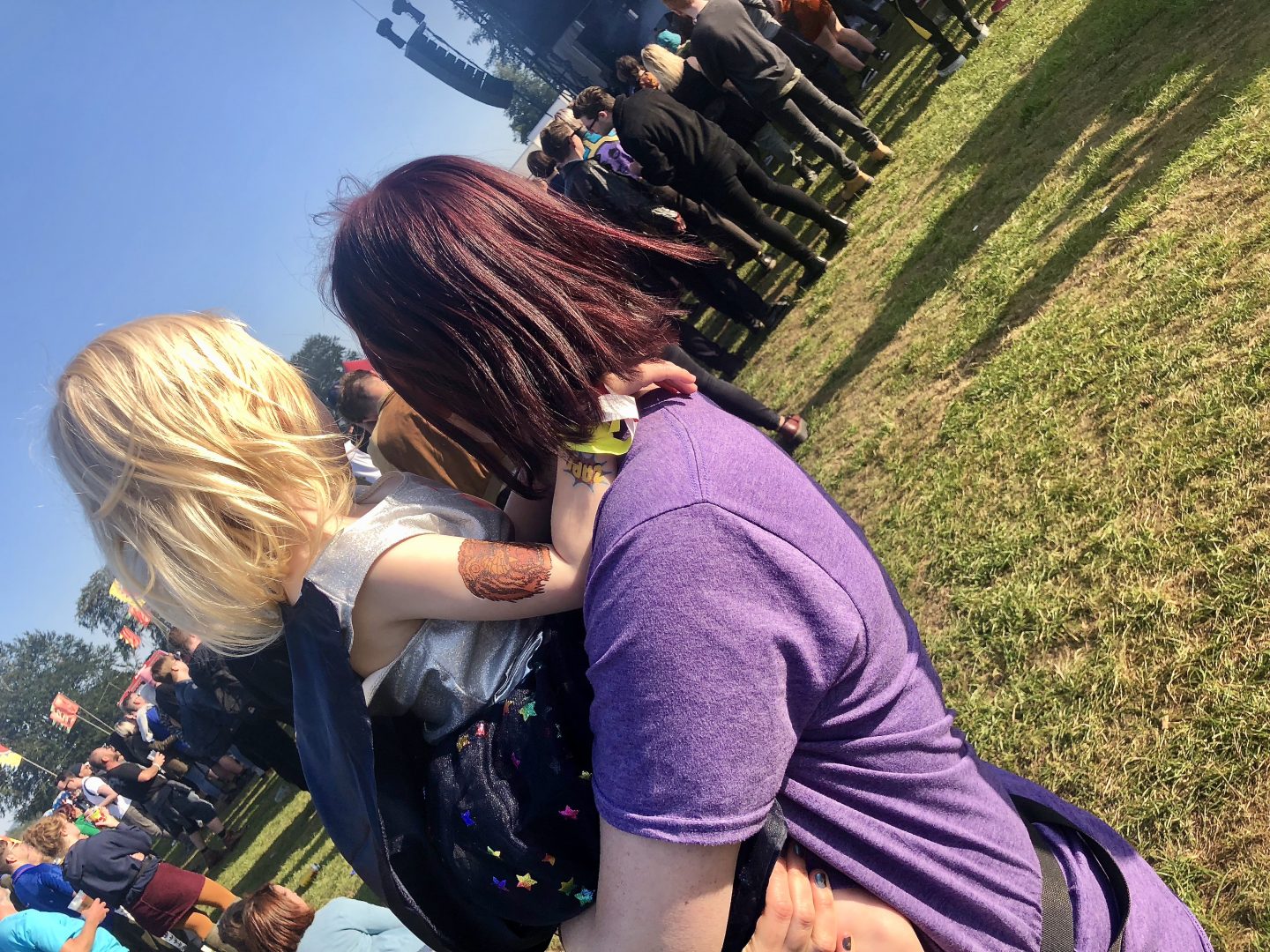 I was fortunate enough to watch Public Service Broadcasting play for the second time this summer. My 6 year old kept asking when they were going to play 'go' (#parentingwin) and hearing his little voice belt out GO with them was a personal highlight for me.
Scottish band Idlewild naturally drew a large and enthusiastic crowd with classics like American Fiction, Little Discourage and In Remote Part/Scottish Fiction going down particularly well.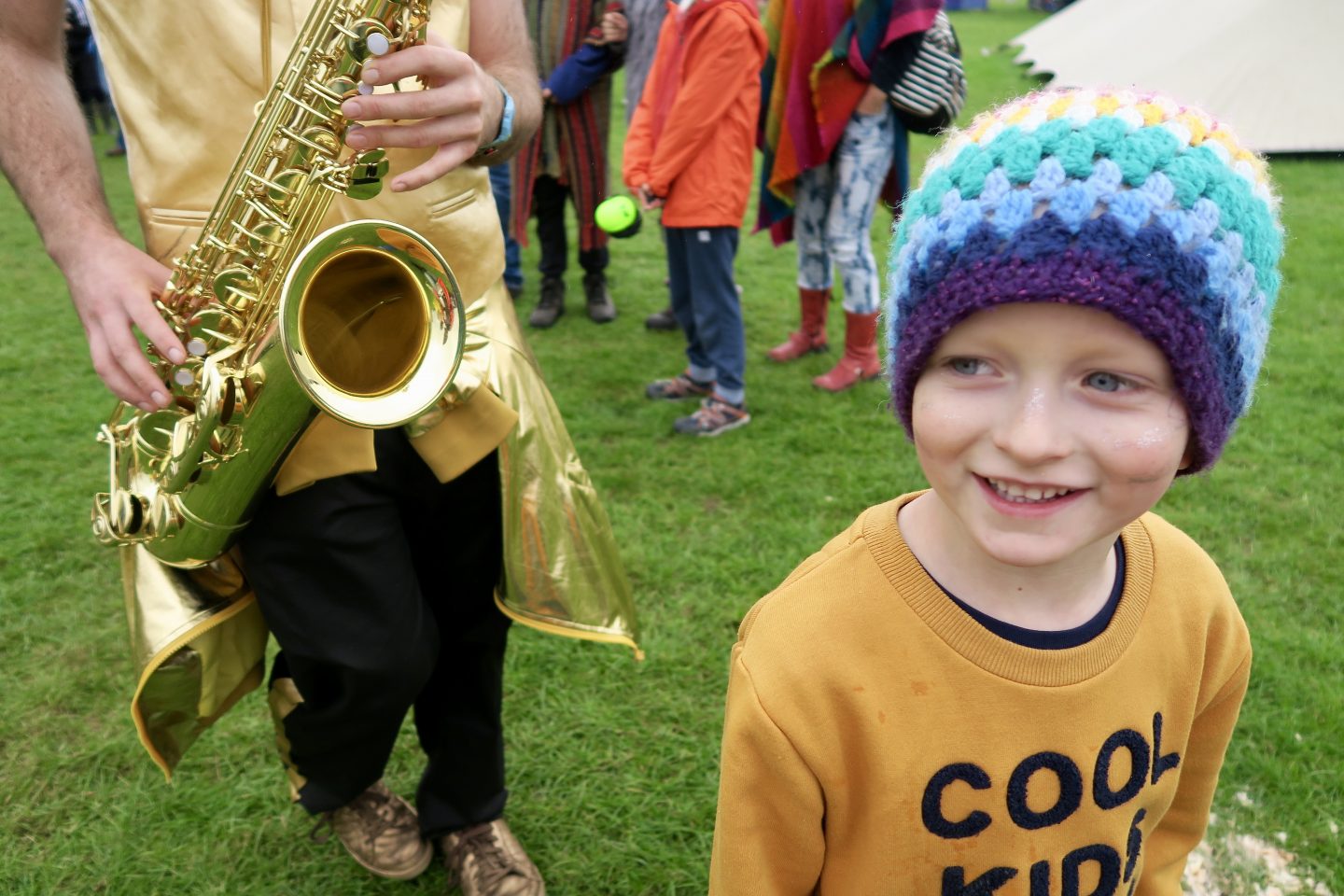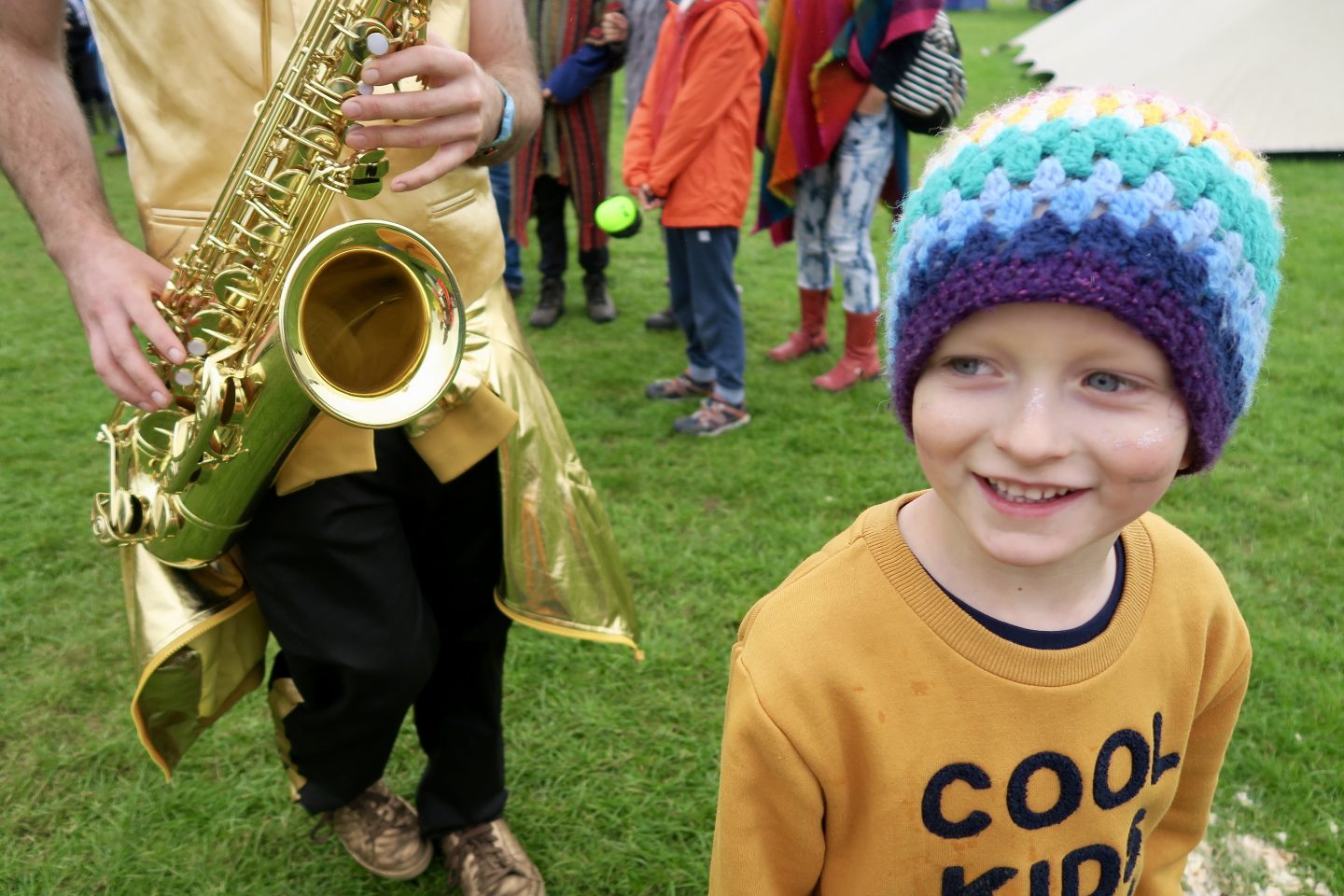 Food at Electric Fields Festival 2018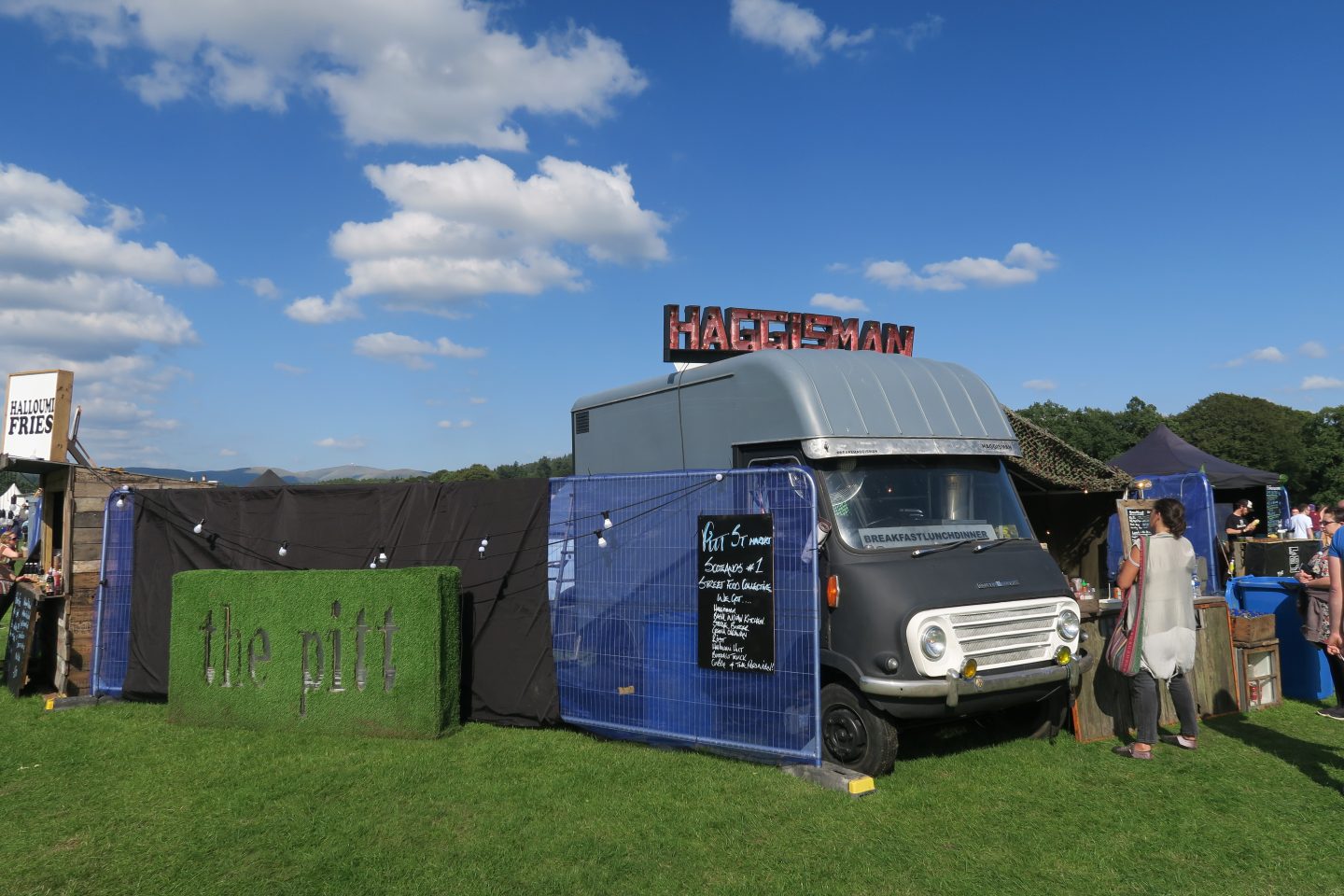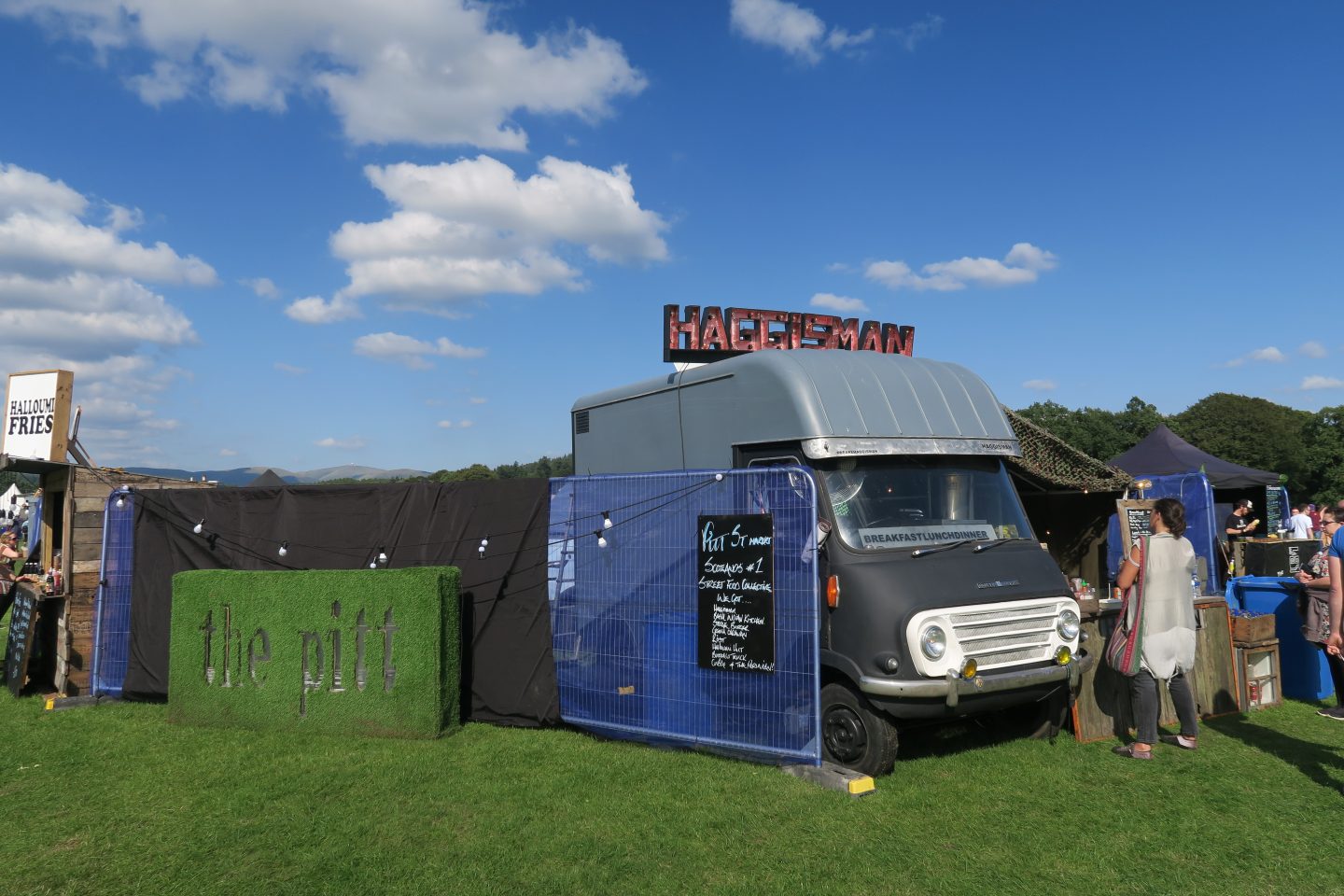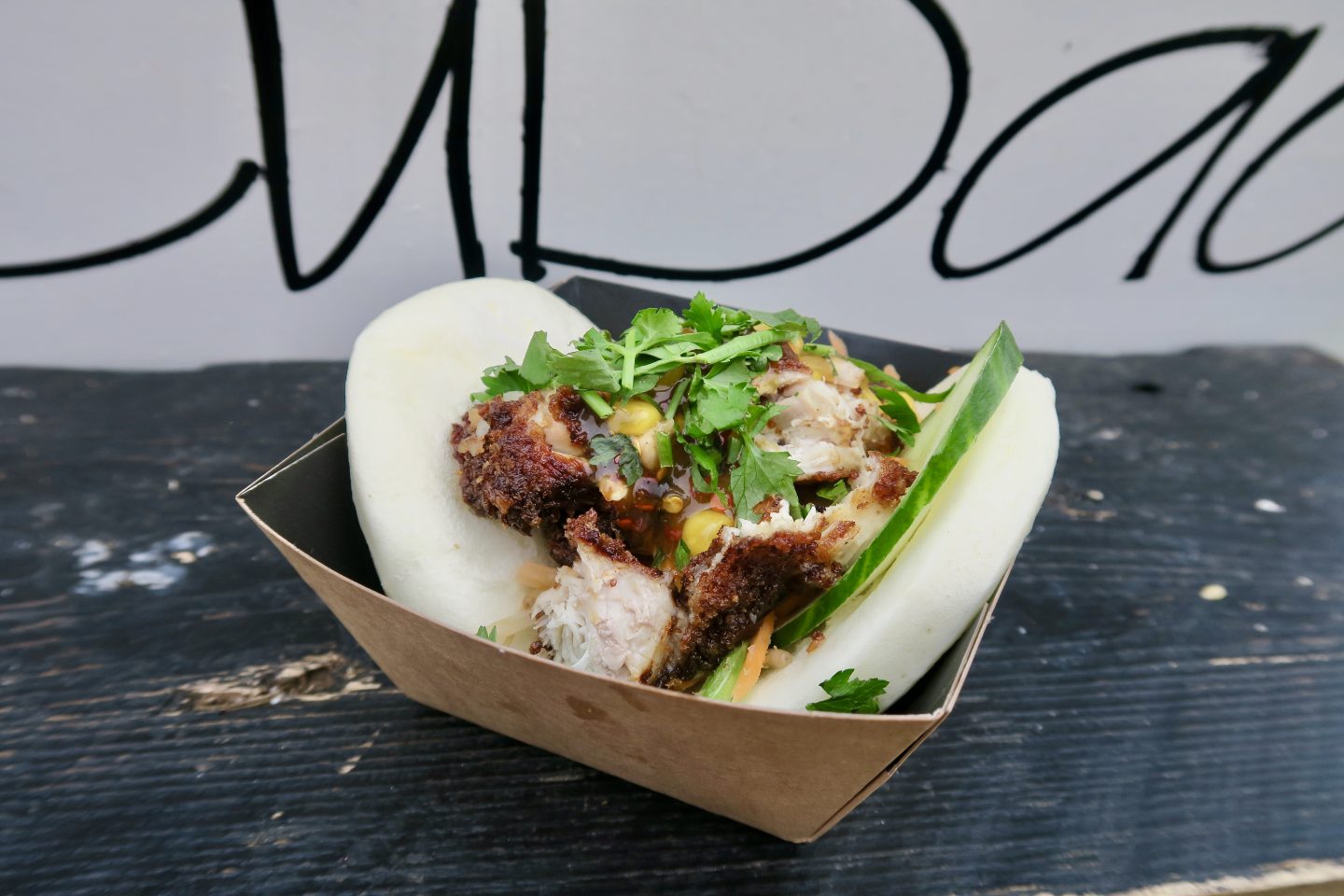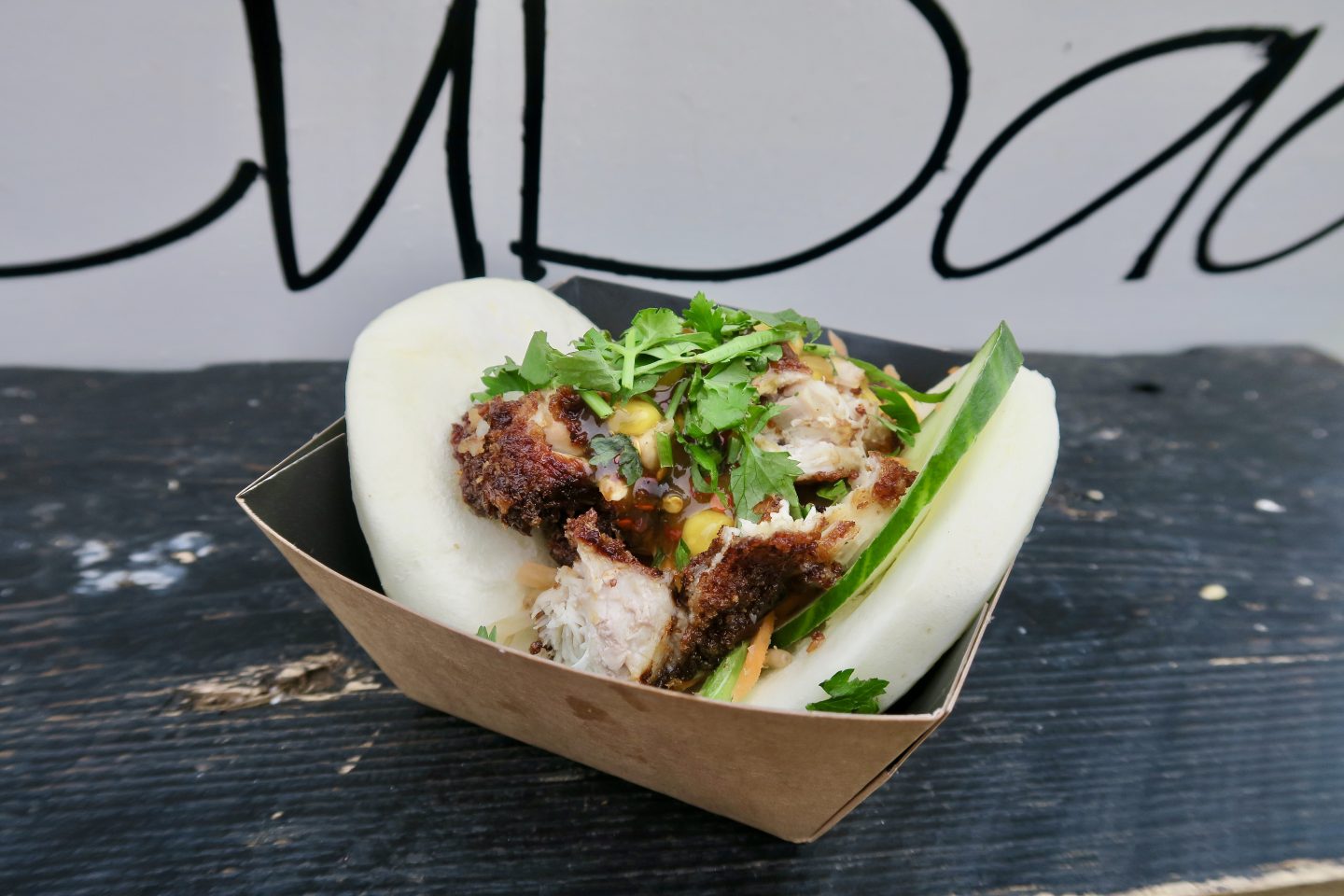 One of my favourite things about festivals is the food and Electric Fields more than delivered. There were food stalls dotted all around the edges of the arena, as well as a few vans on the campsites too.
On top of this, there was a dedicated food section in the middle of the arena called 'The Pitt'. Where Edinburgh's well known street food market The Pitt brought some of their best vendors to supply their culinary delights to Electric Fields festival goers.
As you'll know from my By the River Brew Co HWKRMRKT review, I'm a glutton for street food so the Pitt was where we mostly ate for the weekend. Our favourite meals were halloumi fries from Halloumi Hut, gyoza from Bao. Burgers and fries from Stooge were great value for money.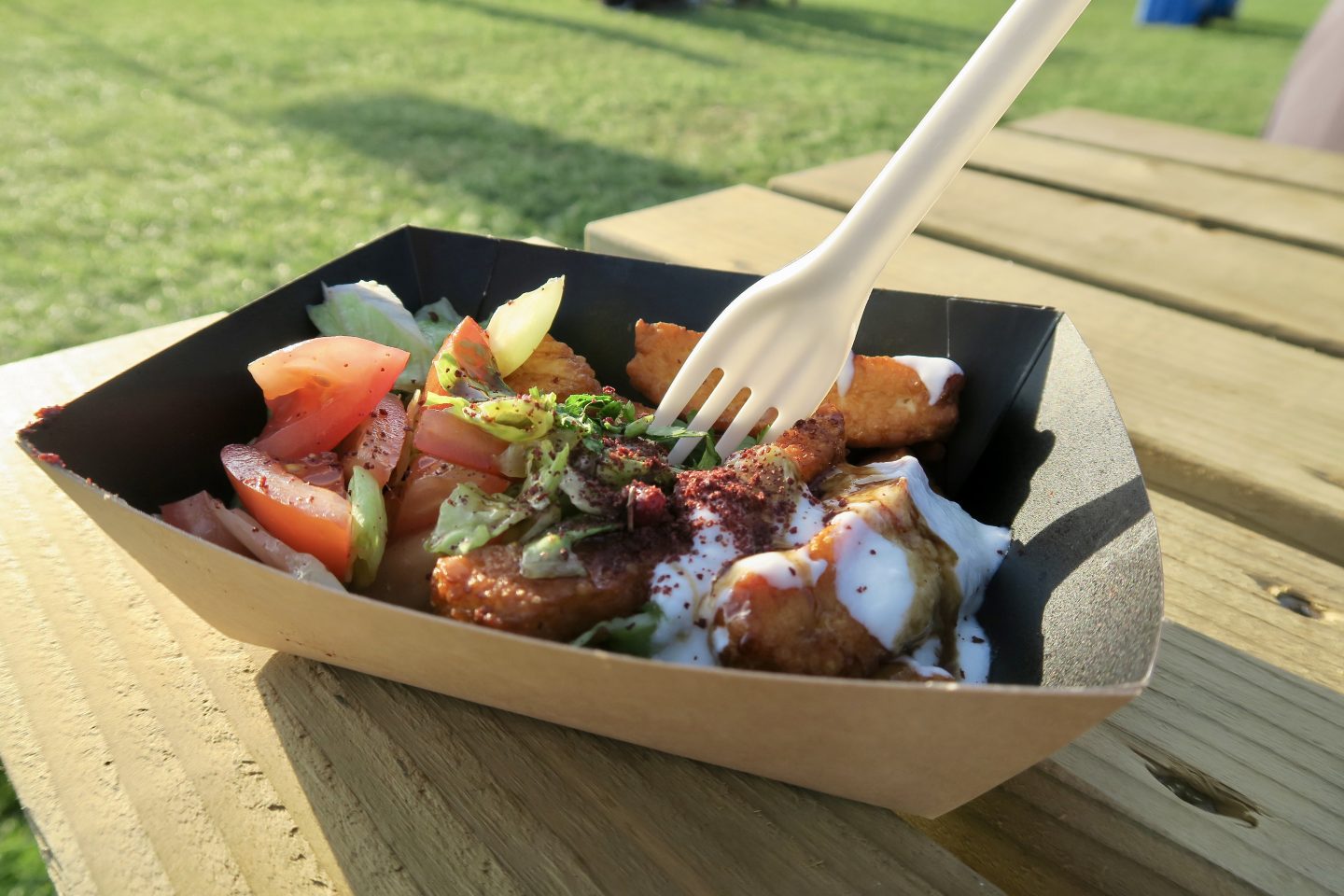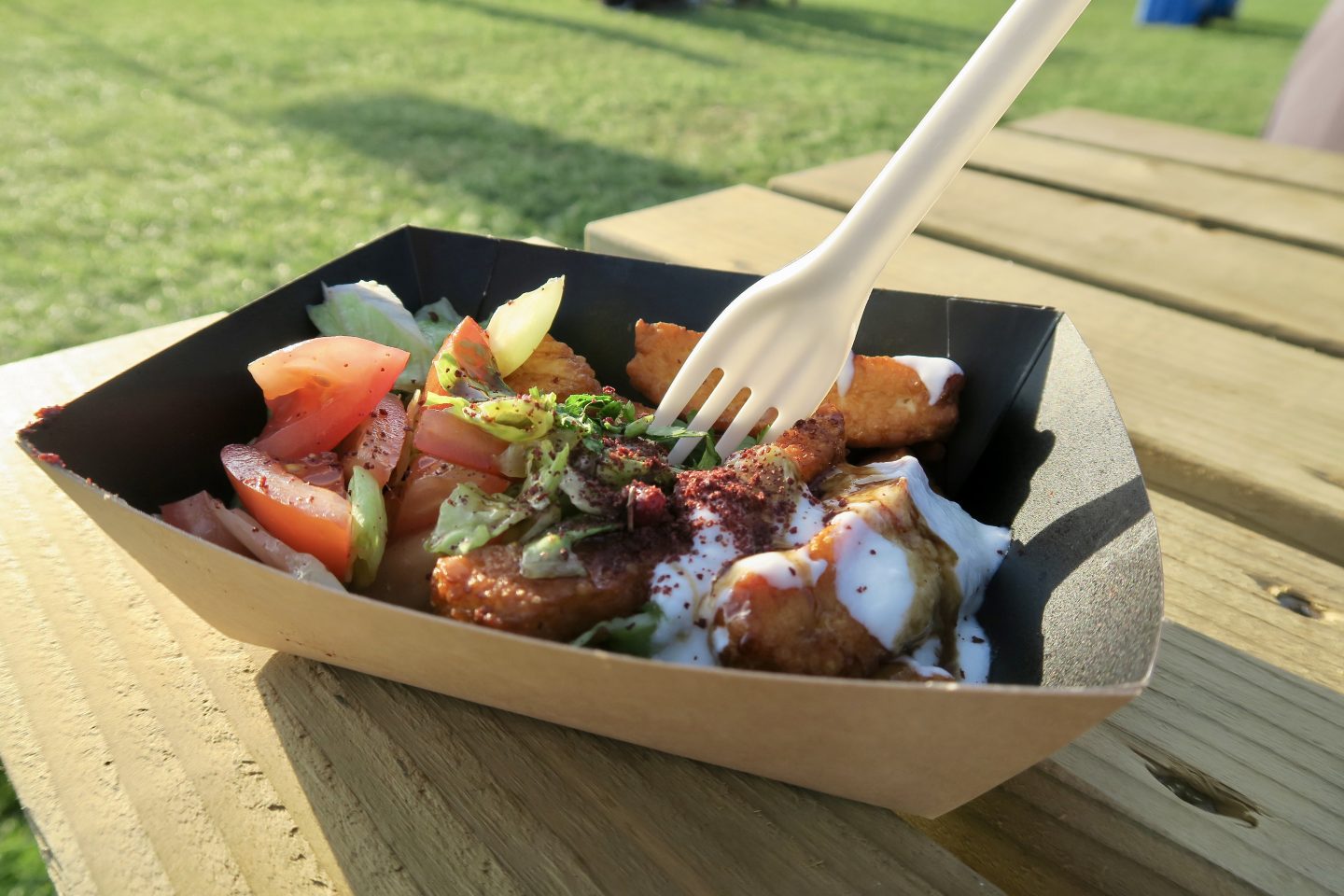 My favourite meal of the weekend was the Buttermilk Fried Chicken Burgers with black garlic mayo and parmesan truffle fries from the Buffalo Truck. I wouldn't have normally chosen this but it was so good. Unfortunately I didn't get a good photo though as it was dark when I ate it.
We also had 2 amazing wraps from Babu Street Kitchen which were explosions of flavour and spices.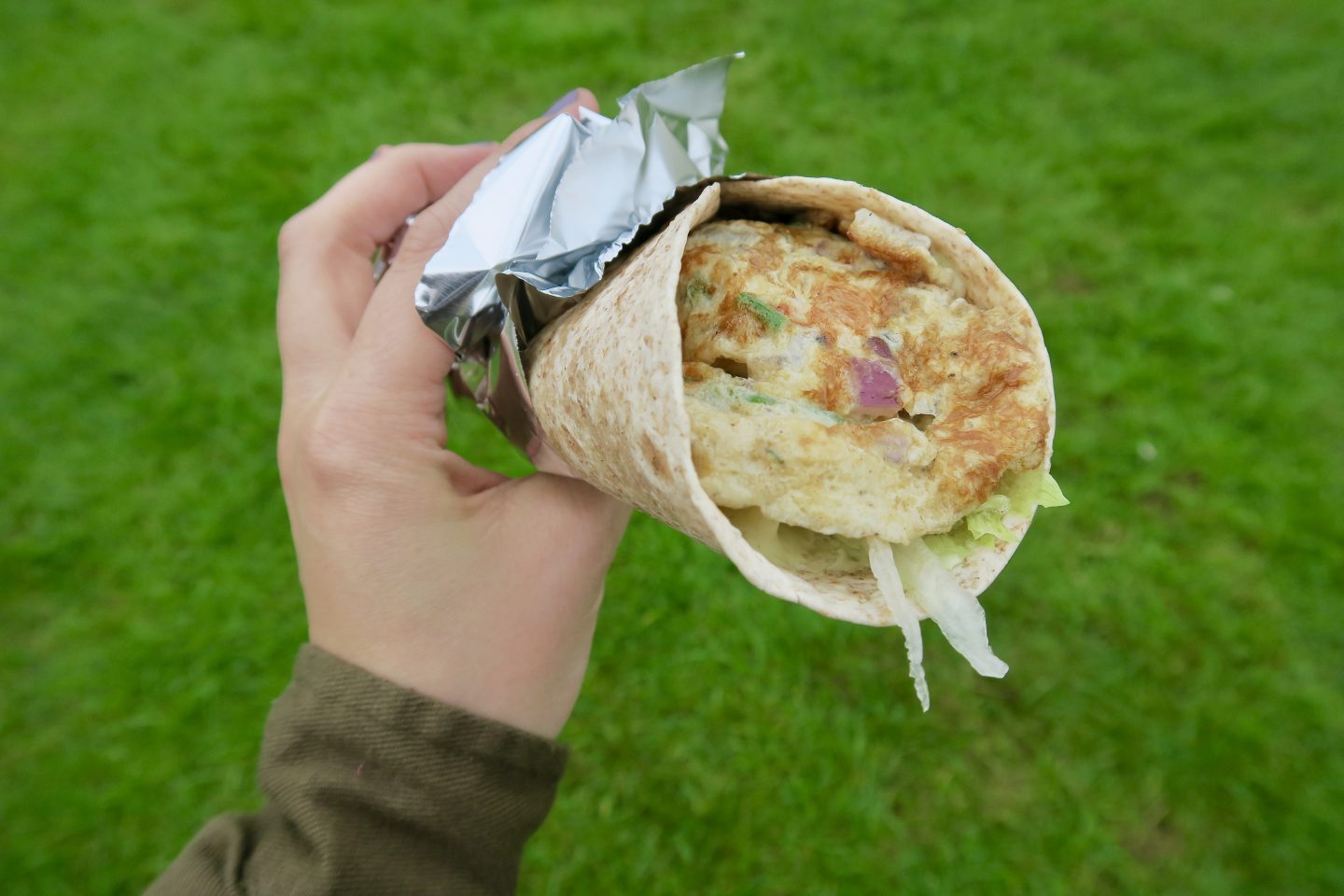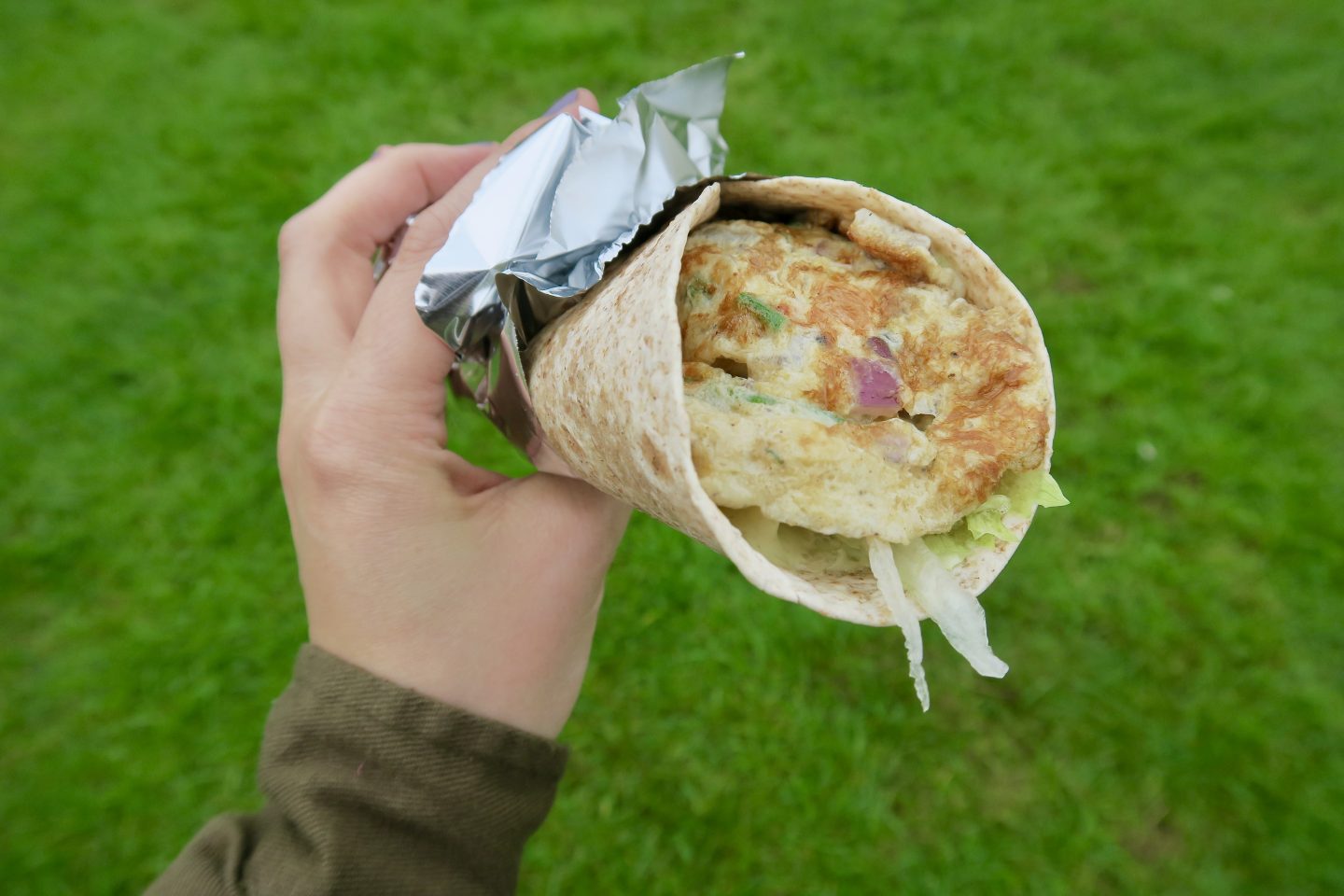 We even had local sourced Scottish lobster and fries from Rost (£10) pushing the culinary envelope for a festival, although eating lobster out the shell with a wooden fork is a particularly middle class problem I never thought I'd ever have.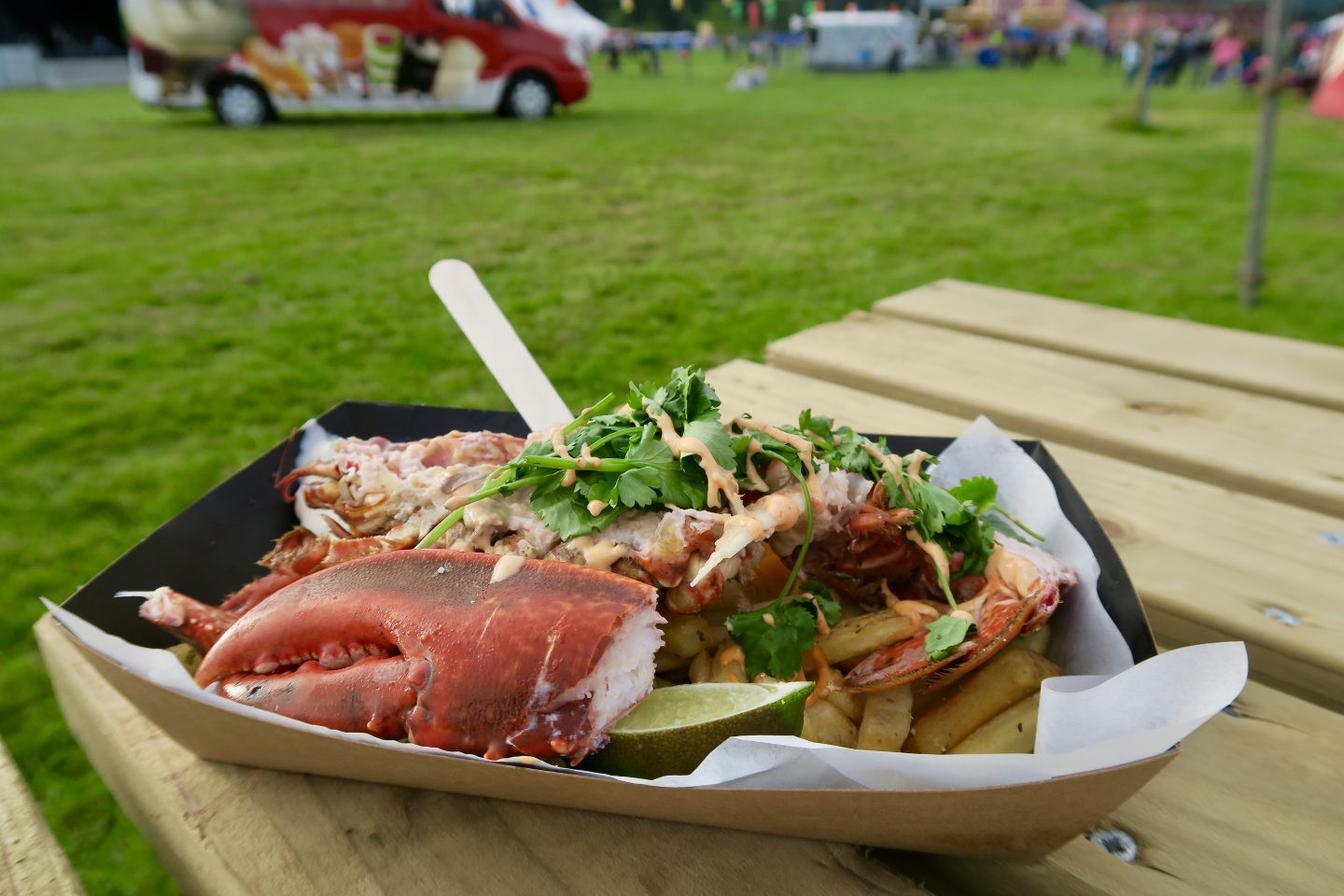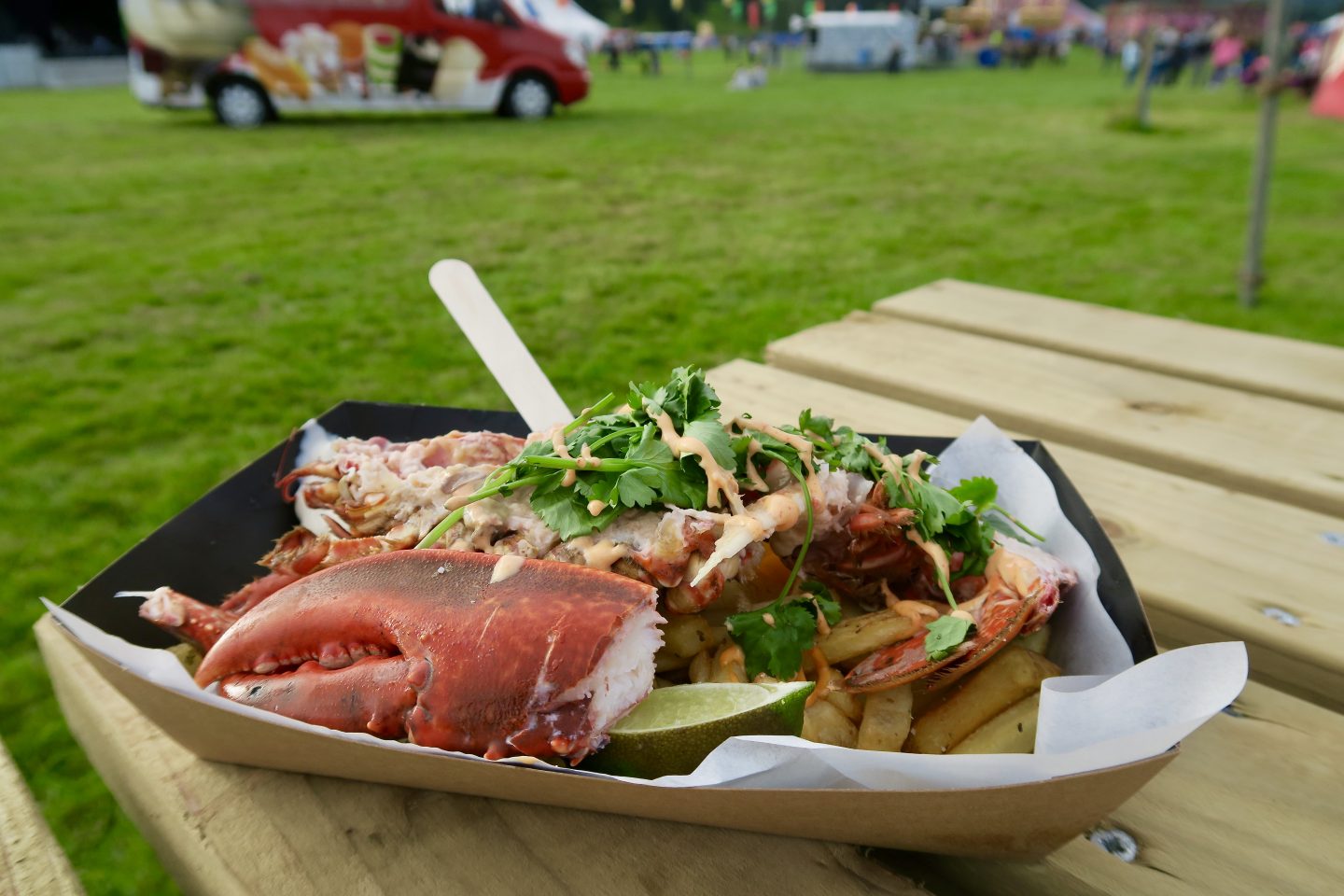 I was really impressed with the portion sizes at Electric Fields which made most the meals great value for money (usually £6-10 for a full meal) for a festival (festivals being notoriously overpriced for food and booze). I was also impressed with the variety of food on offer and the amount of options on offer for those with dietary requirements. It was quite a shock to go back to eating normally on the Monday let me tell you.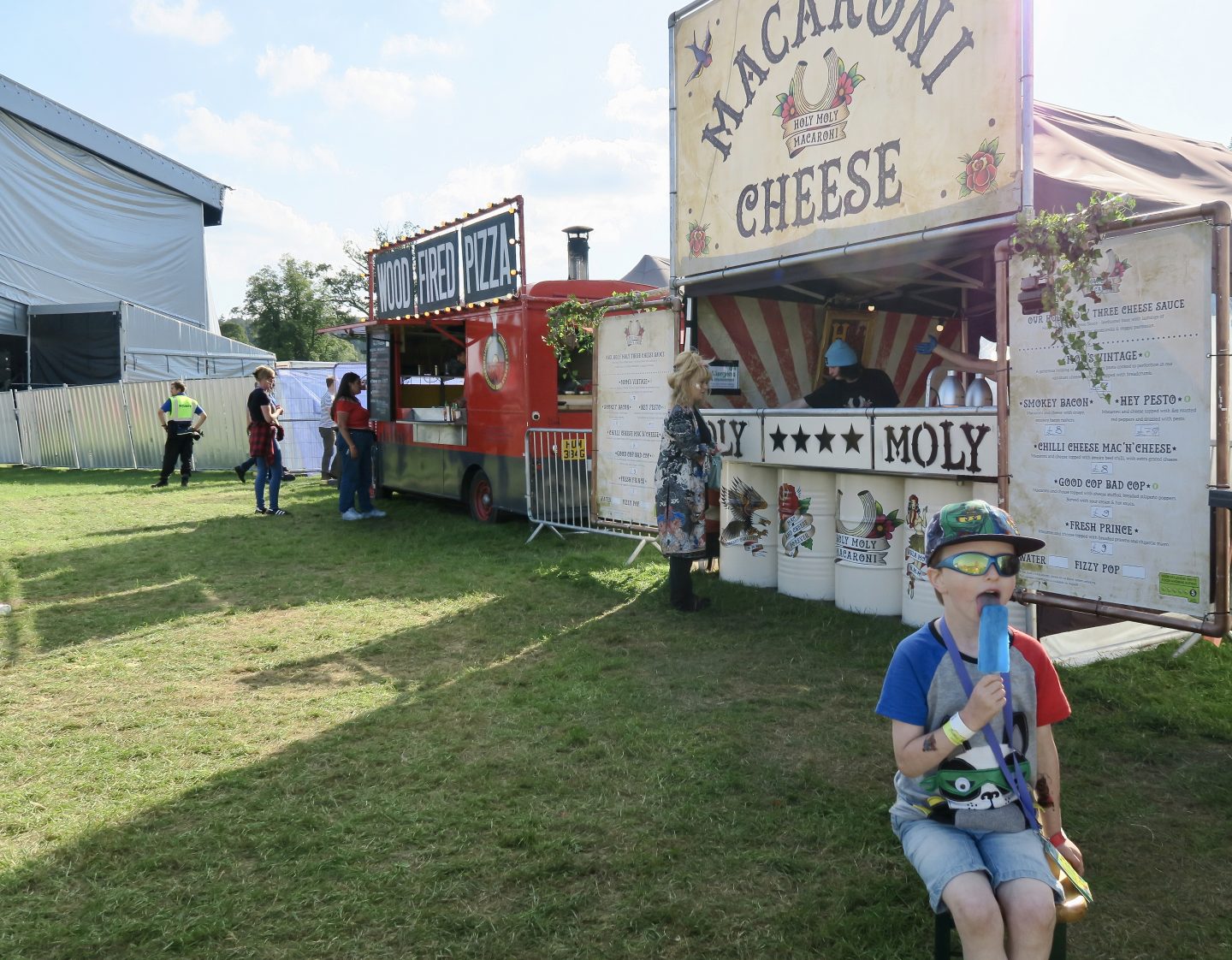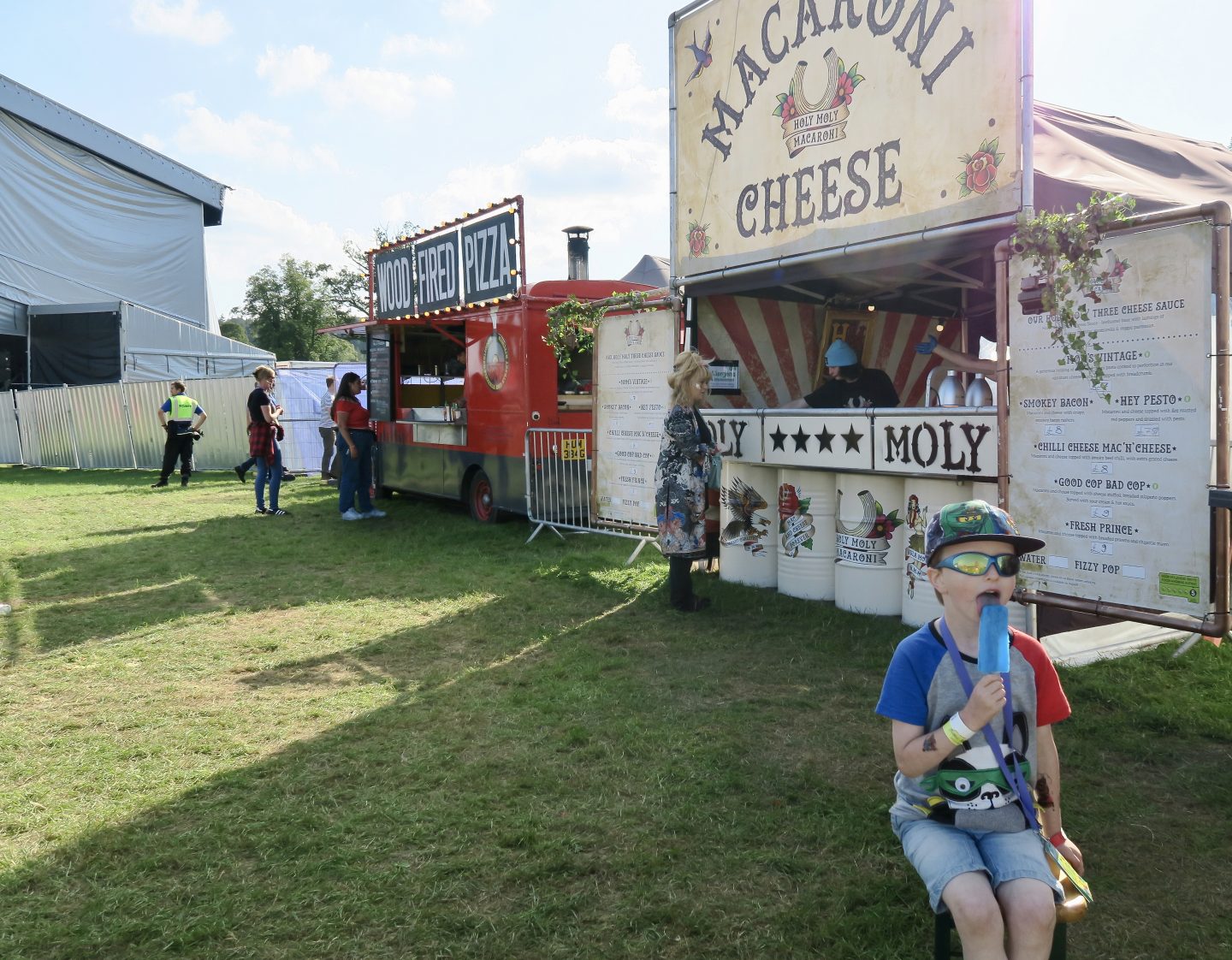 Atmosphere and vibe at Electric Fields Festival 2018
The whole vibe of the festival is friendly, warm and welcoming. After having had the pleasure of meeting one of the organisers, Nick Roberts, I attribute this to him and his brother. Nick was friendly, down to earth and hands on. I first met him at the family camping entrance when the festival first opened where he was helping oversee people coming into the festival. I saw him multiple times over the weekend. He was constantly on the go making sure everything was running smoothly yet he always made time to chat to people. The festival seemed to be Nick's good nature embodied in festival spirit. Nick seemed to be around the same age as me and I reckon he's created the kind of festival he would like to go to, which is why we loved it so much. It was refreshing to not have a festival overrun with exuberant teens puking all over the shop.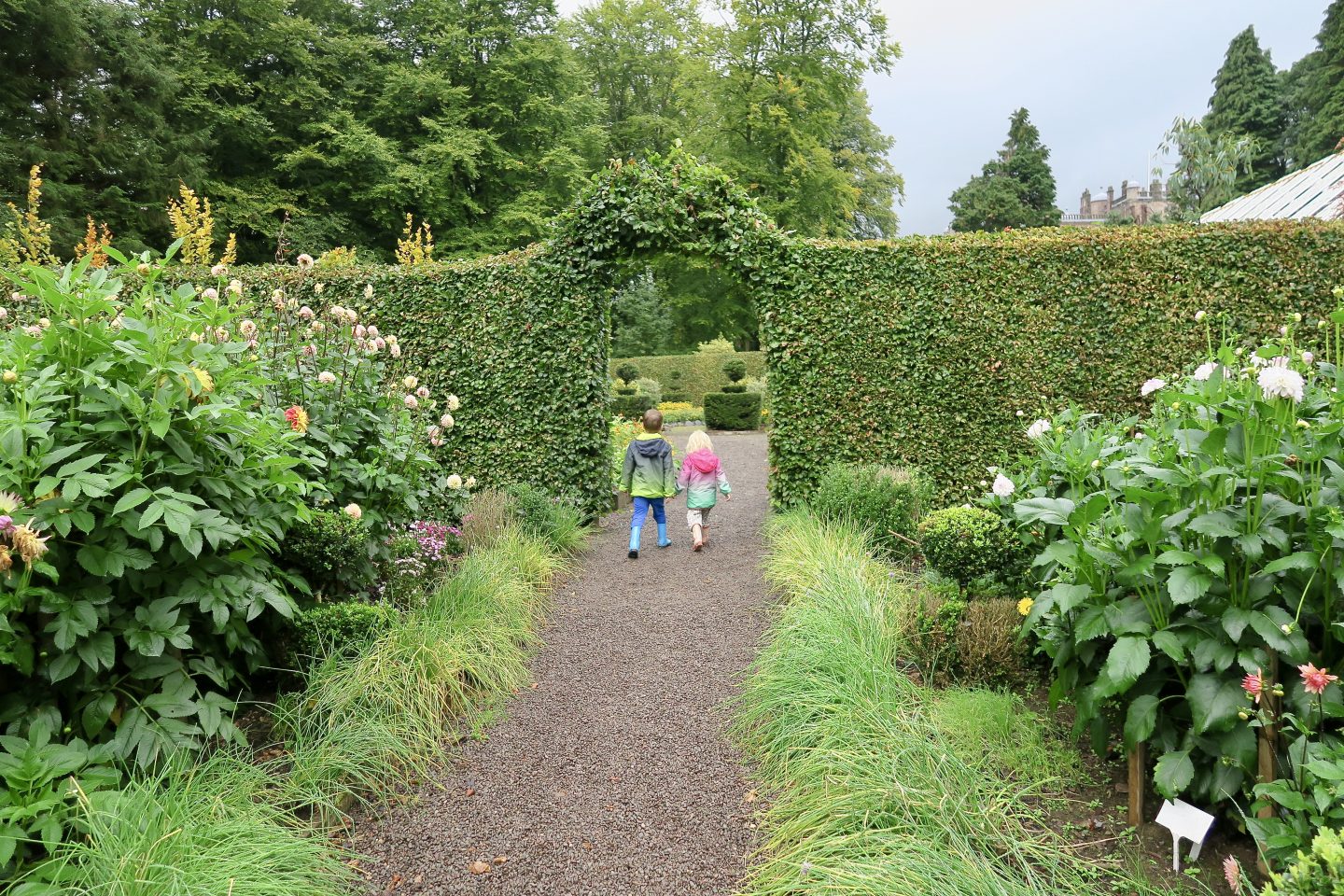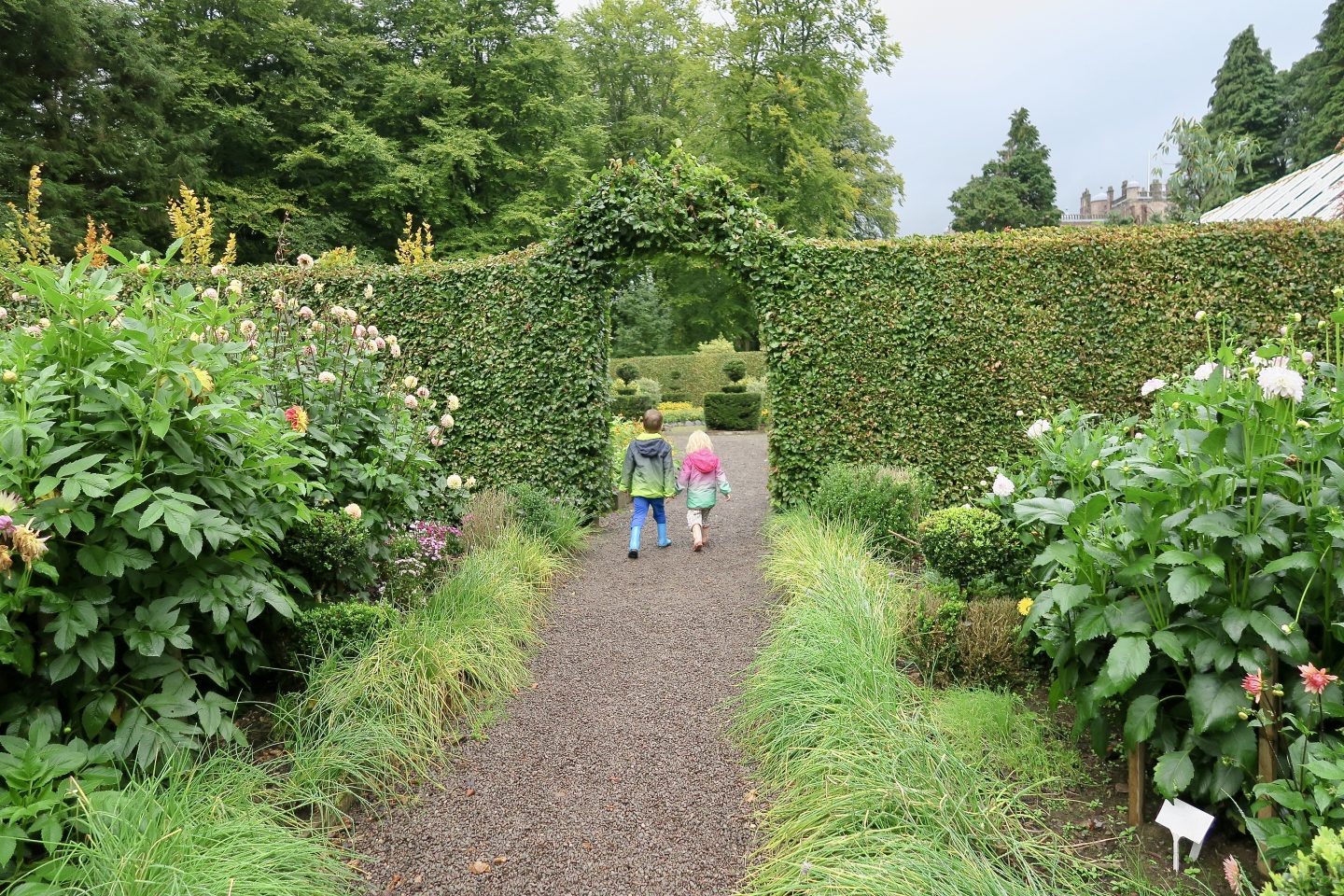 Summary of our experience at Electric Fields Festival 2018
I loved Electric Fields Festival 2018 so much I literally bought the t-shirt. It's one of the best festival experiences I've had and I can't believe I'm saying that when I was responsible for a 3 and 6 year old the whole time. In fact, solely responsible for them for half of it. That's testament to what a perfect festival this is for families. If you are looking for a festival where you can still have fun and listen to great bands whilst still keeping the kids happy then this is the one. You can guarantee we'll be back in 2019. I see very big things indeed for this festival's future. Bravo and thank you to the entire team. I'll never forget this experience and it was the perfect end to our perfect summer.
You can watch our full YouTube vlog of our experience at Electric Fields 2018 here
If you liked this post you might also like: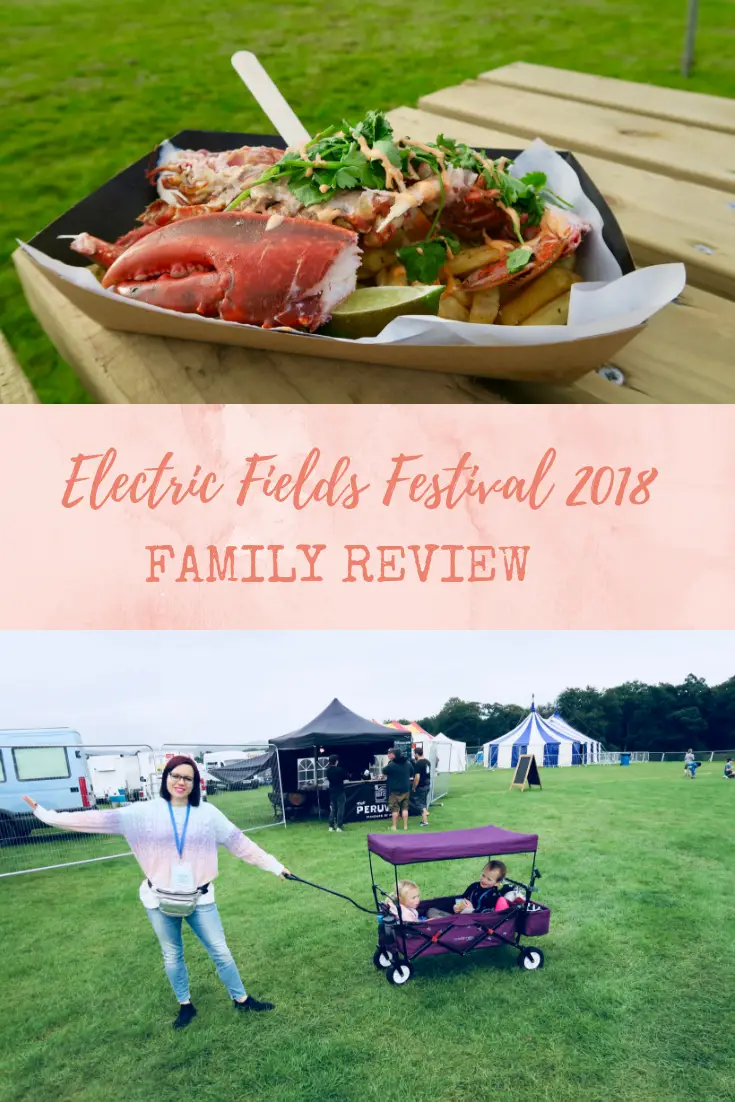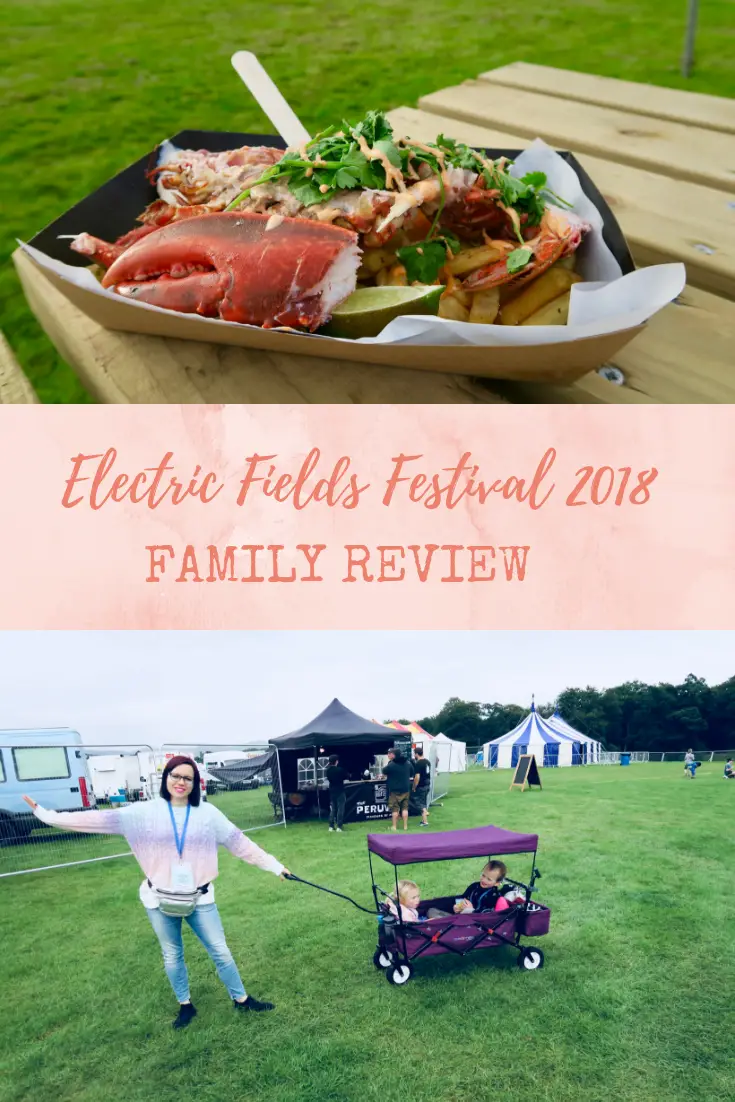 Disclaimer: We had press passes for Electric Fields 2018. For my full disclosure policy please see my about page.