We recently went camping for the first time as a family AND it was at a festival (see my guide on creating a family camping starter kit here). I was understandably was nervous about taking a 3 and 6 year old to their first camping festival. I wanted it to go as well as possible so I turned to my blogging pals and asked the pro festival family campers for their top tips for me. These are their top festival camping tips for families…
Holly from Little Pickles Mom says 'We took our two year old to his first festival this year and it took us a while to find our groove. I found the first day quite a stress but then the second day was absolutely amazing. My tip would be to just relax and not set yourself any expectations. Don't set your heart on seeing any particular acts or events (because that's exactly when your child will misbehave!). If you can go with another family – that would be best. Then you could always do a bit of a child swap if there are any particular things you want to enjoy child free. And ALL THE SNACKS.'
Jess from Tantrums to Smiles recommends 'A pull along wagon! Some car parks are quite some walk from the actual camp site at festivals and trying to drag all of your camping bits as well as keeping an eye on a very excited child can be difficult. Having a pull along wagon means you can pop all your stuff into it and pull it along to the campsite whilst still being able to keep an eye out for the kids. They are also really handy to have with you for kids to sit in during festivals if their legs get tired or to even sleep in (take a comfy sleeping bag and pillow) if you plan on staying up later to catch some later shows or music!' See my blog post all about festival wagons for kids here.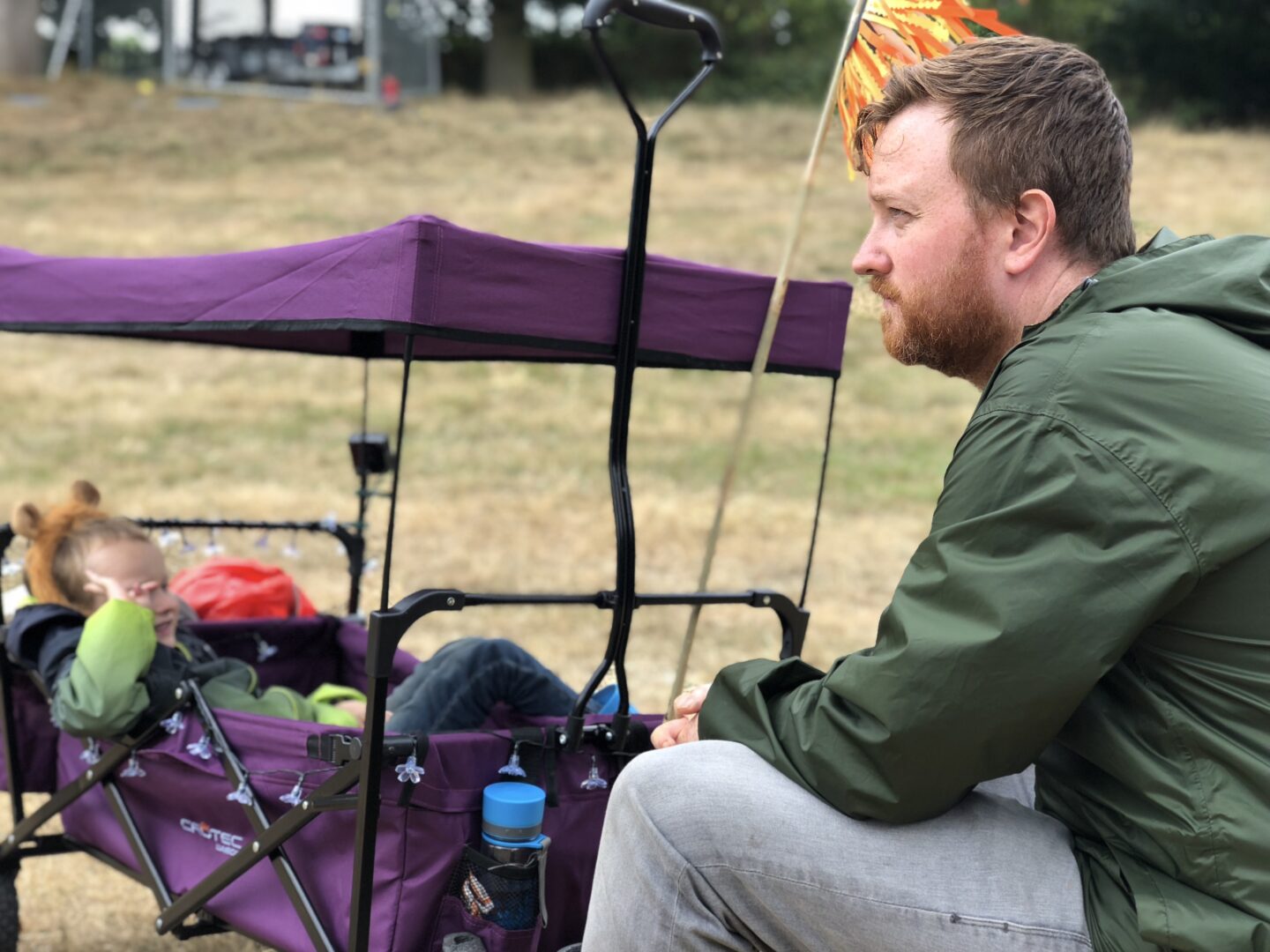 Sinead Latham says 'With ALL the sweet things and treats on offer we let the boy pick one treat per day….he loved taking his time and deciding which stall to head to and we found it removed the need for saying No all day long. Pack a ball……easy way to keep them busy if you just want to hang by the tent. Also a fab way for meeting your tent neighbours kids.'
Louise from Pink Pear Bear (who is a mega babe and one of my faves btw) is a total pro and has a bunch of tips on what to pack in this blog post, my favourite being 'not essential but we have a tradition where a festival means a new onesie and they love them'.
My blogging bestie the wonderful Samantha from North East Family Fun is a total camping pro at this point so it's certainly worth listening to her! That goes for most things actually, she's very wise! She says 'Don't have a bed time – just let them stay up as late as they want. Trying to get them to sleep at a noisy festival is never going to happen. They will still be up early so maybe plan a nap/chill time for you all in the afternoon for a few hours back at the tent when it's quieter OR they can just catch up on sleep on the way home. Also – take ALL of the food. Sometimes water from a tap in a field can taste awful and my kids refused to drink it at Just So. I'd recommend taking a big bottle of water and using it to refill their drinks bottles every time you're at the tent. Somebody recommended freezing Capri suns and keeping them in an insulated cool bag to us. This worked really well and they stayed cool for 48 hours so perfect if a cold drink is needed (and they'll keep other food cool too). My final tent is – I love taking a pop up IKEA toy/laundry basket when camping with kids. It's easy to chuck dirty clothes/toys in and keeps everything together and tidy.'
Ben from Wood Create suggests 'taking some good warm bedding. We got caught out thinking it would be boiling in this super hot weather but it gets quite cold at night so take a few extra blankets to keep you and the little ones warm and snuggly!'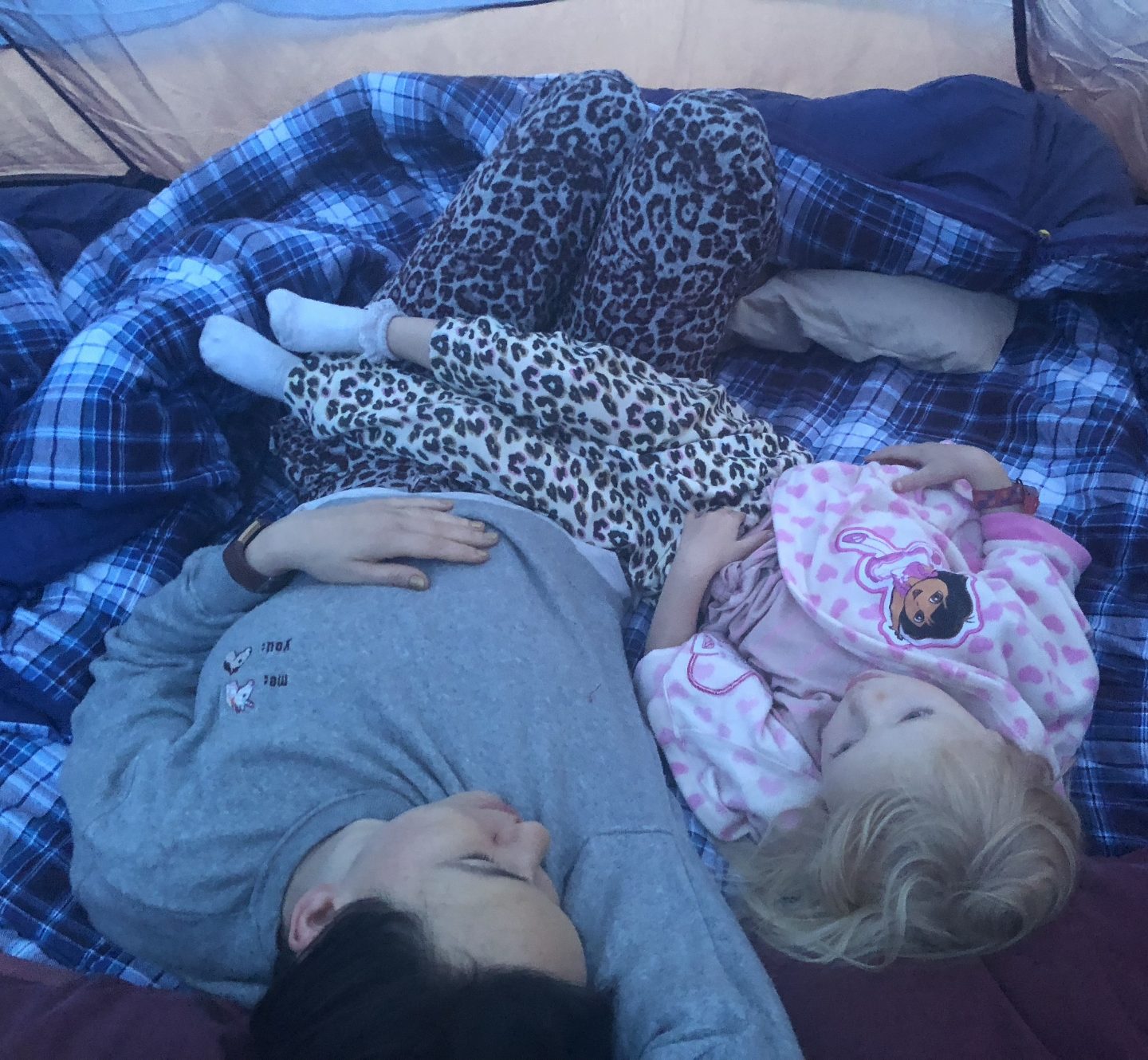 Fellow punky mom and all round badass Hannah from HiBaby recommends 'We always do a poundshop run beforehand for treats like glow sticks, those bouncy ball balloons, bubbles, various inflatables, plastic kids jewellery, novelty glasses and hats. We never spend more than £10 and have a tonne of fun things which don't take up a lot of space. They all double up as festival wear and entertainment plus they save you a lot of money at the festival itself! I always find they have lots of stalls full of tempting treats like this at much higher prices, it can add up really fast.'
I totally agree with Jenni from Chilling with Lucas who says 'We took a My Carry Potty for our 3 year old, makes it so much easier during the night, first thing in morning rather than hoping he can wait while we queue at the portaloos.' I certainly take something for us all to pee in during the night! I'm not going out in the cold and dark to the festival loos with how much I need to pee!
Jemma from Thimble and Twig says 'We did our first festival with 3 kids last weekend- here's what we found invaluable. Take glow sticks, glitter and Vaseline to stick it on your face! Head torches are great for navigating toilets at night. Solar lights to put around your tent to find it. Take a box of wine (alcohol so expensive there!). Pull along wagon is great – line it with pillows and blankets and the kids can sleep in it while you dance/ enjoy the vibe at night!! Take ear muffs for any kids under 6 (for night)'.
Clare from Wild Mama Wild Tribe is another one who recommends 'Take tons of snacks and freeze your drinks before you go'.
Sarah from Kippers and Curtains told me 'I have found my kids always sleep well at festivals. I think they are exhausted from all the activities. But yes to things like glow sticks, face paints, glitter, giant marshmallows… ponchos and extra blankets are great and try and take camping chairs. We carry them round during the day, saves getting a damp bum.'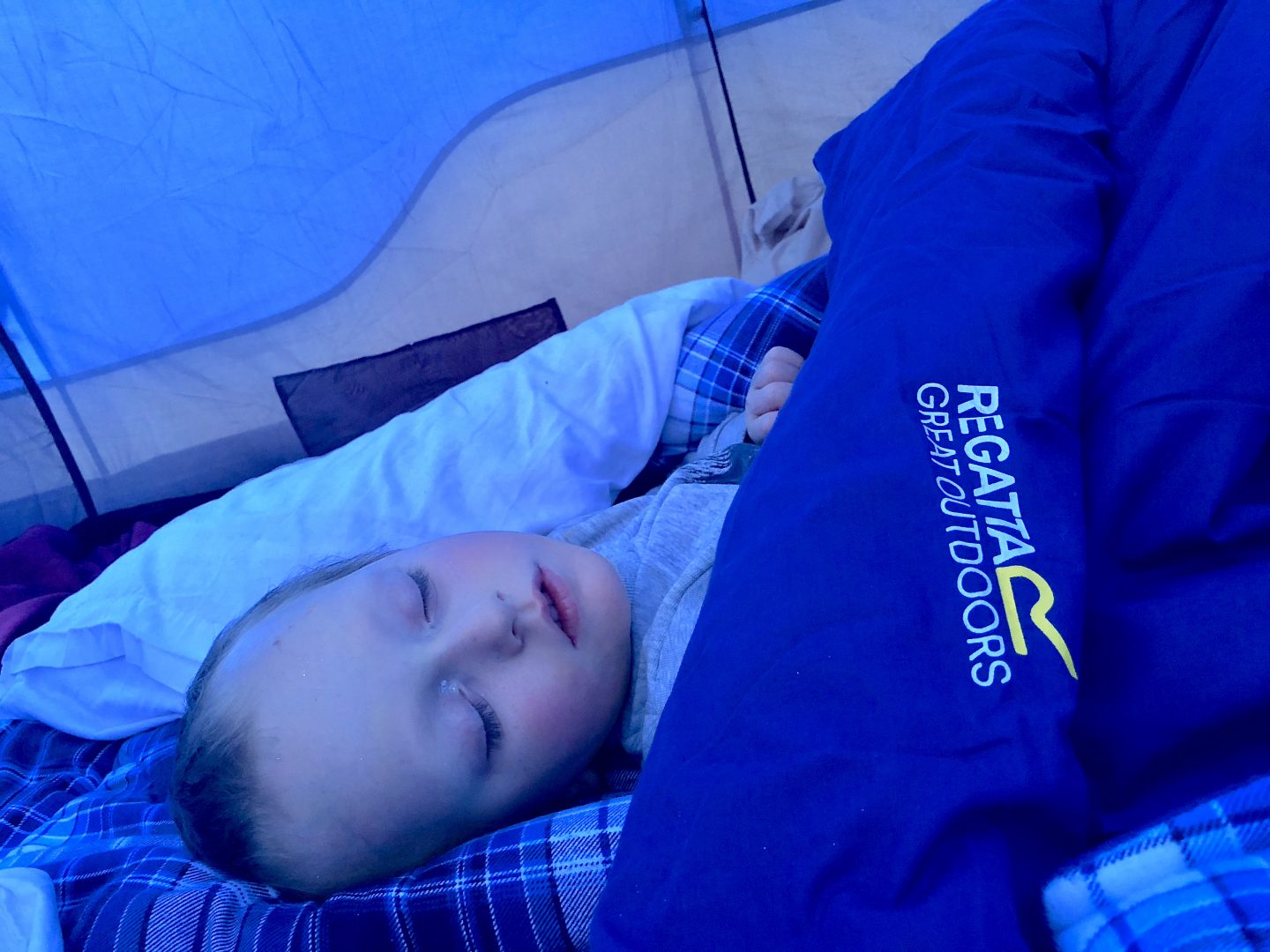 Sound advice from Katy from Otis and Us 'Embrace the late nights and change in routine, the kids absolutely love the freedom that a festival brings. Oh and take lots of glitter.'
Emma from Emma and 3 advises to 'Really think about which festival to go to for your first time with kids. Some are just huge and a bit overwhelming and so much walking. Yet a smaller festival can be a easier, more relaxed and less walking generally. Get them to love festivals by choosing the right one. Then you can get bigger and braver each time.' I couldn't agree more, for example, Glastonbury is 180,000 people and the same size as Newcastle. Where as our first was Just So Festival which was 5000 people and totally geared to families.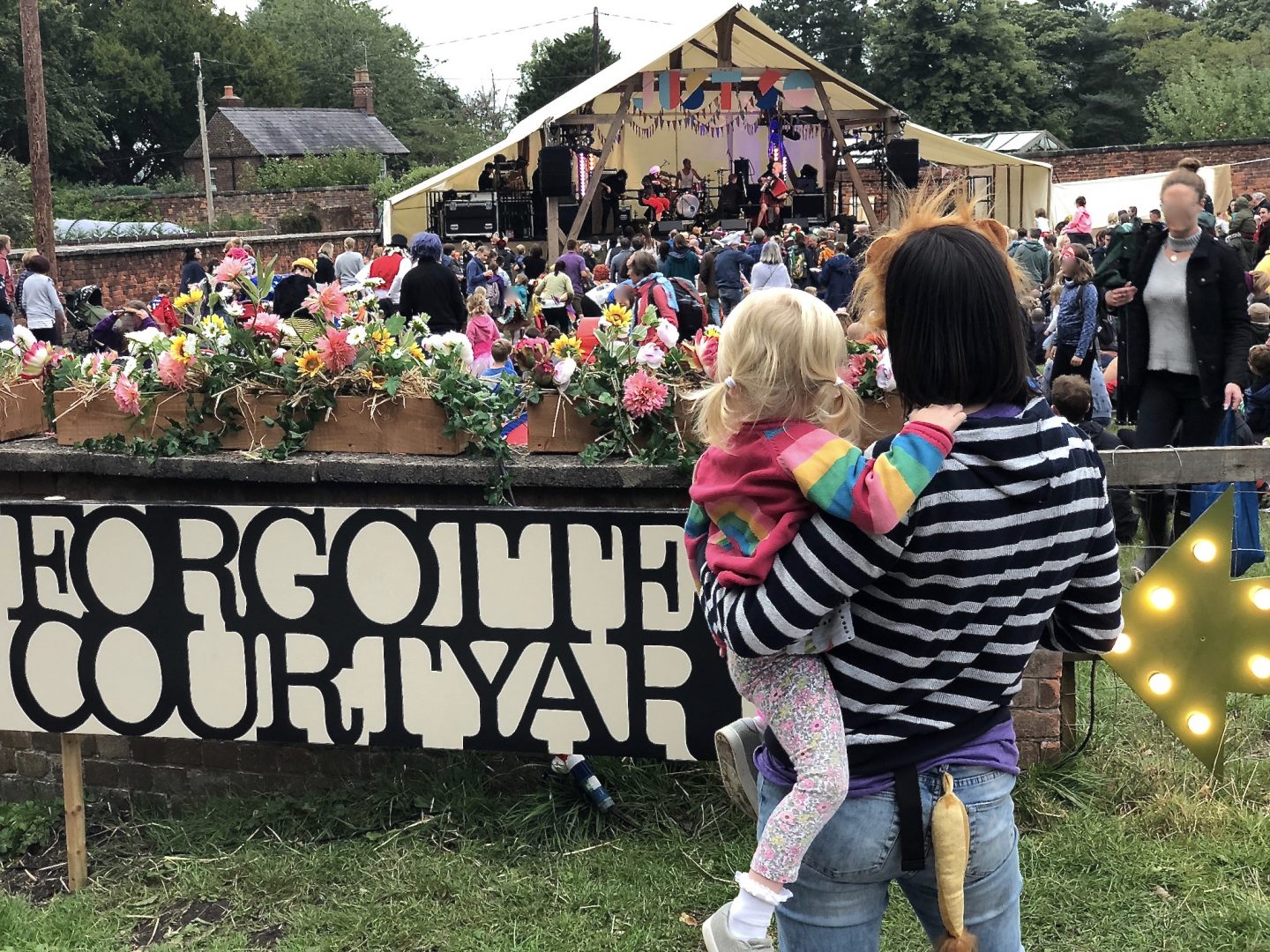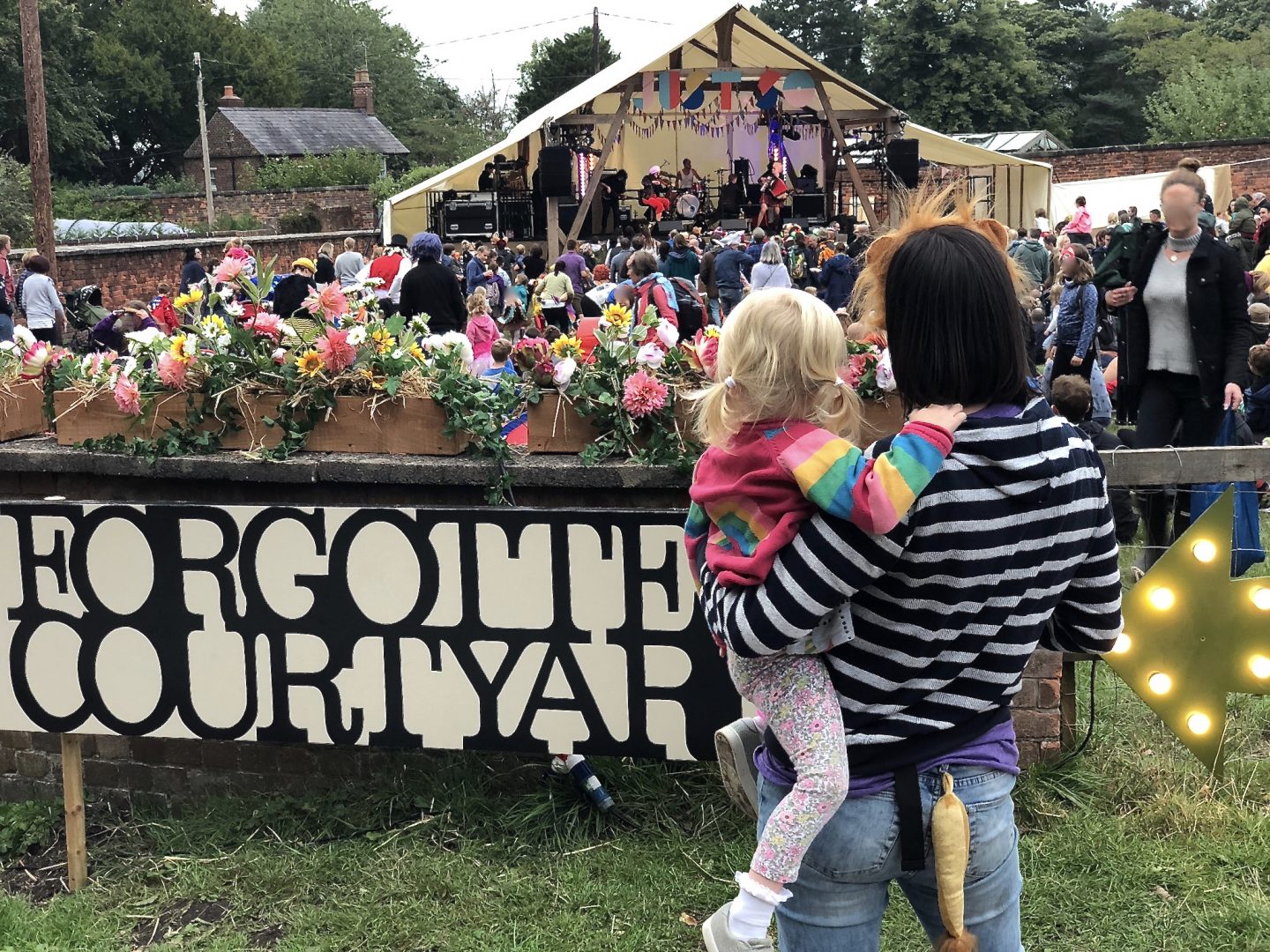 Chloë from Life Unexpected recommends to 'Take kids activity bags to keep at the tent in case of bad weather. If you end up needing to stay at camp for a little while during bad storms or rain, it's good to have something new for kids to do. We learnt this the hard way at Camp Bestival this weekend when we were stuck at camp with nothing to do.'  We always make our kids a new busy bag for each trip to help entertain them during the journey plus when we have any downtime at our destination.
Lisa says 'We've attended lots of festivals with our boys (now 4&7). I agree with all the tips above, a few more here from Cornbury wkd two weeks ago. We find going back to our tent for for a chill out and play enables us to keep our boys up until much later. Glow sticks, torches and tattoos are fun accessories for kids and cheaper to buy before you get to festival. Don't forget to take a pimped up decorated trolley!!'
Emma from Happy Family Hub sensibly suggests 'A band with your phone number that you can put around your child's wrist in case of emergencies. Enjoy the festival experience as a family and take advantage of the kids fields / areas as there will be lots going on for them! (Which you may find you enjoy too!)'
Following all of these tips ensured that our first family camping experience went perfectly so thank you to everyone who contributed. One final tip from me – if you are in two minds about buying a roof box for your car then do it. We couldn't decided and we could have filled it plus more! You can never have too much room!
Do you have any top tips for festival family camping? Let me know in the comments.
If you liked this post you might also like:
If you have enjoyed this post or found it useful, here are some quick and easy ways that you can support Nomipalony or say thanks: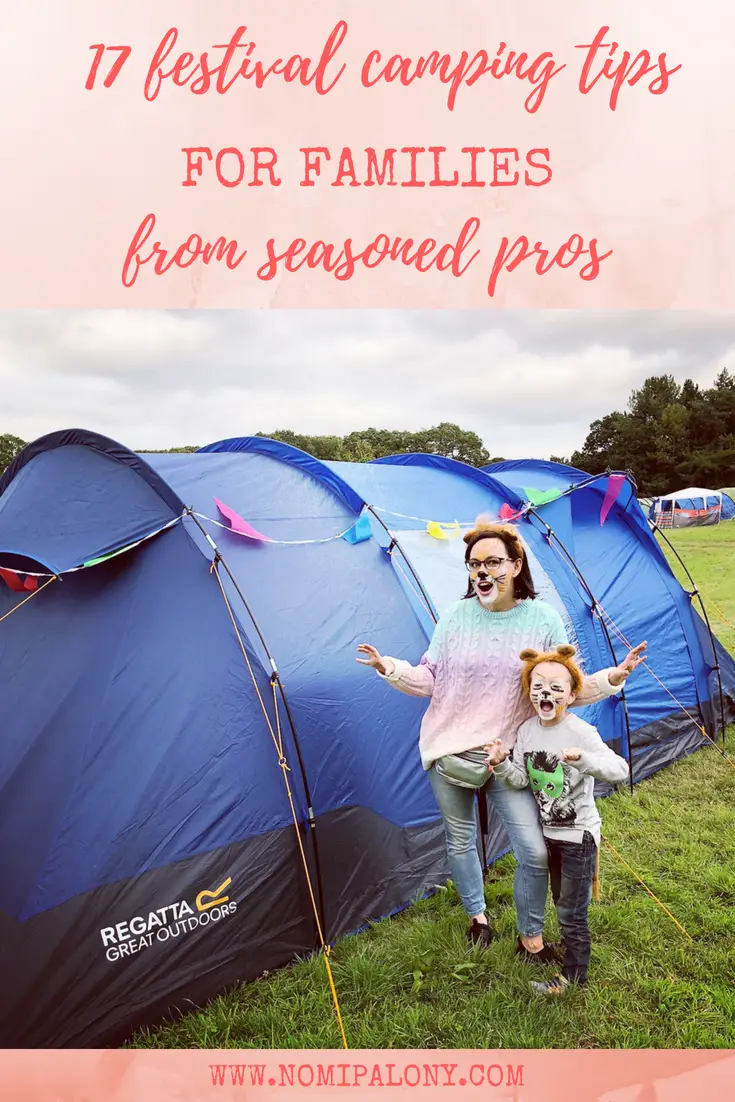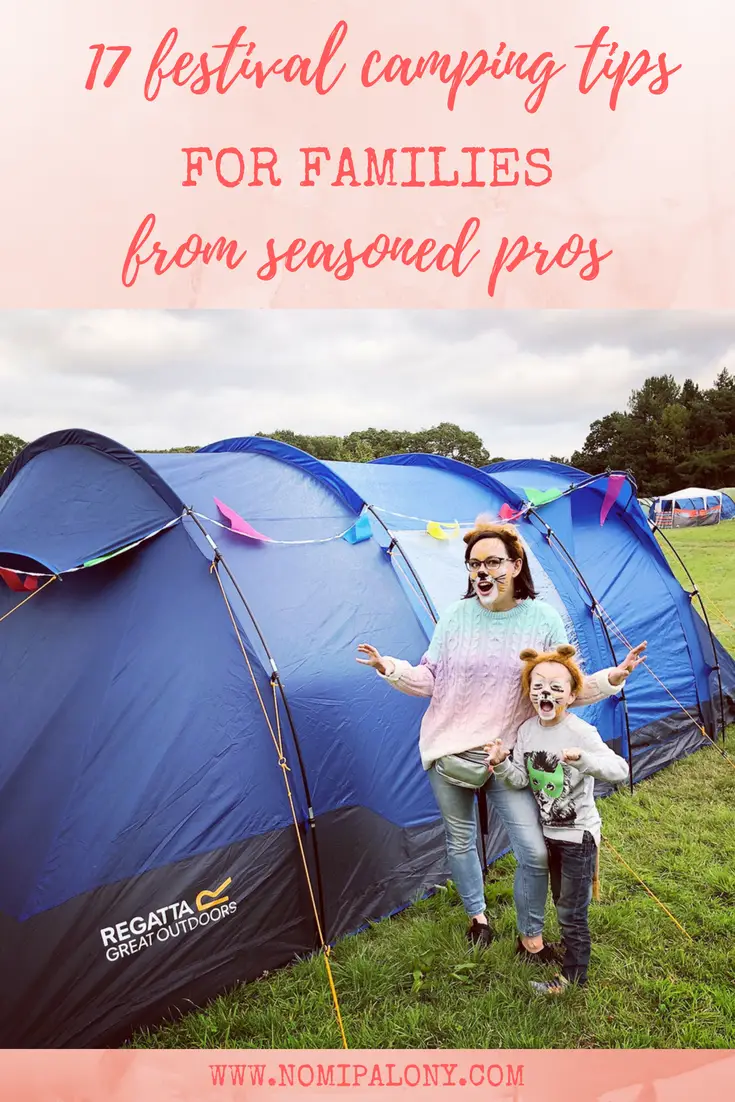 Disclaimer: Some of the products visible in these photos were gifted to us by Regatta for a different blog review. For my full disclosure policy, please see my about page.