This summer we have had our first two family camping festivals at Just So Festival and Electric Fields. You can read my tips about taking kids to festivals here. I have a 3 and 6-year-old who both get tired legs easily. I also wanted somewhere where they can nap/sleep or just rest in if we wanted to stay up later to see a band. I'm a big researcher so I started googling festival wagons for kids and I also asked some blogging friends for their experiences. This is what they told me about pull along wagon for toddlers in the UK:
Festival wagons for kids
Karen from That Lancashire Lass says 'I use mine to transport the camping gear from the car to the campsite and then to ferry the toddler around in during the festival. We even pad it out with blankets and use it for the little one to sleep in in the tent!' Karen uses the Ozark (affiliate link) below.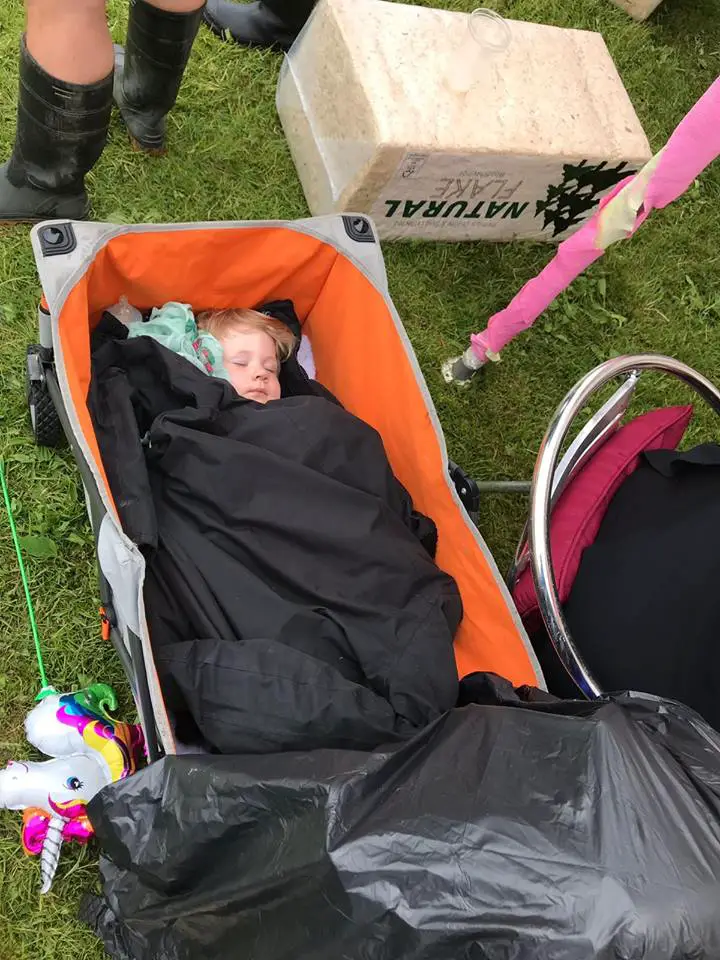 Fellow North East blogger, Cat from Rock and Roll Pussycat says 'Ours was £35 from Amazon and it's a complete must have for festivals and camping with kids. We've used it for three years now and it saves so much whinging and stress. They're handy for tired kids, people that always take far too many things (like me) and setting up camp without breaking your back. You one million percent do not need to pay a fortune for one. Just buy cheap and stick in an old duvet or pillows to pad it out. Buying works out so much cheaper than hiring – the prices are scandalous to hire.'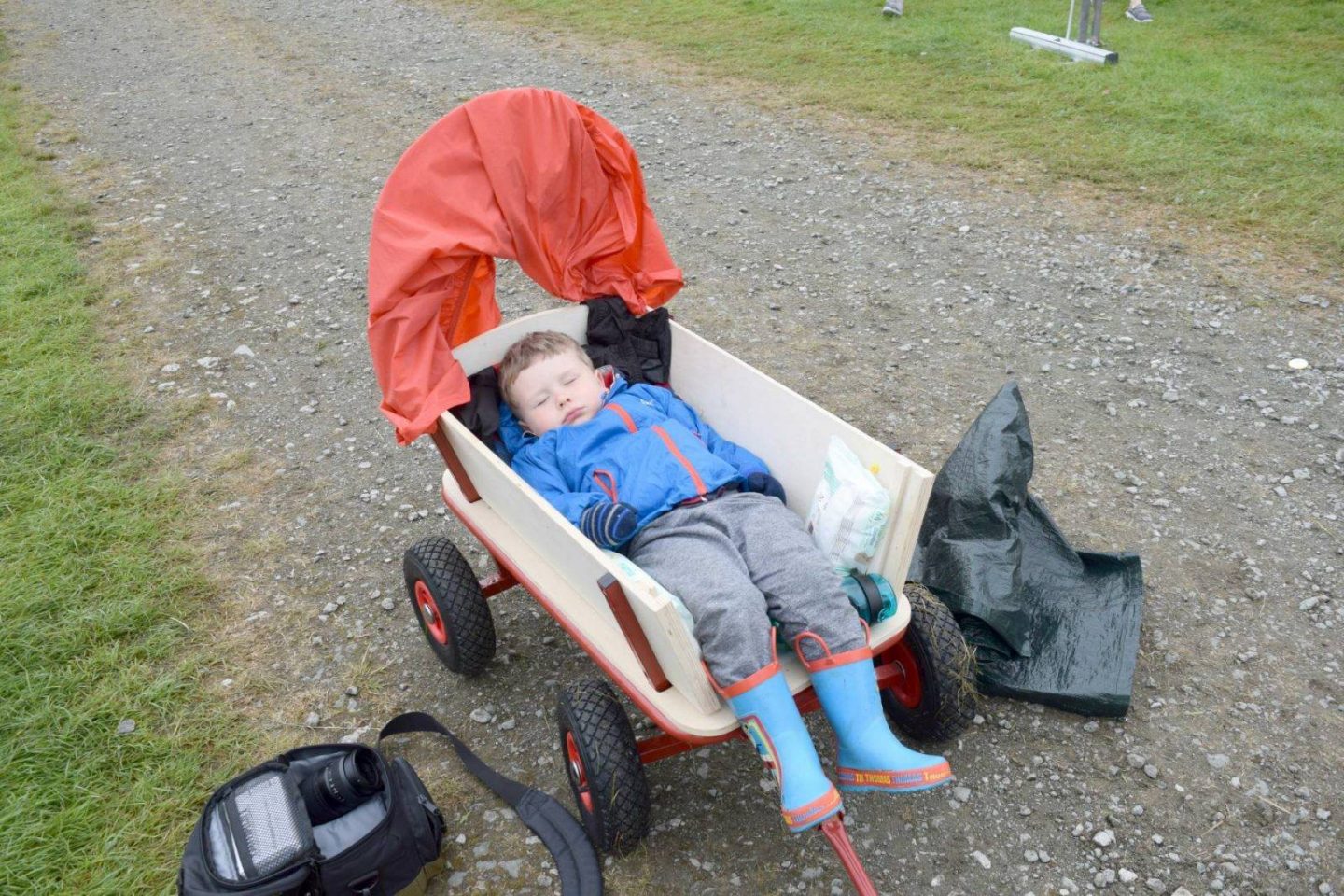 Lianne from Ankle Biters Adventures has 'a yippee yo (affiliate link) it's fab as from ages 1-6 and you can fit two little ones in. It also has a handy luggage rack on the back.'
I couldn't find a link for the Yippee Yo but if you are looking for a jazzy festival design then these two kids festival trolleys are visually appealing.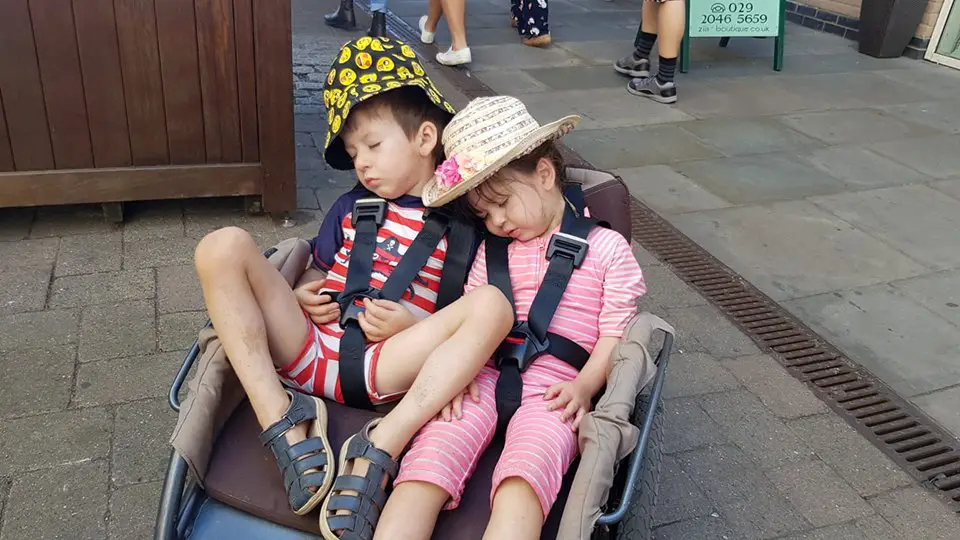 Louise from Pink Pear Bear recommends 'Big wheels! The terrain at festivals is often hilly, bumpy and rugged and the ones with thin wheels struggle. Think off road! Ours is from eBay and had a canopy that goes over the top too, great when there isn't much shade.'
Vicki from Tippytupps says 'I took ages picking ours (affiliate link) as I very specifically wanted something that folded flat pack for space, but was also was sturdy enough to last. I also wanted wide wheels on them to make it easier on things like sand and through woods. We add an ikea leaf for shade and lights for fun. So far it's done festivals with us as well as day trips and even a day out and about in Edinburgh!' I love her Ikea leaf hack.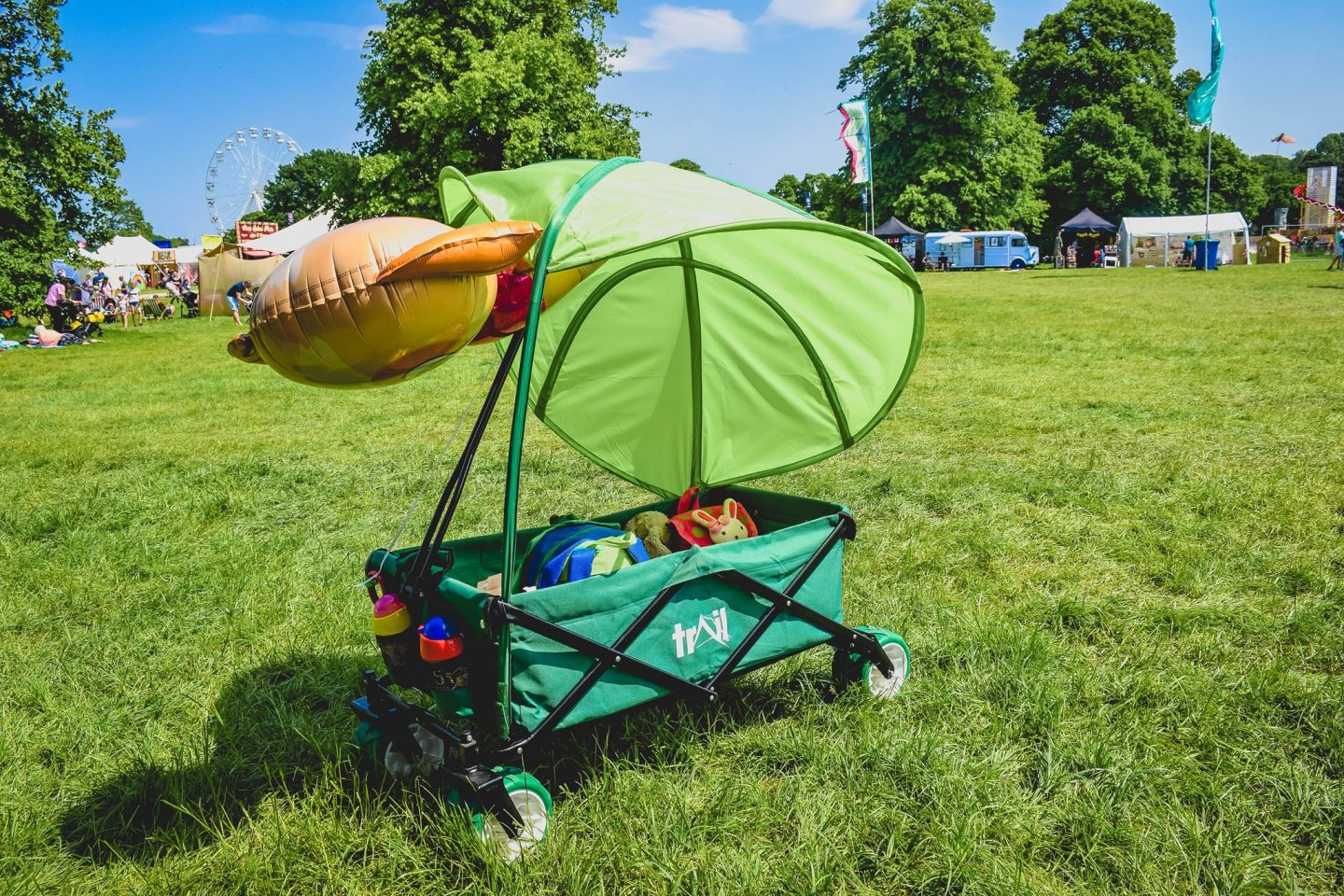 Clare from Wild Mama Wild Tribe advises 'My best camping advice following our fail at Camp Bestival is don't go without one and get the biggest you can afford!'
Jenni from Chilling with Lucas has a great review of the Von Haus wagon (affiliate link).
Erin from Yorkshire Tots says 'Having your own transporter saves you loads of time queuing to rent one. It was really nice to be able to just pack up and leave when we were ready this year at the festival. I also recommend getting one with good tyres as I borrowed a friend's for one festival and had a hard time with a semi-flat tyre. The Outwell Cancun Transporter has been great for us. Easy to set up, packs down very small and it's very sturdy!'
Emma from Not my first rodeo told me 'Mine are two and four now and I wouldn't go without one but when they were smaller we preferred just using our Out n About Nipper pushchair (affiliate link) for festivals and wearing the smallest in a sling.'
Becky from the Mummy Adventure says 'We have a crotec wagon (affiliate link) from amazon that I love. You can put the roof on easily, I can just about squeeze all 4 children in there at once and it has a separate bit at the back for bags.'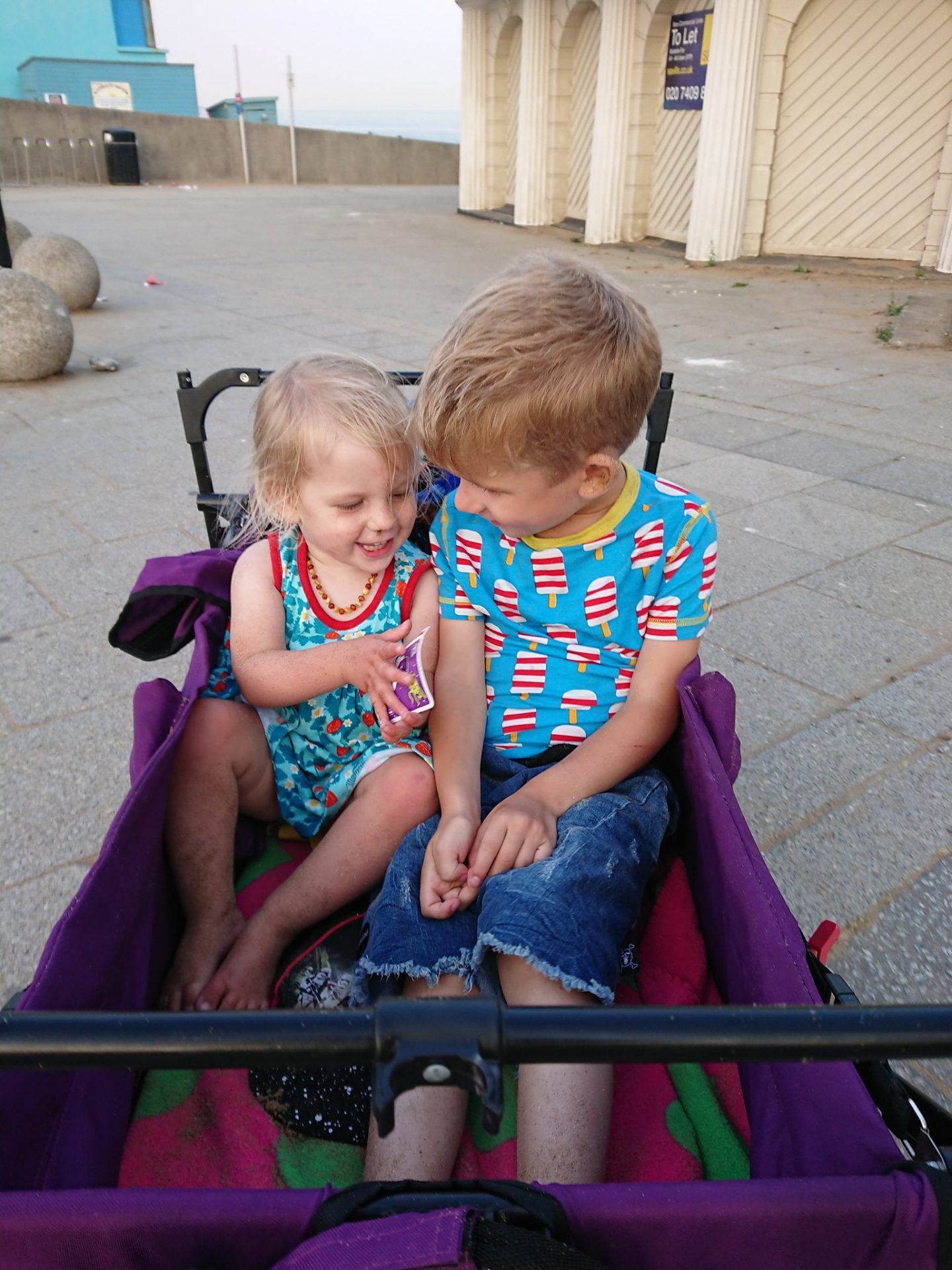 I've just also seen Zoe from Dress Like a Mum using this Veer gear wagon which looks pretty nifty although it comes with a higher price tag.
Which festival wagon we chose – best wagon with canopy
In the end, we decided to follow Becky's advice and buy a Crotec Wagon with canopy (affiliate link). We managed to get one from Amazon warehouse for £122 as it had a damaged box but the product itself was fine. We took it to Just So Festival with us and I have to say I was really impressed. The kids were comfortable in it and had a decent amount of room. It's a bit tight for them to both sleep in though. It was easy to pull and was so helpful for getting the camping gear from the car to the site. My favourite features are it folds flat so takes up less room in the car, the handy basket on the back for storage and the slots for water bottles.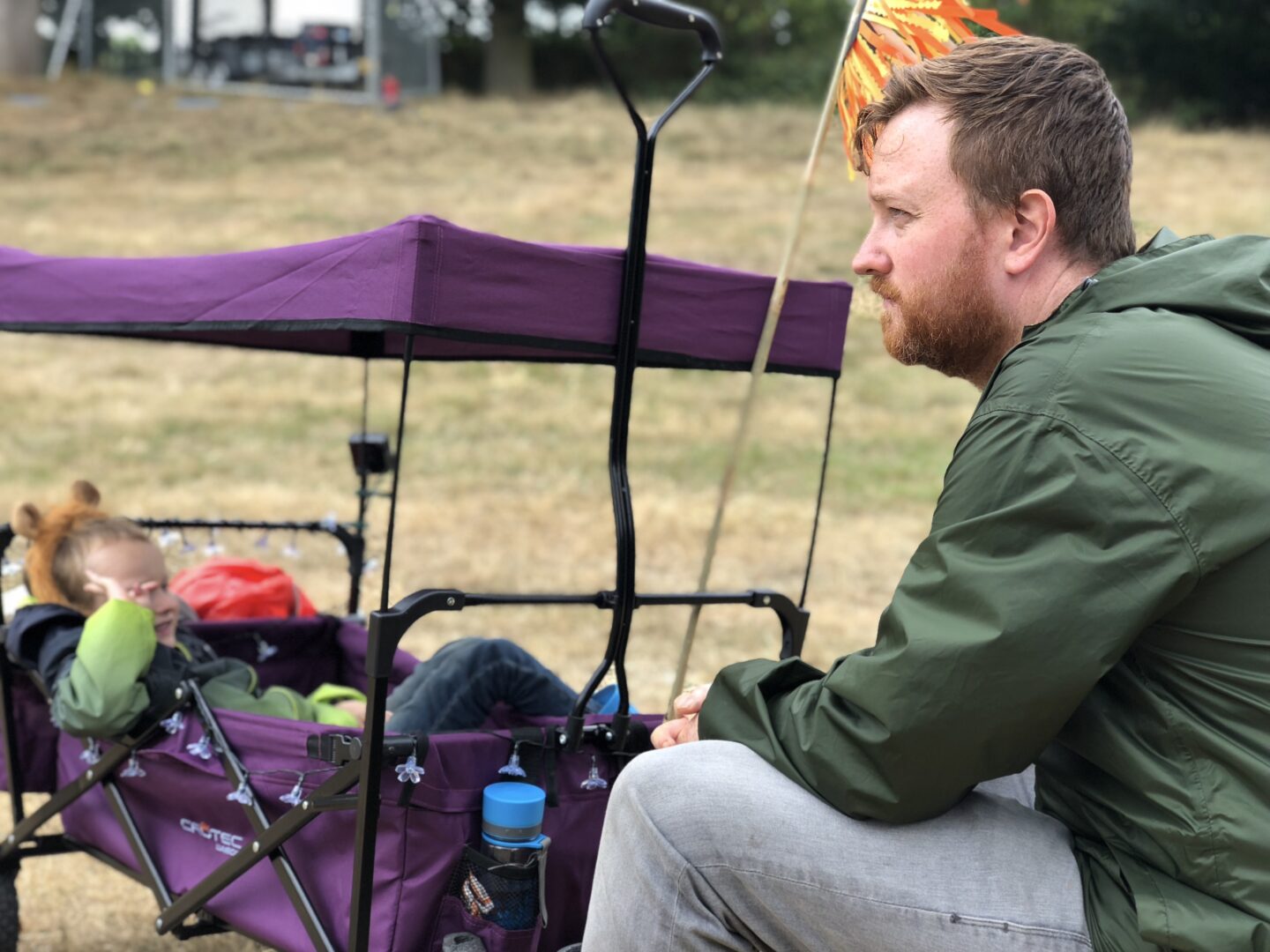 A feature I wish it had is a brake but I have since seen that there are versions of this with a brake. At Just So Festival we saw many different versions of the Crotec – ones with different types of wheels and brakes etc. So my advice to you is if you choose this one, check your are getting the best version for you.
I would also recommend buying a raincover (affiliate link) for it as once we were at a festival with ours in so much rain it was dripping through the canopy! Mind you, if it rains too much you might have to forego it due to the mud!
The Crotec is currently out of stock but here are some similar options.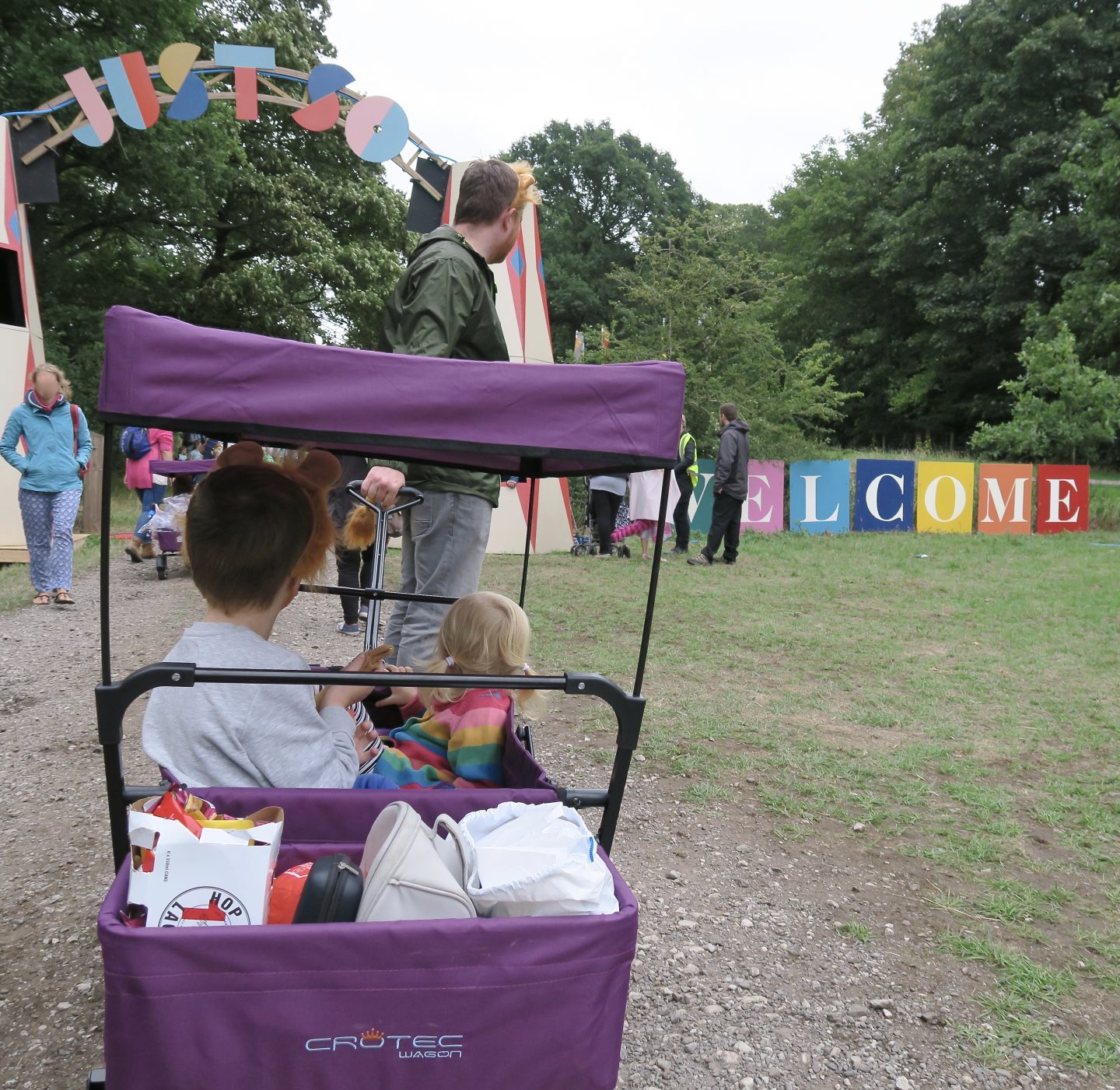 We also 'pimped' our wagon by adding some multi-coloured solar flower lights (affiliate link). They helped us see when using it at night and made it extra special for the kids.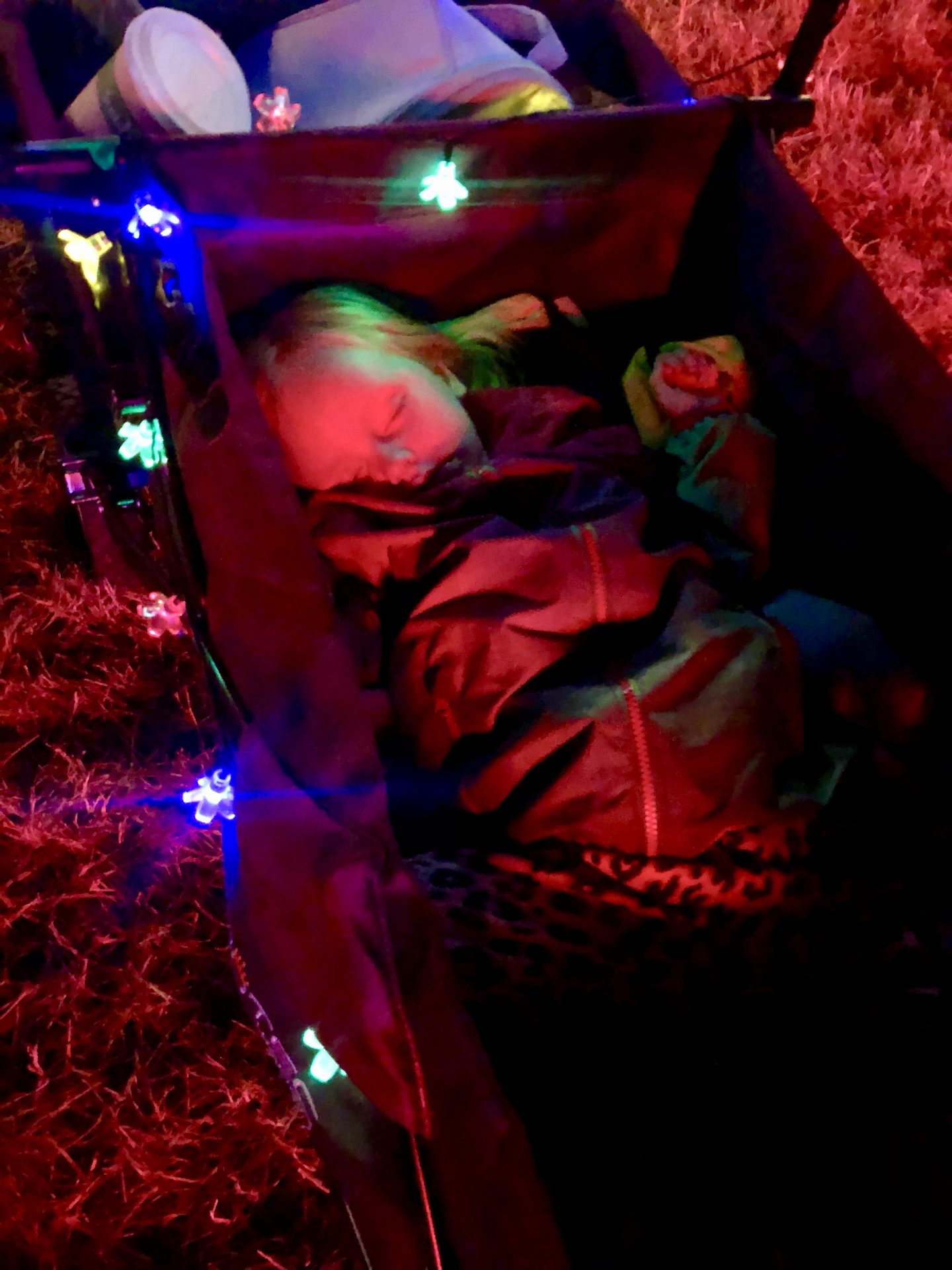 Features you should consider in a pull along wagon for toddlers UK
Some features you might want to consider in your pull along wagon for toddlers:
Does it have a break? Handy if your child falls asleep and you want to park it up but not have to hold it.
Do the wheels rotate 360 degrees? Otherwise you will have to reverse or do large turning circles to turn around
What the maximum load is compared to how much how kids weigh
If it has a canopy or rain cover to cover them when it rains. Especially in the UK!
Does it collapse down for travelling?
Does it have robust, durable wheels. You don't want your wheels to break or get a puncture. Especially if it's a situation where you will be going off road or through mud.
Does it have water bottle slots and a basket? These are really handy so the kids can get what they need and is a place for storage so you can forego a bag.
Summary on festival wagons for kids
Festival wagons for kids can come in really useful for both transporting your gear from the car to pitch the tent and for kids to use. I'm really pleased we got one as we found it so handy. This list gives you a great range to chose from. We are really pleased with our collapsible Crotec wagon with canopy. Like prams, I would avoid buying any where the wheels can be punctured.
Do you have a pull along wagon for toddlers? Do you recommend it? Let me know in the comments!
If you liked this post you might also like:
If you have enjoyed this post or found it useful, here are some quick and easy ways that you can support Nomipalony or say thanks: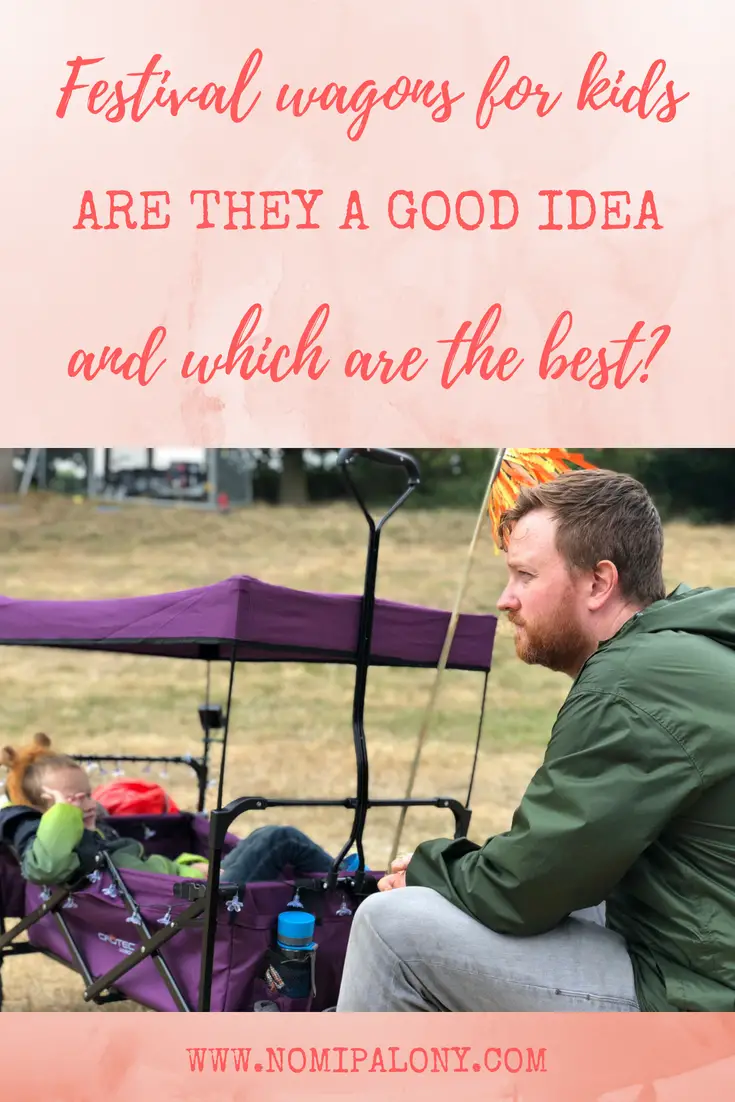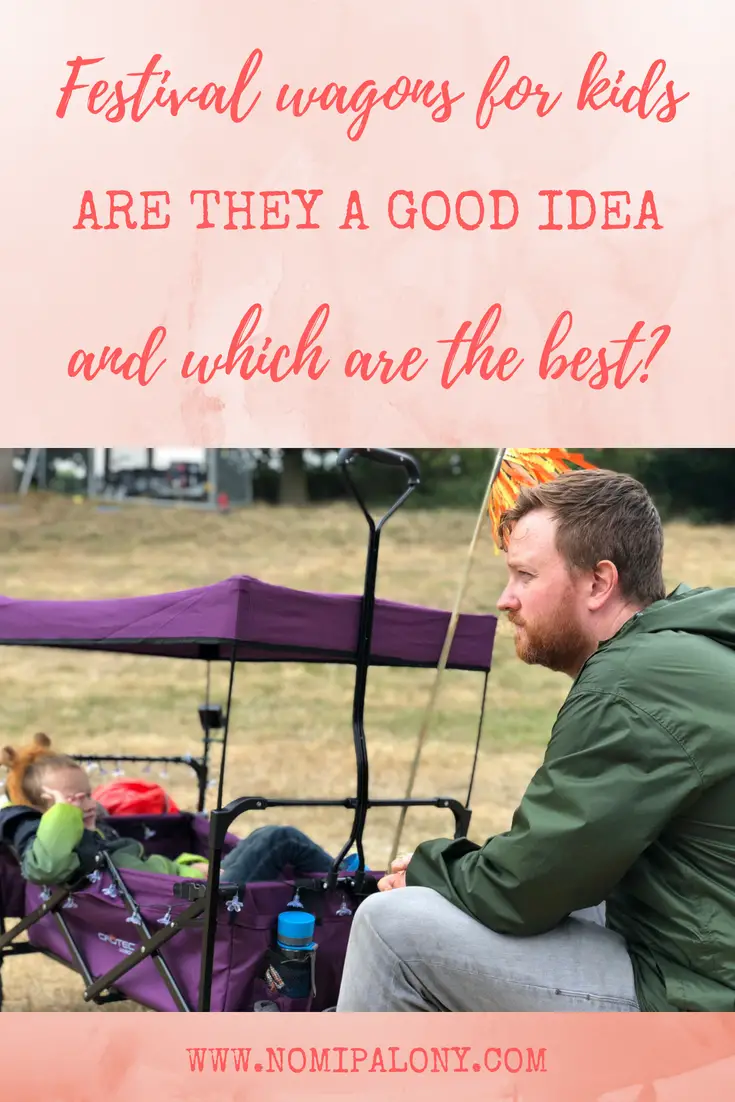 Disclaimer: This blog post contains clearly marked affiliate links. If you buy a product via an affiliate link you won't pay any extra but I will receive a small fee for referring you. For more details about my disclosure policy please see my about page.