Yesterday, we did something a bit different and unusual. Now you all know I'm a feminist as you are on this here feminist site but you might not know that I also have a degree in history (a first no less, oooooh). What I've always loved about history isn't the high history of the rulers and all the politics and wars but the day to day lives of regular people. I love learning about what people's daily routines were like, what they did, how they coped. So when I heard about a unique feminist historical exhibition happening in Newcastle, I knew I had to go and visit it.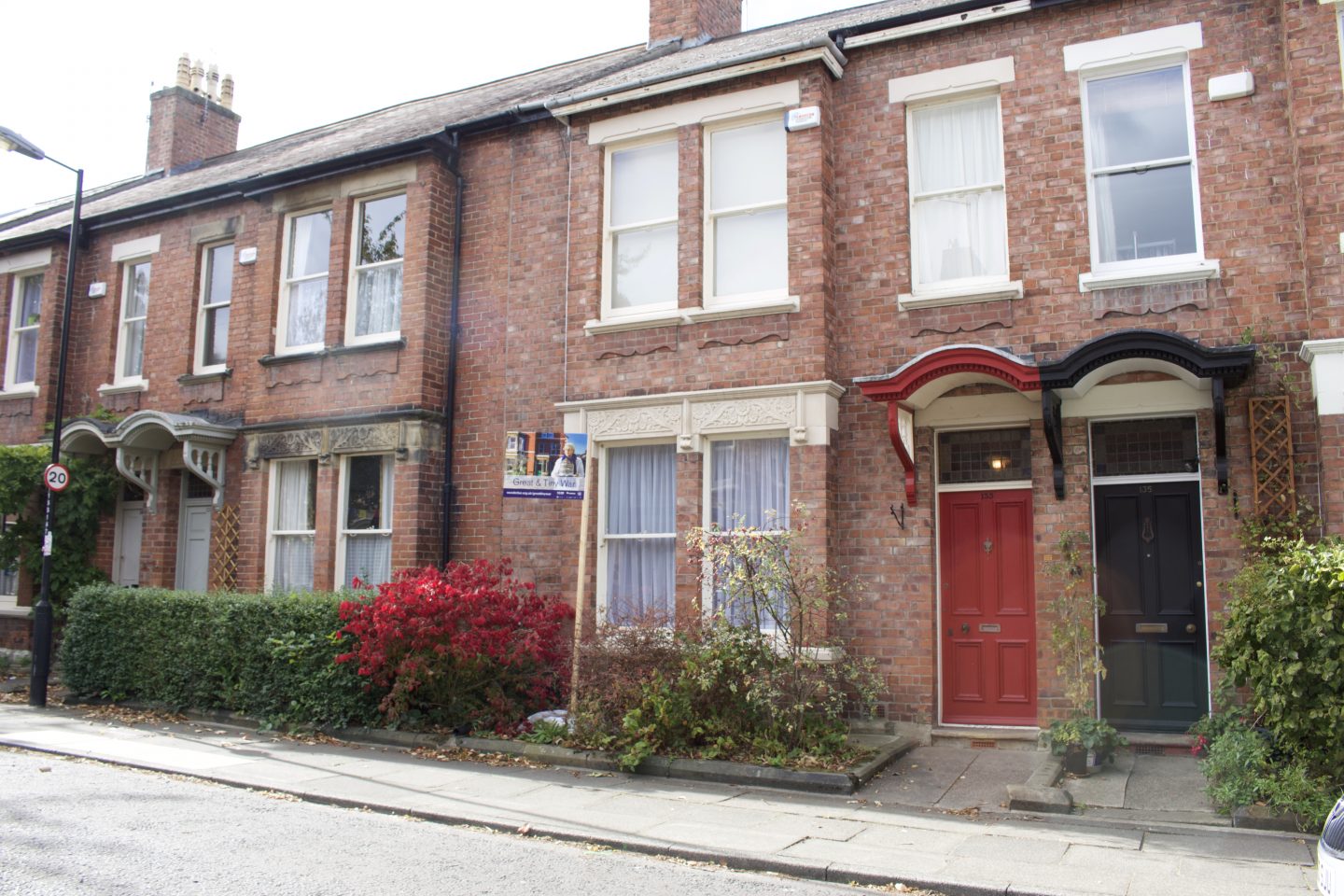 What is Great & Tiny War?
'In 2014, 100 years after the start of the war, artist Bobby Baker began reimagining what day-to-day life is like in times of conflict. In this new work she invites us on a tour of a transformed house – an ingenious, immersive multimedia installation inspired by real stories, passed down through her family and shaped by the domestic and emotional labour of conflicts.
Guests will meet with an uncommon experience as the house contents juxtapose the spectacular with the everyday – a ghostly heroine, an edible armoury, 4,701 reinvented dinners – and other happenings of unpredictable proportions.
Baker's astonishing installation shines a light on the role of women during wartime and the impact of conflicts, historical and contemporary, on the mental health of whole families through the generations. In doing so, she celebrates the women who carry on running houses, bringing up children and keeping families together at the most harrowing of times.'
Commissioned by 14-18 NOW with Daily Life Ltd and Wunderbar, Great & Tiny War 'serves as a monument to their unacknowledged private struggles and personal strength, and will resonate with anyone whose family has been touched by war'.
When is Great & Tiny War on?
The exhibition runs from 7 September to 9 November. Tickets are available at a range of prices, from free to 'solidarity prices' at £12. This covers entry for someone else to go who can't afford it. If you can't afford to go then the organisers will arrange for you to go free of charge. You can also pay concession prices (£4) without providing ID if that's all you can afford. A standard ticket price is £8 and carers can visit for free. They also have family tickets. You can buy tickets here. Each hour long visit slot is for 4 people maximum so its an intimate experience.
Getting to the Great & Tiny War exhibition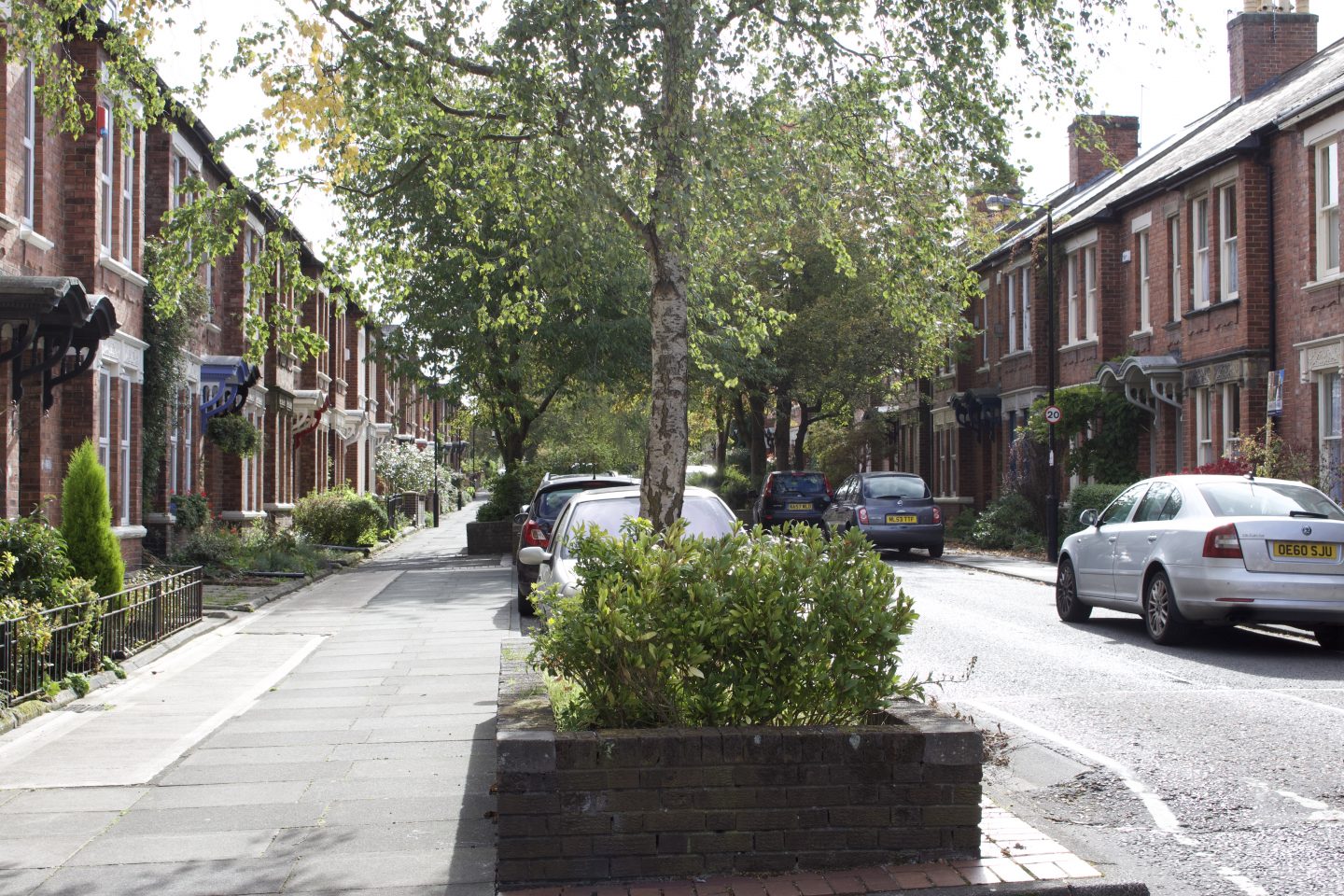 As the exhibition is on a normal residential street in the West End of Newcastle, parking is limited so we decided to walk from the town centre. This took around 30 minutes and was slightly uphill on the way there. We found the house easy to find using google maps on our phones. When we got there, we discovered that we wouldn't have actually found parking nearby a challenge so could have driven it too. There are also buses that go near, there are more details about getting there here.
Is Great & Tiny War suitable for children?
Great & Tiny War is best suited for children aged 7 and above. That said, if you do want to take children who are younger than that, then the organisers can accommodate that. They book the whole session out for you on a family ticket so you don't have to worry about disturbing other visitors and you can take a full hour looking around/having a cuppa and biscuits in the kitchen. It's helpful that they provide this option for families who perhaps can't or don't want to get a babysitter for younger children.
Our visit to Great & Tiny war
I'll be honest with you, this is a hard review to write. Firstly, the exhibition is unusual and somewhat difficult to describe but secondly I don't want to write spoilers for those of you who want to go to visit it. When I first read about the house I thought it would be a house set out just like a house in the war, a bit like Beamish. But it isn't like that at all. It is a regular terraced house in the West End and most of the furniture has been removed from the rooms so some of the rooms felt more like museum or art exhibition rooms than an actual house.
We were greeted by the host who introduced herself to us and went through housekeeping. Then we were offered little headsets that we would wear during the tour of the house to listen to a recording of Bobby Baker telling us about the exhibition. Also booked on our slot though were some podcasters from Stage Left with Jen Harvie so instead of us using the headsets, the host played the recordings out loud from her device for all of us so that Jen and her partner could record some of the audio. This worked well and I actually think that way of doing it would work best if you were taking younger kids with you too as you would be able to know which bits they were hearing, and inevitably asking questions about.
We first went upstairs and congregated on the landing where audio Bobby Baker introduced us to the exhibition. We heard about representations of both men and women during the first world war while we looked at some posters on the walls that showed representations of 'Britannia' and the cover of the Daily Mirror in 1914.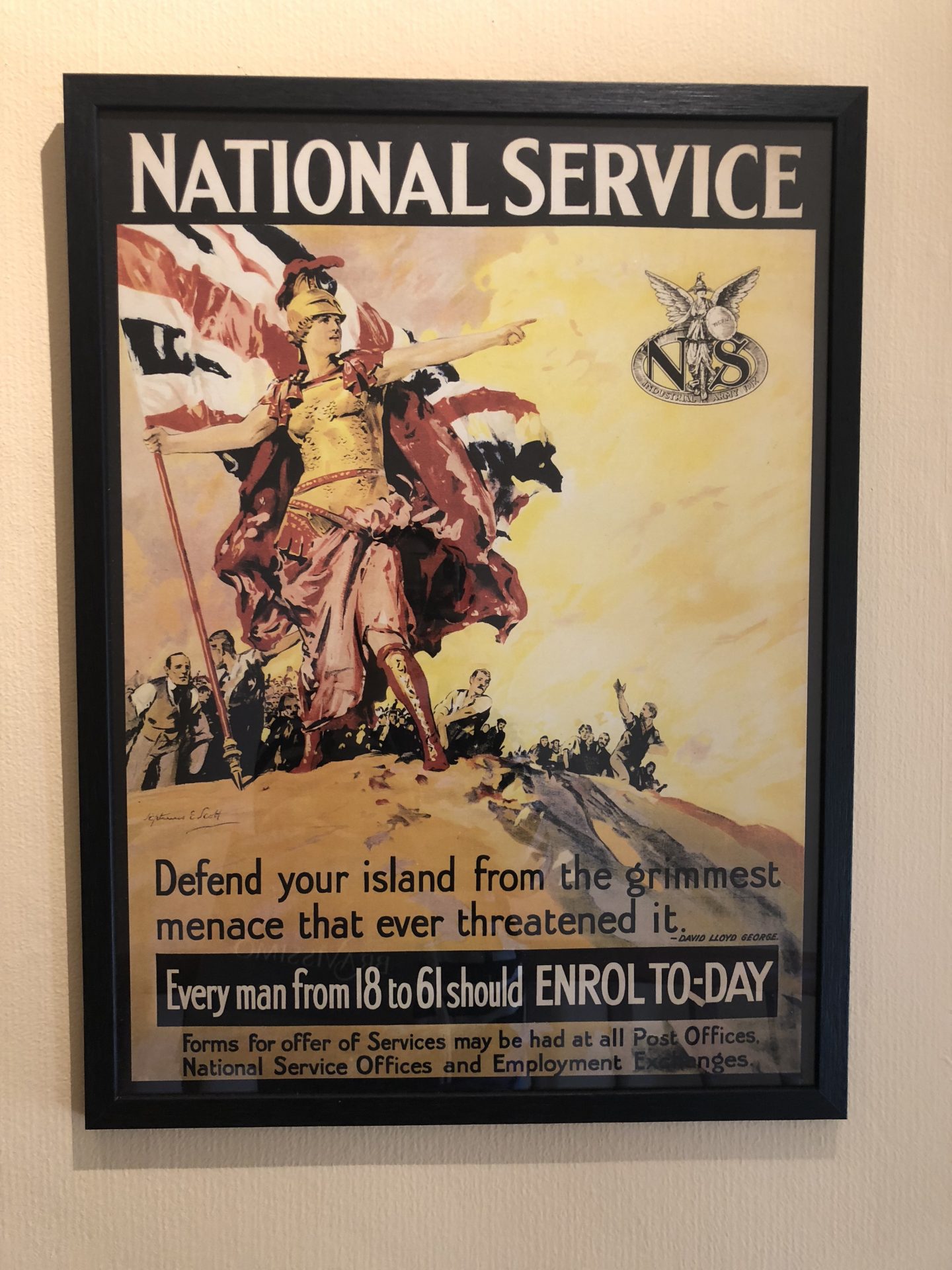 Then we went into a darkened room where there was a 'ghostly' projection of Bobby Baker and a short film played of this projection. Initially we were very puzzled by the projection. Nothing seemed to be happening for quite a while. But then it all became clear what was happening and I even chuckled several times.
Mail Art
After this we went into a room called 'Mail Art'. Mail Art was about how families made an extra effort to keep in touch via sending letters during World War One. The room contained two pieces of art work, created by Bobby and her son Charlie. They were intended to be 'a correspondence of artworks, with stories of family life and messages to future generations'.
Charlie's piece was a moving wooden creation that had tealight candles on it. Bobby's was a set of paintings on biscuit tins. The room had an almost spiritual/religious feel to it. The hosts told me that they nickname it the shrine room and I could see why.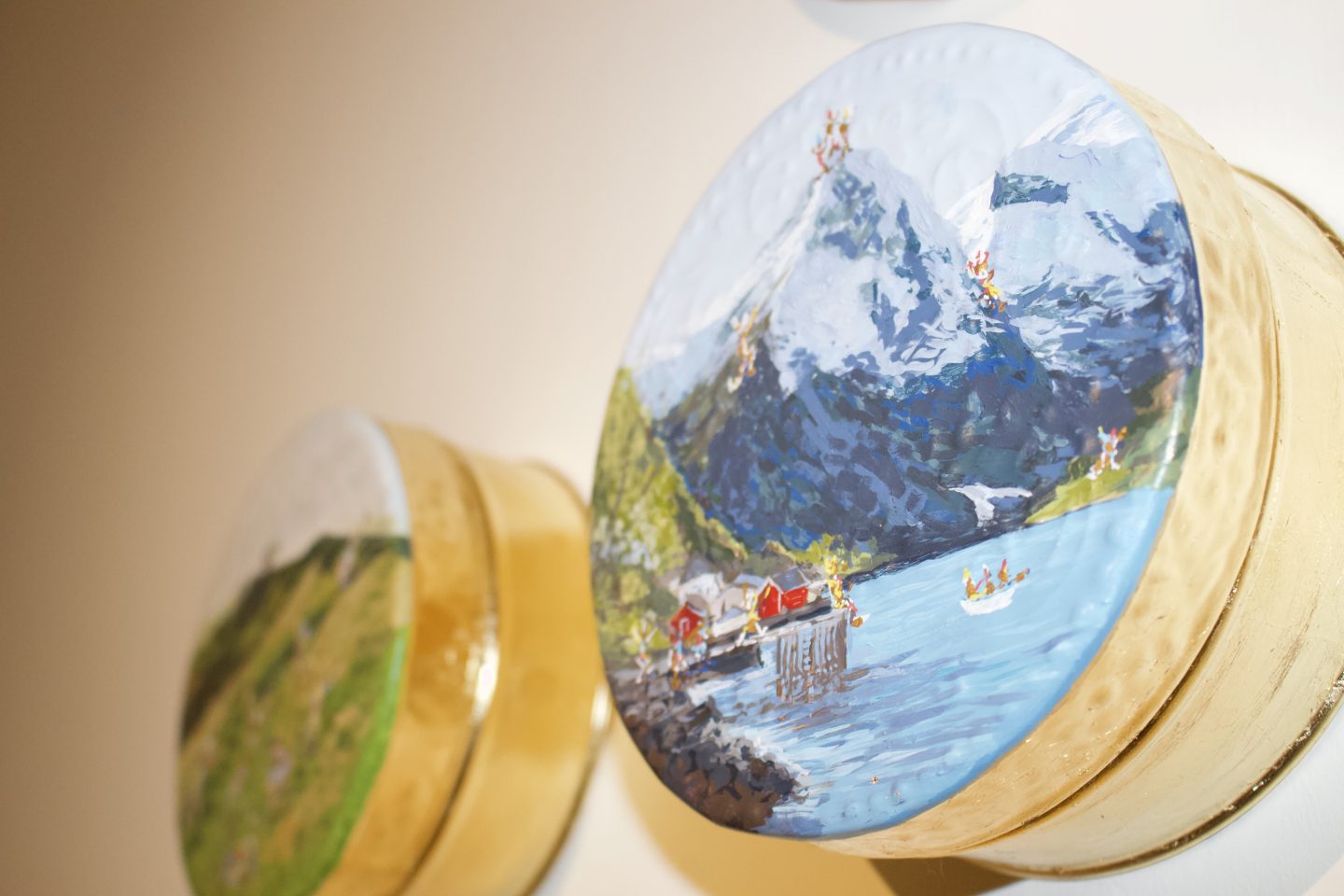 Family Museum
After the shrine room we visited a room called 'a Family Museum' which showcased family photographs and went through some of Bobby's family history in Newcastle. In particular the room focussed on Bobby's grandfather who designed guns in Newcastle for the First World War. It's this room that has a surprise but I'm not going to spoil it for you by revealing it here!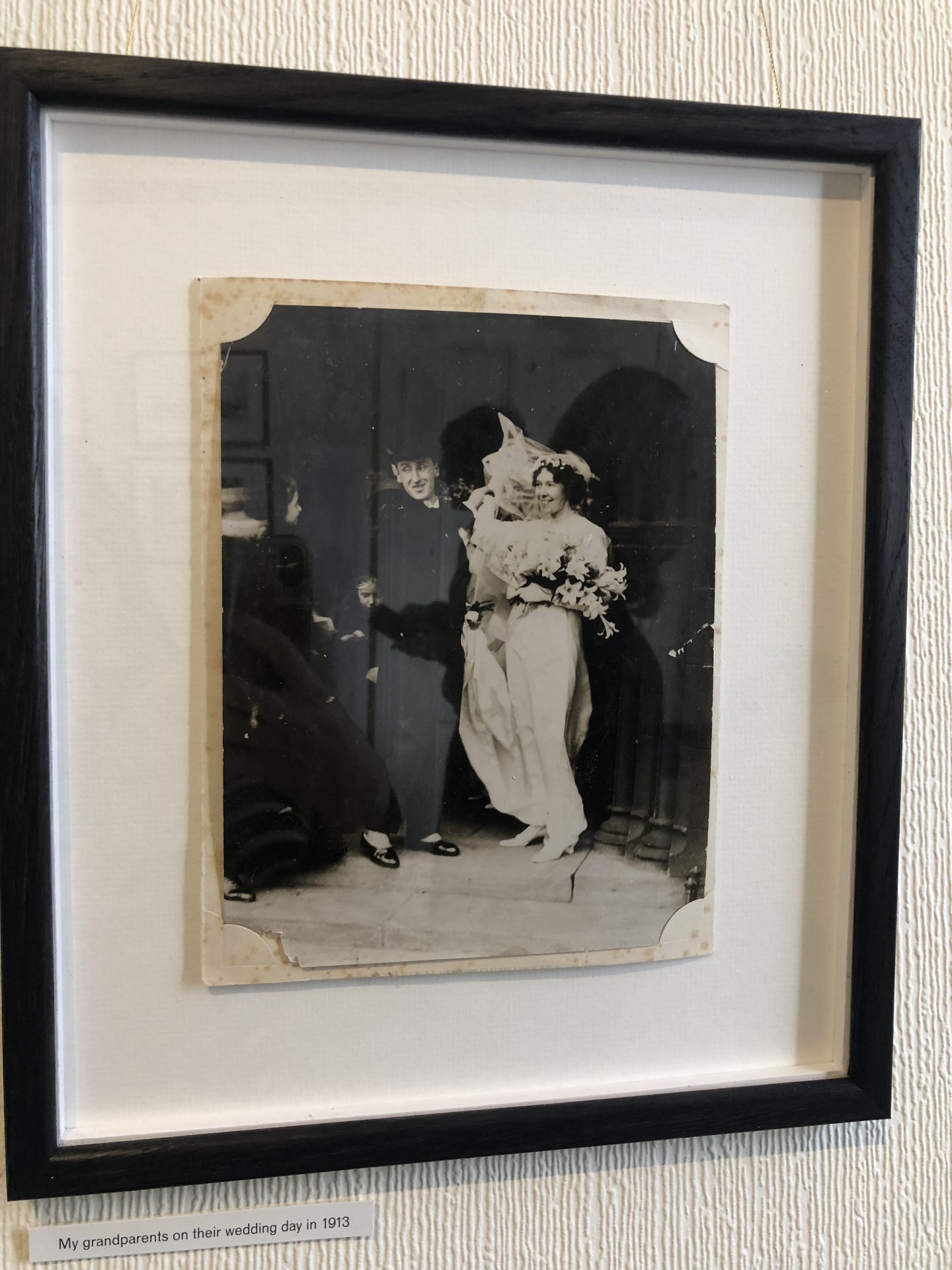 Domestic Armoury
After the family museum room we went downstairs to my favourite room, entitled 'Domestic Armoury'. Domestic Armoury was all about how women find ways to survive during conflict, managing the trauma that they and their families face. The room is full of different items baked by women who have experience of conflict. When I first went in the room, it seemed a little bit silly to see items crudely made out of bread but once I read the accompanying words I was actually very moved by the art.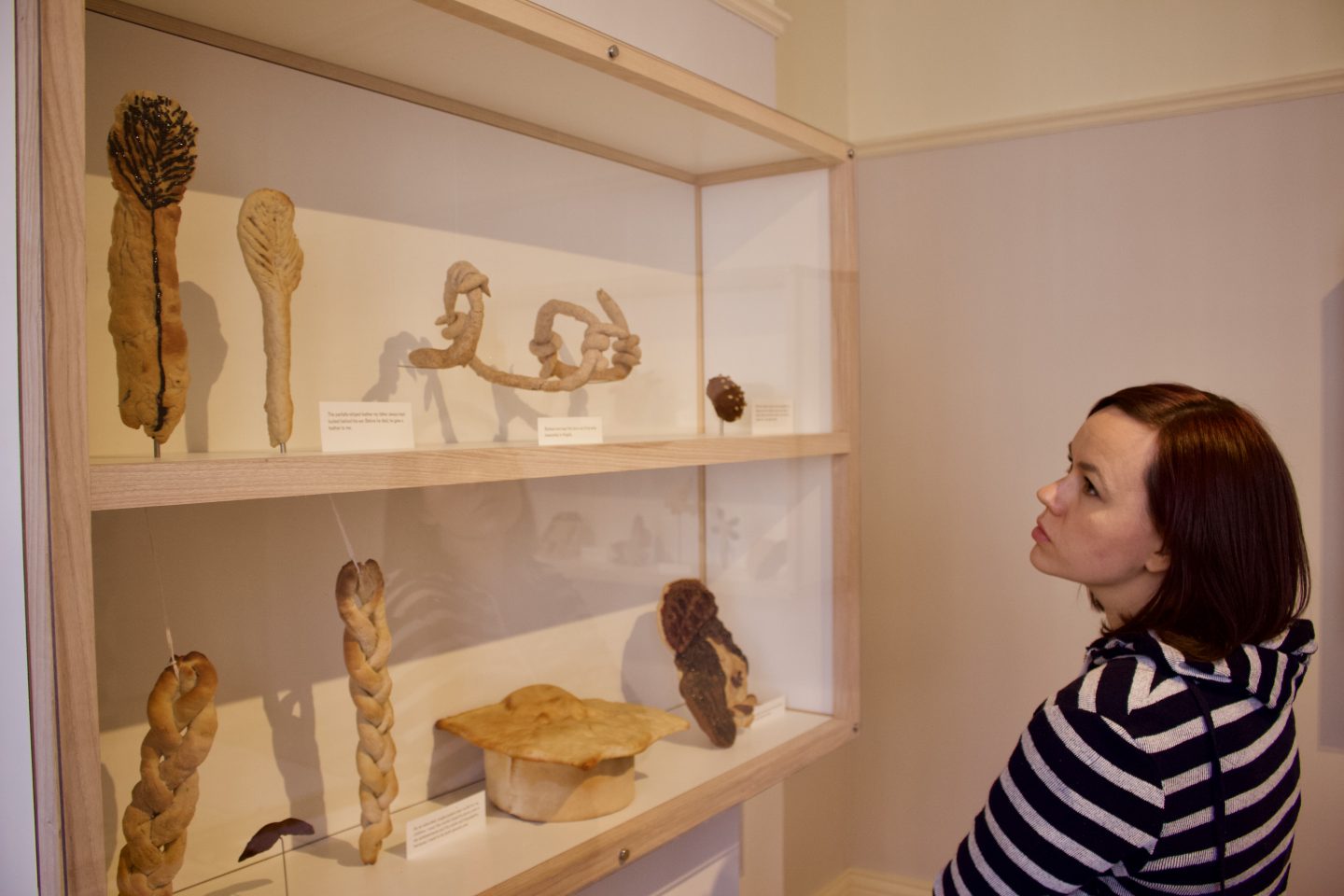 On one of the walls there were photos of the women with their items. I was fascinated and enjoyed trying to match up the women with their baked goods and stories. I loved this room as it was such a display of quiet female strength.
I respect that Bobby worked with women from the Angelou Centre, West End Women and Girls Centre, Forward Assist and Salute Her Project and Nunsmoor Community Trust to create these over a series of workshops. In these times of Brexit, I loved seeing this local diversity but togetherness celebrated in such a way.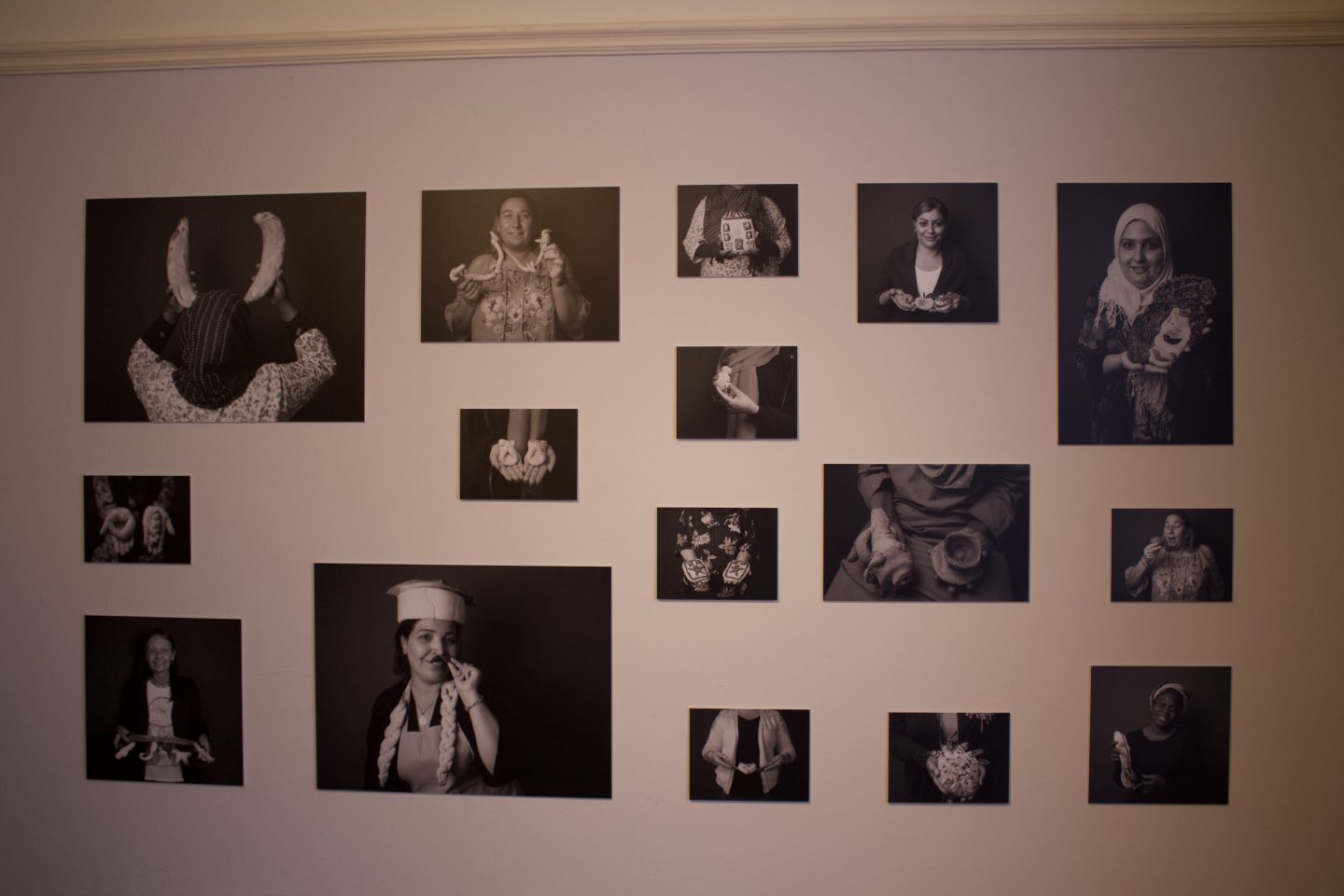 Grossly undervalued domestic products
The final room of the exhibition was called grossly undervalued domestic products which I joked sounded like every meal I make for my family that they refuse to eat. The room contained 4,701 (how many meals families could have eaten across the First World War) miniature handmade peppermint cream meals as 'a celebration of the undervalued, unseen and unacknowledged domestic labour that continues every day – even through war and conflicts'. This piece of art was also created by Bobby and her son Charlie.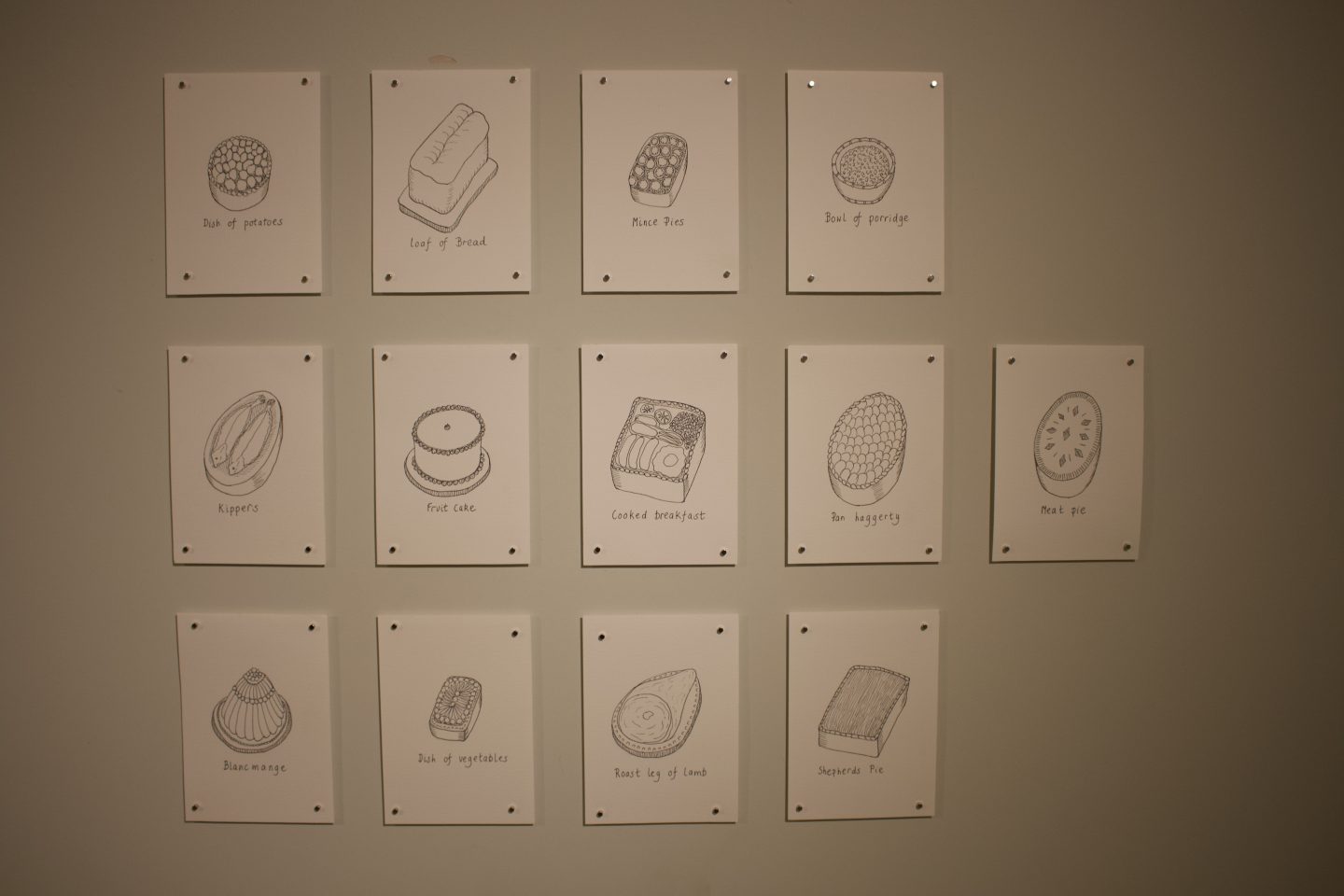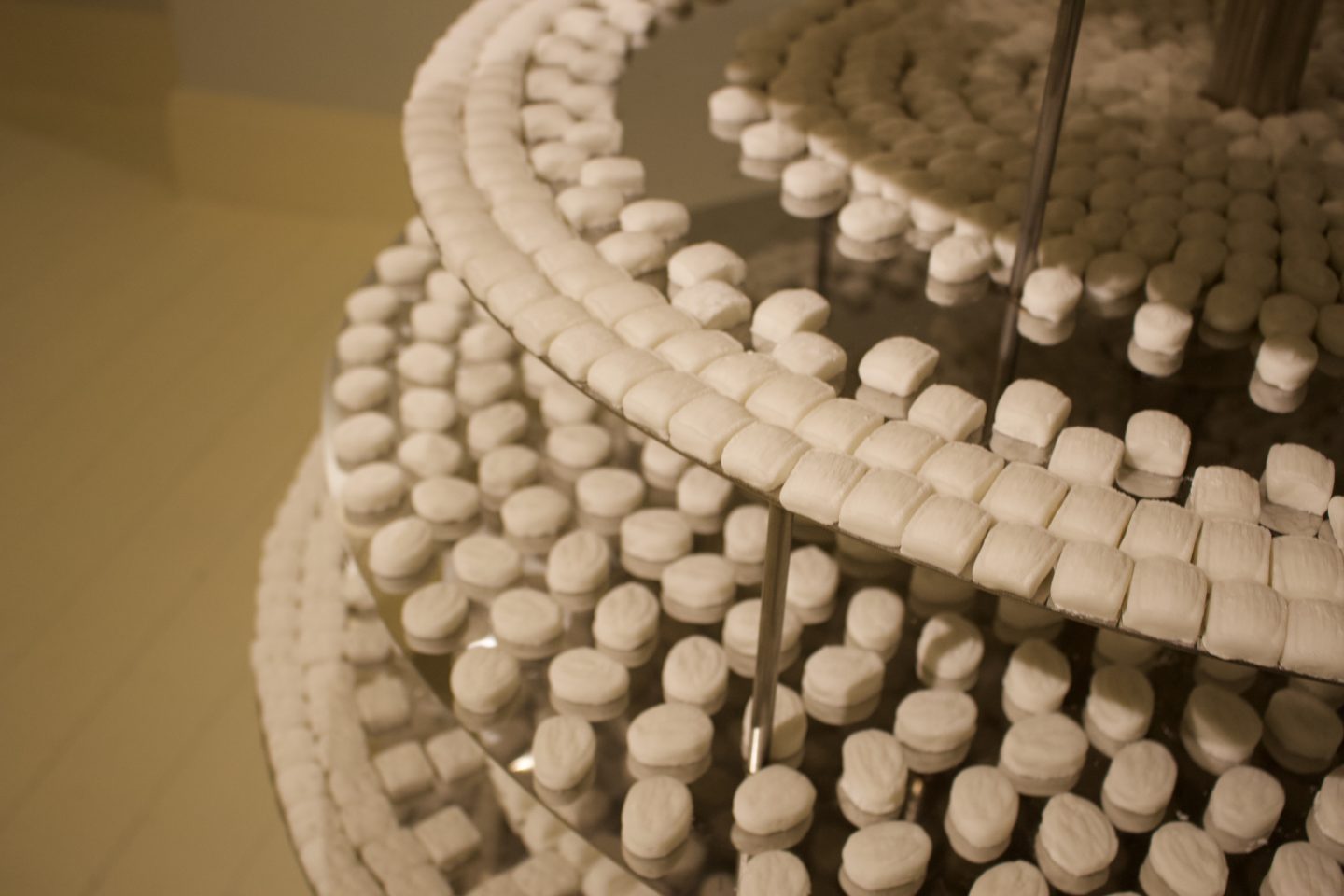 Kitchen
At the end of the exhibition, guests can congregate in the kitchen over teas, coffees and biscuits. With the last two rooms having a culinary theme, you were really in the mood for a biscuit by time you got to the kitchen! We all had a nice chat over a cup of tea.
You could also buy merchandise and memorabilia in the kitchen, such as some of the peppermint meals that were on display, tea towels and cups.
I really enjoyed this part of the visit where we could ask the host more question and discuss our interpretations of the art. I enjoyed hearing tidbits of information about the journey of the exhibition and house.
Summary
All in all Great & Tiny War is fantastic if you are into history, feminism and/or art and want to do something a little unusual and progressive. I think we are very lucky that we are the city playing host to this quirky little house and its well worth popping along to support. Bobby has thought carefully about the exhibition and how to be mindful of and incorporate the local community and in turn I think this is an exhibition well worth our time. I'm pleased I went along to see it, it's given me lots of food for thought and has reminded me why I will always be a historian at heart.
If you liked this post you might also like Beamish review, Newcastle upon Tyne walking tour and The Grainger Market Newcastle – why you should go.
Disclaimer: This is a sponsored post, for my full disclosure policy, please see my about page.