I recently posted that we had worked with our 6-year-old to help her start to go to sleep on her own at bedtime. I had a lot of messages from frustrated parents asking me how we did it so they could try it too. So today I'm going to share what we have done and what worked for my children. Hopefully, you can see if there is anything we did that might give you tips on how to get your child to go to sleep on their own.  Please note, this isn't advice for how to stop bedsharing altogether. This is purely what we did to empower our kids to go to sleep initially without our help rather than us laying with them for hours until they went to sleep. But the first step for us weaning them off bedsharing is to teach them how to fall asleep on their own. We have found the rest follows in turn naturally.
I have written a lot about sleep in the past. For all my posts on children and sleep check out The ultimate guide to surviving when your kids don't sleep through the night.
Background
You might think that 6 years old is very old to be learning how to go to bed on your own but I do know that many are in the same position as us as well. We have bedshared with both of our children. We bedshared with my son until age 7 and are still bedsharing with my daughter age 7. The way we have bedshared is first the babies/toddlers/preschoolers will 'breastsleep' with me whilst nursing. For my son this was until 2.5 and for my daugther until 4.5 (you can read about how I weaned my daughter here – What to expect when weaning a 4 year old).
Once the kids were weaned from the breast, we moved them to their own rooms but in a double bed. This meant we could lay with them (comfortably) to help them go to sleep (cuddling, singing, stroking, telling stories etc) and then sneak out downstairs to watch TV once they were asleep. Then if (when) they woke in the night we could just get in bed with them and sleep with them there. We figured if they started to sleep well without us, there still might be the odd occasion where they were sick and needed us in with them. I prefer us going to them rather than them coming into our bed for consistency. We had the room for double beds so it was a 'no brainer' for us.
My eldest is now 10 and hopefully I won't jinx us by saying that he has been an excellent sleeper for the past several years. He now has an IKEA Kura loft bed with a tent over it which he loves. He actually doesn't like sharing a room with anyone now, let alone a bed which is highly amusing to us. Especially given how many people warned us we'd never get him out of our bed!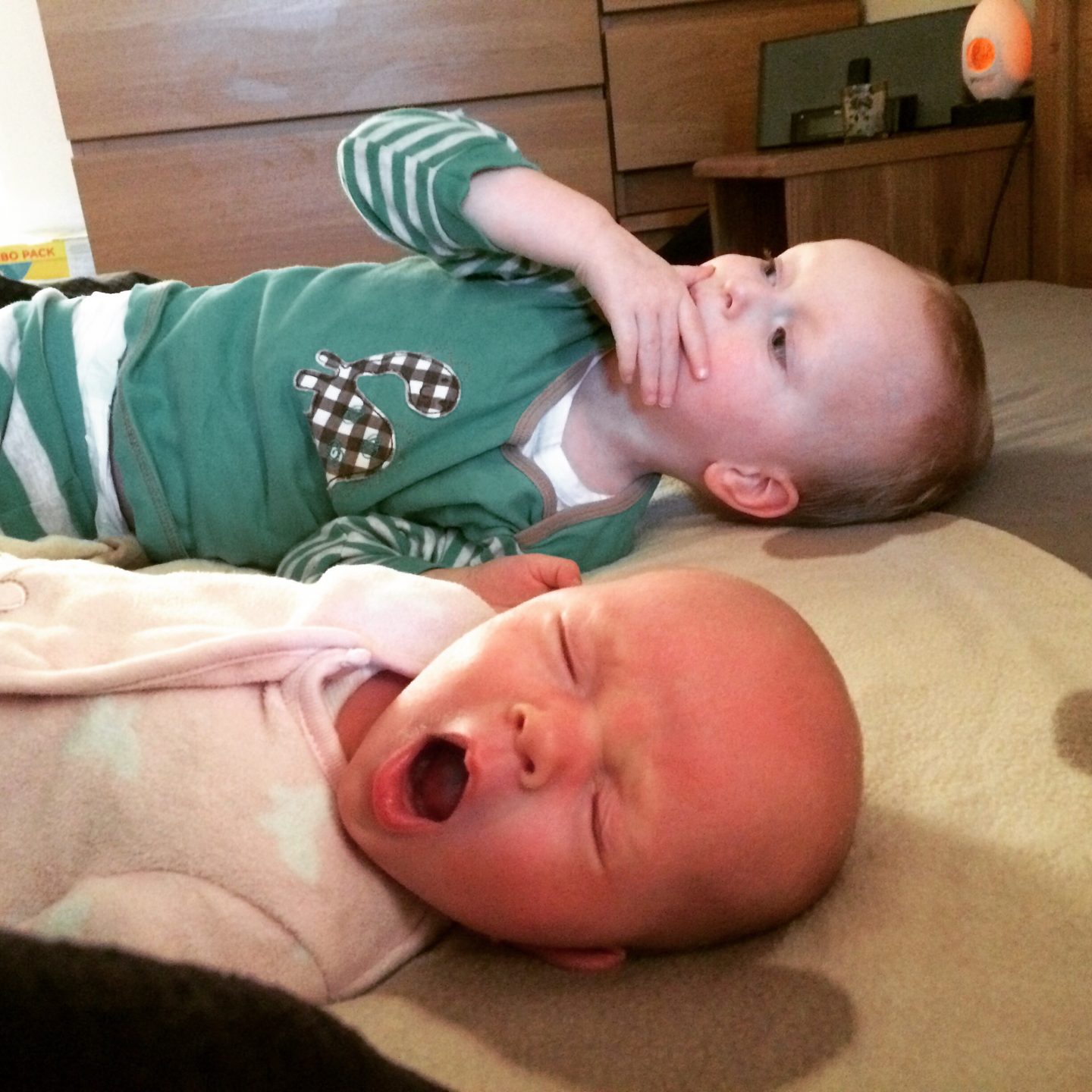 Wait until they are ready
The first key piece of information I'll share is it's crucial to wait until they are ready. If they aren't ready, it won't work OR it will be a huge battle with tears shed. If it feels really hard, they probably aren't ready. Just pause and try again, they may only need another week or two. Just keep asking them.
This is always the approach we take with our kids. It's why we waited until they were ready (around three) to take away their nappies and we didn't have to 'potty train', they just did it because they were ready.
Our family motto is 'no one cries alone'. Yes there will be times you don't like something, you'll be upset, pissed off or angry but no one is ever not going to be offered comfort when they are upset in our house. We chose to 'wait it out' over 'cry it out' which is why it has taken so much longer but we were happy to wait. You can ready more about our approach to that here – Let her cry they say… (Please don't take this as a criticism if you did traditional sleep training methods, 'different horses, different courses' and I have enough to worry about in my own life to find time to judge other parents. My guiding belief is that we all love our children and we all do what we think is best for them).
So we approached this a few times with our kids and explained what we wanted to try to do and asked how they felt about it. With my son, a few times he just said 'I'm not ready yet, can we try when I'm a bit more bigger' so we left it a while and then asked again until one day he said 'Im ready now, let's do it' and he was. He crushed it straight away, no tears or hassle and no looking back.
Reward chart and gift
What we did with my son was created a 'reward' chart with the days of the week on it. For every day he went to sleep on his own, he got a sticker for that day. If he did 7 consecutive days then he got to choose a gift. He was warned if he stopped again then the toy would go away again until he was doing it again so he didn't just stop after the 7 days. It was never an issue though. They say 3 days for a new habit to form but I think 7 days works well for kids to make sure it's embedded.
What worked with my son worked so well we replicated it for my daughter when the time came.
My daughter was a little trickier and we approached it many more times with her than my son. She is scared of the dark and even with all the lights on in her room she feels scared to be alone in her room when it's bedtime (even if she was happily playing in there alone before bedtime!). So with my daughter we had to build her confidence first so that she felt safe alone in her room at bedtime first.
The gift my daughter chose really amused us as it's these terrifying stuffies called Huggy Wuggy and Kissy Wissy but she gets really annoyed if we call them scary and asserts that they are cute!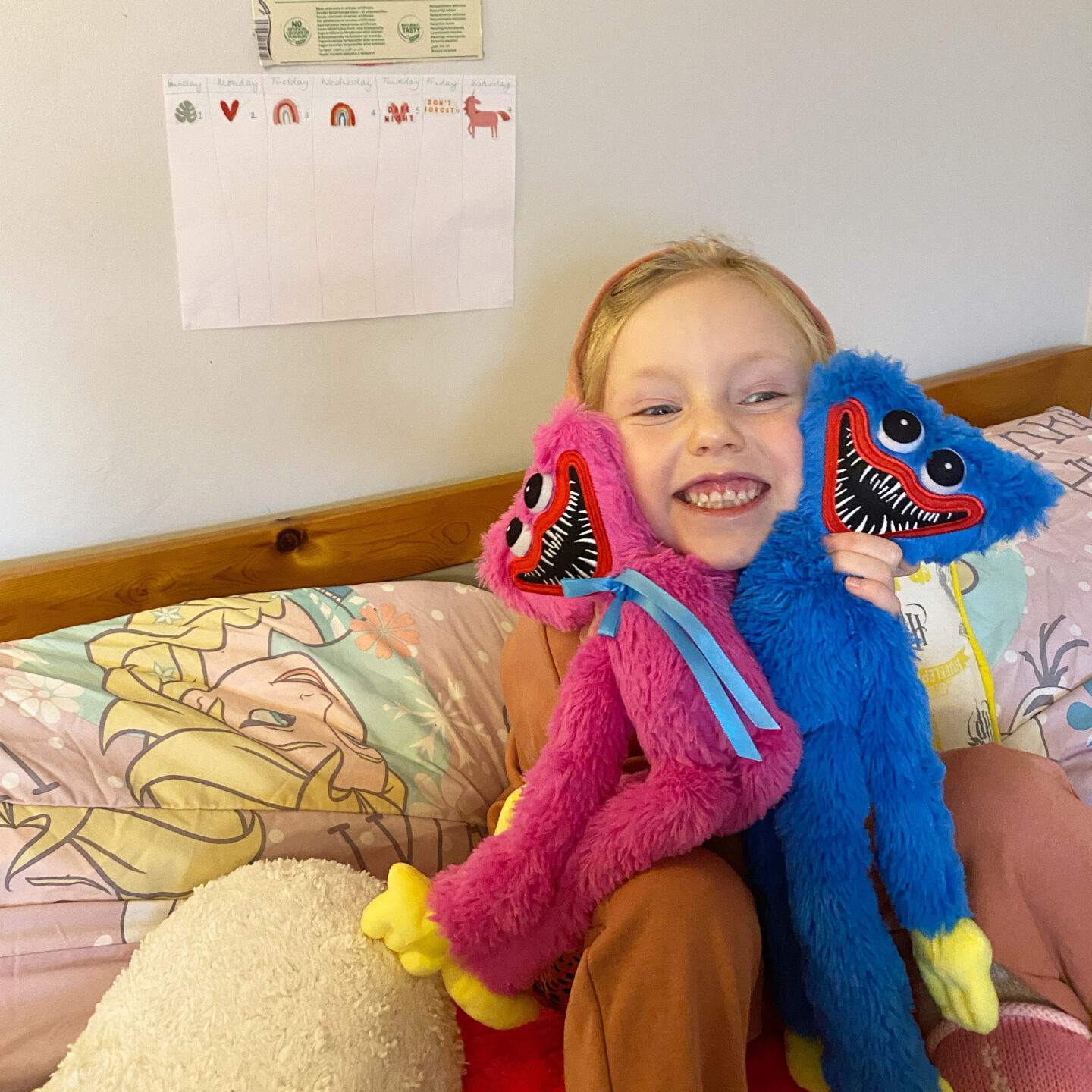 'Gradual retreat'
We borrowed a little from the sleep training school of thought here. Although I would never say we sleep trained and we certainly weren't going to let her get upset about it. To build confidence that she was safe at bedtime we built up by 5 minutes a night.
So, night one she got a story and a cuddle, then Daddy went out of the room for 5 minutes but at the door where she could still see him. Then it went to 5 minutes but Daddy was out of sight. Then 10 minutes, 15 etc. After several days of doing this she finally fell asleep on her own and surprised herself that she could do it. This built her self confidence.
The next few nights we got rid of the times and she just tried to go to sleep on her own. We told her it was ok if she got too scared and needed us she just had to let us know and we would come right away. She asked for me a few times and I would go in and give a cuddle and a little pep talk and assure her that I would check on her again soon. Lots of reassurance, patience and confidence building.
After a few days of this she cracked it. A few weeks on is now going to sleep much earlier than when she would have us lay with her. In the days of us laying with her she would fall asleep between 8.30-9.30pm but now she's regularly asleep before 8pm which is amazing for us.
I'll never regret all those nights laying with them getting cuddles though, they were some of our most special memories and I swear they made us more bonded. Kids really open up at bedtime.
Side note: That's another top tip of mine – if your kid isn't talking about school and you want them to open up, ask to cuddle in at bedtime and it all comes pouring out of them.
Moshi Monsters Sleep Stories/sleep visualisations
One thing that has really helped us with Lena is the use of sleep stories and visualisations. She loves the Moshi Monster's Sleep Stories app which we downloaded on to her ipad (there is a free version and a paid version that's about £25 a year).
She can choose which story to listen to, set it away and fall asleep to it. It's usually calming music and a relaxing story designed to help her fall to sleep. As Lena has a very busy brain and active imaginiation sometimes this can stop her from falling asleep easily. Occasionally we will use the children's meditations on Centr too.
Special teddies
Lena chooses a special teddy to cuddle in the place of us each night. On one night where she was struggling more I got a big pink fluffy love heart pillow and told her it was my heart and full of my love to keep her safe and she cuddles it every night bless her.
Now she has her gift she cuddles Huggy Wuggy and Kissy Wissy each night too though!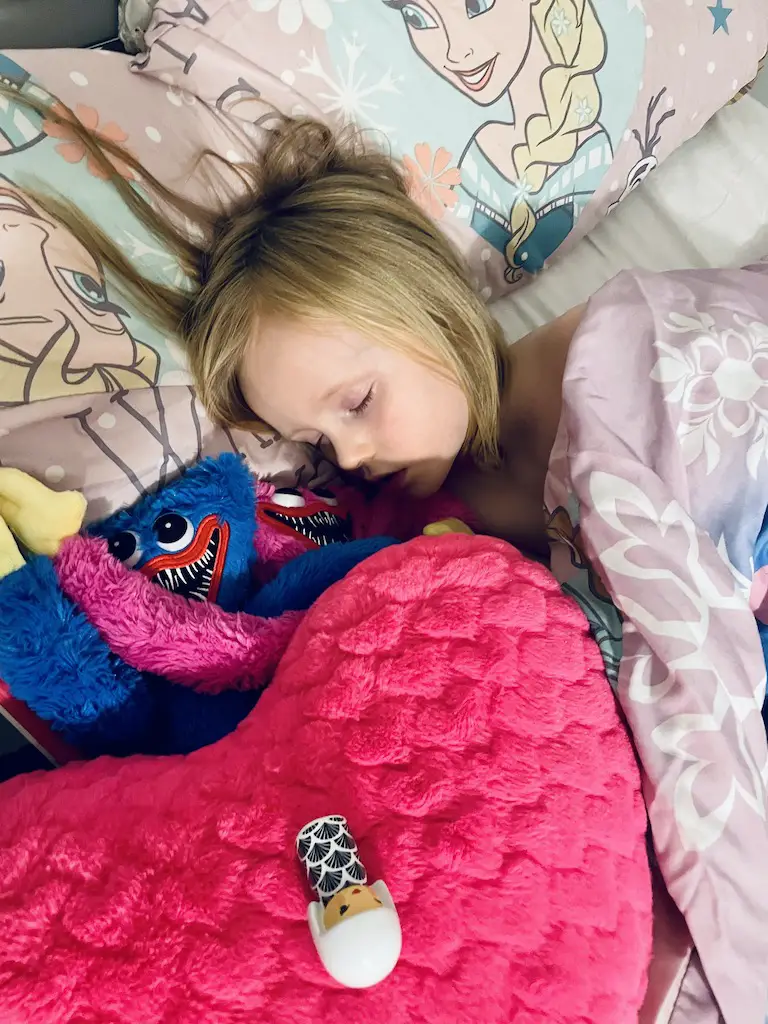 Night lights and leaving the door ajar
A final thing we do for Lena is allow her to keep the light on and door ajar. We did try her night light but she said the light reflected on her tv and that creeped her out so she won't use it anymore (she now also has a blanket over the TV due to scary reflections – this child!) .
I'd like to wean her off these over time as I have learned that children should sleep in the dark for their vision system health. Doors should be shut in case of fire. But it's baby steps, we are building confidence and weaning her off her 'comfort blankets' slowly. After all she is still only little and I know plenty of adults who are more fearful in the dark.
So that's roughly how we made the transition from literal hand holding to leaving the room at bedtime. I hope it gives you some tips on how to get your child to go to sleep on their own. If any of this is helpful or you have your own tips to share please do add them in the comments!
If you liked this post you might also like:
If you have enjoyed this post or found it useful, here are some quick and easy ways that you can support Nomipalony or say thanks: