It's getting to that time of year again, Spring is in the air and I'm planning which festivals I'm going to hit this summer. It's been a rough couple of years for festivals with covid so I'm so happy to see a new family festival launch right here in the North East! I really wanted to get behind the festival and lend my support for it so I'm proud to announce that this year we will be ambassadors for Little Lindi Festival (Friday 22 to Monday 25 July 2022) and will be sharing lots about the festival with you in the coming months!
Little Lindi comes from the makers of the established Lindisfarne Festival so you know that they know what they are doing. Lindisfarne Festival is a lush festival but it's over 18s. They've now spent time creating a dedicated festival designed specifically for kids that looks set to rival the likes of Just So Festival.
Honestly, they have curated an excellent weekend with so much for families to do I could write about it for hours! I'll limit myself to my 5 reasons why you should get tickets for Little Lindi Festival though. Do check out their website though for further information as well as there is SO MUCH more on there (it's a great site too with really inclusive imagery).
Little Lindi promo code
On a first come, first served limited basis, I'm able to offer my readers a 25% discount code to Little Lindi Festival. Add the code LLPARTNERS25 at check out for a 25% discount.
If you are looking for other family friendly festivals near the North east check out my post - Family friendly festivals in the North. 
1. Little Lindi's location – Lambton Park, Chester le Street
Little Lindi Festival is set here in the North East! How often do we get decent festivals up here? Not often and I can't think of a time I've seen a dedicated kid focussed camping music festival up here which is one of the reasons I really wanted to get behind it.
Little Lindi is going to be held at Lambton Park in Chester le Street. Lambton Park offers the perfect mix of woodland walks, quiet roads and rolling fields, with the River Wear and a stunning backdrop of the Lambton Castle, which dates back to the 1820s. The festival will take over 5 fields of the festival estate.
2. Great line up that supports local
For it's inaugural year, Little Lindi Festival has a belter line up featuring a Ministry of Sound Disco and a DJ set from Huey Morgan. Fiery Geordie folk rockers Holy Moly and the Crackers are playing. Reet Good Craic will be bringing the Fleetwood Mac covers which will no doubt go down a treat with young and old. Groove Train and New York Brass Band will also bring the beats.
It's really nice to see local companies like Circus Central and Dance City will be hosting workshops over the weekend too. There's absolutely tonnes on so have a look at the line up poster below for all the details.
3. Dedicated to kids and educational
If you have been wanting to take your kids to a festival but have felt a little intimidated then this is a great one to start with. Little Lindi promises to be an intimate family camp festival with a weekend full of talented artists with well-being and arts workshops including yoga, dance, drumming, learn to DJ, bushcraft, raw food, break dance and meditation.
A dedicated Circus tent brings workshops and performances day and night, or you can get lost making dens or carving wood in the bushcraft zone. There will be forest orienteering, singing and loads more.
There are a host of dedicated activities for toddlers and under 2s are FREE.
There are glamping options available through Camel Camp for those wanting a more luxurious camping or boutique option.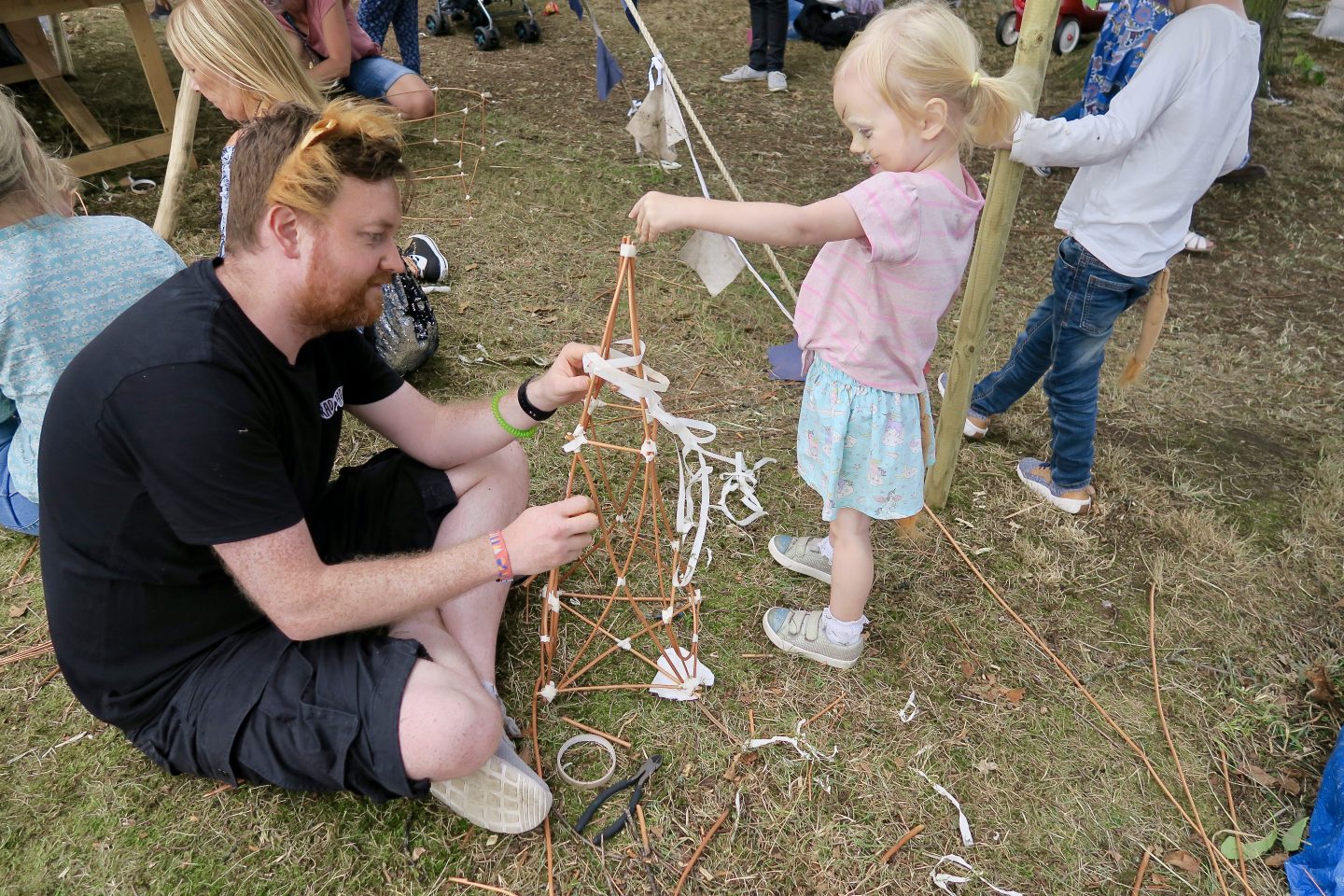 4. 5 epic areas to enjoy
Little Lindi will be offering 5 epic areas to enjoy that you can see on this map and I will detail below.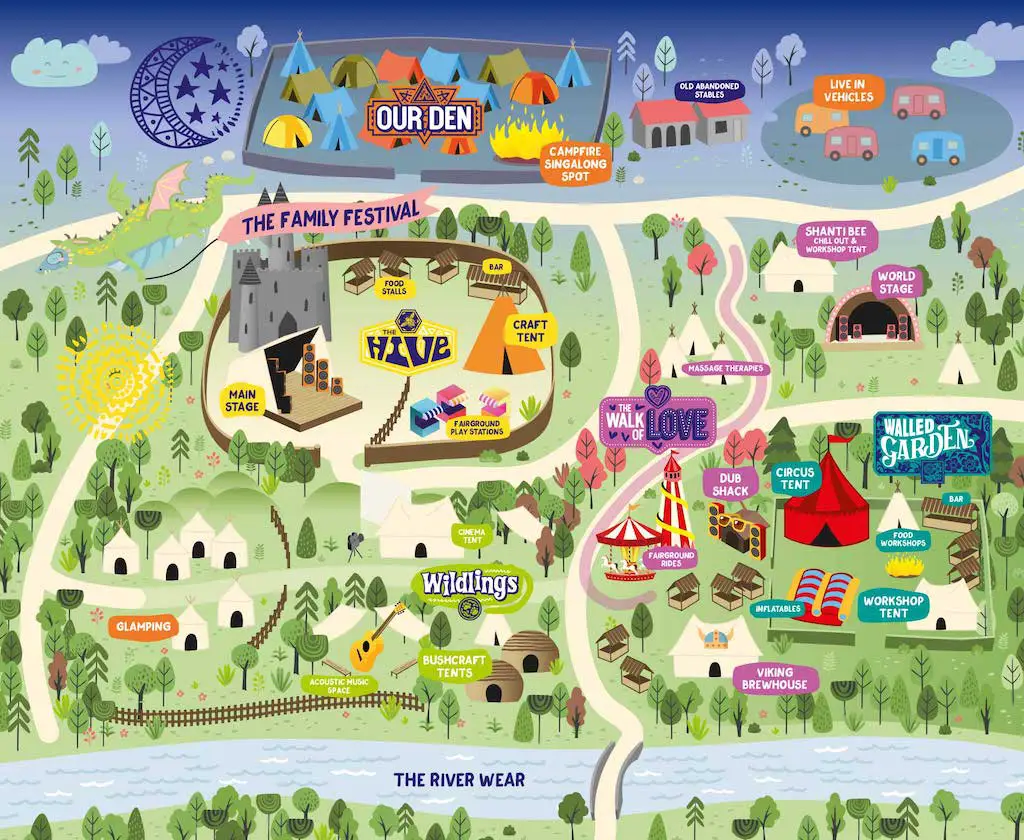 Our Den
Our Den is the campsite area and your home for the weekend. You can join the campsite keepers around the fire for a sing-along, bedtime stories or toasting marshmallows. Raised fire pits and BBQs are okay at your camp but they ask for no open fires. The car park is separate but not too far from the camping field. 
Each pitch is given adequate space for your family's comfort for the weekend. You can purchase access to posh toilets and showers.
The Hive
The Hive will be the main area with the main stage, food, crafts gazebo, sensory play tent, fairground rides, trampolines and activities. Plus, on Sunday afternoon the kids will take over the stage for the under 18s talent showcase – read more about how to apply here.
The walk of Love
As with all festivals there is a bit of walking but Little Lindi are putting on 'land trains' for those tired legs which I think is fantastic! At the Walk of Love area you will find the Shanti Bee (local wellbeing centre) healing tent – think yoga, zumba and chilling, a therapist tent (where I will be getting a much needed massage), the world stage, dub shack (reggae vibes) and the Viking Brew House for tunes and bevs.
Walled Garden
The Walled Garden will be a magical place to take part in a selection of workshops and well-being. This area will also be host to traders, stalls, inflatables and performers. This is where Newcastle's Circus Central and Dance City will be based. There will also be a bar in the walled garden and a large fire to keep you warm into the evenings.
Fun Little Foodies will be hosting a 3 hour cooking workshop for kids on the Saturday here.
Wildlings
The Wildlings is Little Lindi's bushcraft area.  Come and explore the wonders of nature in one of Little Lindi's three dedicated bushcraft spaces! There is dedicated toddler time and play here.
Little Lindi will be working with some of the region's best forest education groups and outdoor experts who are bringing activities including Japanese leaf dying, knots and rope work sessions, orienteering and Mini beast hunts! You can learn how to weave willow, start a (safe) fire, or simply play and be free in a mud kitchen. 
There will be den making, walks off-site and plenty more wonderful outdoor activities.
In this area there will also be sports fields where David Lloyd Sports Camp will be running sports and football sessions throughout the weekend. I know my ten year old son is going to be keen to get to the football sessions. And that's not to mention a cinema tent and silent disco.
5. Little Lindi talent showcase for kids
Little Lindi is doing something really cool and unique for kids. A handful of under-18 performers will be selected by little lindi mentors to take part in a 90-minute master class with four mentors who are supporting the festival. Following the master class the young people will perform on stage to the festival crowds on the Sunday – with the support of the mentors. Enter the Little Lindi Talent Showcase by uploading a 2–3-minute video of yourself performing. The video entry can be one person, or a group entry – more details can be found here. I don't think my kids will want to enter but I know they'll get a kick out of watching the other kids perform. Such a great opportunity for our little wannabe performers.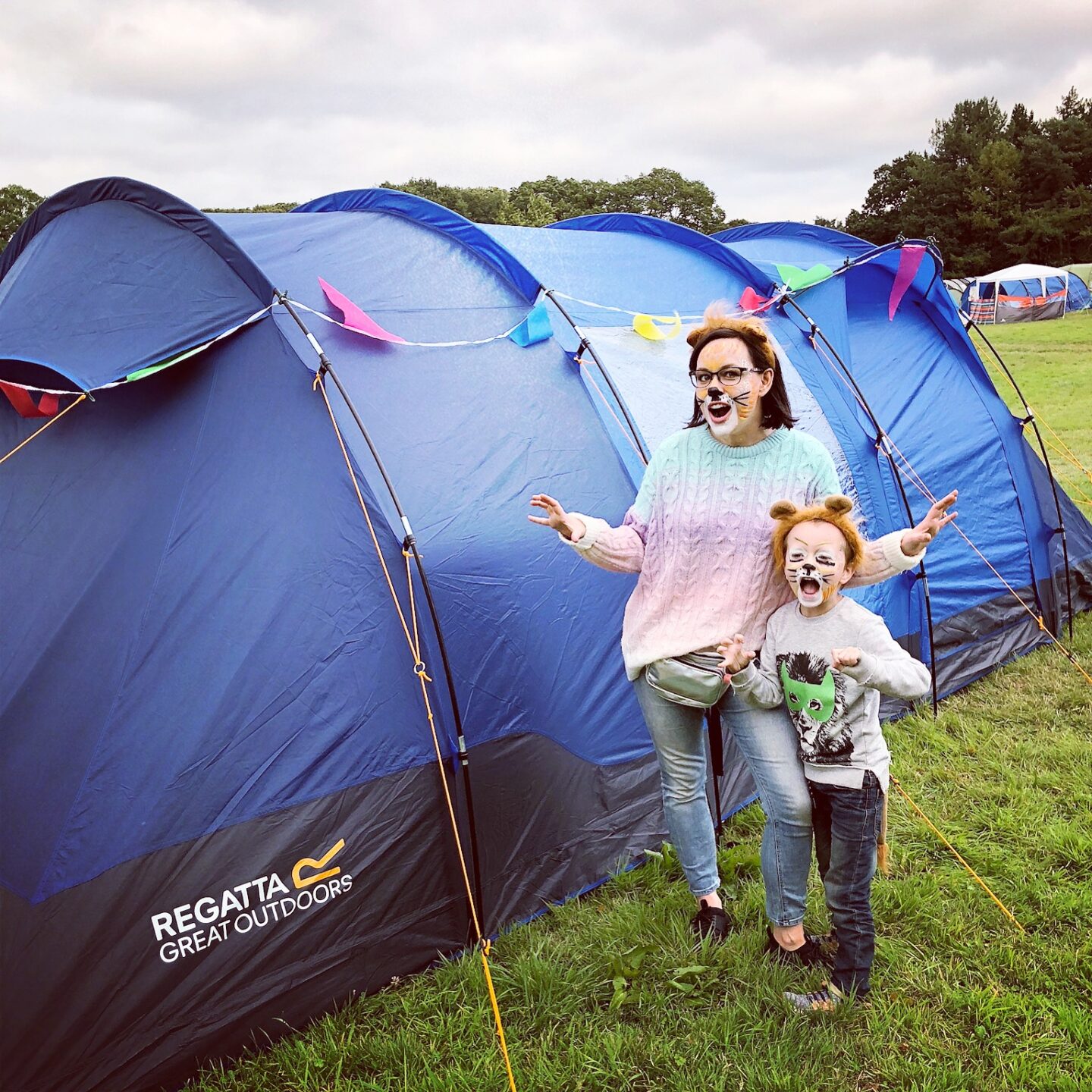 Get your tickets now
I've been speaking to the team at Little Lindi and they are doing their best to be ethical and sustainable. There is an option for carbon offsetting when you purchase your ticket. There will be a host of local food vendors providing vegan food. The Little Lindi Festival website is deliberately inclusive in its imagery and they offer free carer tickets.
Whilst you might be tempted to leave buying tickets to nearer the time, theres a couple of solid reasons not to delay.
Firstly, you risk them selling out. People are really keen to get back to festivals this year having missed them for a couple of years now due to COVID-19. Secondly though, we need to support smaller, independent festivals like these in a notoriously challenging sector – even Glastonbury doesn't always turn a profit! The earlier people buy tickets, the more funds there are to invest in that year's event as most acts ask for at least half their payment up front. The more successful a festival it is, the better it can come back the next year and with such a strong first year offering I can't wait to see where this festival goes!
You can buy a range of tickets from daily tickets (for the Saturday and Sunday) to a full camping weekend at Little Lindi here.
Right now I've gotten myself too excited writing this that I'm going to peak too soon! We will be there for the full weekend bringing you live Instagram Stories and I can't wait to see the kids enjoying it and bringing you all the content.
It begins on our last day of school before the summer holidays and I can't think of a better way to kick the summer off in style! We'll be collecting the kids from school with the car packed and heading straight there! Let me know if you are coming too, I might even set up a little Nomipalony meet up there if there are enough of you!
Edited to add: We have now been to the inaugural Little Lindi Festival 2022 and you can read our full review of it here: Little Lindi Festival review – blog post and video.
If you liked this post you might also like:
If you have enjoyed this post or found it useful, here are some quick and easy ways that you can support Nomipalony or say thanks:
Share this post with your friends  
Pop over to my Amazon Storefront to see what products I have been buying and loving from there recently, including my health and fitness products list.
Sign up to my mailing list 
Women can join my feminist Facebook group – the Nomipalony Freehouse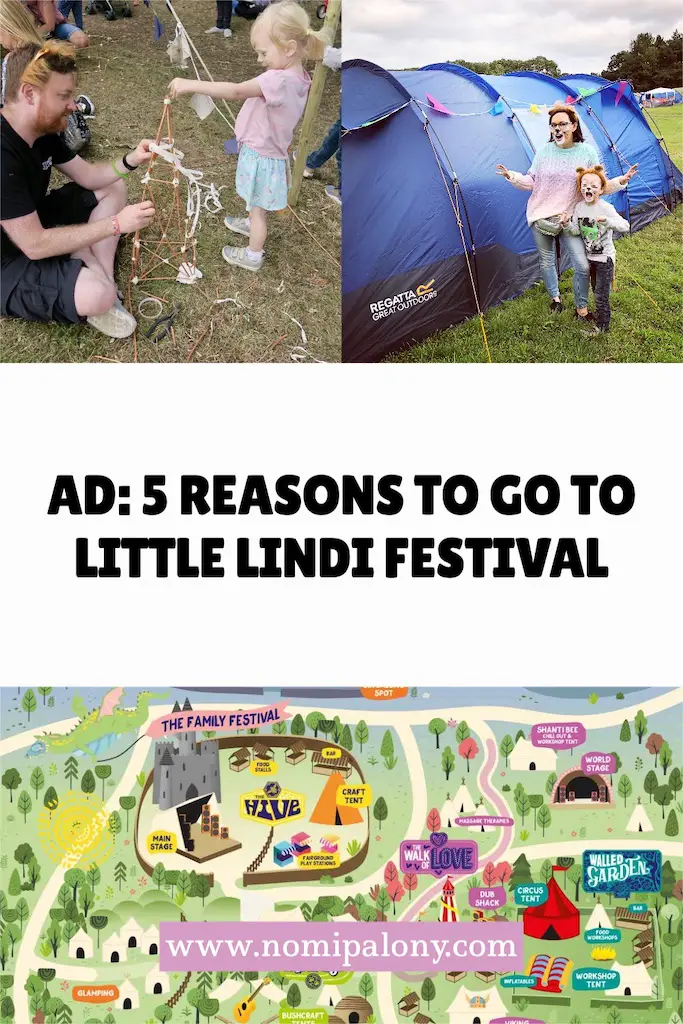 Disclosure: This is a sponsored advertorial post. For my full disclosure policy please see my about page.