I'm currently on the plane back from a near perfect family holiday at Barcelo Margaritas, Gran Canaria and I'm so sad to leave that I'm going to write about our week while my daughter takes a nap. This could be a short review if she wakes!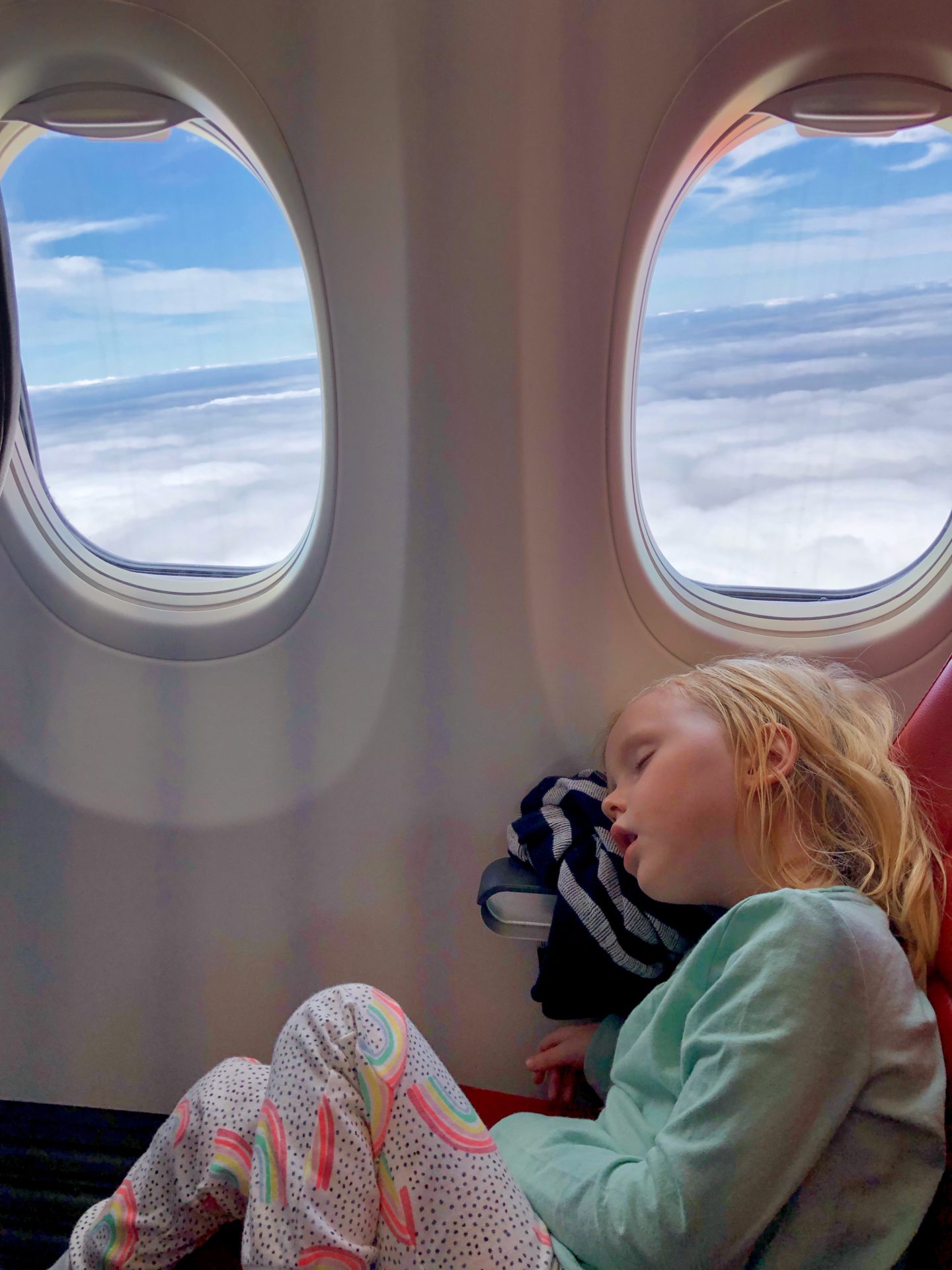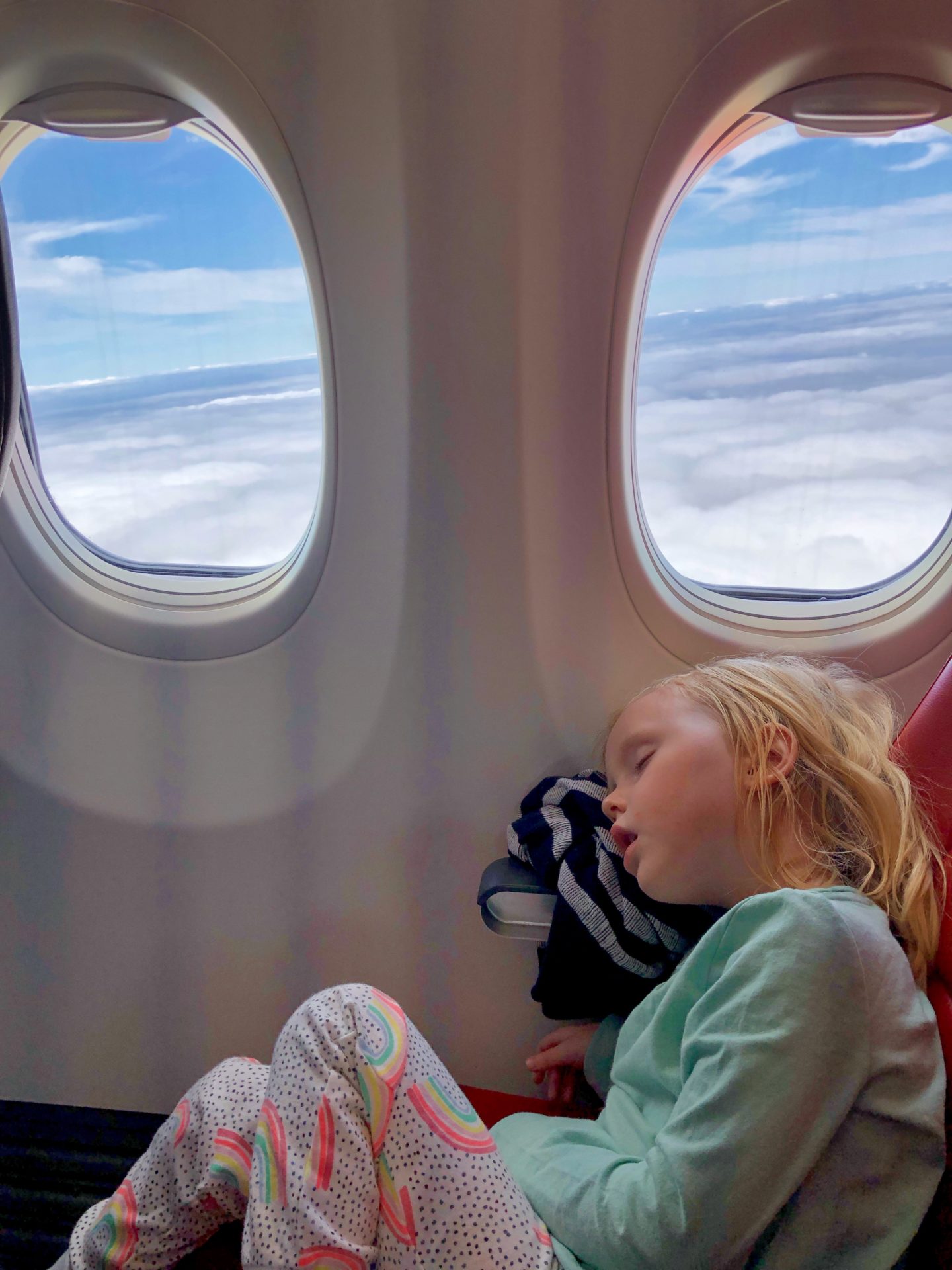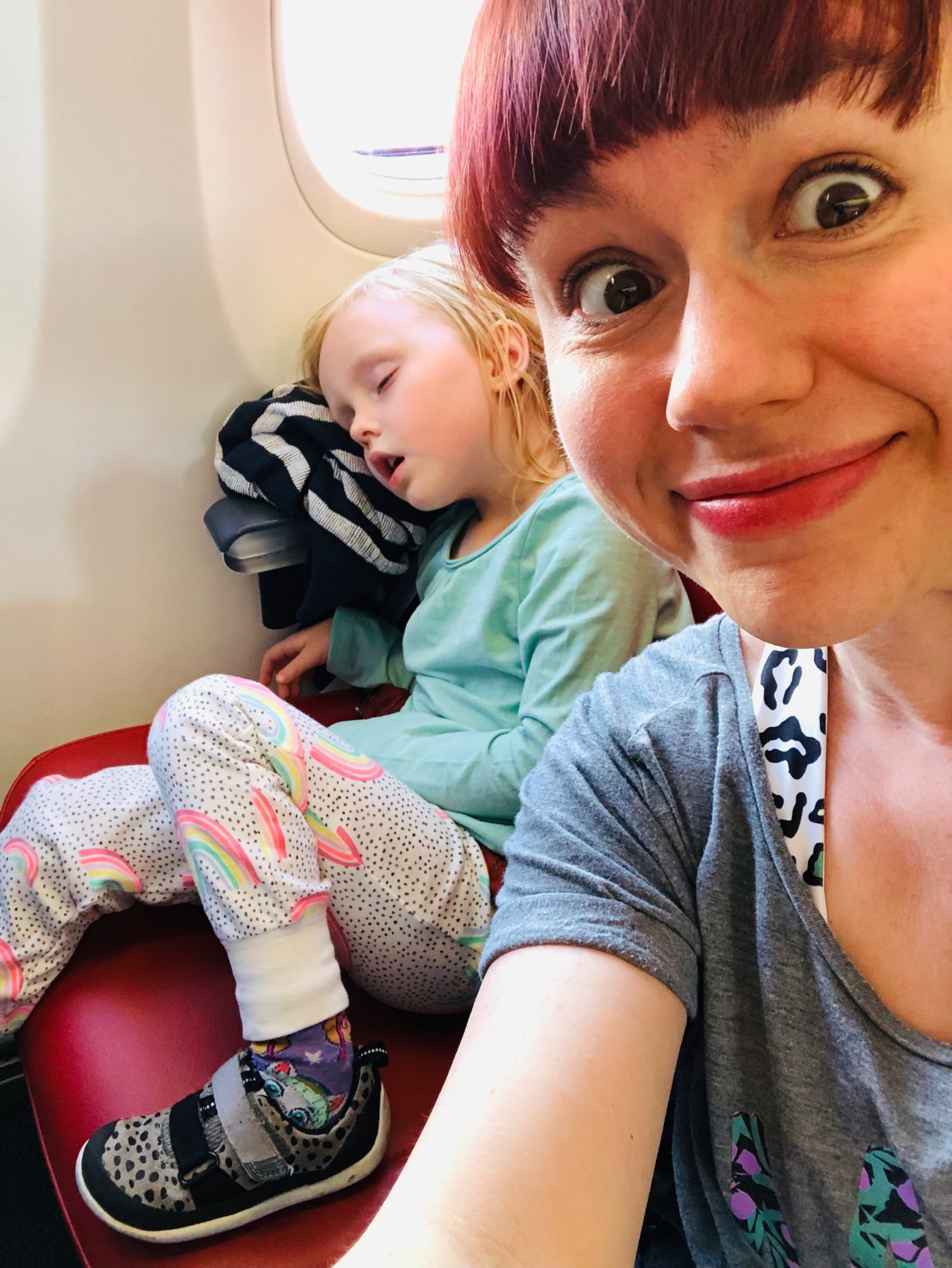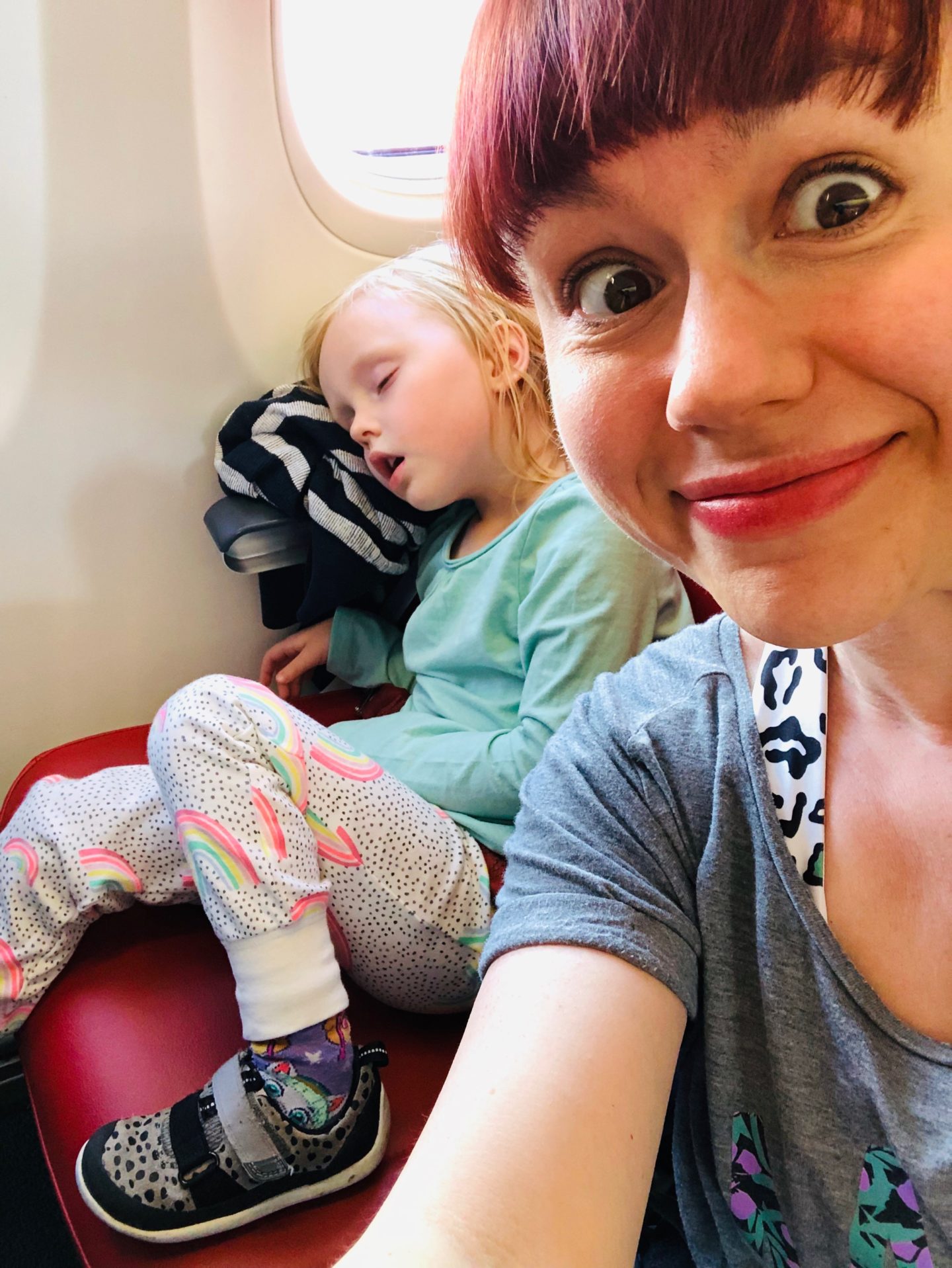 Barcelo Margaritas Jet 2 – what we paid
I'm a huge fan of Gran Canaria. Going abroad in the Easter holidays I wanted somewhere where the weather is more stable all year round. Gran Canaria is very steady and rarely rains.
You have a nice breeze from Africa (so I was told) and it feels more comfortable to me than a mainland country like Spain or Greece.
We did research into where we could afford (everywhere was very overpriced for this trip as we were booking last minute for Easter holidays) and decided to go half board to a Barcelo Group hotel, Barcelo Margaritas (affiliate link) in Playa Del Ingles on the South East coast.
We shopped around for the best price and found it would be best to book the trip separately. We booked pretty last minute, only a week or two before flying so probably didn't get as good of a deal as we could have if we had booked earlier using Jet2 free child places (affiliate link) etc. 
We booked the flights with Jet2 for £869 (affiliate link) for four people flying from Newcastle Airport to Las Palmas Gran Canaria.
We then booked directly with the hotel for our stay. I would recommend booking directly with the hotel as you get some worthwhile perks (do shop around though).
They give you 5% of your booking to spend at the hotel during your stay so we had a €57 voucher that came off our bill at the end. You are able to use this on food and drinks you purchase during your stay. We actually only spent €52.50 at the hotel so it was perfect for us.
Also for booking direct, there were two jars of sweets for the kids and a bottle of cava for us in our room when we arrived, as well as bottles of water in the fridge. Little touches like that make all the difference in making a holiday special I think.
The hotel half board for a family of four in the Easter school holidays cost £1076.91 including private airport transfers.
After adding on the flight extras, transfers etc the total holiday cost £1945, ouch! This is the most we've ever spent on a family holiday, damn school holiday trips!
You can find cheap holidays for Barcelo Margaritas with Jet2 here (affiliate link).
What was Barcelo Margaritas like?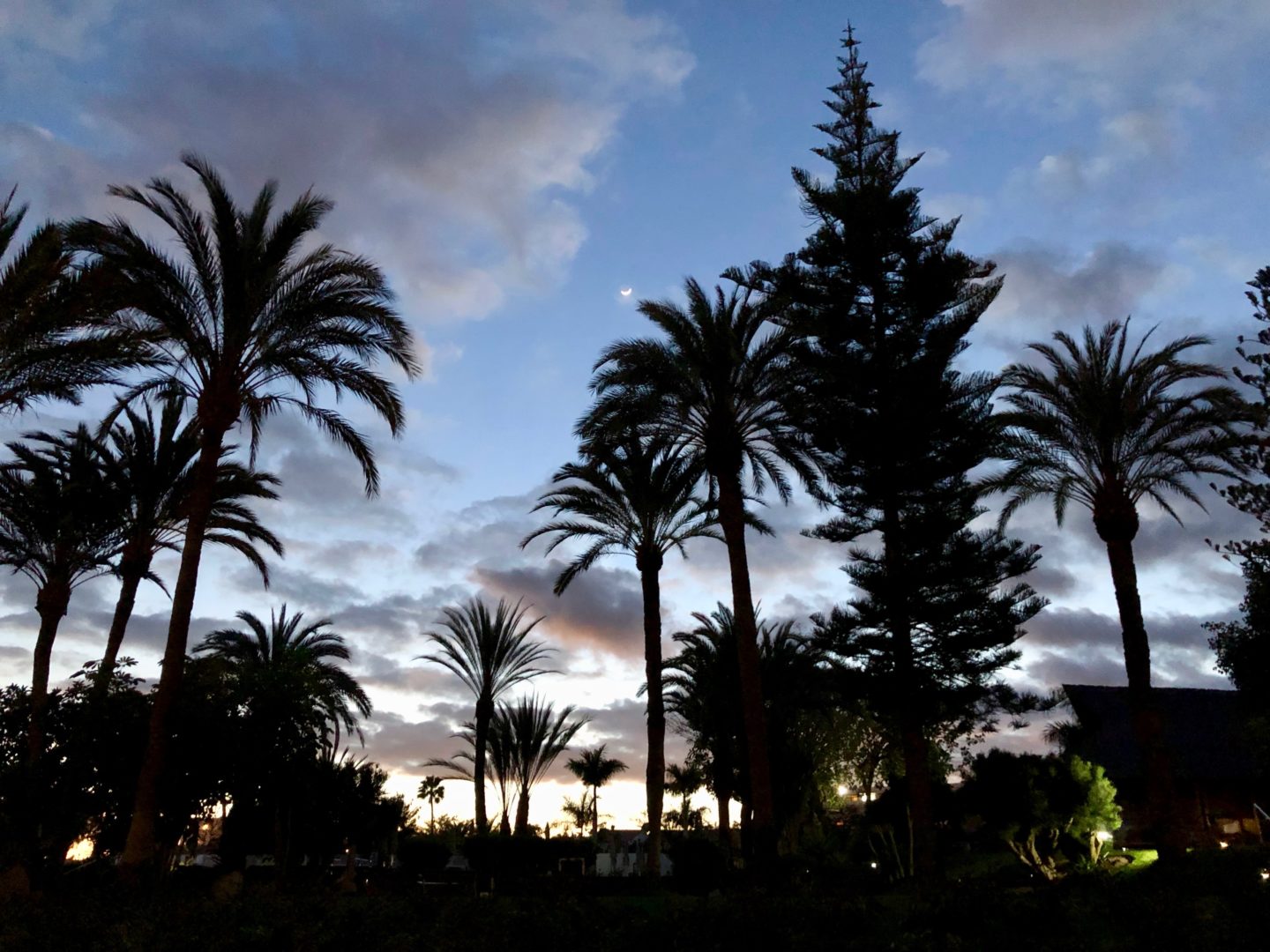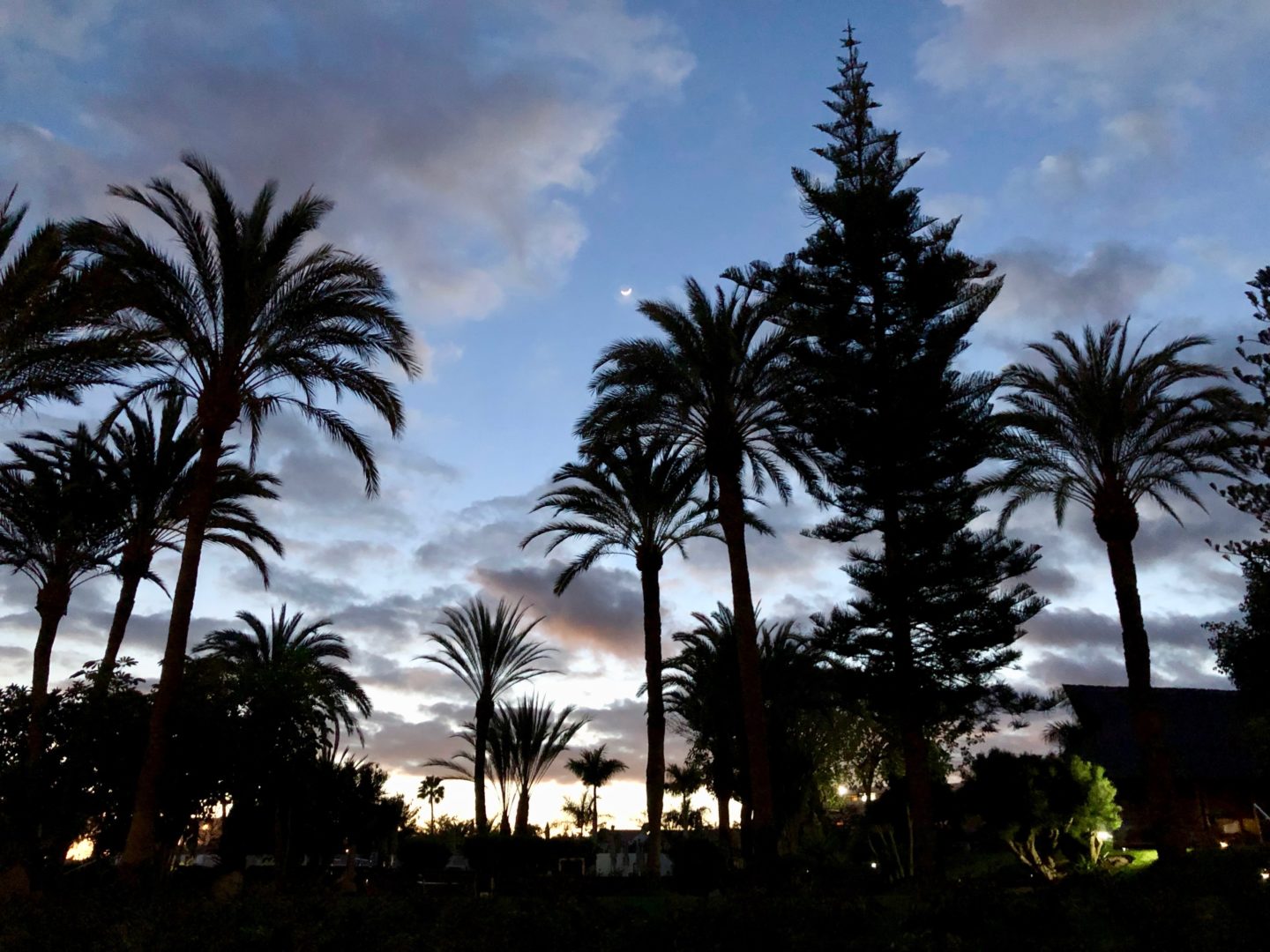 We really liked the hotel. There are two sides to it, one side (where we stayed) is the standard apartments for families. These are more dated but perfectly functional. Then in the actual hotel there are the 'superior' suites which are a bit fancier/bigger.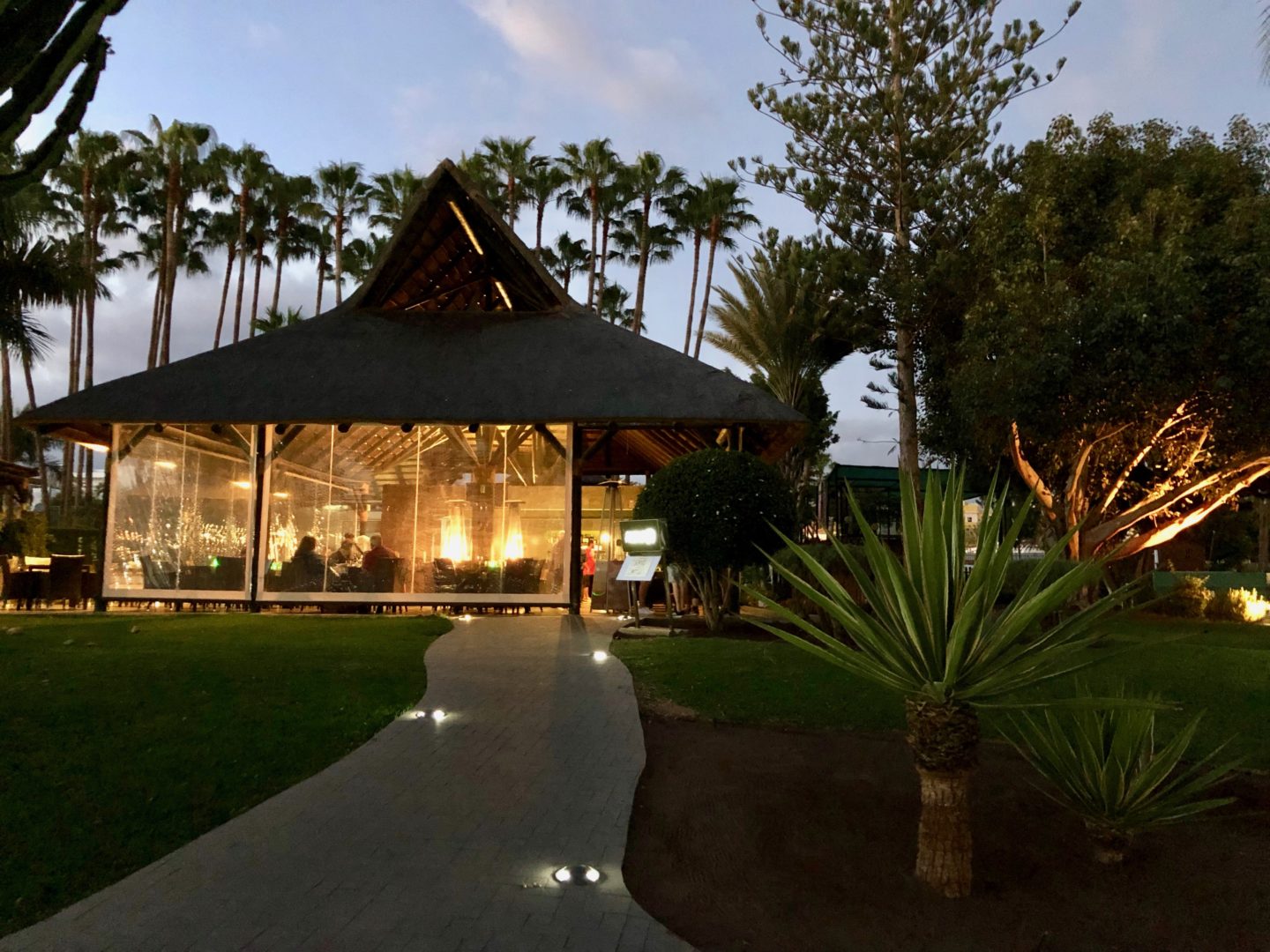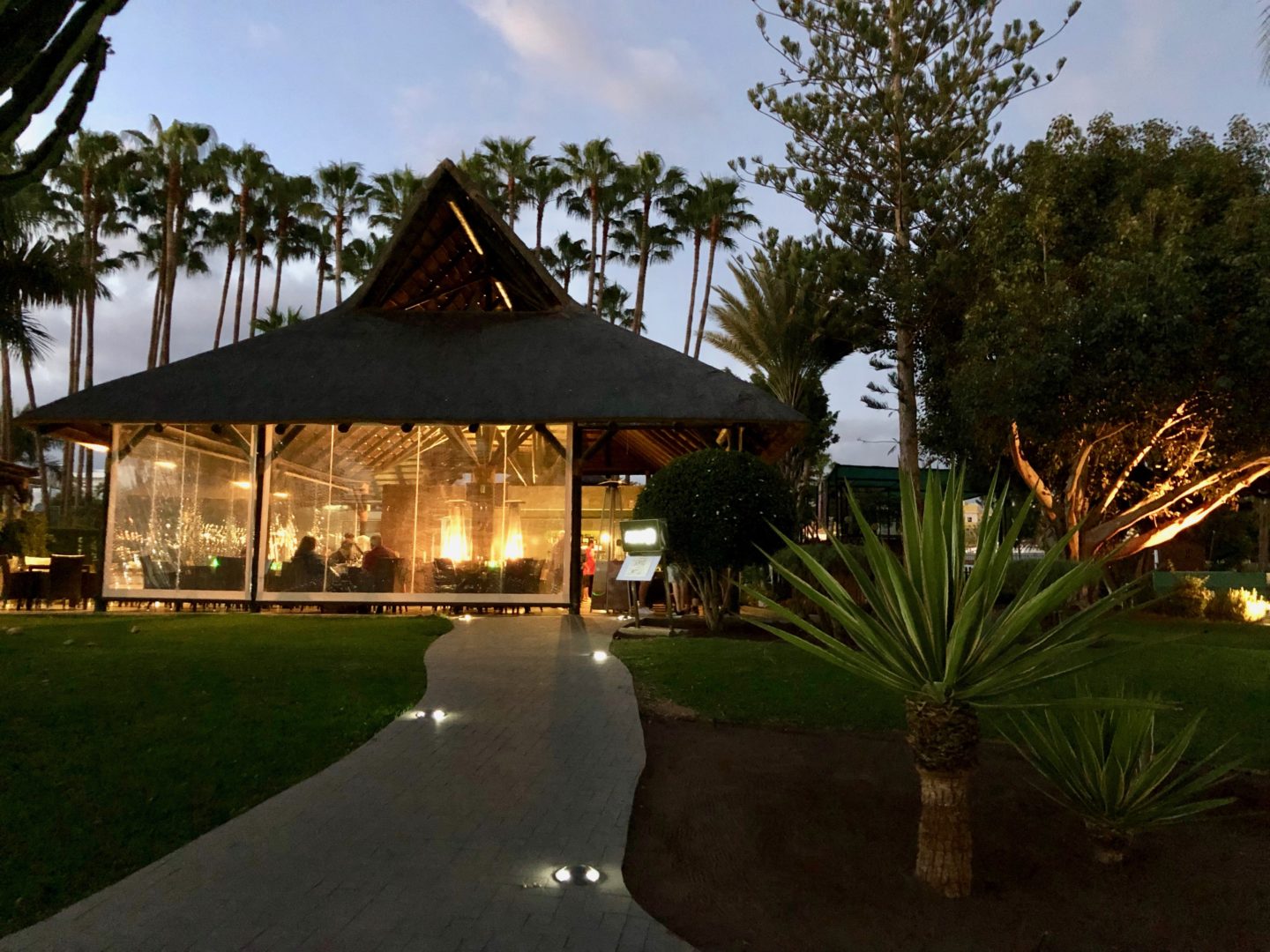 For the first half of the week, Papa Ginge and I felt the hotel was lacking something. We couldn't put our finger on it but we felt it was a lack of a soul/heart/atmosphere.
I think two things contributed to this 1) sometimes there was no music on at the pool areas/if there was music, sometimes it was a bit flat killing the atmosphere 2) the animation team was small and not the best we've seen. They tried hard bless them but we've seen a lot better.
That said, we felt it perked up a little towards the second half of our week stay. I think they could improve by investing in the animation team more and getting better tunes around the pools.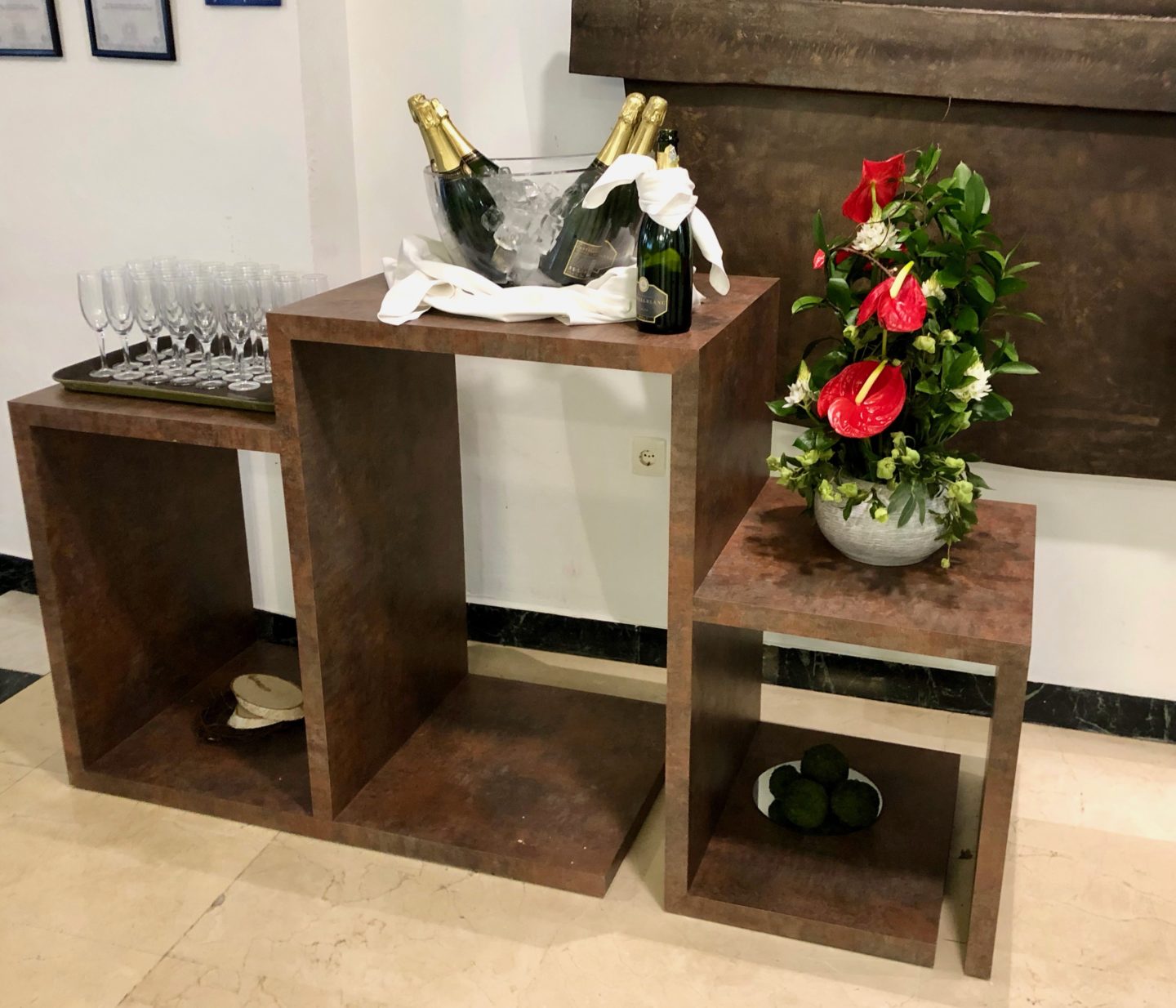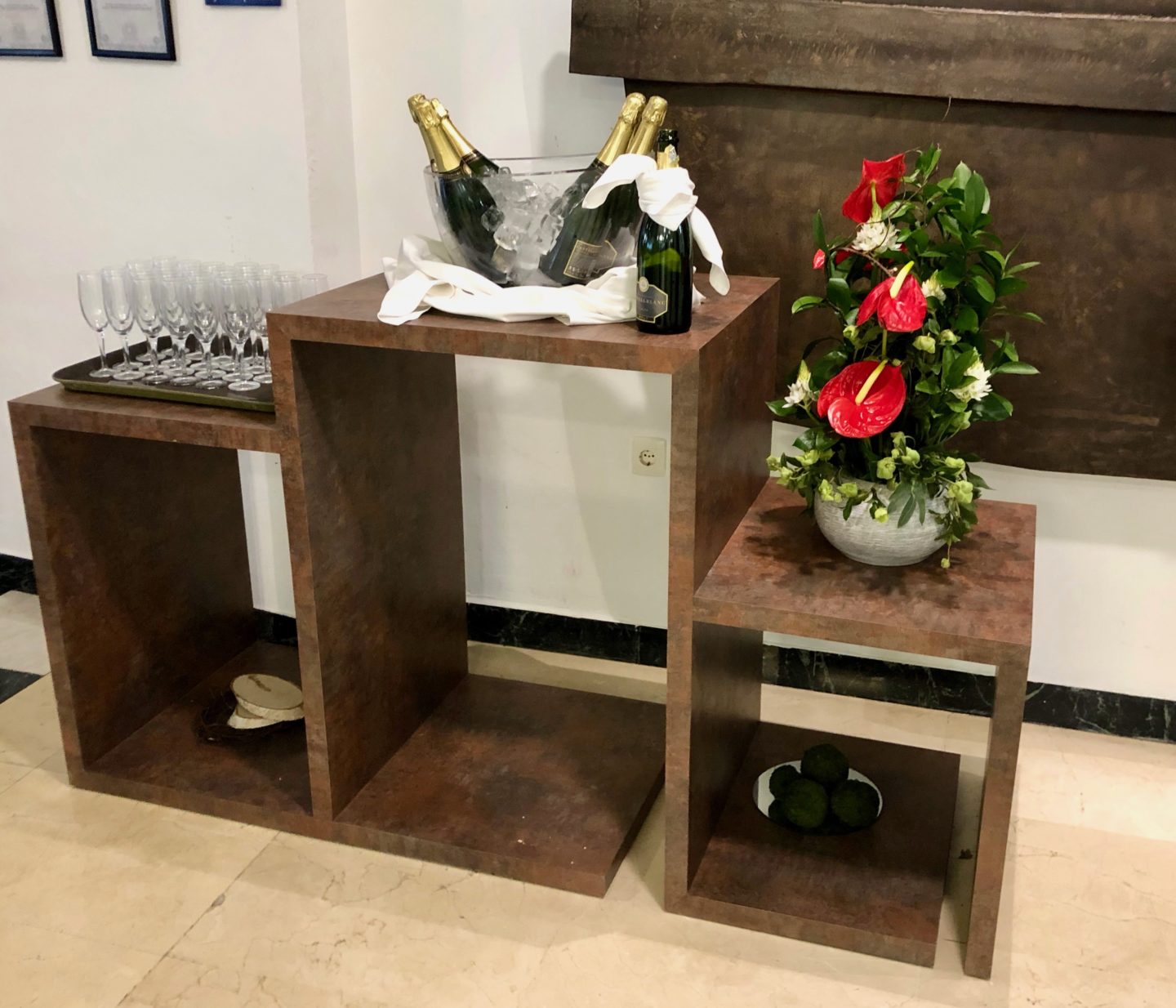 There was a real mix of nationalities at the hotel. British, German, French and Spanish predominately but there were even South Africans and Swedes.
It was nice to have the kids playing with kids from different countries – especially amongst the Brexit backdrop! All the kids were lovely and kind to one another.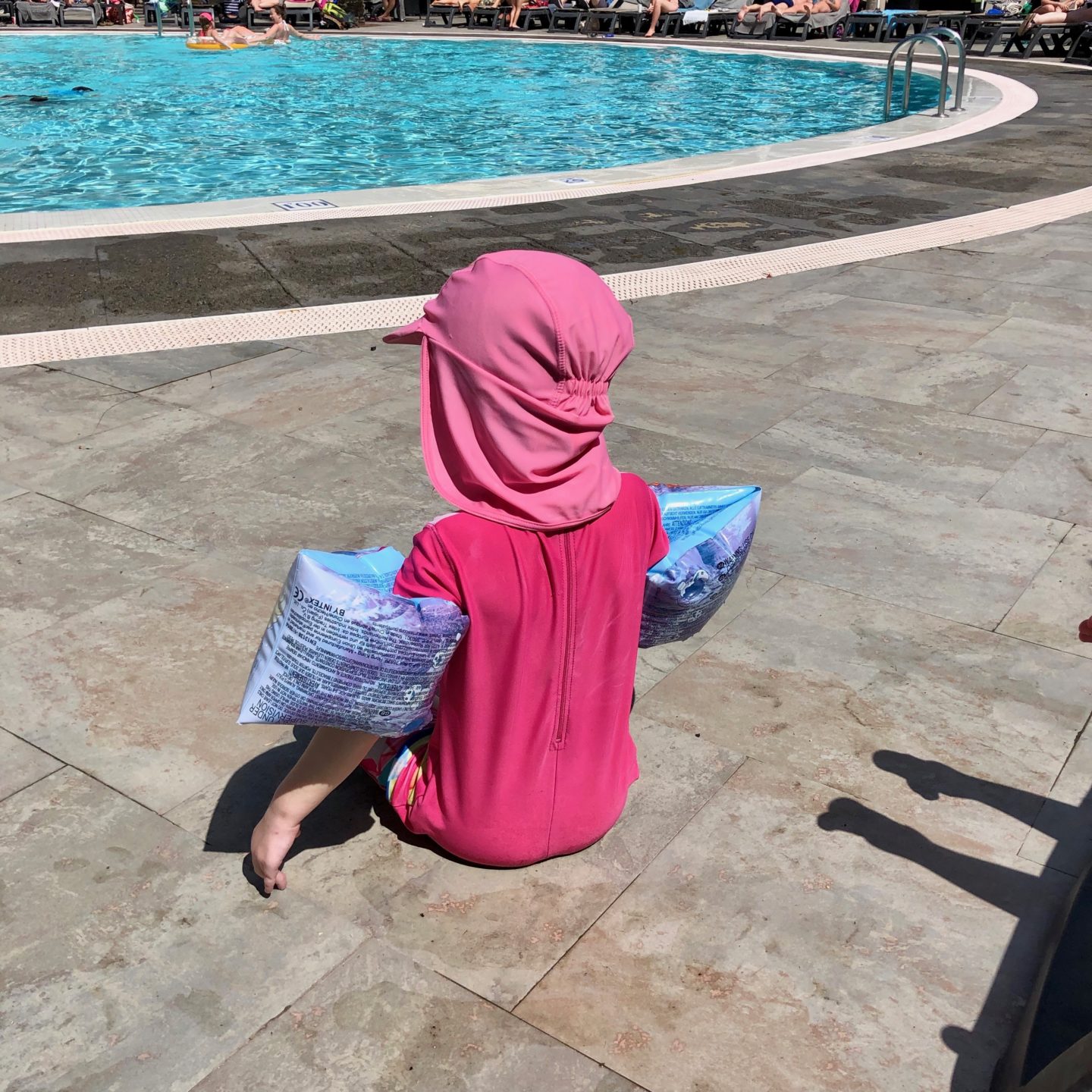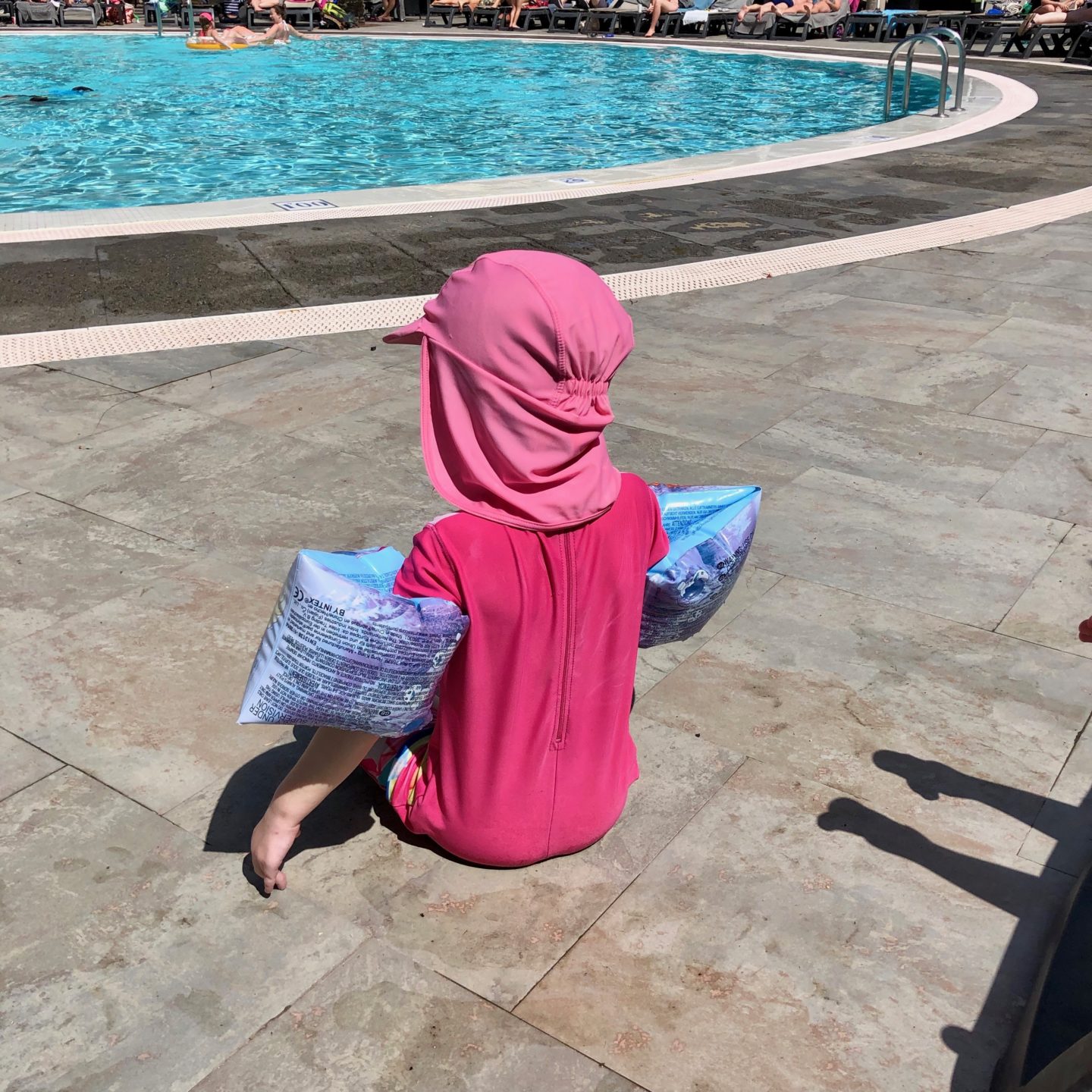 The rest of the hotel was modern, spacious and clean. The staff worked their socks off, constantly cleaning and tidying like a well oiled machine. 
Our apartment at Barcelo Margaritas
We stayed in a standard apartment (810). The apartment itself consisted of a living room/kitchen, a small storage cupboard, a bathroom with a shower over a bath (no taps to fill the bath though) and a bedroom.
At 45 metres squared, it's one of the smaller apartments we've stayed in and as a family of four, we were tripping over each other a bit.
There was a spacious balcony though. It didn't get the sun but that made it nice to pop back to and have lunch up there for a break from the sun which we did two days of the holiday.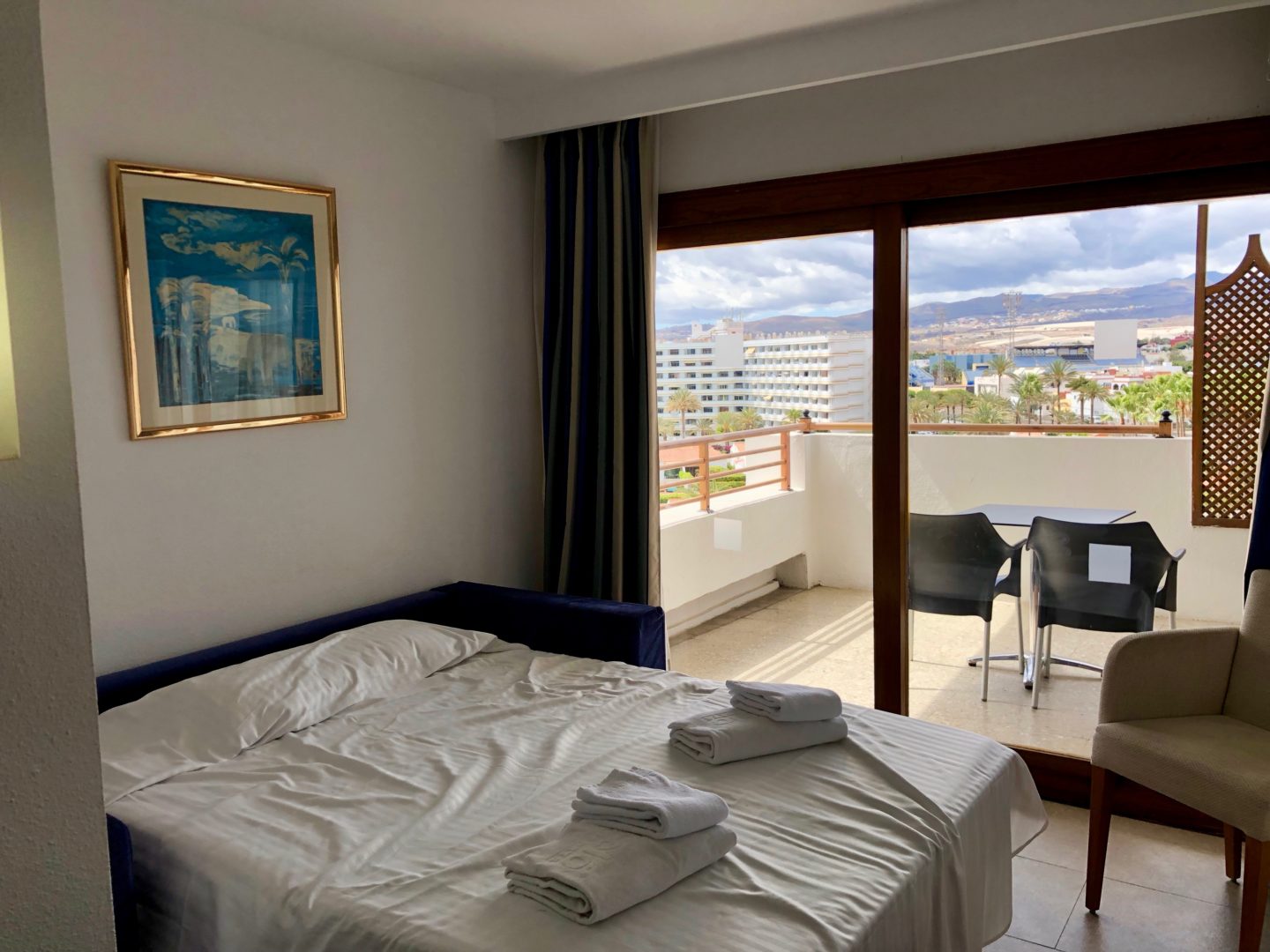 The room was cleaned every day and the cleaners always made sure to come back if the do not disturb sign was on the door when they came.
Other hotels we've stayed at just wouldn't clean it if they came and the sign was up. Spending three days at the beach we very much appreciated the daily clean.
The bedroom had two single beds pushed together, they were comfy and ample.
My four year old and I slept on a pull out sofa bed in the living room, which while quite hard, was certainly one of the best hotel sofa beds we have slept on.
It pulls out properly into a double bed rather than having one half up and the other come out from a drawer if you know what I mean?! I hate those ones!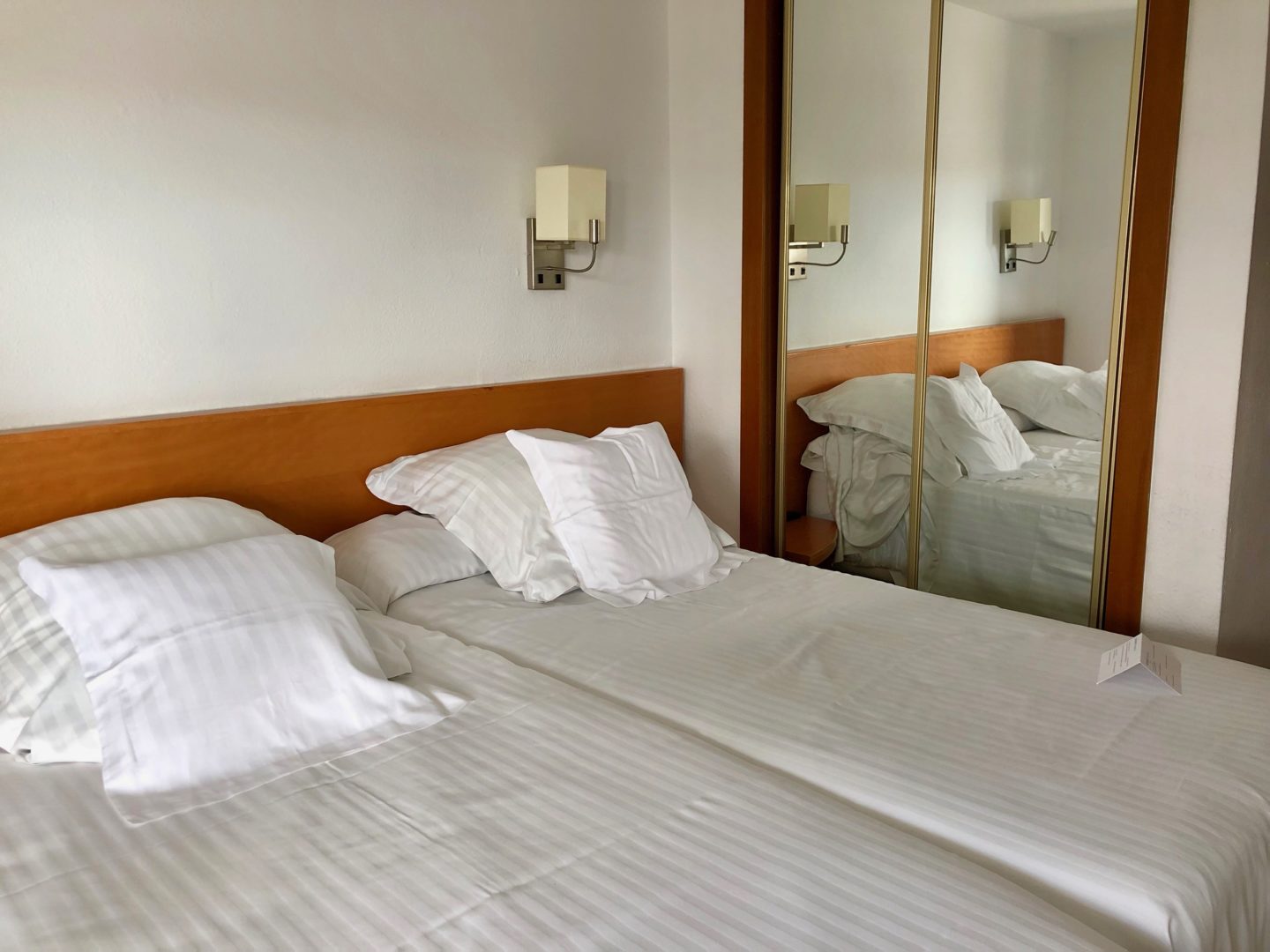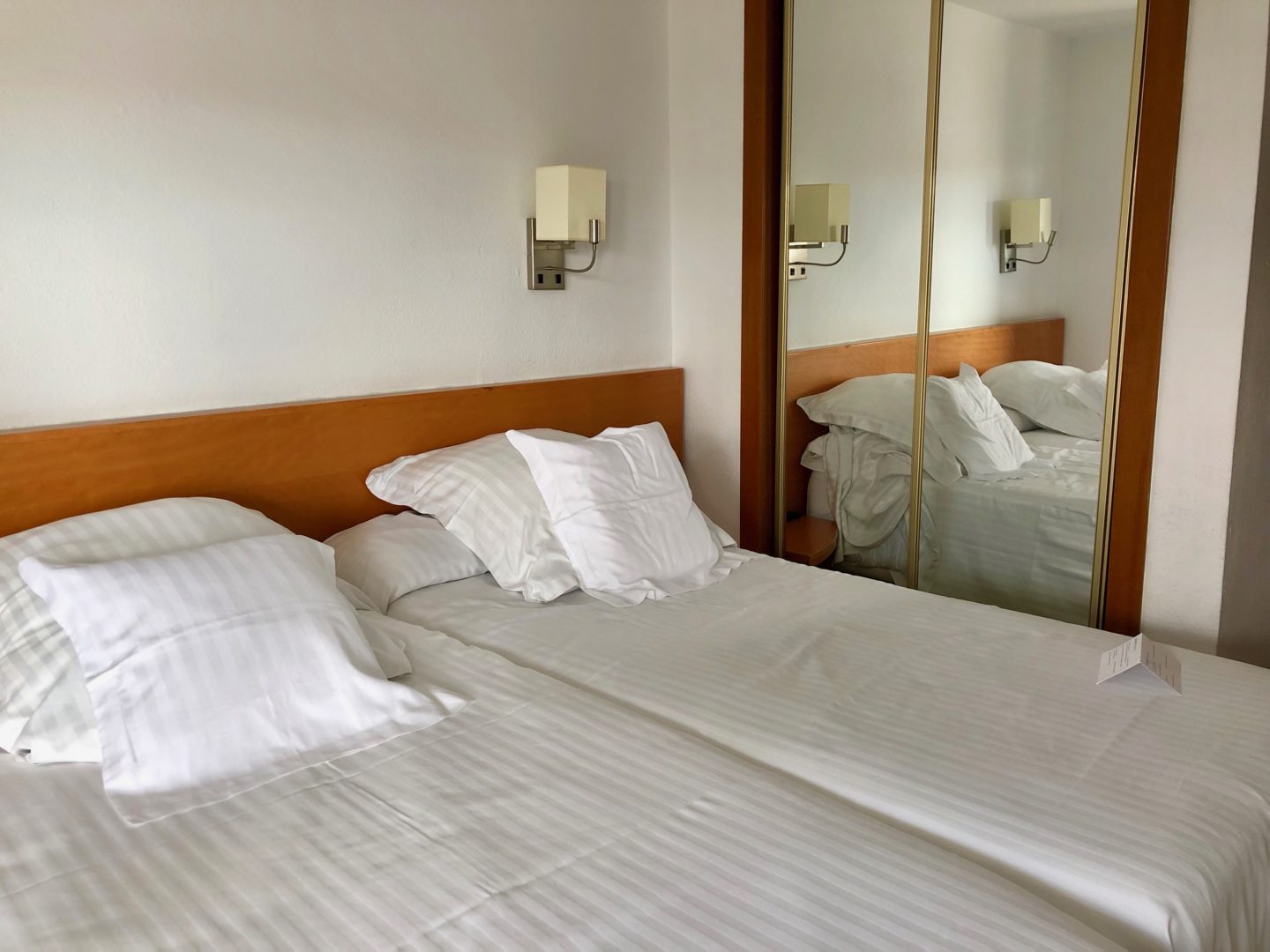 There was a little noise from the evening entertainment till around 11pm but nothing too bad and it was quiet afterwards.
The kitchen was teeny but would have been fine. It had a microwave and hob. We didn't cook in it though. I really needed a break from being the household chef!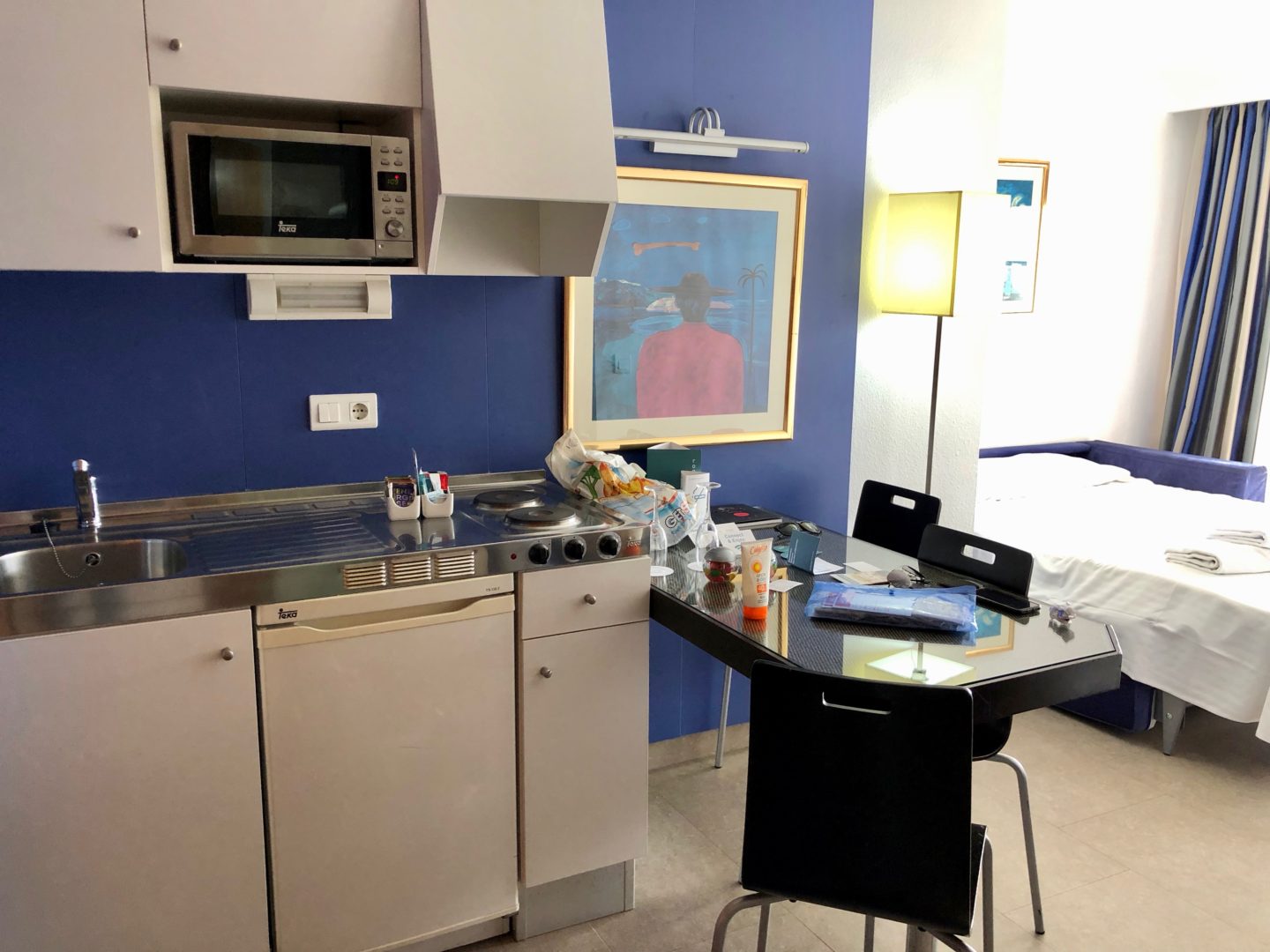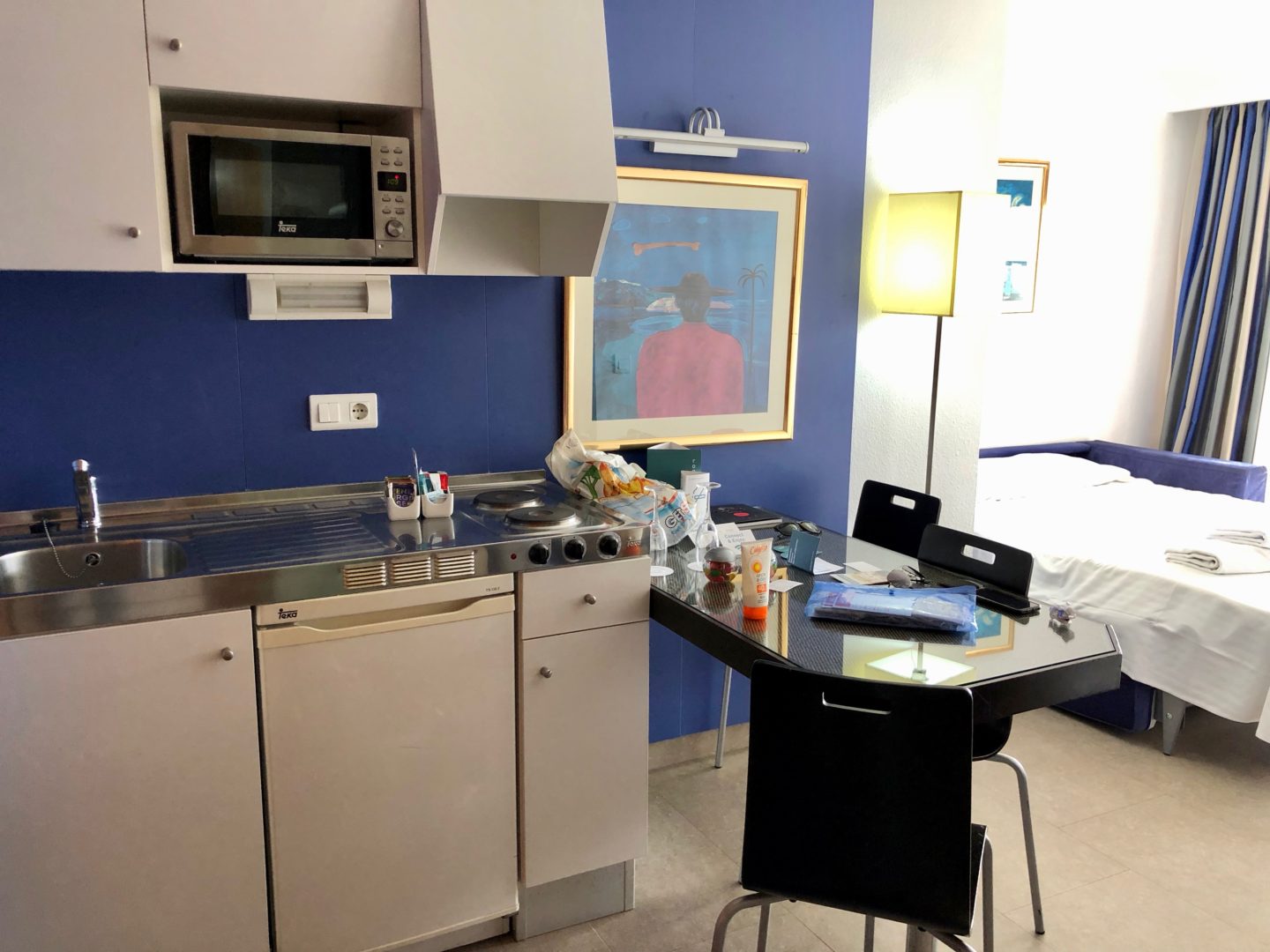 Also, be warned, take your hairdryer as the room one was not great!
Restaurant and food at Barcelo Margaritas
Always divisive on Trip Advisor – the food! We rated the food at Barcelo Margaritas.
We had some lovely meals there and you are really spoiled for choice.
As with all hotels like this, it can be a bit hit and miss but once you've worked out what's good you are golden.
For example, yukky Spanish bacon at breakfast – miss, omelettes and croissants – miss at your peril.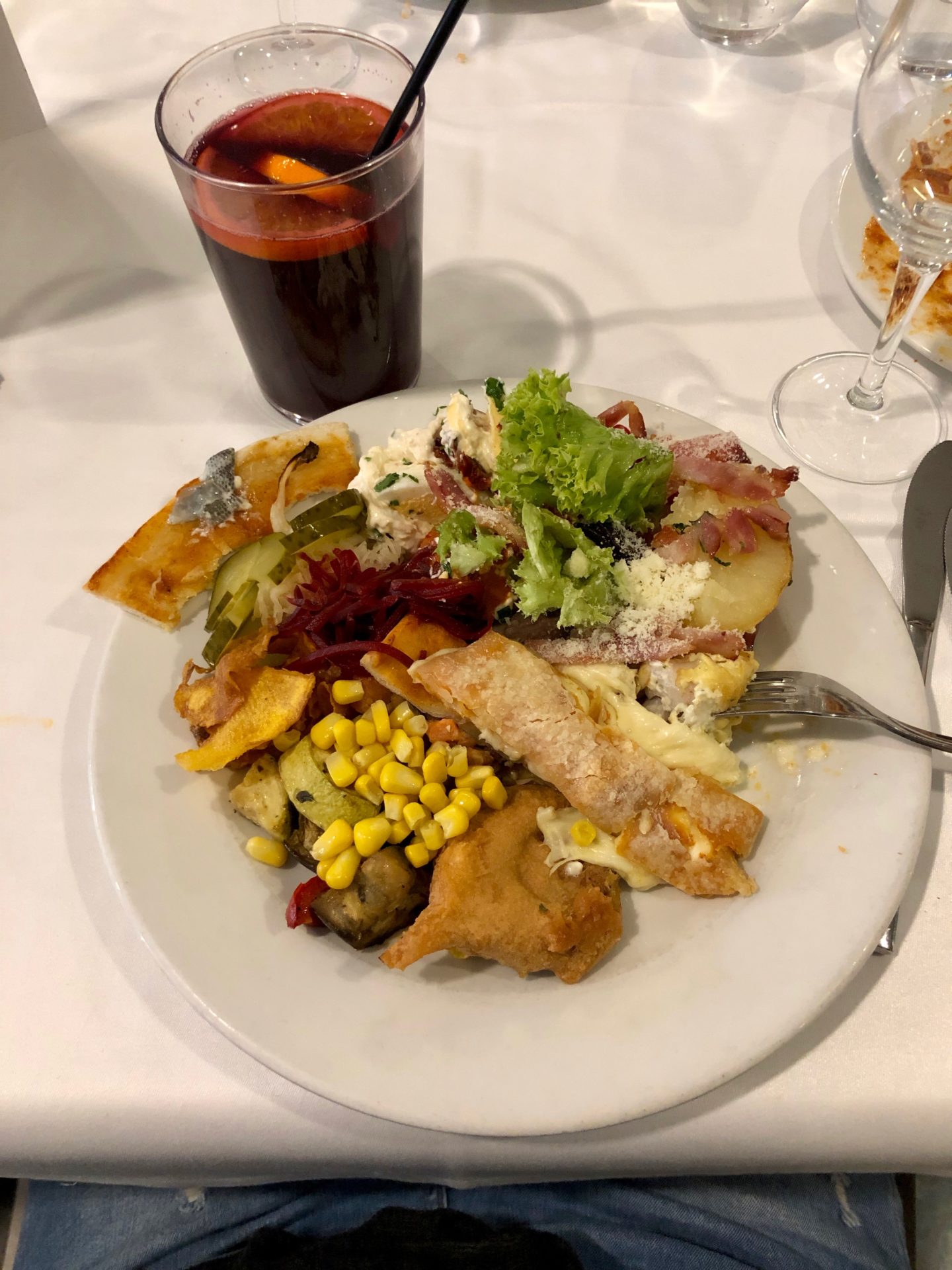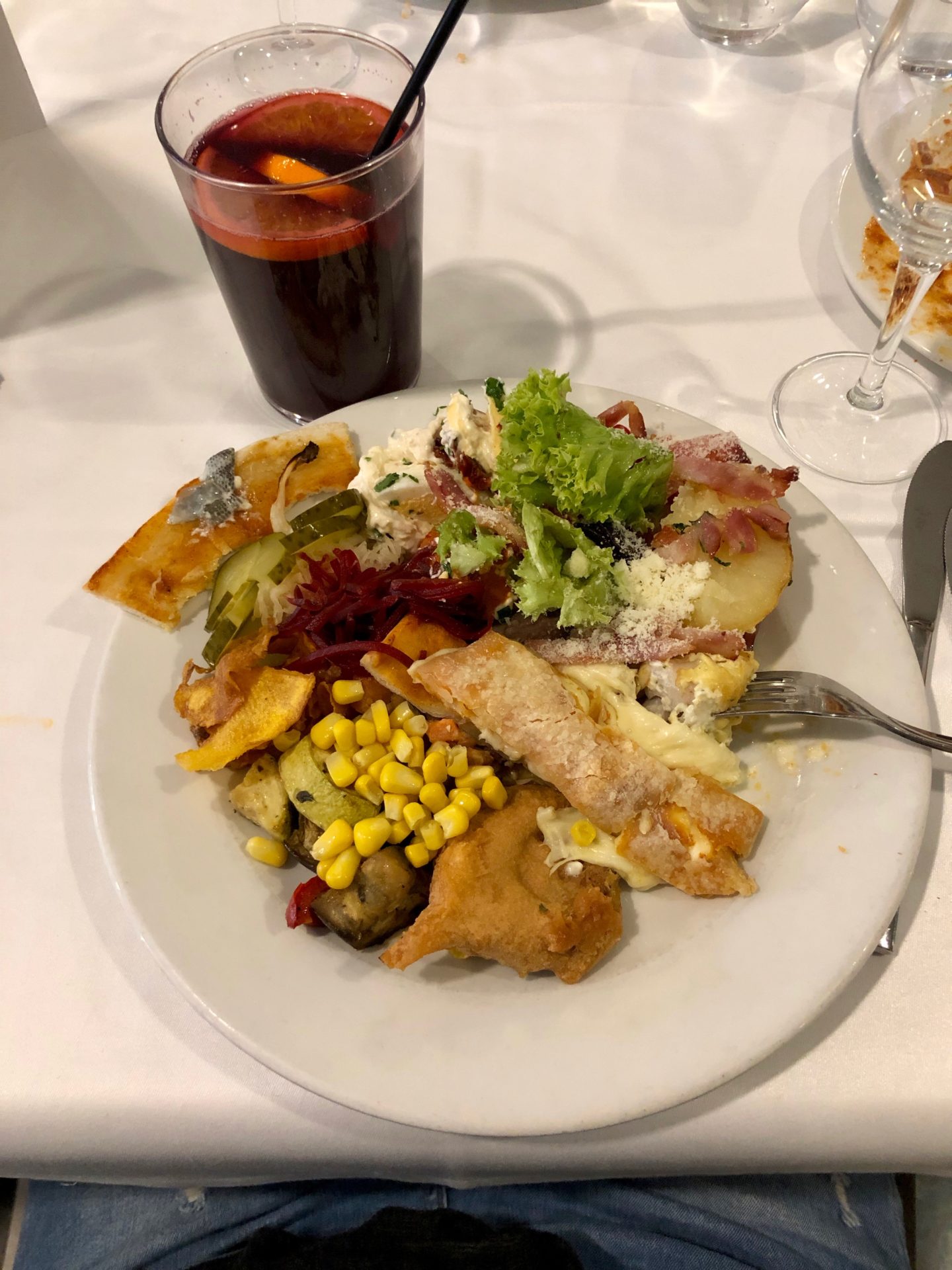 Of particular note were the cheese and meat selections which were both impressive and delicious.
They had several themed nights while we were there including 'Asian' which had some Chinese food and sushi (the sushi was the worst I've tried, I had to spit it out, not the fish, but the rice was really crunchy!) and burger and hot dog night.
Every night there was a table dedicated to Canarian food with my beloved Canarian potatoes and mojo sauce which I ate whenever I could. I really love those salty little things!
If you have fussy kids, every evening had chips, rice, pizza, plain pastas and several sauces including bolognese.
Breakfasts always had a variety of cereals and a toast/bread station for those who want a simpler breakfast/fussy kids.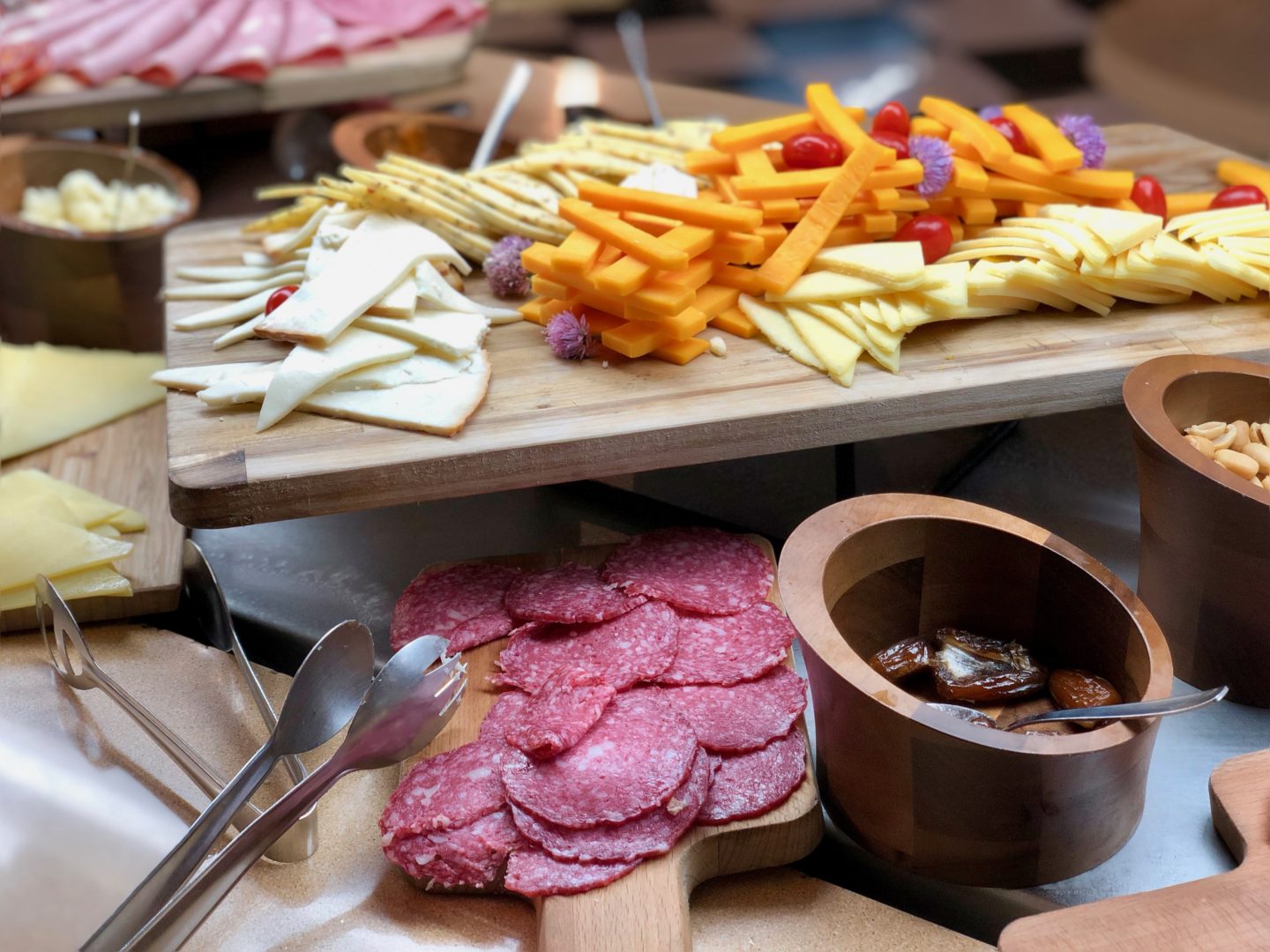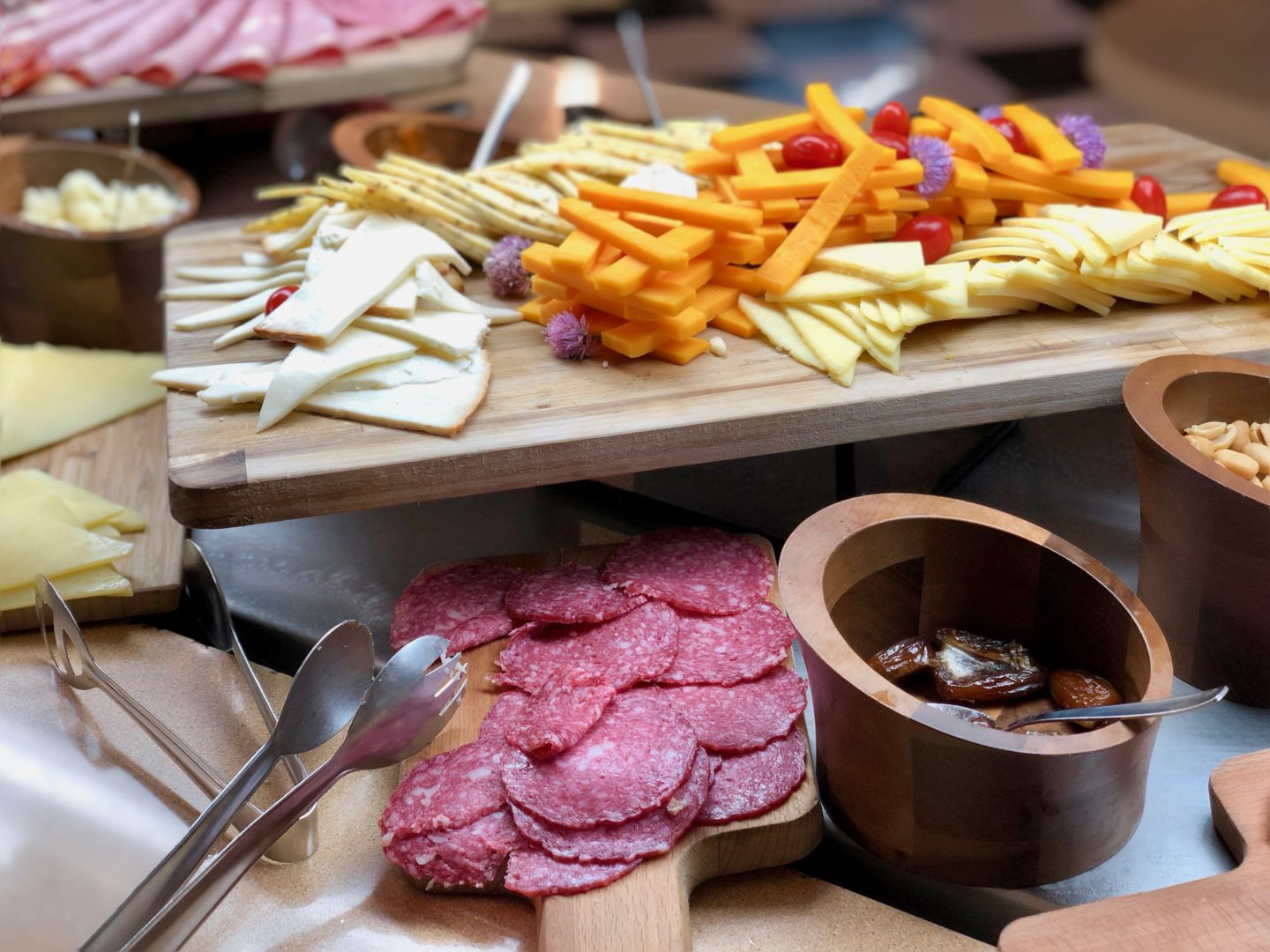 Allergies at Barcelo Margaritas
Our son has a dairy allergy and the labelling was very hit and miss. Sometimes the labelling was a bit misleading, for example, 'buttered rice' was just rice and onion.
Often there were no labels at all. If there was a label there then it did attempt to tell you if there were allergens via symbols and staff did their best to help if you asked them.
He was able to eat there fine though he doesn't have anaphylaxis. I'd have worried if he did.
They did have a table just for allergies that had alternative milks and gluten free products but it was quite limited. You would want to be eating from the main sections too.
That said, people at these buffets cross contaminate the serving implements all the time so these places are always a challenge for the allergic.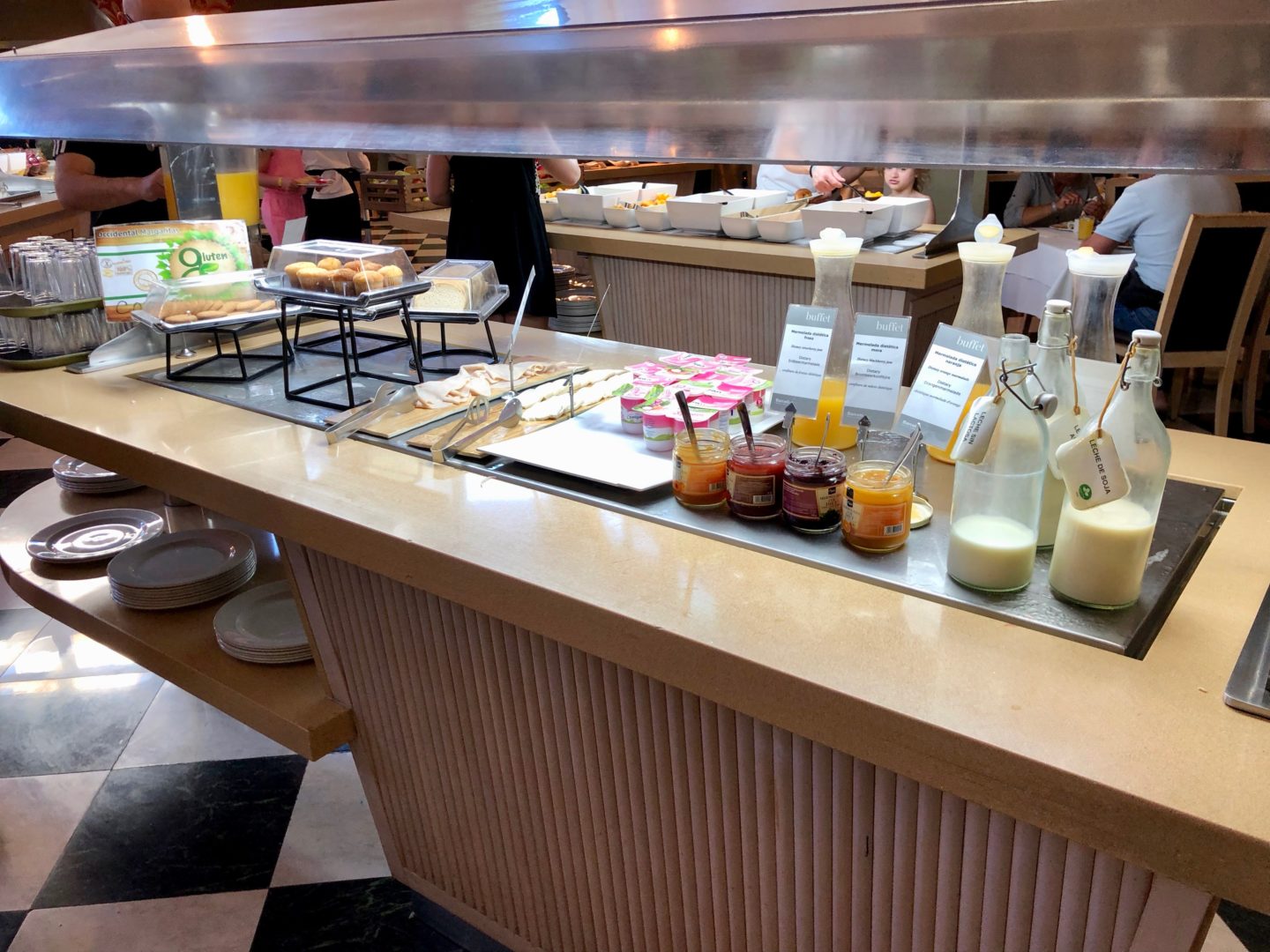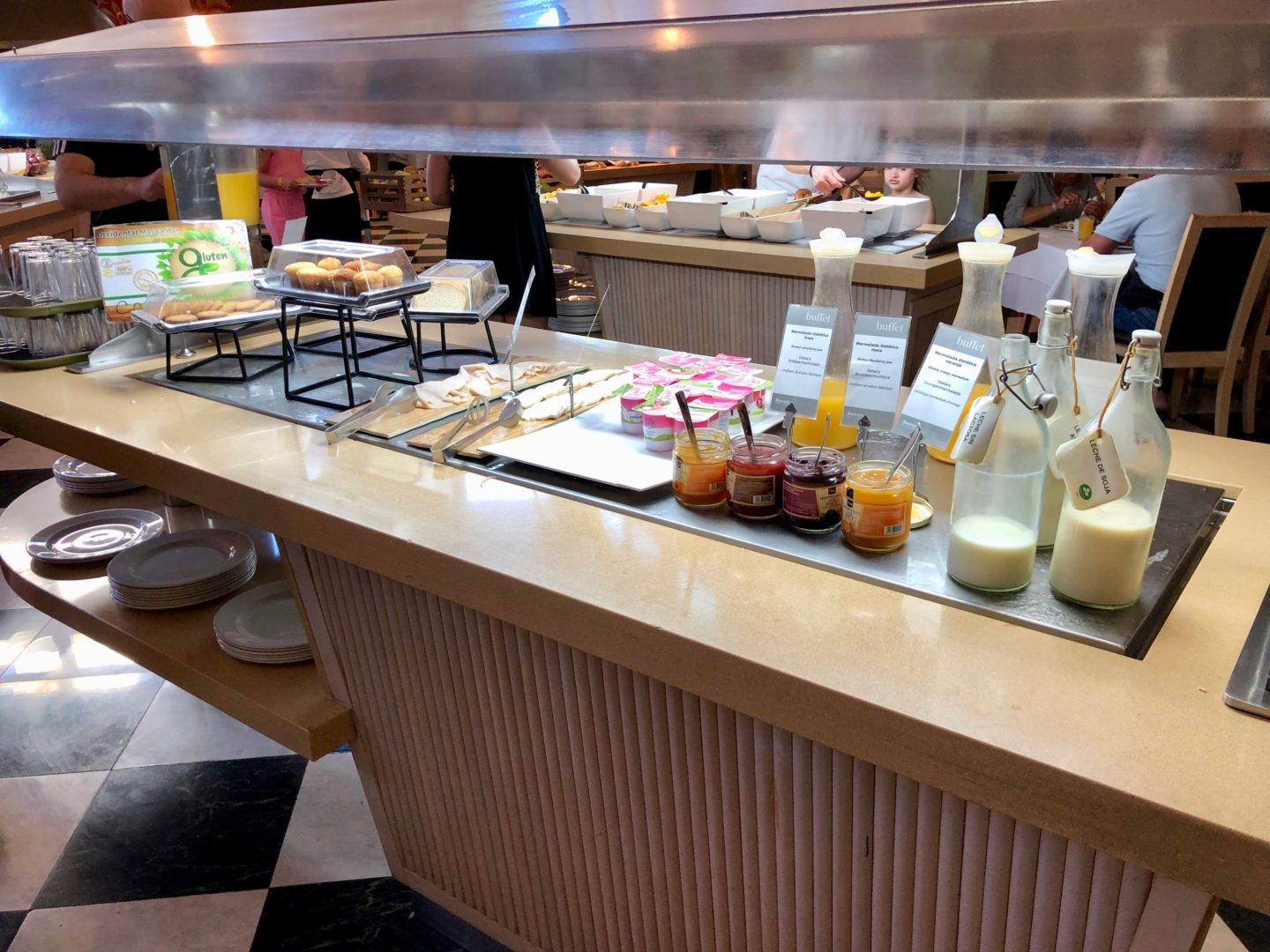 Like everywhere else though the staff in the restaurant were extremely hard working and conscientious. 
One of my only gripes about the restaurant was they had almost half cordoned off the whole time we stayed. I'm sure this was likely to do with staffing vs the number of guests but there were times where it got busy and it was a struggle to find a table so it was quite irritating.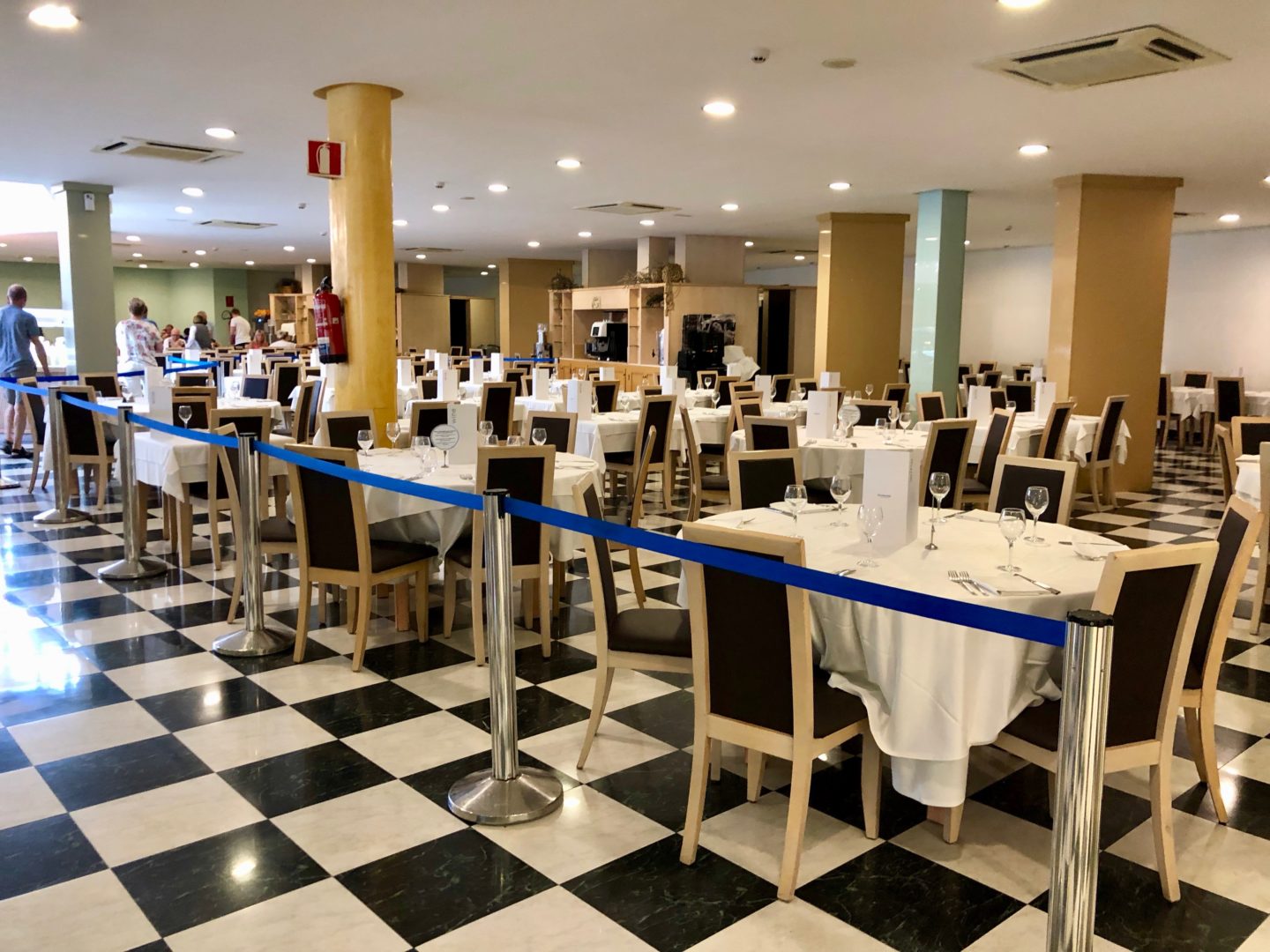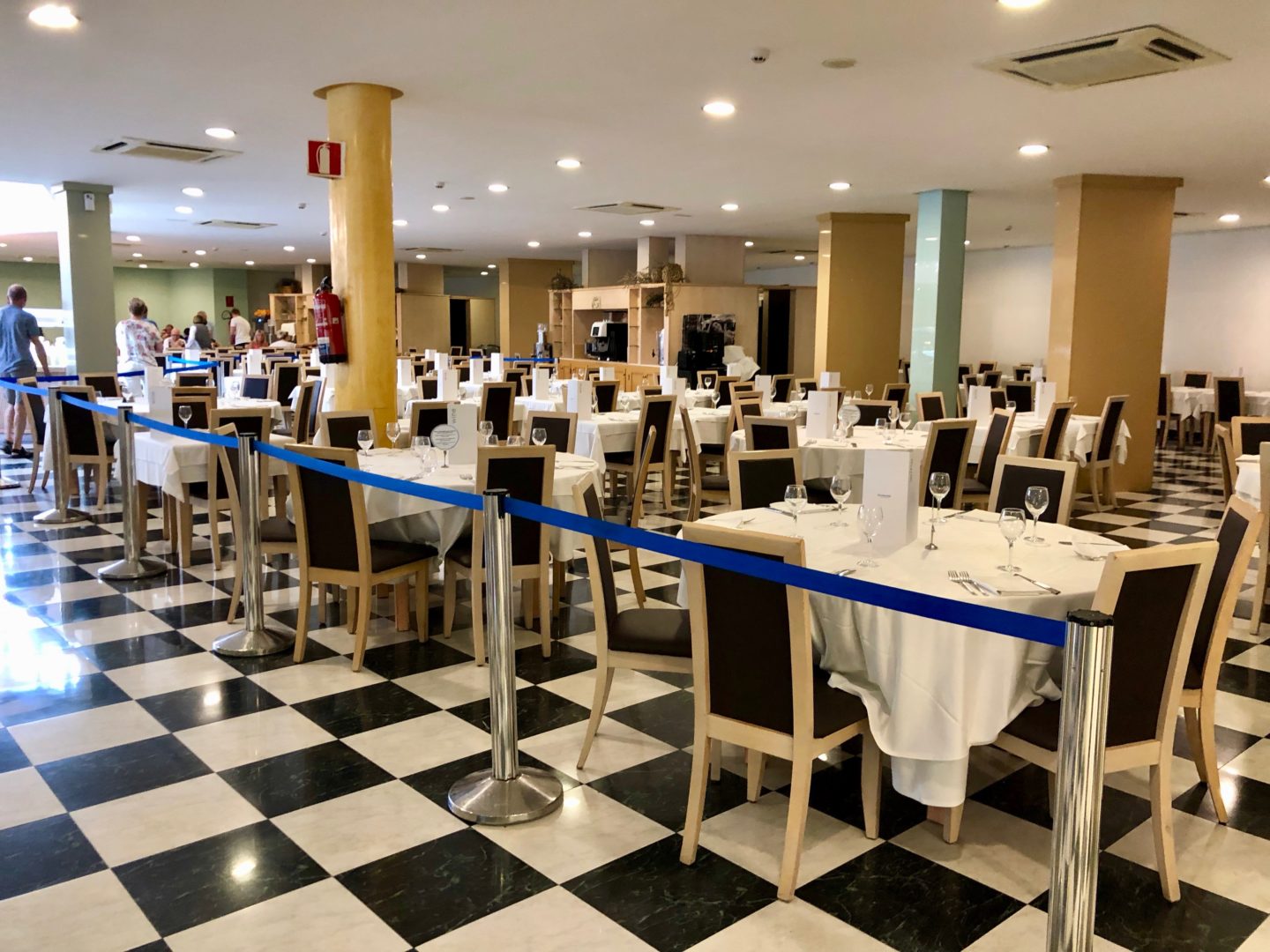 Actually, now I think of it, a second small gripe would be breakfast didn't start until 8am.
Now my kids often get up at 5am and 3 hours is a long time for everyone to wait until breakfast. We booked the early sitting for dinner which started at 6.30pm but often found ourselves with a gap of dead time between dinner and mini disco at 8.15pm.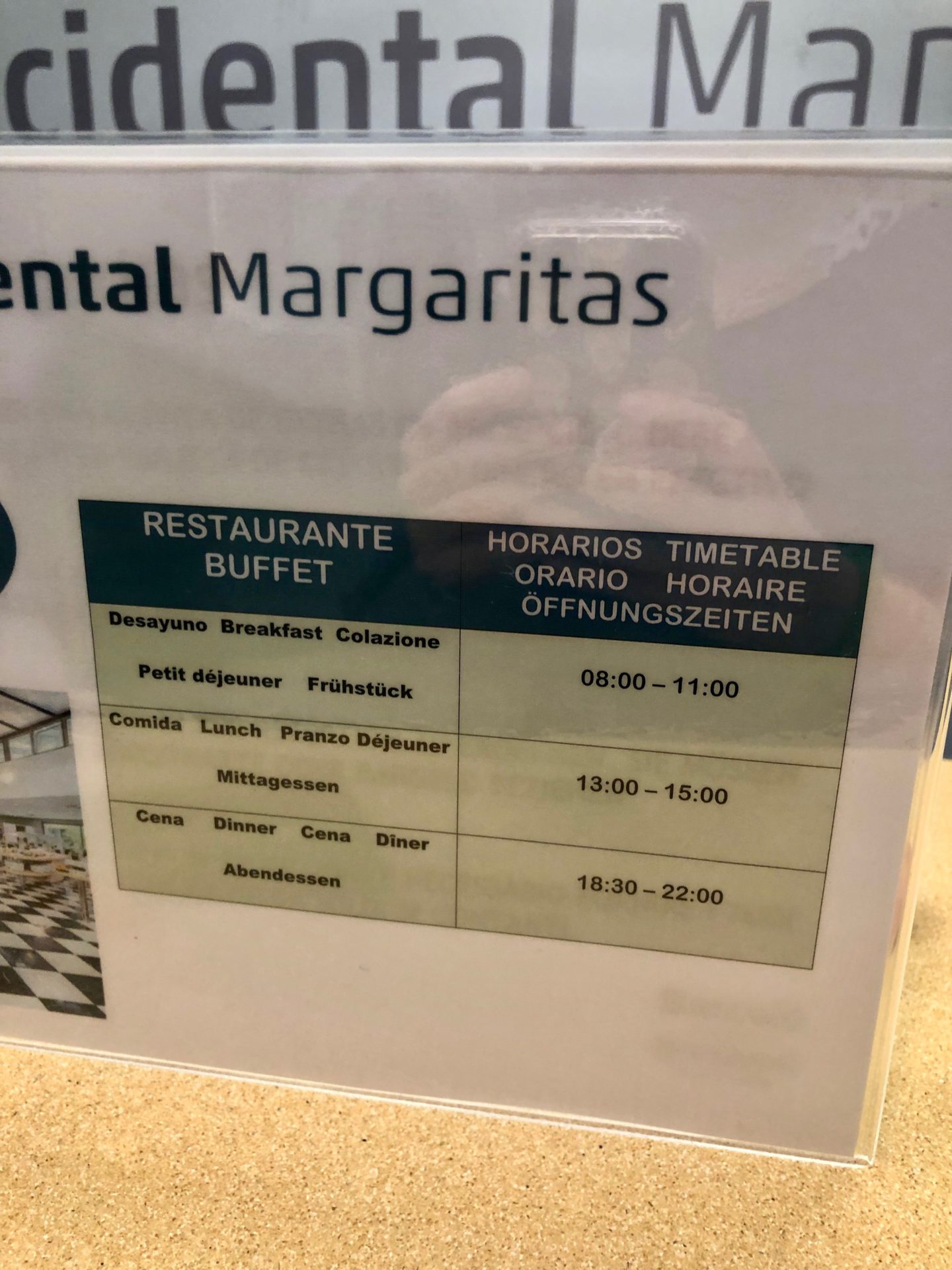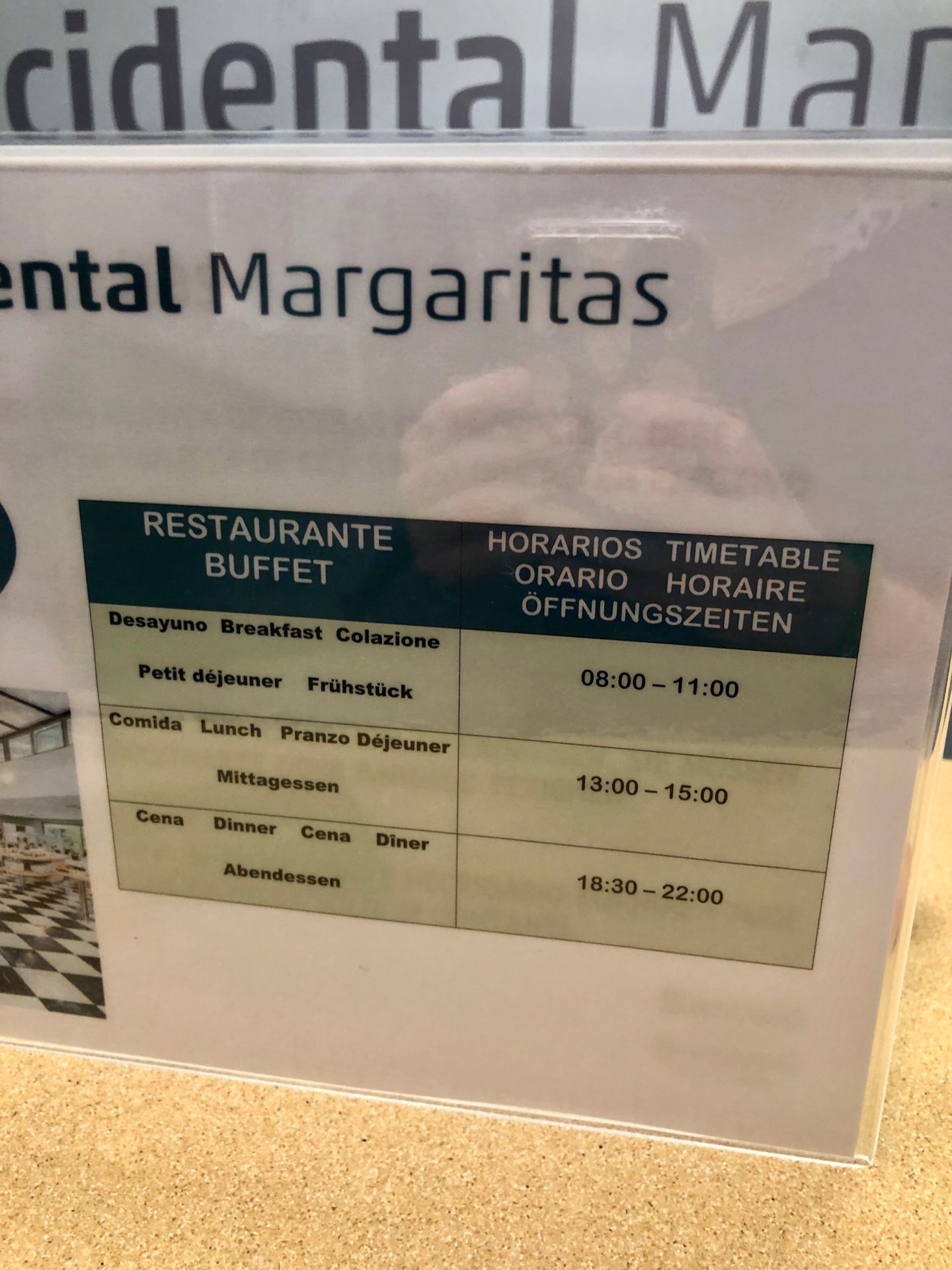 Pools at Marcelo Margaritas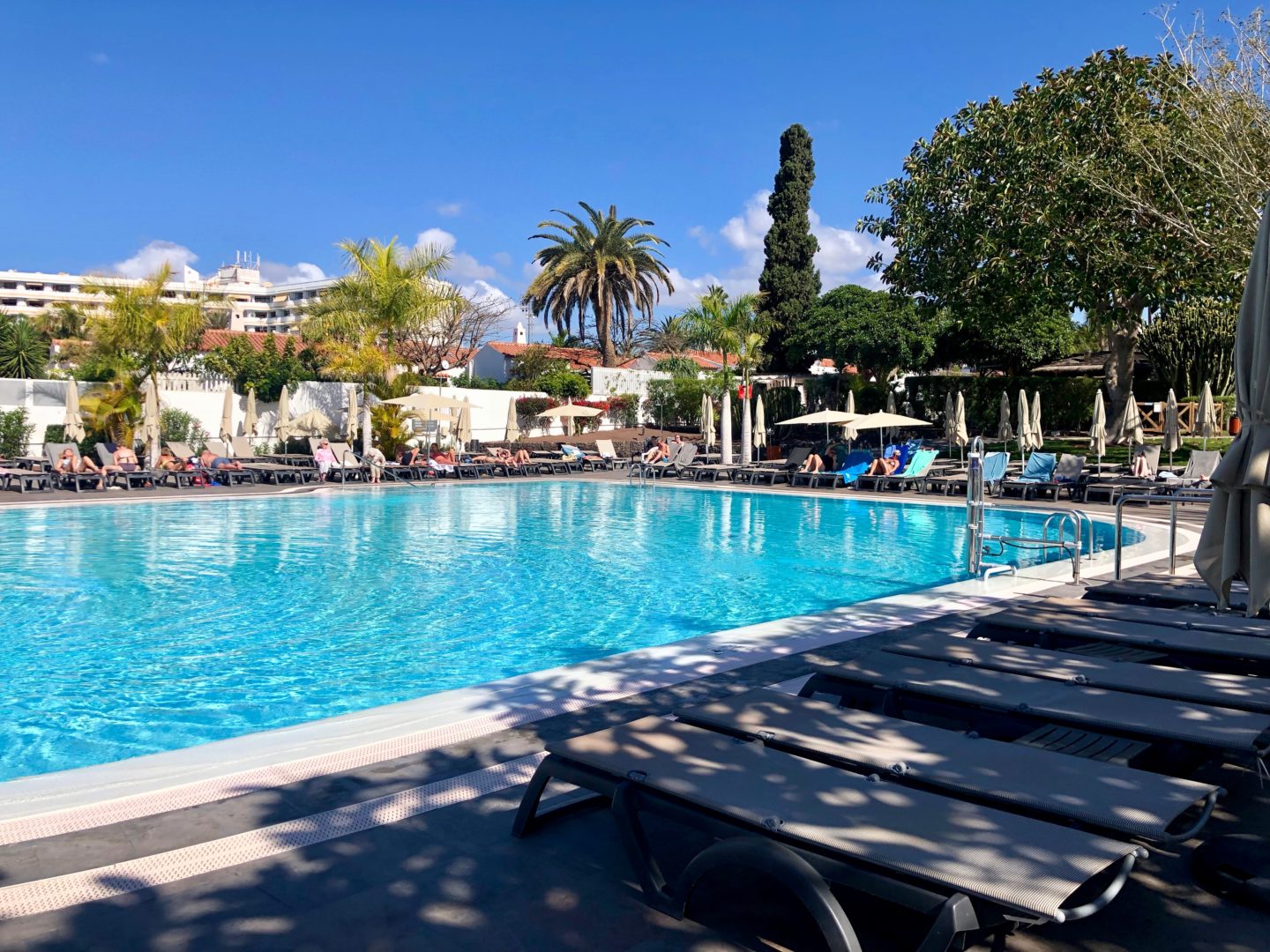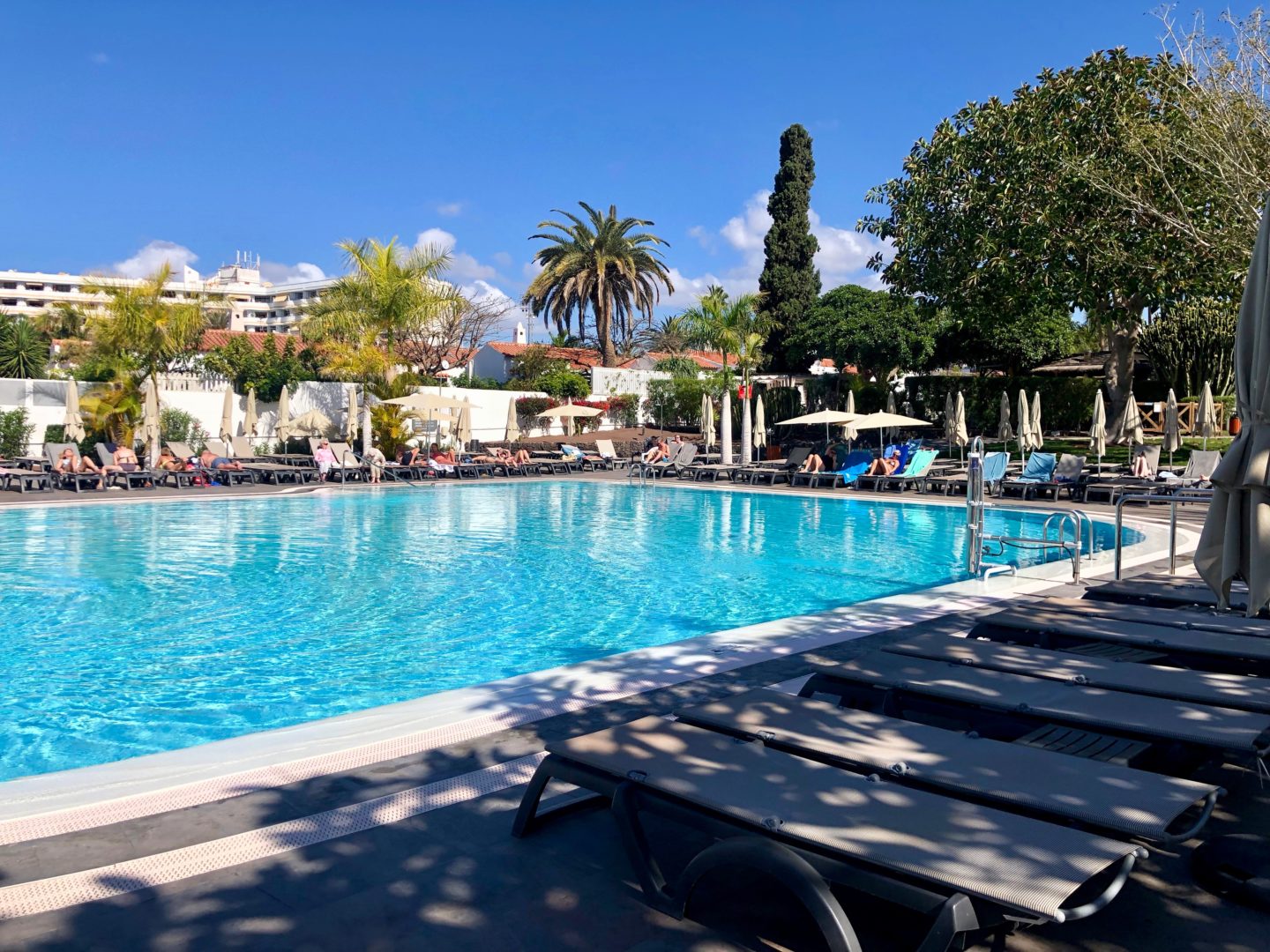 There are two main pool areas.
A quieter deeper pool that those without kids tended to keep to. This was the best pool for swimming and I did 30 lengths there most days.
One day there was a female DJ playing which made my swim much more entertaining. I felt like I was in Ibiza!
This pool is 1.30 metres deep at the shallow end and 1.80 metres at the deep end.
The pools were heated slightly. Still a bit chilly when you got in but fine once swimming. If you are just playing with your kids though at this time of year you'll get a bit chilly.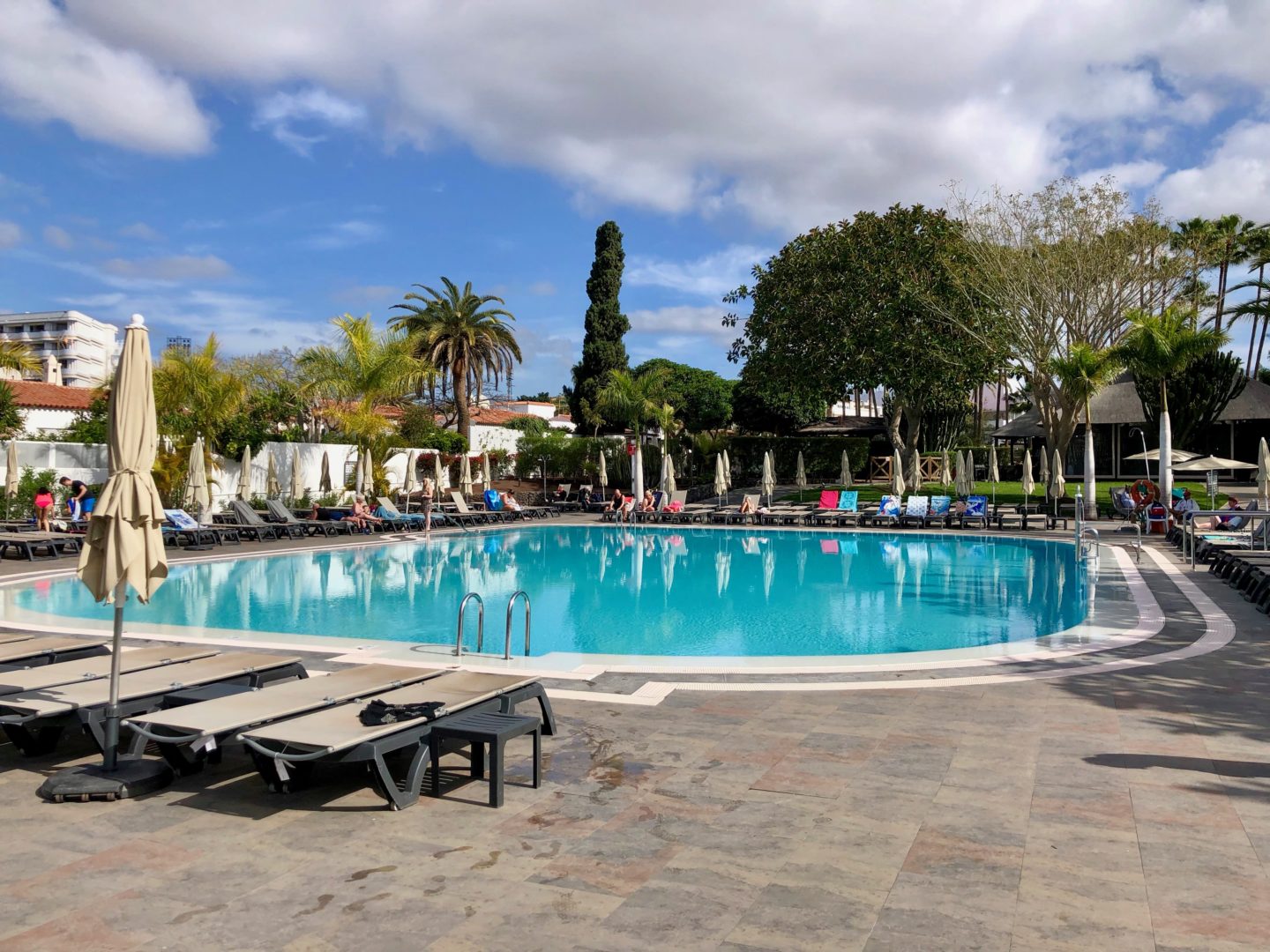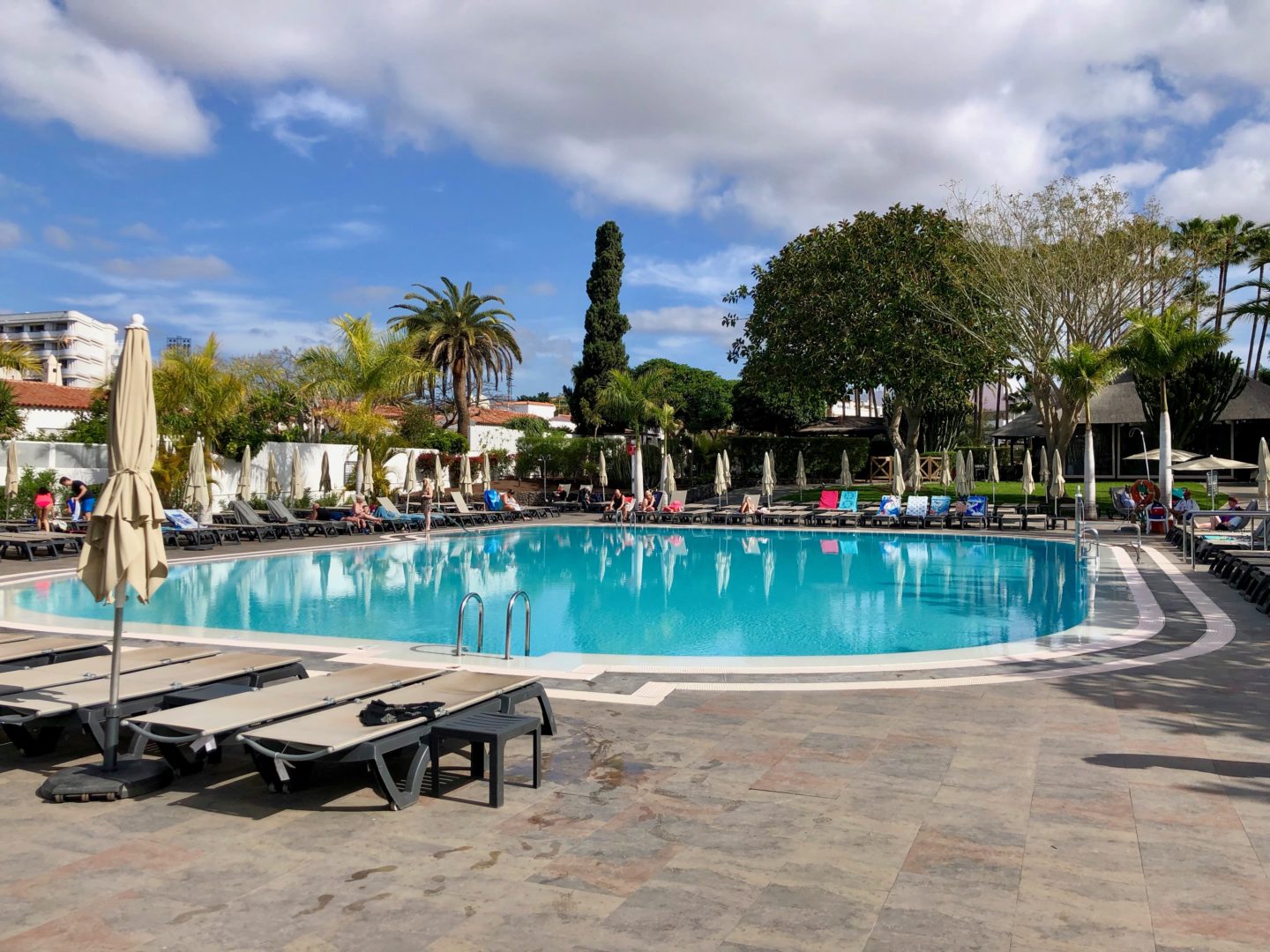 There is a bar/food area at both pool areas. If you aren't all inclusive a small beer (Tropical) was €2.50 and a large €3.50.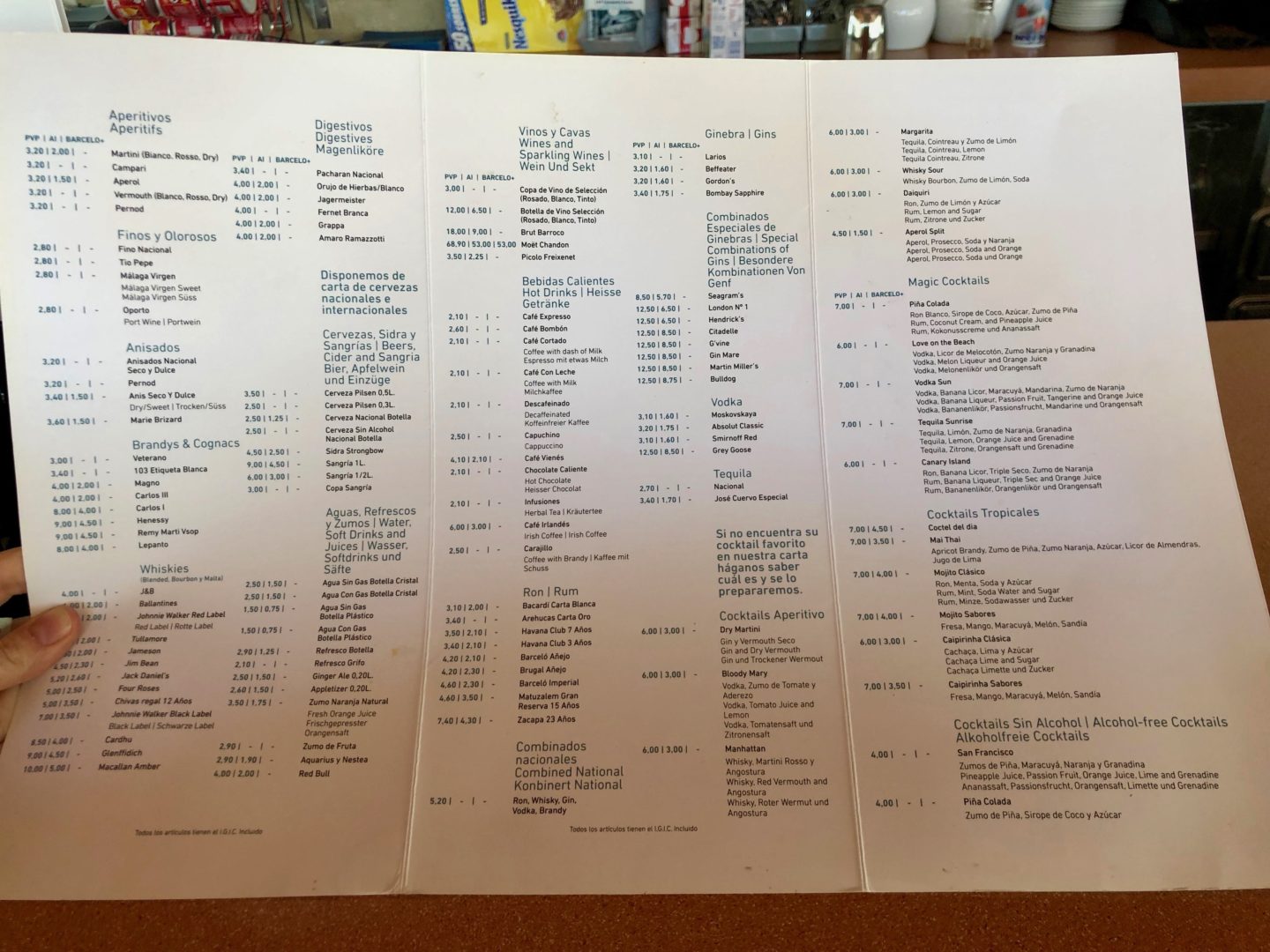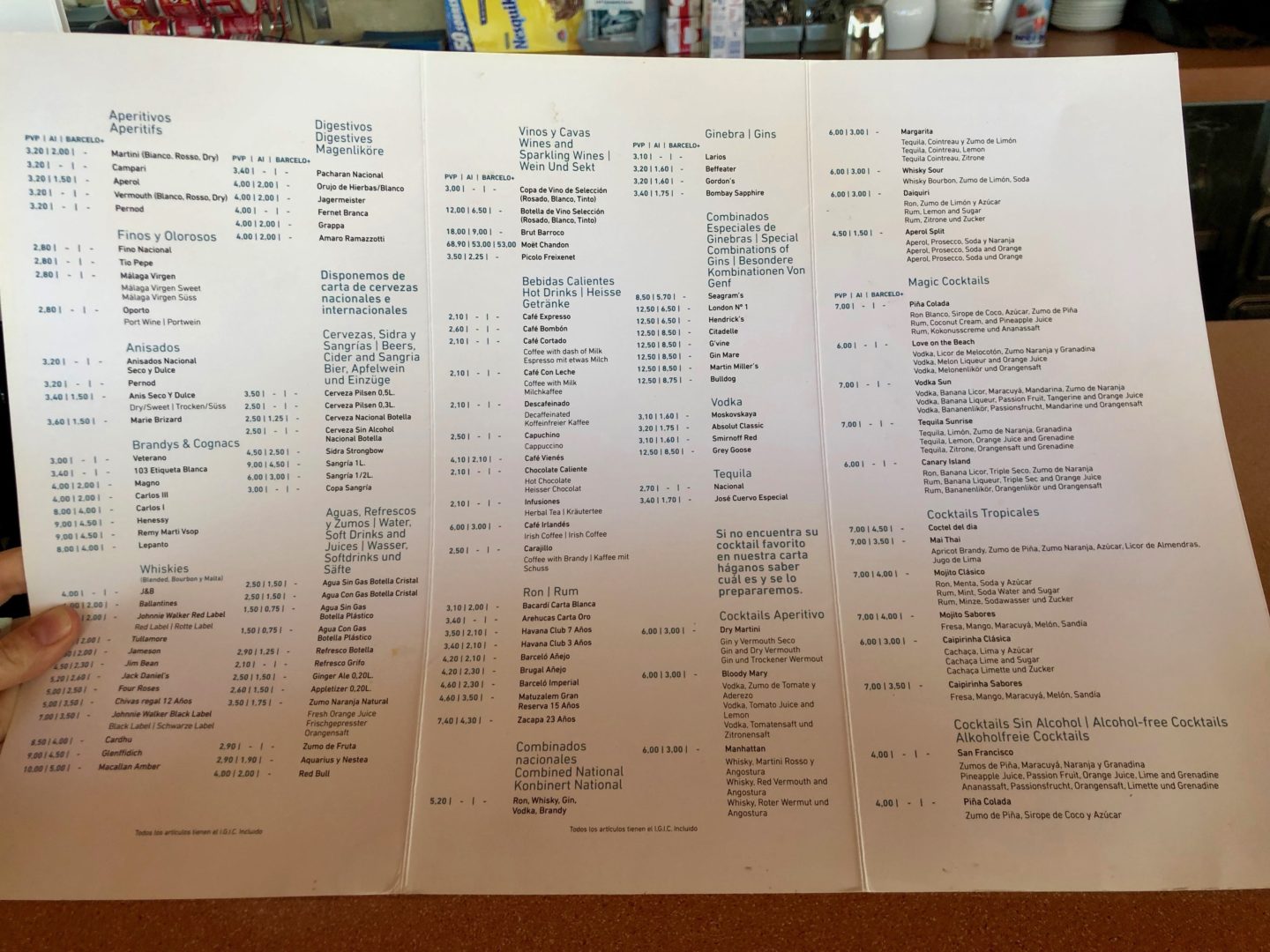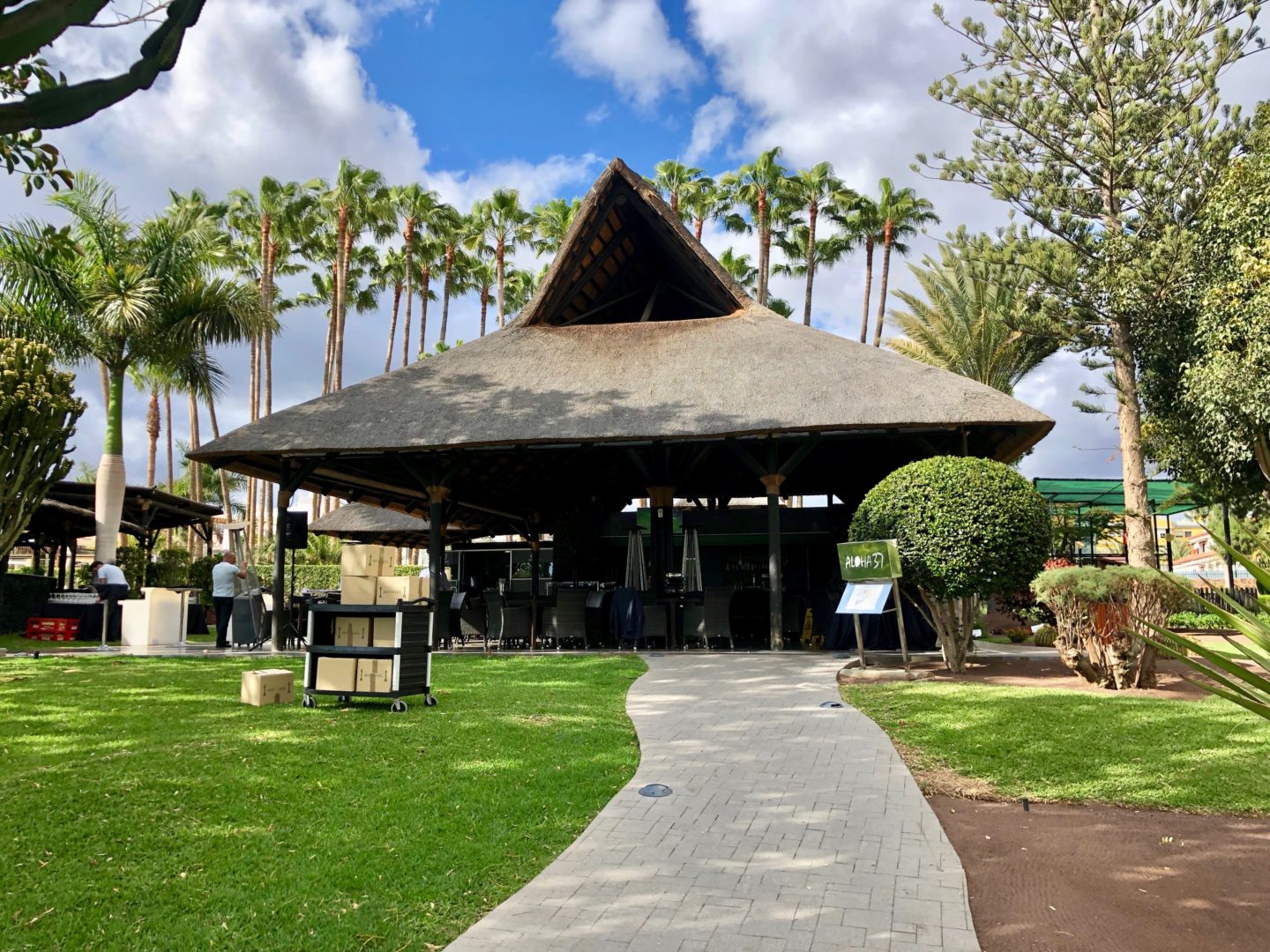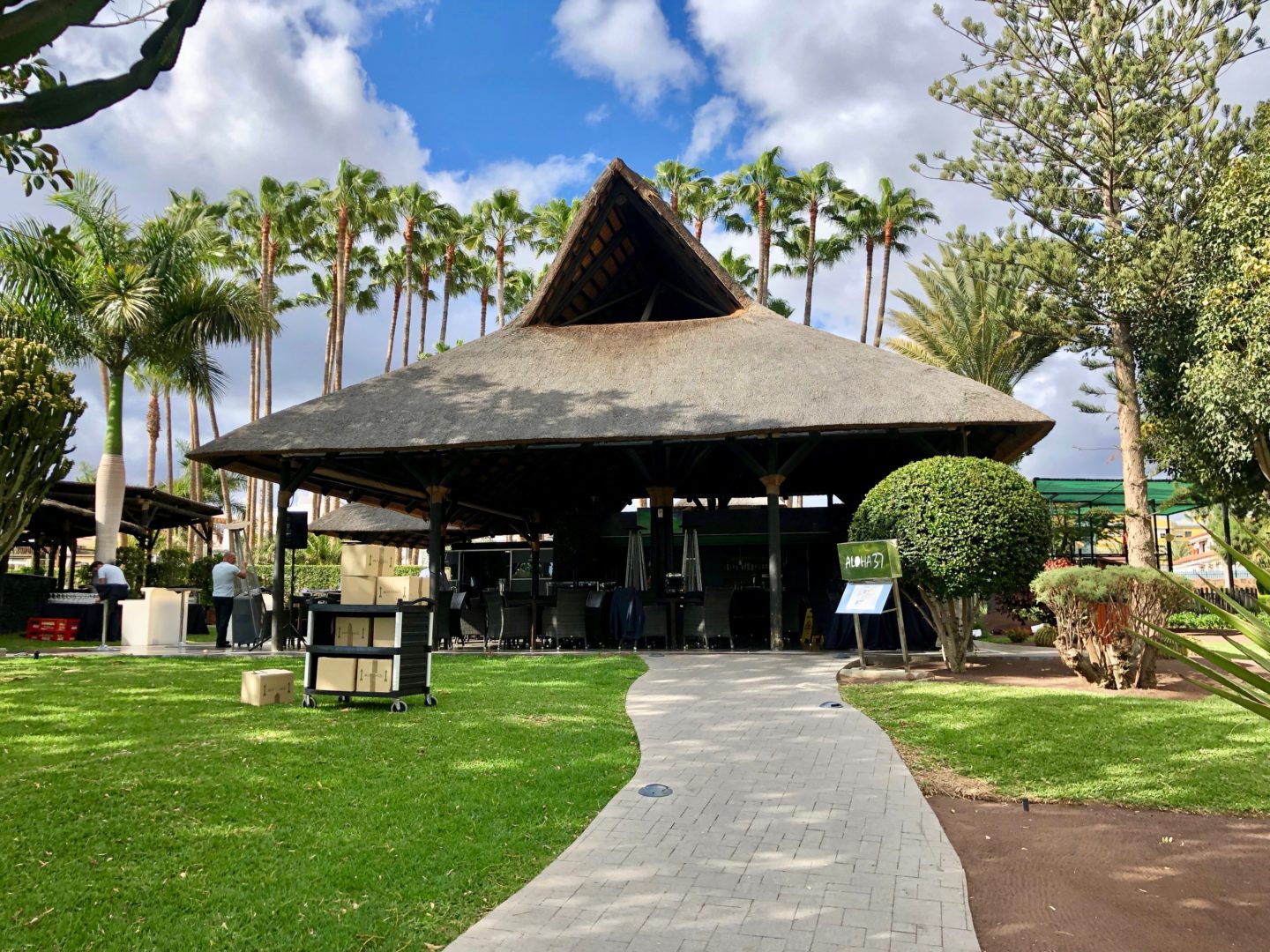 The second pool area is the entertainment pool area. There is a bar area with tables. A stage where the entertainment team perform/do displays through the day.
The pool itself has a shallower end then gets deeper. There is also a very small shallow toddler pool. For some reason the bigger pool is warmer than the toddler pool.
The bigger pool was 24.6 degrees and the toddler pool was 19.7 degrees.
The toddler pool was also very slippy. Lena fell and hit her head several times.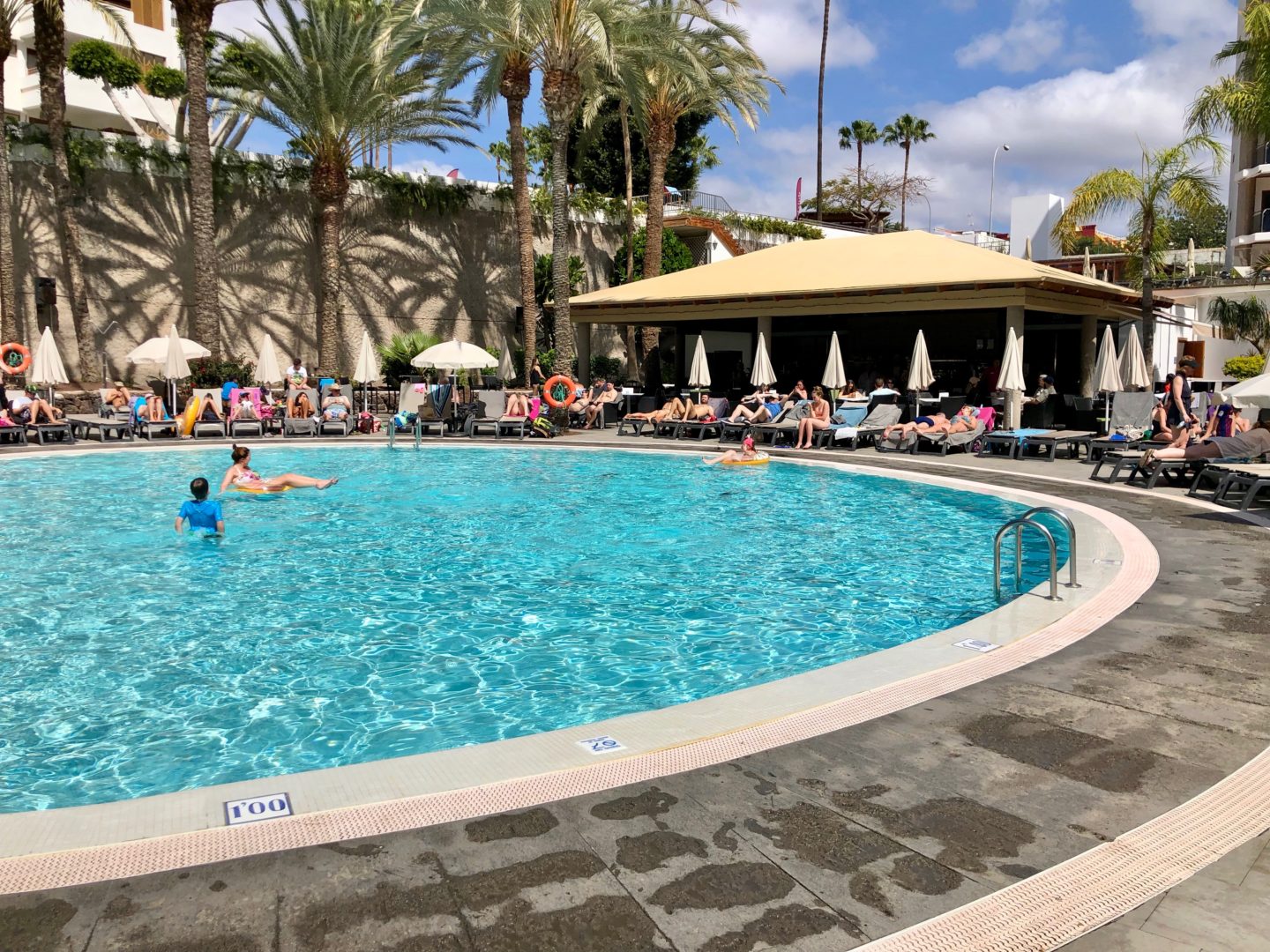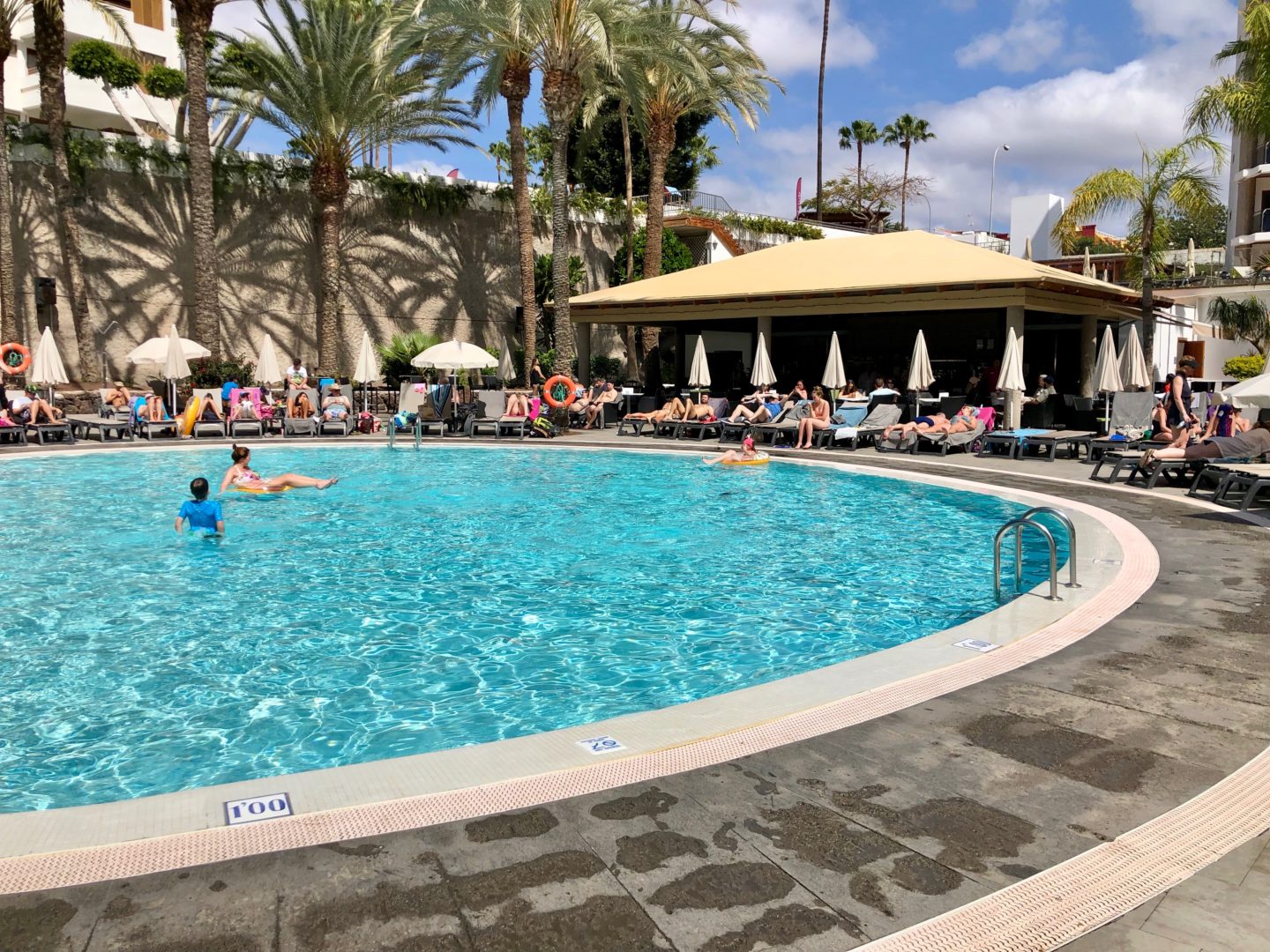 Something else that annoyed us a little about the pool areas were the lifeguards at both pools were constantly on their phones. They rarely looked up from their screens.
I understand it's a boring job and wouldn't begrudge them the occasional look but I think someone could be drowned and dead 15 minutes before they even noticed!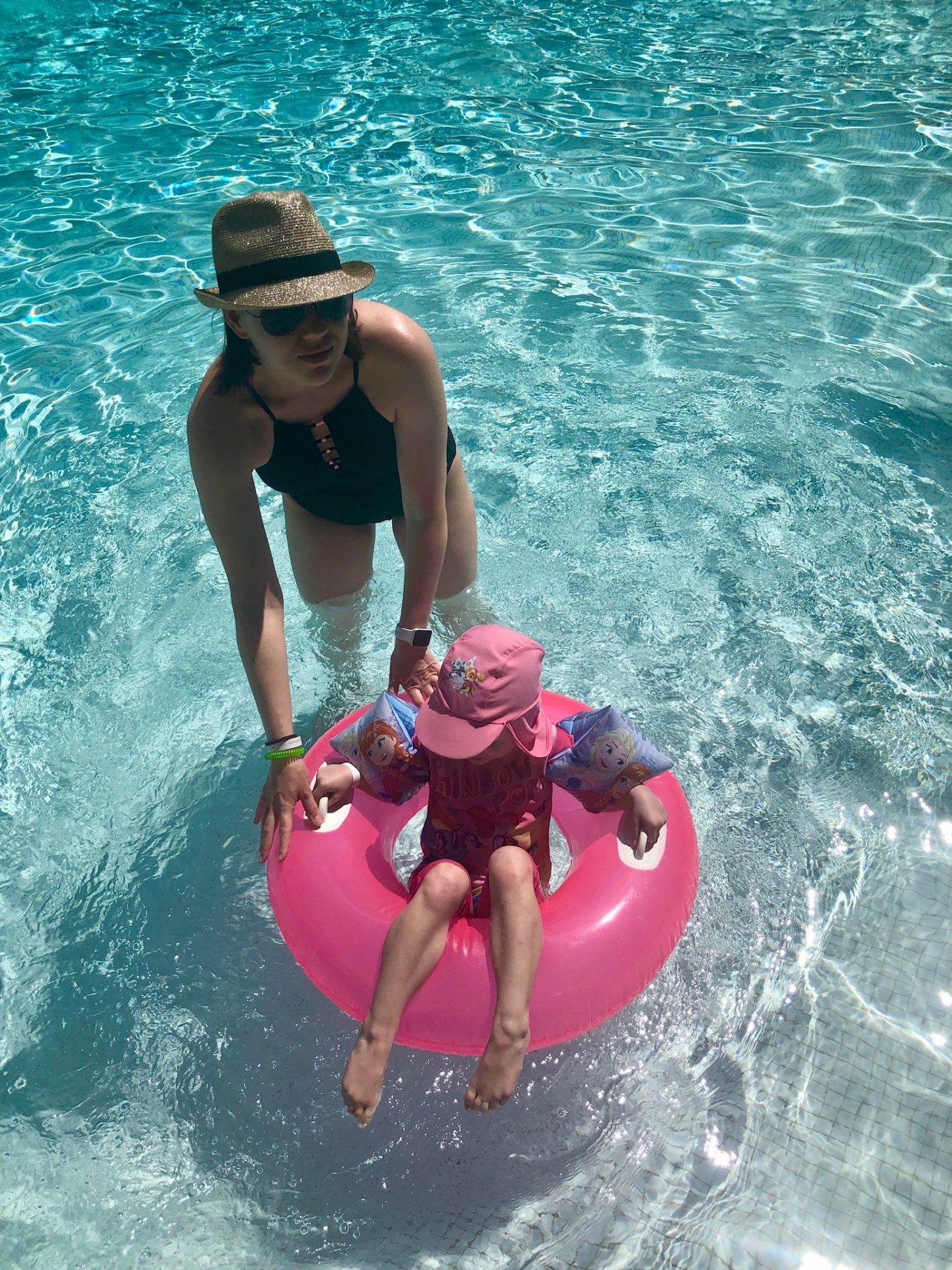 Sports and fitness at Barcelo Margaritas
One of the reasons I chose the hotel was their sports facilities. I exercise for 30 minutes a day and wanted to continue this even while on holiday.
This hotel has a gym, a CrossFit 'box', tennis/basketball courts and a sand court for volleyball/football.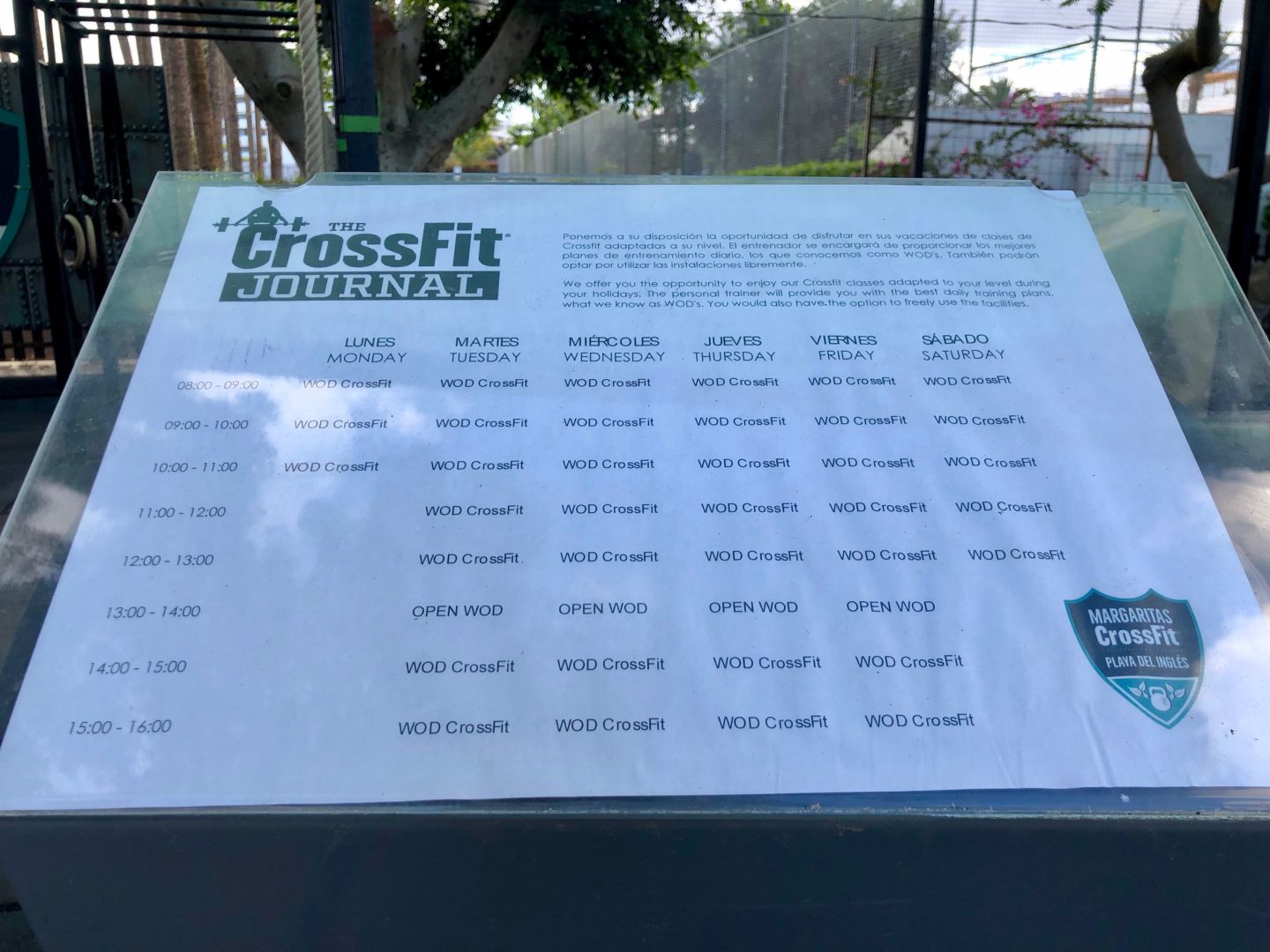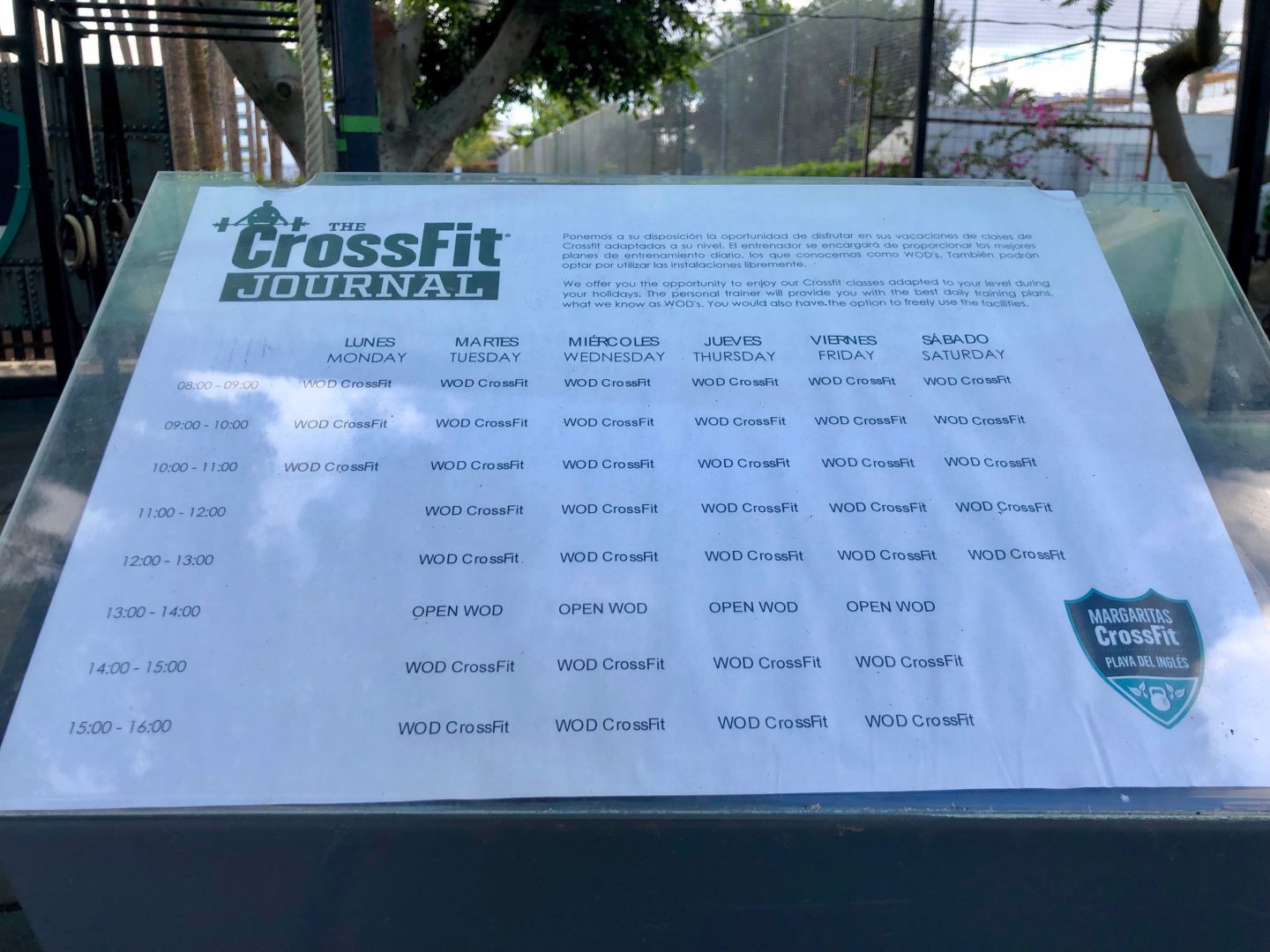 I did a CrossFit session while I was there which was enjoyable and led by a good trainer.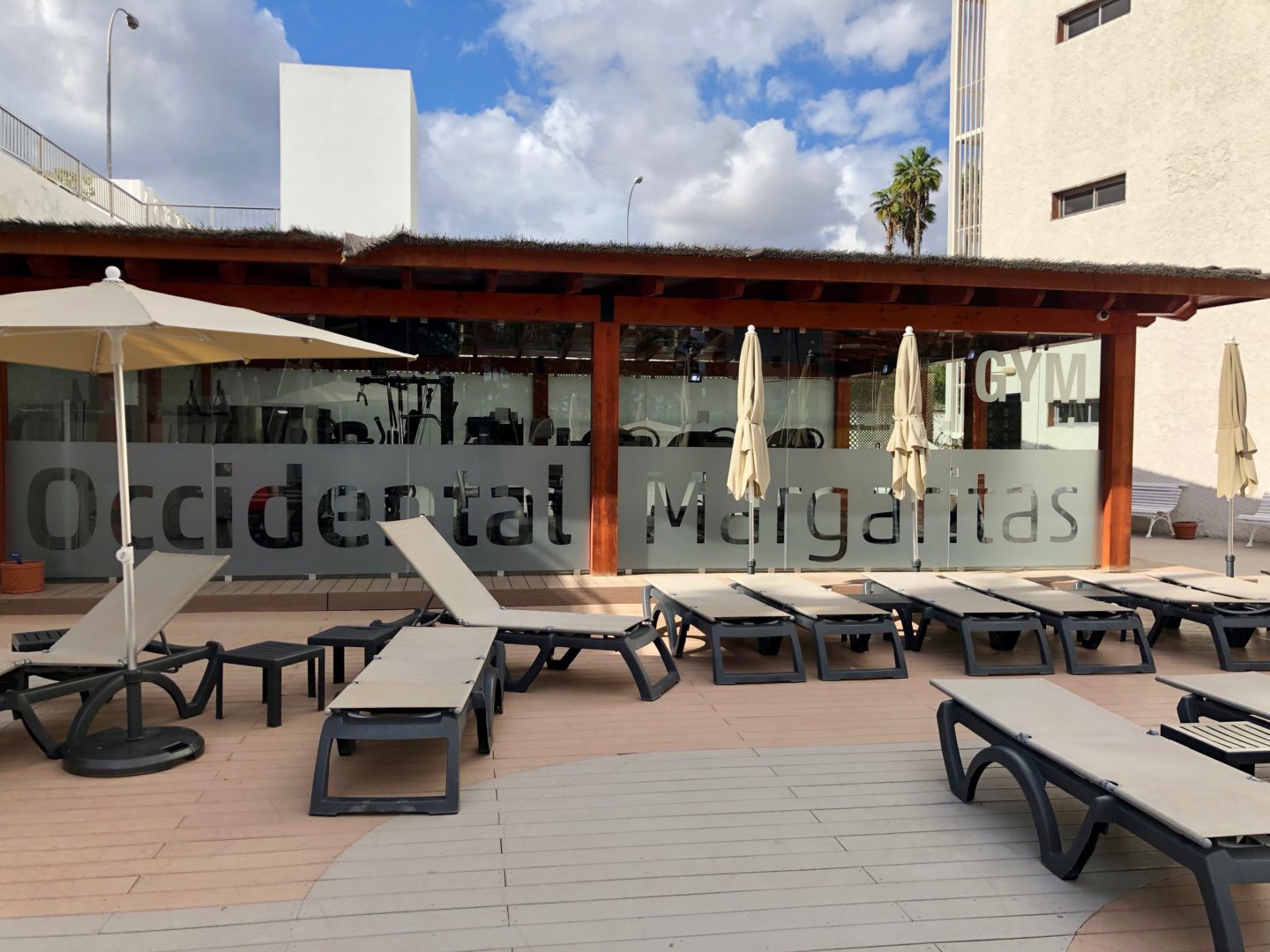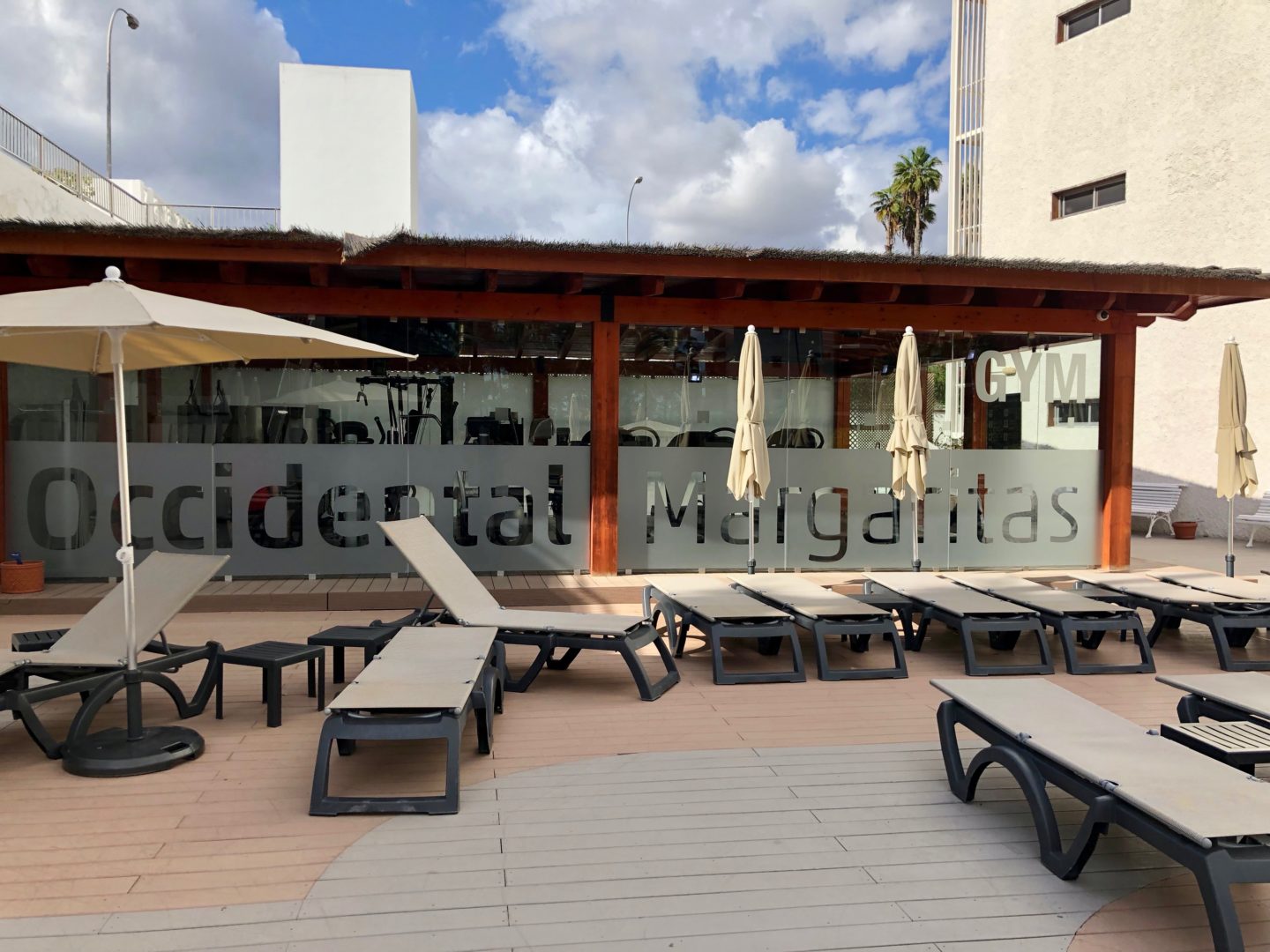 The gym is mostly cardio machines and a couple of weights machines. They also had several classes like stretching and pilates at various times. 
Spa at Barcelo Margaritas
I'm not quite sure I would go so far as to call it a spa but there is an area you can go to that has rooms for massage/beauty treatments.
The walls don't reach the ceiling so you can hear all the conversations in the next cubicle which ruined the relaxation somewhat but I did have a nice hour long full body massage there for €60 (about £52). I would recommend the massages and I would have another if I returned.
Kids areas at Barcelo Margaritas
Our kids didn't go to the kids club where you can leave your children so I can't comment on that.  I actually couldn't see how that operated or where from, we never saw it.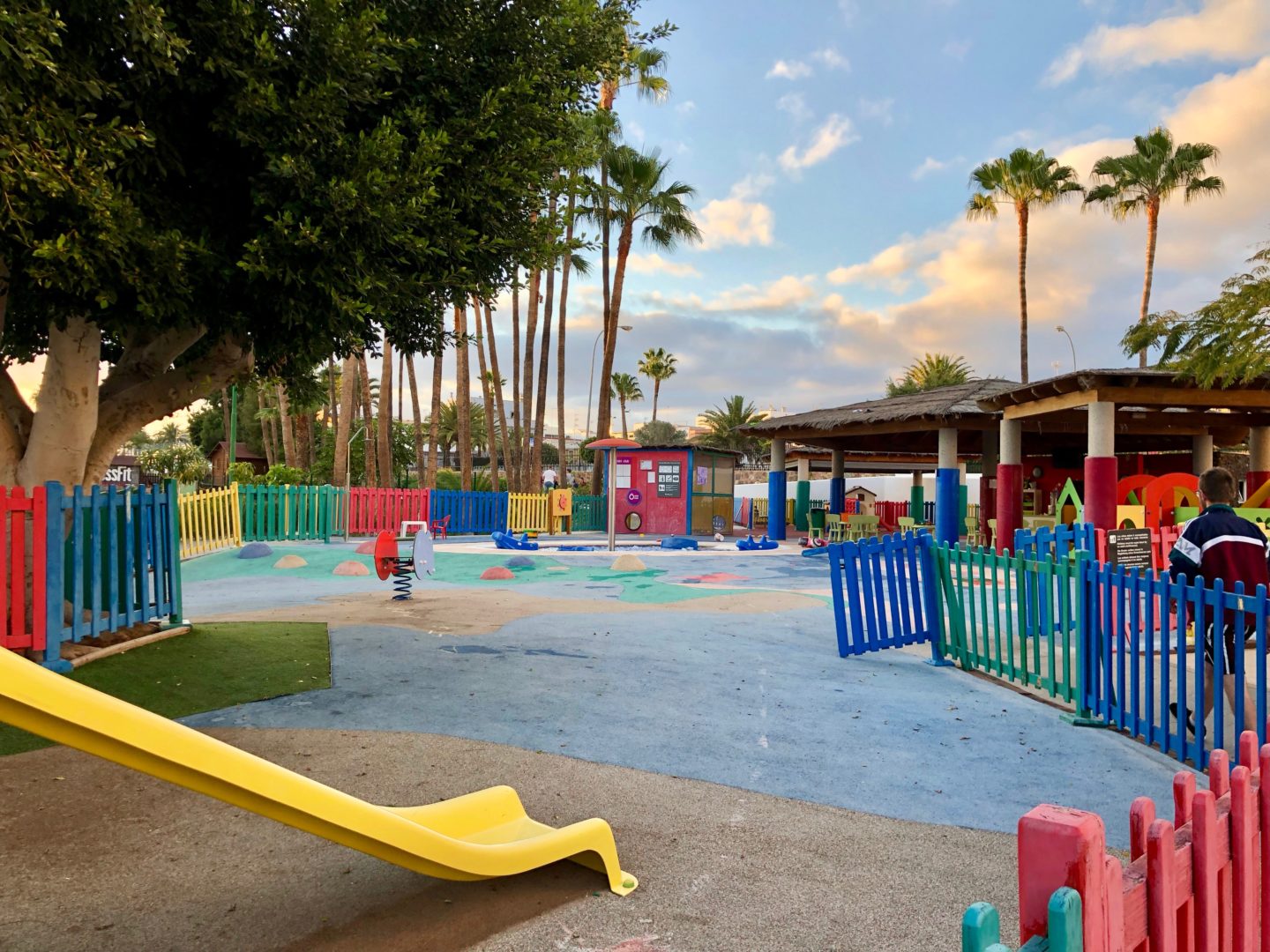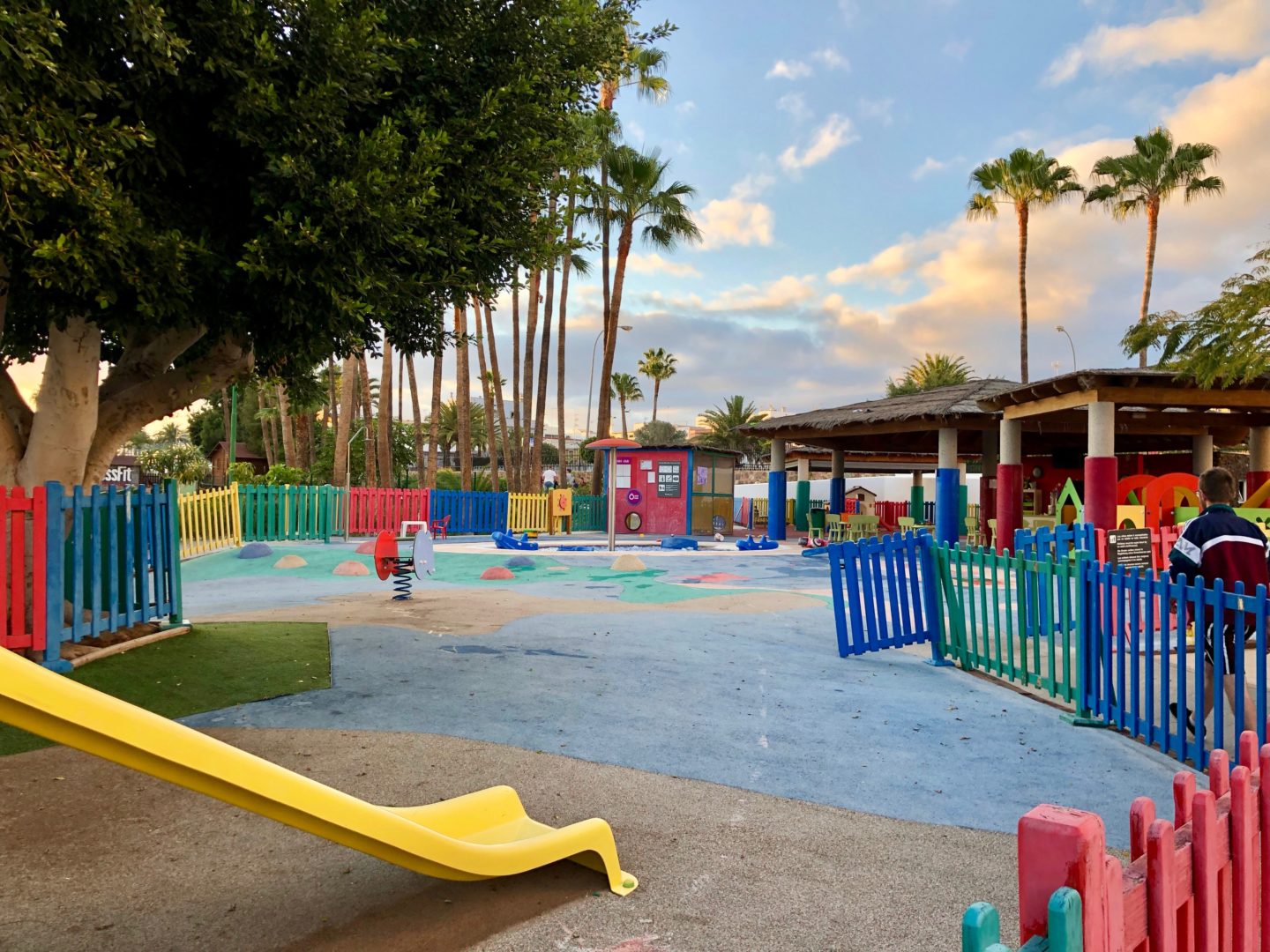 Our kids did spend some time with us in the kids' area which was nice. It had a small splash pool. A baby swing and then a regular swing, a climbing frame/slide, a small ball pit, toys, arts and crafts, a playhouse, a little climbing maze and some ride on toys etc.
Both my kids enjoyed spending time there playing with other children and enjoying the facilities. It was a nice place to relax and recharge a little.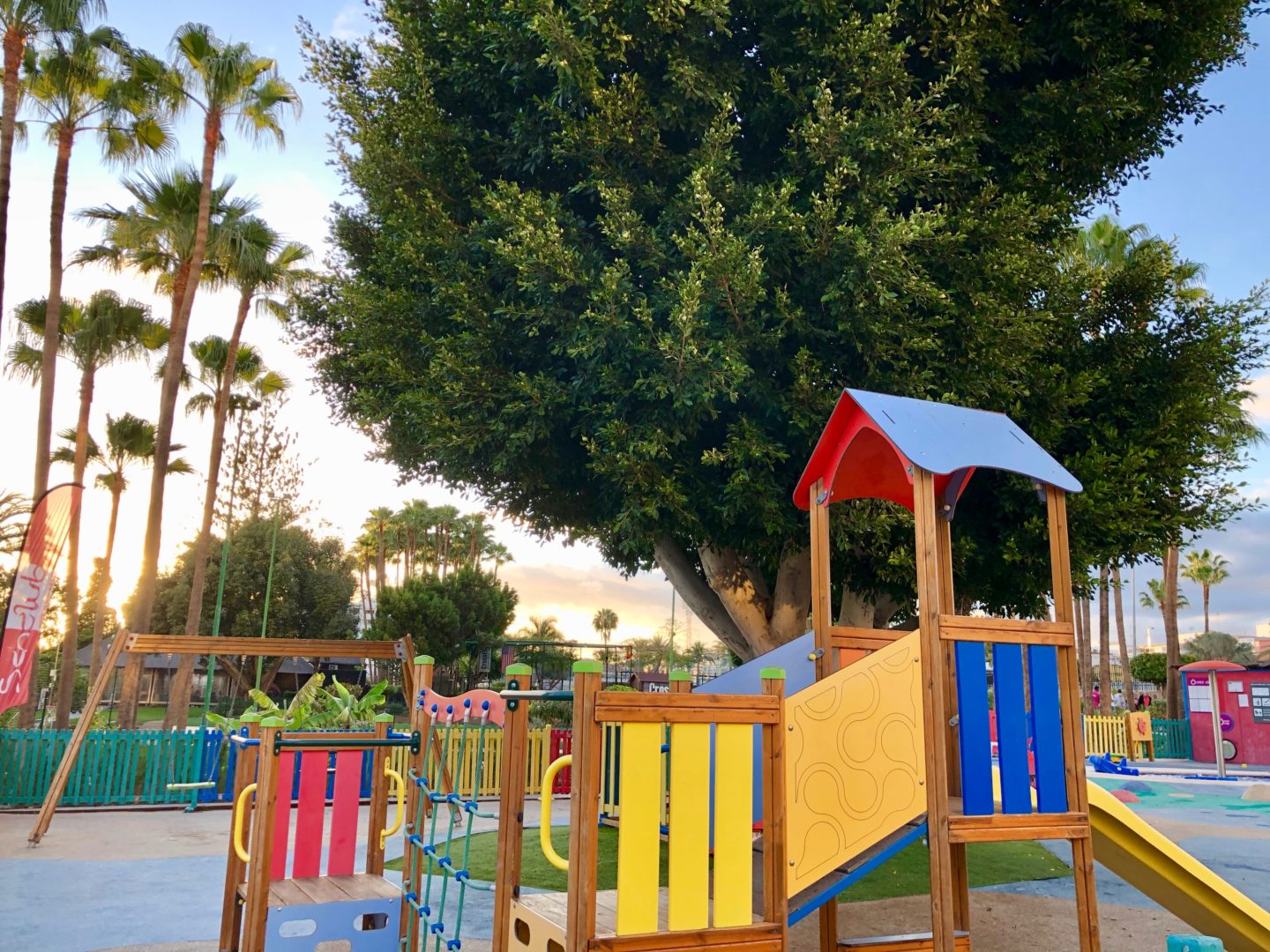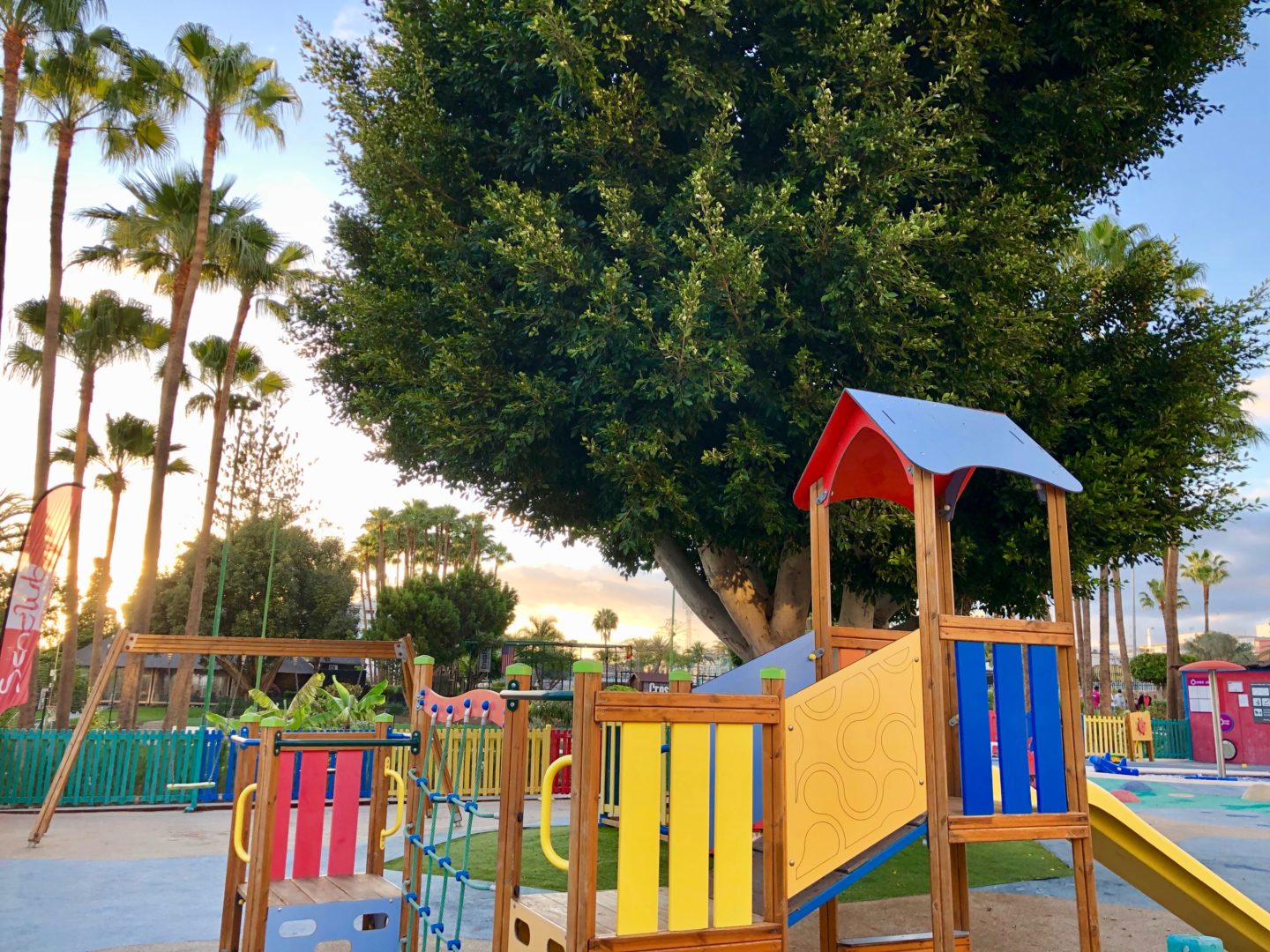 For older kids there was also a small arcade on site where they could play fussball, pool, win prizes on grabbers etc.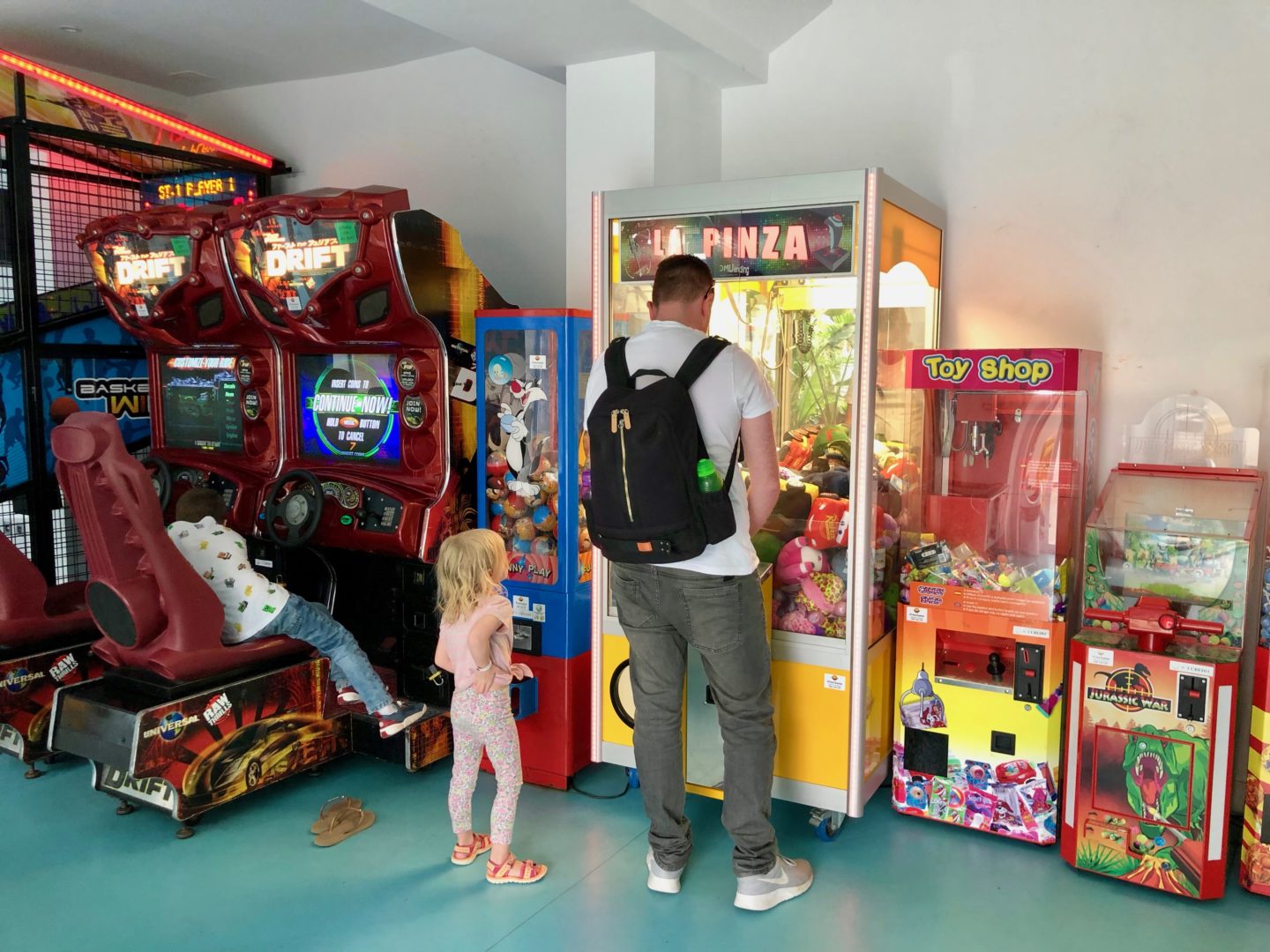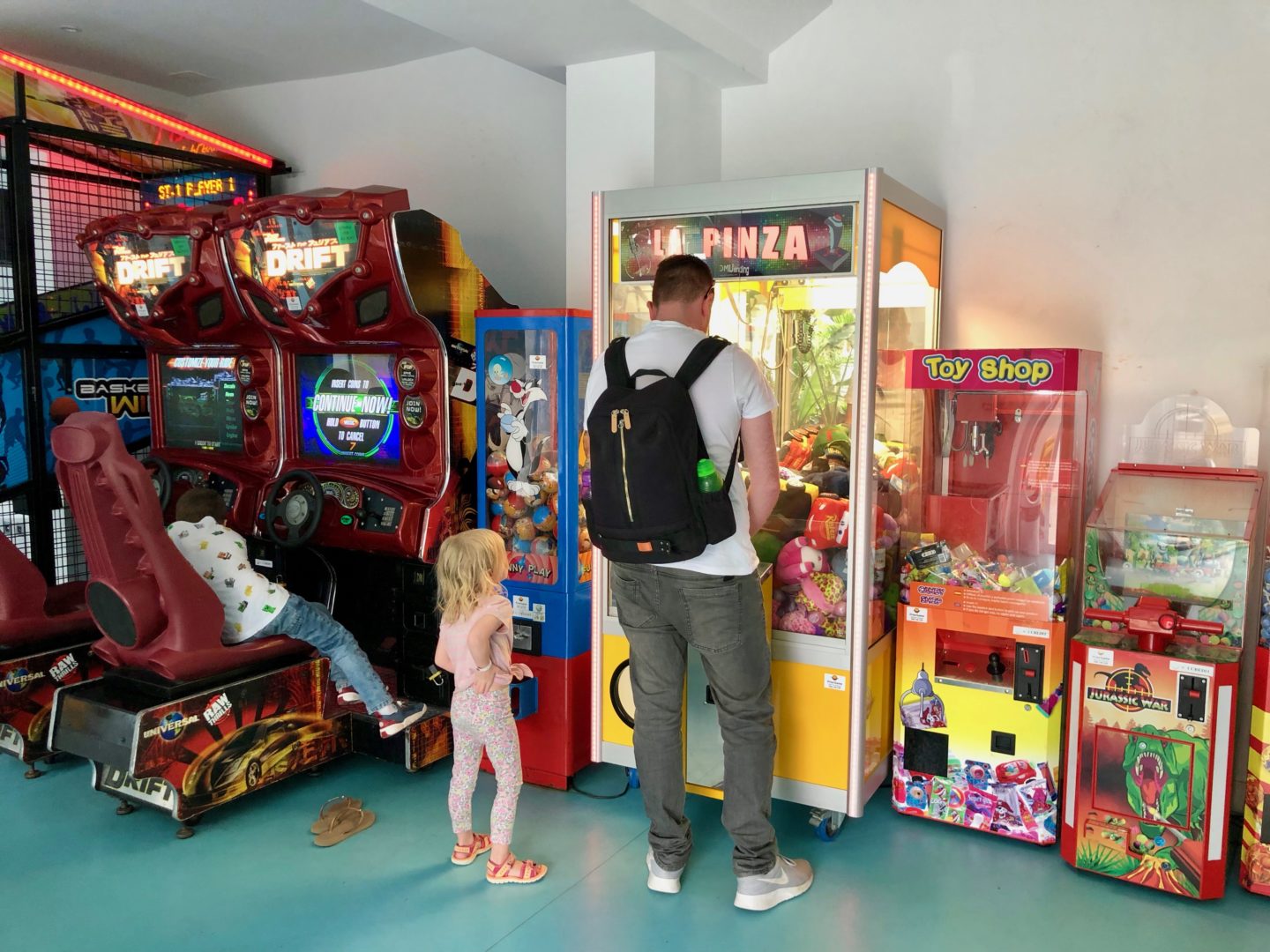 Near the 'entertainment pool' there were some table tennis tables and a shuffleboard area. 
There was an entertainment schedule that you can access here online or it's showed on big screens in the foyers.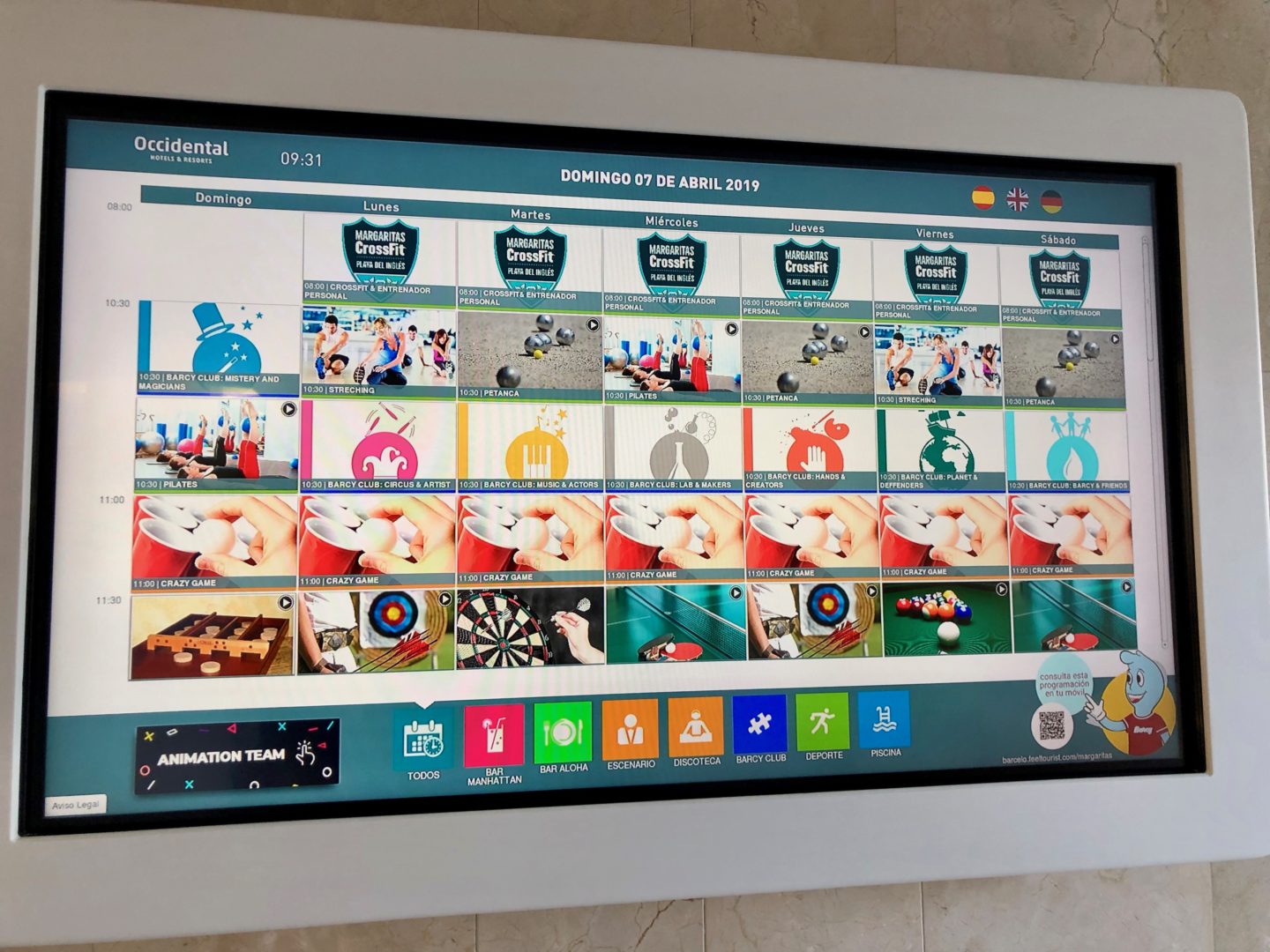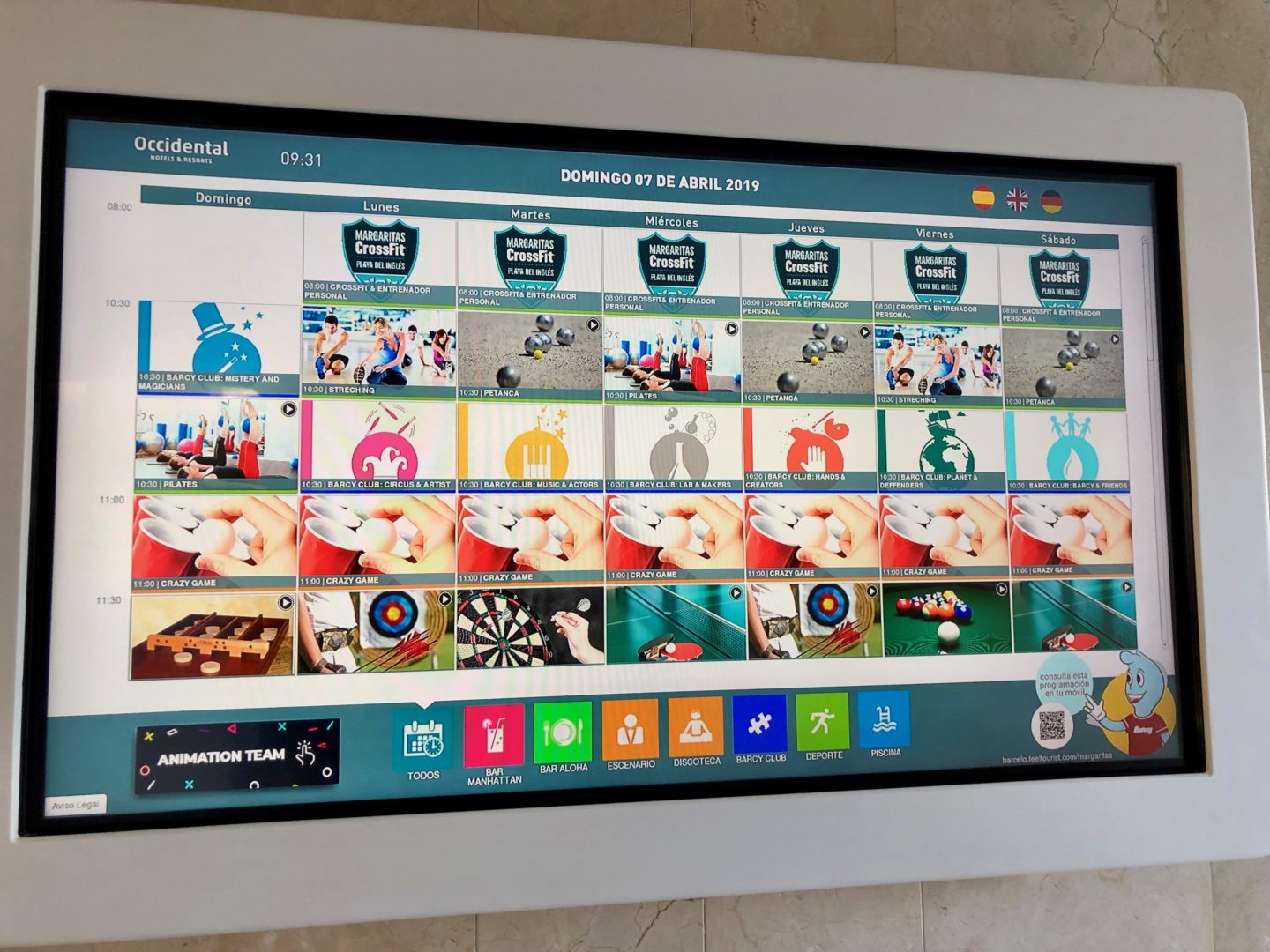 On an evening the kids disco began at 8.15pm and ran till about 9pm. Personally we would have preferred it started and finished a little earlier. 
Location of Barcelo Margaritas – what to do nearby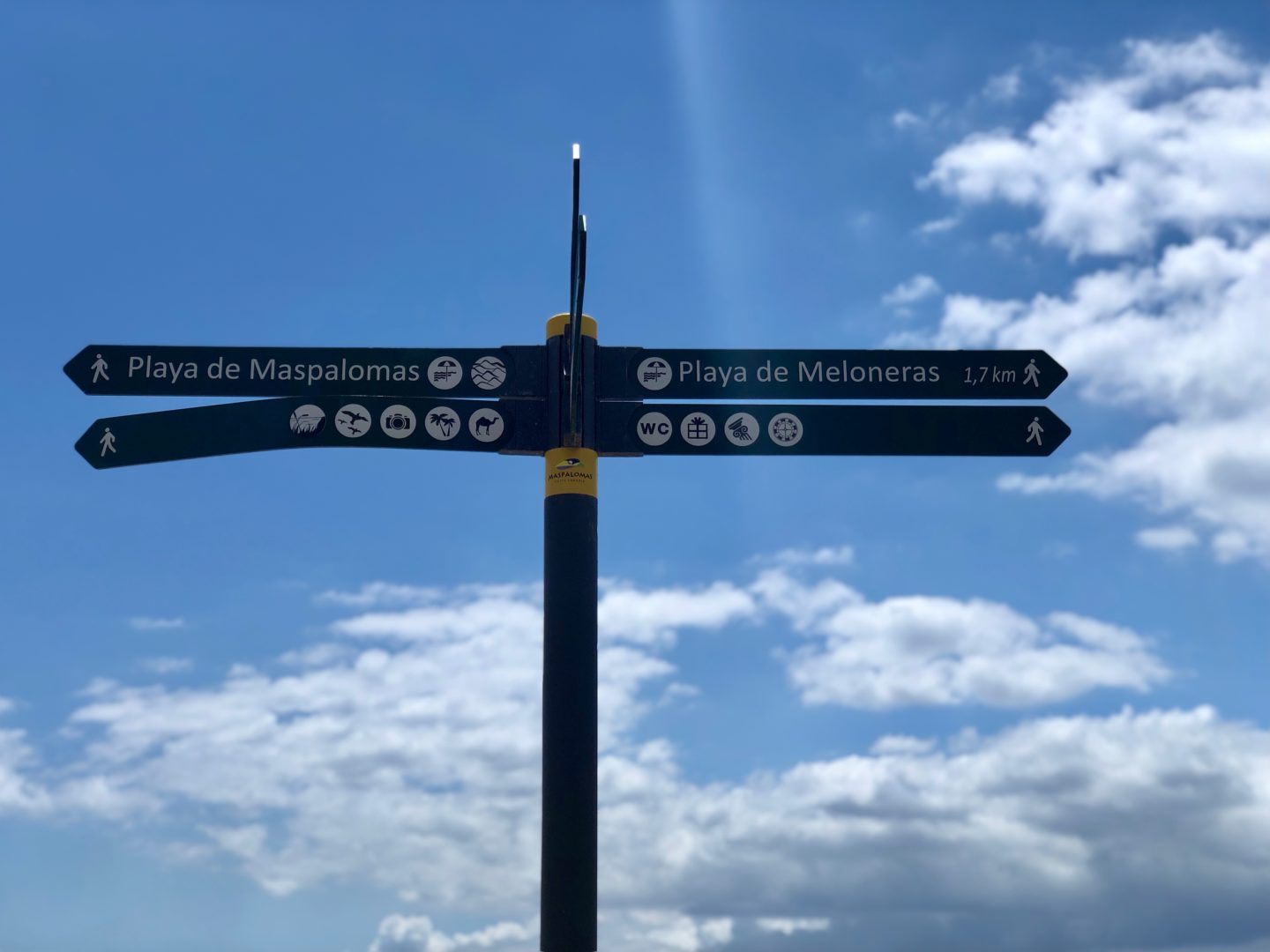 Private taxi transfer from the airport took 30 minutes.
The hotel is situated in Playa Del Ingles, about a 30-minute walk from the Playa Del Ingles beach and a 15-minute walk from the Yumbo shopping centre (lots of shops, indoor market, bars and restaurants).
We ate at the Ritz cafe at Yumbo which was nice (a beer, sangria, two kids meals, a club sandwich and salmon salad came to €38).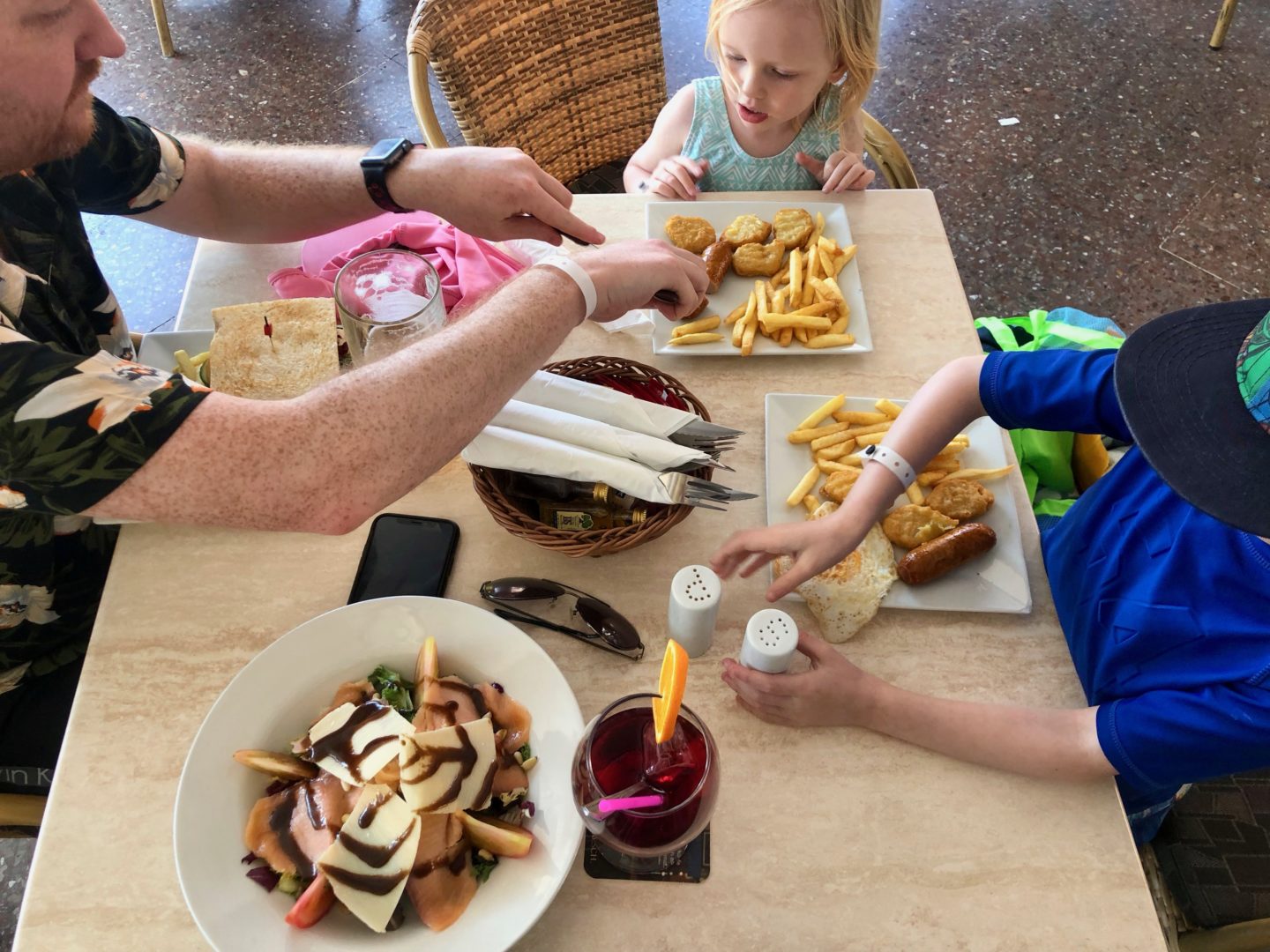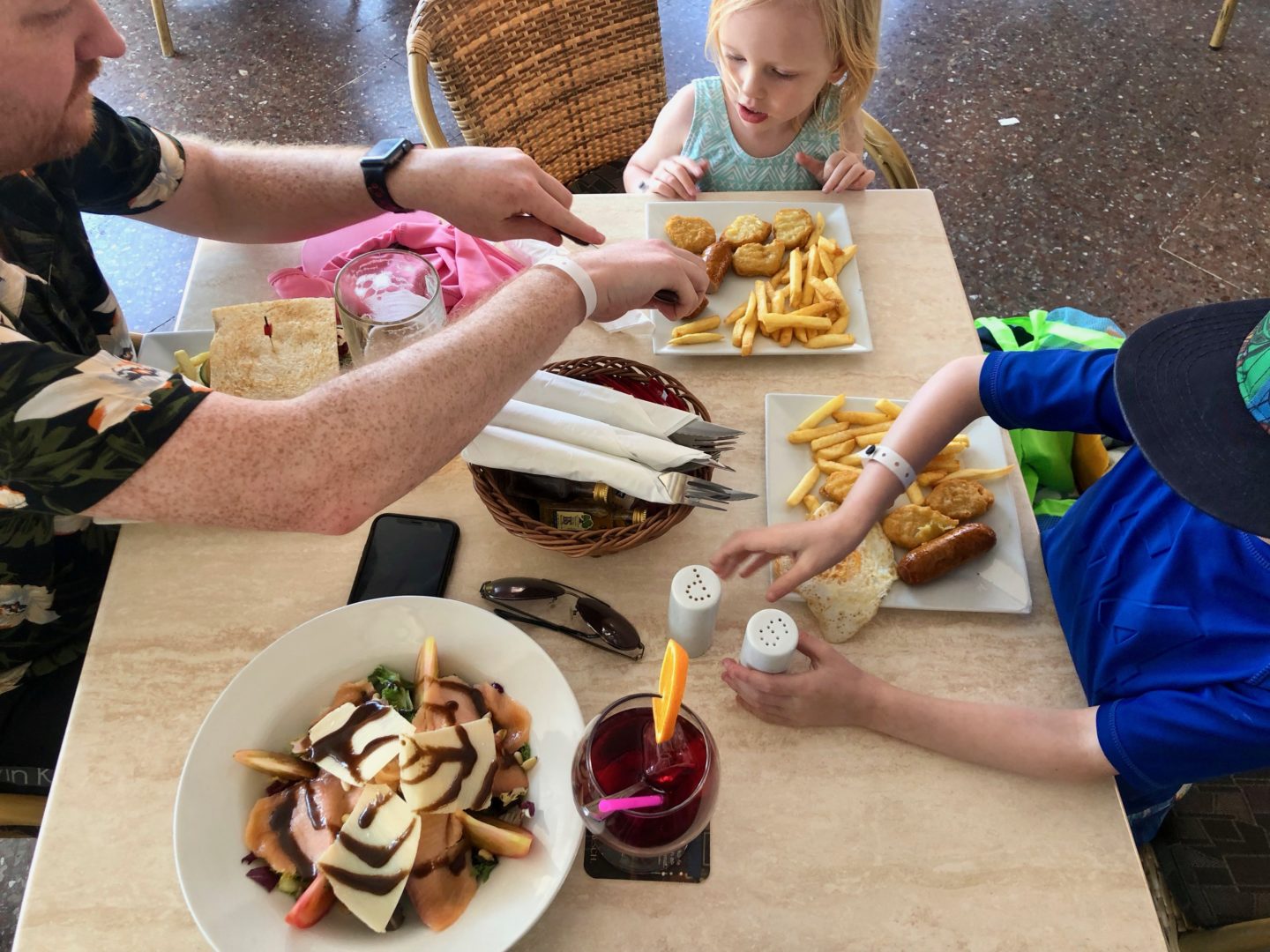 There is a frequent free shuttle bus service from the hotel in the day. It comes right outside the hotel entrance and goes to either the Playa Del Ingles beach (ten minutes) or the Maspalomas beach (10-15 minutes).
The bus service was prompt and no bother at all. We used it at least 3 days.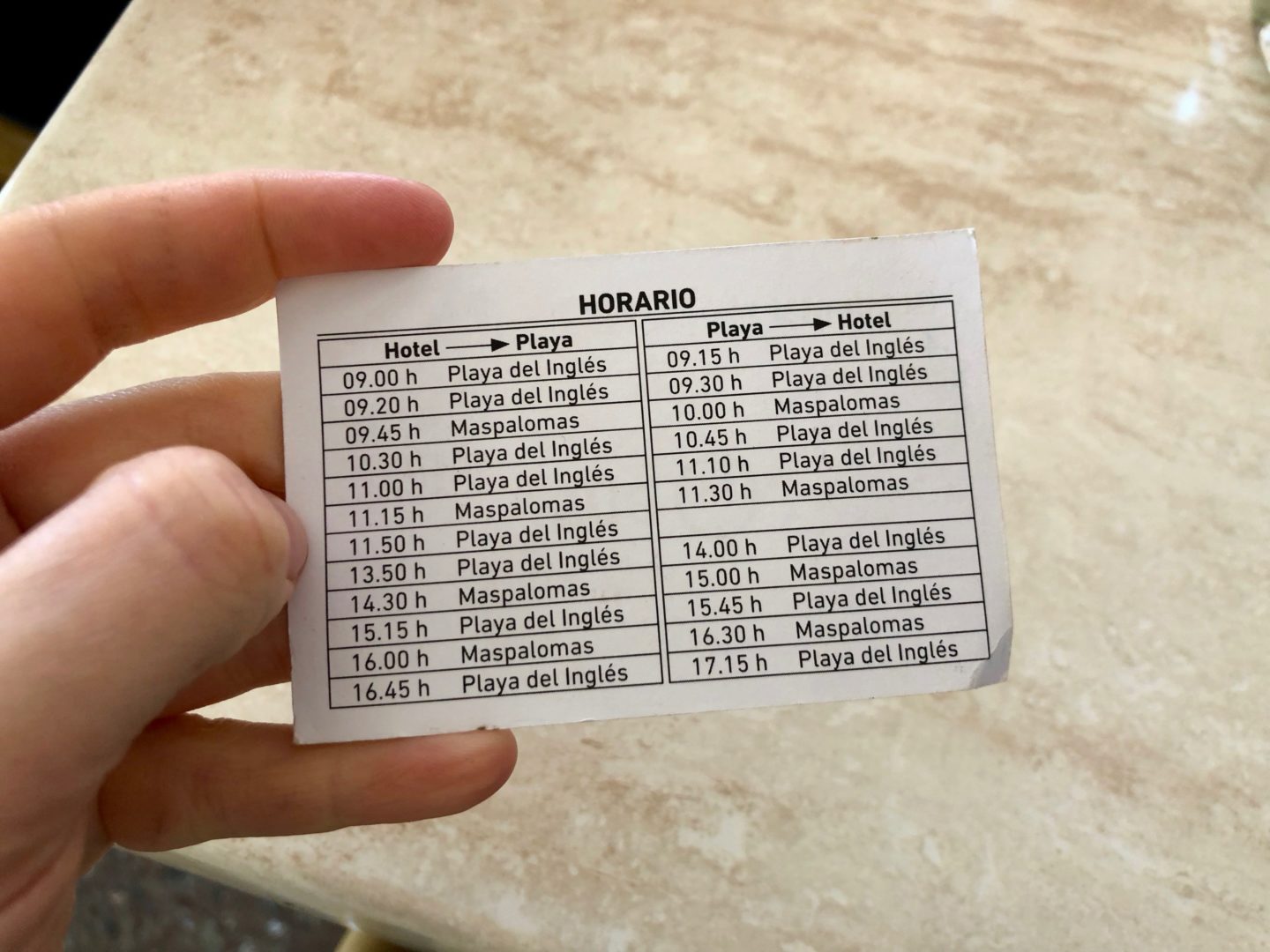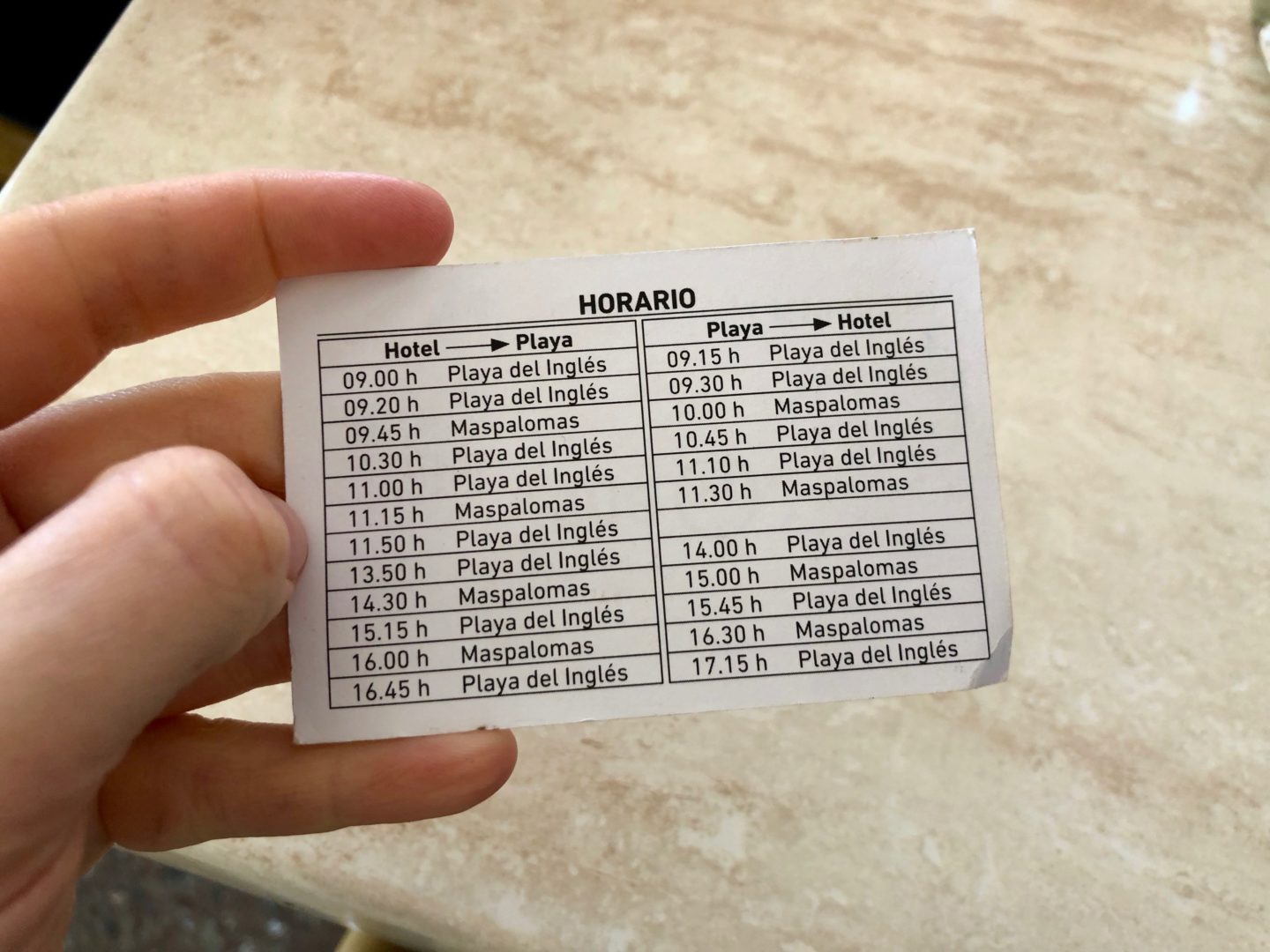 It doesn't run in the evening though but a taxi to Playa Del Ingles will only cost about €3-4 euros. We normally like being very close/on the beach but the bus service made it feel like we were really.
We absolutely adore Maspalomas and Meloneras. It has a nice beach, a nature reserve, dunes (with camel rides), then a stretch of more upmarket restaurants and shops overlooking the sea.
A meal here will cost more but the views are gorgeous. Check Trip Advisor for reviews as some are better than others.
I wouldn't recommend Grill Faro as I didn't enjoy my meal there and wouldn't return. I have had lovely meals on that Meloneras strip in the past though, I think the Italians might be the best but can't quite remember!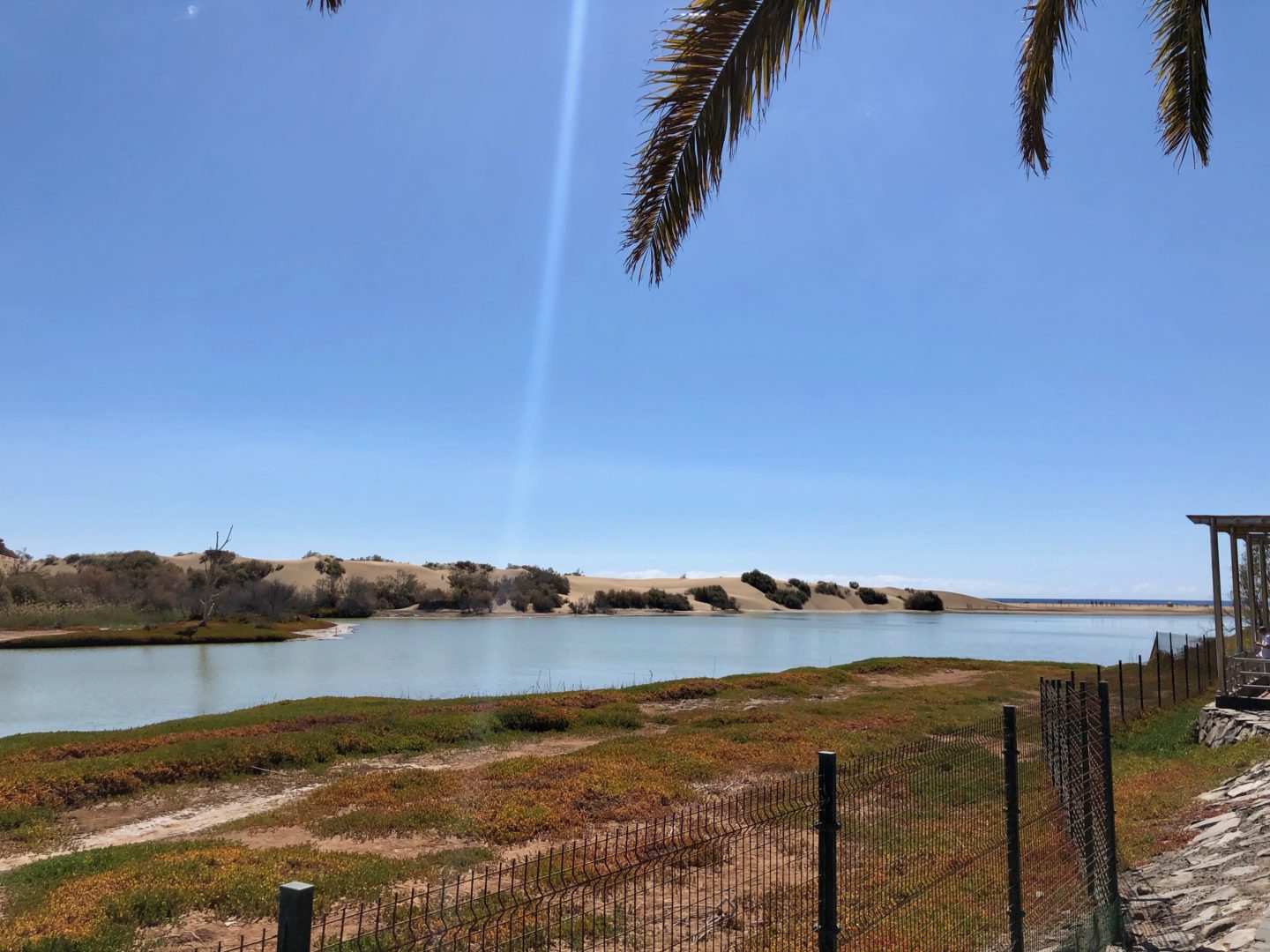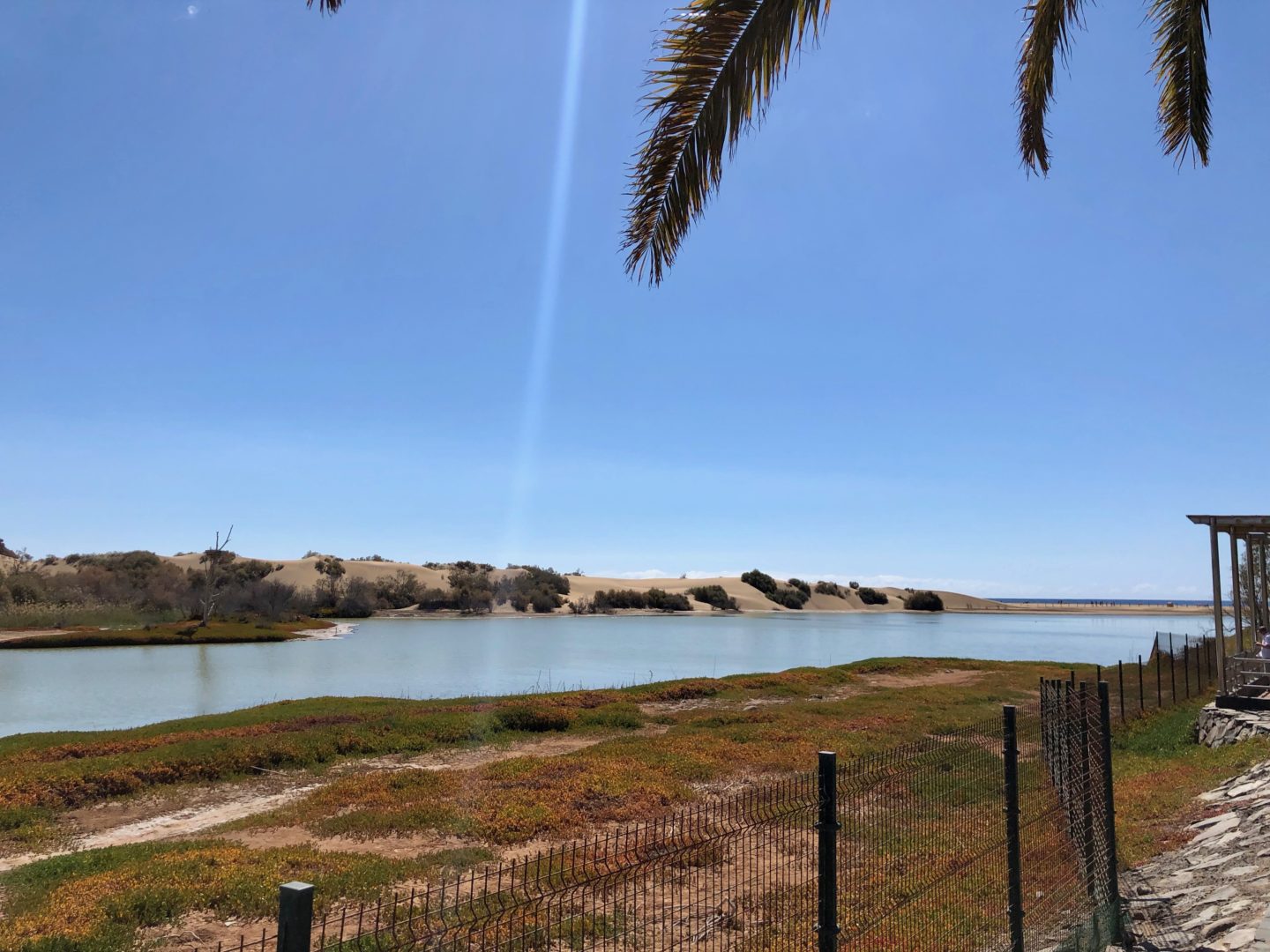 Be careful at Maspalomas – we were approached by a man who was telling us that he worked for the Gran Canarian Tourism Board to promote Arguineguin. He told us they were trying to get tourists down because it was so amazing we would tell our friends and bring in more money.
He said if we went he would arrange taxis with car seats to take us, we could have the day there and they would return us to our hotel and for doing so he would give us free tickets for a glass-bottomed boat dolphin tour the next day. He did the hard sell for us for about 30 minutes but wary that it sounded too good to be true we said we would go back.
We went to a cafe and got ice creams for the kids and drinks for us and googled it. It turned out the guy was from the Anfi beach resort and was trying to get commission for us turning up to a timeshare pitch.
People online were saying they went and had to do a 90 minutes sales pitch/tour and if they didn't sign up then they didn't get the free gifts they were promised. We decided it wasn't worth our time and didn't return.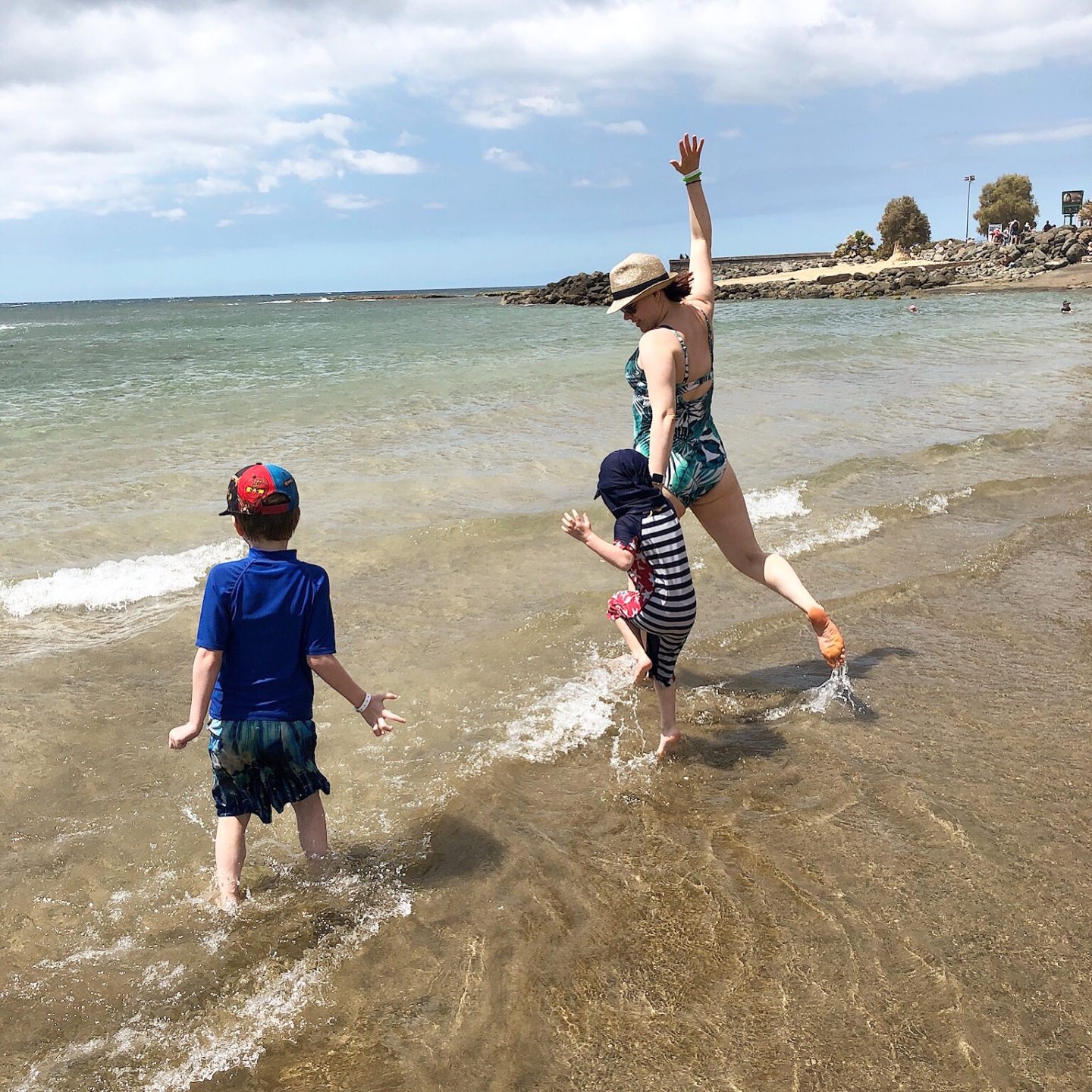 Playa Del Ingles is a bit busier and cheaper. There's a lot more action down there and more drinking!
It's still a fun place to go for a day out though. Nice beach and little huts so you can get a beer or sangria while your children play in the sand.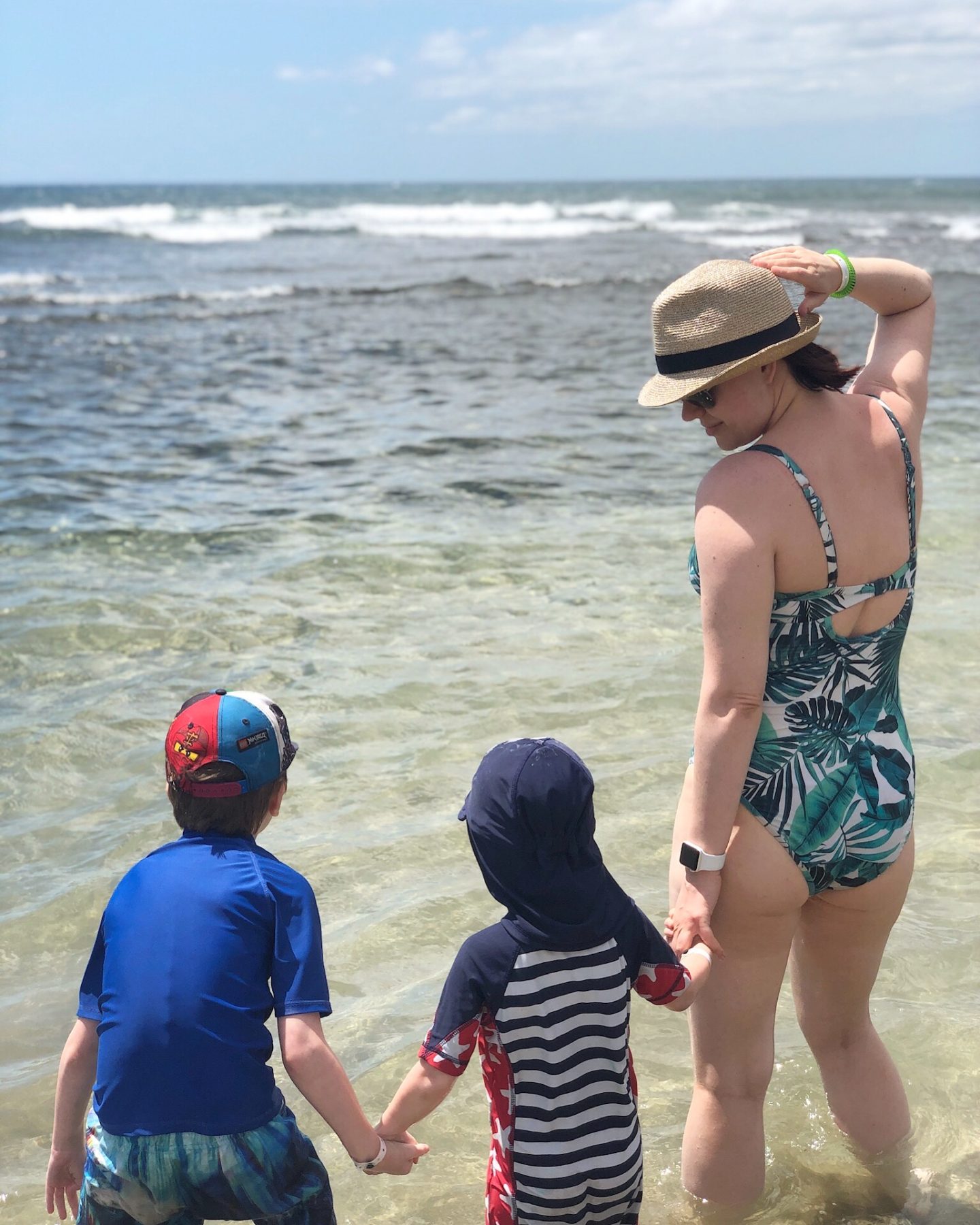 Shops near Barcelo Margaritas
As well as the shuttle bus there is a well stocked and reasonably priced supermarket directly opposite reception.
If you aren't all-inclusive then it's cheaper to pop there for booze/snacks than the hotel bars. It had pretty much everything you might need.
There was another small supermarket just up the road and a pharmacist just round the corner.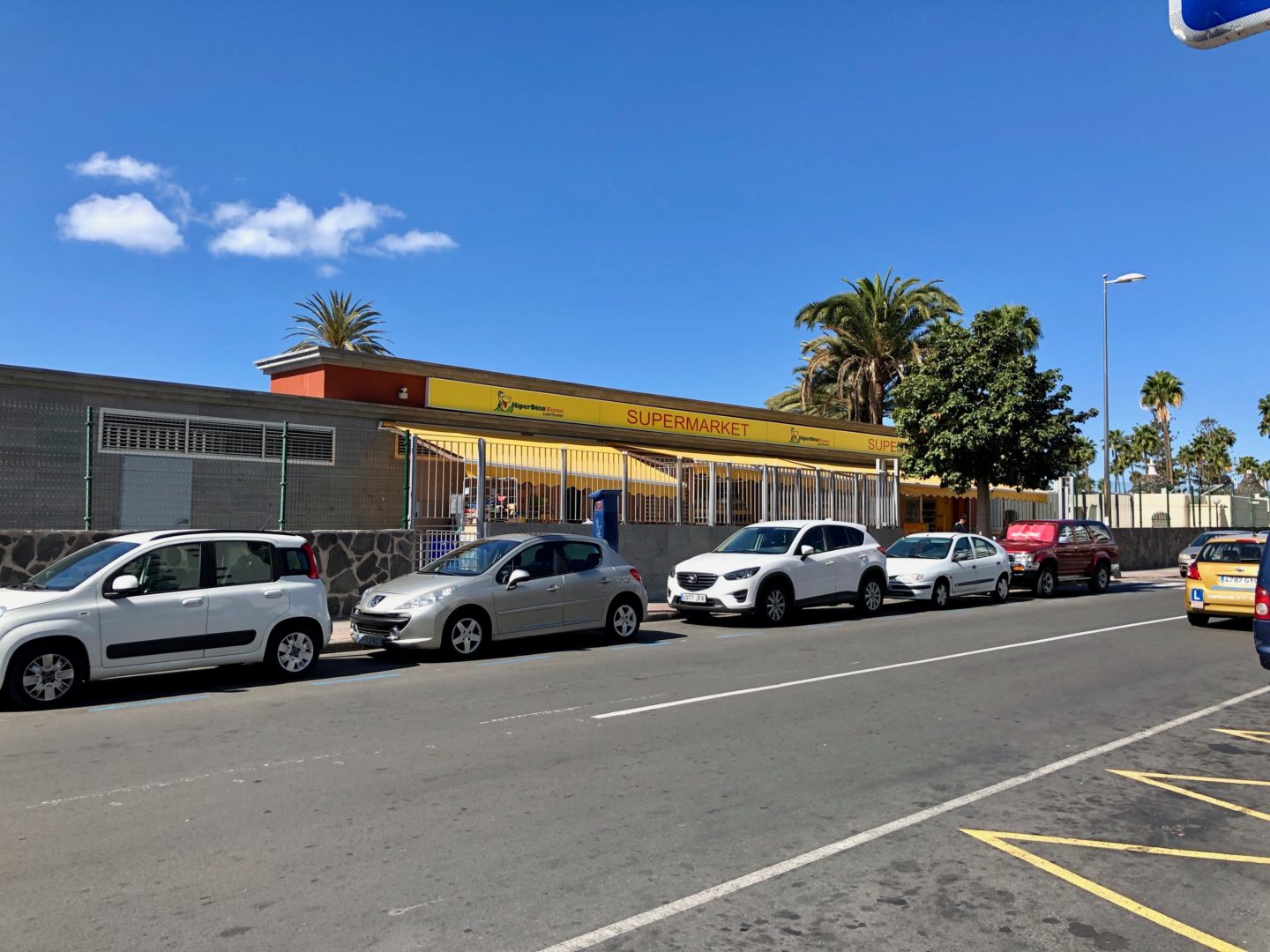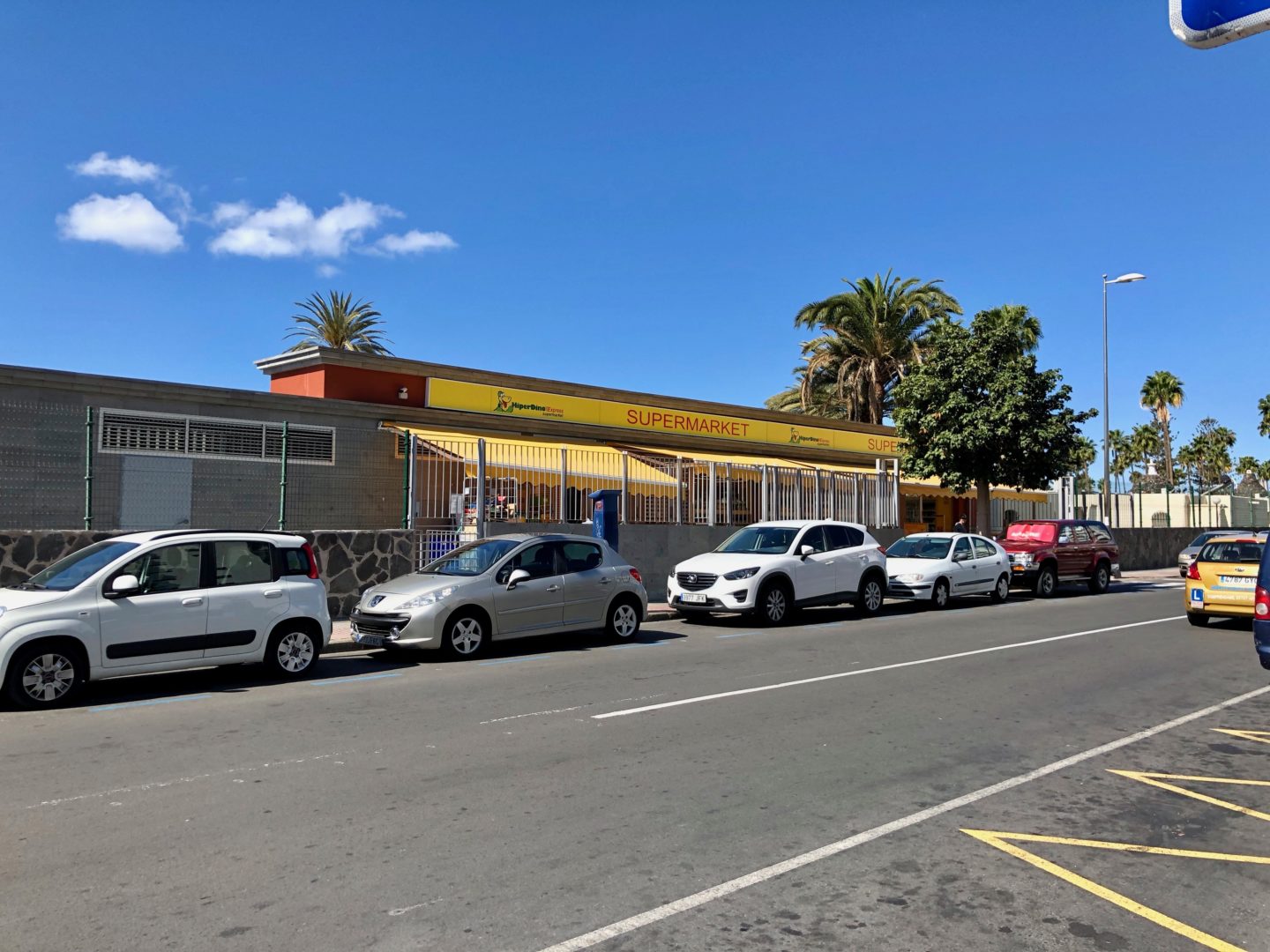 Evening entertainment at Barcelo Margaritas
As our children are (just turned) 4 and 7, we only attended the kids' evening show which began at 8.15pm and lasted till around 9pm.
It was your standard Spanish kids' club with the usual songs and dancing.
The kids really missed that they didn't have a mascot though. As you can see in on our last holiday to Lanzarote they love someone in a giant costume.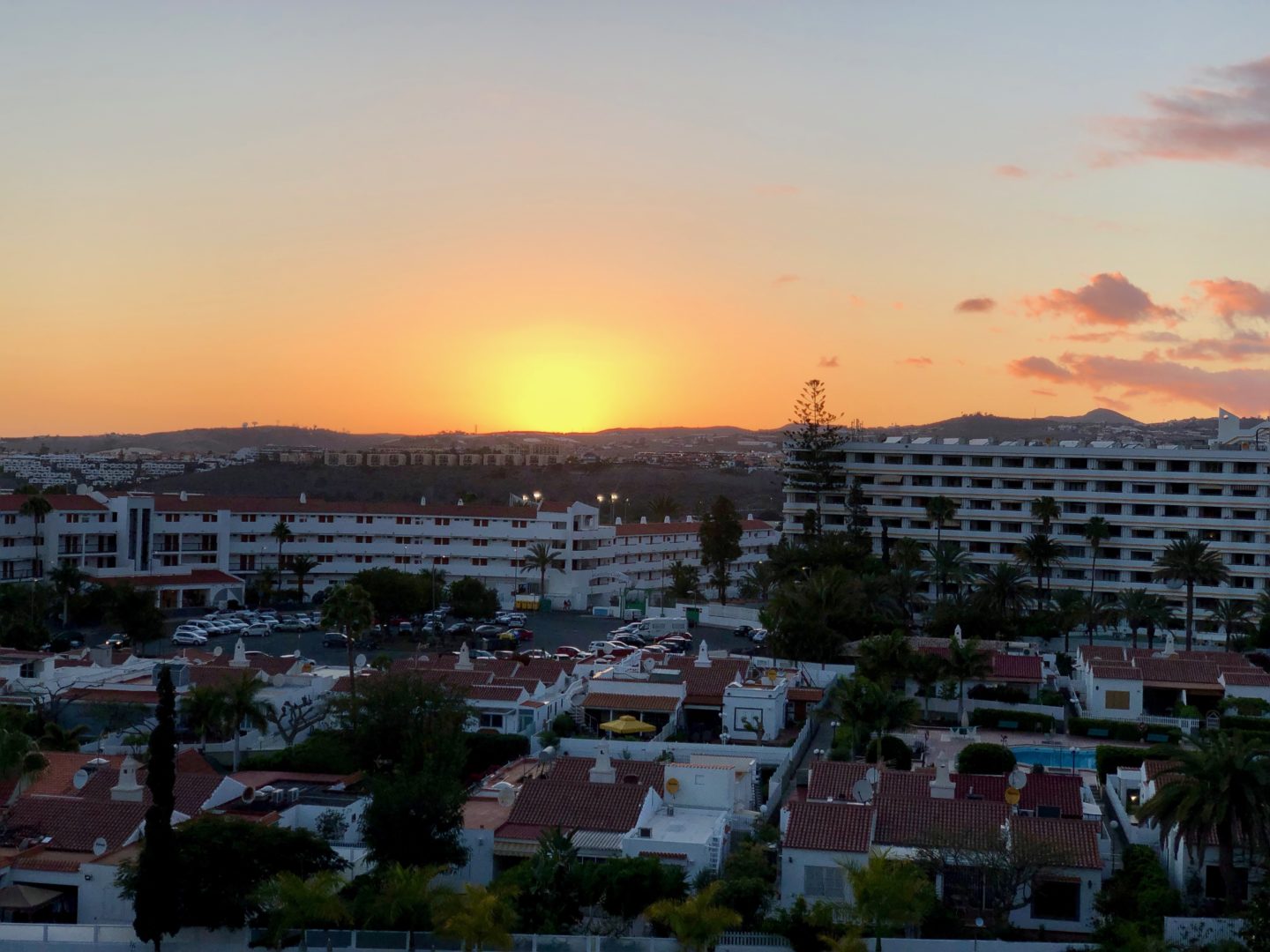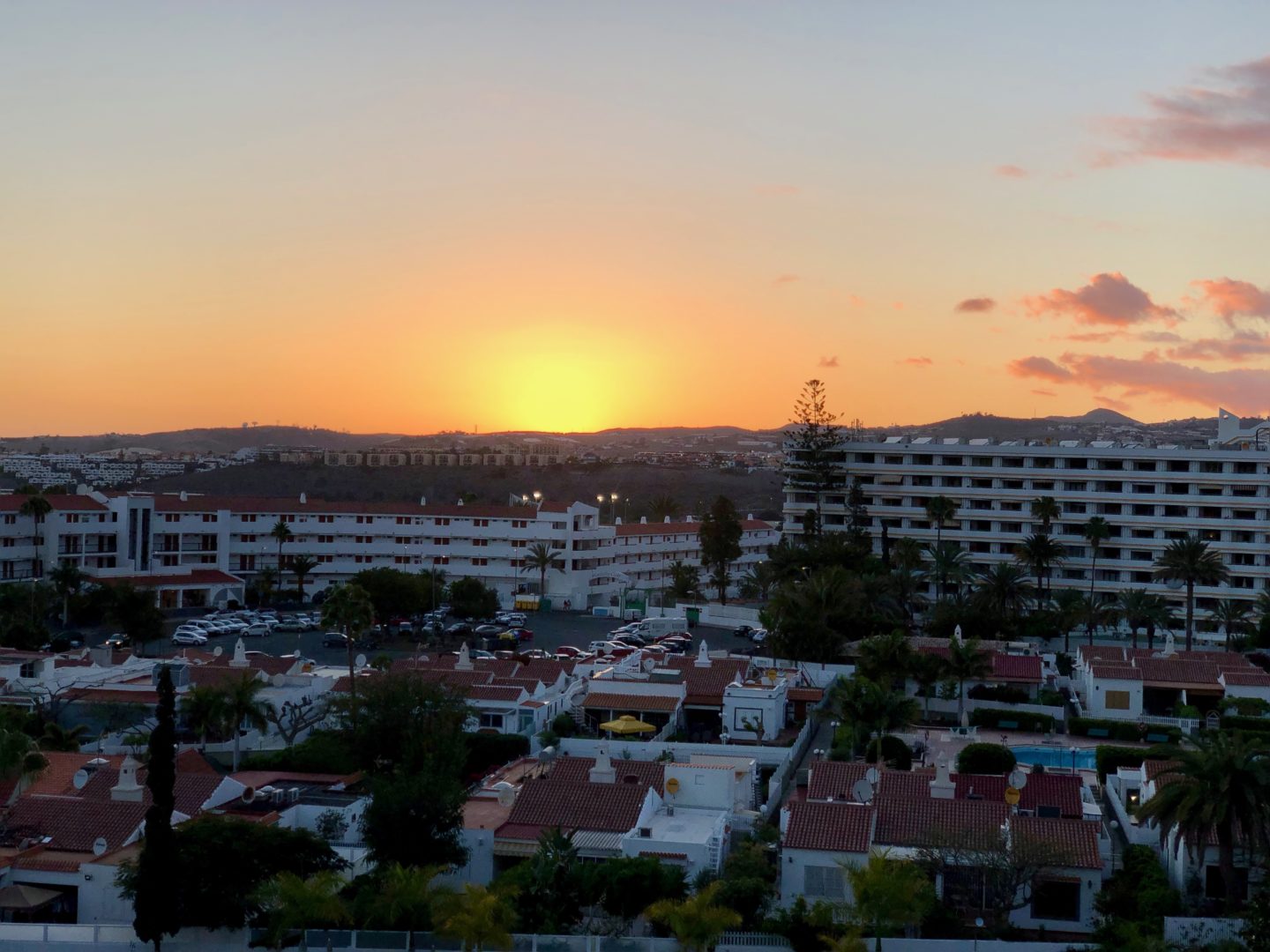 Worth noting is the entertainment is all on a stage outside by the pool so take some warmer clothes for the evenings.
It was a nice set up though but obviously you need to keep a close eye on the kids as you are right next to the deep end of the pool.
Las Palmas Airport, Gran Canaria – free play area for kids and a lactation room
I wanted to mention Las Palmas airport in case you've not been before and wondered. It's a decent sized airport – in fact, one of the top five busiest airports in Spain.
It has a lot of shops but is very overpriced. More overpriced than you would expect an airport to me, small cuddly toys costing €20. We looked at a Pokemon toy for Arlo that was €19 and cost £5 on Amazon.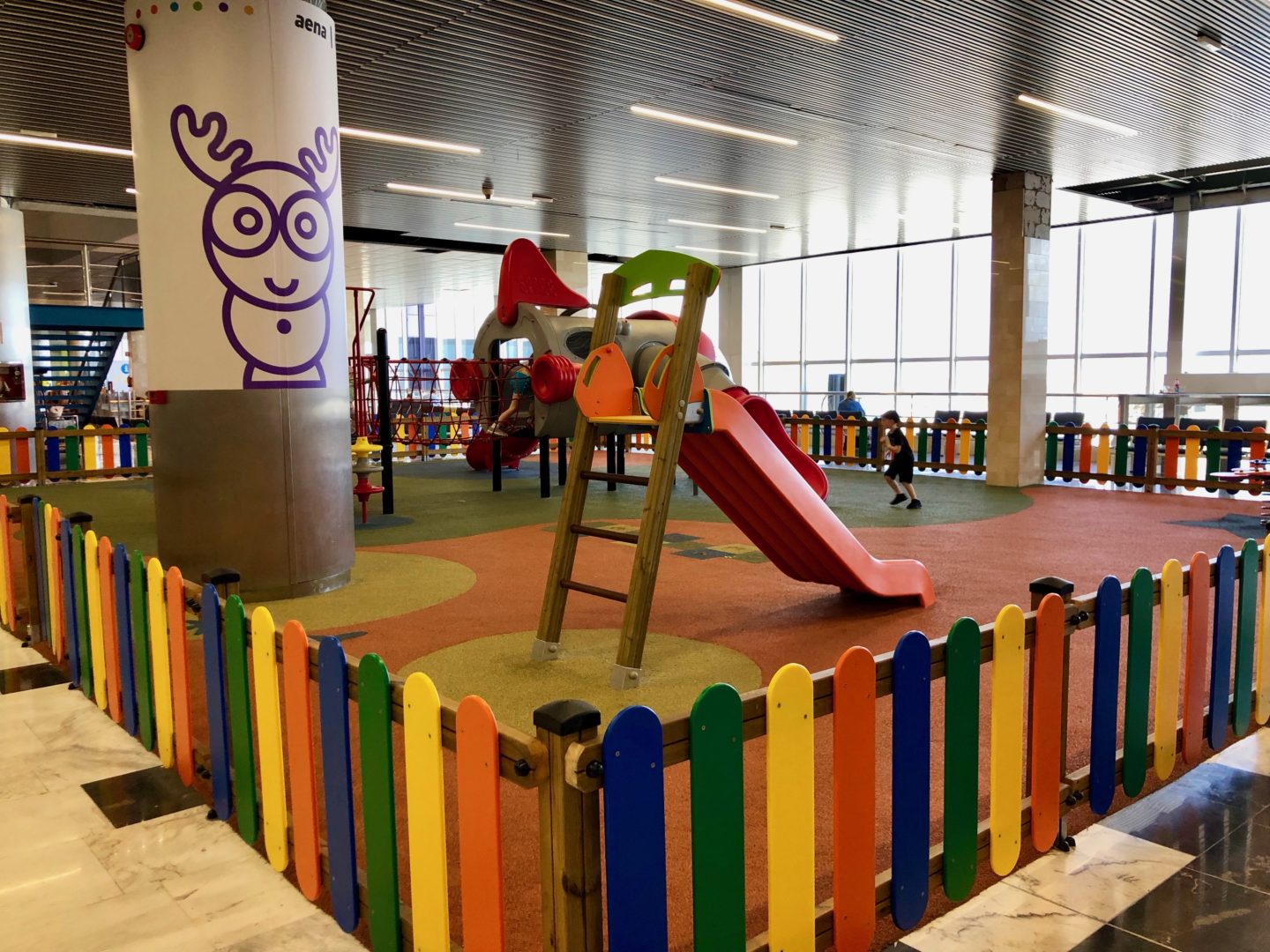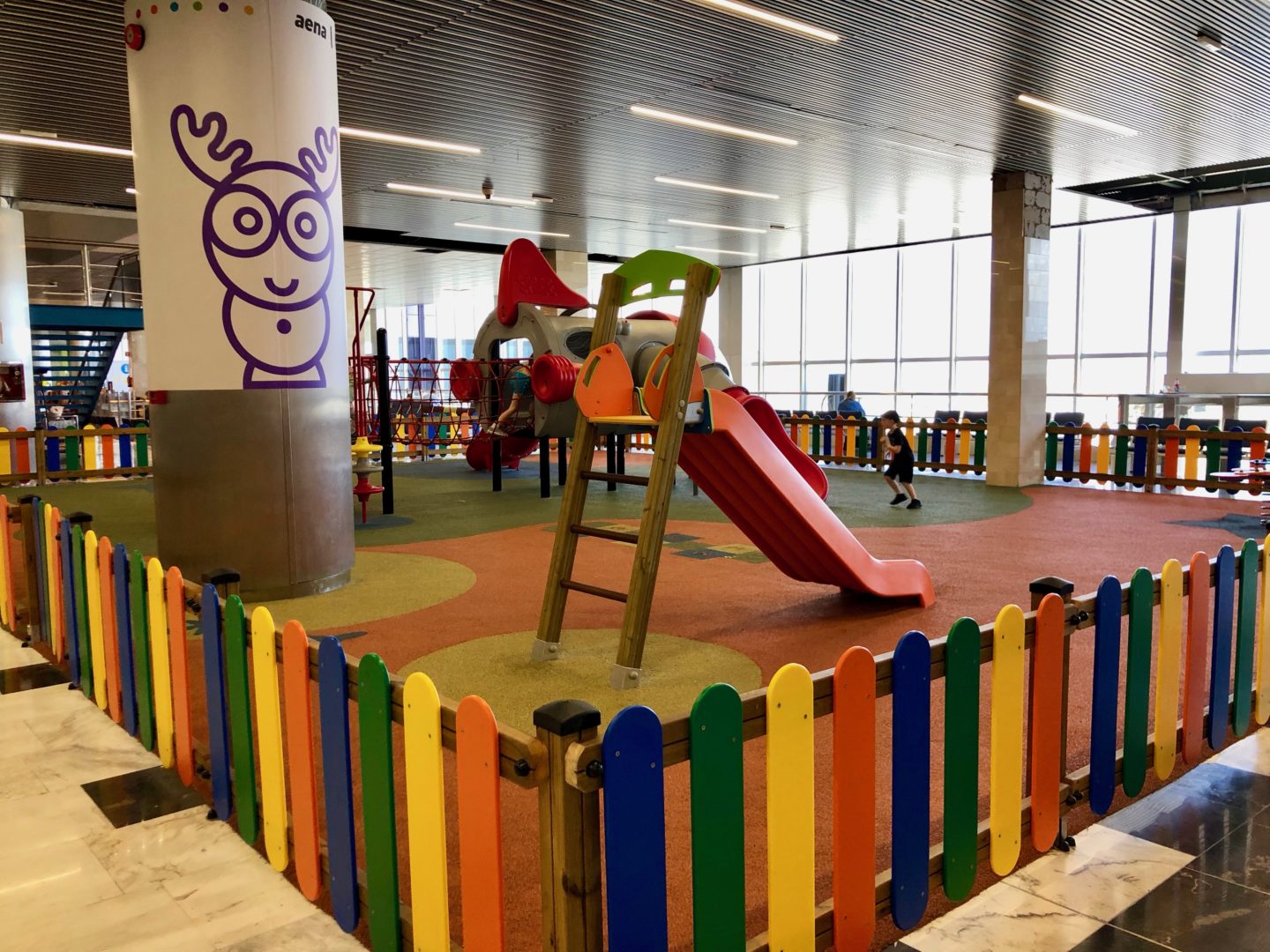 Something that is great about the airport is that like in Lanzarote, they have a children's play area and a lactation/feeding room.
The lactation room was amazing. Big comfy chairs for nursing in – and footstools and even a cordoned off small soft play area for toddlers. This would have been so helpful to me when my youngest was a baby and Arlo was three so he could have played within my view while I breastfed the baby. Great job Gran Canaria.
The play area was great for letting our four-year-old burn off some steam before the four and a half hour flight.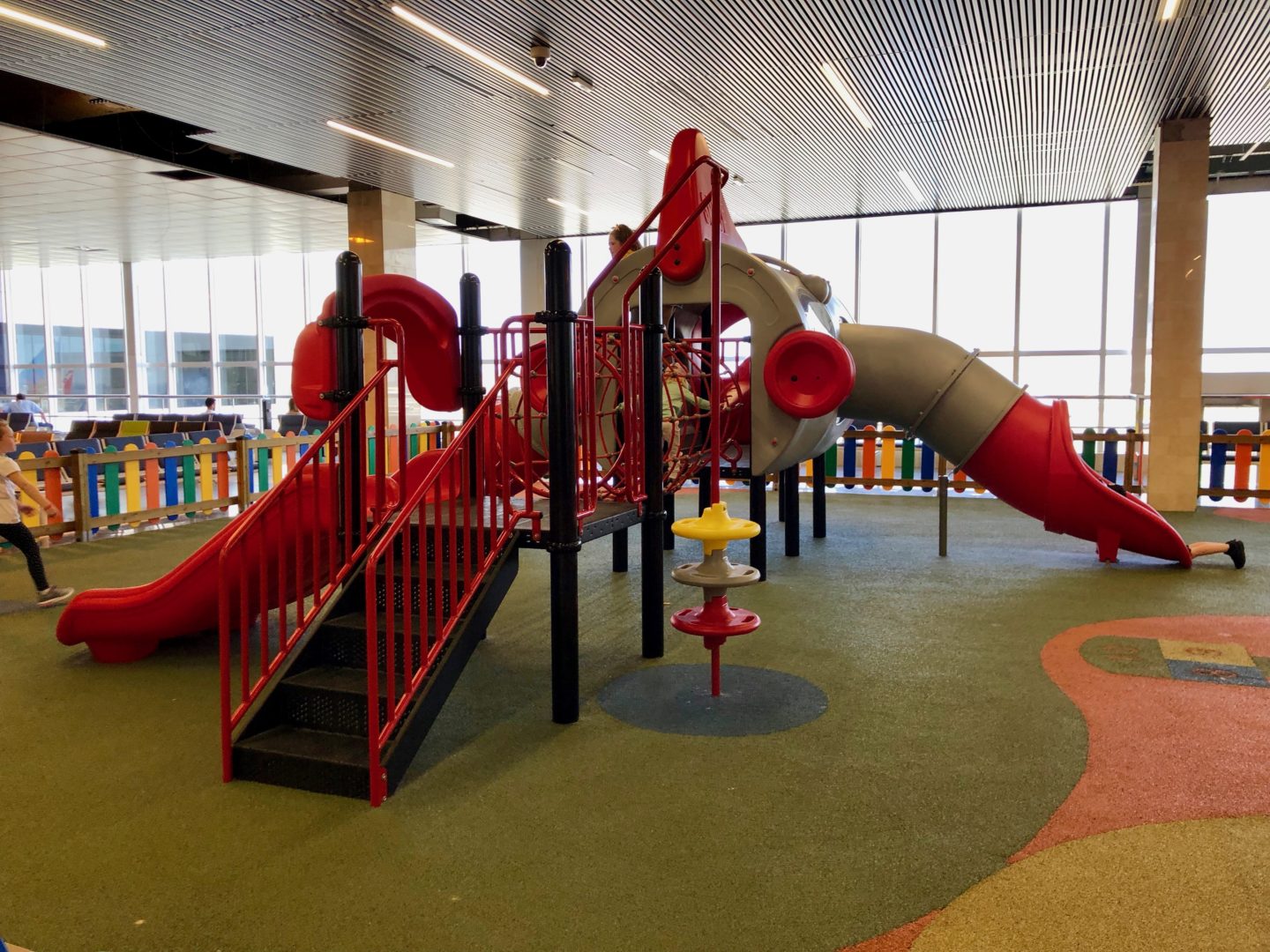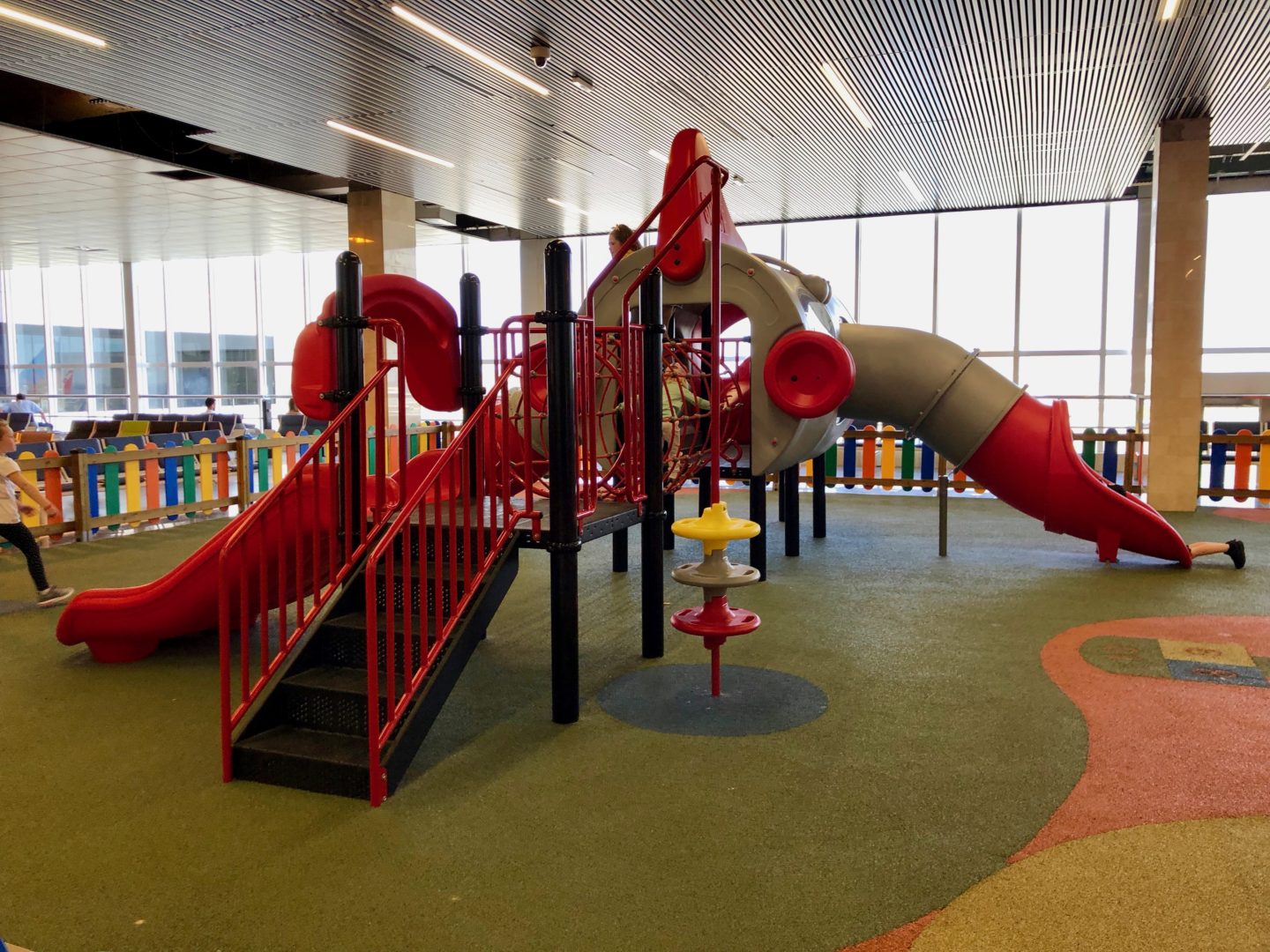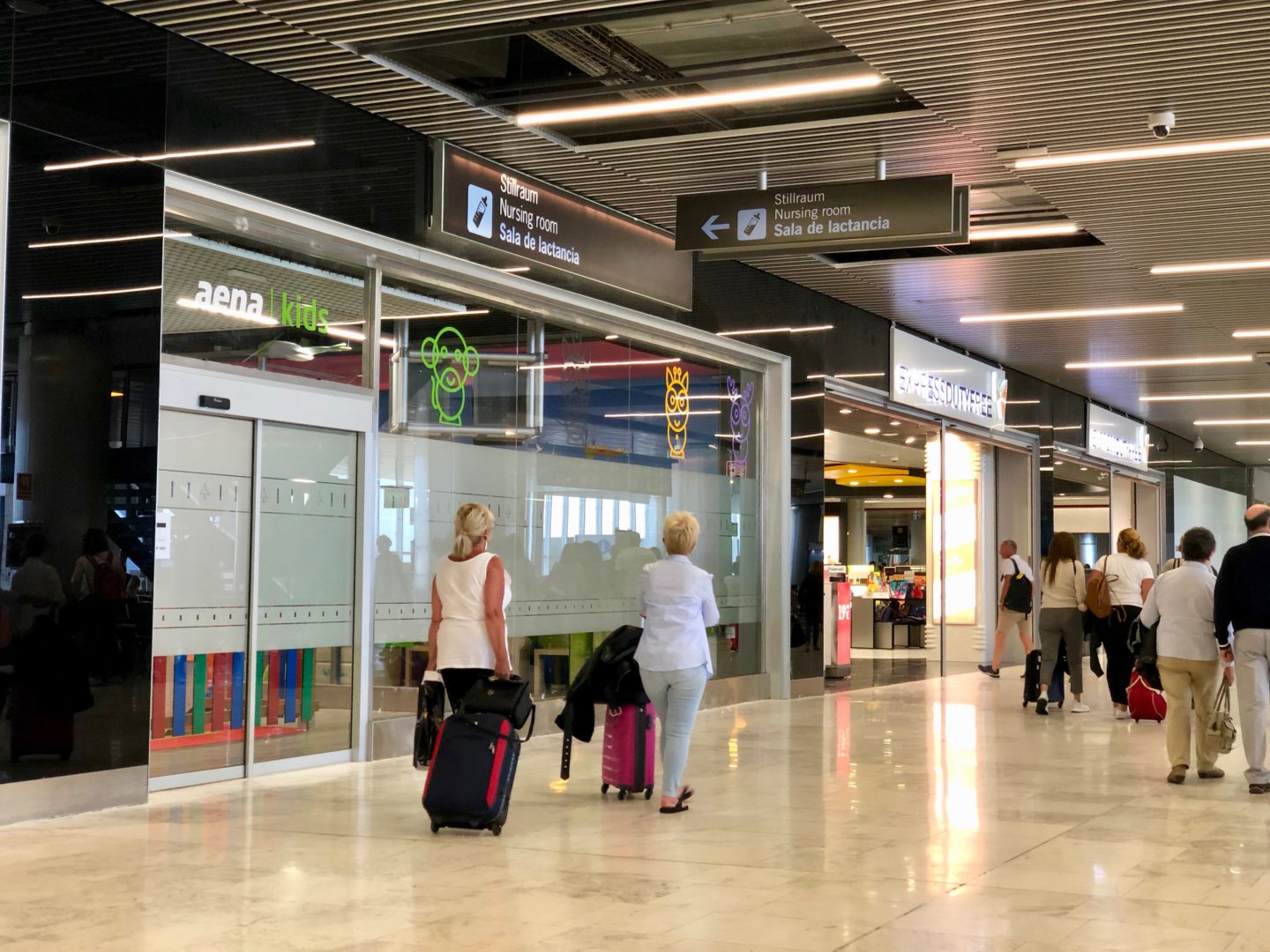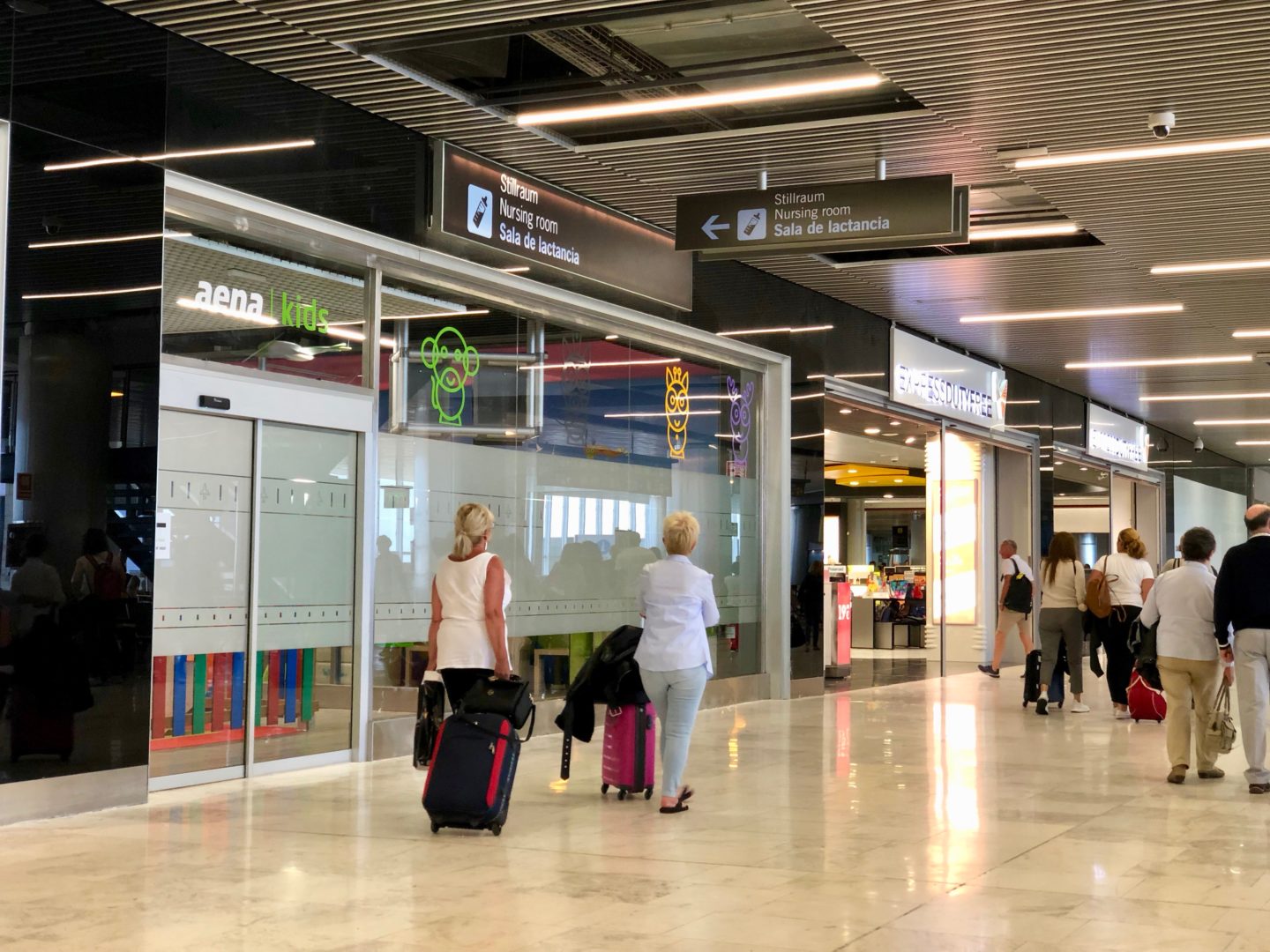 Would we go back to Barcelo Margaritas?
We would go back to this hotel. It's certainly going to go on our shortlist of places we keep a watch out for good prices for going forward. It wasn't THE perfect one for us but it was pretty good none the less and there was nothing that would put us off enough to return.
And now it's 18.13 and my daughter has been asleep on this flight for nearly 2 hours! This is unheard of and now I'm panicking about whether I should wake her or be up all night! Peaceful plane ride or peaceful night, quite the dilemma!
If you want to see more of this holiday head over to my Instagram Stories and see my highlights Gran Canaria 1 and 2 where you'll see snapshots of our trip.
Any questions let me know in the comments and I'll answer them. Also, if you have a favourite resort abroad do let me know so I can check it out!
If you liked this post you might also like:
Book Barcelo Margaritas Jet2
You can find cheap holidays for Barcelo Margaritas with Jet2 here (affiliate link).
If you have enjoyed this post or found it useful, here are some quick and easy ways that you can support Nomipalony or say thanks:
Share this post with your friends  
Pop over to my Amazon Storefront to see what products I have been buying and loving from there recently, including my health and fitness products list.
Sign up to my mailing list 
Women can join my feminist Facebook group – the Nomipalony Freehouse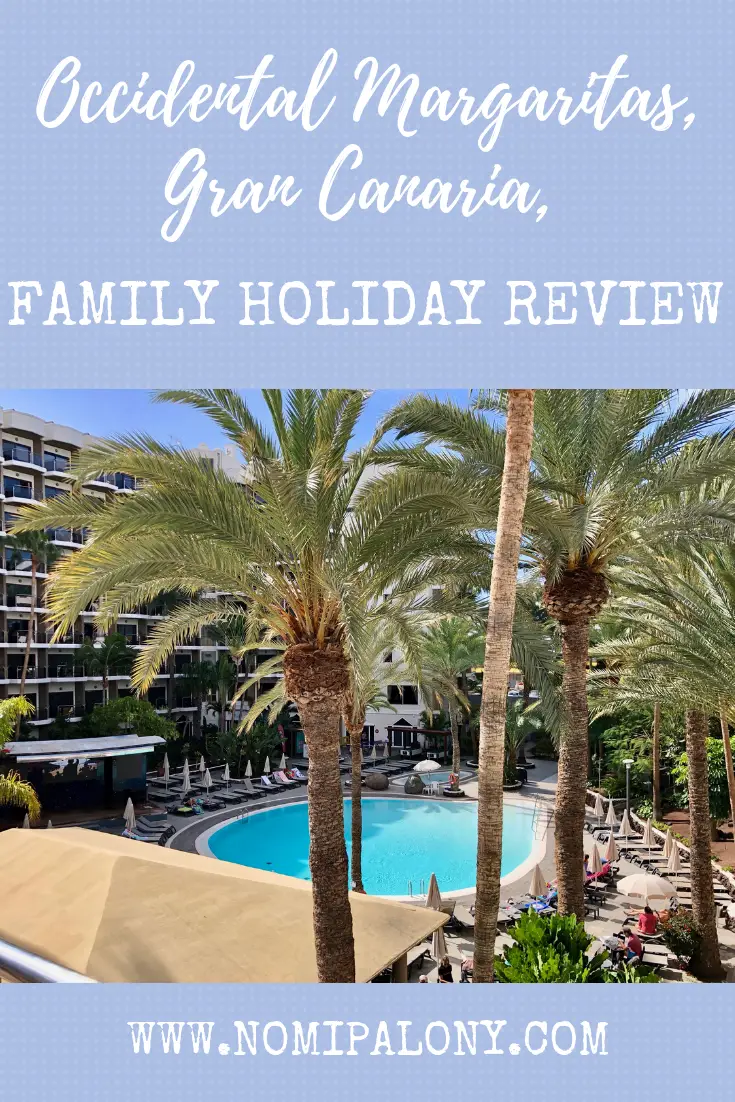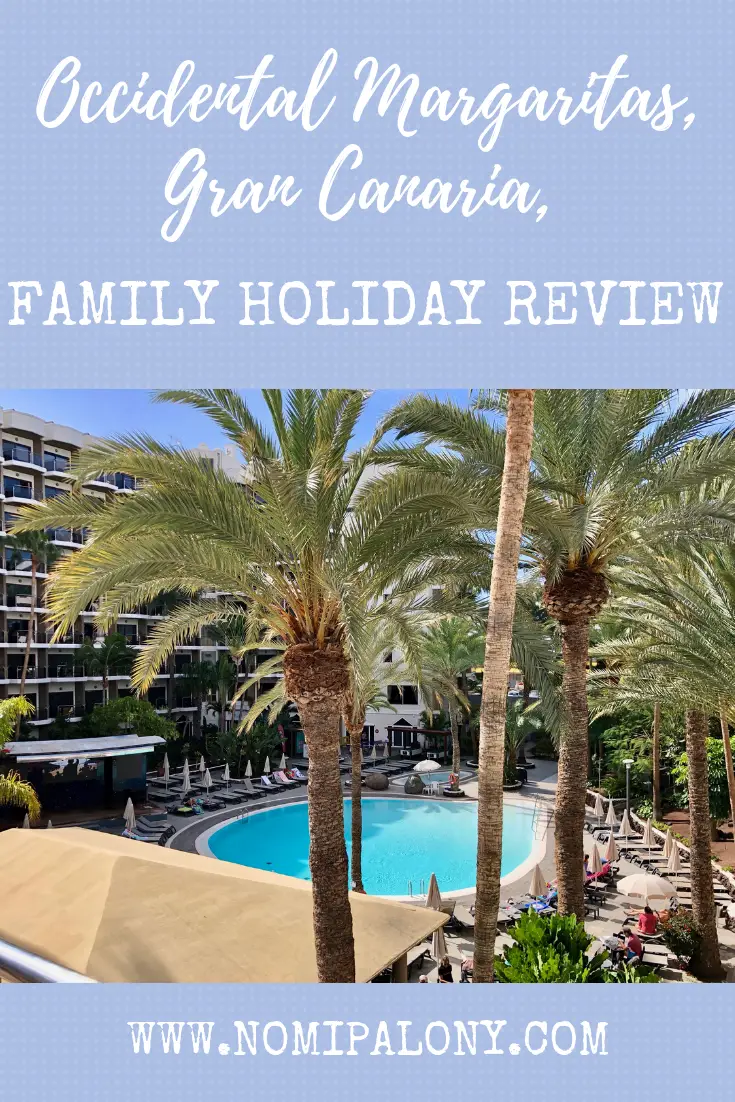 Disclaimer: This post contains clearly marked affiliate links. If you buy anything through an affiliate link you won't pay any more but we will receive a small payment from the brand for referring you. You can read more about my disclosure policy on my about page.