Last week a good friend of mine (we met up a tree aged 10, those were the days) got married at Newton Hall in Northumberland. Congrats Jess and Gaz! As it's about an hour from where we live we decided to stay over and have a little mini-break in the area. This post is all about our mini-break at the Northumberland Coast to visit Bamburgh castle but if you are interested in camping in the area then also check out my camping Northumberland coast guide.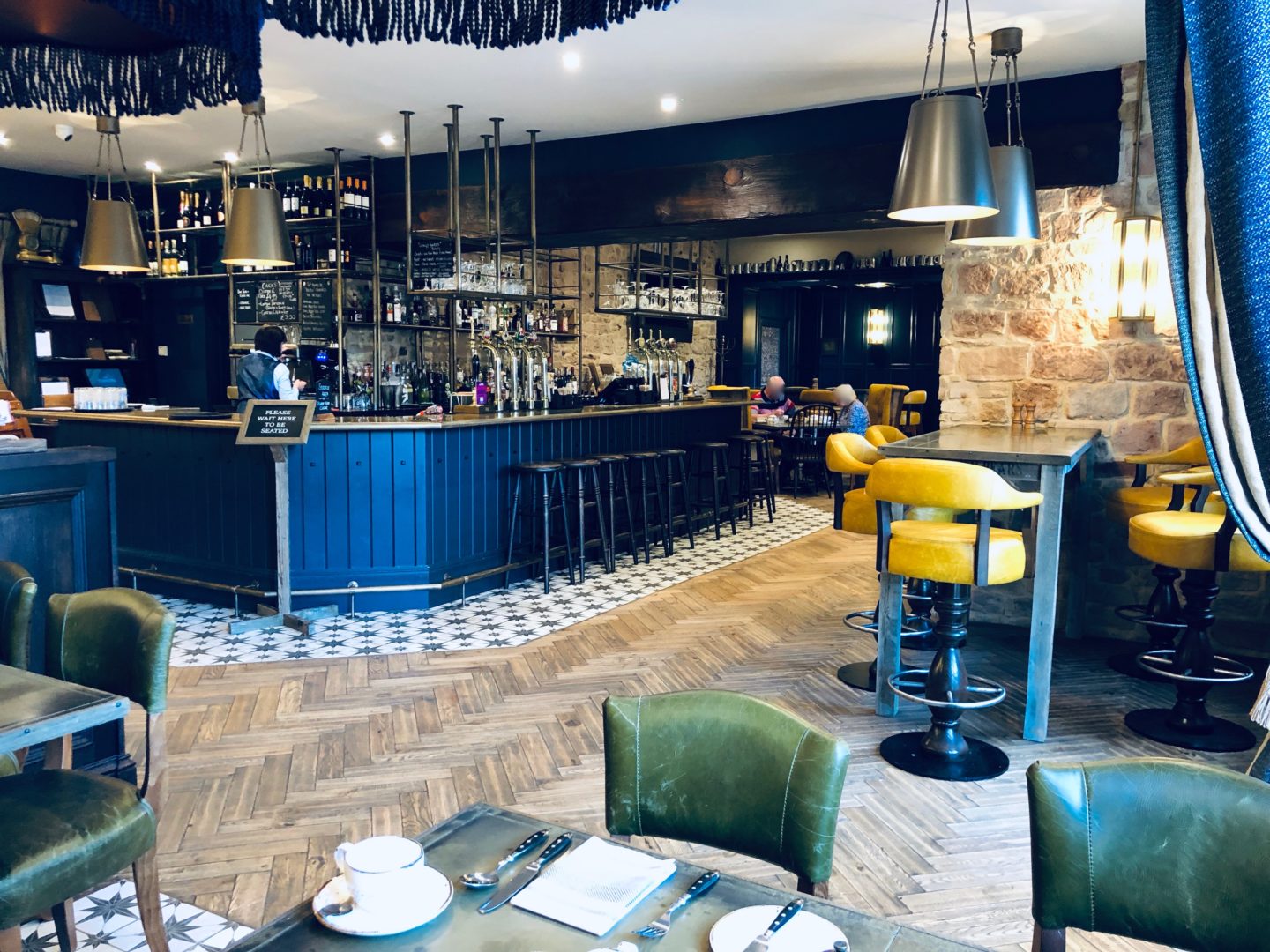 Wedding at Newton Hall
The wedding at Newton Hall was beautiful. It's a gorgeous wedding venue set in scenic grounds looking out at the Northumberland countryside. We had a wonderful day there. The food was great and all the staff were very professional and helpful. I'd definitely recommend it as a wedding venue.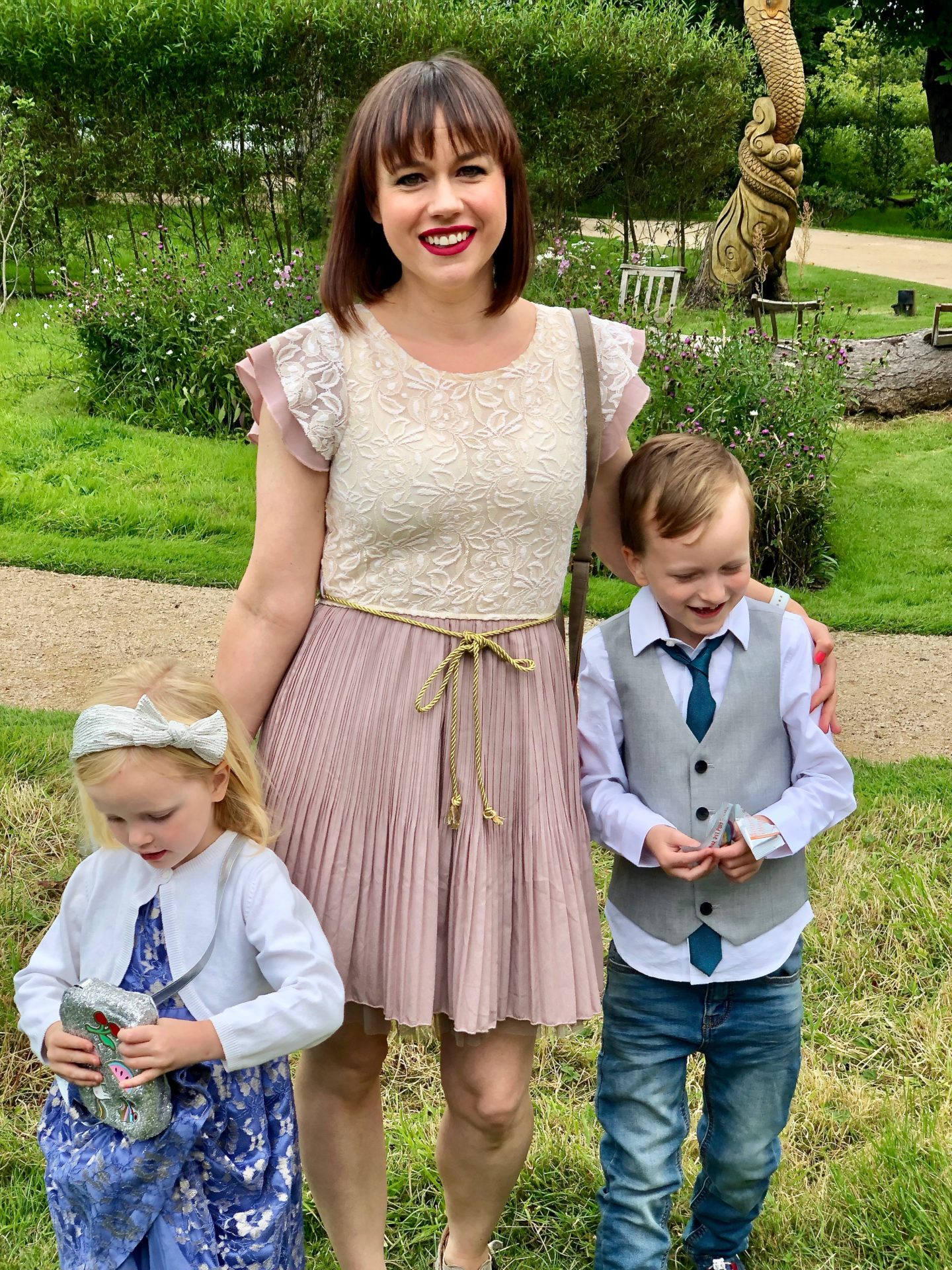 Where we stayed to visit Bamburgh Castle – Beadnell Towers Hotel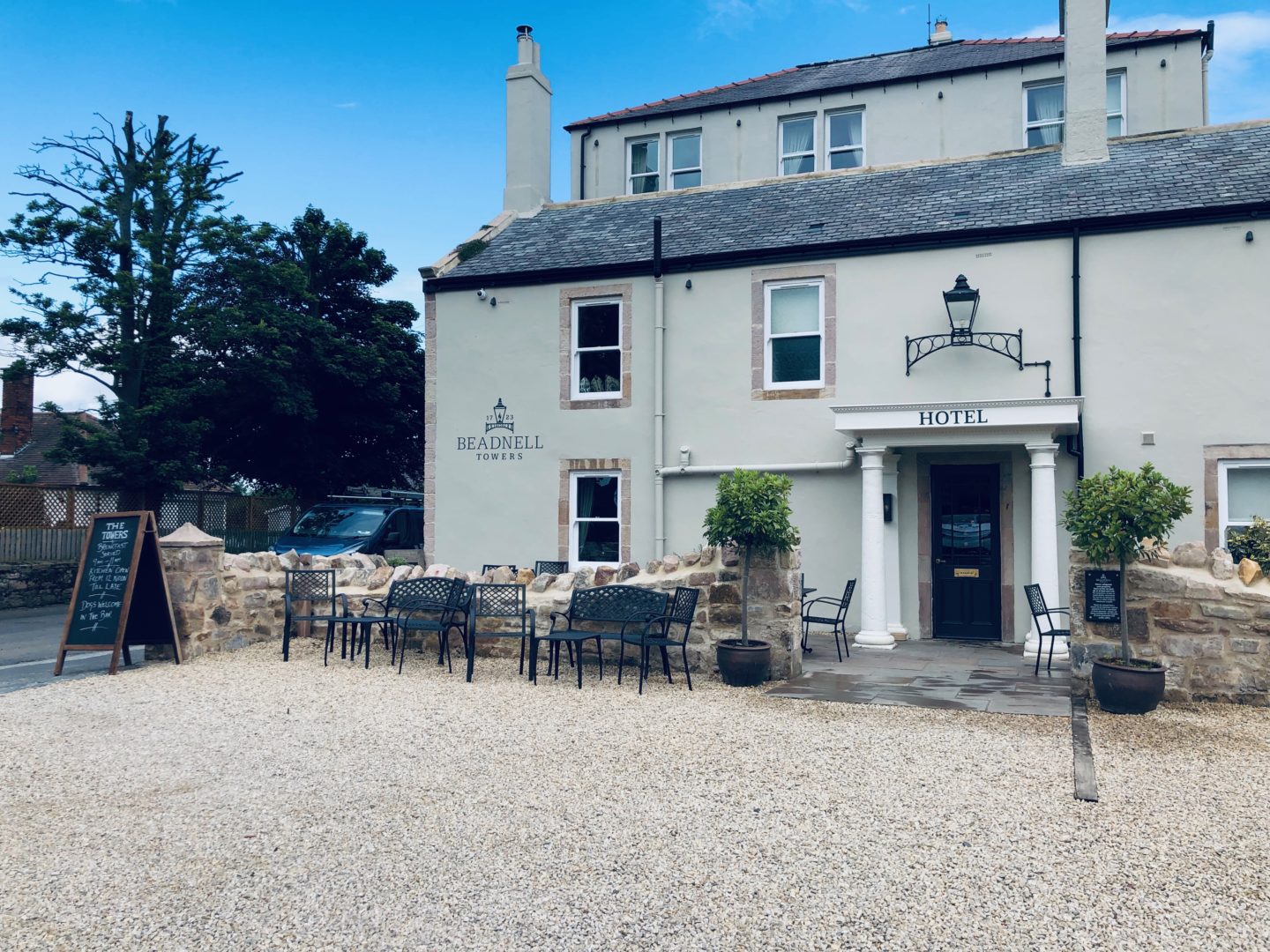 Beadnell Towers in Northumberland was recently given a £3 million refurbishment to turn the former 10-bed hotel into an 18-bedroomed destination venue. The transformation of the listed building took over 18 months to complete. It now boasts 18 individually designed bedrooms, a modern open kitchen, a spacious bar area, as well as a British-inspired menu.  The Bar and kitchen are open from breakfast onwards, seven days a week.
Cost of Beadnell Towers and how to book for bargain prices
We decided to try it out and booked a suite for the 4 of us which cost £240 for the night we booked it, including breakfast. Do bear in mind that this was summer season though. A quick look out of season shows rooms available for £135 a night. Top tip – Beadnell Towers is on Hotels.com (affiliate link) and you can use your Clubcard Boost so £5 of vouchers = £15 spend to get the hotel at a further reduced price. This means £45 of clubcard vouchers could get you a room with breakfast here on the cheaper nights if you book carefully which is a serious bargain for such a luxury hotel.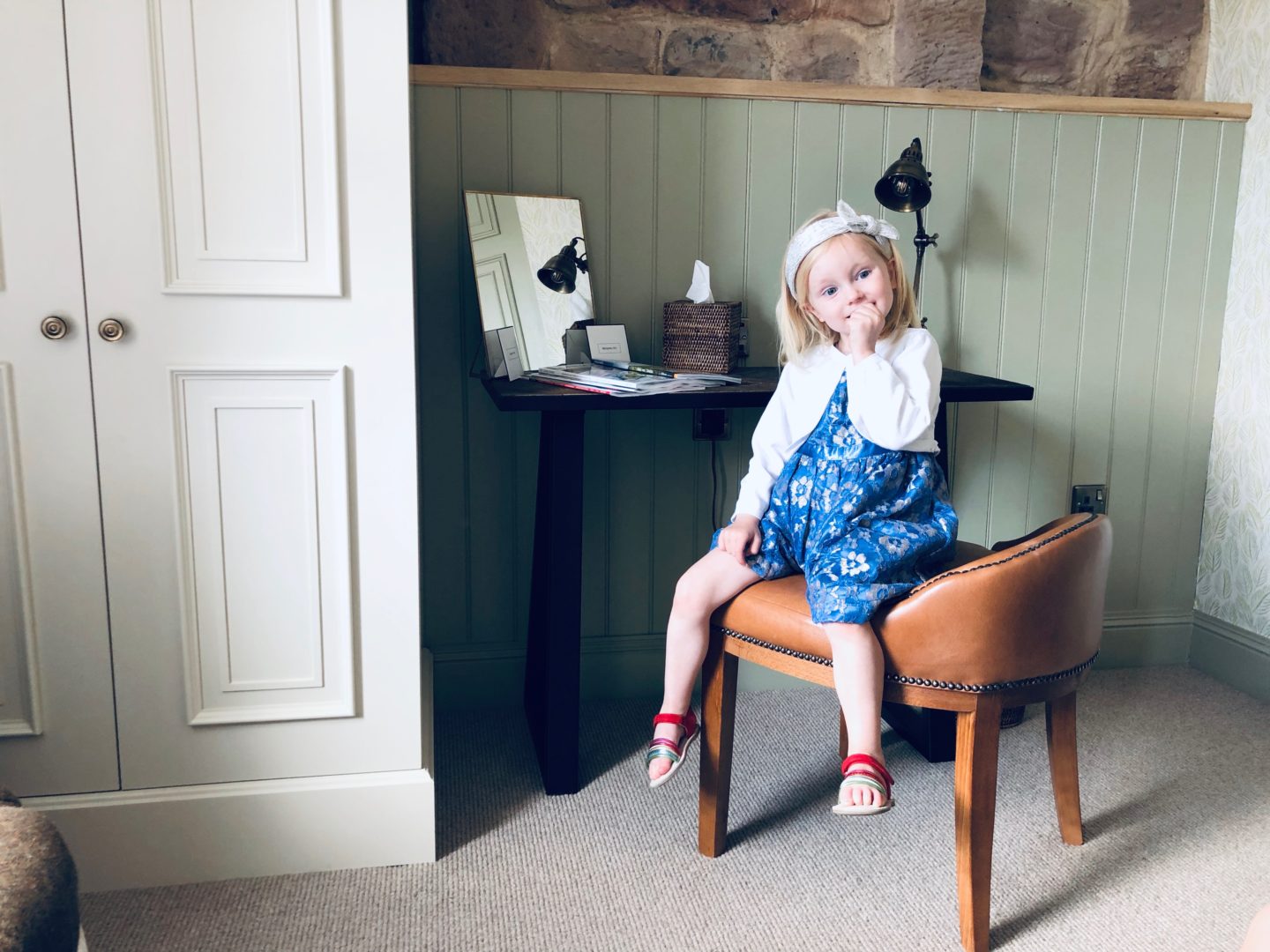 To be honest I'm a little disappointed we didn't get to spend more time at the hotel as we checked in (they kindly checked us in early) and then had to dash to the wedding straight away (we were nearly late and the last guests, we were so stressed!). Newton Hall is a 10-minute drive from Beadnell Towers. A word of caution – there is only one taxi company in the area so if you need one, book ahead. We popped back to the hotel after the ceremony to drop off the car and tried to get a taxi back to the wedding but as it was around 3pm they were all booked up for the school runs.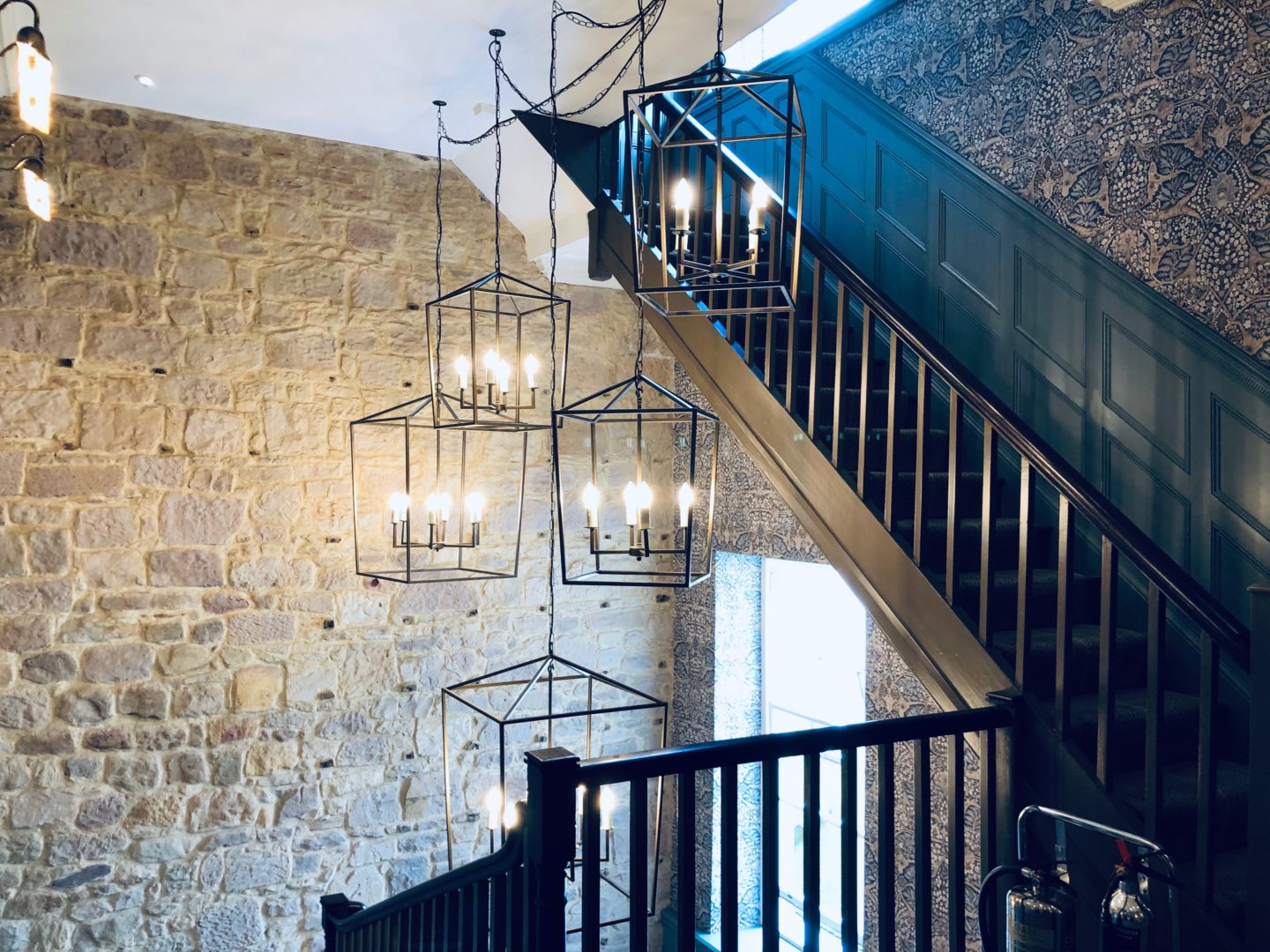 The hotel is decorated to a high standard and I found myself admiring many of the fixtures and fittings as I strolled through the hotel. It has a rustic but modern feel to it with authentic stonework and timbers paired with modern features and colour schemes (lots of dark blues and earthy tones).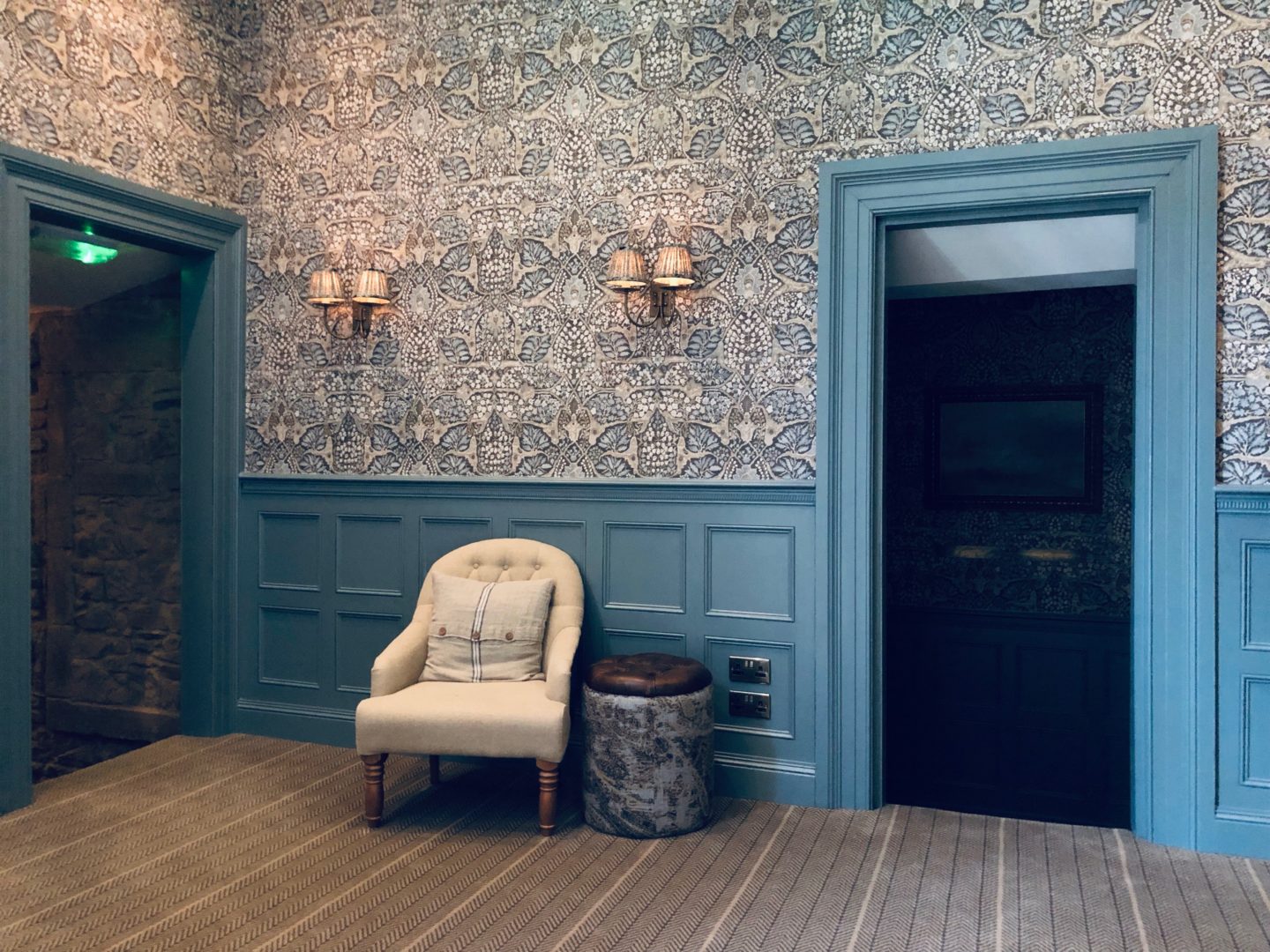 In our room, there was a large double bed that was really comfy. Then there was an adjoining room with a stylish sofa bed that pulled out into a decent double bed. The next room didn't have a door but a gap where a door would be in the stone wall. This was handy for the kids as they weren't shut in so we could hear them but we all had a bit of space and privacy.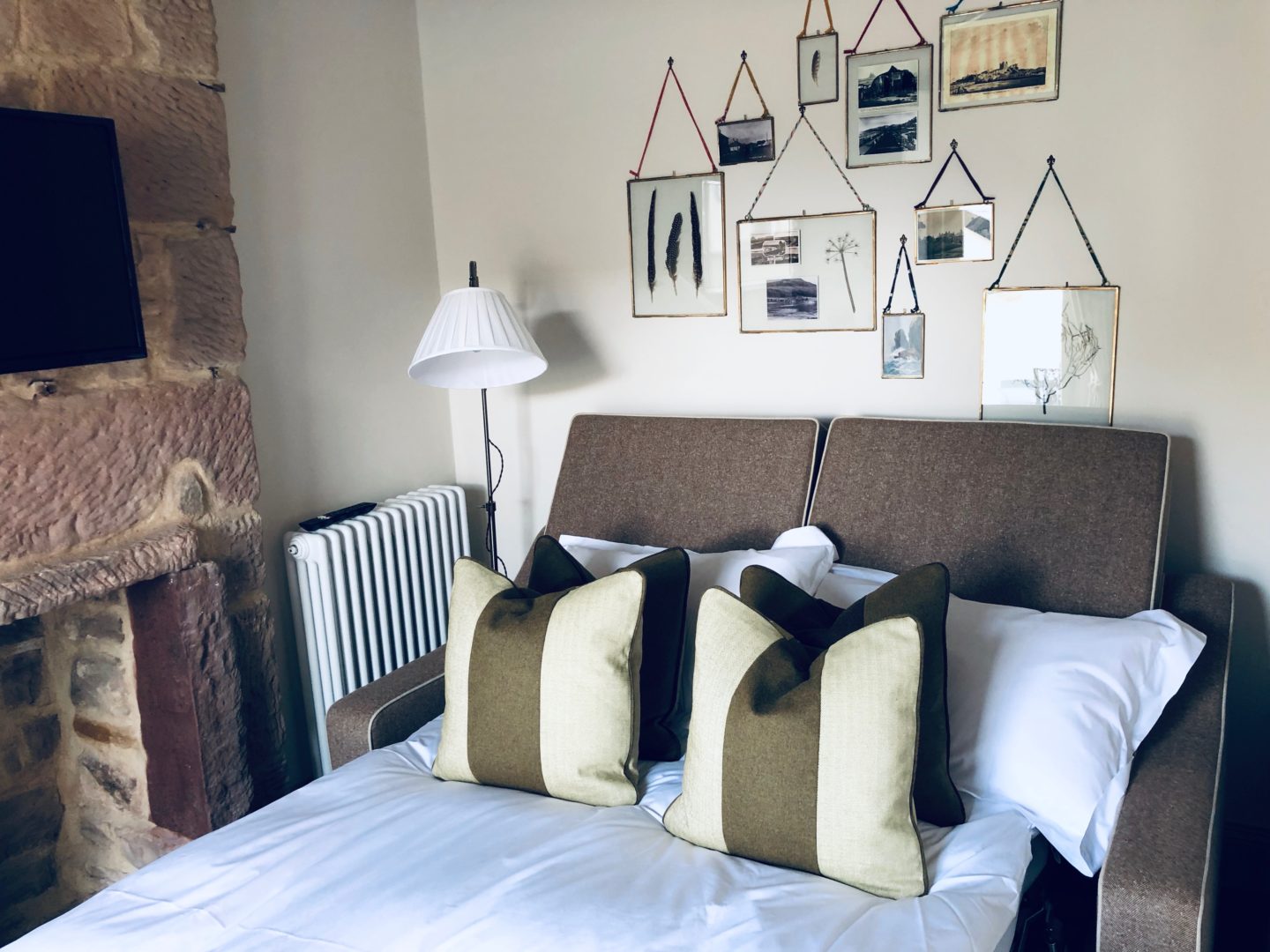 Then through that small room, there was a bathroom which was designed and decorated to a high standard with modern fixtures and fittings. We had all showered before we left that morning so we didn't actually need a shower while we were there which was a shame as the shower had a rainforest showerhead and beautiful tiles.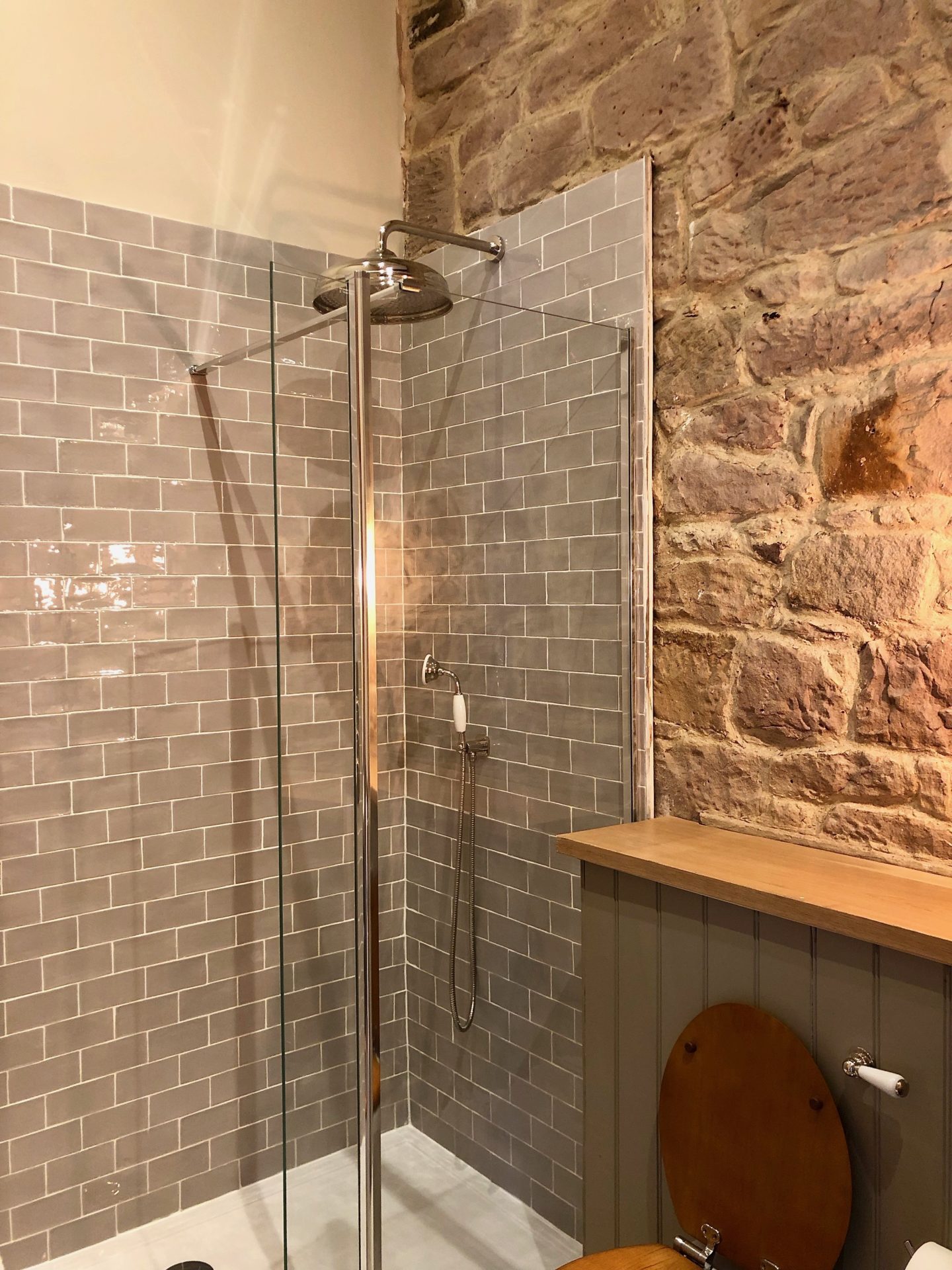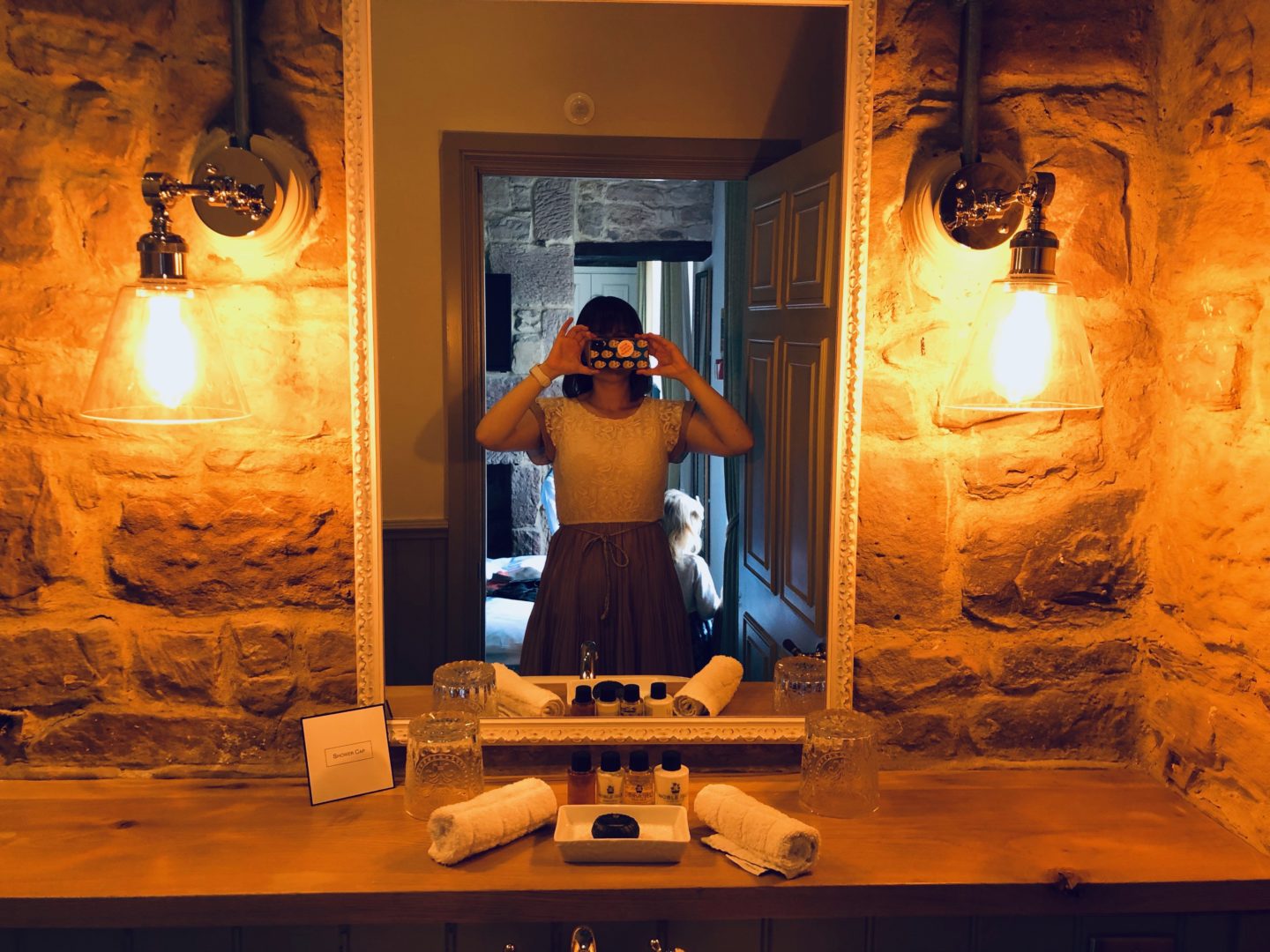 Our room was small around the edges for 4 people – we did feel like we were squeezing past each other a bit at times but it felt very luxurious nonetheless and would be the perfect hotel for a special treat or occasion.
There was also a door that opened out on to a roof terrace that was handy for letting the kids get a little fresh air. I would have liked to have some drinks out there but unfortunately, we didn't have time on this occasion.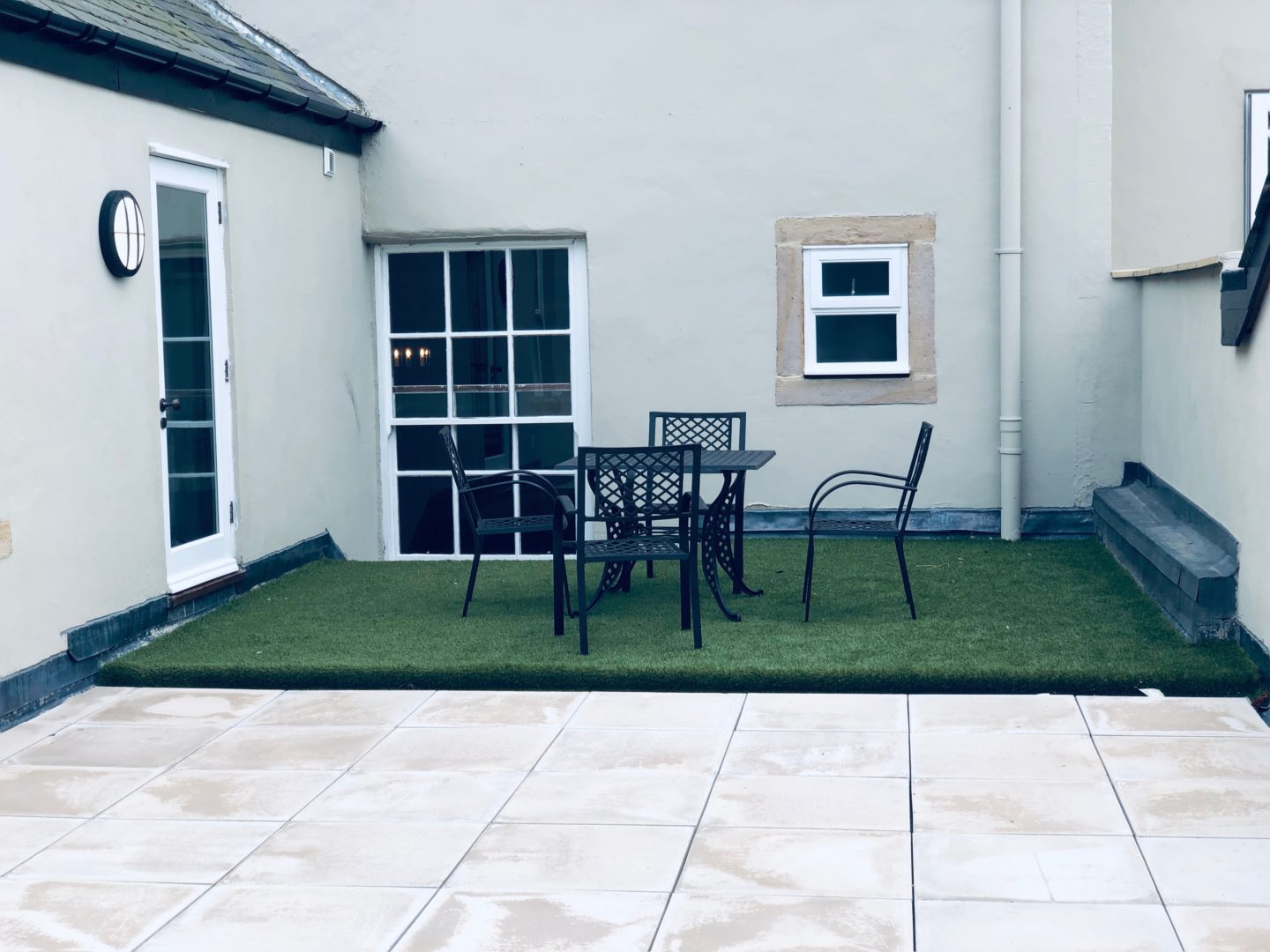 The highlight of our stay at Beadnell Towers hotel was the breakfast. The restaurant itself was gorgeous. I loved the colour scheme of mustard yellow leather chairs with deep blues. Like the rest of the hotel, the design had lots of texture with ropes and brass pots hanging from the walls. The staff in the restaurant were so personable and friendly. We warmed to them straight away.
During our breakfast, there was a German couple eating breakfast with their baby happily in a bouncer on the floor, and some other couples/families of various ages dotted about. It felt 'upmarket' but relaxed. There was a small continental buffet that you could help yourself to – bread to toast, croissants, pain au chocolat and other baked pastries. There was a selection of cereals, juices and yoghurts. I was pleased to see a range of kinds of milk including soya and almond so my dairy-free son was well catered for.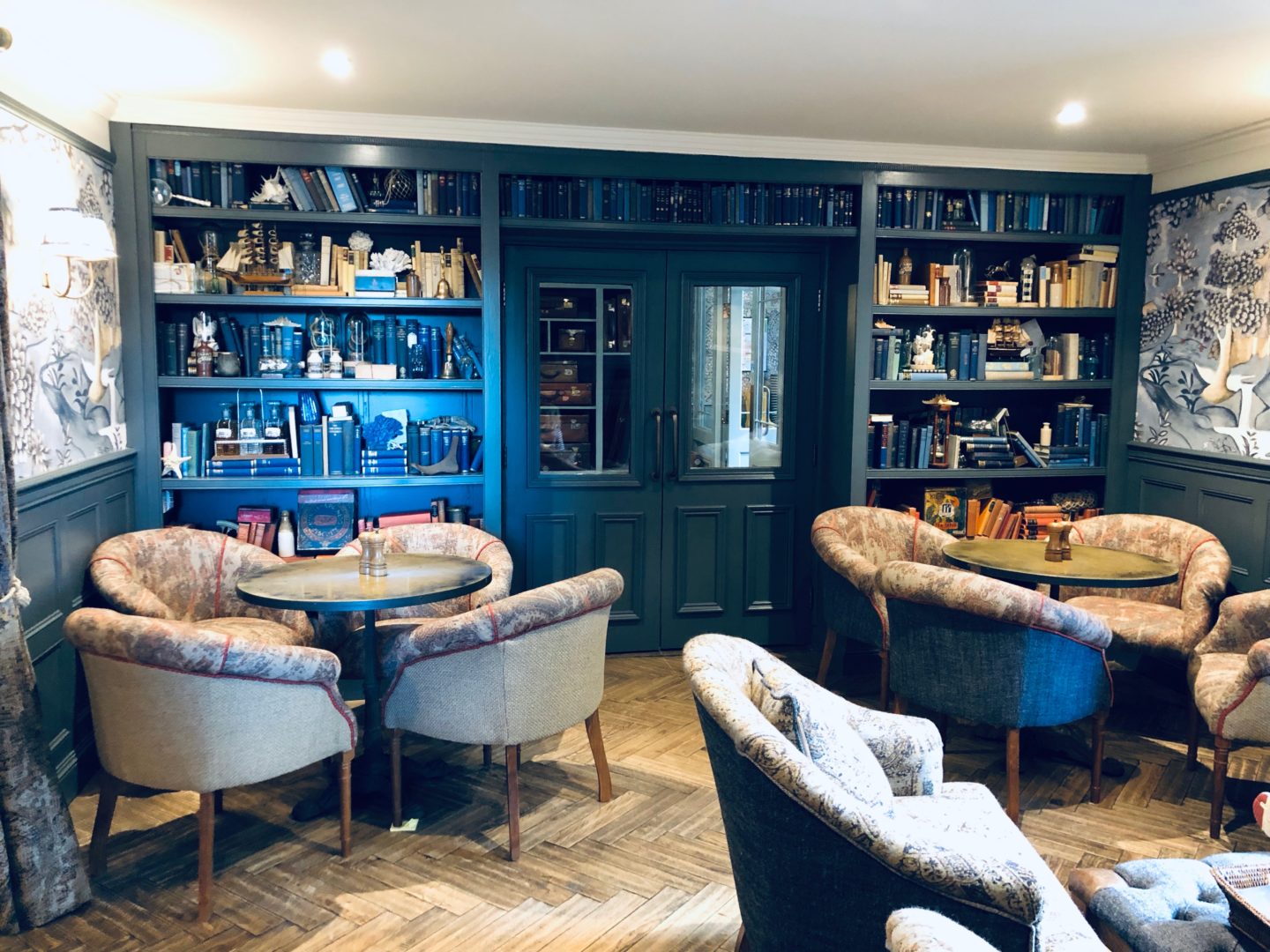 In addition to the buffet, there was also a great menu to order hot cooked breakfasts. Lena (who has a sweet tooth) ordered pancakes with Nutella which I risked pinching some of (Lena doesn't share her chocolate!) and can confirm it was delicious.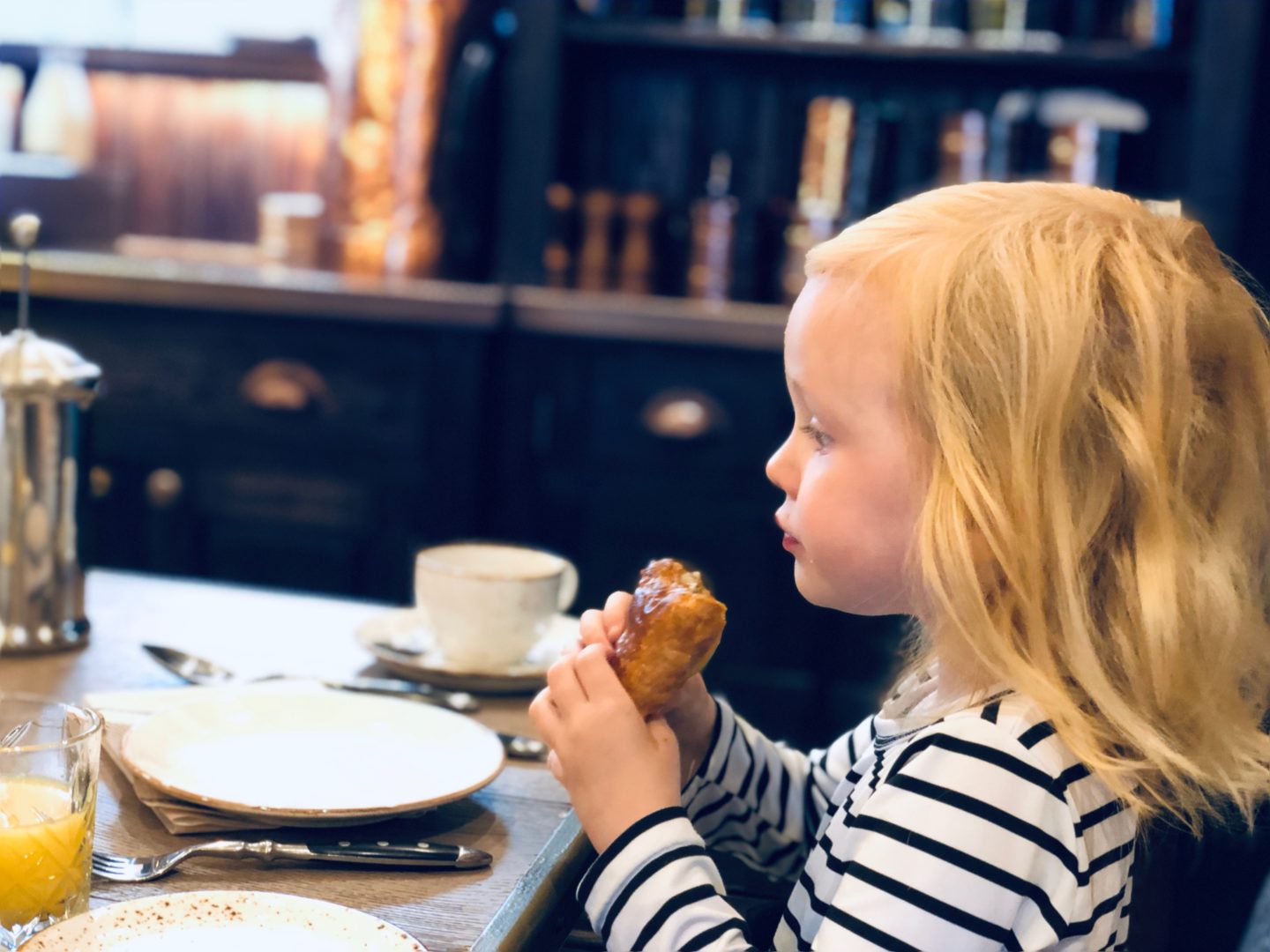 Arlo ordered the cooked breakfast which he said was yummy but he didn't share any of the good stuff with me to confirm! There were no kids-sized breakfasts so they were large portions for them but it meant we could all have a try of each other's without anyone feeling too put out.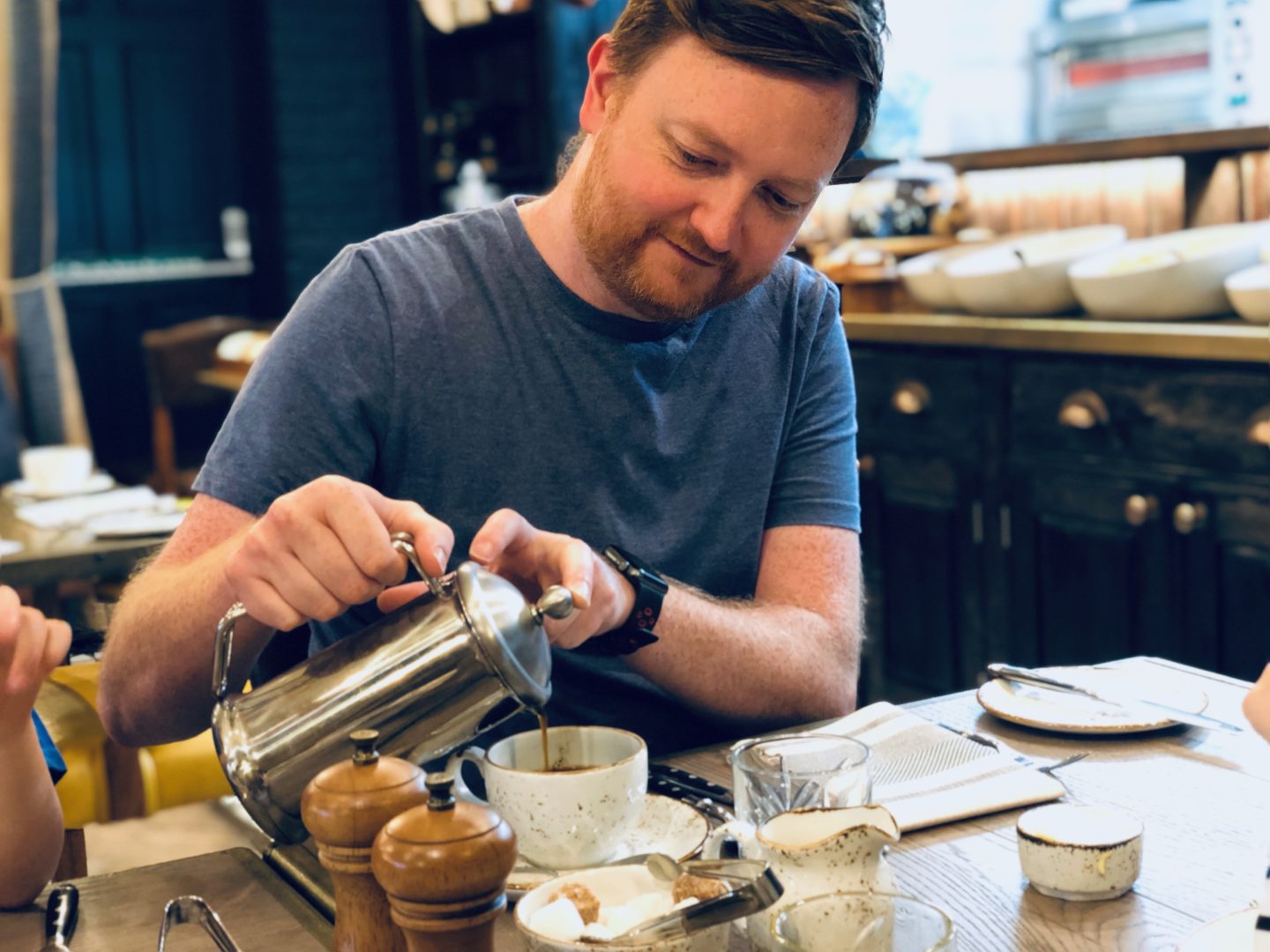 Seeing some local grilled Seahouses kippers on the menu I thought it would be rude not to try those and I'm pleased I did, they were delicious. If you don't like fish the restaurant does have a smell of kippers about it (or did on the day we went). We all love fish though so it wasn't an issue for us at all. Papa Ginge chose his breakfast favourite, the Eggs Royal with smoked salmon and he rated it highly. I'd say all the portions were generous and we couldn't fault any of the food or the service. I bet dinner there is a real treat. I'd love to return one day and try it out.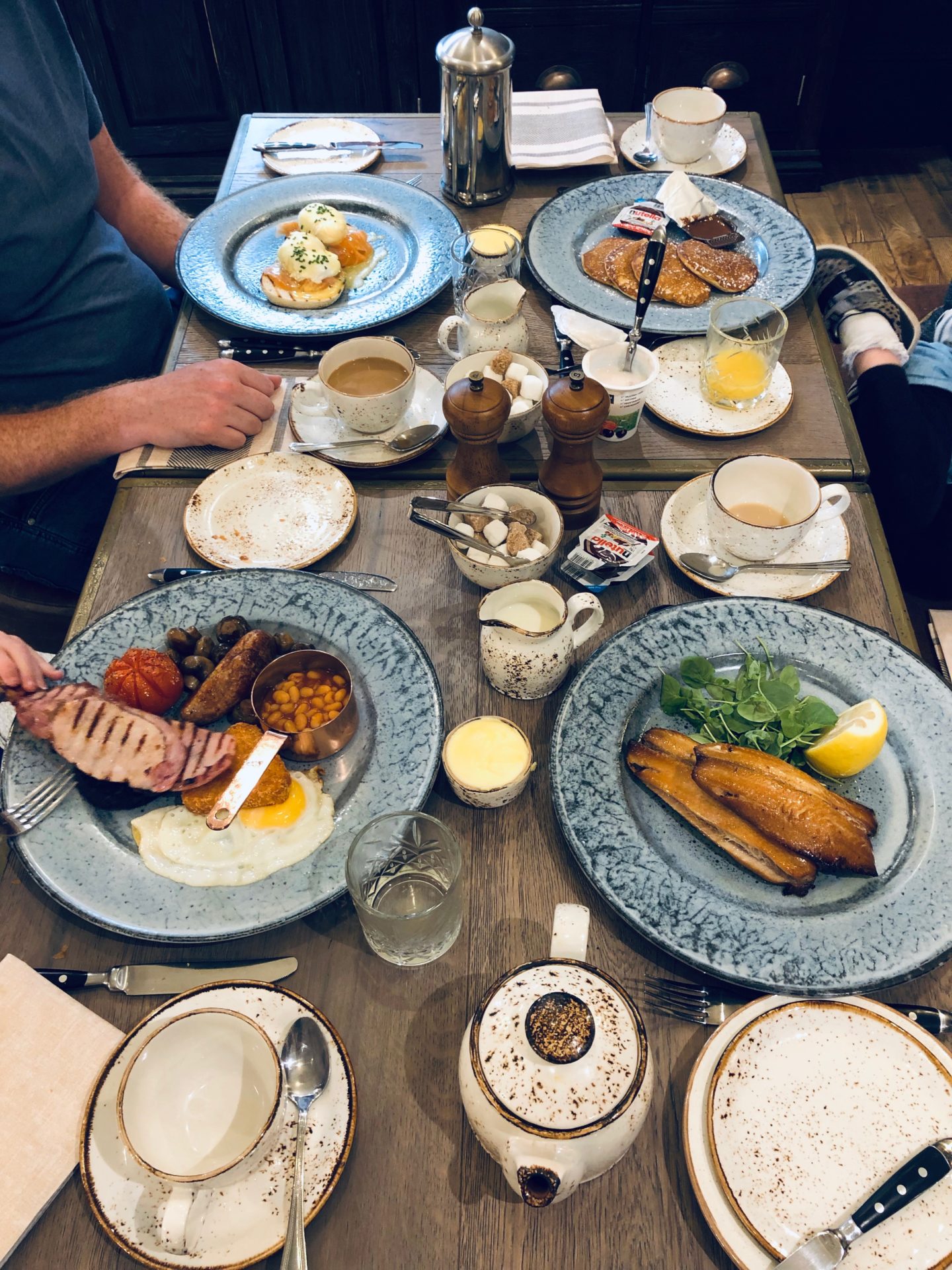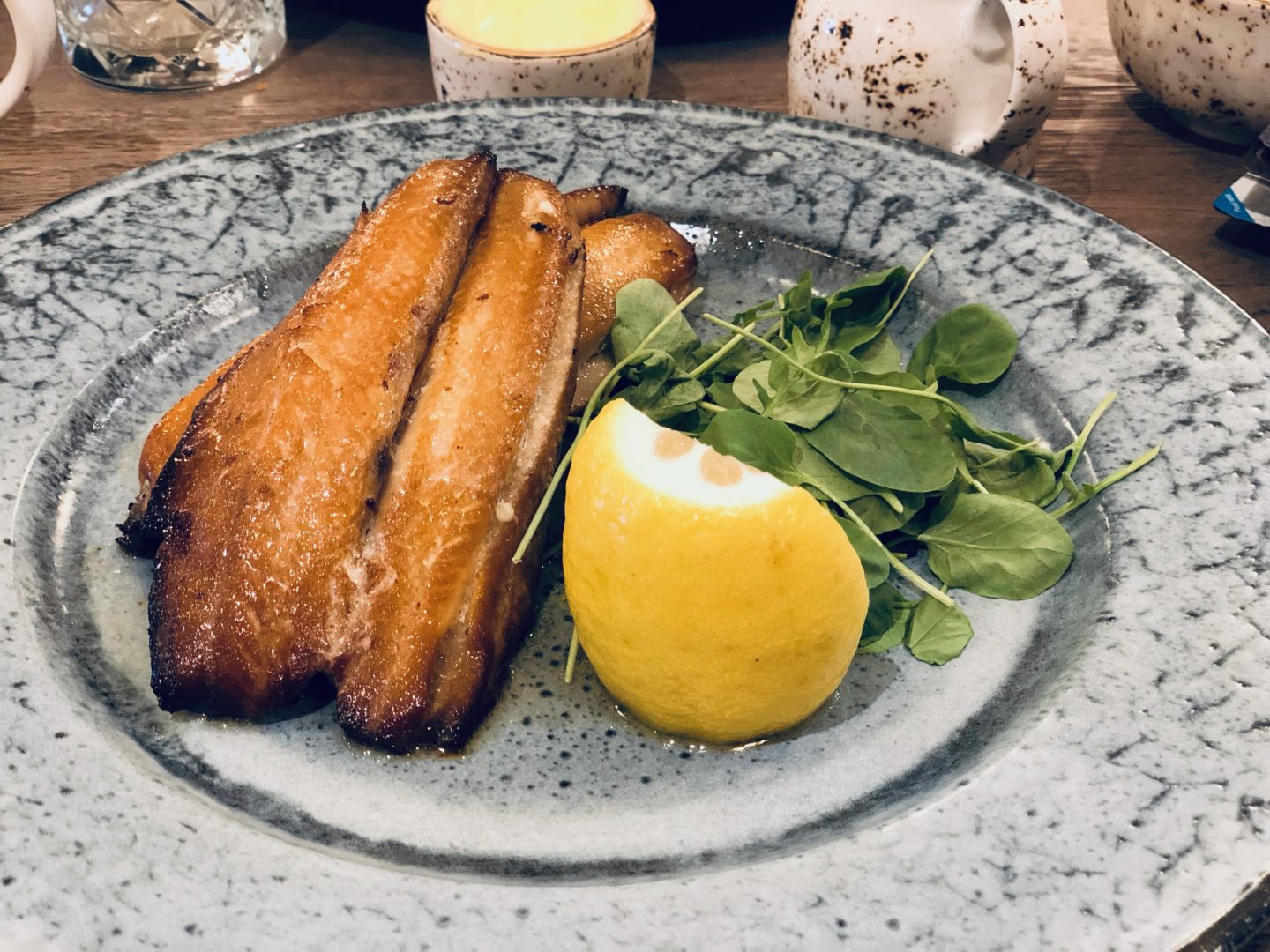 The hotel had little thoughtful touches that made it extra special, for example, wellies, umbrellas and buckets and spades for guests at the door. For those who wanted to explore the area but had forgotten their own stuff.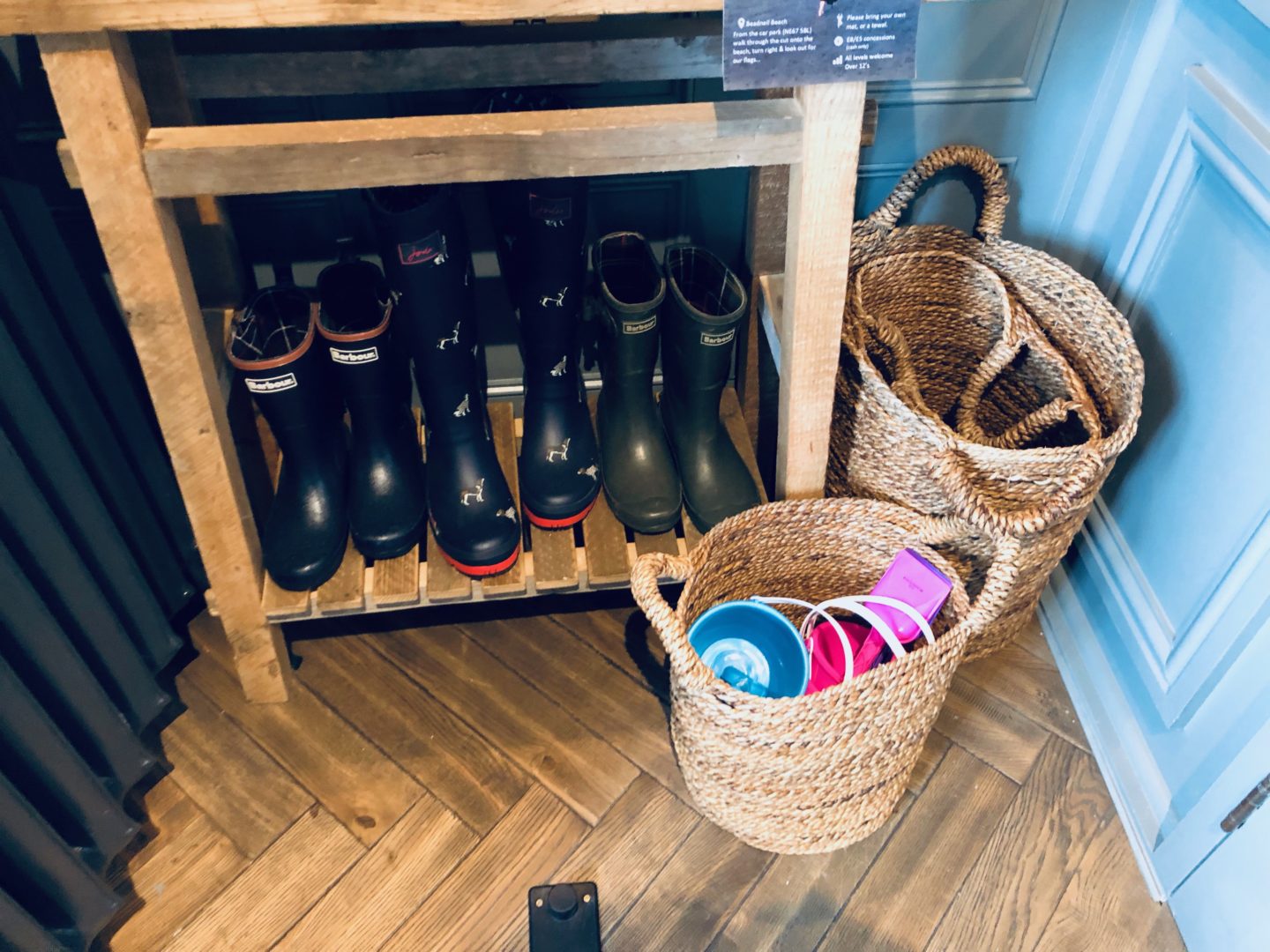 Huge shout out to the staff at Beadnell Towers who are currently arranging to have Papa Ginge's suit posted back to us after he left it in the wardrobe by mistake. They were so kind about it and demonstrated first-class customer service in sorting that out for us.
All in all, would thoroughly recommend and we would love to return.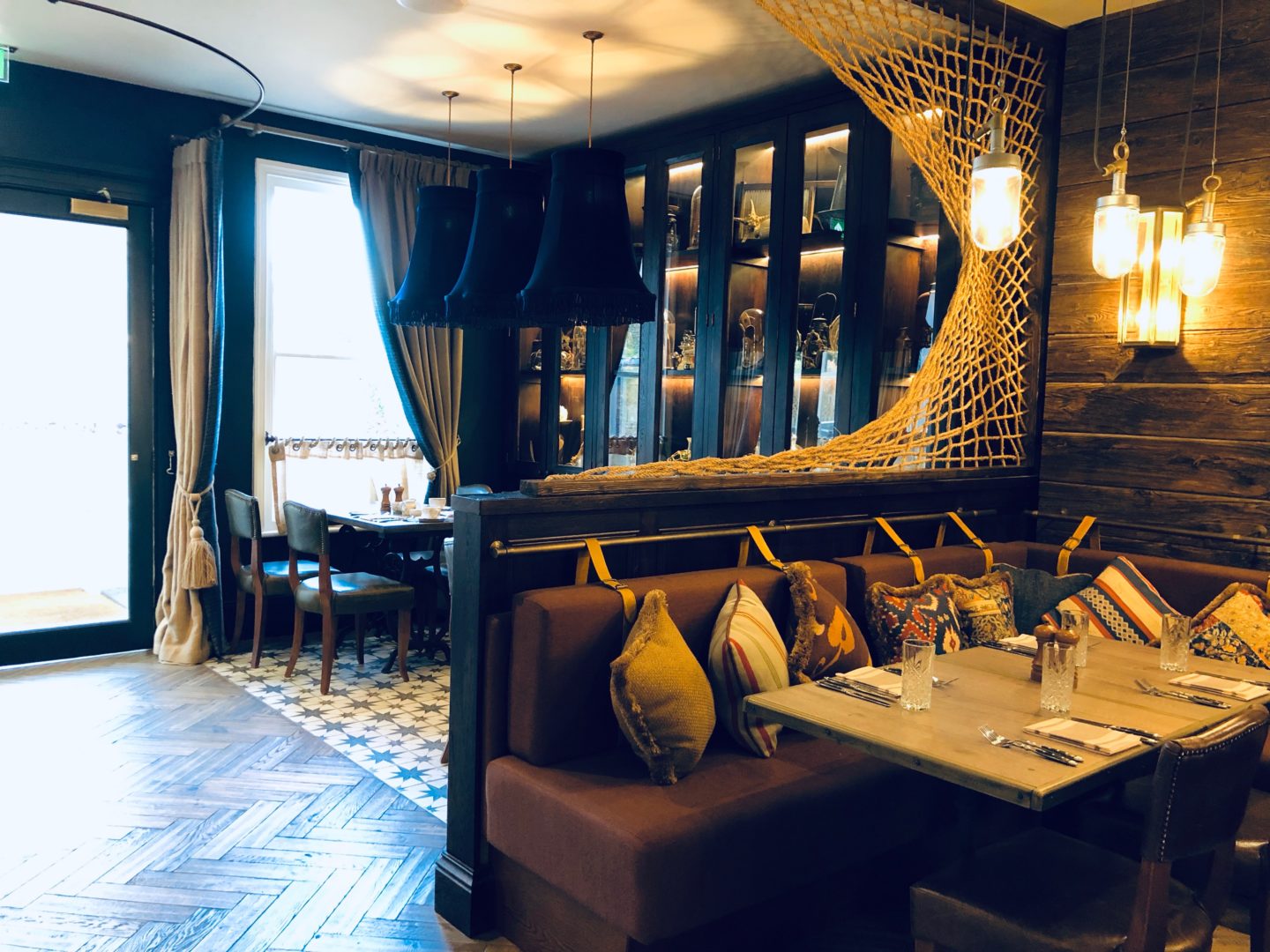 What else we did on our visit to Bamburgh Castle – Farne Islands Boat Tour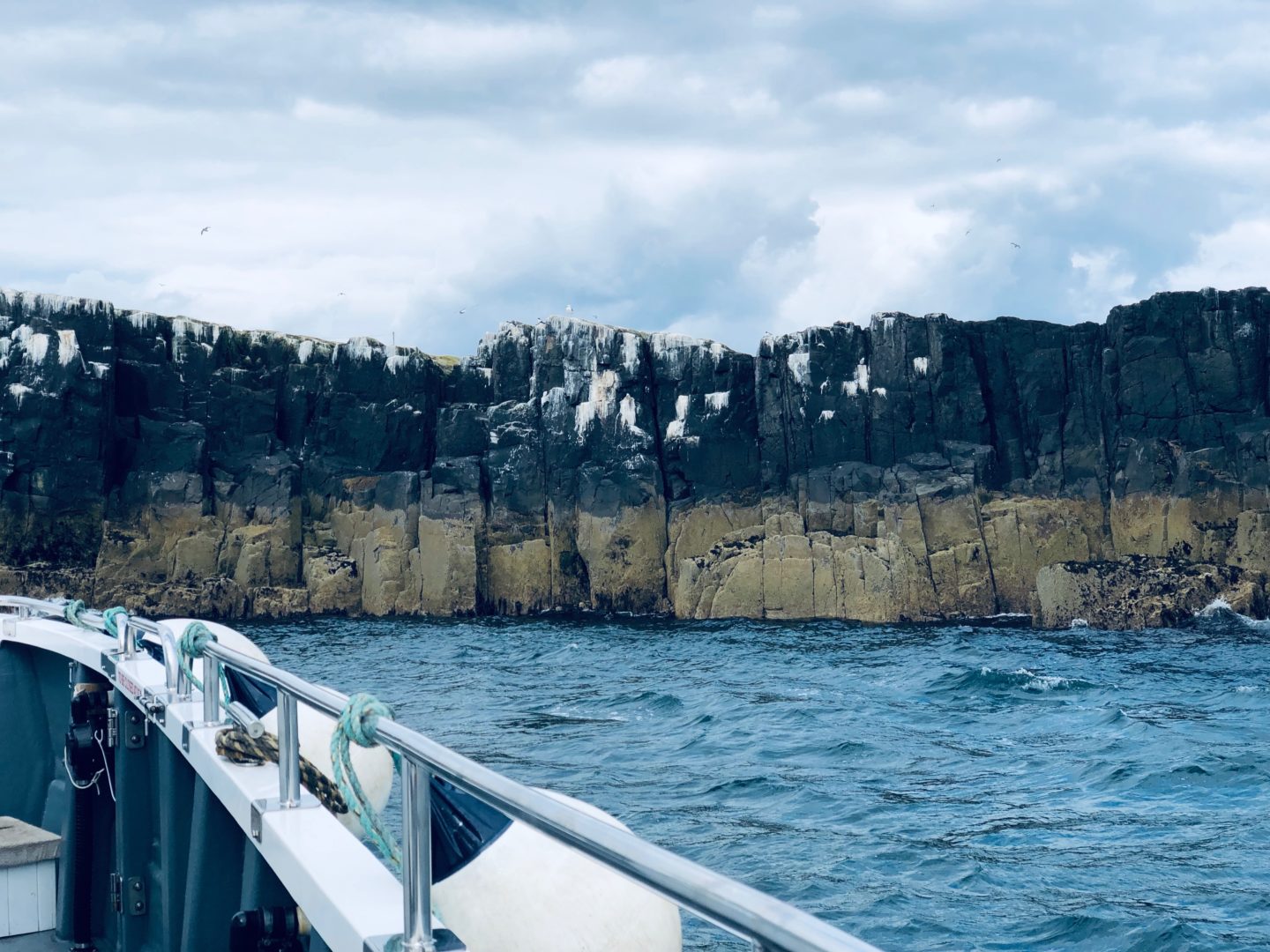 After breakfast, we made a short 5-minute drive down to the harbour at Seahouses for a Farne Islands boat tour. I had seen on Facebook that dolphins had been spotted earlier in the week so was hoping that we would spy some. Unfortunately, we weren't so lucky but we did have a great time looking at the seals and the puffins.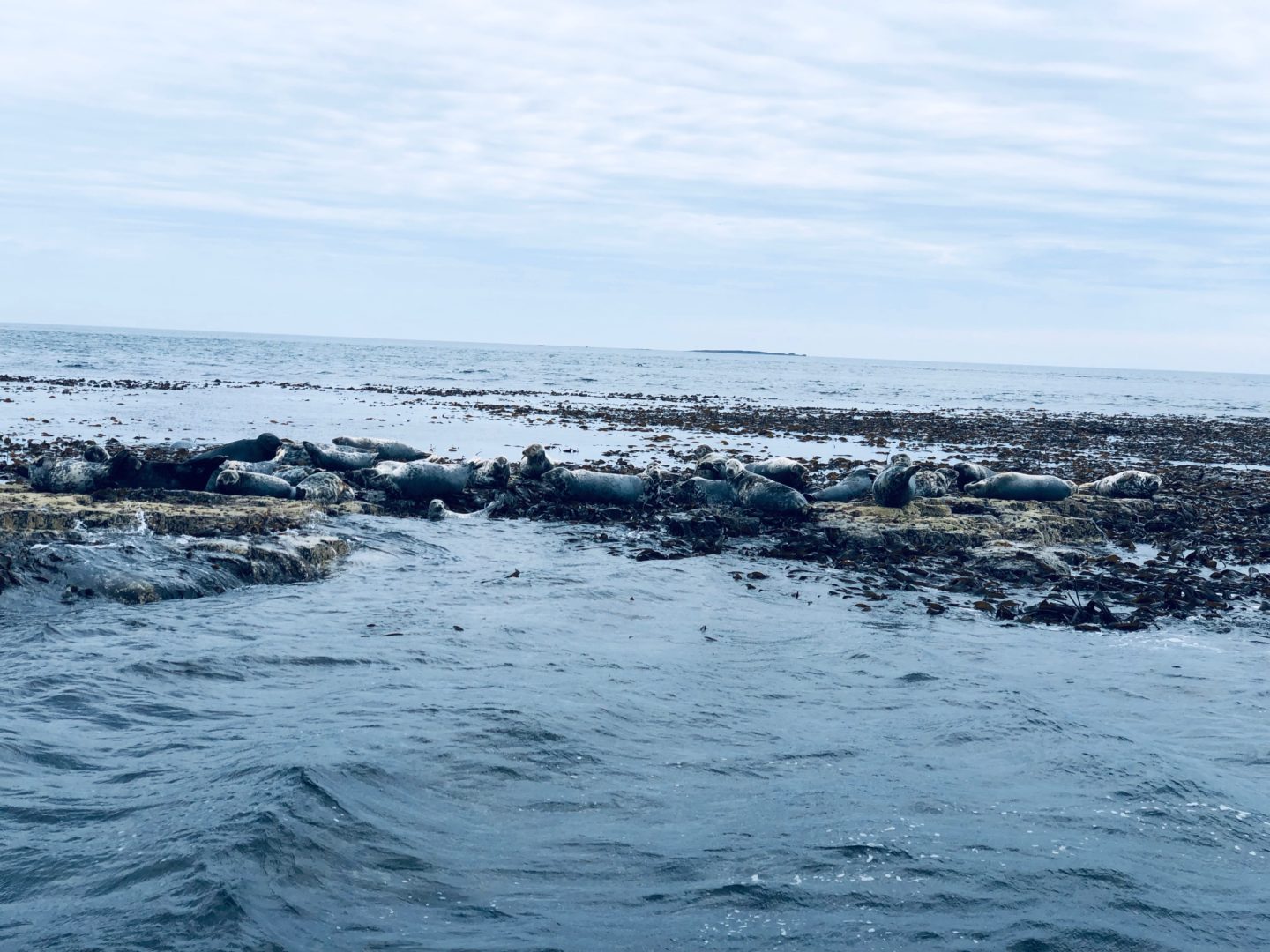 One of the Tour Guides on the boat also pulled a sea urchin and some crabs out the water that the kids got to touch. It's definitely worth doing a boat tour if you are in the area – there are several different providers doing different kinds of tours all at the harbour.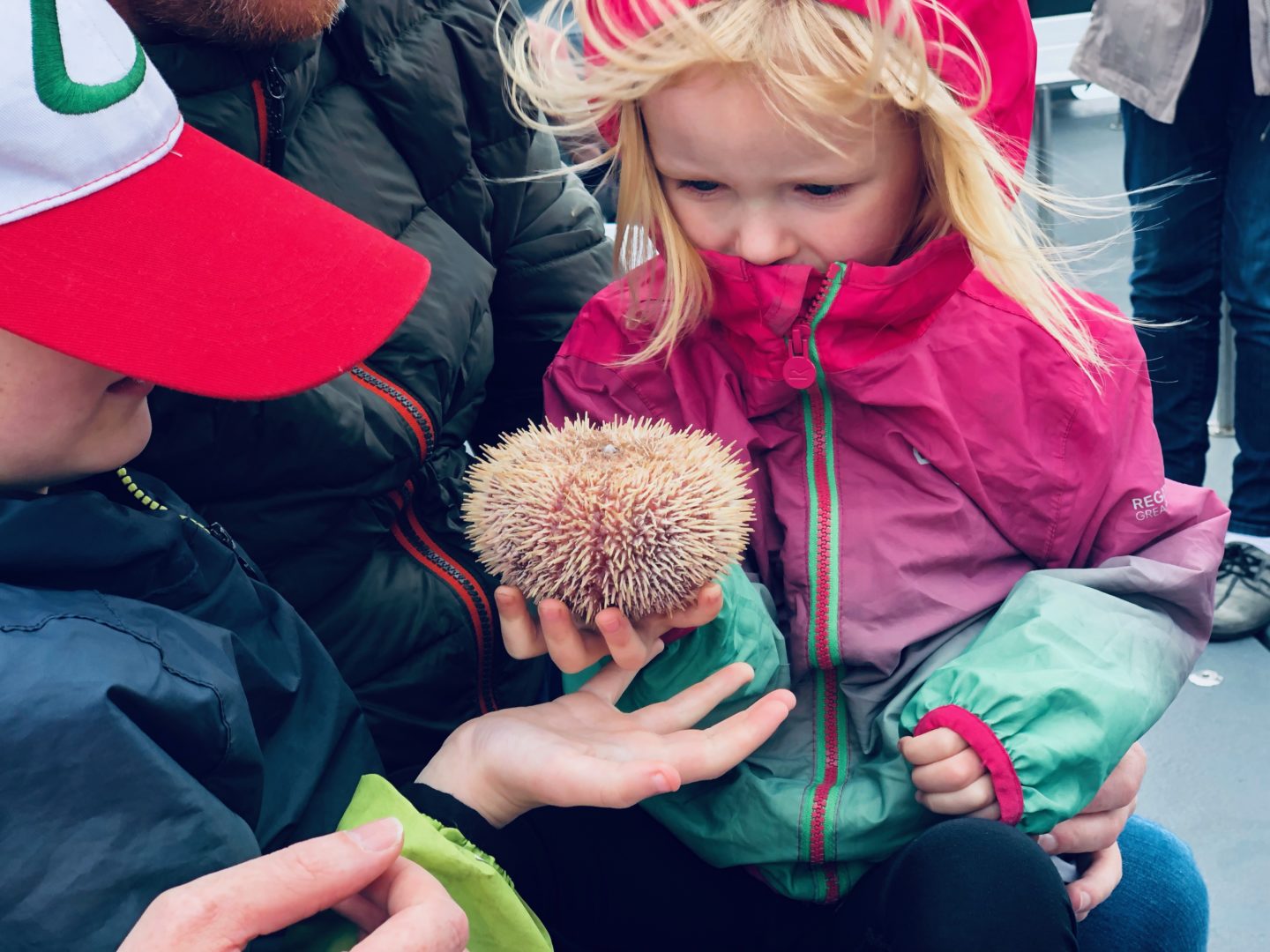 We did find parking a challenge as there were construction works on during our visit so perhaps leave more time than you think. I got told off by the woman on reception as we were only 5 minutes early due to the construction chaos! She said there had been a warning on the site to inform us but I'd had no such warning when I booked our tickets, it must have been added afterwards.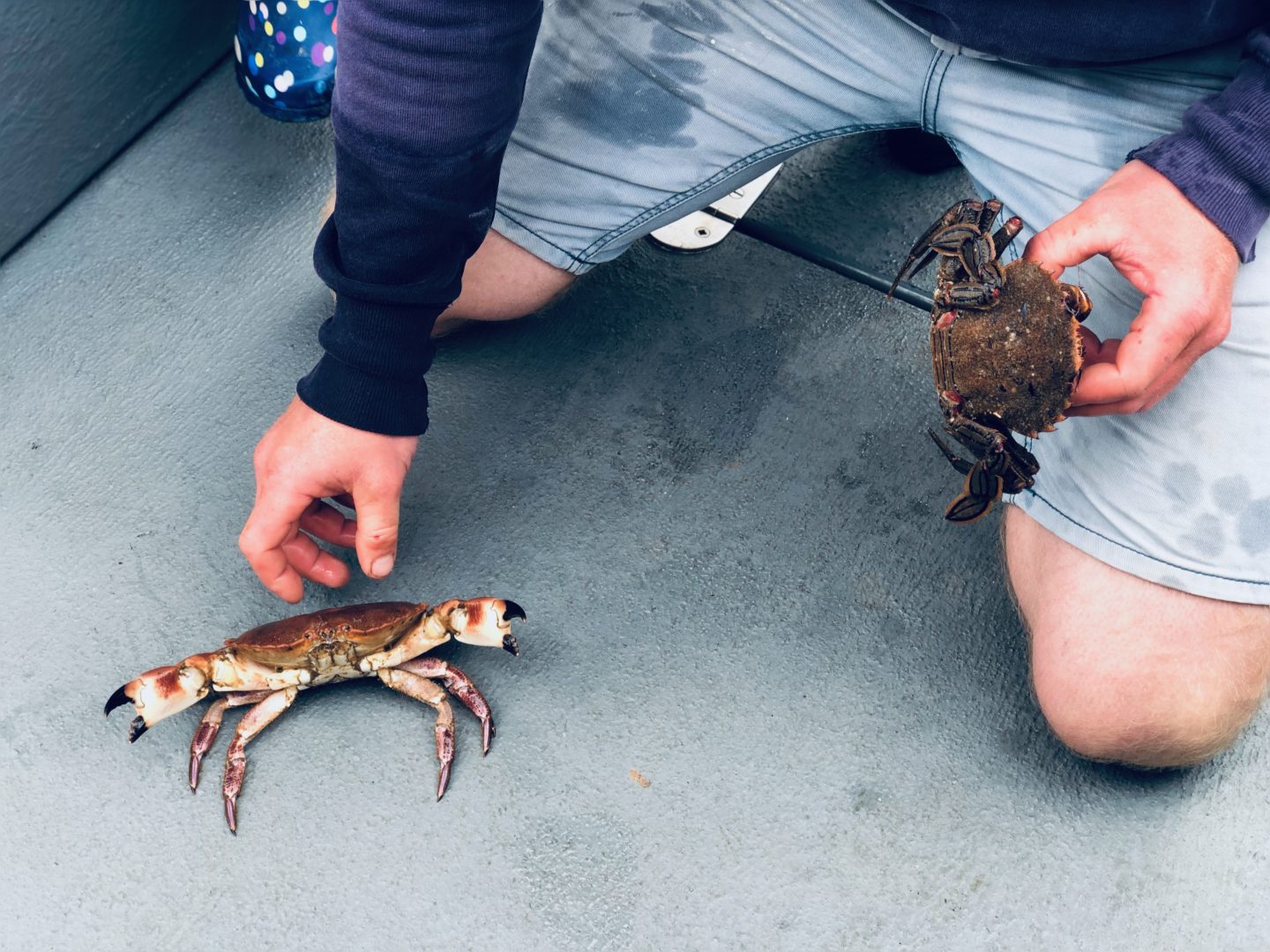 The boat trips seemed to be priced around £15 per person (for the quick inner island tour that we did, prices vary for other tours and depending on the provider) but watch out for money off vouchers in the hotels as ours had little pamphlets with £1 off per person that we were able to use to knock our total cost down by £4.
Side note – I had better WiFi on the boat in the ocean than I do in my town, go figure.
Where we ate – Bamburgh Castle Inn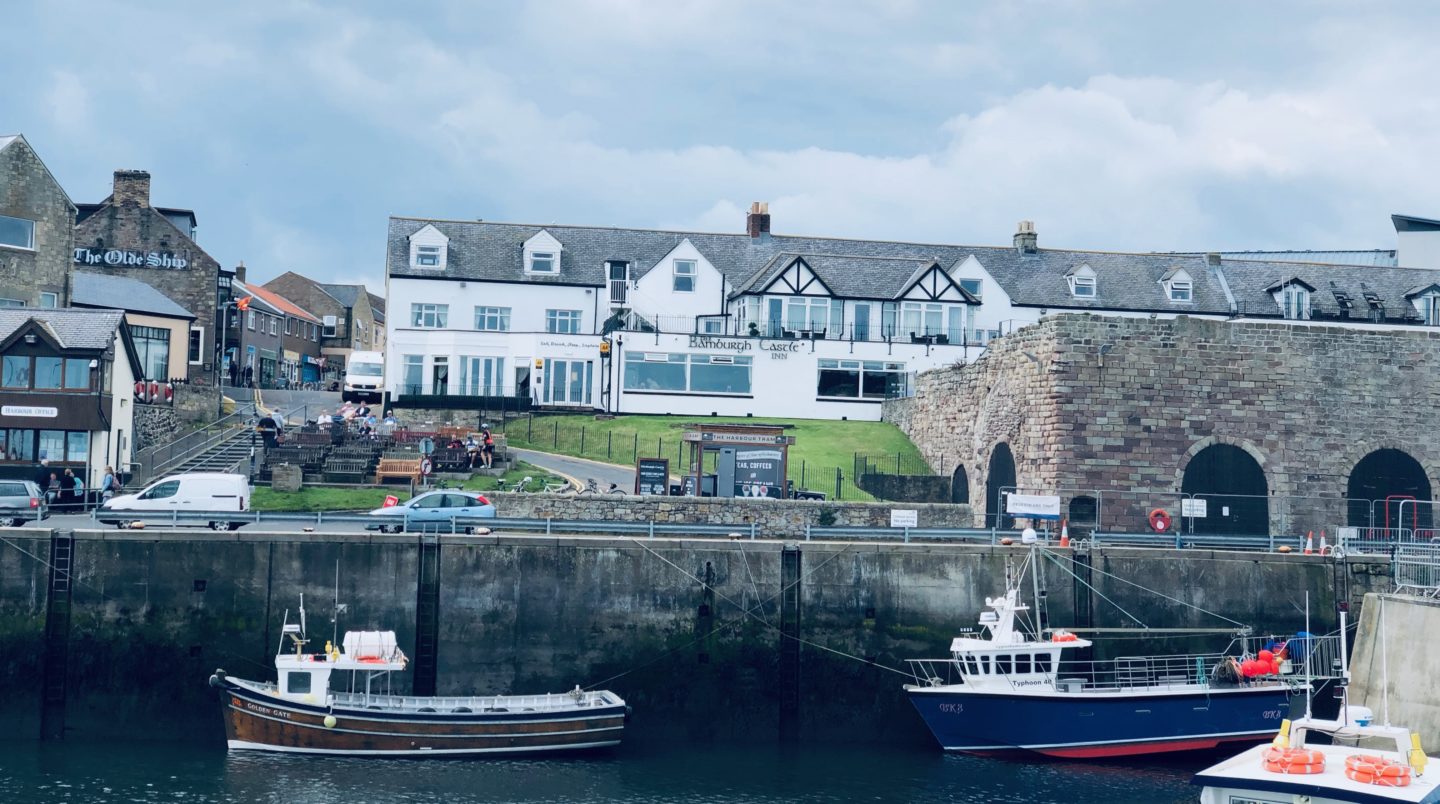 We came off the Farne Islands boat tour at noon and the kids were hungry again, luckily, right across from the Seahouses harbour is Bamburgh Castle Inn – a traditional harbour pub with rooms. It was lovely to walk straight off the chilly boat and straight into the warm pub/restaurant with all its homely welcoming smells and softly playing music. The Bamburgh Castle Inn restaurant was nicely decorated and had an informal and relaxed ambience about it. We chose a table by the window with views overlooking the harbour.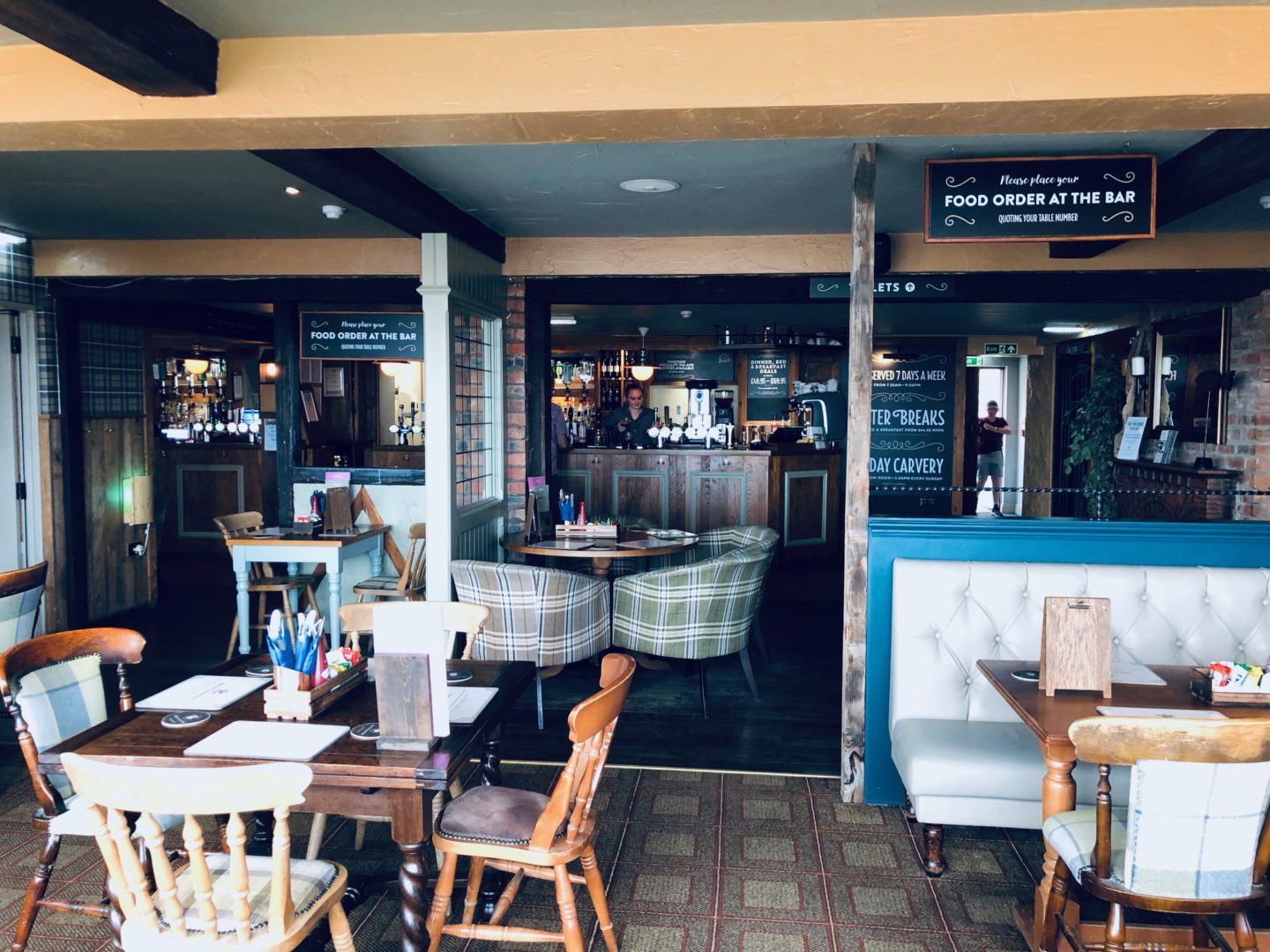 I ordered a mojito cocktail, Papa Ginge got a coke and the kids both ordered a Fruit Shoot each.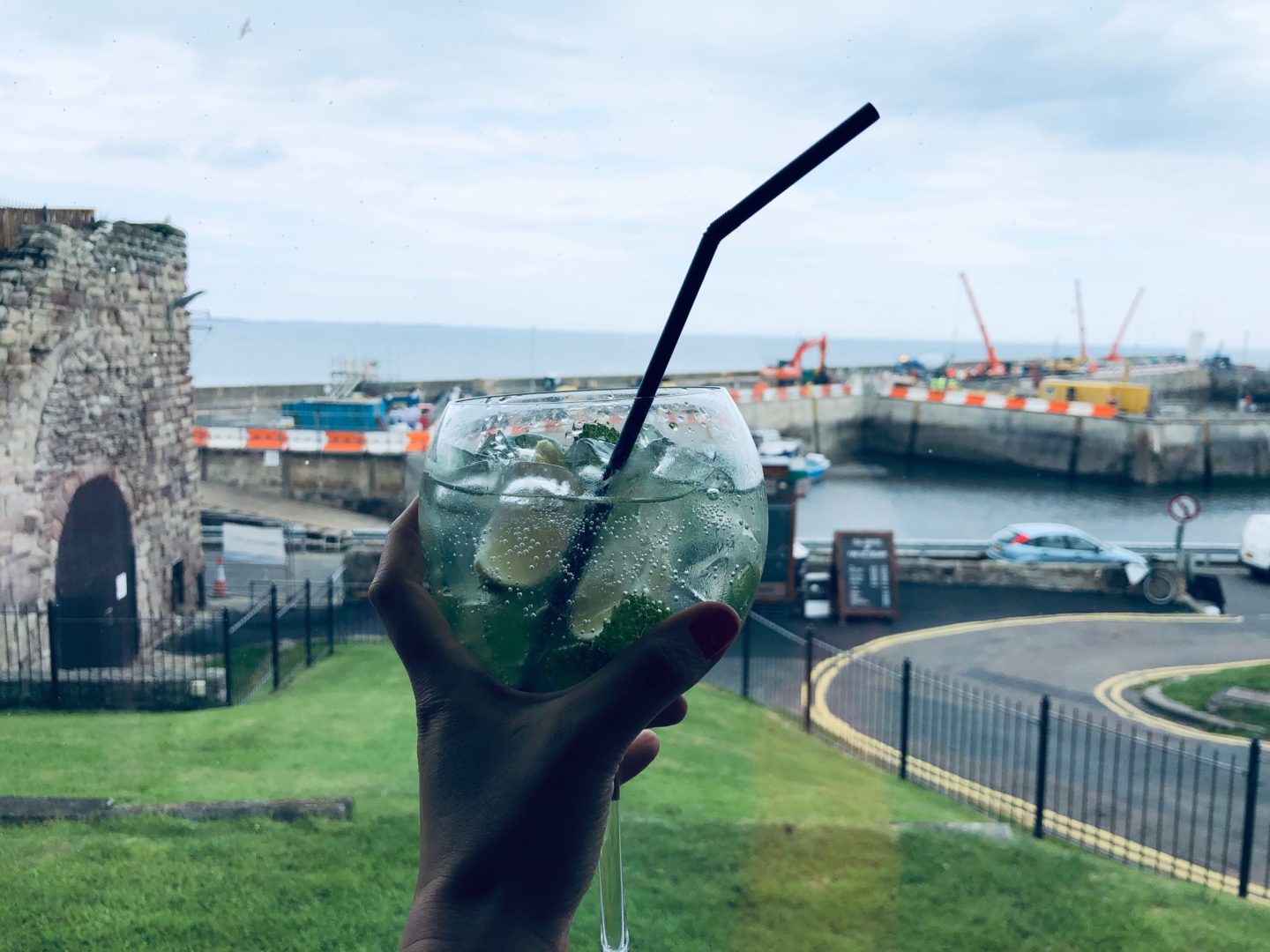 A member of staff brought over an activity booklet and crayons for the kids which helped entertain them while we waited for the food. All of the staff we met were really friendly, helpful and a credit to the Bamburgh Castle Inn.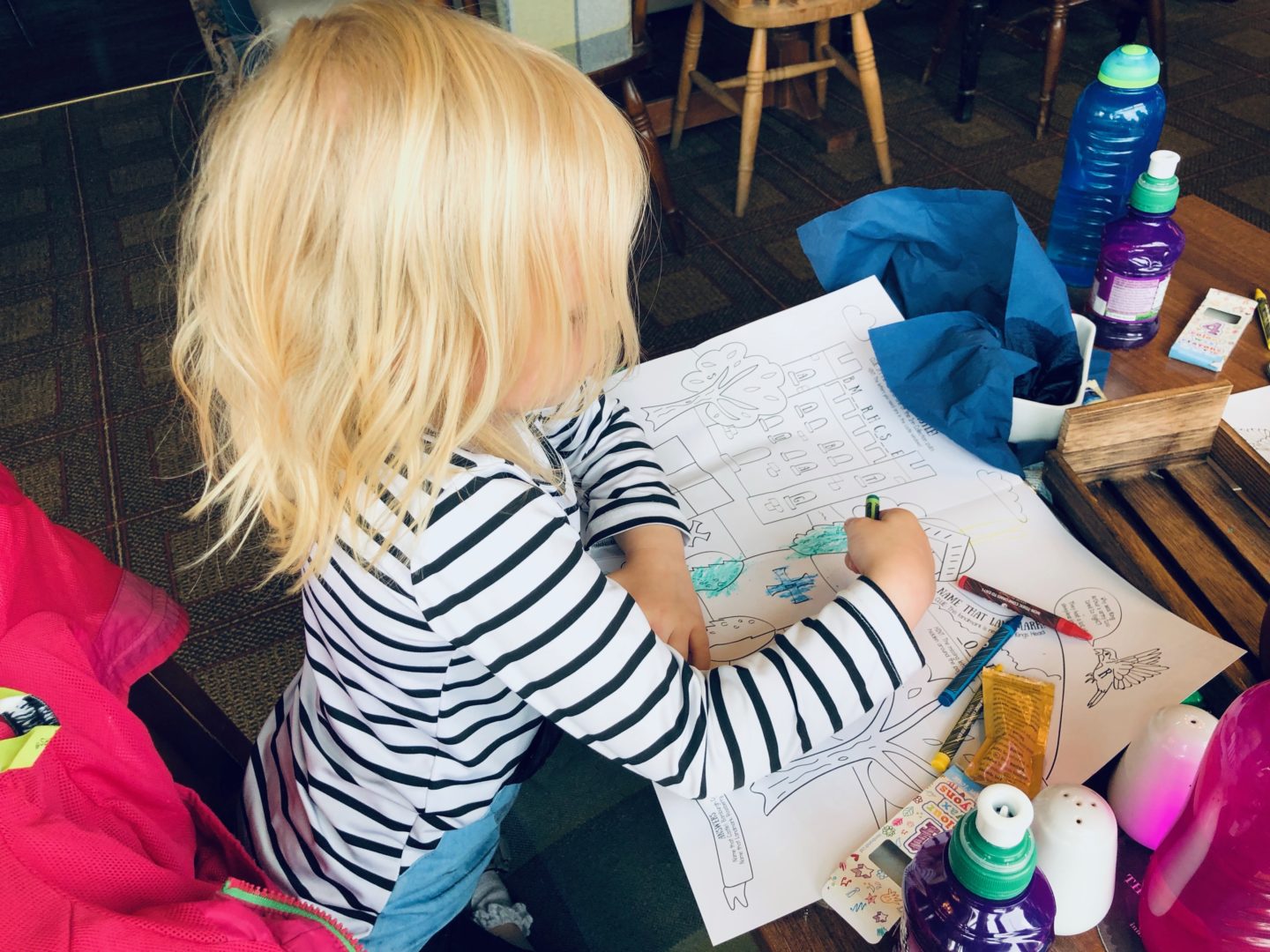 I ordered the steamed seabass on crab, borlotti bean and samphire broth. Lena ordered the kid's pizza with chips and peas. Papa Ginge ordered the large fish and chips and our 7 year old ordered the kid's fish and chips. The fish and the batter on it was perfect. I got food envy when I tasted it to be honest. It tasted like it came from a really good chippy. It's not often you get fish and chips that good in a restaurant.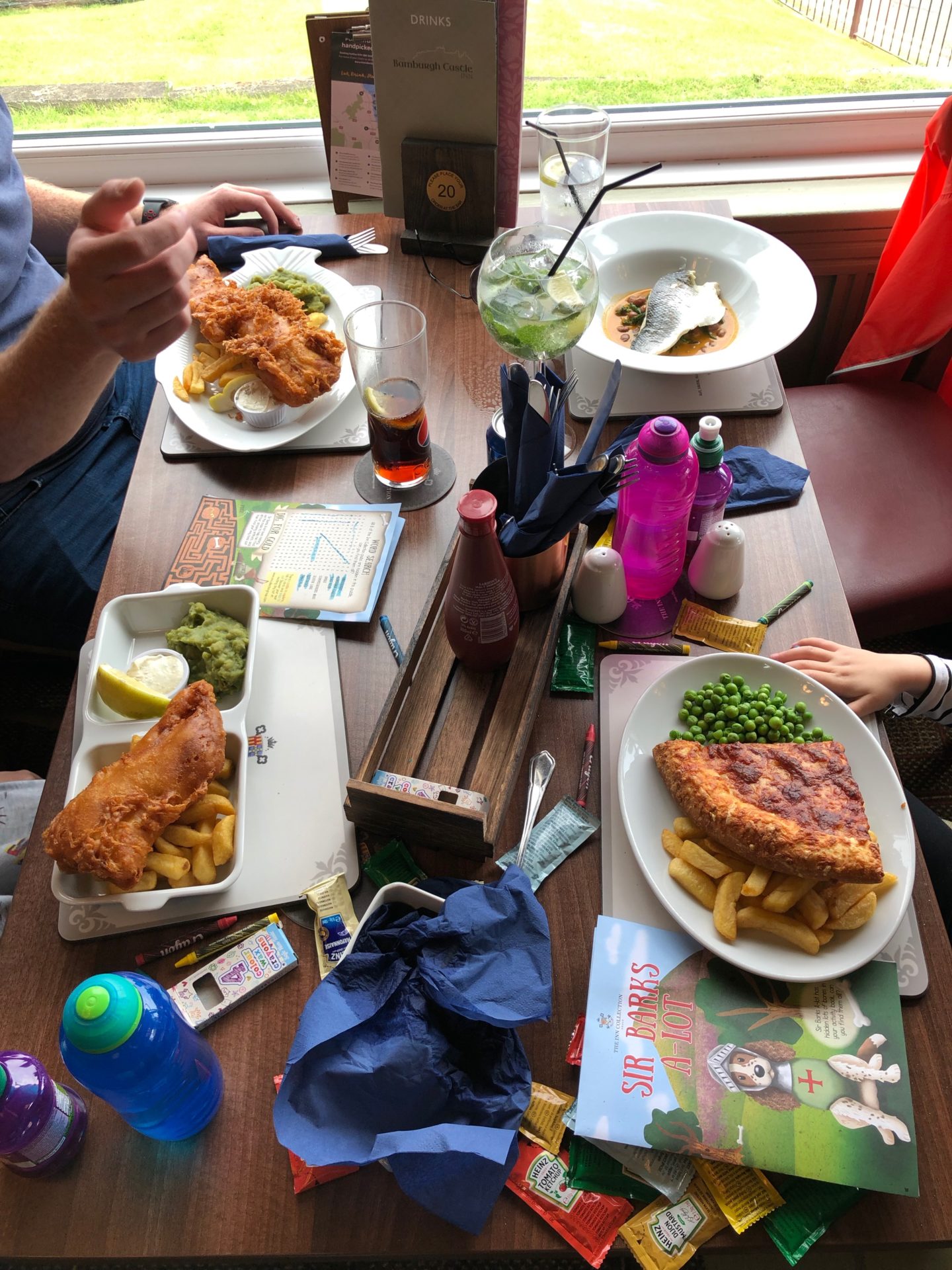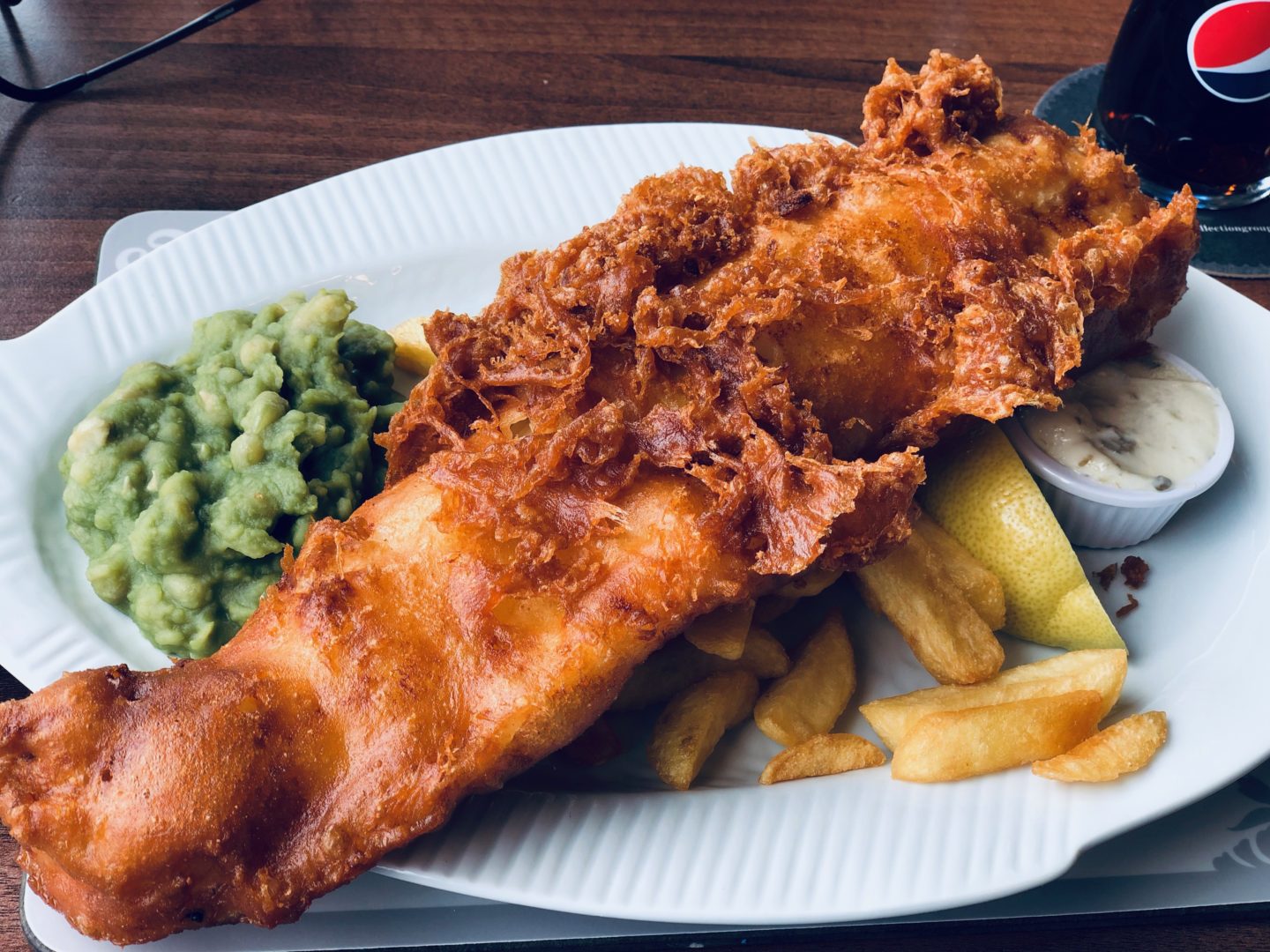 All the children's meals were £5.95 and good value for money. If your kids are little or are not big eaters you could probably share a portion between them.
Despite being full we all found room for puddings, Papa Ginge and I both went for the sticky toffee puddings with lots of rich toffee sauce and a dollop of ice cream. We both enjoyed them and we are very particular about our sticky toffee puddings.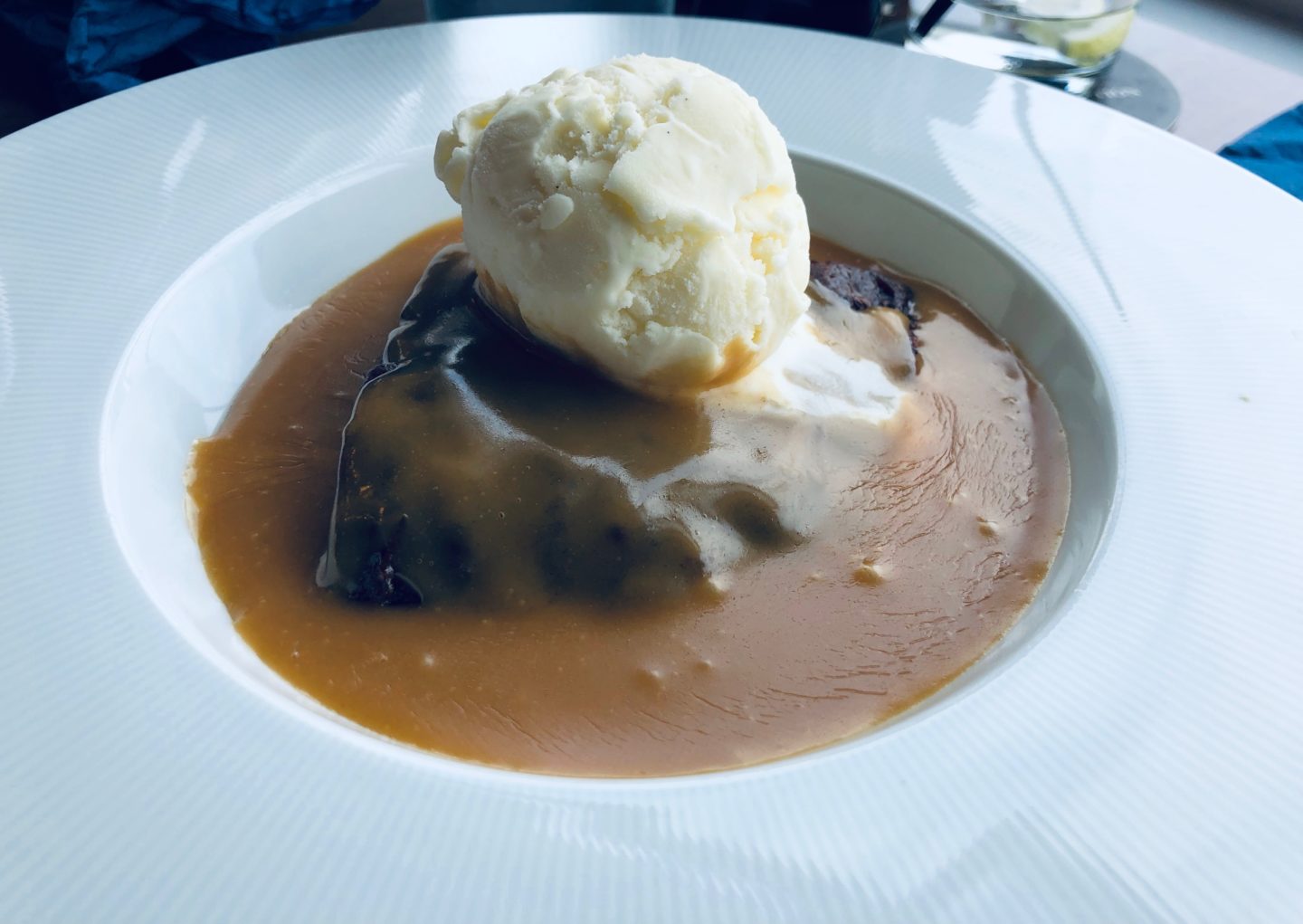 Lena, as a 4-year-old girl is unicorn obsessed so had to go for the cookie and unicorn swirl sundae and Arlo who is allergic to dairy had lemon sorbet. There were no kids portions of the desserts so they were huge for them. Ideally, I would have had them share but we couldn't because of Arlo's dairy allergy but that would be my recommendation for those with smaller tummies. Even Papa Ginge and I left some of our desserts so the kids didn't stand a chance in finishing theirs.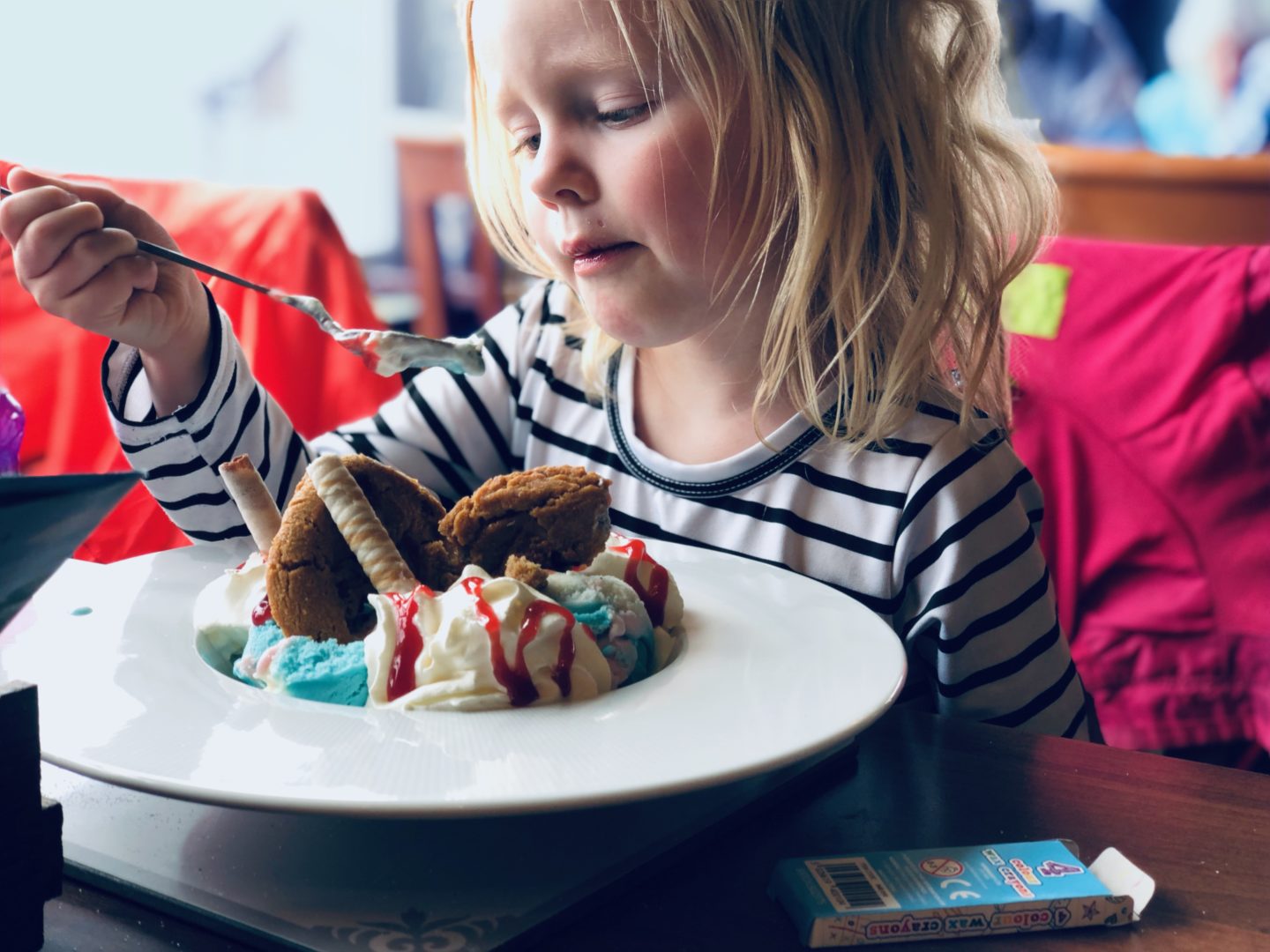 After filling our tummies, having a little rest and freshening up in the toilets we felt ready for the next adventure. On the way out we bumped into a table that had a parrot in a carry case (perhaps the most random part of the whole trip) that said hello to Lena. She was more impressed with this than she was the puffins on the boat trip. If I'd have known there was going to be a talking parrot at lunch I could have saved myself £40 (joking).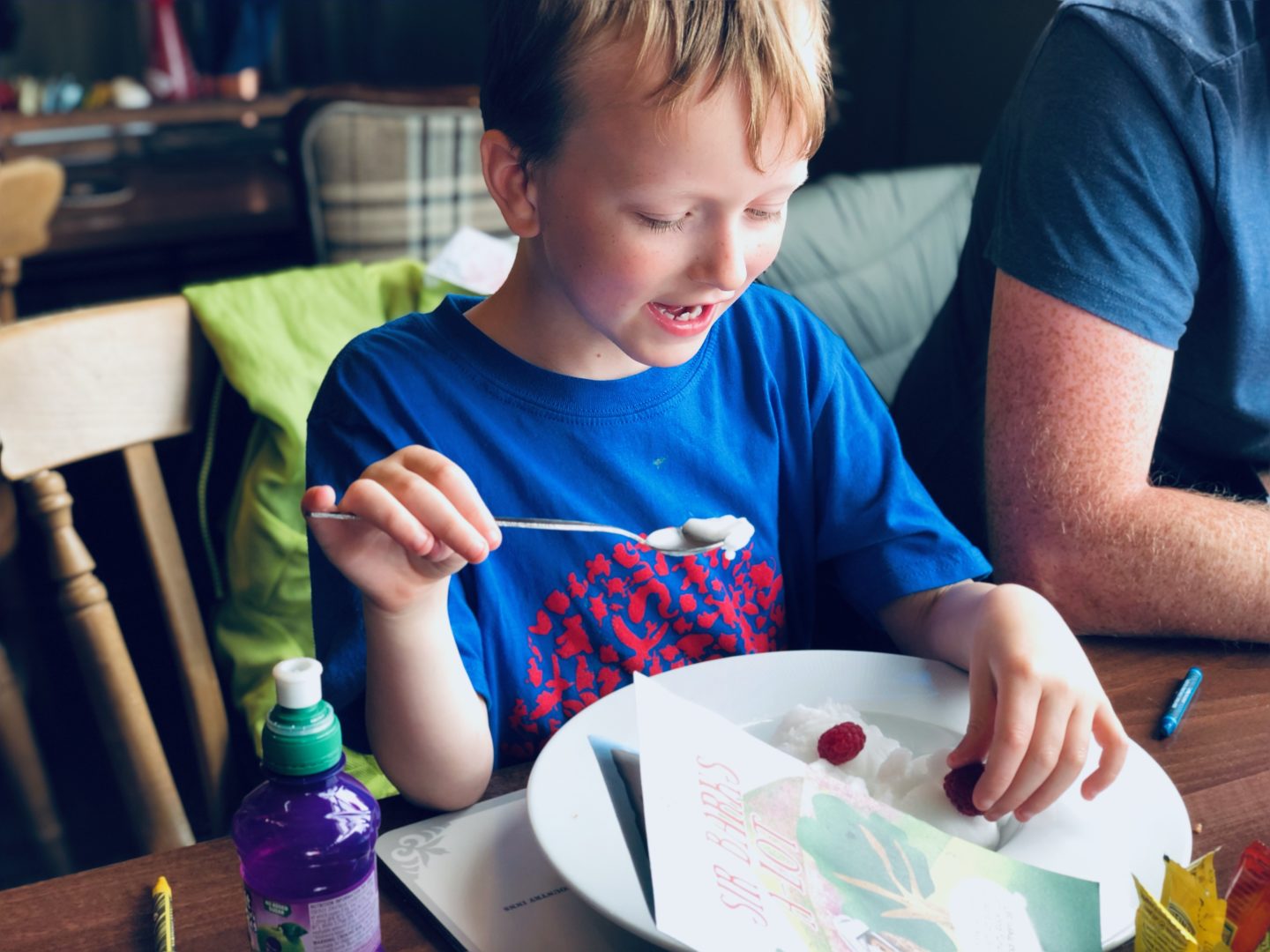 Bamburgh Castle Inn also has a large beer garden overlooking the harbour which looked like it would be fantastic for a sunny day with views of the Farne Islands, the Northumberland coast and Bamburgh Castle in the distance.
Our total bill for 2 courses for 4 people, 3 soft drinks and a cocktail came to just over £80. Guests at Bamburgh Castle Inn receive 10% off tickets to Bamburgh Castle too.
Bamburgh Castle visit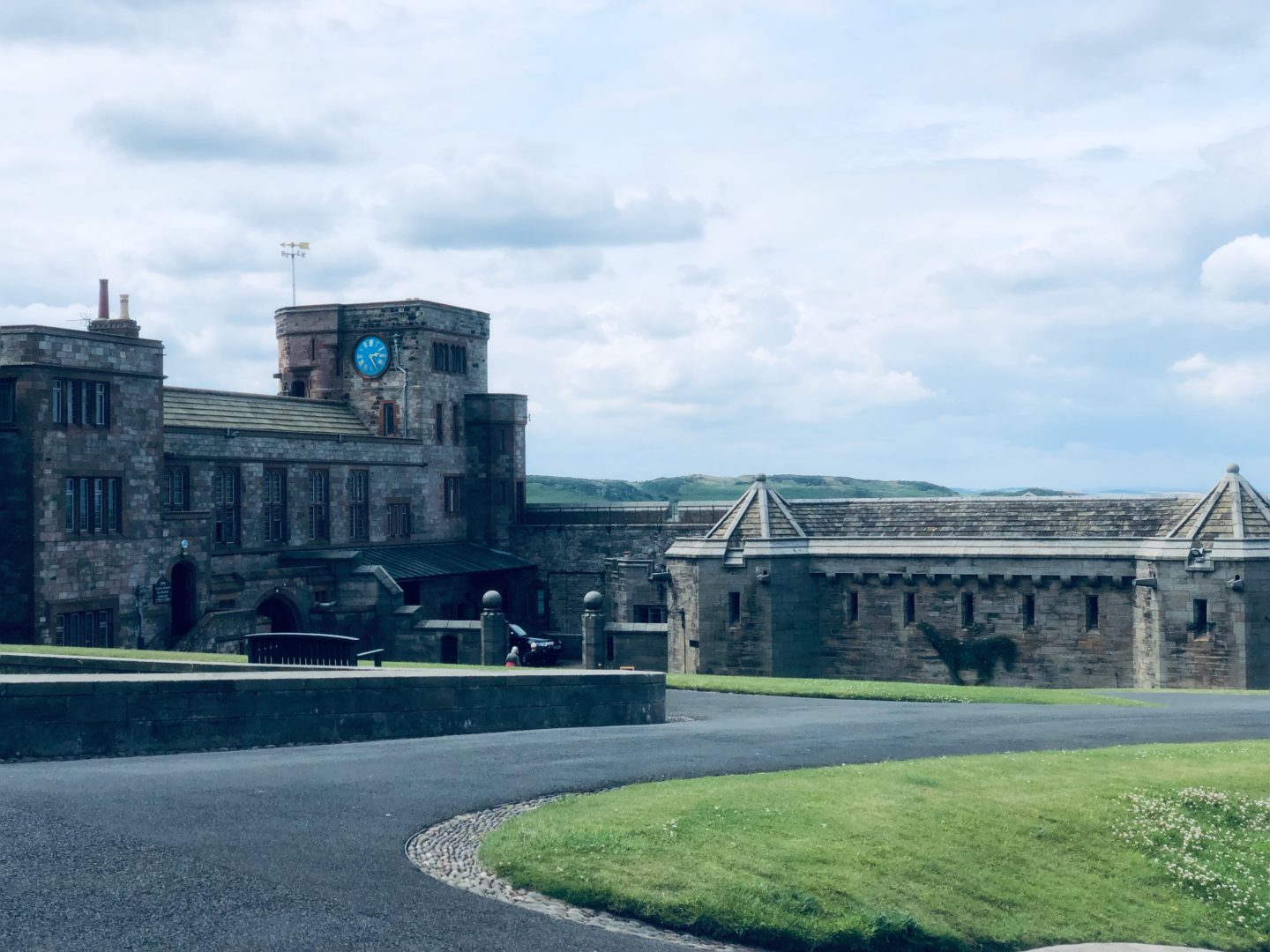 Next on our little mini-break was Bamburgh Castle. Bamburgh Castle is one of the largest inhabited castles in the country. It spans 9 acres and has stood guard 150 feet above the stunning Northumberland coastline for over 1,400 years. It has 14 rooms and over 3000 items on display.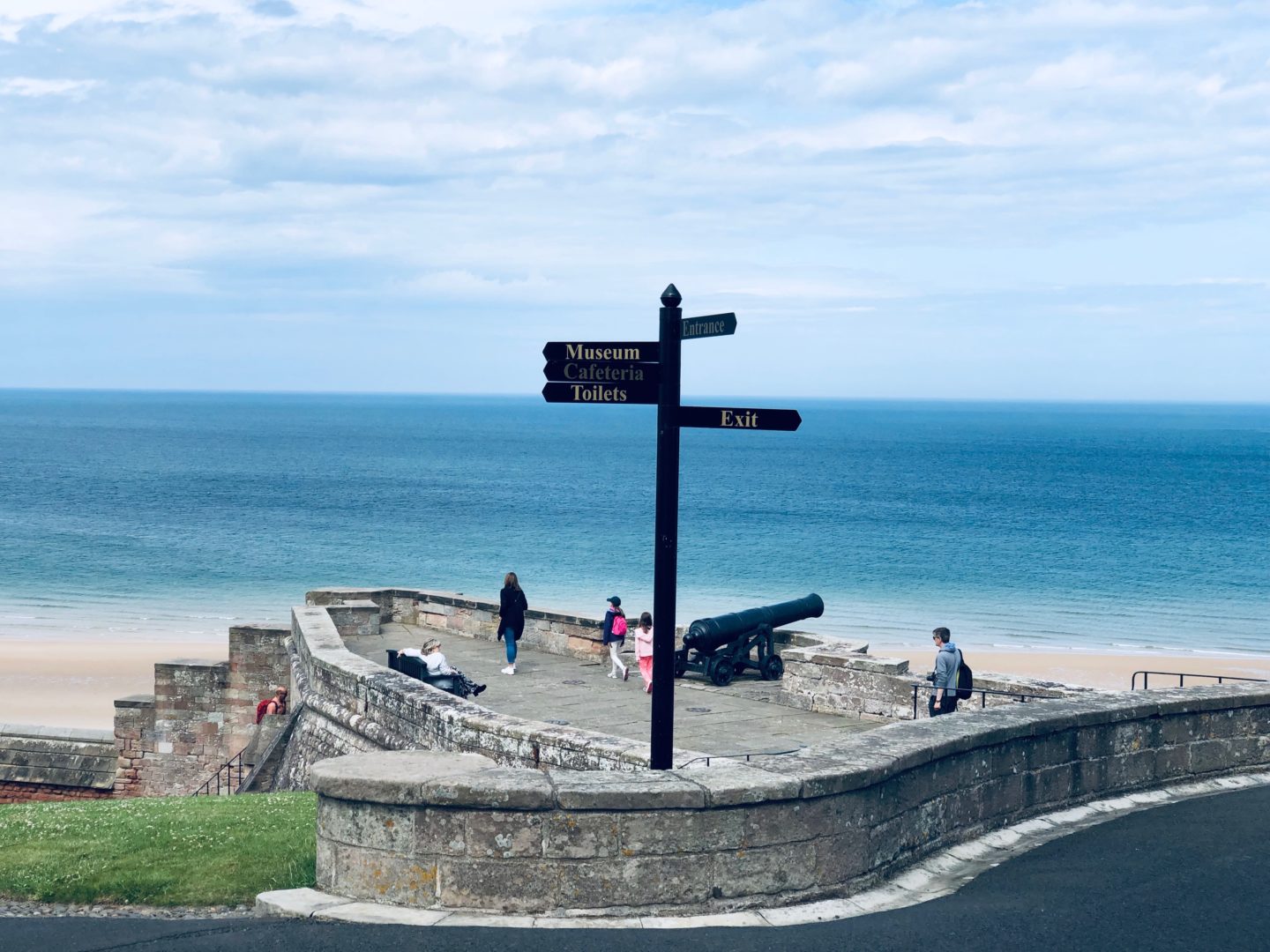 The first thing I noticed about Bamburgh Castle was its sheer size. The second was the breathtaking views of the stunning coast out to the Farne Islands and Lindisfarne. My photos don't do justice to just how scenic it is. We spent quite some time on the grassy grounds of the castle (letting the children run around to burn off some steam before we went inside the castle) while we just looked out and took in the sights of the coastline.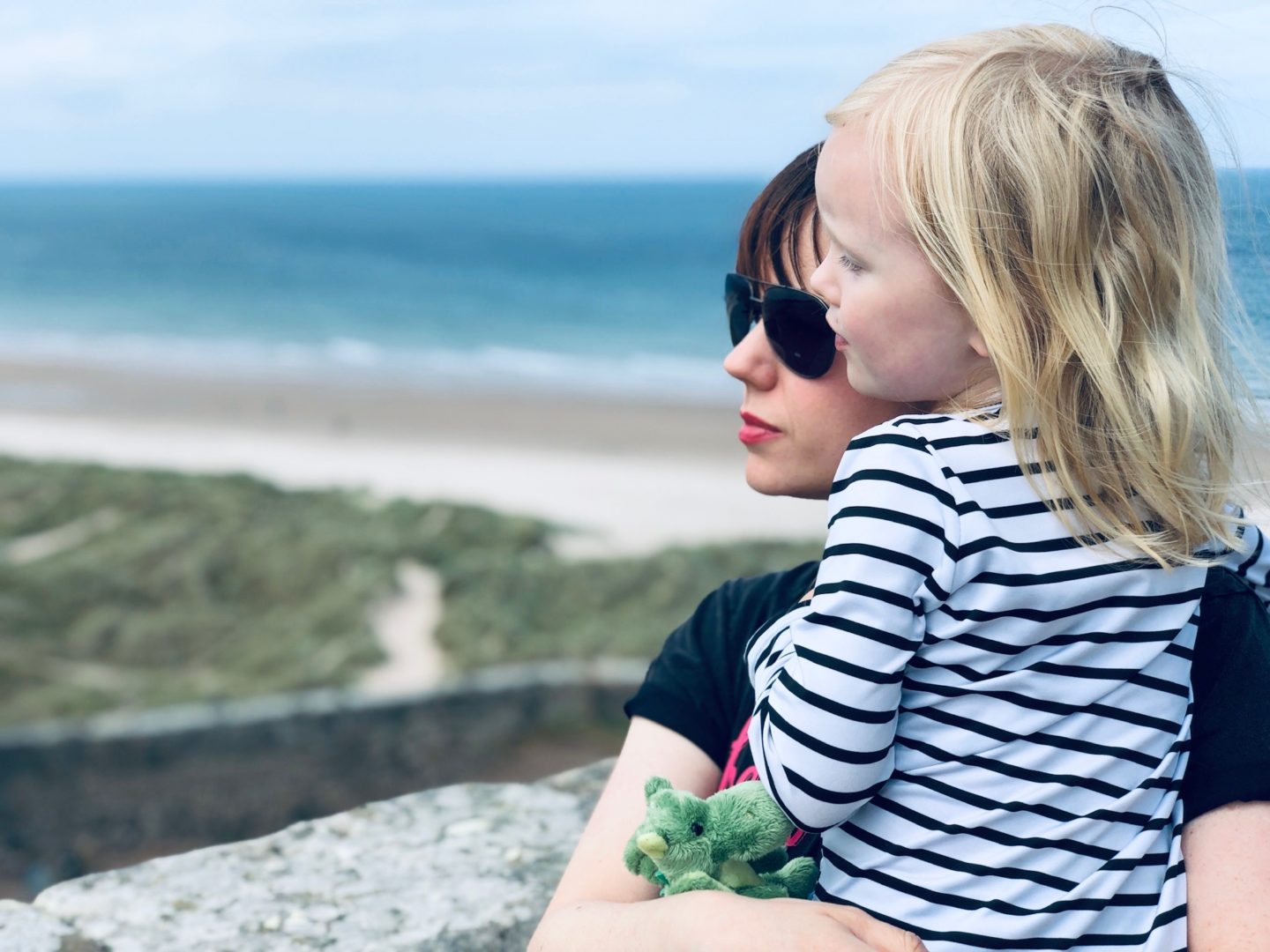 My favourite part of Bamburgh Castle was the Armstrong and Aviation Museum. I'm a history graduate from Newcastle University and the history building was the Armstrong Building. I enjoyed learning more about the engineering achievements of Lord Armstrong and the impact his legacy has had throughout the North East – including Jesmond Dene House and Cragside.
We enjoyed exploring the castle including the staterooms ('don't touch that' was said to Miss 4 a fair few times) and pretending we were defending the castle with the cannons on the walls outside. We were all blown away that the impressive keep was built with just £4. How times change.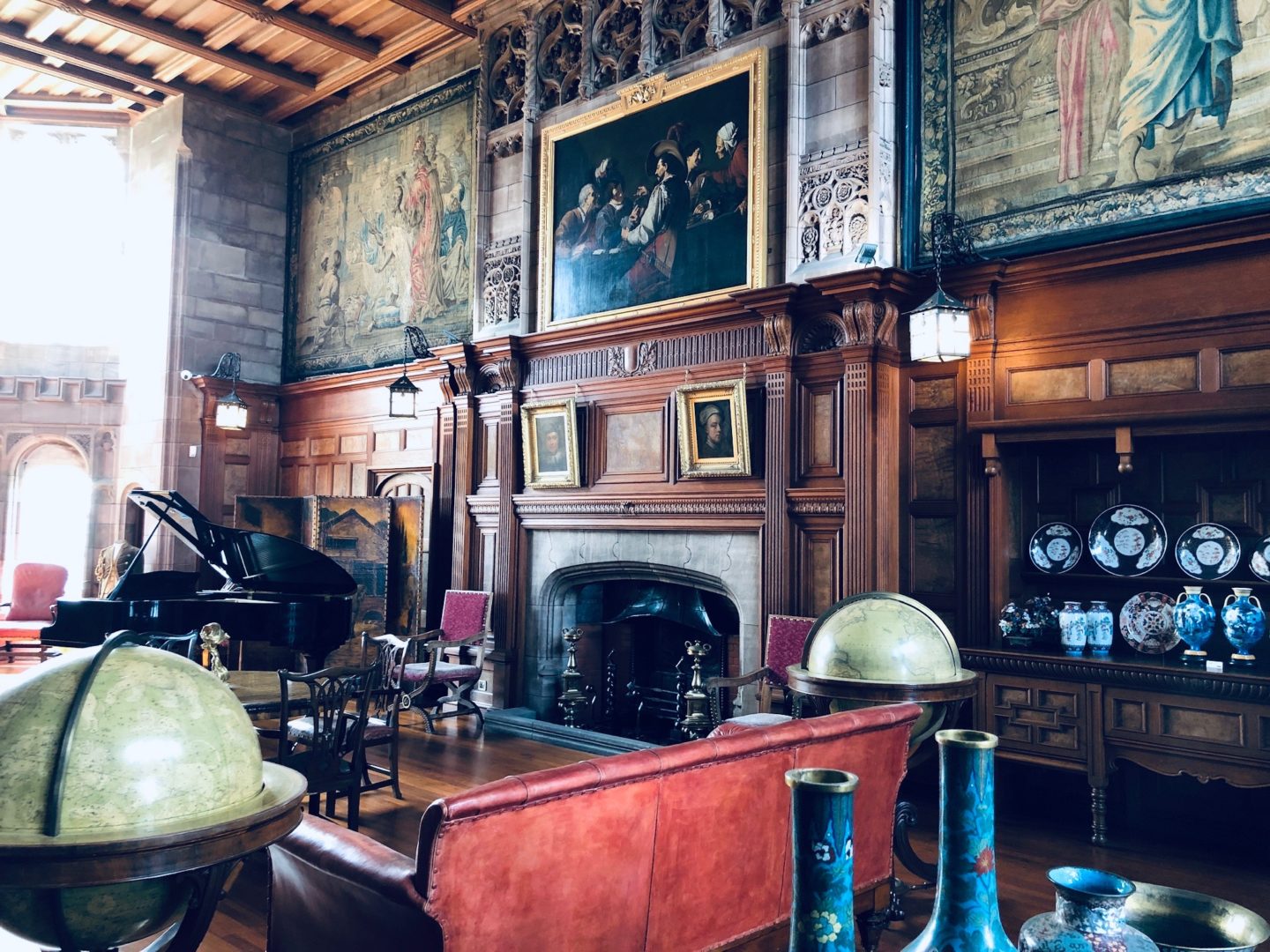 We just spent an afternoon at the castle but you could easily spend longer. There was lots we still didn't get a chance to see. If I was coming without young children I'd perhaps visit mid-morning and break up the day for lunch in the Clock Tower Tea Rooms and then continue exploring in the afternoon but as we had a 4 and 7-year-old with us who bore of looking around museums easily we were mindful of them having had their fill and becoming disruptive for the other guests.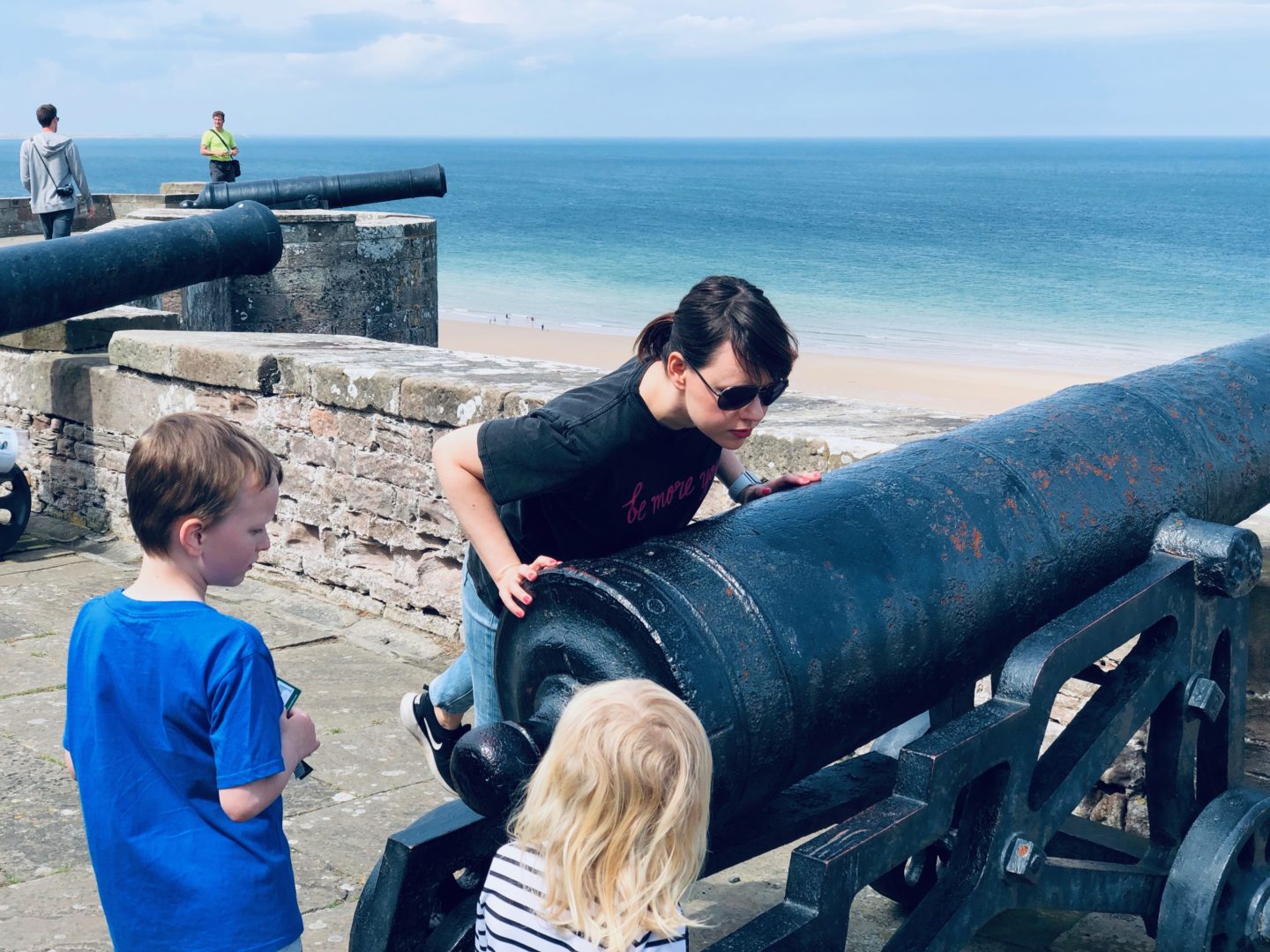 A family ticket for 2 adults and 3 children for Bamburgh Castle is £28. Under 5s go free. Parking costs £3.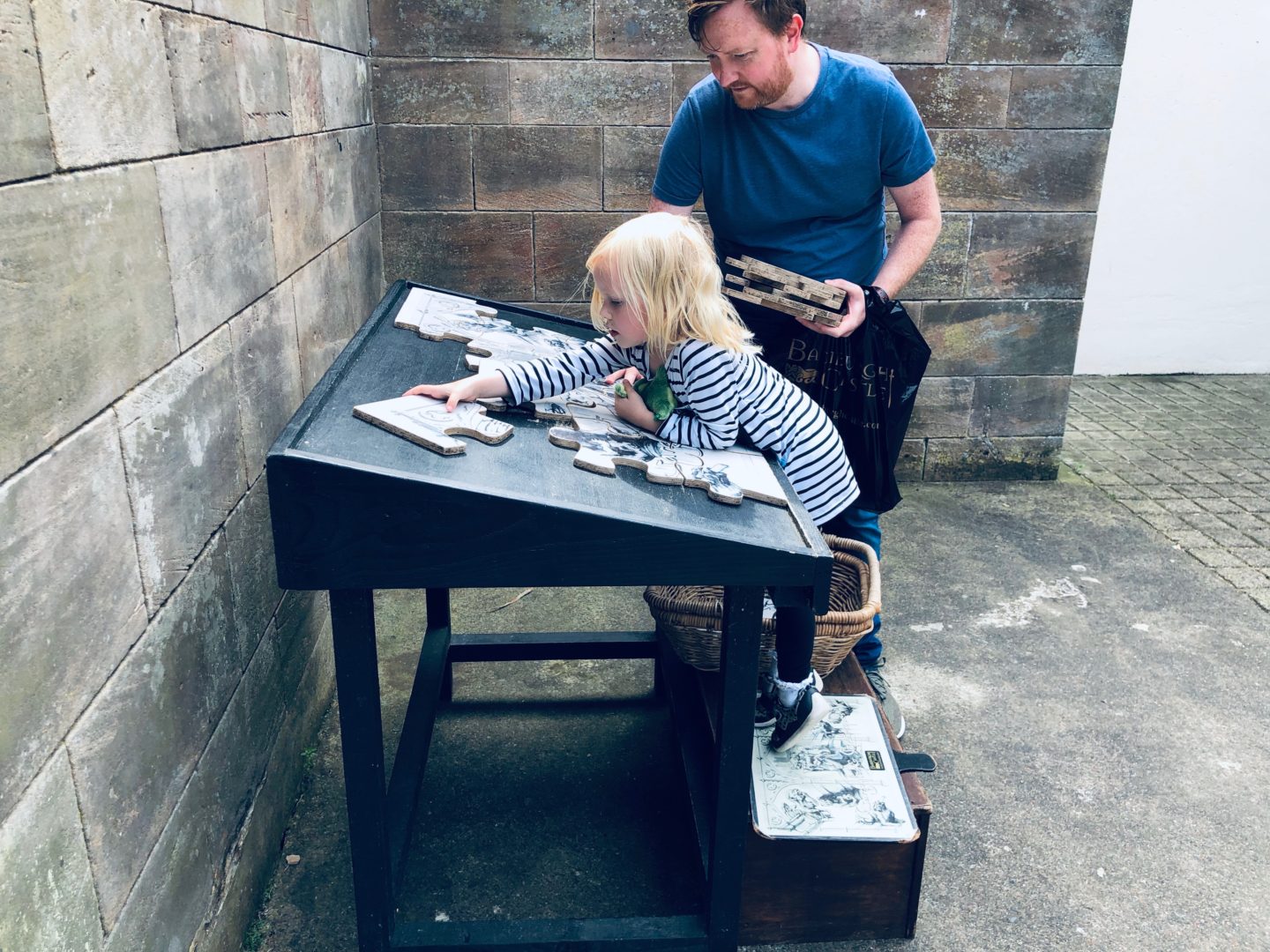 We were very tempted to head down the beach to finish our day off but our daughter had begun to get tired and we didn't want her to fall asleep on the car ride home as she'd be up till late if she did. Alas, we shouldn't have rushed because that's precisely what she did anyway. Kids eh, who would have them.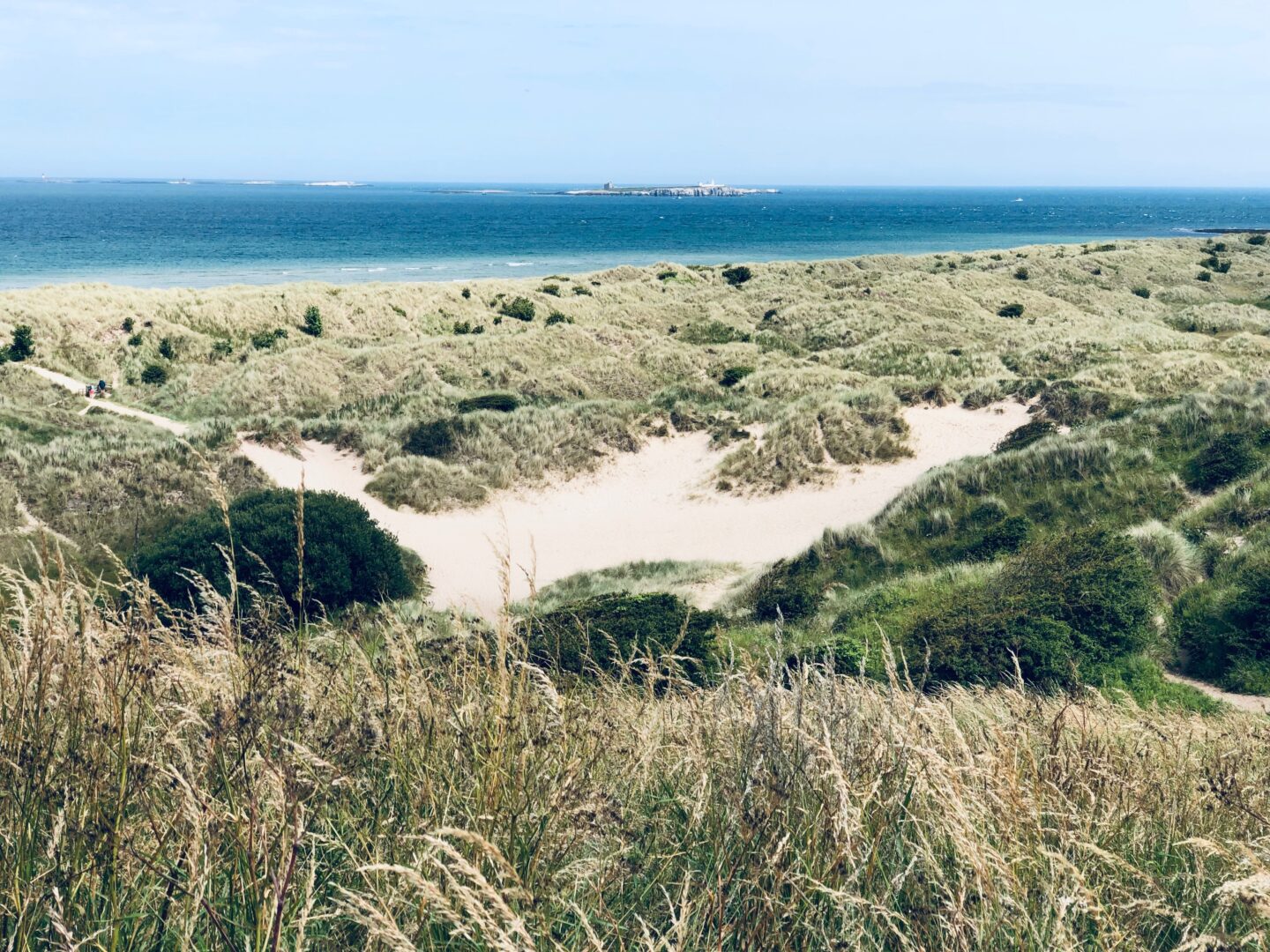 We had a wonderful time exploring the Northumberland coast, none of us wanted to go home and we wished we had planned to stay a second night. The area is just gorgeous and we are so lucky to have it on our doorstep. We've vowed to go and visit more going forward, I can't wait to head back!
Until next time Northumberland!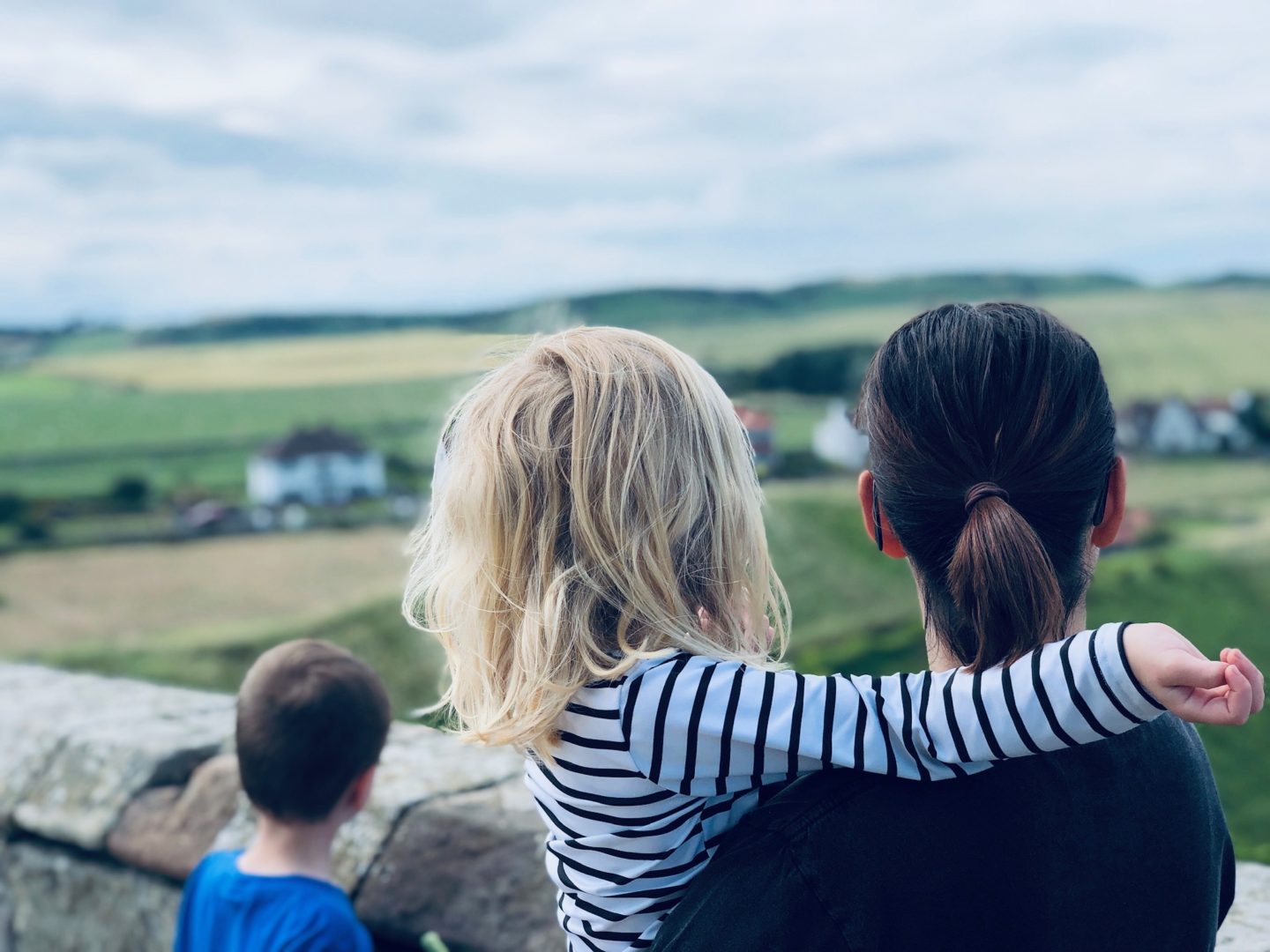 If you liked this post then you might some of my other local travel posts:
If you liked this post you might also like:
If you have enjoyed this post or found it useful, here are some quick and easy ways that you can support Nomipalony or say thanks: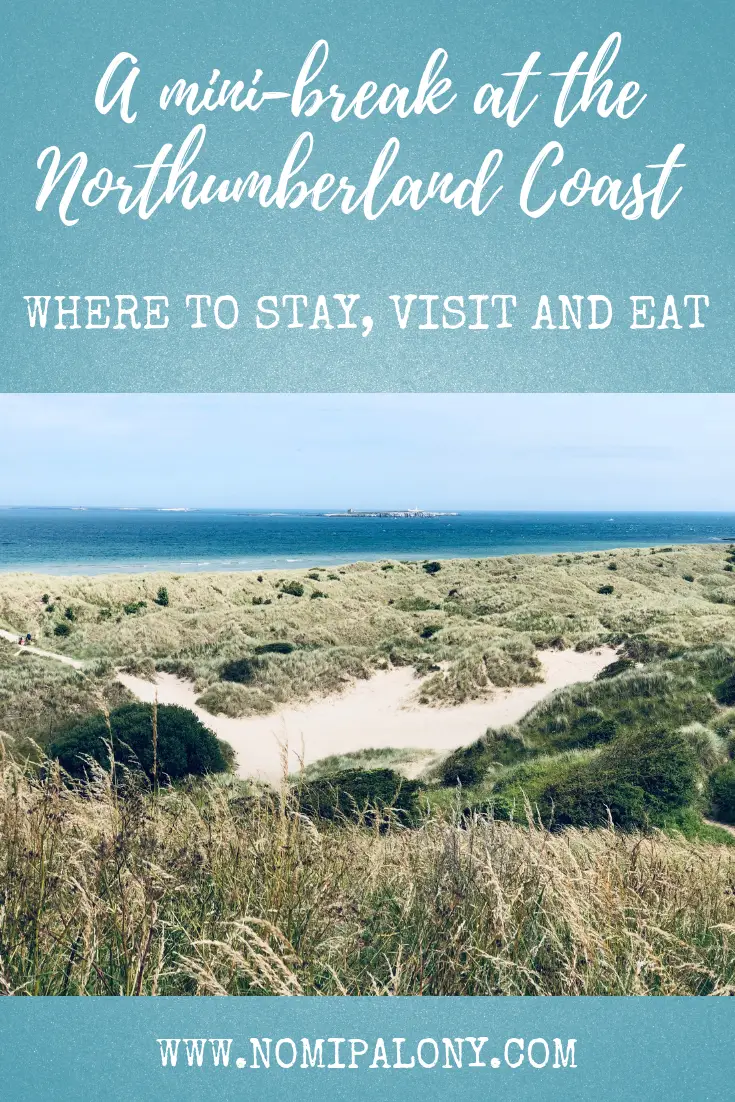 Disclaimer: This trip was a press trip and some of the experiences were provided free of charge for the purposes of the post. This post contains affiliate links. If you buy something through an affiliate link you won't pay any more but I will receive a small fee for referring you. For my full disclosure please see my about page.