You lovely lot seemed to enjoy my Best Christmas films for kids rated U so much that I thought I would do a separate guide just for the best PG Christmas movies for families.
For your convenience, where possible I've noted the year they were released, the age rating, the IMDB rating and a link to buy them (or rent them) if they are on Amazon. If it's available on Netflix, I've mentioned it. The Disney ones will be available on Disney Plus too.
I've also included what's coming out new this year!
There are 18 options and I've ordered them from most recent to oldest for your ease. I hope you enjoy snuggling up in your Christmas bedding and watching some of these festive flicks!
If you are looking for non Christmas film posts then check out U rated movies the whole family will enjoy and Best PG movies for kids.
PG Christmas movies for families
What PG Christmas movies are coming out this year?
Scrooge: A Christmas Carol, PG, Netflix, December 2 2022
Did we need another remake of a Christmas Carol, no. Will we watch it, of course. With music from composer and Oscar winner Leslie Bricusse and voice starring Jesse Buckley, Luke Evans and Olivia Coleman.
A Christmas Story Christmas, 2022, PG
Follows the now-adult Ralphie as he returns to the house on Cleveland Street to give his kids a magical Christmas like the one he had as a child, reconnecting with childhood friends, and reconciling the passing of his Old Man.
It airs on HBO Max in America on November 17 so I expect it will air on Sky in the UK shortly afterwards.
Best PG rated Christmas movies from 2020s
A Boy Called Christmas (2021) PG, 6.7 IMDb, 1hr 46m
Captain Underpants Mega Blissmas (2020), PG, IMDb 5.5, 45 mins, (Netflix)
Christmas gets weird – really weird – after George and Harold go back in time to change up a few of their beloved holiday's traditions.
Jingle Jangle: A Christmas Journey, 2020, PG, IMDb 6.6 (Netflix)
This one has a great (and predominately black) cast – Forest Whitaker, Phylicia Rashad and Hugh Bonneville to name but a few. It's a Christmas musical featuring music by John Legend.
An imaginary world comes to life in a holiday tale of an eccentric toymaker, his adventurous granddaughter, and a magical invention that has the power to change their lives forever.
It's a little slow in places so my kids got bored at times but overall it was a really lovely Christmas film with some great musical numbers and brought a tear to my eye at times.
Christmas Chronicles 2, 1hr 52min, 2020, PG, IMDb 6.2 (Netflix)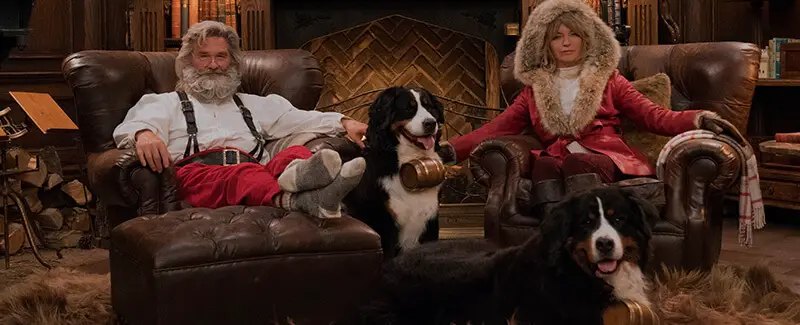 One of the biggest Christmas movies Netflix has released under its Original library is Kurt Russell's portrayal of Santa in The Christmas Chronicles. Now, he's back for another outing with Chris Columbus (Home Alone and Harry Potter) returning to direct.
Kate Pierce, now a cynical teen, is unexpectedly reunited with Santa Claus when a mysterious troublemaker threatens to cancel Christmas – forever.
Never has Santa been hotter. There I said it.
I had high hopes for this one as I loved the original and it did not disappoint. Loved seeing more of Goldie Hawn as Mrs Claus in this one and a couple of feminist nods.
Godmothered, PG, 1h 50 mins, 6.1 IMDb, 2020 (Disney Plus)
A young and unskilled fairy godmother ventures out on her own to prove her worth by tracking down a young girl whose request for help was ignored. Fun, easy watching starring Isla Fisher and Jillian Bell. We really enjoyed this one and I don't think it gets enough credit.
PG Christmas films from 2010s
Klaus (2019), PG, 1h 36mins, IMDb 8.2 (Netflix)
A simple act of kindness always sparks another, even in a frozen, faraway place.
When Smeerensburg's new postman, Jesper, befriends toymaker Klaus, their gifts melt an age-old feud and deliver a sleigh full of holiday traditions.
This is a slow starter so bear with it but it's worth it in the end, a heartwarming tale that's deserving of it's high IMDb score.
The Christmas Chronicles (2018), TV PG, 1h 44min, IMDb 7.4, (Netflix)
Our new family favourite. This one is going to be a classic I can tell.
From the people who brought us Harry Potter the Philosopher's Stone and Home Alone, it's the best new Christmas movie to come along in years.
Kurt Russell is frankly a GILF as Santa. Don't believe me, wait till his singing number and you'll find yourself asking if it's wrong to fancy Father Christmas.
It's a classic 'save Christmas' caper with plenty of adventure and cheese. Perfect for the whole family and proving yet again that Netflix original programming is second to none. This is cinema worthy production.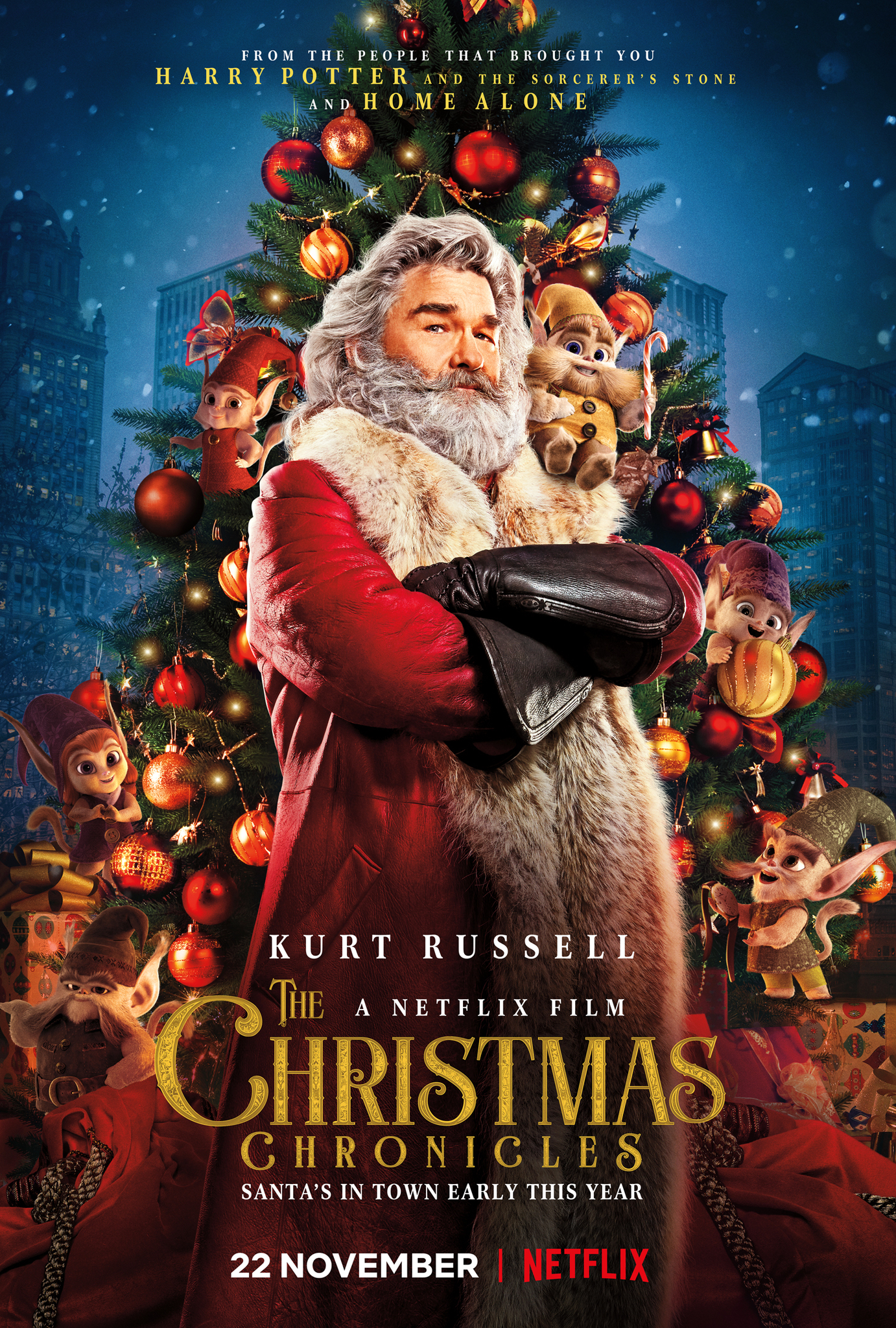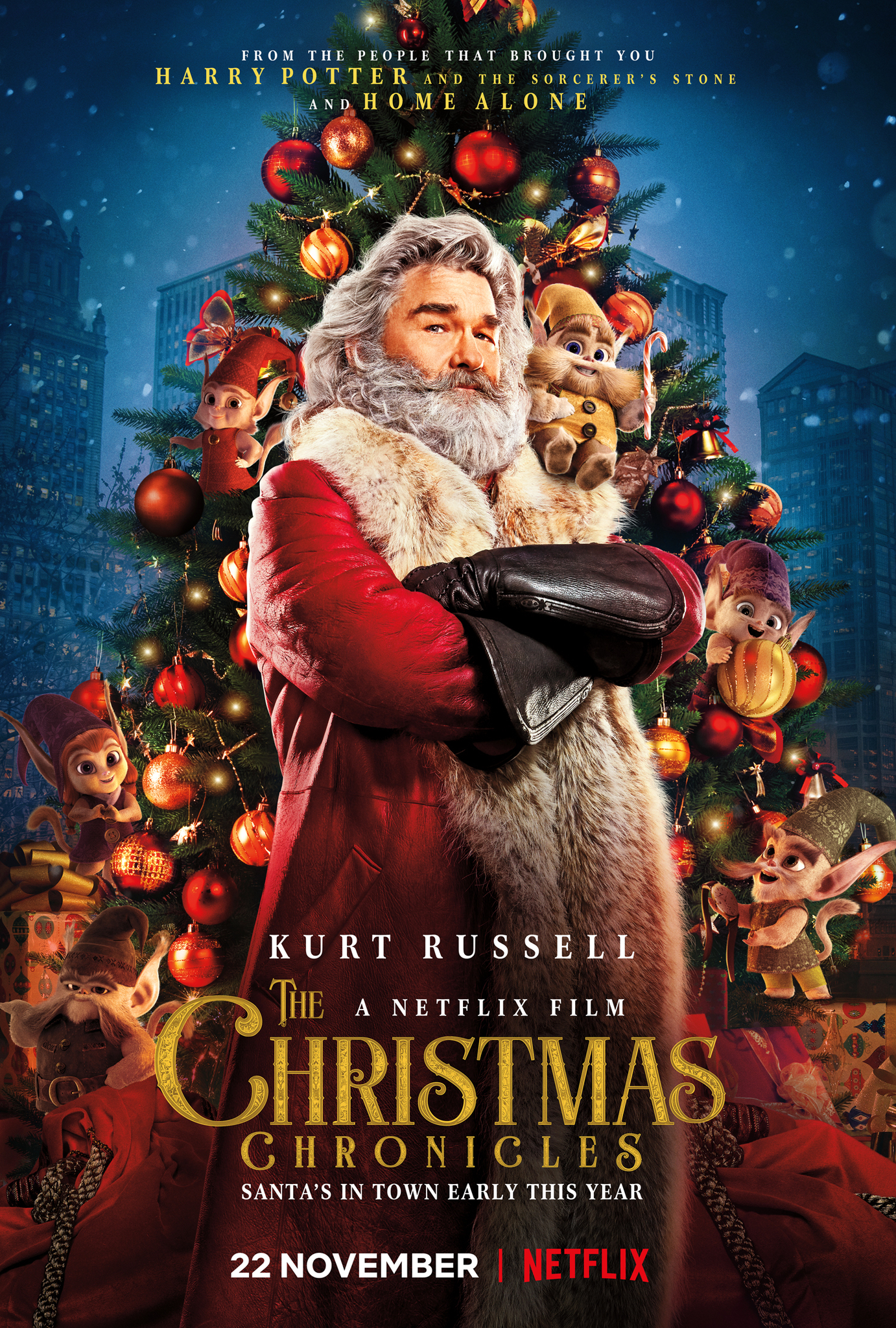 Dreamworks Holiday Favourites (2018), 1h 39min, PG
This includes one of our personal faves Shrek the Halls which will be played in our house many times over December.
It also has Merry Madagascar, Po's Winter Wonderland, Dragon's Gift of the Night Fury and many more. On Netflix, search Dreamworks Holiday Classics and you'll find a similar collection from 2011.
The Littlest Reindeer (2018), 1h 29mins, IMDb 5, PG
When Blitzen announces his retirement on December 21st, a miniature horse has 3 days to fulfil his lifelong dream of earning a spot on Santa's team at the North Pole try-outs.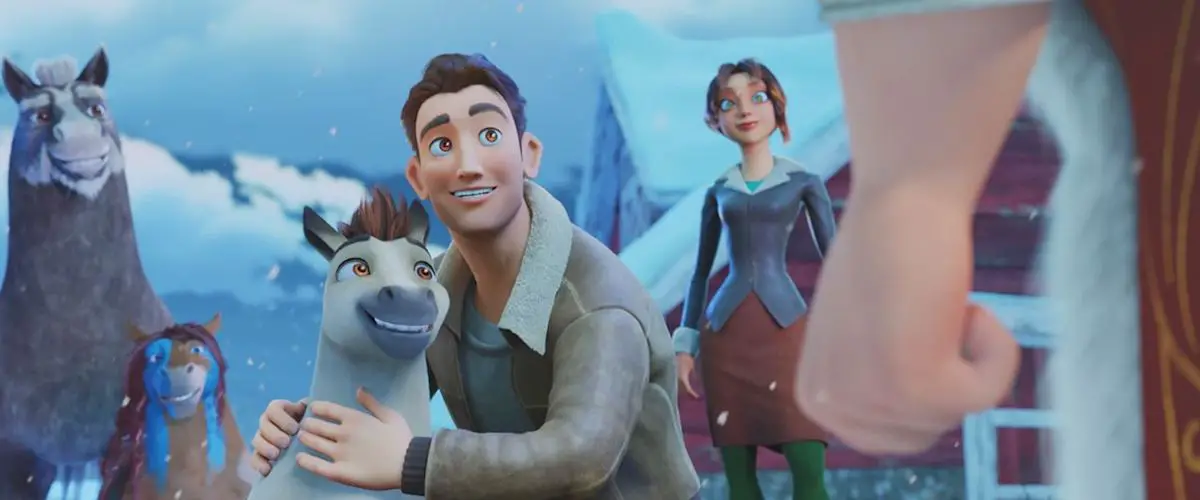 The Nutcracker and the Four Realms

(2018), 1h 39mins, PG, IMDb 5.5 (Disney)
The Christmas classic of the Nutcracker for a modern audience. A young girl is transported into a magical world of gingerbread soldiers and an army of mice. With Helen Mirren and Kiera Knightley.

Good Christmas movies PG from 2000s
A Christmas Carol (2009), PG, 1hr 36mins, IMDb 6.8
An animated re-telling of the Charles Dickens classic by Robert Zemeckis who brought us the Polar Express.
As Tom Hanks did in the Polar Express, in this version of a Christmas Carol, Jim Carrey plays many of the main roles superbly. Also stars Gary Oldman and Colin Firth.
Elf (2003), PG, 1h 37min, IMDb 6.9
Perhaps the funniest Christmas film of them all. Can you believe it's getting so old now – I still think of this as a new Christmas film.
The Grinch (2000), PG, 1h 44min, IMDb 6.1
I've never liked the Grinch. I dislike the aesthetics of it and find the story boring, so does my son but my daughter loves it.
We are looking forward to checking the new one out though.
The Best PG Christmas films from 1990s
Jack Frost (1998), PG, 1h 41min, IMDb 5.3 (Netflix)
The plot of this is absolutely bonkers but it's a Christmas classic none the less!
'A father who can't keep his promises, dies in a car accident. One year later, he returns as a snowman, who has the final chance to put things right with his son, before he is gone forever'. Mega creepy but also all the feels.
Jingle All the Way (1996), PG, 1h 29min, IMDb 5.5
A father vows to get his son a Turbo Man action figure for Christmas. However, every store is sold out of them and hijinks ensue as he tries to get one in time.
Is this ever not on terrestrial TV on Christmas Eve?
Nightmare Before Christmas (1993), 1h 13min, PG, IMDb 8
Jack Skellington, king of Halloween Town, discovers Christmas Town, but his attempts to bring Christmas to his home causes confusion.
Not super Christmassy and not my most fave. To be honest, I see this more as a Halloween film but the Christmas Town stuff makes it a crossover film.
Home Alone (1990), PG, 1h 43min, IMDb 7.5
Is there anyone left who has not seen this? If so, just go bloody watch it already, it's a classic. There's also the sequels (2 and 3) to this as well with the jury out on which is actually the best one!
I hope you enjoyed my guide to the best PG Christmas movies for families?! What are your family's favourite Christmas films? Let me know in the comments.
If you liked this post then you might also like some of my other Christmas posts this year:
If you have enjoyed this post or found it useful, here are some quick and easy ways that you can support Nomipalony or say thanks: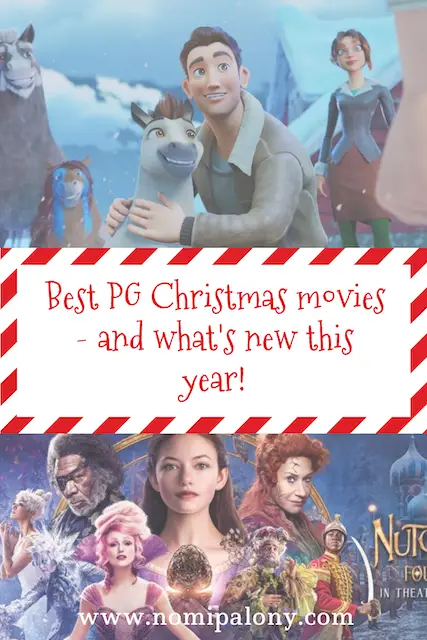 Disclaimer: This post contains clearly marked affiliate links. If you purchase through an affiliate link you will not be charged any more for your purchase, but I will receive a small fee for referring you. As an Amazon Associate, I earn from qualifying purchases. For my full disclosure policy, please see my about page.