These days its more important than ever to buy responsible and sustainable toys for our children. Plastic throwaway type toys that help destroy the climate are not cool gifts for generation alpha who have to live with the consequences of our behaviour. Wooden and sustainable toys are where it's at and you don't get much more of a timeless and gender neutral toy than a wooden dino toy. That's why today I'm bringing you my best wooden dinosaur toys for toddlers and young children that make the perfect thoughtful gift. All of the options in this blog post are unisex. I have ordered them from cheapest to most expensive for your convenience.
Best wooden dinosaur toys for toddlers and young kids
There are so many great options for wooden dinosaur toys – from wooden dinosaur puzzles, wooden dinosaur shapes, wooden dinosaur train sets to wooden dinosaur skeleton kits or stamps. Read on for our select choice of 7 of the best wooden dinosaur toys for the little dino lover in your life.
Wicked Uncle Wooden dinosaur toys for toddlers
The toys I've chosen today are all from the fantastic children's gift site, Wicked Uncle. We have long been fans of Wicked Uncle, having first promoted them back in 2016.
Wicked Uncle is a gifting solution site for anyone in the market for a gift for a child of a particular age.
Their products have been tested by their toy testers and only the best products make it onto their site. This means you can always be sure of quality and age-appropriateness of all of their products – plus they always have the 'cool' factor making the gift-giver look extra awesome.
The website has fantastic searching options where you can search by age, gender and types of toys making it especially useful for people who are unsure what toys are best for what age children.
Wicked Uncle also offers a super helpful gift wrapping service as well. I'm certain they'll do a better job wrapping than I do and it's perfect for those super busy times.
It's definitely the website I recommend to my friends who don't have kids yet as you really can't go wrong when buying children's gifts from Wicked Uncle.
Now on to our choices for the best wooden dino toys…
Wooden dinosaur toys under £10
Dinosaur Scratch Art – £8.95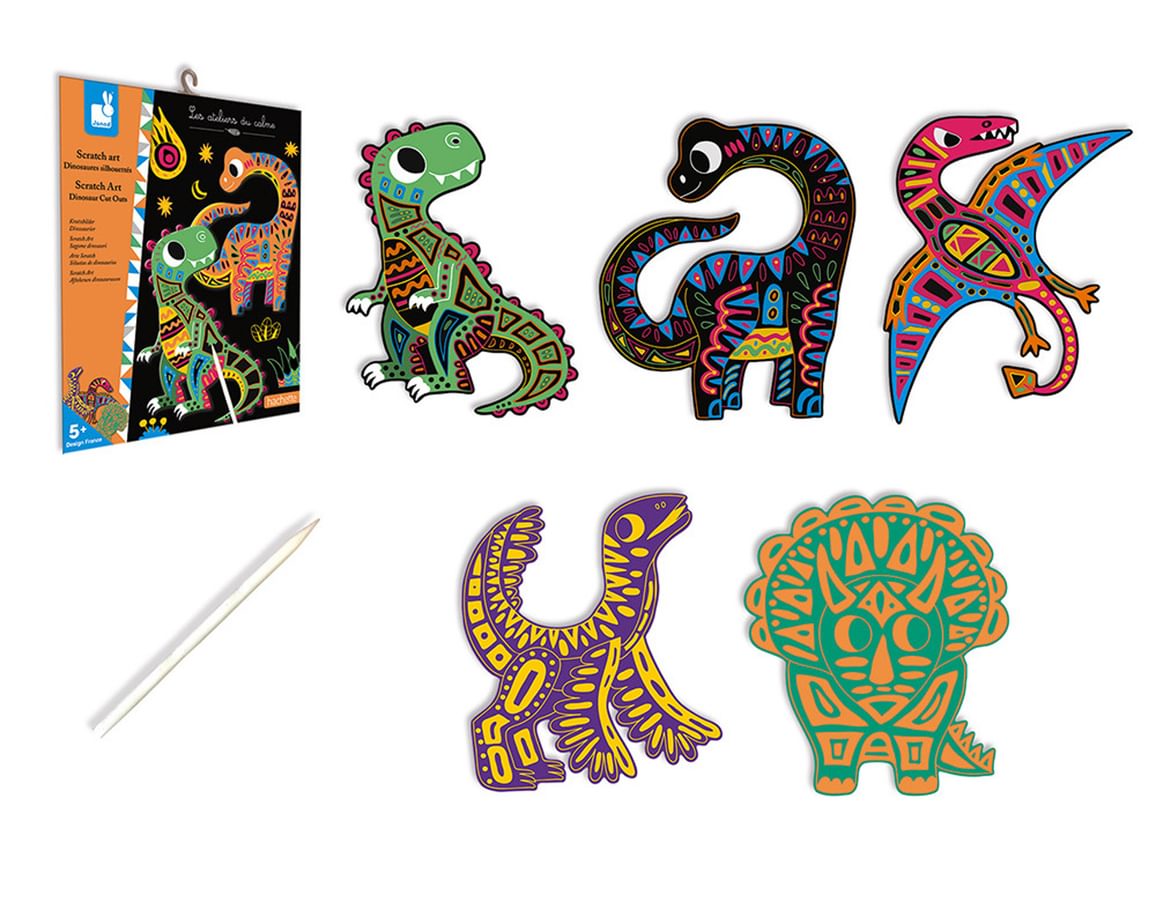 This creative dinosaur scratch art set includes five premium scratch-off sheets with a fun Dinosaur theme, each measuring 20cm x 24cm.
Using the wooden stylus, gently scratch the surface to reveal the bright and colourful patterns.
Wooden dinosaur toys under £15
Mix and Match Dinosaur Magnets – £13.95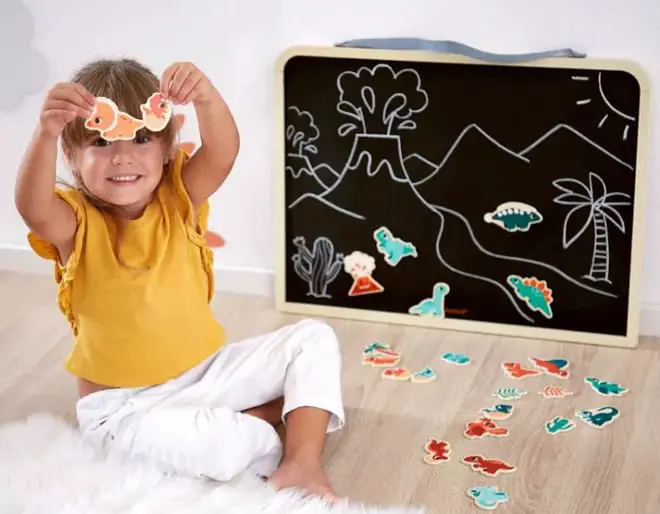 Create your own fun scenes with this set of 24 colourful wooden magnets.
Perfect for making art on the fridge, whiteboards or any magnetic surface, simply mix and match the pieces to tell your own story!
With 18 cute dinosaurs including Stegosaurus, Pteranodon and all their friends, the only limit is your imagination.
Each magnet is approximately 6cm to 8cm and made of FSC-certified wood.
Wooden dinosaur puzzle toys under £20
Dinosaur Sound Puzzle (Roar) – £16.96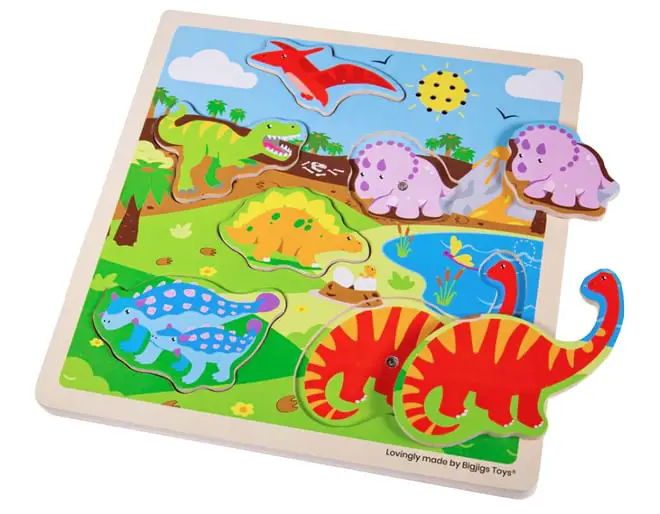 This chunky 22cm wooden dinosaur puzzle is specially designed for little hands. As you take the six happy dinosaur pieces from their slots, each one sounds off with its own roar!
Children are sure to enjoy listening to the T-Rex, Pterodactyl, Ankylosaurus and more – and expanding their dino knowledge along the way. 
Dinosaur Chunky Wooden Puzzle – £18.95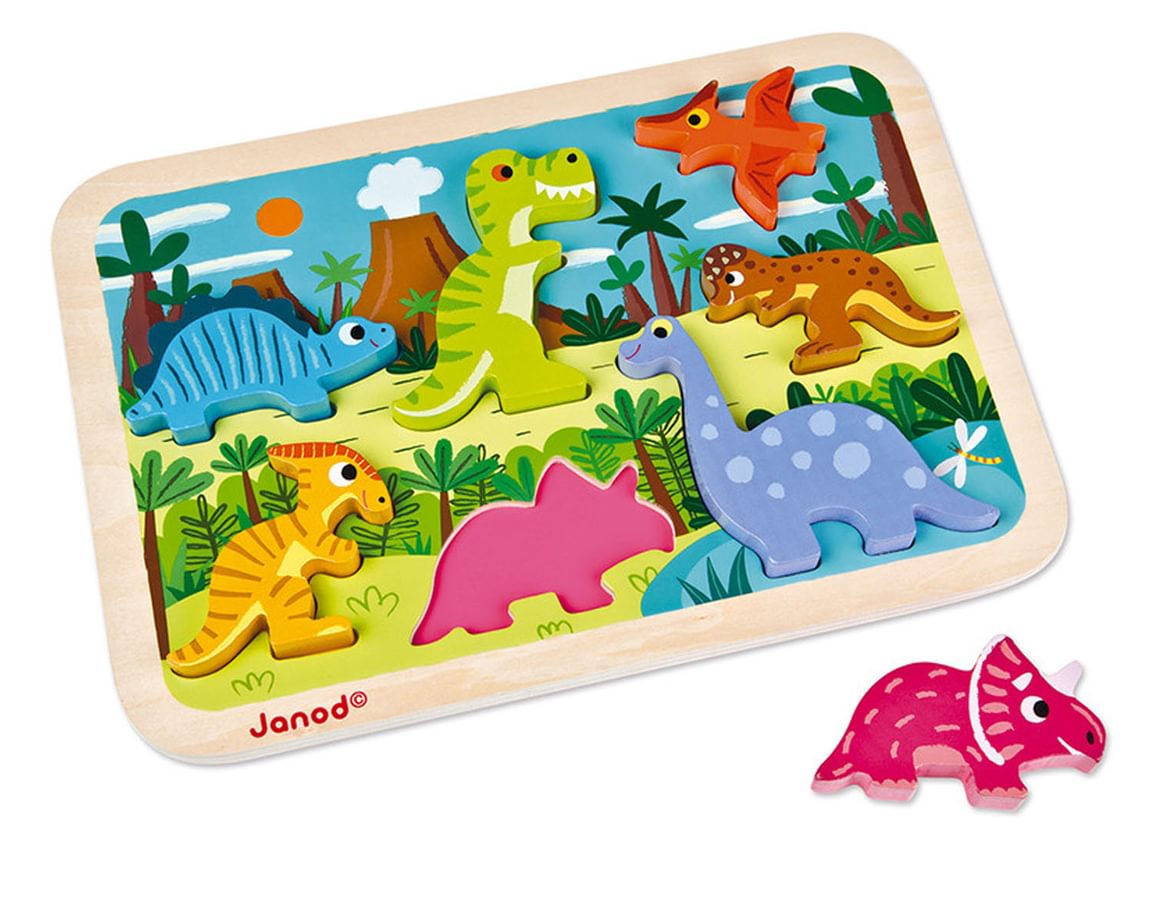 This chunky wooden dinosaur puzzle features seven chunky dinosaur pieces, including a triceratops, T-Rex and pterodactyl.
Slot each colourful, smiling dino into the right place to reveal a charming prehistoric scene!
Each piece is 3D and can be stood upright – great for separate imaginative play.
From top French toy company Janod, this durable puzzle is sure to provide lots of fun.
Wooden dinosaur toys for toddlers under £30
Dino Dig – Wooden Excavation Game – £24.99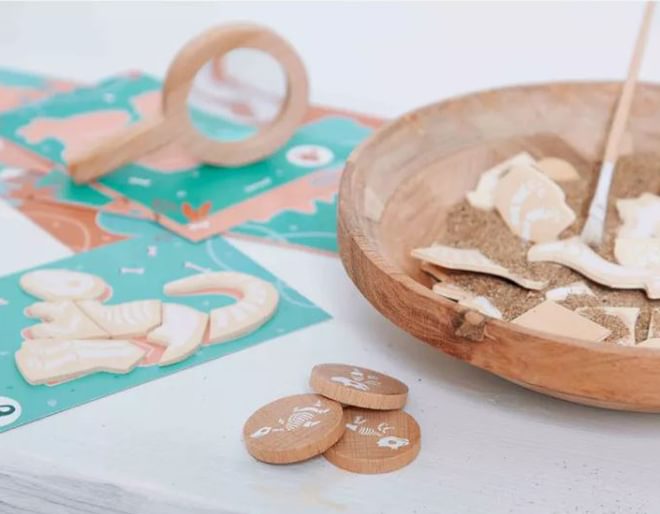 This one is my top choice! This cool game contains 64 wooden fragments, each showing a piece of a dinosaur skeleton. Using the clue tokens and cards to guide you, piece them together to discover ten cool fossilised dinos, from a Stegosaurus to a Diplodocus.
The set even includes a magnifying glass, brush and bag of sand for you to stage your own excavations!
Made of FSC-certified wood, this lovely activity is sure to capture the imagination of any little budding paleontologist.
Dinosaur Portable Play Box – £29.95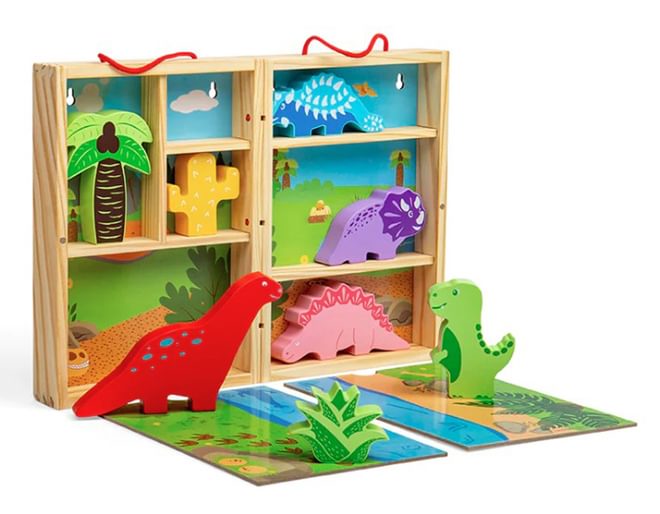 This portable dino play set features 8 charming wooden figures including five friendly dinosaurs.
Have fun setting up prehistoric scenes in the 26cm playbox or on the illustrated boards – from a Stegosaurus in the mud to a T-Rex stomping through the river!
Made of FSC-certified wood, each piece is painted on both sides and stands upright by itself.
The box folds closed on elastic hinges, with a magnetic clasp and handles for portable play. 
Wooden dino toys £50 plus
Ride on Dino – Wooden Scoot-Along – £79.95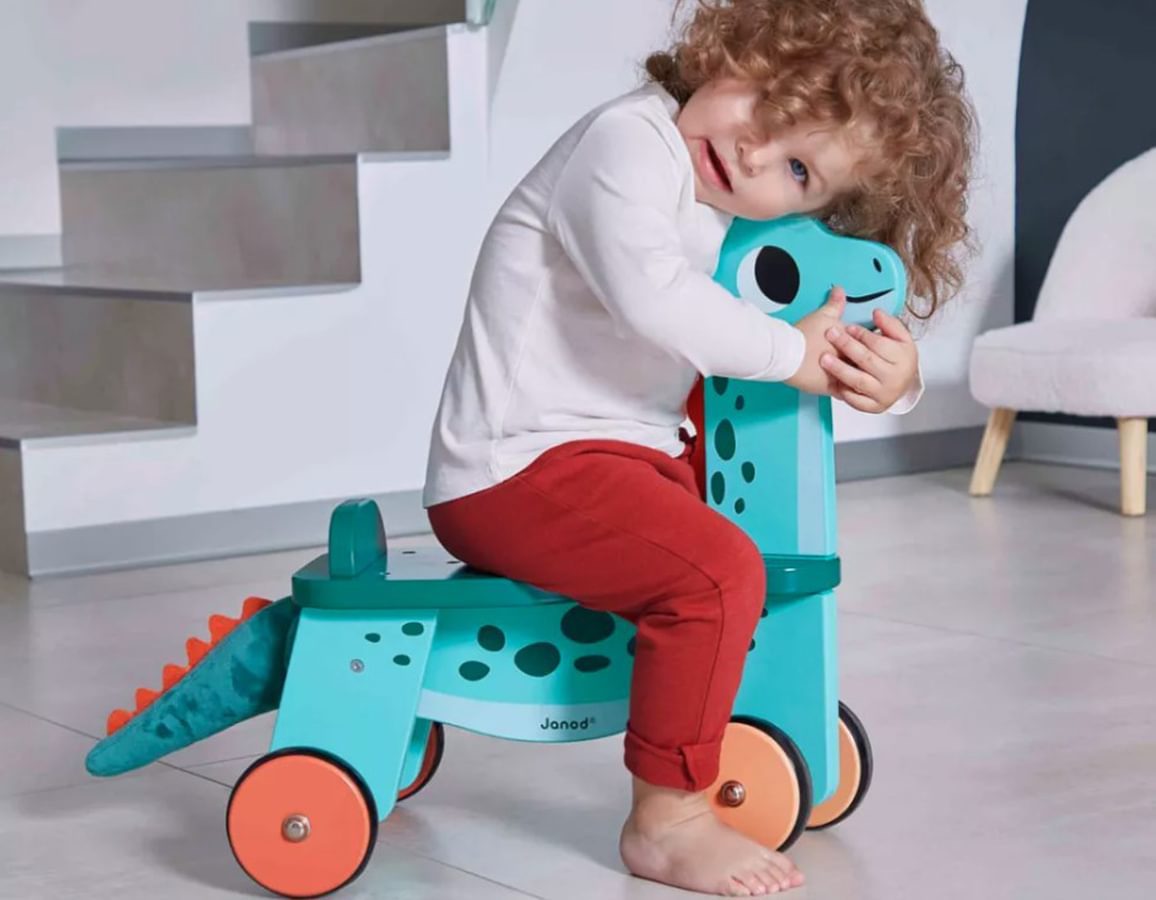 This cool 57cm ride-on is shaped like a friendly brachiosaurus!
Made of FSC-certified wood, the front two wheels have directional control when you turn the sturdy handles.
Designed in France by top toy company Janod, the dinosaur features an eye-catching colour scheme, happy face and detachable plush tail.
With quiet rubber-lined wheels, this brilliant toy is great for motor skills and imaginative play for children aged 1 plus.
If you liked this post you might also like:
If you have enjoyed this post or found it useful, here are some quick and easy ways that you can support Nomipalony or say thanks:
Share this post with your friends  
Pop over to my Amazon Storefront to see what products I have been buying and loving from there recently, including my health and fitness products list.
Sign up to my mailing list 
Women can join my feminist Facebook group – the Nomipalony Freehouse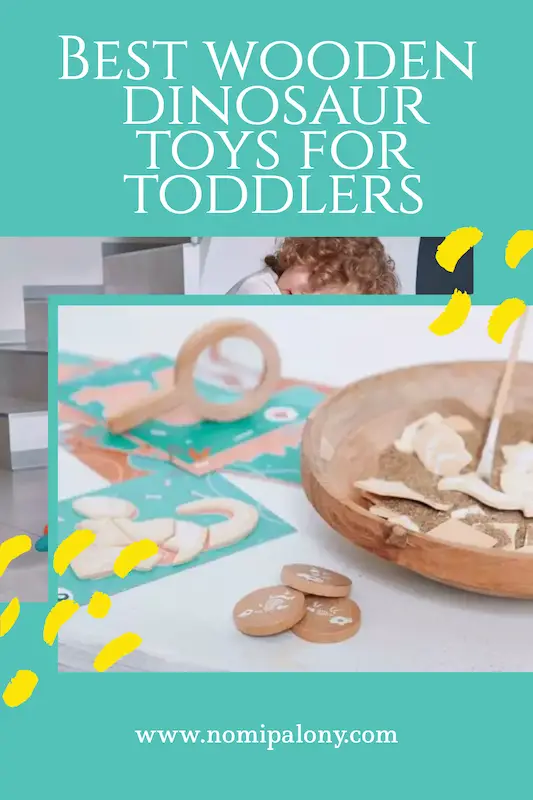 Disclosure: This is a sponsored advertorial post. For my full disclosure policy please see my about page.