If you follow me on Instagram Stories (if you aren't, do it now) then you will know that I LOVE a cheesy Christmas film. You know the colour by numbers plot ones that are TERRIBLE but equally AMAZING. They just warm your cockles and get you in the festive mood like nothing else.
Well, goddess knows we need this more than ever in the cesspit that has been this year! Here are my best new Christmas films picks for what you should watch to brighten winter 2022.
I've listed these in order of when you can see them from and I've added where you can watch them at too. So cuddle up in your Christmas bedding and snuggle down for this year's best schmaltzy festive films…
The Princess Switch 3, November 2021, Netflix
For the third time in four holiday seasons, Vanessa Hudgens will return to reprise her role as Stacy De Novo and Lady Margaret Delacourt, Duchess of Montenaro. The High School Musical actress will also reprise her role as Fiona, and will once again be portraying three different roles.
When a priceless relic is stolen, Queen Margaret and Princess Stacy enlist the help of Margaret's cousin Fiona teams with a man from her past to retrieve it, with romance and resulting in a very unexpected switch.
Olaf Presents, 12 November 2021, Disney plus
Love Hard, 15 November, Netflix
Starring Darren Barnet and Nina Dobrev, this festive rom-com follows a young woman from LA who travels to her hometown to meet up with a dating app match for Christmas, only to discover she's been catfished. Luckily, the catfish knows her old crush, and he promises to set her up with him . . . if she pretends to be his girlfriend for the holidays, that is.
Robin, Robin, 24 November, Netflix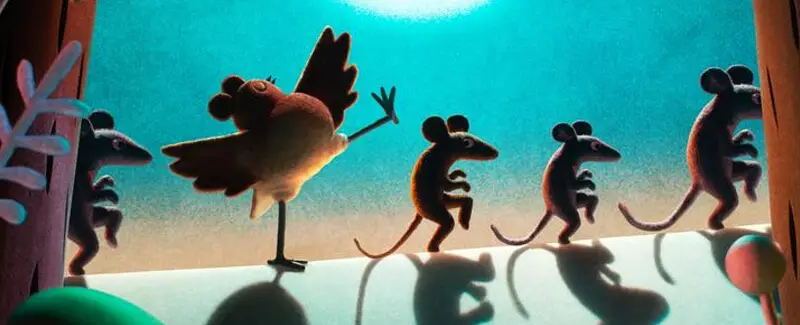 From the animation team behind Flushed Away and Chicken Run comes Robin Robin a new Christmas short due out just before the holiday season.
A Boy Called Christmas, 26 November 2021
The big family Christmas film this year is going to be a Boy Called Christmas. The film adaptation of the Matt Haig book (affiliate link). Arlo and I read the book last year and really enjoyed it so it will be fun to watch the film together this year. The book has some quite dark bits in for younger kids but the film is a PG so it will be interesting to see how they've done it. However, with Dame Maggie Smith (Aunt Ruth), Kristen Wiig (Aunt Carlotta), Sally Hawkins and Jim Broadbent starring, you know it's going to be fantastic. I can't wait!
For UK audiences, the film lands in cinemas and on Sky Cinema/streaming service Now on 26 November. There were rumours it would come to Netflix too but I think that might be outside of the UK as I can't find any more details of that for now.
Shaun the Sheep: The Flight Before Christmas, 3 December 2021 Netflix
Netflix has acquired a one-off Christmas special episode of Shaun the Sheep from the BBC which will air sometime in December 2021.
Shaun's seasonal excitement turns to dismay when a farmhouse raid to get bigger stockings for the Flock inadvertently leads to the disappearance of his cousin Timmy.
Single All the Way, December, Netflix
Michael Urie (Ugly Betty) stars in this festive season LGBTQ + rom-com, which centres on a perpetually single man who convinced his friend to pretend to be his boyfriend for the holidays. The problem: his meddling mum already has plans to set him up on a blind date with someone else.
A Castle for Christmas, Netflix, date tbc
Brooke Shields plays a wealthy American author who has her eye on a castle in Scotland … but unfortunately, the Scottish Duke who owns it is reluctant to sell to a foreigner.
Crashing through the Snow, Hallmark
Starring Amy Acker (Angel, Alias) and Warren Christie, the film follows Maggie (Acker) as she gets invited by her ex-husband Jeff's (Kristian Bruun, Orphan Black) new girlfriend, to the pair's Christmas getaway in Aspen. Though she's excited about getting the opportunity to spend the holiday away with her two daughters, Maggie soon forms a bond with Kate's brother, Sam (Christie).
And if like me, you think you could easily write one of these films, how about adding this Christmas book, Build Your Own Christmas Romance, to your Christmas wish list (affiliate link below). Thanks to my Instagram follower @designbykinship for letting me know about it!
I hope you enjoyed my new Christmas films to watch this winter choices. If you liked this post you might also like:
And if you are a feminist who likes to chat about the latest TV and movies then be sure to join my Facebook group – the Nomipalony Freehouse.
Which new Christmas films 2021 are you most excited about? Let me know in the comments!
If you have enjoyed this post or found it useful, here are some quick and easy ways that you can support Nomipalony or say thanks:
Share this post with your friends  
Pop over to my Amazon Storefront to see what products I have been buying and loving from there recently, including my health and fitness products list.
Sign up to my mailing list 
Women can join my feminist Facebook group – the Nomipalony Freehouse