Two things I love in life are history (History graduate, thanks very much) and TV/film. Ergo, I especially love historical TV and film. So I was thrilled to hear that Preston Park Museum's Behind the Seams exhibition is back by popular demand. Returning to the museum this October, the exhibition is showcasing a whole new range of iconic costumes from well-loved film and TV shows, as well as welcoming back some fan-favourite pieces. You might even remember us reviewing 'Behind the Seams' last time it was at Preston Park Museum back in January 2019. I couldn't wait to head back to see what the exhibition had in store for us this time. We went along in its first week of opening so I could tell you all about it!
What to expect from Preston Park Museum's Behind the Seams this time around?
From 12 October 2021 to 19 February 2022, Behind the Seams (which attracted record crowds back in 2018) will explore the stories behind some of TV and film's most recognisable outfits and their creators, Angels Costumes.
Visitors can expect to see a largely new collection of costumes, while the popular dress and shoes from The Red Shoes and the Queen's Coronation from The Crown has made a return. I loved how they showed some of the Red Shoes film behind the costume this time. It really brought it to life.
The exhibition will be showcasing original costumes worn by the stars on screen, as well as replicas of the original designs, from some of the most well-known and much-
loved shows on TV and film. These include The Crown, Fantastic Beasts, Chitty Chitty
Bang Bang, It's a Sin, Sex Education, Judy, Rocket Man, Cruella, Shakespeare in Love, Star Wars and James Bond.
About Angels Costumes
Spanning seven generations, Angels Costumes are one of the world's leading costume houses. They have been dressing the stars of stage, screen and TV for over 175 years. The research library at Angels dates back to 1842! The history geek inside me would love to nose through that!
Dubbed the world's greatest costume house, Angels has supplied costumes for 37 Academy Award winning films and in 2016 received a BAFTA for its Outstanding British Contribution to Cinema.
More than a million costumes hang on eight miles of rails, all under one roof. The company never throw anything away, adapting costumes so they can be used again. In fact, we were chatting to a staff member who found DK Harbour's name written in the jacket on display that was worn by Rupert Friend in Young Victoria. Upon some investigation they discovered that the Stranger Things and Black Widow star had worn it in a West End production and Angels had upcycled it for Young Victoria.
Highlights from Preston Park Behind the Seams exhibition include:
I'll try not to tell you too much so I don't spoil all the treats but here's some highlights.
The Crown
Clare Foy's dress from the Crown was on exhibition again. It's so sparkly (probably because the replica coronation dress was commissioned by Swarovski to celebrate the Diamond Jubilee). This time the dress was displayed with Matt Smith's Prince Philip's naval whites. One of the curators was telling me that they actually didn't have a mannequin slim enough for it and had to chop one in half! Some of the costumes are tiny – especially the waists on the dresses!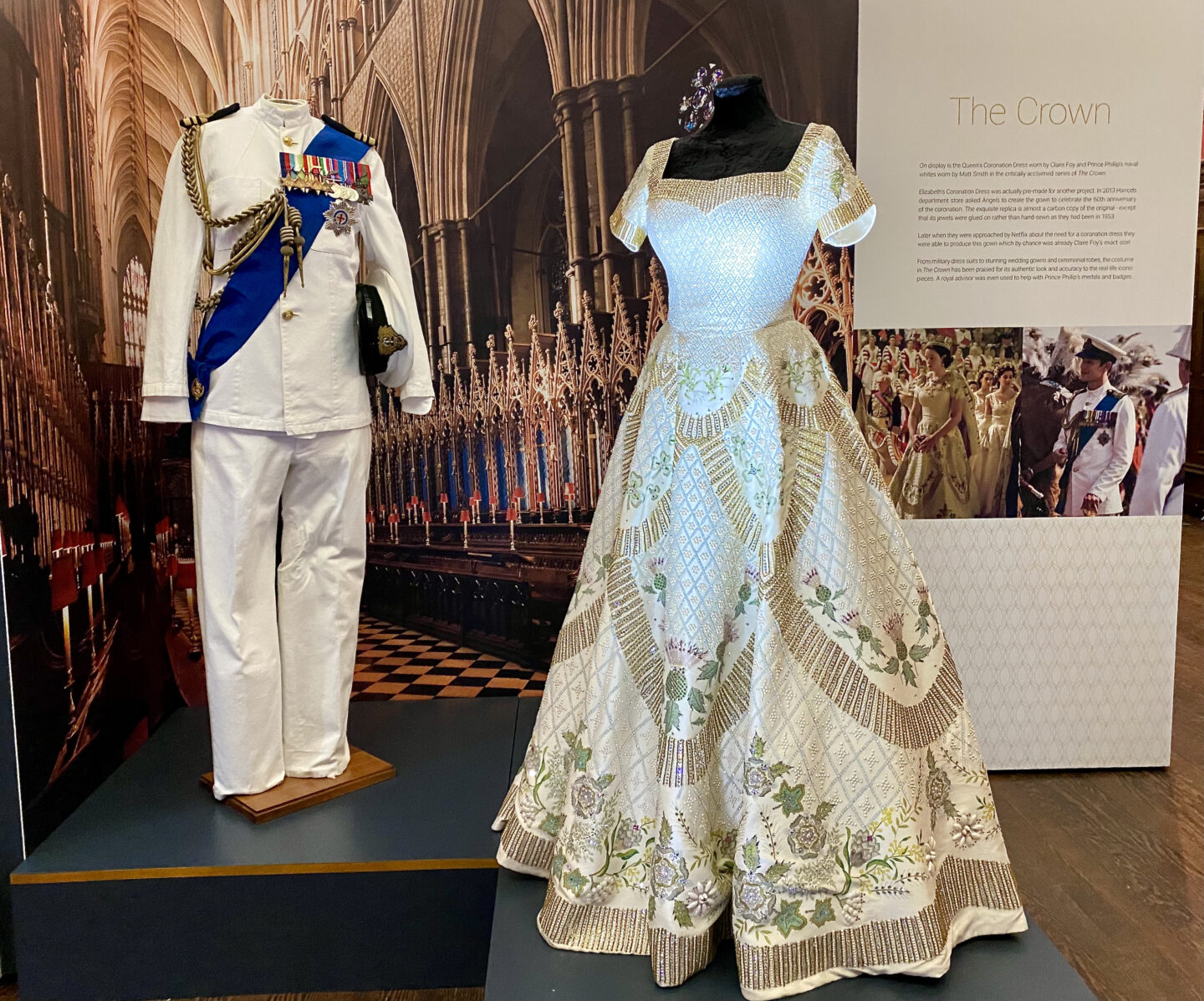 It's a Sin
Of all the TV I watched in 2021, It's a Sin was one of the absolute best. Russell T. Davies' chronicles of four friends navigating life during the rise of aids in the 80s was so fun but so powerful. Following the show, HIV testing in the UK quadrupled! If you haven't watched it yet you can watch it on 4 on-demand, go do it now (well after you've read this!). Obviously, I was keen to see some of the outfits from the show on display at the Behind the Seams exhibition.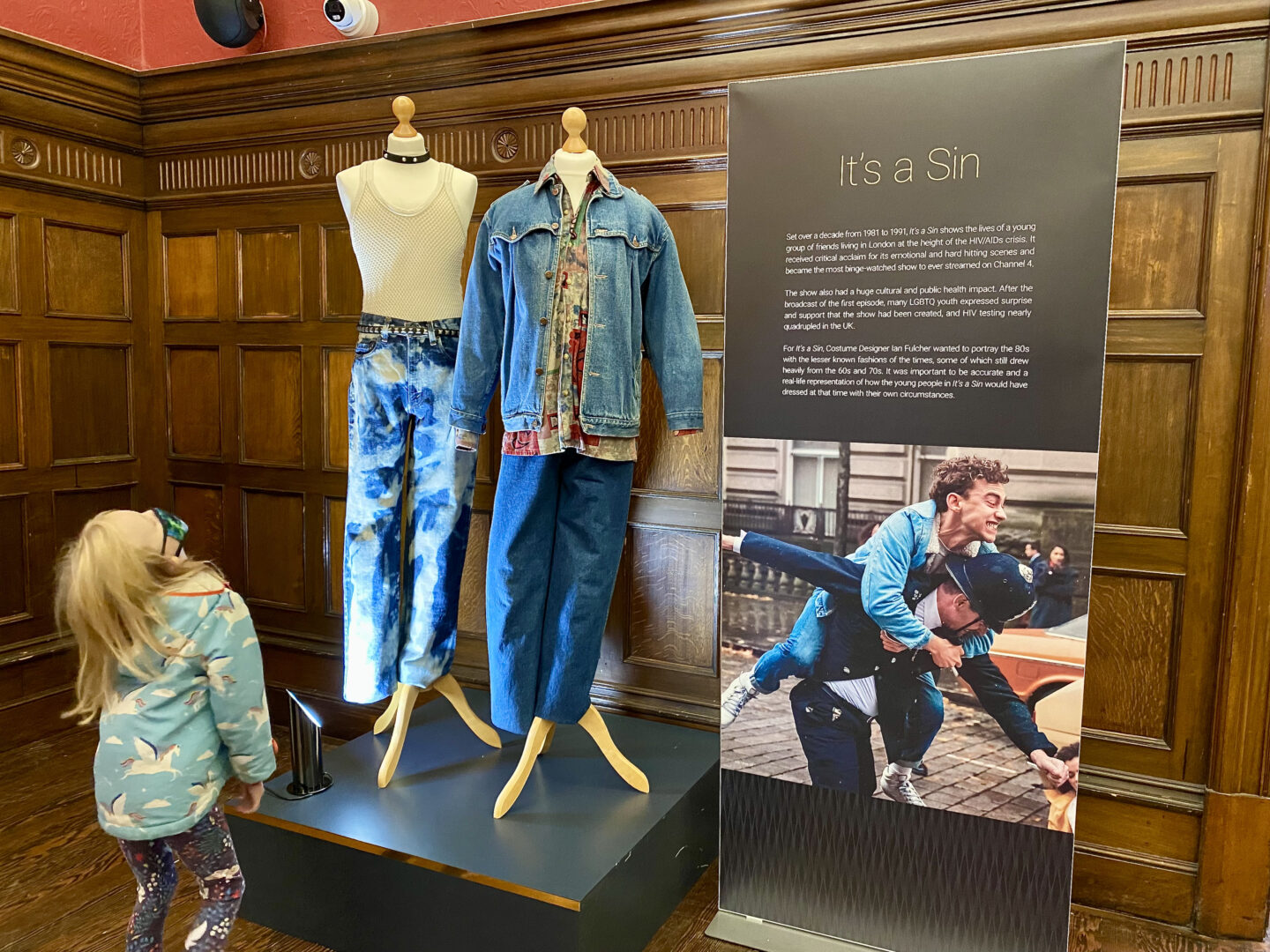 Sex Education
Another show we love is the brilliant Sex Education from Netflix. I've been crushing on Maeve's jacket that's on display for years. I so wanted to pinch it! Stunning and so me. If you could buy the outfits the mannequins would be naked in a week! Otis' trademark outfit was also on display (it looked a bit grubby tbh) and the staff even found Asa Butterfield's covid mask in the pocket!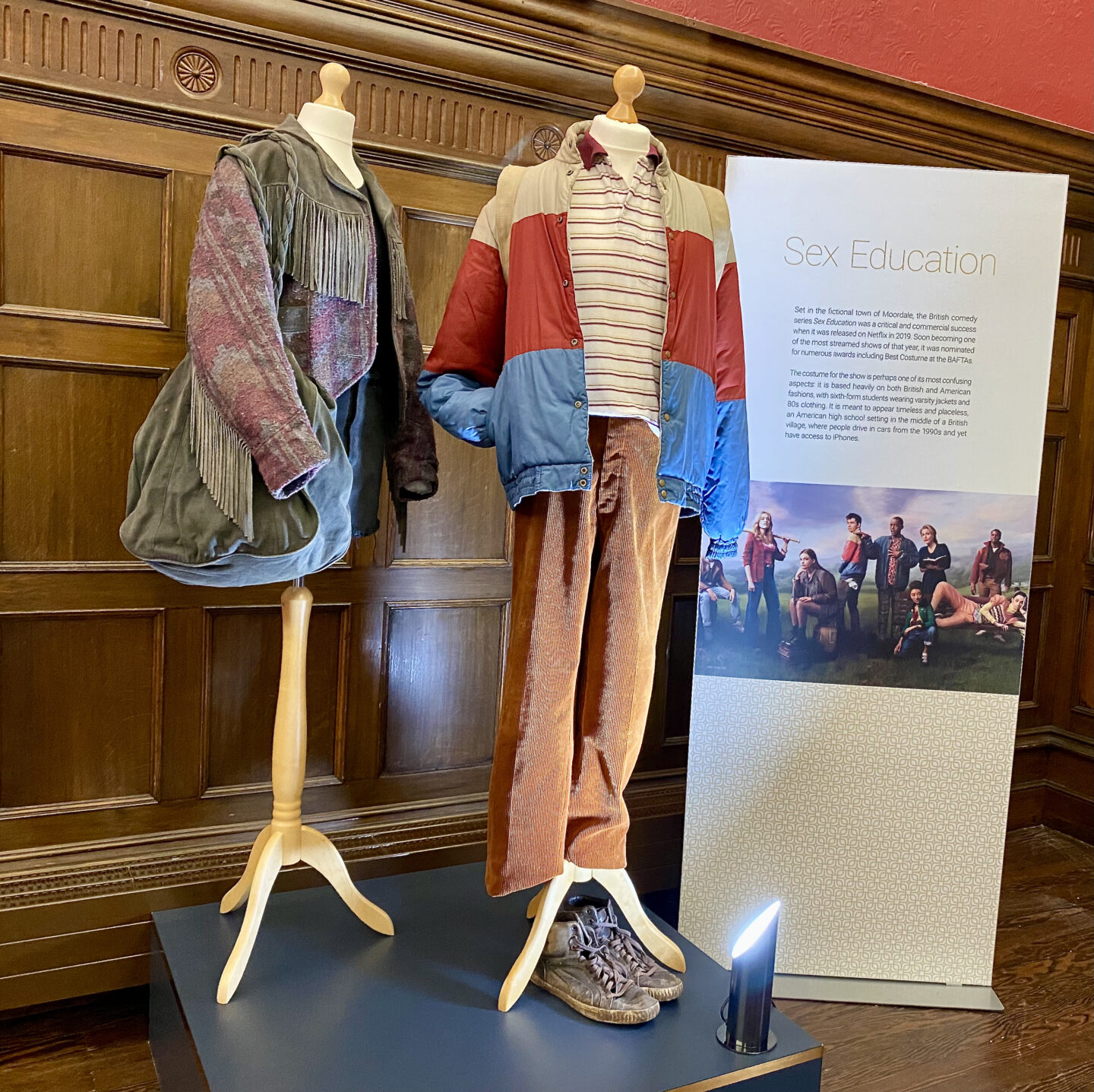 Rocketman
The Rocketman outfits were suitably flamboyant and I loved the local connection to the film with Billingham born Jamie Bell playing Bernie Taupin in the film (Elton John's writing partner).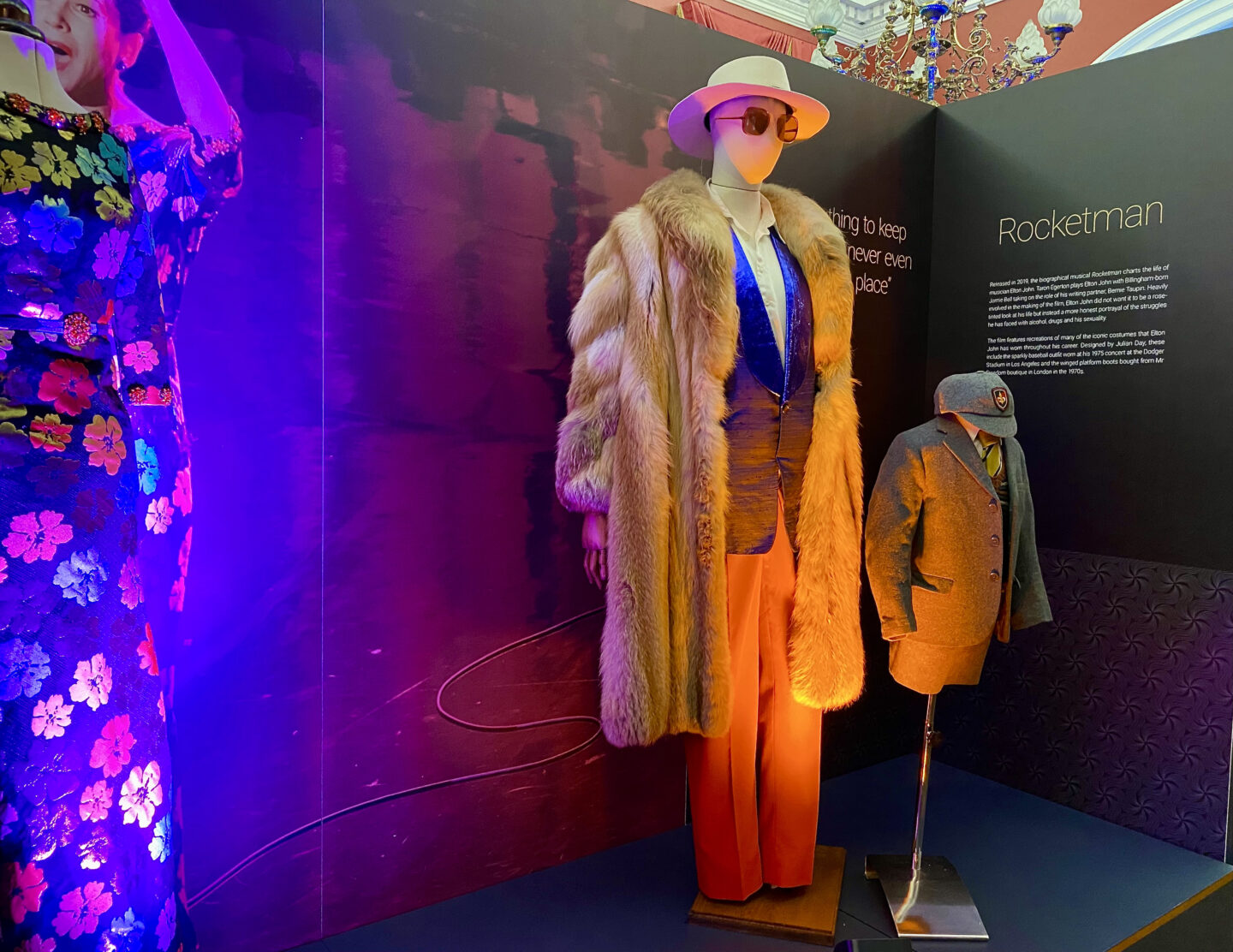 Fantastic Beasts
There weren't a lot of costumes from stuff the kids had seen but they have watched Fantastic Beasts so enjoyed seeing Newt Scamander's outfit. The kids also loved seeing some of the costumes from Cruella which they recently enjoyed.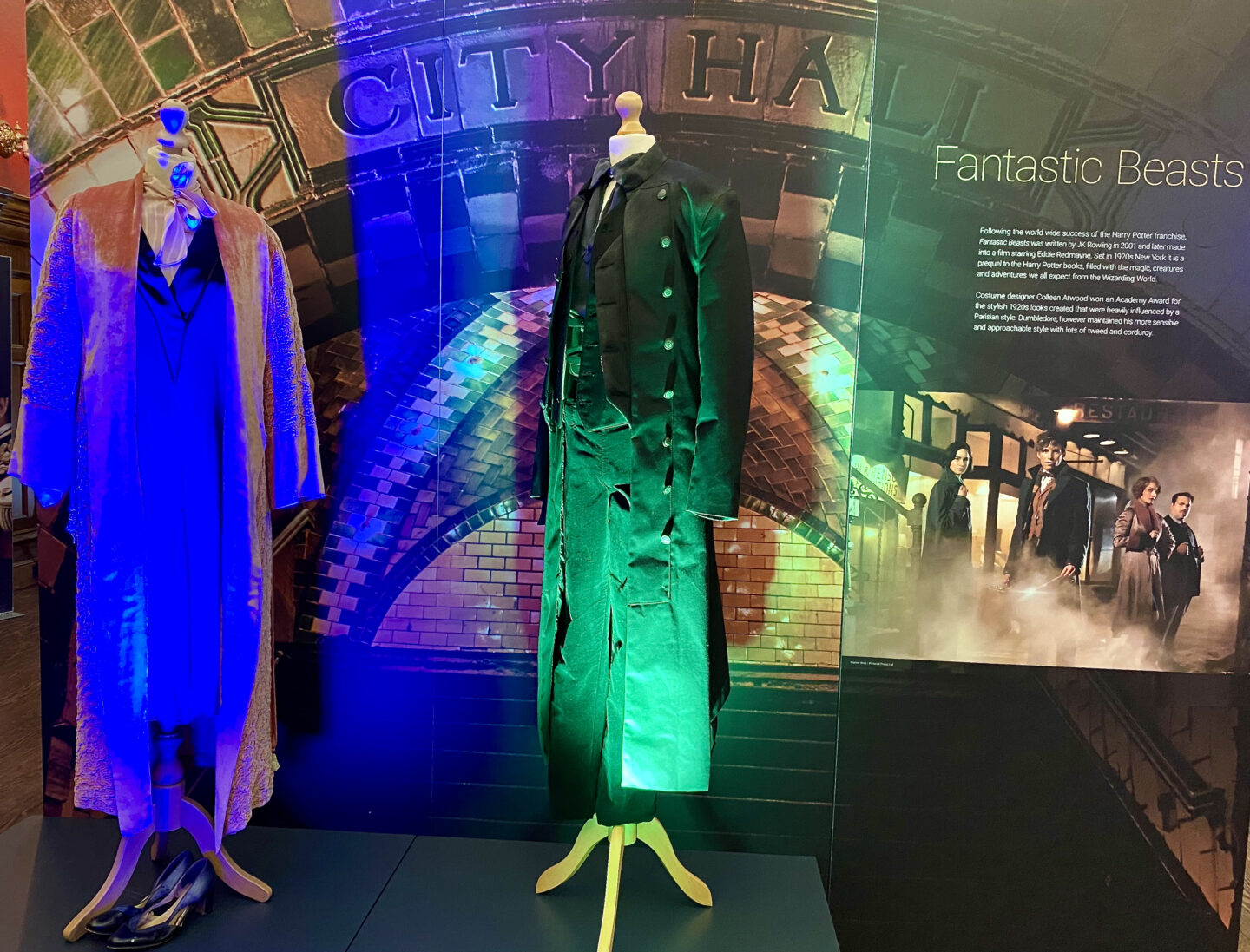 Shakespeare in Love
Gweneth Paltrow's dress from Shakespeare in Love is truly a sight to behold. No wonder it won a string of awards, including an Academy Award for the Best Costume.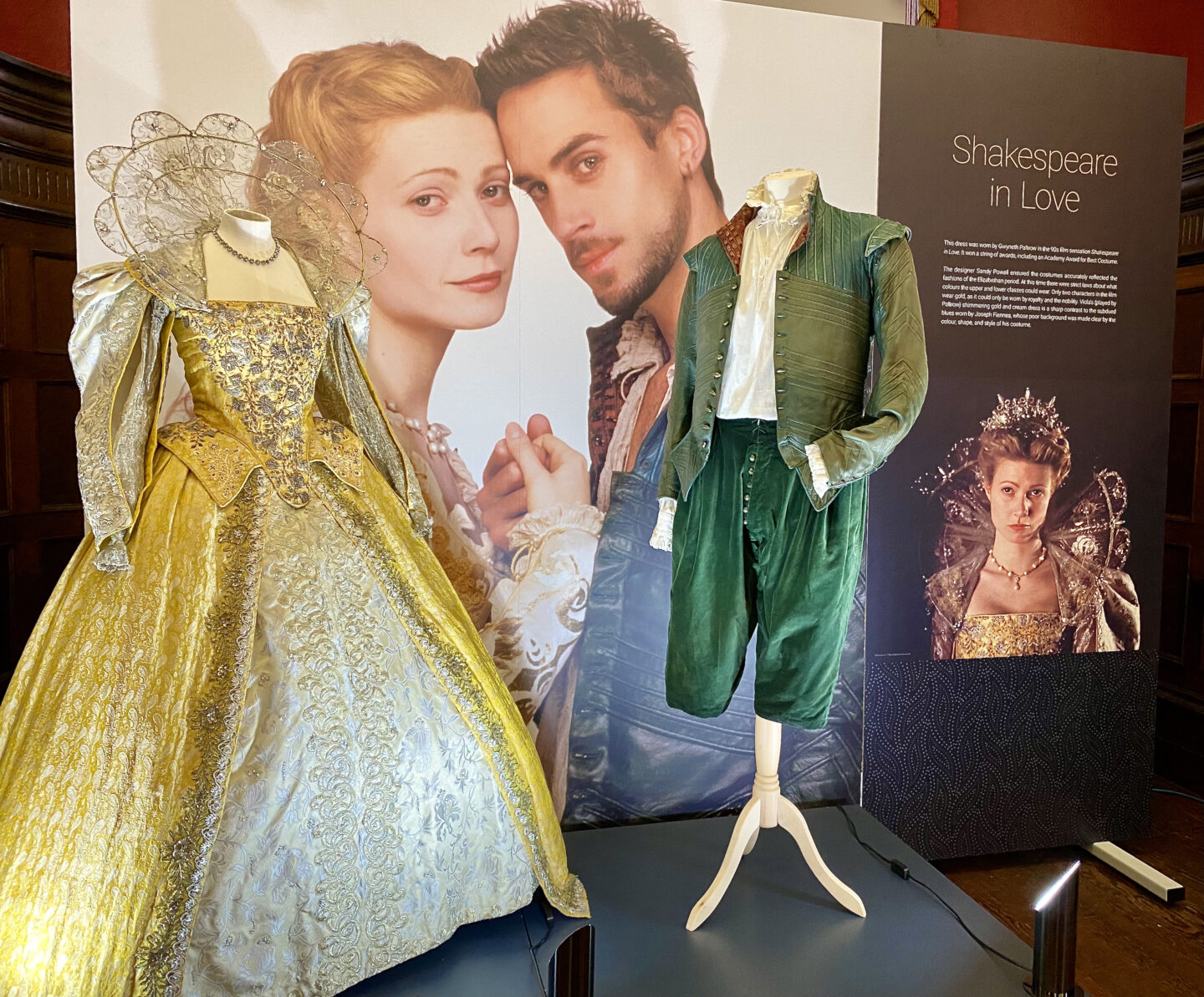 Star Wars
An exact replica of Obi Wan Kenobi's infamous cloak is on display and I was amused to read that after filming the cloak was accidentally rented out as a monk's fancy dress costume for 30 YEARS until it was realised and auctioned off for £54,000!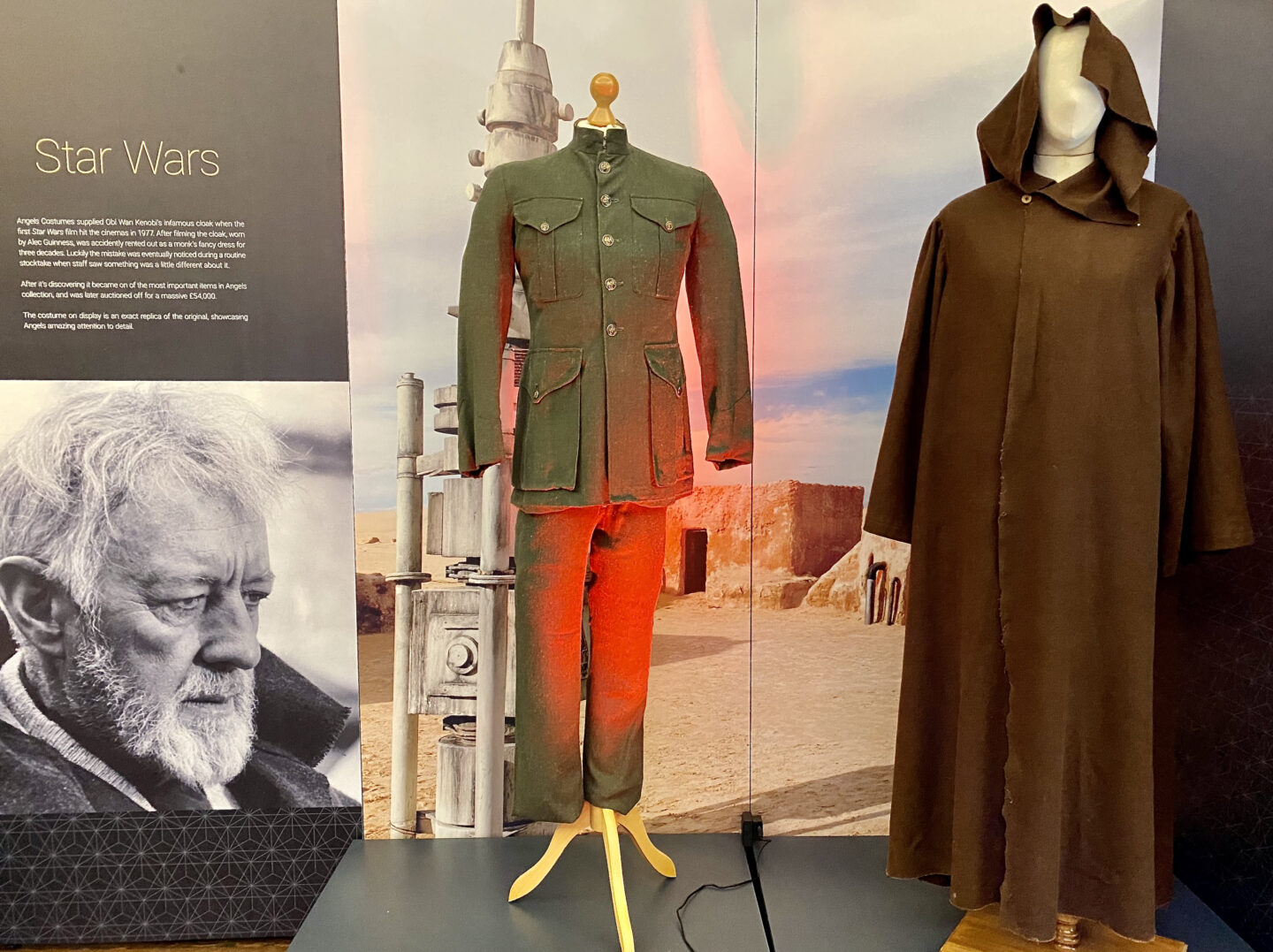 Is Behind the Seams family friendly?
Yes! It isn't a stuffy exhibition. There is music playing and it's not all quiet and whispers. We took my 6 and 9 year old and I didn't feel at all uncomfortable having them there. The staff were really cool and told the kids that they had a special job of making sure that the grown-ups didn't touch the costumes as they are the worst for forgetting. When it looked like my 6 year old was getting a little too close to a costume a staff member said 'remember to watch your grown-ups and make sure they don't touch' which was such a cool way of keeping the kids on board.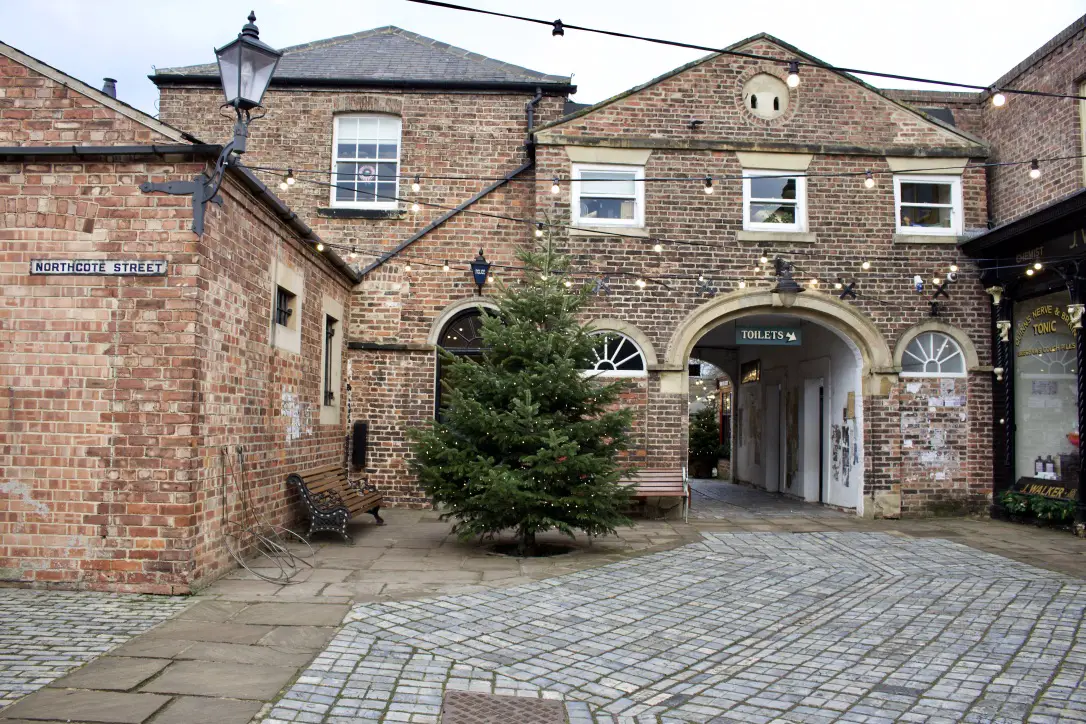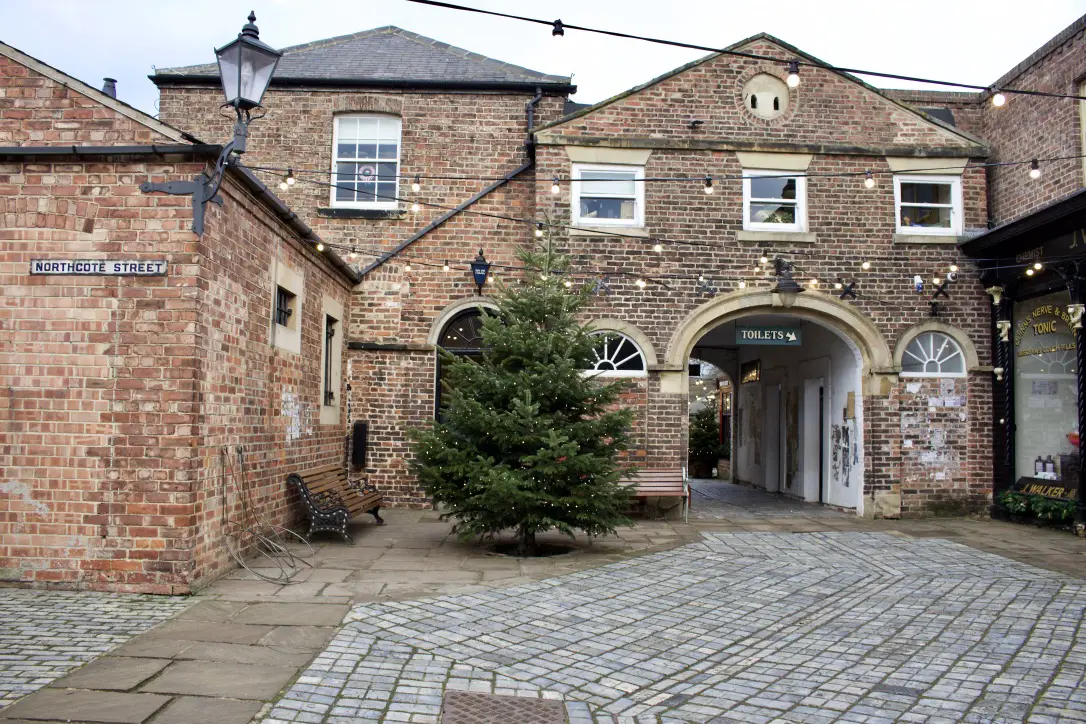 It didn't take a long time to go around the exhibition either (30 minutes to an hour depending how long you want to look at each costume) so the kids didn't get too bored and restless. Plus they knew they had the play park to look forward to after (I'm not above bribes alright). The staff were great with the kids, chatting to them and asking them questions. They were also on hand to tell you more about the costumes too, giving interesting tidbits of information away. All of the staff were brilliant on the day.
Preston Park Museum and Grounds
Afterwards, there are plenty of things to do for kids at Preston Park which I have vlogged about previously on our YouTube channel below:
There is just so much to do at Preston Park Museum and Grounds. There's something for everyone, whether you're stepping back in time on the Victorian Street, exploring the museum and gardens, taking a stroll through beautiful parkland or letting off steam in the huge adventure play area.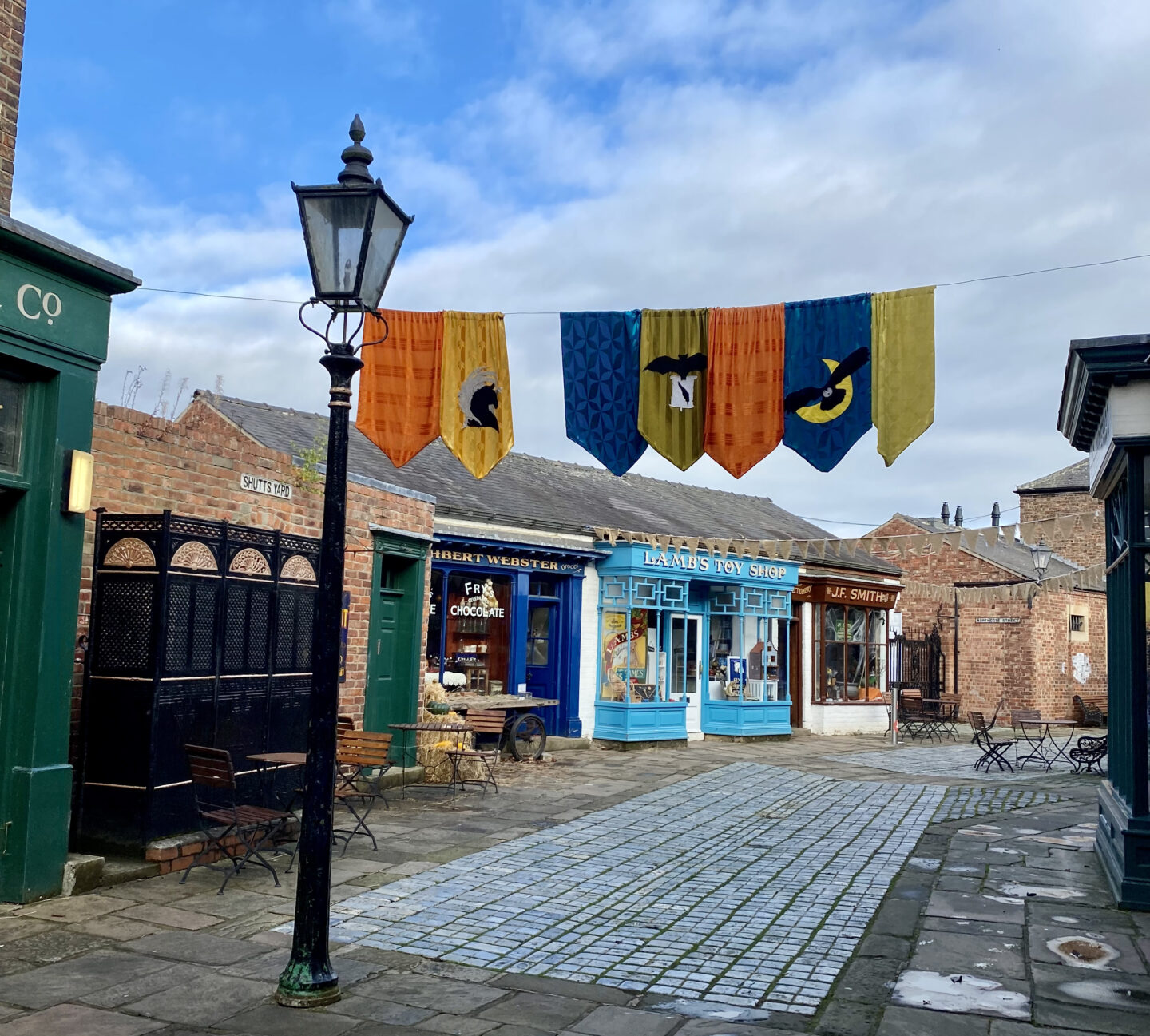 Once the grand home of renowned Victorian shipping entrepreneur, Robert Ropner, Preston Hall is now a museum boasting a vast and varied collection. In the replica Victorian Street, you can experience what life was like in 1895. Meet characters from the past, discover what crime and punishment was like in the police station, play with traditional toys and enjoy a taste of nostalgia in the sweet shop. We absolutely love it there.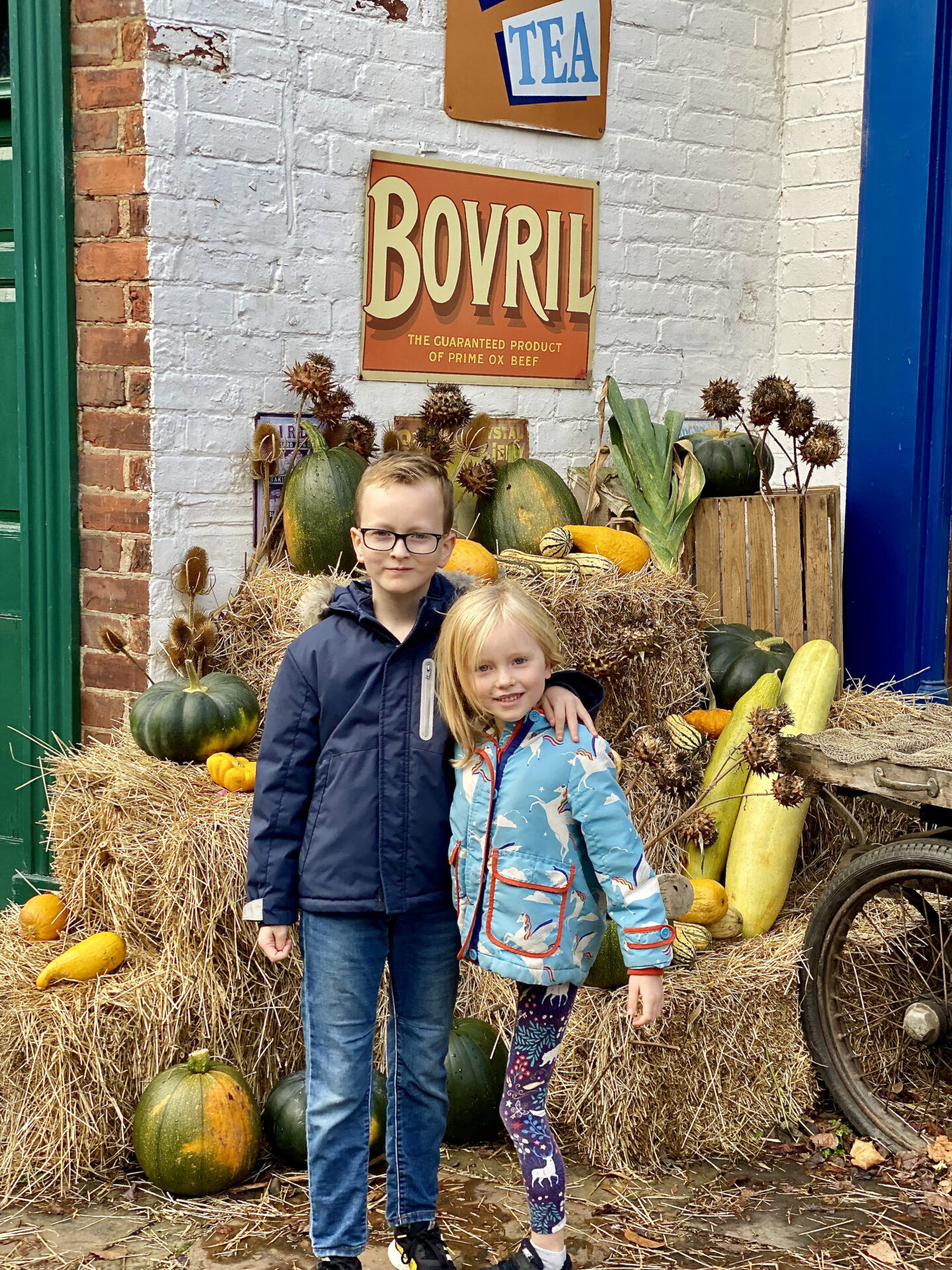 Step into the park and there are various woodland walks to embark on where you can spot the local wildlife and enjoy scenic views across the River Tees.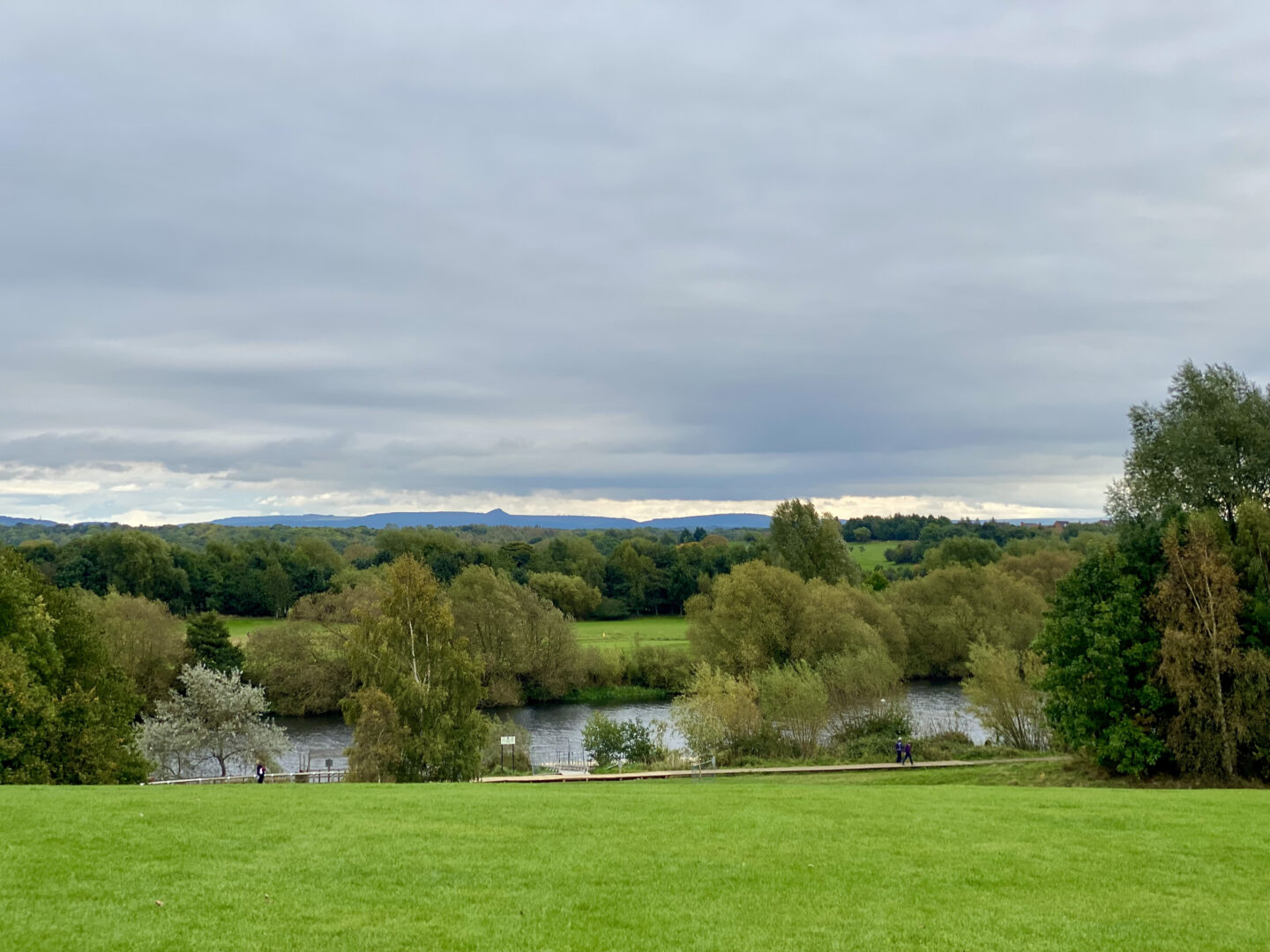 There is an exciting annual events programme, so no matter what time of year you visit, there is always something new to see.
After the exhibition, we had a walk around the old Victorian street which looked gorgeous with its Halloween decorations up. We grabbed cakes and drinks from the cafe and even picked up some toys from the toy shop.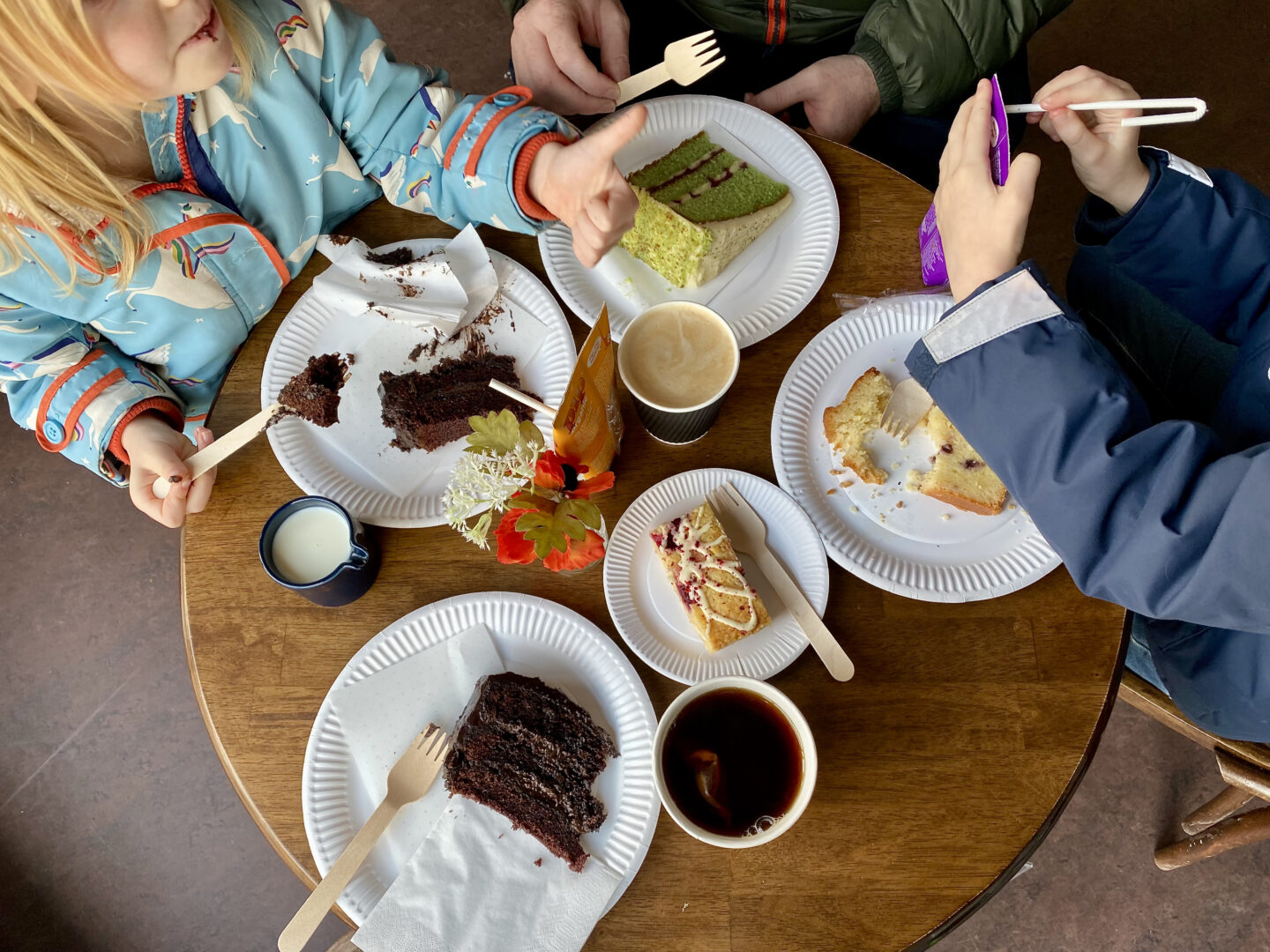 Then we took the kids to the huge adventure park so they could burn off some steam. It was a lovely little morning out.
We've never not had a good time at Preston Park. It feels like home to me as we lived nearby and I remember going often as a child. Its so nice to see it thriving still so many years on.
Cost of Preston Park Museum Behind the Seams
We are big fans of Preston Park and I just don't think you can beat them for value for money with an annual family ticket for 2 adults and 3 children/concessions costing only £15.
In addition to museum entry costs, the exhibition costs £5 per person, £3 for concessions/children and under 3s go free. Again, I think this provides strong value for money.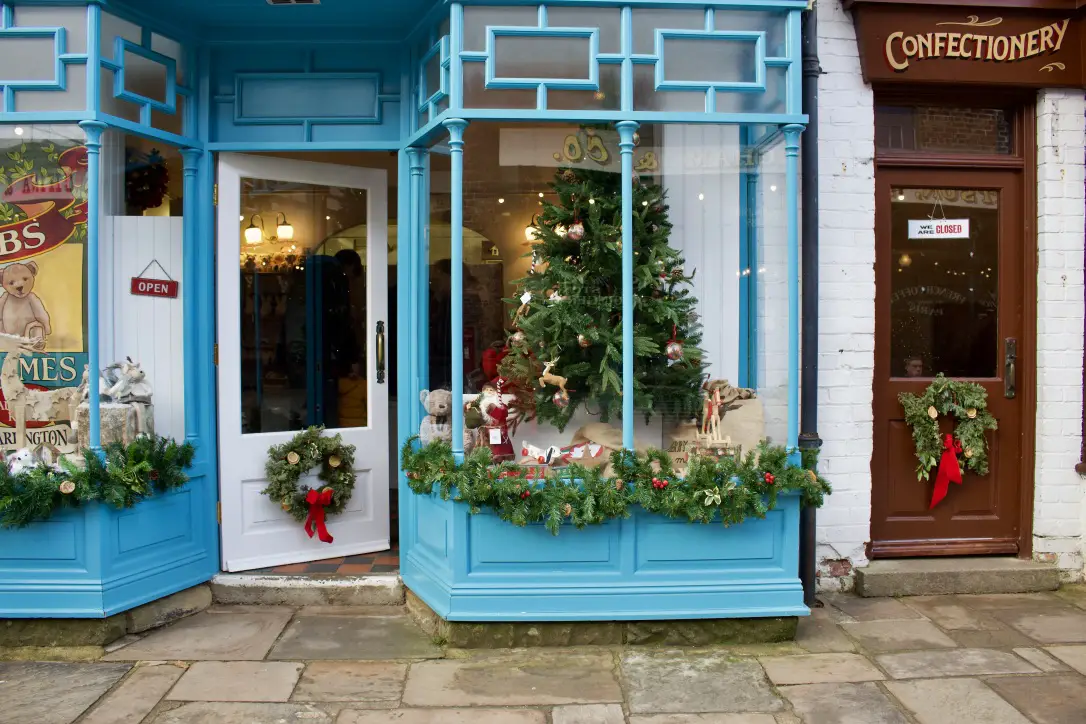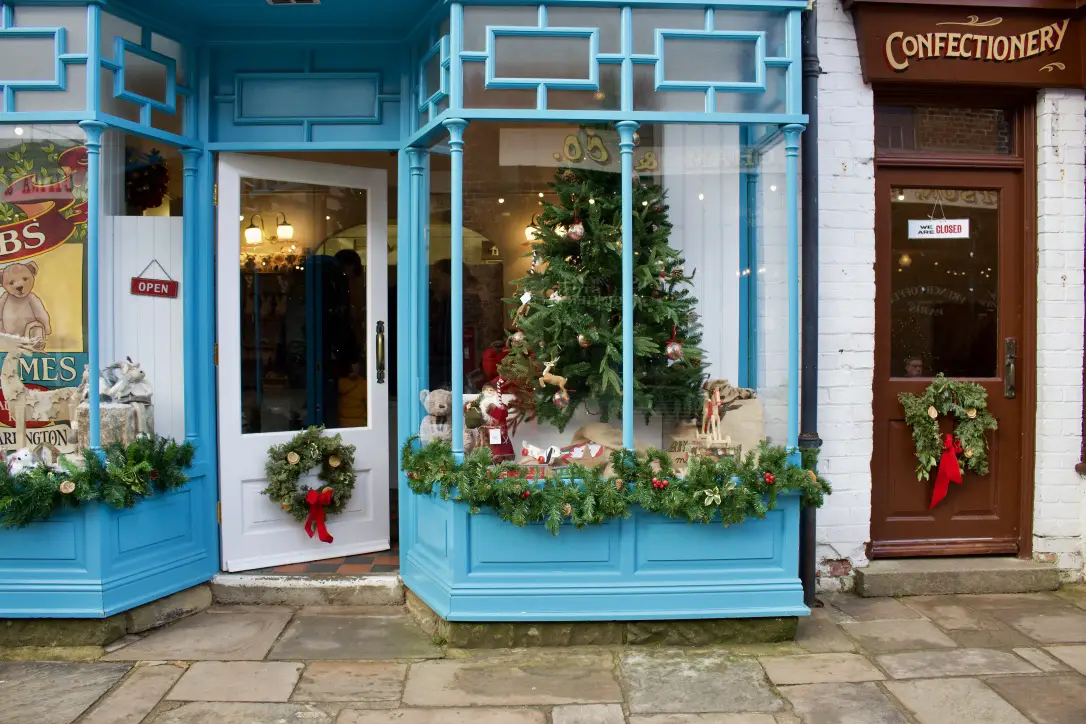 Preston Park Museum Behind the Seams – good to know
Dates: 12 October 2021 to 19 February 2022.
Times: Tuesdays to Sundays, 10am – 4pm. Last admission 3.30pm. Closed Mondays (except during school holidays/bank holidays).
Ages: all
Cost: Tickets cost £5 for adults | £3 for concessions/children | under 3s Free
in addition to the normal admission prices for Preston Park Museum. Advance tickets are available to book now.
Directions: See here for how to get to Preston Park Museum
Food and drink: there is a small tearoom on the Victorian street selling a small selection of food, and there is a café in the park selling items such as chips. More food options are available from Yarm nearby.
Summary
It's such a privilege that we've got Behind the Seams on display here in the North East again and I'm thrilled I got to see this part of screen history and learn a bit more about the world of costumiers. I'm over the moon it's based at Preston Park, giving us an excuse to visit one of the best value for money cultural days out that the North East has to offer. I'd thoroughly recommend you get down before it ends in February!
If you liked this post you might also like:
If you have enjoyed this post or found it useful, here are some quick and easy ways that you can support Nomipalony or say thanks:
Share this post with your friends  
Pop over to my Amazon Storefront to see what products I have been buying and loving from there recently, including my health and fitness products list.
Sign up to my mailing list 
Women can join my feminist Facebook group – the Nomipalony Freehouse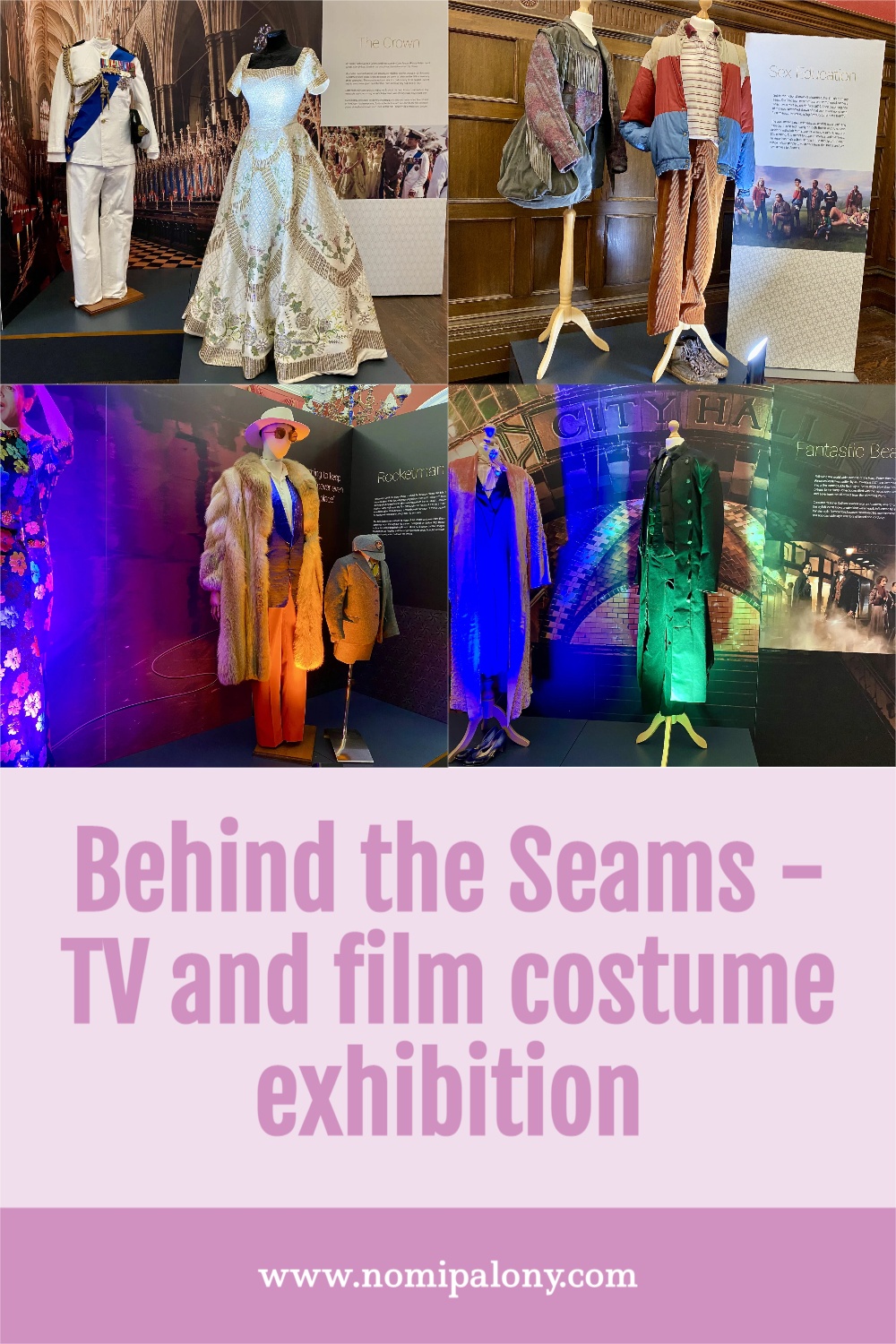 Disclaimer: This is a sponsored post. For my full disclosure, please see my about page.