This isn't a guide to all the things that are on TV this Christmas. You can go grab the Radio Times for that! This is a self-indulgent post about what I'm personally looking forward to watching TV this Christmas break.
But, I know lots of you have very similar tastes to me so I'm guessing you will be looking forward to very similar things.
I've broken this down to things I want to watch with the kids and then things I'll be watching without them and have put them in date and time order for your ease. Here's what I'm looking forward to watching on TV this Christmas, no Mrs Browns Boys I promise…
Things I'm looking forward to watching with the kids
Encanto, Christmas Eve, Disney plus
The new Disney blockbuster with songs from the ever-talented Lin-Manuel Miranda.
Shaun the Sheep: the Flight Before Christmas, Christmas Eve, 6pm, BBC1
The sheep are putting up their decorations at Mossy Bottom, but a quest for bigger stockings leads to Shaun's cousin Timmy getting lost at a local market. We are all excited about this one following it being the theme of Fenwick's Christmas window this year.
Superworm, Christmas Day, 2.30pm, BBC1
The latest Julia Donaldson and Axel Scheffler adaptation. Superworm is able to shift his shape into items like lasso or rope to help people in need. But when he's snatched by a villainous lizard, the garden creatures he's rescued in the past come to his rescue.
The Great Christmas Bake Off, Christmas Day, 8pm, C4
This year the series is reuniting the cast of the incredible It's a Sin (which was one of my favourite watches of the year) to take part in some seasonally themed baking challenges.
Return to Hogwarts, New Year's Day, Sky/NOW TV, time tbc
This one is a big one! The stars of Harry Potter are reuniting to look back on 20 years since the Philosopher's Stone. Many of you will be pleased to hear that all 3 main stars will appear but JK Rowling will not (though there will be some archival footage of her). Also watch out for Hogwarts Tournament of Houses on New Year's Day on Sky/Now. A four-part event hosted by Helen Mirren where fans compete in trivia questions to take home the title of House Cup champion.
Thing I'm looking forward to watching without the kids
Don't look up, Christmas Eve, Netflix
Leonardo Dicaprio and Jennifer Lawrence star as astronomers whose urgent apocalyptic warnings go unheeded. Somehow I think that plotline will be more believable in the current climate!
Call the Midwife, Christmas Day 8pm, BBC1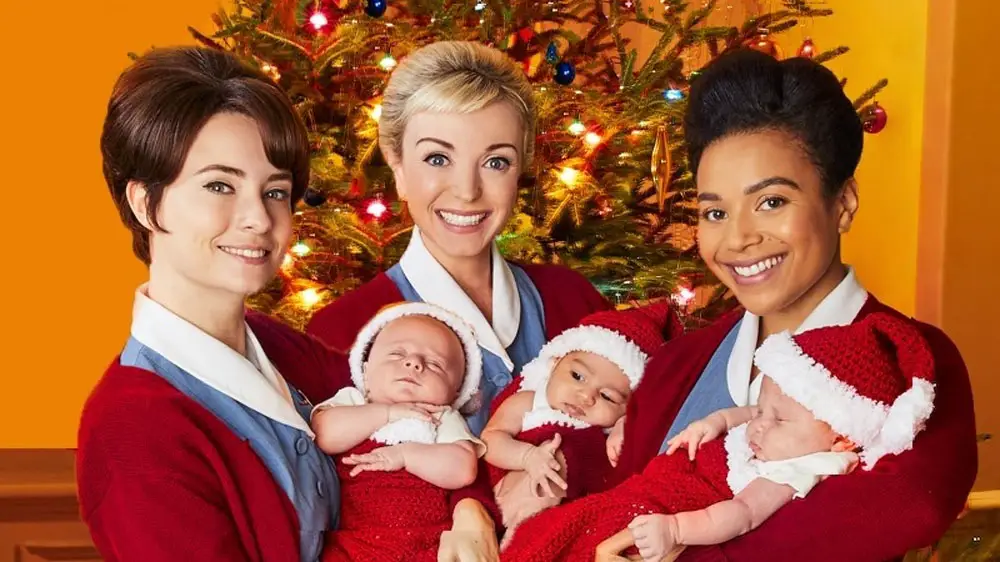 It wouldn't be Christmas without the Call the Midwife Christmas special. Who else would make us simultaneously sob and then feel uplifted on Christmas day?! This year the midwifes are preparing for Lucille's wedding to Cyrill on Boxing Day! I can't wait!
A Very British Scandal, Boxing Day, BBC1, 9pm
Clare Foy (The Crown) and Paul Bettany (Avengers) star in this 3 part drama about society beauty Margaret, Duchess of Argyll and her notorious 1963 divorce case.
Stay Close, New Year's Eve, Netflix
James Nesbitt, Richard Armitage, Cush Jumbo and Sarah Parish star in this 8 part thriller that's set to be the new The Stranger.
The Graham Norton Show, New Year's Eve, 10.20pm, BBC1
Guests on NYE are Jessica Chastain, Claire Foy, Peter Dinklage, Cush Jumbo and Joe Lycett with music from the Divine Comedy.
So that's what I'll be watching on TV this Christmas. What are you most looking forward to watching? Did I miss any of your favourites off? Let me know in the comments.
And if you are looking for other things to watch over Christmas then check out my Ultimate Guide to the Best Christmas Family Films and my New Christmas films to watch this winter.
Looking for other things to watch as a family this Christmas? Check out these posts…
Still looking for last minute gifts? Check out:
If you have enjoyed this post or found it useful, here are some quick and easy ways that you can support Nomipalony or say thanks: