Last weekend we made the most of the gorgeous weather we had and did a South Shields beach front walk from the Go Smarter, Go Active website. In today's blog post I'm going to tell you all about the South Shields beach walking route that we did, what we did on the route, how long it took us, where we ate and why we recommend that you give it a go yourself.
Go Smarter, Go Active itineraries
Go Smarter, Go Active have created a suite of brand-new days out itineraries that you can explore by walking or cycling. You'll find itineraries that showcase amazing parts of Durham, Gateshead, Newcastle, North Tyneside, Northumberland, South Tyneside and Sunderland that have been designed to encourage active and sustainable travel across the region. They also have a number of cross-boundary guides for the adventurous among you! A selection of the guides are suitable for wheelchair users and those with pushchairs. For an interactive map with clickable hotspots to explore the area and print sections of map see Cycling and Walking Maps from Go Smarter, Go Active.
Living in and being proud of the Borough, we decided to do the South Tyneside day out itinerary, the aptly named 'Sand Dancer' coastal route. Knowing the area well, I wanted to showcase what a fantastic day out South Shields beach is for families. The Sand Dancer route offers walkers and cyclists a snapshot of the area's heritage, attractions, public art and unique landmarks.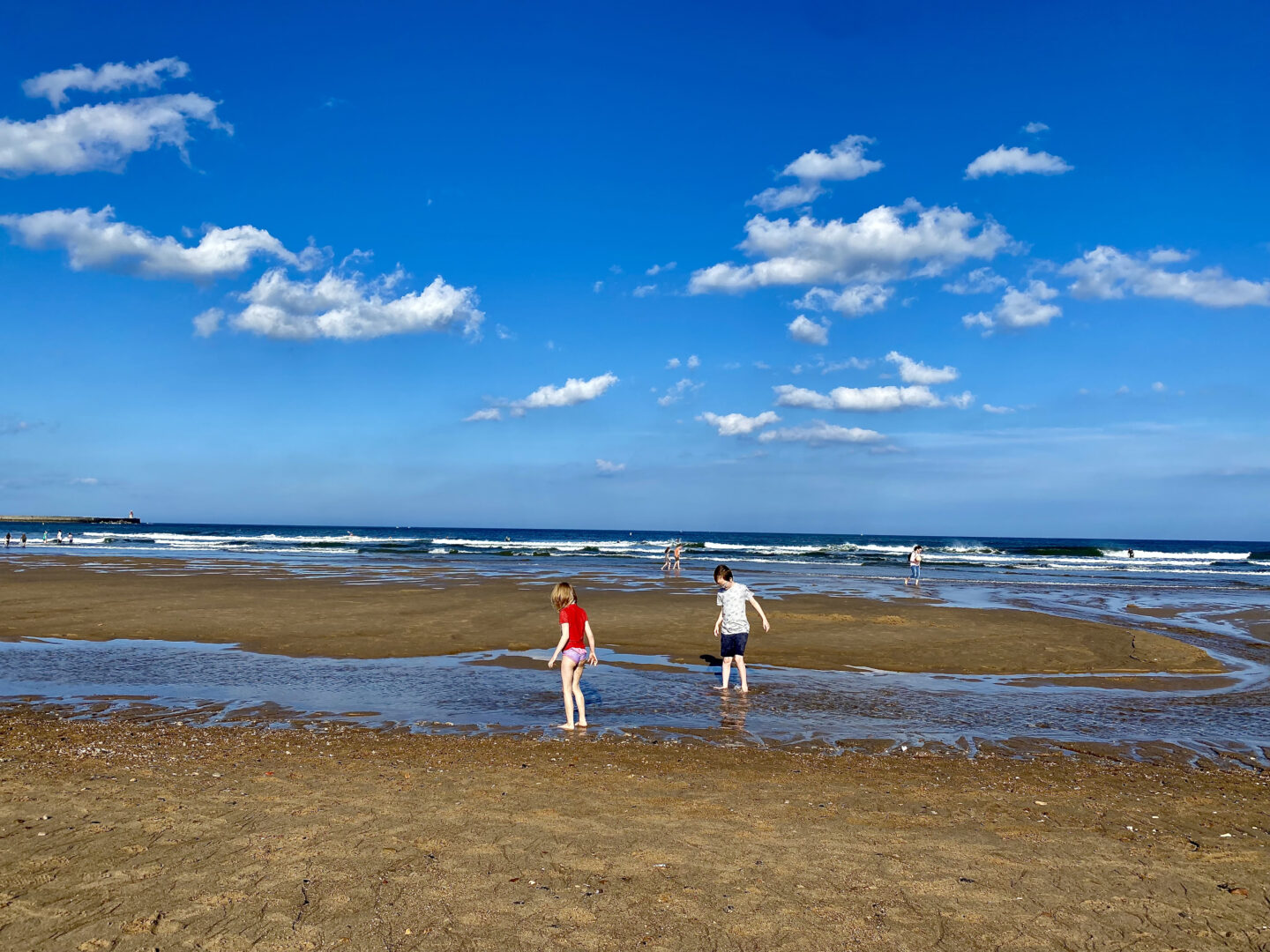 The Sand Dancer Go Smarter, Go Active route – South Tyneside
The Sand Dancer is a full route for walkers and cyclists. As this route isn't a circular route and we had young kids with us, we did the smaller section of the route along South Shields beach front. This smaller route is suitable for those in wheelchairs and those bringing pushchairs (see the section marked in orange).
This section of the route is 1.3 miles and we did it twice so it was 2.6 miles total. At the end of the day my Apple Watch told me I had walked 12,449 steps. We spent 5 hours doing the route but this included spending lots of time at each spot and a lunch break. This isn't the kind of route where you do the walk and that's it. This is a fun family day out full of diverse activities. Don't forget your buckets, spades and swim gear!
Getting to the Sand Dancer route
Go Smarter, Go Active encourage people to make use of the brilliant public transport facilities in the region when thinking about how best to get to the start of routes. You can plan your journey ahead of time using livemap.nexus.org.uk. Simply enter the postcode NE33 2JH to view options near the Sand Dancer's starting point. Alternatively, if you live close by, you can find the best way to walk or cycle to the start of the route by using the Go Smarter, Go Active interactive map. If you choose to drive, there are car parks all along the route and if you have an electric car like us there are free electric charging points at Pier Head car park near stop 6 on the Sand Dancer route.
South Shields beach walking route
1. Don't 'throw rocks' – Trow Rocks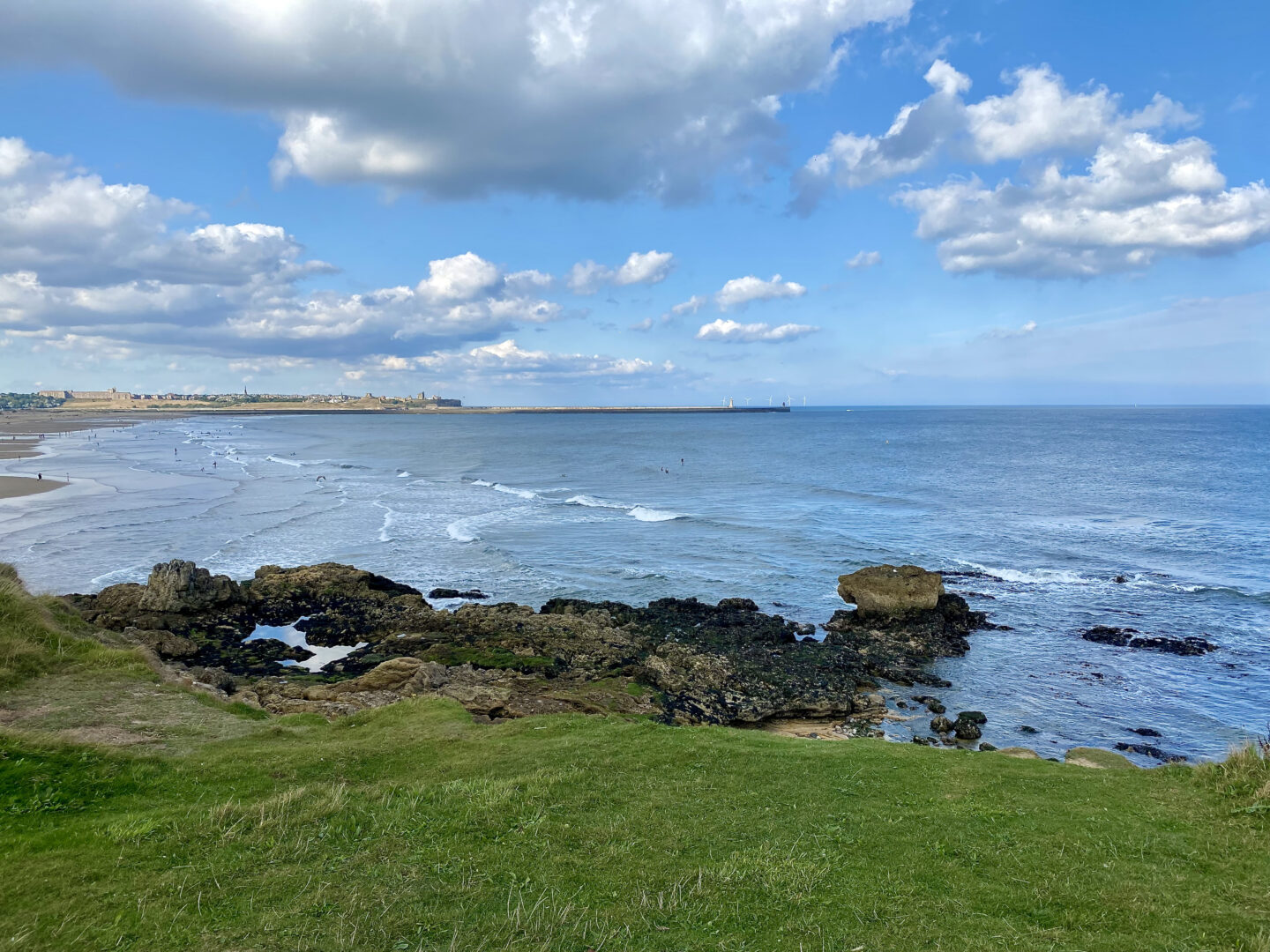 If you follow the route in the order it is intended then you will start the Sand Dancer at Trow Rocks. These sit to the south of beautiful bays and coastline and Souter Lighthouse.  Whilst the route doesn't start at the top of the rocks, if you are able it is worth climbing the stairs as the views of the ocean and the beach over the cliffs are stunning.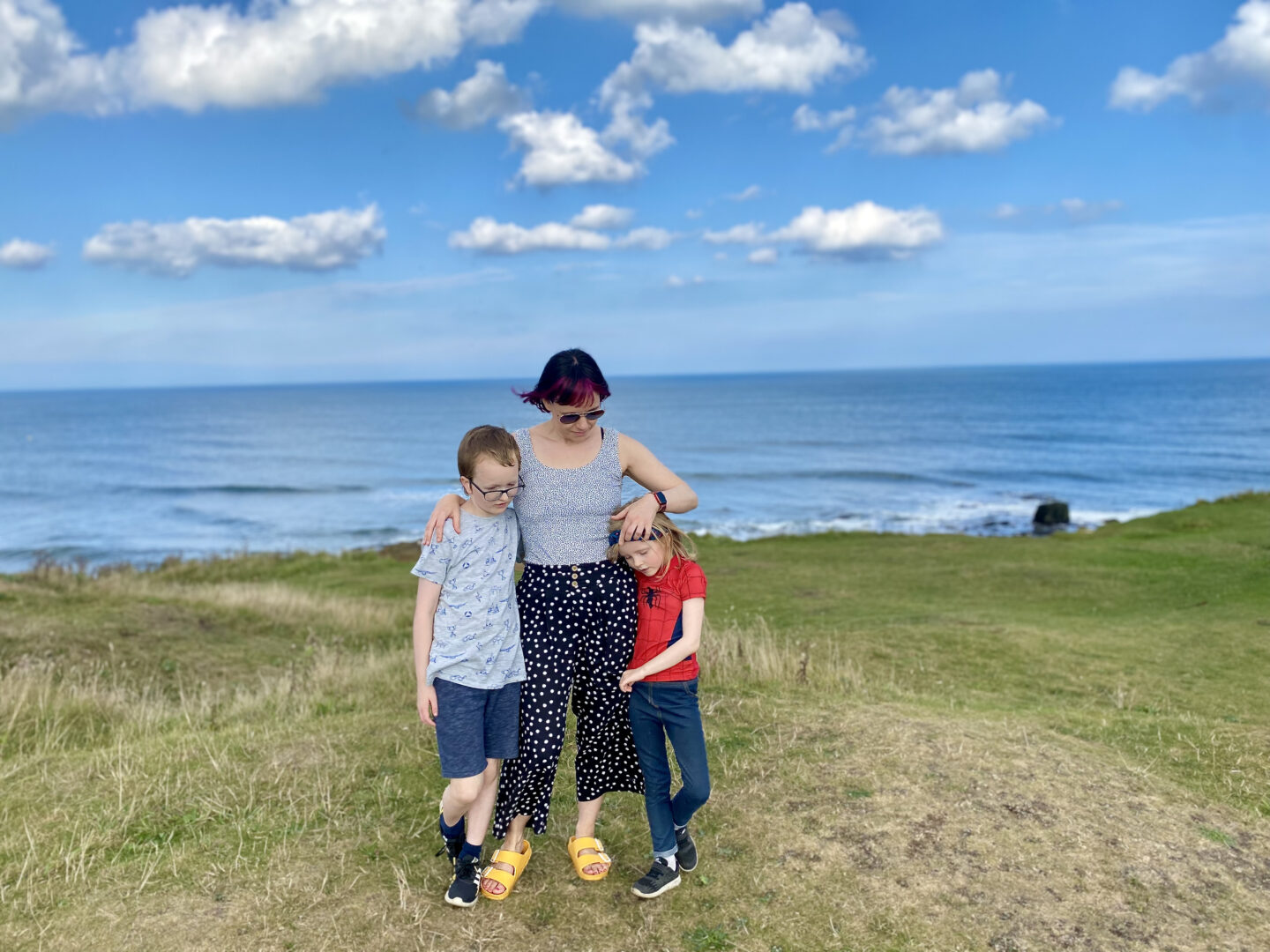 You can also have a look at and learn about the grade II-listed turret the "Disappearing Gun". We found it amusing to read a sign that said although the gun fired without problem, the water and air pressure mechanism was too slow. It was never used in combat as it took 8 hours to pressurise the pump before it would work!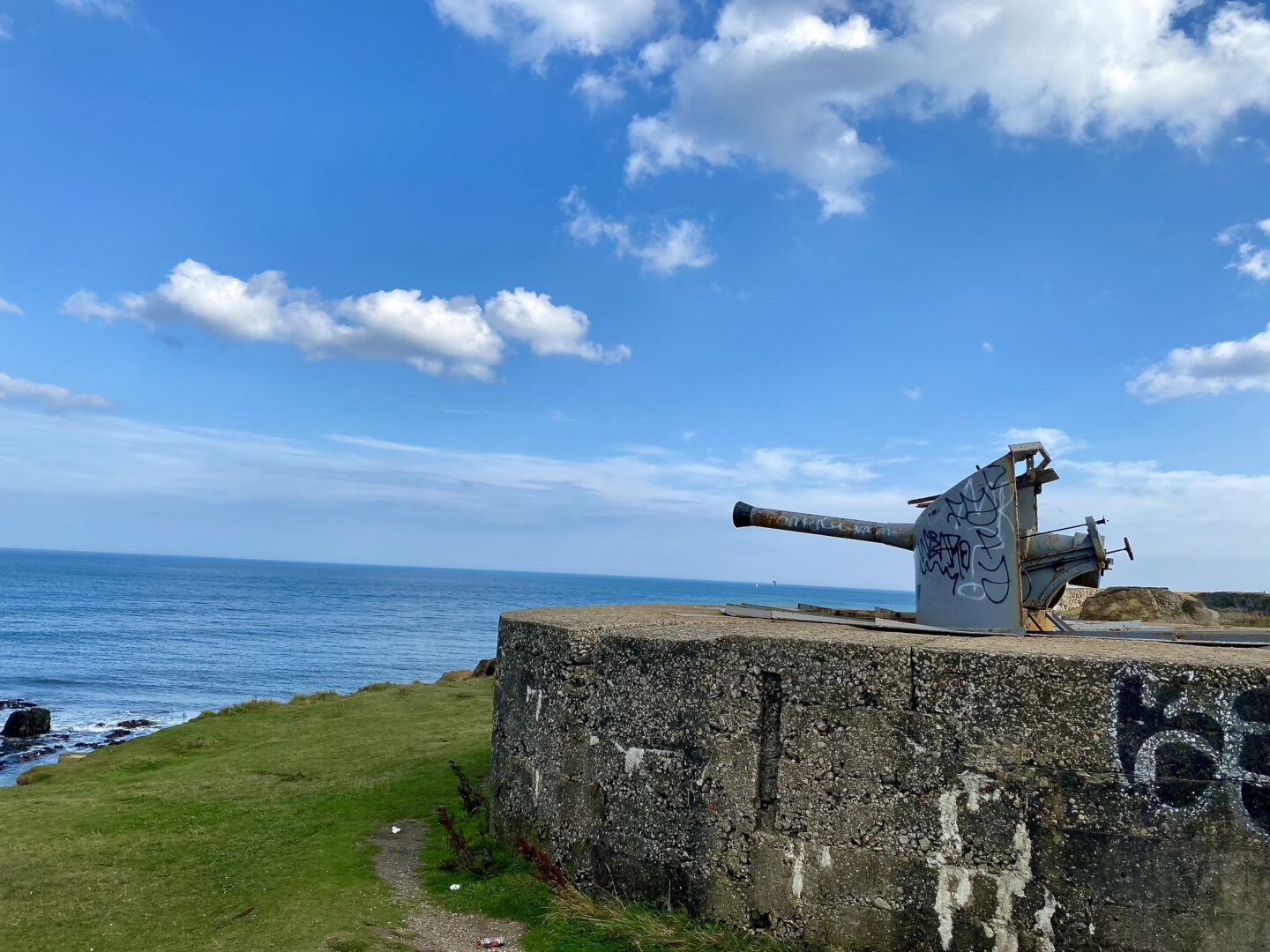 2. Dance along the sand – Sandhaven Beach
From Trow Rocks it is a short walk down the hill to the beautiful award-winning South Shields beach – Sandhaven Beach. It's a lovely sandy beach with gorgeous views – you can even see Tynemouth Priory over the sea in North Tyneside. The kids (and I) had a blast walking along the beach and jumping in the waves and building sandcastles.
In the rest of the post I'm going to tell you about businesses you might be interested in visiting along the route, please note that these have not been supported or endorsed as part of the paid-for advertisement from Go Smarter, Go Active.
Small businesses along Sandhaven Beach
South Shields Surf is set up on the promenade along Sandhaven Beach where you can hire surf and stand up paddle equipment and take group or private lessons. I've been meaning to do this forever! I was enjoying watching a surf class whilst we were playing on the beach. It looked so fun. They even offer a beach clean discount. For 20 minutes of beach cleaning you get a 10% discount off all lessons and hire which I thought was a pretty cool initiative.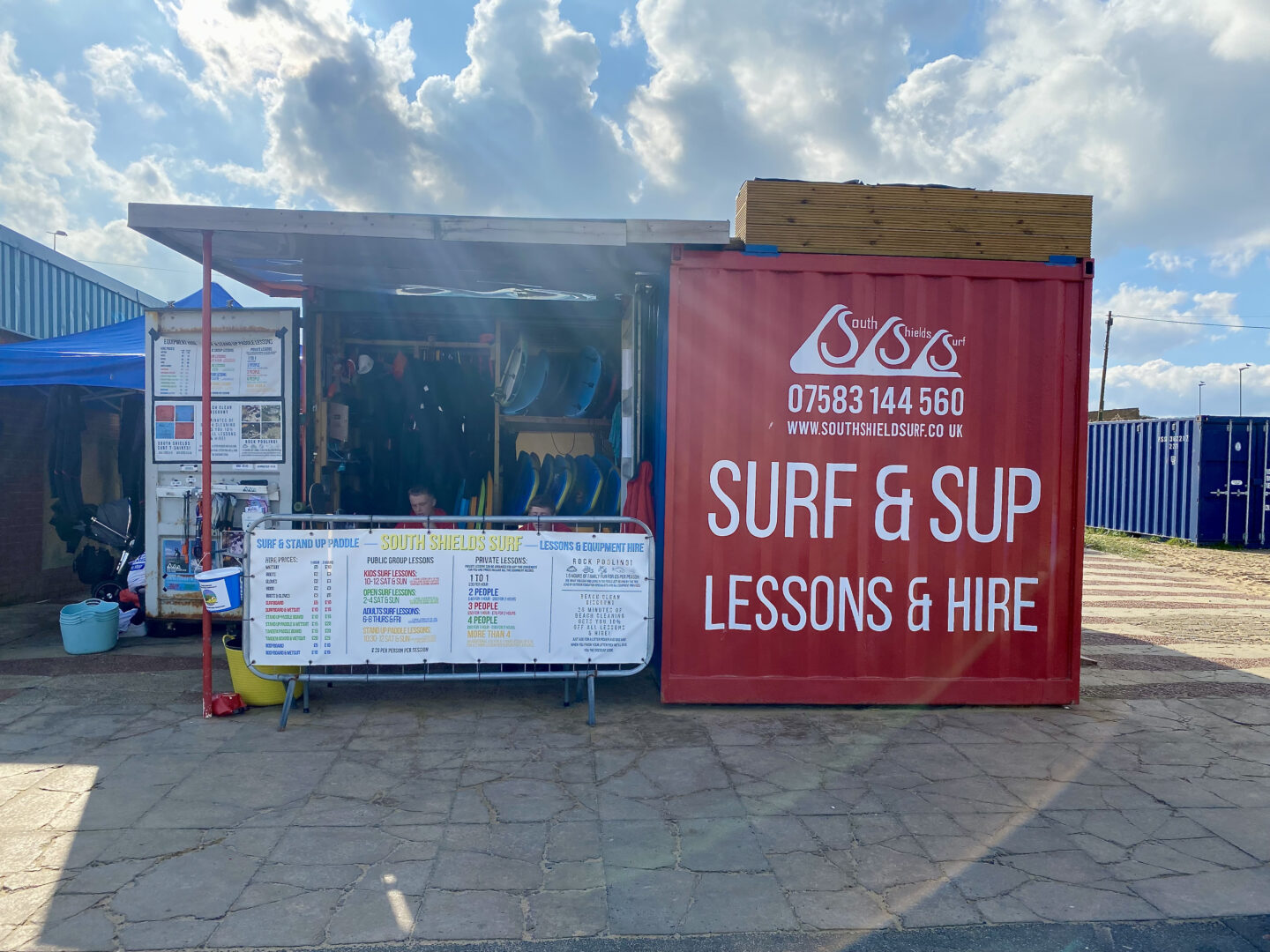 If you are visiting on a weekend, also on the promenade just down from South Shields Surf is the very popular Bessy's Sweet Bakes – a street food truck that sales sweet treats and hot drinks. It's generally open Saturday and Sunday 10am until they sell out but do check their social media to double check.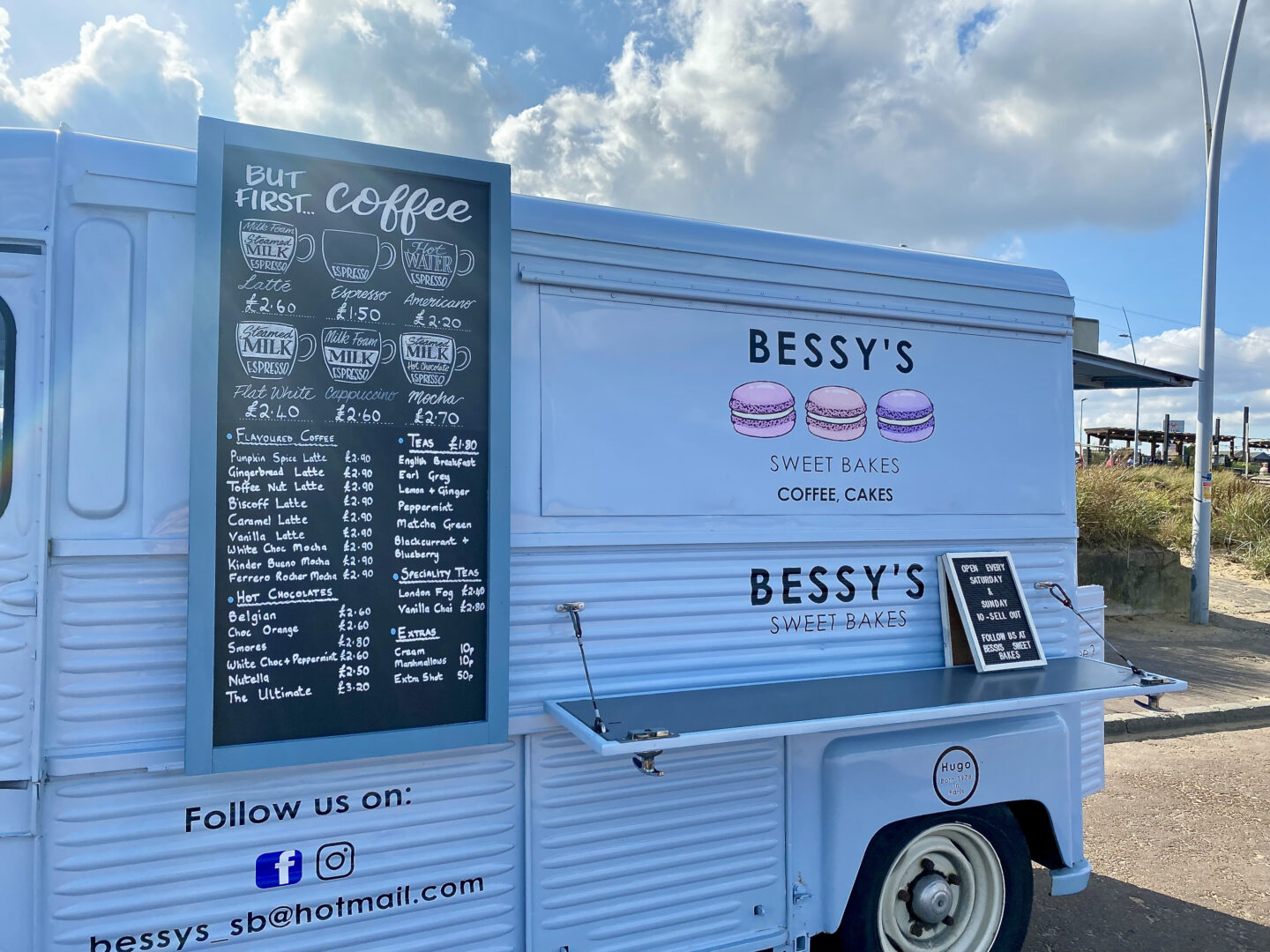 If you keep walking along the promenade as you get closer to Ocean Pleasure Beach there is also a Kelly's Ice Cream truck and 'South Shields Wrap and Bap House' Truck that sells Yorkshire pudding wraps, greek style wraps, jacket potatoes etc and various roasted meats.
Around here, further towards the street you can find a kind of 'ampitheatre' that has public toilets which we used.  This is right next to a Tony Minchella ice cream shop.
There are also various restaurants as you walk down the path next to the road. We love Colman's Seafood Temple that is at the top of Sandhaven. They do great eat in or take out and their restaurant has beautiful views of the beach. They were fully booked for our visit so booking in advance is advised. I recommend their fish tacos!
As you walk down towards the park other restaurants include The Sandancer (has some outdoor seating), Platform 33 (has some outdoor seating), the Sundial and others.
3. Parklife! South Marine Park
A bit further down and over the road is South Marine Park which was created over 100 years ago. The park boasts an art trail, play areas and a boating lake.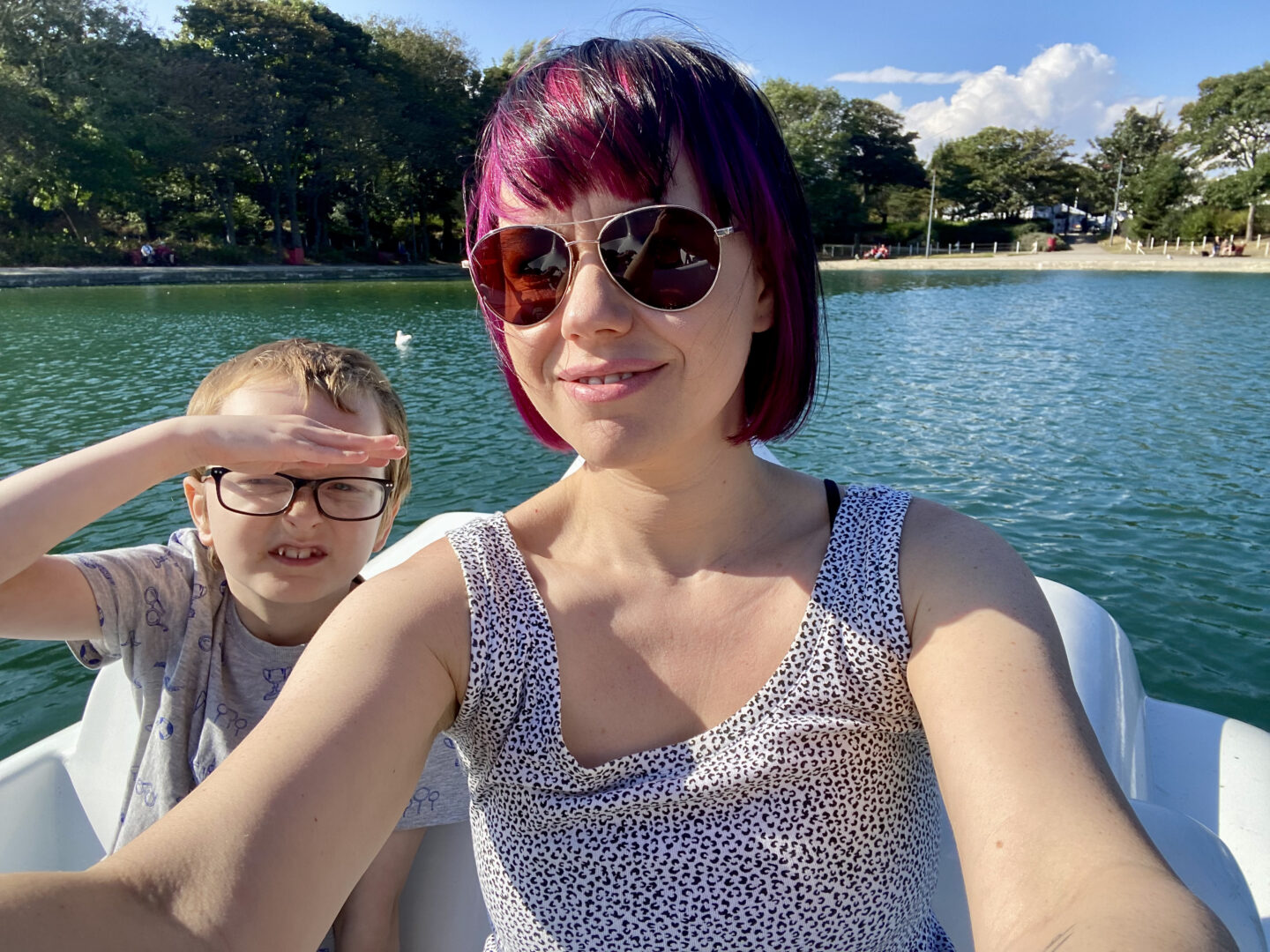 It's like the queen of parks and has everything you could want. It has public toilets, a big Tony Minchella's café for food and treats. There is a little steam train that's £1.50 for a go around the park – perfect for toddlers and little kids. We really enjoyed going on one of the 'swan boats' around the lake. It costs £10 for a boat for 20 minutes which was plenty of time. Even my 6-year-old could pedal the boat so she had a lot of fun with that. Her steering left a lot to be desired for though. They don't give the kids safety jackets though so be warned about that.
There is a little hut selling seaside sweets, bucket and spade sets etc. Then there is a big 'sandpit' area for kids, a smaller playground for little kids and a larger one for big kids. All well-equipped and often busy!  Behind the play parks is a large grassed area where people picnic and play ball games, as well as a bandstand.
4. The 'ocean' by the sea – Ocean Beach Pleasure Park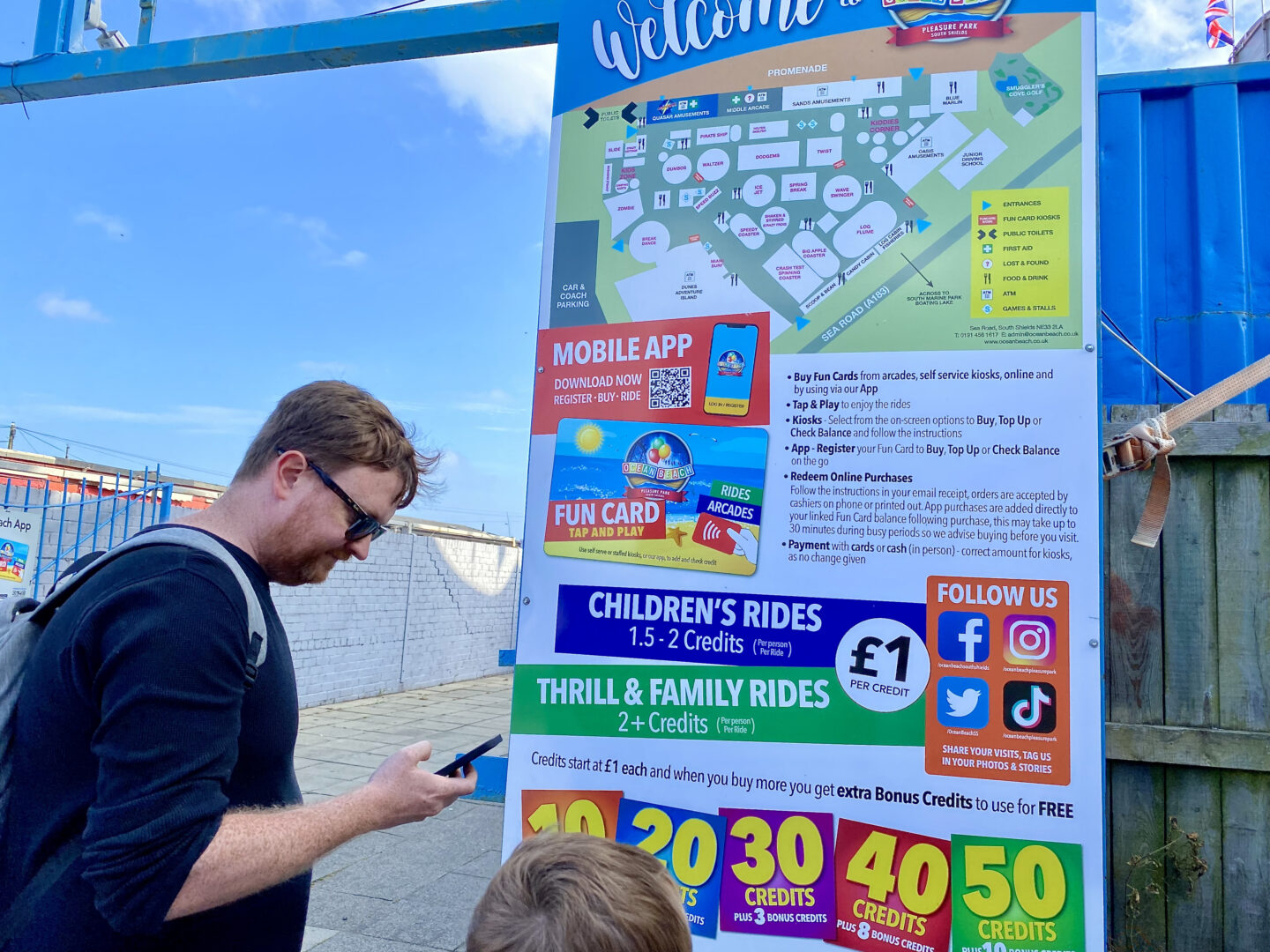 Come out of the park the way you went in, cross over the zebra crossing and you are pretty much at the entrance to Ocean Beach Pleasure Park. This is the North East's largest free admission fun park. With rides, amusements and entertainment to a soundtrack of pop music, Ocean Beach perfectly captures the draw of the traditional seaside.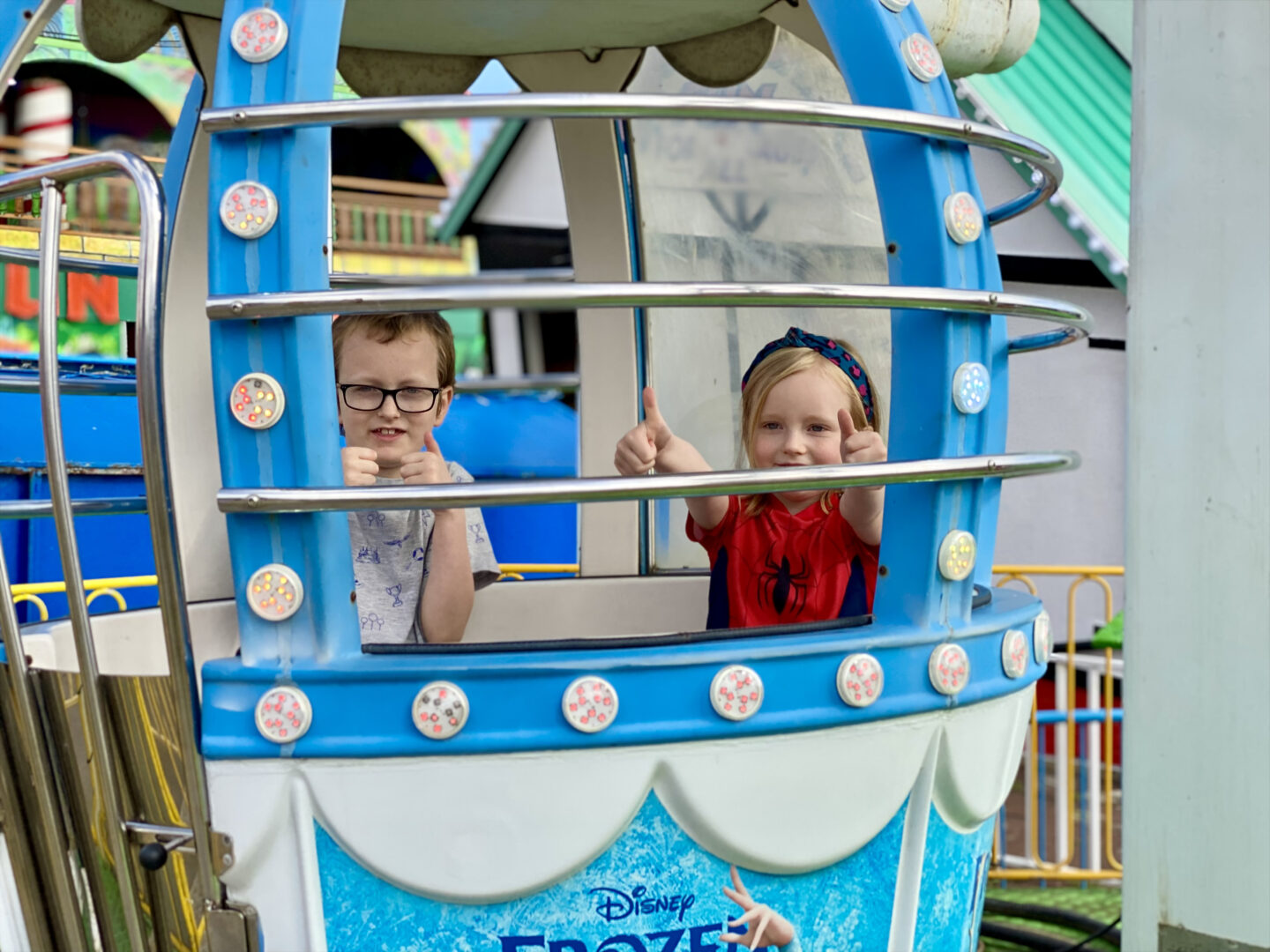 They have a new touch screen card method to pay for the rides that you could do ahead of time or sort whilst you are there. The cost can easily rack up. We usually go in with a set amount of money or rides that the kids can go on to manage expectations. We enjoyed the 'ferris wheel' and 'dumbo' during our visit. My son got hangry so we had to leave before we were ready. We meant to go back before we left to go on a few more rides but we ran out of time. Never mind, the kids still have credits on their cards for our next visit.
If it's a rainy day there is lots inside too. There is a traditional arcade, laser quest, a soft play, a bowling alley and more.
Just over the road at Haven Point Leisure Centre there is a lovely swimming pool for kids that has some slides etc.
Lunch at South Shields beach – where we ate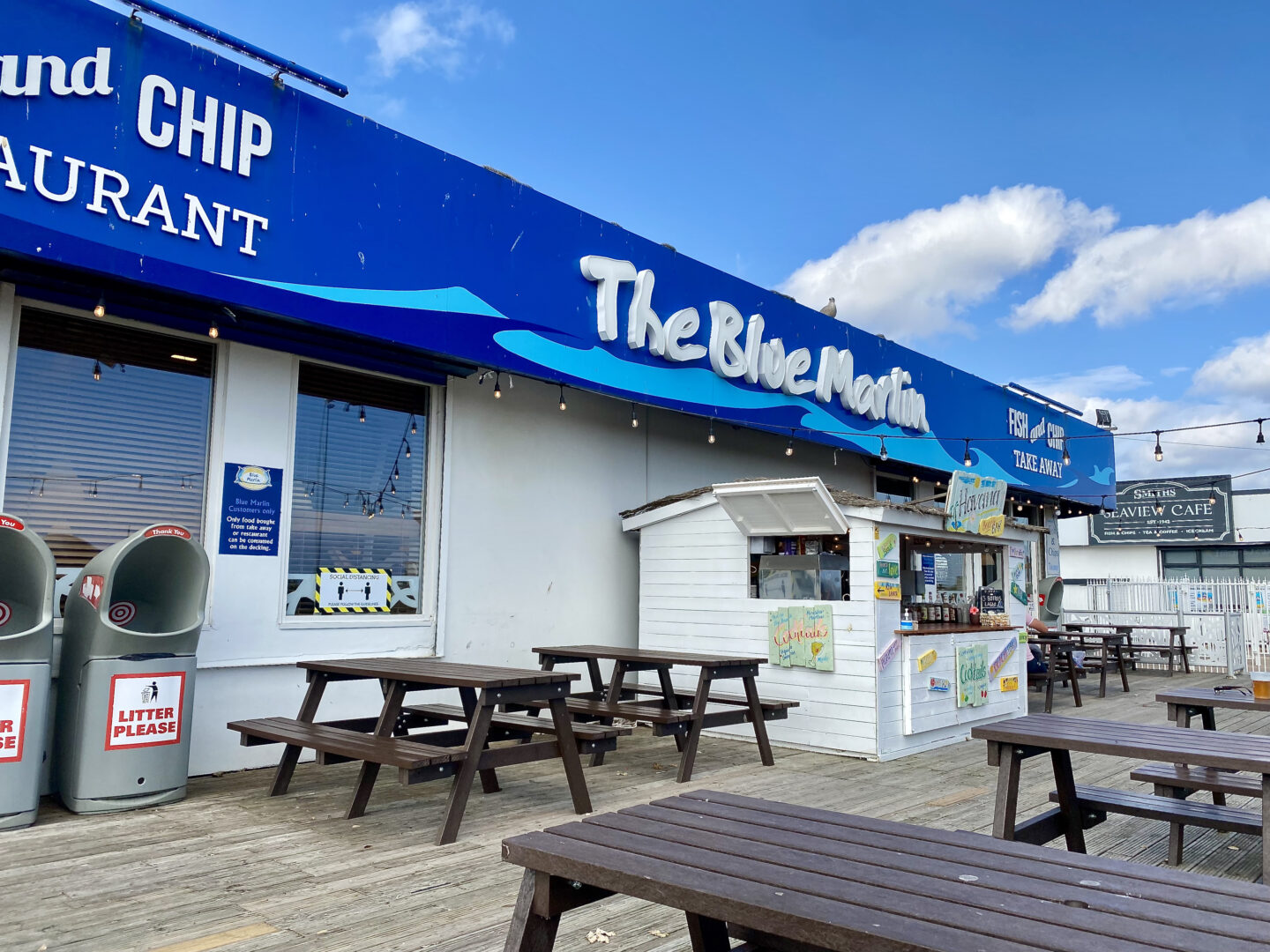 There are various stalls selling snacks and food throughout Ocean Beach. We chose to have lunch at the Blue Marlin so we could sit outside next to the promenade, away from the hustle and bustle of the busy theme park.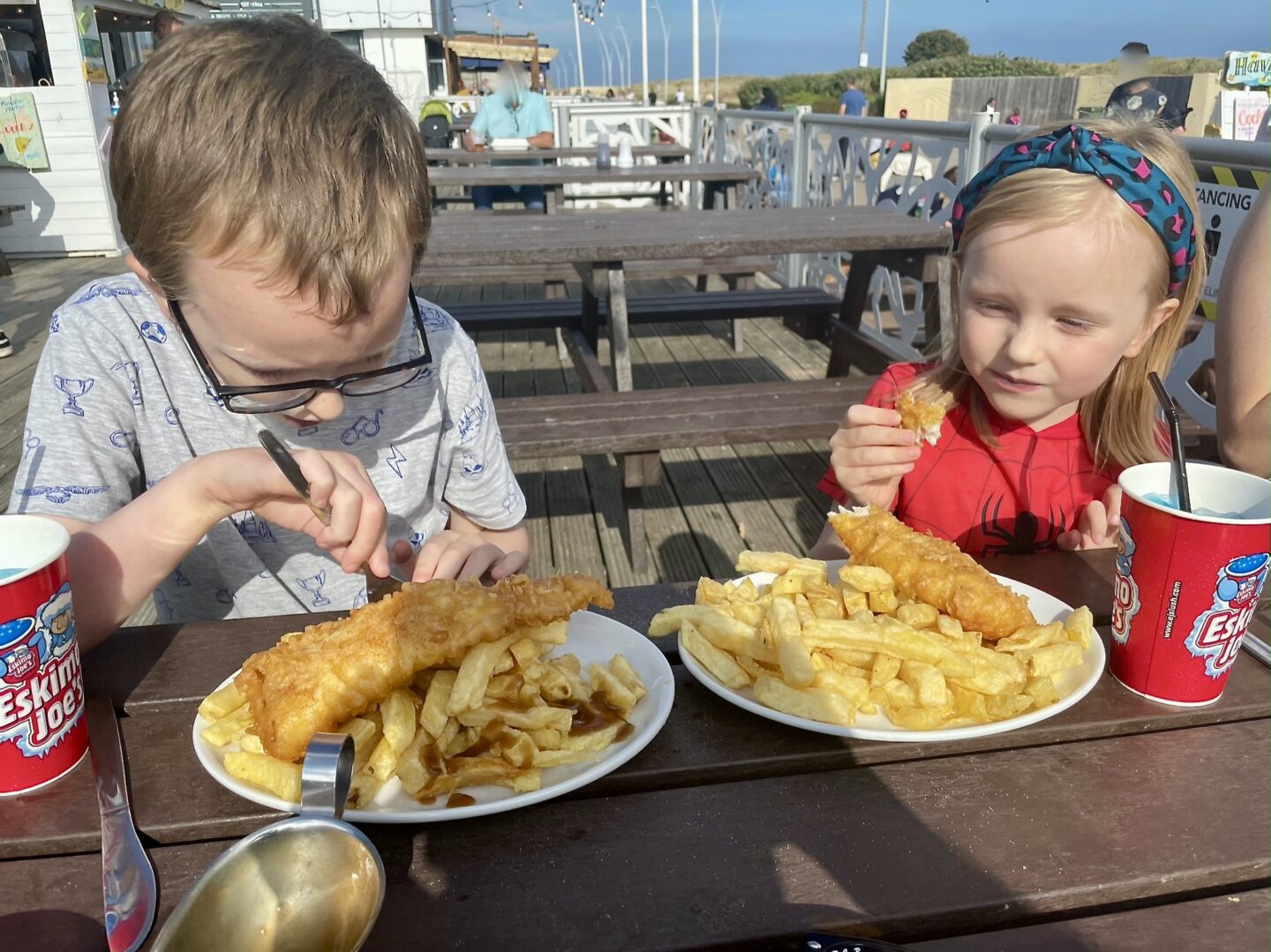 We ordered an adults fish and chips, 3 kids fish and chips,  a gravy, mushy peas, a pint of fosters, a pint of dark fruits cider and 2 slushies and the bill came to £39.30. Other options close by are Smith's Seaview Café (where you can sit outside), Sambuca (which do a daily 3 course lunch special for only £3.95!) and the infamous Scoop and Bean for an array of ice cream flavours. There are public toilets that you can use outside of Ocean Beach.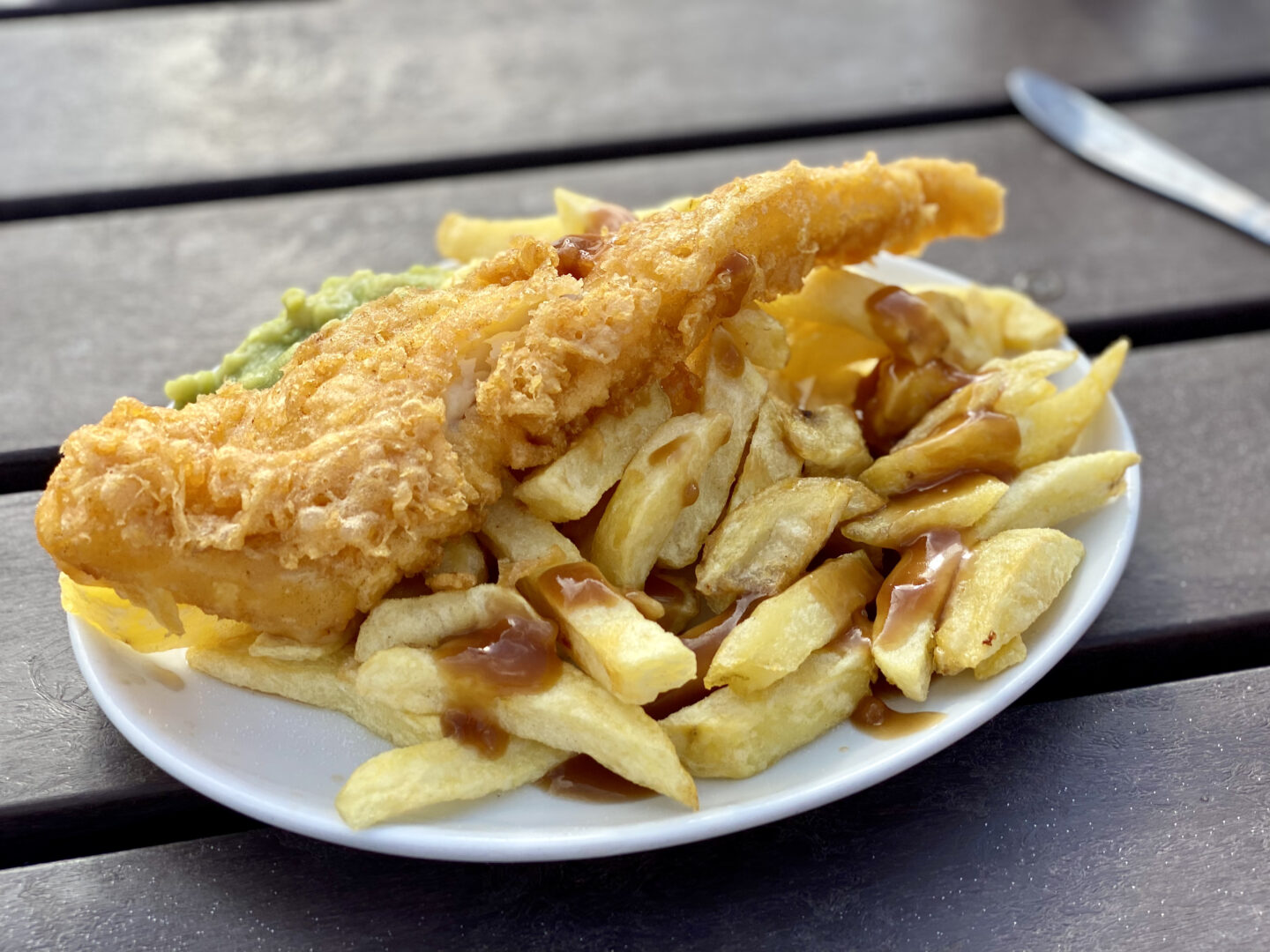 5. Eye Spy – The Eye
Continue on the trail, past the pleasure beach and down along Littlehaven beach. Go past another Tony Minchella stall selling food and drinks (as you can see Tony Minchella is a South Shield's institution) and you will come to The Eye.
The Eye is a South Shields public art trail favourite. The piece, by Stephen Broadbent overlooks the entrance to the Tyne. We had actually never been up to the eye, as it's rare we go past Littlehaven beach. It was interesting to have a look at it up close for the first time.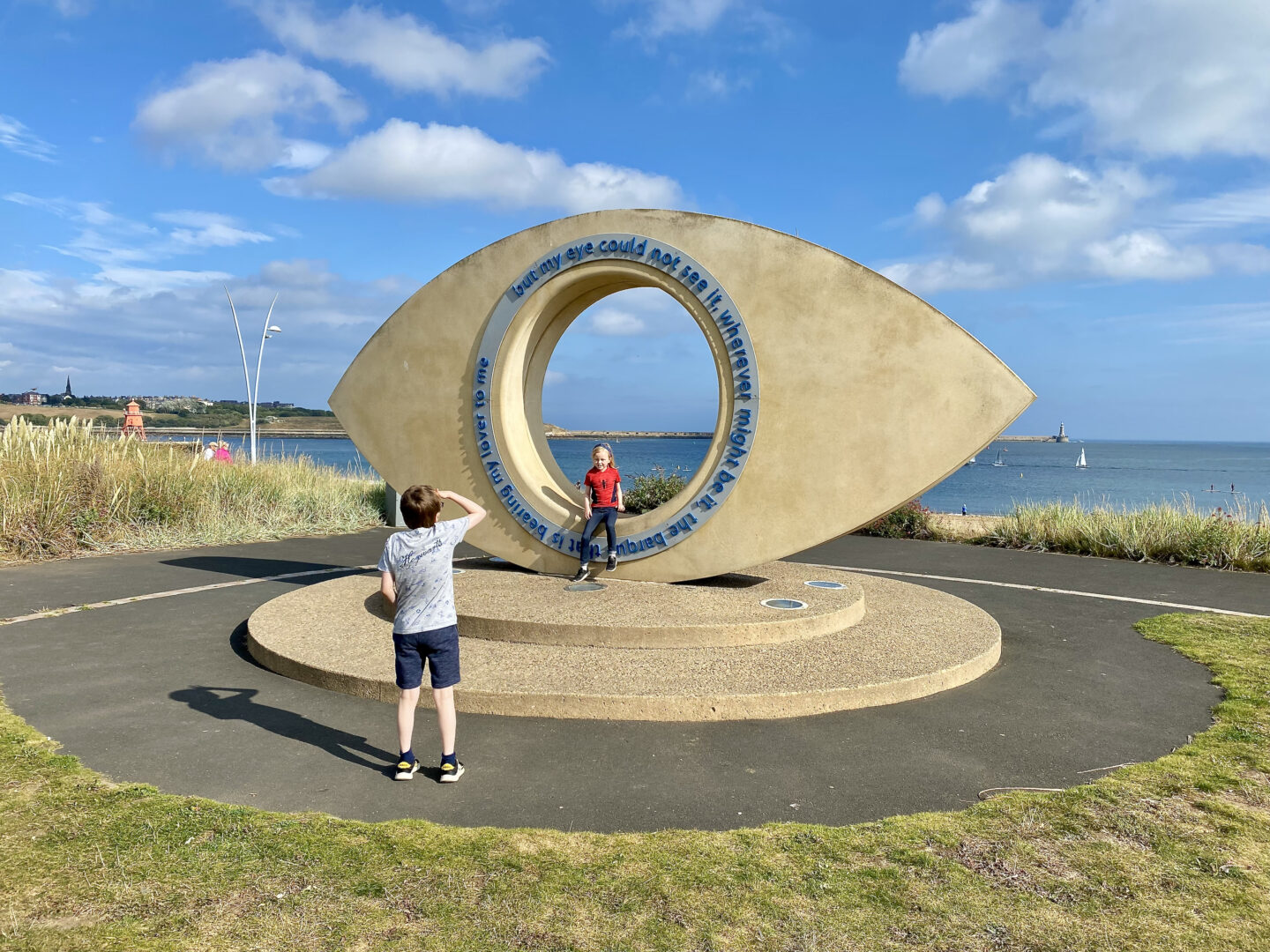 6. It's good to talk – Conversation Piece
Carry on for the final stop on the shorter route. You will find "Conversation Piece" – a group of eye-catching sculptures just off Littlehaven Beach. Juan Muñoz' sculptures are a thrilling discovery on your mouth of the Tyne trek. My kids had fun running around them, shaking their hands and pretending to talk to them. Although they both said they thought they were a little creepy. Number 7 on the map takes you on to the longer 'purple' route but it's actually very close so it's quite easy to add the Groyne Lighthouse to your visit as well. You can't miss it standing proud to your left.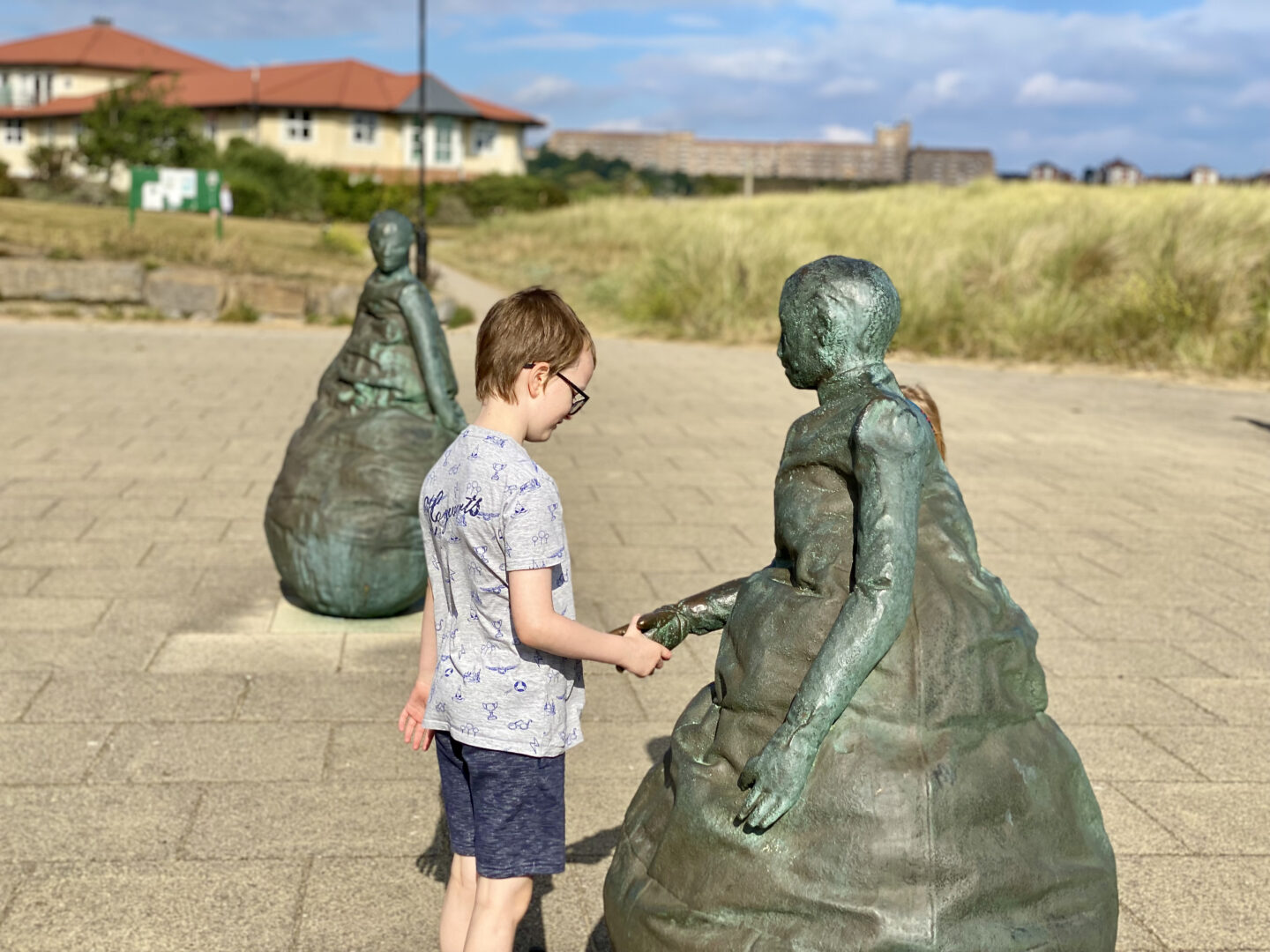 Final thoughts on the South Shields beach 'Sand Dancer' walking route from Go Smarter, Go Active itinerary
We had a great time doing this walking route. It really takes in all of the best sites for a classic family day out at South Shields beach. Often when we take our kids on a walking route or trail, they complain 'not walking again' (I think they are scarred from the 1 walk a day from the lockdowns lol) but they didn't complain about walking once on this route. That is because before they could think to be bored or tired we were onto a new fun activity for them to enjoy.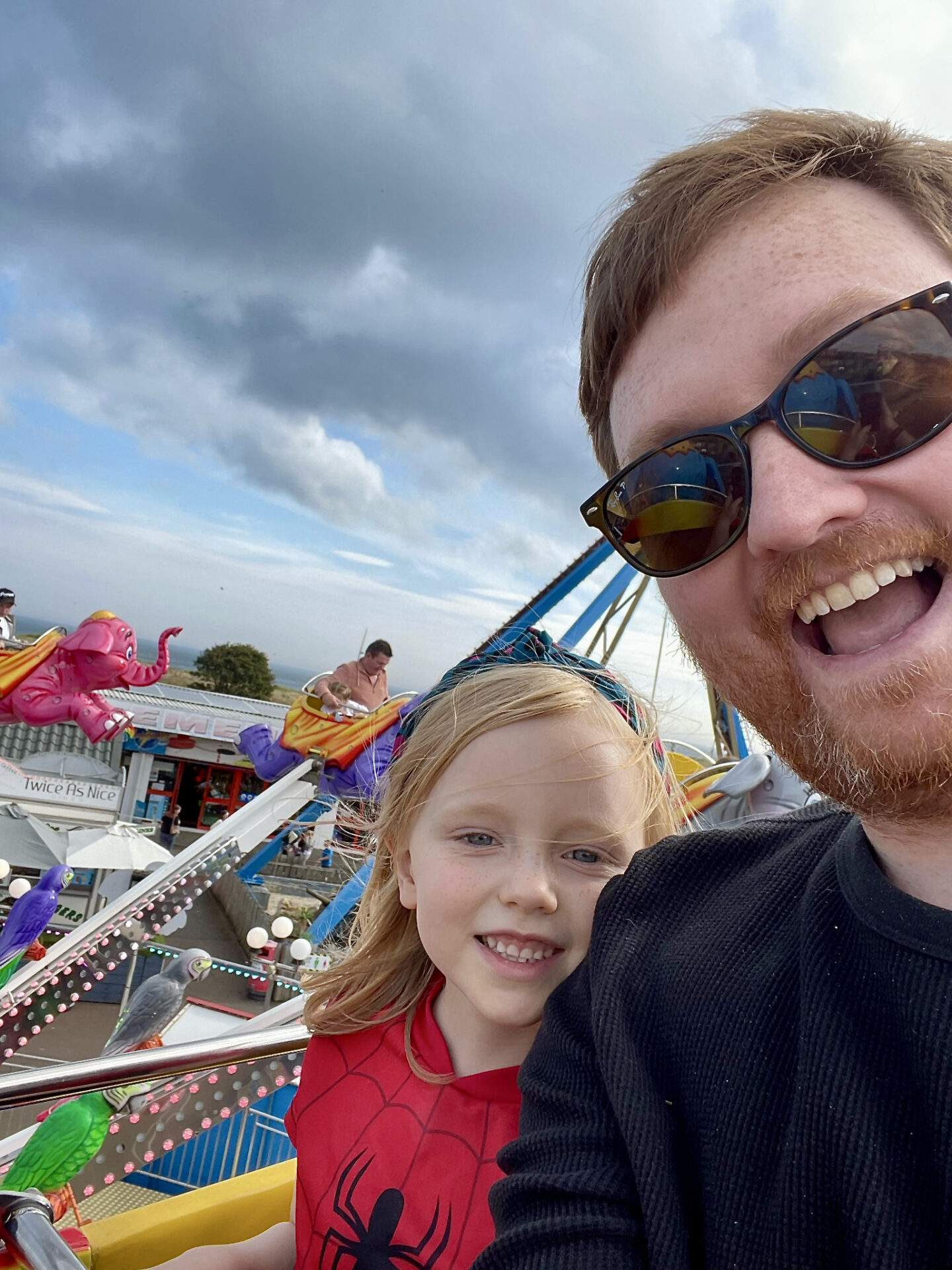 We arrived for the day at 11.30am and didn't leave until 4.30pm and we could have easily spent a full day there (we had to get back for my eldest's swim class). We were blessed with gorgeous weather and it felt like a final hurrah to summer. My 6 year old declared it the 'best day ever' and wants to know if we can go back next weekend so it's safe to say it was a winner with our family. I feel incredibly grateful to have all this pretty much on our doorstep. The North East is truly has it all.
Go Smarter, Go Active have walking/cycling routes across Durham, Gateshead, Newcastle, North Tyneside, Northumberland, South Tyneside, and Sunderland too so do check those out as well. We will be trying the North Tyneside 'Sun Rise Stroller' route next at Rising Sun Country Park which is somewhere we have not been before but the 1.2 mile circular walk with a café at the end looks like the perfect autumnal family day out. 
Thanks for reading – any questions just drop them in the comments and I'll do my best to answer them!
If you liked this South Shields beach walking route post you might also like:
If you have enjoyed this post or found it useful, here are some quick and easy ways that you can support Nomipalony or say thanks: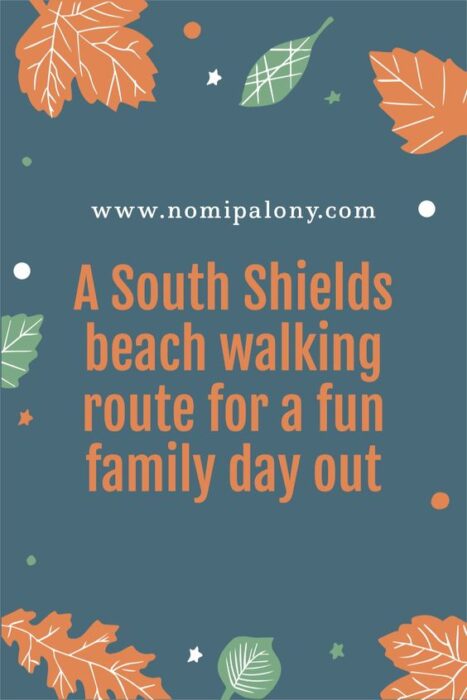 Disclosure: This is a sponsored advertorial post. For my full disclosure policy please see my about page.